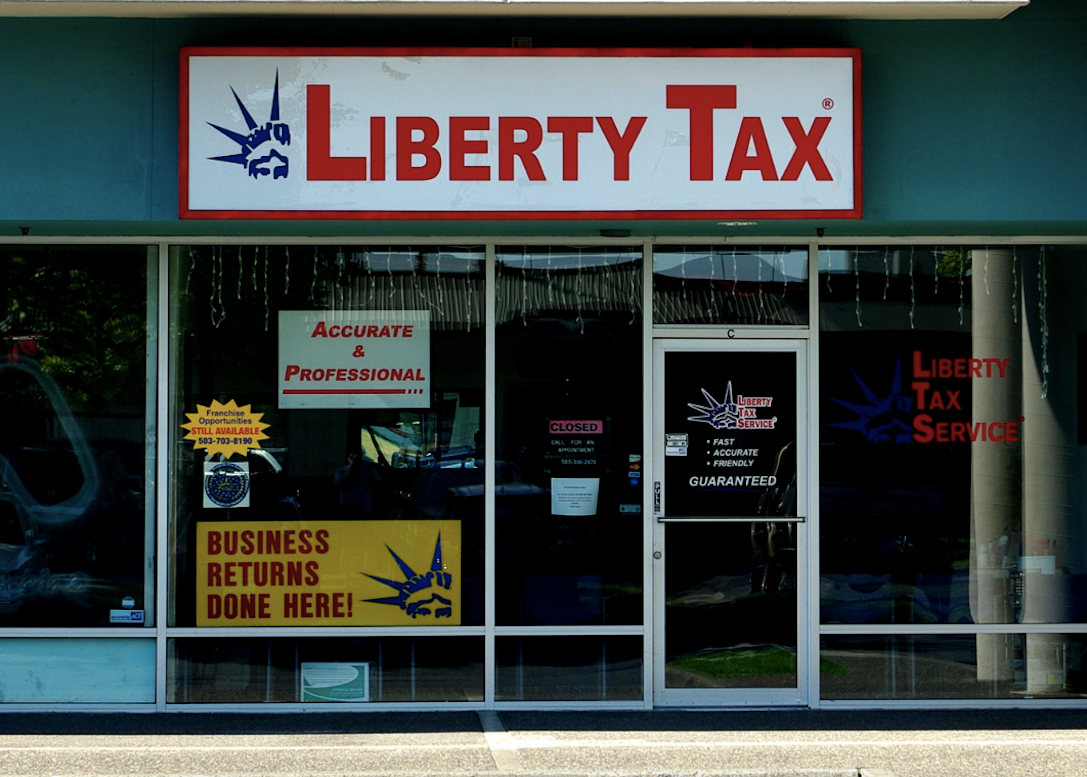 20 franchises you can start for under $100,000
M.O. Stevens // Wikimedia Commons
20 franchises you can start for under $100,000
Becoming a business owner is a dream for many, and while the idea of starting a business might seem overwhelming or even unattainable, one potentially less daunting option for those seeking to be their own boss is to buy into a franchise.
Franchises are licenses offered by an existing company that allows individuals to operate their own branches of the business under that company's name and brand. In order to qualify for a franchise, potential buyers must meet the requirements of the franchisor, including a certain amount of liquid assets. Franchisees are often required to pay franchise fees and weekly royalties to the franchise owner and are expected to keep up on new training requirements and continuing education.
Being part of a franchise also has some great benefits, though, as potential owners have the advantage of being able to look at the success rate and track record of the company prior to committing. Knowing a lot about the business itself isn't always necessary, as franchisors usually offer extensive training and provide ongoing support to their franchisees. Initial costs are often lower, and having an established brand to start with can make it less risky than trying to launch an independent business alone. Franchises also tend to be more successful than other startups, as the company already has a following and a proven business model. Companies offering franchises find it beneficial for their business as a whole, as it allows them to grow and expand into new markets.
Bigger franchises, like McDonald's, might require initial investments in the millions, but there are plenty of franchise options out there that won't break the bank. Stacker has rounded up data from the Franchise Opportunities Network to find some of the most affordable and lucrative franchise options available for less than $100,000. Ranked by startup cost from highest to lowest, take a look at these business opportunities for would-be moguls everywhere.
You may also like: Best cities for young professionals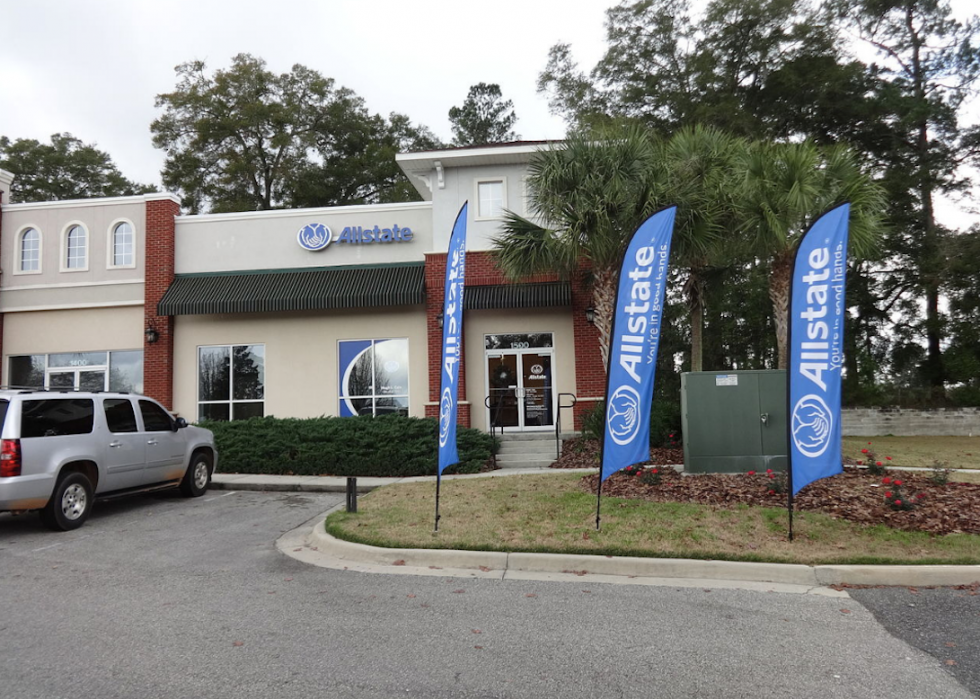 1 / 20
Michael Rivera // Wikimedia Commons
Allstate Insurance Company
Minimum cash required to start business: $100,000
For insurance agents looking to run their own offices, Allstate offers affordable franchises with a reasonable investment. There are no franchise or licensing fees, and Allstate does not take control of any of the buyer's capital. Those seeking to purchase an Allstate franchise should keep in mind that while Allstate doesn't require any previous insurance sales experience to buy a franchise, passing a state licensing exam is required for anyone selling insurance in the United States.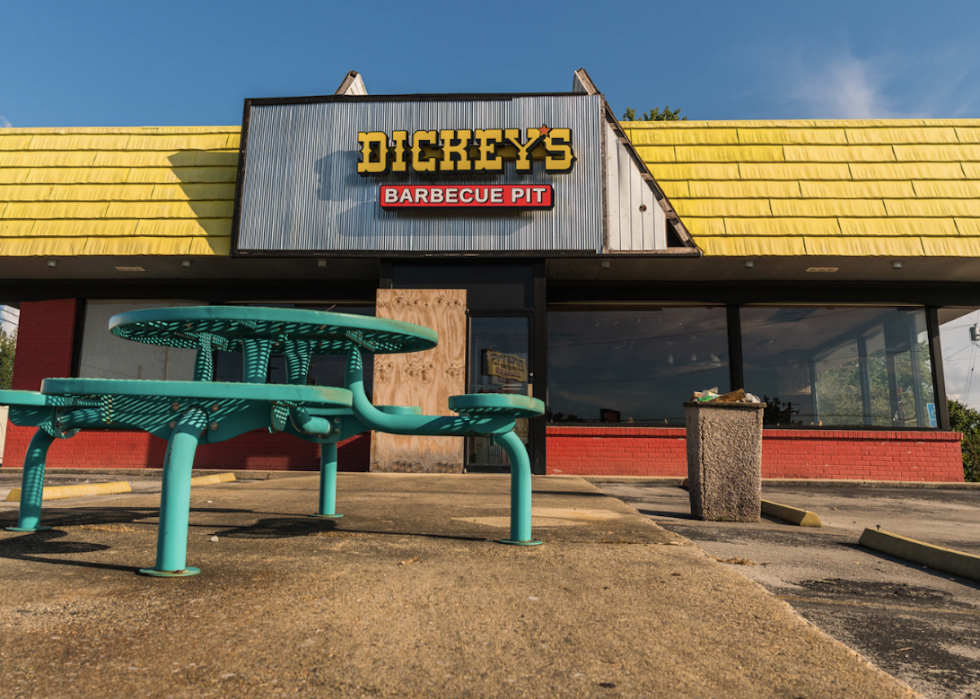 2 / 20
Mr. Blue MauMau // Flickr
Dickey's Barbecue Pit
Minimum cash required to start business: $100,000
A popular nationwide chain, Dickey's offers the potential for very high returns with a fairly low investment. The initial franchise fee is between $15,000–$20,000 and a liquidity of $100,000 is required, with a 20-year term and 10-year renewal. Restaurants can be a profitable venture, but budding franchise owners should make sure they understand that the food industry can also be one of the most fickle, and having previous experience as a manager or food service worker might be helpful.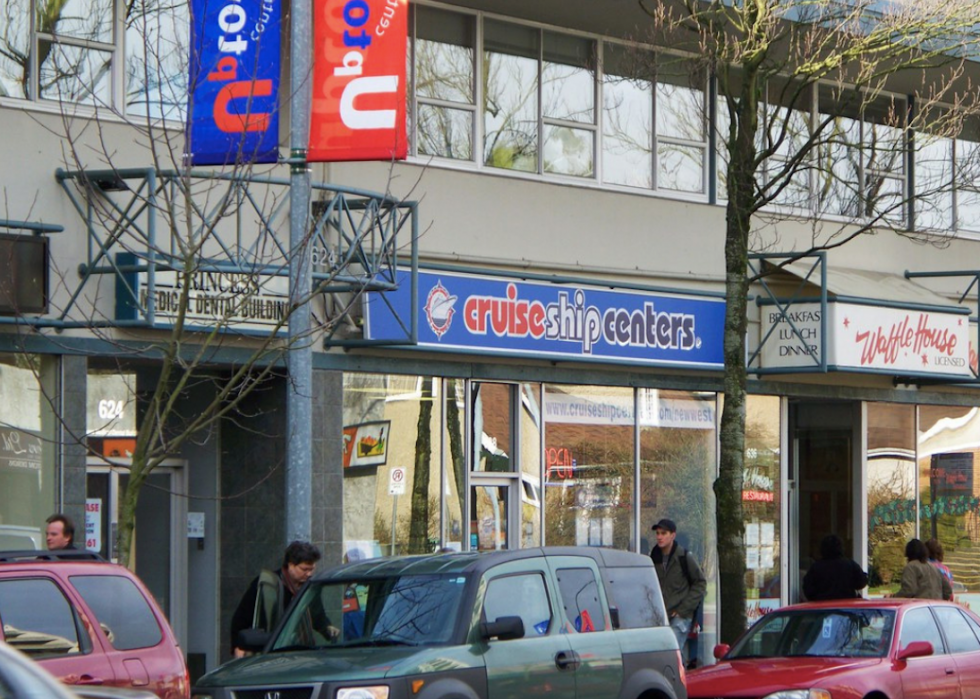 3 / 20
Dennis Sylvester Hurd // Flickr
Expedia CruiseShipCenters
Minimum cash required to start business: $100,000
Cruising has become a popular way to travel, with more than 20 million people choosing to vacation this way each year. Entrepreneurs can become a part of this fast-growing industry with an investment of just $100,000. Expedia CruiseShipCenters is a Small Business Administration-approved franchise, making it eligible for certain types of federal financing options, and they also offer a 15% discount to veterans and first responders. The franchise is available throughout the U.S., but is not registered in some states; potential owners should verify whether or not the company is registered in their individual state.
4 / 20
Jimmy John's Gourmet Sandwiches
Minimum cash required to start business: $80,000
Owning a Jimmy John's means an instant following of loyal customers. While sales vary from store to store, some Jimmy John's restaurants gross upwards of $1 million a year, and the business has grown from just 1,300 franchise units in 2011 to more than 2,100 today. While the initial investment of $80,000 might feel affordable, those funds must be available in cash or stocks and cannot be borrowed. Owners also pay weekly royalty fees along with advertising and development fees, and are charged for cooperative advertising programs.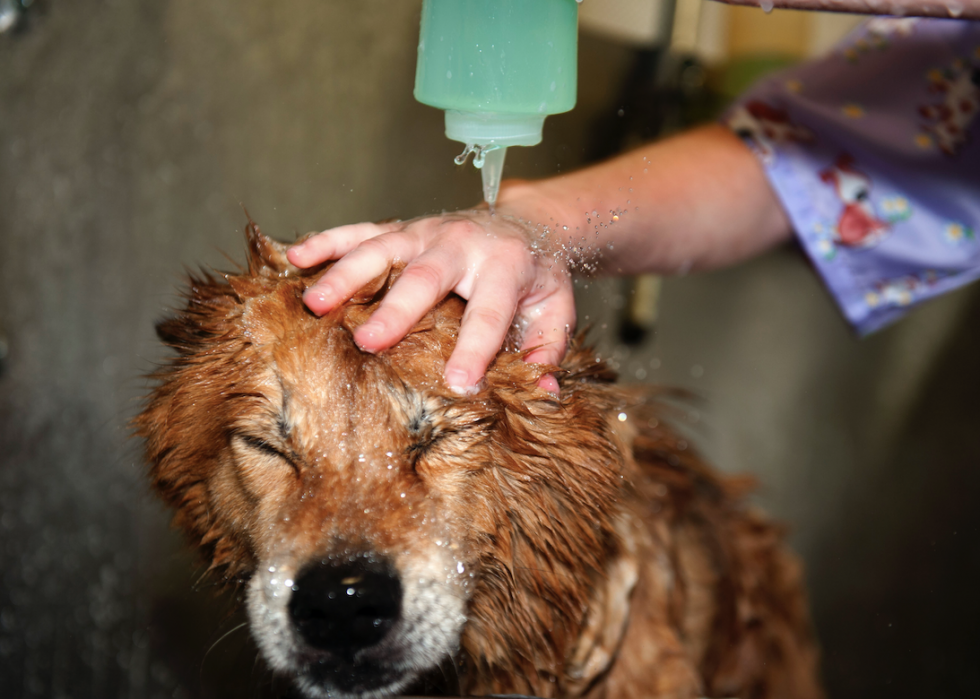 5 / 20
Airman 1st Class Gustavo Castillo // U.S. Air Force photo
Scenthound
Minimum cash required to start business: $75,000
Animal lovers who want to turn that love into a successful career might be intrigued by a franchise with Scenthound. Started in 2005, with franchises available as of 2017, this dog grooming business requires an initial cash investment of $75,000 and financial prequalification. Franchise candidates are also expected to have a minimum net worth of $300,000 and a credit score of 700, and must be willing to work full-time at their location for one year.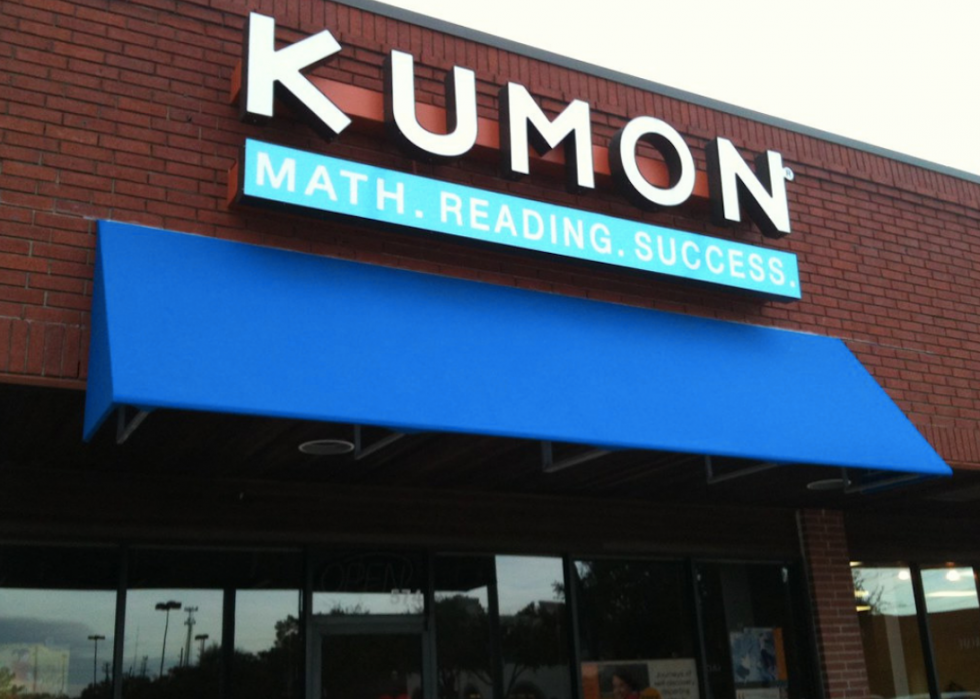 6 / 20
Social Woodlands // Flickr
Kumon Math and Reading Center
Minimum cash required to start business: $70,000
Ranked by Entrepreneur as #1 in its category in the Franchise 500 for the last 18 years, Kumon helps students improve their math, reading, and study skills. With a required initial cash investment of $70,000 and $150,000 net worth requirement, this education-based business can be a fairly easy, low-cost way to own a franchise. While a teaching background is not required, potential owners must have a college degree and be proficient in math and reading.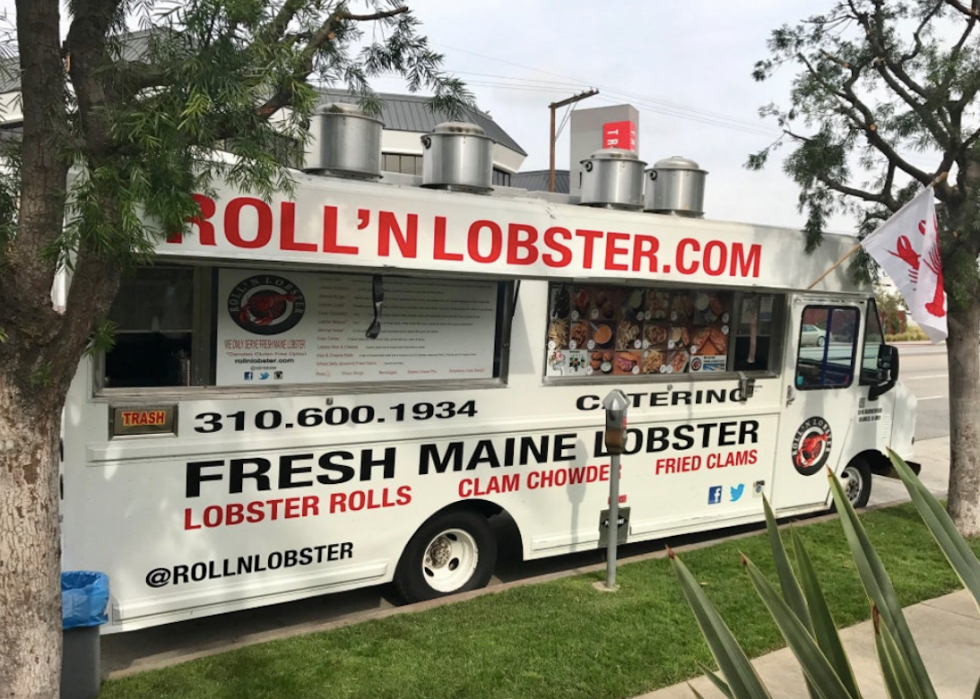 7 / 20
Roll'n Lobster Food Truck
Minimum cash required to start business: $60,000
Food trucks seem to be everywhere these days, giving brick-and-mortar restaurants a run for their money and providing foodies with more noshing options than ever before. Roll'n Lobster offers a unique chance at becoming a food truck owner without all the stress of an independent startup. Franchise applicants are provided extensive training at the Roll'n Lobster headquarters, as well as a personalized consultant during development and grand opening. While the initial cash requirement is just $60,000, the franchise fee is nearly $30,000 and owners can expect a total investment of around $125,000.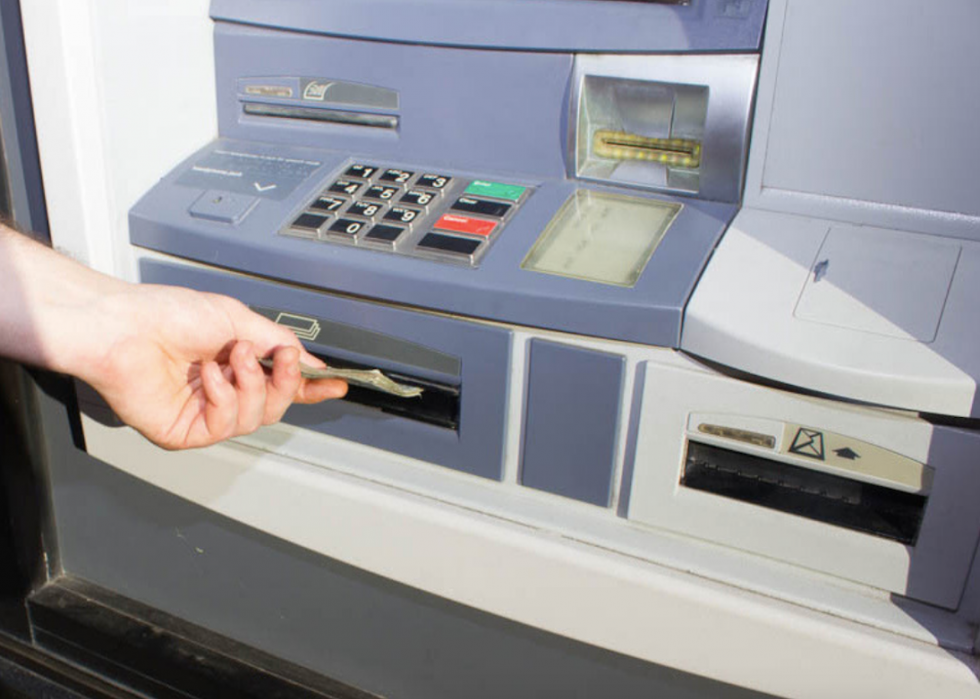 8 / 20
ACFN ATM Franchise
Minimum cash required to start business: $60,000
The ACFN ATM franchise only has a $60,000 cash requirement for this passive income source. Franchise purchasers are provided training and support, as well as marketing materials and ongoing performance monitoring. Anyone looking to buy an ATM should think about where they plan to put it, as high-traffic areas are the key to generating revenue.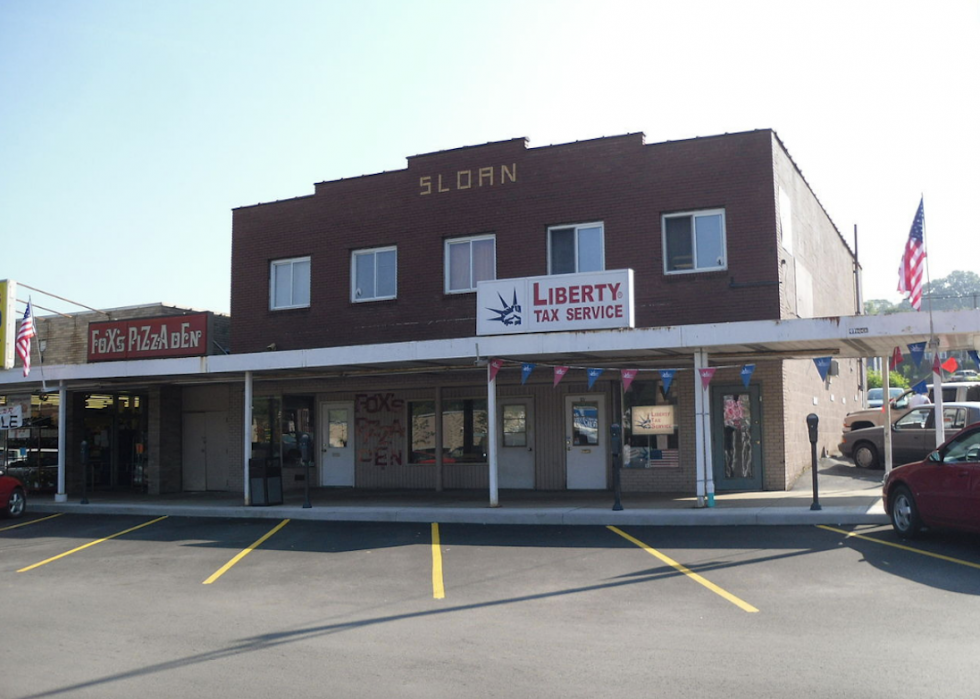 9 / 20
Doug Kerr // Wikimedia Commons
Liberty Tax Service
Minimum cash required to start business: $50,000
Offering franchises in both the U.S. and Canada, Liberty Tax Service was founded in 1972 and has been offering franchise opportunities since 1973. The company has in-house financing available to prospective investors, and provides 40 hours of classroom training as well as additional follow-up training in different cities around the country. While just a $50,000 initial cash investment is required, there is also a rather hefty $40,000 franchise fee and ongoing royalty fees of 14%.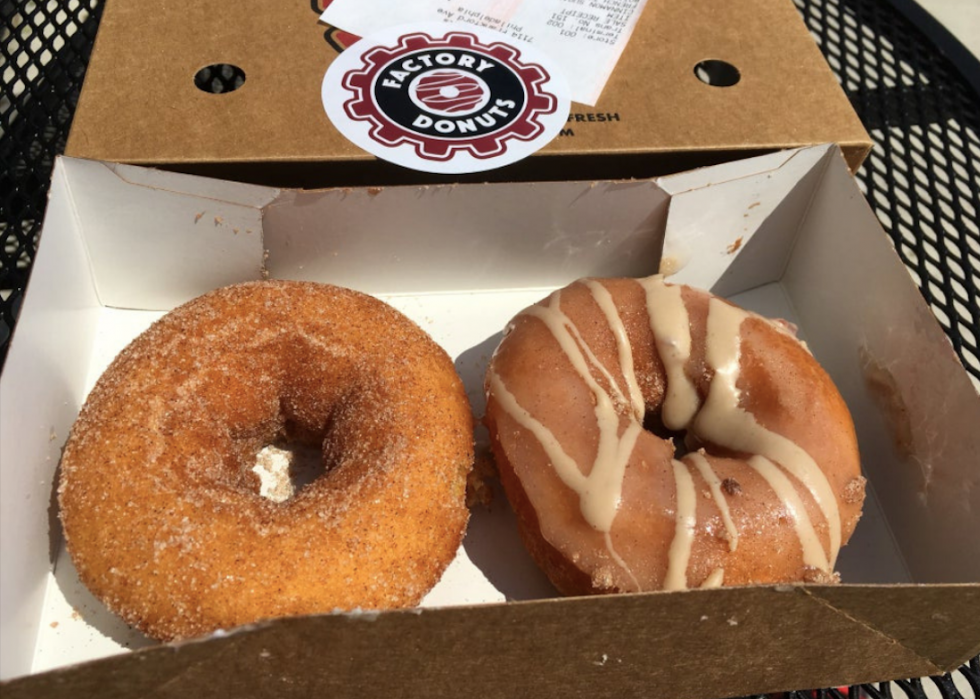 10 / 20
Factory Donuts
Minimum cash required to start business: $50,000
Factory Donuts offers franchise buyers the chance to own a part of this fast-growing facet of the food industry. Offering an efficient and simple business plan, requirements include a minimum net worth of $300,000 or $50,000 in liquid assets. In addition to a $30,000 franchise fee, investors can expect to pay 5% in weekly royalties, plus a 2.5% weekly advertising fee. Depending on factors such as location, size of store, number of employees, and fit-out requirements, initial costs can sometimes exceed $300,000.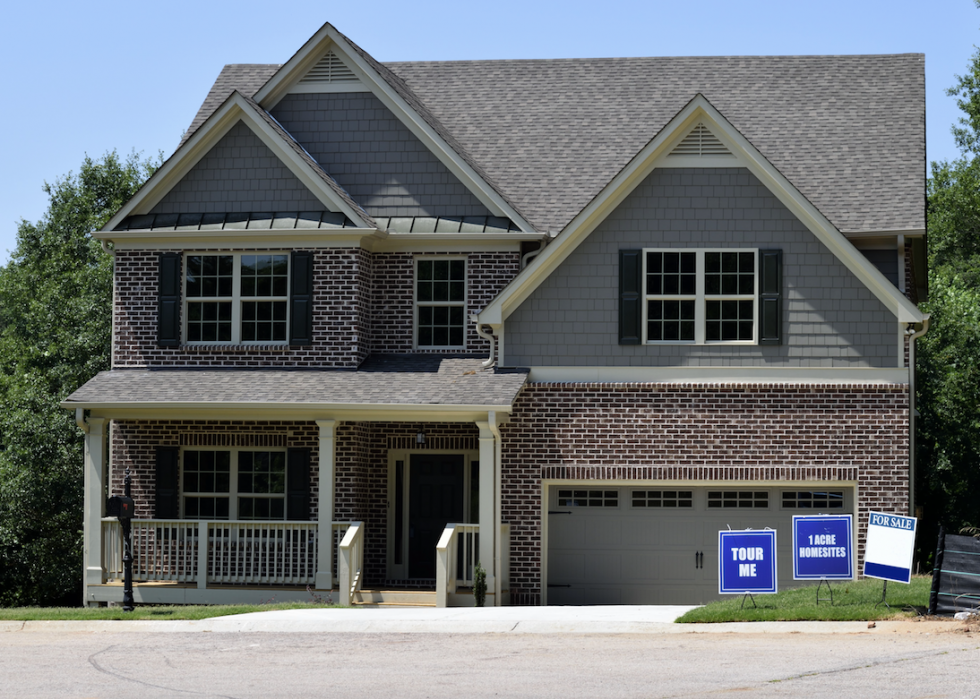 11 / 20
Property Management Inc.
Minimum cash required to start business: $50,000
Providing property management services for residential, commercial, and vacation rentals, Property Management Inc. (PMI) was ranked #1 in property management franchises by Entrepreneur magazine in 2018. They have franchise opportunities throughout the U.S. and offer financing via third-party lenders. They provide initial training for franchisees over a six-week period, which can be completed remotely. PMI does require mandatory periodic refresher training courses, as well as attendance at their annual summit.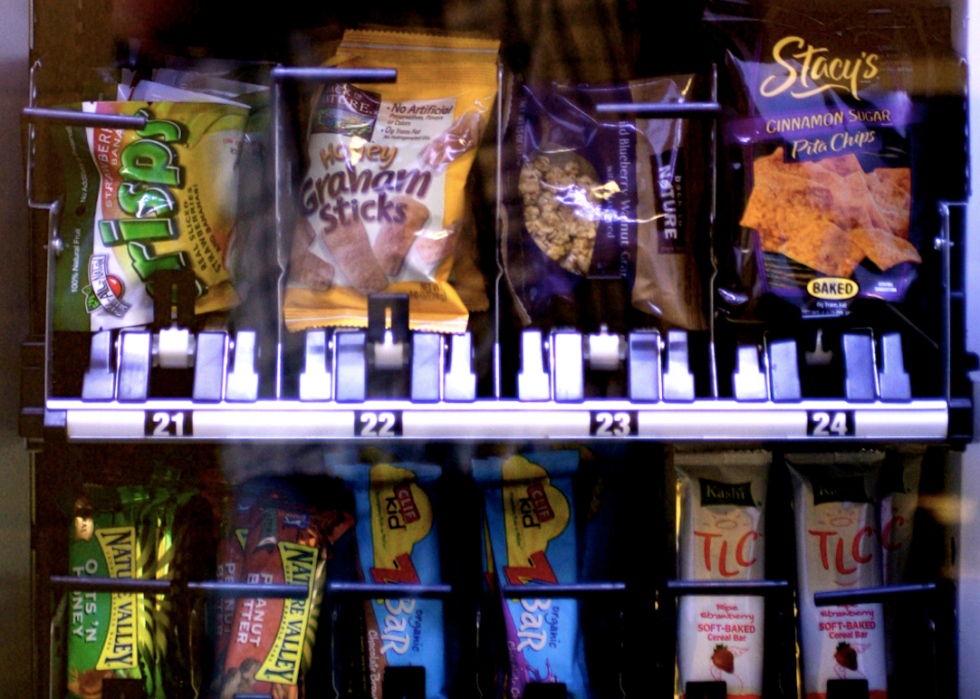 12 / 20
Naturals2Go Vending
Minimum cash required to start business: $50,000
Naturals2Go offers business owners the opportunity to purchase healthy snack vending machines through their company. Along with a strong 30-year track record and no royalty fees, the company provides lifetime support and machine location setup, and all equipment has a lifetime warranty. Candidates should have $50,000 in cash assets and a credit score of at least 700 in order to qualify for their financing.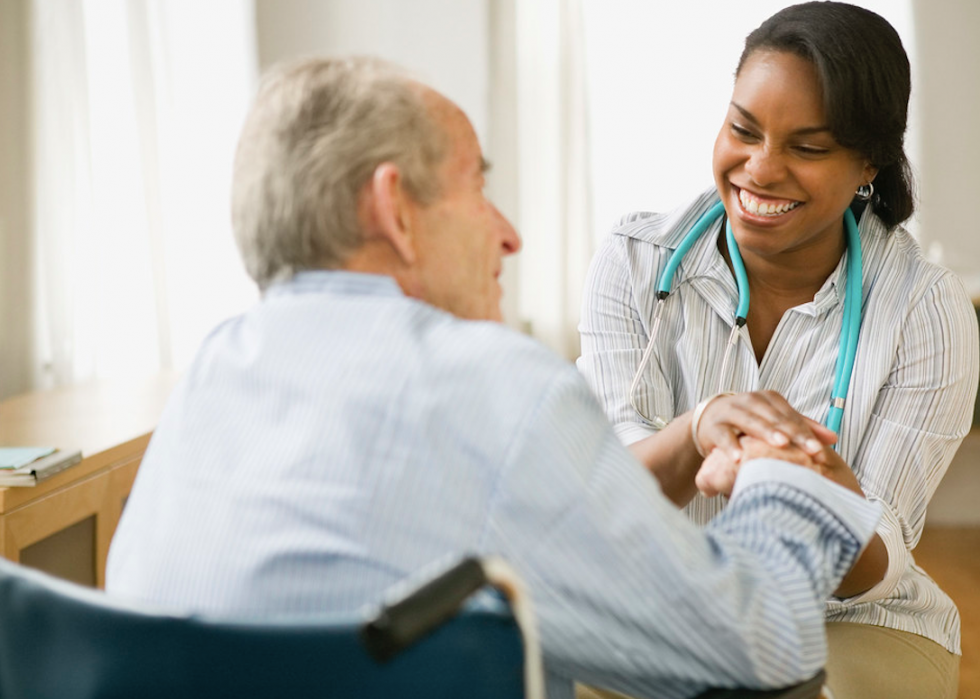 13 / 20
Home Helpers Home Care
Minimum cash required to start business: $48,900
Providing home care for seniors and adults in need of assistance, Home Helpers Home Care has been in business offering franchises since 1997. With a minimum cash asset requirement of just under $50,000, this can be a viable option for professionals who are dedicated to the health industry and want to start their own business. Training is provided for up to two people at the corporate headquarters in Cincinnati and franchisees are granted exclusive territory rights based on zip code. Potential buyers should be aware that Home Helpers' franchise program does not offer direct or indirect financing.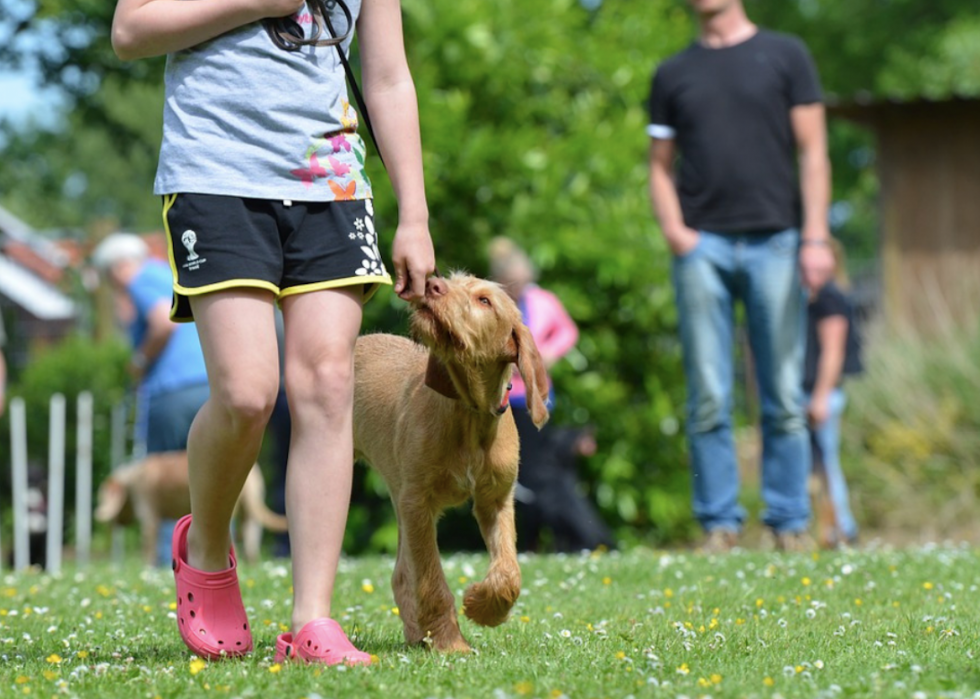 14 / 20
Always Faithful Dog Training
Minimum cash required to start business: $40,000
Perfect for dog lovers who also love the idea of cashing in on the United States' more than $60 billion pet industry, Always Faithful Dog Training requires a low cash investment and provides extensive education in both dog training and running a business. This is a mobile business, so total start-up costs are fairly minimal and franchise owners can make their own hours. They do charge a franchise fee, collected after training is complete and the business is operational.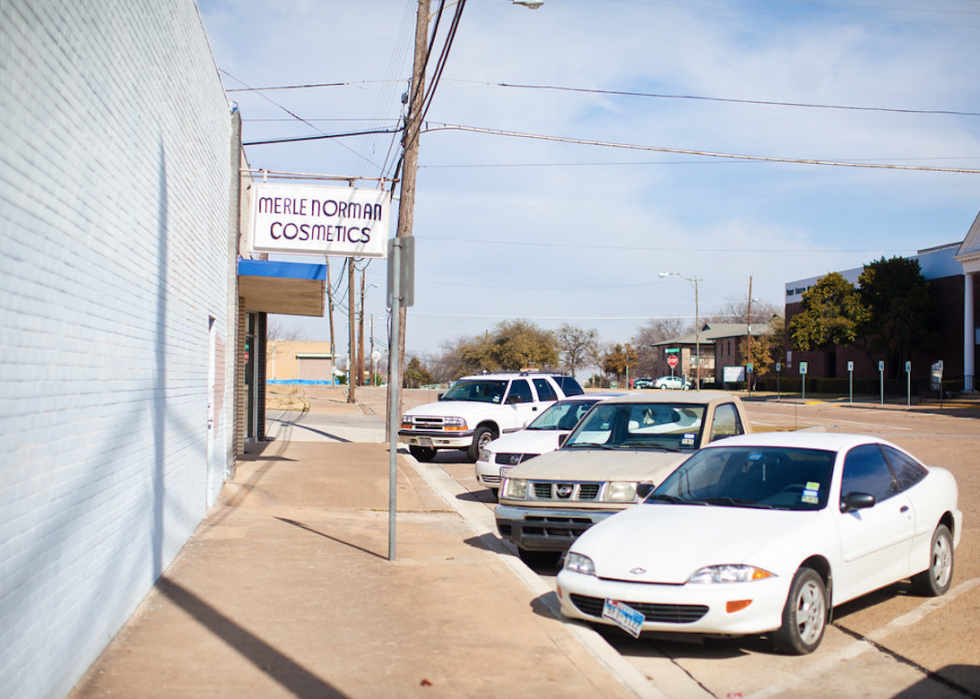 15 / 20
Merle Norman Cosmetics
Minimum cash required to start business: $40,000
With franchises available throughout the U.S. and Canada, Merle Norman allows buyers to purchase both new and existing franchises, giving investors the opportunity to either take over an already successful business or start one on their own. They require $40,000 in cash assets and their training program includes professional makeup artistry, point-of-sale software training, and website hosting assistance. While there is no initial franchise fee, the company does require a full purchase of Merle Norman products, business forms, and supplies.
16 / 20
Young Rembrandts
Minimum cash required to start business: $40,000
Focusing on teaching children to draw via a step-by-step formula, Young Rembrandts might be a great choice for anyone who has a passion for the arts. This home-based business operates at hosted locations such as schools and parks, teaching kids ages 3 to 12 in a group setting. Franchisees will receive start-up training, a curriculum, scheduling software, and a range of marketing tools and resources. While art experience is not required, knowledge of sales and marketing is strongly preferred.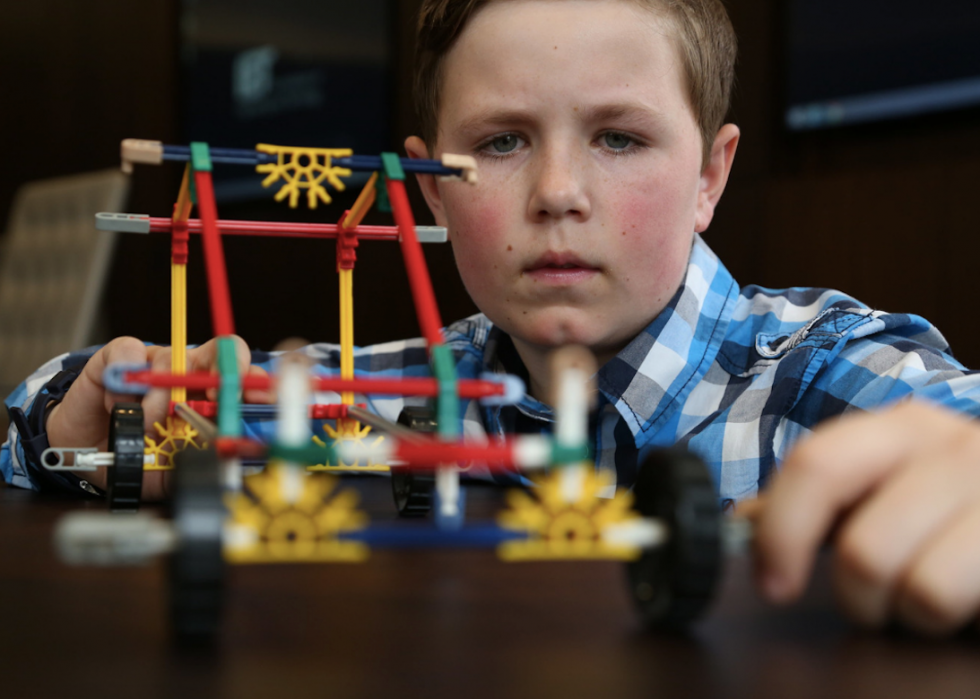 17 / 20
Young Engineers
Minimum cash required to start business: $39,000
Another youth-enrichment franchise, Young Engineers offers after-school programs that emphasize science, technology, engineering, and math with fun learning activities. The franchise allows owners to operate out of schools, community and recreational centers, libraries, and museums, and the program is endorsed by the European Union Commission. They do require a minimum of $39,000 in cash assets, and basic management and communication skills are expected.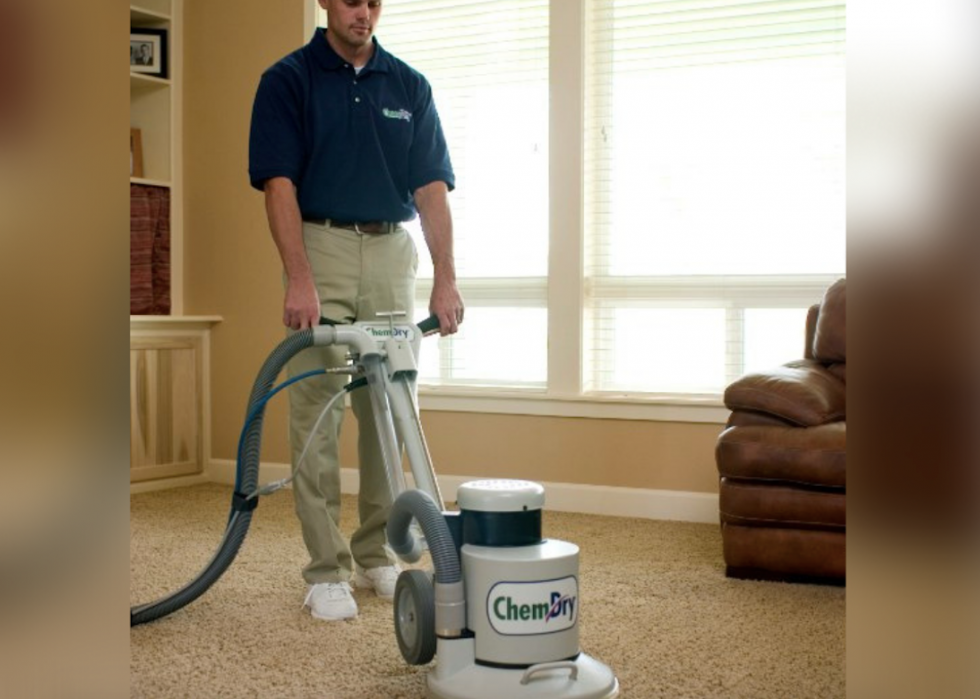 18 / 20
Chem-Dry Carpet Cleaning
Minimum cash required to start business: $30,000
One of the largest carpet-cleaning franchises in the U.S., Chem-Dry has low start-up costs and offers in-house financing assistance, as well as ongoing training and support. Chem-Dry also allows for multiple territory franchises, so owners can easily expand and grow their business. Franchise applicants do have to purchase their equipment through the company, and there is a monthly franchise fee as well as licensing fees and software fees.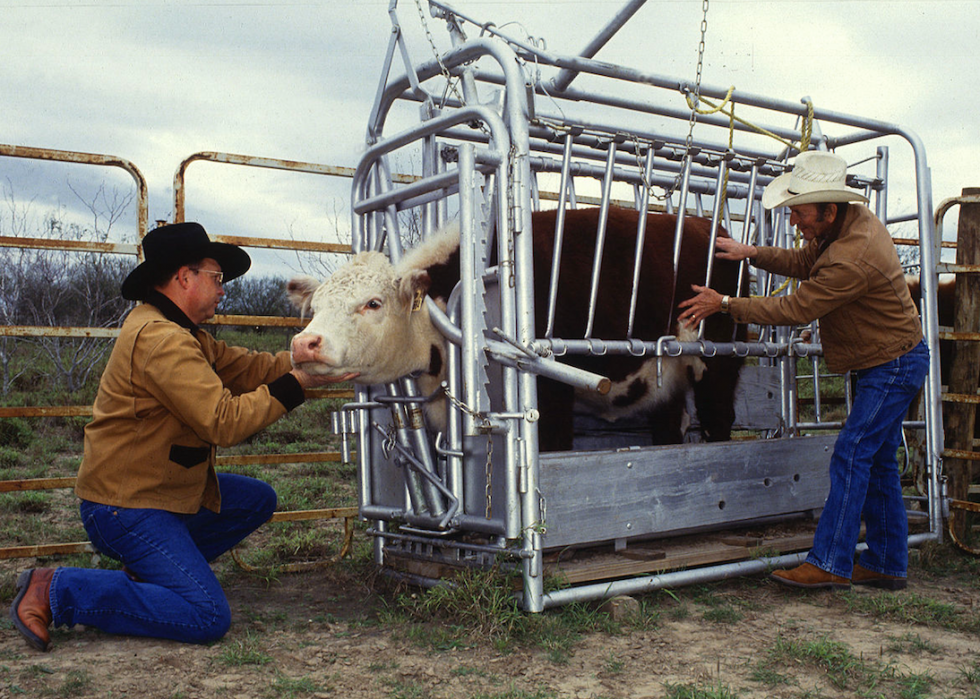 19 / 20
Scott Bauer/USDA // Wikimedia Commons
Brazzen Rural Products
Minimum cash required to start business: $30,000
Ranch owners can start their own lucrative supply business with Brazzen Rural Products. These Australian-designed gates, chutes, panels, and feeders are popular in farming communities across the country. The $30,000 initial cash requirement covers the purchase of supplies, and they do not charge a dealer fee to become a distributor.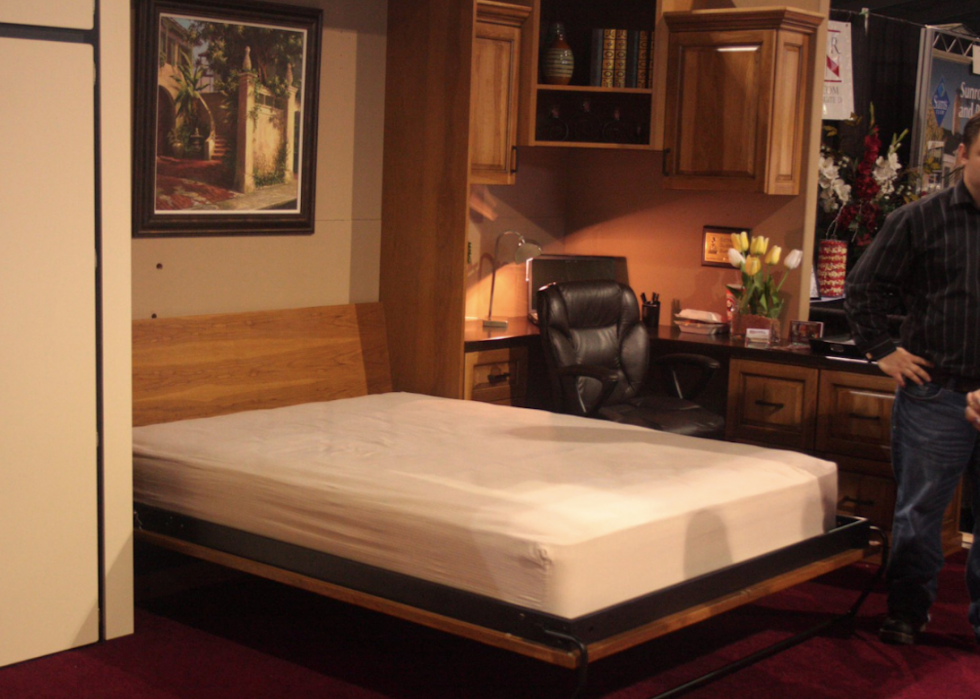 20 / 20
EZ Rest Murphy Bedz
Minimum cash required to start business: $20,000
A franchise with one of the lowest available start-up costs, EZ Rest Murphy Bedz caters to clients who need to have an extra bed without compromising space. The company started offering dealer opportunities in 2012, with perks such as onsite training, administrative and office support, sales and hardware kits, and website marketing tools. They do not provide financing assistance and owners are expected to create their own local advertising.