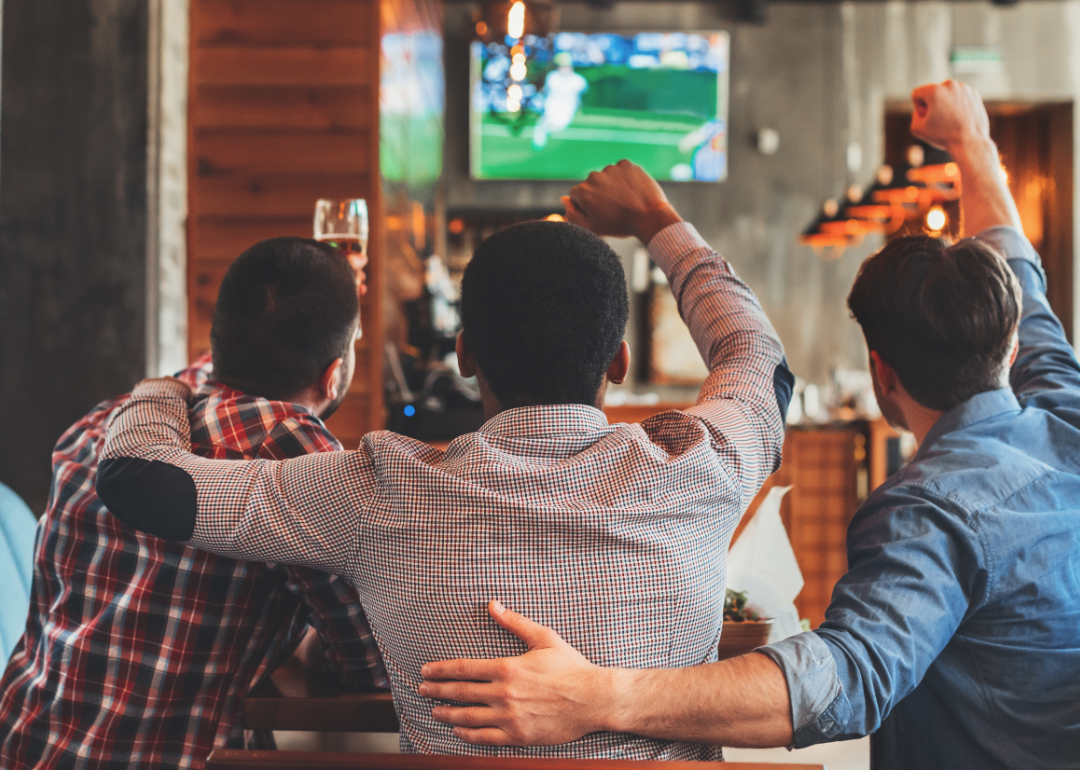 Stacker Studio
3 charts that show gambling spending in television ads skyrocketing
3 charts that show gambling spending in television ads skyrocketing
When the Supreme Court struck down a law restricting sports betting to only Nevada in 2018, it signaled a new era for gambling in the United States.
Over 35 states have legalized gambling via sports betting or online gambling as of 2023. With more access to gambling nationwide, Americans have been putting substantial cash behind the activity. Commercial gambling revenue in the U.S. broke $60 billion in 2022, according to the latest year-end report from the American Gaming Association. That total is a record since the AGA started tracking revenue totals in 2000 and is nearly 14% higher than 2021, the previous record year.
Because the gambling market is booming and receiving a huge influx of cash, it makes sense that gambling-related companies would invest in advertising to reach and engage more players. And that's exactly what they have done.
AskGamblers used data from Nielsen and iSpot.tv to craft three charts highlighting the trends behind the recent growth in television ad spend by companies in the gambling industry. These charts spotlight the gaming industry as a whole as well as the sports betting sector—one of the primary revenue drivers in the gaming space. Read on to find out how this growing industry is shaping up.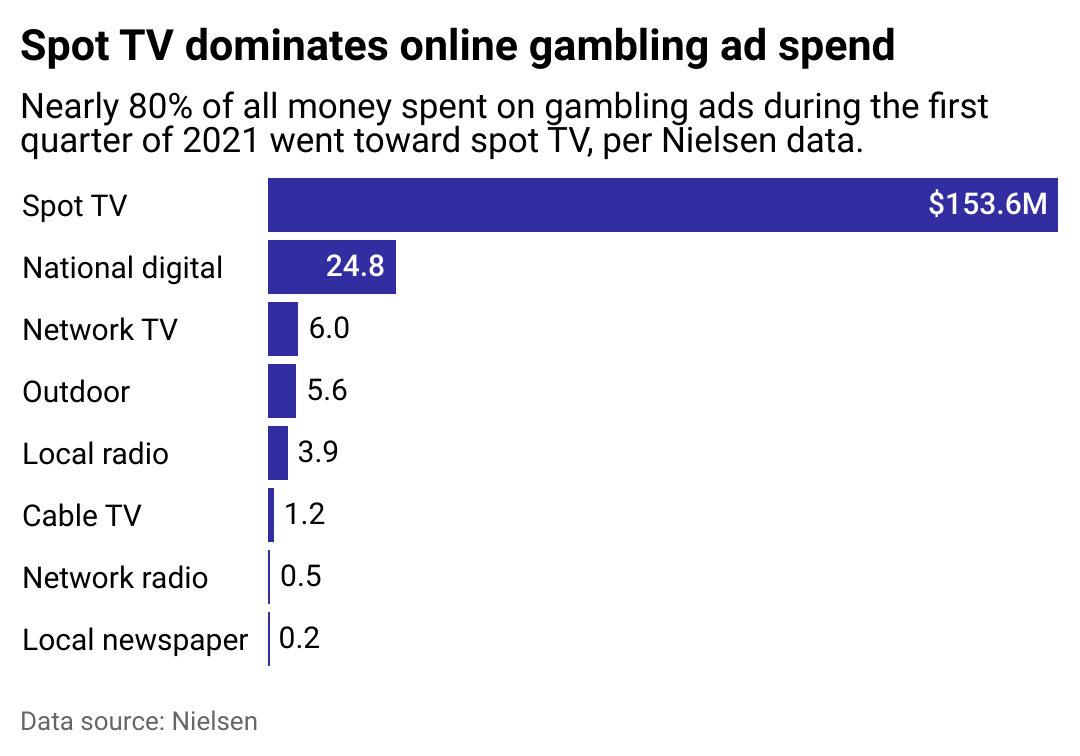 1 / 3
Most gambling ads are on spot TV
Called a "golden goose" by Nielsen, the gambling industry spent $200 million on television ads during the first quarter of 2021. Spot TV, ads bought for specific stations, accounted for much of that spending. That advertising segment has even more potential down the line: Nielsen noted that BIA Advisory Services, a media research firm, estimates online gambling could purchase upwards of $587 million per year in local spot TV ads by 2024. This ultimately has been a huge positive for local TV stations, many of which suffered during the early stages of the COVID-19 pandemic.
As a whole, BIA Advisory Services estimates the online gambling industry will spend $1.8 billion on advertising in 2023. However, that figure includes numbers outside of TV ads, such as those on the radio.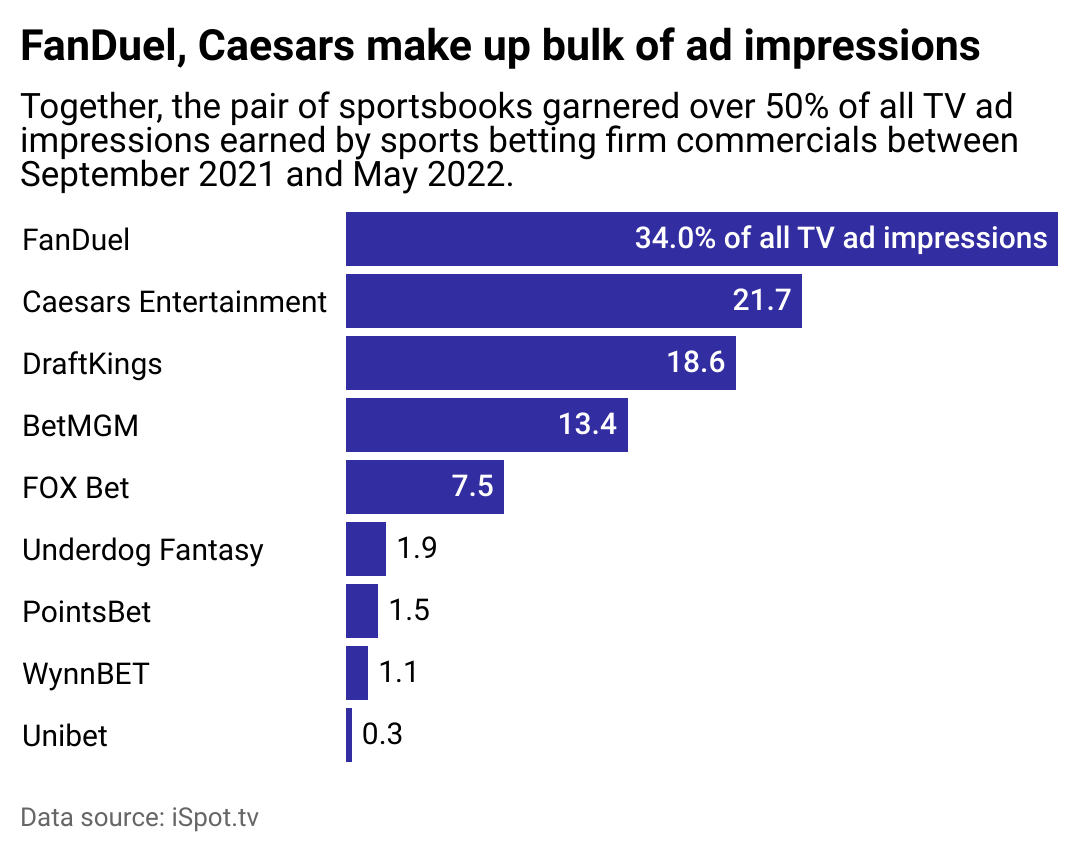 2 / 3
Sportsbook TV ads are led by 3 main companies
FanDuel and Caesars Entertainment lead the way for spend-happy sportsbooks, with DraftKings not far behind in third place. Those three brands account for nearly three-quarters of TV impressions—a metric that gauges the number of views an advertisement collects—earned by sports betting commercials, according to a 2022 report by iSpot.tv.
The history of FanDuel and DraftKings pre-date the SCOTUS ruling in 2018. Both companies started as daily fantasy sports companies but have since shifted into the sports betting space. The two brands planned to merge in 2016, but that attempt ended in failure after pressure from federal regulators.
Caesars, meanwhile, is a Nevada-based company that operates a range of hotels and holds a long-standing presence in the greater gambling industry. In 2021, the company purchased William Hill, the third-largest sportsbook operator in the U.S. at the time, to make its first moves into the sports betting space. Since then, it has gone all out with TV advertising—its latest campaign features the likes of comedic actors J.B. Smoove and Vince Vaughn alongside the Mannings, football's premier royal family.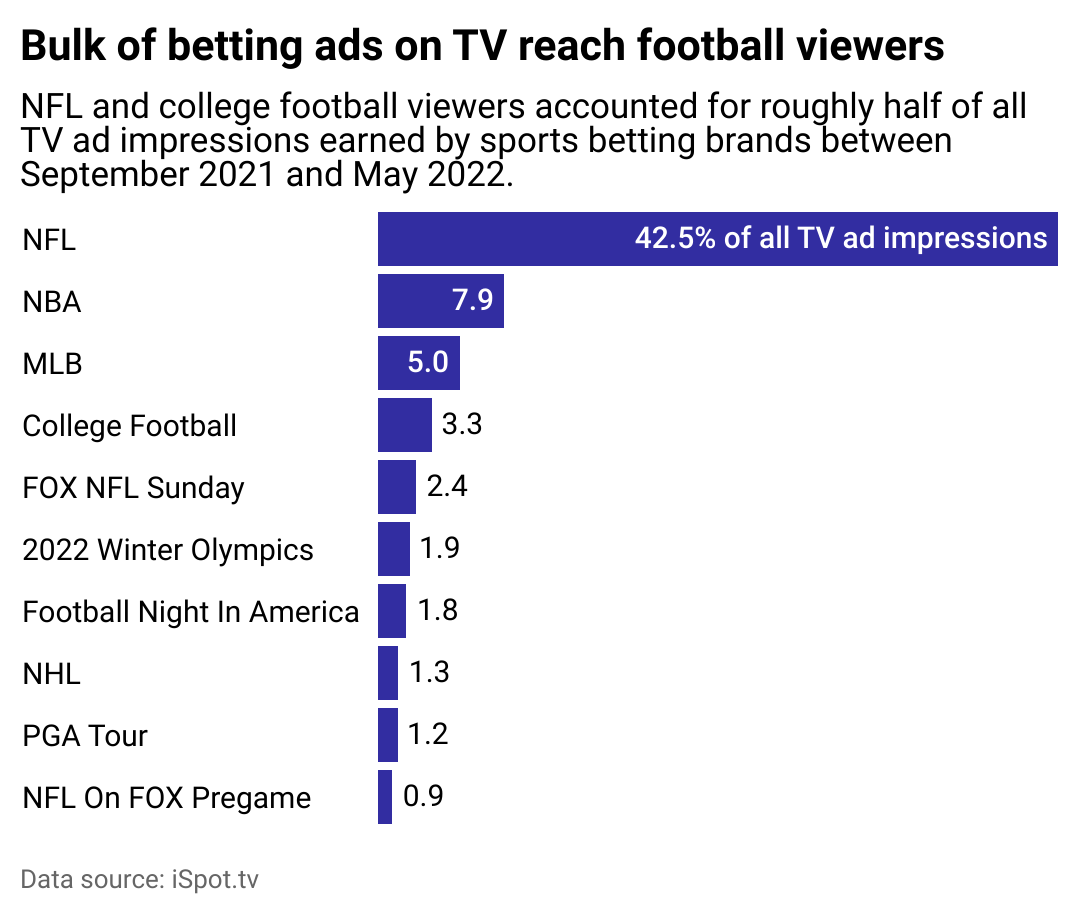 3 / 3
Nothing beats football for sports betting ads
When it comes to sports betting advertising, football is king. NFL games account for nearly half of TV impressions for sports betting ads, while college football games and NFL preview shows push the sport's reach over the halfway mark.
The NBA is a distant second, as its games make up nearly 8% of sports betting ad impressions, while the MLB rakes in 5%. The NHL collects 1.3% of ad impressions, solidly placing hockey in the fourth spot among North American leagues.
As the gambling industry moves forward, it will be interesting to see if these figures change in any meaningful way. Baseball, for instance, recently instituted numerous rule changes meant to increase viewership, which could boost ad impressions positively. That sport, with its frequent stops in action, is also primed for microbetting, an up-and-coming niche in the world of sports betting.
The NBA, meanwhile, is among the pro sports leagues rapidly embracing betting. According to the Athletic, the latest collective bargaining agreement between players and the league allows players to invest in sports betting companies.
With those warning shots from other leagues sizzling through the air, the NFL is focused on maintaining its grip on the top spot. League owners recently okayed in-stadium sportsbooks, signaling that they, too, are keen to tap into the gambling boom.
This story originally appeared on AskGamblers and was produced and distributed in partnership with Stacker Studio.