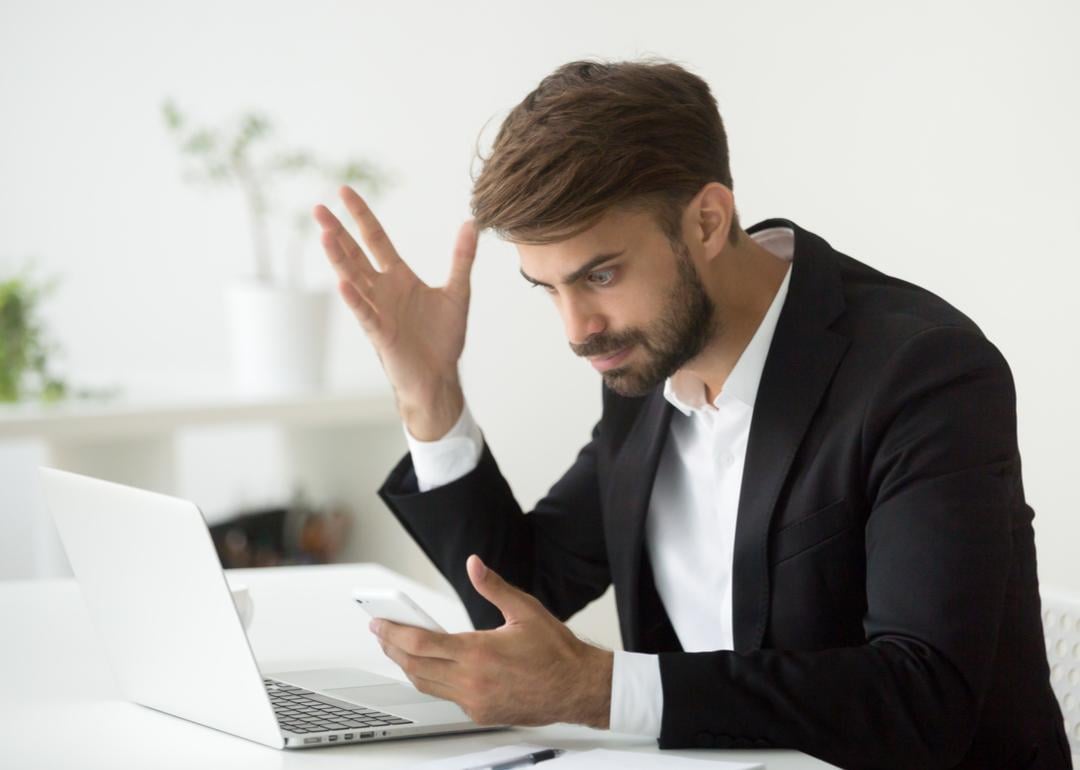 30 startups that lost millions of investors' money
30 startups that lost millions of investors' money
Augmented virtual reality glasses, smart luggage, high-end tea infusers, LED lights, gourmet food delivery, and Wi-Fi-connected juicers are just some of the 30 startups that lost millions of investors' money. Stacker looked to CB Insights, a private company financing and angel investment database, to rank the brilliant ideas that busted after million-dollar Kickstarter campaigns had foretold otherwise.
The stories behind the failed startups vary as much as the products and services themselves. New York City startup Aereo fought to stay alive, bringing its battle to the U.S. Supreme Court, which confirmed the company infringed on broadcast copyrights. Meanwhile, startup A Better Place promised to change the world with electric cars, but only managed to scare up some temporary hype. And then there is Elizabeth Holmes, founder of Theranos, a health-care startup that was busted by the Wall Street Journal for dubious blood-testing services.
Stacker saw specific trends among the failing companies, with the biggest losers coming out of Silicon Valley. Another noticeable trend was the time in which it took these startups to fail. While many of them ceased business at around six years, others took only a couple of years to lose all the privately invested money. The startup at the top of this list, however, involved losing taxpayers' dollars in addition to private investor funds. The company "used the money, along with hundreds-of-millions more from private investors, to build a new facility," Fox News reported, but was forced to shut the doors of its state-of-the-art factory less than a year later.
Some of these companies were before their time and weren't ready to succeed, such as RDio, the music streaming service that was seen as the future. Unfortunately for them, that future belonged to Spotify, who effectively took them off the air with its larger music library. SideCar saw Uber come along, overtake it, and stamp out its place in the market, leading the company to accuse Uber of predatory pricing practices.
Read on to find out all about the 30 startups that lost millions of investors' money.
You may also like: 20 companies that could go public in 2019
#30. CastAR
- Disclosed funding: $15 million
When CastAR's Kickstarter campaign raised more than $1 million from a $400,000 goal in 2013, a bright future for the augmented and virtual reality glasses seemed imminent. The Magic Wand joystick allowed the controller to position objects in space and the RFID Tracking Grid let users identify, track, and augment physical objects across a surface. "It was too early, and the challenges it faced were incredible," reports VentureBeat.
#29. Lily Robotics
- Disclosed funding: $15 million
Before it crashed and burned in 2017, Lily Robotics looked like it would fly high among the top drones in the industry. Founders Antoine Balaresque and Henry Bradlow raised $1 million in seed money for the four-rotor camera helicopter, and former NFL quarterback Joe Montana even backed the drone that had a pre-order price of $499, and some 60,000 customers. After a few delayed launches, in January 2017, all investors received an email stating they should expect a refund from the failed startup.
#28. Teforia
- Disclosed funding: $17.2 million
Teforia could not sustain financing long enough to educate tea drinkers on the "smart kitchen space" product even after securing $5.1 million in seed funding in 2015 and another $12 million in 2016. "There may have been room for a product at the higher-income bend for tea consumers," reports TechCrunch, but paying $649 to simplify the task of brewing tea just wasn't enough.
#27. Lantern
- Disclosed funding: $21.5 million
Lantern turned down its lights and laid most of its 25 member staff off in 2018 after having offered users tools to support them deal with anxiety and body image for six years prior. The $50 monthly service fee included a life coach who used digital cognitive-behavioral therapy to assist users. The six years Lantern lit up lives was not in vain, according to the company's website. The company's homepage now states: "That's why we founded All Mental Health, a nonprofit with a mission to deliver free and engaging mental health education."
#26. Bluesmart
- Disclosed funding: $27 million
BlueSmart was the highest crowdfunding project for a travel device in its time before it shut down in 2018 because of a smart luggage travel ban. The carry-on suitcase, which connected to smartphones and could be controlled by a phone app, came with a digital scale, tracking system, and a built-in battery charger. BlueSmart sold its intellectual property, designs, and branding to Travelpro in 2018, according to the Verge, who reported the company had 650,000 suitcases worldwide when it was banned.
#25. Cuil
- Disclosed funding: $33 million
Cuil search engine went live on July 10, 2008, and shut down two years later after raising $33 million in venture capital. Despite positive post-launch user metrics, the site did not see 200,000 unique monthly visitors in any month during 2009. The vice president leaving the company a month after the search engine's launch forecasted Cuil's eventual demise less than two years later.
#24. Stayzilla
- Disclosed funding: $33.5 million
After the founders of Stayzilla got arrested for financial fraud in 2017, India's version of Airbnb got crushed like a building in the old school Godzilla films. The $33.5 million raised over four funding rounds between 2013–16 helped create a directory of 15,000 listed stays in 11,000 Indian cities, toppled when founders and college roommates Yogendra Vasupal and Sachit Singhi failed to pay loans. Vasupal launched the company under the moniker Inasra Technologies in 2005 before changing it to Stayzilla in 2010.
#23. Agillion
- Disclosed funding: $33.5 million
After its founding in 1998, software company Agillion went through $33.5 million in a matter of three years before going belly up by 2001. "Agillion spent heavily to promote itself on the Super Bowl broadcast and sent employees on an expenses-paid trip to Cabo San Lucas in Mexico," according to the Associated Press. That would later cost six former executives who were sued by a U.S. bankruptcy trustee for their extravagant spending sprees.
#22. Laguna Pharmaceuticals
- Disclosed funding: $34.5 million
Unspecified safety issues in the third phase of the heart drug trial shut down Laguna Pharmaceuticals. "We didn't fail. The drug failed." Bob Baltera, Laguna CEO, said in a 2015 Xconomy report of the company founded in 2006. Business Insider reports Laguna is among nine other failed health-care startups which shut down after five years, some of which cost investors hundreds of millions.
#21. SideCar Technologies
- Disclosed funding: $36.3 million
The Series A funding for ride-hailing and business-to-business service SideCar Technologies in 2011 was $10 million; however, the great start didn't foretell the San Francisco-based company's 2015 failure. SideCar was the pioneering app that gave passengers an estimated price as well as matching carpool passengers, according to Reuters, until it was not. SideCar blamed its demise on Uber, suing the company for predatory pricing that was "designed to drive SideCar out of the market while Uber acquired a dominant market position," according to the lawsuit.
#20. Doppler Labs
- Disclosed funding: $41 million
Wired magazine featured the audio tech company's downfall, reporting "it had the bad luck of being a hardware company at a time when the biggest players in tech—Microsoft, Apple, Google, Amazon, and Facebook—are all pouring billions into developing their gadgets." That lousy luck cost the company $41 million along the way, specifically with the noise-canceling Here Ones earbuds at a price of $300, which according to Wired reporter David Pierce was great. "Controlling the world's sound is a superpower I never imagined having, and one I don't want to lose," he wrote.
#19. Navdy
- Disclosed funding: $42 million
A 2018 SlashGear report detailed the demise of Navdy, a GPS head-up display system that had incredible Kickstarter success of $1 million in its first crowdfunding campaign. The device failed because of its reliance on its smartphone-based service it could no longer afford. "With no current way to modify Navdy to use a different, free app, it means the units are effectively being bricked," reports SlashGear. Navdy reached its final destination when it stopped paying the subscription services, losing $42 million along the way.
#18. Joost
- Disclosed funding: $45 million
Long before Netflix and Hulu was Joost. The internet TV service, founded by the same originators of Skype, became somewhat of a buzzword at the time; the Guardian asked: "What is this new service called Joost?" At its peak, Joost, which operated out of Luxembourg and had offices in five countries, was expected to be the new way to watch TV, commercial and schedule-restriction free. It never took off, and in 2009 Adconion Media Group announced they were buying all of Joost's assets for an undisclosed amount.
#17. Hello
- Disclosed funding: $52.9 million
Made up of a small ball that sits at the bedside and a pill-shaped device that inserts into a pillow, Sense tracked a user's movement at night in reaction to the quality of the air and sound in the room. In the a.m., the device, which raised $2.4 million in its Kickstarter campaign, offered recommendations for sounder sleep. Before Sense made no more financial sense and shut down, it had reached a peak valuation of almost $300 million, according to TechCrunch.
#16. Gridco Systems
- Disclosed funding: $54 million
Multiple fundraising campaigns totaling $54 million for the power electronics device, which managed electricity fluctuations and disturbances at the distribution grid level, could not keep the lights on for Gridco Systems. "Though we are disappointed with the outcome, we remain confident as to the value of Gridco's technology and IP," Naimish Patel, CEO, told Greentech Media in 2018.
#15. TerraLUX
- Disclosed funding: $55.6 million
Colorado-based TerraLUX, the maker of LED and smart lighting, dimmed down in 2017. The company was still satisfying orders and shipping products when CFO Martin Lundie told the Denver Post the company had no more money to continue. The Denver Post reported the company had 57 employees in December 2016, before selling all assets in August 2017.
#14. Sprig
- Disclosed funding: $56.7 million
Delivering gourmet food to San Francisco businesses for Sprig cost millions. Sourcing, cooking, and providing gourmet food including raw shredded zucchini and shrimp bowls and lemon-Parmesan kale and quinoa salad turned out to be more than CEO Gagan Biyani bargained for. "The demand for Sprig's convenient, high-quality food was always incredibly high, but the complexity of owning meal production through delivery at scale was a challenge," Biyani wrote in a final email to customers in 2017.
#13. Shyp
- Disclosed funding: $62 million
Between 2013–2018 Shyp did just that. From pick up to packing and send off, the company transported goods for users who didn't want to do it. Then "the flat fee for pickup and packaging proved a challenge given the wide variance in size of packages that people were sending," according to Forbes. At its peak in 2015, the company's value was $250 million, but overhead fees and logistics eventually shipped Shyp into business oblivion.
#12. Loyal3
- Disclosed funding: $62.4 million
Loyal3 was introduced in 2008 and touted as an easy way to buy and sell stocks. The startup had a portfolio of up to 70 stock options in fractional shares that could be purchased for as low as $10. That strategy failed less than a decade from its start, with all securities and accounts transferred to FolioFirst on May 22, 2017.
#11. Beyond The Rack
- Disclosed funding: $95.6 million
The Montreal Gazette reported Beyond the Rack, a flash-site retailer, as one of the fastest growing startups in 2014 with 13 million members. Two years later, the paper asked "What went wrong with Montreal's Beyond the Rack?" when it reported the company, which sold discounted products including clothing, electronics, and home decor to registered members, owed $44.3 million to creditors. The Quebec startup received creditor protection in 2016 and was looking to sell its assets.
#10. Aereo
- Disclosed funding: $97 million
CEO and founder Chet Kanojia took his New York City-based startup Aereo to the U.S. Supreme Court, where he attempted to defend the service against copyright-infringement charges brought on by several broadcasters. He lost. The service, which captured over-the-air TV signals and streamed it live to customers via the internet, enabled consumers to pause and rewind live TV or save it for future viewing. His idea to change traditional television viewing cost investors and Kanojia, who filed Chapter 11 bankruptcy in 2014, four years after he founded the business.
#9. Juicero
- Disclosed funding: $99.9 million
The Silicon Valley Wi-Fi-connected juicer startup that sold for $400 a pop didn't last long after raising almost $100 million in funding. Bloomberg News reported users could easily squeeze the pre-packaged fruit and vegetable packets with their hands as fast, if not faster, than the expensive cold-press juicer. Additionally, a 2018 CNET report titled "Juicero is still the greatest example of Silicon Valley stupidity," reflects how media keeps the startup's failure on the forefront.
#8. Defy Media
- Disclosed funding: $100 million
A day after the Defy Media let some of its Beverly Hills production office employees go in 2018, creditors seized the company's assets. The digital media company, which produced up to 75 original and regularly scheduled shows for ages 12 to 34, owned popular YouTube brands Smosh, Smosh Games, and Clevver. Before it shut down, Defy also unloaded its video-game website, The Escapist, and entertainment property, Fandom.
#7. Pets.com
- Disclosed funding: $110 million
Ten years after it was founded, CNET named Pets.com as one of the greatest dot-com disasters in 2008. The company's appearance in the 1999 Macy's Thanksgiving Day Parade, 2000 Super Bowl advertising, and famous sock puppet dog that was interviewed by People magazine were all in vain after the company website only stayed live for two years from 1998–2000.
#6. RDio
- Disclosed funding: $117.5 million
Forbes reported on RDio as recently as February "for the world of music streaming, RDio was once one of those bright new things that seemed as though it could be the future." And then came Spotify with a far greater music streaming library. RDio's attempts to survive by streaming radio in 2013 or offering a free ad-supported plan in 2014 were eventually all tuned out in 2015, when the company filed Chapter 11 bankruptcy.
#5. Amp'd Mobile
- Disclosed funding: $324.5 million
Amp'd was not pumped up for too long, only lasting two years in the mobile phone service sector. In 2005 it had MTV has a primary backer, and by 2007 the company had filed Chapter 11 bankruptcy. This was mainly due to subscribers not being able to pay their fees. Reportedly, at the time of bankruptcy, around 80,000 of the company's 175,000 customers weren't able to pay for the service.
#4. Theranos
- Disclosed funding: $500 million
Dubious blood-testing practices put this Silicon Valley health-care startup to rest and not quietly. Wall Street Journal reporter John Carreyrou uncovered that Theranos, which offered 240 finger prick tests that detect cholesterol to cancer, was not legitimate. CEO Elizabeth Holmes claims her company did not rush to judgment when marketing the failed product, but former lab associate and Theranos whistleblower Erika Cheung reported the company to authorities and Carreyrou, precipitating its downfall.
#3. Better Place
- Disclosed funding: $675.3 million
Fast Company magazine calls the plan of substituting petroleum-based cars with electric ones a cautionary tale "even by the standards of world-changing startups." However, German founder and software mogul Shai Agassi had hopes in 2009 for the Renault Fluence Z.E, the only car the startup would produce. Unlike the electric vehicle, Better Place "lived fast and died young," reports the magazine, adding that despite grand visions of changing the world, a lack of focus eventually spelled doom.
#2. Jawbone
- Disclosed funding: $929.9 million
Jawbone Health lost nearly $1 billion in a decade as a Bluetooth earpiece and wireless speaker startup, but founder Hosain Rahman just raised another $65 million to venture on with wearable fitness trackers, according to TechCrunch. Rahman touts the device has "clinical grade" quality that the Apple Watch does not. If he is not right, his new tool will only add to the nearly billion dollars of investor funds he already lost.
#1. Solyndra
- Disclosed funding: $1.2 billion
Then U.S. Secretary of Energy Steven Chu announced the clean energy startup would receive $535 million in a loan guarantee program. They got their money, and it cost taxpayers millions. A 2015 Inspector General report details the actions of Solyndra stealing taxpayers funds, and a Fox News report stated the same loan guarantee program that assisted Solyndra still exists today, "and taxpayer dollars are still being shelled out to energy companies of all types."