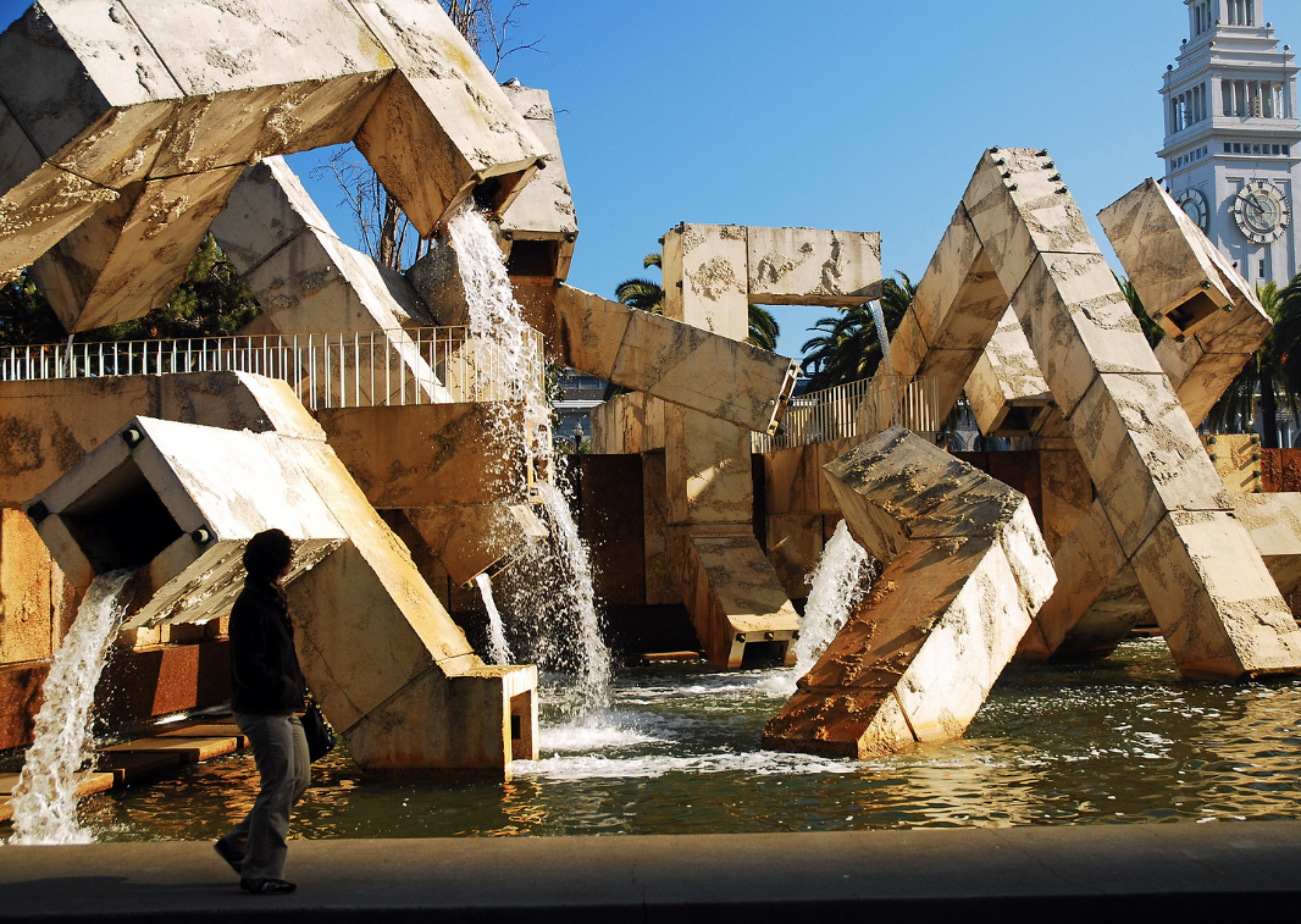 50 arresting Brutalist structures in the United States
James Kirkikis // Shutterstock
50 arresting Brutalist structures in the United States
Few movements in architectural history have been as polarizing as Brutalism. Enthusiasts are few and far between, but they work tirelessly to keep Brutalist monuments not just in the public eye, but out of the path of the wrecking ball.
Although the term "Brutalism" aptly reflects the school's characteristic hulking forms, it derives, in fact, from the French phrase "béton brut," meaning raw concrete—the material favored by the incomparable Le Corbusier, architect of the seminal 1952 Unité d'Habitation apartment block in Marseille, France.
Less than a decade after its birth in Europe, Brutalist architecture could be found around the globe. A darling of Eastern Bloc nations during the Cold War, Brutalism also took hold in the United States during the 1960s, championed by Federal commissions. In addition to government buildings, the Brutalist aesthetic also infiltrated University campuses and spawned a large number of ecclesiastical edifices.
Although Le Corbusier is regarded by many as the father of Brutalism, it was Hungarian industrial-designer-turned-architect Marcel Breuer who made the most lasting impact on the American Brutalist landscape, erecting dozens of structures across the country. Although New York City's Whitney Museum decamped from its original Breuer-designed premises in 2015, the rechristened "Breuer Building" preserves the architect's legacy.
Other Brutalist buildings have not fared as well. As they approach late middle age, many Brutalist structures are now in a shocking state of disrepair. Unloved and unwanted, they risk demolition, clearing the way for new construction on what is often deemed valuable urban real estate. Sadly, a number of important Brutalist masterpieces have already been lost, including Bertrand Goldberg's Prentice Women's Hospital in Chicago and Seattle's Moore House Annex, which previously housed a nuclear reactor on the University of Washington campus.
Stacker combed through the visual archives to create this carefully curated slideshow depicting 50 of the most arresting Brutalist structures in the United States. Scroll through the list and find out which master works by Le Corbusier, Breuer, Goldberg, and others have survived the test of time.
You may also like: States investing most in their schools' infrastructure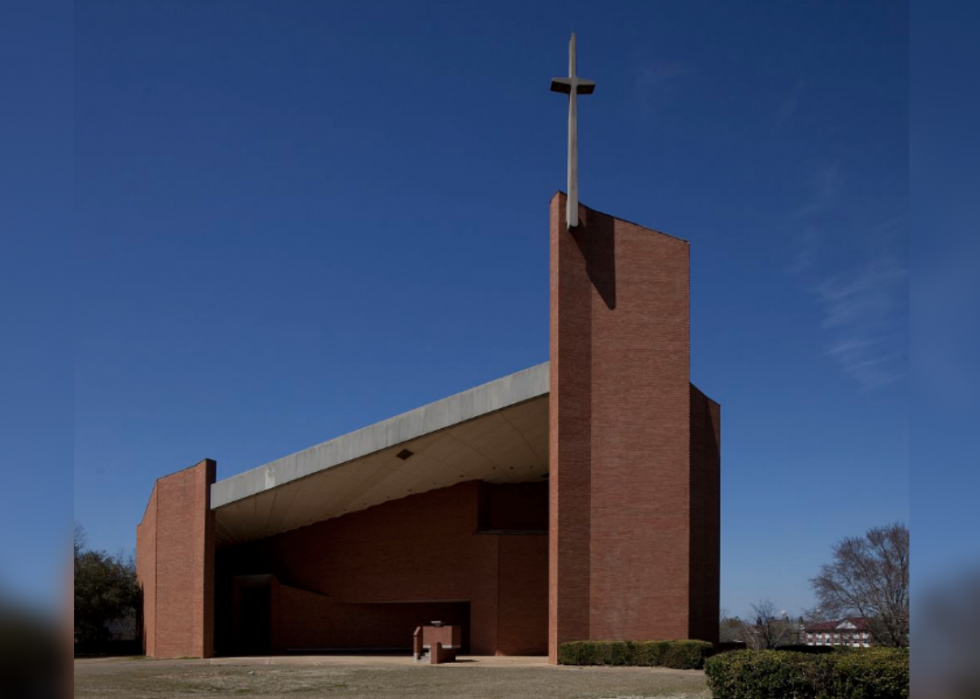 1 / 50
Carole M. Highsmith // Wikimedia Commons
Tuskegee University Chapel: Tuskegee, AL
After a fire engulfed an earlier church in 1957, Tuskegee University commissioned native Alabaman Paul Rudolph to design a new house of worship, working collaboratively with African American architects Louis Fry, John A. Welch, and Moreland Griffith Smith. Completed in 1967, the building originally called for concrete. Cost considerations, however, necessitated that the chapel be built of bricks handmade by students from local clay.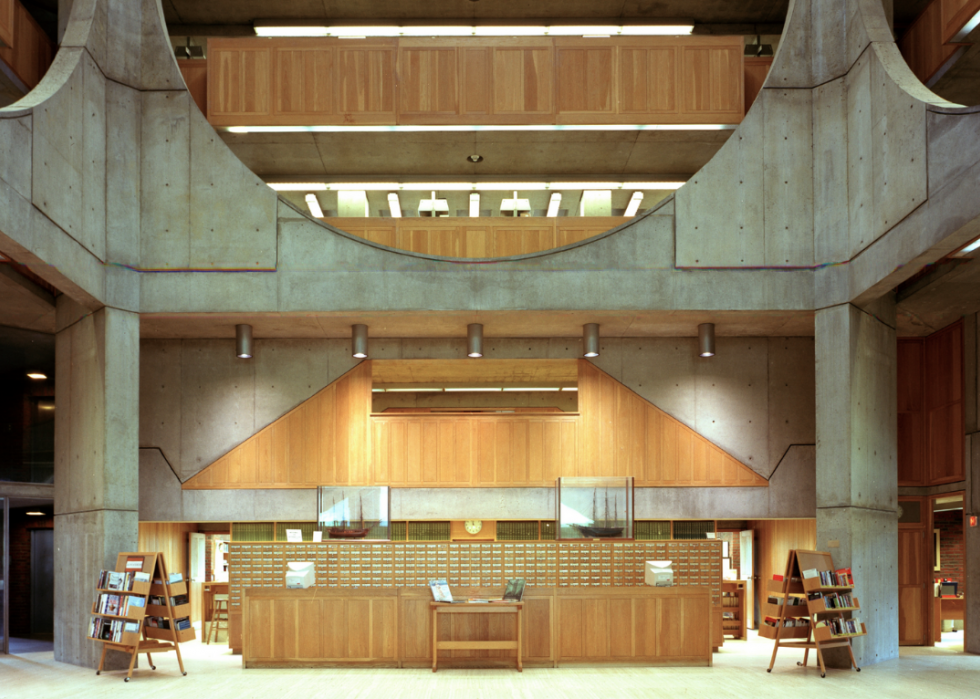 2 / 50
Carole M. Highsmith // Wikimedia Commons
Phillips Exeter Library: Exeter, NH
Designed by Louis Kahn in 1965, the award-winning Phillips Exeter Library is composed of three massive, concentric squares, each housing a distinct sphere of activity: carrel space, the stacks, and an inner atrium. The largest secondary school library in the world, it currently houses over 60,000 volumes.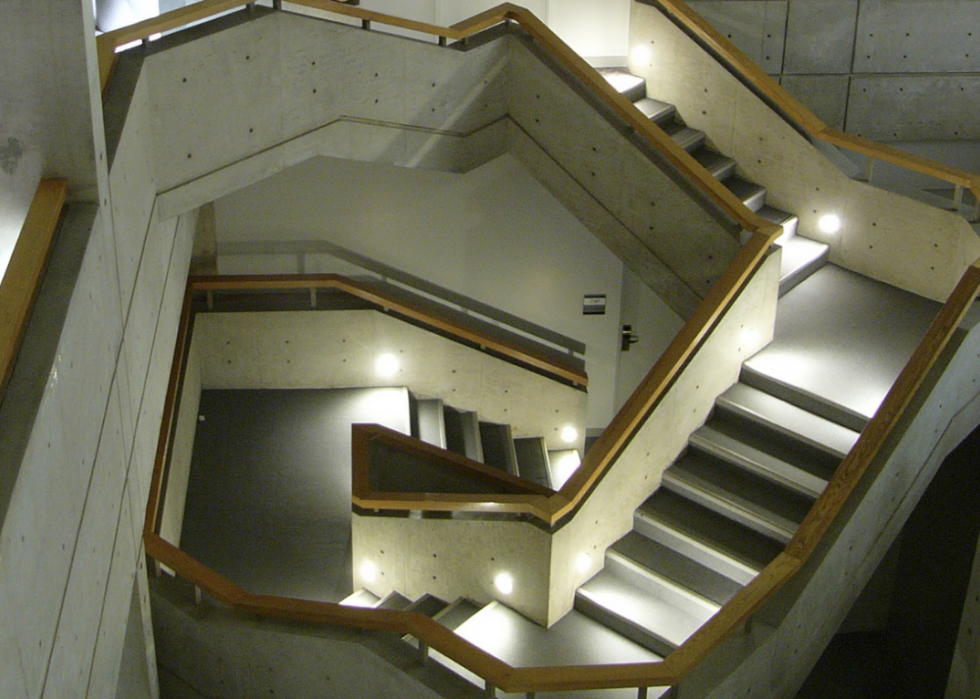 3 / 50
Ethan Bernard // Wikimedia Commons
Cadet Chapel: U.S. Air Force Academy, CO
The Cadet Chapel, designed for the U.S. Air Force Academy by Walter Netsch, is one of the more graceful exponents of the Brutalist movement. Constructed in the early 1960s, the chapel boasts aluminum spires that recall the silhouette of a jet fighter as well as the 13th-century Rayonnant buttresses of the Sainte-Chapelle in Paris. Plagued by a leaky roof, the chapel currently faces restoration costs in excess of 25 million dollars.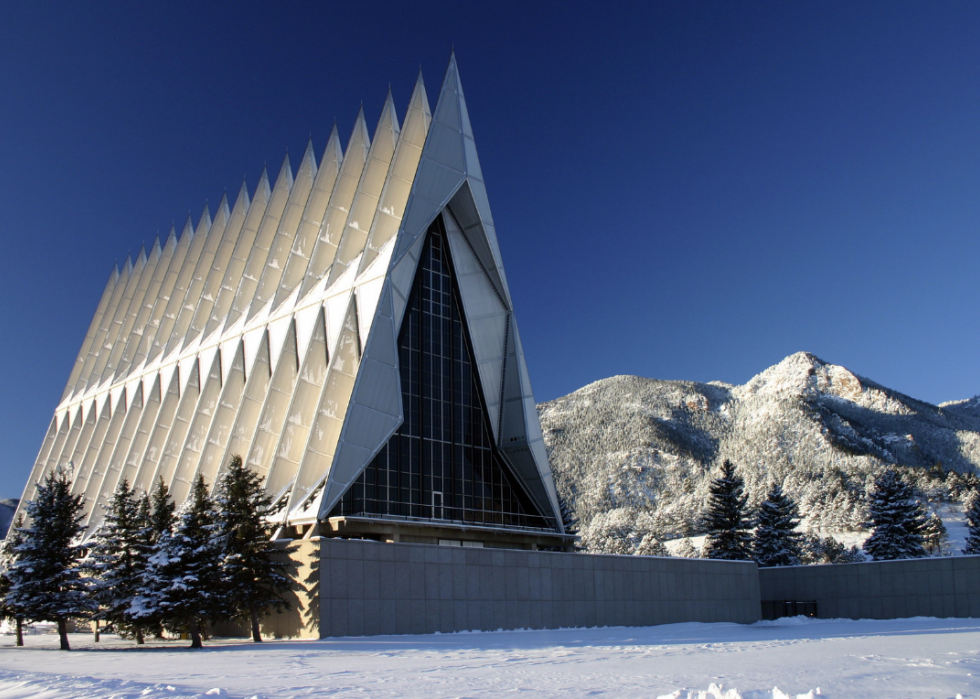 4 / 50
Wicker Imaging // Shutterstock
The National: Leesburg, VA
Designed by Vincent Kling and Partners, The National (previously known as the National Conference Center), was constructed in 1974 as a training facility for the Xerox Corporation. In an effort to warm up the Brutalist building's "hard edges", a warm-and-fuzzy 2018 makeover featured the application of murals depicting local woods and waterways.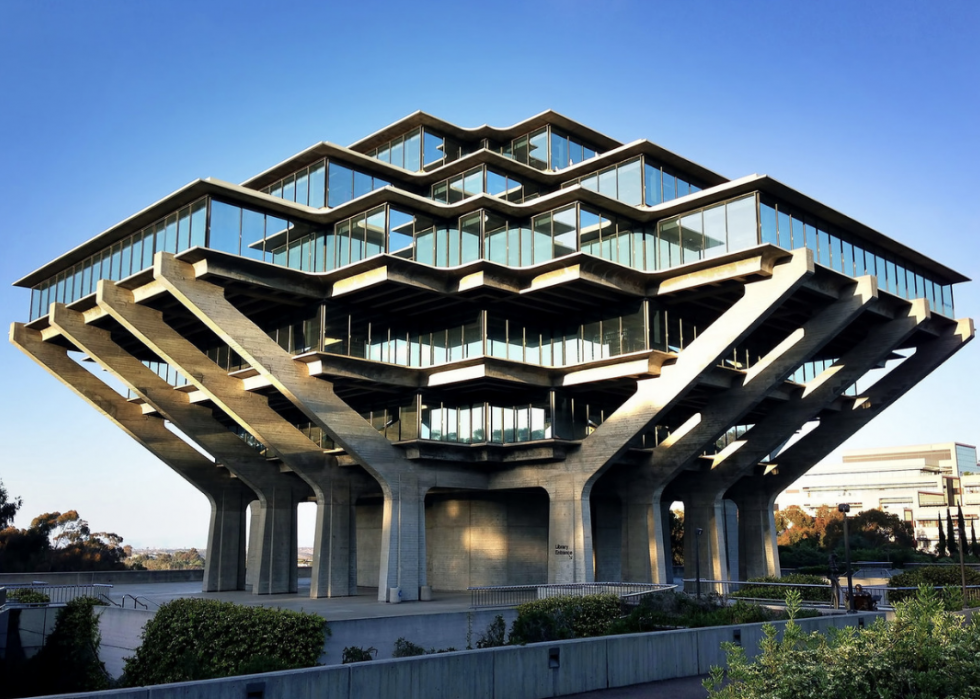 5 / 50
Geisel Library, UC San Diego: La Jolla, CA
Named for La Jolla native Theodore Geisel (better known to children around the world as author and illustrator Dr. Seuss), UC San Diego's Geisel Library first opened its doors to students in 1970. The surprisingly whimsical concrete and glass structure, evocative of an overgrown mushroom, houses an impressive collection of original drawings and other Dr. Seuss memorabilia.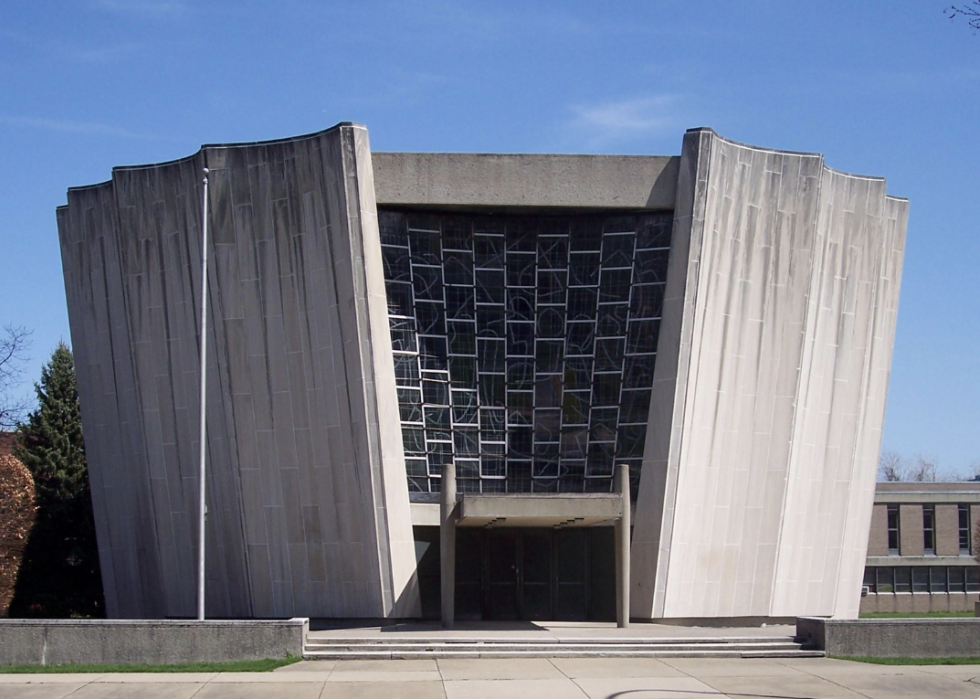 6 / 50
Fortunate4now // Wikimedia Commons
Temple Beth Zion: Buffalo, NY
After a fire destroyed Temple Beth Zion's original synagogue in 1961, architect Max Abramovitz was selected to design a new house of worship constructed from more sturdy materials, notably limestone and concrete. The new, circular structure, dedicated in 1967, contains a wall of sapphire-hued stained glass created by artist Ben Shahn.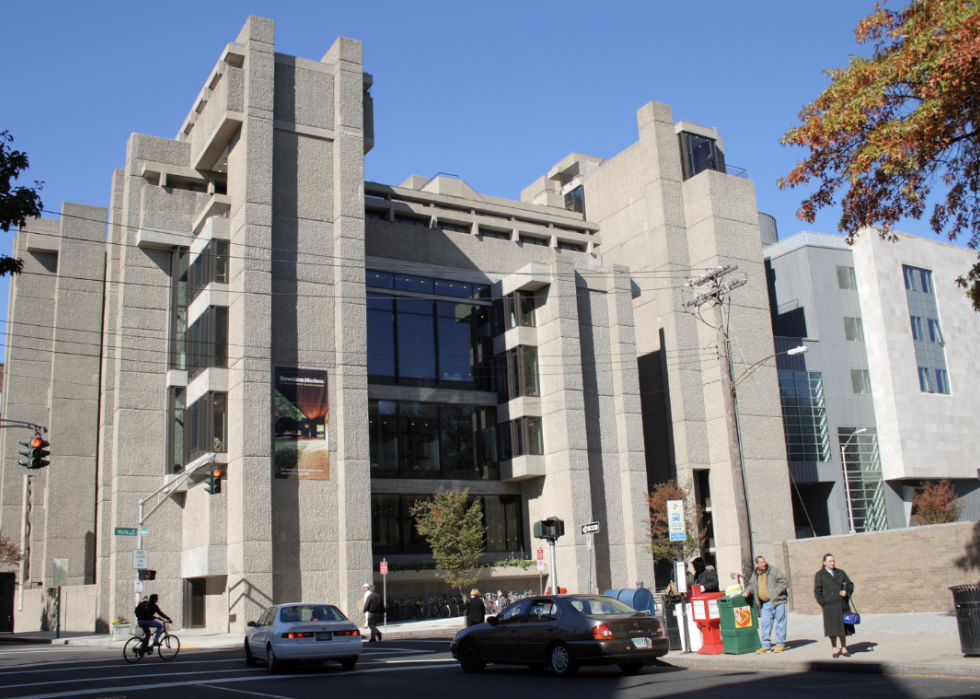 7 / 50
Sage Ross // Wikimedia Commons
Rudolph Hall, Yale University: New Haven, CT
One of the earliest examples of Brutalism in the United States, Yale's Rudolph Hall was designed by Paul Rudolph. Completed in 1964, the multi-storey, concrete structure originally housed the university's architecture department.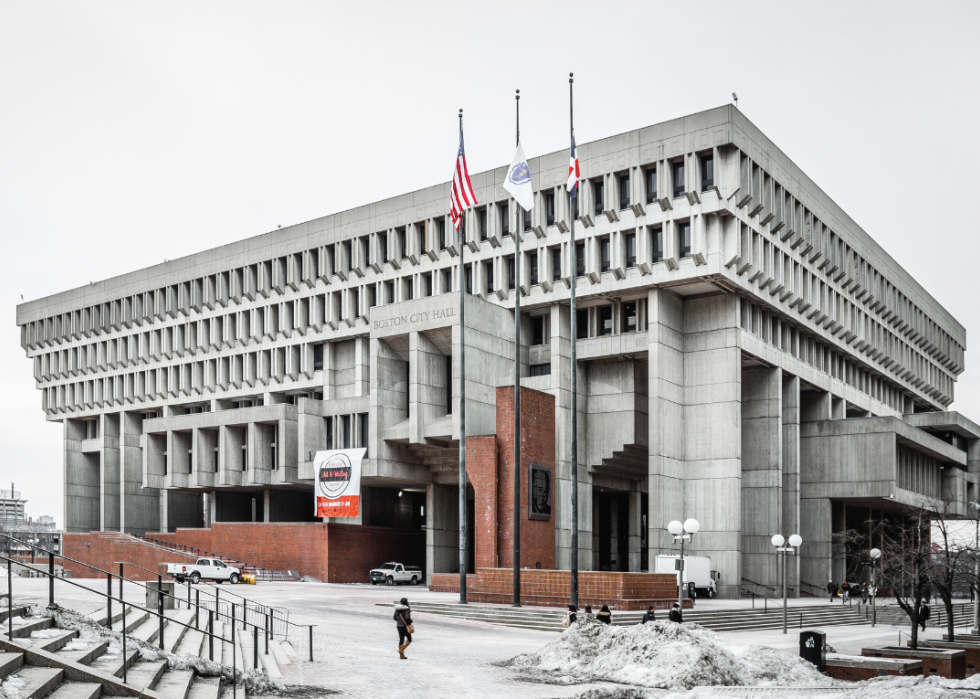 8 / 50
mtraveler // Shutterstock
Boston City Hall: Boston, MA
Ever since its construction in 1968, Boston's City Hall has been a source of contention in Beantown. Hailed by some as a masterpiece of modern architecture, the concrete monolith has been scorned by others as the "ugliest building in America." The nine-story, 515,000-square-foot edifice was the brainchild of Columbia professor Gerhard Kallmann and graduate student Michael McKinnell.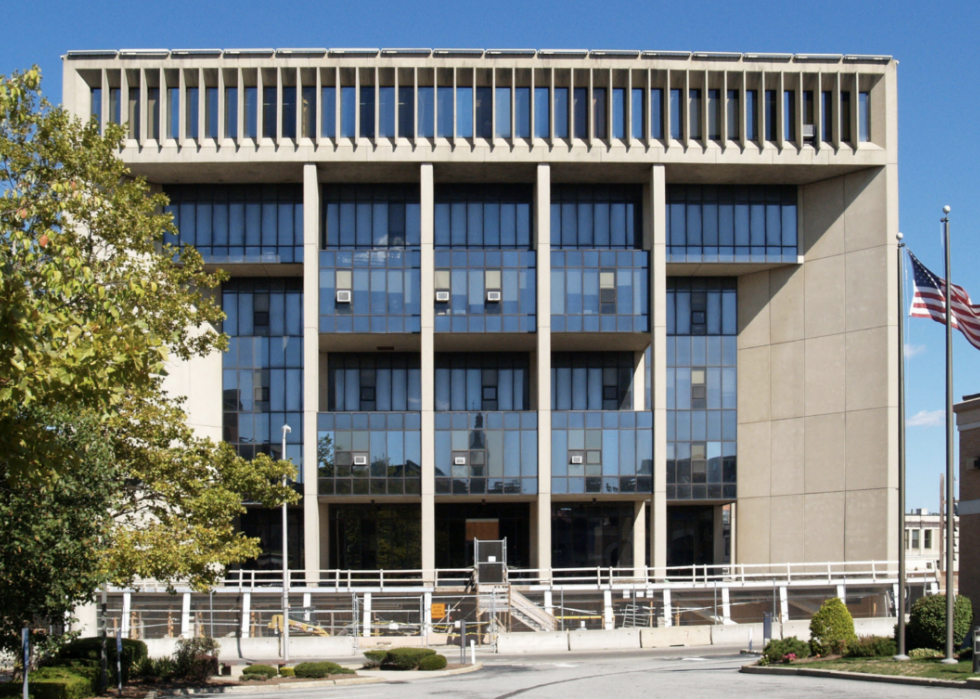 9 / 50
Marc N. Belanger // Wikimedia Commons
Fall River Government Center: Fall River, MA
A glass-and-concrete cube perched above I-95, the Fall River Government Center is one of the most recognizable Brutalist buildings in the United States. Plagued by issues since it opened in 1976, the building received a multimillion dollar makeover in 1978.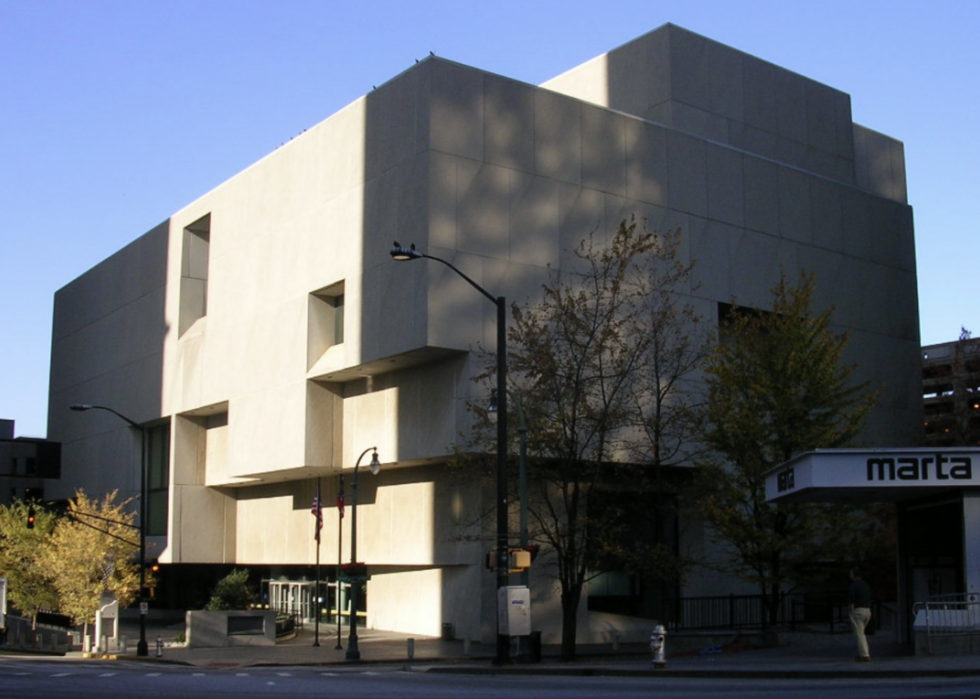 10 / 50
Eoghanach // Wikimedia Commons
Fulton Central Library: Atlanta, GA,
Fulton Central Library is the final work of legendary Hungarian architect Marcel Breuer. Over a decade in the making, the building finally opened to the public in 1980, with Breuer passing away the following year. While other cities have pushed to bury their Brutalist monuments, an outcry erupted in 2016 when a proposal to demolish the beloved icon surfaced.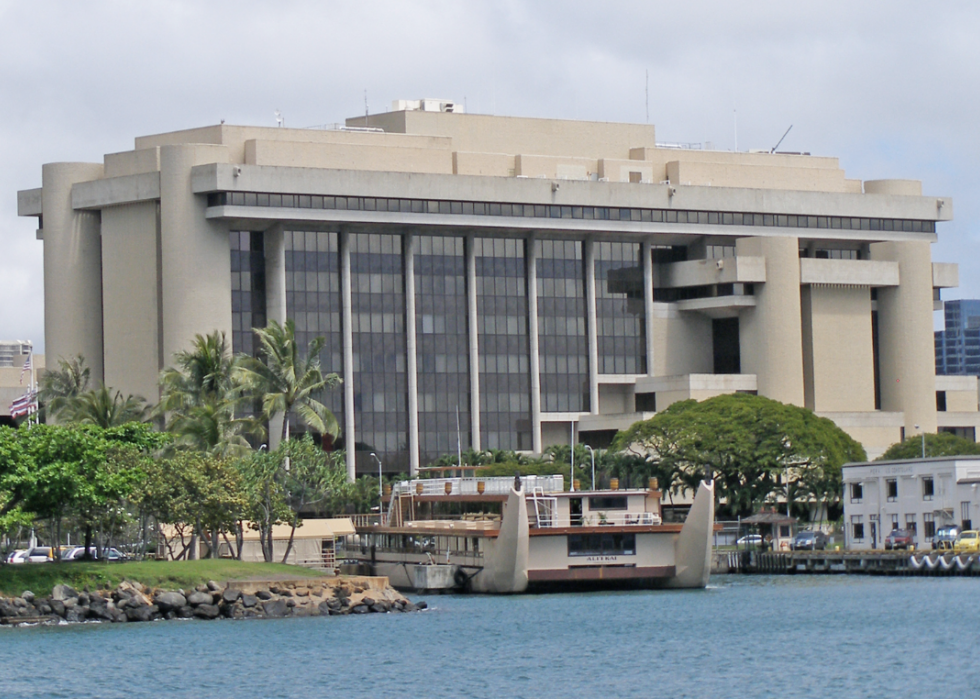 11 / 50
Public Domain // Wikimedia Commons
Prince Kuhio Federal Building: Honolulu, HI
A lush tropical paradise might seem like an unlikely location for a Brutalist stronghold, yet Hawaii is home a significant number of noteworthy Brutalist structures. The Prince Kuhio Federal Building—named for an heir to the overthrown Kingdom of Hawai'i—was designed by the local firm of Joseph G.F. Farrell in 1977. Constructed of limestone and concrete, the building is noteworthy for its distinctive sculptural form, central courtyard, and uninterrupted views of Iolani Palace.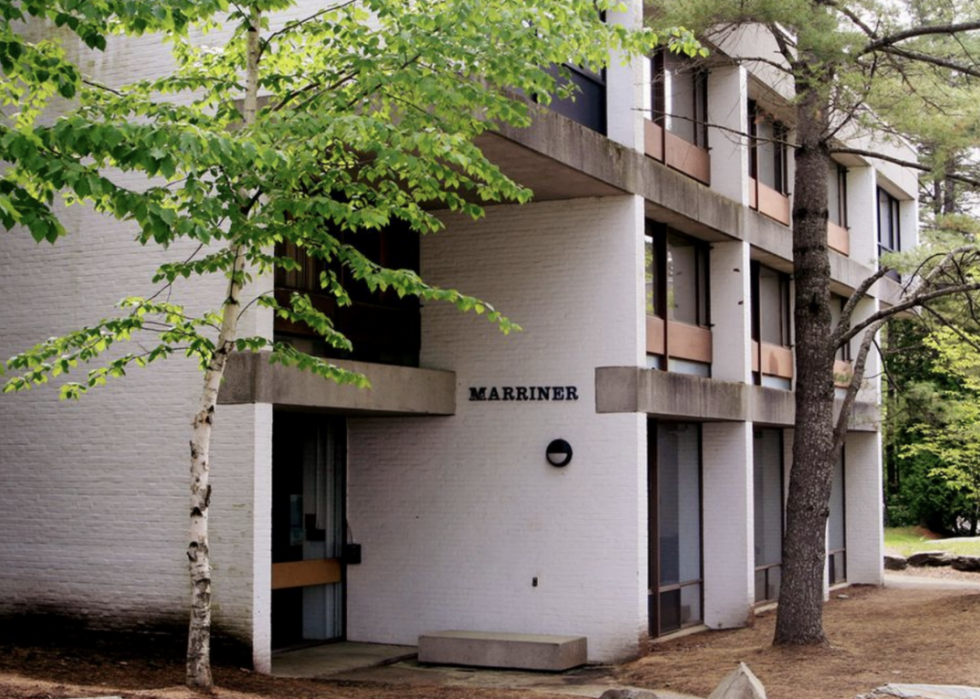 12 / 50
Colby Mariam // Wikimedia Commons
Hillside, Colby College: Waterville, ME
In 1967, Colby College commissioned Boston-based architect Ben Thompson, a partner of Walter Gropius, to design a new housing complex for its growing student body. The result was Hillside, a pod-like network of five interconnected cement cubes nestled along Mayflower Hill.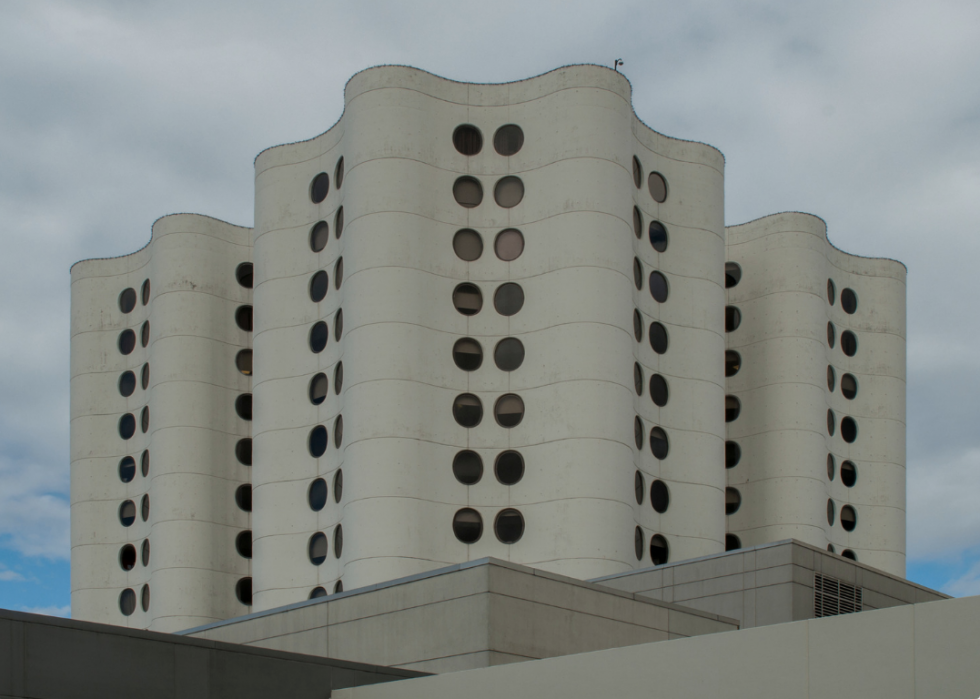 13 / 50
Nichole Burton // Shutterstock
St. Joseph Medical Center: Tacoma, WA
Erected in the late 1960s, St. Joseph's Medical Center was designed by Chicago-based architect Bertrand Goldberg. Composed of a stunning series of windowed pillars rippling along a central axis, the building features a system of elevated, flared concrete columns designed to buttress the structure against earthquake damage. A white fiberglass coating gives the building a distinctive glossy sheen.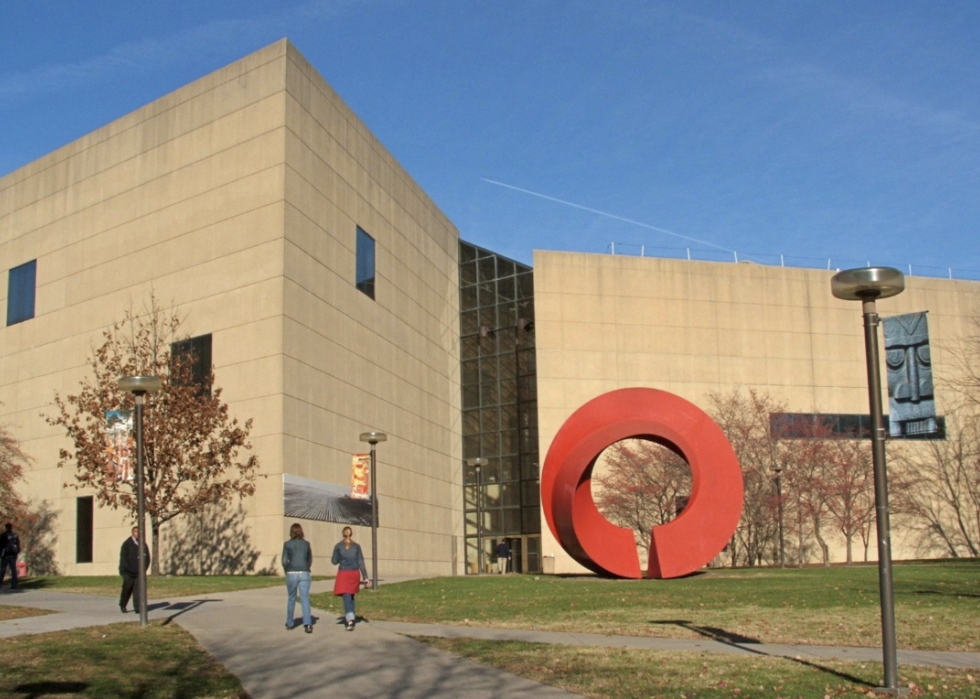 14 / 50
Kevin Zollman // Wikimedia Commons
Sidney and Lois Eskenazi Museum of Art: Bloomington, IN
Indiana University's Sidney and Lois Eskenazi Museum of Art was designed by I.M. Pei. Completed in 1982, the structure has a reputation as being devoid of right angles. Although this is not the case, the edifice is dominated by two large triangular blocks connected by a triangular glass atrium. Like many Brutalist buildings, the museum is showing its age and is currently closed while undergoing a restoration estimated to cost $35 million.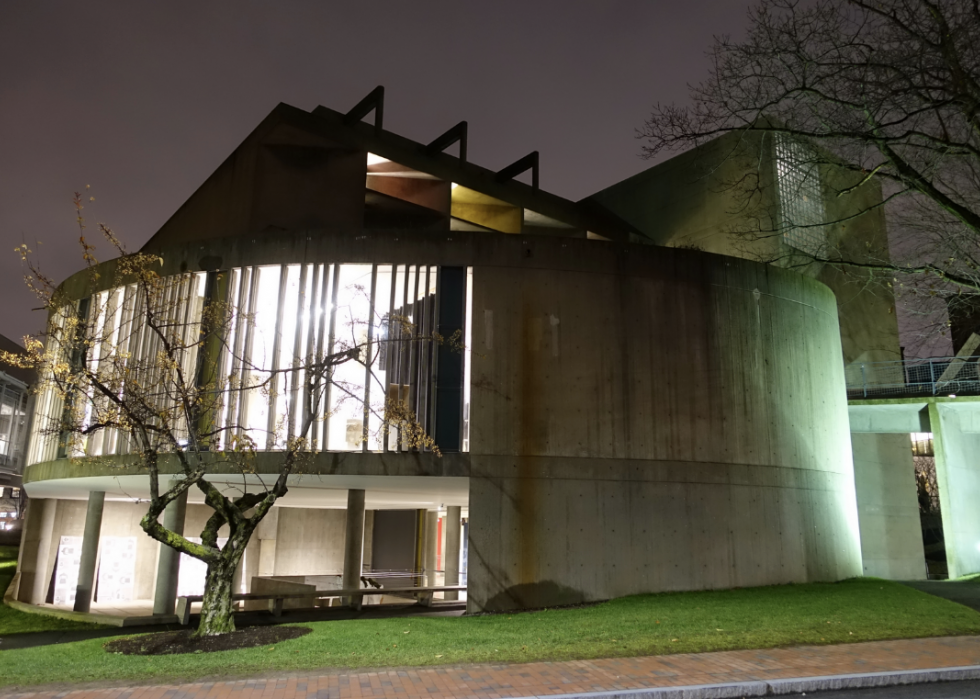 15 / 50
Daderot // Wikimedia Commons
Carpenter Center, Harvard University: Cambridge, MA
The only building in the United States designed by architectural titan Le Corbusier, the Carpenter Center for the Visual Arts was added to Harvard's ivy-covered campus in 1962. Le Corbusier's design adheres to his "Five Points of a New Architecture," incorporating distinctive elements such as a grid of concrete columns known as pilotis, horizontal windows, and a rooftop garden.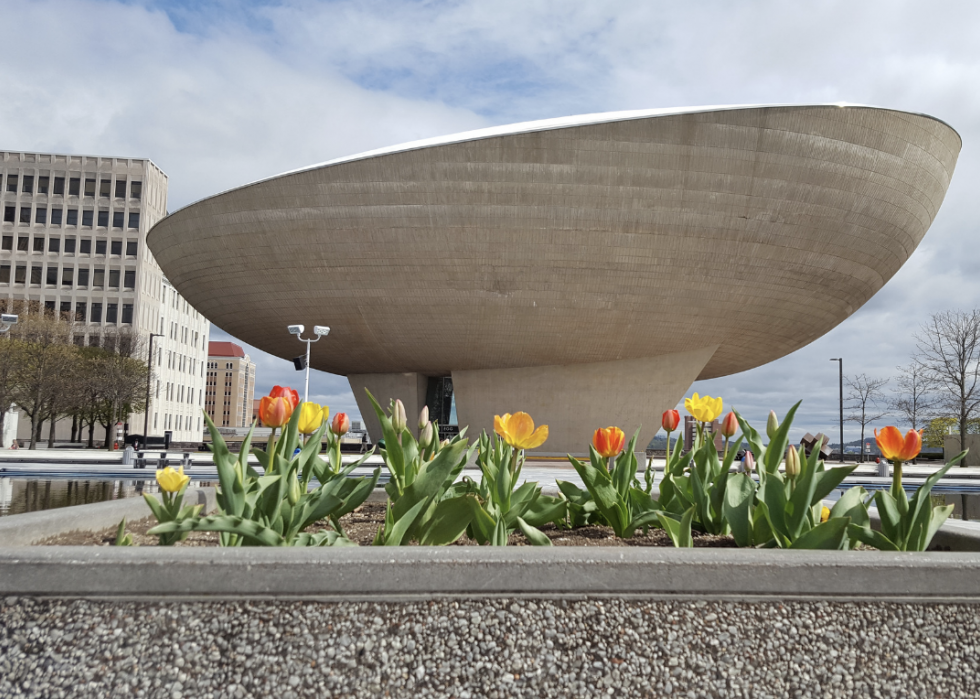 16 / 50
Nigar Alizada // Shutterstock
Center for the Performing Arts: Albany, NY
Albany's Center for the Performing Arts was designed by architect Paul Sableman. Dubbed "The Egg" in response to its distinctive ovoid form, the structure was added to the Empire State Plaza development championed by Gov. Nelson A. Rockefeller in 1978.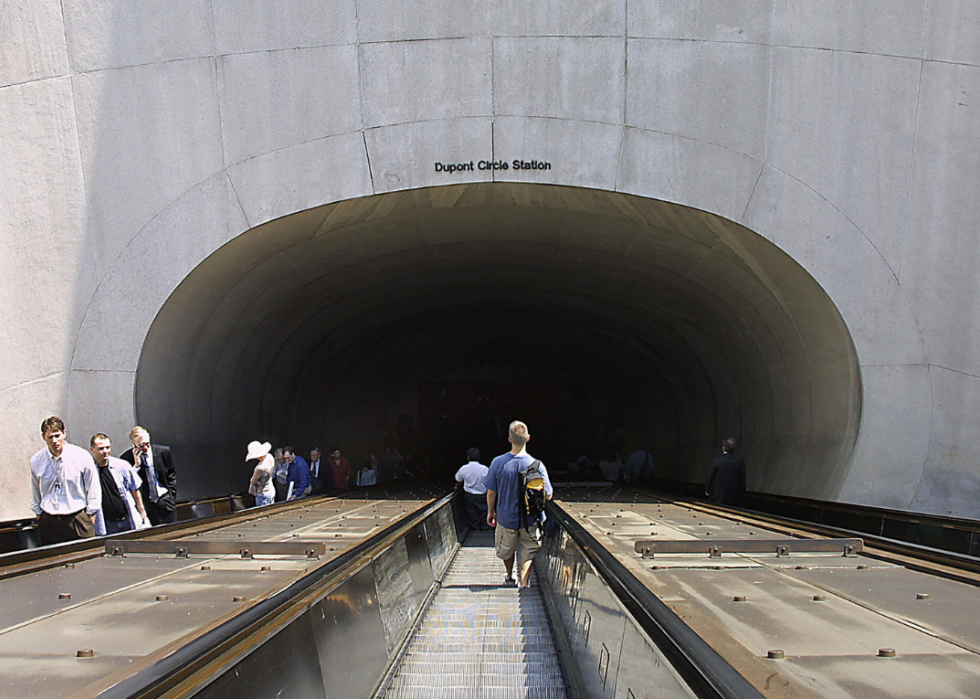 17 / 50
Karen Bleier // Getty Images
Dupont Circle Metro Station: Washington D.C.
Although every Metro station in Washington D.C. is an exponent of Brutalism, the Dupont Circle Station is particularly striking. In 2007, the station was voted as one of America's 150 favorite buildings in a public poll conducted by The American Institute of Architects and Harris Interactive—notable considering its Brutalist design.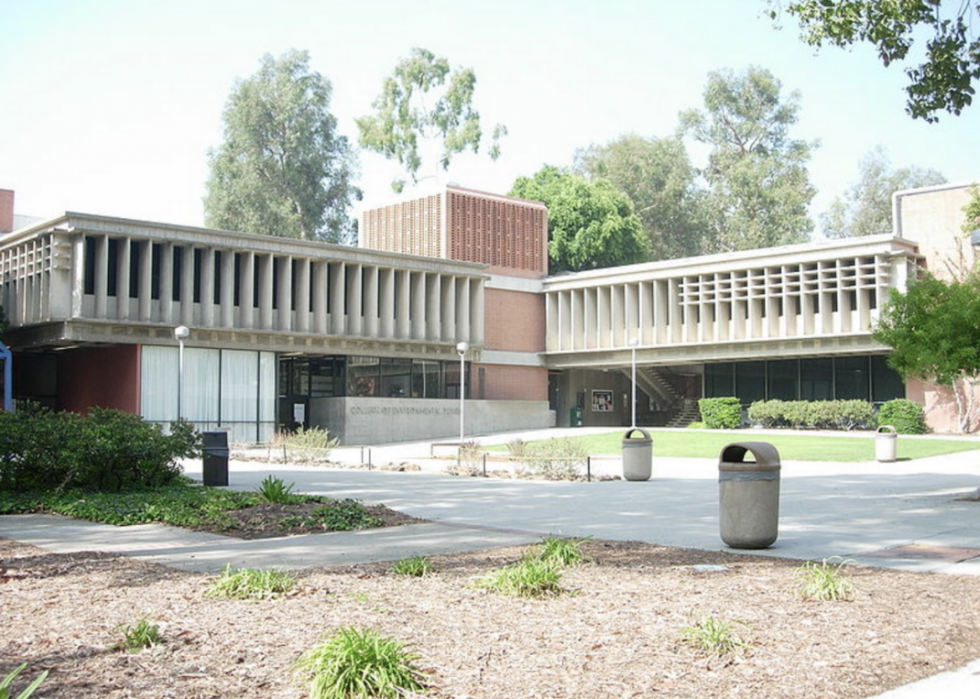 18 / 50
Seaprt // Wikimedia Commons
Cal Poly College of Environmental Design: Pomona, CA
This low-slung slab of concrete, brick, and glass was designed by USC alum Carl Maston. Created to house the college's new Environmental Design program, the building joined the Cal Poly campus in 1971.
19 / 50
Jannis Tobias Werner // Shutterstock
Regenstein Library, University of Chicago: Chicago, IL
Walter Netsch's 1967 Regenstein Library sits on the University of Chicago campus much like a pile of children's blocks—a series of massive cubic forms piled atop one another. The second-story reading room is distinguished by a series of thick, raw concrete columns.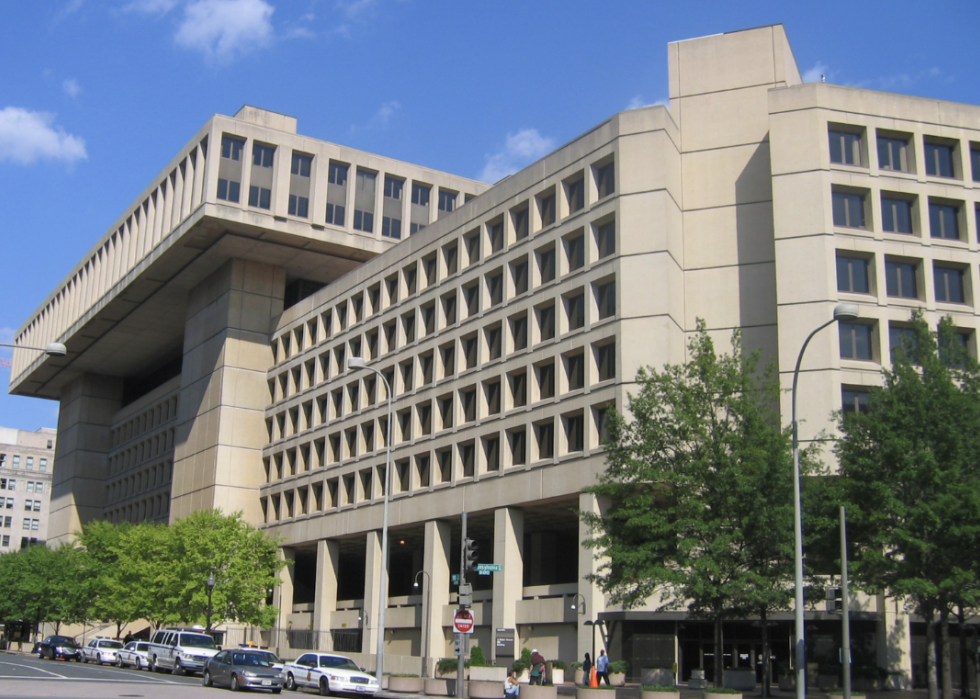 20 / 50
Aude // Wikimedia Commons
J. Edgar Hoover Building: Washington D.C.
Although the FBI outgrew their offices in the J. Edgar Hoover Building long ago, the Federal Bureau of Investigation continues to occupy the cramped structure—designed by Charles F. Murphy and Associates in the 1960s—while searching for more spacious digs. Structural issues have also plagued the building in recent years.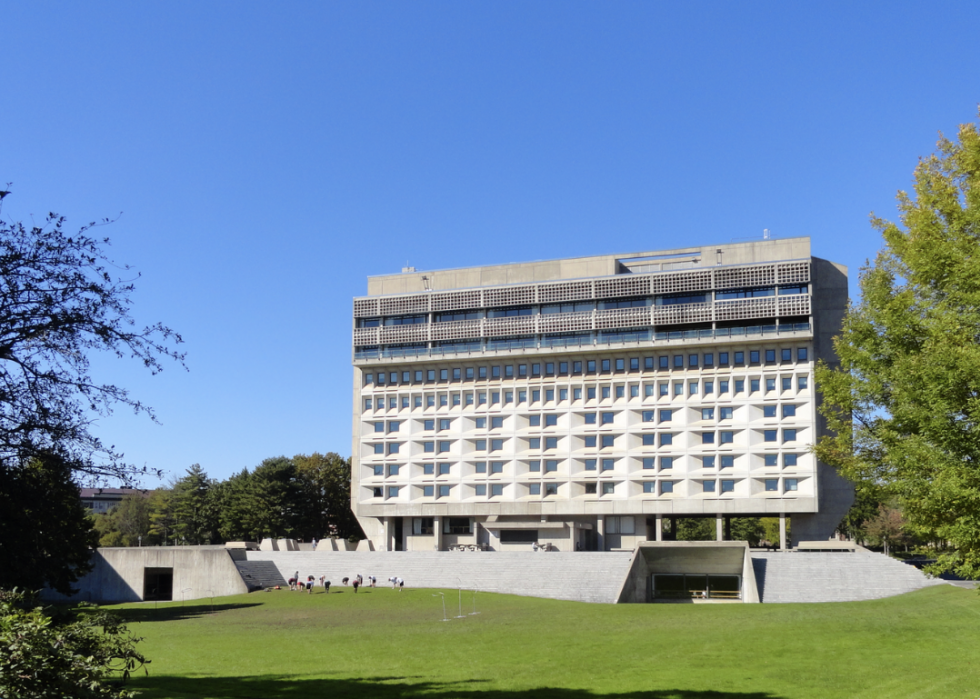 21 / 50
Ktr101 // Wikimedia Commons
Murray D. Lincoln Campus Center, Amherst College: Amherst, MA
Designed by Brutalist legend Marcel Breuer, the Murray D. Lincoln Campus Center was added to the Amherst College campus in 1970. Students and faculty access the elevated, poured concrete structure via an imposing series of steps.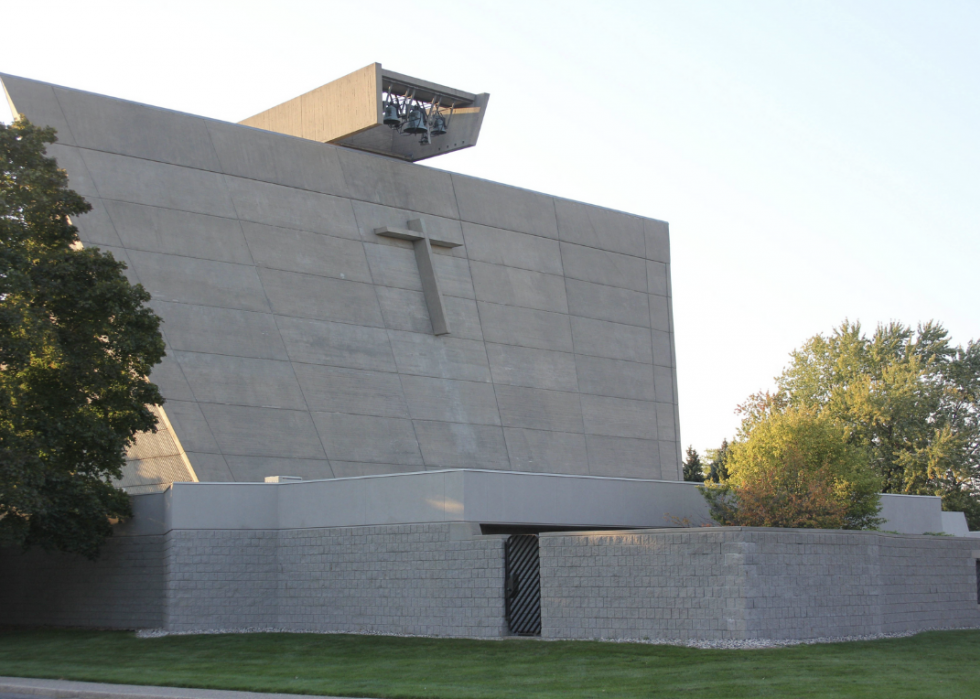 22 / 50
rossograph // Wikimedia Commons
St. Francis de Sales Church: Norton Shores, MI
The odd angles of St. Francis de Sales appear to jut forth from the Michigan landscape, much like a ship navigating choppy seas. Designed by Marcel Breuer in 1967, the structure soars 75 feet into the air, and is capped by a pair of church bells suspended form a pair of cantilevered concrete posts.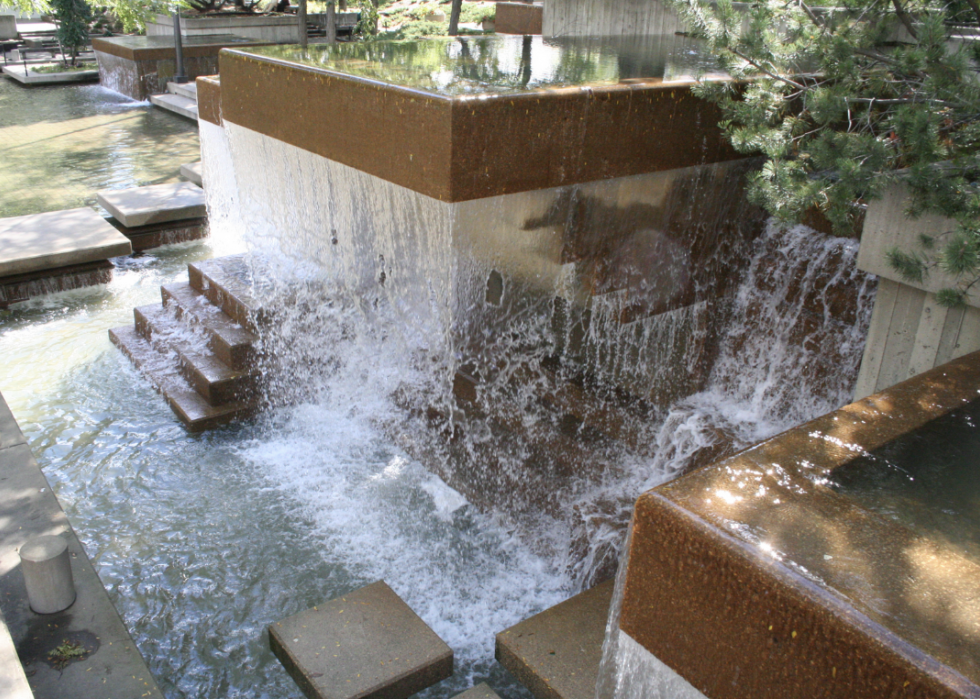 23 / 50
Jim Winstead, Jr. // Wikimedia Commons
Peavey Plaza: Minneapolis, MN
Paul Friedberg and Partners were the masterminds behind Peavey Plaza, the park-like oasis occupying over two acres in bustling Minneapolis. Large, horizontally aligned concrete blocks provide visual interest as well as a place for visitors to sit and enjoy the Plaza's numerous terraces and water features.
24 / 50
Breuer Building: New York, NY
Perhaps the most iconic Brutalist building in the United States, the Breuer Building on Manhattan's Upper East Side was named in honor of the architect responsible the structure's bold granite facade—the internationally acclaimed Marcel Breuer. Originally home to the Whitney Museum of American Art, the Breuer Building first greeted visitors in 1966.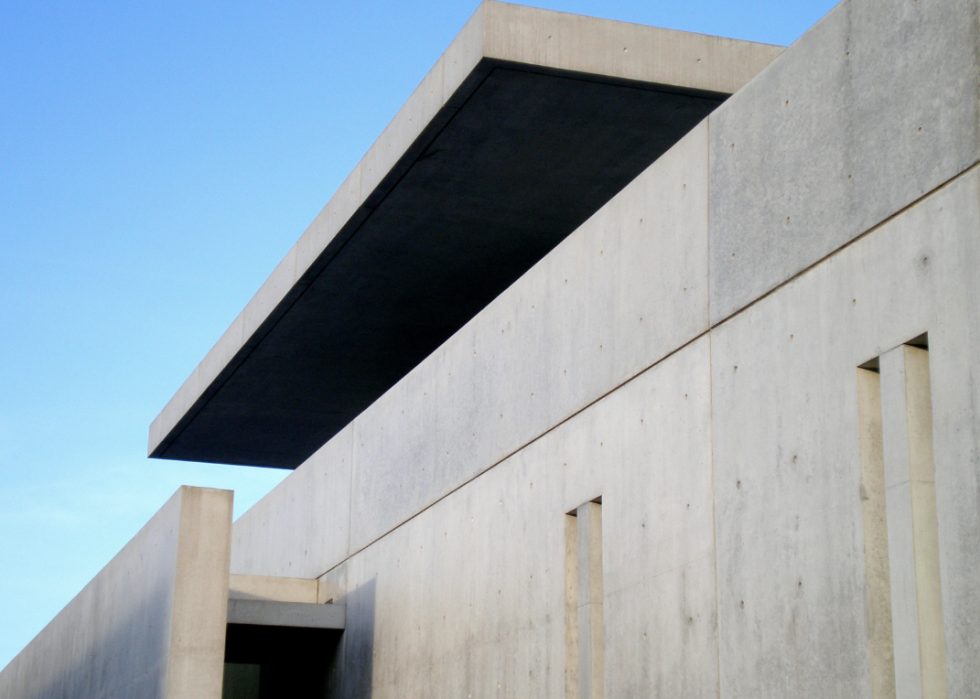 25 / 50
local louisville // Wikimedia Commons
Pulitzer Arts Foundation: St. Louis, MO
A later exponent of Brutalism, the Pulitzer Arts Foundation in St. Louis was completed in 2001, after 14 years of planning and construction. Designed by self-taught Japanese architect Tadao Ando, the concrete fortress conceals a tranquil courtyard housing a permanent collection of works by American artist Richard Serra.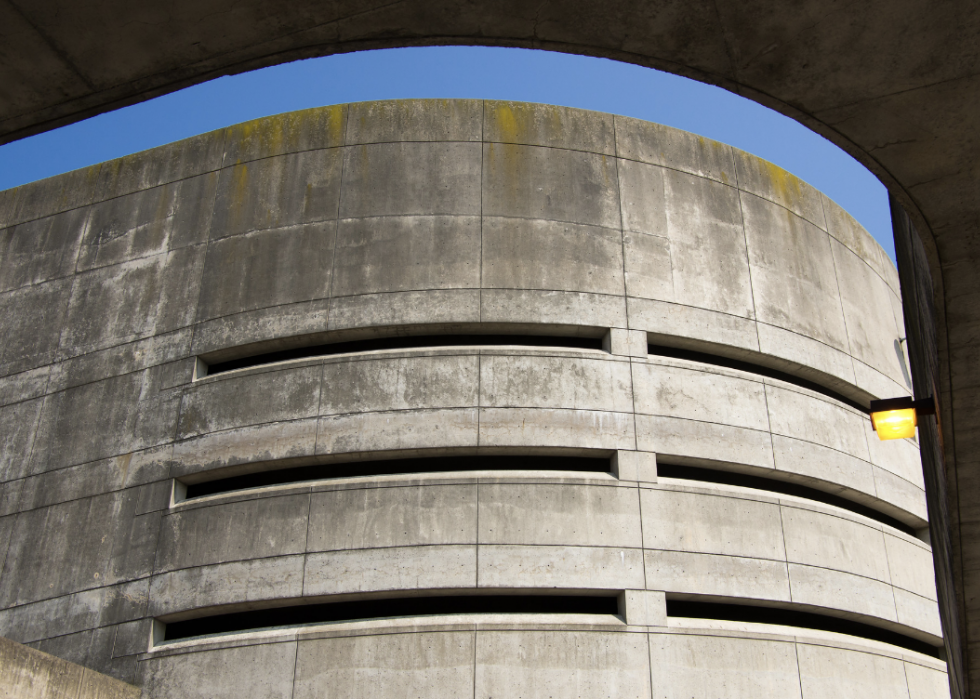 26 / 50
alohadave // Shutterstock
Quincy Adams MBTA Station: Quincy, MA
Brutalist architecture appears in numerous guises, perhaps none more appropriate than the modern parking garage. The sprawling Quincy Adams MBTA Station parking lot, with its curvilinear concrete massing, is hulking and utilitarian in both form and function.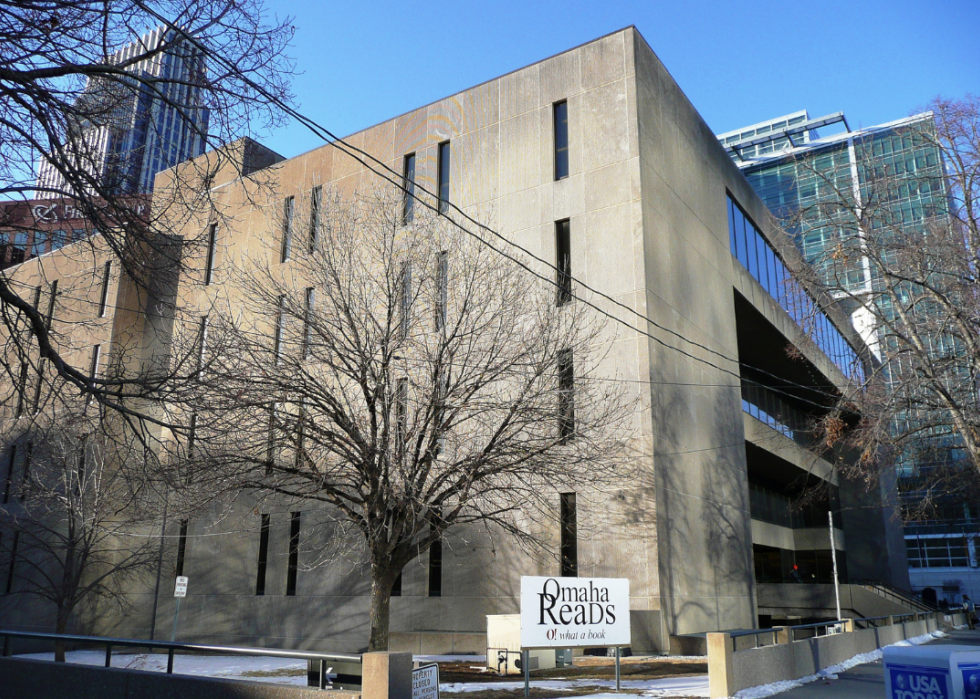 27 / 50
W. Dale Clark Library: Omaha NE
Omaha is home to several Brutalist federal buildings, including the imposing W. Dale Clark Library. Hailed as a much-needed modern facility in 1977, the fate of the building is now uncertain. Saddled with maintenance issues and a general public that has soured on the Brutalist aesthetic, the library risks being sold to a property developer.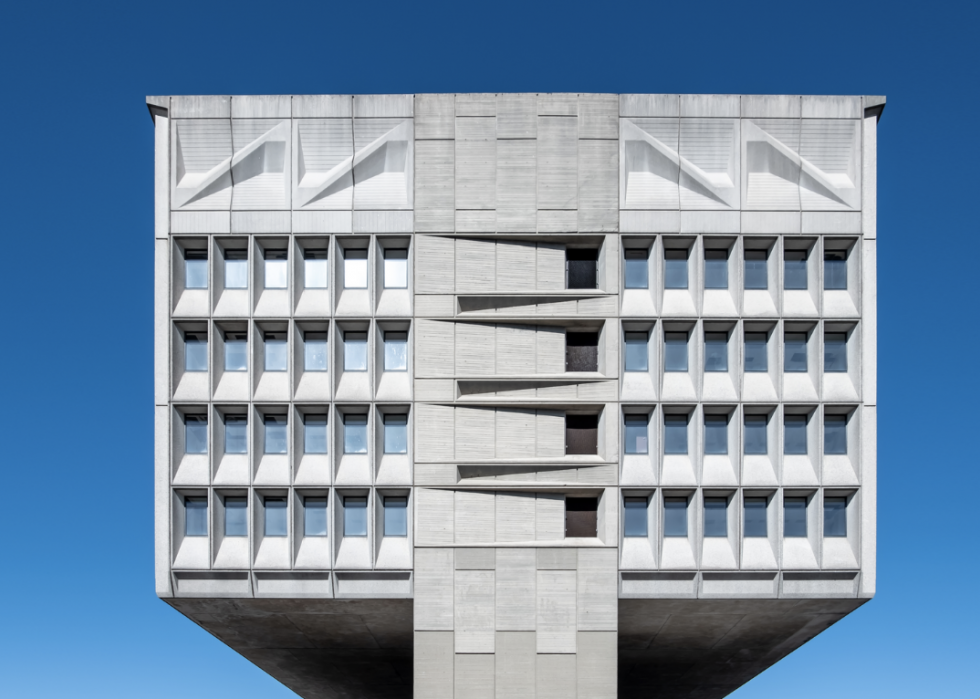 28 / 50
Pat Krupa // Wikimedia Commons
Pirelli Tire Building: New Haven, CT
The Lego-like Pirelli Tire Building in New Haven was designed by Marcel Breuer for the Armstrong Rubber Co. in 1968, before it was eventually acquired by Pirelli. There have been suggestions that Swedish furniture behemoth Ikea, which currently owns the building, may transform the empty precast concrete structure into a trendy hotel.
29 / 50
N9LXI // Wikimedia Commons
Thomas Rees Memorial Carillon: Springfield, IL
Charmed by the magical chimes of European carillons, former Illinois state Sen. Thomas Reese left a generous $200,000 in his will for the construction of a carillon in Springfield's Washington Park. One of the largest in the world, the Thomas Rees Memorial Carillon contains 57 bells within a Brutalist steel and concrete tower designed by Bill Turley in 1962.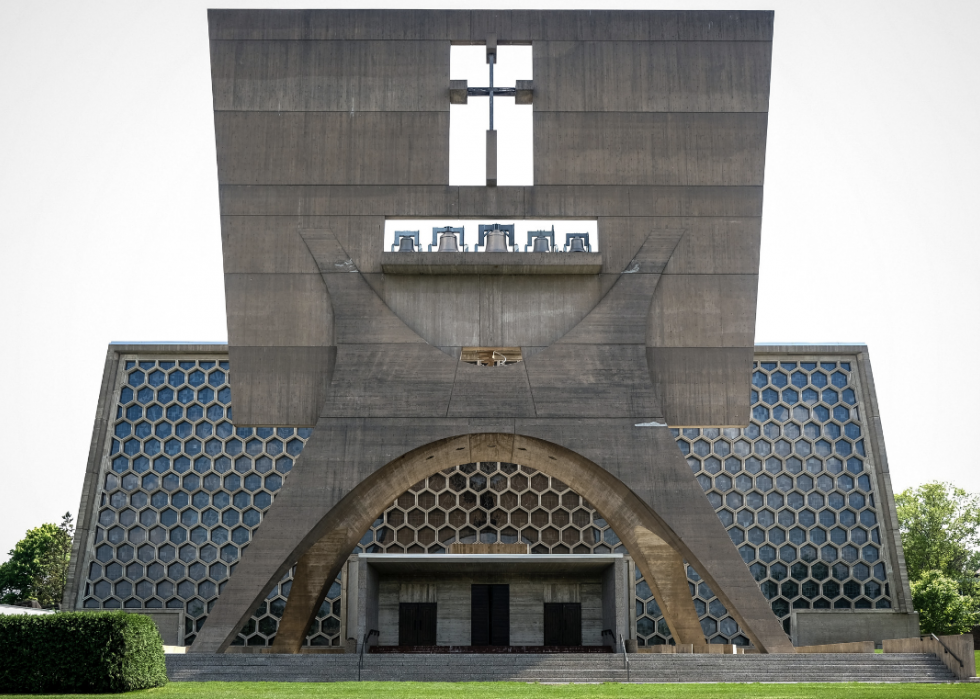 30 / 50
Sharon Mollerus // Flickr
St. John's Abbey Church: Collegeville, MN
In the late 1950s, a community of Benedictine monks in rural Minnesota selected up-and-coming architect Marcel Breuer to design a new house of worship. One of just two American churches designed by the Brutalist legend, the entrance to the church is framed by a massive slab incised with a cross rising 112 feet toward the heavens.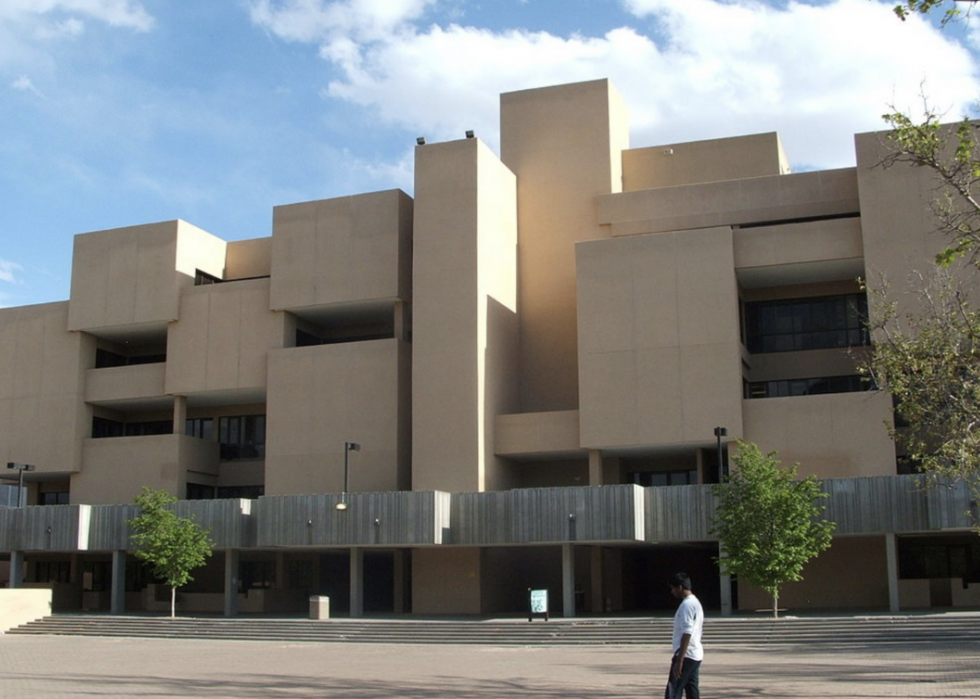 31 / 50
Perry Planet // Wikimedia Commons
Humanities Building, University of New Mexico
The bunker-like University of New Mexico Humanities building, designed by W.C. Kruger and Associates, opened its doors to students in 1974. Despite its hulking monumentality, the structure makes some effort to integrate into the arid Arizona landscape, sporting a series of concrete cubes coated in beige plaster.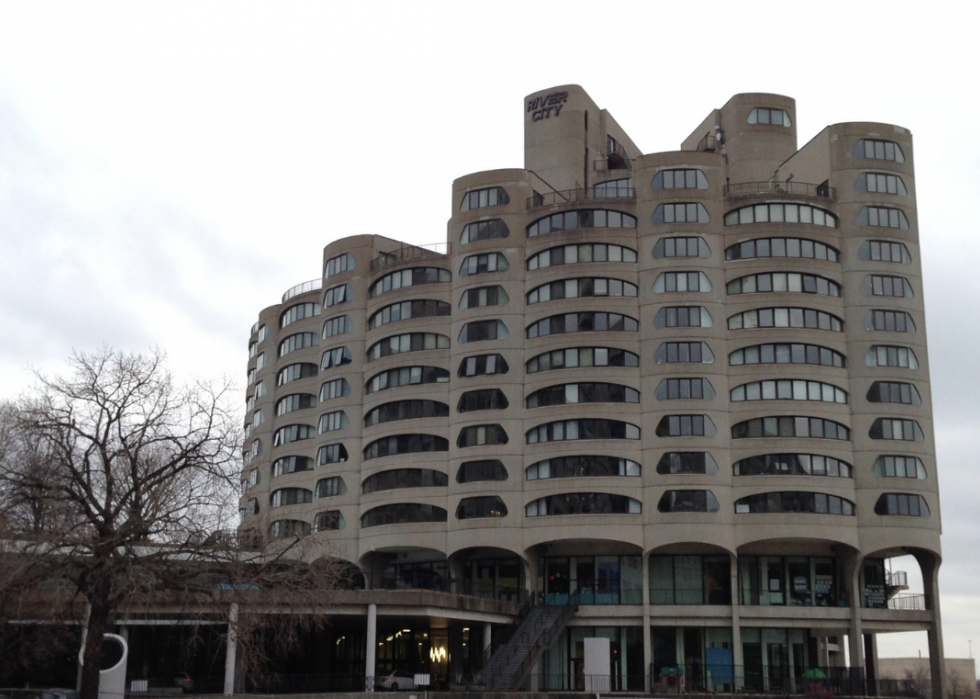 32 / 50
smerdis // Wikimedia Commons
River City, Chicago, IL
Designed by Chicago's very own Bertrand Goldberg, the undulating River City condominium complex was constructed in 1986. Elevated by a series of plinths, the semi-circular structure overlooks the Chicago River and is accessible by boat. The white-washing of the concrete facade earlier this year was met with criticism from architectural purists.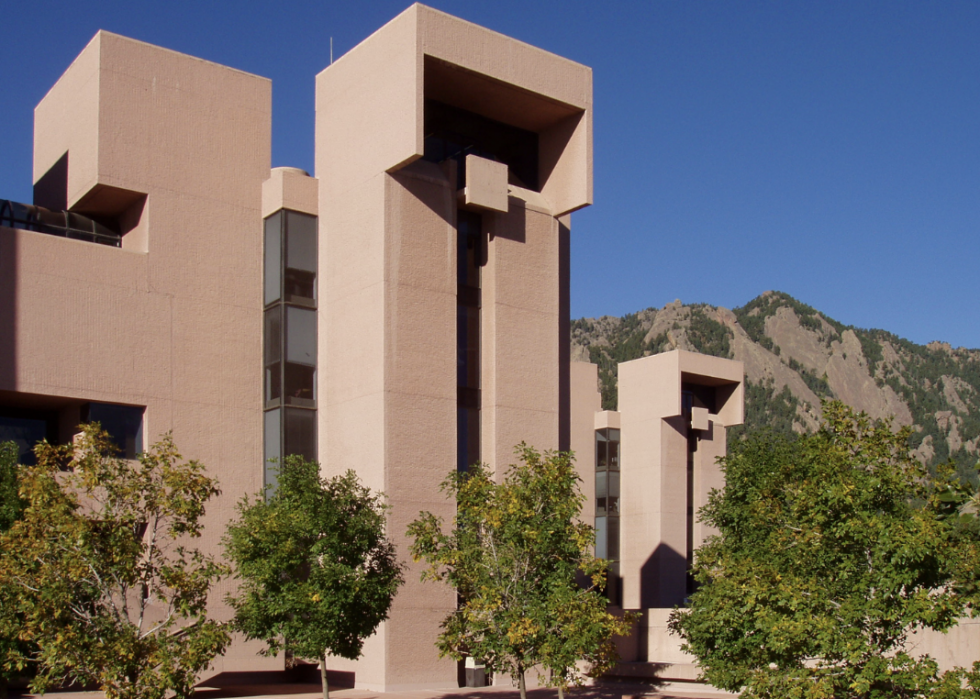 33 / 50
Daderot // Wikimedia Commons
Mesa Laboratory: Boulder, CO
Renowned Chinese-American architect I.M. Pei designed the Mesa Laboratory for the National Center for Atmospheric Research (NCAR) in the mid 1960s. The exposed concrete was tinted with red sand in an effort to blend the structure into the surrounding natural landscape.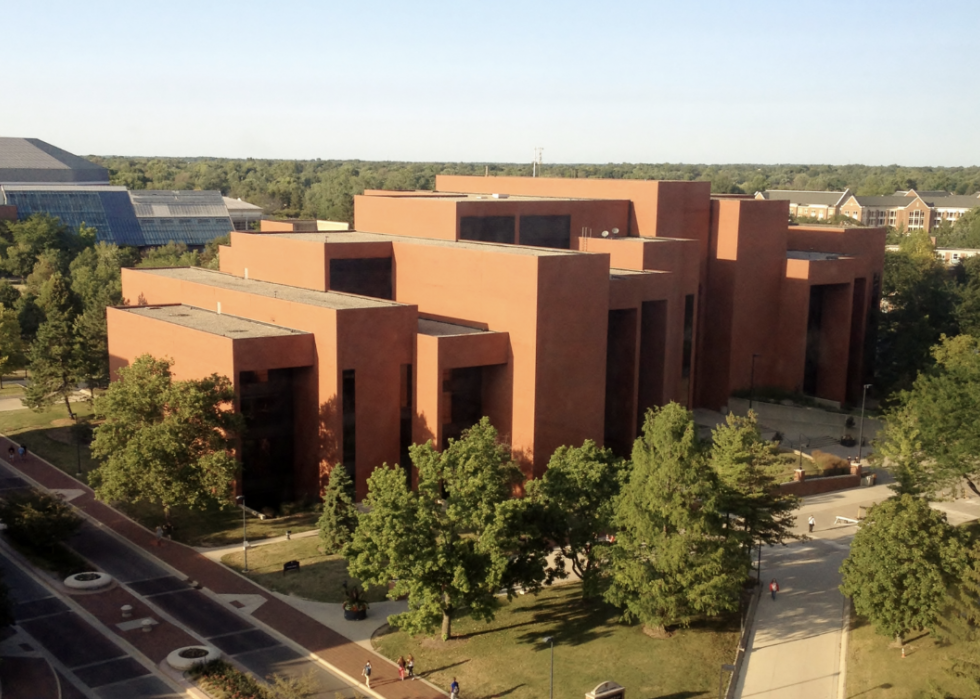 34 / 50
Momoneymoproblemz // Wikimedia Commons
Bracken Library, Ball State University: Muncie, IN
Indiana architecture firm Walter Scholer & Associates took Louis Sullivan's axiom, "form follows function," to heart when designing the 1960s-era Bracken Library. The grouping of concrete cubic forms resembles a shelf filled with books, whimsically referencing the content within.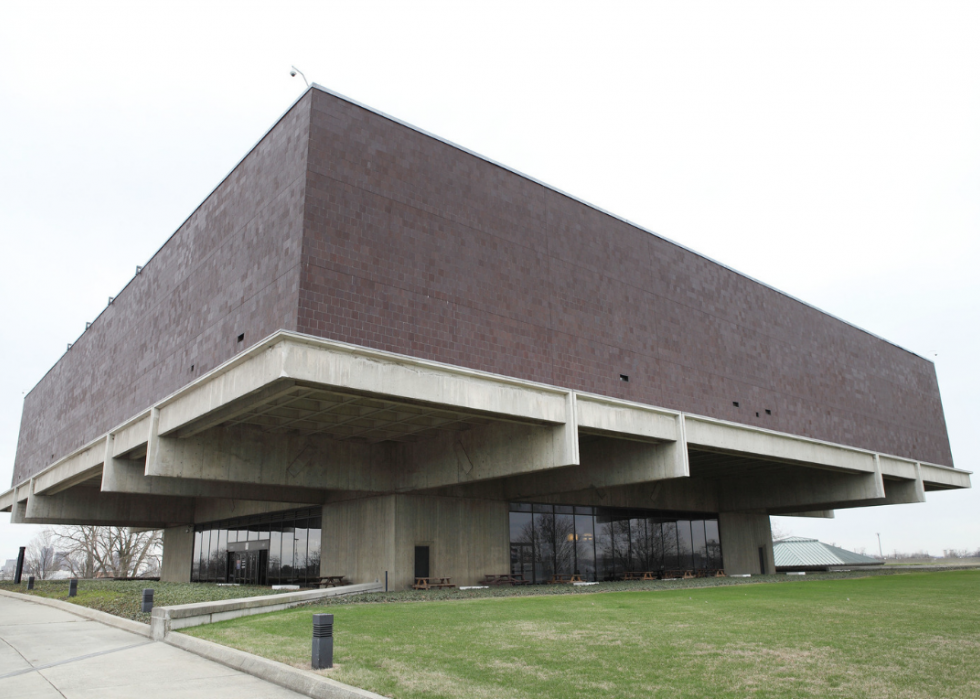 35 / 50
Sam Howzit // Wikimedia Commons
Ohio History Center: Columbus, OH
Designed by architect W. Byron Ireland, who cut his teeth under Eero Saarinen, the Ohio History Center occupies a prominent site overlooking I-71. A horizontal slab of board-formed concrete, the building was erected in the late 1960s, and features a variety of materials and textures, notably silo tile fabricated in Ohio.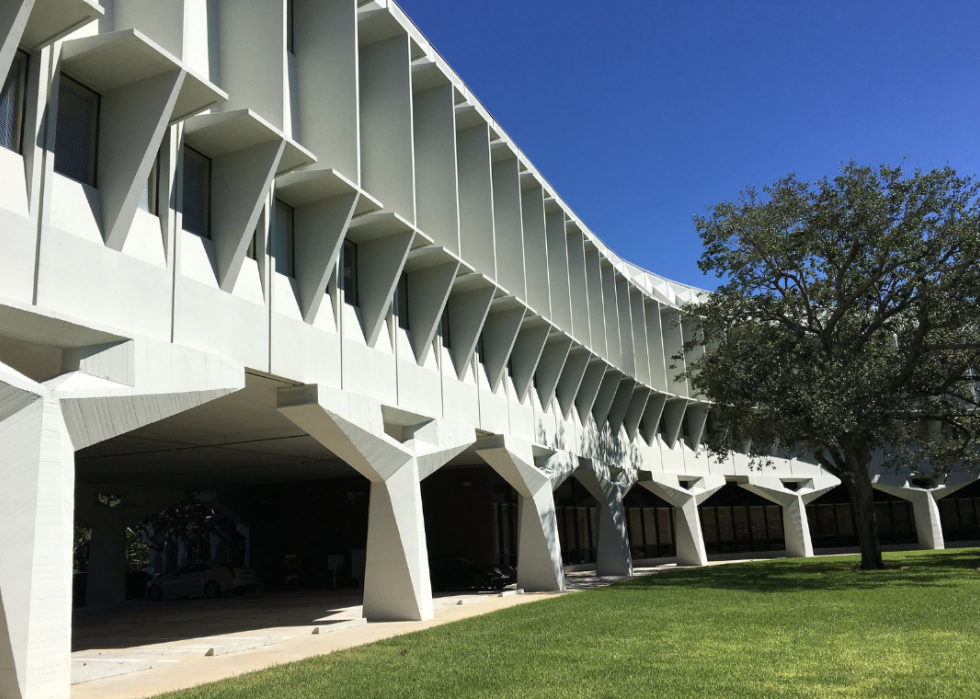 36 / 50
IBM Building: Boca Raton, FL
Designed by the team of Marcel Breuer and Robert Gatje, the IBM Building in Boca Raton was constructed between 1968 and 1972 and modeled on the pair's earlier design for an IBM facility in LaGaude, France. Known today as the Boca Raton Innovation Campus (BRIC), the site functions as a 1.7 million square foot, state-of-the-art science and technology office park.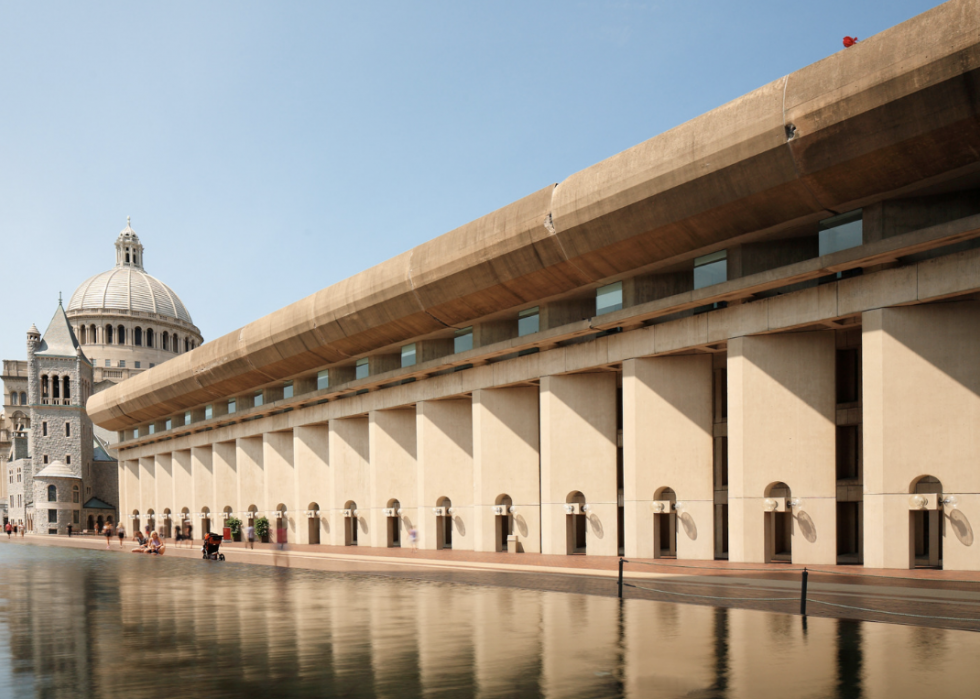 37 / 50
First Church of Christ Scientist Plaza: Boston, MA
In 1972, a Brutalist plaza designed by Araldo Cossutta was added to Boston's First Church of Christ Scientist—a Romanesque Revival structure built in 1894. Designated a Boston Landmark in 2011, the curved, concrete edifice overlooks a large, rectangular reflecting pool.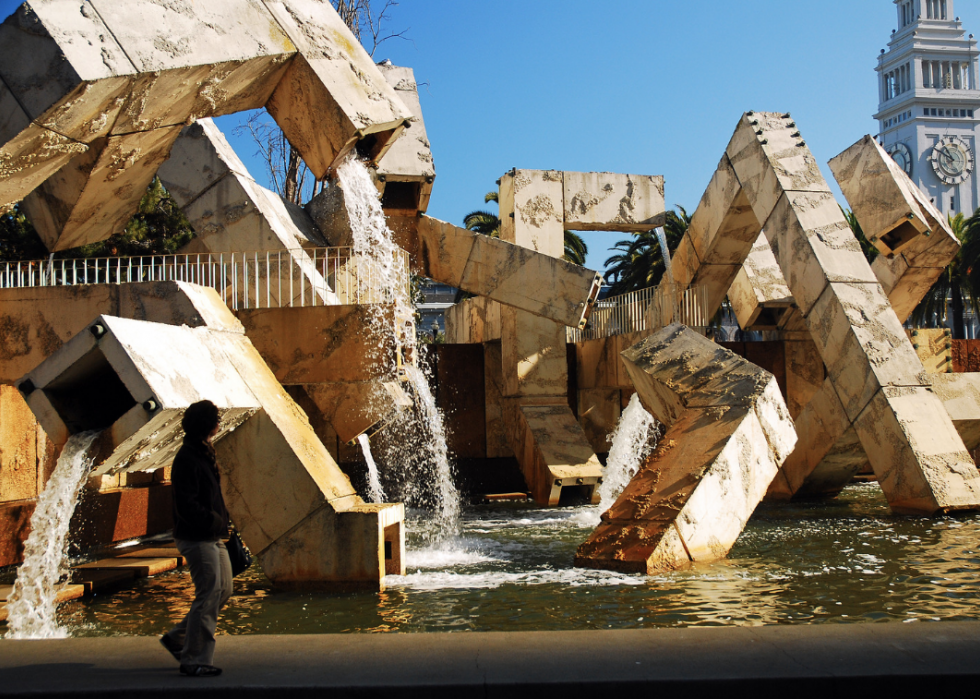 38 / 50
James Kirkikis // Shutterstock
Vaillancourt Fountain: San Francisco, CA
Armand Vaillancourt's Brutalist "Quebec Libre" fountain first graced San Francisco's Justin Herman Plaza in 1971. A striking example of public art, the sculpture is composed of over 100 distressed concrete blocks coalescing into a massive—yet surprisingly organic—composition.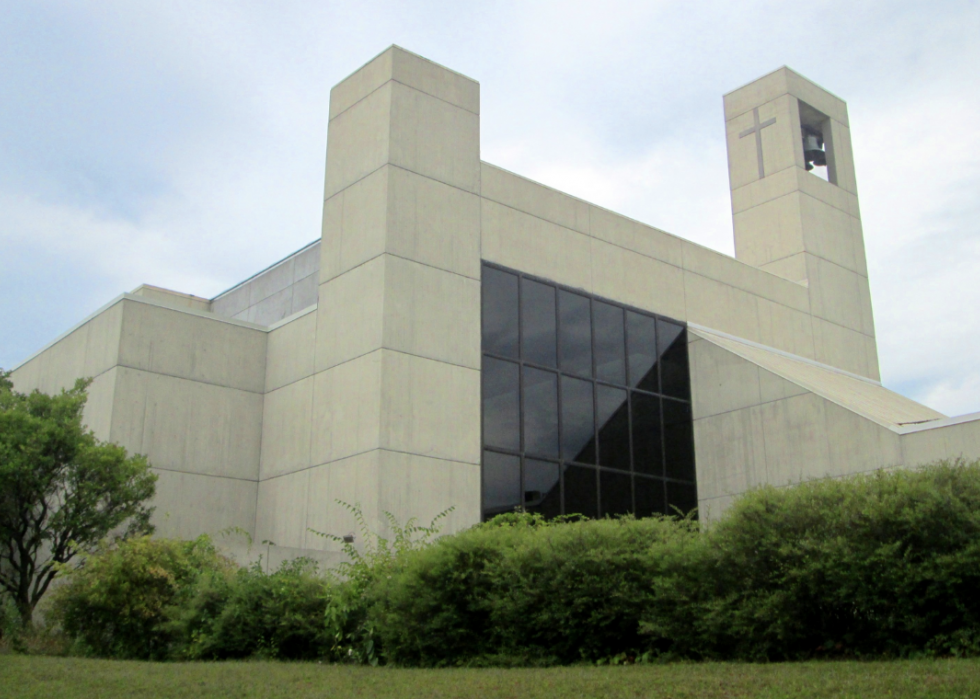 39 / 50
Beyond My Ken // Wikipedia Commons
Cathedral Church of St. Paul: Burlington, VT
Consecrated in 1973, the Cathedral Church of St. Paul in Burlington replaced an earlier Episcopalian house of worship destroyed in a fire. The new church, moved to an inspiring site overlooking Lake Champlain, was designed by the Vermont firm of Truex, Cullins and Partners—the winners of an international competition for the new design.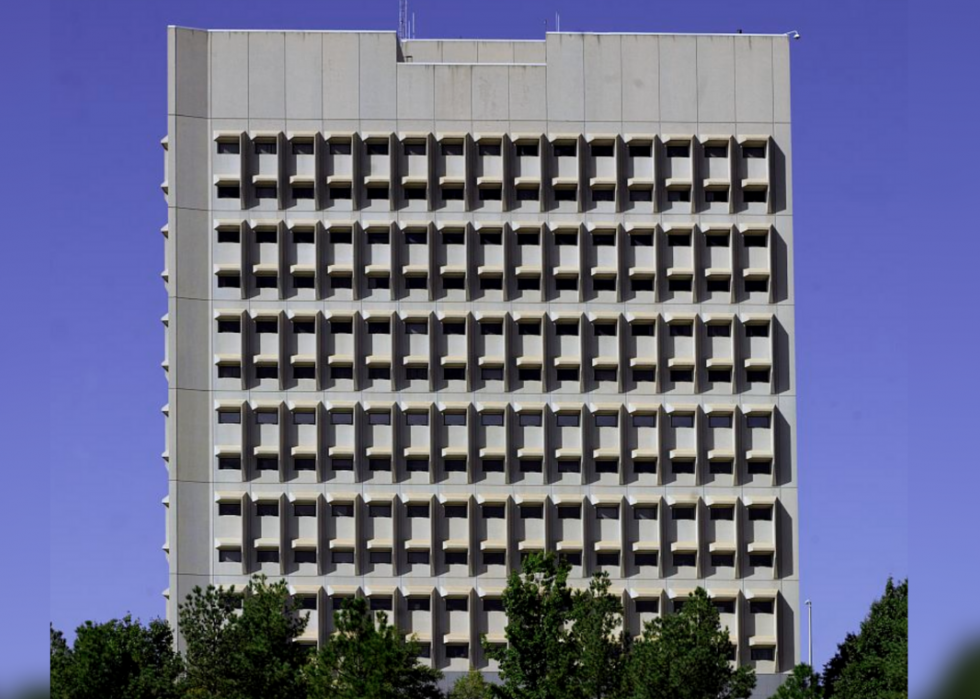 40 / 50
Carol M. Highsmith // Wikimedia Commons
Strom Thurmond Federal Building: Columbia, SC
Another Marcel Breuer masterpiece, the Strom Thurmond Federal Building was completed in 1979 and named for South Carolina's longest-serving senator. A series of repeating, recessed windows give the structure its distinctive "egg crate" appearance. The building was added to the National Register of Historic Places in 2014.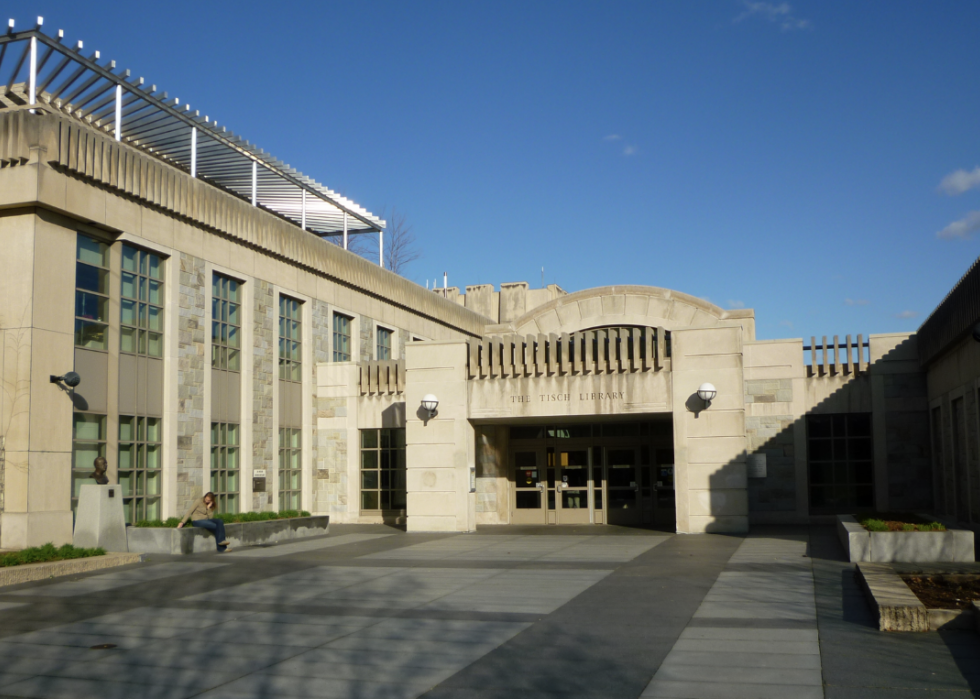 41 / 50
HereToHelp // Wikimedia Commmons
Tisch Library, Tufts University: Medford, MA
Dedicated in 1965, Tuft University's principal library was designed by Shepley Bulfinch Richardson and Abbott—the Boston firm founded by Romanesque Revival pioneer Henry Hobson Richardson, whose oeuvre includes a number of public libraries. Originally dubbed Wessell Library, the Brutalist structure received a $21 million dollar renovation in 1996, and was renamed in honor of donors and fellow Tufts alums Jonathan and Steve Tisch.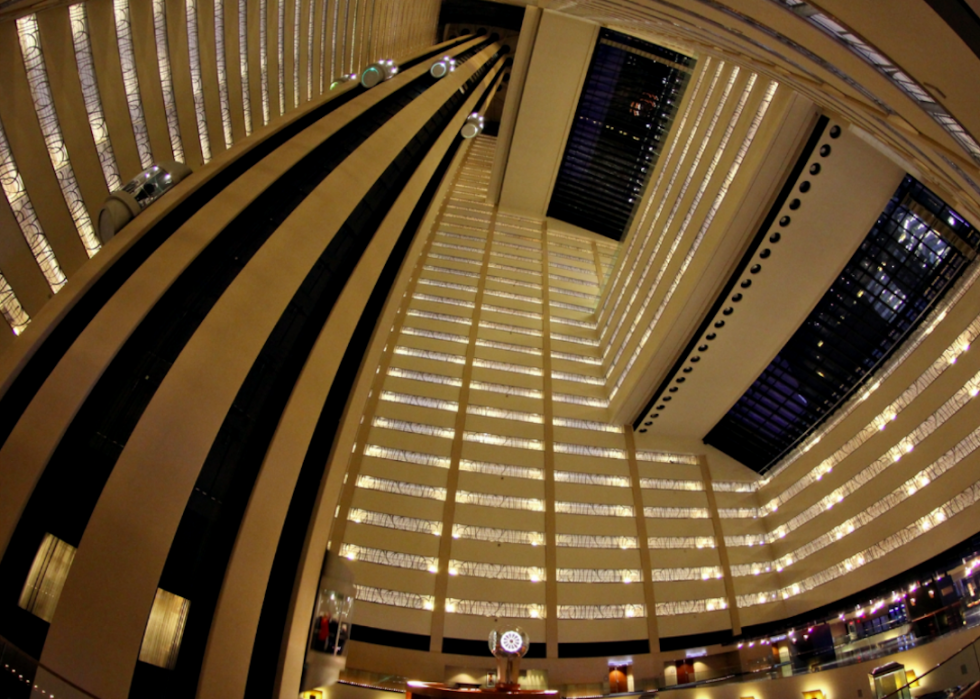 42 / 50
Basil D Soufi // Wikimedia Commons
Marriott Marquis: New York, NY
Home to New York's only revolving sky-top restaurant, the Marriott Marquis was designed by John Portman and is a relatively late addition to the Brutalist canon, with construction commencing in 1982. Towering over Broadway, the hotel stands 175 meters high and features a soaring atrium.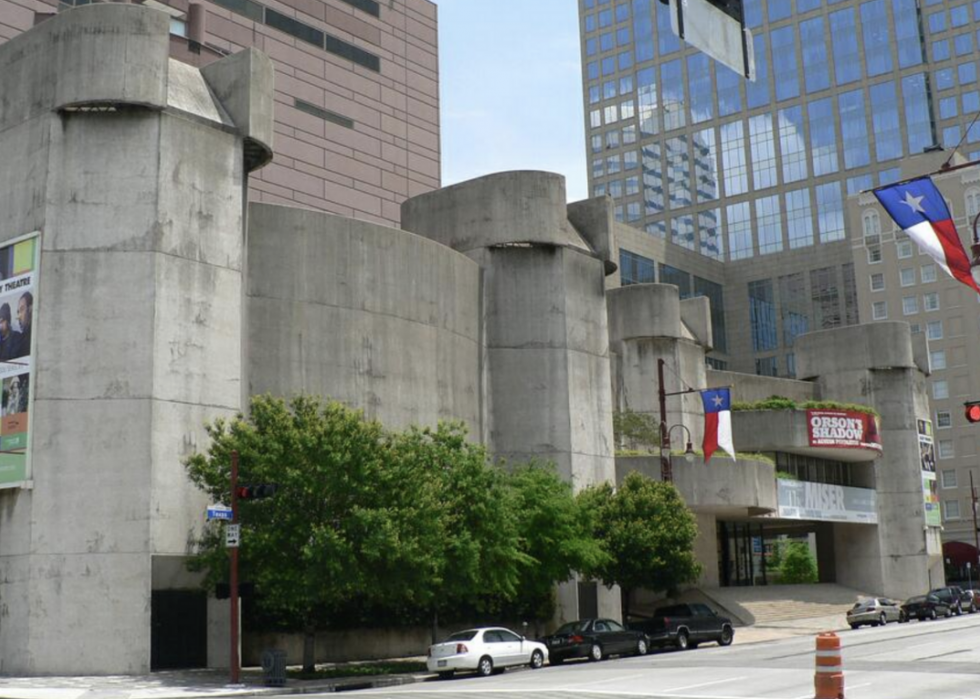 43 / 50
Rich Kimpel // Wikimedia Commons
Alley Theater: Houston, TX
Designed by Breuer and Gropius protégé Ulrich Franzen, Houston's Alley Theater presides over Houston like a medieval fortress. Erected in the mid-60s, the theater underwent a major renovation in 2015, only to be badly battered by Hurricane Harvey in 2017.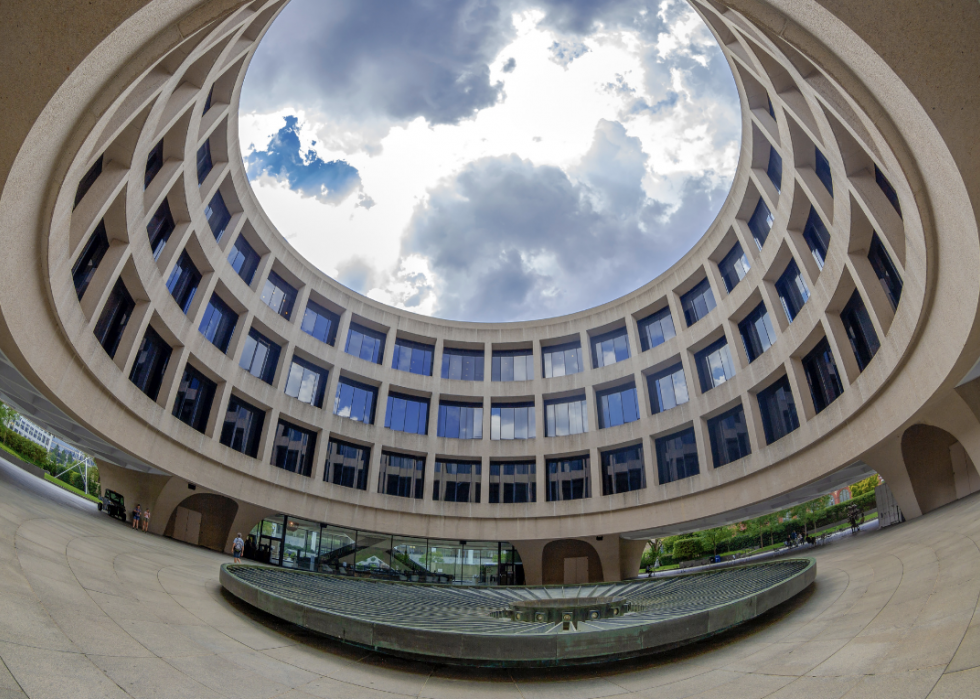 44 / 50
Ioin Florin Cnejevici // Shutterstock
Hirshhorn Museum: Washington D.C.
Suggestive of a massive, concrete UFO, Gordon Bunshaft's Hirshhorn Museum opened its doors to the public in 1974, creating a striking departure from the more traditional structures lining the National Mall. The circular building, punctured by a central core, has also been compared to a "Brutalist donut."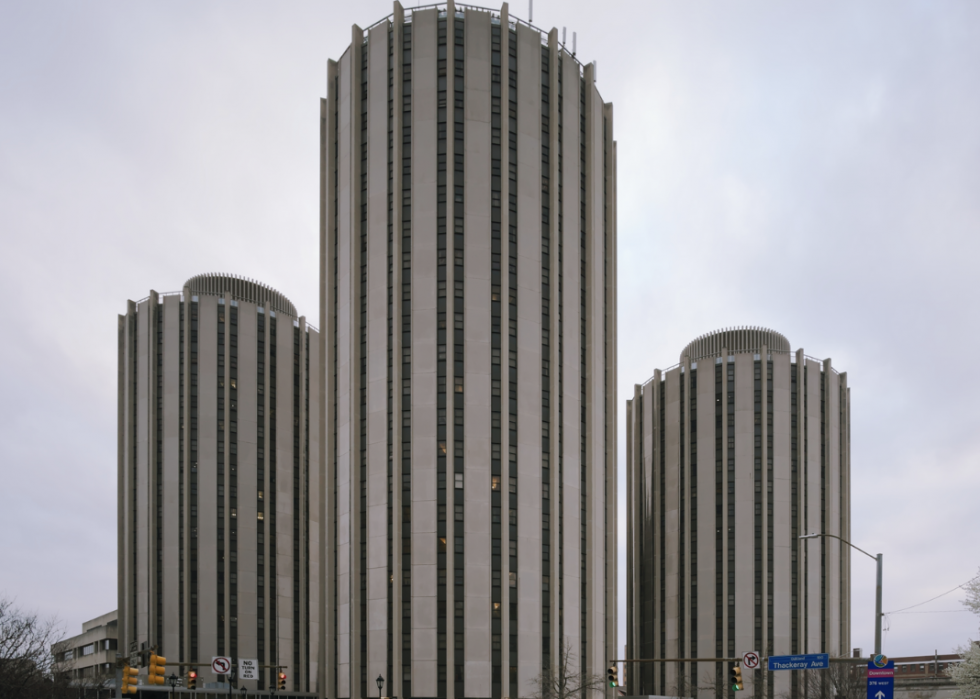 45 / 50
Dllu // Wikimedia Commons
Litchfield Towers, University of Pittsburgh: Pittsburgh, PA
The University of Pittsburgh boasts a number of impressive Brutalist structures, including Litchfield Towers, designed by Deeter & Ritchey. Constructed in the early '60s, the trio of cylindrical dorms were nicknamed "Ajax," "Borax," and "Clorox."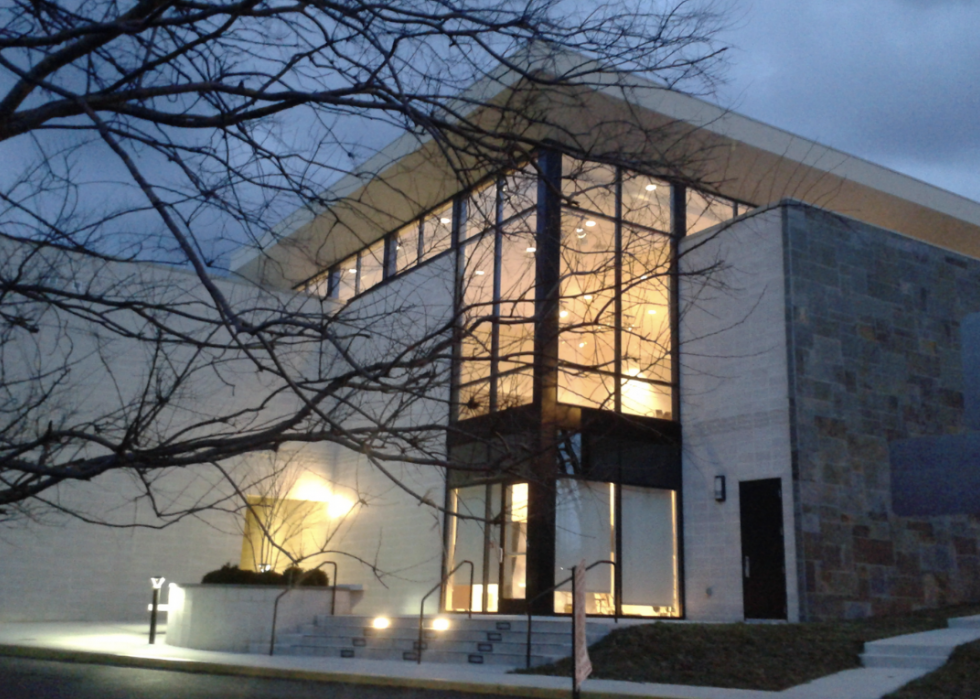 46 / 50
Ser Amantio di Nicolao // Wikimedia Commons
Unitarian Universalist Church: Arlington, VA
Mid-century modern churches were architect Charles Goodman's specialty—he designed three in the D.C. area, including the Brutalist Unitarian Church in Arlington. Completed in 1964, the modern Brutalist design was chosen in part as a reflection of the congregants' progressive beliefs, most notably their participation in the Civil Rights Movement.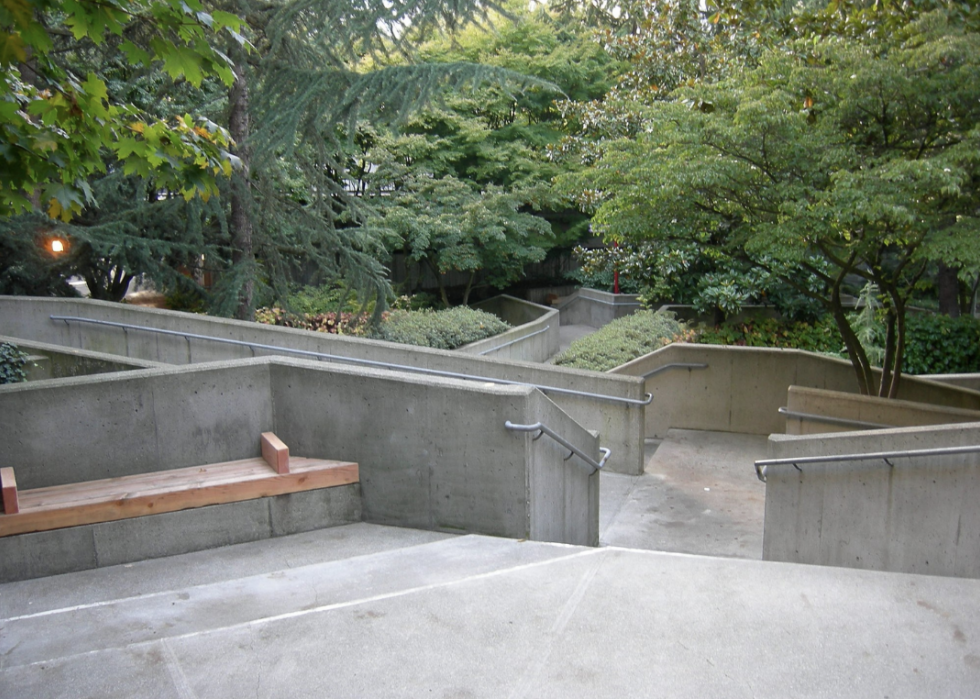 47 / 50
Joe Mabel // Wikimedia Commons
Freeway Park: Seattle, WA
Freeway Park's soaring, vertically striated concrete blocks suggest a densely wooded forest in the middle of urban Seattle. Designed by Lawrence Halprin and Angela Danadjieva, the 5.5-acre park came to life in 1976. Perched over interstate 5, Freeway Park is the first park constructed over a highway.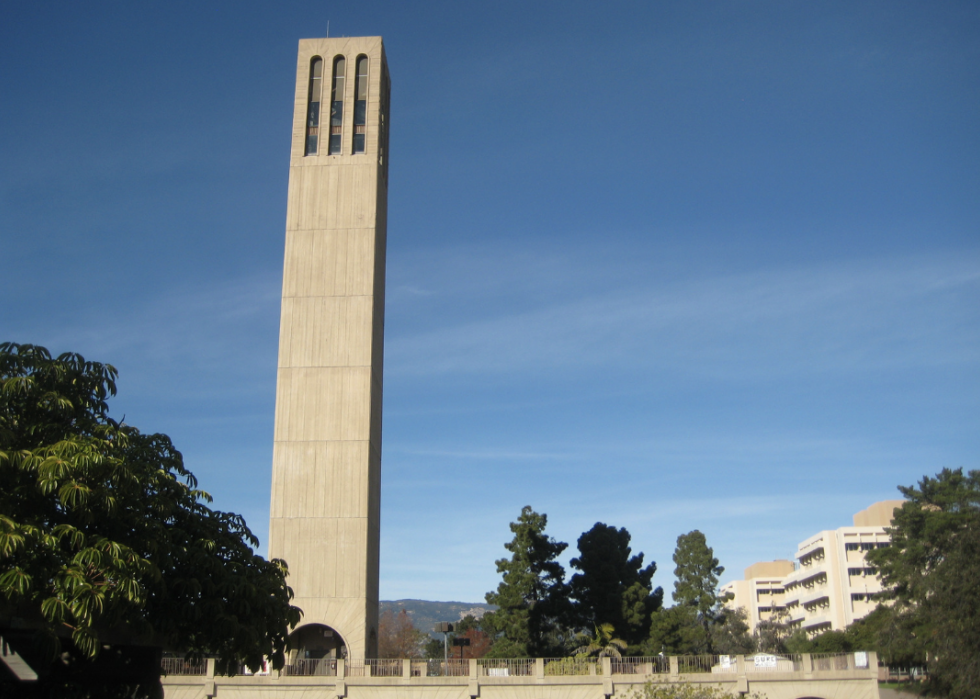 48 / 50
Storke Tower, USC: Santa Barbara, CA
Centrally located on the USC Santa Barbara campus, the Storke Tower—designed by Clark and Morgan and erected in 1969—houses a 61-bell carillon. Set within a sunken plaza and surrounded by a reflecting pool, the 53-foot-tall, steel and concrete tower houses the university's newspaper and radio station.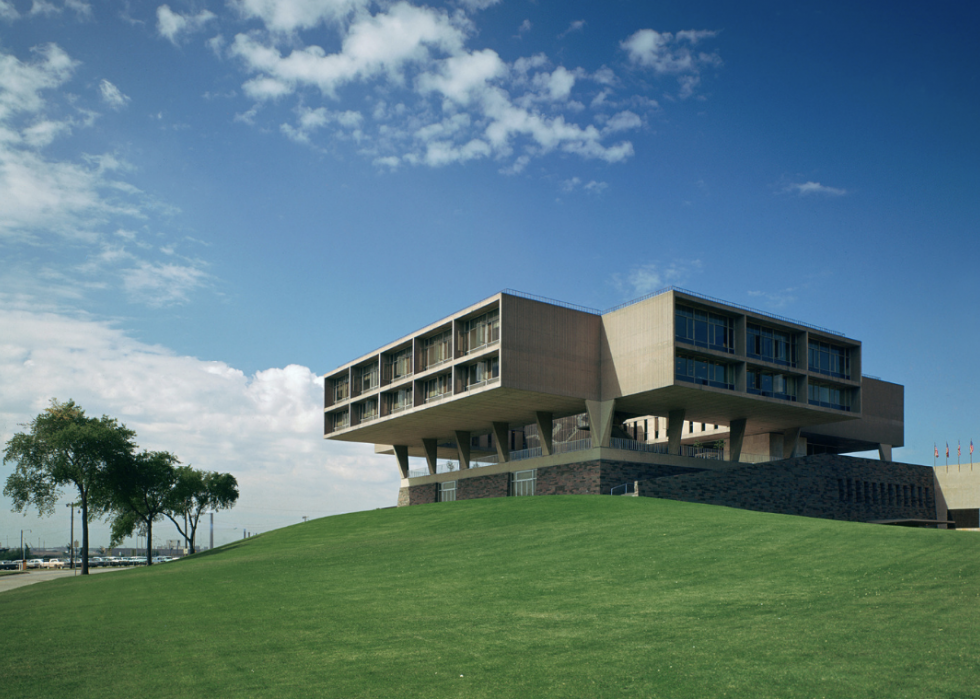 49 / 50
Gabriel Jorby // Wikimedia Commons
War Memorial Center: Milwaukee, WI
Now part of the Milwaukee Museum of Art complex, the Milwaukee County War Memorial was constructed in 1957. Designed by internationally acclaimed Finnish architect Eero Saarinen, the horizontal concrete slab overlooking Lake Michigan appears to balance effortlessly on a series of pillars.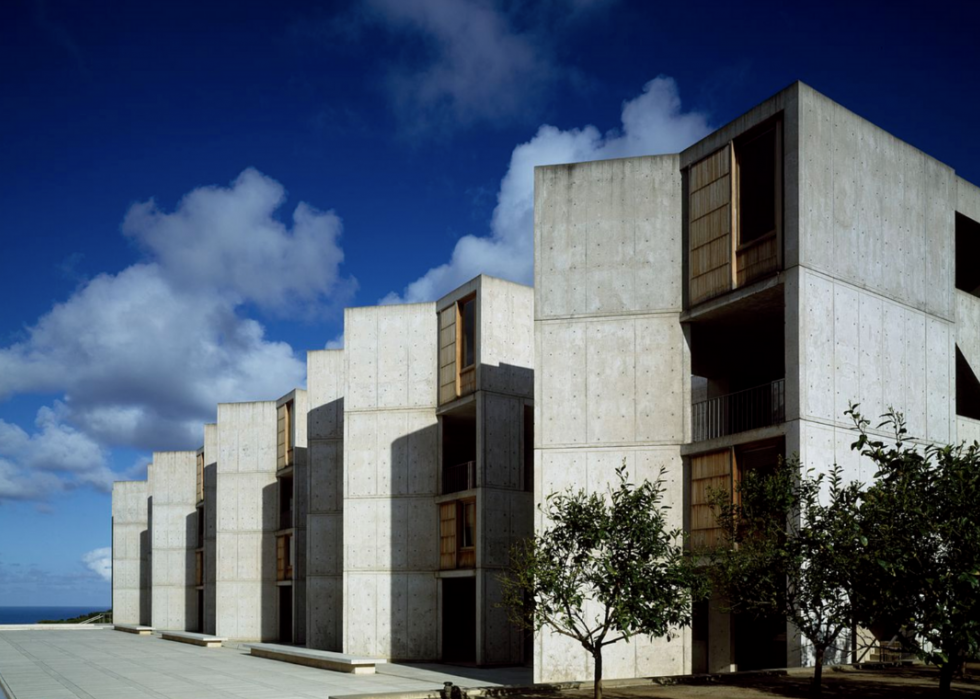 50 / 50
Carol M. Highsmith // Wikimedia Commons
Salk Institute: La Jolla, CA
The canyon-like Salk Institute in La Jolla—consisting of two jagged concrete structures flanking a central travertine courtyard—enjoys spectacular views of the Pacific Ocean. Designed by architect Louis Kahn, the building was completed in 1965. Unlike the majority of Brutalist buildings, the nonprofit scientific research laboratory has held up astonishingly well.