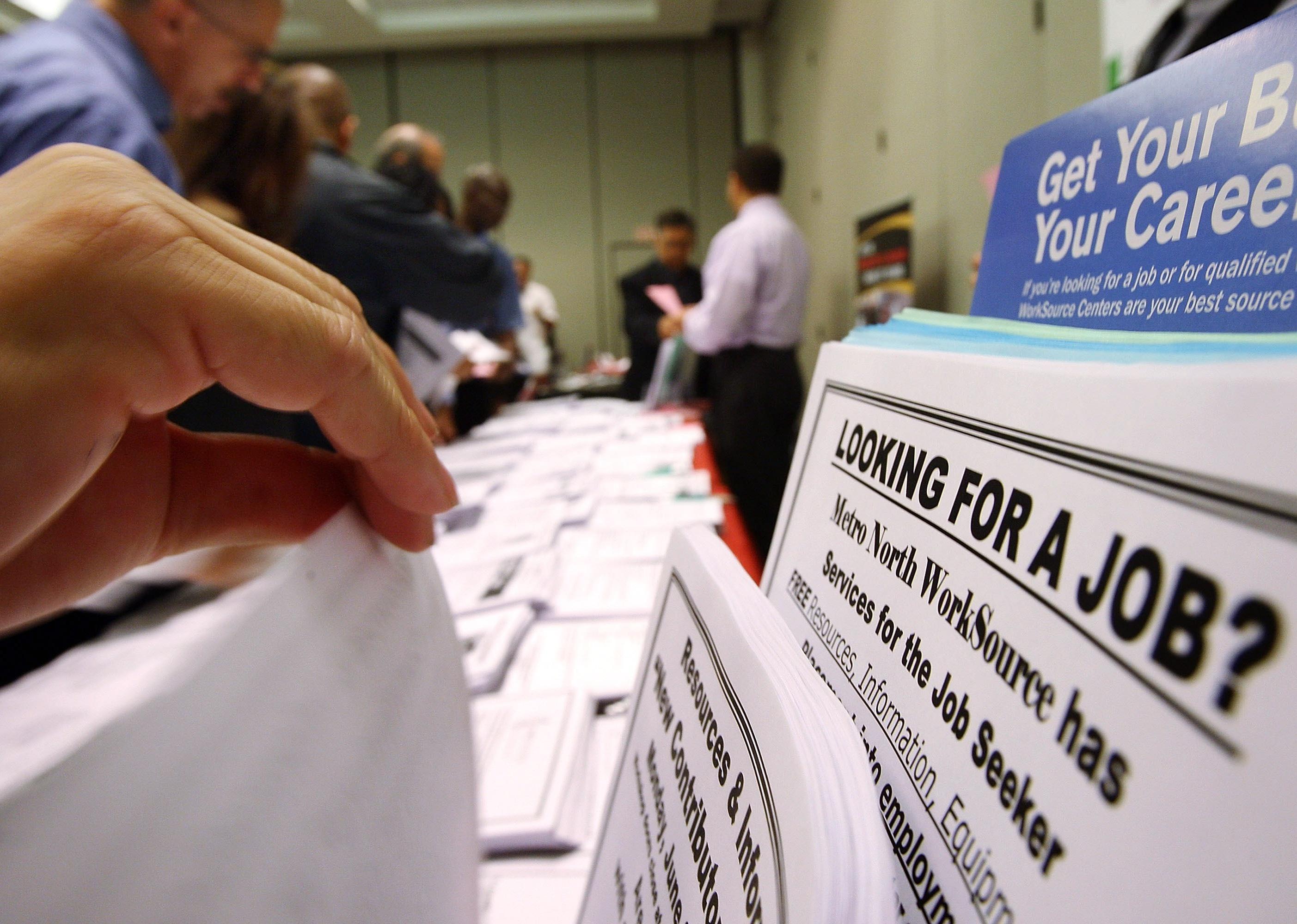 Counties in every state with the highest unemployment rate
David McNew // Getty Images
Counties in every state with the highest unemployment rate
The U.S. economy has taken a massive hit in the wake of extensive shutdowns and stay-at-home orders related to the COVID-19 pandemic, and just-released jobs data shows the repercussions at the local level.
Nationally, unemployment reached a 50-year low of 3.5% in February 2020, with just 1.7 million Americans collecting unemployment benefits. But by April, unemployment ballooned to 14.7%, according to data released May 14 by the Bureau of Labor Statistics. To put those numbers in perspective, the unemployment rate during the Great Depression peaked in 1933 at 24.9%, while unemployment following the 2008 recession peaked at 10% with 15.3 million people jobless. Since COVID-19 began its spread, the highest one-week rate of layoffs came toward the end of March with 6.9 million, hitting virtually all sectors. 
To help understand the unemployment landscape in each state, Stacker used the latest Bureau of Labor Statistics to identify the five counties with the highest unemployment rates in all 50 states. This county-level data was released on April 29, 2020. The data represents the average unemployment rate in March 2020 without seasonal adjustments, with the absolute percent change from March 2019 included as a basis for comparison. While this is the most recent data available, county-level rates may lag real employment figures as new workers filed for unemployment on a weekly basis.
You may also like: The least educated county in every state
Alabama
Counties with the highest unemployment:
- #1. Wilcox County: 9.6% (+1.9% change since March 2019)
- #2. Clarke County: 6.7% (+0.5%)
- #3. Greene County: 6.2% (+0.2%)
- #4. Dallas County: 5.8% (0.0%)
- #5. Lowndes County: 5.7% (+0.3%)
Alaska
Counties with the highest unemployment:
- #1. Kusilvak Census Area: 17.4% (-3.3% change since March 2019)
- #2. Skagway Municipality: 17.2% (-1.7%)
- #3. Denali Borough: 16.9% (-1.5%)
- #4. Hoonah-Angoon Census Area: 14.7% (-2.7%)
- #5. Haines Borough: 14.5% (-2.2%)
Arizona
Counties with the highest unemployment:
- #1. Yuma County: 14.8% (+2.3% change since March 2019)
- #2. Apache County: 12.2% (+2.2%)
- #3. Santa Cruz County: 9.2% (+1.3%)
- #4. Navajo County: 9.1% (+1.5%)
- #5. Coconino County: 7.1% (+1.0%)
Arkansas
Counties with the highest unemployment:
- #1. Chicot County: 10% (+2.5% change since March 2019)
- #2. Ashley County: 8.5% (+2.3%)
- #3. Jackson County: 8.1% (+2.2%)
- #4. Phillips County: 7.9% (+2.2%)
- #5. Izard County: 7.9% (+2.3%)
California
Counties with the highest unemployment:
- #1. Colusa County: 22.4% (+2.3% change since March 2019)
- #2. Imperial County: 20.5% (+3.9%)
- #3. Tulare County: 14.5% (+2.3%)
- #4. Plumas County: 13.2% (+1.5%)
- #5. Merced County: 12.9% (+2.5%)
Colorado
Counties with the highest unemployment:
- #1. Huerfano County: 12.1% (+4.4% change since March 2019)
- #2. Montezuma County: 9% (+3.1%)
- #3. Rio Grande County: 8.6% (+3.3%)
- #4. Fremont County: 8.1% (+3.1%)
- #5. Saguache County: 8.1% (+3.1%)
Connecticut
Counties with the highest unemployment:
- #1. Windham County: 4.3% (-0.2% change since March 2019)
- #2. New Haven County: 4.1% (-0.1%)
- #3. Hartford County: 3.9% (-0.2%)
- #4. Fairfield County: 3.9% (-0.2%)
- #5. New London County: 3.9% (0.0%)
Delaware
Counties with the highest unemployment:
- #1. Kent County: 5.5% (+1.3% change since March 2019)
- #2. Sussex County: 5.4% (+1.5%)
- #3. New Castle County: 4.7% (+1.3%)
Florida
Counties with the highest unemployment:
- #1. Hendry County: 6.7% (+1.2% change since March 2019)
- #2. Citrus County: 6.6% (+1.7%)
- #3. Sumter County: 6.3% (+1.4%)
- #4. Highlands County: 6.1% (+1.3%)
- #5. Putnam County: 6% (+1.4%)
Georgia
Counties with the highest unemployment:
- #1. Telfair County: 10.8% (+4.5% change since March 2019)
- #2. Wheeler County: 9% (+3.2%)
- #3. Clay County: 7.7% (+2.1%)
- #4. Ben Hill County: 7.4% (+2.0%)
- #5. Hancock County: 7.3% (+1.9%)
Hawaii
Counties with the highest unemployment:
- #1. Hawaii County: 2.8% (-0.6% change since March 2019)
- #2. Kauai County: 2.3% (-0.5%)
- #3. Honolulu County/city: 2.1% (-0.5%)
- #4. Maui County: 2.1% (-0.5%)
Idaho
Counties with the highest unemployment:
- #1. Clearwater County: 9.3% (-2.3% change since March 2019)
- #2. Adams County: 9% (-2.6%)
- #3. Benewah County: 7.4% (-3.1%)
- #4. Shoshone County: 6.7% (-1.1%)
- #5. Lewis County: 6.5% (-1.1%)
Illinois
Counties with the highest unemployment:
- #1. Grundy County: 6.3% (-1.9% change since March 2019)
- #2. Pulaski County: 6.2% (-1.3%)
- #3. Will County: 5.6% (-1.9%)
- #4. Alexander County: 5.2% (-2.1%)
- #5. Hardin County: 5.2% (-2.0%)
Indiana
Counties with the highest unemployment:
- #1. Lake County: 5.3% (-1.3% change since March 2019)
- #2. Vermillion County: 5.2% (-1.2%)
- #3. Starke County: 4.9% (-0.8%)
- #4. Newton County: 4.9% (-0.5%)
- #5. Fayette County: 4.8% (-0.5%)
Iowa
Counties with the highest unemployment:
- #1. Marshall County: 8.1% (+1.5% change since March 2019)
- #2. Clayton County: 6.9% (+1.0%)
- #3. Floyd County: 6.3% (+0.8%)
- #4. Des Moines County: 6.1% (+0.8%)
- #5. Allamakee County: 6.1% (+1.2%)
Kansas
Counties with the highest unemployment:
- #1. Linn County: 6.4% (-1.3% change since March 2019)
- #2. Atchison County: 5.1% (+0.3%)
- #3. Geary County: 4.7% (0.0%)
- #4. Wilson County: 4.7% (0.0%)
- #5. Dickinson County: 4.5% (-0.2%)
Kentucky
Counties with the highest unemployment:
- #1. Magoffin County: 18.1% (+6.5% change since March 2019)
- #2. Harlan County: 14.5% (+4.8%)
- #3. Leslie County: 13.5% (+4.7%)
- #4. Breathitt County: 12.6% (+4.3%)
- #5. Martin County: 12.4% (+4.2%)
Louisiana
Counties with the highest unemployment:
- #1. West Carroll Parish: 15.4% (+3.8% change since March 2019)
- #2. East Carroll Parish: 14.2% (+4.5%)
- #3. Tensas Parish: 12.1% (+4.8%)
- #4. Morehouse Parish: 11.2% (+4.1%)
- #5. Madison Parish: 9.6% (+3.2%)
Maine
Counties with the highest unemployment:
- #1. Washington County: 6.9% (+0.6% change since March 2019)
- #2. Hancock County: 5.9% (+0.4%)
- #3. Somerset County: 5.8% (+0.3%)
- #4. Aroostook County: 5.4% (0.0%)
- #5. Piscataquis County: 4.9% (0.0%)
Maryland
Counties with the highest unemployment:
- #1. Worcester County: 9.3% (-0.2% change since March 2019)
- #2. Somerset County: 5.8% (-0.7%)
- #3. Allegany County: 5.3% (0.0%)
- #4. Garrett County: 5.2% (-0.1%)
- #5. Dorchester County: 5.1% (-0.1%)
Massachusetts
Counties with the highest unemployment:
- #1. Nantucket County/town: 10.3% (+1.2% change since March 2019)
- #2. Dukes County: 6.9% (-0.4%)
- #3. Barnstable County: 6% (+0.3%)
- #4. Bristol County: 4.5% (0.0%)
- #5. Berkshire County: 4.4% (0.0%)
Michigan
Counties with the highest unemployment:
- #1. Mackinac County: 17.7% (-2.9% change since March 2019)
- #2. Cheboygan County: 13.7% (-3.5%)
- #3. Presque Isle County: 9.5% (-1.6%)
- #4. Montmorency County: 9.1% (-1.9%)
- #5. Roscommon County: 8.3% (-1.9%)
Minnesota
Counties with the highest unemployment:
- #1. Clearwater County: 11% (-0.8% change since March 2019)
- #2. Kanabec County: 8.7% (-0.3%)
- #3. Marshall County: 8.3% (-0.7%)
- #4. Wadena County: 8.1% (-0.6%)
- #5. Aitkin County: 8% (-0.7%)
Mississippi
Counties with the highest unemployment:
- #1. Jefferson County: 12.5% (-1.2% change since March 2019)
- #2. Humphreys County: 10.2% (-2.5%)
- #3. Holmes County: 9.2% (-1.1%)
- #4. Claiborne County: 9.2% (-0.5%)
- #5. Wilkinson County: 9.1% (-0.3%)
Missouri
Counties with the highest unemployment:
- #1. Taney County: 8.8% (+2.0% change since March 2019)
- #2. Dunklin County: 8.2% (+1.7%)
- #3. Shannon County: 8.2% (+1.8%)
- #4. Stone County: 8% (+1.7%)
- #5. Iron County: 7.4% (+1.5%)
Montana
Counties with the highest unemployment:
- #1. Lincoln County: 10.4% (+1.4% change since March 2019)
- #2. Mineral County: 10.4% (+1.6%)
- #3. Glacier County: 7.9% (-0.7%)
- #4. Big Horn County: 7.5% (-0.4%)
- #5. Sanders County: 7.3% (+0.4%)
Nebraska
Counties with the highest unemployment:
- #1. Thomas County: 7.6% (+1.9% change since March 2019)
- #2. Arthur County: 6.6% (+1.2%)
- #3. Blaine County: 6.3% (+0.9%)
- #4. Dakota County: 5.7% (+1.0%)
- #5. Garden County: 5.5% (+1.2%)
Nevada
Counties with the highest unemployment:
- #1. Nye County: 7.8% (+2.5% change since March 2019)
- #2. Lyon County: 7.7% (+2.4%)
- #3. Clark County: 6.7% (+2.1%)
- #4. Carson City: 6.7% (+2.2%)
- #5. Douglas County: 6.3% (+1.8%)
New Hampshire
Counties with the highest unemployment:
- #1. Coos County: 3.6% (-0.4% change since March 2019)
- #2. Rockingham County: 3.1% (-0.1%)
- #3. Carroll County: 3% (-0.1%)
- #4. Hillsborough County: 2.9% (-0.2%)
- #5. Belknap County: 2.9% (-0.2%)
New Jersey
Counties with the highest unemployment:
- #1. Cape May County: 11.4% (+0.5% change since March 2019)
- #2. Cumberland County: 6.3% (+0.3%)
- #3. Atlantic County: 5.8% (+0.3%)
- #4. Salem County: 5.3% (+0.3%)
- #5. Essex County: 4.8% (+0.3%)
New Mexico
Counties with the highest unemployment:
- #1. Luna County: 20.1% (+3.8% change since March 2019)
- #2. Sierra County: 9.7% (+1.4%)
- #3. Catron County: 8.9% (+2.0%)
- #4. Mora County: 8.3% (+1.5%)
- #5. McKinley County: 8.2% (+1.5%)
New York
Counties with the highest unemployment:
- #1. Hamilton County: 9.6% (+1.9% change since March 2019)
- #2. Lewis County: 7.9% (+0.4%)
- #3. Jefferson County: 7.5% (+1.1%)
- #4. Schuyler County: 6.7% (+0.5%)
- #5. St. Lawrence County: 6.6% (+0.4%)
North Carolina
Counties with the highest unemployment:
- #1. Hyde County: 13.1% (+1.8% change since March 2019)
- #2. Tyrrell County: 7.5% (0.0%)
- #3. Dare County: 7.4% (+0.8%)
- #4. Scotland County: 7.4% (+0.8%)
- #5. Washington County: 7.2% (+0.9%)
North Dakota
Counties with the highest unemployment:
- #1. Rolette County: 8.9% (+0.6% change since March 2019)
- #2. Sheridan County: 6.5% (+0.4%)
- #3. Emmons County: 5.6% (-0.5%)
- #4. Benson County: 4.9% (-1.1%)
- #5. McHenry County: 4.8% (-1.0%)
Ohio
Counties with the highest unemployment:
- #1. Monroe County: 12.2% (+3.0% change since March 2019)
- #2. Morgan County: 10.2% (+2.4%)
- #3. Noble County: 10% (+2.2%)
- #4. Meigs County: 9.6% (+2.0%)
- #5. Adams County: 9.4% (+1.9%)
Oklahoma
Counties with the highest unemployment:
- #1. Latimer County: 6.3% (+0.8% change since March 2019)
- #2. McIntosh County: 5.2% (-0.2%)
- #3. Haskell County: 4.9% (0.0%)
- #4. Johnston County: 4.6% (-0.2%)
- #5. Choctaw County: 4.5% (-0.1%)
Oregon
Counties with the highest unemployment:
- #1. Grant County: 8.9% (-1.1% change since March 2019)
- #2. Wallowa County: 7.3% (-2.4%)
- #3. Klamath County: 7.1% (-0.9%)
- #4. Harney County: 5.8% (-2.0%)
- #5. Crook County: 5.6% (-1.8%)
Pennsylvania
Counties with the highest unemployment:
- #1. Forest County: 10.5% (+3.2% change since March 2019)
- #2. Potter County: 10.4% (+3.8%)
- #3. Cameron County: 9.8% (+3.2%)
- #4. Huntingdon County: 9.4% (+3.2%)
- #5. Fayette County: 9.3% (+3.2%)
Rhode Island
Counties with the highest unemployment:
- #1. Providence County: 5.4% (+1.2% change since March 2019)
- #2. Newport County: 4.8% (+1.0%)
- #3. Kent County: 4.7% (+1.1%)
- #4. Washington County: 4.5% (+1.0%)
- #5. Bristol County: 4.2% (+0.9%)
South Carolina
Counties with the highest unemployment:
- #1. Allendale County: 6.5% (+0.7% change since March 2019)
- #2. Bamberg County: 6.3% (+0.5%)
- #3. Lee County: 5% (-0.3%)
- #4. Williamsburg County: 4.9% (-0.3%)
- #5. Orangeburg County: 4.8% (-0.3%)
South Dakota
Counties with the highest unemployment:
- #1. Oglala Lakota County: 7.9% (-1.2% change since March 2019)
- #2. Deuel County: 6.7% (-0.2%)
- #3. Walworth County: 6.7% (-0.1%)
- #4. Dewey County: 6.4% (-0.3%)
- #5. Todd County: 6% (-0.3%)
Tennessee
Counties with the highest unemployment:
- #1. Lincoln County: 7% (+0.7% change since March 2019)
- #2. Clay County: 6.9% (+0.7%)
- #3. Scott County: 6.4% (+0.5%)
- #4. Decatur County: 6.3% (+0.6%)
- #5. Lake County: 6.3% (+0.7%)
Texas
Counties with the highest unemployment:
- #1. Starr County: 16% (+7.3% change since March 2019)
- #2. Maverick County: 11.7% (+3.5%)
- #3. Zavala County: 11.3% (+3.2%)
- #4. Willacy County: 10.3% (+2.3%)
- #5. Presidio County: 10.2% (+3.8%)
Utah
Counties with the highest unemployment:
- #1. Garfield County: 12.5% (+3.1% change since March 2019)
- #2. Wayne County: 11.3% (+4.2%)
- #3. San Juan County: 8.8% (+2.4%)
- #4. Uintah County: 7.4% (+1.6%)
- #5. Piute County: 7.4% (+2.3%)
Vermont
Counties with the highest unemployment:
- #1. Orleans County: 7.1% (+1.8% change since March 2019)
- #2. Essex County: 5.6% (+1.5%)
- #3. Lamoille County: 4.8% (+0.8%)
- #4. Grand Isle County: 4.7% (+0.9%)
- #5. Caledonia County: 4.5% (+0.9%)
Virginia
Counties with the highest unemployment:
- #1. Buchanan County: 8.1% (+1.7% change since March 2019)
- #2. Dickenson County: 7.3% (+1.1%)
- #3. Northumberland County: 7% (+1.2%)
- #4. Lancaster County: 7% (+1.3%)
- #5. Petersburg city: 6.6% (+1.0%)
Washington
Counties with the highest unemployment:
- #1. Ferry County: 12.8% (-1.8% change since March 2019)
- #2. Okanogan County: 8% (-1.5%)
- #3. Pend Oreille County: 8% (-1.4%)
- #4. Stevens County: 7.9% (-1.4%)
- #5. Grant County: 7.1% (-2.2%)
West Virginia
Counties with the highest unemployment:
- #1. Calhoun County: 19.6% (+4.9% change since March 2019)
- #2. Clay County: 12.8% (+1.1%)
- #3. Roane County: 12.1% (+2.2%)
- #4. McDowell County: 11.9% (+2.7%)
- #5. Mingo County: 11.4% (+3.2%)
Wisconsin
Counties with the highest unemployment:
- #1. Burnett County: 7.1% (-0.7% change since March 2019)
- #2. Bayfield County: 6.7% (-0.9%)
- #3. Iron County: 6.6% (-0.9%)
- #4. Adams County: 6.5% (-0.3%)
- #5. Menominee County: 6.1% (-0.6%)
Wyoming
Counties with the highest unemployment:
- #1. Sublette County: 6.3% (+1.1% change since March 2019)
- #2. Sweetwater County: 5.4% (+0.3%)
- #3. Big Horn County: 5.4% (+0.5%)
- #4. Fremont County: 5.2% (+0.4%)
- #5. Washakie County: 5.2% (+0.4%)