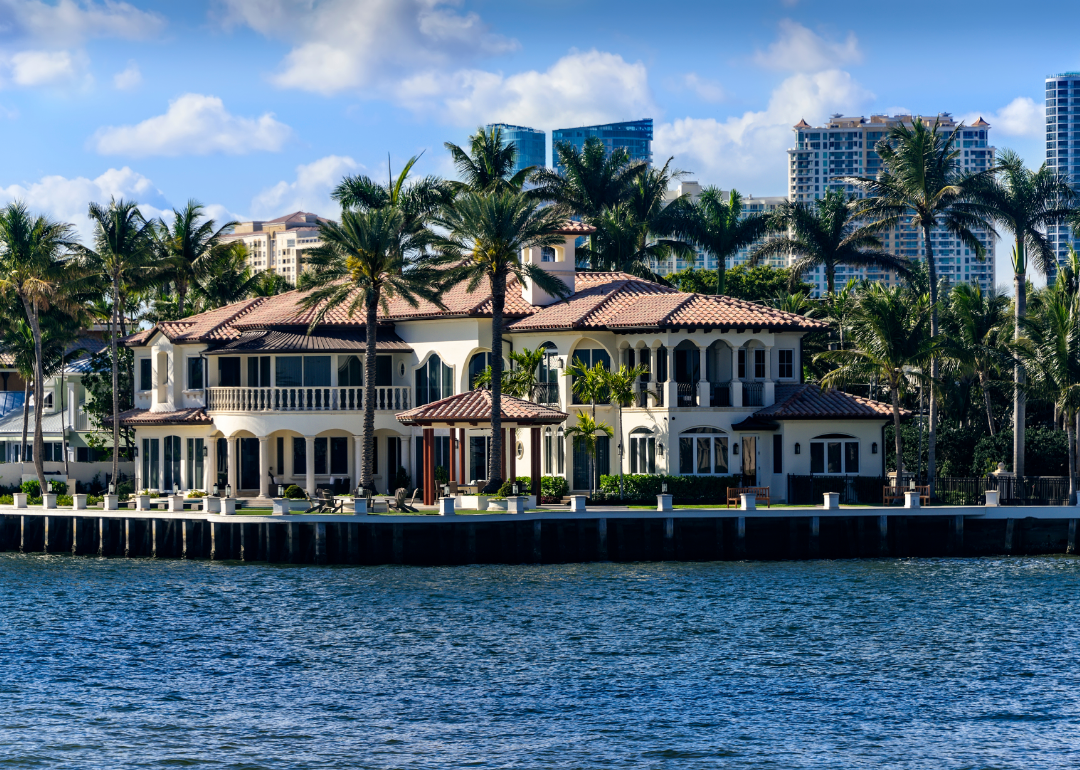 Counties with the most expensive homes in every state
Counties with the most expensive homes in every state
Buying a home is an investment—and an increasingly expensive one. The median value of a home in the United States today is more than a quarter of a million dollars with a mortgage, and $167,000 without one. Meanwhile, the median monthly housing cost for a home with a mortgage is $1,558 and $490 without a mortgage.
Home buyers have a lot to consider when house-hunting or looking to invest in rental properties, from the state of the housing market itself to taxes and potential resell value. The housing market grew robust and pricey in the last decade following the 2008 recession, but the market could be slowed by rising interest rates. Such a downturn can be good news for potential home-buyers, as you're more likely to be able to wager a deal on an otherwise overpriced house. Then there is the house itself to consider, including what kind of upkeep it requires (and those associated costs). Depreciation affects all homes at an average rate of 3.636% each year, which can be a help come tax season if you use your home for business or rentals—but may cost you later in capital gains taxes when you when you sell. Meanwhile, land value tends to increase over time depending on several factors including where the house is located and what amenities and homes are nearby. More desirable neighborhoods allow sellers to charge more; the mantra "location, location, location" has never been more relevant.
Stacker used data from the U.S. Census Bureau's 2019 American Community Survey to find the counties with the most expensive homes in every state (or county equivalent for Alaska, Louisiana, and Virginia), and in areas where people will pay the most for a home. In 2020, there were more than 48 million owner-occupied housing units in the U.S. with a mortgage and 28 million without. The mortgage payments considered for each county's data points assume a 30-year fixed rate fully amortizing mortgage—meaning the mortgage is paid off on time—with payments only on the principal amount and interest. It is also likely that fees and taxes will lead to higher actual payments. We ranked each county by its median home value of owner-occupied housing units with a mortgage.
Do you live in the area with the most expensive real estate market in your state? Read on to find out.
You may also like: The richest town in every state
Alabama: Shelby County
- Owner-occupied housing units with a mortgage: 43,718
--- Median home value: $207,900
--- Homes with values $1 million or more: 0.6%
--- Median household income: $97,280
--- Median monthly housing costs: $1,416
--- Median real estate taxes: $1,057
- Owner-occupied housing units without a mortgage: 18,688
--- Median home value: $195,300
--- Homes with values $1 million or more: 1.7%
--- Median household income: $58,629
--- Median monthly housing costs: $427
--- Median real estate taxes: $1,028
Alaska: Sitka (city and borough)
- Owner-occupied housing units with a mortgage: 1,086
--- Median home value: $383,800
--- Homes with values $1 million or more: 0.7%
--- Median household income: $108,917
--- Median monthly housing costs: $2,122
--- Median real estate taxes: $2,062
- Owner-occupied housing units without a mortgage: 976
--- Median home value: $298,700
--- Homes with values $1 million or more: 0.0%
--- Median household income: $71,890
--- Median monthly housing costs: $599
--- Median real estate taxes: $1,608
Arizona: Coconino County
- Owner-occupied housing units with a mortgage: 15,656
--- Median home value: $300,200
--- Homes with values $1 million or more: 1.6%
--- Median household income: $88,046
--- Median monthly housing costs: $1,565
--- Median real estate taxes: $1,549
- Owner-occupied housing units without a mortgage: 12,981
--- Median home value: $164,600
--- Homes with values $1 million or more: 2.4%
--- Median household income: $55,179
--- Median monthly housing costs: $353
--- Median real estate taxes: $1,503
Arkansas: Benton County
- Owner-occupied housing units with a mortgage: 42,552
--- Median home value: $177,900
--- Homes with values $1 million or more: 0.9%
--- Median household income: $88,747
--- Median monthly housing costs: $1,263
--- Median real estate taxes: $1,341
- Owner-occupied housing units without a mortgage: 20,066
--- Median home value: $159,400
--- Homes with values $1 million or more: 0.7%
--- Median household income: $52,912
--- Median monthly housing costs: $404
--- Median real estate taxes: $1,188
California: San Francisco County
- Owner-occupied housing units with a mortgage: 89,626
--- Median home value: $1,029,300
--- Homes with values $1 million or more: 52.1%
--- Median household income: $165,421
--- Median monthly housing costs: $3,473
--- Median real estate taxes: $7,806
- Owner-occupied housing units without a mortgage: 45,649
--- Median home value: $978,500
--- Homes with values $1 million or more: 47.9%
--- Median household income: $86,141
--- Median monthly housing costs: $671
--- Median real estate taxes: $3,793
Colorado: Summit County
- Owner-occupied housing units with a mortgage: 4,712
--- Median home value: $554,200
--- Homes with values $1 million or more: 8.9%
--- Median household income: $100,371
--- Median monthly housing costs: $1,925
--- Median real estate taxes: $1,762
- Owner-occupied housing units without a mortgage: 1,704
--- Median home value: $586,200
--- Homes with values $1 million or more: 14.8%
--- Median household income: $69,250
--- Median monthly housing costs: $590
--- Median real estate taxes: $1,952
Connecticut: Fairfield County
- Owner-occupied housing units with a mortgage: 161,030
--- Median home value: $431,500
--- Homes with values $1 million or more: 14.8%
--- Median household income: $137,488
--- Median monthly housing costs: $2,771
--- Median real estate taxes: $7,484
- Owner-occupied housing units without a mortgage: 68,139
--- Median home value: $398,900
--- Homes with values $1 million or more: 14.8%
--- Median household income: $81,743
--- Median monthly housing costs: $1,116
--- Median real estate taxes: $7,168
Delaware: New Castle County
- Owner-occupied housing units with a mortgage: 96,681
--- Median home value: $258,000
--- Homes with values $1 million or more: 0.8%
--- Median household income: $97,301
--- Median monthly housing costs: $1,646
--- Median real estate taxes: $1,948
- Owner-occupied housing units without a mortgage: 41,981
--- Median home value: $246,900
--- Homes with values $1 million or more: 1.5%
--- Median household income: $61,036
--- Median monthly housing costs: $491
--- Median real estate taxes: $1,731
Florida: Monroe County
- Owner-occupied housing units with a mortgage: 8,984
--- Median home value: $461,200
--- Homes with values $1 million or more: 11.1%
--- Median household income: $97,568
--- Median monthly housing costs: $2,506
--- Median real estate taxes: $3,162
- Owner-occupied housing units without a mortgage: 9,481
--- Median home value: $479,600
--- Homes with values $1 million or more: 15.0%
--- Median household income: $64,942
--- Median monthly housing costs: $680
--- Median real estate taxes: $3,092
Georgia: Forsyth County
- Owner-occupied housing units with a mortgage: 47,743
--- Median home value: $326,700
--- Homes with values $1 million or more: 1.0%
--- Median household income: $120,913
--- Median monthly housing costs: $1,885
--- Median real estate taxes: $2,661
- Owner-occupied housing units without a mortgage: 13,886
--- Median home value: $295,700
--- Homes with values $1 million or more: 1.7%
--- Median household income: $74,418
--- Median monthly housing costs: $484
--- Median real estate taxes: $1,588
Hawaii: Honolulu County
- Owner-occupied housing units with a mortgage: 117,352
--- Median home value: $647,600
--- Homes with values $1 million or more: 15.8%
--- Median household income: $120,200
--- Median monthly housing costs: $2,527
--- Median real estate taxes: $1,902
- Owner-occupied housing units without a mortgage: 54,709
--- Median home value: $630,100
--- Homes with values $1 million or more: 14.4%
--- Median household income: $75,537
--- Median monthly housing costs: $574
--- Median real estate taxes: $1,789
Idaho: Blaine County
- Owner-occupied housing units with a mortgage: 3,414
--- Median home value: $382,800
--- Homes with values $1 million or more: 13.7%
--- Median household income: $77,580
--- Median monthly housing costs: $1,659
--- Median real estate taxes: $1,787
- Owner-occupied housing units without a mortgage: 2,295
--- Median home value: $436,400
--- Homes with values $1 million or more: 18.7%
--- Median household income: $46,910
--- Median monthly housing costs: $489
--- Median real estate taxes: $2,150
Illinois: DuPage County
- Owner-occupied housing units with a mortgage: 170,362
--- Median home value: $302,300
--- Homes with values $1 million or more: 2.9%
--- Median household income: $116,683
--- Median monthly housing costs: $2,118
--- Median real estate taxes: $6,743
- Owner-occupied housing units without a mortgage: 79,773
--- Median home value: $293,400
--- Homes with values $1 million or more: 3.6%
--- Median household income: $78,313
--- Median monthly housing costs: $852
--- Median real estate taxes: $6,374
Indiana: Hamilton County
- Owner-occupied housing units with a mortgage: 71,327
--- Median home value: $250,300
--- Homes with values $1 million or more: 1.4%
--- Median household income: $116,539
--- Median monthly housing costs: $1,627
--- Median real estate taxes: $2,445
- Owner-occupied housing units without a mortgage: 19,067
--- Median home value: $246,000
--- Homes with values $1 million or more: 1.9%
--- Median household income: $78,961
--- Median monthly housing costs: $553
--- Median real estate taxes: $2,356
Iowa: Dallas County
- Owner-occupied housing units with a mortgage: 18,488
--- Median home value: $241,300
--- Homes with values $1 million or more: 0.4%
--- Median household income: $115,046
--- Median monthly housing costs: $1,613
--- Median real estate taxes: $3,741
- Owner-occupied housing units without a mortgage: 5,968
--- Median home value: $191,000
--- Homes with values $1 million or more: 0.7%
--- Median household income: $62,130
--- Median monthly housing costs: $575
--- Median real estate taxes: $2,940
Kansas: Johnson County
- Owner-occupied housing units with a mortgage: 110,977
--- Median home value: $247,900
--- Homes with values $1 million or more: 1.3%
--- Median household income: $115,565
--- Median monthly housing costs: $1,746
--- Median real estate taxes: $3,070
- Owner-occupied housing units without a mortgage: 45,410
--- Median home value: $234,200
--- Homes with values $1 million or more: 2.1%
--- Median household income: $80,014
--- Median monthly housing costs: $645
--- Median real estate taxes: $2,928
Kentucky: Oldham County
- Owner-occupied housing units with a mortgage: 12,732
--- Median home value: $275,400
--- Homes with values $1 million or more: 1.6%
--- Median household income: $115,238
--- Median monthly housing costs: $1,711
--- Median real estate taxes: $2,743
- Owner-occupied housing units without a mortgage: 4,865
--- Median home value: $259,600
--- Homes with values $1 million or more: 2.8%
--- Median household income: $83,996
--- Median monthly housing costs: $582
--- Median real estate taxes: $2,561
Louisiana: Orleans Parish
- Owner-occupied housing units with a mortgage: 39,884
--- Median home value: $249,800
--- Homes with values $1 million or more: 3.2%
--- Median household income: $80,907
--- Median monthly housing costs: $1,696
--- Median real estate taxes: $2,136
- Owner-occupied housing units without a mortgage: 33,153
--- Median home value: $187,200
--- Homes with values $1 million or more: 3.5%
--- Median household income: $44,253
--- Median monthly housing costs: $503
--- Median real estate taxes: $1,277
Maine: Cumberland County
- Owner-occupied housing units with a mortgage: 57,488
--- Median home value: $271,200
--- Homes with values $1 million or more: 1.3%
--- Median household income: $99,010
--- Median monthly housing costs: $1,728
--- Median real estate taxes: $3,802
- Owner-occupied housing units without a mortgage: 24,807
--- Median home value: $263,800
--- Homes with values $1 million or more: 2.6%
--- Median household income: $60,786
--- Median monthly housing costs: $633
--- Median real estate taxes: $3,601
Maryland: Montgomery County
- Owner-occupied housing units with a mortgage: 179,172
--- Median home value: $477,200
--- Homes with values $1 million or more: 9.8%
--- Median household income: $146,646
--- Median monthly housing costs: $2,505
--- Median real estate taxes: $4,491
- Owner-occupied housing units without a mortgage: 63,091
--- Median home value: $474,700
--- Homes with values $1 million or more: 10.4%
--- Median household income: $106,795
--- Median monthly housing costs: $812
--- Median real estate taxes: $4,521
Massachusetts: Nantucket County
- Owner-occupied housing units with a mortgage: 1,702
--- Median home value: $982,600
--- Homes with values $1 million or more: 48.5%
--- Median household income: $125,052
--- Median monthly housing costs: $3,144
--- Median real estate taxes: $3,074
- Owner-occupied housing units without a mortgage: 874
--- Median home value: $1,347,800
--- Homes with values $1 million or more: 63.6%
--- Median household income: $78,929
--- Median monthly housing costs: $869
--- Median real estate taxes: $3,631
Michigan: Washtenaw County
- Owner-occupied housing units with a mortgage: 56,948
--- Median home value: $251,700
--- Homes with values $1 million or more: 1.5%
--- Median household income: $109,269
--- Median monthly housing costs: $1,737
--- Median real estate taxes: $4,294
- Owner-occupied housing units without a mortgage: 28,174
--- Median home value: $231,300
--- Homes with values $1 million or more: 2%
--- Median household income: $71,276
--- Median monthly housing costs: $674
--- Median real estate taxes: $4,092
Minnesota: Carver County
- Owner-occupied housing units with a mortgage: 22,193
--- Median home value: $315,900
--- Homes with values $1 million or more: 2%
--- Median household income: $127,097
--- Median monthly housing costs: $1,987
--- Median real estate taxes: $3,641
- Owner-occupied housing units without a mortgage: 7,024
--- Median home value: $270,100
--- Homes with values $1 million or more: 2.3%
--- Median household income: $67,922
--- Median monthly housing costs: $607
--- Median real estate taxes: $2,988
Mississippi: Madison County
- Owner-occupied housing units with a mortgage: 18,753
--- Median home value: $223,700
--- Homes with values $1 million or more: 1.8%
--- Median household income: $96,930
--- Median monthly housing costs: $1,491
--- Median real estate taxes: $1,709
- Owner-occupied housing units without a mortgage: 9,275
--- Median home value: $191,300
--- Homes with values $1 million or more: 3.5%
--- Median household income: $66,418
--- Median monthly housing costs: $456
--- Median real estate taxes: $1,304
Missouri: Platte County
- Owner-occupied housing units with a mortgage: 18,111
--- Median home value: $218,200
--- Homes with values $1 million or more: 0.5%
--- Median household income: $106,316
--- Median monthly housing costs: $1,621
--- Median real estate taxes: $2,679
- Owner-occupied housing units without a mortgage: 7,310
--- Median home value: $211,800
--- Homes with values $1 million or more: 2.1%
--- Median household income: $68,101
--- Median monthly housing costs: $594
--- Median real estate taxes: $2,635
Montana: Gallatin County
- Owner-occupied housing units with a mortgage: 16,680
--- Median home value: $335,200
--- Homes with values $1 million or more: 4.7%
--- Median household income: $93,338
--- Median monthly housing costs: $1,707
--- Median real estate taxes: $2,656
- Owner-occupied housing units without a mortgage: 9,051
--- Median home value: $319,500
--- Homes with values $1 million or more: 5.7%
--- Median household income: $57,308
--- Median monthly housing costs: $508
--- Median real estate taxes: $2,501
Nebraska: Washington County
- Owner-occupied housing units with a mortgage: 4,047
--- Median home value: $202,300
--- Homes with values $1 million or more: 0%
--- Median household income: $99,586
--- Median monthly housing costs: $1,514
--- Median real estate taxes: $3,227
- Owner-occupied housing units without a mortgage: 2,083
--- Median home value: $164,700
--- Homes with values $1 million or more: 0.9%
--- Median household income: $60,034
--- Median monthly housing costs: $544
--- Median real estate taxes: $2,723
Nevada: Douglas County
- Owner-occupied housing units with a mortgage: 8,954
--- Median home value: $342,000
--- Homes with values $1 million or more: 4.5%
--- Median household income: $81,822
--- Median monthly housing costs: $1,679
--- Median real estate taxes: $2,025
- Owner-occupied housing units without a mortgage: 5,422
--- Median home value: $355,600
--- Homes with values $1 million or more: 8.6%
--- Median household income: $55,029
--- Median monthly housing costs: $499
--- Median real estate taxes: $2,217
New Hampshire: Rockingham County
- Owner-occupied housing units with a mortgage: 64,884
--- Median home value: $317,600
--- Homes with values $1 million or more: 1.2%
--- Median household income: $119,164
--- Median monthly housing costs: $2,186
--- Median real estate taxes: $6,462
- Owner-occupied housing units without a mortgage: 27,693
--- Median home value: $291,900
--- Homes with values $1 million or more: 3.1%
--- Median household income: $69,578
--- Median monthly housing costs: $866
--- Median real estate taxes: $5,830
New Jersey: Bergen County
- Owner-occupied housing units with a mortgage: 142,657
--- Median home value: $468,700
--- Homes with values $1 million or more: 7.5%
--- Median household income: $139,896
--- Median monthly housing costs: $3,007
--- Median real estate taxes: 10,000+
- Owner-occupied housing units without a mortgage: 75,224
--- Median home value: $439,400
--- Homes with values $1 million or more: 7.6%
--- Median household income: $86,364
--- Median monthly housing costs: $1,254
--- Median real estate taxes: 10,000+
New Mexico: Los Alamos County
- Owner-occupied housing units with a mortgage: 3,469
--- Median home value: $298,400
--- Homes with values $1 million or more: 0.3%
--- Median household income: $142,394
--- Median monthly housing costs: $1,846
--- Median real estate taxes: $2,006
- Owner-occupied housing units without a mortgage: 2,142
--- Median home value: $279,500
--- Homes with values $1 million or more: 2.4%
--- Median household income: $117,857
--- Median monthly housing costs: $411
--- Median real estate taxes: $1,764
New York: New York County
- Owner-occupied housing units with a mortgage: 91,406
--- Median home value: $967,200
--- Homes with values $1 million or more: 47.9%
--- Median household income: $202,660
--- Median monthly housing costs: $3,186
--- Median real estate taxes: $8,995
- Owner-occupied housing units without a mortgage: 91,543
--- Median home value: $916,100
--- Homes with values $1 million or more: 45.8%
--- Median household income: $109,358
--- Median monthly housing costs: $1,014
--- Median real estate taxes: $8,963
North Carolina: Chatham County
- Owner-occupied housing units with a mortgage: 12,659
--- Median home value: $309,200
--- Homes with values $1 million or more: 2.2%
--- Median household income: $101,328
--- Median monthly housing costs: $1,600
--- Median real estate taxes: $2,213
- Owner-occupied housing units without a mortgage: 9,158
--- Median home value: $209,800
--- Homes with values $1 million or more: 2.2%
--- Median household income: $52,745
--- Median monthly housing costs: $454
--- Median real estate taxes: $1,690
North Dakota: Williams County
- Owner-occupied housing units with a mortgage: 3,852
--- Median home value: $278,100
--- Homes with values $1 million or more: 2%
--- Median household income: $118,944
--- Median monthly housing costs: $1,647
--- Median real estate taxes: $1,957
- Owner-occupied housing units without a mortgage: 3,449
--- Median home value: $222,700
--- Homes with values $1 million or more: 0.3%
--- Median household income: $99,805
--- Median monthly housing costs: $451
--- Median real estate taxes: $1,513
Ohio: Delaware County
- Owner-occupied housing units with a mortgage: 42,936
--- Median home value: $303,500
--- Homes with values $1 million or more: 1.1%
--- Median household income: $129,930
--- Median monthly housing costs: $2,066
--- Median real estate taxes: $5,580
- Owner-occupied housing units without a mortgage: 12,864
--- Median home value: $259,600
--- Homes with values $1 million or more: 2%
--- Median household income: $77,383
--- Median monthly housing costs: $754
--- Median real estate taxes: $4,513
Oklahoma: McClain County
- Owner-occupied housing units with a mortgage: 6,676
--- Median home value: $184,500
--- Homes with values $1 million or more: 0.2%
--- Median household income: $86,326
--- Median monthly housing costs: $1,440
--- Median real estate taxes: $1,731
- Owner-occupied housing units without a mortgage: 4,545
--- Median home value: $153,900
--- Homes with values $1 million or more: 0.9%
--- Median household income: $56,014
--- Median monthly housing costs: $442
--- Median real estate taxes: $947
Oregon: Clackamas County
- Owner-occupied housing units with a mortgage: 77,182
--- Median home value: $376,200
--- Homes with values $1 million or more: 3.3%
--- Median household income: $106,295
--- Median monthly housing costs: $1,931
--- Median real estate taxes: $3,838
- Owner-occupied housing units without a mortgage: 32,464
--- Median home value: $348,400
--- Homes with values $1 million or more: 3.9%
--- Median household income: $62,837
--- Median monthly housing costs: $639
--- Median real estate taxes: $3,577
Pennsylvania: Chester County
- Owner-occupied housing units with a mortgage: 99,716
--- Median home value: $354,400
--- Homes with values $1 million or more: 2.8%
--- Median household income: $129,950
--- Median monthly housing costs: $2,262
--- Median real estate taxes: $5,344
- Owner-occupied housing units without a mortgage: 42,933
--- Median home value: $326,800
--- Homes with values $1 million or more: 3.6%
--- Median household income: $75,697
--- Median monthly housing costs: $803
--- Median real estate taxes: $4,804
Rhode Island: Newport County
- Owner-occupied housing units with a mortgage: 13,856
--- Median home value: $380,300
--- Homes with values $1 million or more: 6.4%
--- Median household income: $115,362
--- Median monthly housing costs: $2,146
--- Median real estate taxes: $4,673
- Owner-occupied housing units without a mortgage: 7,993
--- Median home value: $362,200
--- Homes with values $1 million or more: 10.4%
--- Median household income: $72,475
--- Median monthly housing costs: $821
--- Median real estate taxes: $4,401
South Carolina: Charleston County
- Owner-occupied housing units with a mortgage: 63,169
--- Median home value: $313,500
--- Homes with values $1 million or more: 4.9%
--- Median household income: $93,789
--- Median monthly housing costs: $1,701
--- Median real estate taxes: $1,437
- Owner-occupied housing units without a mortgage: 32,509
--- Median home value: $248,200
--- Homes with values $1 million or more: 7.7%
--- Median household income: $54,675
--- Median monthly housing costs: $524
--- Median real estate taxes: $1,210
South Dakota: Custer County
- Owner-occupied housing units with a mortgage: 1,866
--- Median home value: $234,100
--- Homes with values $1 million or more: 1.7%
--- Median household income: $77,888
--- Median monthly housing costs: $1,439
--- Median real estate taxes: $2,412
- Owner-occupied housing units without a mortgage: 1,383
--- Median home value: $180,200
--- Homes with values $1 million or more: 1%
--- Median household income: $40,491
--- Median monthly housing costs: $508
--- Median real estate taxes: $1,956
Tennessee: Williamson County
- Owner-occupied housing units with a mortgage: 43,637
--- Median home value: $425,600
--- Homes with values $1 million or more: 4.7%
--- Median household income: $132,382
--- Median monthly housing costs: $2,111
--- Median real estate taxes: $2,339
- Owner-occupied housing units without a mortgage: 17,062
--- Median home value: $394,200
--- Homes with values $1 million or more: 6.7%
--- Median household income: $87,577
--- Median monthly housing costs: $547
--- Median real estate taxes: $2,192
Texas: Kendall County
- Owner-occupied housing units with a mortgage: 6,388
--- Median home value: $334,800
--- Homes with values $1 million or more: 6.7%
--- Median household income: $119,712
--- Median monthly housing costs: $2,065
--- Median real estate taxes: $5,151
- Owner-occupied housing units without a mortgage: 3,711
--- Median home value: $280,800
--- Homes with values $1 million or more: 8.4%
--- Median household income: $66,394
--- Median monthly housing costs: $611
--- Median real estate taxes: $3,437
Utah: Summit County
- Owner-occupied housing units with a mortgage: 7,835
--- Median home value: $595,800
--- Homes with values $1 million or more: 18.6%
--- Median household income: $127,553
--- Median monthly housing costs: $2,217
--- Median real estate taxes: $2,363
- Owner-occupied housing units without a mortgage: 3,258
--- Median home value: $608,800
--- Homes with values $1 million or more: 29.2%
--- Median household income: $96,434
--- Median monthly housing costs: $604
--- Median real estate taxes: $2,781
Vermont: Chittenden County
- Owner-occupied housing units with a mortgage: 28,193
--- Median home value: $288,600
--- Homes with values $1 million or more: 0.7%
--- Median household income: $104,269
--- Median monthly housing costs: $1,840
--- Median real estate taxes: $5,446
- Owner-occupied housing units without a mortgage: 12,992
--- Median home value: $287,000
--- Homes with values $1 million or more: 2.8%
--- Median household income: $65,890
--- Median monthly housing costs: $785
--- Median real estate taxes: $5,091
Virginia: Falls Church (city)
- Owner-occupied housing units with a mortgage: 2,525
--- Median home value: $760,200
--- Homes with values $1 million or more: 19.8%
--- Median household income: $190,085
--- Median monthly housing costs: $3,269
--- Median real estate taxes: $8,884
- Owner-occupied housing units without a mortgage: 718
--- Median home value: $746,800
--- Homes with values $1 million or more: 20.3%
--- Median household income: $137,619
--- Median monthly housing costs: $1,171
--- Median real estate taxes: $9,590
Washington: King County
- Owner-occupied housing units with a mortgage: 359,772
--- Median home value: $498,200
--- Homes with values $1 million or more: 11%
--- Median household income: $129,592
--- Median monthly housing costs: $2,372
--- Median real estate taxes: $4,583
- Owner-occupied housing units without a mortgage: 134,671
--- Median home value: $479,600
--- Homes with values $1 million or more: 11.5%
--- Median household income: $78,815
--- Median monthly housing costs: $777
--- Median real estate taxes: $4,691
West Virginia: Jefferson County
- Owner-occupied housing units with a mortgage: 11,174
--- Median home value: $258,300
--- Homes with values $1 million or more: 0.4%
--- Median household income: $105,143
--- Median monthly housing costs: $1,649
--- Median real estate taxes: $1,566
- Owner-occupied housing units without a mortgage: 4,466
--- Median home value: $191,900
--- Homes with values $1 million or more: 1.3%
--- Median household income: $56,431
--- Median monthly housing costs: $406
--- Median real estate taxes: $1,207
Wisconsin: Waukesha County
- Owner-occupied housing units with a mortgage: 82,370
--- Median home value: $278,200
--- Homes with values $1 million or more: 1.3%
--- Median household income: $111,206
--- Median monthly housing costs: $1,806
--- Median real estate taxes: $4,231
- Owner-occupied housing units without a mortgage: 37,997
--- Median home value: $259,000
--- Homes with values $1 million or more: 1.7%
--- Median household income: $71,454
--- Median monthly housing costs: $662
--- Median real estate taxes: $3,961
Wyoming: Teton County
- Owner-occupied housing units with a mortgage: 2,872
--- Median home value: $733,200
--- Homes with values $1 million or more: 23.9%
--- Median household income: $124,412
--- Median monthly housing costs: $2,203
--- Median real estate taxes: $3,141
- Owner-occupied housing units without a mortgage: 2,415
--- Median home value: $977,800
--- Homes with values $1 million or more: 48.4%
--- Median household income: $86,518
--- Median monthly housing costs: $766
--- Median real estate taxes: $4,668