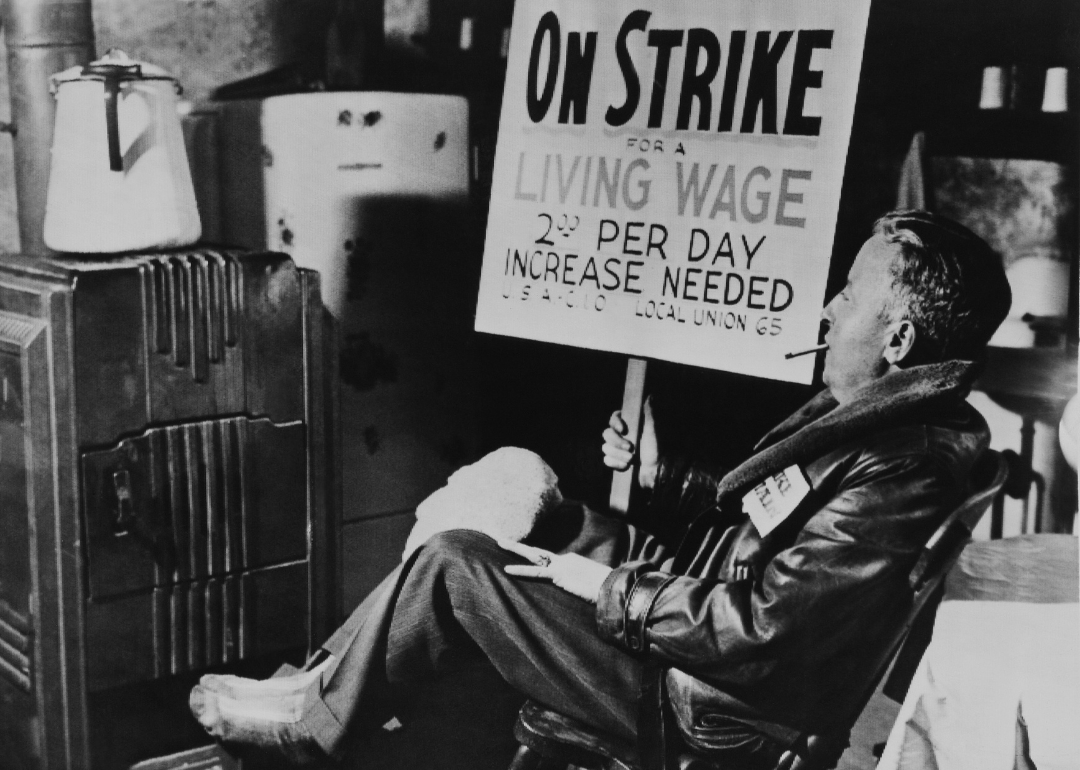 History of workers' strikes in America
Keystone-France/Gamma-Keystone via Getty Images
History of workers' strikes in America
Before the U.S. was even a nation, labor strikes drove significant social and economic change. From the founding of the first major U.S. labor union, the Knights of Labor, to the development of the American Federation of Labor and Congress of Industrial Organizations (AFL-CIO), labor unions have helped employees stand up to the companies they work for in order to secure higher wages, safer working conditions, and bigger benefits. Although the frequency of strikes and positive outcomes have fluctuated over the years, walkouts are still vehicles through which American workers can try to pressure management into offering better pay rates and improvements in working environments.
Some periods of U.S. history saw higher incidents of labor stoppages than others, such as the years directly following World War I and World War II. Strikes in the U.S. became more prevalent during these periods than in other times, with wages and union recognition typically at the heart of the labor conflicts that arose in industries like mining and automobiles.
The Milwaukee Bucks' decision to stay off the basketball court on Aug. 26 showed a new kind of strike—a kind that goes beyond withholding labor to win concessions from an employer. This strike, the Bucks said in a statement from their locker room, was to demand action from Wisconsin lawmakers in response to the police shooting of Jacob Blake, a Black father shot in front of his children in Kenosha, Wisconsin. "Despite the overwhelming plea for change," the Bucks' statement read, "there has been no action, so our focus today cannot be on basketball."
Strikes aren't a thing of the past. The Bureau of Labor Statistics reports that 20 major labor strikes occurred in 2018 and 25 occurred in 2019. Most of these strikes involved workers in the education, health care, and social service sectors. 2020 has seen a handful of major labor strikes, in addition to strike threats from teachers unions, as in Chicago and New York City, in response to school reopening plans during the pandemic. 
Funding for American public schools and compensation for teachers have been long-standing issues, as is apparent from the string of teachers' strikes throughout the decades. 2018 and 2019 saw a surge of teacher walkouts, starting with the West Virginia teachers' strike in 2018, in which 20,000 public school professionals demanded better pay and more affordable health care. Teachers in Arizona, Colorado, California, and other states followed suit, all fighting for higher wages. In 2019, L.A. teachers went on strike for a week and Chicago teachers went on strike for 11 days.
Read on to learn about some of the largest and most important labor strikes in American history, from the 1619 Jamestown Polish craftsmen strike to 21st-century strikes in the automotive, communications, and education fields. Information is compiled from the Bureau of Labor Statistics, publications like The Wall Street Journal and Fortune, as well as the AFL-CIO.
You may also like: 30 victories for workers' rights won by organized labor over the years