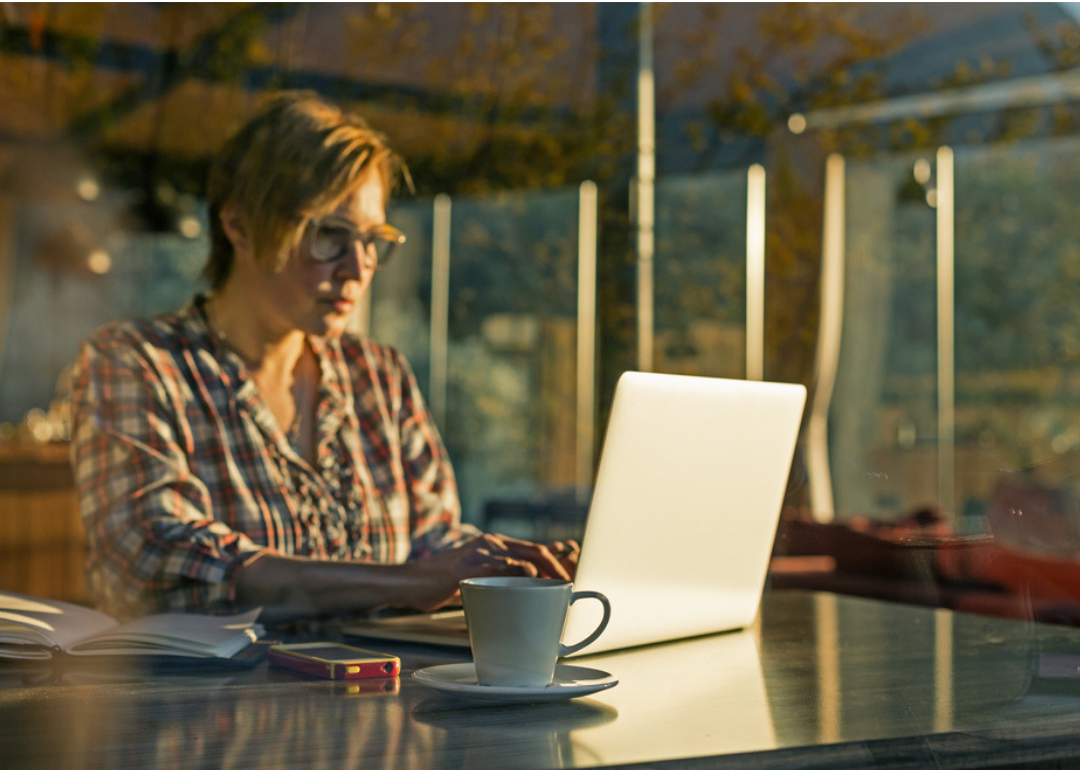 Industries with the most telecommuters
Alex Brylov // Shutterstock
Industries with the most telecommuters
Telecommuting has just about replaced the American carpool; instead of piling into a car, employees are rolling out of bed already at work. According to telecommuting research and consultant service Global Workplace Analytics (GWA), 3.9 million Americans work from home at least 50% of the time. The trend has become so popular that in 2010, the Telework Enhancement Act was passed to make it easier for federal employees to work in their own space.
Stacker looked to GWA's "2017 State of Telecommuting in the U.S." report (the most recent available) to find out the industries with the most telecommuters, ranking the top 15 sectors by percentage where employees work from home at least half the time. Ties for industries that had the same ratio of telecommuters were broke by the number of employees who work at home.
On average, those who telecommute have more education than those who labor in a traditional workforce environment. Additionally, telecommuting is most common in management occupations and produces earnings comparable, and even higher, to national median salaries, based on statistics from remote job website Virtual Vocations. In a 2016 report, Virtual Vocations examined U.S. Bureau of Labor Statistics data: 8.6% of telecommuters earned $0 to $580 per week; 12.8% earned $581 to $920 per week; 18.6% earned $921 to $1,440; and 33.4% earned $1,440 or more per week.
The average telecommuter is at least 46 years old, according to GWA. While telecommuting is equally popular among men and women, it is most common among the baby boomer generation. "In more than half of the top U.S. metro areas telecommuting exceeds public transportation as the commute option of choice. It has grown far faster than any other commute mode," according to GWA's report.
Washington State proposed offering employers tax credits of $500 for every employee who worked remotely at least 12 days a month, similar to telecommuting tax incentives in Virginia and Georgia. As the new "commute mode" that needs no travel, telecommuting is becoming increasingly popular in a plethora of professions, especially ones thought not previously possible.
Read on to find out the industries with the most telecommuters.
You may also like: 30 jobs that are not 9-5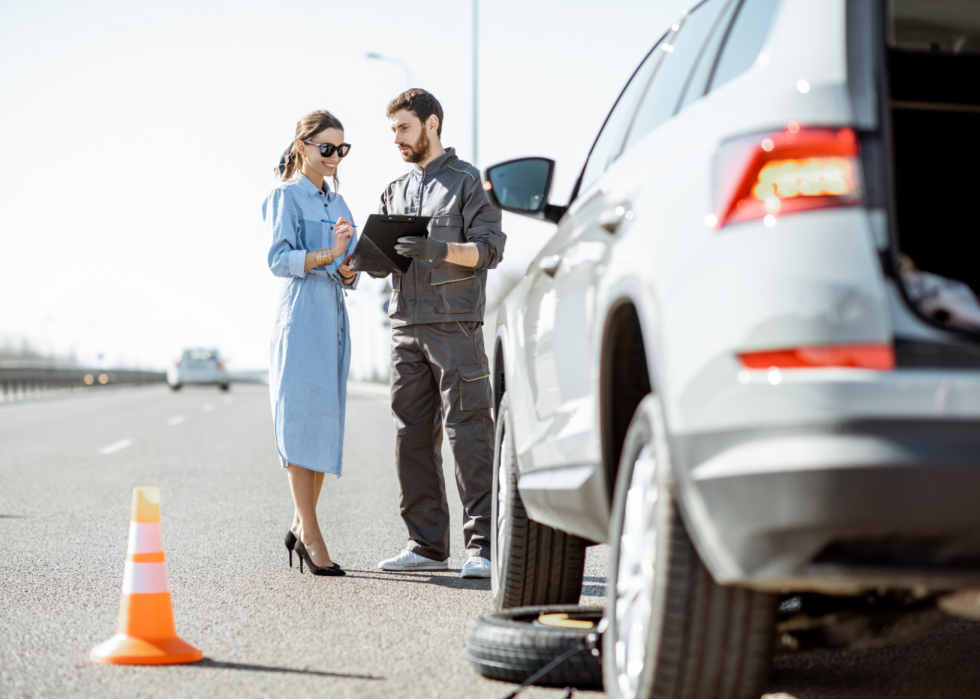 1 / 15
RossHelen // Shutterstock
#15. Transportation and warehousing
- Work at home: 1.7% (2.5% of all work at home employees)
As the sector that transports passengers and cargo, some transportation and warehousing industry jobs include airline pilots, bus drivers, railroad conductors, sailors, marine oilers, and truck and tractor-trailer drivers. Rather than check into an office every morning, telecommuters in this industry begin their workday where they are departing from. When searched on employment marketplace ZipRecruiter, some remote positions for this industry include roadside assistance agent, truck dispatcher, and freight broker agent.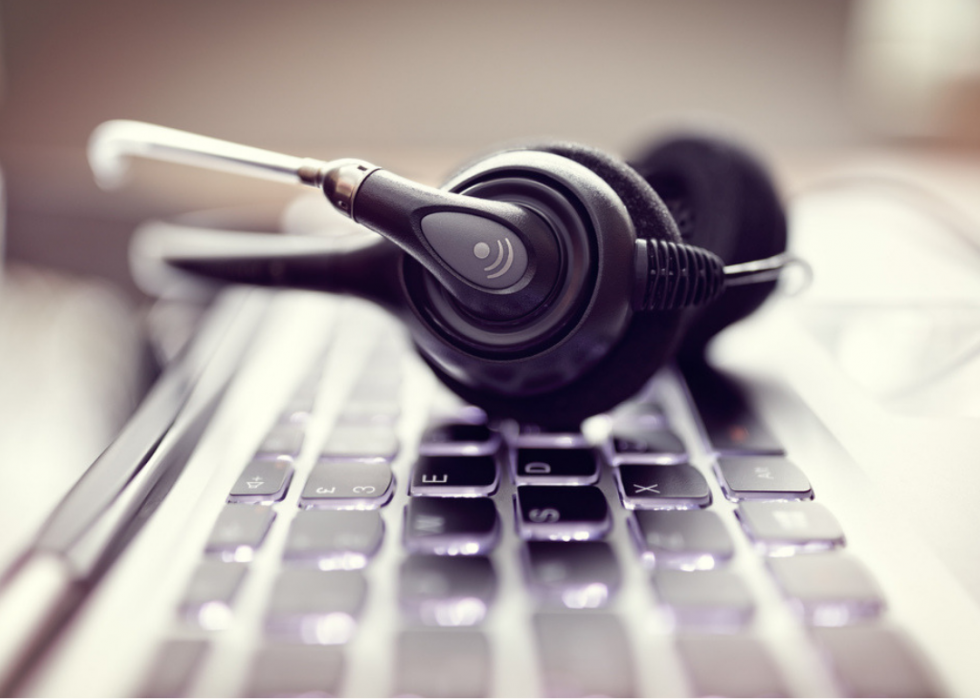 2 / 15
Brian A Jackson // Shutterstock
#14. Retail trade
- Work at home: 1.7% (6.7% of all work at home employees)
Executive outplacement firm Challenger, Gray, and Christmas Inc. detailed precisely what a remote retail trade job looked like, reporting that it mostly entails answering customer questions via live chat, email, or phone. At-home retail jobs are on the rise based on more e-commerce sales and fewer in-store transactions, according to the firm. "It's a positive indicator that retailers are not just cutting in-store workers, but are also adding these remote customer service associates," Andrew Challenger, the firm's vice president, said.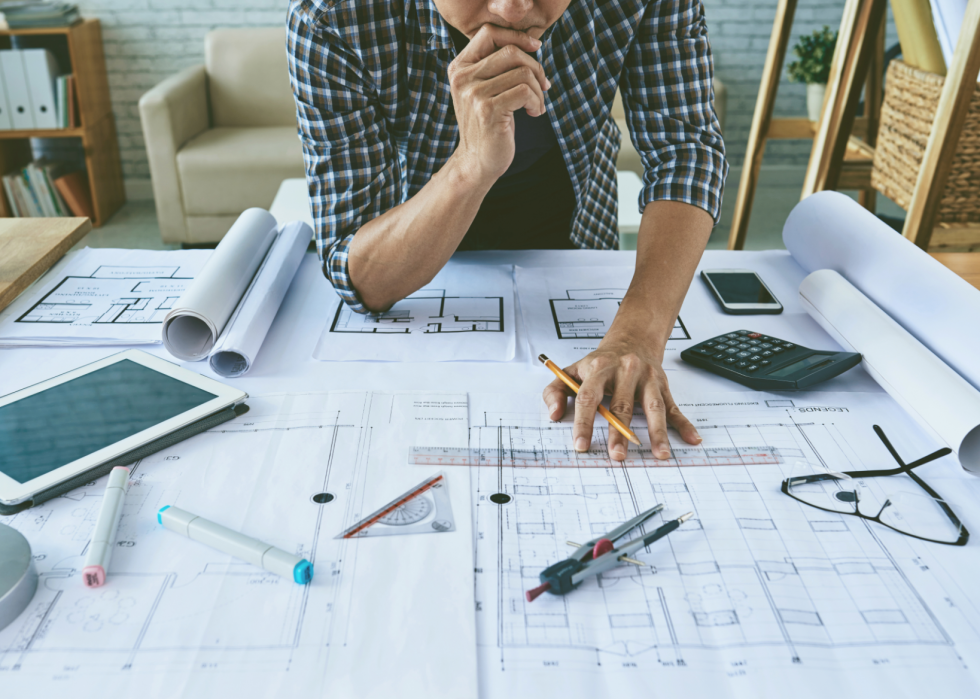 3 / 15
Dragon Images // Shutterstock
#13. Construction
- Work at home: 1.8% (3.3% of all work at home employees)
An architect is an excellent example of a remote construction position. Designing blueprints and sketching construction specifications can be drawn from the privacy of an in-home office. Other examples of remote jobs in the industry include insurance appraiser, risk control specialist, defect claims consultant, or project manager. Supervising daily activities, balancing costs, and keeping time and scope constraints can all be done off-site by project managers in the field of construction.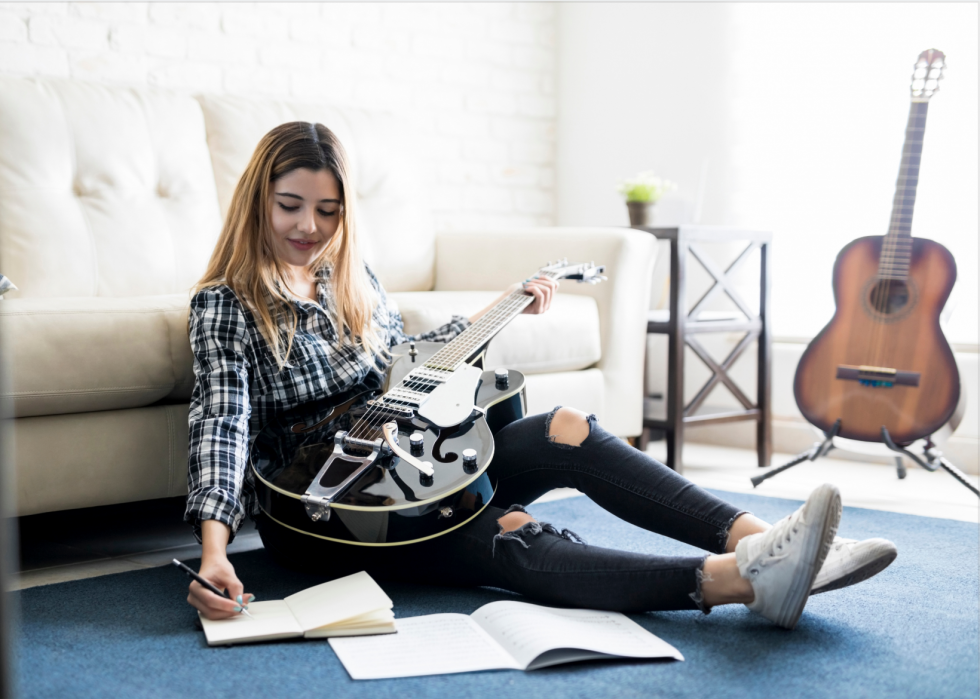 4 / 15
antoniodiaz // Shutterstock
#12. Arts, entertainment, and recreation
- Work at home: 2% (1.4% of all work at home employees)
A 2017 Business Insider report detailed 21 high-paying and mostly remote vocations, many of which fall under the arts, entertainment, and recreation industries. Some of the off-site jobs tackled on self-made schedules include writer, editor, musician, actor, photographer, web designer, and software developer. Since many of these jobs are independent vocations done on a freelance schedule, they don't need to be performed on-site.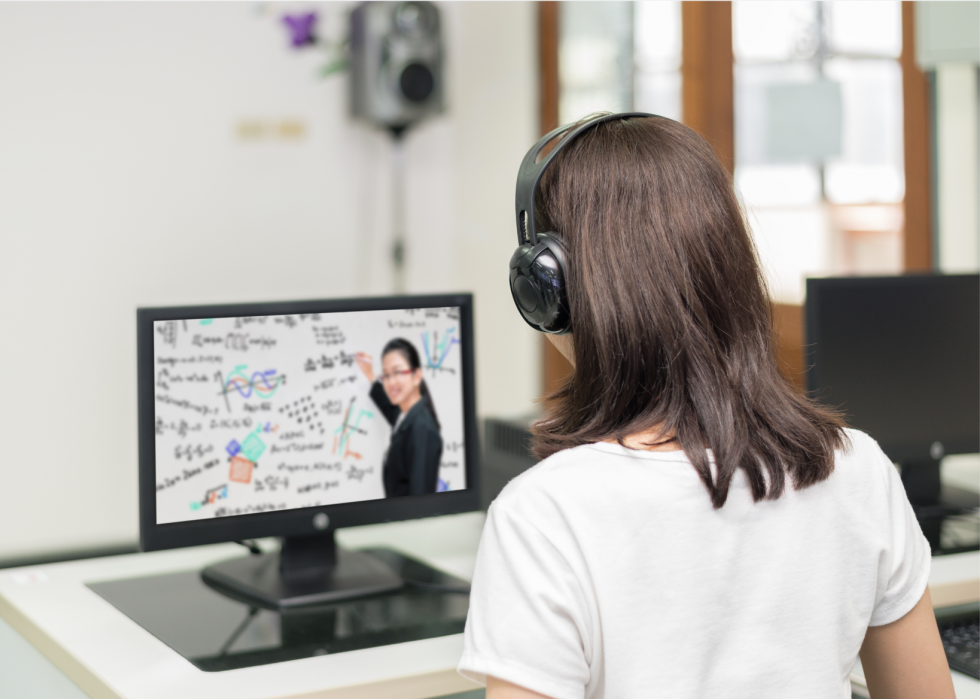 5 / 15
Travelerpix // Shutterstock
#11. Educational services
- Work at home: 2.3% (7.5% of all work at home employees)
Telecommute teachers are instructors who develop both traditional and online learning activities. Typical job requirements for virtual K-12 instructors, who administer tests and track student process, include a bachelor's degree and state certification, based on telecommuting job website Virtual Vocations. These jobs often have a high telecommuting rate as they can be done remotely, including SAT, MCAT, or ACT prep instructors.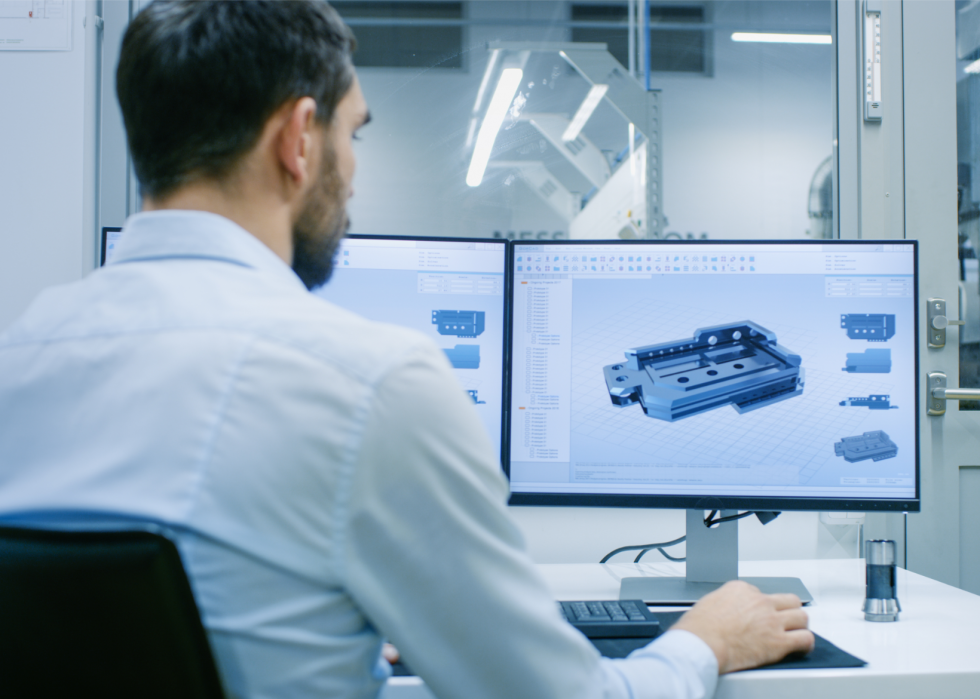 6 / 15
Gorodenkoff // Shutterstock
#10. Manufacturing
- Work at home: 2.3% (8.5% of all work at home employees)
The manufacturing industry is the 10th largest sector for telecommuters, with 2.3% of employees working remotely. An informational analyst, quality compliance officer, and location-independent sales agent are a few jobs that fall within this category. FlexJobs reports that "although manufacturing jobs have a physical component, they increasingly require technology, mathematical, and problem-solving skills," which can be performed remotely.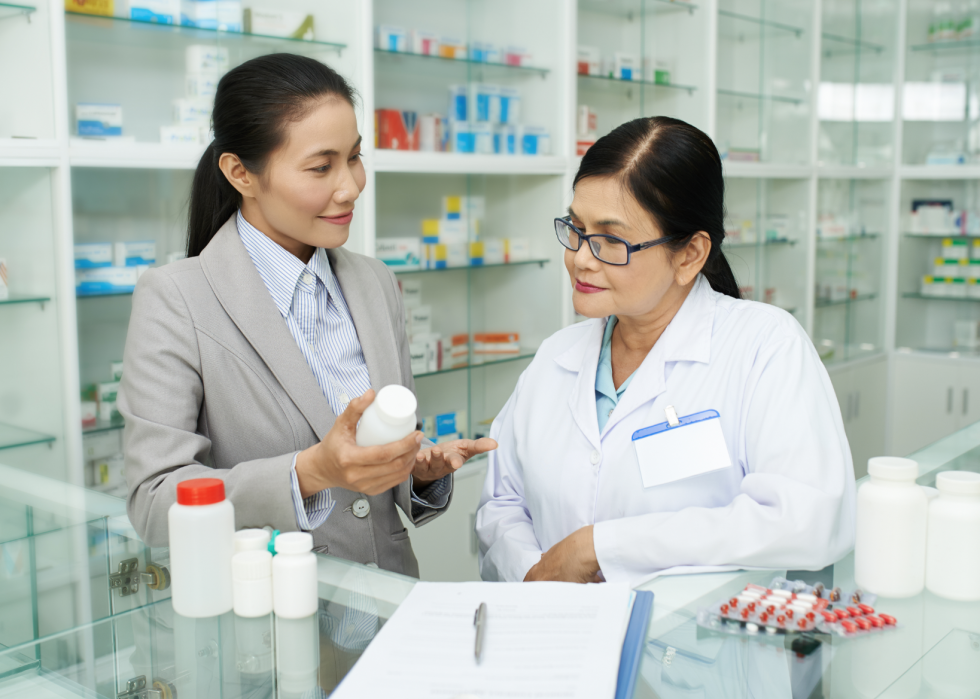 7 / 15
Dragon Images // Shutterstock
#9. Health care and social assistance
- Work at home: 2.4% (11.6% of all work at home employees)
Telecommuting health care and social assistance jobs include Medicaid care advocates and licensed social workers who can work remotely via audio-video sessions. Similarly, medical sales representatives, mail operations pharmacy technicians, claims resolution analysts, clinical research associates, and behavioral analysis case managers are other remote jobs in the field. The U.S. Bureau of Labor Statistics reports that the health care occupation will grow 18% in the 10 years between 2016 and 2026, and that growth is set to add thousands of new remote jobs.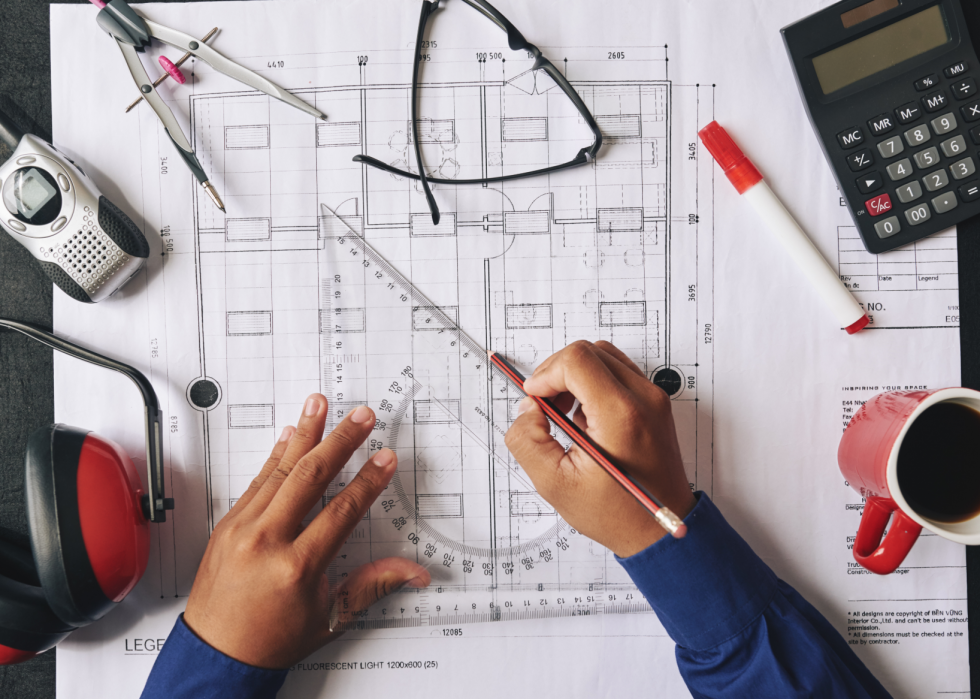 8 / 15
Dragon Images // Shutterstock
#8. Public administration
- Work at home: 2.8% (5.6% of all work at home employees)
Public administration telecommuters advocate for government improvement just like on-site employees. FlexJobs lists up to nine U.S. departments that seek specific remote employees. The U.S. Department of the Interior hires government information specialists and audit technicians who telecommute, and the U.S. Department of Transportation employs remote railroad safety specialists and civil engineers. The U.S. Office of Personnel Employment reports that since the 2010 Telework Enhancement Act, "telework is yielding benefits for the Federal Government at the employee, agency, and community levels."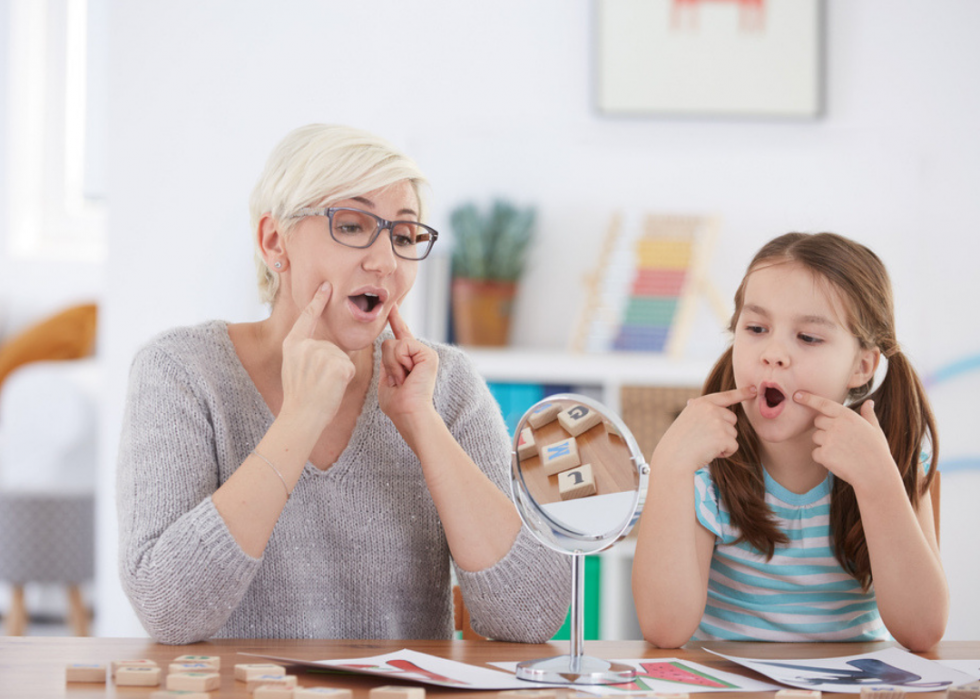 9 / 15
Photographee.eu // Shutterstock
#7. Other services (except public administration)
- Work at home: 3.1% (4.2% of all work at home employees)
CNBC reported a list of the 14 most common remote jobs in 2018. Though many of them fall under a specific industry, some of them stand alone like the top job as a client service director. The job, which entails pitching sales and developing client relationships, offers many remote work options, but does require some travel. The second most common remote career is a speech pathologist, according to CNBC, reporting they "are most often hired by medical or educational companies and utilize online software and video conferencing to perform tasks from home."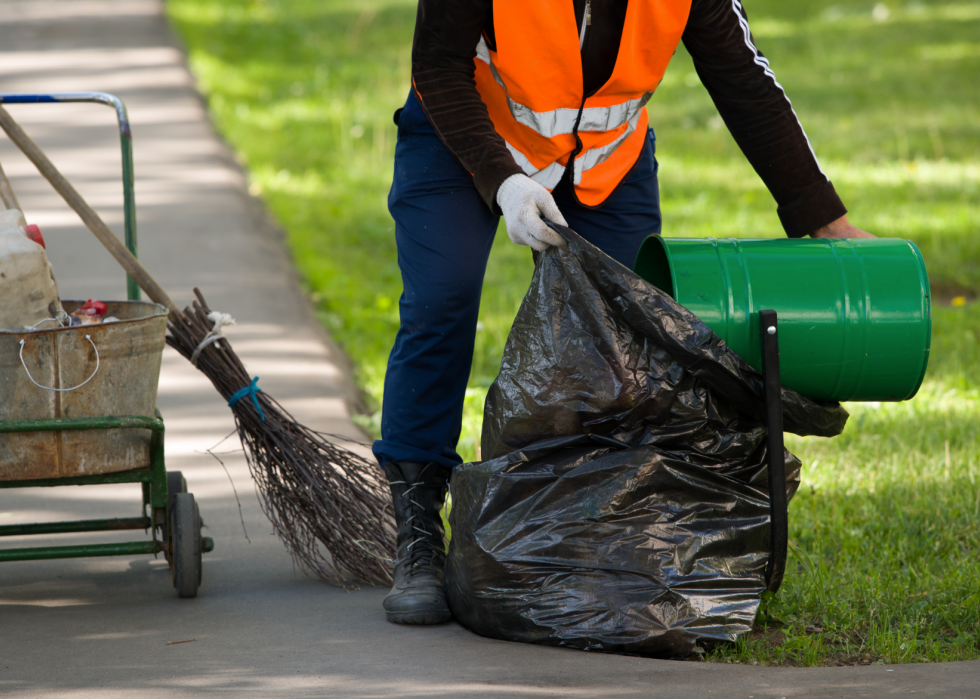 10 / 15
Sergey Spritnyuk // Shutterstock
#6. Administrative and support and waste management and remediation services
- Work at home: 3.7% (5% of all work at home employees)
There are several types of vocations that fall under this umbrella category, according to the U.S. Bureau of Labor and Statistics, reporting "activities performed include office administration, hiring and placing of personnel, document preparation and similar clerical services, solicitation, collection, security and surveillance services, cleaning, and waste disposal services." As the sixth most popular telecommuting industry, the dozens of job types in the industry vary and include clerical officers, tree trimmers, janitors, and septic tank servicers.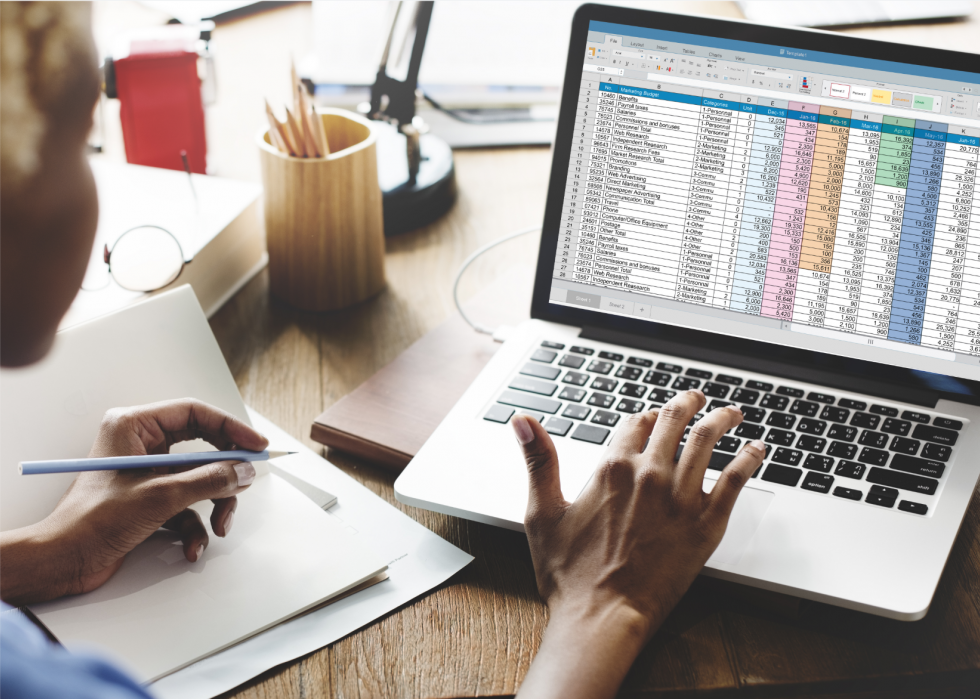 11 / 15
Rawpixel.com // Shutterstock
#5. Wholesale trade
- Work at home: 4.3% (4.1% of all work at home employees)
As the intermediary between a manufacturer and a final customer, telecommuters in the wholesale trade industry simplify the purchasing process. What makes the industry favorable for telecommuters is the ability to track both the flow and payment of products from home. Bookkeeping, accounting, and auditing clerks are all examples of telecommuting positions in the field. The growth of the industry in recent years has opened up opportunities for remote freelance service technicians, customer service representatives, and others who facilitate trade.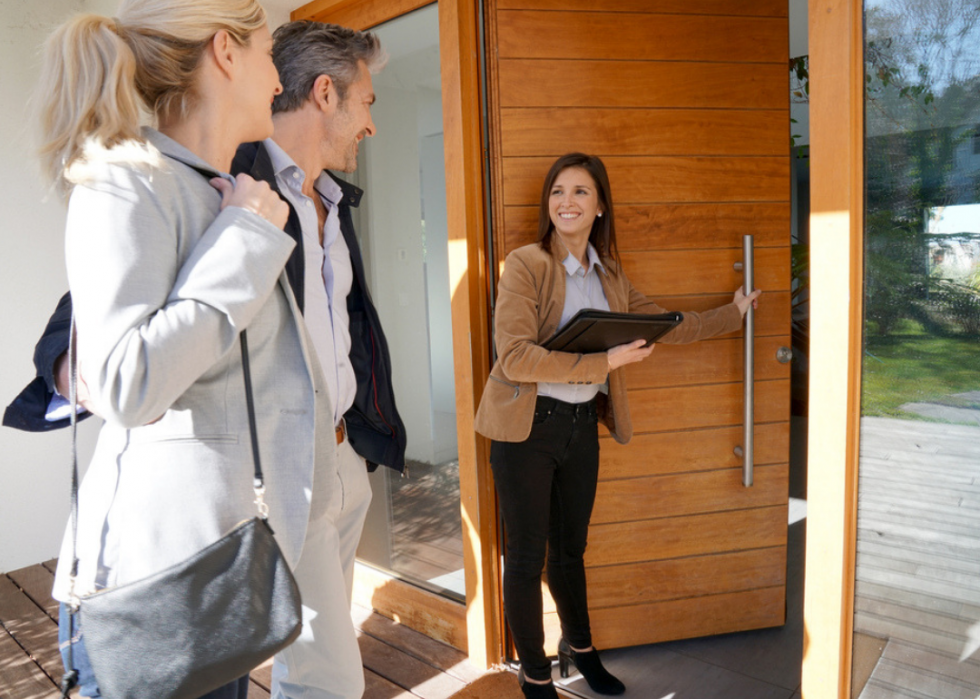 12 / 15
#4. Real estate and rental and leasing
- Work at home: 5.5% (3% of all work at home employees)
What makes telecommuting successful in the real estate and rental leasing industry is the flexibility. FlexJobs lists several standard remote job titles in the industry including an appraiser, home inspector, vacation rental realtor, asset manager, and mortgage manager and analyst. Contrary to popular belief, a property manager does not have to live on-site and can market properties for rent, accept tenant applications, retain clientele, give move-in and move-out instruction, and manage rent payments all remotely.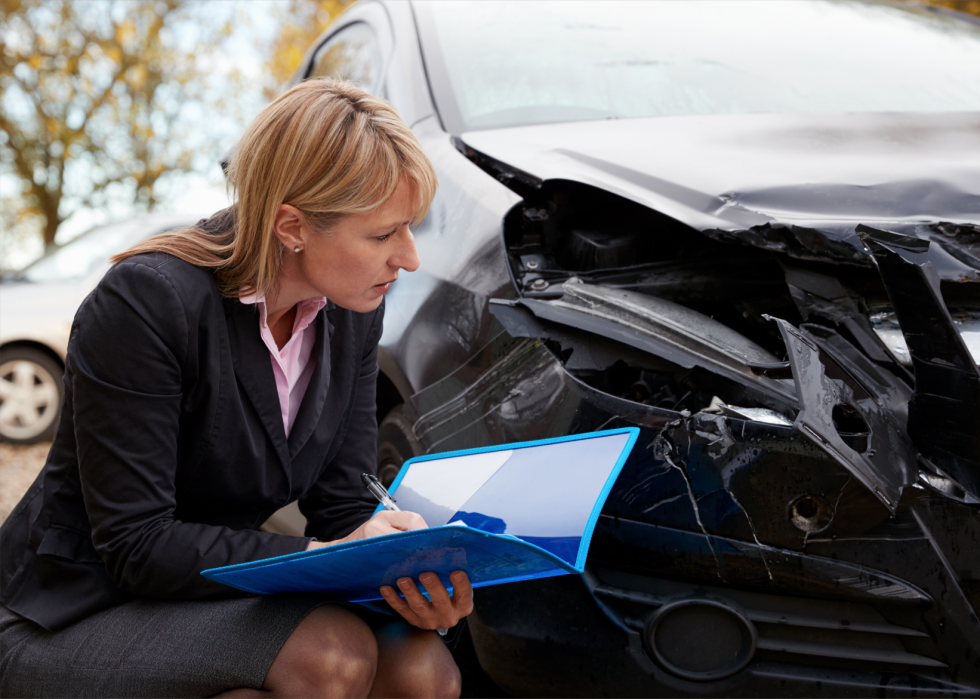 13 / 15
Monkey Business Images // Shutterstock
#3. Finance and insurance
- Work at home: 5.9% (9.7% of all work at home employees)
Assisting in client investment and analyzing stock market trends and risks in finance, or acting as an insurance adjuster, estimator, or loss control specialist can all be performed remotely, making the industry the third largest for telecommuters. Remote finance jobs include a financial planner or analyst, and off-site insurance jobs include group actuary, nurse, and licensed health insurance agent.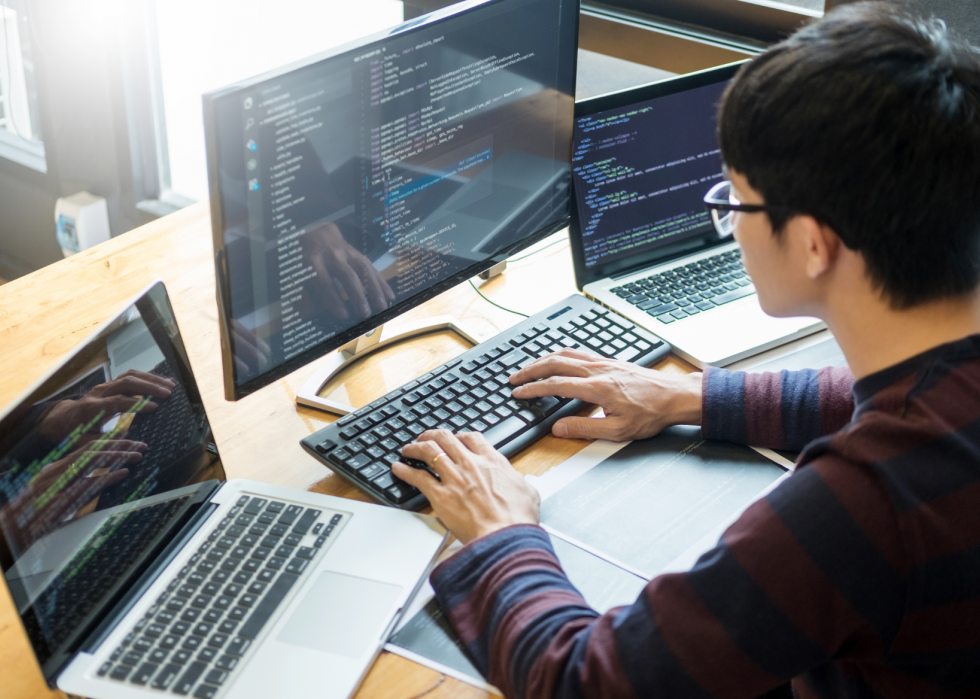 14 / 15
Indypendenz // Shutterstock
#2. Information
- Work at home: 6.4% (4.8% of all work at home employees)
The runner up for top industry with most telecommuters is the information sector. Specific telecommuting jobs in the industry include web developer, IT project manager, and applications software developer. FlexJobs says "remote computer and IT jobs have long offered some of the most robust opportunities for flexible work, and that trend shows no sign of losing momentum."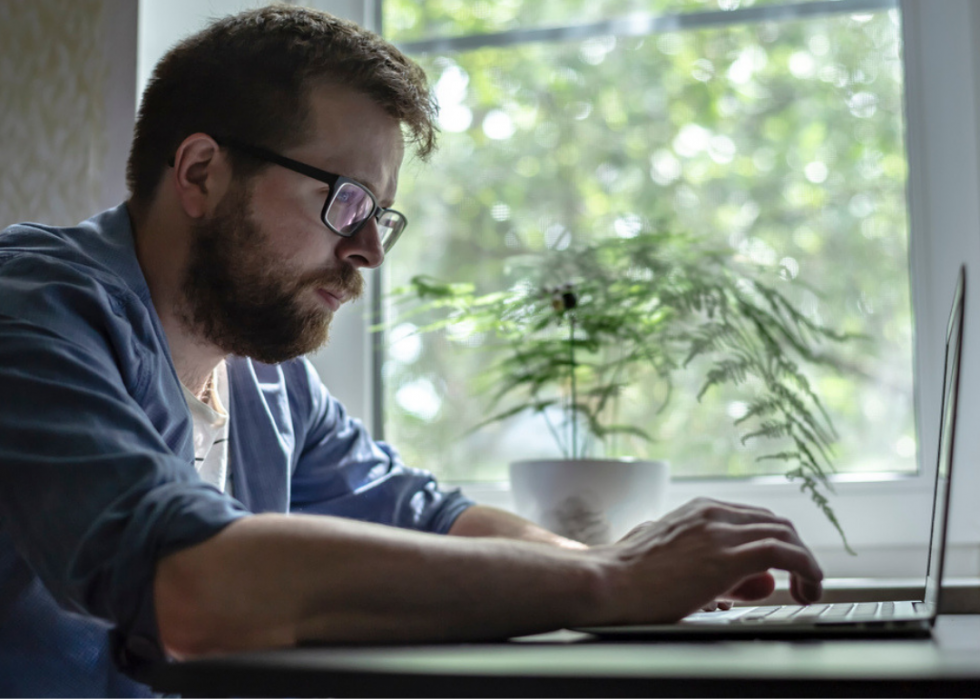 15 / 15
Koldunov Alexey // Shutterstock
#1. Professional, scientific, and technical services
- Work at home: 8% (17% of all work at home employees)
Relative to its share of the workforce, the professional, scientific, and technical services industry has the highest volume of telecommuters. The U.S. Bureau of Labor Statistics broke down the services offered by professionals in the industry, which includes legal advice and representation, bookkeeping, engineering, research, consulting, and advertising, among many others. FlexJobs reports "one of the more surprising categories" of remote work is science. "Many jobs and companies for scientists who want to work remotely can be found in a variety of professional levels," according to the website.