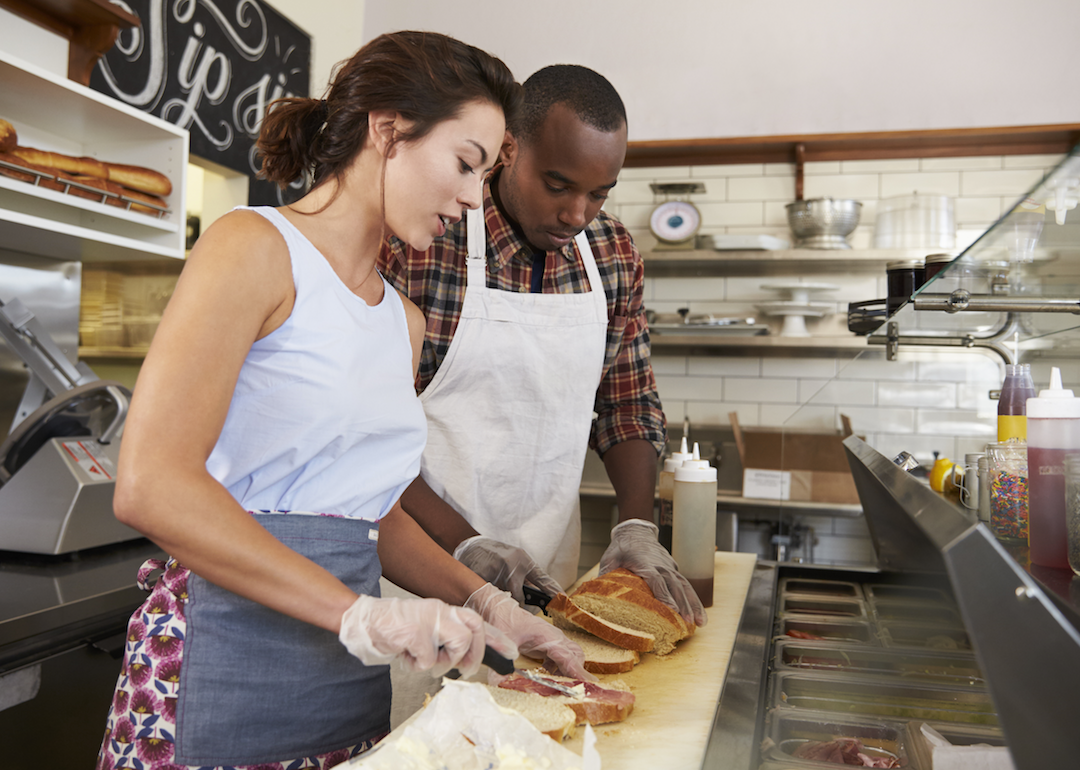 May jobs report: Industries losing the most jobs during COVID-19
May jobs report: Industries losing the most jobs during COVID-19
The impacts of COVID-19 have roiled employment numbers for the last several months. Numbers jumped from 4.4% in March to 14.7% in April, and came down slightly in May to 13.3% according to the latest numbers released by the U.S. Bureau of Labor Statistics (BLS).
In addition to overall employment numbers that show the depth of job loss, the BLS uses diffusion indexes measuring changes to employment across private industries to determine the extent of economic strength across job sectors. The higher the number over 50, the more jobs added to industries; the lower the number under 50, the more jobs that shed across a wide number of industries. The diffusion index for the U.S. in April for total private industries was 3.9; in May, it jumped to 64. During the Great Recession, the lowest the index reached was 15.5.
To better understand how COVID-19 is impacting employment across America, Stacker used the latest jobs report released by the BLS on June 5, 2020, to identify the industries that lost the biggest percentage share of employment from February through May of this year. A combination of broad and detailed industry groupings is included to demonstrate the range of impact—from groupings like food services and drinking places that employ millions to smaller groups like scenic and sightseeing transportation that employ tens of thousands. While this is the most recent data available, reported figures may lag real employment numbers as new workers file for unemployment on a weekly basis.
Keep reading to see how various industries have been affected by the widespread loss of jobs in the U.S.
#50. Manufacturing: Electrical equipment and appliances
- 3-month employment change (Feb. 2020 to May 2020): -8.7% (35,200 jobs lost)
- 1-month employment change (Apr. 2020 to May 2020): -4.0% (15,300 jobs lost)
- Total unemployment May 2020: 369,300
#49. Investigation and security services
- 3-month employment change (Feb. 2020 to May 2020): -8.7% (84,500 jobs lost)
- 1-month employment change (Apr. 2020 to May 2020): -0.5% (4,500 jobs lost)
- Total unemployment May 2020: 885,700
#48. Broadcasting, except Internet
- 3-month employment change (Feb. 2020 to May 2020): -8.7% (23,000 jobs lost)
- 1-month employment change (Apr. 2020 to May 2020): -2.4% (5,900 jobs lost)
- Total unemployment May 2020: 240,300
#47. Offices of physicians
- 3-month employment change (Feb. 2020 to May 2020): -8.8% (239,100 jobs lost)
- 1-month employment change (Apr. 2020 to May 2020): +2.1% (51,300 jobs gained)
- Total unemployment May 2020: 2,483,800
#46. Advertising and related services
- 3-month employment change (Feb. 2020 to May 2020): -9.0% (44,200 jobs lost)
- 1-month employment change (Apr. 2020 to May 2020): -0.3% (1,500 jobs lost)
- Total unemployment May 2020: 448,400
#45. Other professional and technical services
- 3-month employment change (Feb. 2020 to May 2020): -9.0% (69,300 jobs lost)
- 1-month employment change (Apr. 2020 to May 2020): +3.1% (20,700 jobs gained)
- Total unemployment May 2020: 696,800
#44. Services to buildings and dwellings
- 3-month employment change (Feb. 2020 to May 2020): -9.3% (201,900 jobs lost)
- 1-month employment change (Apr. 2020 to May 2020): +3.6% (68,400 jobs gained)
- Total unemployment May 2020: 1,976,900
#43. Local government education
- 3-month employment change (Feb. 2020 to May 2020): -9.4% (759,200 jobs lost)
- 1-month employment change (Apr. 2020 to May 2020): -4.1% (309,900 jobs lost)
- Total unemployment May 2020: 7,282,800
#42. Other ambulatory health care services
- 3-month employment change (Feb. 2020 to May 2020): -10.0% (32,600 jobs lost)
- 1-month employment change (Apr. 2020 to May 2020): -0.6% (1,700 jobs lost)
- Total unemployment May 2020: 292,700
#41. Manufacturing: Miscellaneous durable goods manufacturing
- 3-month employment change (Feb. 2020 to May 2020): -10.4% (64,800 jobs lost)
- 1-month employment change (Apr. 2020 to May 2020): +5.9% (31,000 jobs gained)
- Total unemployment May 2020: 558,100
#40. Manufacturing: Primary metals
- 3-month employment change (Feb. 2020 to May 2020): -10.6% (39,600 jobs lost)
- 1-month employment change (Apr. 2020 to May 2020): -2.7% (9,400 jobs lost)
- Total unemployment May 2020: 333,100
#39. State government education
- 3-month employment change (Feb. 2020 to May 2020): -10.7% (266,300 jobs lost)
- 1-month employment change (Apr. 2020 to May 2020): -2.8% (63,300 jobs lost)
- Total unemployment May 2020: 2,223,600
#38. Medical and diagnostic laboratories
- 3-month employment change (Feb. 2020 to May 2020): -10.8% (31,200 jobs lost)
- 1-month employment change (Apr. 2020 to May 2020): +0.2% (400 jobs gained)
- Total unemployment May 2020: 258,400
#37. Manufacturing: Textile product mills
- 3-month employment change (Feb. 2020 to May 2020): -11.8% (13,100 jobs lost)
- 1-month employment change (Apr. 2020 to May 2020): +13.5% (11,700 jobs gained)
- Total unemployment May 2020: 98,200
#36. Support activities for transportation
- 3-month employment change (Feb. 2020 to May 2020): -11.8% (90,500 jobs lost)
- 1-month employment change (Apr. 2020 to May 2020): +0.2% (1,300 jobs gained)
- Total unemployment May 2020: 673,300
#35. Health and personal care stores
- 3-month employment change (Feb. 2020 to May 2020): -12.0% (126,700 jobs lost)
- 1-month employment change (Apr. 2020 to May 2020): -2.3% (21,600 jobs lost)
- Total unemployment May 2020: 931,600
#34. Repair and maintenance
- 3-month employment change (Feb. 2020 to May 2020): -12.0% (165,300 jobs lost)
- 1-month employment change (Apr. 2020 to May 2020): +6.8% (77,200 jobs gained)
- Total unemployment May 2020: 1,213,300
#33. Water transportation
- 3-month employment change (Feb. 2020 to May 2020): -12.5% (8,100 jobs lost)
- 1-month employment change (Apr. 2020 to May 2020): -3.7% (2,200 jobs lost)
- Total unemployment May 2020: 56,800
#32. Business support services
- 3-month employment change (Feb. 2020 to May 2020): -12.8% (111,600 jobs lost)
- 1-month employment change (Apr. 2020 to May 2020): +0.1% (900 jobs gained)
- Total unemployment May 2020: 757,800
#31. Specialized design services
- 3-month employment change (Feb. 2020 to May 2020): -12.9% (18,700 jobs lost)
- 1-month employment change (Apr. 2020 to May 2020): -0.2% (200 jobs lost)
- Total unemployment May 2020: 126,400
#30. Other support services
- 3-month employment change (Feb. 2020 to May 2020): -13.4% (46,000 jobs lost)
- 1-month employment change (Apr. 2020 to May 2020): +3.2% (9,100 jobs gained)
- Total unemployment May 2020: 296,300
#29. Manufacturing: Furniture and related products
- 3-month employment change (Feb. 2020 to May 2020): -14.5% (55,900 jobs lost)
- 1-month employment change (Apr. 2020 to May 2020): +6.8% (20,900 jobs gained)
- Total unemployment May 2020: 330,500
#28. Manufacturing: Printing and related support activities
- 3-month employment change (Feb. 2020 to May 2020): -15.3% (63,700 jobs lost)
- 1-month employment change (Apr. 2020 to May 2020): +4.9% (16,400 jobs gained)
- Total unemployment May 2020: 353,500
#27. Motor vehicle and parts dealers
- 3-month employment change (Feb. 2020 to May 2020): -15.4% (317,400 jobs lost)
- 1-month employment change (Apr. 2020 to May 2020): +3.4% (57,800 jobs gained)
- Total unemployment May 2020: 1,746,300
#26. Manufacturing: Miscellaneous nondurable goods manufacturing
- 3-month employment change (Feb. 2020 to May 2020): -15.8% (51,200 jobs lost)
- 1-month employment change (Apr. 2020 to May 2020): +2.4% (6,400 jobs gained)
- Total unemployment May 2020: 272,300
#25. Offices of other health practitioners
- 3-month employment change (Feb. 2020 to May 2020): -16.2% (160,300 jobs lost)
- 1-month employment change (Apr. 2020 to May 2020): +9.7% (73,100 jobs gained)
- Total unemployment May 2020: 827,500
#24. Manufacturing: Textile mills
- 3-month employment change (Feb. 2020 to May 2020): -17.0% (18,100 jobs lost)
- 1-month employment change (Apr. 2020 to May 2020): +3.4% (2,900 jobs gained)
- Total unemployment May 2020: 88,400
#23. Financial activities: Rental and leasing services
- 3-month employment change (Feb. 2020 to May 2020): -17.9% (104,400 jobs lost)
- 1-month employment change (Apr. 2020 to May 2020): +4.5% (20,800 jobs gained)
- Total unemployment May 2020: 480,400
#22. Vocational rehabilitation services
- 3-month employment change (Feb. 2020 to May 2020): -19.9% (64,800 jobs lost)
- 1-month employment change (Apr. 2020 to May 2020): +0.9% (2,300 jobs gained)
- Total unemployment May 2020: 261,200
#21. Transportation equipment
- 3-month employment change (Feb. 2020 to May 2020): -21.8% (379,600 jobs lost)
- 1-month employment change (Apr. 2020 to May 2020): +1.9% (26,000 jobs gained)
- Total unemployment May 2020: 1,363,300
#20. Travel arrangement and reservation services
- 3-month employment change (Feb. 2020 to May 2020): -23.9% (53,200 jobs lost)
- 1-month employment change (Apr. 2020 to May 2020): -3.1% (5,400 jobs lost)
- Total unemployment May 2020: 169,300
#19. Air transportation
- 3-month employment change (Feb. 2020 to May 2020): -25.0% (128,000 jobs lost)
- 1-month employment change (Apr. 2020 to May 2020): -11.6% (50,300 jobs lost)
- Total unemployment May 2020: 383,200
#18. Employment services (temp. agencies, professional employer organizations, employee placement agencies)
- 3-month employment change (Feb. 2020 to May 2020): -26.5% (966,800 jobs lost)
- 1-month employment change (Apr. 2020 to May 2020): +1.6% (41,300 jobs gained)
- Total unemployment May 2020: 2,683,400
#17. Miscellaneous store retailers (i.e. florists, used merchandise stores, and pet supply stores)
- 3-month employment change (Feb. 2020 to May 2020): -27.1% (222,100 jobs lost)
- 1-month employment change (Apr. 2020 to May 2020): +10.0% (54,500 jobs gained)
- Total unemployment May 2020: 598,300
#16. Manufacturing: Apparel
- 3-month employment change (Feb. 2020 to May 2020): -27.3% (28,700 jobs lost)
- 1-month employment change (Apr. 2020 to May 2020): +20.2% (12,800 jobs gained)
- Total unemployment May 2020: 76,300
#15. Electronics and appliance stores
- 3-month employment change (Feb. 2020 to May 2020): -28.6% (135,700 jobs lost)
- 1-month employment change (Apr. 2020 to May 2020): -21.8% (94,700 jobs lost)
- Total unemployment May 2020: 339,600
#14. Museums, historical sites, and similar institutions
- 3-month employment change (Feb. 2020 to May 2020): -30.2% (52,900 jobs lost)
- 1-month employment change (Apr. 2020 to May 2020): -3.2% (4,100 jobs lost)
- Total unemployment May 2020: 122,300
#13. Offices of dentists
- 3-month employment change (Feb. 2020 to May 2020): -30.5% (297,500 jobs lost)
- 1-month employment change (Apr. 2020 to May 2020): +56.3% (244,800 jobs gained)
- Total unemployment May 2020: 679,500
#12. Sporting goods, hobby, book, and music stores
- 3-month employment change (Feb. 2020 to May 2020): -31.1% (170,900 jobs lost)
- 1-month employment change (Apr. 2020 to May 2020): +10.6% (36,200 jobs gained)
- Total unemployment May 2020: 378,900
#11. Child day care services
- 3-month employment change (Feb. 2020 to May 2020): -31.4% (326,000 jobs lost)
- 1-month employment change (Apr. 2020 to May 2020): +6.6% (44,400 jobs gained)
- Total unemployment May 2020: 712,600
#10. Transit and ground passenger transportation
- 3-month employment change (Feb. 2020 to May 2020): -35.2% (179,000 jobs lost)
- 1-month employment change (Apr. 2020 to May 2020): +3.2% (10,100 jobs gained)
- Total unemployment May 2020: 329,200
#9. Furniture and home furnishings stores
- 3-month employment change (Feb. 2020 to May 2020): -37.8% (177,800 jobs lost)
- 1-month employment change (Apr. 2020 to May 2020): +16.0% (40,400 jobs gained)
- Total unemployment May 2020: 292,900
#8. Food services and drinking places
- 3-month employment change (Feb. 2020 to May 2020): -38.0% (4,681,200 jobs lost)
- 1-month employment change (Apr. 2020 to May 2020): +21.9% (1,370,600 jobs gained)
- Total unemployment May 2020: 7,621,900
#7. Personal and laundry services
- 3-month employment change (Feb. 2020 to May 2020): -43.3% (665,000 jobs lost)
- 1-month employment change (Apr. 2020 to May 2020): +26.4% (182,300 jobs gained)
- Total unemployment May 2020: 872,200
#6. Performing arts and spectator sports
- 3-month employment change (Feb. 2020 to May 2020): -48.1% (246,100 jobs lost)
- 1-month employment change (Apr. 2020 to May 2020): -1.8% (4,800 jobs lost)
- Total unemployment May 2020: 265,600
#5. Accommodation
- 3-month employment change (Feb. 2020 to May 2020): -50.7% (1,060,700 jobs lost)
- 1-month employment change (Apr. 2020 to May 2020): -12.6% (148,200 jobs lost)
- Total unemployment May 2020: 1,030,300
#4. Motion picture and sound recording industries
- 3-month employment change (Feb. 2020 to May 2020): -52.8% (240,900 jobs lost)
- 1-month employment change (Apr. 2020 to May 2020): -4.7% (10,700 jobs lost)
- Total unemployment May 2020: 215,400
#3. Scenic and sightseeing transportation
- 3-month employment change (Feb. 2020 to May 2020): -53.1% (19,500 jobs lost)
- 1-month employment change (Apr. 2020 to May 2020): +32.3% (4,200 jobs gained)
- Total unemployment May 2020: 17,200
#2. Clothing and clothing accessories stores
- 3-month employment change (Feb. 2020 to May 2020): -53.9% (694,200 jobs lost)
- 1-month employment change (Apr. 2020 to May 2020): +19.0% (94,800 jobs gained)
- Total unemployment May 2020: 594,900
#1. Amusements, gambling, and recreation
- 3-month employment change (Feb. 2020 to May 2020): -56.1% (1,001,200 jobs lost)
- 1-month employment change (Apr. 2020 to May 2020): +3.5% (26,400 jobs gained)
- Total unemployment May 2020: 784,300