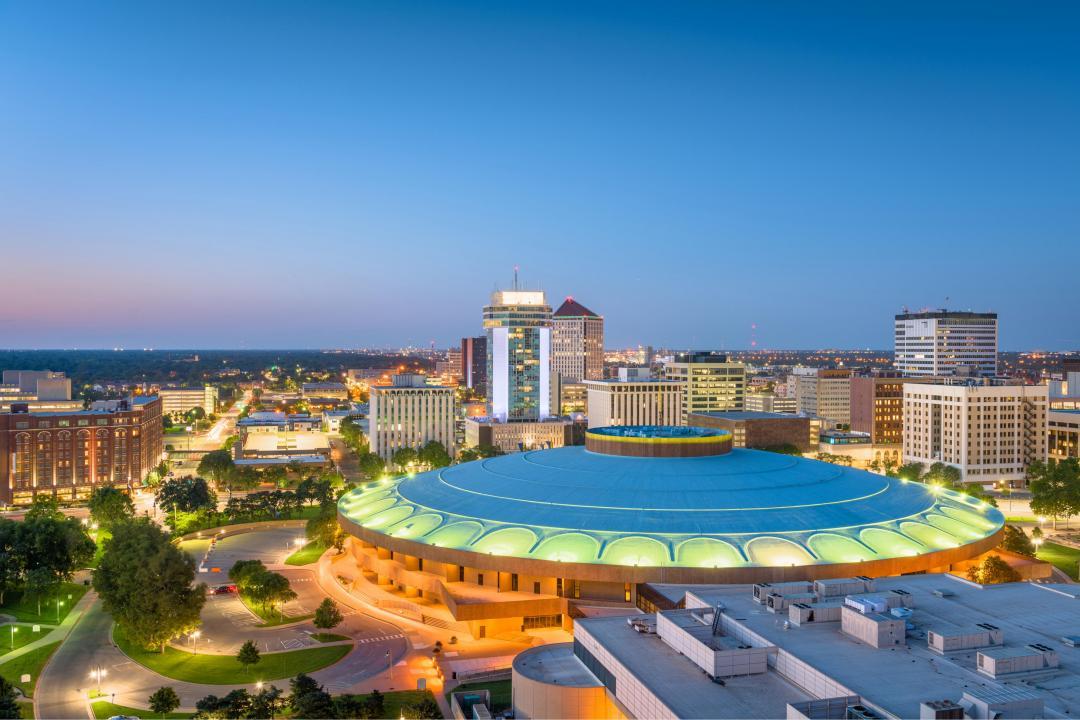 Most expensive states to start a business
Sean Pavone // Shutterstock
Most expensive states to start a business
One of the most stressful things a person can do is start a new business, in part because there are so many moving parts and costs that are hard to predict. While equity distribution, staff size, product pricing and investment can all drive prospective business owners up a wall, one of the most important choices to make is where to set up shop.
While averages are heavily variant across different fields, studies show the cumulative costs of starting a business typically average about $30,000. Around 543,000 new businesses are opened every month, and if that trend is to continue, hundreds of thousands of future business owners will have to make the pivotal decision of where to plant their flags. 
Stacker referenced data from WalletHub in order to rank the best states for beginning a new business. The rankings are aggregated from the states' corporate taxes, their respective costs of living and the affordability of office space (listed by average price per square foot).
Read on to see where you may want to start your next business.
RELATED: Click here to see successful entrepreneurs who built companies after hitting 40.
#50. Oklahoma
Office space affordability: $14.57 per SF (rank: #14/50)
Corporate taxes rank: #9/50
Cost of living rank: #3/50


 
#49. Mississippi
Office space affordability: $14.06 per SF (rank: #12/50)
Corporate taxes rank: #11/50
Cost of living rank: #1/50


 
#48. Michigan
Office space affordability: $15.07 per SF (rank: #19/50)
Corporate taxes rank: #8/50
Cost of living rank: #4/50


 
#47. West Virginia
Office space affordability: $15.54 per SF (rank: #23/50)
Corporate taxes rank: #17/50
Cost of living rank: #23/50


 
#46. Kentucky
Office space affordability: $14.61 per SF (rank: #15/50)
Corporate taxes rank: #27/50
Cost of living rank: #16/50


 
#45. South Dakota
Office space affordability: $12.76 per SF (rank: #3/50)
Corporate taxes rank: #1/50
Cost of living rank: #27/50


 
#44. Idaho
Office space affordability: $13.61 per SF (rank: #9/50)
Corporate taxes rank: #25/50
Cost of living rank: #13/50


 
#43. Montana
Office space affordability: $13.18 per SF (rank: #4/50)
Corporate taxes rank: #12/50
Cost of living rank: #31/50


 
#42. Alabama
Office space affordability: $14.77 per SF (rank: #18/50)
Corporate taxes rank: #22/50
Cost of living rank: #8/50


 
#41. Nebraska
Office space affordability: $13.83 per SF (rank: #10/50)
Corporate taxes rank: #28/50
Cost of living rank: #15/50


 
#40. Arkansas
Office space affordability: $15.41 per SF (rank: #22/50)
Corporate taxes rank: #39/50
Cost of living rank: #2/50


 
#39. Tennessee
Office space affordability: $16.13 per SF (rank: #28/50)
Corporate taxes rank: #21/50
Cost of living rank: #5/50


 
#38. South Carolina
Office space affordability: $15.37 per SF (rank: #21/50)
Corporate taxes rank: #15/50
Cost of living rank: #27/50


 
#37. North Carolina
Office space affordability: $17.56 per SF (rank: #35/50)
Corporate taxes rank: #3/50
Cost of living rank: #18/50


 
#36. Louisiana
Office space affordability: $15.58 per SF (rank: #24/50)
Corporate taxes rank: #40/50
Cost of living rank: #17/50


 
#35. Texas
Office space affordability: $14.06 per SF (rank: #12/50)
Corporate taxes rank: #49/50
Cost of living rank: #11/50


 
#34. Georgia
Office space affordability: $15.75 per SF (rank: #25/50)
Corporate taxes rank: #10/50
Cost of living rank: #9/50


 
#33. Indiana
Office space affordability: $14.03 per SF (rank: #11/50)
Corporate taxes rank: #23/50
Cost of living rank: #10/50


 
#32. New Mexico
Office space affordability: $15.29 per SF (rank: #20/50)
Corporate taxes rank: #24/50
Cost of living rank: #19/50


 
#31. Missouri
Office space affordability: $16.79 per SF (rank: #31/50)
Corporate taxes rank: #5/50
Cost of living rank: #6/50


 
#30. Kansas
Office space affordability: $14.64 per SF (rank: #16/50)
Corporate taxes rank: #38/50
Cost of living rank: #7/50


 
#29. Maine
Office space affordability: $12.64 per SF (rank: #2/50)
Corporate taxes rank: #41/50
Cost of living rank: #38/50


 
#28. Arizona
Office space affordability: $17.96 per SF (rank: #38/50)
Corporate taxes rank: #13/50
Cost of living rank: #20/50


 
#27. Ohio
Office space affordability: $13.37 per SF (rank: #6/50)
Corporate taxes rank: #47/50
Cost of living rank: #14/50


 
#26. Florida
Office space affordability: $17.63 per SF (rank: #36/50)
Corporate taxes rank: #19/50
Cost of living rank: #26/50


 
#25. Wyoming
Office space affordability: $16.87 per SF (rank: #32/50)
Corporate taxes rank: #1/50
Cost of living rank: #20/50


 
#24. Vermont
Office space affordability: $14.75 per SF (rank: #17/50)
Corporate taxes rank: #37/50
Cost of living rank: #40/50


 
#23. Wisconsin
Office space affordability: $13.52 per SF (rank: #7/50)
Corporate taxes rank: #29/50
Cost of living rank: #24/50


 
#22. Nevada
Office space affordability: $15.75 per SF (rank: #25/50)
Corporate taxes rank: #33/50
Cost of living rank: #36/50


 
#21. Iowa
Office space affordability: $12.08 per SF (rank: #1/50)
Corporate taxes rank: #48/50
Cost of living rank: #12/50


 
#20. North Dakota
Office space affordability: Not available per SF (rank: #N/A/50)
Corporate taxes rank: #16/50
Cost of living rank: #29/50


 
#19. Colorado
Office space affordability: $17.43 per SF (rank: #34/50)
Corporate taxes rank: #18/50
Cost of living rank: #34/50


 
#18. Utah
Office space affordability: $19.91 per SF (rank: #46/50)
Corporate taxes rank: #4/50
Cost of living rank: #22/50


 
#17. Virginia
Office space affordability: $19.06 per SF (rank: #43/50)
Corporate taxes rank: #6/50
Cost of living rank: #33/50


 
#16. Rhode Island
Office space affordability: $15.85 per SF (rank: #27/50)
Corporate taxes rank: #30/50
Cost of living rank: #42/50


 
#15. Oregon
Office space affordability: $18.36 per SF (rank: #39/50)
Corporate taxes rank: #34/50
Cost of living rank: #45/50


 
#14. Pennsylvania
Office space affordability: $17.06 per SF (rank: #33/50)
Corporate taxes rank: #44/50
Cost of living rank: #32/50


 
#13. Illinois
Office space affordability: $16.32 per SF (rank: #29/50)
Corporate taxes rank: #36/50
Cost of living rank: #25/50


 
#12. Minnesota
Office space affordability: $13.32 per SF (rank: #5/50)
Corporate taxes rank: #43/50
Cost of living rank: #29/50


 
#11. New Hampshire
Office space affordability: $13.56 per SF (rank: #8/50)
Corporate taxes rank: #45/50
Cost of living rank: #39/50


 
#10. Washington
Office space affordability: $18.51 per SF (rank: #40/50)
Corporate taxes rank: #46/50
Cost of living rank: #37/50


 
#9. Delaware
Office space affordability: $18.71 per SF (rank: #41/50)
Corporate taxes rank: #50/50
Cost of living rank: #35/50


 
#8. Hawaii
Office space affordability: $17.84 per SF (rank: #37/50)
Corporate taxes rank: #14/50
Cost of living rank: #50/50


 
#7. Massachusetts
Office space affordability: $16.36 per SF (rank: #30/50)
Corporate taxes rank: #35/50
Cost of living rank: #48/50


 
#6. Maryland
Office space affordability: $19.46 per SF (rank: #45/50)
Corporate taxes rank: #20/50
Cost of living rank: #44/50


 
#5. Connecticut
Office space affordability: $18.77 per SF (rank: #42/50)
Corporate taxes rank: #31/50
Cost of living rank: #43/50


 
#4. California
Office space affordability: $23.08 per SF (rank: #47/50)
Corporate taxes rank: #32/50
Cost of living rank: #49/50


 
#3. Alaska
Office space affordability: $24.20 per SF (rank: #48/50)
Corporate taxes rank: #26/50
Cost of living rank: #46/50


 
#2. New York
Office space affordability: $26.66 per SF (rank: #49/50)
Corporate taxes rank: #7/50
Cost of living rank: #47/50


 
#1. New Jersey
Office space affordability: $19.30 per SF (rank: #44/50)
Corporate taxes rank: #42/50
Cost of living rank: #41/50