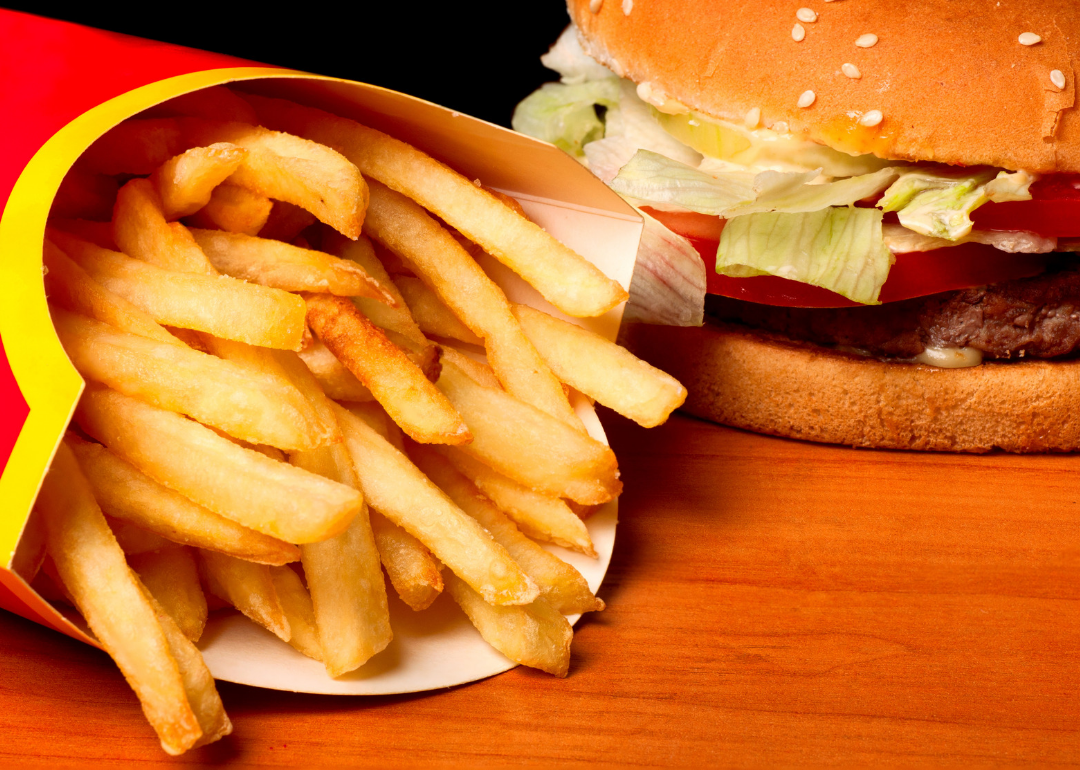 Most successful fast food companies
TotallyBlond // Shutterstock
Most successful fast food companies
The United States is a fast-food nation. It is estimated that on any given day, almost 40% of all Americans have eaten fast food in the past 24 hours. And, contrary to common thinking, those with higher incomes eat more fast food.
Fast food offers convenience—instead of having to buy groceries and cook a meal, many find it simpler to just go to their favorite restaurant. While most fast food is eaten at lunchtime, having fast food for dinner is more common than eating it for breakfast. With the advent of higher-quality fast food options, such as Five Guys, Au Bon Pain, and Panera Bread, many people find themselves ordering at a drive-thru or through a food-delivery app.
By design, fast food tends to contain more sugar and fat, so it is typically less healthy than home-prepared food. An interesting correlation is that nationwide as of 2015-2016, 39.6% of all American adults were obese. Since 1975, the number of children ages five to 19 worldwide who are obese increased by a factor of 11. While multiple factors contribute to these statistics, one of the largest is unhealthy eating habits.
To help understand this nation's obsession with fast food, Stacker compiled a list of the most successful fast-food companies ranked by 2018 U.S. sales, using data from Technomic's Top 500 Chain Restaurant Report. Considering 2018 U.S. sales, we have compiled the 20 most successful fast-food companies in the country. For this list, we looked only at quick-service restaurants. Fast-casual restaurants, such as Panera Bread and Chipotle, and casual dining restaurants, such as Applebee's and Olive Garden, were excluded.
A quick-service restaurant is defined as one that has a price point of about $5 per meal, no table service, and a limited menu that can be ordered as takeout. While restaurants like Chipotle can qualify under this definition, fast food restaurants with higher quality, higher-priced fare are not generally considered in the quick-service category. The restaurants on our list had total U.S. sales in 2018 of $164 billion.
Read on to find out which restaurant's social media strategy the comedian Jon Stewart once quipped, "Come for the tweets, run from the meats."
You may also like: Film and TV-themed bars and restaurants to visit
#20. Hardee's
- 2018 U.S. sales: $2.12 billion
- 2018 U.S. locations: 1,875
Hardee's is the family friendly counterpart of hamburger mainstay, Carl's Jr. Operating largely in the South and the Midwest, the restaurant—which was purchased by Carl's Jr.'s corporate parent CKE Restaurants in 1997—sells hamburgers, fried chicken, roast beef sandwiches, breakfast sandwiches, and ice cream in its over 1,800 franchised restaurants.
#19. Whataburger
- 2018 U.S. sales: $2.42 billion
- 2018 U.S. locations: 825
Whataburger is a Texan hamburger chain that has over 650 stores in Texas and 150 stores in the Southeastern United States, New Mexico, and Arizona. Distinguished by its orange-and- white striped buildings, the restaurant sells hamburgers, fries, chicken, and breakfast items. The chain is sometimes confused what What-A-Burger, a hamburger chain operating in Virginia, North Carolina, and South Carolina.
#18. Papa John's
- 2018 U.S. sales: $2.71 billion
- 2018 U.S. locations: 3,337
Papa John's is a pizza delivery restaurant chain based out of Jeffersonville, Ky. The chain in recent years has struggled to emerge from the shadows of its controversial founder, John Schnatter. In 2018, Schnatter was forced out as CEO. He had made comments in 2017 criticizing National Football League Commissioner Roger Goodell for not taking a stronger stand against national anthem protests by league players and made racial slurs in relation to the controversy. Because of Schnatter's high-profile role in promoting the company, the scandal significantly undermined the pizza chain's popularity.
#17. Popeyes Louisiana Kitchen
- 2018 U.S. sales: $3.22 billion
- 2018 U.S. locations: 2,347
Popeyes Louisiana Kitchen is the second-largest fast food chicken restaurant by unit count, after KFC. Founded in New Orleans but headquartered in Miami, the restaurant has recently made news for a limited-release chicken sandwich which—in taste tests—reportedly beat Chick-fil-A's chicken sandwich. The limited supply of the popular sandwich caused mass consumer outrage and distress.
#16. Jack in the Box
- 2018 U.S. sales: $3.47 billion
- 2018 U.S. locations: 2,237
Western United States hamburger chain Jack in the Box has developed a cult appeal, in part because of its celebrity fans. Tom Hanks, Selena Gomez, and Chrissy Teigen all count themselves as fans of the chain's tacos. This is despite the product being described by some as a "wet envelope of cat food." Besides tacos, Jack in the Box sells hamburgers, chicken strips, egg rolls, and an assortment of rotating menu items that includes Philly cheese steak sandwiches, pannidos, ciabatta burgers, and seasonal items.
#15. Dairy Queen
- 2018 U.S. sales: $3.65 billion
- 2018 U.S. locations: 4,406
Edina, Minn.-based ice cream and hamburger chain Dairy Queen is one of the largest ice cream fast food chains in operation. Owned by Warren Buffett's Berkshire Hathaway, Dairy Queen also owns Orange Julius and Karmelkorn. While Dairy Queen was ubiquitous in the Midwest and the South in the 1950s and 1960s, the chain has maintained its popularity, especially with the launch of products like the "Blizzard."
#14. Little Caesars
- 2018 U.S. sales: $3.82 billion
- 2018 U.S. locations: 4,262
Little Caesars is the third-largest pizza chain in the country, behind Pizza Hut and Domino's. Based out of Detroit, the chain sells a version of Detroit-style pizza, typically at a lower price point than other pizza restaurants. A key current promotion is its "Hot-N-Ready" offer, where the store sells $5 pepperoni pizzas ready for pickup without the need to preorder. Little Caesars is one of the few pizza chains that does not offer its own delivery service.
#13. Arby's
- 2018 U.S. sales: $3.89 billion
- 2018 U.S. locations: 3,329
For years, it was fashionable to make fun of the quality of Arby's food. Jon Stewart, the former host of Comedy Central's Daily Show, for example, once said about Arby's in 2015, "It's like shock and awe for your bowels" and that it's "the meal that's a dare for your colon." The venerable and often maligned roast beef sandwich shop has expanded to chicken sandwiches, deli sandwiches, and hot and cold sandwiches encompassing almost every commonly eaten meat that is not hamburger or sausage, including venison. While its quality has improved from the days of allegations about "liquid meat," its sandwiches—both in taste and nutritional value—can still either be great or not so good.
#12. KFC
- 2018 U.S. sales: $4.43 billion
- 2018 U.S. locations: 4,074
The former Kentucky Fried Chicken is the oldest fried chicken fast-food chain in the country still in operation. The second-largest fast-food restaurant chain by reported global sales, with $26.23 billion reported to the U.S. Securities and Exchange Commission in December 2018, the restaurant chain rebranded as KFC in 1991 as a way to separate it from any negative connections with the word "fried." KFC is owned by Yum! Brands, which also owns Taco Bell, Pizza Hut, and WingStreet. KFC was founded by Harland Sanders, who fancied himself "Colonel Sanders" based on his receipt of the Kentucky Colonel honorarium in 1950. Kentucky Colonel is the highest civilian honor offered by the Commonwealth of Kentucky; it is not a military rank.
#11. Sonic Drive-In
- 2018 U.S. sales: $4.45 billion
- 2018 U.S. locations: 3,606
The largest drive-in restaurant chain still in operation, Sonic Drive-In is noted for its roller-skating carhops. Sonic is the corporate sibling of Arby's and Buffalo Wild Wings. The restaurant typically sells various customizable drinks and milkshakes, hamburgers, hot dogs, assorted fried foods, ice cream, and breakfast sandwiches. The typical restaurant features drive-in stalls, drive-thru lanes, walk-up ordering, and both indoor and outside eating areas.
#10. Pizza Hut
- 2018 U.S. sales: $5.53 billion
- 2018 U.S. locations: 7,456
The largest pizza chain in the world by store locations, Pizza Hut is a Wichita, Kan.-founded purveyor of pan pizza. Notably different from New York-style pizza or Chicago deep-dish pizza, pan pizza features a thicker crust with a crispy, fried edge. Pizza Hut has since expanded its product lineup to include stuffed-crust pizzas, "hand-tossed pizzas" that approximate the New York-style pizza, thin-crust pizzas, calzones, and chicken wings. The chain has announced the closure of about 500 of its dine-in restaurants by 2021 as it moves toward becoming primarily a delivery operation.
#9. Domino's
- 2018 U.S. sales: $6.59 billion
- 2018 U.S. locations: 5,876
Another restaurant that historically has been plagued by allegations of poor food quality, Domino's pizza was once described as cardboard covered with ketchup and was tied for last in a taste test with pizza from the arcade Chuck E. Cheese. As a result, the pizza chain revamped its recipe in 2010. While the menu is generally geography-specific, the restaurant sells traditional pizzas, oven-baked sandwiches, chicken, bread bowls, pasta, and artisan-style pizzas.
#8. Dunkin' Donuts
- 2018 U.S. sales: $8.79 billion
- 2018 U.S. locations: 9,419
Dunkin' Donuts is the world's largest donut chain. In 2019, the chain, which is owned by the corporate parent of Baskin-Robbins, opted to be recognized as a "beverage-led chain" and renamed itself "Dunkin'." The chain sells coffee-based beverages, doughnuts, bagels, baked goods, and breakfast sandwiches, and is currently headquartered in the Boston suburb of Canton, Mass.
#7. Wendy's
- 2018 U.S. sales: $9.40 billion
- 2018 U.S. locations: 6,711
Wendy's was started by Dave Thomas, a Kentucky Fried Chicken franchisee. Inspired by the Kewpee Hamburgers restaurant's square hamburgers from his hometown, Thomas opened a hamburger restaurant in Columbus, Ohio, named after the nickname of his fourth child, Melinda Lou Thomas. Melinda's likeness would also become the restaurant's logo, used to this day. The chain specializes in high-quality hamburgers, chicken products, deli sandwiches, salads, and breakfast items.
#6. Burger King
- 2018 U.S. sales: $9.94 billion
- 2018 U.S. locations: 7,327
Burger King is the second-largest fast-food hamburger chain in the world. Known for its signature item, the Whopper, Burger King is the corporate sibling of Popeyes Louisiana Kitchen and Canadian coffee shop Tim Hortons. Known largely for its previous advertising strategies marketing the restaurant to males 18 to 34 while promoting the high fat content in its food, the restaurant sells quarter-pound burgers, fried goods, breakfast items, and chicken products.
#5. Chick-fil-A
- 2018 U.S. sales: $10.18 billion
- 2018 U.S. locations: 2,400
Capitalizing on the lack of a high-quality chicken sandwich on the American fast food scene, relative newcomer Chick-fil-A has grown to be the largest chicken fast-food restaurant in the country by total sales. Founded by a devout Southern Baptist, the restaurant is closed on Sundays, Thanksgiving Day, and Christmas Day, has donated to organizations that oppose same-sex marriage, and prints references to Bible verses on its bags. The restaurant—a franchise model restaurant chain—is unusual because it owns the restaurant property of all its franchised locations, making franchisees more akin to employees or contractors than business partners.
#4. Taco Bell
- 2018 U.S. sales: $10.36 billion
- 2018 U.S. locations: 6,588
Taco Bell holds the distinction of being a Mexican-inspired restaurant chain that currently has no restaurants in Mexico. The chain made two failed attempts: first, by setting up two taco carts in Mexico City, and later, by opening an American-style restaurant in Monterrey that served French fries. While technically Taco Bell is Tex-Mex (there are no burritos, nachos, or hard-shelled tacos in Mexican cooking), most Americans consider Taco Bell to be authentic Mexican food.
#3. Subway
- 2018 U.S. sales: $10.41 billion
- 2018 U.S. locations: 24,798
Subway is the world's largest non-hamburger sandwich shop. In recent years, the company has had to cope with the loss of its popular $5 footlong promotion and the fallout of former longtime national spokesman Jared Fogle, who was sentenced to at least 15 years in prison for child pornography and illicit sexual conduct with a minor. Like Papa John's, because of the chain's long public relationship with a tainted persona, Subway has suffered in popularity. The chain also must deal with growing competition from such chains as Firehouse Subs and Au Bon Pain. Subway primarily sells submarine sandwiches and wraps.
#2. Starbucks
- 2018 U.S. sales: $19.66 billion
- 2018 U.S. locations: 14,825
Starbucks is the world's largest coffee shop chain. Its rapid expansion was so extreme that in some metropolitan areas, it is not uncommon to see two Starbucks within walking distance of each other. Largely known for being socially progressive, the company took a hit to its image for the April 2018 arrest of two black men in a Philadelphia Starbucks store. The men, waiting for a colleague to arrive, were arrested for trespassing when they asked to use the restroom. This was followed by a July 2018 complaint from a Fresno, Calif., former employee who alleged the company engaged in discrimination and harassment.
#1. McDonald's
- 2018 U.S. sales: $38.52 billion
- 2018 U.S. locations: 13,914
Known for introducing the quick-serve concept, McDonald's is the world's largest restaurant chain. Created by Richard and Maurice McDonald, the chain would not expand until the restaurant brand was taken over by milkshake blender salesman Roy Kroc in 1955 (the McDonald brothers had eight restaurants before the sale). Kroc was reportedly drawn to the restaurant because of the number of milkshake machines it had purchased. Like Chick-fil-A, McDonald's owns the land its franchised restaurants sit on, but not the restaurants themselves. As such, one of the company's largest revenue sources is rent from franchisees. Per the book "Fast Food Nation" by Eric Schlosser, about one in eight American workers has at some point worked at a McDonald's.