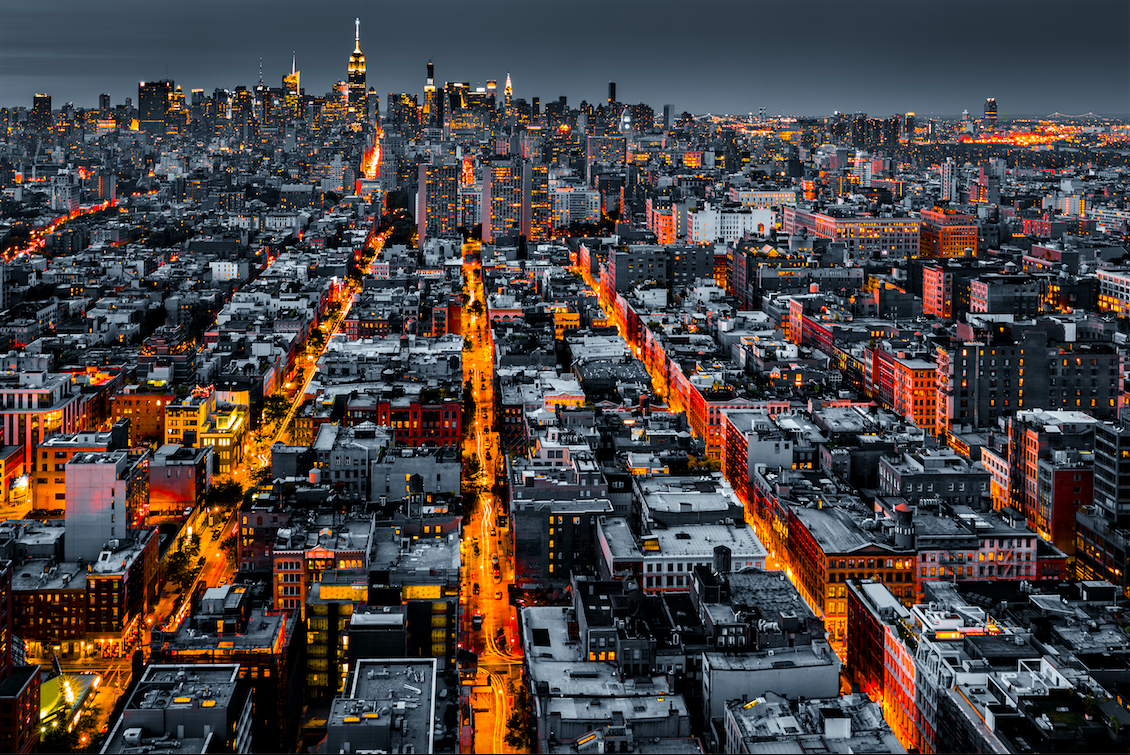 Most trafficked roads in every state
Jon Bilous // Shutterstock
Most trafficked roads in every state
When you've been sitting in your car for an hour and you've only moved five miles forward, it feels like the traffic you're in is the worst in the world. Or, at least, the country. Commercial trucking, ridiculous rush hours, and precarious urban planning are just some of the factors that can create infamous routes within a state. And while locals may have a feeling for when to hit the road and when to wait it out, sometimes you just can't avoid the spots that have it the worst.
While we can't help you completely get rid of your morning commute, we can help you confirm if the worst road in your city is actually the worst in the state. At Stacker, we decided to look into the most traffic-heavy parts of every state to discover which intersections and roads need to be avoided during that Friday morning rush hour. Using data from geographic data and analytics company Esri, we mapped the routes that see the highest average daily traffic, providing the specific cross street where traffic is worst as well as the closest major city.
Our list is dotted with major metros infamous for their congestion—like Atlanta, Seattle, and Houston—but also features a few surprisingly small places that stand out for their super busy roads. It may feel like the most congested road in Los Angeles is a moot point, but the data assures us there is, in fact, a highway in California you should probably never set wheels on.
#51. Wyoming: Highway 789
Most trafficked road: Highway 789 at Rendezvous Road
Average annual daily traffic: 29,500 cars
Nearest place: Hudson
#50. South Dakota: W 57th Street
Most trafficked road: W 57th Street at 471st Avenue
Average annual daily traffic: 33,400 cars
Nearest place: Sioux Falls
#49. Montana: Highway 10 W
Most trafficked road: Highway 10 W at Hilltop Road
Average annual daily traffic: 36,398 cars
Nearest place: Billings
#48. Vermont: I-89
Most trafficked road: I-89 at Patchen Road
Average annual daily traffic: 52,500 cars
Nearest place: South Burlington
#47. North Dakota: I-94
Most trafficked road: I-94 at 5th Street S
Average annual daily traffic: 72,120 cars
Nearest place: Fargo
#46. Maine: I-295
Most trafficked road: I-295 at Westbrook Street
Average annual daily traffic: 75,700 cars
Nearest place: South Portland
#45. Idaho: I-84
Most trafficked road: I-84 at S Linder Road
Average annual daily traffic: 93,000 cars
Nearest place: Meridian (west of Boise)
#44. West Virginia: I-64
Most trafficked road: I-64 at Christopher Street
Average annual daily traffic: 98,832 cars
Nearest place: Charleston
#43. Connecticut: Wilbur Cross Highway
Most trafficked road: Wilbur Cross Highway at Hartford Turnpike
Average annual daily traffic: 108,000 cars
Nearest place: East Hartford
#42. New Hampshire: I-93
Most trafficked road: I-93 at Cross Street
Average annual daily traffic: 112,479 cars
Nearest place: Salem (NH/MA border)
#41. Alaska: W Marydale Drive
Most trafficked road: W Marydale Drive at Ridgewood Ct
Average annual daily traffic: 116,900 cars
Nearest place: Soldotna
#40. Arkansas: I-40
Most trafficked road: I-40 at I-30
Average annual daily traffic: 121,000 cars
Nearest place: North Little Rock
#39. Iowa: I-235
Most trafficked road: I-235 at Polk Boulevard
Average annual daily traffic: 123,300 cars
Nearest place: Des Moines
#38. Alabama: I-20
Most trafficked road: I-20 at 17th Street N
Average annual daily traffic: 162,360 cars
Nearest place: Birmingham
#37. Oklahoma: I-44
Most trafficked road: I-44 at NW 32nd Street
Average annual daily traffic: 163,400 cars
Nearest place: Oklahoma City
#36. South Carolina: I-26
Most trafficked road: I-26 at Ashley Phosphate Road
Average annual daily traffic: 165,900 cars
Nearest place: North Charleston
#35. Louisiana: I-10
Most trafficked road: I-10 at Bellaire Drive
Average annual daily traffic: 166,170 cars
Nearest place: New Orleans
#34. Kansas: US Highway 36
Most trafficked road: US Highway 36 at Roseport Road
Average annual daily traffic: 168,000 cars
Nearest place: Elwood (west of St. Joseph, Missouri)
#33. Wisconsin: I-894
Most trafficked road: I-894 at W Schlinger Avenue
Average annual daily traffic: 170,000 cars
Nearest place: West Allis (west of Milwaukee)
#32. Nebraska: I-80
Most trafficked road: I-80 at S 50th Street
Average annual daily traffic: 172,000 cars
Nearest place: Omaha
#31. District of Columbia: I-395
Most trafficked road: I-395 at US Highway 1
Average annual daily traffic: 177,134 cars
Nearest place: Washington
#30. Oregon: I-84
Most trafficked road: I-84 at NE 28th Avenue
Average annual daily traffic: 177,400 cars
Nearest place: Portland
#29. New Mexico: I-25
Most trafficked road: I-25 at Menaul Boulevard NE
Average annual daily traffic: 177,496 cars
Nearest place: Albuquerque
#28. Delaware: I-95
Most trafficked road: I-95 at Radisson Hotel
Average annual daily traffic: 179,689 cars
Nearest place: Newport (west of Wilmington)
#27. Hawaii: Halona Street
Most trafficked road: Halona Street at Iao Lane
Average annual daily traffic: 188,040 cars
Nearest place: Urban Honolulu
#26. Tennessee: I-65
Most trafficked road: I-65 at Thompson Lane
Average annual daily traffic: 191,122 cars
Nearest place: Nashville
#25. Kentucky: I-71
Most trafficked road: I-71 at Donaldson Highway
Average annual daily traffic: 197,407 cars
Nearest place: Erlanger (southwest of Cincinnati)
#24. North Carolina: S Cannon Boulevard
Most trafficked road: S Cannon Boulevard at Centergrove Road
Average annual daily traffic: 200,000 cars
Nearest place: Kannapolis (northeast of Charlotte)
#23. Indiana: Main Street
Most trafficked road: Main Street at W Locust Street
Average annual daily traffic: 200,054 cars
Nearest place: Boonville (east of Evansville)
#22. Michigan: I-75
Most trafficked road: I-75 at John R Road
Average annual daily traffic: 213,000 cars
Nearest place: Hazel Park (north of Detroit)
#21. Minnesota: I-35
Most trafficked road: I-35 at E 35th Street
Average annual daily traffic: 225,000 cars
Nearest place: Minneapolis
#20. Massachusetts: I-93
Most trafficked road: I-93 at Granite Street
Average annual daily traffic: 236,921 cars
Nearest place: Braintree (south of Boston)
#19. Ohio: N High Street
Most trafficked road: N High Street at Wilson Drive
Average annual daily traffic: 237,496 cars
Nearest place: Columbus
#18. New Jersey: I-95
Most trafficked road: I-95 at Franklin Street
Average annual daily traffic: 239,424 cars
Nearest place: Elizabeth
#17. Washington: I-5
Most trafficked road: I-5 at Beacon Avenue Bridge S
Average annual daily traffic: 242,000 cars
Nearest place: Seattle
#16. Maryland: I-270
Most trafficked road: I-270 at Wootton Parkway
Average annual daily traffic: 249,910 cars
Nearest place: Rockville
#15. Virginia: I-95
Most trafficked road: I-95 at Franconia Springfield Parkway
Average annual daily traffic: 256,000 cars
Nearest place: Springfield
#14. Pennsylvania: Baltimore Pike
Most trafficked road: Baltimore Pike at Driveway
Average annual daily traffic: 257,472 cars
Nearest place: Chester Heights (west of Philadelphia)
#13. Colorado: I-25
Most trafficked road: I-25 at W 44th Avenue
Average annual daily traffic: 261,000 cars
Nearest place: Denver
#12. Rhode Island: I-95
Most trafficked road: I-95 at Promenade Street
Average annual daily traffic: 263,500 cars
Nearest place: Providence
#11. Nevada: I-15
Most trafficked road: I-15 at Wilbur Clark D.I. West Road
Average annual daily traffic: 264,000 cars
Nearest place: Las Vegas
#10. Utah: I-15
Most trafficked road: I-15 at W Andy Avenue
Average annual daily traffic: 268,370 cars
Nearest place: South Salt Lake
#9. Mississippi: Highway 145 N
Most trafficked road: Highway 145 N at Highway 178 W
Average annual daily traffic: 280,003 cars
Nearest place: Tupelo
#8. New York: I-95
Most trafficked road: I-95 at Broadway
Average annual daily traffic: 289,330 cars
Nearest place: New York
#7. Florida: I-95
Most trafficked road: I-95 at NW 6th Street
Average annual daily traffic: 306,000 cars
Nearest place: Fort Lauderdale
#6. Arizona: Loop 202
Most trafficked road: Loop 202 at N Alma School Road
Average annual daily traffic: 339,991 cars
Nearest place: Mesa
#5. Missouri: Page Avenue
Most trafficked road: Page Avenue at Bach Boulevard
Average annual daily traffic: 342,343 cars
Nearest place: Overland (northwest of St. Louis)
#4. Illinois: I-90
Most trafficked road: I-90 at W Chicago Avenue
Average annual daily traffic: 353,400 cars
Nearest place: Chicago
#3. California: Pomona Freeway
Most trafficked road: Pomona Freeway at Back Lot Lane
Average annual daily traffic: 354,000 cars
Nearest place: Diamond Bar
#2. Georgia: I-75
Most trafficked road: I-75 at North Avenue
Average annual daily traffic: 379,000 cars
Nearest place: Atlanta
#1. Texas: I-10
Most trafficked road: I-10 at Gessner Drive
Average annual daily traffic: 383,229 cars
Nearest place: Houston