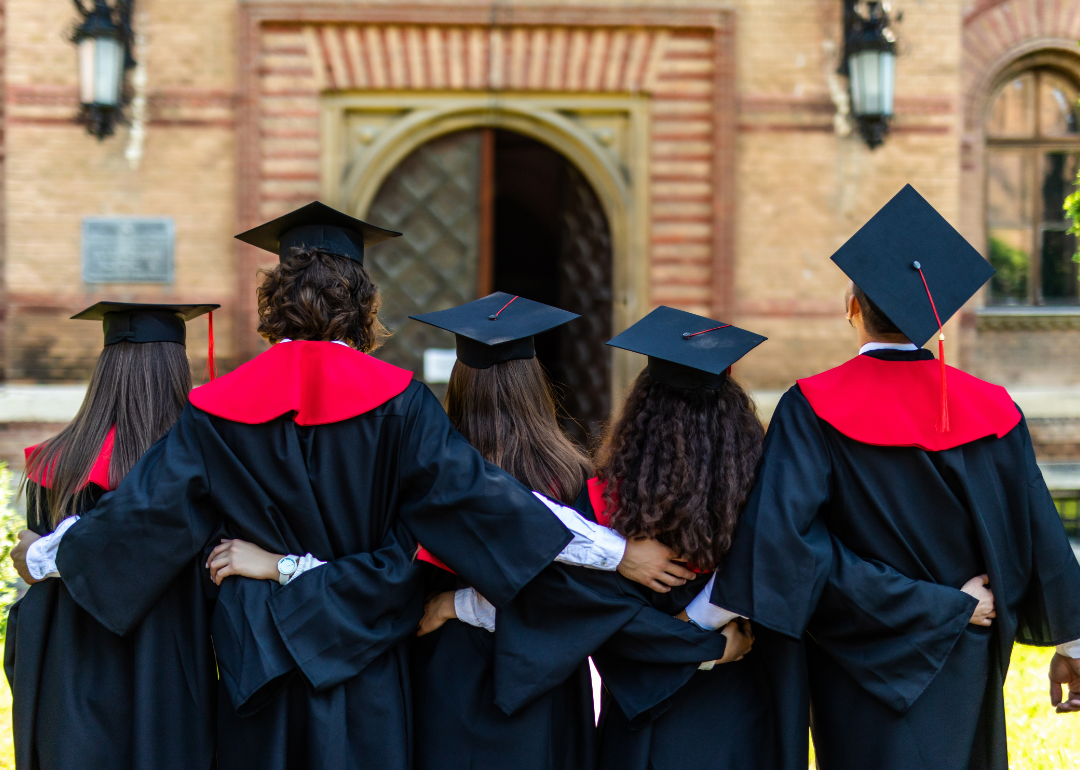 States with the highest number of college graduates living in poverty
States with the highest number of college graduates living in poverty
A college degree has long been seen as a golden ticket to the good life, but that guarantee could be losing its luster.
In 2014, 4.4% of American college graduates lived below the poverty line. But by 2021, that share had risen to 4.6%, according to the most recently available data from the Census Bureau.
It's true that, overall, those with college degrees do better by several measures, like higher lifetime earnings, lower unemployment, and lower poverty.
"Those are averages," Heidi Shierholz, senior economist at the Economic Policy Institute, a progressive think tank, told Marketwatch. But it's not the whole story—and not all states are alike.
"It's a worthwhile reminder that there are people with college degrees that are living in poverty — they can't find a job with good wages, they can't find a job at all," she said.
How far that college degree gets you depends greatly on where you live. Stacker used Census Bureau data to rank states by the percentage of college graduates living in poverty in 2021. The analysis defines college graduates as those with a bachelor's degree or higher. All figures include only the population ages 25 and up.
Wage stagnation plays a role too. Since the late 1970s, while worker productivity has grown over 60%, workers' wages have only grown one-third as fast, just 18%. Meanwhile, life keeps getting more expensive, with the Bureau of Labor Statistics' Consumer Price Index, a measure of the average change in prices, rising over 300% in that same time period.
The real question is: Does the rise in those with college degrees living in poverty represent a worsening economic outlook?
There is an increasing share of admitted undergraduates who were already living in poverty, which grew from 12% to 20% from 1996 to 2016, according to Pew Research. Simply having more students living below the poverty line to begin with could be adding to the poverty levels for college graduates overall.
And while 4.6% is a small percentage of the overall college-educated population, that number represents just those on the far lowest end of the economic spectrum. Millions are living just above the poverty line, and plenty of those with college degrees live paycheck to paycheck.
Especially for certain industries most exposed to the economic turmoil of the COVID-19 pandemic, the statistics show a college degree is not a foolproof safeguard against financial strain.
If you're a college graduate contemplating a move to a certain state and don't have a job lined up yet, looking at these rankings might help you evaluate the employment risk of doing so.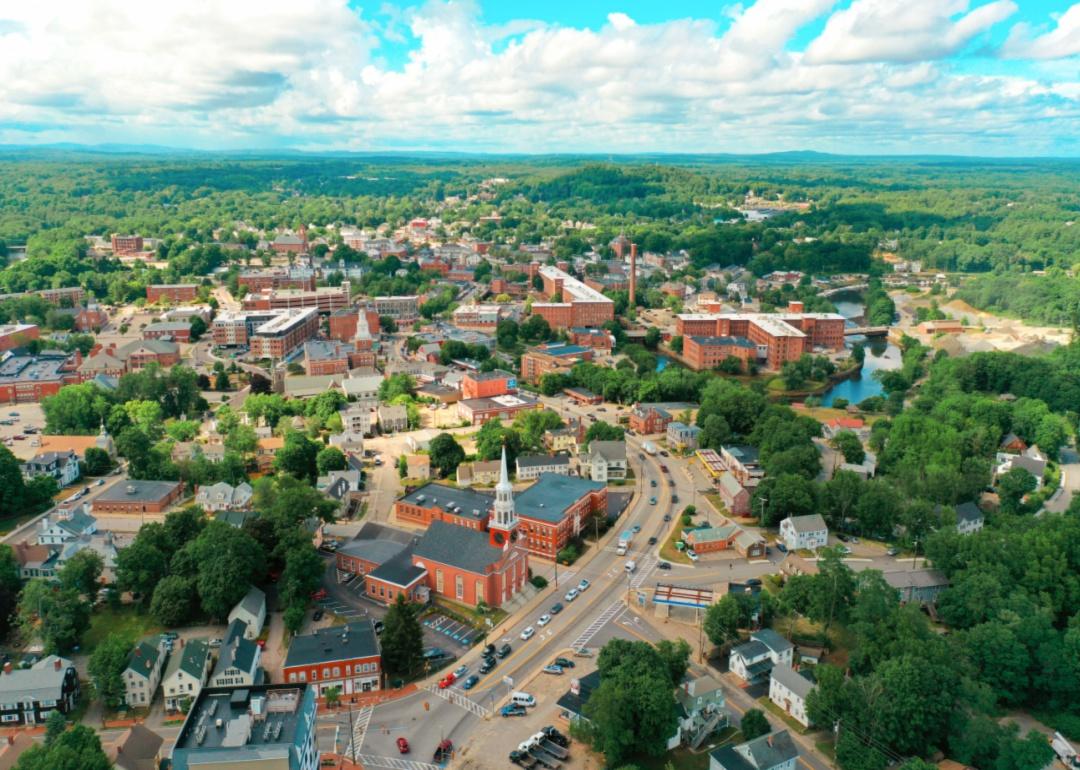 1 / 51
Loud Canvas // Shutterstock
#51. New Hampshire
- College grad poverty rate: 2.7% (10,940 college grads in poverty)
- Overall poverty rate: 6.4% (64,200 people over age 25 in poverty)
- Share of 25+ population who graduated college: 40.2% (405,815 total grads)
- Median earnings:
--- Total population over 25: $51,953
--- Bachelor's degree: $64,230
--- Graduate or professional degree: $78,476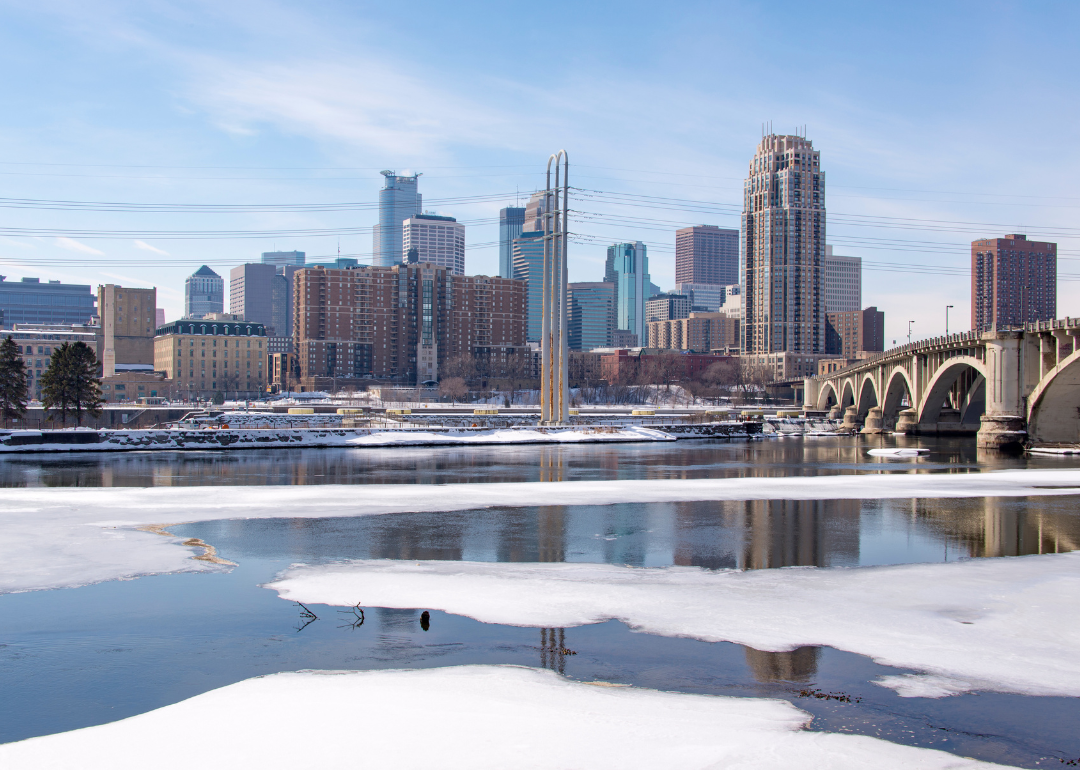 2 / 51
#50. Minnesota
- College grad poverty rate: 3.1% (47,184 college grads in poverty)
- Overall poverty rate: 7.7% (296,950 people over age 25 in poverty)
- Share of 25+ population who graduated college: 38.9% (1,516,426 total grads)
- Median earnings:
--- Total population over 25: $50,872
--- Bachelor's degree: $63,482
--- Graduate or professional degree: $80,120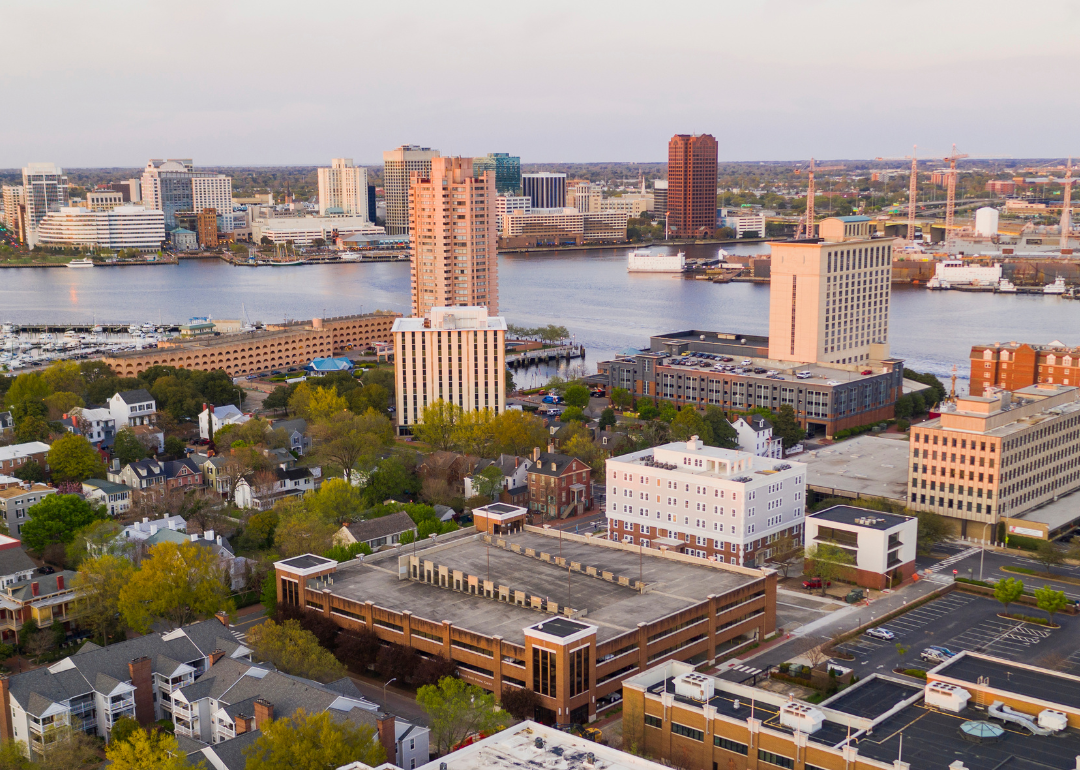 3 / 51
#49. Virginia
- College grad poverty rate: 3.4% (83,818 college grads in poverty)
- Overall poverty rate: 8.3% (483,931 people over age 25 in poverty)
- Share of 25+ population who graduated college: 41.8% (2,484,460 total grads)
- Median earnings:
--- Total population over 25: $51,330
--- Bachelor's degree: $65,495
--- Graduate or professional degree: $92,057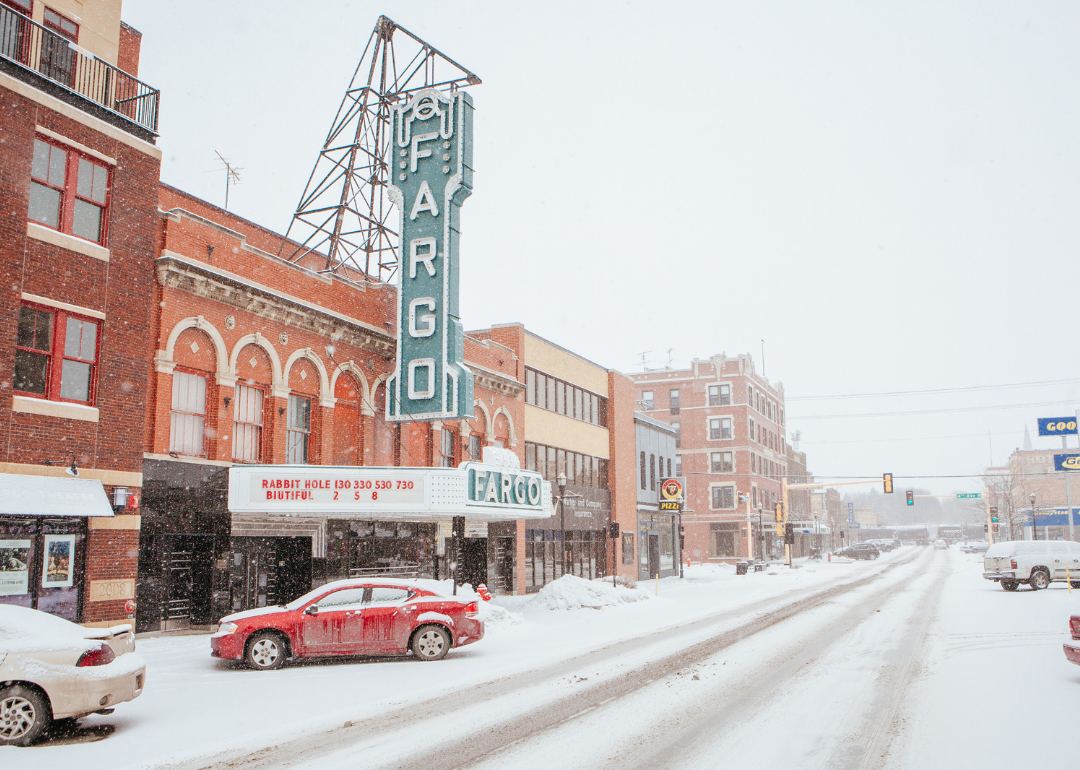 4 / 51
#48. North Dakota
- College grad poverty rate: 3.6% (5,745 college grads in poverty)
- Overall poverty rate: 8.8% (43,802 people over age 25 in poverty)
- Share of 25+ population who graduated college: 31.7% (160,847 total grads)
- Median earnings:
--- Total population over 25: $46,025
--- Bachelor's degree: $54,510
--- Graduate or professional degree: $67,774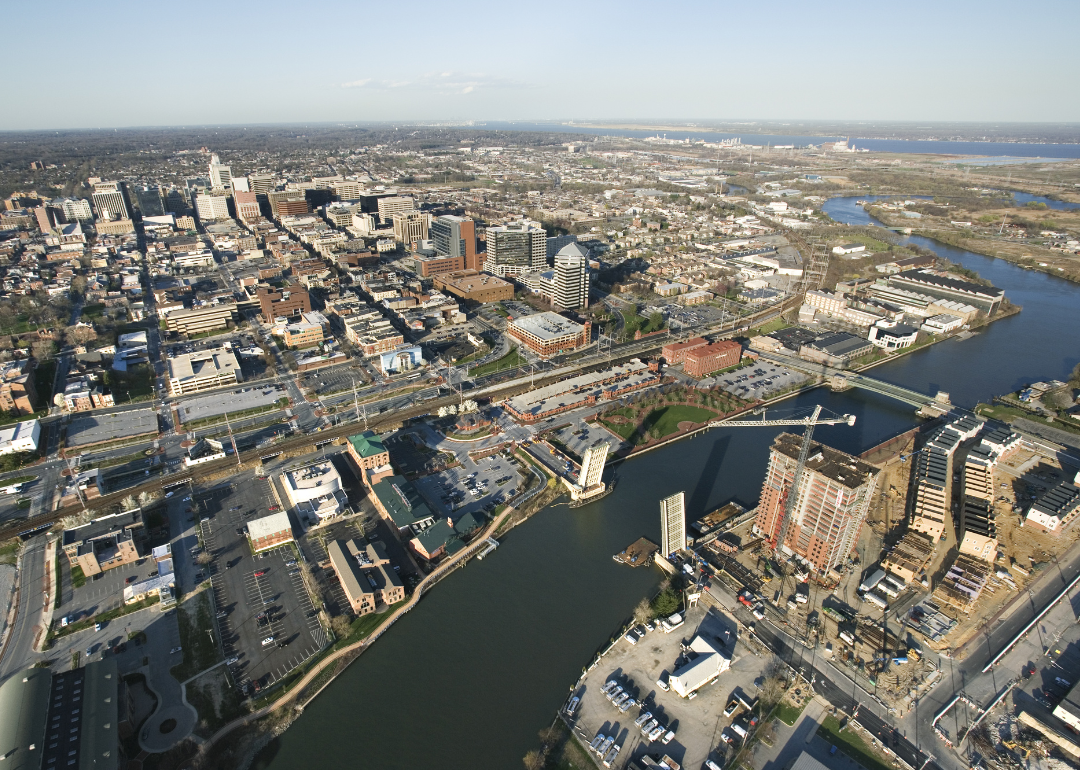 5 / 51
#47. Maryland
- College grad poverty rate: 3.6% (64,904 college grads in poverty)
- Overall poverty rate: 8.7% (364,870 people over age 25 in poverty)
- Share of 25+ population who graduated college: 42.5% (1,818,202 total grads)
- Median earnings:
--- Total population over 25: $56,979
--- Bachelor's degree: $71,896
--- Graduate or professional degree: $93,565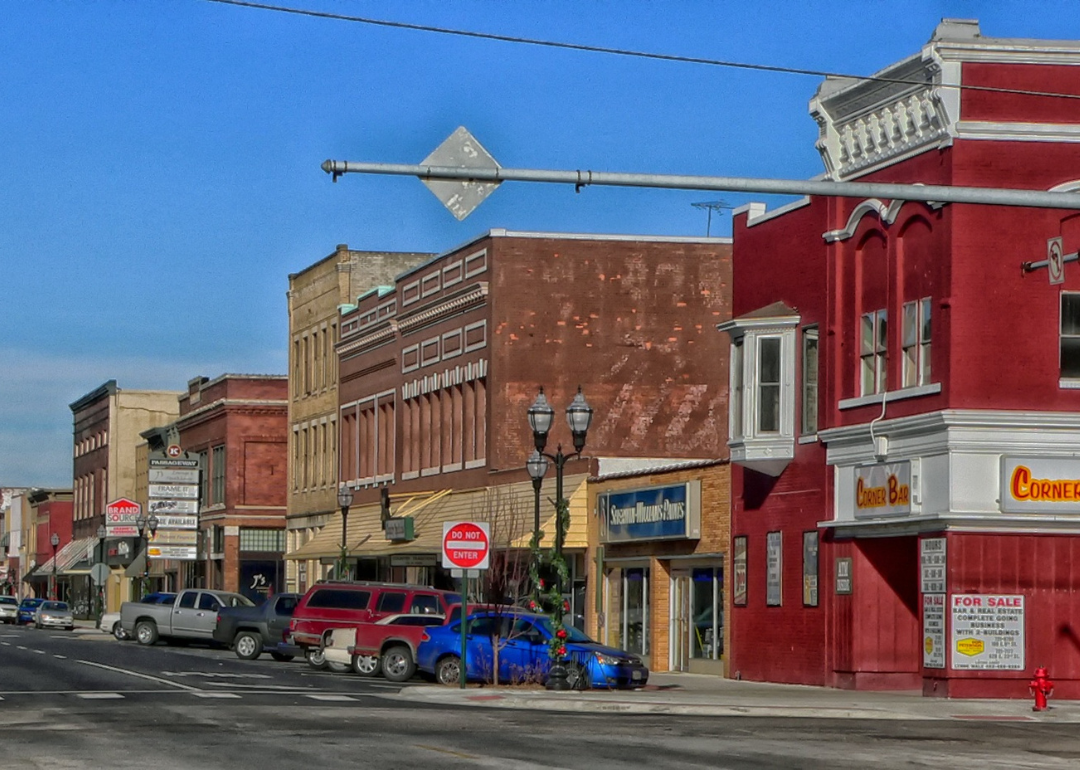 6 / 51
#46. Nebraska
- College grad poverty rate: 3.8% (17,041 college grads in poverty)
- Overall poverty rate: 8.6% (109,577 people over age 25 in poverty)
- Share of 25+ population who graduated college: 34.4% (445,261 total grads)
- Median earnings:
--- Total population over 25: $44,532
--- Bachelor's degree: $53,663
--- Graduate or professional degree: $69,714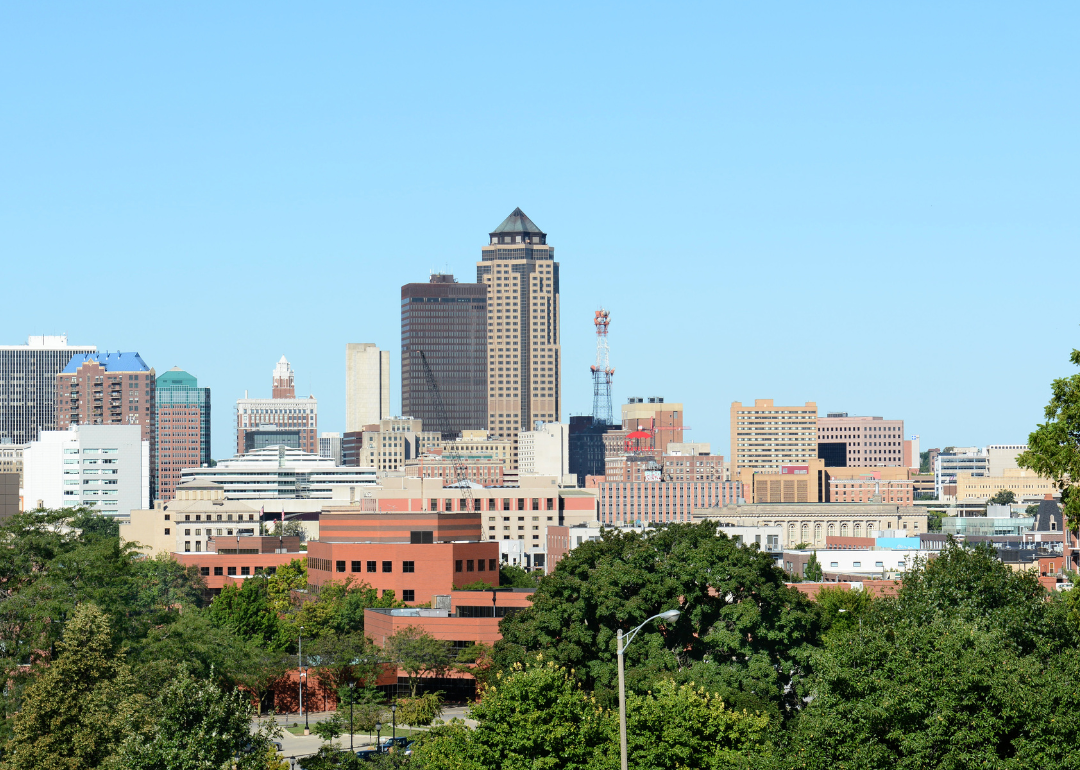 7 / 51
#45. Iowa
- College grad poverty rate: 3.8% (24,672 college grads in poverty)
- Overall poverty rate: 8.9% (186,838 people over age 25 in poverty)
- Share of 25+ population who graduated college: 30.5% (652,742 total grads)
- Median earnings:
--- Total population over 25: $44,644
--- Bachelor's degree: $55,434
--- Graduate or professional degree: $70,977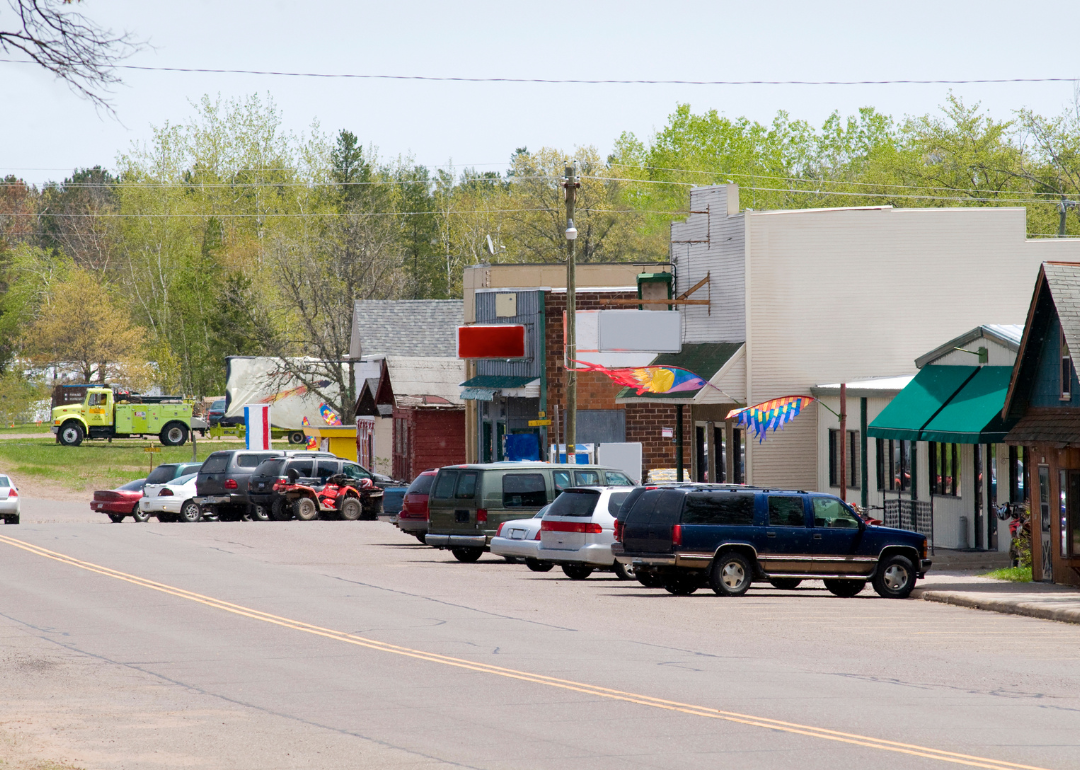 8 / 51
#44. Wisconsin
- College grad poverty rate: 3.8% (50,536 college grads in poverty)
- Overall poverty rate: 8.8% (352,485 people over age 25 in poverty)
- Share of 25+ population who graduated college: 32.5% (1,326,478 total grads)
- Median earnings:
--- Total population over 25: $46,322
--- Bachelor's degree: $58,745
--- Graduate or professional degree: $70,880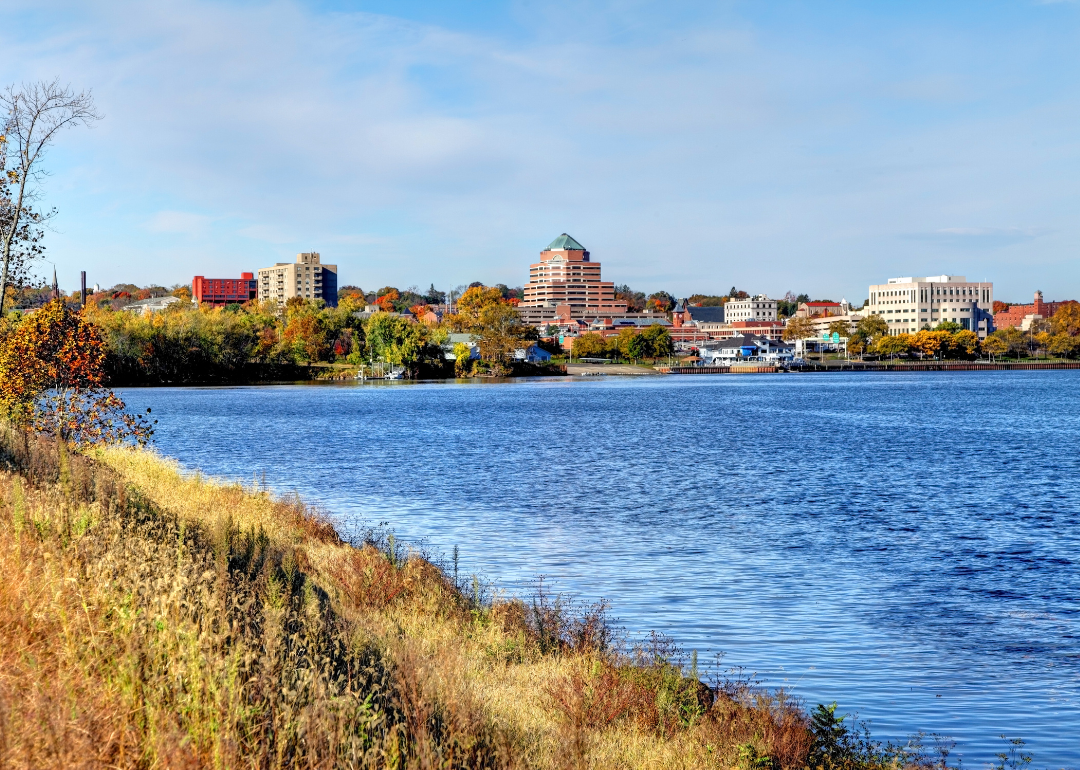 9 / 51
#43. Connecticut
- College grad poverty rate: 3.9% (41,816 college grads in poverty)
- Overall poverty rate: 8.8% (220,559 people over age 25 in poverty)
- Share of 25+ population who graduated college: 42.1% (1,067,671 total grads)
- Median earnings:
--- Total population over 25: $53,008
--- Bachelor's degree: $69,915
--- Graduate or professional degree: $88,250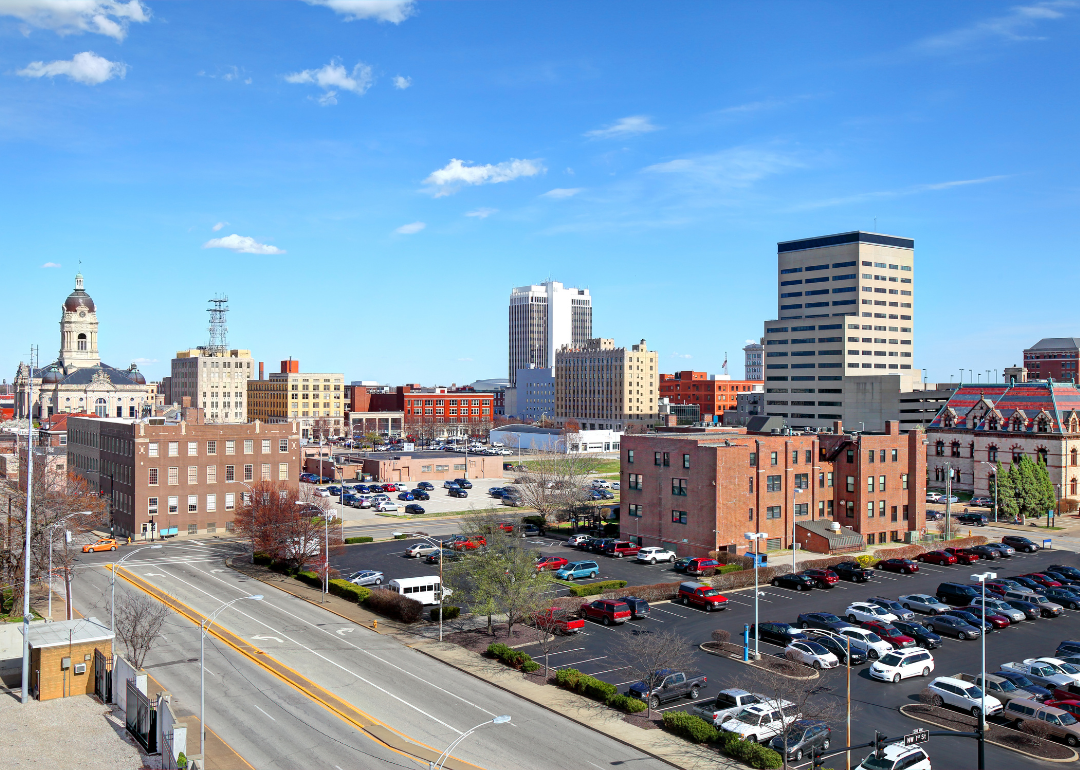 10 / 51
#42. Indiana
- College grad poverty rate: 3.9% (51,539 college grads in poverty)
- Overall poverty rate: 9.8% (437,682 people over age 25 in poverty)
- Share of 25+ population who graduated college: 28.9% (1,316,787 total grads)
- Median earnings:
--- Total population over 25: $42,955
--- Bachelor's degree: $54,525
--- Graduate or professional degree: $70,183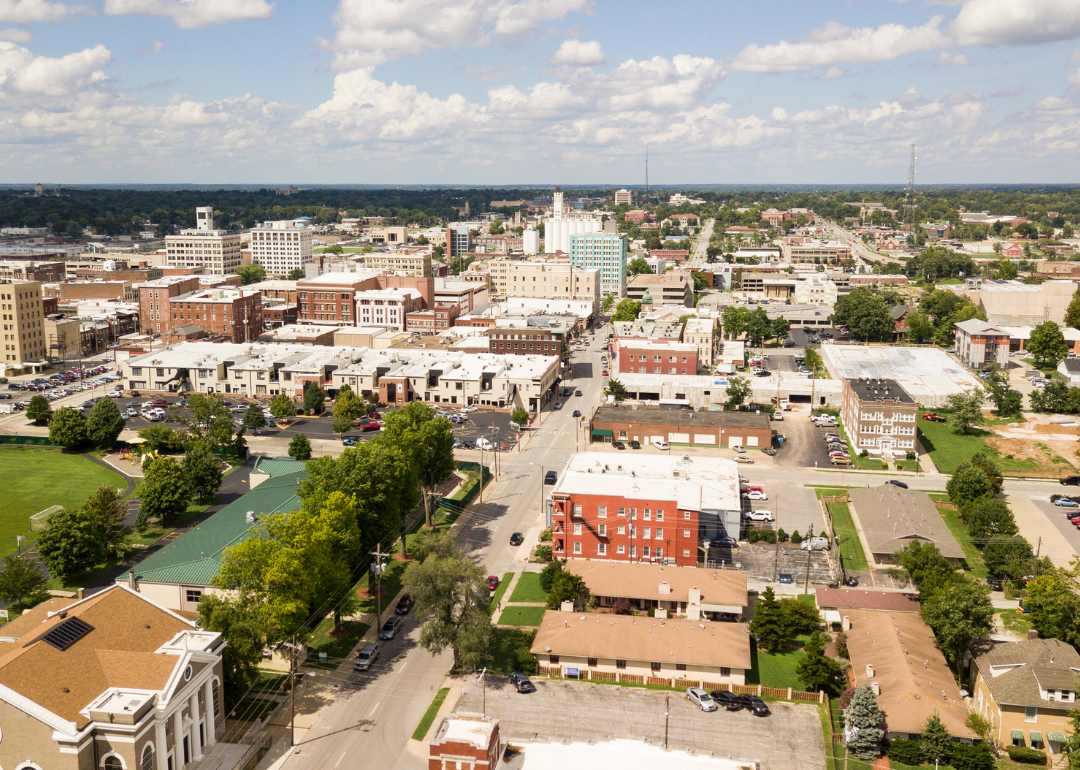 11 / 51
#41. Missouri
- College grad poverty rate: 3.9% (52,070 college grads in poverty)
- Overall poverty rate: 10.6% (439,718 people over age 25 in poverty)
- Share of 25+ population who graduated college: 31.7% (1,340,643 total grads)
- Median earnings:
--- Total population over 25: $42,084
--- Bachelor's degree: $53,855
--- Graduate or professional degree: $65,480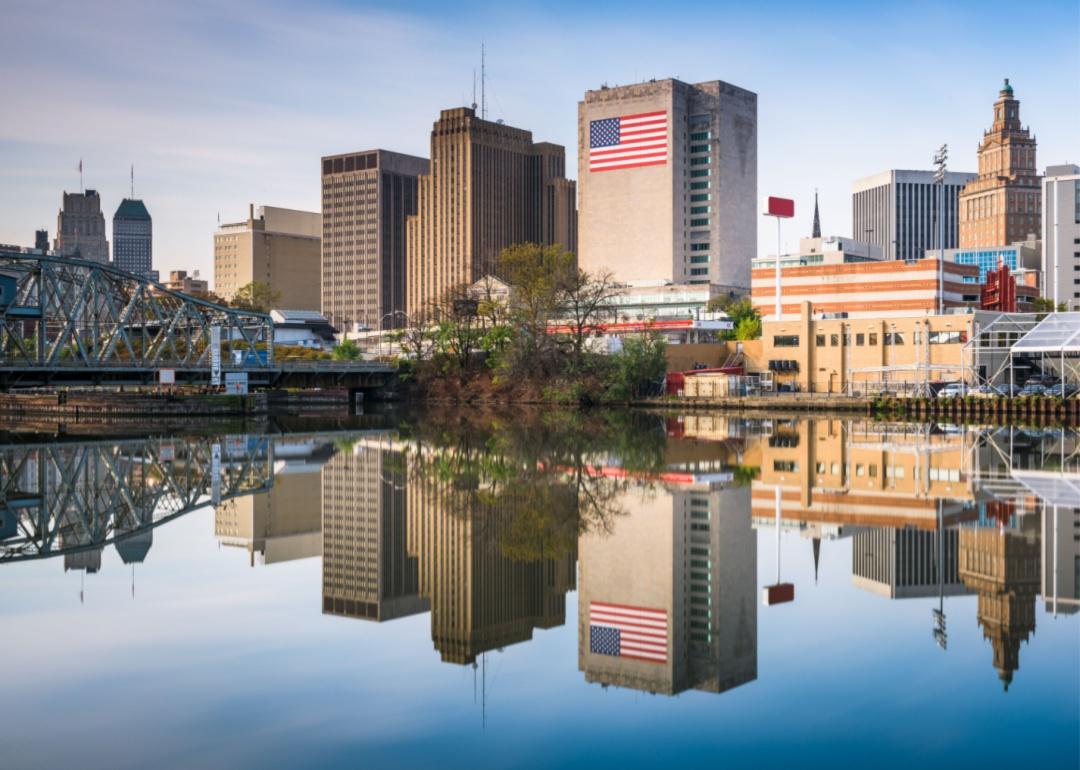 12 / 51
Sean Pavone // Shutterstock
#40. New Jersey
- College grad poverty rate: 3.9% (108,357 college grads in poverty)
- Overall poverty rate: 8.8% (565,498 people over age 25 in poverty)
- Share of 25+ population who graduated college: 43.1% (2,790,646 total grads)
- Median earnings:
--- Total population over 25: $56,121
--- Bachelor's degree: $71,258
--- Graduate or professional degree: $94,788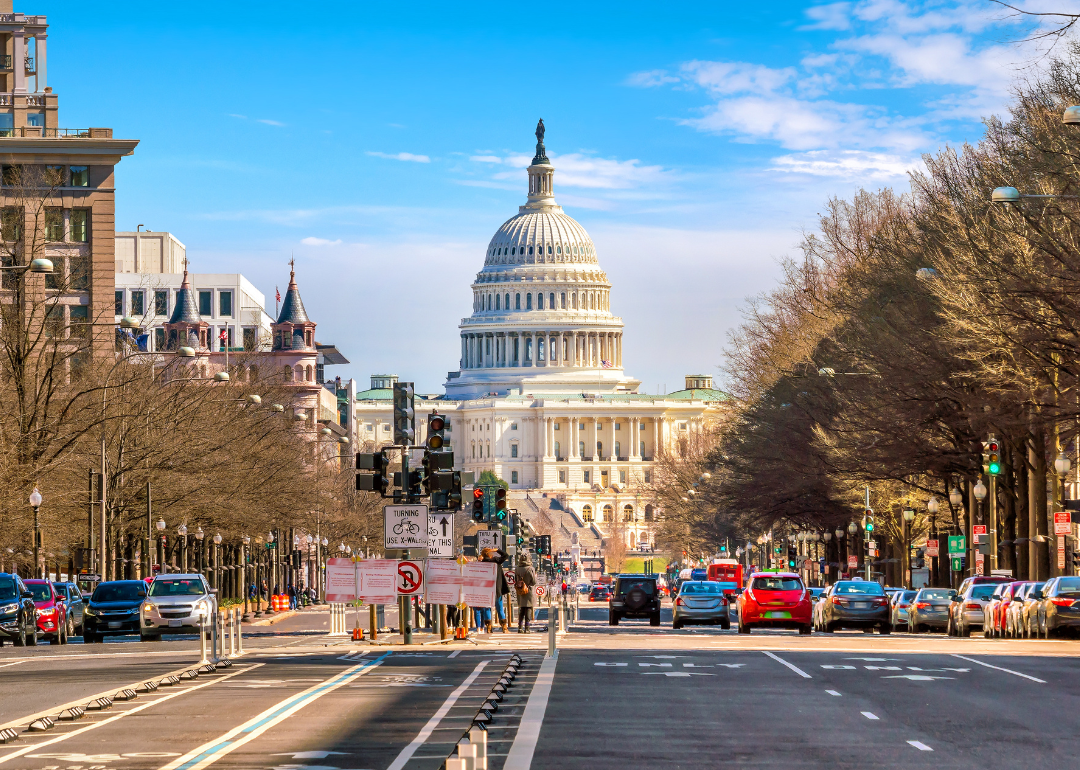 13 / 51
#38. Kansas
- College grad poverty rate: 4.0% (27,458 college grads in poverty)
- Overall poverty rate: 9.5% (180,969 people over age 25 in poverty)
- Share of 25+ population who graduated college: 35.4% (687,452 total grads)
- Median earnings:
--- Total population over 25: $44,350
--- Bachelor's degree: $55,916
--- Graduate or professional degree: $67,095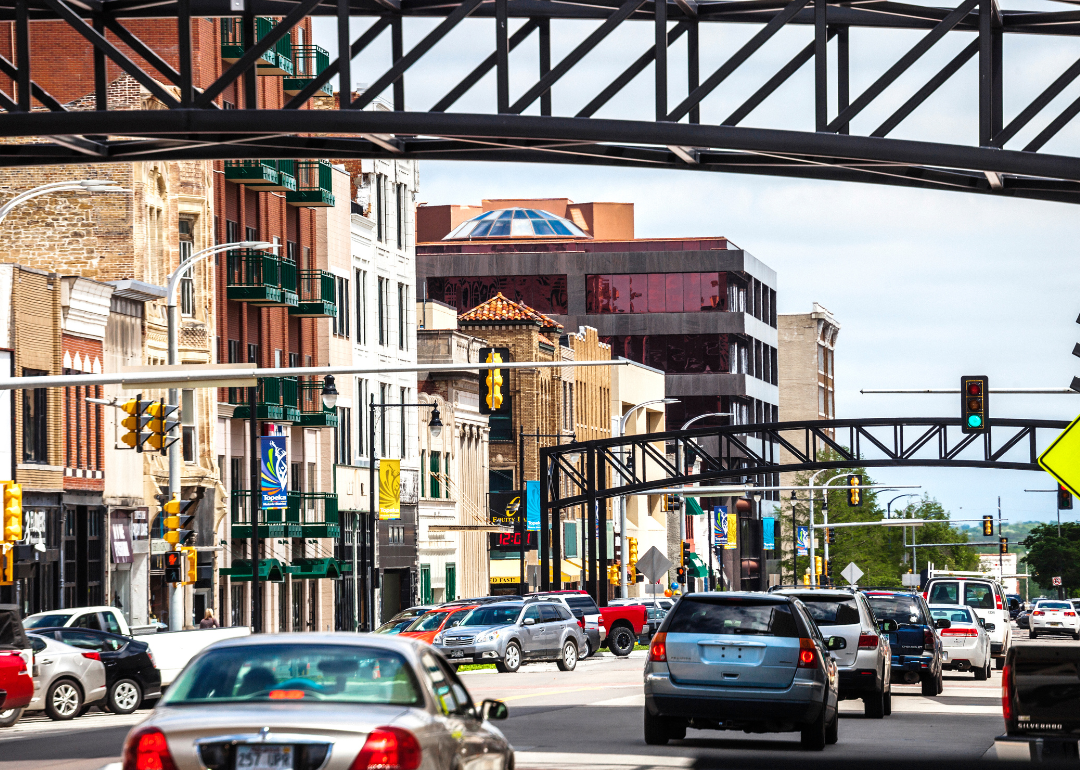 14 / 51
#37. Colorado
- College grad poverty rate: 4.0% (70,992 college grads in poverty)
- Overall poverty rate: 8.0% (320,439 people over age 25 in poverty)
- Share of 25+ population who graduated college: 44.4% (1,796,240 total grads)
- Median earnings:
--- Total population over 25: $51,409
--- Bachelor's degree: $63,777
--- Graduate or professional degree: $79,017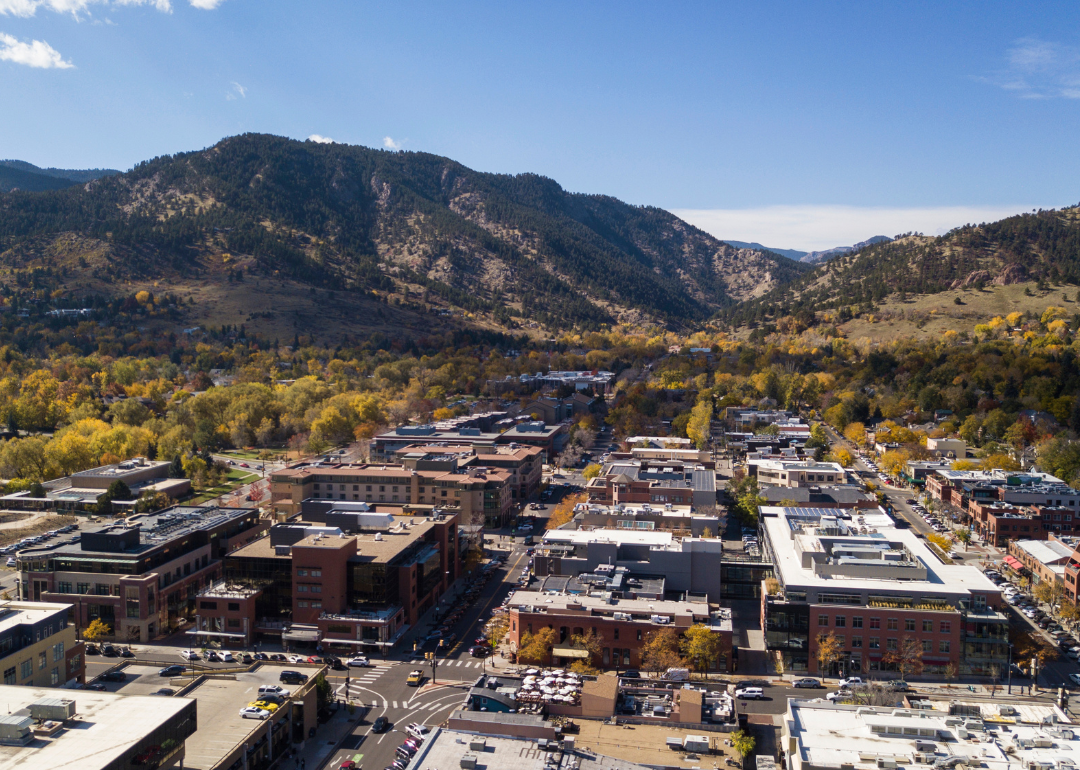 15 / 51
#36. Alaska
- College grad poverty rate: 4.1% (6,446 college grads in poverty)
- Overall poverty rate: 9.5% (45,458 people over age 25 in poverty)
- Share of 25+ population who graduated college: 32.8% (159,290 total grads)
- Median earnings:
--- Total population over 25: $50,554
--- Bachelor's degree: $60,141
--- Graduate or professional degree: $80,892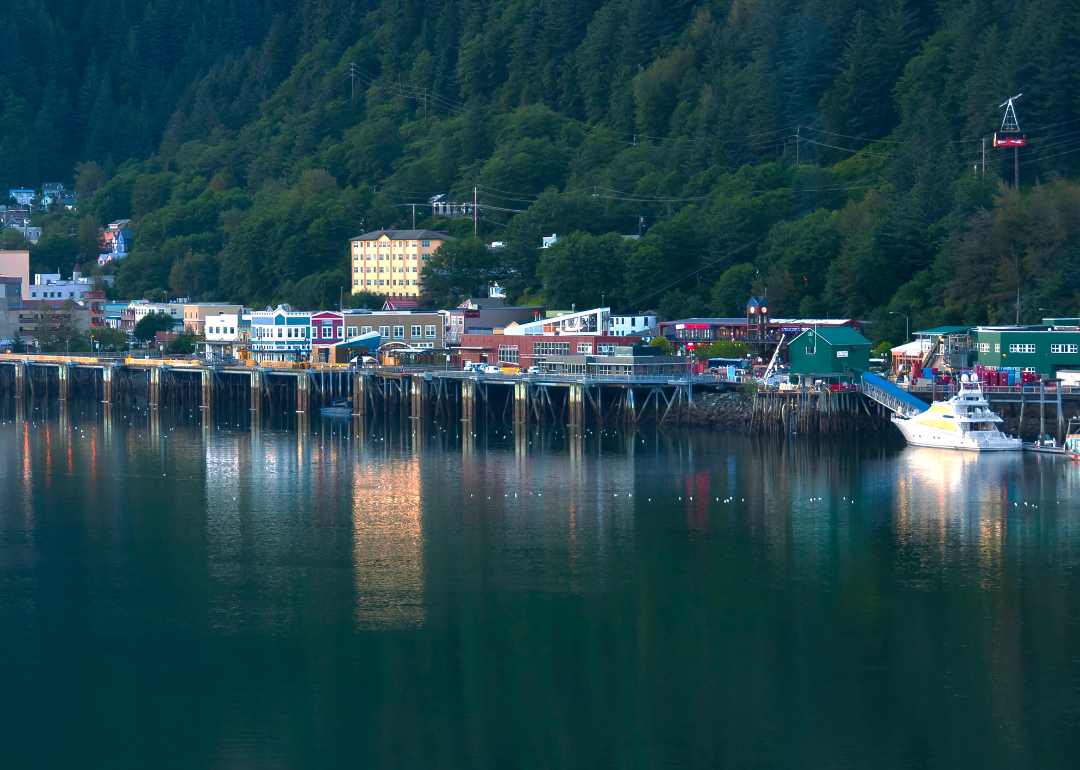 16 / 51
#35. Rhode Island
- College grad poverty rate: 4.1% (11,397 college grads in poverty)
- Overall poverty rate: 9.4% (71,685 people over age 25 in poverty)
- Share of 25+ population who graduated college: 36.5% (282,326 total grads)
- Median earnings:
--- Total population over 25: $50,500
--- Bachelor's degree: $62,069
--- Graduate or professional degree: $81,413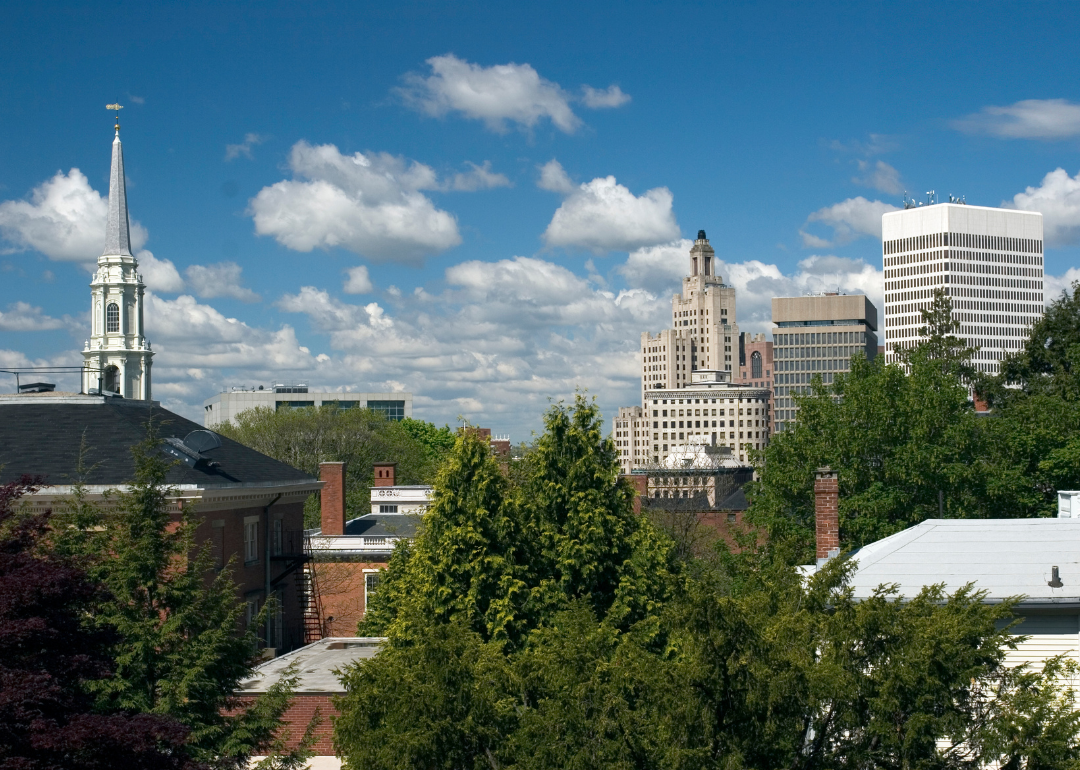 17 / 51
#34. Michigan
- College grad poverty rate: 4.1% (91,095 college grads in poverty)
- Overall poverty rate: 10.8% (741,810 people over age 25 in poverty)
- Share of 25+ population who graduated college: 31.7% (2,208,170 total grads)
- Median earnings:
--- Total population over 25: $43,495
--- Bachelor's degree: $59,740
--- Graduate or professional degree: $75,841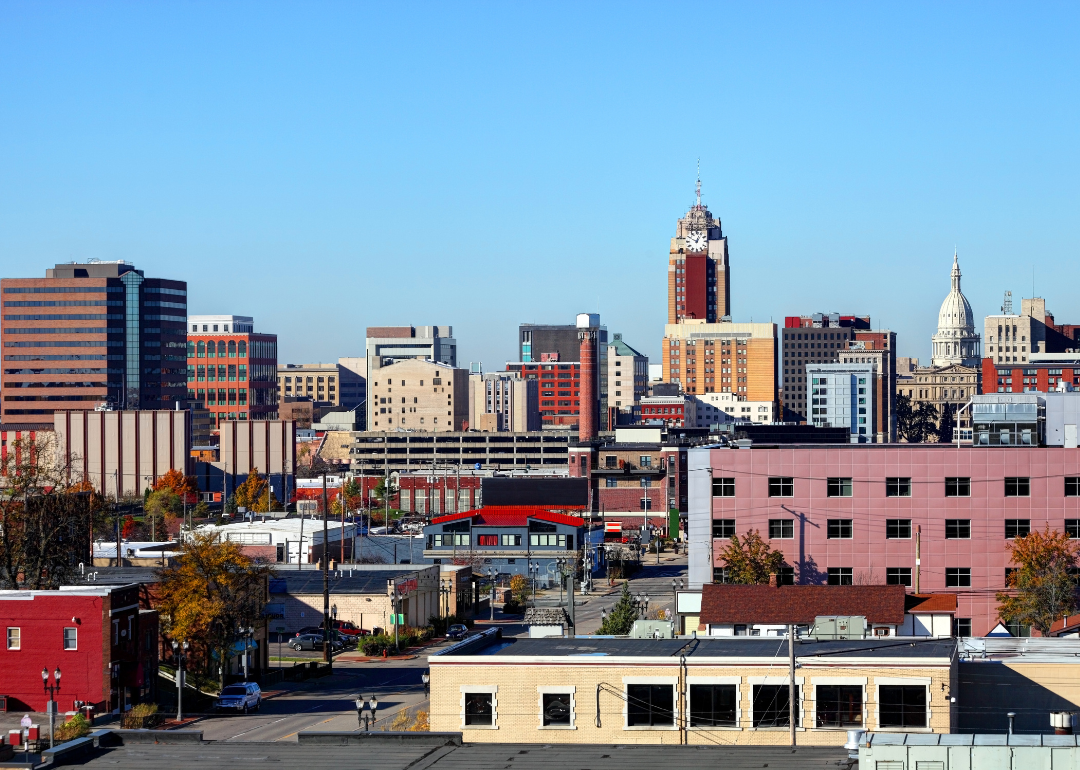 18 / 51
#33. Massachusetts
- College grad poverty rate: 4.1% (93,798 college grads in poverty)
- Overall poverty rate: 9.1% (445,813 people over age 25 in poverty)
- Share of 25+ population who graduated college: 46.6% (2,300,423 total grads)
- Median earnings:
--- Total population over 25: $59,269
--- Bachelor's degree: $71,344
--- Graduate or professional degree: $90,944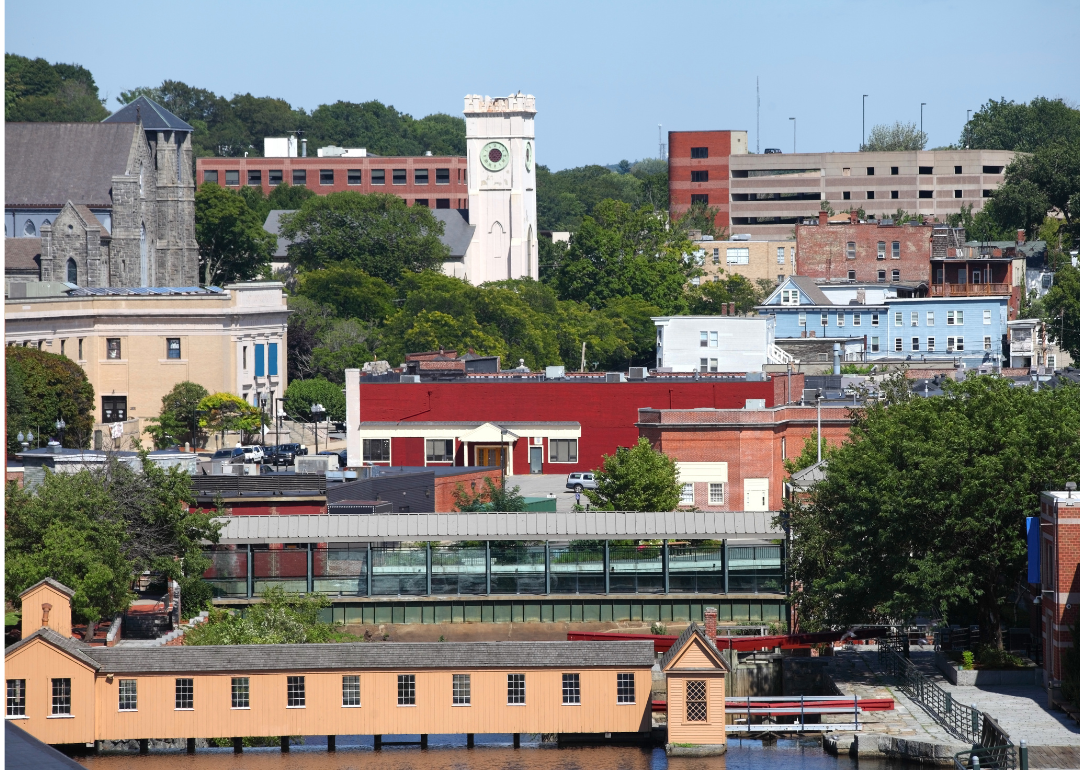 19 / 51
#32. Pennsylvania
- College grad poverty rate: 4.1% (128,601 college grads in poverty)
- Overall poverty rate: 10.1% (906,160 people over age 25 in poverty)
- Share of 25+ population who graduated college: 34.5% (3,164,985 total grads)
- Median earnings:
--- Total population over 25: $47,140
--- Bachelor's degree: $61,170
--- Graduate or professional degree: $78,261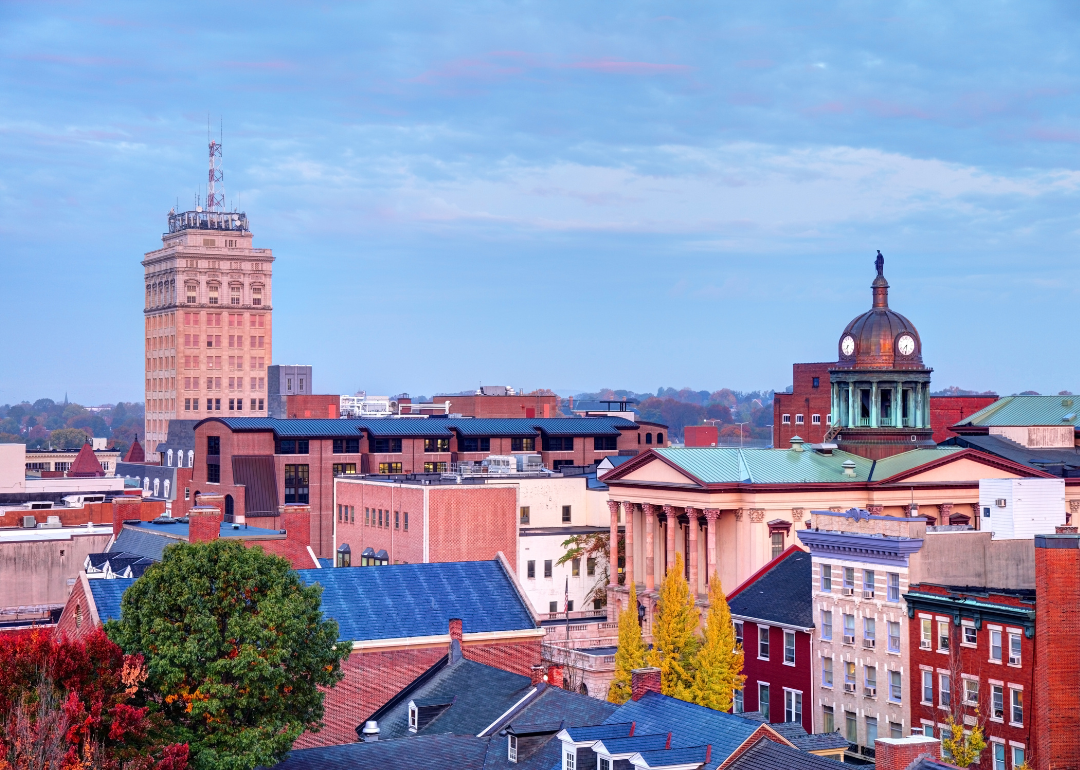 20 / 51
#31. South Carolina
- College grad poverty rate: 4.2% (47,625 college grads in poverty)
- Overall poverty rate: 12.0% (426,700 people over age 25 in poverty)
- Share of 25+ population who graduated college: 31.5% (1,134,636 total grads)
- Median earnings:
--- Total population over 25: $40,974
--- Bachelor's degree: $51,257
--- Graduate or professional degree: $63,545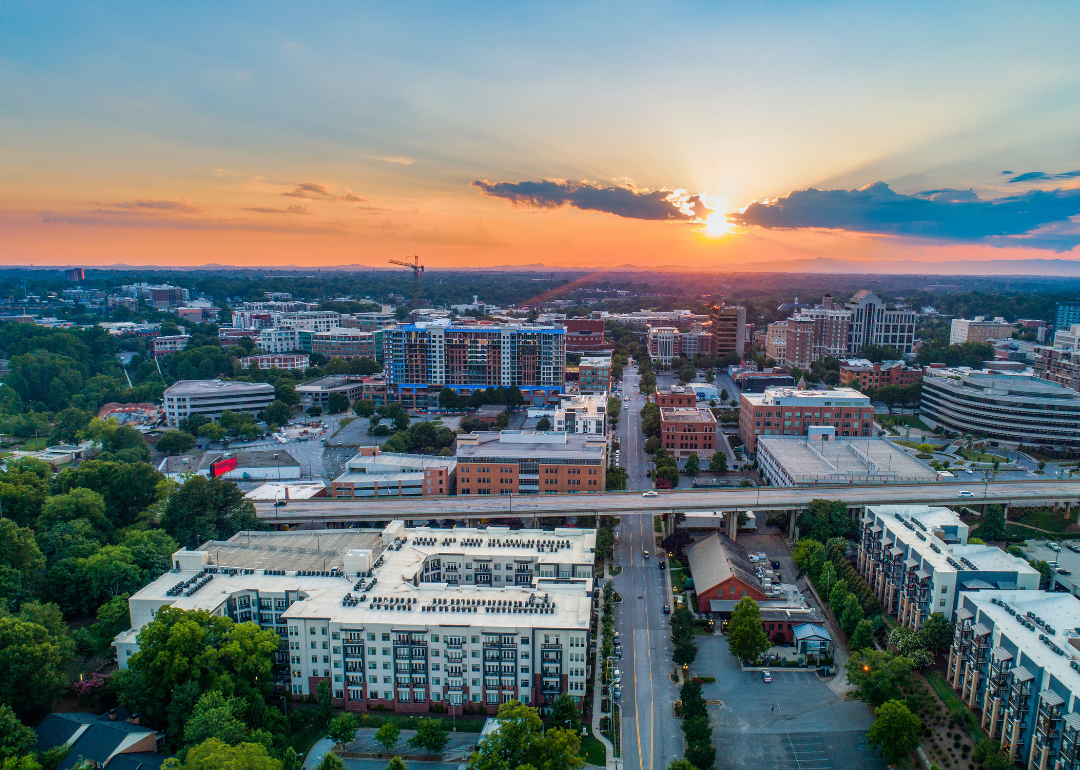 21 / 51
#30. North Carolina
- College grad poverty rate: 4.2% (105,525 college grads in poverty)
- Overall poverty rate: 11.0% (787,730 people over age 25 in poverty)
- Share of 25+ population who graduated college: 34.9% (2,529,657 total grads)
- Median earnings:
--- Total population over 25: $42,244
--- Bachelor's degree: $55,494
--- Graduate or professional degree: $70,335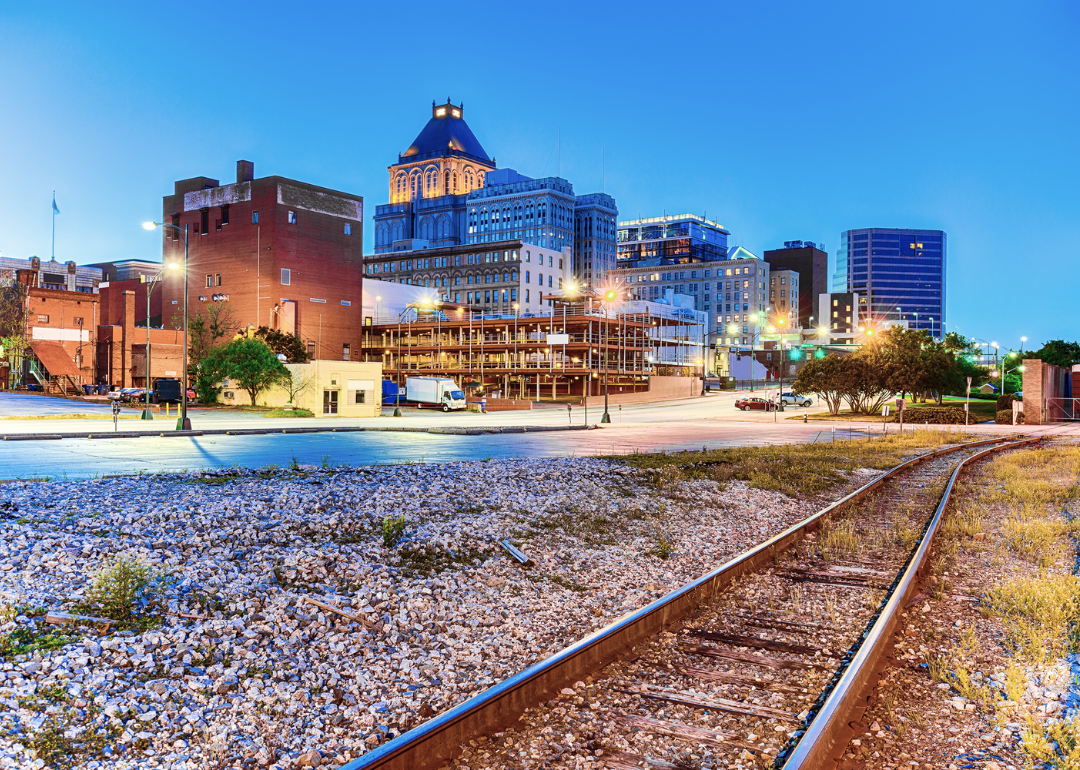 22 / 51
#29. Washington
- College grad poverty rate: 4.3% (89,852 college grads in poverty)
- Overall poverty rate: 8.4% (450,970 people over age 25 in poverty)
- Share of 25+ population who graduated college: 39.0% (2,104,662 total grads)
- Median earnings:
--- Total population over 25: $53,232
--- Bachelor's degree: $72,286
--- Graduate or professional degree: $96,132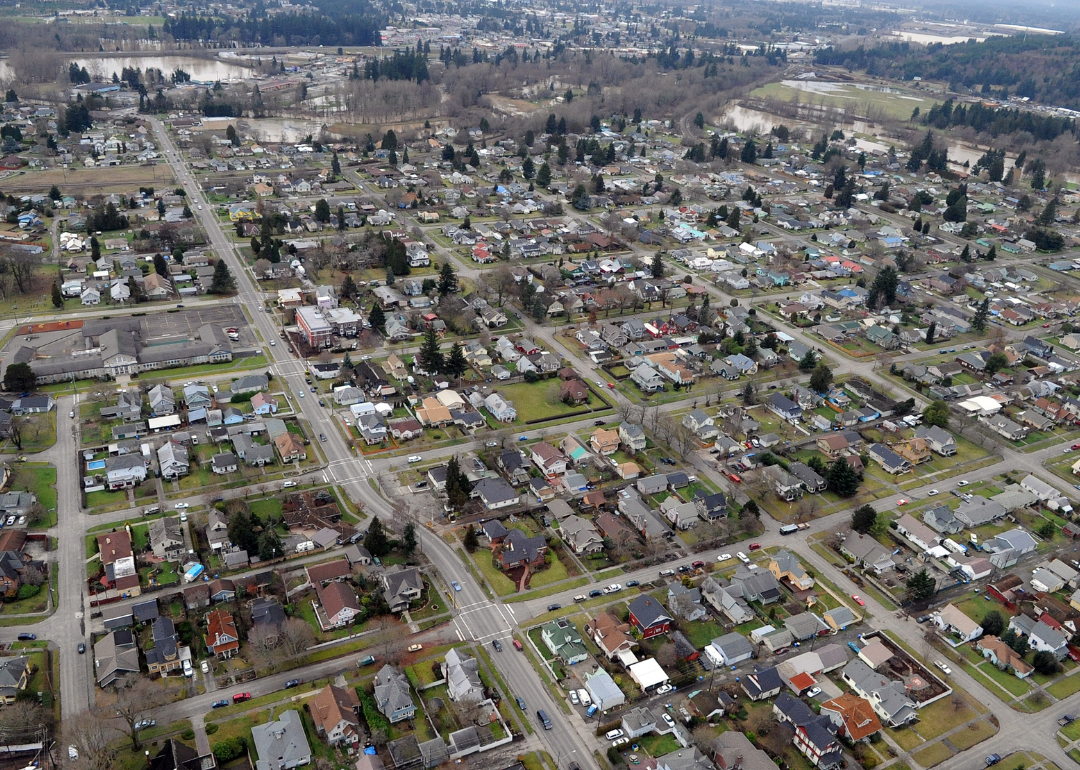 23 / 51
#28. Ohio
- College grad poverty rate: 4.3% (106,565 college grads in poverty)
- Overall poverty rate: 11.0% (879,431 people over age 25 in poverty)
- Share of 25+ population who graduated college: 30.7% (2,493,910 total grads)
- Median earnings:
--- Total population over 25: $43,794
--- Bachelor's degree: $58,453
--- Graduate or professional degree: $74,866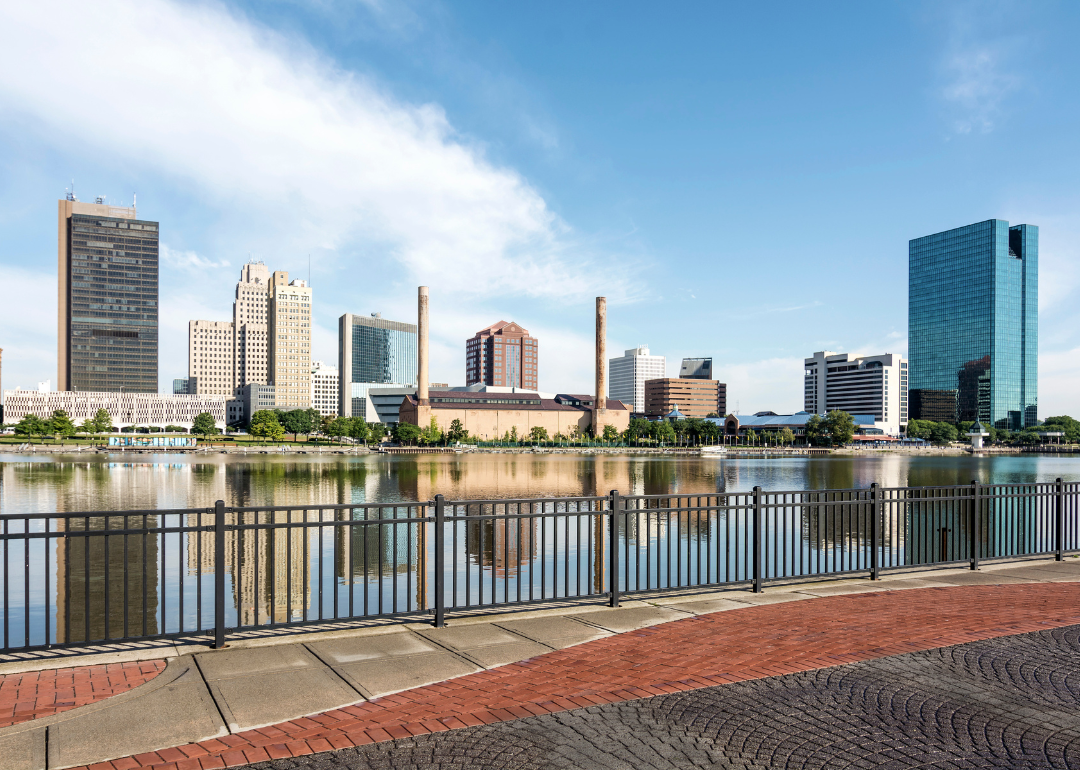 24 / 51
#27. Vermont
- College grad poverty rate: 4.4% (9,079 college grads in poverty)
- Overall poverty rate: 8.8% (40,388 people over age 25 in poverty)
- Share of 25+ population who graduated college: 44.4% (205,621 total grads)
- Median earnings:
--- Total population over 25: $45,731
--- Bachelor's degree: $49,075
--- Graduate or professional degree: $67,439
25 / 51
#26. Kentucky
- College grad poverty rate: 4.4% (36,698 college grads in poverty)
- Overall poverty rate: 14.0% (423,752 people over age 25 in poverty)
- Share of 25+ population who graduated college: 27.0% (830,414 total grads)
- Median earnings:
--- Total population over 25: $40,448
--- Bachelor's degree: $51,906
--- Graduate or professional degree: $62,124
26 / 51
#25. South Dakota
- College grad poverty rate: 4.5% (8,313 college grads in poverty)
- Overall poverty rate: 9.9% (57,060 people over age 25 in poverty)
- Share of 25+ population who graduated college: 31.7% (186,946 total grads)
- Median earnings:
--- Total population over 25: $42,204
--- Bachelor's degree: $51,375
--- Graduate or professional degree: $61,699
27 / 51
#24. Tennessee
- College grad poverty rate: 4.5% (65,553 college grads in poverty)
- Overall poverty rate: 11.4% (540,680 people over age 25 in poverty)
- Share of 25+ population who graduated college: 30.5% (1,467,481 total grads)
- Median earnings:
--- Total population over 25: $41,181
--- Bachelor's degree: $53,286
--- Graduate or professional degree: $67,850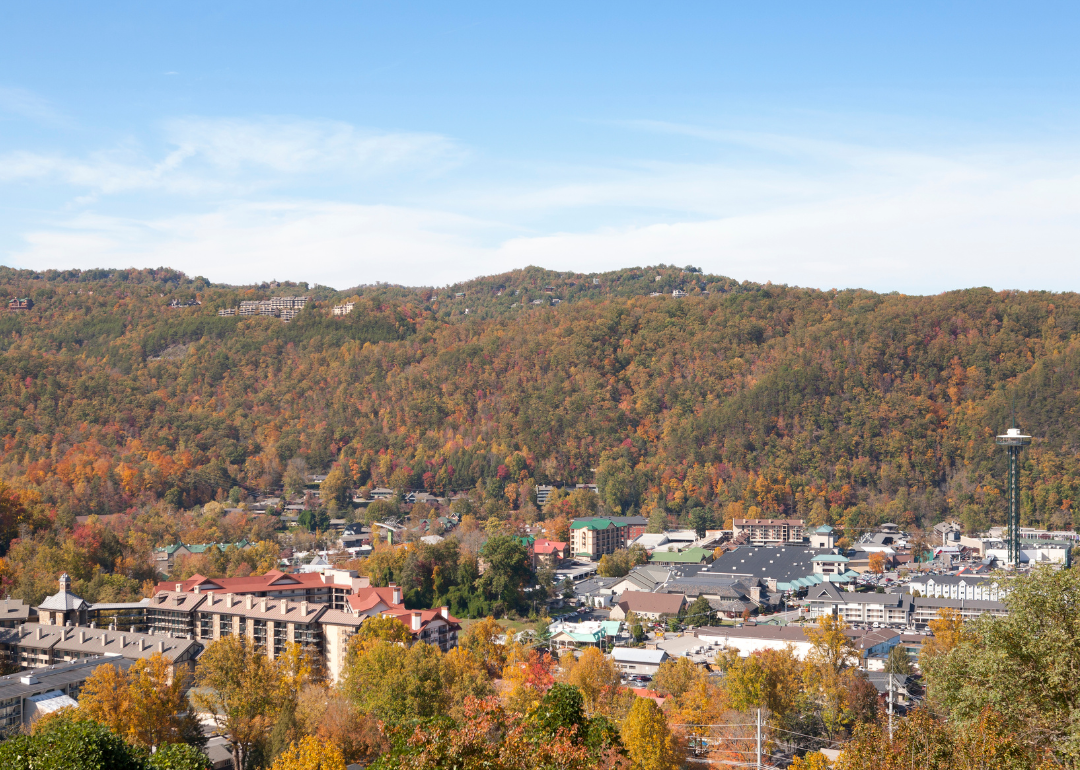 28 / 51
#23. Georgia
- College grad poverty rate: 4.5% (111,477 college grads in poverty)
- Overall poverty rate: 11.3% (801,273 people over age 25 in poverty)
- Share of 25+ population who graduated college: 34.6% (2,505,076 total grads)
- Median earnings:
--- Total population over 25: $43,055
--- Bachelor's degree: $60,454
--- Graduate or professional degree: $72,973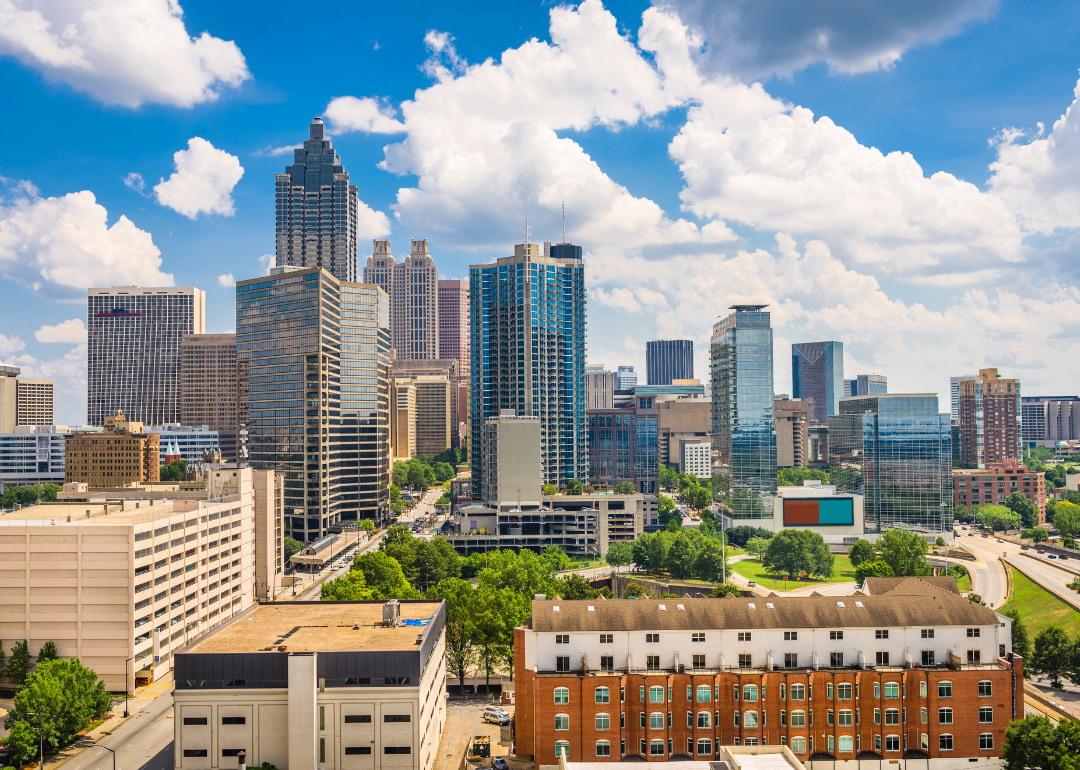 29 / 51
#22. Delaware
- College grad poverty rate: 4.6% (11,573 college grads in poverty)
- Overall poverty rate: 9.4% (65,842 people over age 25 in poverty)
- Share of 25+ population who graduated college: 35.6% (253,292 total grads)
- Median earnings:
--- Total population over 25: $47,422
--- Bachelor's degree: $61,378
--- Graduate or professional degree: $73,888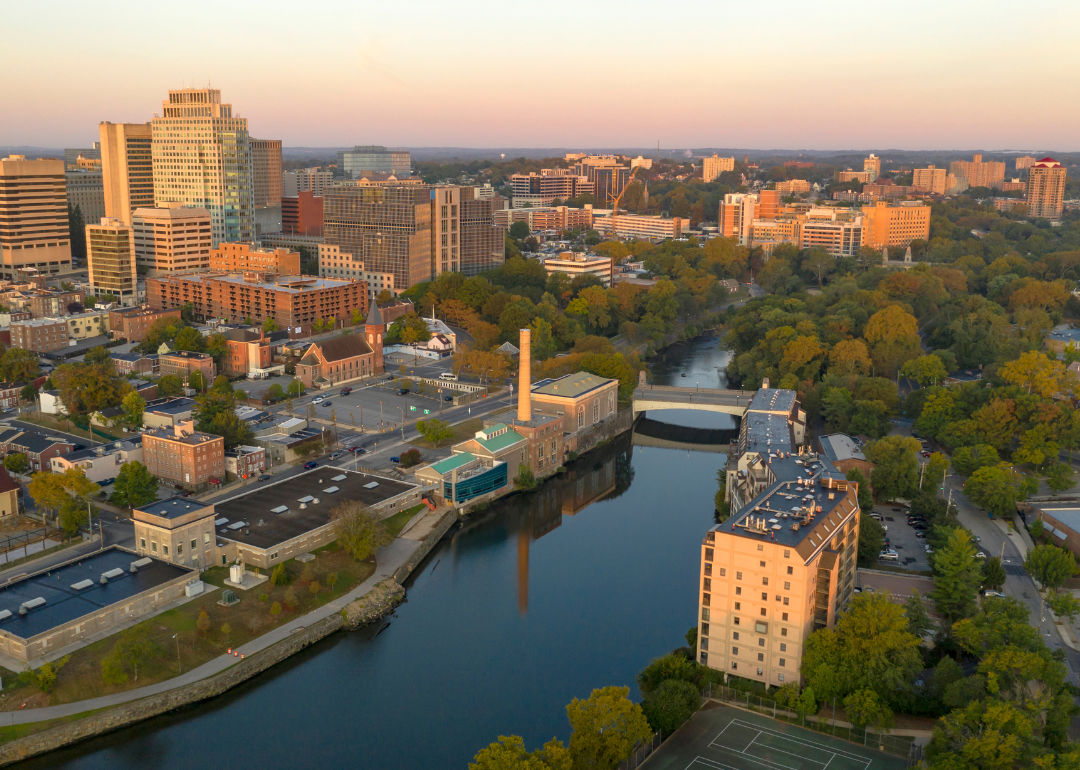 30 / 51
#21. Idaho
- College grad poverty rate: 4.6% (17,660 college grads in poverty)
- Overall poverty rate: 9.1% (112,722 people over age 25 in poverty)
- Share of 25+ population who graduated college: 30.7% (386,264 total grads)
- Median earnings:
--- Total population over 25: $40,800
--- Bachelor's degree: $50,581
--- Graduate or professional degree: $68,649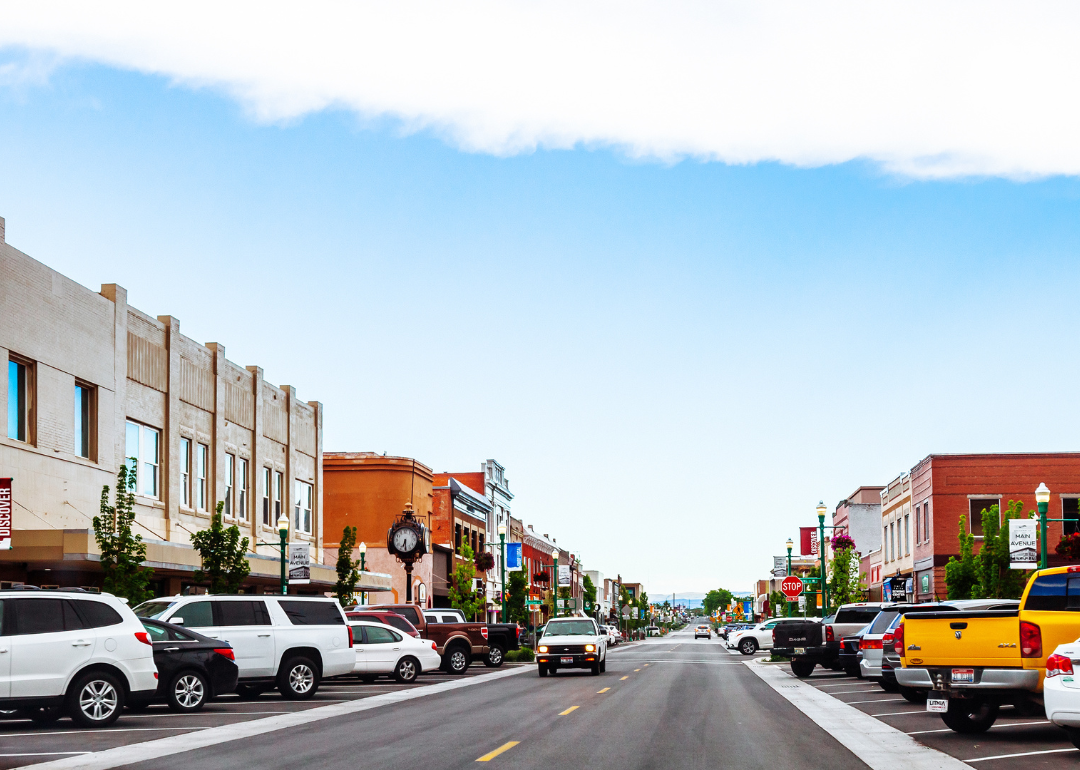 31 / 51
#20. Utah
- College grad poverty rate: 4.6% (33,833 college grads in poverty)
- Overall poverty rate: 7.2% (143,637 people over age 25 in poverty)
- Share of 25+ population who graduated college: 36.8% (740,097 total grads)
- Median earnings:
--- Total population over 25: $46,555
--- Bachelor's degree: $56,175
--- Graduate or professional degree: $81,947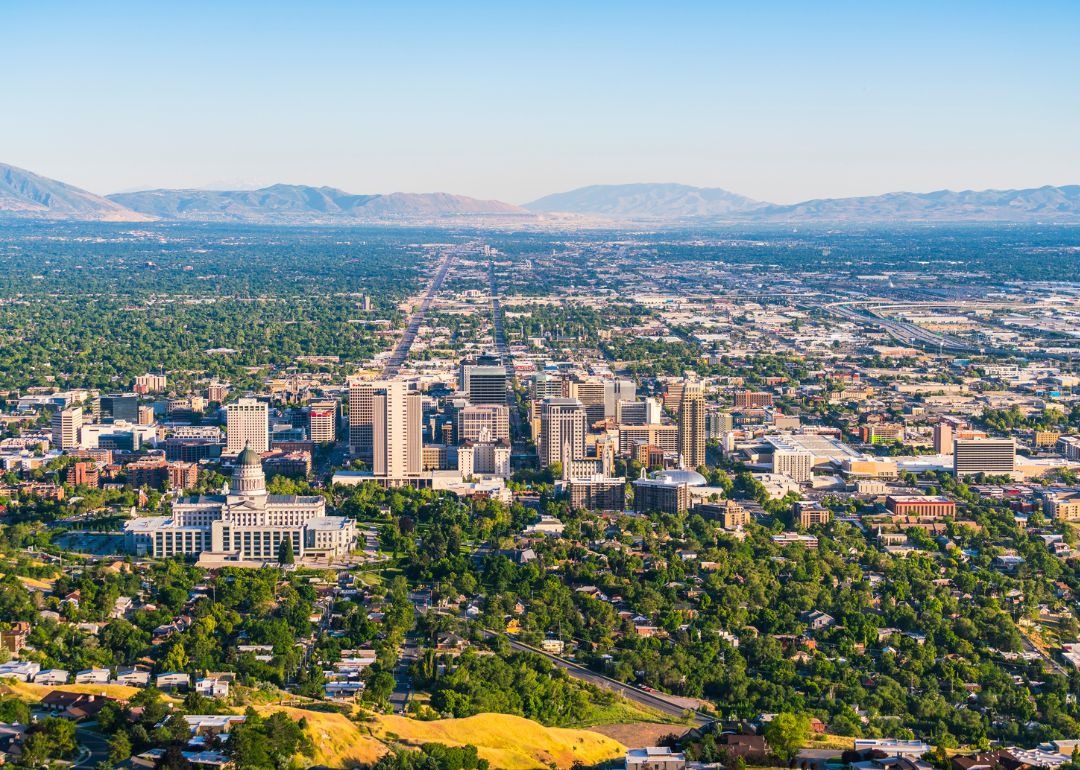 32 / 51
#19. Texas
- College grad poverty rate: 4.6% (290,604 college grads in poverty)
- Overall poverty rate: 11.4% (2,153,225 people over age 25 in poverty)
- Share of 25+ population who graduated college: 33.1% (6,366,437 total grads)
- Median earnings:
--- Total population over 25: $43,802
--- Bachelor's degree: $61,341
--- Graduate or professional degree: $77,567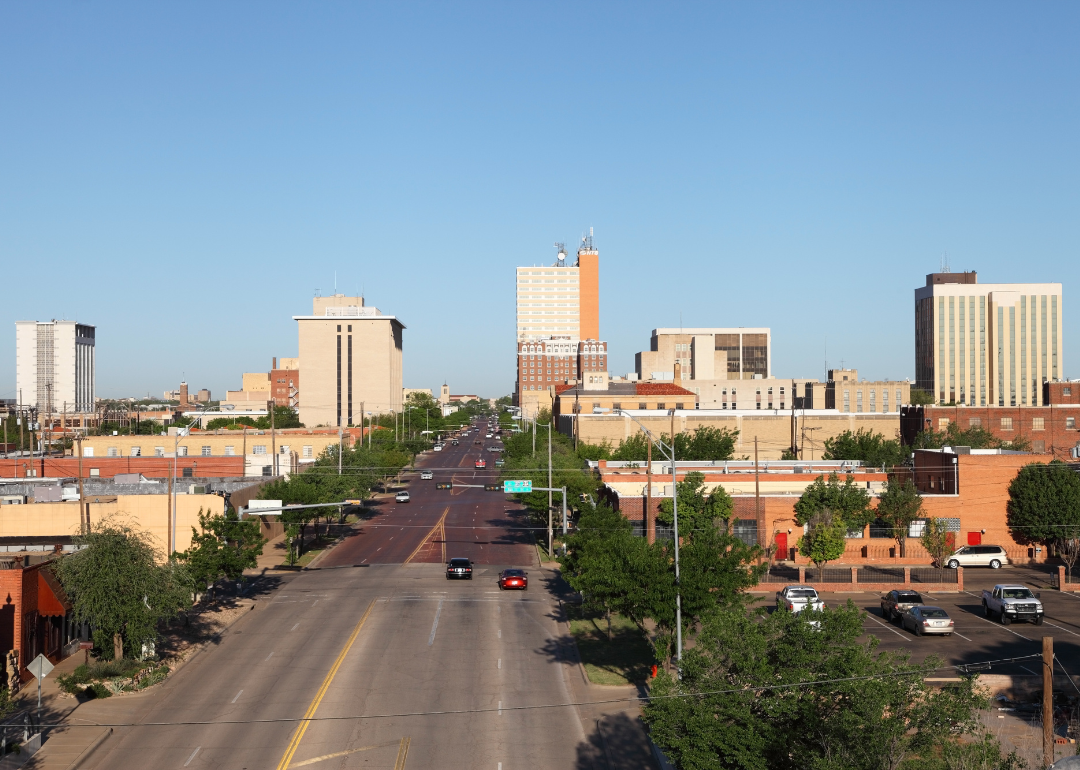 33 / 51
#18. Montana
- College grad poverty rate: 4.7% (12,528 college grads in poverty)
- Overall poverty rate: 9.6% (72,529 people over age 25 in poverty)
- Share of 25+ population who graduated college: 34.8% (266,820 total grads)
- Median earnings:
--- Total population over 25: $40,537
--- Bachelor's degree: $50,126
--- Graduate or professional degree: $65,176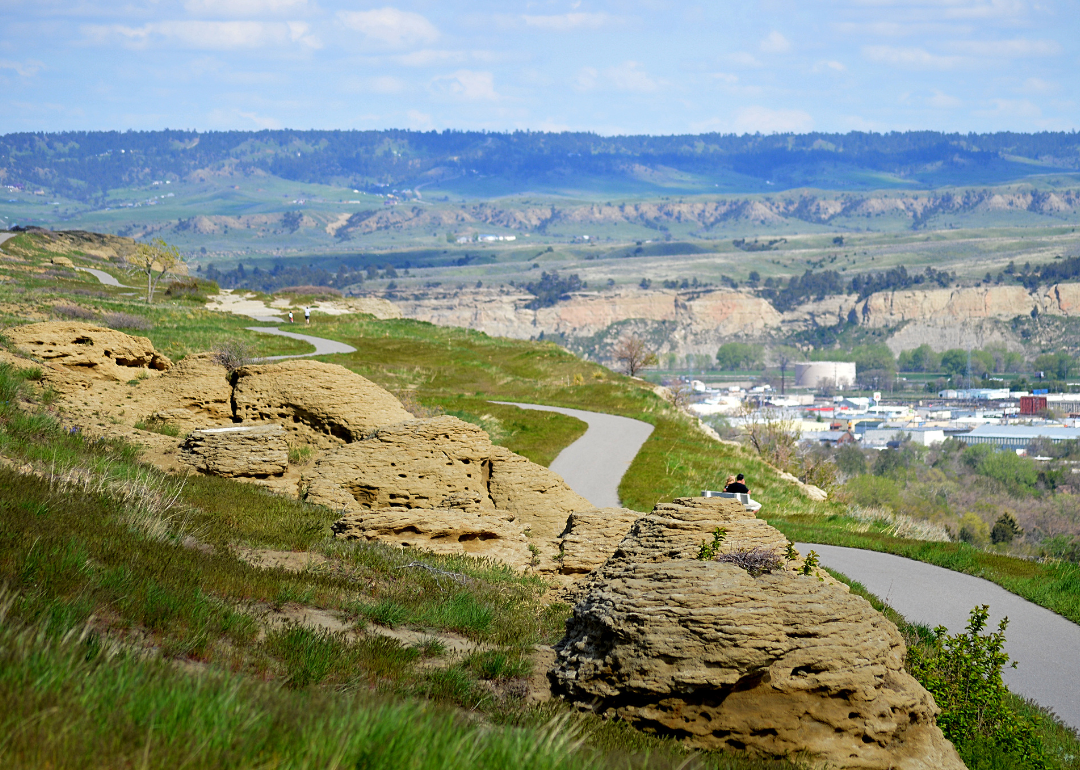 34 / 51
#17. Illinois
- College grad poverty rate: 4.7% (150,136 college grads in poverty)
- Overall poverty rate: 10.2% (875,867 people over age 25 in poverty)
- Share of 25+ population who graduated college: 37.1% (3,242,579 total grads)
- Median earnings:
--- Total population over 25: $48,354
--- Bachelor's degree: $63,725
--- Graduate or professional degree: $81,737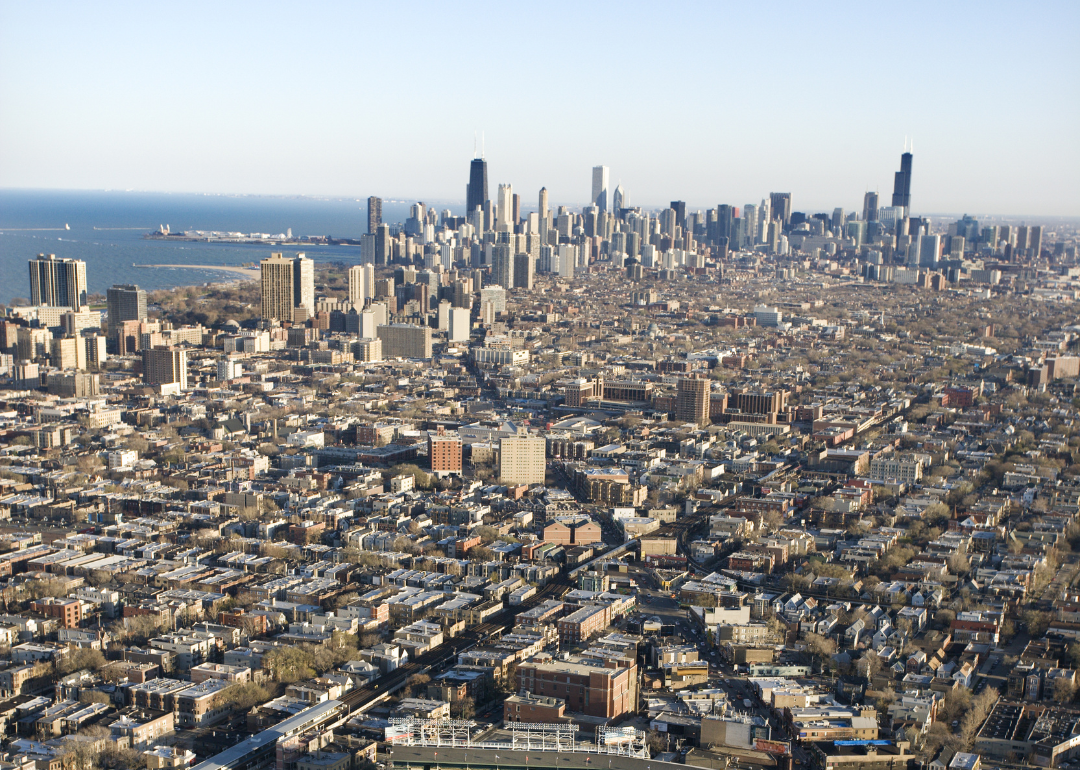 35 / 51
#16. West Virginia
- College grad poverty rate: 4.8% (14,476 college grads in poverty)
- Overall poverty rate: 14.8% (183,437 people over age 25 in poverty)
- Share of 25+ population who graduated college: 24.1% (305,188 total grads)
- Median earnings:
--- Total population over 25: $39,449
--- Bachelor's degree: $50,534
--- Graduate or professional degree: $64,636
36 / 51
#15. Maine
- College grad poverty rate: 4.8% (17,517 college grads in poverty)
- Overall poverty rate: 10.1% (101,440 people over age 25 in poverty)
- Share of 25+ population who graduated college: 36.0% (365,305 total grads)
- Median earnings:
--- Total population over 25: $44,074
--- Bachelor's degree: $51,486
--- Graduate or professional degree: $68,177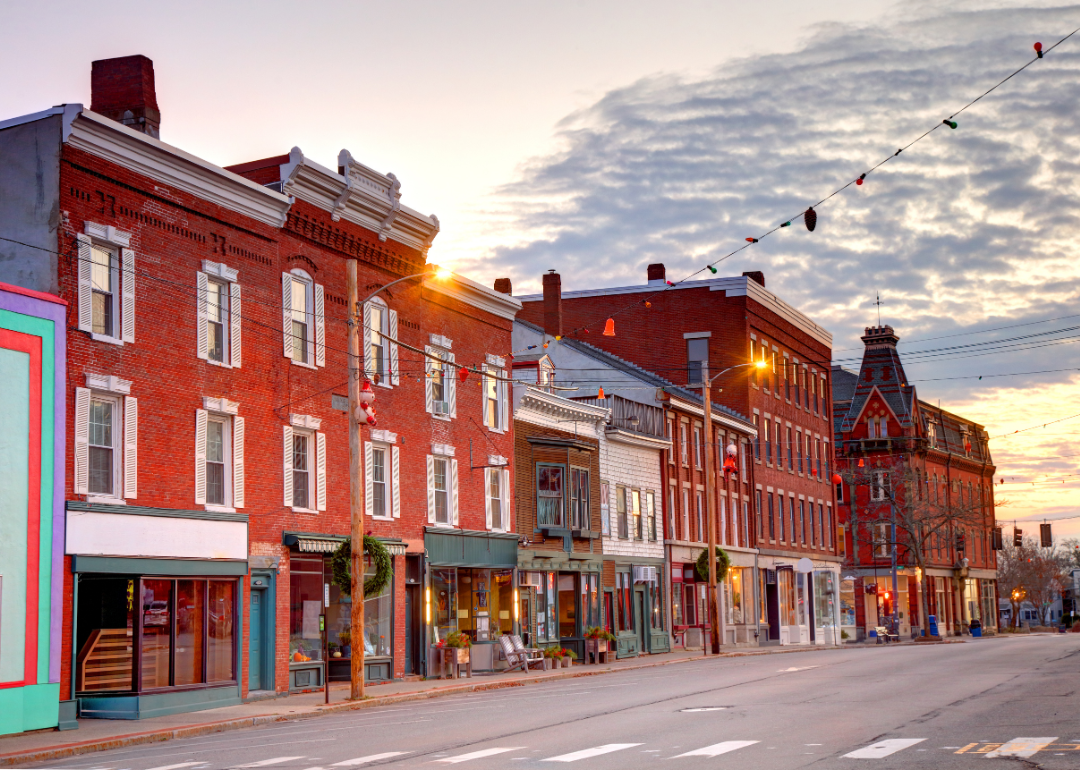 37 / 51
#14. Arkansas
- College grad poverty rate: 4.8% (24,300 college grads in poverty)
- Overall poverty rate: 13.6% (271,605 people over age 25 in poverty)
- Share of 25+ population who graduated college: 25.3% (515,034 total grads)
- Median earnings:
--- Total population over 25: $37,936
--- Bachelor's degree: $51,046
--- Graduate or professional degree: $63,107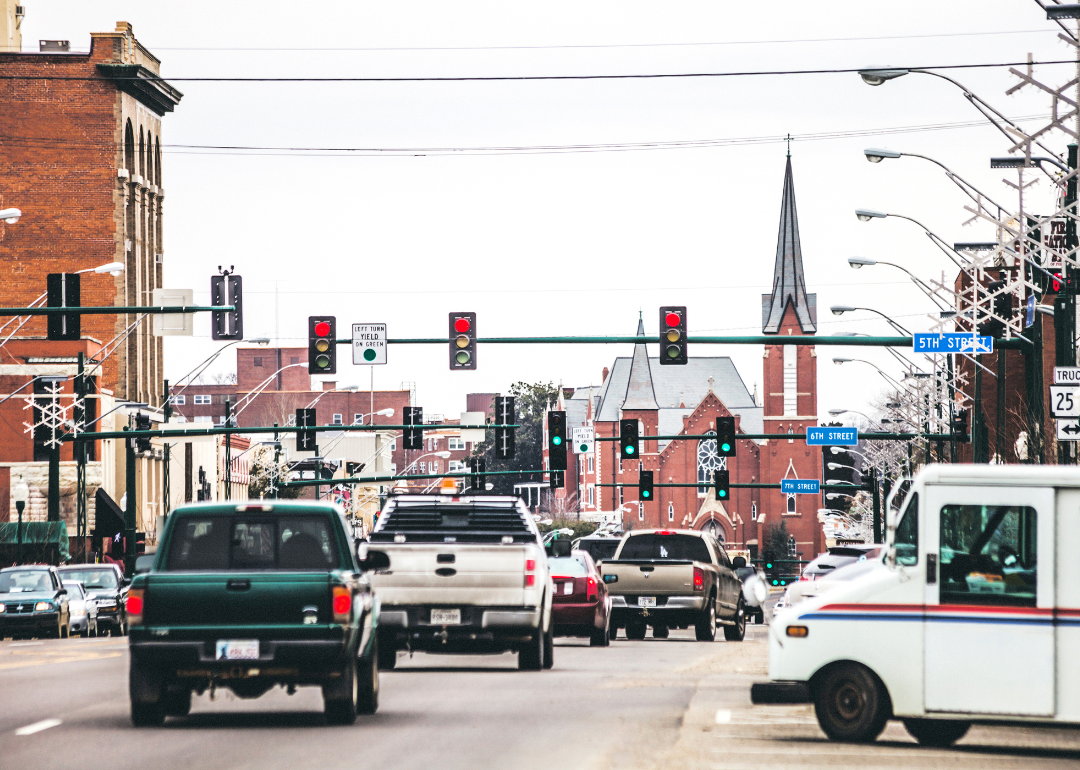 38 / 51
#13. Oklahoma
- College grad poverty rate: 4.8% (35,548 college grads in poverty)
- Overall poverty rate: 12.5% (322,711 people over age 25 in poverty)
- Share of 25+ population who graduated college: 27.9% (737,183 total grads)
- Median earnings:
--- Total population over 25: $40,163
--- Bachelor's degree: $50,771
--- Graduate or professional degree: $65,294
39 / 51
#12. Arizona
- College grad poverty rate: 4.9% (79,325 college grads in poverty)
- Overall poverty rate: 10.6% (521,738 people over age 25 in poverty)
- Share of 25+ population who graduated college: 32.4% (1,615,081 total grads)
- Median earnings:
--- Total population over 25: $44,330
--- Bachelor's degree: $57,474
--- Graduate or professional degree: $74,205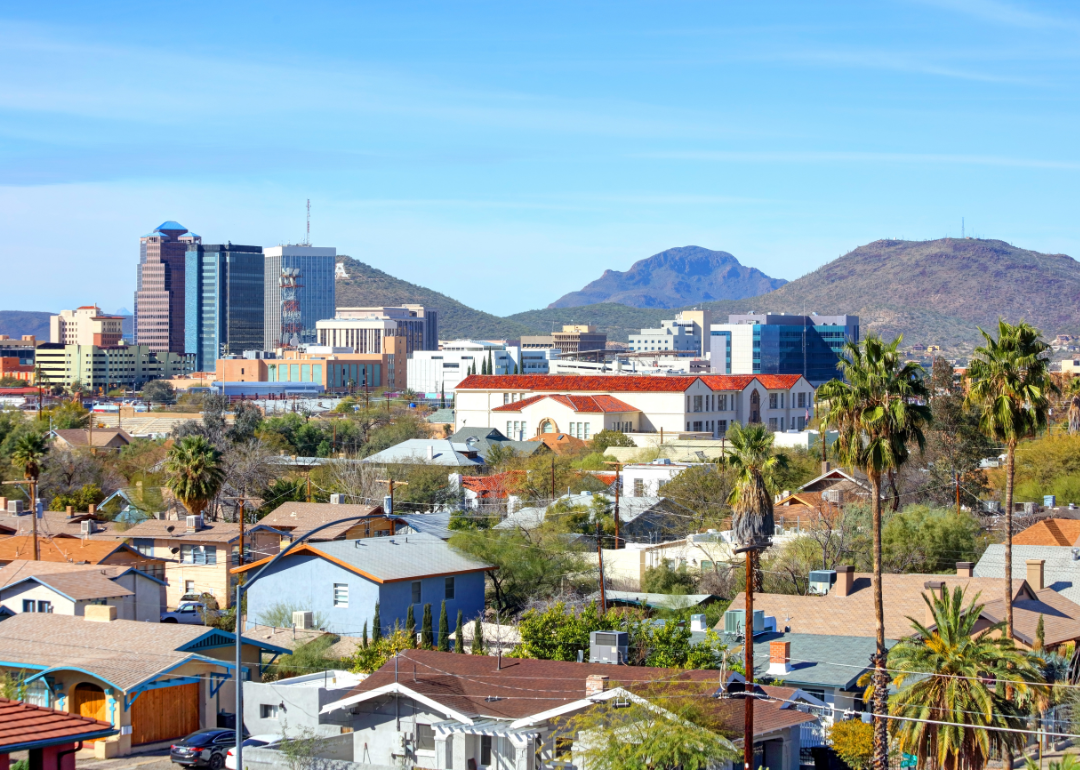 40 / 51
#11. Alabama
- College grad poverty rate: 5.1% (47,818 college grads in poverty)
- Overall poverty rate: 13.4% (455,373 people over age 25 in poverty)
- Share of 25+ population who graduated college: 27.4% (946,766 total grads)
- Median earnings:
--- Total population over 25: $40,362
--- Bachelor's degree: $52,385
--- Graduate or professional degree: $65,470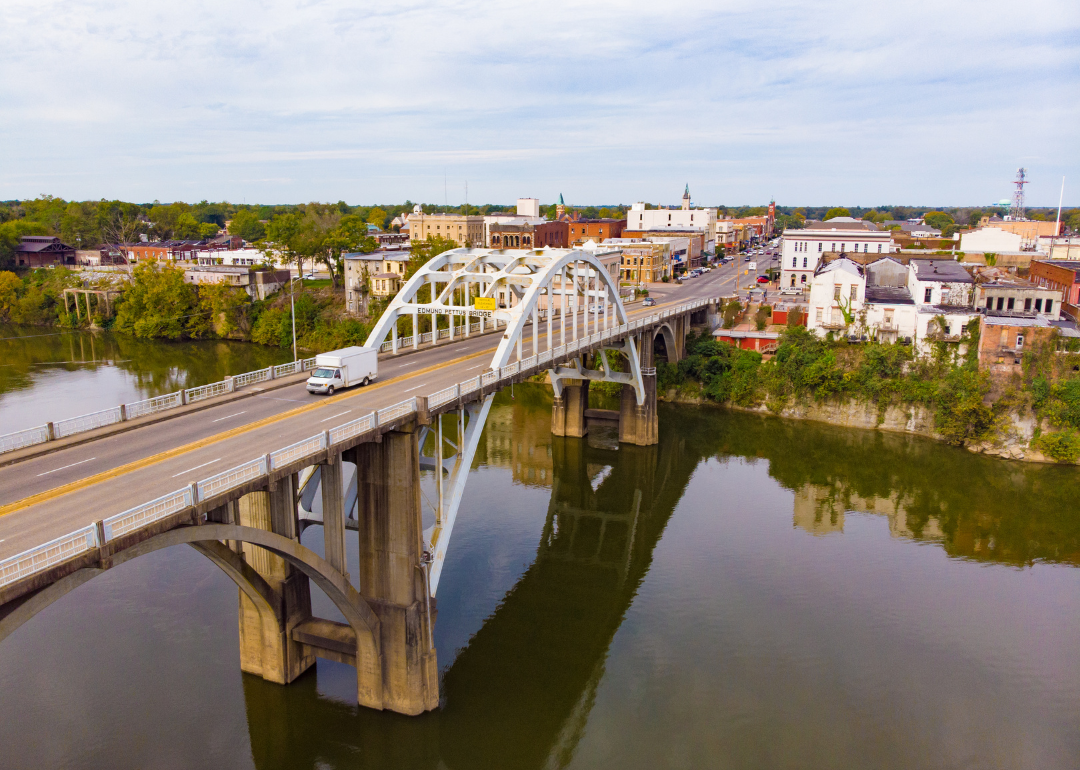 41 / 51
#10. California
- College grad poverty rate: 5.3% (510,733 college grads in poverty)
- Overall poverty rate: 10.6% (2,821,911 people over age 25 in poverty)
- Share of 25+ population who graduated college: 36.2% (9,737,817 total grads)
- Median earnings:
--- Total population over 25: $50,014
--- Bachelor's degree: $71,142
--- Graduate or professional degree: $99,341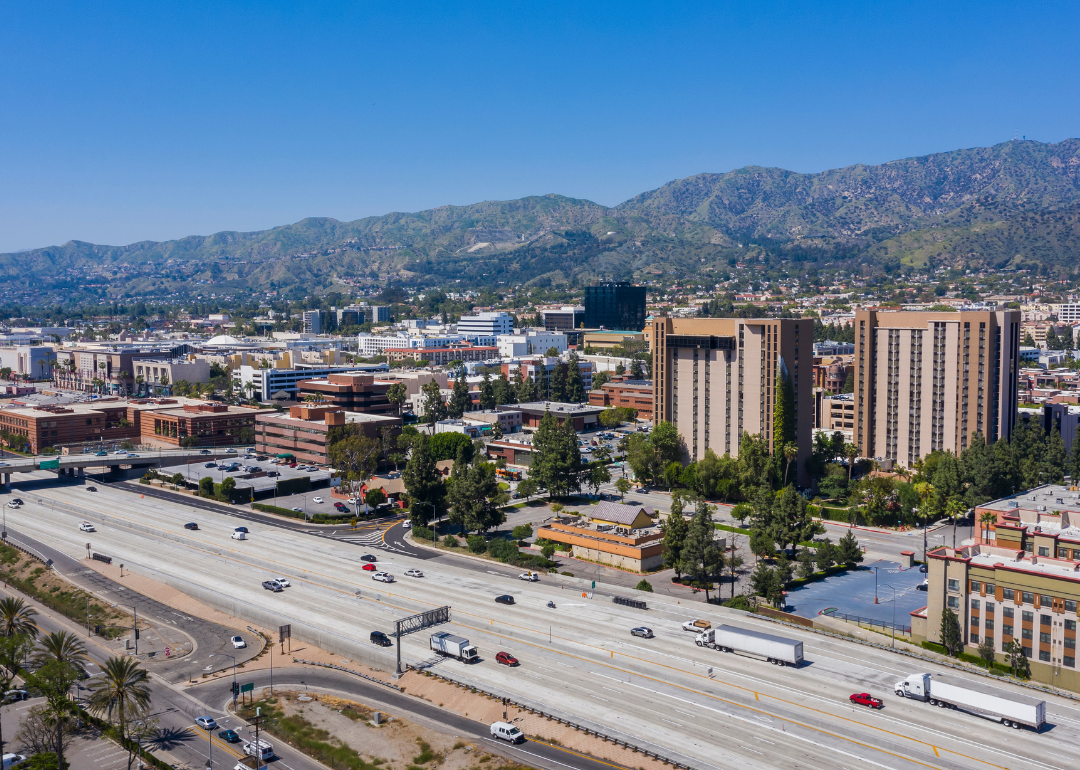 42 / 51
#9. Mississippi
- College grad poverty rate: 5.4% (25,972 college grads in poverty)
- Overall poverty rate: 15.8% (303,201 people over age 25 in poverty)
- Share of 25+ population who graduated college: 24.8% (487,663 total grads)
- Median earnings:
--- Total population over 25: $37,148
--- Bachelor's degree: $45,353
--- Graduate or professional degree: $59,223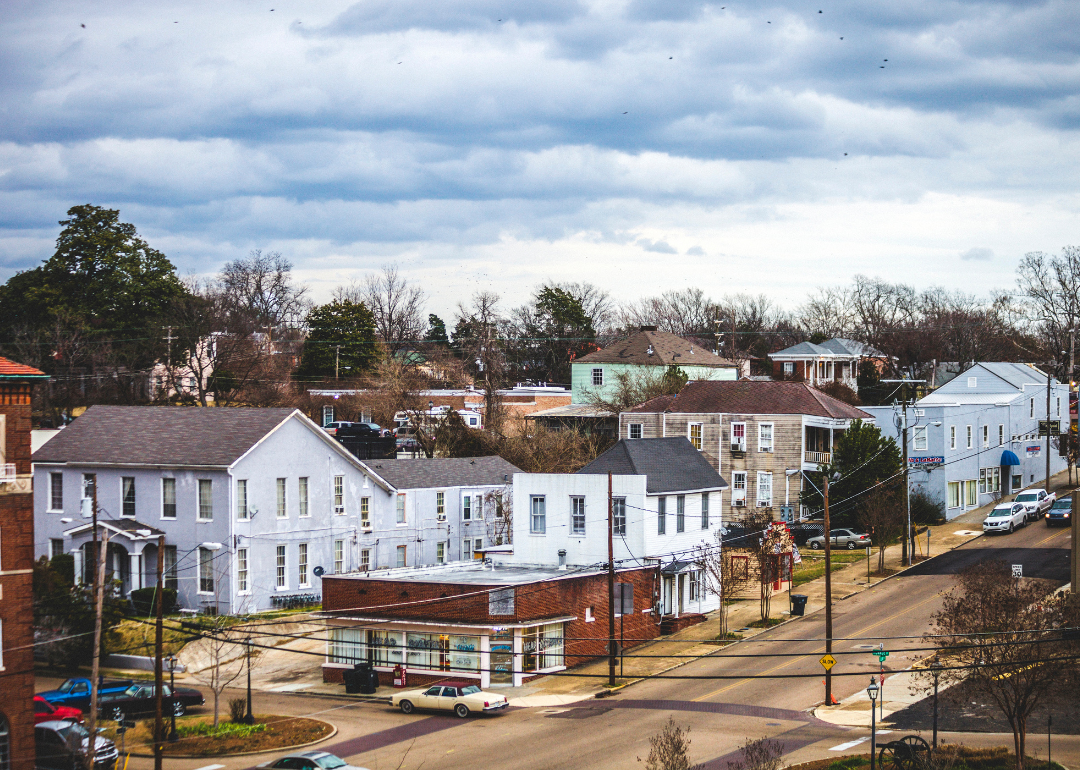 43 / 51
#8. Oregon
- College grad poverty rate: 5.5% (60,636 college grads in poverty)
- Overall poverty rate: 10.7% (319,608 people over age 25 in poverty)
- Share of 25+ population who graduated college: 36.3% (1,101,061 total grads)
- Median earnings:
--- Total population over 25: $45,562
--- Bachelor's degree: $57,419
--- Graduate or professional degree: $78,702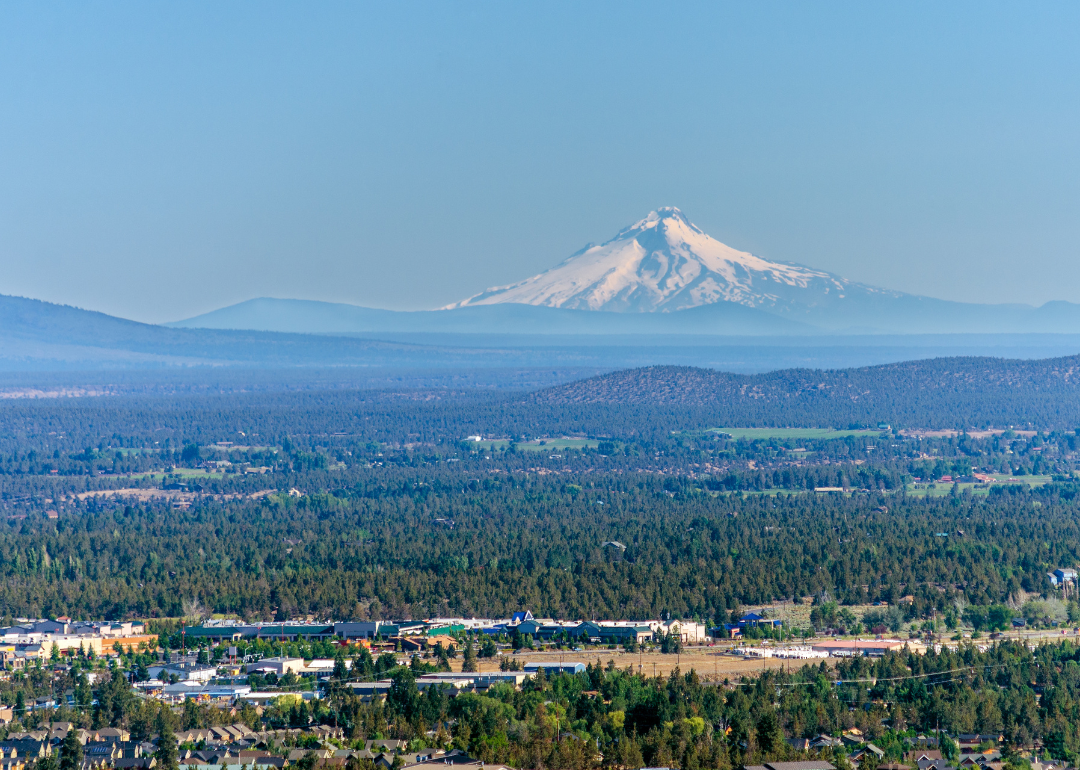 44 / 51
#7. New York
- College grad poverty rate: 5.6% (311,254 college grads in poverty)
- Overall poverty rate: 12.0% (1,655,428 people over age 25 in poverty)
- Share of 25+ population who graduated college: 39.9% (5,583,687 total grads)
- Median earnings:
--- Total population over 25: $50,570
--- Bachelor's degree: $64,928
--- Graduate or professional degree: $82,907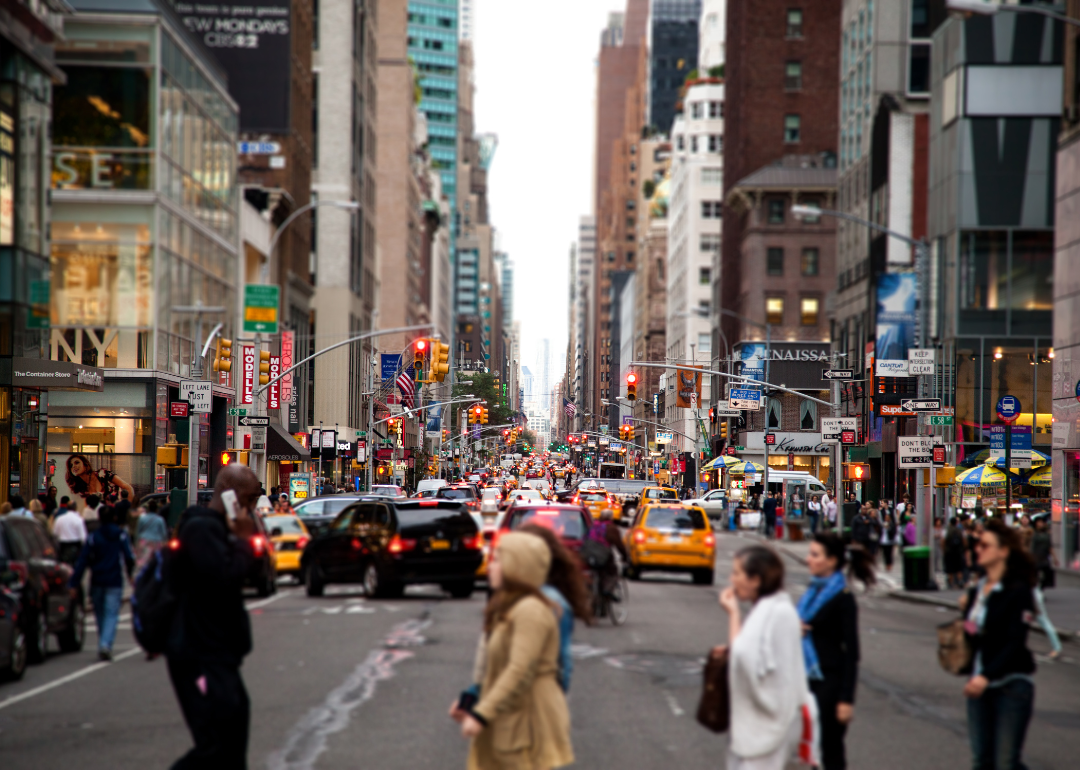 45 / 51
#6. Louisiana
- College grad poverty rate: 5.7% (47,047 college grads in poverty)
- Overall poverty rate: 16.2% (491,559 people over age 25 in poverty)
- Share of 25+ population who graduated college: 26.4% (824,369 total grads)
- Median earnings:
--- Total population over 25: $40,562
--- Bachelor's degree: $52,491
--- Graduate or professional degree: $63,934
46 / 51
#5. Florida
- College grad poverty rate: 5.8% (304,656 college grads in poverty)
- Overall poverty rate: 11.3% (1,760,125 people over age 25 in poverty)
- Share of 25+ population who graduated college: 33.2% (5,226,846 total grads)
- Median earnings:
--- Total population over 25: $40,465
--- Bachelor's degree: $51,381
--- Graduate or professional degree: $67,954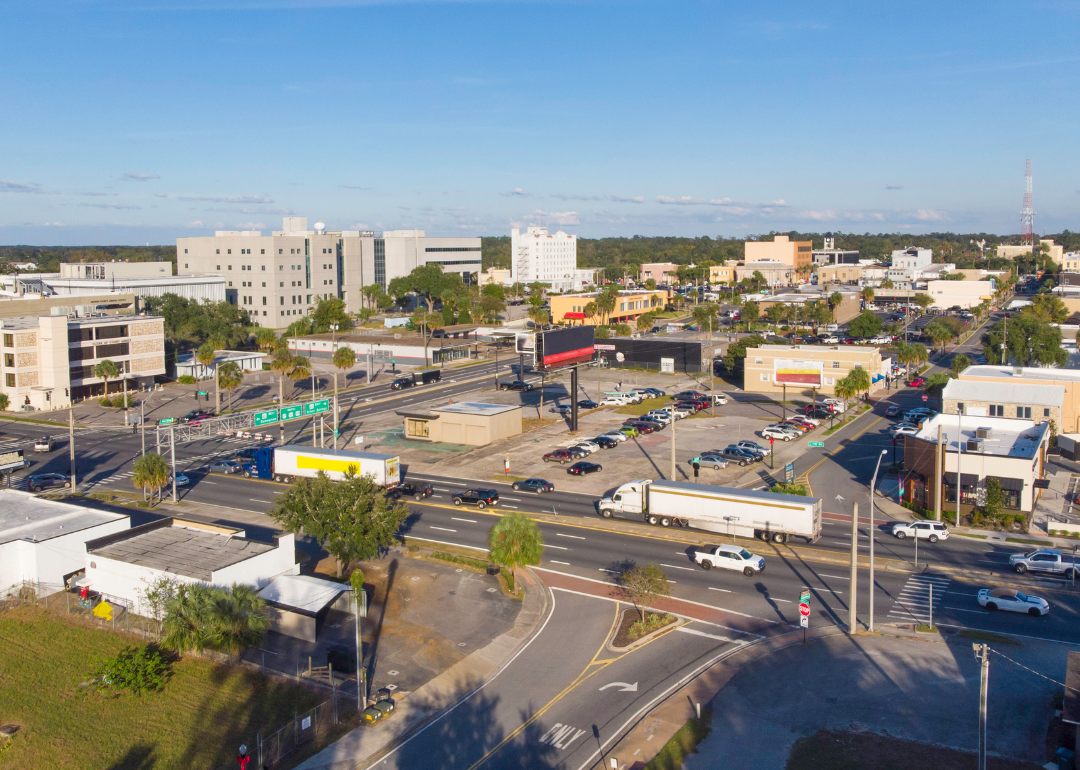 47 / 51
#4. Hawaii
- College grad poverty rate: 5.9% (21,118 college grads in poverty)
- Overall poverty rate: 10.2% (103,143 people over age 25 in poverty)
- Share of 25+ population who graduated college: 35.3% (360,681 total grads)
- Median earnings:
--- Total population over 25: $44,841
--- Bachelor's degree: $55,171
--- Graduate or professional degree: $73,122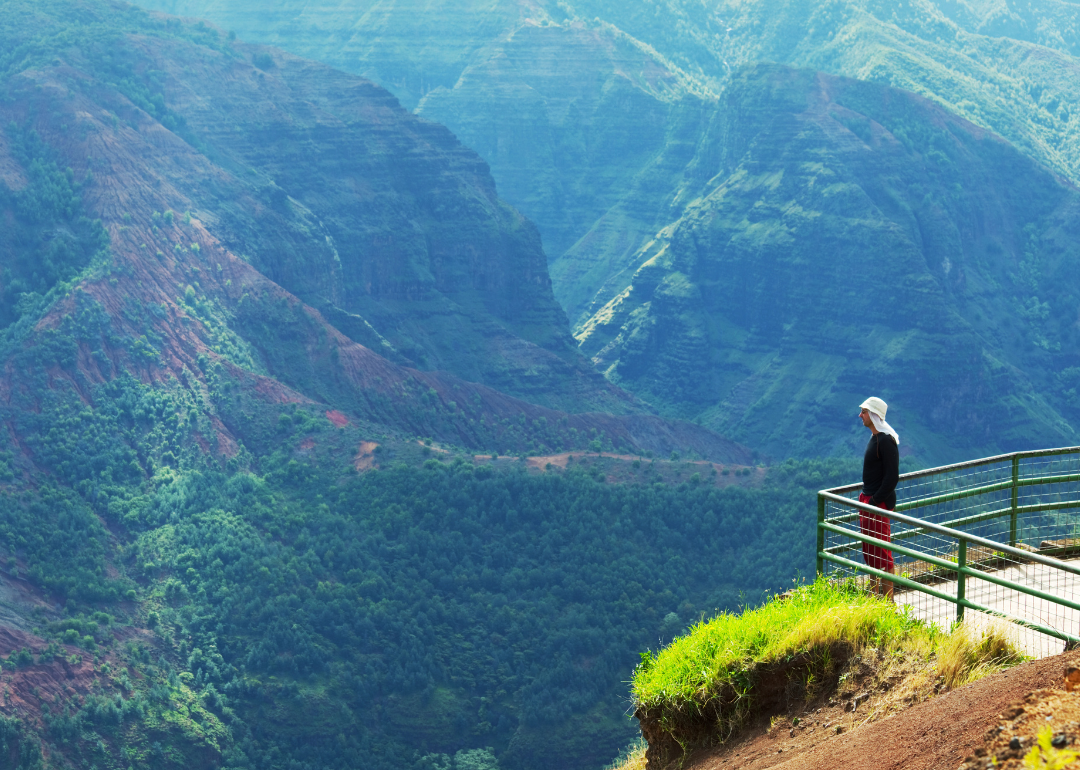 48 / 51
#3. Wyoming
- College grad poverty rate: 6.3% (7,240 college grads in poverty)
- Overall poverty rate: 9.4% (36,750 people over age 25 in poverty)
- Share of 25+ population who graduated college: 29.2% (115,618 total grads)
- Median earnings:
--- Total population over 25: $41,898
--- Bachelor's degree: $50,596
--- Graduate or professional degree: $70,910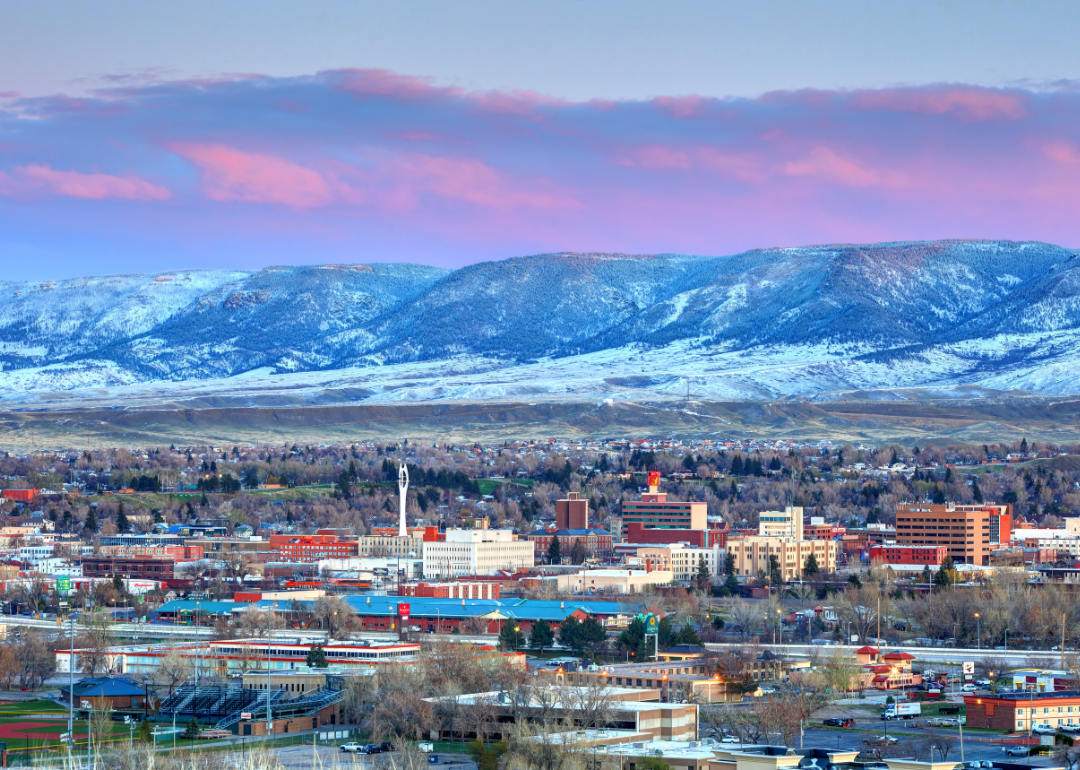 49 / 51
#2. New Mexico
- College grad poverty rate: 6.3% (27,360 college grads in poverty)
- Overall poverty rate: 15.8% (225,455 people over age 25 in poverty)
- Share of 25+ population who graduated college: 30.1% (435,930 total grads)
- Median earnings:
--- Total population over 25: $39,826
--- Bachelor's degree: $49,976
--- Graduate or professional degree: $69,168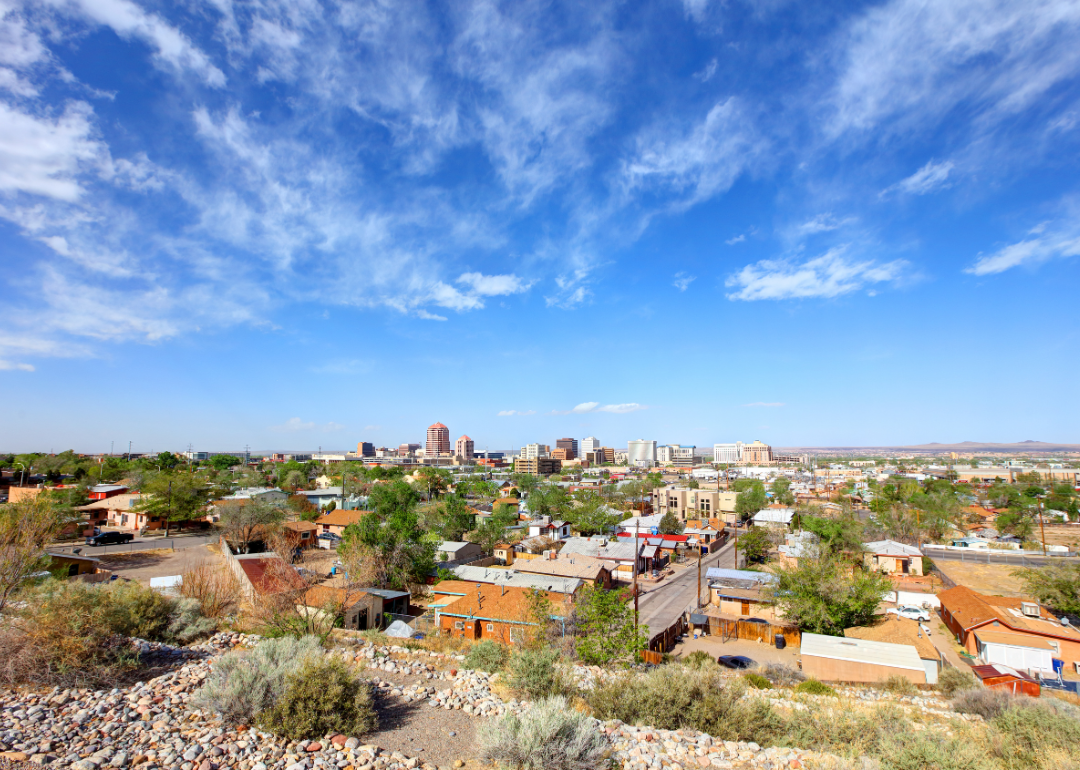 50 / 51
#1. Nevada
- College grad poverty rate: 6.9% (41,619 college grads in poverty)
- Overall poverty rate: 12.5% (270,603 people over age 25 in poverty)
- Share of 25+ population who graduated college: 27.6% (604,626 total grads)
- Median earnings:
--- Total population over 25: $41,237
--- Bachelor's degree: $52,227
--- Graduate or professional degree: $71,112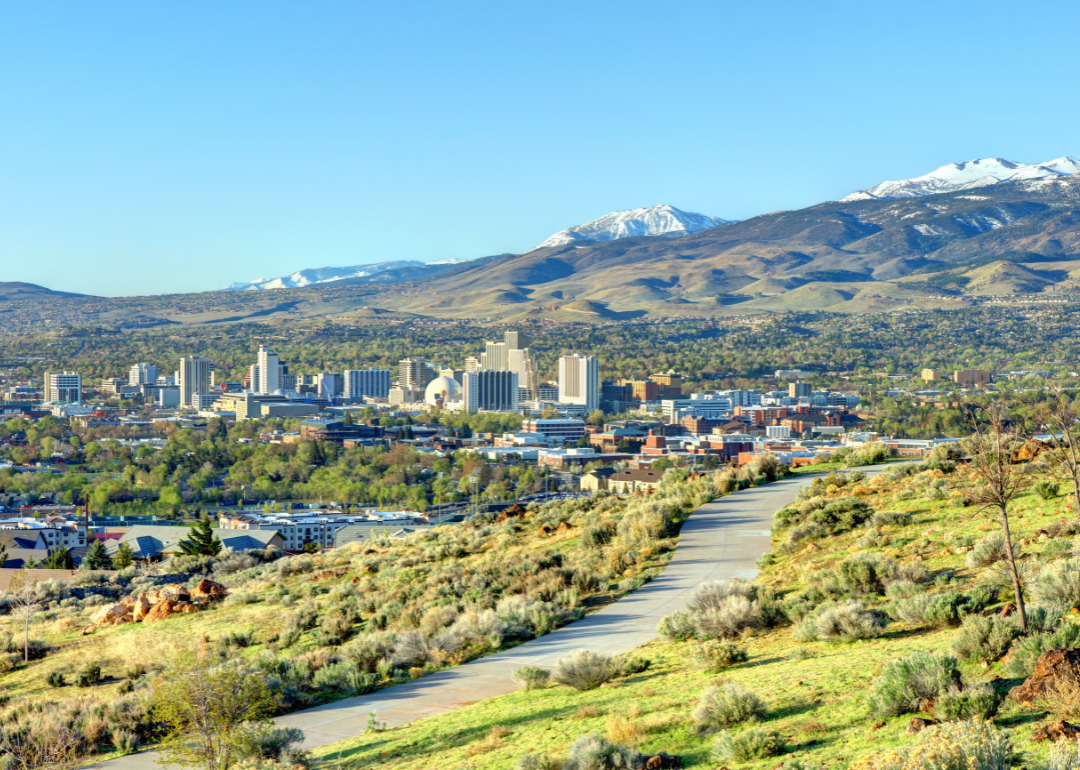 51 / 51
#1. Nevada
- College grad poverty rate: 6.9% (41,619 college grads in poverty)
- Overall poverty rate: 12.5% (270,603 people over age 25 in poverty)
- Share of 25+ population who graduated college: 27.6% (604,626 total grads)
- Median earnings:
--- Total population over 25: $41,237
--- Bachelor's degree: $52,227
--- Graduate or professional degree: $71,112