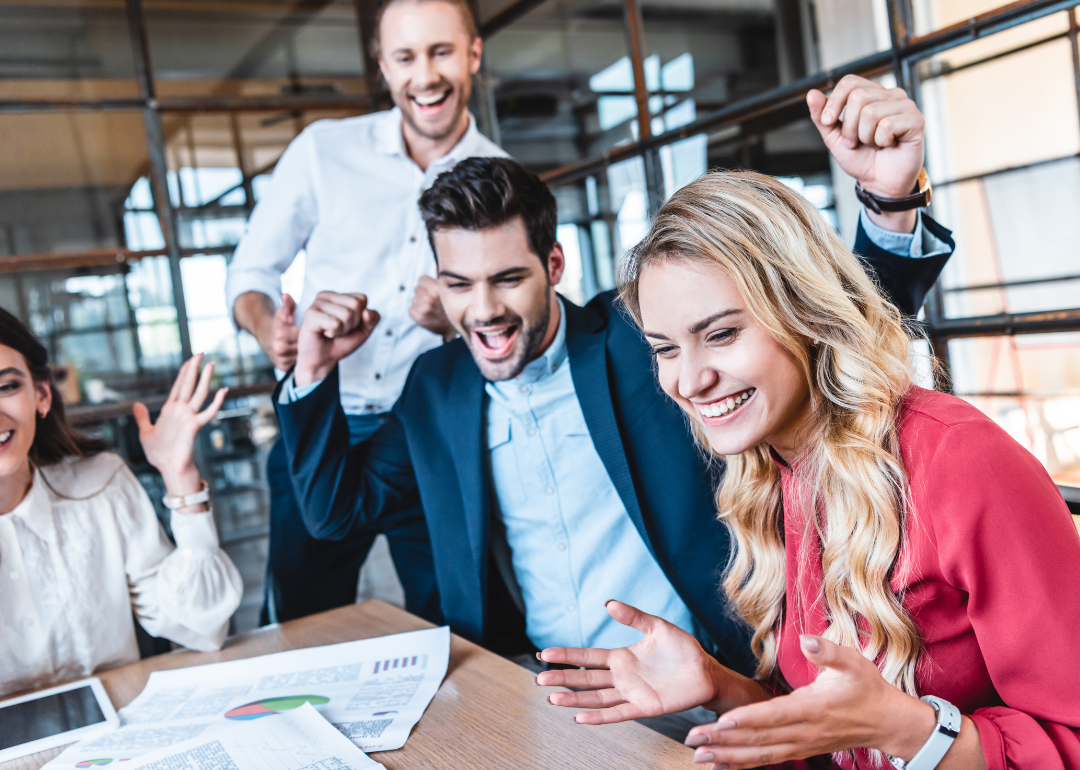 Stacker Connect
These US cities offer the highest returns on your college investment
These US cities offer the highest returns on your college investment
Understanding the financial payoff of your college degree in today's economic climate is no longer optional: It's a crucial factor that could spell the difference between achieving financial freedom and facing a lifetime of student loan payments. This is especially true as tuition fees continue to rise and the job market values specialized skills more than ever.
MoneyGeek crunched the numbers on median earnings for college graduates with associate, bachelor's, and master's degrees across a variety of fields. We analyzed data from the Census Bureau's one-year American Community Survey and the Department of Education's College Scorecard to identify the cities where post-secondary degrees are most lucrative.
Key findings
Tech Cities Lead the Pack: Cities traditionally known for their tech industries show the highest median earnings for graduates. For instance, in Los Angeles, the average salary with a master's degree four years after graduation is $189,432, compared to $95,216 for a bachelor's.

Registered Nursing Earnings Are Consistently High: The field of registered nursing shows strong earnings regardless of degree level. In New York City, an associate degree in this field has an average starting salary of $84,992, growing to $101,415 four years after graduating.

New England Shines in Sciences: Bachelor's degrees in chemistry and biology see significant fourth-year salary growth in New England states, particularly in cities like Providence, Rhode Island, and Boston, Massachusetts.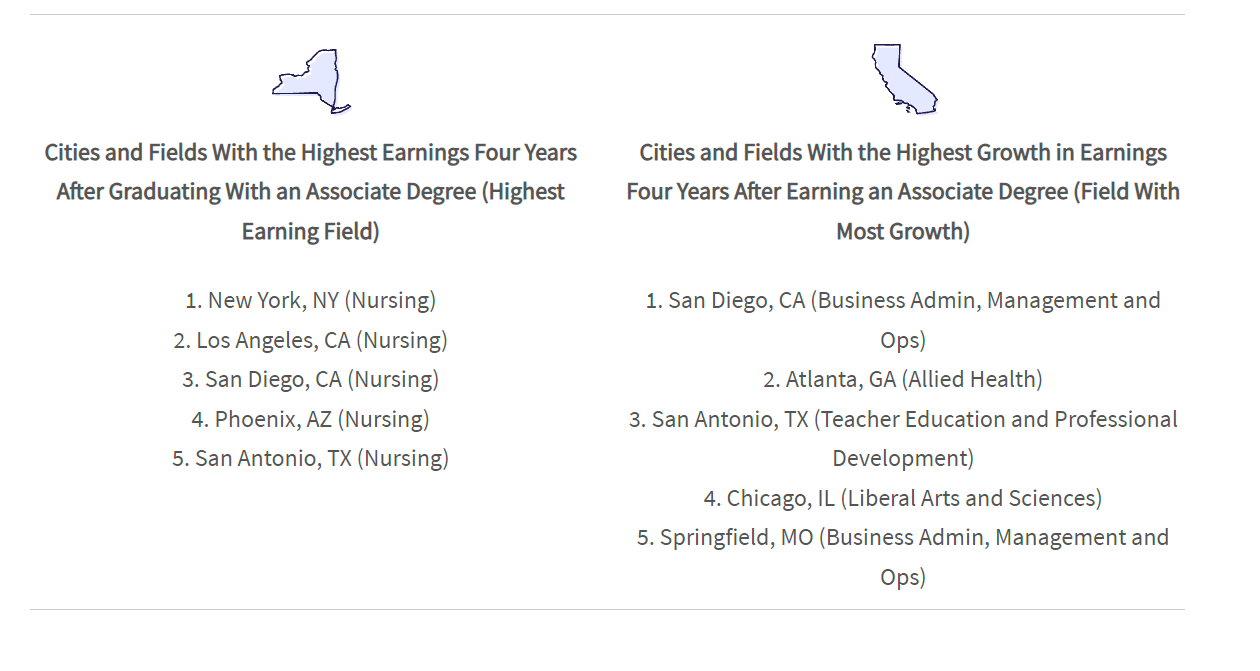 1 / 3
Cities with the highest earning potential for an associate degree
In the five-highest earning cities for workers with associate degrees, nursing was the highest-earning field. Registered nursing with this level of education is particularly lucrative in New York City and Los Angeles, where first-year salaries are above $77,000, growing about 20% four years after graduation to $101,415 and $95,549, respectively. San Diego ($79,803) follows, along with Phoenix ($72,602) and San Antonio ($71,687).
For those focused on salary growth four years after graduating with an associate degree, salaries for those with degrees in business administration in San Diego saw salaries that started at $20,394 and skyrocketed 113% to $43,526 after four years. Atlanta and San Antonio also show promising salary growth for those with associate degrees in teacher education and liberal arts, offering 86% and 81% salary growth after four years, respectively.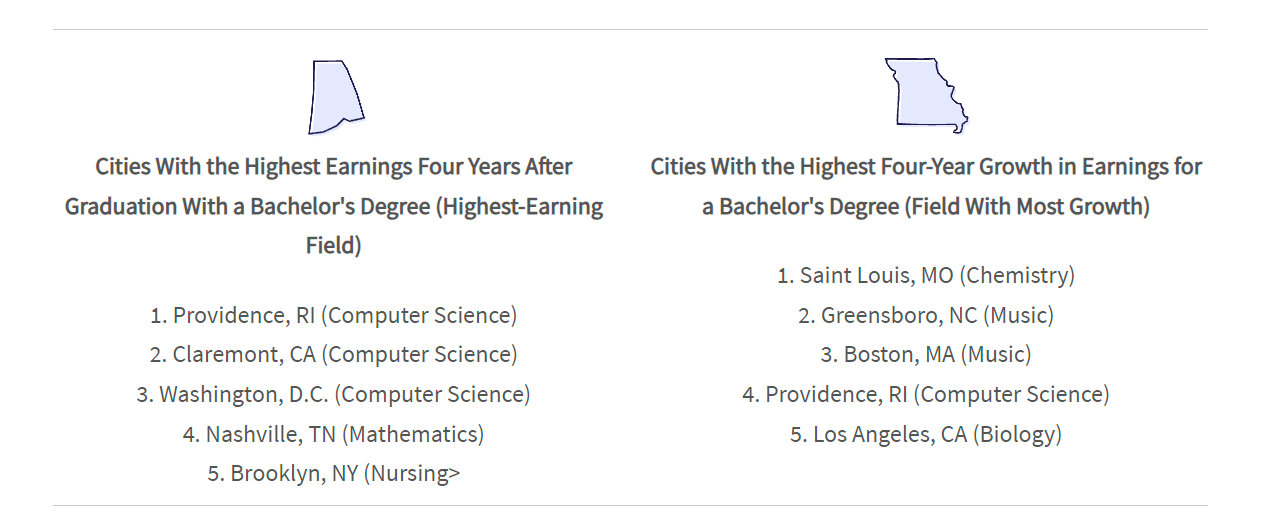 2 / 3
Top cities and fields for pay with a bachelor's degree
MoneyGeek's analysis found that bachelor's degree graduates in tech and health care fields have the highest earnings after graduation overall. Providence, Rhode Island, and Claremont, California, emerge as leading cities for computer science graduates. In Providence, the average first-year salary for those in this field stands at $98,310 and rises to $218,525 four years after graduation. Claremont starts with an average salary of $126,267, increasing to $183,524.
In terms of salary growth, chemistry graduates in St. Louis, Missouri, saw the largest increase in earnings among those with bachelor's degrees, with a 188% increase after four years to $78,215. Music majors in Greensboro, North Carolina, followed with a 186% growth in earnings, amounting to a fourth-year salary of $67,432. Northeastern cities, such as Providence and Boston, also rank high for music and computer science majors, respectively, with four-year earnings after graduation increasing by over 122%.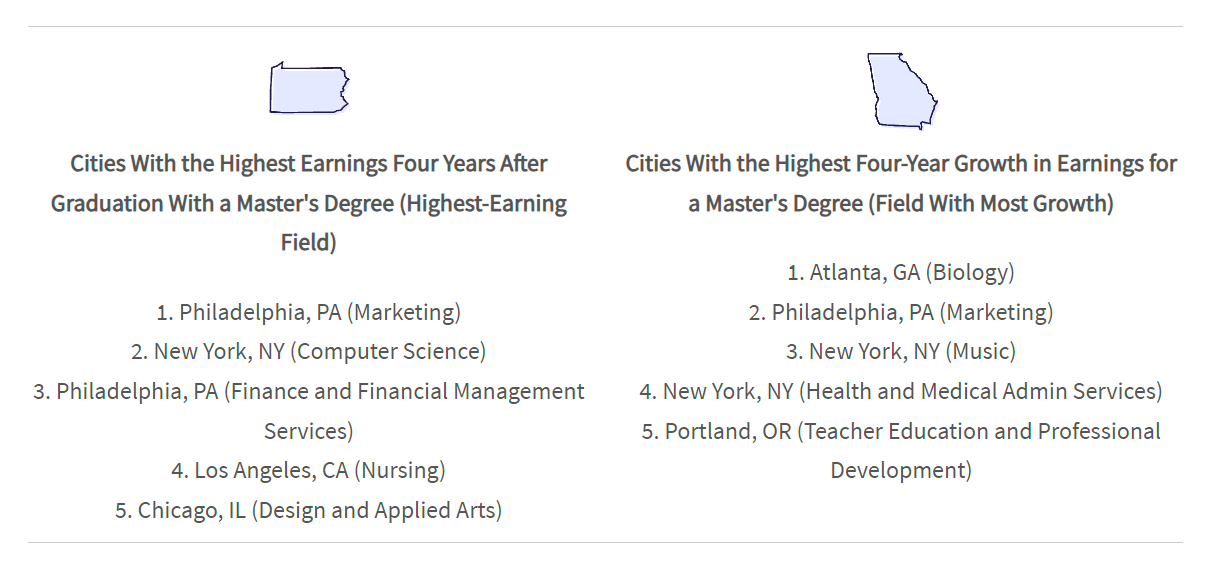 3 / 3
Cities and fields with the highest return on a master's degree
One year after graduation, nurses in New York City, Los Angeles, and Boston see the highest average earnings (over $109,000) in the country. Los Angeles also ranks high for one-year salaries for those with master's degrees in business administration, management, and operations, while Chicago ranks high for those working in design and applied arts.
Master's graduates in marketing can expect an average salary of $192,704 in Philadelphia after four years — that's an 88% increase from their first year. Computer science degree-holders in New York City earn a fourth-year average salary of $159,024, up 47% from the first year after graduating. These fields outpace their bachelor's degree counterparts with more than double the earnings growth four years post-graduation.
Tips to maximize your post-graduate earnings
Our study reveals that location matters when it comes to maximizing the financial returns on your educational investment. Although some of the largest cities in the country offer lucrative prospects — especially for higher degrees — unexpected cities also offer promising growth rates for associate and bachelor's degrees. To maximize your post-graduate earnings, consider these tips: 
Be flexible with location: Being willing to relocate can significantly boost your earnings. Using a cost-of-living calculator can help you understand what to expect in a new area and how far your new income will stretch.
Take time to skill up: Complement your degree with additional skills. This not only makes you more marketable but can also give you an edge in salary negotiations.
Understand your future earnings: Use career resources to research potential earnings in your field.
Consider the cost: Weigh the cost of tuition against potential earnings in your chosen field to ensure a good return on investment, as this is crucial for paying down student loan debt after graduation.
Methodology
To determine the U.S. cities where secondary degrees are most lucrative, we analyzed data for median earnings post-graduation for those with secondary degrees. These include associate, bachelor's, and master's degrees.
We also analyzed how these earnings differ by field of study one and four years after graduation. Specifically, we considered the 50 fields of study with the largest number of records in the data. We used the average of the median earnings across all colleges within a city and only included cities with more than five records.
Data by degree program is from the Census Bureau's one-year American Community Survey. Data by field of study is from the Department of Education's College Scorecard.
This story was produced by MoneyGeek and reviewed and distributed by Stacker Media.