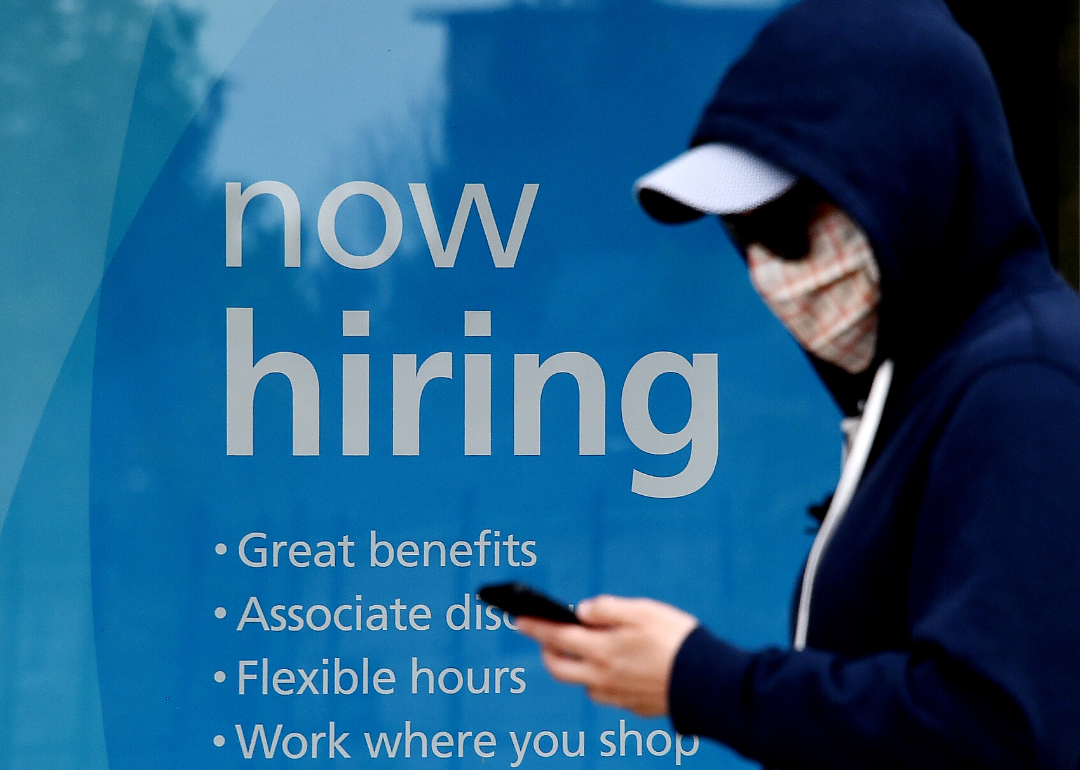 Tracking COVID-19's impact on employment in every state
OLIVIER DOULIERY/AFP via Getty Images
Tracking COVID-19's impact on employment in every state
The COVID-19 pandemic has hit the U.S. economy like a ton of bricks. Between business shutdown orders, supply chain disruptions, travel bans, social distancing orders, and, of course, the health impact of the coronavirus, entire industries across the country have been decimated. Profits have been wiped out, but worse yet, millions of workers have found themselves out of a job—either furloughed or permanently laid off. As a result, almost every state in the nation has seen unparalleled job-loss numbers, and local unemployment benefits agencies have struggled to process the waves of applications they've received over the last few months.
While every state is reeling from the massive losses of employment opportunities caused by the public health crisis, no two areas are having the exact same experience, especially now that state governments are starting to lift their lockdowns. Some states like New Hampshire have seen their unemployment rates start to level off from the sky-high numbers they were seeing a couple of months ago. Other states like California are still enduring new rounds of layoffs announced by major corporations, making the hope for a recovery feel even more distant. Then there's Hawaii, a state that relies heavily on two industries that have been nearly wiped out by the pandemic: tourism and leisure. Experts from the University of Hawaii Economic Research Organization predict the state won't see visitor numbers return to their 2019 levels for another five years. Without travelers to care for, Hawaiians in the tourism and leisure industries may face limited work opportunities for years to come.
In its ongoing effort to track COVID-19's impact on workers, Stacker compiled data from the Bureau of Labor Statistics (BLS) on how unemployment rates have changed. States are ranked by their highest rates of unemployment as of May 2020, with ties broken by the biggest change in the unemployment rate from February to May 2020. We also looked at news reports and other government data to zero in on the employment scene in every state.
Want to know how workers in your state have fared during the pandemic? Explore the story to see the latest unemployment rates in all 50 states.
You may also like: Best value colleges in every state