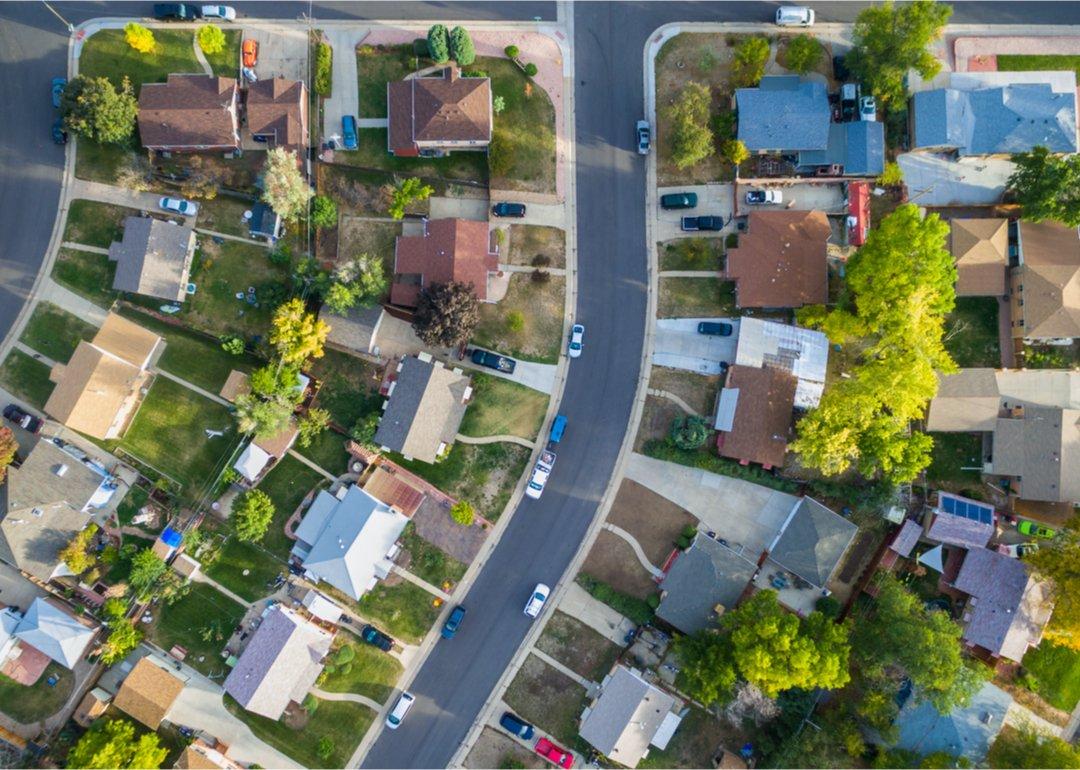 Cities with the fastest-growing home prices in California
Arina P Habich // Shutterstock
Cities with the fastest-growing home prices in California
Stacker compiled a list of cities with the fastest growing home prices in California using data from Zillow. Cities are ranked by the dollar change in Zillow Home Values Index for all homes from the twelve months ending July 2022. The charts in this story were created automatically using Matplotlib. Data was available for 983 cities and towns in California. Home values in the top city on the list grew by $1,108,304 over the last 12 months.
Metros with the most cities in the top 50
#1. San Francisco-Oakland-Hayward: 17
#2. Los Angeles-Long Beach-Anaheim: 11
#3. San Jose-Sunnyvale-Santa Clara: 6
#4. San Diego-Carlsbad: 5
#4. Santa Maria-Santa Barbara: 5
#6. Salinas: 3
#7. Oxnard-Thousand Oaks-Ventura: 1
#7. Sacramento--Roseville--Arden-Arcade: 1
#7. Santa Rosa: 1
Read on to see which cities made the list.
You may also like: Counties with the most born-and-bred residents in California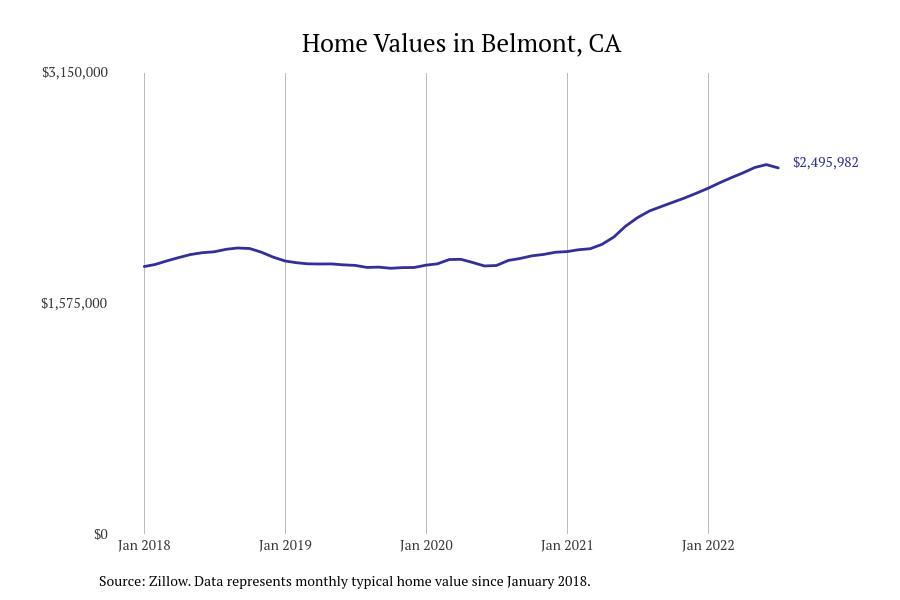 1 / 50
#50. Belmont
- Typical home value: $2,495,982
- 1-year price change: +$339,850 (+15.8%)
- 5-year price change: +$819,064 (+48.8%)
- Metro area: San Francisco-Oakland-Hayward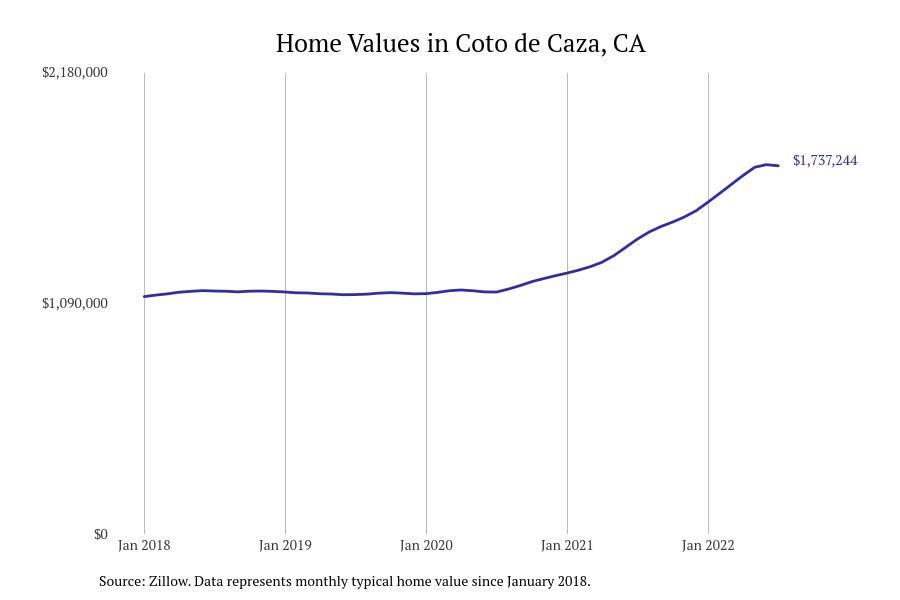 2 / 50
#49. Coto de Caza
- Typical home value: $1,737,244
- 1-year price change: +$345,674 (+24.8%)
- 5-year price change: +$639,474 (+58.3%)
- Metro area: Los Angeles-Long Beach-Anaheim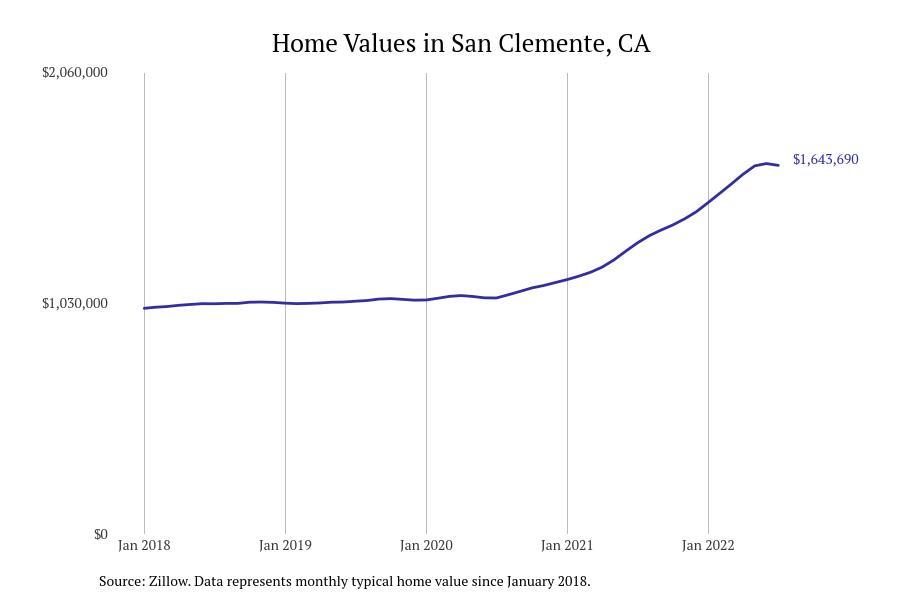 3 / 50
#48. San Clemente
- Typical home value: $1,643,690
- 1-year price change: +$345,789 (+26.6%)
- 5-year price change: +$665,660 (+68.1%)
- Metro area: Los Angeles-Long Beach-Anaheim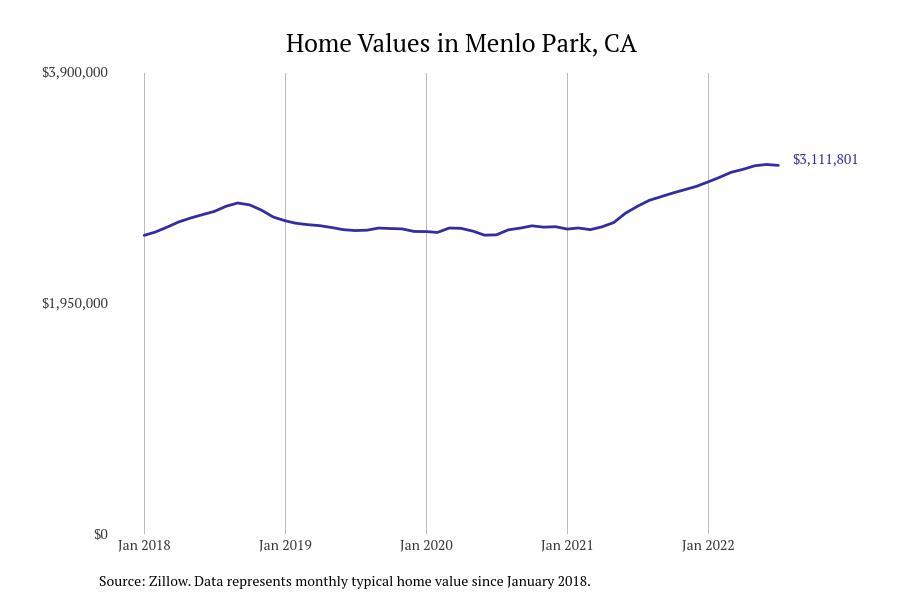 4 / 50
#47. Menlo Park
- Typical home value: $3,111,801
- 1-year price change: +$345,824 (+12.5%)
- 5-year price change: +$834,288 (+36.6%)
- Metro area: San Francisco-Oakland-Hayward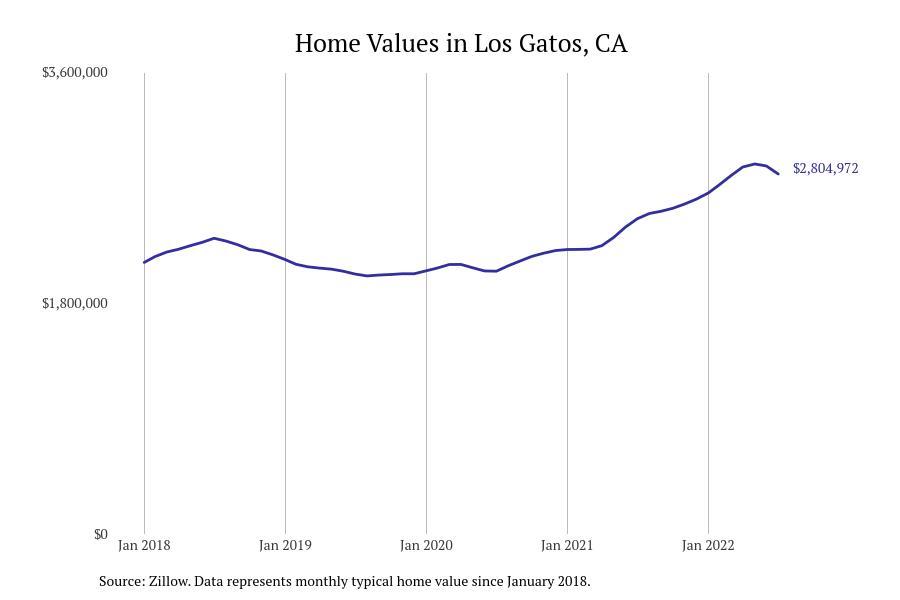 5 / 50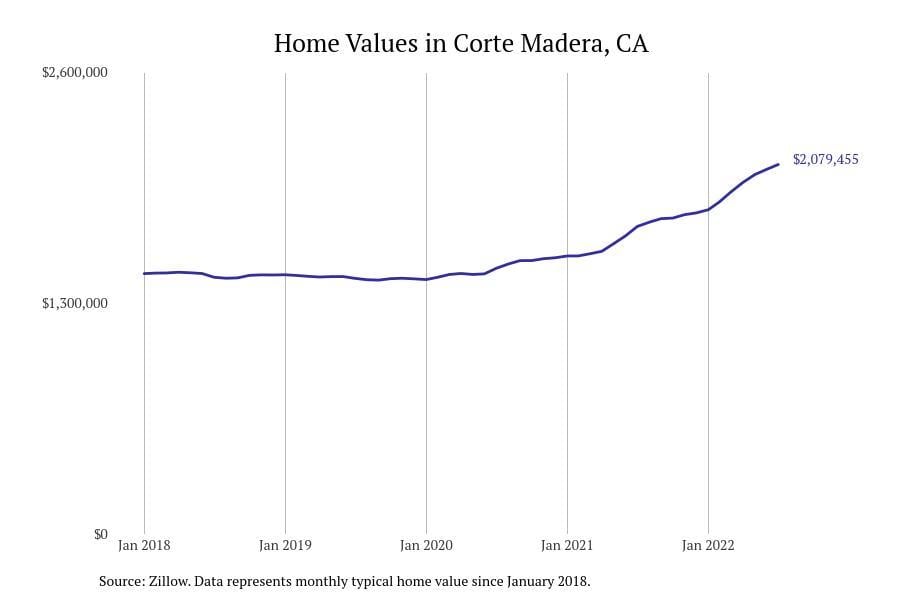 6 / 50
#45. Corte Madera
- Typical home value: $2,079,455
- 1-year price change: +$348,523 (+20.1%)
- 5-year price change: +$682,621 (+48.9%)
- Metro area: San Francisco-Oakland-Hayward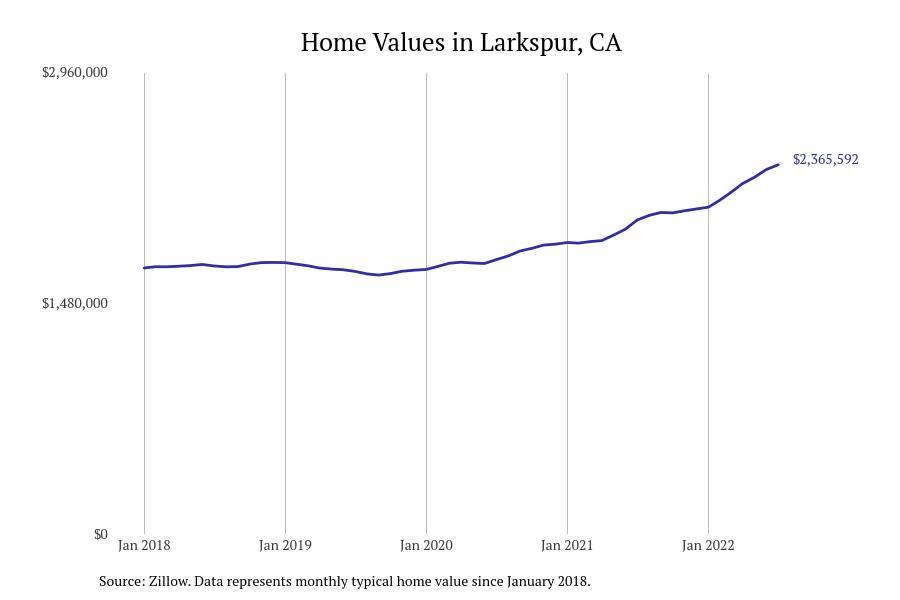 7 / 50
#44. Larkspur
- Typical home value: $2,365,592
- 1-year price change: +$353,213 (+17.6%)
- 5-year price change: +$736,400 (+45.2%)
- Metro area: San Francisco-Oakland-Hayward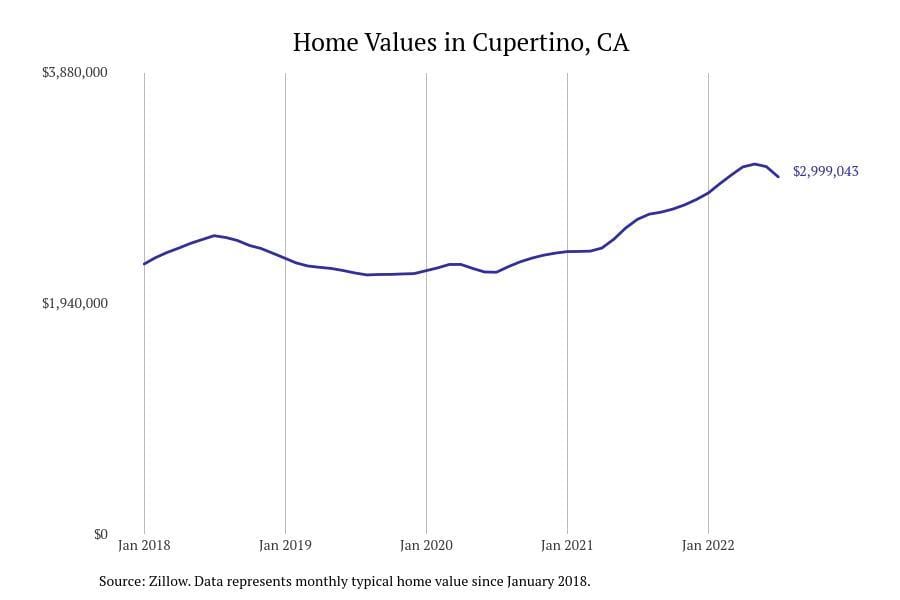 8 / 50
#43. Cupertino
- Typical home value: $2,999,043
- 1-year price change: +$356,806 (+13.5%)
- 5-year price change: +$1,007,843 (+50.6%)
- Metro area: San Jose-Sunnyvale-Santa Clara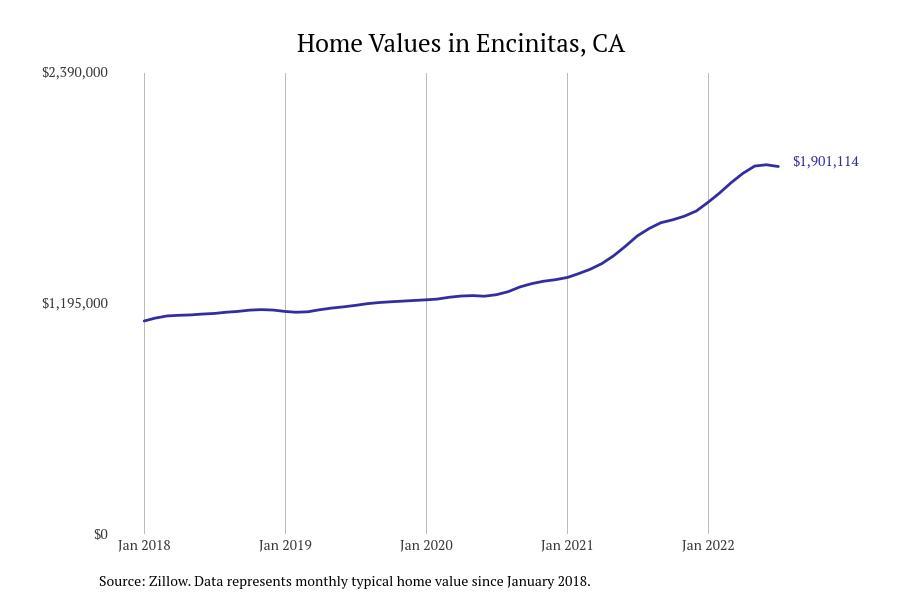 9 / 50
#42. Encinitas
- Typical home value: $1,901,114
- 1-year price change: +$358,936 (+23.3%)
- 5-year price change: +$833,862 (+78.1%)
- Metro area: San Diego-Carlsbad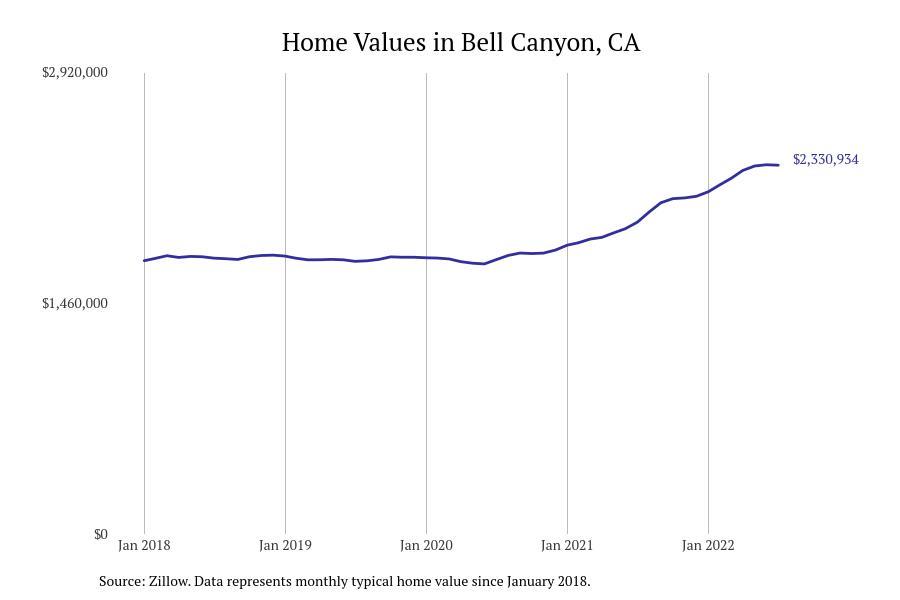 10 / 50
#41. Bell Canyon
- Typical home value: $2,330,934
- 1-year price change: +$360,176 (+18.3%)
- 5-year price change: +$623,014 (+36.5%)
- Metro area: Oxnard-Thousand Oaks-Ventura
You may also like: Best counties to retire to in California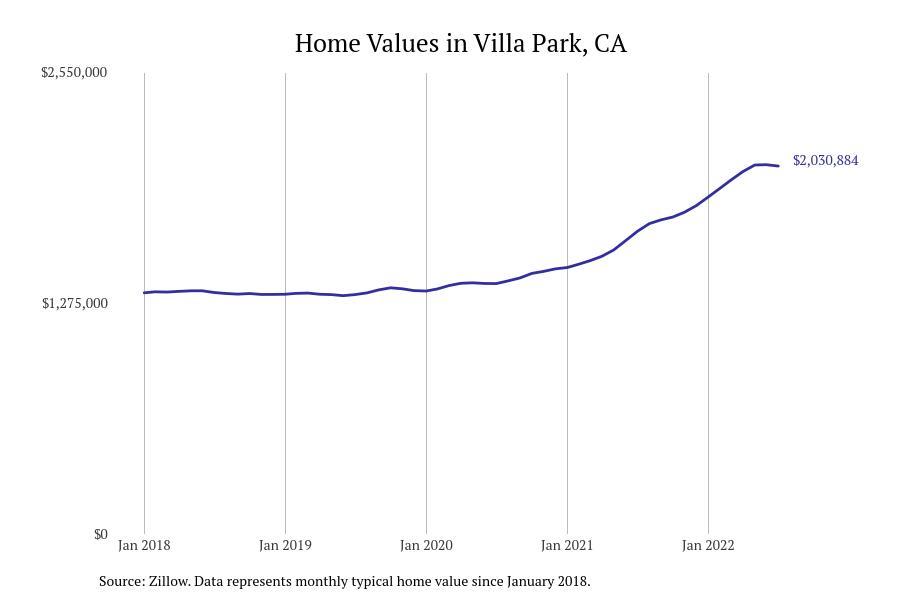 11 / 50
#40. Villa Park
- Typical home value: $2,030,884
- 1-year price change: +$360,577 (+21.6%)
- 5-year price change: +$749,938 (+58.5%)
- Metro area: Los Angeles-Long Beach-Anaheim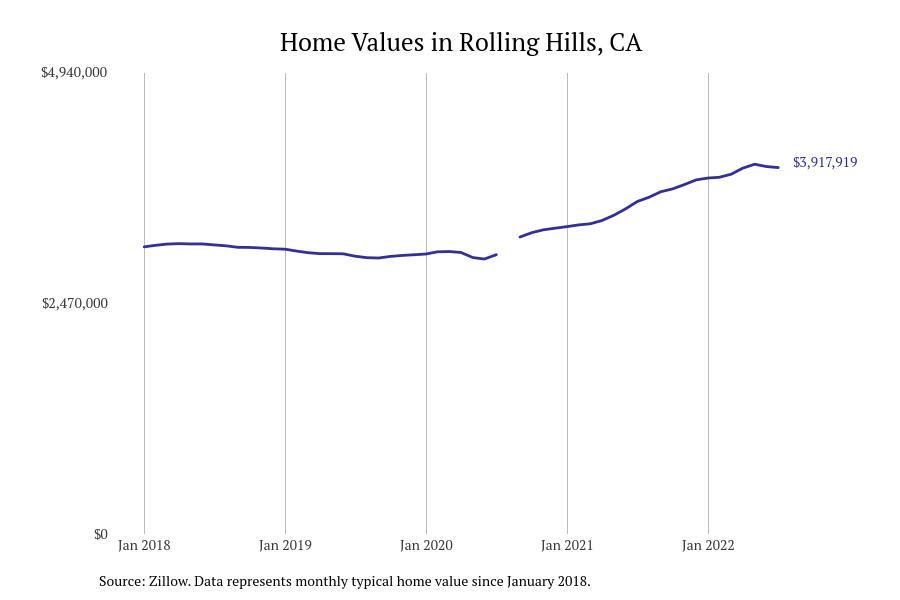 12 / 50
#39. Rolling Hills
- Typical home value: $3,917,919
- 1-year price change: +$362,552 (+10.2%)
- 5-year price change: +$895,156 (+29.6%)
- Metro area: Los Angeles-Long Beach-Anaheim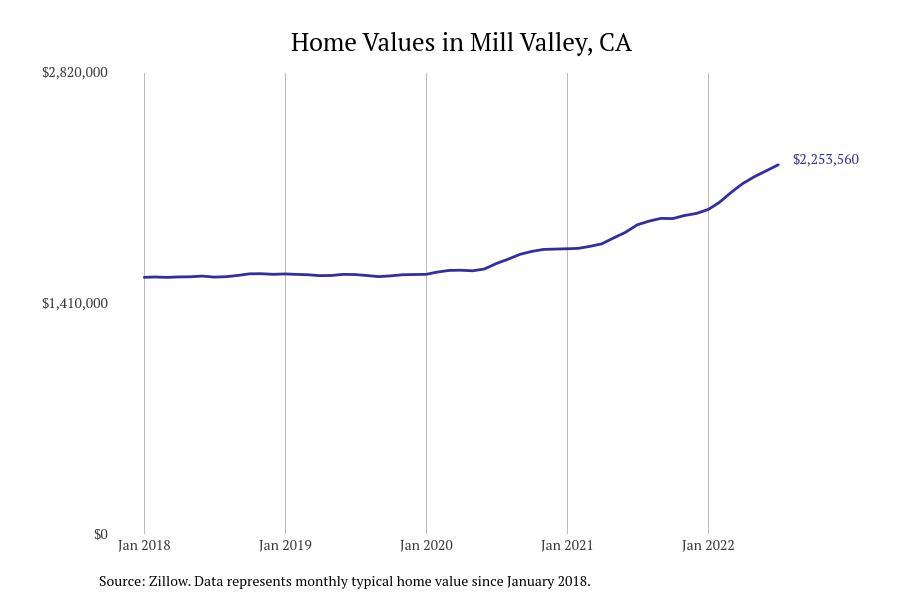 13 / 50
#38. Mill Valley
- Typical home value: $2,253,560
- 1-year price change: +$366,029 (+19.4%)
- 5-year price change: +$743,125 (+49.2%)
- Metro area: San Francisco-Oakland-Hayward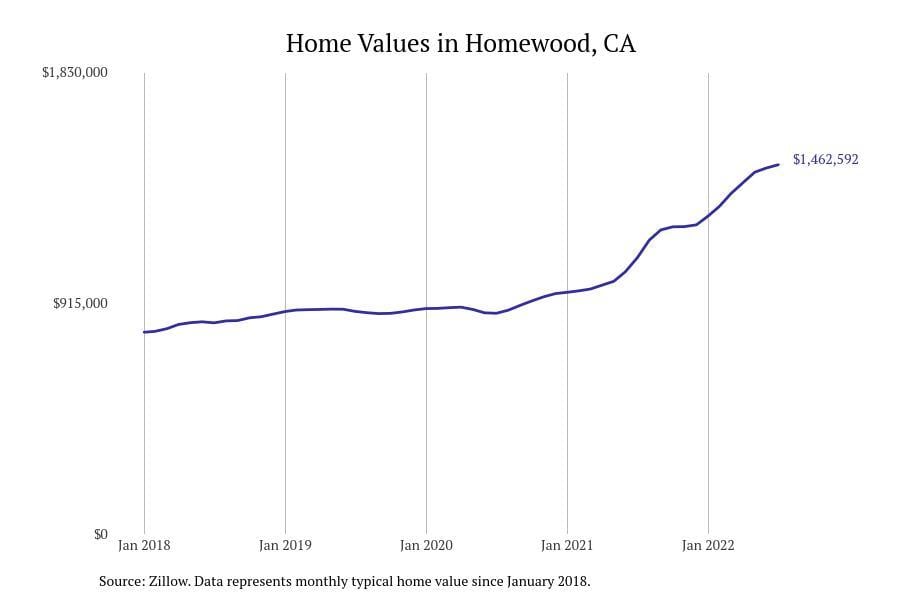 14 / 50
#37. Homewood
- Typical home value: $1,462,592
- 1-year price change: +$368,145 (+33.6%)
- 5-year price change: +$676,492 (+86.1%)
- Metro area: Sacramento--Roseville--Arden-Arcade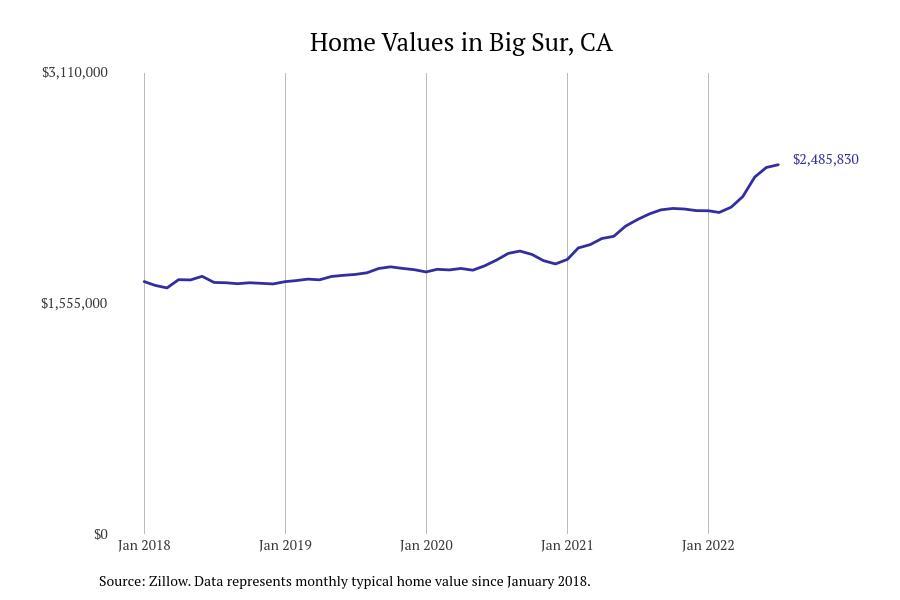 15 / 50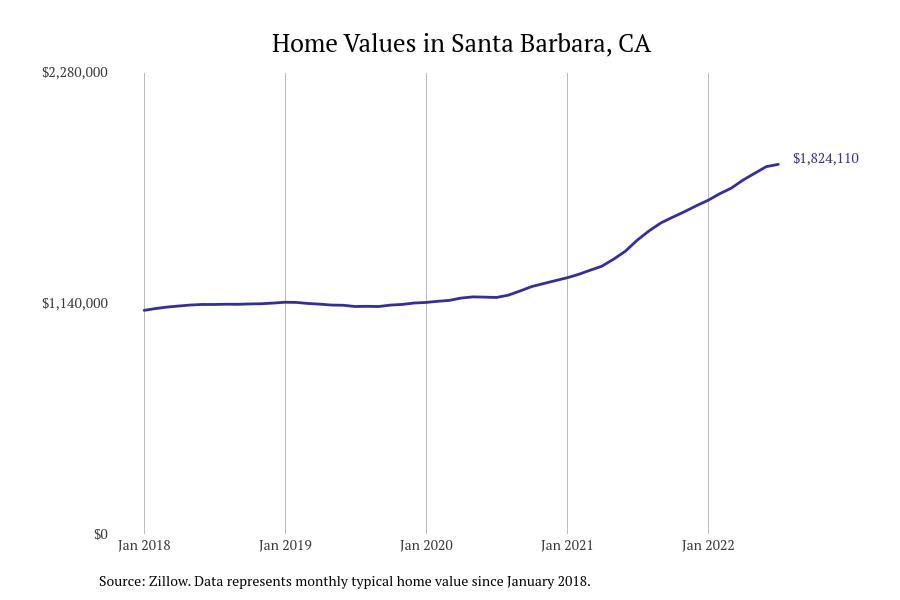 16 / 50
#35. Santa Barbara
- Typical home value: $1,824,110
- 1-year price change: +$373,569 (+25.8%)
- 5-year price change: +$742,524 (+68.7%)
- Metro area: Santa Maria-Santa Barbara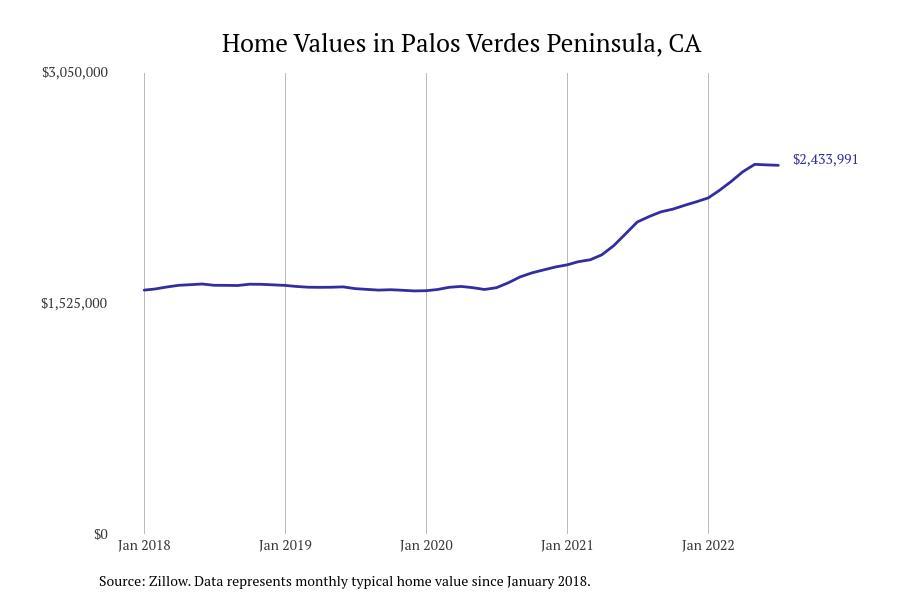 17 / 50
#34. Palos Verdes Peninsula
- Typical home value: $2,433,991
- 1-year price change: +$373,878 (+18.1%)
- 5-year price change: +$873,415 (+56.0%)
- Metro area: Los Angeles-Long Beach-Anaheim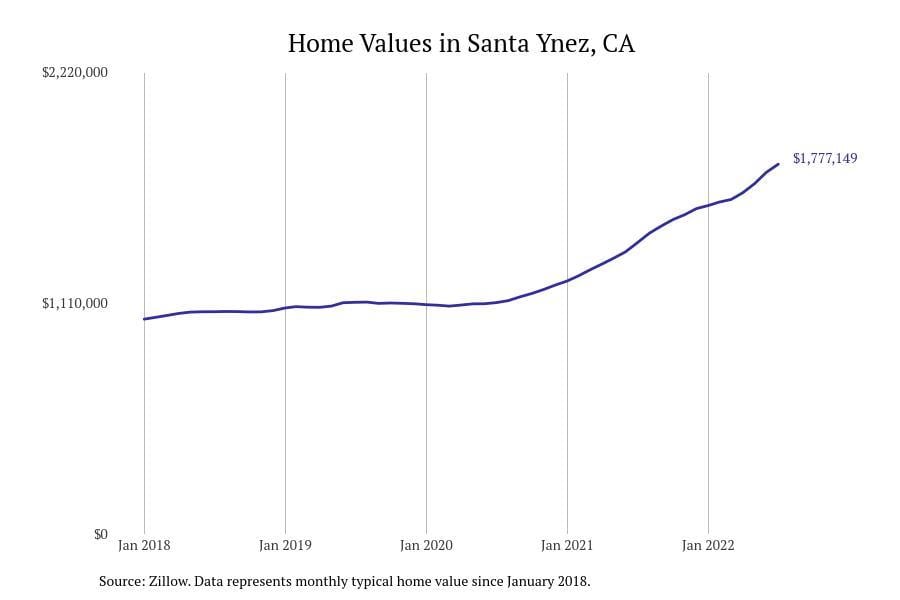 18 / 50
#33. Santa Ynez
- Typical home value: $1,777,149
- 1-year price change: +$377,616 (+27.0%)
- 5-year price change: +$751,379 (+73.3%)
- Metro area: Santa Maria-Santa Barbara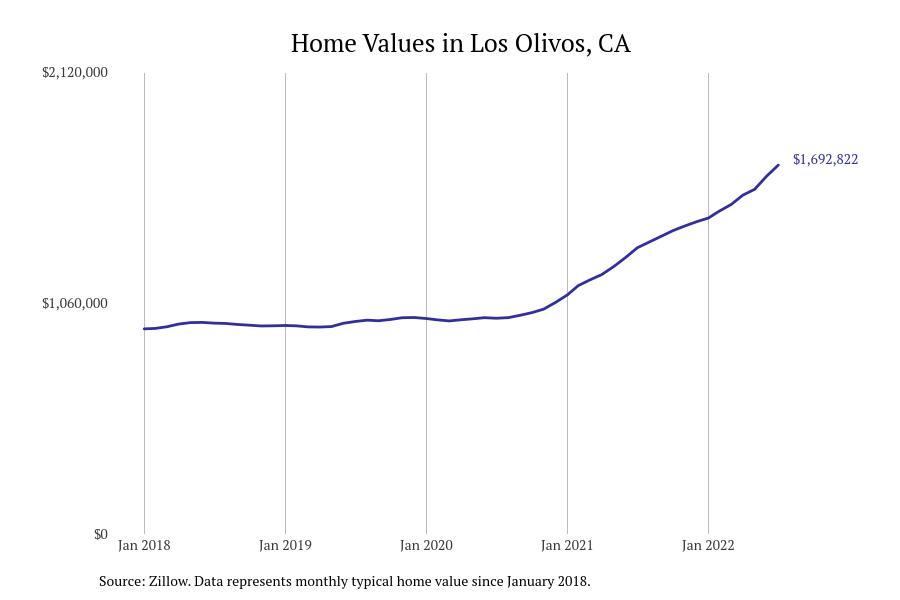 19 / 50
#32. Los Olivos
- Typical home value: $1,692,822
- 1-year price change: +$379,374 (+28.9%)
- 5-year price change: +$774,736 (+84.4%)
- Metro area: Santa Maria-Santa Barbara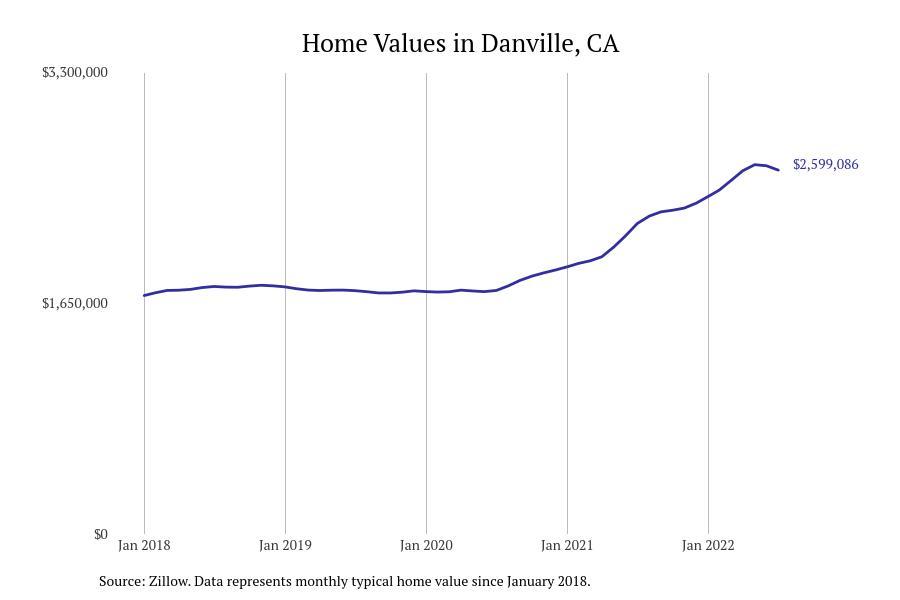 20 / 50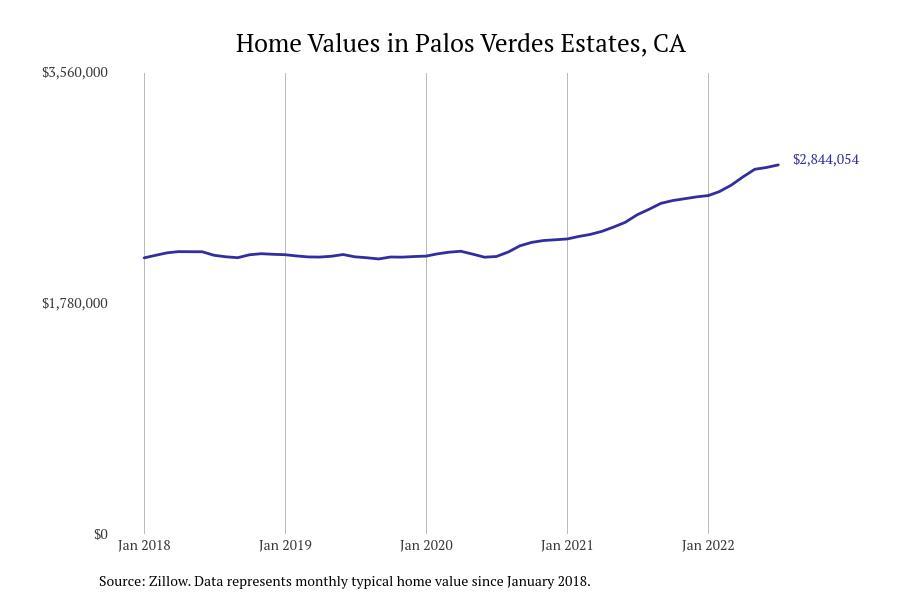 21 / 50
#30. Palos Verdes Estates
- Typical home value: $2,844,054
- 1-year price change: +$383,679 (+15.6%)
- 5-year price change: +$773,542 (+37.4%)
- Metro area: Los Angeles-Long Beach-Anaheim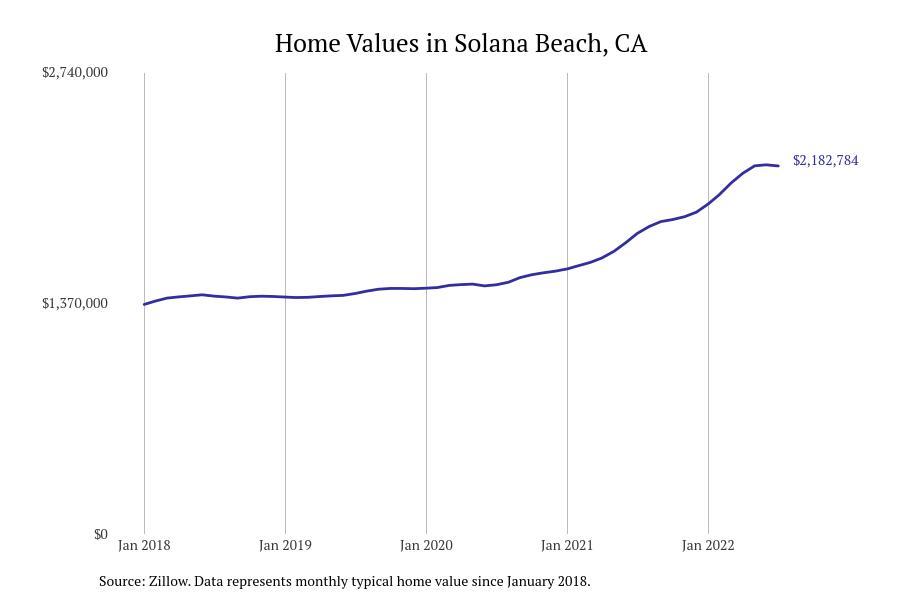 22 / 50
#29. Solana Beach
- Typical home value: $2,182,784
- 1-year price change: +$399,850 (+22.4%)
- 5-year price change: +$867,723 (+66.0%)
- Metro area: San Diego-Carlsbad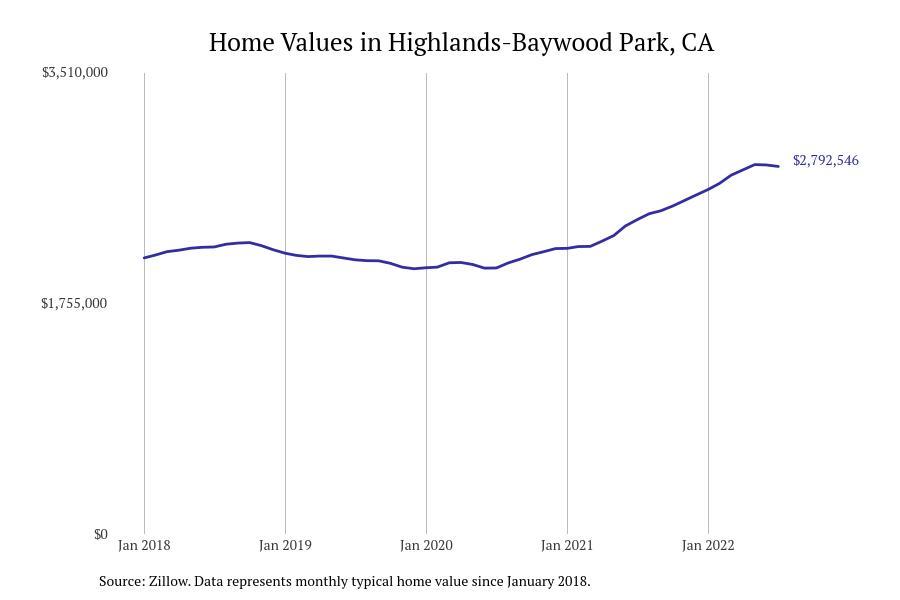 23 / 50
#28. Highlands-Baywood Park
- Typical home value: $2,792,546
- 1-year price change: +$403,826 (+16.9%)
- 5-year price change: +$906,058 (+48.0%)
- Metro area: San Francisco-Oakland-Hayward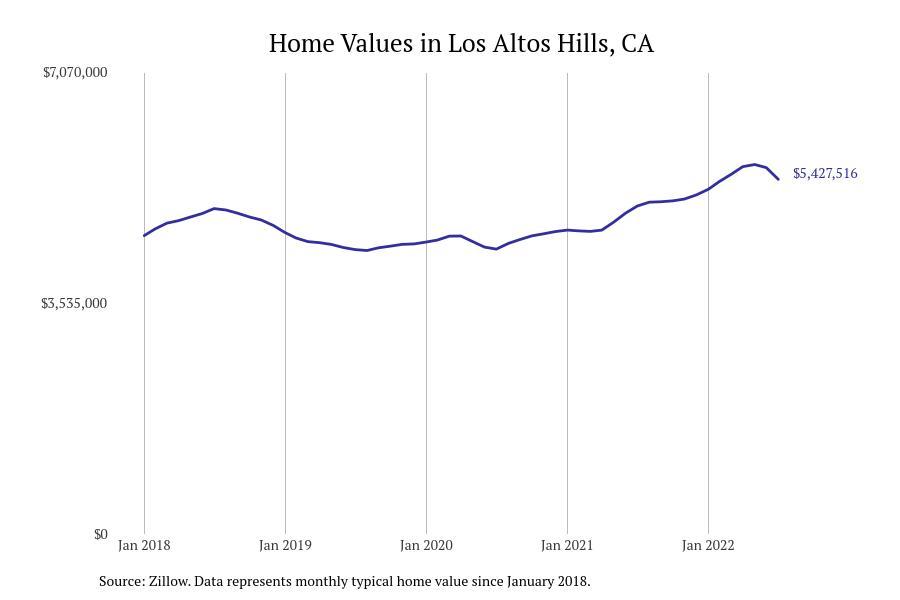 24 / 50
#27. Los Altos Hills
- Typical home value: $5,427,516
- 1-year price change: +$408,308 (+8.1%)
- 5-year price change: +$1,306,319 (+31.7%)
- Metro area: San Jose-Sunnyvale-Santa Clara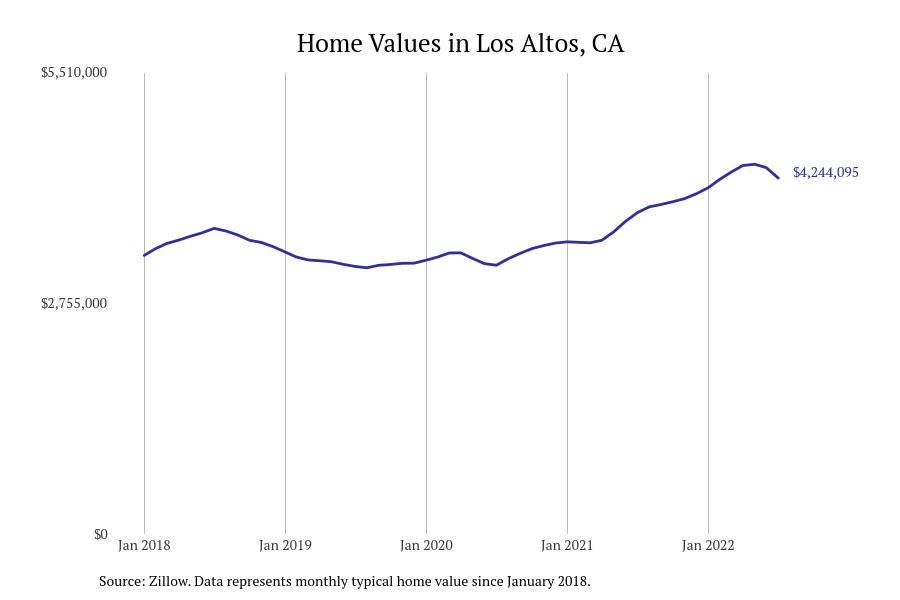 25 / 50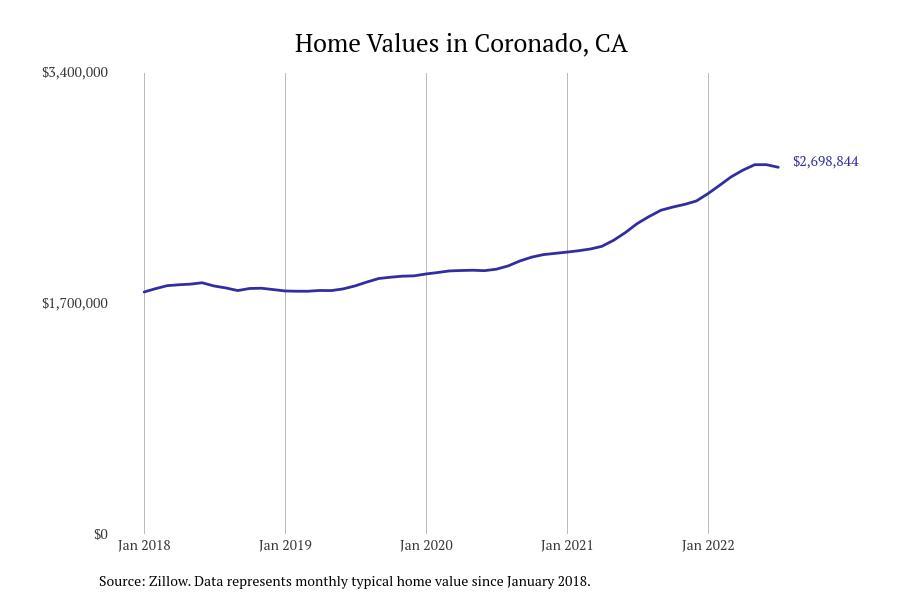 26 / 50
#25. Coronado
- Typical home value: $2,698,844
- 1-year price change: +$413,560 (+18.1%)
- 5-year price change: +$1,099,639 (+68.8%)
- Metro area: San Diego-Carlsbad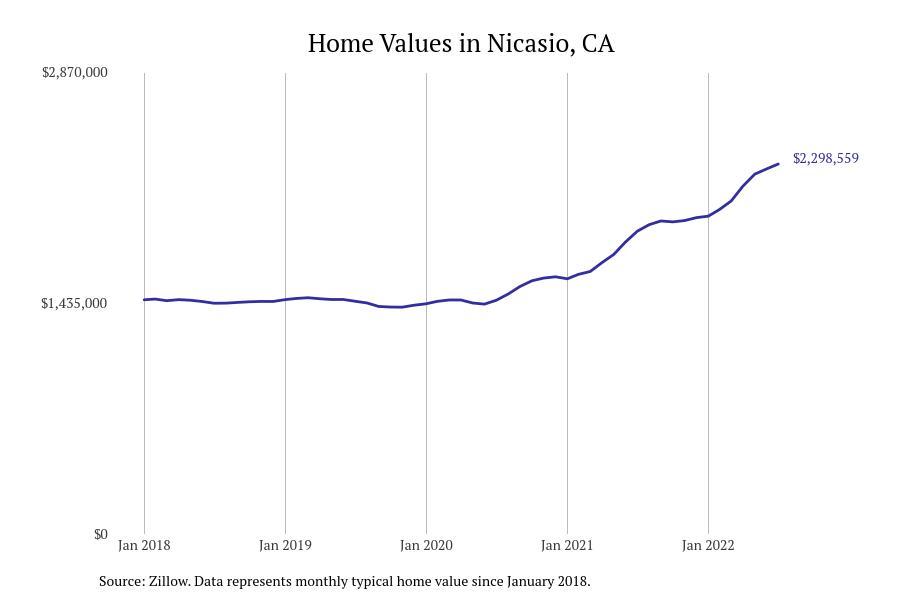 27 / 50
#24. Nicasio
- Typical home value: $2,298,559
- 1-year price change: +$417,486 (+22.2%)
- 5-year price change: +$836,373 (+57.2%)
- Metro area: San Francisco-Oakland-Hayward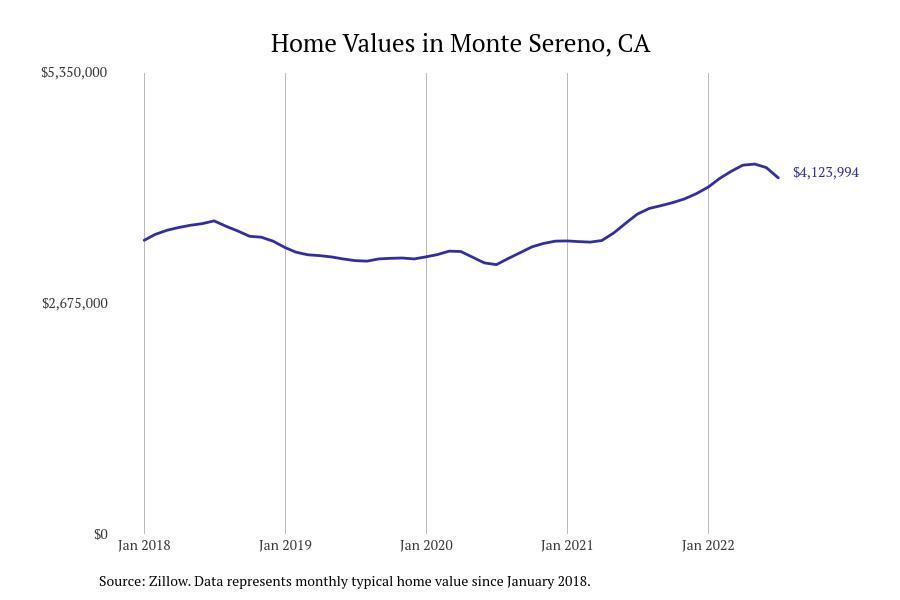 28 / 50
#23. Monte Sereno
- Typical home value: $4,123,994
- 1-year price change: +$419,586 (+11.3%)
- 5-year price change: +$1,023,342 (+33.0%)
- Metro area: San Jose-Sunnyvale-Santa Clara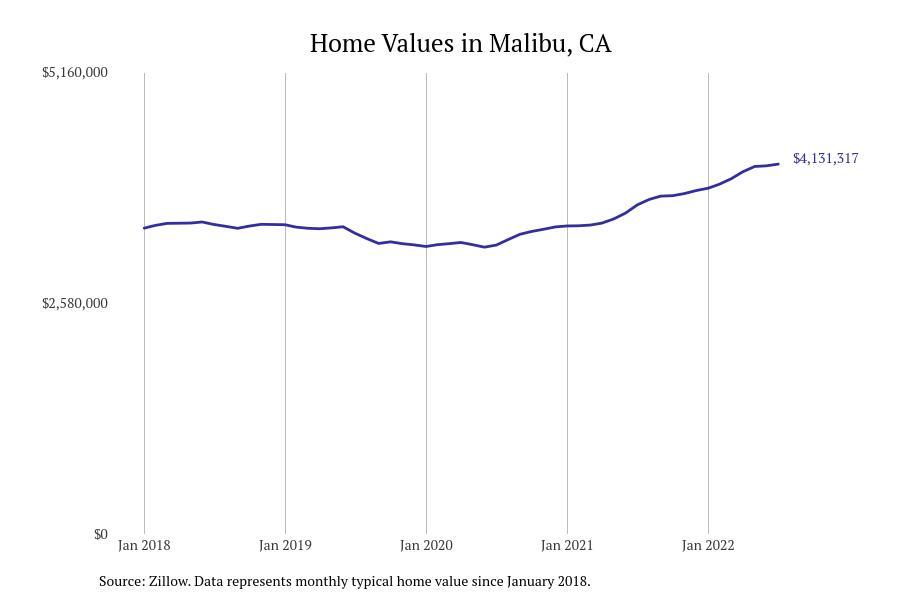 29 / 50
#22. Malibu
- Typical home value: $4,131,317
- 1-year price change: +$455,226 (+12.4%)
- 5-year price change: +$813,406 (+24.5%)
- Metro area: Los Angeles-Long Beach-Anaheim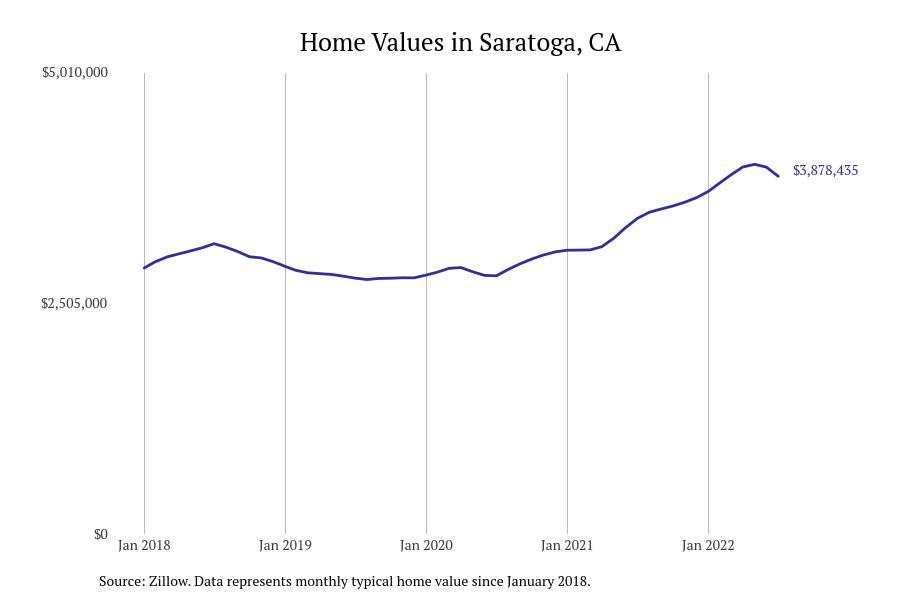 30 / 50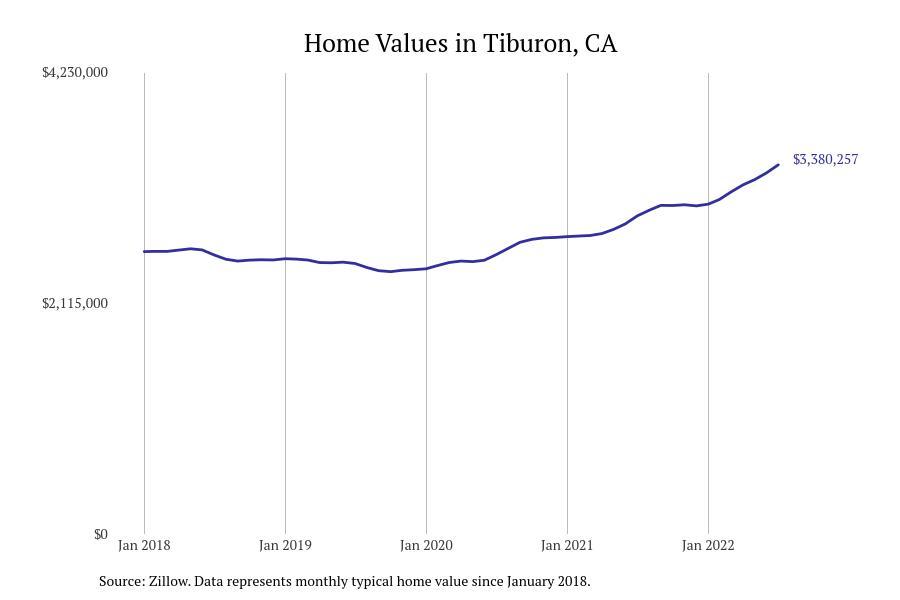 31 / 50
#20. Tiburon
- Typical home value: $3,380,257
- 1-year price change: +$467,295 (+16.0%)
- 5-year price change: +$911,566 (+36.9%)
- Metro area: San Francisco-Oakland-Hayward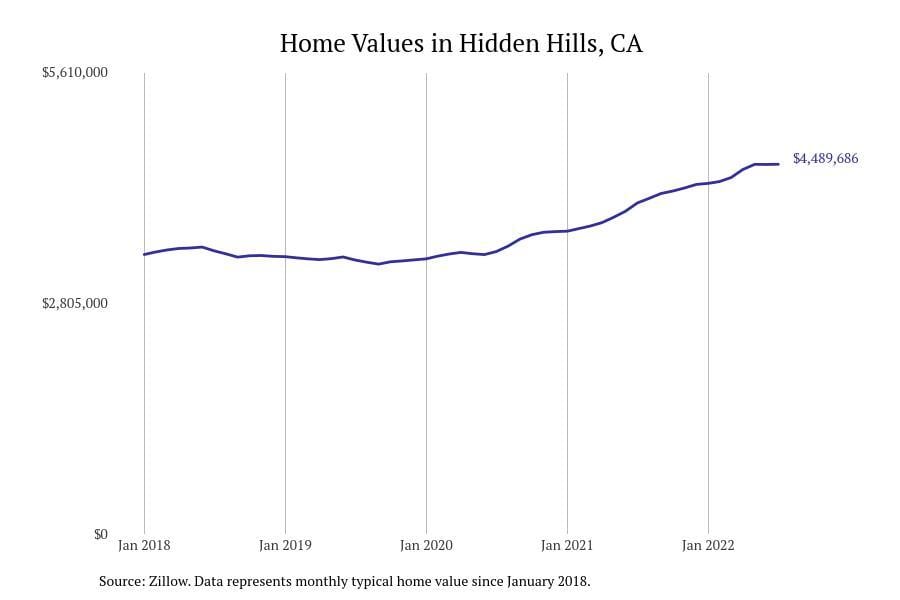 32 / 50
#19. Hidden Hills
- Typical home value: $4,489,686
- 1-year price change: +$470,084 (+11.7%)
- 5-year price change: +$1,153,636 (+34.6%)
- Metro area: Los Angeles-Long Beach-Anaheim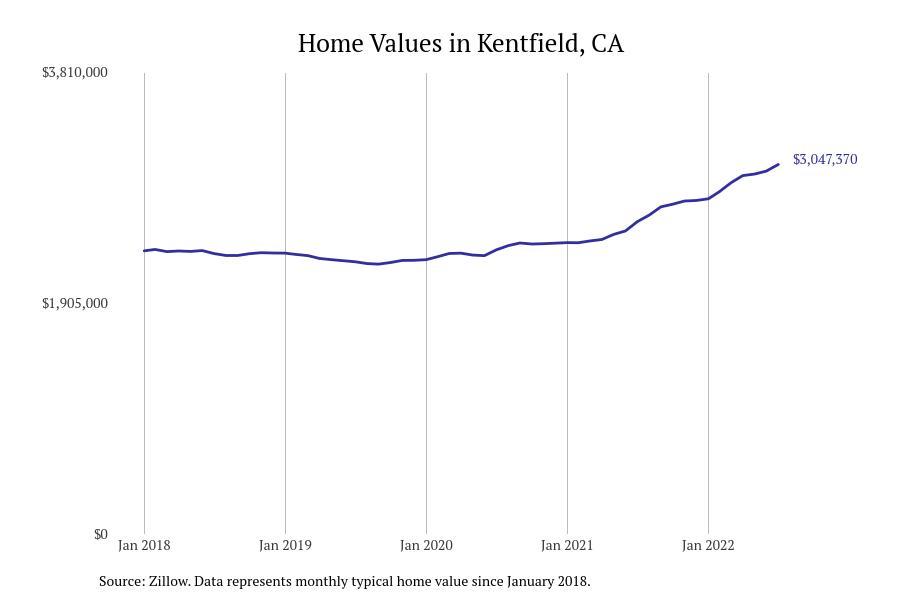 33 / 50
#18. Kentfield
- Typical home value: $3,047,370
- 1-year price change: +$471,587 (+18.3%)
- 5-year price change: +$773,688 (+34.0%)
- Metro area: San Francisco-Oakland-Hayward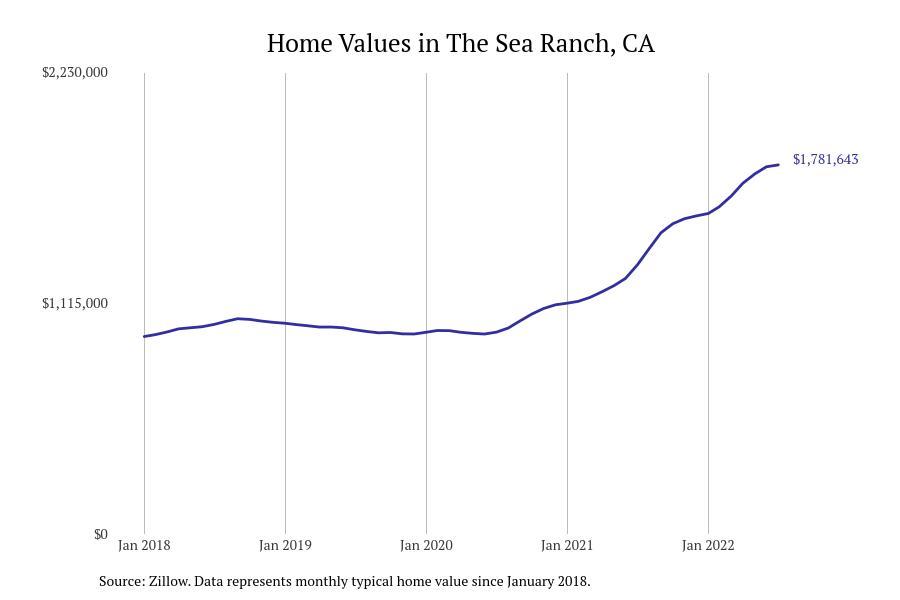 34 / 50
#17. The Sea Ranch
- Typical home value: $1,781,643
- 1-year price change: +$482,933 (+37.2%)
- 5-year price change: +$858,929 (+93.1%)
- Metro area: Santa Rosa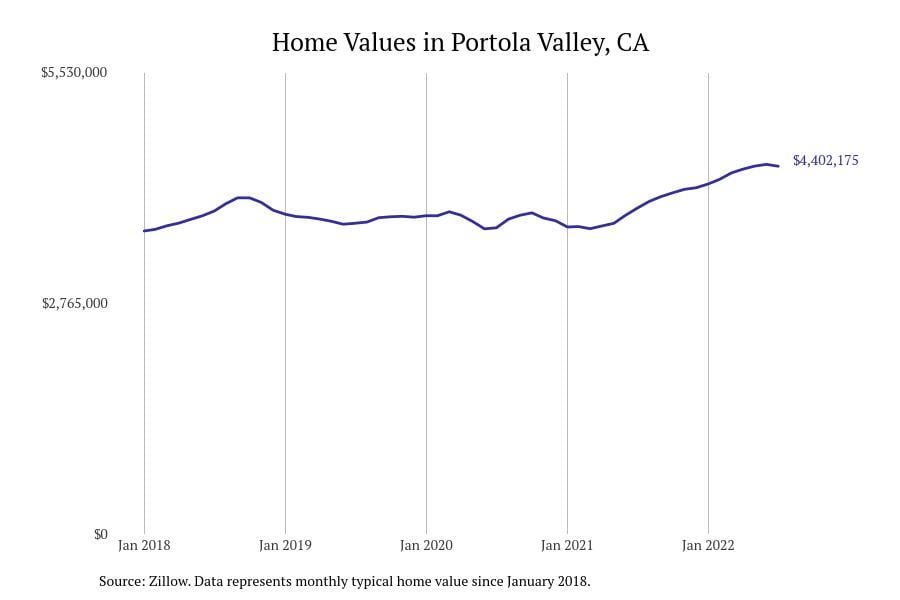 35 / 50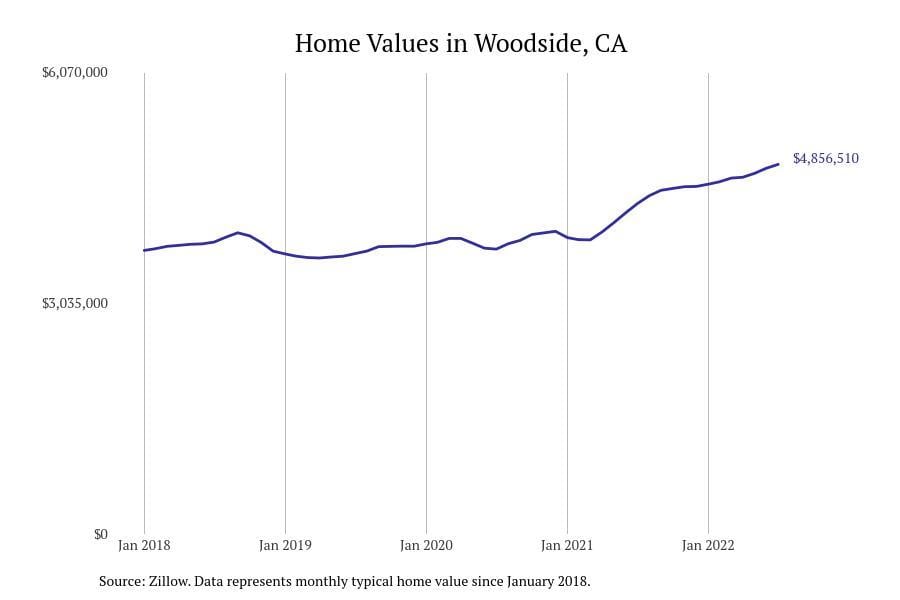 36 / 50
#15. Woodside
- Typical home value: $4,856,510
- 1-year price change: +$515,871 (+11.9%)
- 5-year price change: +$1,447,218 (+42.4%)
- Metro area: San Francisco-Oakland-Hayward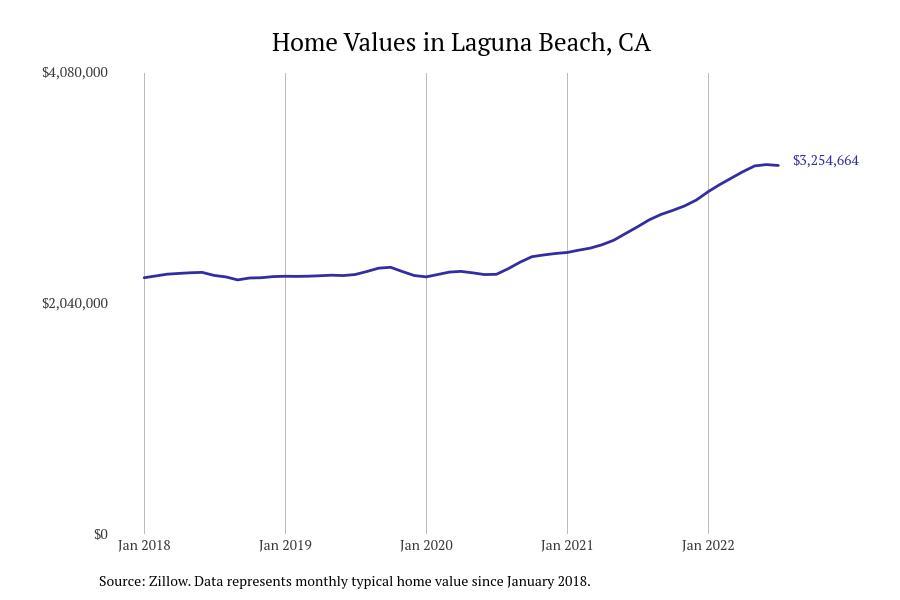 37 / 50
#14. Laguna Beach
- Typical home value: $3,254,664
- 1-year price change: +$542,807 (+20.0%)
- 5-year price change: +$1,032,140 (+46.4%)
- Metro area: Los Angeles-Long Beach-Anaheim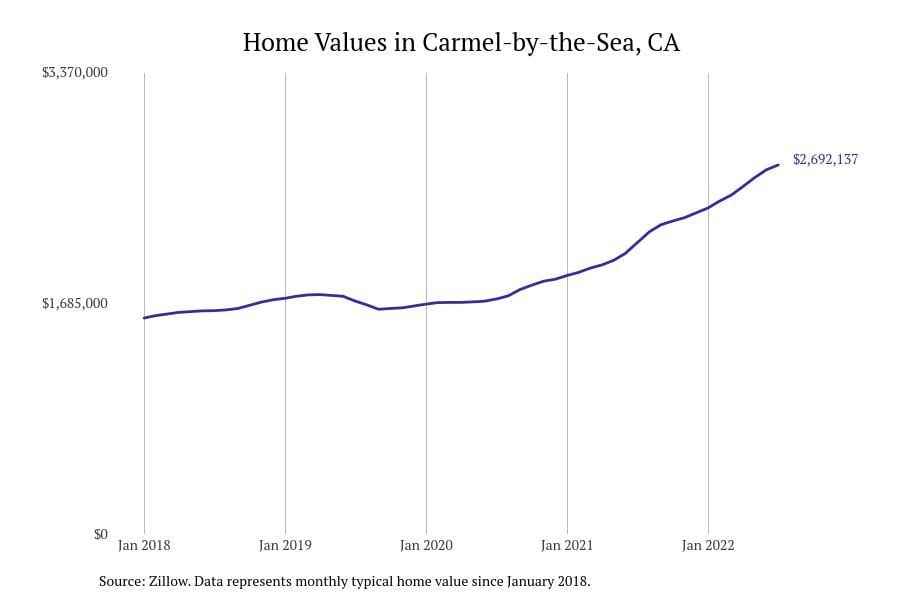 38 / 50
#13. Carmel-by-the-Sea
- Typical home value: $2,692,137
- 1-year price change: +$566,599 (+26.7%)
- 5-year price change: +$1,128,670 (+72.2%)
- Metro area: Salinas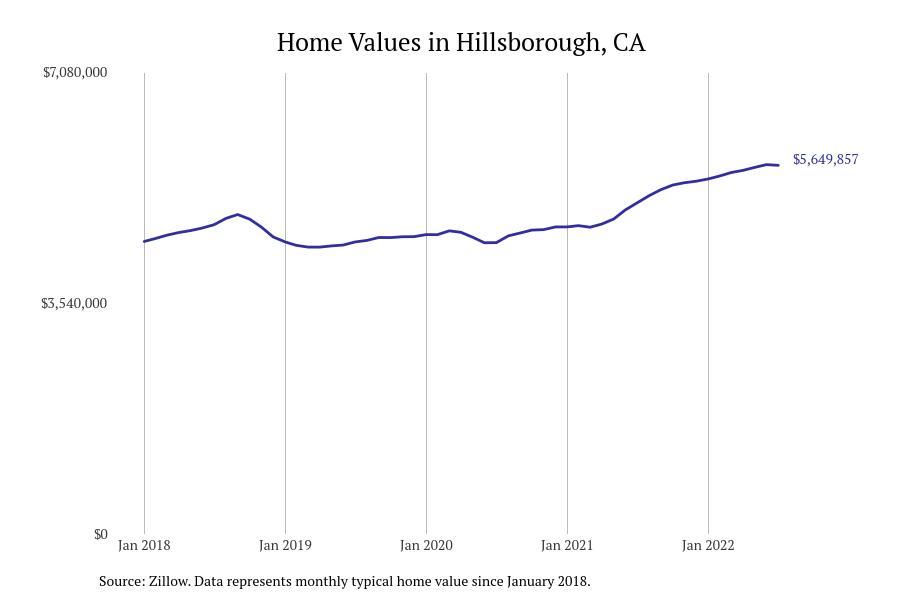 39 / 50
#12. Hillsborough
- Typical home value: $5,649,857
- 1-year price change: +$573,469 (+11.3%)
- 5-year price change: +$1,493,494 (+35.9%)
- Metro area: San Francisco-Oakland-Hayward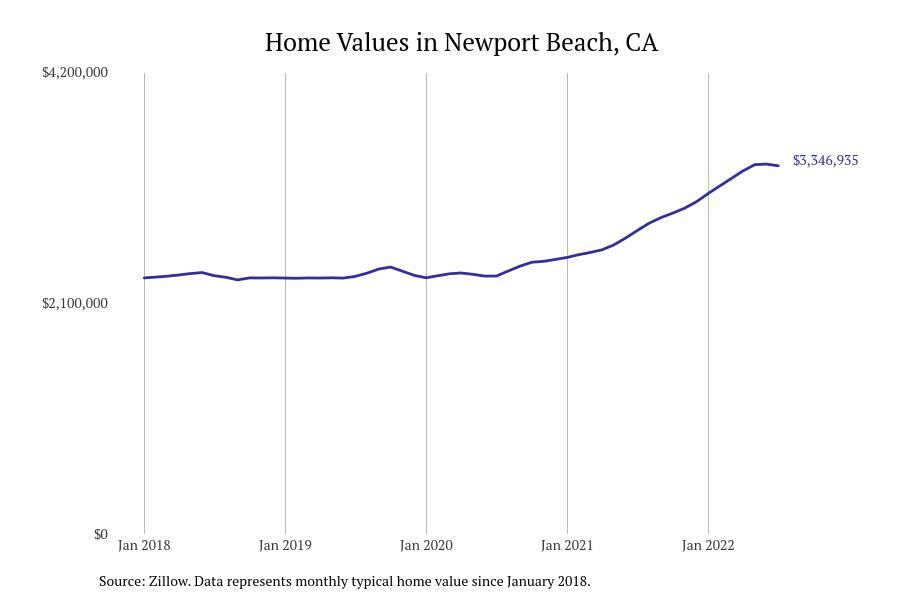 40 / 50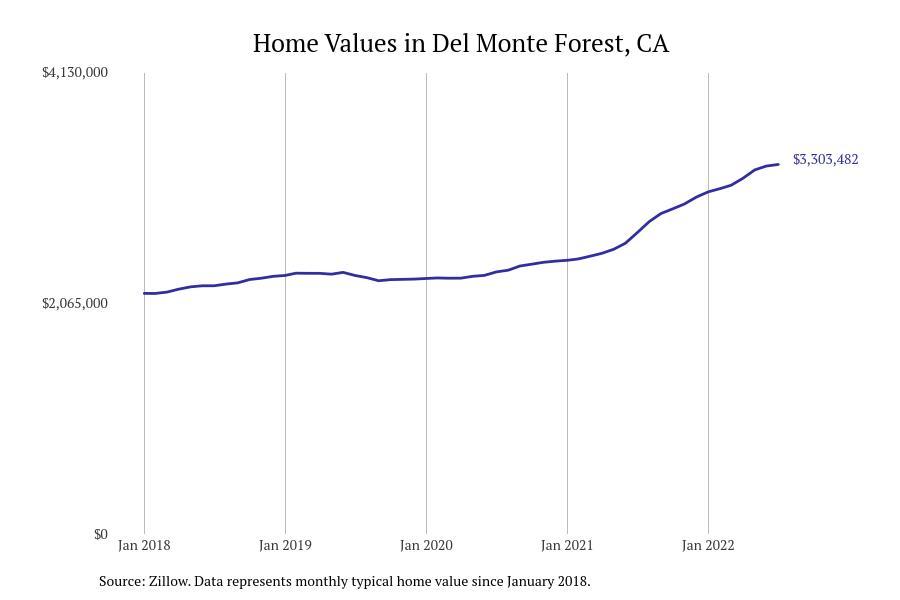 41 / 50
#10. Del Monte Forest
- Typical home value: $3,303,482
- 1-year price change: +$609,032 (+22.6%)
- 5-year price change: +$1,172,533 (+55.0%)
- Metro area: Salinas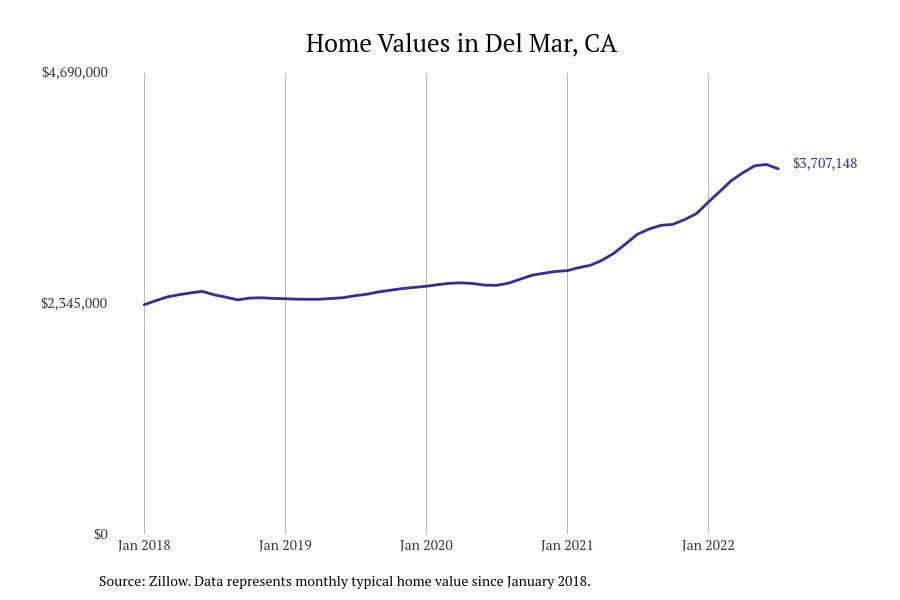 42 / 50
#9. Del Mar
- Typical home value: $3,707,148
- 1-year price change: +$664,667 (+21.8%)
- 5-year price change: +$1,409,086 (+61.3%)
- Metro area: San Diego-Carlsbad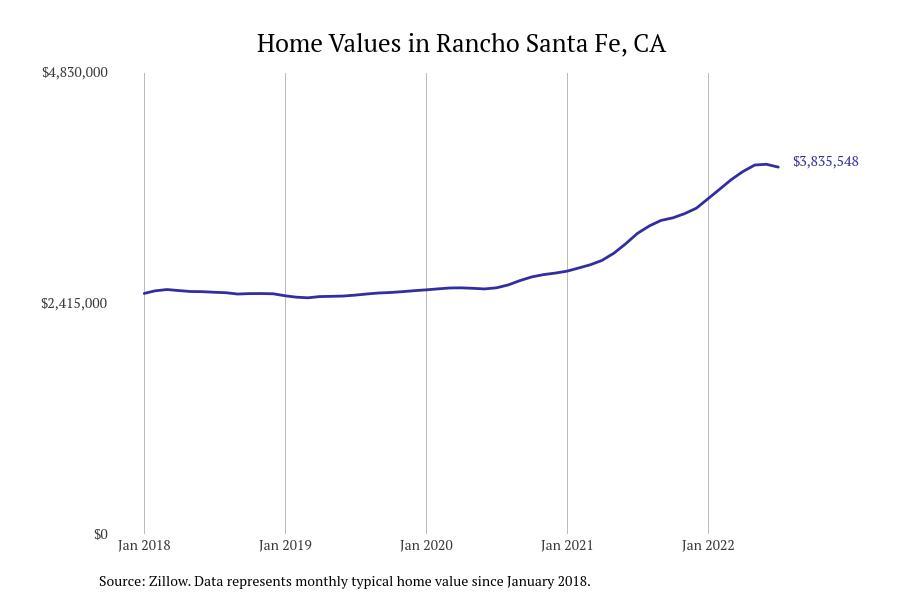 43 / 50
#8. Rancho Santa Fe
- Typical home value: $3,835,548
- 1-year price change: +$693,569 (+22.1%)
- 5-year price change: +$1,369,178 (+55.5%)
- Metro area: San Diego-Carlsbad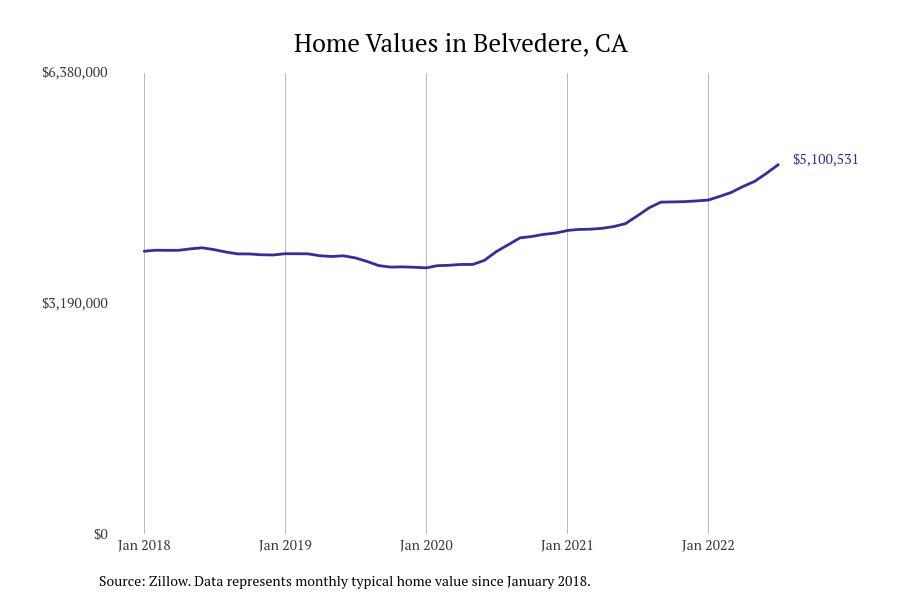 44 / 50
#7. Belvedere
- Typical home value: $5,100,531
- 1-year price change: +$707,453 (+16.1%)
- 5-year price change: +$1,255,559 (+32.7%)
- Metro area: San Francisco-Oakland-Hayward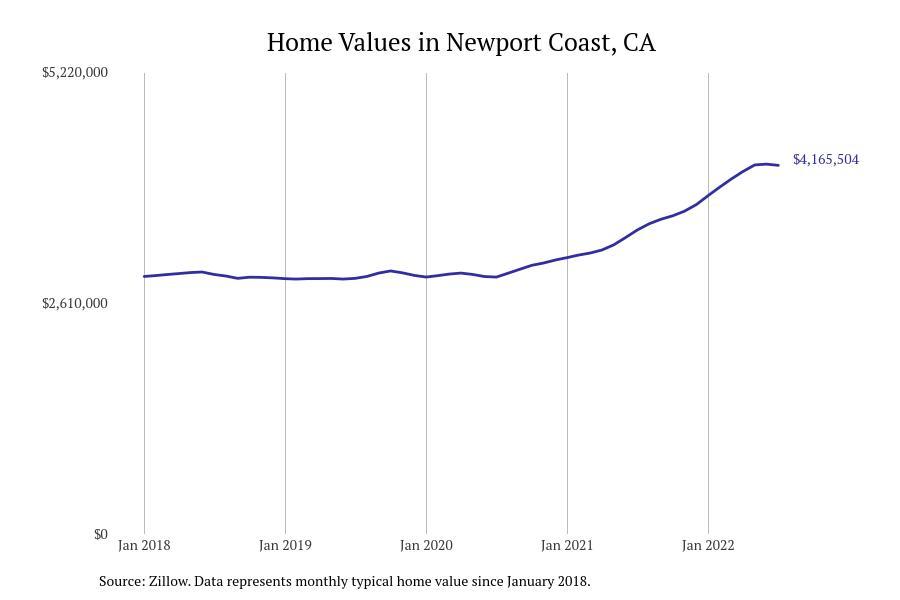 45 / 50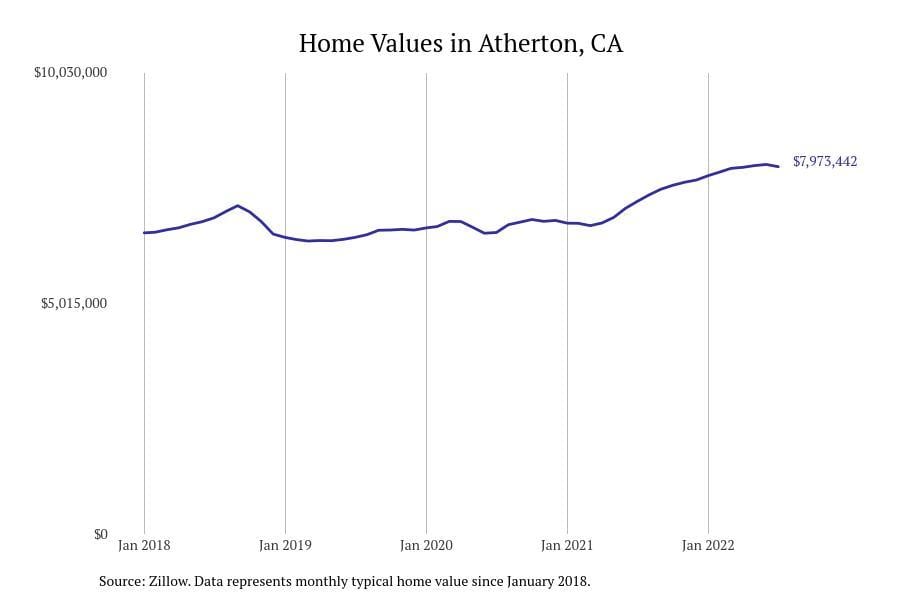 46 / 50
#5. Atherton
- Typical home value: $7,973,442
- 1-year price change: +$752,009 (+10.4%)
- 5-year price change: +$1,930,196 (+31.9%)
- Metro area: San Francisco-Oakland-Hayward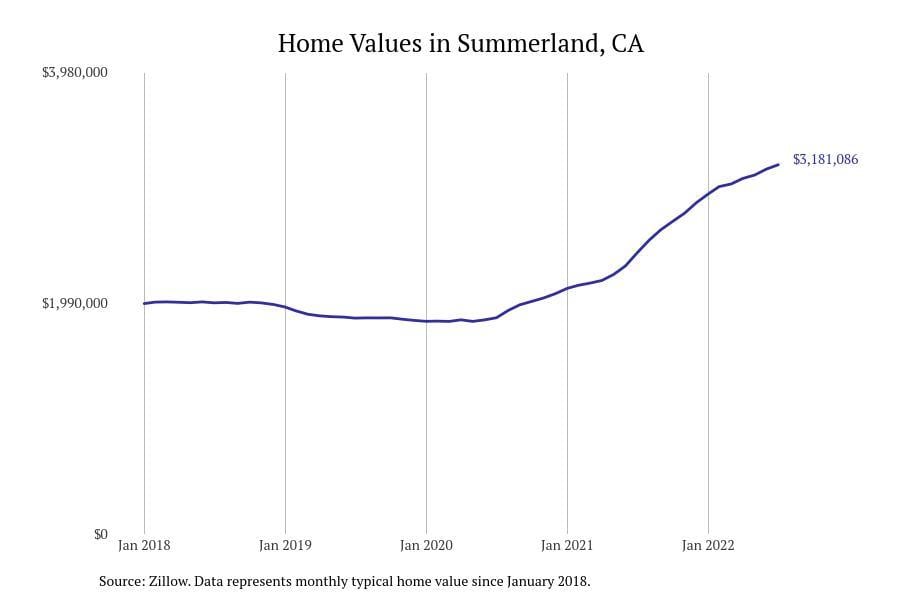 47 / 50
#4. Summerland
- Typical home value: $3,181,086
- 1-year price change: +$757,416 (+31.3%)
- 5-year price change: +$1,296,795 (+68.8%)
- Metro area: Santa Maria-Santa Barbara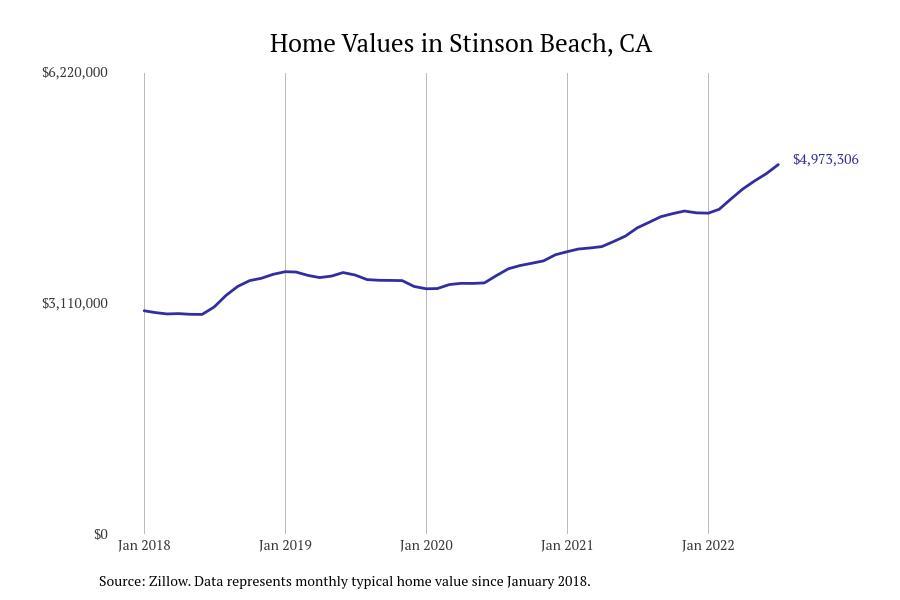 48 / 50
#3. Stinson Beach
- Typical home value: $4,973,306
- 1-year price change: +$851,194 (+20.6%)
- 5-year price change: +$1,923,120 (+63.0%)
- Metro area: San Francisco-Oakland-Hayward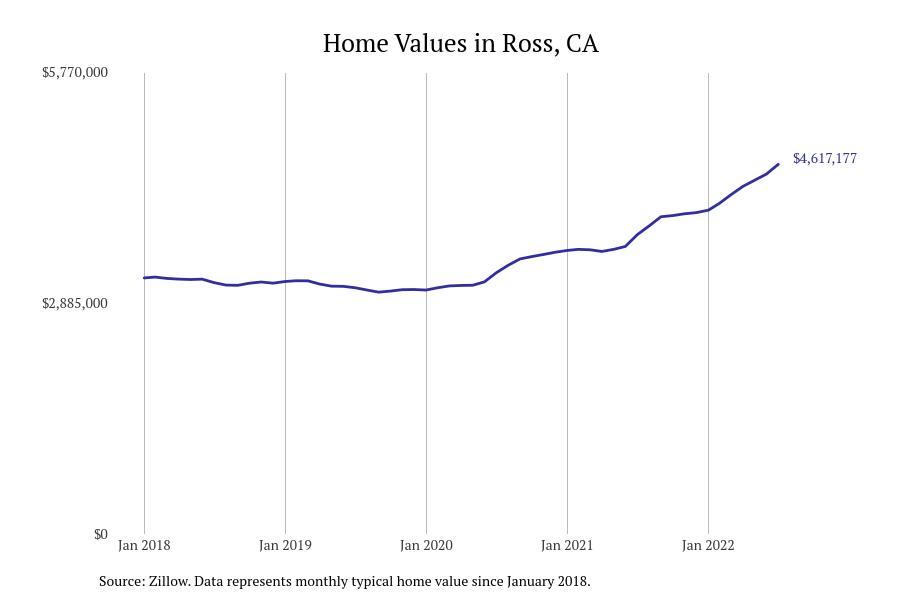 49 / 50
#2. Ross
- Typical home value: $4,617,177
- 1-year price change: +$878,342 (+23.5%)
- 5-year price change: +$1,449,129 (+45.7%)
- Metro area: San Francisco-Oakland-Hayward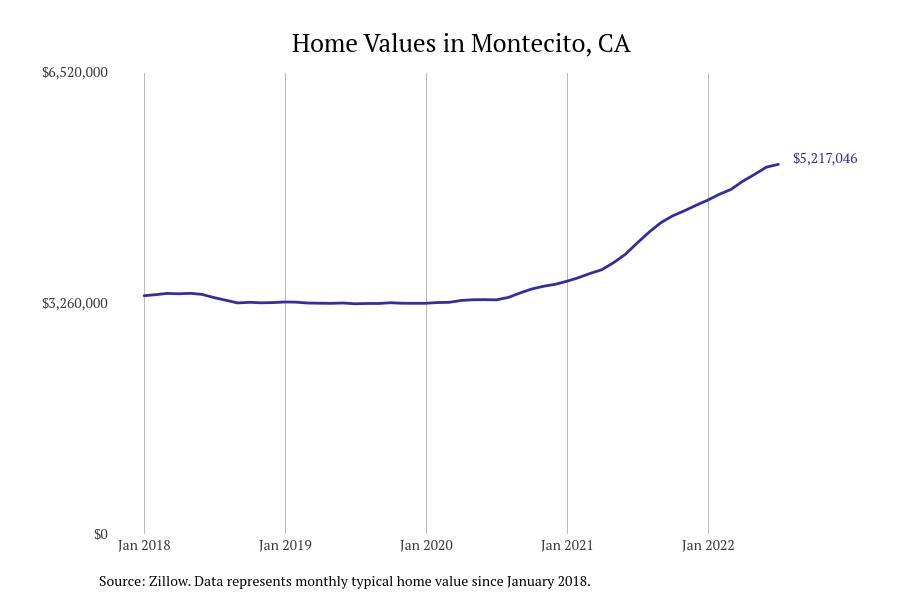 50 / 50
#1. Montecito
- Typical home value: $5,217,046
- 1-year price change: +$1,108,304 (+27.0%)
- 5-year price change: +$1,916,904 (+58.1%)
- Metro area: Santa Maria-Santa Barbara
You may also like: Lowest-earning counties in California