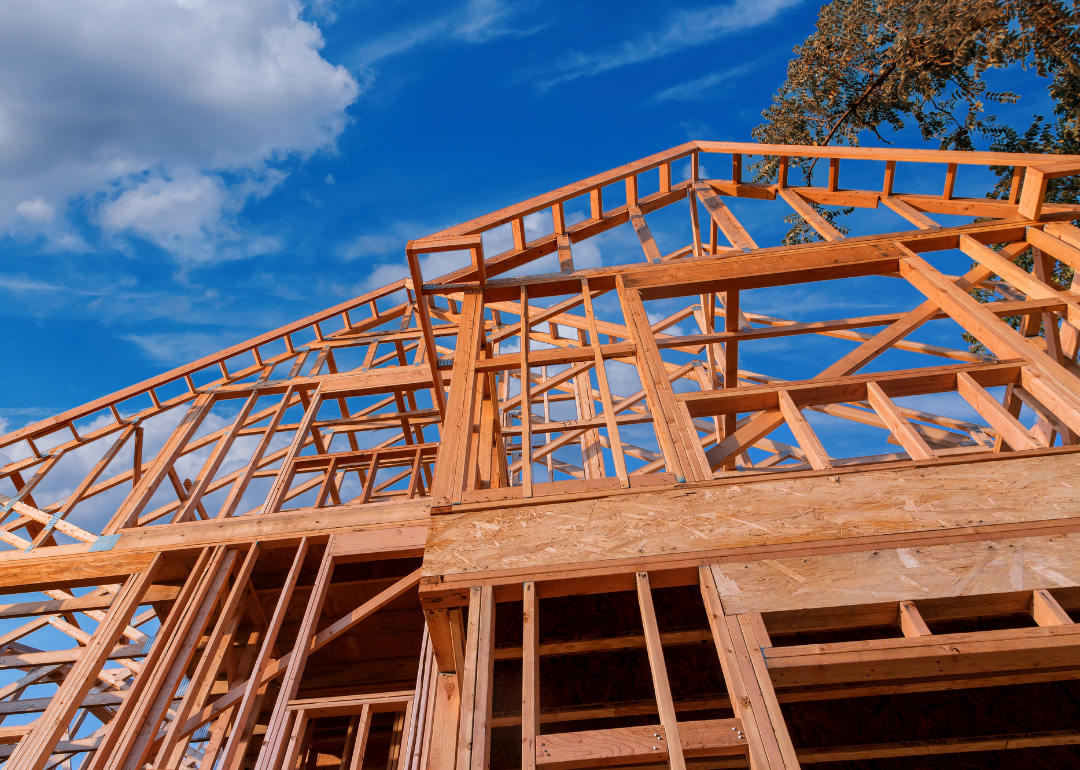 Cities with the fastest-growing home prices in California
Cities with the fastest-growing home prices in California
Stacker compiled a list of cities with the fastest growing home prices in California using data from Zillow. Cities are ranked by the dollar change in Zillow Home Values Index for all homes from the twelve months ending September 2022. The charts in this story were created automatically using Matplotlib. Data was available for 982 cities and towns in California. Home values in the top city on the list grew by $837,736 over the last 12 months.
Metros with the most cities in the top 50
#1. San Francisco-Oakland-Berkeley, CA: 13
#2. Los Angeles-Long Beach-Anaheim, CA: 12
#3. Santa Maria-Santa Barbara, CA: 8
#4. San Diego-Chula Vista-Carlsbad, CA: 6
#5. Salinas, CA: 3
#6. Sacramento-Roseville-Folsom, CA: 2
#7. Napa, CA: 1
#7. Oxnard-Thousand Oaks-Ventura, CA: 1
#7. Riverside-San Bernardino-Ontario, CA: 1
#7. San Jose-Sunnyvale-Santa Clara, CA: 1
#7. San Luis Obispo-Paso Robles, CA: 1
#7. Santa Rosa-Petaluma, CA: 1
Read on to see which cities made the list.
You may also like: Highest-rated Class of 2022 football recruits from California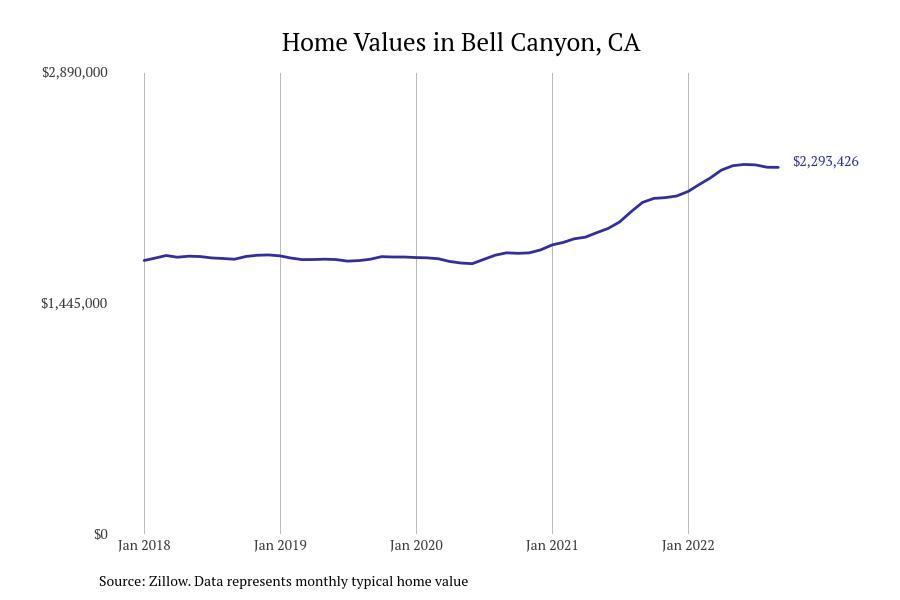 1 / 50
#50. Bell Canyon
- Typical home value: $2,293,426
- 1-year price change: +$219,571 (+10.6%)
- 5-year price change: +$630,941 (+38.0%)
- Metro area: Oxnard-Thousand Oaks-Ventura, CA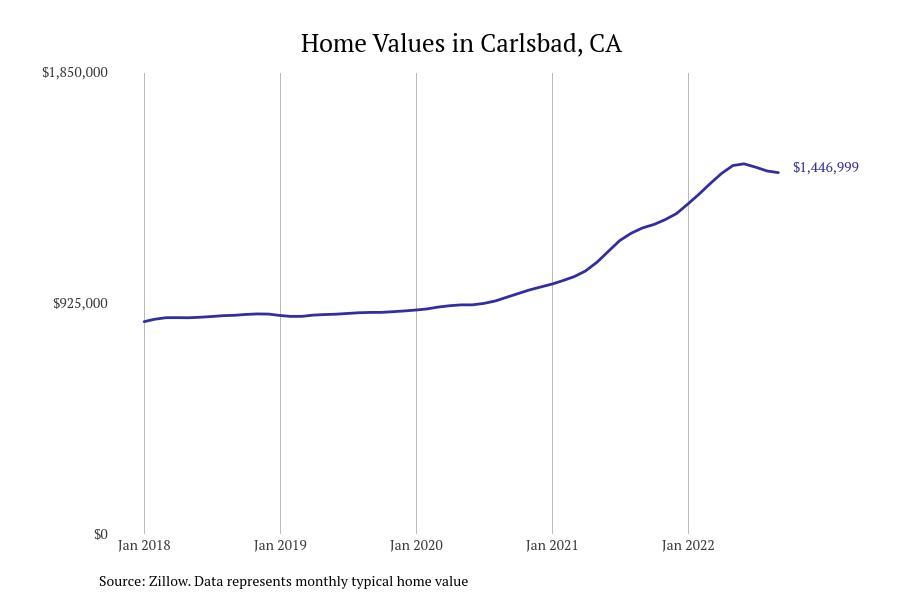 2 / 50
#49. Carlsbad
- Typical home value: $1,446,999
- 1-year price change: +$221,515 (+18.1%)
- 5-year price change: +$622,465 (+75.5%)
- Metro area: San Diego-Chula Vista-Carlsbad, CA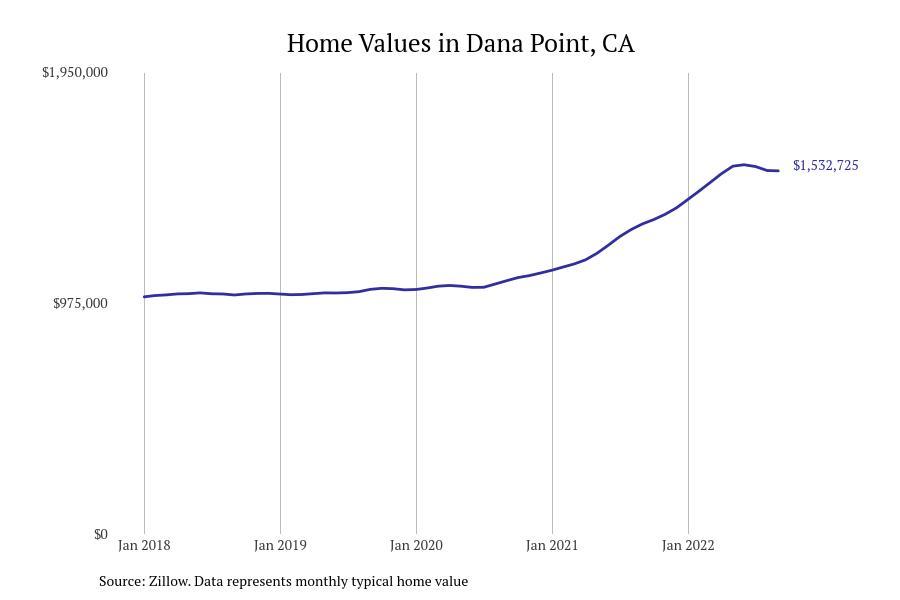 3 / 50
#48. Dana Point
- Typical home value: $1,532,725
- 1-year price change: +$223,923 (+17.1%)
- 5-year price change: +$557,953 (+57.2%)
- Metro area: Los Angeles-Long Beach-Anaheim, CA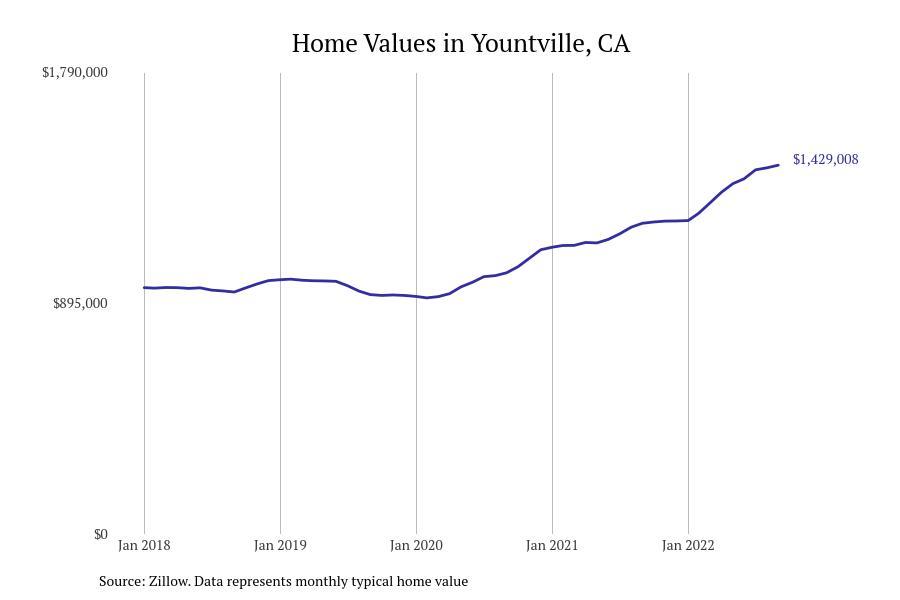 4 / 50
#47. Yountville
- Typical home value: $1,429,008
- 1-year price change: +$225,103 (+18.7%)
- 5-year price change: +$507,392 (+55.1%)
- Metro area: Napa, CA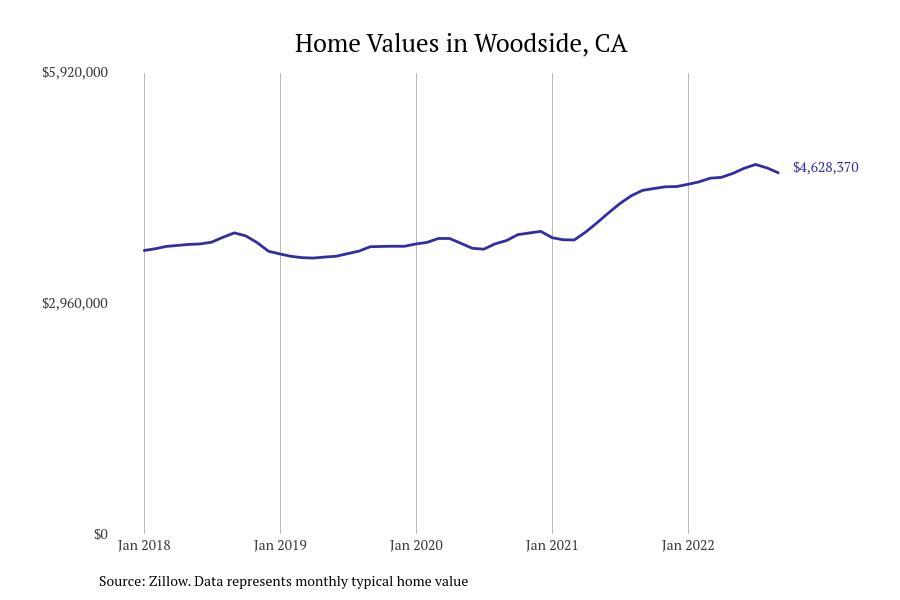 5 / 50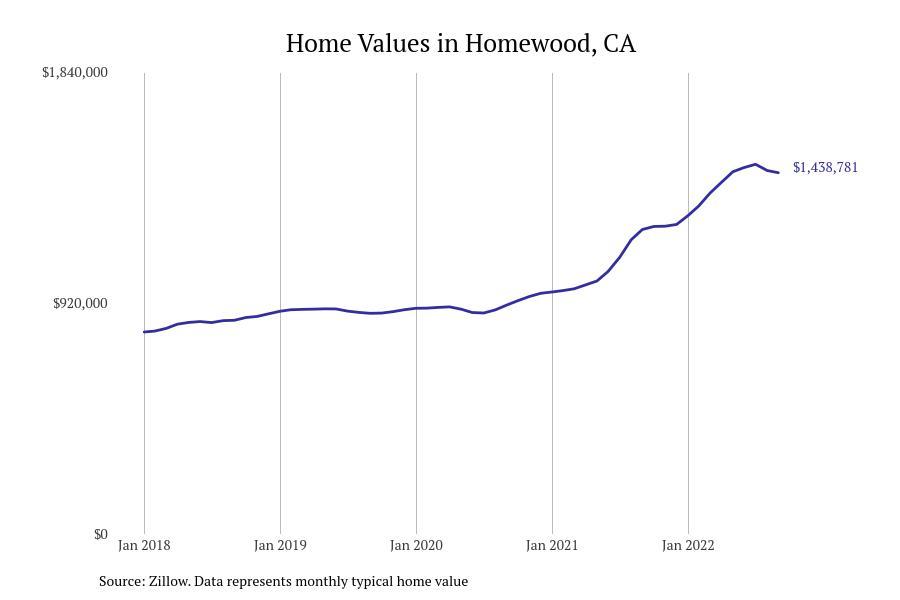 6 / 50
#45. Homewood
- Typical home value: $1,438,781
- 1-year price change: +$225,989 (+18.6%)
- 5-year price change: +$641,496 (+80.5%)
- Metro area: Sacramento-Roseville-Folsom, CA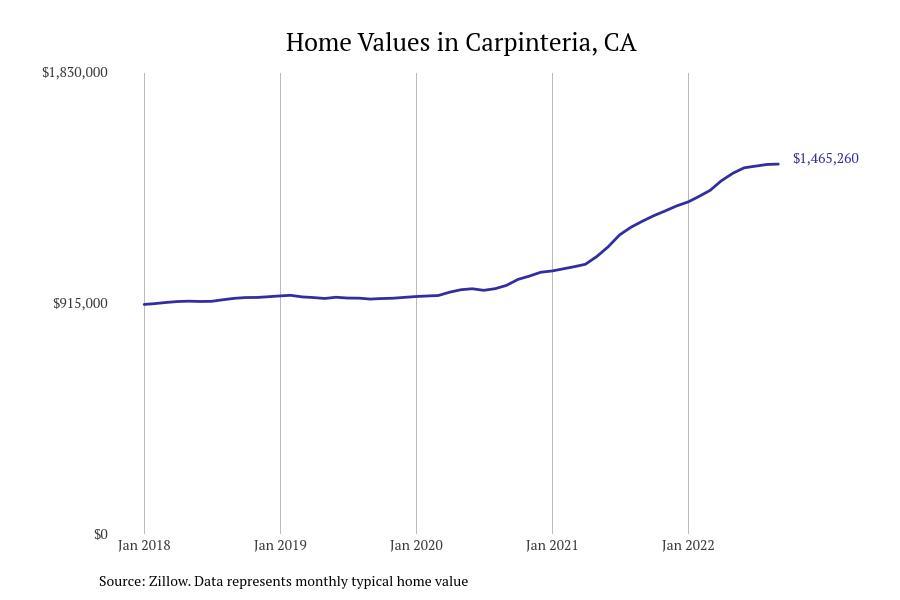 7 / 50
#44. Carpinteria
- Typical home value: $1,465,260
- 1-year price change: +$226,292 (+18.3%)
- 5-year price change: +$566,422 (+63.0%)
- Metro area: Santa Maria-Santa Barbara, CA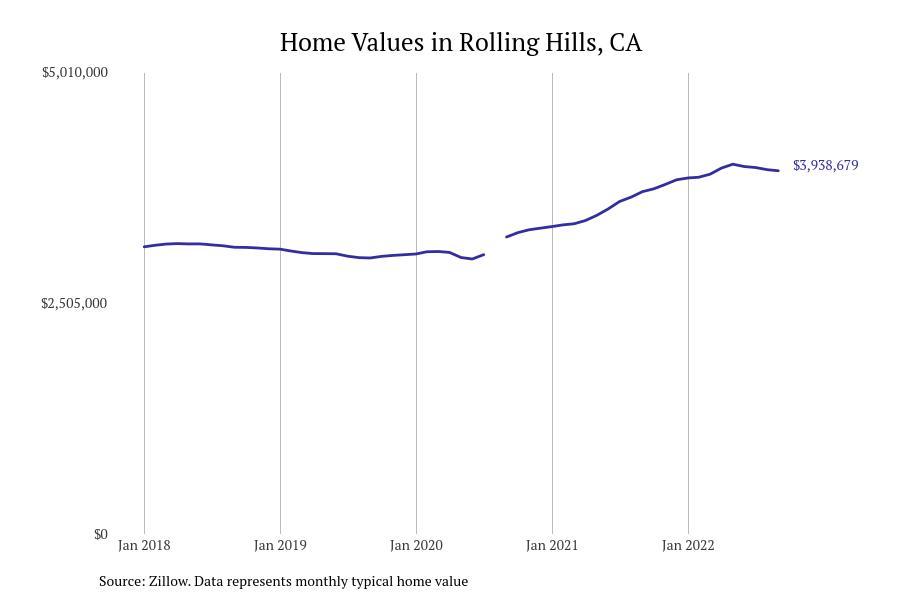 8 / 50
#43. Rolling Hills
- Typical home value: $3,938,679
- 1-year price change: +$226,421 (+6.1%)
- 5-year price change: +$912,045 (+30.1%)
- Metro area: Los Angeles-Long Beach-Anaheim, CA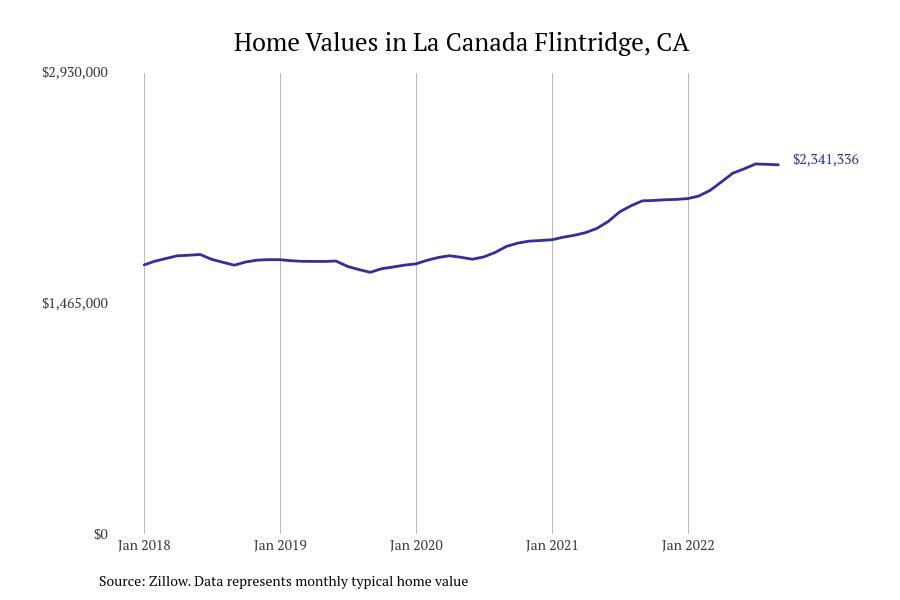 9 / 50
#42. La Canada Flintridge
- Typical home value: $2,341,336
- 1-year price change: +$228,346 (+10.8%)
- 5-year price change: +$736,557 (+45.9%)
- Metro area: Los Angeles-Long Beach-Anaheim, CA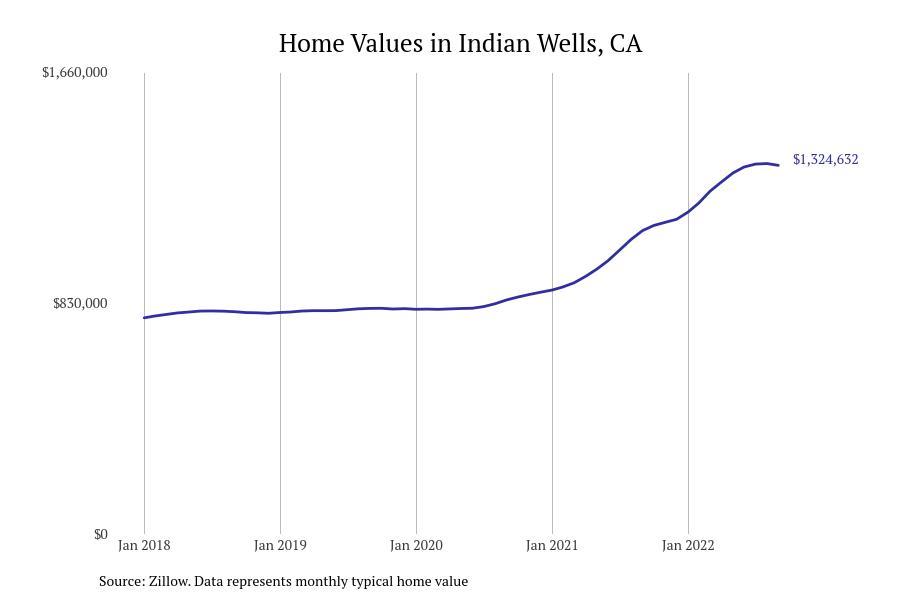 10 / 50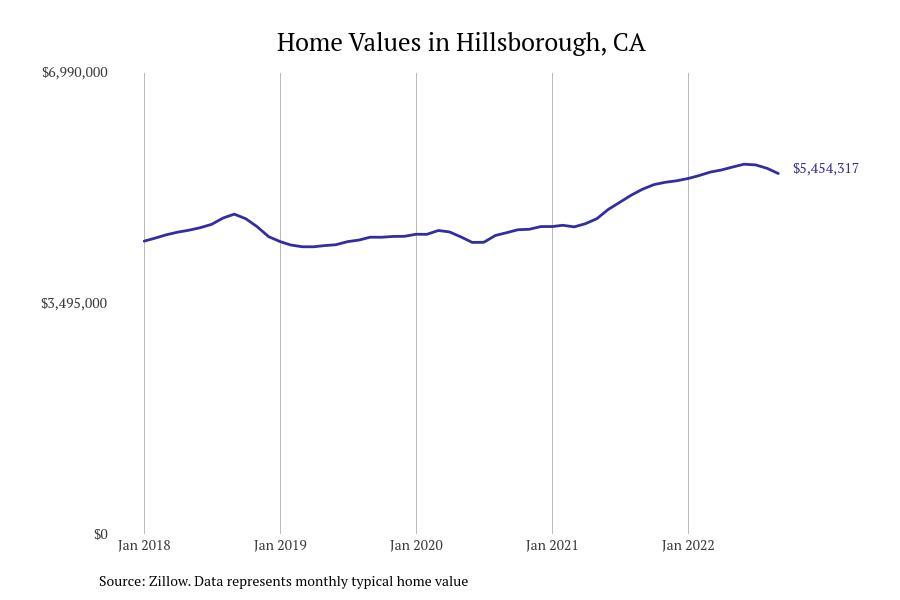 11 / 50
#40. Hillsborough
- Typical home value: $5,454,317
- 1-year price change: +$238,312 (+4.6%)
- 5-year price change: +$1,315,217 (+31.8%)
- Metro area: San Francisco-Oakland-Berkeley, CA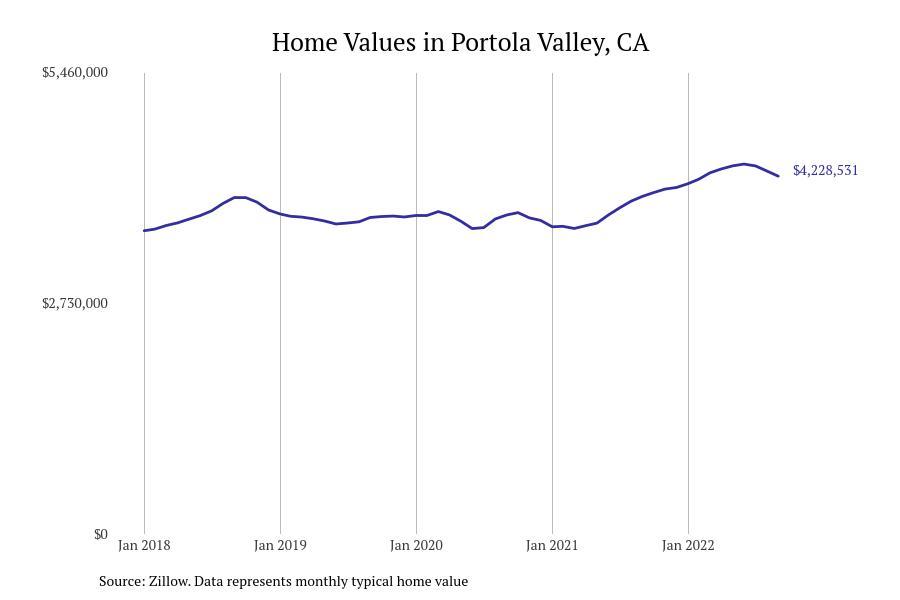 12 / 50
#39. Portola Valley
- Typical home value: $4,228,531
- 1-year price change: +$238,643 (+6.0%)
- 5-year price change: +$887,866 (+26.6%)
- Metro area: San Francisco-Oakland-Berkeley, CA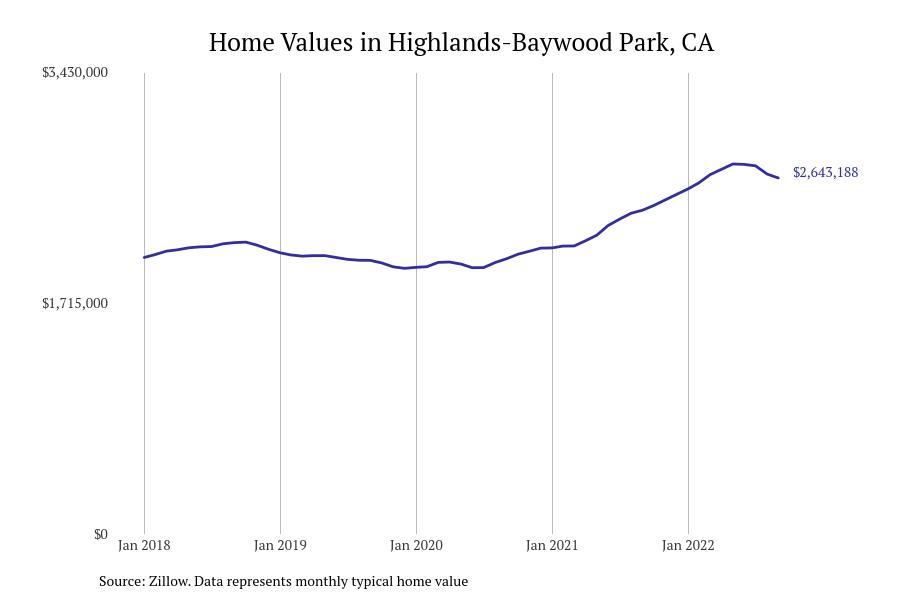 13 / 50
#38. Highlands-Baywood Park
- Typical home value: $2,643,188
- 1-year price change: +$239,624 (+10.0%)
- 5-year price change: +$744,371 (+39.2%)
- Metro area: San Francisco-Oakland-Berkeley, CA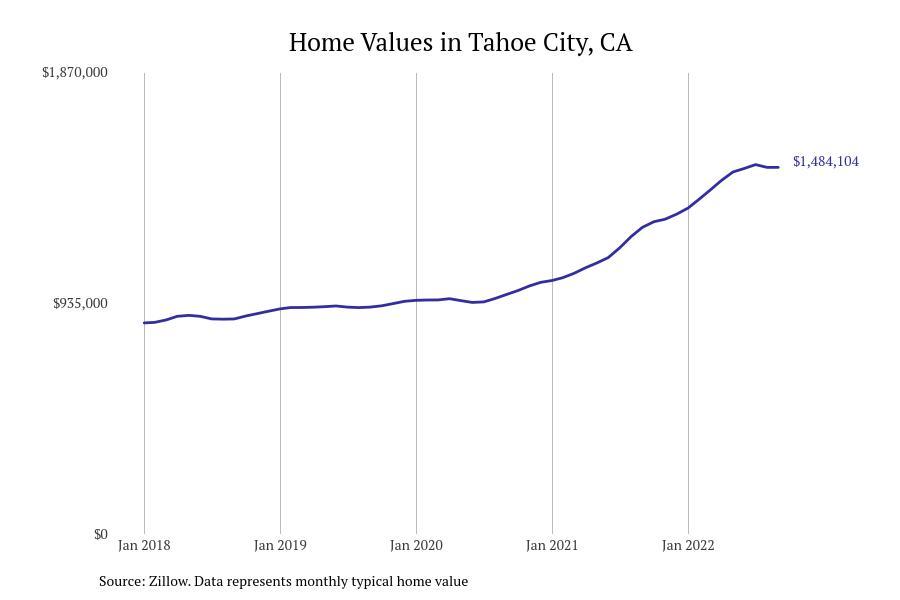 14 / 50
#37. Tahoe City
- Typical home value: $1,484,104
- 1-year price change: +$242,938 (+19.6%)
- 5-year price change: +$644,727 (+76.8%)
- Metro area: Sacramento-Roseville-Folsom, CA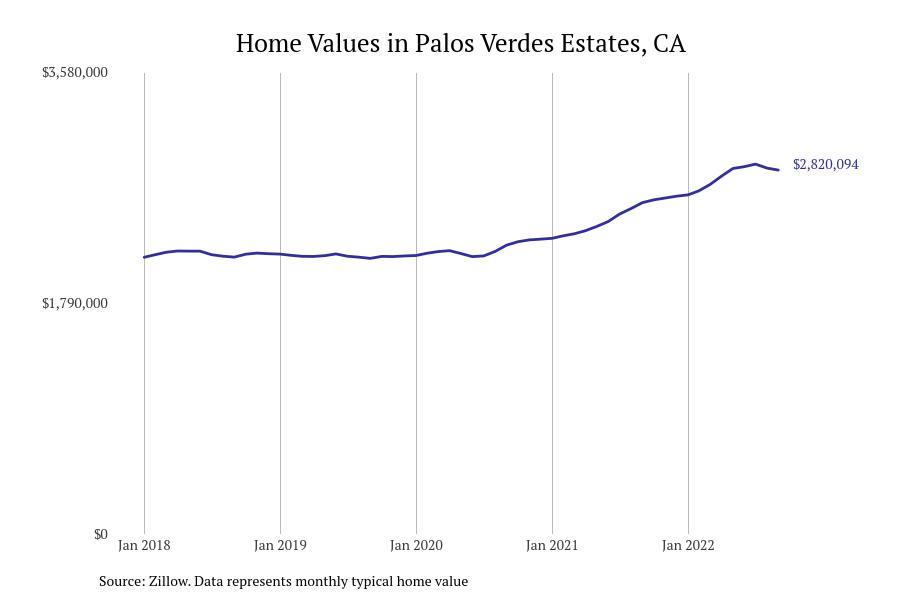 15 / 50
#36. Palos Verdes Estates
- Typical home value: $2,820,094
- 1-year price change: +$252,434 (+9.8%)
- 5-year price change: +$749,719 (+36.2%)
- Metro area: Los Angeles-Long Beach-Anaheim, CA
You may also like: Best private high schools in California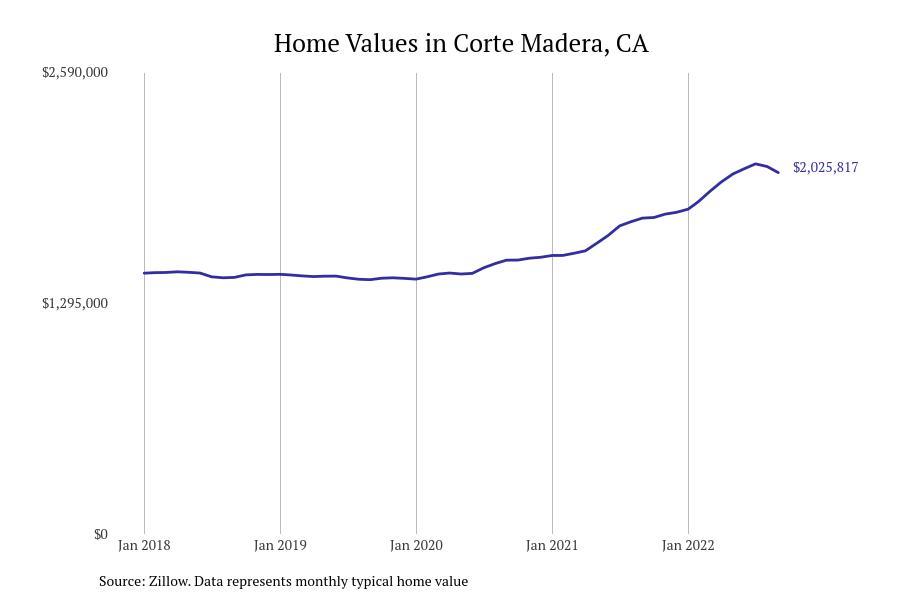 16 / 50
#35. Corte Madera
- Typical home value: $2,025,817
- 1-year price change: +$254,967 (+14.4%)
- 5-year price change: +$622,416 (+44.4%)
- Metro area: San Francisco-Oakland-Berkeley, CA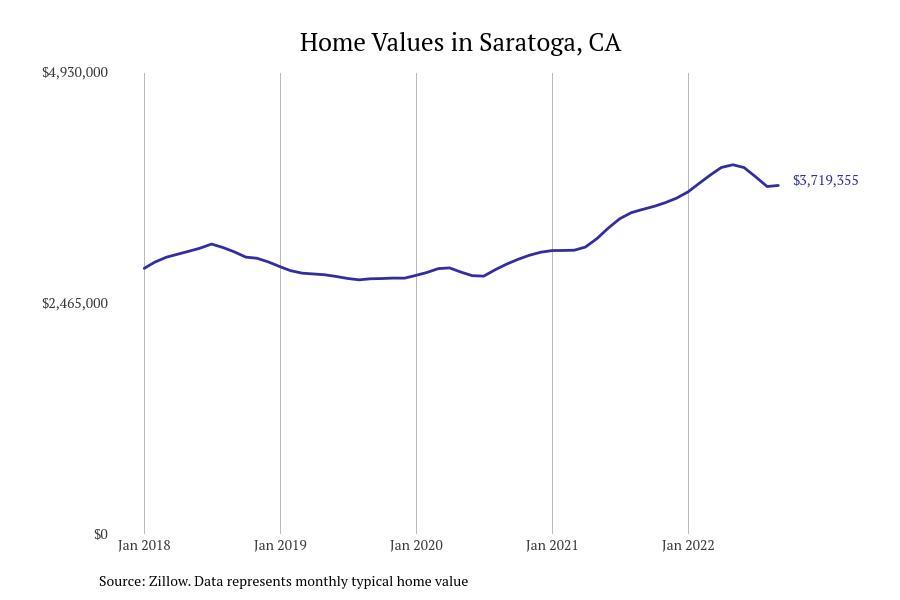 17 / 50
#34. Saratoga
- Typical home value: $3,719,355
- 1-year price change: +$256,259 (+7.4%)
- 5-year price change: +$1,116,199 (+42.9%)
- Metro area: San Jose-Sunnyvale-Santa Clara, CA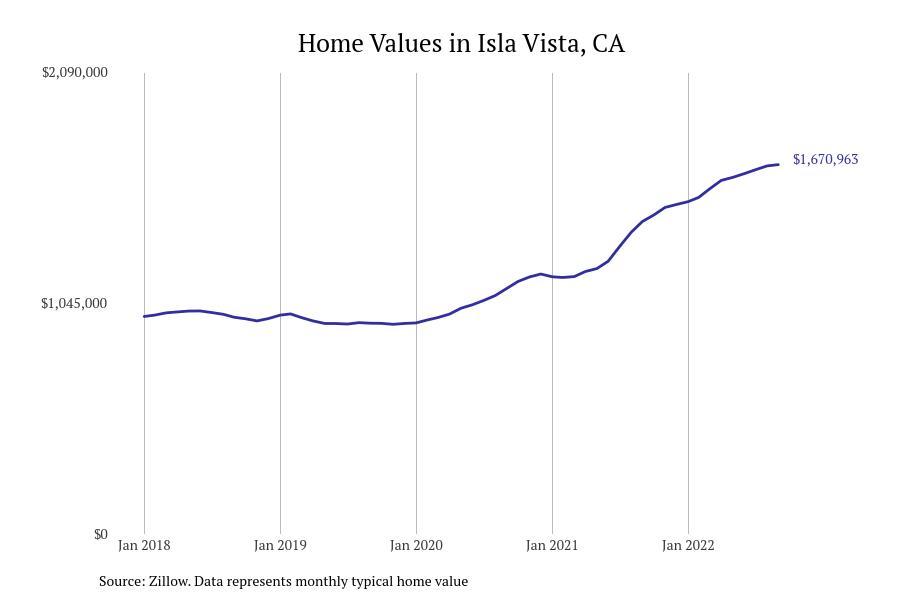 18 / 50
#33. Isla Vista
- Typical home value: $1,670,963
- 1-year price change: +$257,269 (+18.2%)
- 5-year price change: +$719,136 (+75.6%)
- Metro area: Santa Maria-Santa Barbara, CA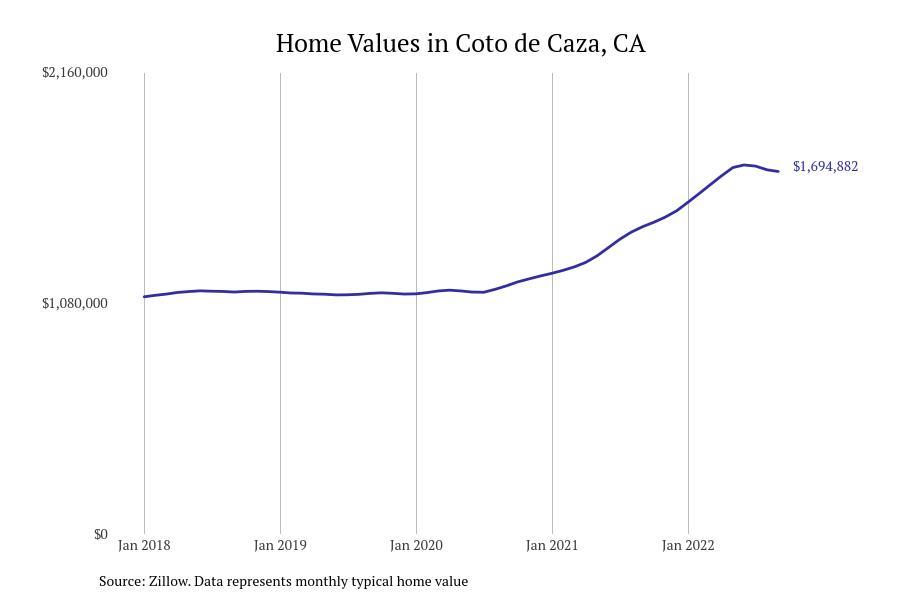 19 / 50
#32. Coto de Caza
- Typical home value: $1,694,882
- 1-year price change: +$258,539 (+18.0%)
- 5-year price change: +$605,885 (+55.6%)
- Metro area: Los Angeles-Long Beach-Anaheim, CA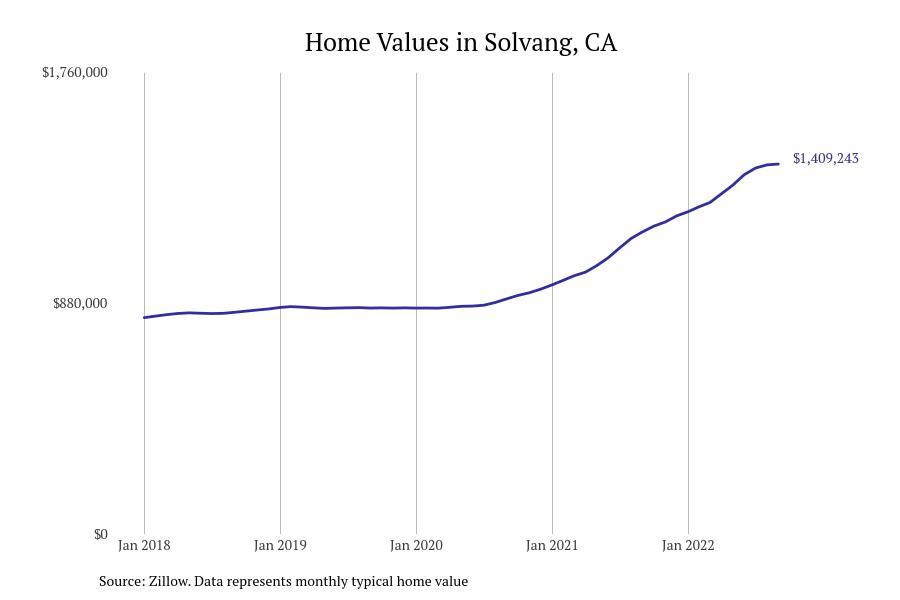 20 / 50
#31. Solvang
- Typical home value: $1,409,243
- 1-year price change: +$258,612 (+22.5%)
- 5-year price change: +$594,910 (+73.1%)
- Metro area: Santa Maria-Santa Barbara, CA
You may also like: Best counties to live in California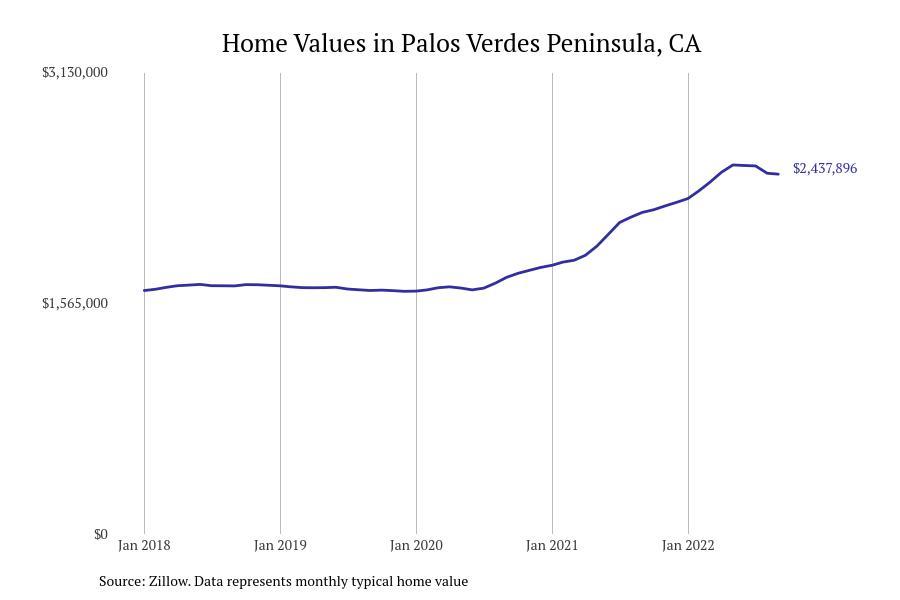 21 / 50
#30. Palos Verdes Peninsula
- Typical home value: $2,437,896
- 1-year price change: +$258,941 (+11.9%)
- 5-year price change: +$836,626 (+52.2%)
- Metro area: Los Angeles-Long Beach-Anaheim, CA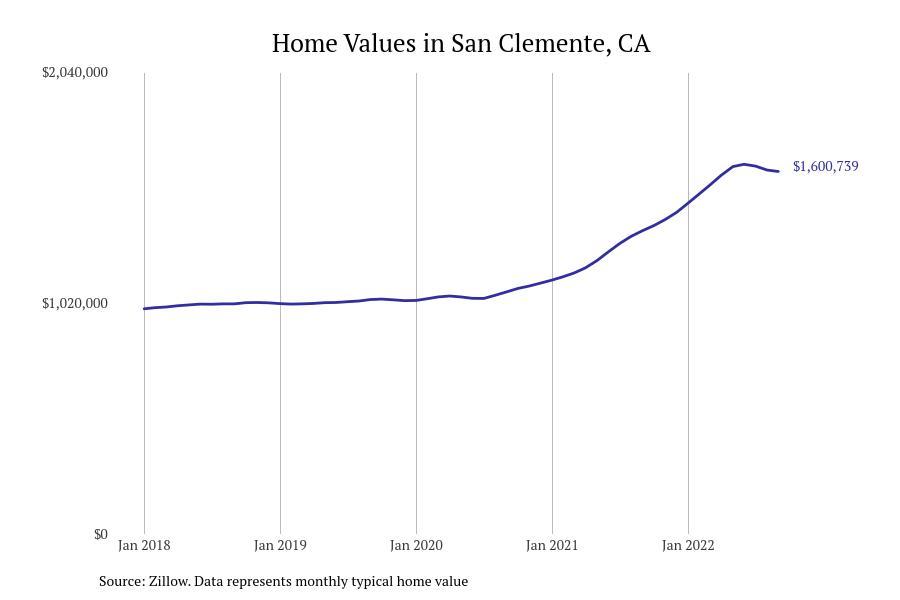 22 / 50
#29. San Clemente
- Typical home value: $1,600,739
- 1-year price change: +$261,682 (+19.5%)
- 5-year price change: +$629,611 (+64.8%)
- Metro area: Los Angeles-Long Beach-Anaheim, CA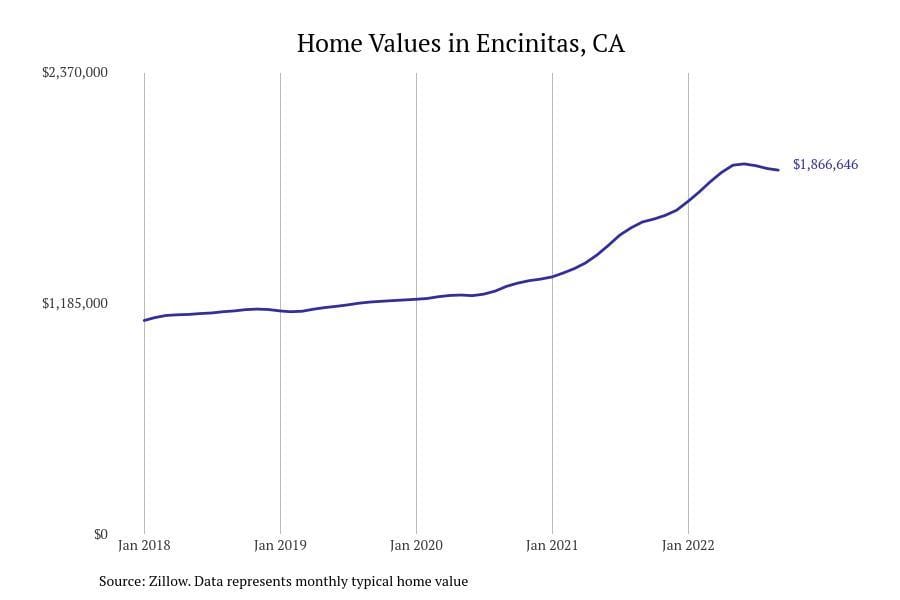 23 / 50
#28. Encinitas
- Typical home value: $1,866,646
- 1-year price change: +$266,145 (+16.6%)
- 5-year price change: +$813,033 (+77.2%)
- Metro area: San Diego-Chula Vista-Carlsbad, CA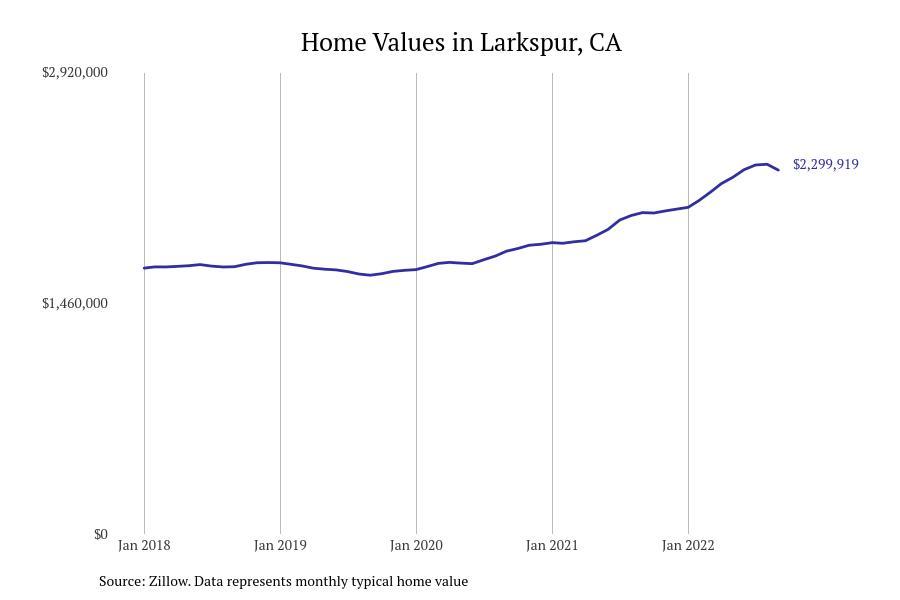 24 / 50
#27. Larkspur
- Typical home value: $2,299,919
- 1-year price change: +$268,798 (+13.2%)
- 5-year price change: +$678,170 (+41.8%)
- Metro area: San Francisco-Oakland-Berkeley, CA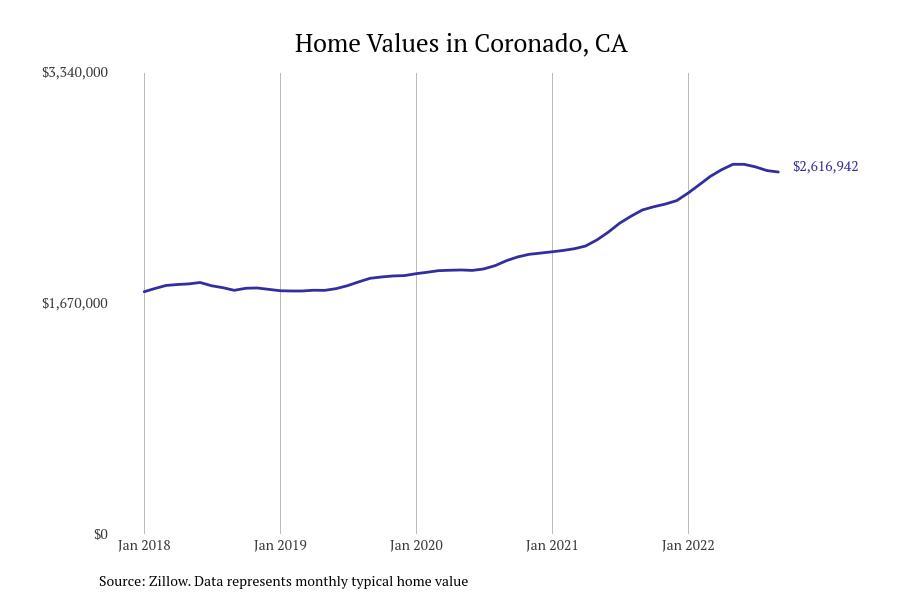 25 / 50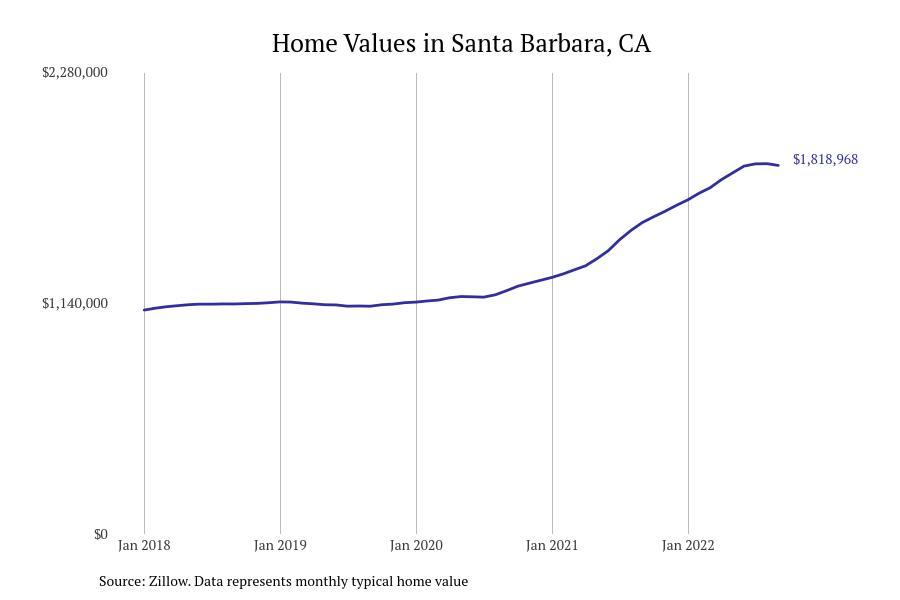 26 / 50
#25. Santa Barbara
- Typical home value: $1,818,968
- 1-year price change: +$281,609 (+18.3%)
- 5-year price change: +$739,932 (+68.6%)
- Metro area: Santa Maria-Santa Barbara, CA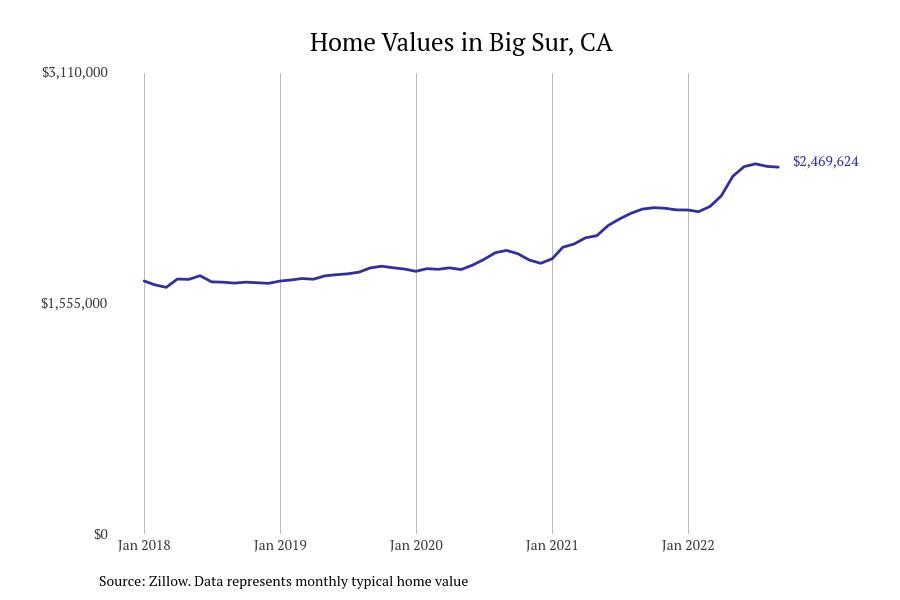 27 / 50
#24. Big Sur
- Typical home value: $2,469,624
- 1-year price change: +$282,551 (+12.9%)
- 5-year price change: +$771,603 (+45.4%)
- Metro area: Salinas, CA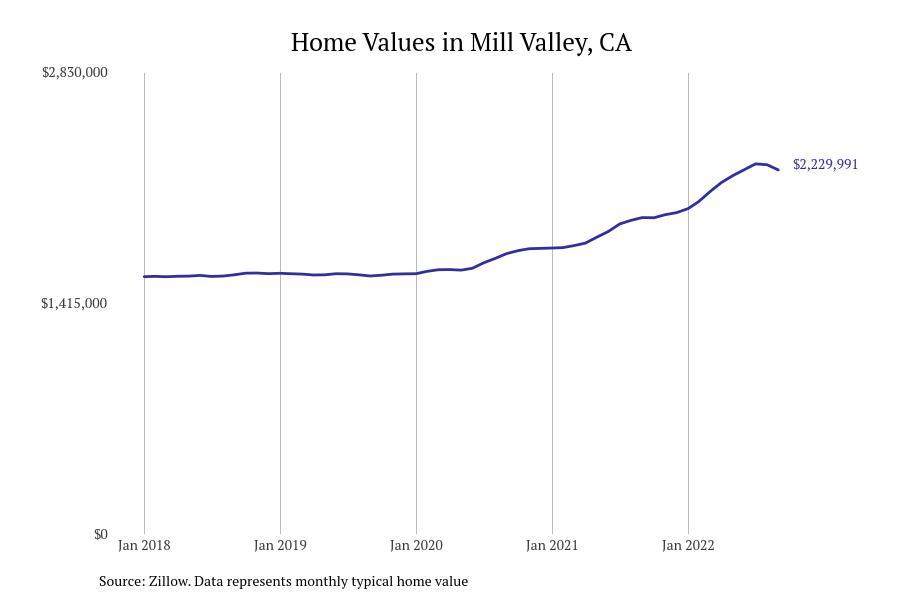 28 / 50
#23. Mill Valley
- Typical home value: $2,229,991
- 1-year price change: +$291,688 (+15.0%)
- 5-year price change: +$703,125 (+46.1%)
- Metro area: San Francisco-Oakland-Berkeley, CA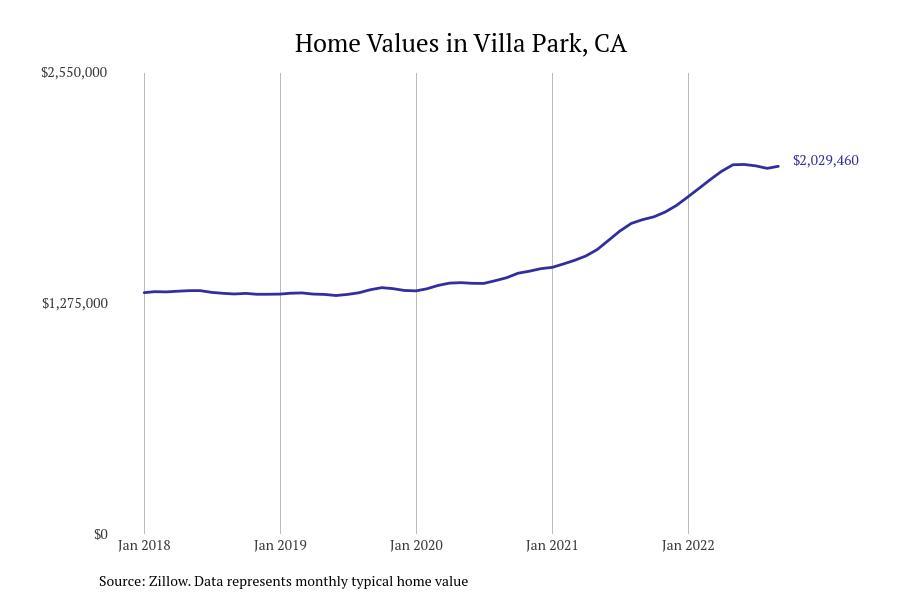 29 / 50
#22. Villa Park
- Typical home value: $2,029,460
- 1-year price change: +$294,707 (+17.0%)
- 5-year price change: +$733,358 (+56.6%)
- Metro area: Los Angeles-Long Beach-Anaheim, CA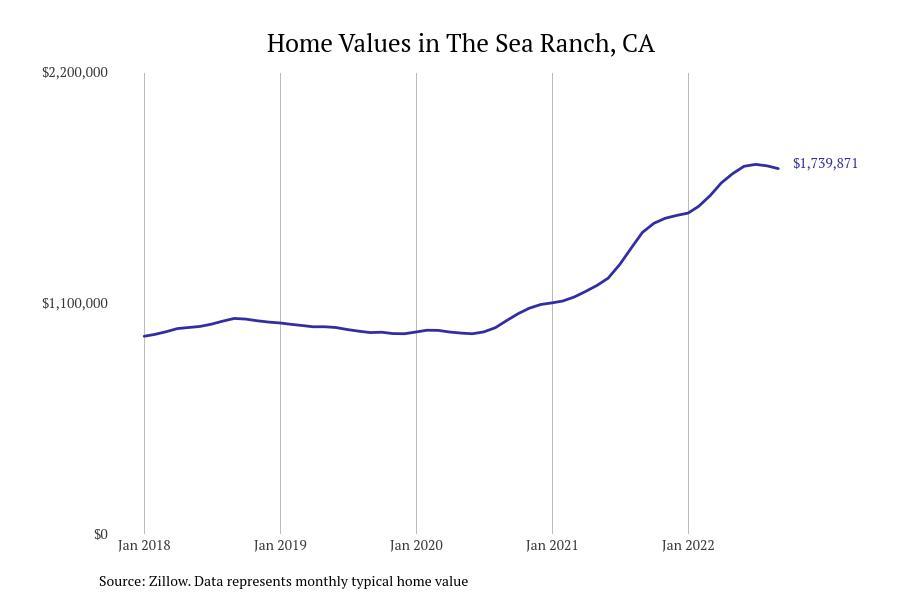 30 / 50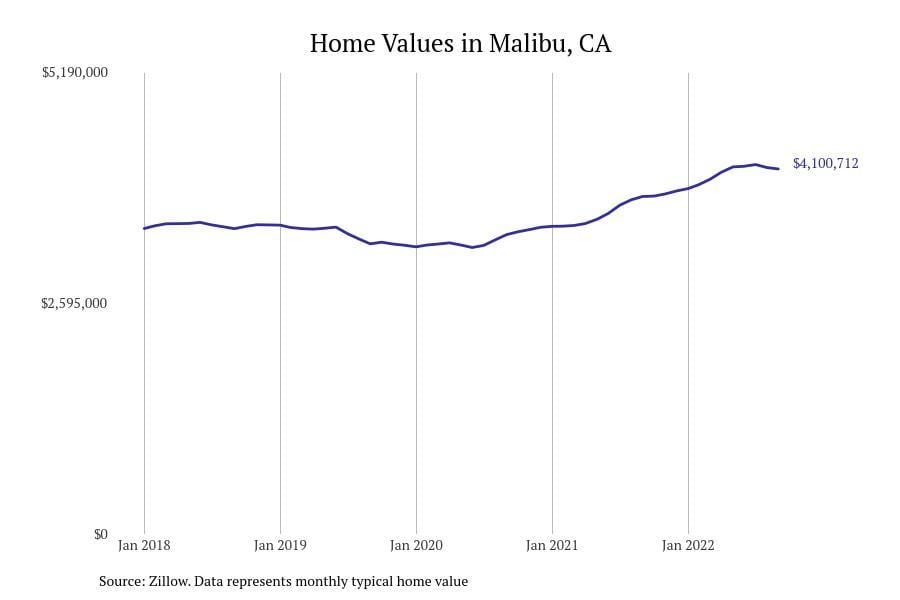 31 / 50
#20. Malibu
- Typical home value: $4,100,712
- 1-year price change: +$309,496 (+8.2%)
- 5-year price change: +$842,592 (+25.9%)
- Metro area: Los Angeles-Long Beach-Anaheim, CA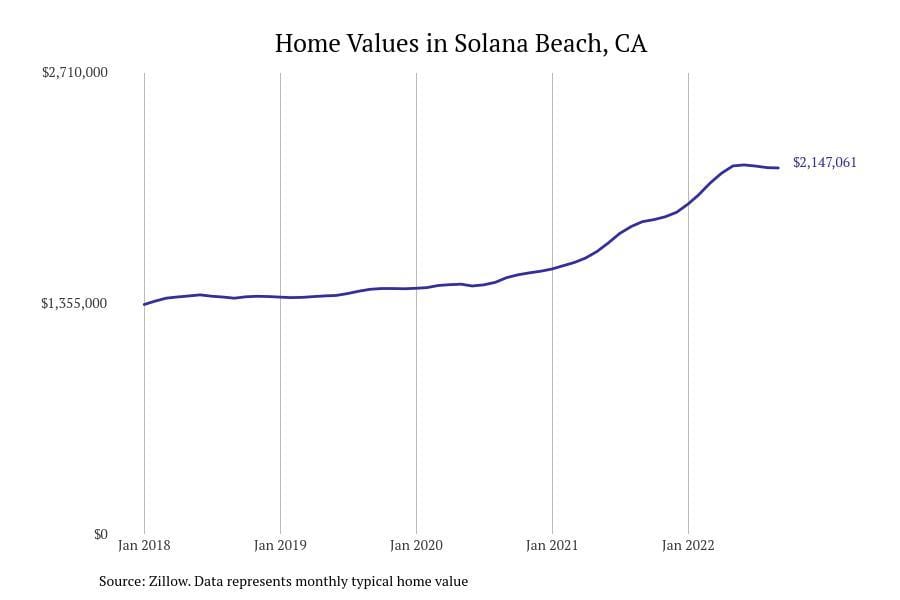 32 / 50
#19. Solana Beach
- Typical home value: $2,147,061
- 1-year price change: +$315,012 (+17.2%)
- 5-year price change: +$872,031 (+68.4%)
- Metro area: San Diego-Chula Vista-Carlsbad, CA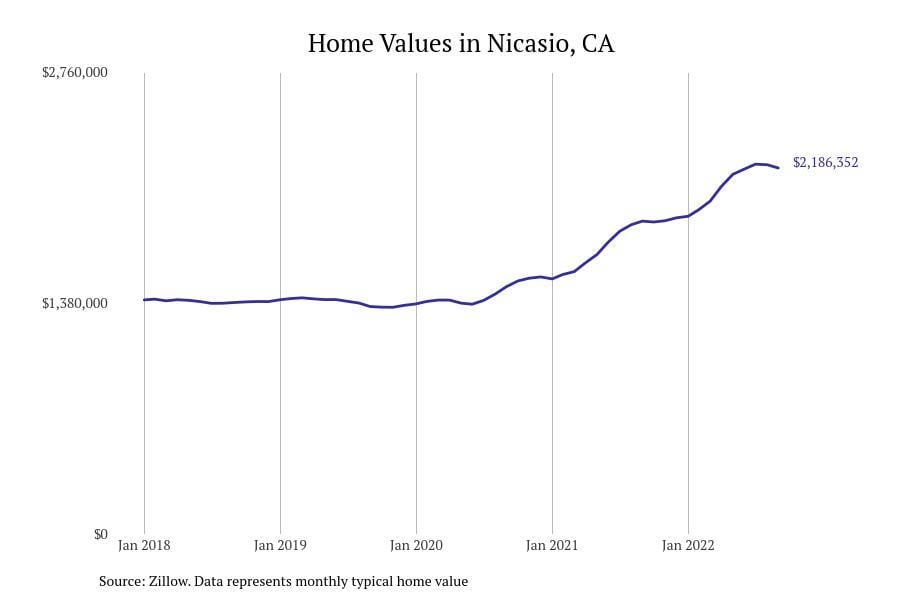 33 / 50
#18. Nicasio
- Typical home value: $2,186,352
- 1-year price change: +$317,200 (+17.0%)
- 5-year price change: +$823,395 (+60.4%)
- Metro area: San Francisco-Oakland-Berkeley, CA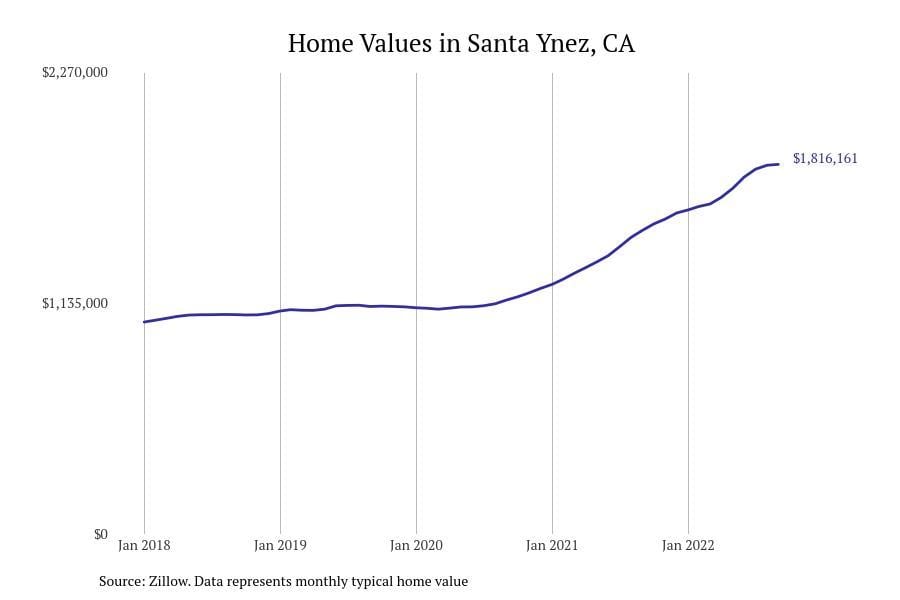 34 / 50
#17. Santa Ynez
- Typical home value: $1,816,161
- 1-year price change: +$324,435 (+21.7%)
- 5-year price change: +$781,104 (+75.5%)
- Metro area: Santa Maria-Santa Barbara, CA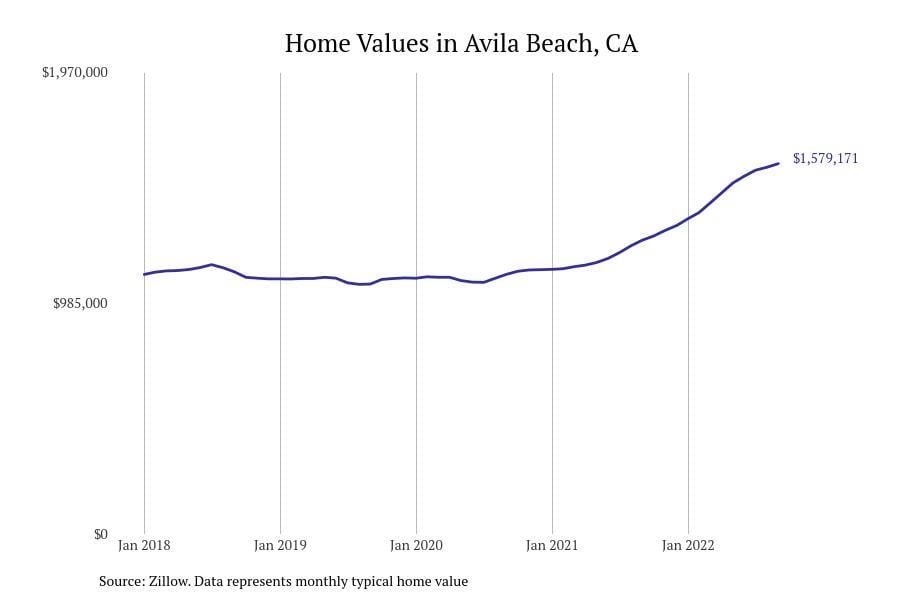 35 / 50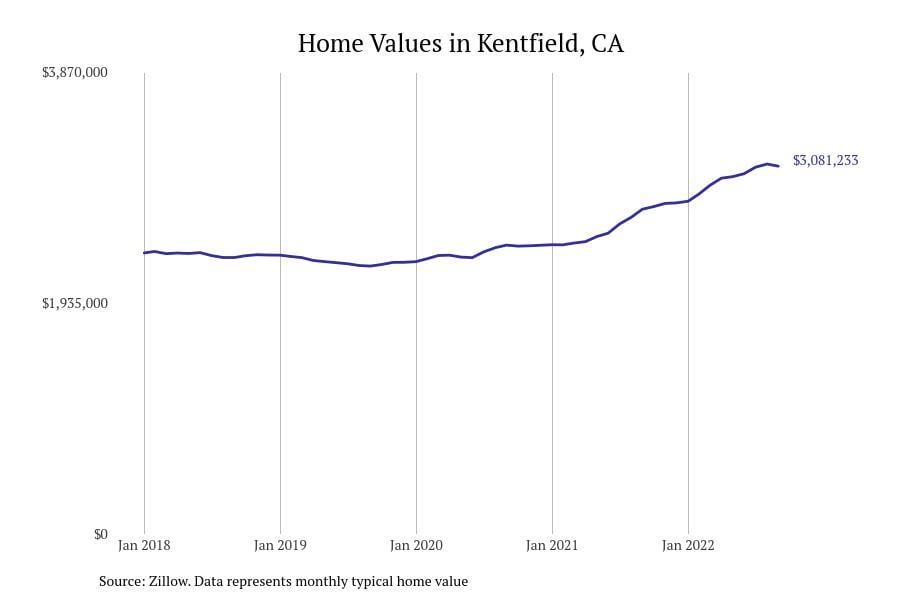 36 / 50
#15. Kentfield
- Typical home value: $3,081,233
- 1-year price change: +$360,586 (+13.3%)
- 5-year price change: +$814,357 (+35.9%)
- Metro area: San Francisco-Oakland-Berkeley, CA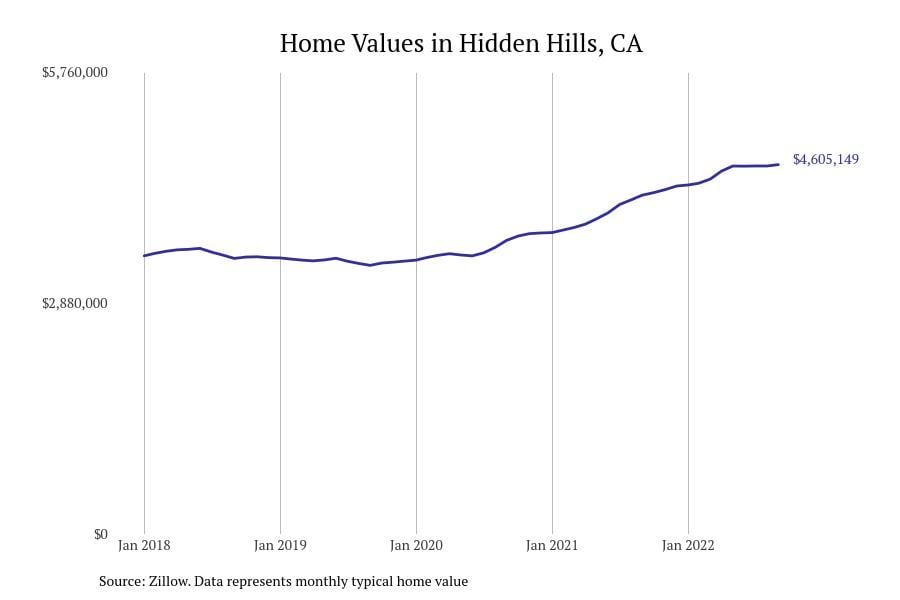 37 / 50
#14. Hidden Hills
- Typical home value: $4,605,149
- 1-year price change: +$380,192 (+9.0%)
- 5-year price change: +$1,267,775 (+38.0%)
- Metro area: Los Angeles-Long Beach-Anaheim, CA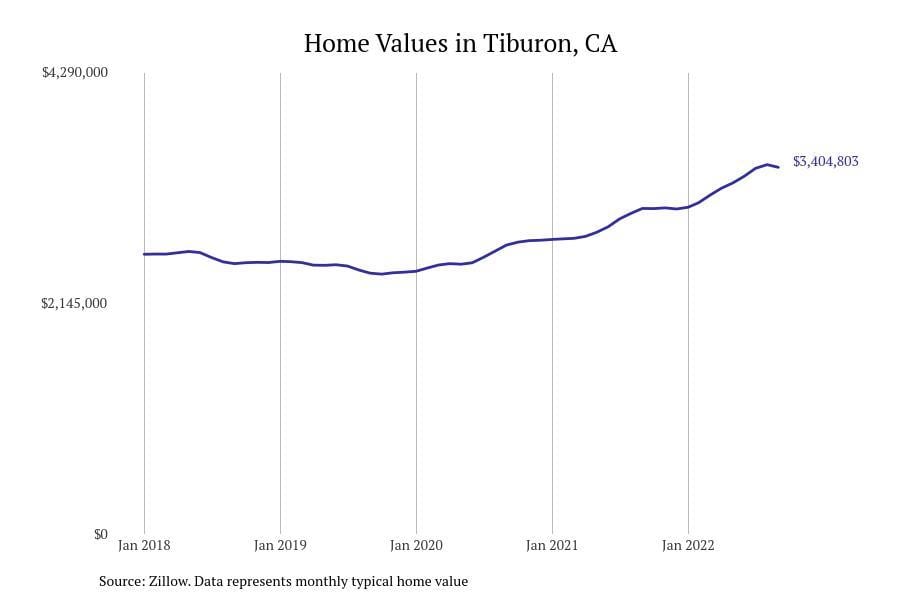 38 / 50
#13. Tiburon
- Typical home value: $3,404,803
- 1-year price change: +$381,850 (+12.6%)
- 5-year price change: +$909,481 (+36.4%)
- Metro area: San Francisco-Oakland-Berkeley, CA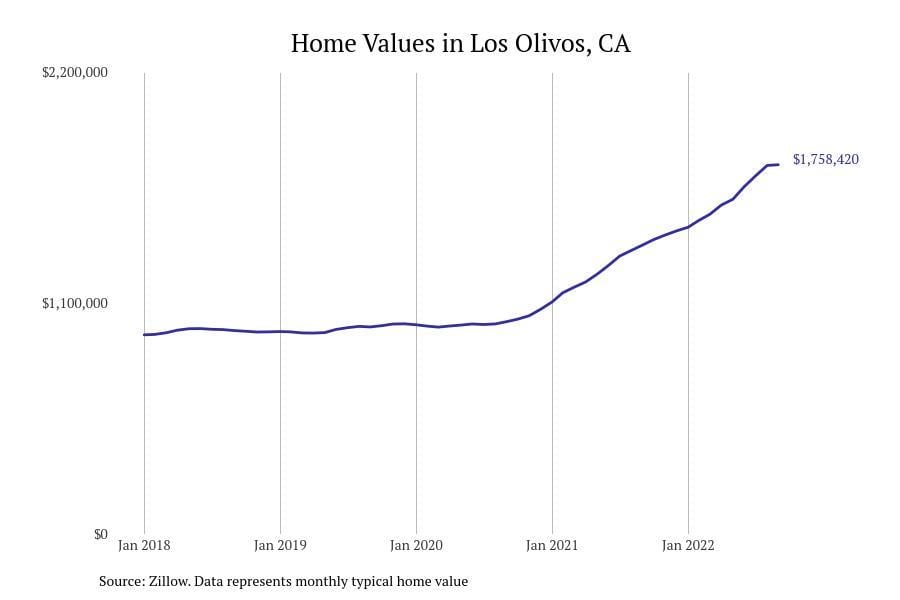 39 / 50
#12. Los Olivos
- Typical home value: $1,758,420
- 1-year price change: +$382,818 (+27.8%)
- 5-year price change: +$812,127 (+85.8%)
- Metro area: Santa Maria-Santa Barbara, CA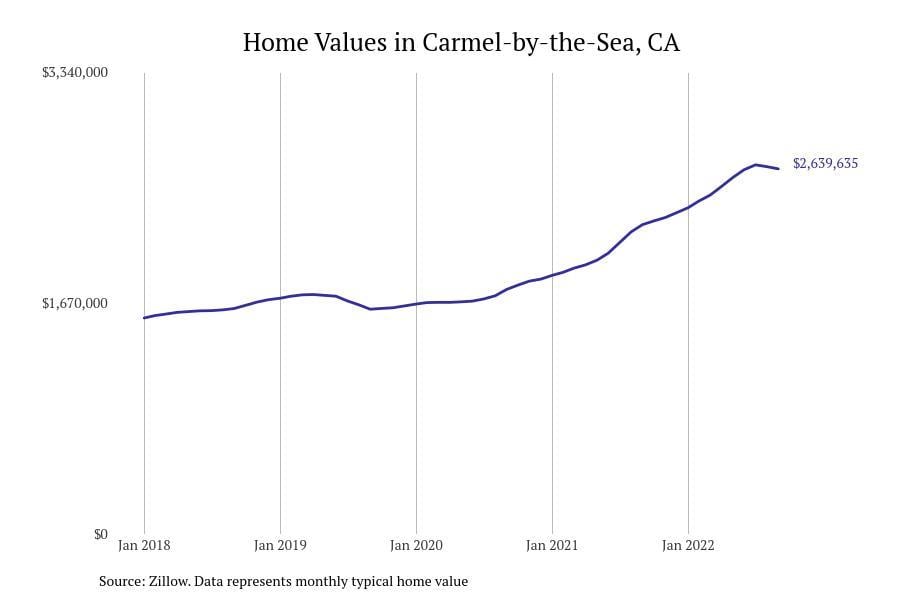 40 / 50
#11. Carmel-by-the-Sea
- Typical home value: $2,639,635
- 1-year price change: +$403,564 (+18.0%)
- 5-year price change: +$1,100,063 (+71.5%)
- Metro area: Salinas, CA
You may also like: Best public high schools in California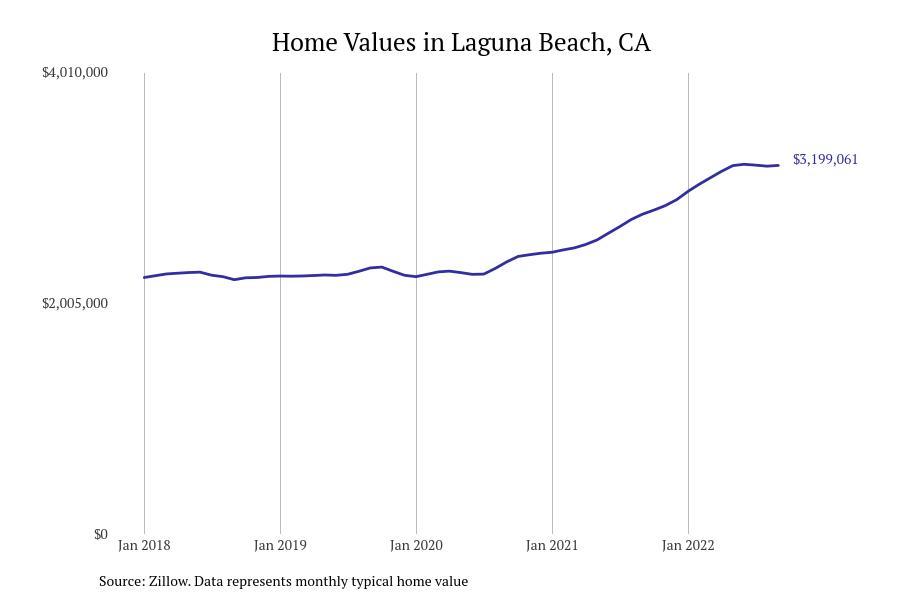 41 / 50
#10. Laguna Beach
- Typical home value: $3,199,061
- 1-year price change: +$423,583 (+15.3%)
- 5-year price change: +$1,054,915 (+49.2%)
- Metro area: Los Angeles-Long Beach-Anaheim, CA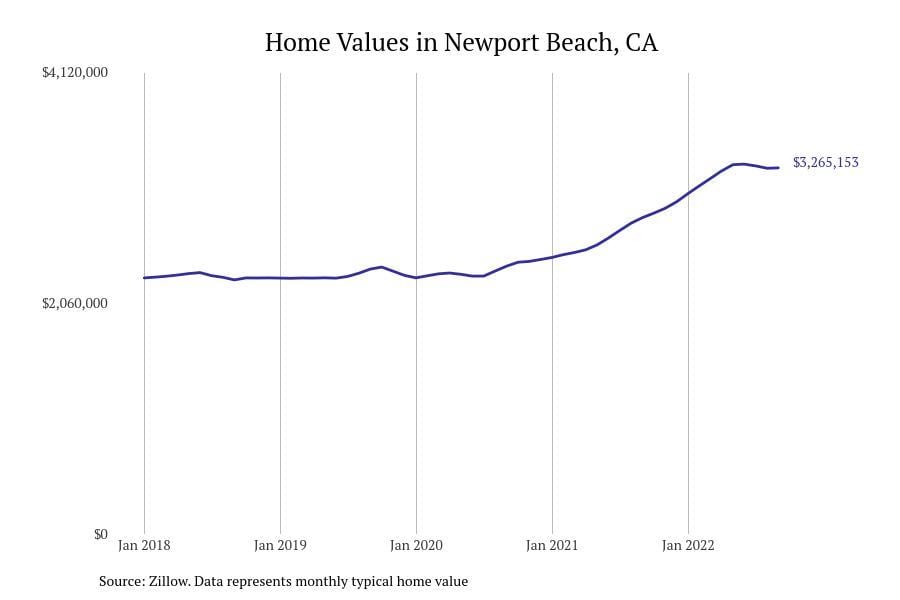 42 / 50
#9. Newport Beach
- Typical home value: $3,265,153
- 1-year price change: +$444,222 (+15.7%)
- 5-year price change: +$1,062,877 (+48.3%)
- Metro area: Los Angeles-Long Beach-Anaheim, CA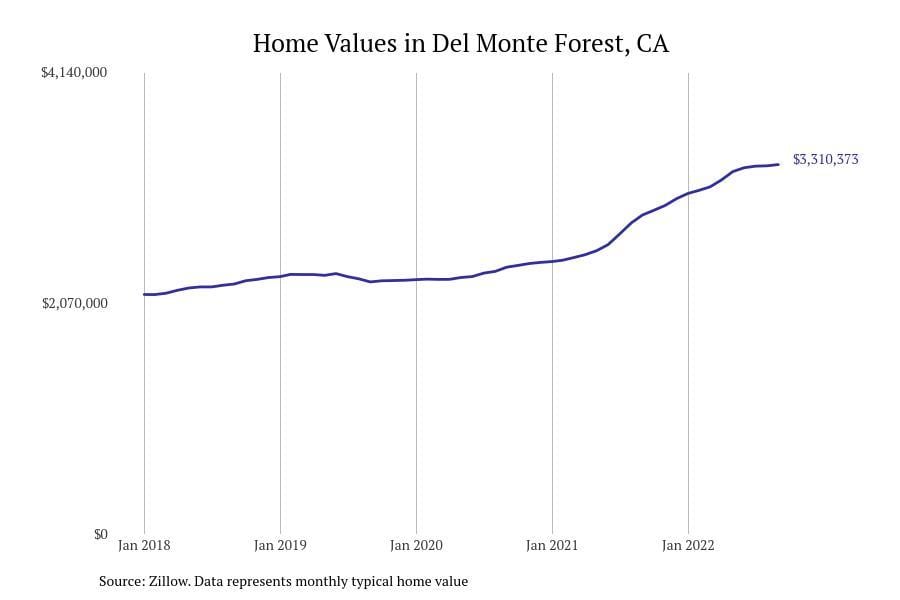 43 / 50
#8. Del Monte Forest
- Typical home value: $3,310,373
- 1-year price change: +$452,318 (+15.8%)
- 5-year price change: +$1,207,748 (+57.4%)
- Metro area: Salinas, CA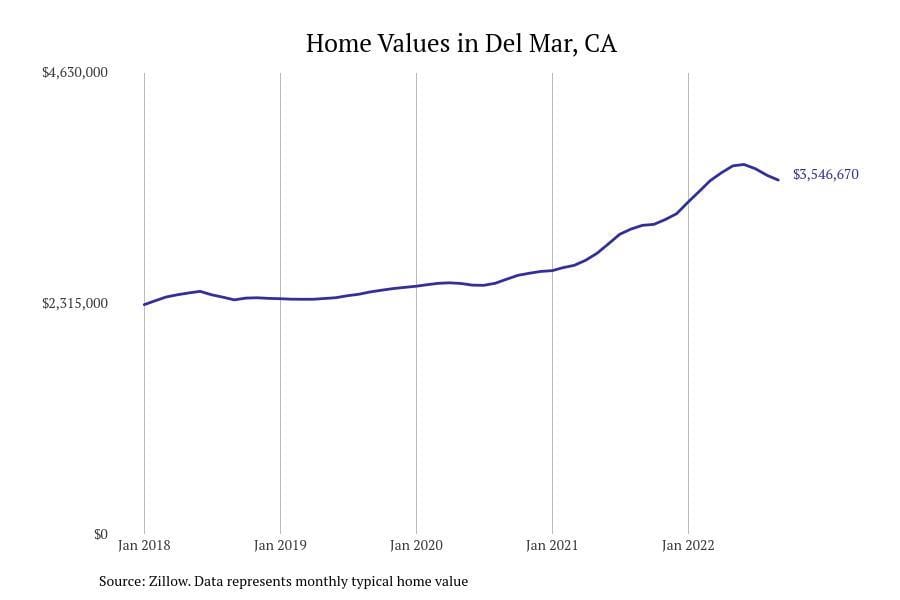 44 / 50
#7. Del Mar
- Typical home value: $3,546,670
- 1-year price change: +$453,491 (+14.7%)
- 5-year price change: +$1,340,642 (+60.8%)
- Metro area: San Diego-Chula Vista-Carlsbad, CA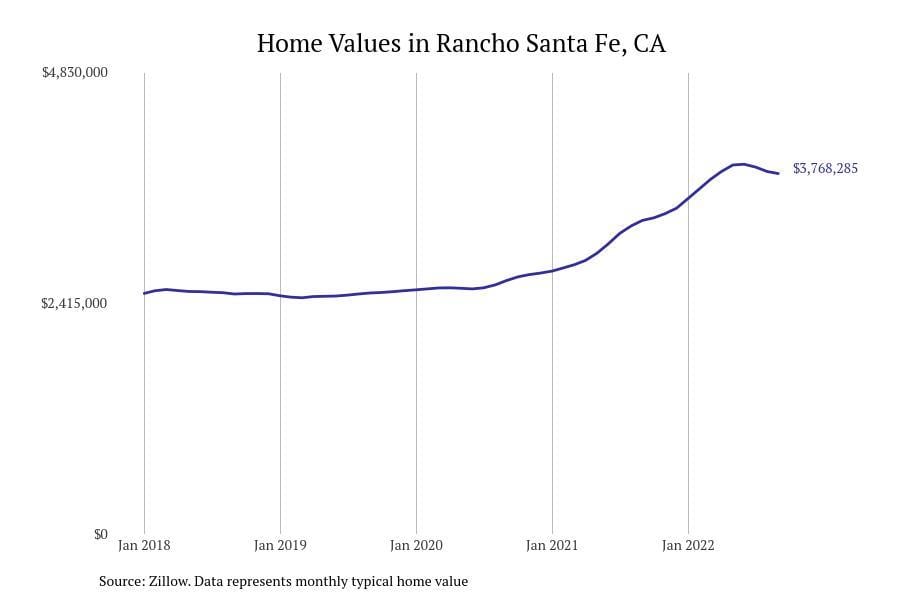 45 / 50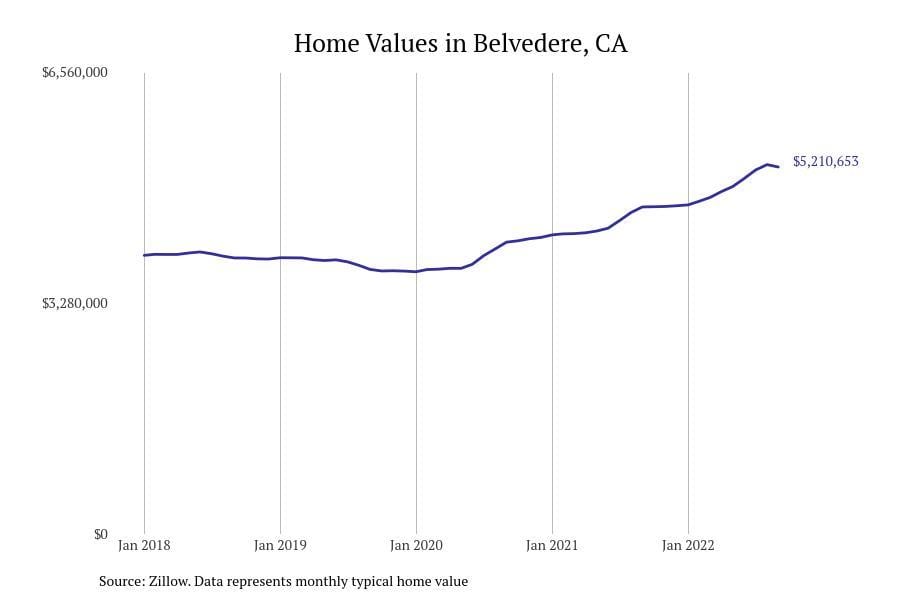 46 / 50
#5. Belvedere
- Typical home value: $5,210,653
- 1-year price change: +$566,710 (+12.2%)
- 5-year price change: +$1,354,264 (+35.1%)
- Metro area: San Francisco-Oakland-Berkeley, CA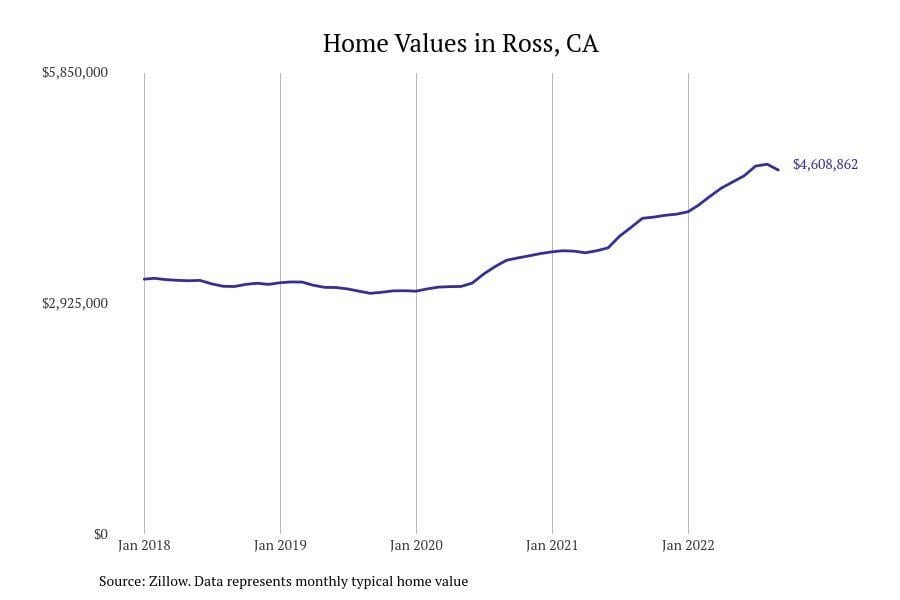 47 / 50
#4. Ross
- Typical home value: $4,608,862
- 1-year price change: +$611,401 (+15.3%)
- 5-year price change: +$1,481,470 (+47.4%)
- Metro area: San Francisco-Oakland-Berkeley, CA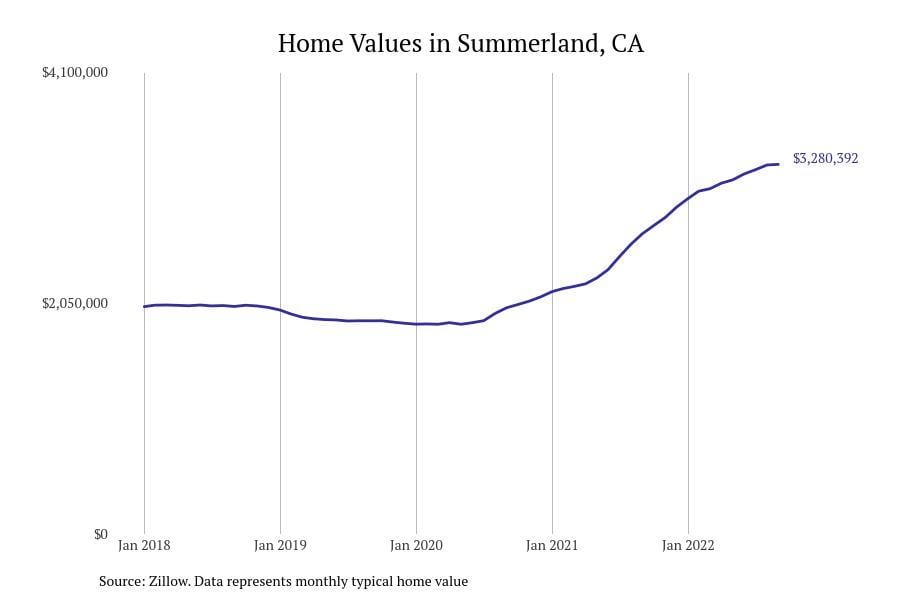 48 / 50
#3. Summerland
- Typical home value: $3,280,392
- 1-year price change: +$615,844 (+23.1%)
- 5-year price change: +$1,358,671 (+70.7%)
- Metro area: Santa Maria-Santa Barbara, CA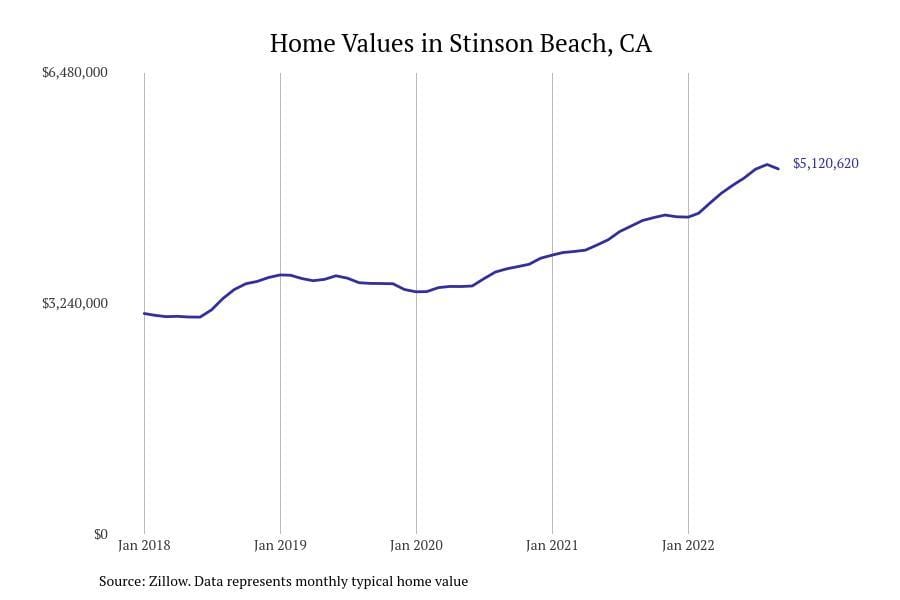 49 / 50
#2. Stinson Beach
- Typical home value: $5,120,620
- 1-year price change: +$724,522 (+16.5%)
- 5-year price change: +$2,084,038 (+68.6%)
- Metro area: San Francisco-Oakland-Berkeley, CA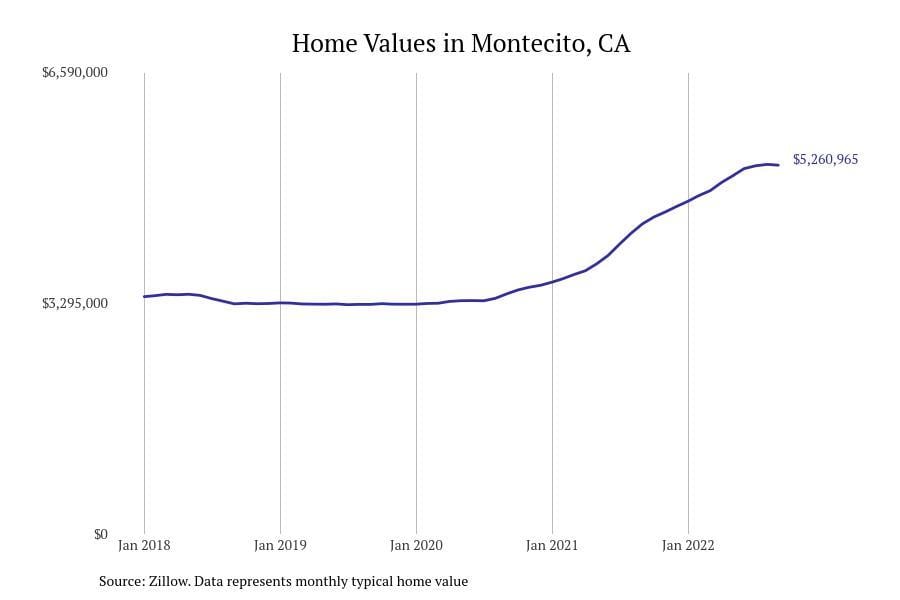 50 / 50
#1. Montecito
- Typical home value: $5,260,965
- 1-year price change: +$837,736 (+18.9%)
- 5-year price change: +$1,982,140 (+60.5%)
- Metro area: Santa Maria-Santa Barbara, CA
You may also like: Highest-rated museums in California