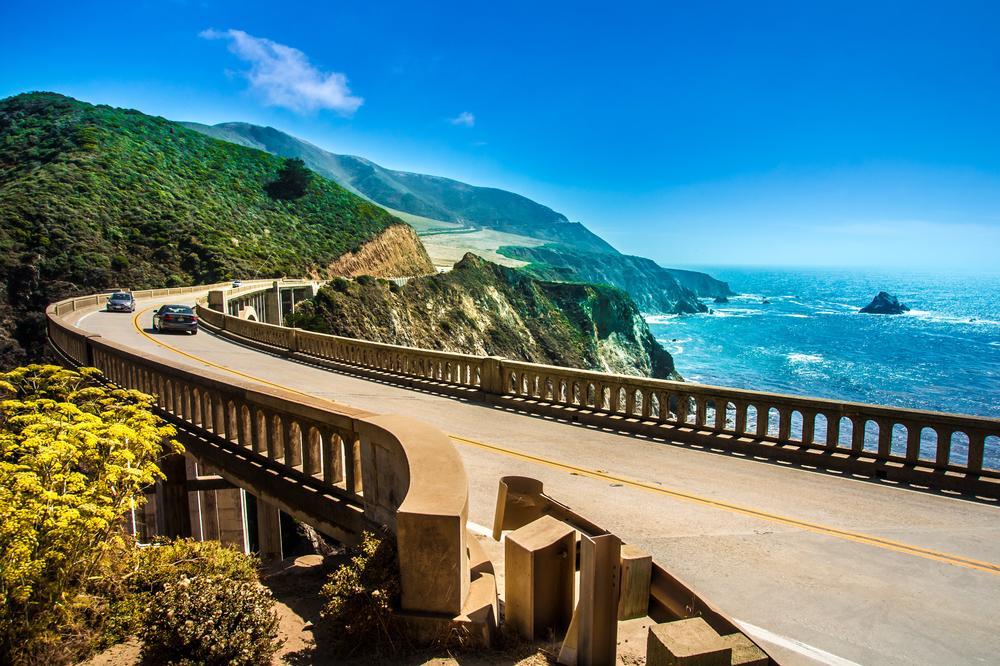 Best commutes in California
Michael Urmann // Shutterstock
Best commutes in California
Time is a valuable commodity; most people living in the United States can agree they spend way too much of it sitting in traffic. The average American spends nearly an hour in a single-occupancy vehicle getting to and from work each day.
Though congestion and long, complicated commutes are often accepted as an unavoidable part of life in places like New York City, Los Angeles, and Washington D.C., some cities boast relatively quick and easy transits. Which cities in the country have the shortest and least complicated commutes?
Stacker has collected data from the U.S Census Bureau to determine the best commutes in eight different states, including California. Stacker ranked the cities by average commute, and any ties were broken by commuters with 60 minutes or more of one-way travel time. The most recent data from 2017 includes commuters 16 years of age or older, and it excludes people who work remotely.
Read on to find out the fastest and easiest routes to help you save time and energy. The data might even help you choose which city you move to next.
#20. Monterey County (North Central)—Seaside, Monterey, Marina, and Pacific Grove Cities
Average commute: 22.4 minutes
Commuters with 60 minutes or more of one-way travel time: 4.8%
Worker population 16 and older: 85,016
#19. Fresno County (North Central)—Fresno City (North)
Average commute: 22.2 minutes
Commuters with 60 minutes or more of one-way travel time: 4.5%
Worker population 16 and older: 83,914
#18. Kern County (West)—Delano, Wasco, and Shafter Cities
Average commute: 22.2 minutes
Commuters with 60 minutes or more of one-way travel time: 7%
Worker population 16 and older: 69,137
#17. Sacramento County (West)—Sacramento City (Central/Downtown and Midtown)
Average commute: 22.2 minutes
Commuters with 60 minutes or more of one-way travel time: 4.8%
Worker population 16 and older: 59,395
#16. Colusa, Glenn, Tehama, and Trinity Counties
Average commute: 22.1 minutes
Commuters with 60 minutes or more of one-way travel time: 7.2%
Worker population 16 and older: 47,493
#15. Riverside County (East)—Indio, Coachella, Blythe, and La Quinta (East) Cities
Average commute: 22 minutes
Commuters with 60 minutes or more of one-way travel time: 4.6%
Worker population 16 and older: 71,475
#14. Imperial County—El Centro City
Average commute: 21.8 minutes
Commuters with 60 minutes or more of one-way travel time: 4.9%
Worker population 16 and older: 58,660
#13. Tulare County (West Central)—Tulare and Porterville Cities
Average commute: 21.3 minutes
Commuters with 60 minutes or more of one-way travel time: 6%
Worker population 16 and older: 55,902
#12. Riverside County—Palm Desert, La Quinta (West), and Desert Hot Springs Cities
Average commute: 21.1 minutes
Commuters with 60 minutes or more of one-way travel time: 6.1%
Worker population 16 and older: 58,700
#11. Riverside County (Central)—Cathedral City, Palm Springs, and Rancho Mirage Cities
Average commute: 21 minutes
Commuters with 60 minutes or more of one-way travel time: 6.5%
Worker population 16 and older: 54,303
#10. Fresno County (Central)—Clovis City
Average commute: 20.9 minutes
Commuters with 60 minutes or more of one-way travel time: 4.2%
Worker population 16 and older: 50,796
#9. Santa Barbara County (Northwest)—Santa Maria City and Orcutt
Average commute: 20.8 minutes
Commuters with 60 minutes or more of one-way travel time: 4.5%
Worker population 16 and older: 56,641
#8. Fresno County (Central)—Fresno City (East Central)
Average commute: 20.7 minutes
Commuters with 60 minutes or more of one-way travel time: 4.8%
Worker population 16 and older: 38,759
#7. San Luis Obispo County (West)—Coastal Region
Average commute: 20.3 minutes
Commuters with 60 minutes or more of one-way travel time: 3.6%
Worker population 16 and older: 78,285
#6. Tulare County (Northwest)—Visalia City
Average commute: 20.3 minutes
Commuters with 60 minutes or more of one-way travel time: 4.6%
Worker population 16 and older: 55,559
#5. Shasta County—Redding City
Average commute: 19.2 minutes
Commuters with 60 minutes or more of one-way travel time: 5.4%
Worker population 16 and older: 70,647
#4. Humboldt County
Average commute: 18.5 minutes
Commuters with 60 minutes or more of one-way travel time: 3.8%
Worker population 16 and older: 57,251
#3. Del Norte, Lassen, Modoc, Plumas, and Siskiyou Counties
Average commute: 17.5 minutes
Commuters with 60 minutes or more of one-way travel time: 5%
Worker population 16 and older: 43,179
#2. Santa Barbara County—South Coast Region
Average commute: 17.1 minutes
Commuters with 60 minutes or more of one-way travel time: 3.6%
Worker population 16 and older: 104,539
#1. Butte County (Northwest)—Chico City
Average commute: 16.9 minutes
Commuters with 60 minutes or more of one-way travel time: 4.2%
Worker population 16 and older: 53,298