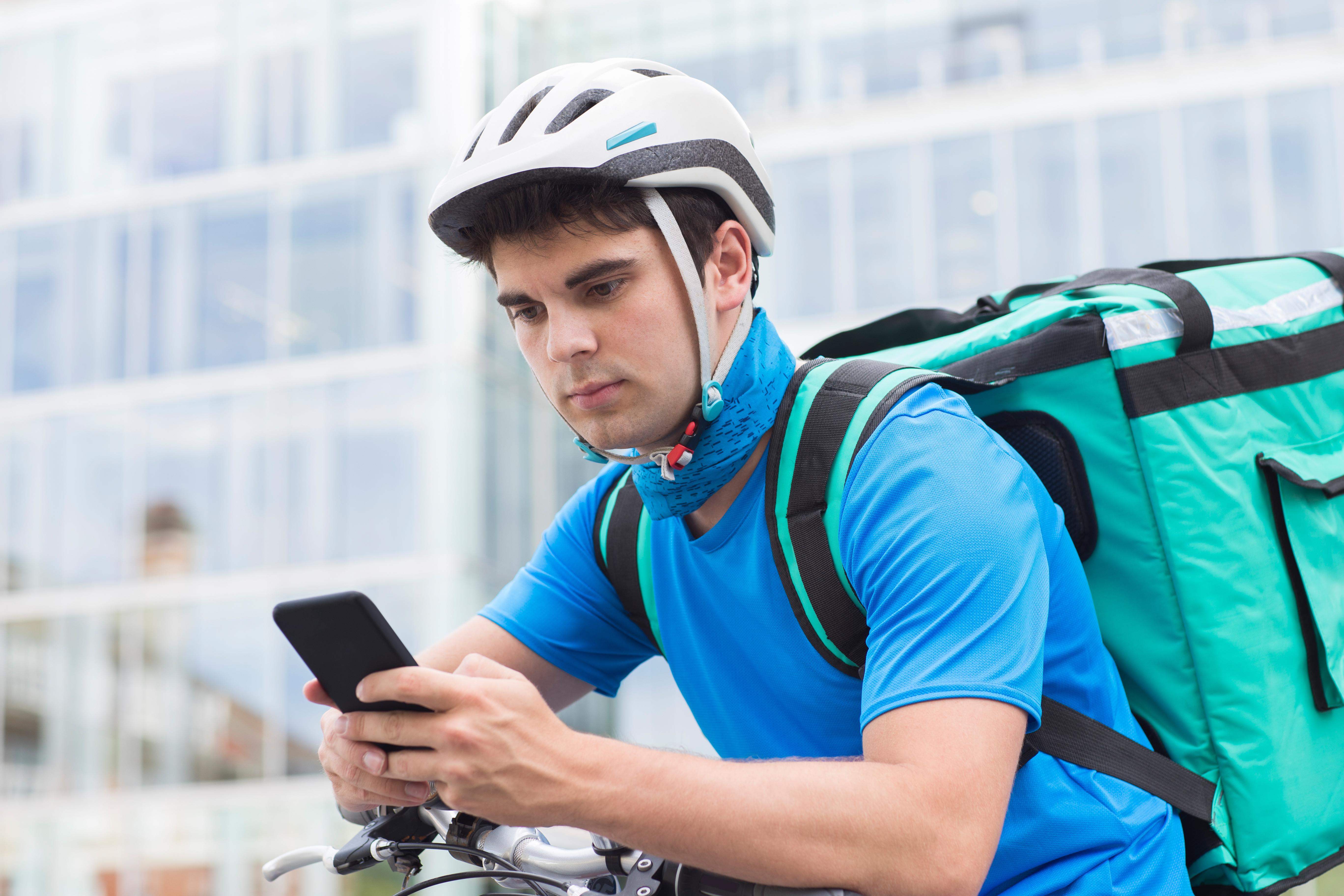 65 gig economy jobs you haven't considered
65 gig economy jobs you haven't considered
"What do you do?" used to be a simple question to answer—people just replied with their job titles and company names. But the times they are a changin'. Today, everyone seems to have their own gig on the side, whether it's as a solopreneur developing online courses or as an off-hours Lyft driver making extra cash to pay off student loans.
Welcome to the side hustle era, where personal passion projects compete for time with day jobs, and where part-time gigs give creative types the flexibility (and bill-paying money) to pursue their artistic dreams. Earned an M.D. but hate going into the hospital? Do patient consults via video chat with Doctor on Demand. Have great administrative assistant skills but never want to work in an office? Offer your services on Upwork. Got no special talents but own a truck? Help people move furniture on TaskRabbit.
Fans of the gig economy celebrate the many ways that now exist for living as one's own boss. Of course, not all stories about this new era have happy endings. From complaints about long hours and low pay to worries about health and safety hazards, gig economy companies have their detractors. Yet these service platforms also employ many happy workers—and attract many users to their services.
Ready to start your own side hustle? As you begin, keep in mind that as a gigging freelancer, you'll need some entrepreneurial initiative, an ability to adjust to a less-predictable income stream, and a willingness to adapt to fast-changing technologies and markets. But with that said, if you've got the motivation, go forth and make that money. Here's Stacker's list of 65 gig economy jobs for the hustler in you.
#65. Uber / Lyft / Juno driver
Have a car and a good driving record? Become an amateur taxi driver, ferrying people across town for money. The job offers a lot of flexibility, since drivers set their own availability. That said, as with any job, you might want to strive for some work-life balance. At least one Uber driver told Financial Times that long hours behind the wheel can make the gig stressful and lonely.
#64. Groundlink / Curb driver
Consider yourself a professional driver? Curb seeks experienced taxi drivers with a valid license to drive a for-hire vehicle. Experienced limo and car service drivers are also wanted at GroundLink, which provides rides to corporate and luxury clientele. Extra bonus: GroundLink drivers might end up giving a ride to a famous politician or celebrity.
#63. Wingz driver
If you like to know your driving schedule in advance, Wingz might be the app for you. This service offers only pre-booked rides at a flat rate, mostly for airport trips. The service is currently available in 16 metro areas and 22 airports.
#62. HopSkipDrive driver
Enjoy spending time with kids? HopSkipDrive drivers provide rides to children—ferrying them to soccer practice and piano lessons, and making life easier for youngsters and their parents. At the moment, the service is only available in parts of California.
#61. Getaround / Turo renter
So you've got a car you'd like to make money off of—without driving it. List your vehicle to rent out by the hour or day on Getaround or Turo. According to Turo's website, a car with a market value of $20,000 could earn the owner $6,501 if rented for 15 days each month.
#60. Spothero renter
Got a parking spot you don't need? Rent it out for extra cash! Spothero will sell your spot to drivers in need of a place for their vehicle and pay you on a monthly basis. This service could be extra lucrative if your parking spot is located near a big event venue.
#59. Airbnb host
Whether you have a fancy vacation home or a modest spare bedroom, you can rent out your space for extra cash on Airbnb. Some hosts live off their rental fees, using the money to travel to exotic places while property managers take care of the housekeeping details. But before you list your own digs, keep in mind that many cities have laws that would-be hosts need to follow—and take precautions to make sure your Airbnb story doesn't become a squatter nightmare.
#58. misterb&b host
If checking out the listings on Airbnb made you think, "well, a gay version of this would be nice," you're in luck. misterrb&b caters to travelers who want to "stay like a gay local." Sign up as a host for your chance to connect with the global gay community while making some money on the side.
#57. Homeaway / VRBO renter
List your second home on a website specifically dedicated to vacation homes and condos by heading over to Homeaway—which also owns VRBO and a number of other home rental services. The Homeaway website has a handy calculator that lets you figure out how much your property could earn you.
#56. Onefinestay renter
Do you own a luxury home? Then you might want to sign up for a first-class service. Onefinestay specializes in luxury vacation rentals, and takes care of everything from marketing and insurance to cleaning and maintenance for the homeowners—after vetting each home in person.
#55. Wimdu renter
Got an apartment in the city? Wimdu is like Airbnb, but specific to urban apartments. According to Wimdu's website, its hosts "earn on average 900€/month"—currently about $1,100 dollars.
#54. RentLikeAchampion renter
Does your city play host to major sporting events? Rent Like a Champion lets you rent out your home to visiting fans of everything from football games, to golf tournaments, to racing events. The service advertises an average host income of $1,100 per weekend.
#53. RVshare renter
Make money on that RV you only use a few times a year by listing it on RVshare. Roadside assistance and insurance are both provided by the service, and renters earn between $5,000 and $30,000 a year according to RVshare's website.
#52. OpenAirplane renter
Let qualified pilots fly that plane of yours (when you're not in it yourself) by signing up on OpenAirplane. The money you earn through the site could help pay some of the expensive costs of plane ownership. Plus, the service promises affordable insurance and potential tax advantages.
#51. Spinlister renter
Bicycle owners—along with surfboard and snowboard owners—can rent their human-powered modes of transportation through Spinlister. The bikes and boards are protected against damage for up to $10,000, and owners can decide whether or not they're willing to deliver their rides.
#50. Sailo / Boatbound renter
Get your boat some extra time on the water by renting it out. Sailo and Boatbound both offer boat owners a chance to make money off their vessels. Sailo's insurance covers your boat for up to $1 million in damages and $2 million in liabilities. Boatbound offers a calculator to help you estimate just how much your boat could earn you, based on its length, type, and number of rentals.
#49. 3D Hubs service provider
Own a 3D printer or a CNC (computer numerical control) machine? Put it to use to manufacture products and parts for people around the world at 3D Hubs. The service promises no fixed costs and fast payouts.
#48. Grubhub / Doordash / Caviar driver
Whether you get around town by car, bike, scooter, or motorcycle, you can make money delivering meals from local restaurants to customers. Grubhub calls its deliverers drivers, Doordash dashers, and Caviar couriers, but the jobs—and the qualifications for them—are pretty similar. You generally need to have two years of driving experience, meet the age limit (18 to 21, depending on the company and area), and own a vehicle and smartphone.  
#47. Postmates / Favor courier
For a little more variety as a delivery driver, you can join the Postmates fleet or Favor delivery service and ferry around town not just meals, but any product available. Couriers for these services make Target runs, deliver booze, and pick up take out for customers. Postmates' website says couriers can earn up to $25 an hour.
#46. Saucey courier
Deliver booze to the front doors of lazy imbibers by signing up to be a courier for Saucey. Couriers for the alcohol delivery service can deliver via bike, motorcycle, or car, and they can set your own schedules. The service is currently available in six cities.
#45. Instacart / Shipt shopper
Make money by grocery shopping—for other people. Shipt requires that its shoppers own a reliable vehicle and have a valid driver's license, but Instacart is open to shoppers who do nothing but shop, no vehicle required. Both services promise flexible schedules.
#44. Roadie driver
Roadie bills itself as a "on-the-way delivery network" that lets people send things—a birthday cake, a surfboard, or anything else—on the cheap. According to Roadie's website, its drivers earn between $8 to $50 with local gigs. Drive long distance, and you can earn up to $650.
#43. Amazon Flex deliverer
Someone has to deliver all those Amazon Prime packages—and that someone is often an Amazon Flex delivery partner who moves goods around town for the online giant. Sign up to deliver for Amazon Flex and make $18 to $25 an hour. Delivery gigs are available in more than 50 cities.
#42. Taskrabbit tasker
Enjoy doing little jobs around the house? Do those jobs in other people's homes to make a little extra cash. TaskRabbit taskers do everything from mow the lawn to assemble furniture. We at Stacker employed one recently to move some furniture— for $200 less than a moving company quote.
#41. Thumbtack pro
Like TaskRabbit, Thumbtack makes it easy to hire yourself out for one-off gigs. But Thumbtack's gigs go beyond home chores to include DJing, event catering, personal training, and more. The company's website boasts that its customers request more than 30,000 jobs a day.
#40. Wonoloer
Need to make a few bucks right now? Wonolo, an on-demand staffing service, matches would-be workers with employers looking for immediate gigs, ranging from warehouse operations to event staffing. The company says its fill time for jobs is just 4 minutes—which means you have the opportunity to find hourly or same-day jobs on the quick.
#39. Dolly helper or hand
For those looking for gigs that double as workouts, the on-demand moving service Dolly could be the right fit. The company is looking for helpers (truck-owners who can lift 75 pounds or more) and hands (workers who don't own a big vehicle but can do some heavy lifting). Helpers can make $30 an hour or more, while hands' pay rate starts at $15 an hour.
#38. Bellhop
Bellhop is a lot like Dolly, but geared towards the younger, college-age set. The moving service company's website specifically recruits young workers, calling their opportunities "your ideal college job." Bellhoppers make $24 per hour on average.
#37. Schlepper
A hybrid of Dolly and Roadie, Schlep is a service that connects mover-deliverers—dubbed schleppers—with customers who need things moved for events, showrooms, or anything else. If you have a truck, you can be the lead for a gig; if you just have muscle, you can get gigs as a sidekick.
#36. Rover pet sitter or dog walker
Animal lovers can head on over to Rover and sign up to take care of furry friends. You can set up your own profile to take home 80 percent of what you make—or have Rover professionally craft your profile for you and take 75 percent. The company says its workers can earn $1000 or more a month.
#35. Handy professional
Best known as a home cleaning service, Handy professionals get gigs performing housekeeping services in homes and offices—vacuuming, dusting, cleaning out fridges, and the like to make up to $22 an hour. Handy is also looking for generalist handypersons who can make up to $45 an hour.
#34. Fiverr seller
Have more professional services to offer? You can offer them on Fiverr, which lets you sell services in more than 100 categories—ranging from social media management, to voice-over work, to website design. A gig can earn you anywhere from $5 (hence the name of the service) to $10,000.
#33. Upwork / Freelancer / Hubstaff / Moonlighting professional
Freelance professionals now have more options than ever for selling their services. Upwork, Freelancer, Hubstaff, and Moonlighting all let you post a profile and apply to gigs that range from transcription services, to blogging, to coding, to public relations.
#32. Snagajob employee
Looking for hourly work? Snagajob focuses on just that, letting you find gigs both simple and complex. You might find yourself taking online surveys, attending to a salad bar, or delivering auto parts.
#31. Crowdflower contributor / Spare5 worker
If you've got an interest in artificial intelligence and want to join a machine-learning team, Crowdflower and Spare5 both let you do so from the comfort of your own home. Contributors and workers can sign up to do microtasks—cleaning, labeling, and enriching data—so long as they have a computer with an internet connection.
#30. Gigwalker / EasyShift worker
Turn window shopping into a money-making gig by signing up at Gigwalk, EasyShift, or Observa. These services pay you for gigs that generally involve visiting stores to take smartphone photos of product displays; your work gets sent to brands for consumer research. Gigs start at $1, but can go up to more than $100.
#29. Doctor on Demand physician
If you're a licensed medical doctor who wants to strike it out on your own, Doctor On Demand is the marketplace for you. The service connects doctors with patients through virtual consultations, so patients can ask personal medical questions without making a trip to urgent care. Doctors can perform consultations and exams to recommend treatments without working through a hospital or clinic.
#28. Heal physician
Are you a doctor who longs for the good old days of house calls? Heal is a service that brings those back. The company boasts that its physicians benefit from a better doctor-patient experience, with "unhurried visits, comprehensive care, and immersion in the patient's home environment."
#27. Trainerize fitness coach
Personal trainers can use Trainerize to find new clients—and keep them too. The service uses a smartphone-based platform to send workout plans and offer nutrition planning services, and even offers a free guide for would-be trainers titled "How to Price Your Online Training."
#26. Zeel / Soothe massage therapist
Professional massage therapists no longer need to look for work at a spa or chiropractor's office. Instead, they can become their own bosses with the help of massage-on-demand services like Zeel and Soothe. According to Zeel's website, its therapists take home 75% of the total cost of every appointment.
#25. HelloTech tech
Consider yourself a tech geek? HelloTech is looking for people to provide tech support on demand to its customers. If you sign up, you'll take a basic skills assessment to determine which gigs you can take on. Jobs pay $30 to $90 an hour, according to HelloTech's website.
#24. UpCounsel / Lawtrades attorney
Escape the law firm life by building your own freelance law practice. Upcounsel and LawTrades seek lawyers to provide legal advice and services to clients, which range from individuals to enterprise customers. Whether your expertise is in personal injury cases or cannabis businesses, you can use these platforms to find clients that need your help.
#23. Vayable insider
Amateur tour guides can create custom gigs through Vayable, which is looking for local insiders to provide "unique experiences" to its users. From a chocolate and wine tour in San Francisco to a photo shoot in New York, the experiences you dream up are limited only by your imagination and expertise. List the activity, let Vayable's users sign up for them, then host the experience to make extra cash.
#22. Care.com caregiver
Great at taking care of people? Sign up for childcare or senior care gigs through Care.com and make money while helping others out. The jobs can vary quite a bit, from simple babysitting to tutoring, to bathing and dressing. Care.com also offers jobs for pet and home care experts.
#21. Urbansitter
If you want to stick to caring for young people, Urbansitter might be more your style. This website lets you take on babysitting and nanny gigs—and according to the company, top sitters make over $1000 a week.
#20. Honor care pro
Prefer the company of the older and wiser? Honor connects seniors with people who want to care for them. You don't need to be a medical professional to offer your services; the job consists of more everyday activities, like helping people with grocery shopping and reminding them to take their medication.
#19. LawnLove / Taskeasy pro
Spend time outside and make extra money by working as a lawn care provider. LawnLove and TaskEasy are both looking for mowers, snow shovelers, and other lawn care professionals. According to LawnLove, pros can make up to $1000 a month.
#18. Etsy artist
Creative types can sell their handiwork on Etsy, a marketplace popular with crafters and hobbyists. Open your own Etsy shop, upload photos of your goods, and find people who love what you make. At least one crafty mom has made $70,000 a month on Etsy—though, of course, that result is not typical.
#17. Feastly chef
Is your secret dream to throw your own pop-up dinners, like those underground chefs you've read about in magazines? Feastly lets you do just that—although since the service is quite popular, your dinner might not be all that underground. Apply to be a chef and start creating your culinary experiences, whether it's a Vegan Nigerian Feast or a Taco Tuesday Extravaganza.
#16. Eatwith host
EatWith is a lot like Feastly, except the former focuses more on travelers. Hosts set their menu and design their own dining experiences—after an application process, a demo event, and a training program. According to EatWith, hosts can earn up to $700 per event.
#15. Josephine cook
Love cooking for people but don't want to host your own dinners? Josephine might be more your style. This website lets you sign up to cook for your neighbors, who'll come by to pick up the home-cooked food to enjoy elsewhere. Josephine requires its cooks to take their state's food handler course for food safety.
#14. Udemy / Lynda / Skillshare instructor
Teach what you know and get paid for it by creating an online course through sites like Udemy, Lynda, and Skillshare. Those services offer courses ranging from web design, to reiki, to photography—so chances are high that you'll find a topic that matches your expertise.
#13. Takelessons teacher
Prefer to teach people face to face? Takelessons let you find local people seeking lessons in everything from piano, to math, to sewing. You get to choose where to teach, whether that's in a student's home or a local cafe.
#12. Glamsquad beauty pro
Hair, makeup, and other beauty professionals can go solo by signing up with Glamsquad. The service connects you with local gigs, with clients ranging from individuals getting ready for a party to brands putting on a large-scale event. Glamsquad requires a current cosmetology or esthetician's license of its beauty pros.
#11. Fancy Hands assistant
Are you a fantastic administrative assistant—who hates going into an office? Become a virtual assistant at Fancy Hands and take care of scheduling, calling, and researching for other busy professionals. Starting tasks pay $3 to $7; the rates go up from there.
#10. Contently content writer
Freelance writers can get matched up with companies that need their stories told through Contently, a company that provides content marketing services for its clients. Would-be freelancers can get started by creating a portfolio; Contently will then contact you if it finds a client project that's a good match.
#9. YourMechanic technician
Great at fixing cars? Find independent work as a mobile car mechanic through YourMechanic. Car repair services range from a simple oil change to a timing belt replacement, and the company says its mechanics make $40 to $50 an hour.
#8. Survey Junkie / Inbox Dollars survey taker
Sit at home, take surveys online, and earn cash for your work. Many survey sites reward participants with gift cards and products, but Survey Junkie and Inbox Dollars both pay you real money. In fact, Inbox Dollars often offers a $5 bonus just for signing up.
#7. Snappr photographer
Professional photographers looking for gigs can sign up at Snappr to find local gigs, from fashion shoots, to real estate photos, to family portraits. To join Snappr, you need to have at least a year of professional photography experience and own professional-level equipment. The service is currently available in three California cities and a number of places in Australia.
#6. CaddieNow looper
Hang out at golf courses for a living by signing up to become a looper (which is what the on-demand caddie service CaddieNow calls its caddies). To get loops—a.k.a. caddie gigs—you'll need to apply, take an online caddie certification test, and attend a local orientation session.
#5. Ebay storeowner
Sure, many people use eBay just to make a little cash by selling the junk in the garage, but serious sellers have their own curated stores on the auction site. Usually, these enterprising store owners focus on a specific niche, whether it's vintage clothing or classic car parts. Stories abound of eBay sellers who make a generous full-time living from their work.
#4. Poshmark seller
Fashionistas can make money off their closets by selling items they no longer wear on this "social marketplace for fashion." Of course, if you want to turn this gig into a full time living like some sellers have, you'll need to learn to spot trendy items, buy them on the cheap, and flip them on the marketplace for a profit. Successful "fashionpreneurs" advise new sellers to work on building a network to take full advantage of the service's social capabilities.
#3. Closet Collective lender
Love the idea of making money off your closet, but don't want to part with any of your beloved pieces? Lend out your outfits and accessories on Closet Collective instead. The service is ideal for people who own designer fashion items from coveted brands. Bonus: Closet Collective takes care of the dry cleaning for you.
#2. Twitch broadcaster
Get rich by playing video games by signing up as a Twitch broadcaster. (Well, we can't guarantee you'll actually get rich, but some gamers have earned millions by streaming their gameplay to collect ad revenue and tips from fans.) But there are some occupational hazards to this gig—popular broadcasters have complained about the long hours they had to put in while growing their fan base.
#1. Instagram influencer
Once upon a time, Instagram was used to share photos of what you ate for breakfast. And while many people still do just that, others take gorgeous, professional-level photos of their meals—or outfits, workouts, or other interests and hobbies—until they amass gigantic followings and get recognized as "influencers" by brands. Those brands then offer sponsorship deals and brand ambassador gigs to these influencers, letting them make a living off their Instagram accounts— a very lucrative living, in some cases.