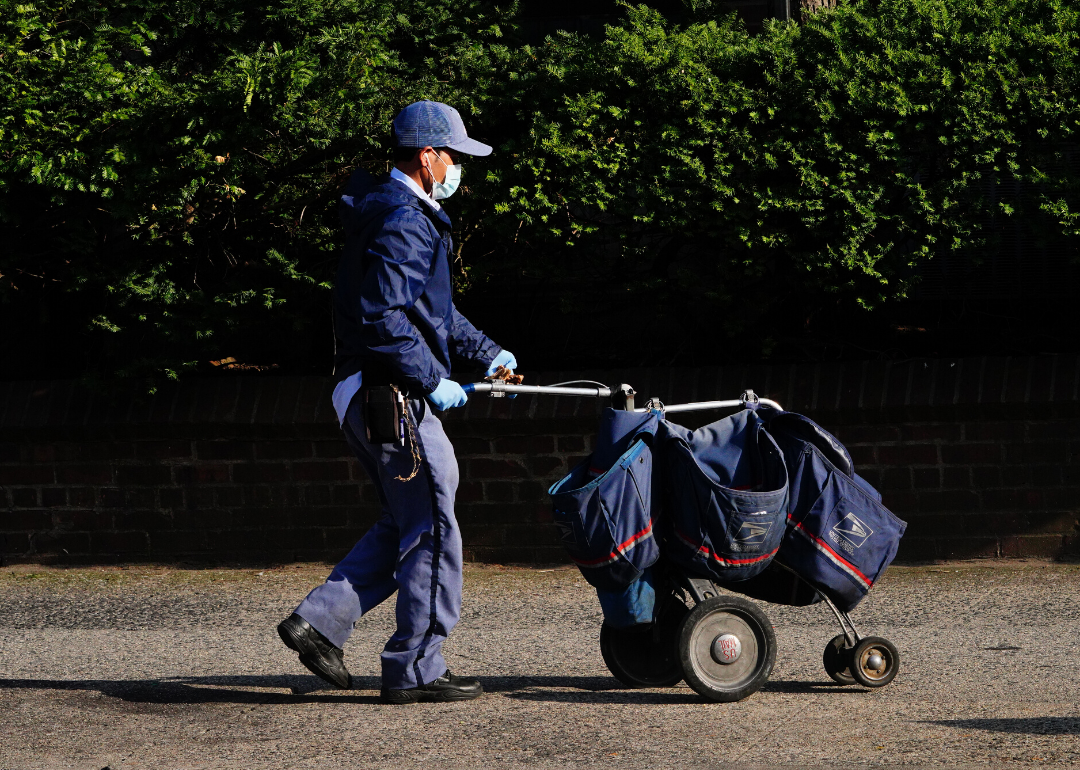 Employment during COVID-19 by the numbers
Nur Photo // Getty Images
Employment during COVID-19 by the numbers
When the COVID-19 outbreak hit the U.S. in force, many states implemented their own mandatory closures of nonessential businesses and social distancing orders to reduce the spread of the coronavirus. But while many countries around the world unveiled nationwide measures that reduced infection rates enough to safely reopen, the varied responses among U.S. states meant many reopened without getting the virus firmly under control with proper social-distancing measures or enough tests to track COVID-19's spread. The result? Major losses both in terms of the economy as well as human life.
Stacker looked at news articles, research from government agencies, industry reports, and information from think tanks to learn more about how COVID-19 is affecting employment. And while there have been a few bright spots, like some small increases in wages and more flexible working arrangements, employment overall has been experiencing steady serious consequences from the pandemic.
With businesses forced to close or operate at limited capacity—and with little help from the government to staunch the losses—many employers have had to lay off or furlough entire swaths of their workforce. The unemployment rate surged to a record-breaking 14.7% in April 2020, with a total of 23 million unemployed. While those rates have decreased in subsequent months, September reports showed a 7.9% unemployment rate.
And the layoffs keep coming. After the unsteady return of students to colleges in September and college sports dissipating, higher education is grappling with budget shortfalls and cuts. Tens of thousands of airline workers lost their jobs Oct. 1, just two days after Disney announced it was laying off 28,000 workers. These massive layoffs reflect the catastrophic effect of the COVID-19 pandemic on the travel and tourism industry. But virtually every sector of the economy has been hit, with restaurants, retail, banks, museums, manufacturing, and media companies furloughing and laying off workers and sometimes filing for bankruptcy.
The newly jobless join the millions of other out-of-work Americans struggling to keep up with bills and medical treatments, facing down looming evictions and foreclosures, and navigating complicated state systems for unemployment compensation. A one-time $1,200 check and additional $600 a week supplement to unemployment benefits was a lifeline that expired in July; when Congress failed to pass another stimulus bill, President Trump halved the payment to $300 a week and left it up to individual states to distribute money, creating a lag in dispersement. That stimulus is already over in most states. America's stimulus stands in stark relief compared to European countries, which have prevented the kind of joblessness and financial woes through heavily subsidized wages, with some governments taking over payrolls. 
With more than 229,000 Americans dead because of COVID-19 and millions more affected, the human toll of the virus is staggering. It's going to be a long time before we truly understand the overall toll the coronavirus has taken on employment in the U.S., but some recent statistics related to workers paint a grim picture. Read on to see some staggering numbers about employment during COVID-19.