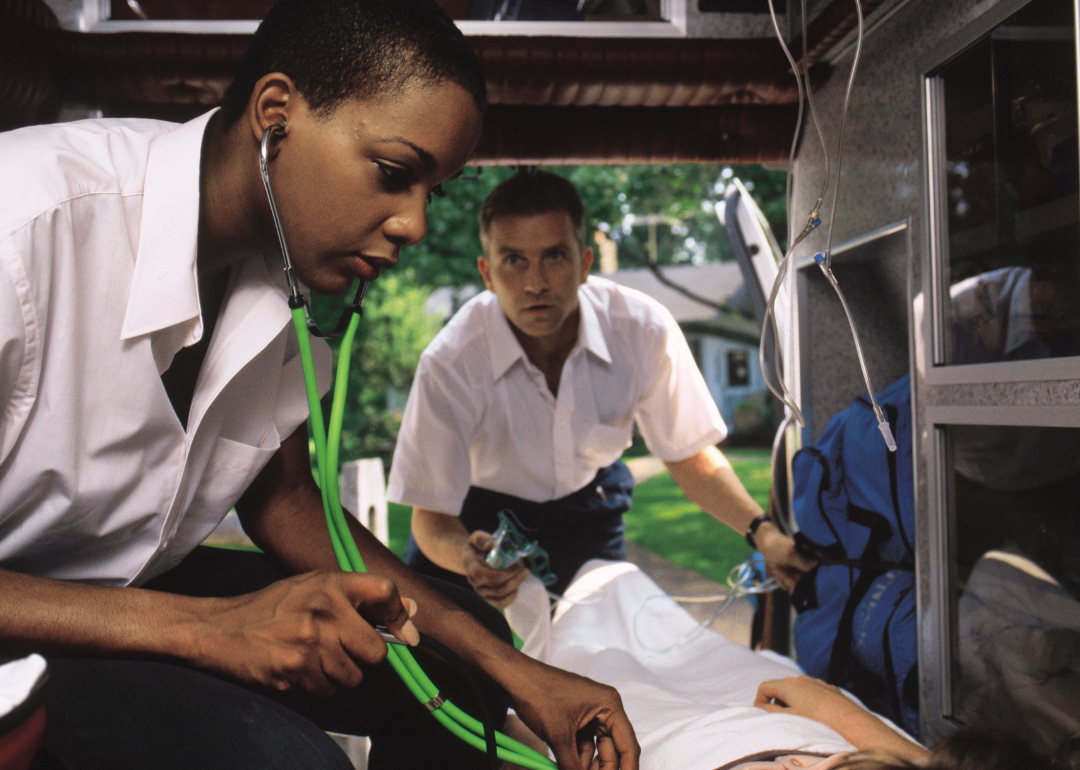 Highest Paying Metros for EMTs
Highest Paying Metros for EMTs
Across the United States, nearly 250,000 people are employed as emergency medical technicians (EMTs) and paramedics, with a majority of them concentrated in major city centers like New York, Chicago, Los Angeles, and Houston. With an expected 15% increase in employment in the next ten years, anticipated EMT job growth is more than double the national average rate for all occupations as the need for additional medical services continues to swell across the US.
While the average annual income for an EMT is $36,110, that figure can vary greatly from city to city. At Stacker, we analyzed the Bureau of Labor Statistics' 2016 report on occupational wages in order to identify which areas offer the highest annual average wages for EMTs. Our analysis focuses on metropolitan statistical areas (MSAs), recognized as highly socially and economically integrated communities focused around at least one urban area that has a population of greater than 50,000.
One state that consistently ranked for high EMT wages was Washington, with six of the top ten highest paying regions on our list. But Washington isn't the only state paying well, as all of the metropolitan areas ranked in the top half of our list boast annual wages that outpace the national average by at least 25%. Read on to see which MSAs across America offer the highest pay for this quickly growing profession.
#50. Sioux City, IA-NE-SD
Average Annual Wage: $41,350
Percent Above National Average: 15%
Total Employed: 130
Employment per 1,000: 1.53
 
#49. Bend-Redmond, OR
Average Annual Wage: $41,380
Percent Above National Average: 15%
Total Employed: 40
Employment per 1,000: 0.55
 
#48. New Bedford, MA
Average Annual Wage: $41,420
Percent Above National Average: 15%
Total Employed: n/a
Employment per 1,000: n/a
 
#47. Coeur d'Alene, ID
Average Annual Wage: $41,630
Percent Above National Average: 15%
Total Employed: 30
Employment per 1,000: 0.54
 
#46. Memphis, TN-MS-AR
Average Annual Wage: $41,640
Percent Above National Average: 15%
Total Employed: 1,290
Employment per 1,000: 2.06
 
#45. Columbus, GA-AL
Average Annual Wage: $41,780
Percent Above National Average: 16%
Total Employed: n/a
Employment per 1,000: n/a
 
#44. Tucson, AZ
Average Annual Wage: $41,790
Percent Above National Average: 16%
Total Employed: 360
Employment per 1,000: 1
 
#43. New Orleans-Metairie, LA
Average Annual Wage: $41,950
Percent Above National Average: 16%
Total Employed: 490
Employment per 1,000: 0.87
 
#42. Springfield, MA-CT
Average Annual Wage: $42,140
Percent Above National Average: 17%
Total Employed: 420
Employment per 1,000: 1.31
 
#41. Norwich-New London-Westerly, CT-RI
Average Annual Wage: $42,220
Percent Above National Average: 17%
Total Employed: 330
Employment per 1,000: 2.6
 
#40. Amarillo, TX
Average Annual Wage: $42,460
Percent Above National Average: 18%
Total Employed: 160
Employment per 1,000: 1.37
 
#39. Lafayette, LA
Average Annual Wage: $42,500
Percent Above National Average: 18%
Total Employed: 560
Employment per 1,000: 2.74
 
#38. Framingham, MA NECTA Division
Average Annual Wage: $42,560
Percent Above National Average: 18%
Total Employed: n/a
Employment per 1,000: n/a
 
#37. San Francisco-Oakland-Hayward, CA
Average Annual Wage: $42,790
Percent Above National Average: 18%
Total Employed: 2,500
Employment per 1,000: 1.1
 
#36. New York-Newark-Jersey City, NY-NJ-PA
Average Annual Wage: $42,860
Percent Above National Average: 19%
Total Employed: n/a
Employment per 1,000: n/a
 
#35. Hartford-West Hartford-East Hartford, CT
Average Annual Wage: $42,930
Percent Above National Average: 19%
Total Employed: 970
Employment per 1,000: 1.67
 
#34. Vineland-Bridgeton, NJ
Average Annual Wage: $43,100
Percent Above National Average: 19%
Total Employed: 220
Employment per 1,000: 3.76
 
#33. Baltimore-Columbia-Towson, MD
Average Annual Wage: $43,310
Percent Above National Average: 20%
Total Employed: 2,910
Employment per 1,000: 2.16
 
#32. Elmira, NY
Average Annual Wage: $43,690
Percent Above National Average: 21%
Total Employed: n/a
Employment per 1,000: n/a
 
#31. Reno, NV
Average Annual Wage: $43,720
Percent Above National Average: 21%
Total Employed: n/a
Employment per 1,000: n/a
 
#30. Sacramento--Roseville--Arden-Arcade, CA
Average Annual Wage: $43,830
Percent Above National Average: 21%
Total Employed: 1,010
Employment per 1,000: 1.11
 
#29. Yuba City, CA
Average Annual Wage: $44,070
Percent Above National Average: 22%
Total Employed: 110
Employment per 1,000: 2.65
 
#28. Austin-Round Rock, TX
Average Annual Wage: $44,280
Percent Above National Average: 23%
Total Employed: 1,220
Employment per 1,000: 1.27
 
#27. Vallejo-Fairfield, CA
Average Annual Wage: $44,580
Percent Above National Average: 23%
Total Employed: 290
Employment per 1,000: 2.22
 
#26. Ames, IA
Average Annual Wage: $45,160
Percent Above National Average: 25%
Total Employed: 40
Employment per 1,000: 0.85
 
#25. Pueblo, CO
Average Annual Wage: $45,220
Percent Above National Average: 25%
Total Employed: n/a
Employment per 1,000: n/a
 
#24. Minneapolis-St. Paul-Bloomington, MN-WI
Average Annual Wage: $45,890
Percent Above National Average: 27%
Total Employed: 2,120
Employment per 1,000: 1.11
 
#23. Boulder, CO
Average Annual Wage: $46,580
Percent Above National Average: 29%
Total Employed: 130
Employment per 1,000: 0.73
 
#22. Washington-Arlington-Alexandria, DC-VA-MD-WV
Average Annual Wage: $47,150
Percent Above National Average: 31%
Total Employed: 3,260
Employment per 1,000: 1.06
 
#21. Denver-Aurora-Lakewood, CO
Average Annual Wage: $47,350
Percent Above National Average: 31%
Total Employed: 2,020
Employment per 1,000: 1.43
 
#20. Chicago-Naperville-Elgin, IL-IN-WI
Average Annual Wage: $47,810
Percent Above National Average: 32%
Total Employed: 8,320
Employment per 1,000: 1.83
 
#19. San Jose-Sunnyvale-Santa Clara, CA
Average Annual Wage: $48,020
Percent Above National Average: 33%
Total Employed: 290
Employment per 1,000: 0.28
 
#18. New Haven, CT
Average Annual Wage: $48,730
Percent Above National Average: 35%
Total Employed: 850
Employment per 1,000: 3.03
 
#17. Urban Honolulu, HI
Average Annual Wage: $48,970
Percent Above National Average: 36%
Total Employed: 780
Employment per 1,000: 1.69
 
#16. Carson City, NV
Average Annual Wage: $50,160
Percent Above National Average: 39%
Total Employed: 40
Employment per 1,000: 1.46
 
#15. Naples-Immokalee-Marco Island, FL
Average Annual Wage: $50,280
Percent Above National Average: 39%
Total Employed: 180
Employment per 1,000: 1.29
 
#14. Portland-Vancouver-Hillsboro, OR-WA
Average Annual Wage: $50,670
Percent Above National Average: 40%
Total Employed: 1,110
Employment per 1,000: 0.98
 
#13. Lawrence-Methuen Town-Salem, MA-NH NECTA Division
Average Annual Wage: $50,940
Percent Above National Average: 41%
Total Employed: 130
Employment per 1,000: 1.69
 
#12. Lewiston, ID-WA
Average Annual Wage: $51,530
Percent Above National Average: 43%
Total Employed: 40
Employment per 1,000: 1.59
 
#11. Bridgeport-Stamford-Norwalk, CT
Average Annual Wage: $52,950
Percent Above National Average: 47%
Total Employed: 710
Employment per 1,000: 1.69
 
#10. Kalamazoo-Portage, MI
Average Annual Wage: $54,130
Percent Above National Average: 50%
Total Employed: 40
Employment per 1,000: 0.27
 
#9. Mount Vernon-Anacortes, WA
Average Annual Wage: $56,250
Percent Above National Average: 56%
Total Employed: 110
Employment per 1,000: 2.49
 
#8. Redding, CA
Average Annual Wage: $57,730
Percent Above National Average: 60%
Total Employed: 80
Employment per 1,000: 1.37
 
#7. Bremerton-Silverdale, WA
Average Annual Wage: $57,980
Percent Above National Average: 61%
Total Employed: 190
Employment per 1,000: 2.3
 
#6. Santa Cruz-Watsonville, CA
Average Annual Wage: $59,160
Percent Above National Average: 64%
Total Employed: 30
Employment per 1,000: 0.36
 
#5. Bellingham, WA
Average Annual Wage: $60,490
Percent Above National Average: 68%
Total Employed: 120
Employment per 1,000: 1.4
 
#4. Anchorage, AK
Average Annual Wage: $61,800
Percent Above National Average: 71%
Total Employed: 100
Employment per 1,000: 0.57
 
#3. Olympia-Tumwater, WA
Average Annual Wage: $70,240
Percent Above National Average: 95%
Total Employed: 110
Employment per 1,000: 1.02
 
#2. Seattle-Tacoma-Bellevue, WA
Average Annual Wage: $73,780
Percent Above National Average: 104%
Total Employed: 2,030
Employment per 1,000: 1.08
 
#1. Kennewick-Richland, WA
Average Annual Wage: $75,740
Percent Above National Average: 110%
Total Employed: 50
Employment per 1,000: 0.48