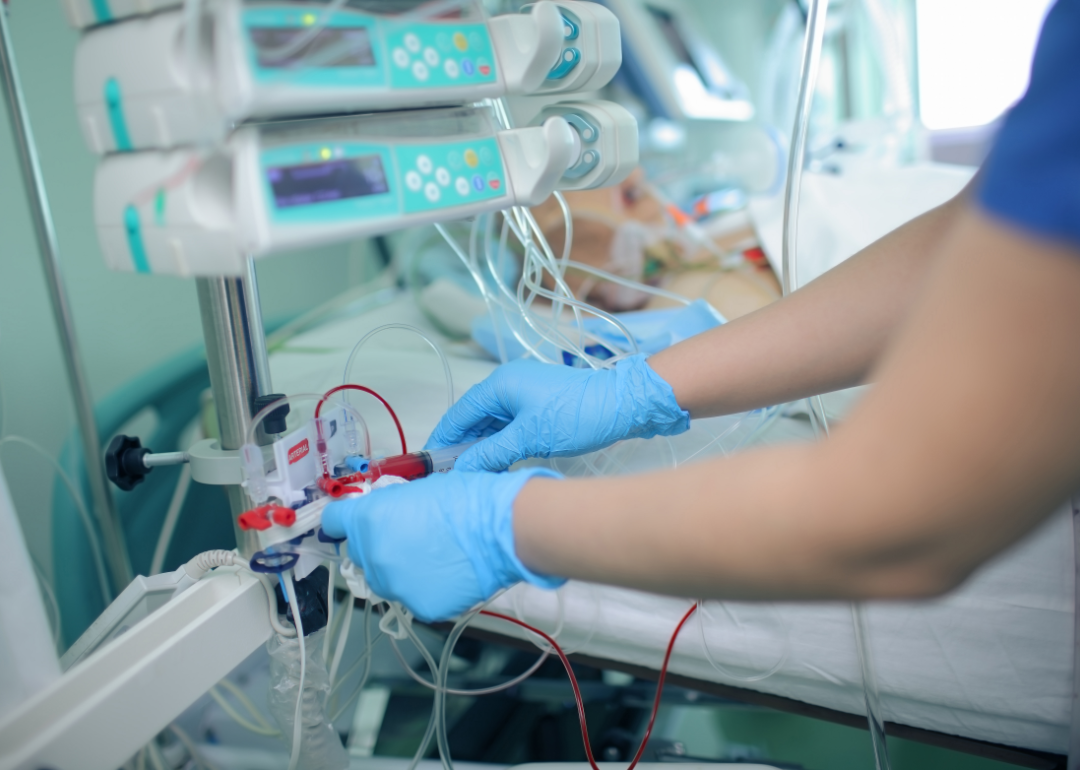 Highest paying metros for nurses
The highest paying metros for nurses
The unsung heroes of medicine, there are few professions where individuals can have such a profound impact on the lives of others. From an innate interest in medicine to a yearning to help others, there are countless reasons to become a registered nurse (RN), and though there are over 3 million nurses across the country, the Bureau of Labor Statistics (BLS) actually projects a labor shortage over the coming years.
Still, even in an industry ripe with career opportunity, it's important to consider where you work, as average pay for nurses can vary by tens of thousands of dollars from city to city. So where are the most lucrative spots for nurses? Stacker analyzed the Bureau of Labor Statistics' occupational wage estimates report from May 2017 to determine which metropolitan statistical areas (MSAs) offer the highest annual median wage for their workers. The data specifically accounted for the occupation of "Registered Nurses" in the MSAs.
From sunny California towns to east coast havens, read on for the 50 highest paying metros for nurses.
#50. Grants Pass, OR
Median annual wage: $80,840
75th-percentile annual wage: $95,980
90th-percentile annual wage: $111,370
Total employed: 430
#49. Norwich-New London-Westerly, CT-RI
Median annual wage: $80,890
75th-percentile annual wage: $94,350
90th-percentile annual wage: $102,390
Total employed: 2,360
#48. Carson City, NV
Median annual wage: $81,470
75th-percentile annual wage: $94,000
90th-percentile annual wage: $101,850
Total employed: 800
#47. New Haven, CT
Median annual wage: $82,200
75th-percentile annual wage: $96,460
90th-percentile annual wage: $104,790
Total employed: 8,050
#46. Philadelphia, PA
Median annual wage: $82,400
75th-percentile annual wage: $97,100
90th-percentile annual wage: $108,420
Total employed: 30,900
#45. Minneapolis-St. Paul-Bloomington, MN-WI
Median annual wage: $82,530
75th-percentile annual wage: $95,120
90th-percentile annual wage: $102,940
Total employed: 39,290
#44. Pittsfield, MA
Median annual wage: $82,660
75th-percentile annual wage: $102,360
90th-percentile annual wage: $120,780
Total employed: 1,240
#43. Fairbanks, AK
Median annual wage: $82,740
75th-percentile annual wage: $95,070
90th-percentile annual wage: $102,400
Total employed: 690
#42. Tacoma-Lakewood, WA
Median annual wage: $82,800
75th-percentile annual wage: $104,560
90th-percentile annual wage: $121,170
Total employed: 7,790
#41. Medford, OR
Median annual wage: $83,600
75th-percentile annual wage: $97,420
90th-percentile annual wage: $111,000
Total employed: 2,000
#40. Newark, NJ-PA
Median annual wage: $83,950
75th-percentile annual wage: $97,520
90th-percentile annual wage: $108,830
Total employed: 22,350
#39. Haverhill-Newburyport-Amesbury Town, MA-NH NECTA Division
Median annual wage: $84,340
75th-percentile annual wage: $103,830
90th-percentile annual wage: $120,110
Total employed: 1,040
#38. Chico, CA
Median annual wage: $84,550
75th-percentile annual wage: $96,630
90th-percentile annual wage: $104,060
Total employed: N/A
#37. Salem, OR
Median annual wage: $84,830
75th-percentile annual wage: $97,960
90th-percentile annual wage: $112,150
Total employed: 3,190
#36. Anchorage, AK
Median annual wage: $85,370
75th-percentile annual wage: $103,410
90th-percentile annual wage: $121,070
Total employed: 3,650
#35. Las Vegas-Henderson-Paradise, NV
Median annual wage: $87,410
75th-percentile annual wage: $99,600
90th-percentile annual wage: $113,120
Total employed: 15,620
#34. Visalia-Porterville, CA
Median annual wage: $87,820
75th-percentile annual wage: $100,150
90th-percentile annual wage: $114,830
Total employed: 2,230
#33. Eugene, OR
Median annual wage: $88,250
75th-percentile annual wage: $102,000
90th-percentile annual wage: $118,470
Total employed: 2,900
#32. Corvallis, OR
Median annual wage: $88,530
75th-percentile annual wage: $100,050
90th-percentile annual wage: $113,800
Total employed: 840
#31. El Centro, CA
Median annual wage: $88,660
75th-percentile annual wage: $100,930
90th-percentile annual wage: $113,330
Total employed: 880
#30. Anaheim-Santa Ana-Irvine, CA
Median annual wage: $88,820
75th-percentile annual wage: $105,320
90th-percentile annual wage: $123,990
Total employed: 22,920
#29. Nassau County-Suffolk County, NY
Median annual wage: $90,060
75th-percentile annual wage: $102,220
90th-percentile annual wage: $119,660
Total employed: 28,600
#28. Fresno, CA
Median annual wage: $90,770
75th-percentile annual wage: $108,690
90th-percentile annual wage: $124,450
Total employed: 7,560
#27. Bakersfield, CA
Median annual wage: $90,870
75th-percentile annual wage: $106,610
90th-percentile annual wage: $122,300
Total employed: 5,340
#26. Danbury, CT
Median annual wage: $91,210
75th-percentile annual wage: $104,850
90th-percentile annual wage: $120,470
Total employed: 1,480
#25. New York-Jersey City-White Plains, NY-NJ
Median annual wage: $91,260
75th-percentile annual wage: $104,200
90th-percentile annual wage: $122,340
Total employed: 122,780
#24. Bend-Redmond, OR
Median annual wage: $91,600
75th-percentile annual wage: $102,800
90th-percentile annual wage: $119,080
Total employed: 1,750
#23. Portland-Vancouver-Hillsboro, OR-WA
Median annual wage: $92,010
75th-percentile annual wage: $104,350
90th-percentile annual wage: $120,670
Total employed: 22,500
#22. Kahului-Wailuku-Lahaina, HI
Median annual wage: $93,640
75th-percentile annual wage: $104,810
90th-percentile annual wage: $120,480
Total employed: 710
#21. Boston-Cambridge-Newton, MA NECTA Division
Median annual wage: $93,760
75th-percentile annual wage: $121,670
90th-percentile annual wage: $146,520
Total employed: 43,150
#20. San Diego-Carlsbad, CA
Median annual wage: $94,180
75th-percentile annual wage: $111,550
90th-percentile annual wage: $128,410
Total employed: 23,100
#19. Riverside-San Bernardino-Ontario, CA
Median annual wage: $95,100
75th-percentile annual wage: $114,390
90th-percentile annual wage: $131,880
Total employed: 27,720
#18. Los Angeles-Long Beach-Glendale, CA
Median annual wage: $95,960
75th-percentile annual wage: $117,230
90th-percentile annual wage: $131,560
Total employed: 79,420
#17. Redding, CA
Median annual wage: $97,970
75th-percentile annual wage: $115,940
90th-percentile annual wage: $127,500
Total employed: 1,720
#16. Merced, CA
Median annual wage: $98,780
75th-percentile annual wage: $128,210
90th-percentile annual wage: $153,930
Total employed: 860
#15. San Rafael, CA
Median annual wage: $98,960
75th-percentile annual wage: $118,660
90th-percentile annual wage: $131,520
Total employed: 1,760
#14. Santa Maria-Santa Barbara, CA
Median annual wage: $99,040
75th-percentile annual wage: $117,870
90th-percentile annual wage: $134,750
Total employed: 3,050
#13. San Luis Obispo-Paso Robles-Arroyo Grande, CA
Median annual wage: $103,350
75th-percentile annual wage: $117,390
90th-percentile annual wage: $127,350
Total employed: 1,790
#12. Modesto, CA
Median annual wage: $104,600
75th-percentile annual wage: $128,130
90th-percentile annual wage: $152,990
Total employed: 4,140
#11. Urban Honolulu, HI
Median annual wage: $104,920
75th-percentile annual wage: $118,850
90th-percentile annual wage: $127,250
Total employed: 8,480
#10. Stockton-Lodi, CA
Median annual wage: $111,300
75th-percentile annual wage: $126,160
90th-percentile annual wage: $141,990
Total employed: 4,270
#9. Santa Rosa, CA
Median annual wage: $112,730
75th-percentile annual wage: $134,170
90th-percentile annual wage: $158,420
Total employed: 3,170
#8. Napa, CA
Median annual wage: $115,380
75th-percentile annual wage: $126,440
90th-percentile annual wage: $137,400
Total employed: 1,430
#7. Oakland-Hayward-Berkeley, CA
Median annual wage: $117,550
75th-percentile annual wage: $145,250
90th-percentile annual wage: $163,940
Total employed: 19,550
#6. Sacramento--Roseville--Arden-Arcade, CA
Median annual wage: $120,510
75th-percentile annual wage: $143,570
90th-percentile annual wage: $160,840
Total employed: 18,240
#5. Vallejo-Fairfield, CA
Median annual wage: $121,930
75th-percentile annual wage: $148,280
90th-percentile annual wage: $164,780
Total employed: 3,170
#4. Santa Cruz-Watsonville, CA
Median annual wage: $133,670
75th-percentile annual wage: $155,610
90th-percentile annual wage: $175,450
Total employed: 1,520
#3. Salinas, CA
Median annual wage: $134,300
75th-percentile annual wage: $155,550
90th-percentile annual wage: $175,490
Total employed: 2,470
#2. San Jose-Sunnyvale-Santa Clara, CA
Median annual wage: $139,010
75th-percentile annual wage: $157,270
90th-percentile annual wage: $168,740
Total employed: 15,990
#1. San Francisco-Redwood City-South San Francisco, CA
Median annual wage: $144,830
75th-percentile annual wage: $161,340
90th-percentile annual wage: $182,500
Total employed: 14,170