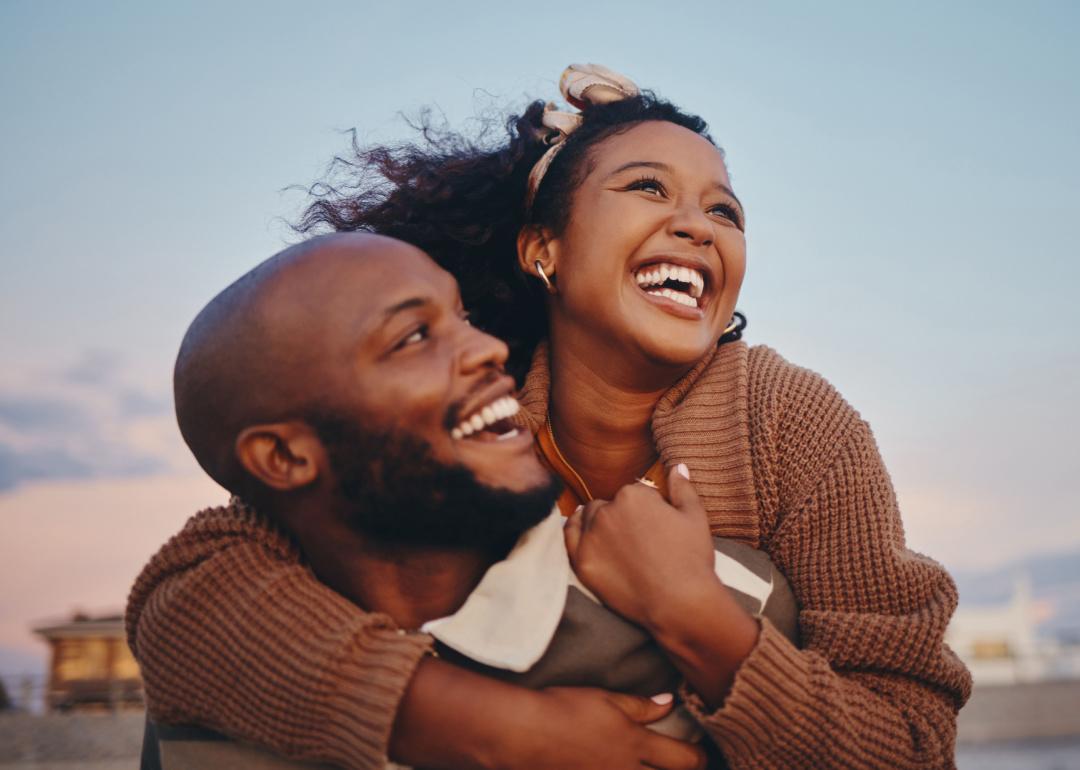 Jobs with the lowest divorce rates
PeopleImages.com - Yuri A // Shutterstock
Jobs with the lowest divorce rates
At the turn of the century, 4 out of every 1,000 adults in America were getting divorced annually, according to data from the Centers for Disease Control and Prevention's National Vital Statistics System. But according to the latest numbers from 2021, that statistic is down to 2.5 divorces per 1,000 people. That's not because maintaining a happy marriage has gotten any easier, however—it takes a great deal of work, from managing work-life balance to navigating financial woes and everything in between. Studies have shown that people with stable, higher-paying jobs tend to experience lower divorce rates than those who don't earn as much money.
Less than one-third of married people in the middle and upper classes filed for divorce while more than one-third of those in the working class had sought divorces, according to a study conducted by the Institute for Family Studies. The IFS also sourced information from a Bloomberg report indicating 70% of people who consider themselves upper class enjoy lasting marriages compared with just 53% of those who describe themselves as lower class.
It stands to reason that married couples who are less likely to encounter financial hardships will have a better chance of staying together. If both people in a marriage have high-paying jobs, they can use their combined wealth in mutually beneficial ways. Pharmacists, lawyers, and architects—fields that offer high average annual salaries and significant job stability—will have more money to provide for a family and pay their bills, can enjoy luxuries such as vacations, and generally lead fulfilling lives.
Stacker has compiled a list of 50 U.S. jobs with the lowest divorce rates using data from the 2001-2017 American Community Survey via IPUMS-USA—the U.S. Integrated Public Use Microdata Series—and the U.S. Bureau of Labor Statistics. The majority of jobs on this list fall into the scientific, medical, and tech fields, and military jobs appear more than a few times. 
Keep reading to find out the divorce and separation rates and the median salary for each job, and discover which job has the lowest divorce rate of all.
You may also like: Jobs with the highest divorce rates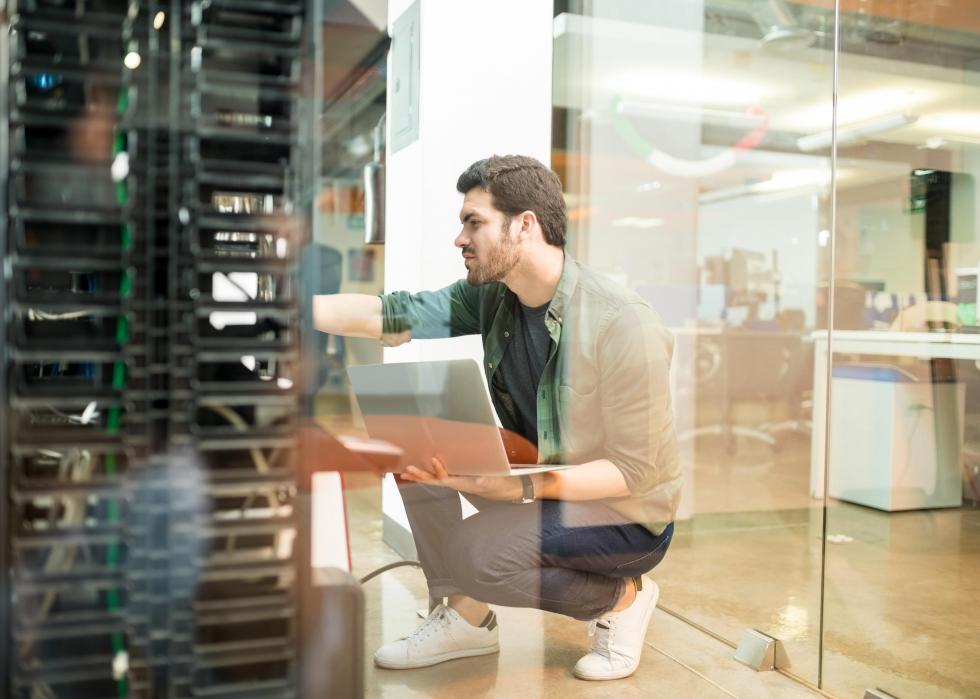 1 / 50
#50. Computer network architects
- Divorce rate: 10.8% (72.3% lower than national rate)
- Separation rate: 1.4%
- Job employment: 152,670
- Mean annual salary: $111,130 (113.9% higher than national rate)
2 / 50
#49. Occupational therapists
- Divorce rate: 10.8% (72.4% lower than national rate)
- Separation rate: 1.3%
- Job employment: 126,900
- Mean annual salary: $85,350 (64.3% higher than national rate)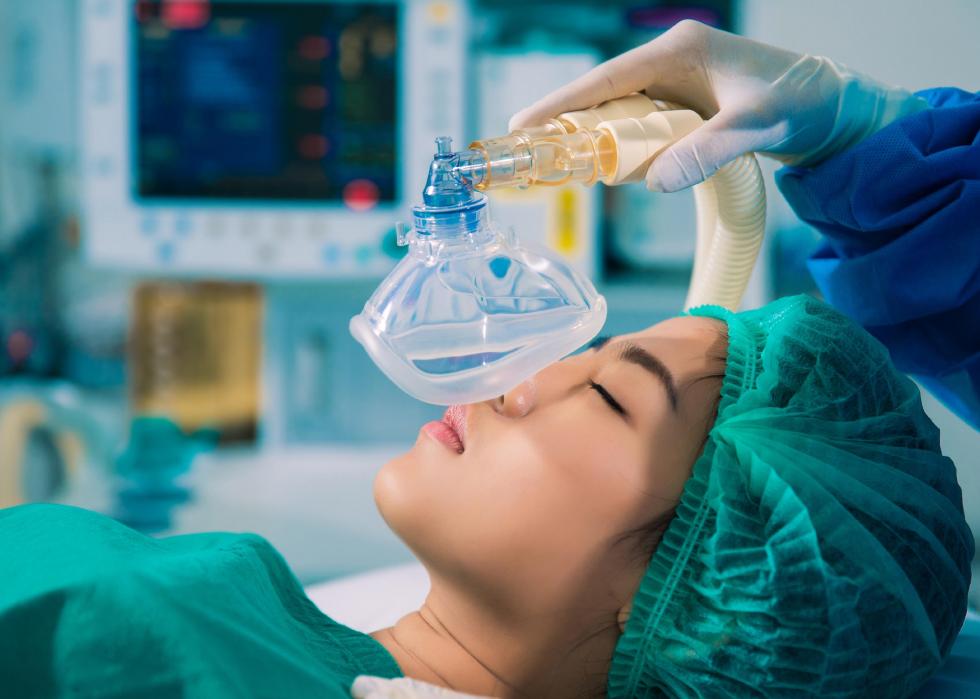 3 / 50
#48. Nurse anesthetists
- Divorce rate: 10.7% (72.6% lower than national rate)
- Separation rate: 1.2%
- Job employment: 43,520
- Mean annual salary: $174,790 (236.4% higher than national rate)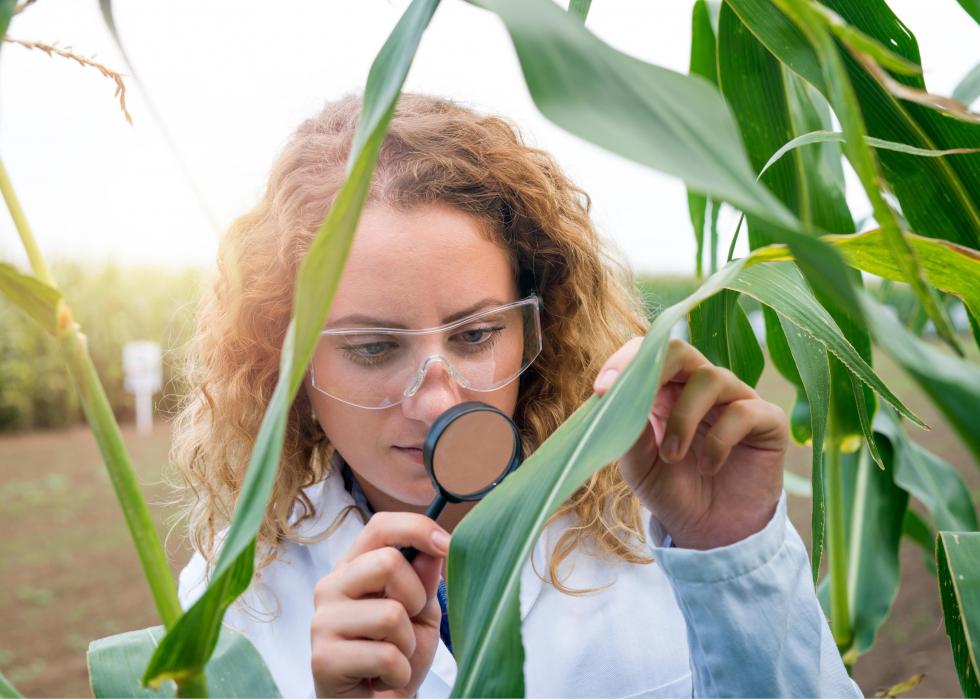 4 / 50
AleksandarMalivuk // Shutterstock
#47. Agricultural and food scientists
- Divorce rate: 10.6% (72.7% lower than national rate)
- Separation rate: 1.0%
- Job employment: 30,880
- Mean annual salary: $71,230 (37.1% higher than national rate)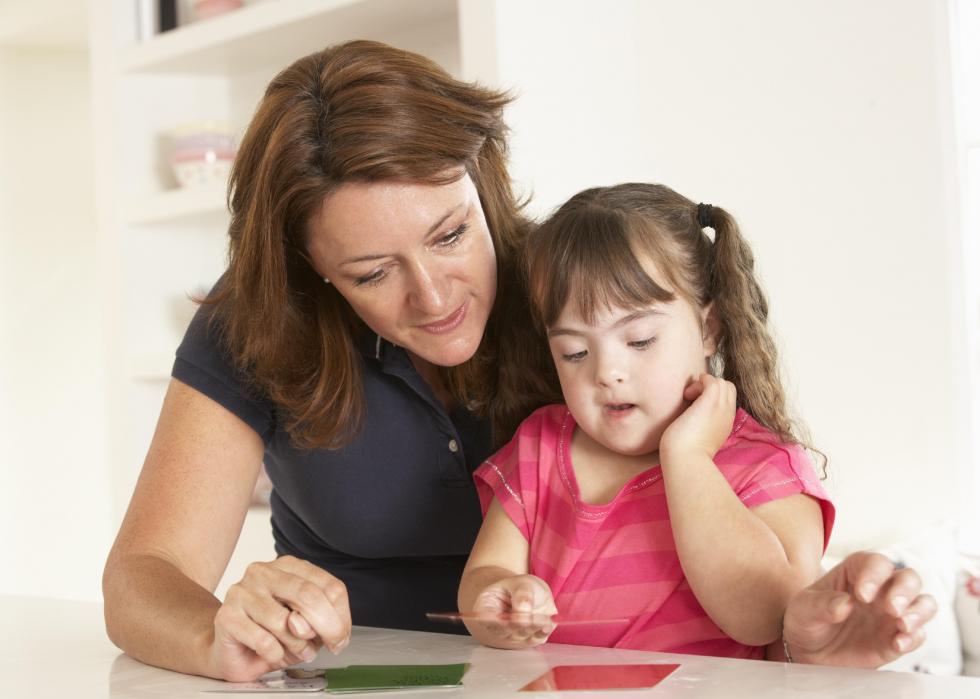 5 / 50
Monkey Business Images // Shutterstock
#46. Speech-language pathologists
- Divorce rate: 10.6% (72.7% lower than national rate)
- Separation rate: 1.1%
- Job employment: 146,900
- Mean annual salary: $80,700 (55.3% higher than national rate)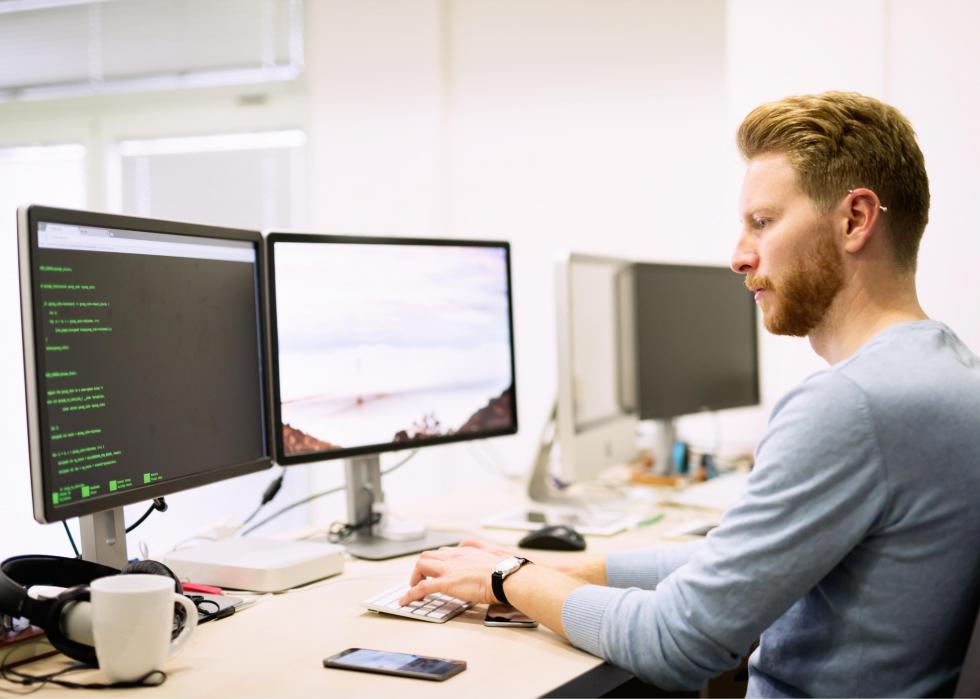 6 / 50
#45. Computer programmers
- Divorce rate: 10.6% (72.7% lower than national rate)
- Separation rate: 1.2%
- Job employment: 230,470
- Mean annual salary: $89,580 (72.4% higher than national rate)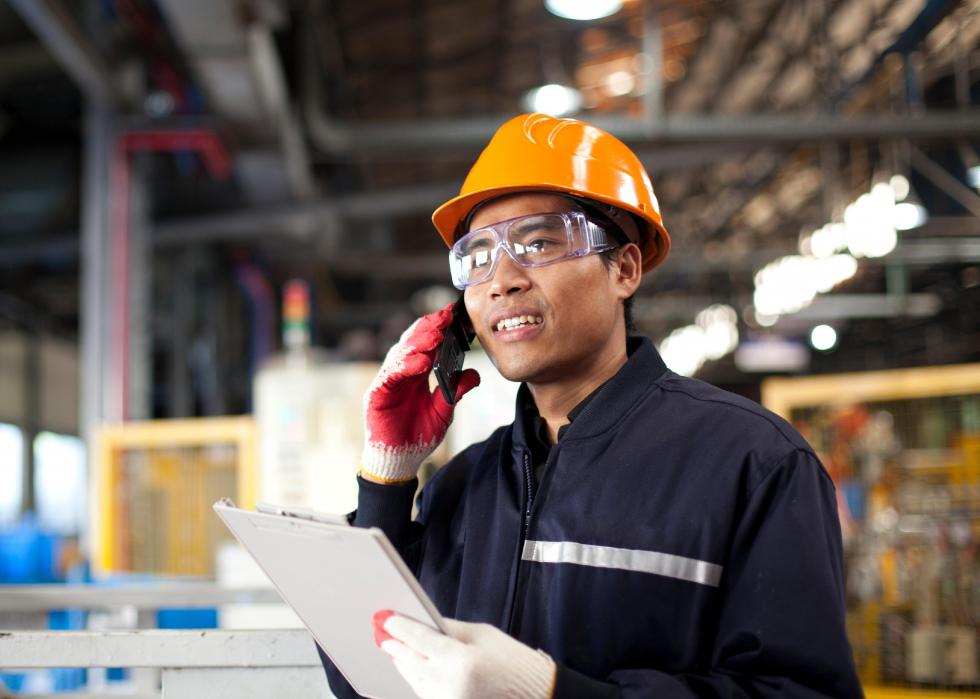 7 / 50
#44. Industrial engineers, including health and safety
- Divorce rate: 10.5% (73.0% lower than national rate)
- Separation rate: 1.1%
- Job employment: 305,780
- Mean annual salary: $91,800 (76.7% higher than national rate)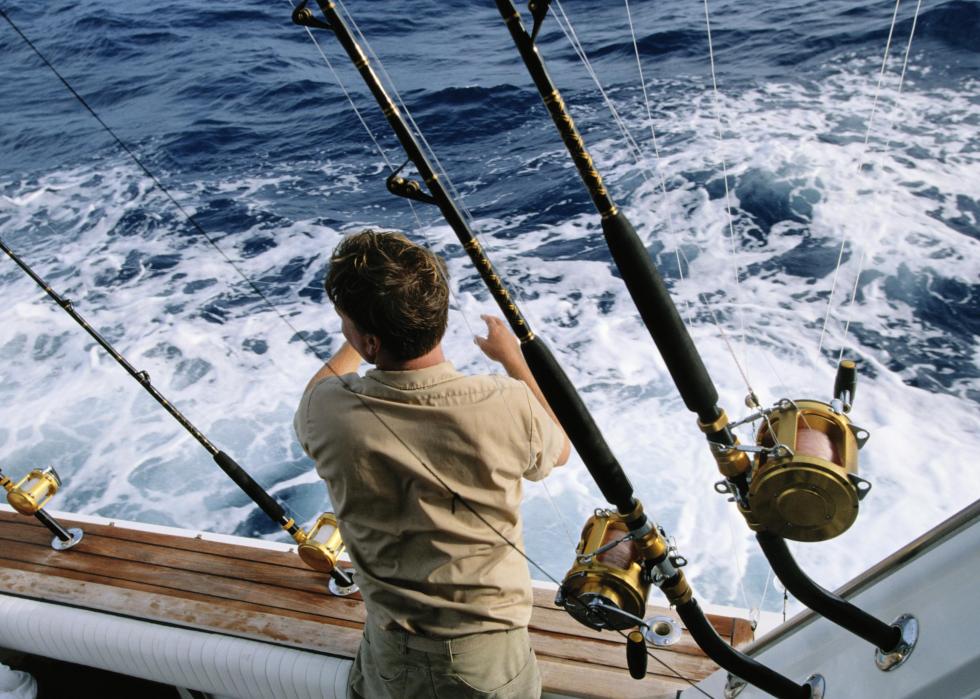 8 / 50
#43. First-line supervisors of farming, fishing, and forestry workers
- Divorce rate: 10.4% (73.3% lower than national rate)
- Separation rate: 2.2%
- Job employment: 21,800
- Mean annual salary: $50,790 (2.3% lower than national rate)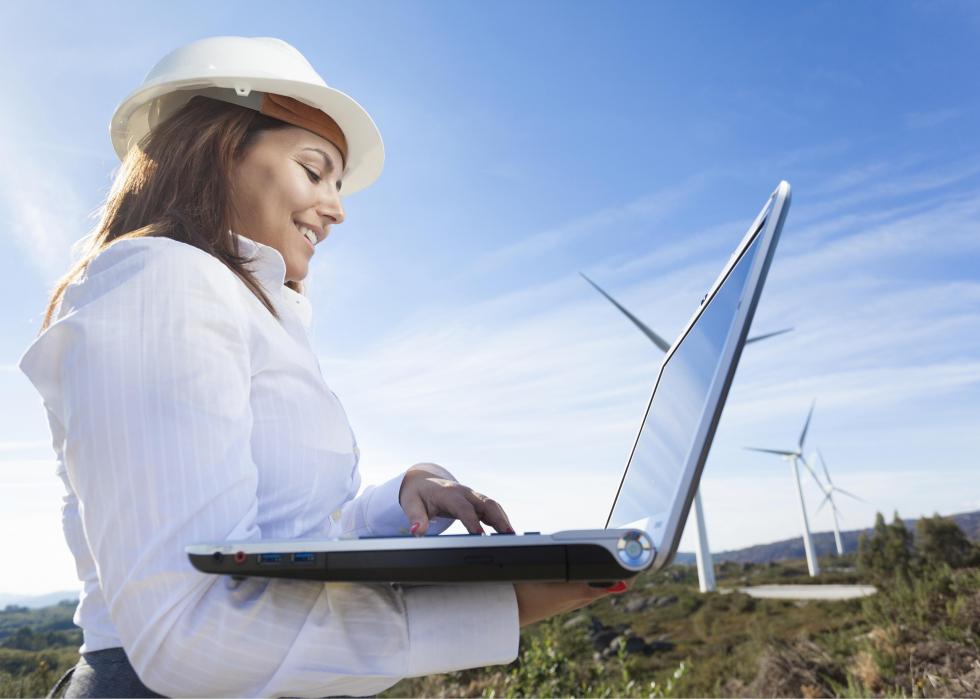 9 / 50
cristovao // Shutterstock
#42. Environmental engineers
- Divorce rate: 10.4% (73.3% lower than national rate)
- Separation rate: 1.1%
- Job employment: 53,070
- Mean annual salary: $92,640 (78.3% higher than national rate)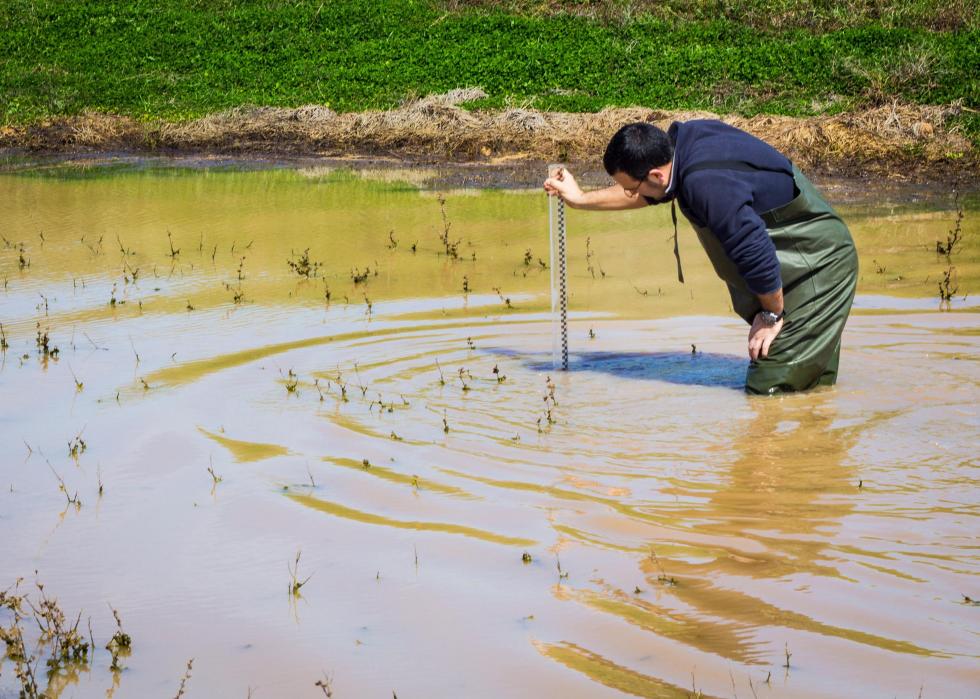 10 / 50
NoyanYilmaz // Shutterstock
#41. Environmental scientists and geoscientists
- Divorce rate: 10.3% (73.6% lower than national rate)
- Separation rate: 1.0%
- Job employment: 116,020
- Mean annual salary: $85,480 (64.5% higher than national rate)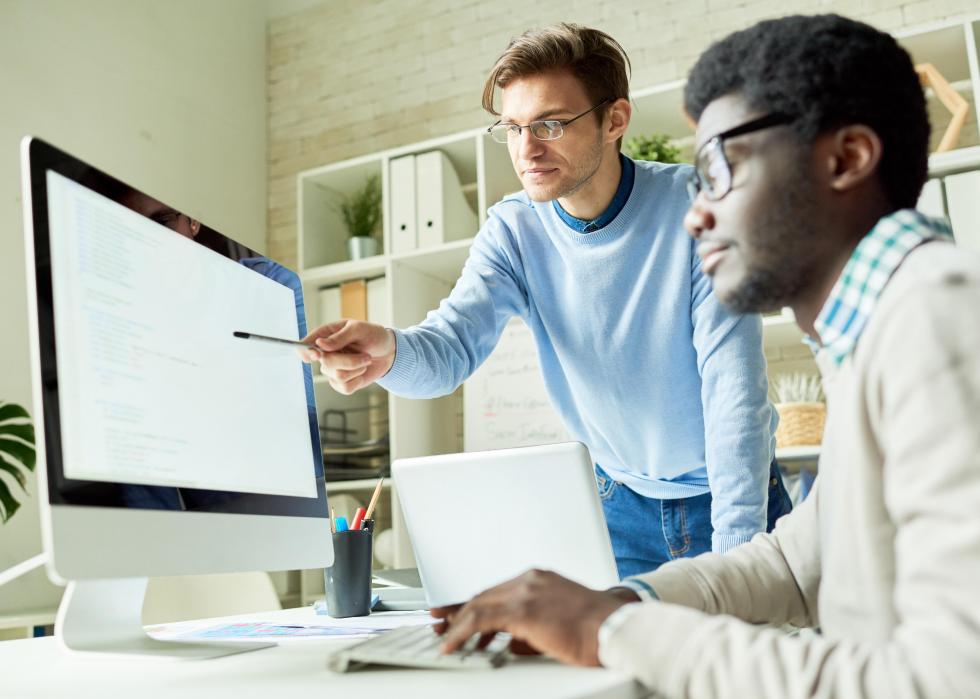 11 / 50
#40. Web developers
- Divorce rate: 10.1% (74.0% lower than national rate)
- Separation rate: 1.6%
- Job employment: 127,300
- Mean annual salary: $75,580 (45.5% higher than national rate)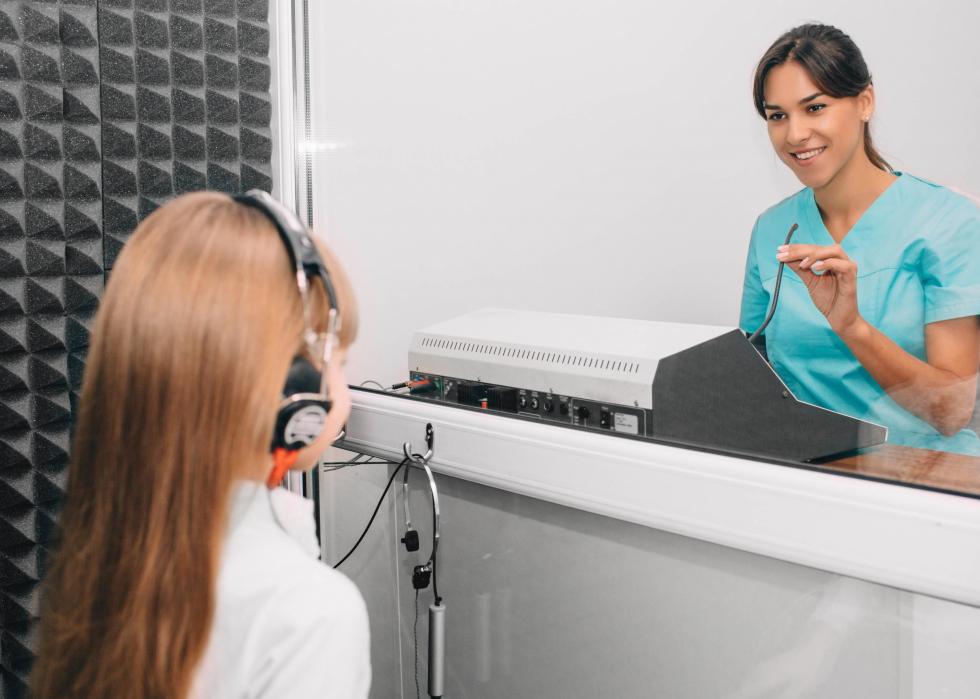 12 / 50
EricaSmit // Shutterstock
#39. Audiologists
- Divorce rate: 10.1% (74.1% lower than national rate)
- Separation rate: 1.5%
- Job employment: 13,300
- Mean annual salary: $82,210 (58.2% higher than national rate)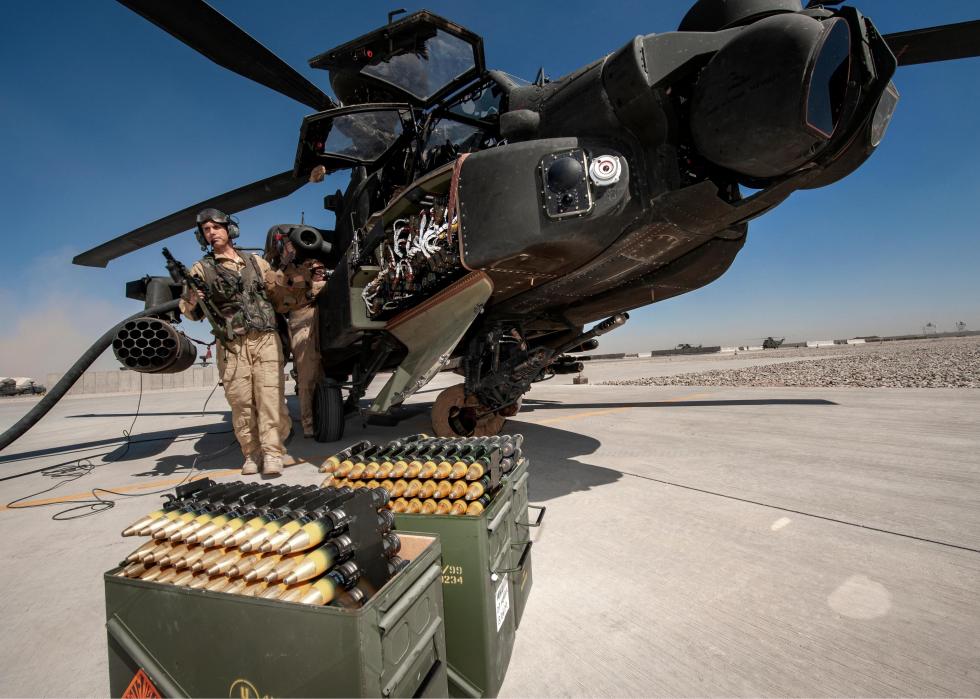 13 / 50
RobLeyland // Shutterstock
#38. Military enlisted tactical operations and air/weapons specialists and crew members
- Divorce rate: 10.1% (74.1% lower than national rate)
- Separation rate: 3.4%
- Job employment: Data not available
- Mean annual salary: Data not available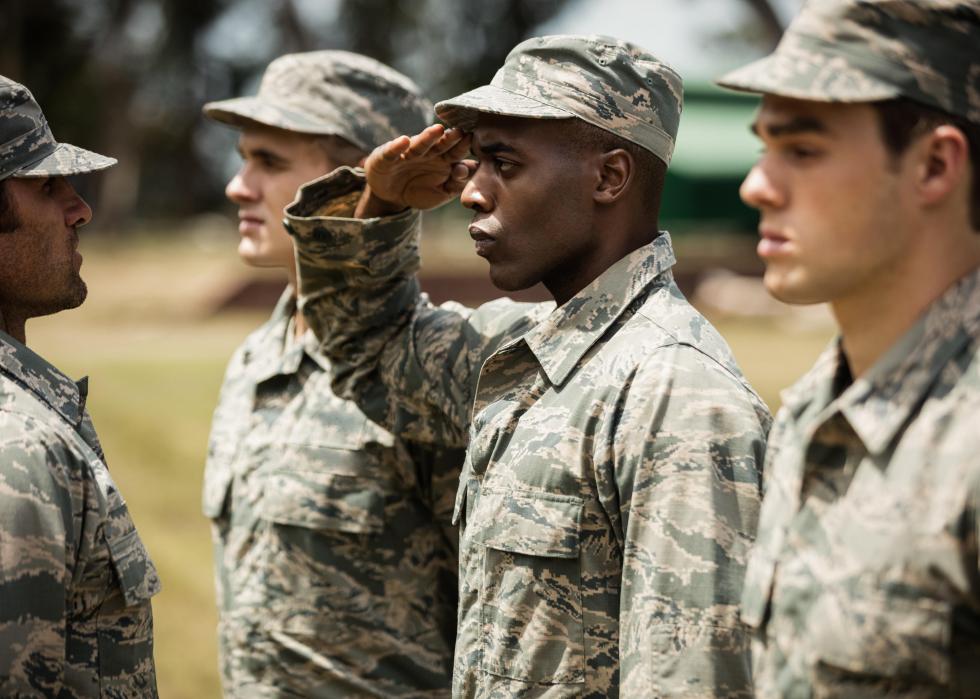 14 / 50
#37. First-line enlisted military supervisors
- Divorce rate: 10.0% (74.4% lower than national rate)
- Separation rate: 2.3%
- Job employment: Data not available
- Mean annual salary: Data not available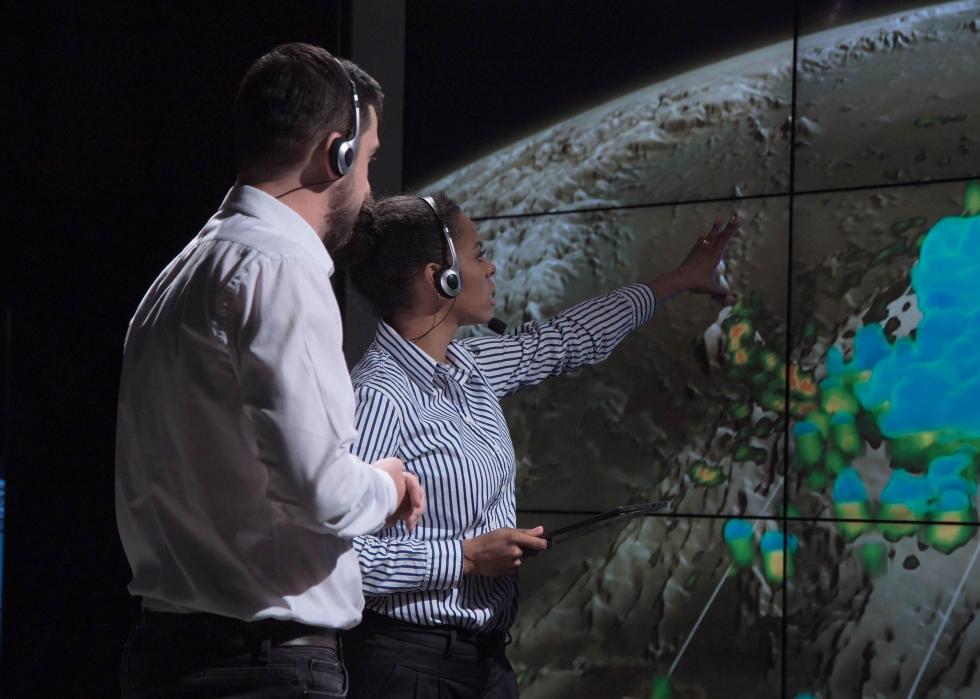 15 / 50
FrameStockFootages // Shutterstock
#36. Atmospheric and space scientists
- Divorce rate: 10.0% (74.4% lower than national rate)
- Separation rate: 1.3%
- Job employment: 9,310
- Mean annual salary: $95,580 (83.9% higher than national rate)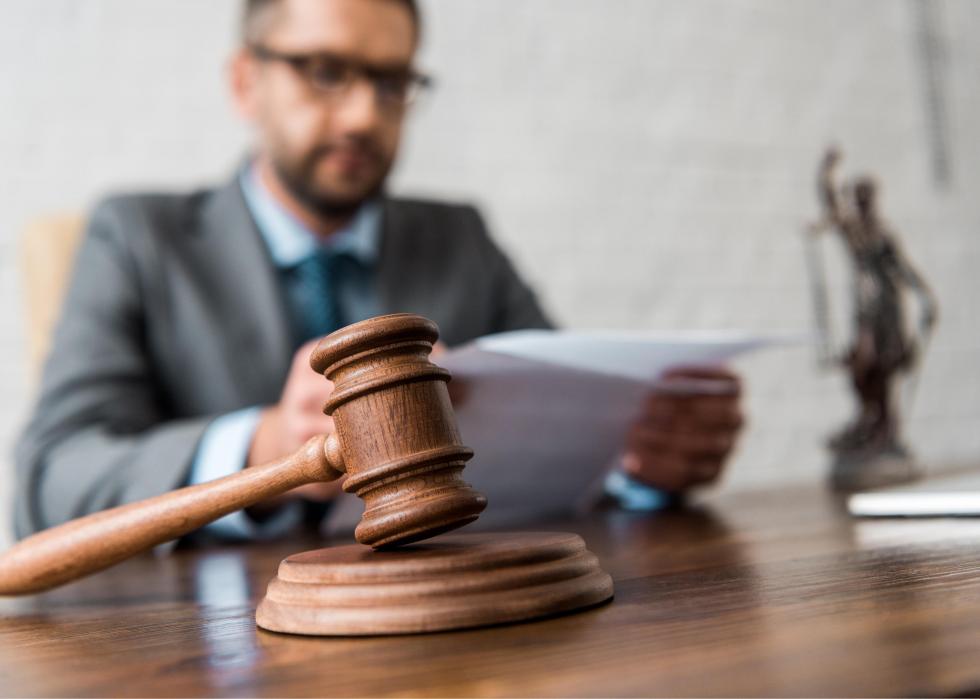 16 / 50
LightFieldStudios // Shutterstock
#35. Lawyers, and judges, magistrates, and other judicial workers
- Divorce rate: 9.9% (74.6% lower than national rate)
- Separation rate: 1.2%
- Job employment: 671,270
- Mean annual salary: $132,680 (155.4% higher than national rate)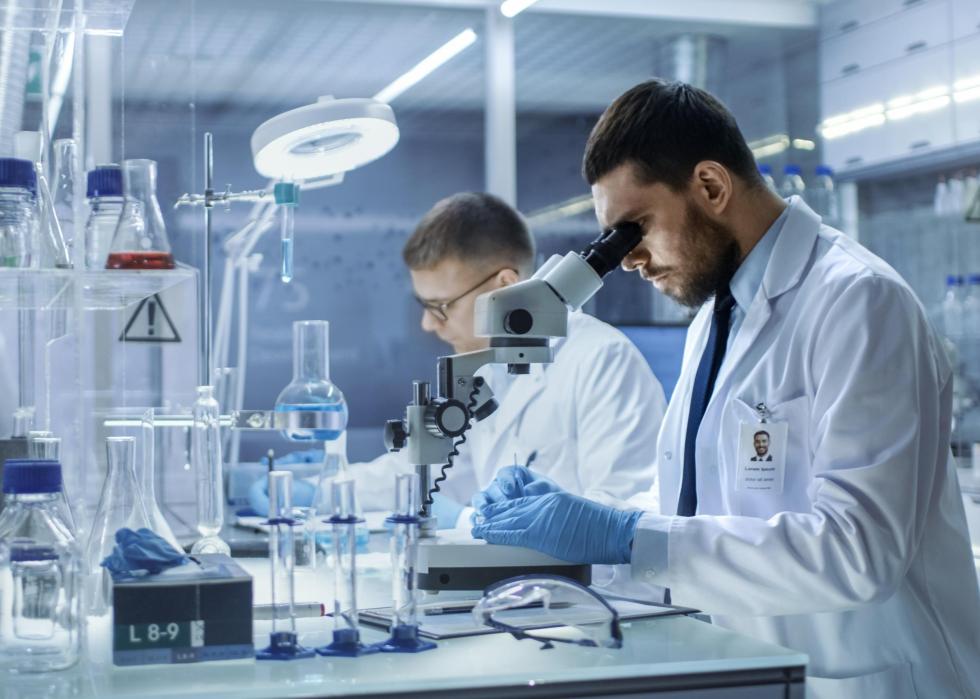 17 / 50
GoroDenkoff // Shutterstock
#34. Chemists and materials scientists
- Divorce rate: 9.8% (74.9% lower than national rate)
- Separation rate: 1.1%
- Job employment: 92,300
- Mean annual salary: $85,400 (64.4% higher than national rate)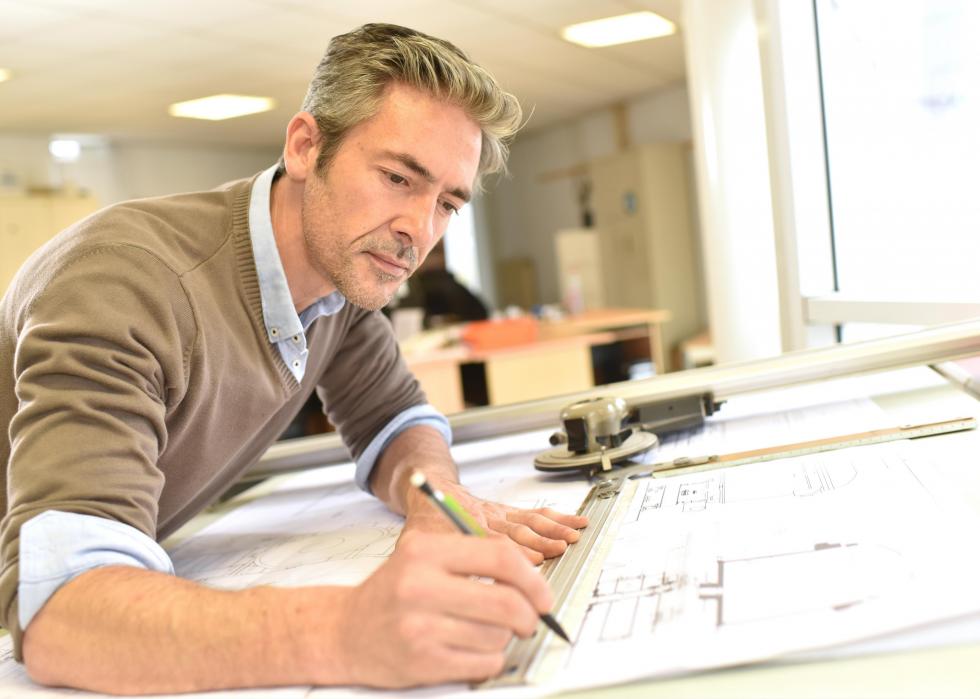 18 / 50
#33. Architects, except naval
- Divorce rate: 9.8% (75.0% lower than national rate)
- Separation rate: 1.1%
- Job employment: 123,020
- Mean annual salary: $86,480 (66.4% higher than national rate)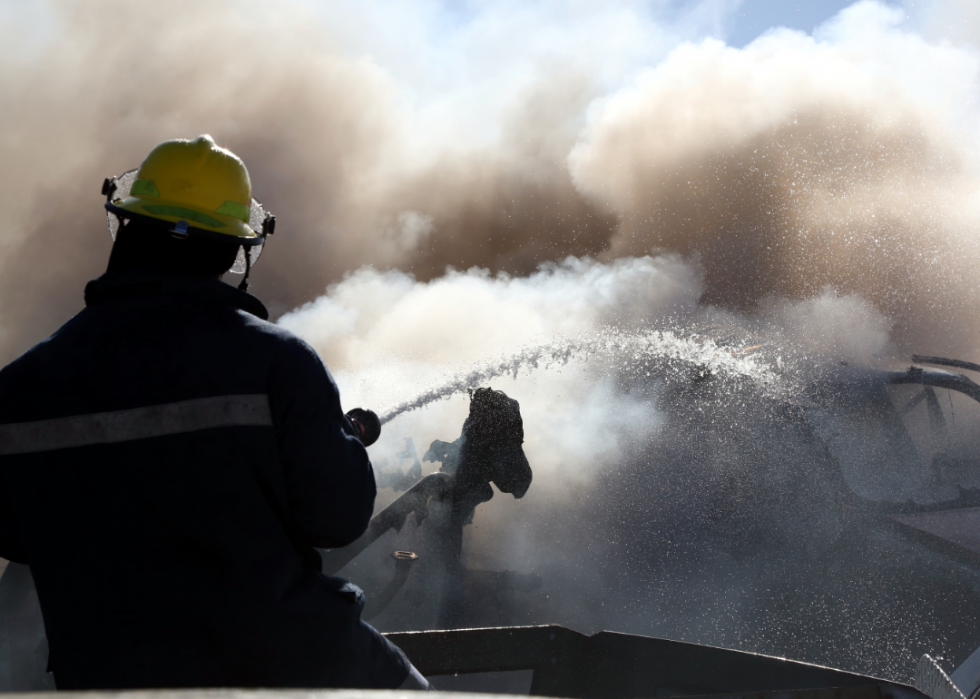 19 / 50
#32. First-line supervisors of firefighting and prevention workers
- Divorce rate: 9.7% (75.1% lower than national rate)
- Separation rate: 1.1%
- Job employment: 65,920
- Mean annual salary: $80,310 (54.6% higher than national rate)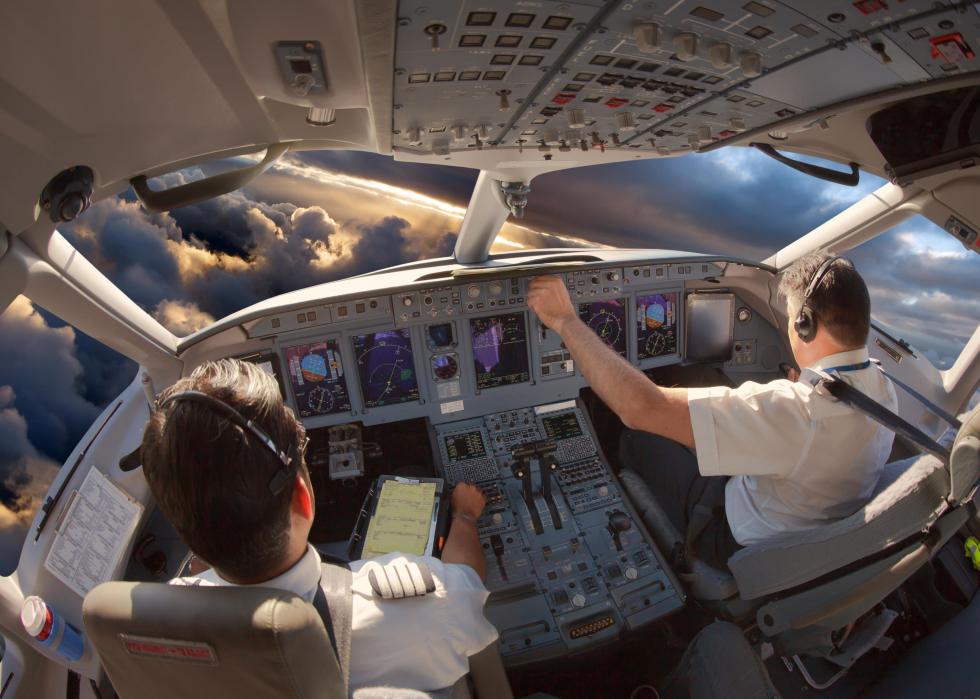 20 / 50
SkyColors // Shutterstock
#31. Aircraft pilots and flight engineers
- Divorce rate: 9.7% (75.1% lower than national rate)
- Separation rate: 1.0%
- Job employment: 120,760
- Mean annual salary: $146,660 (182.3% higher than national rate)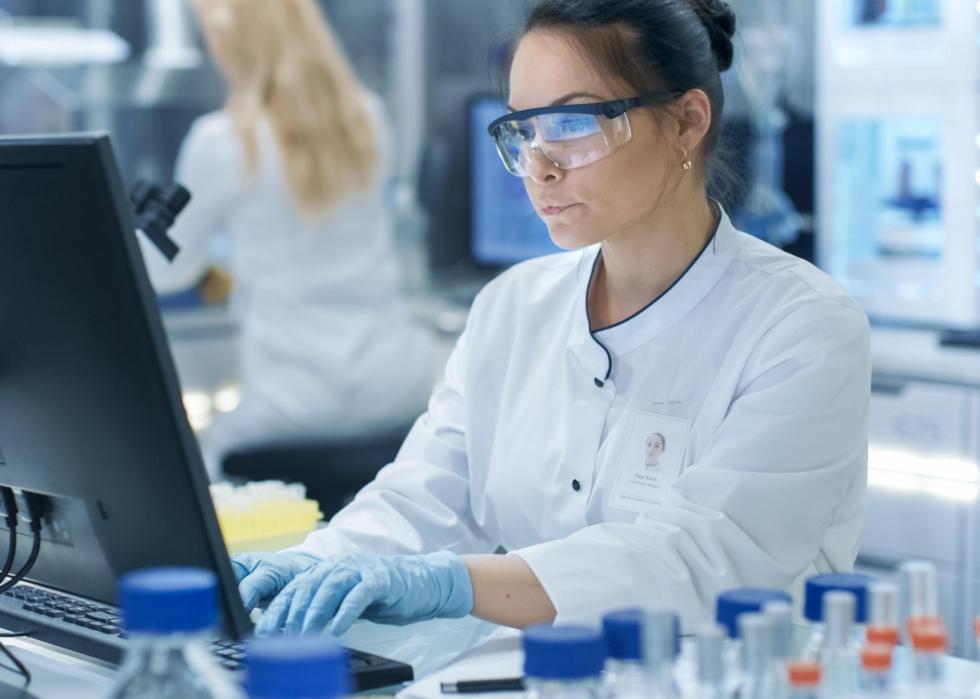 21 / 50
Gorodenkoff // Shutterstock
#30. Computer and information research scientists
- Divorce rate: 9.6% (75.4% lower than national rate)
- Separation rate: 1.2%
- Job employment: 30,070
- Mean annual salary: $123,850 (138.4% higher than national rate)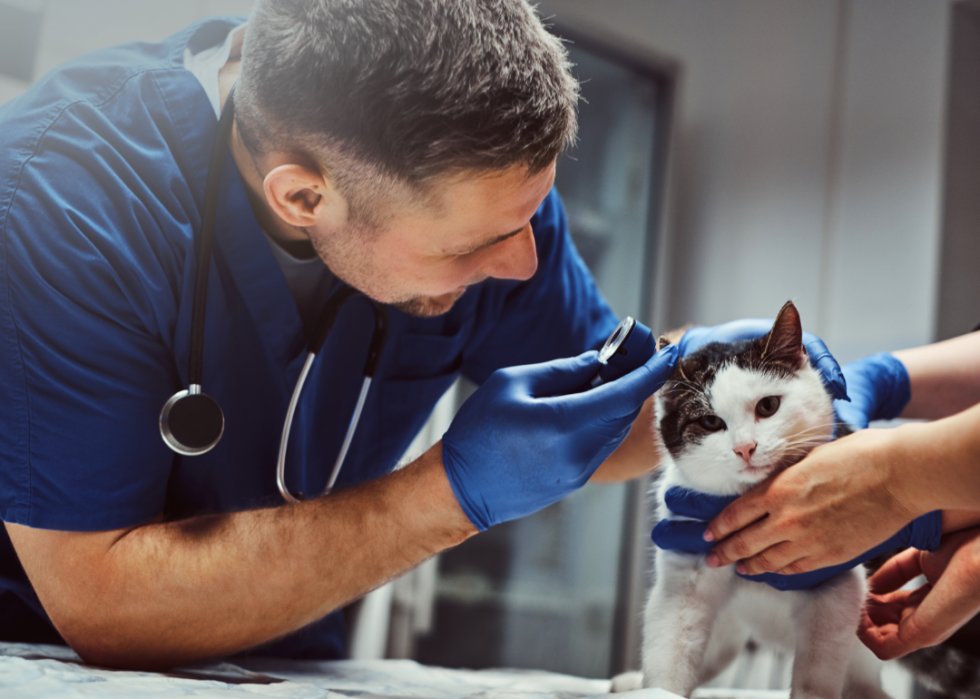 22 / 50
#29. Veterinarians
- Divorce rate: 9.4% (75.9% lower than national rate)
- Separation rate: 1.0%
- Job employment: 71,060
- Mean annual salary: $105,240 (102.5% higher than national rate)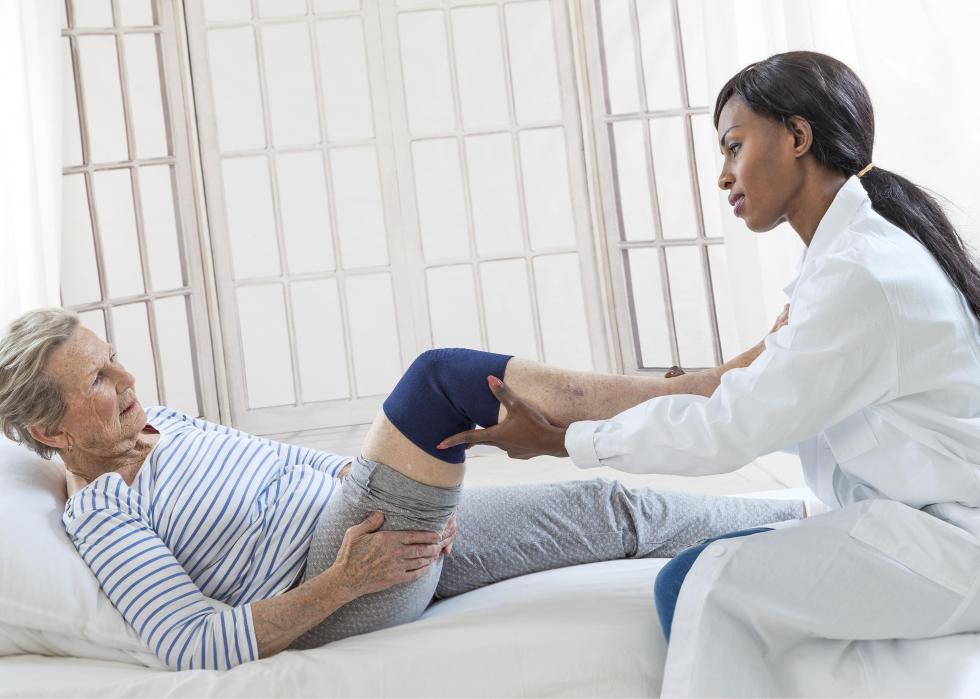 23 / 50
#28. Physical therapists
- Divorce rate: 9.3% (76.1% lower than national rate)
- Separation rate: 1.1%
- Job employment: 228,600
- Mean annual salary: $88,880 (71.1% higher than national rate)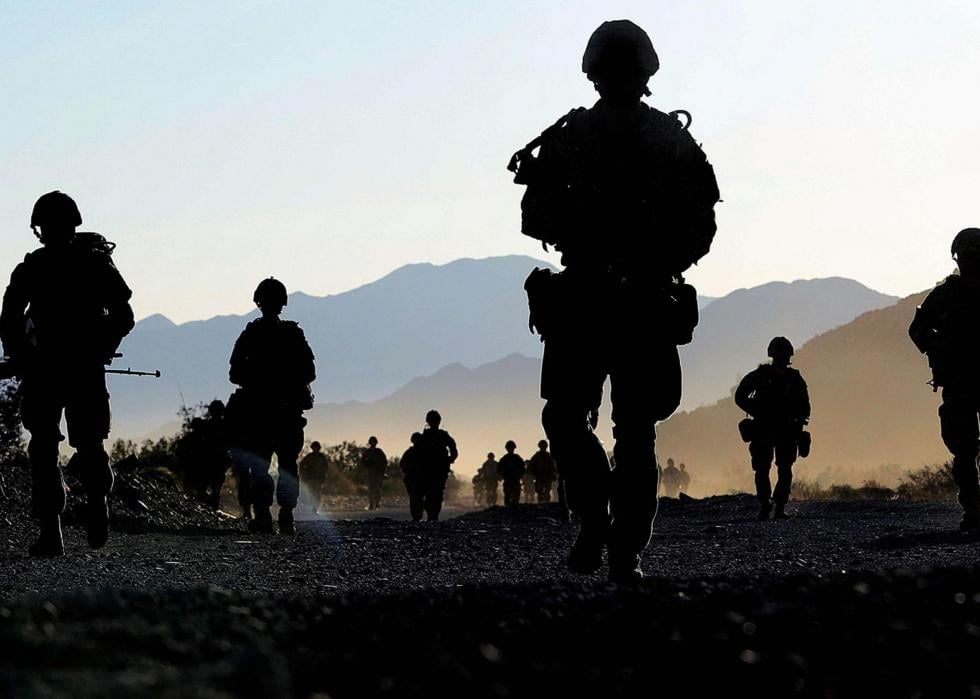 24 / 50
#27. Military, rank not specified
- Divorce rate: 9.3% (76.1% lower than national rate)
- Separation rate: 2.7%
- Job employment: Data not available
- Mean annual salary: Data not available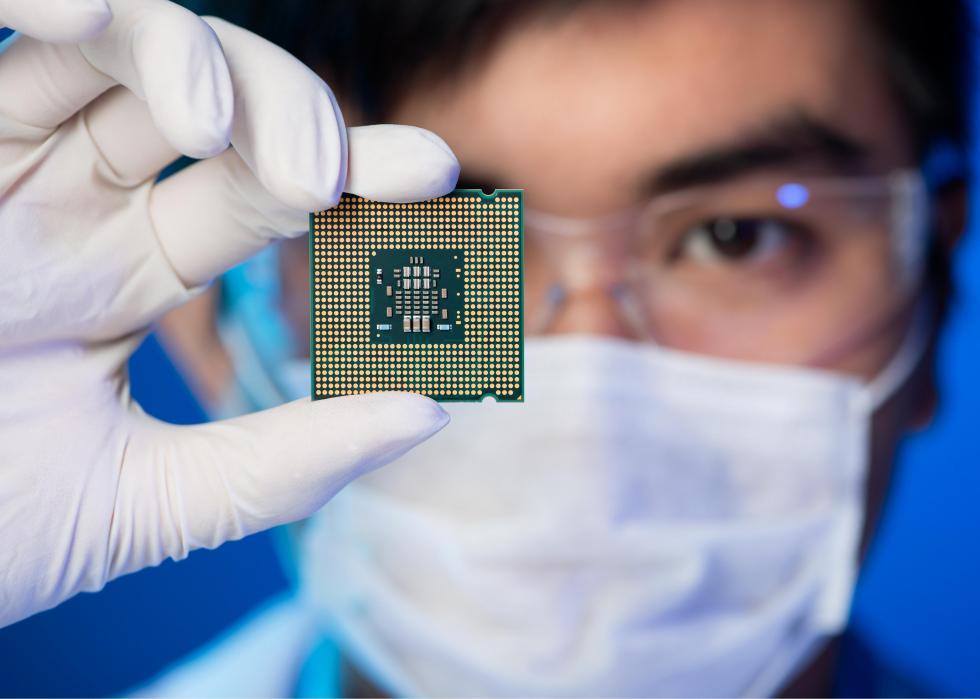 25 / 50
DragonImages // Shutterstock
#26. Materials engineers
- Divorce rate: 9.3% (76.1% lower than national rate)
- Separation rate: 1.0%
- Job employment: 26,930
- Mean annual salary: $96,930 (86.5% higher than national rate)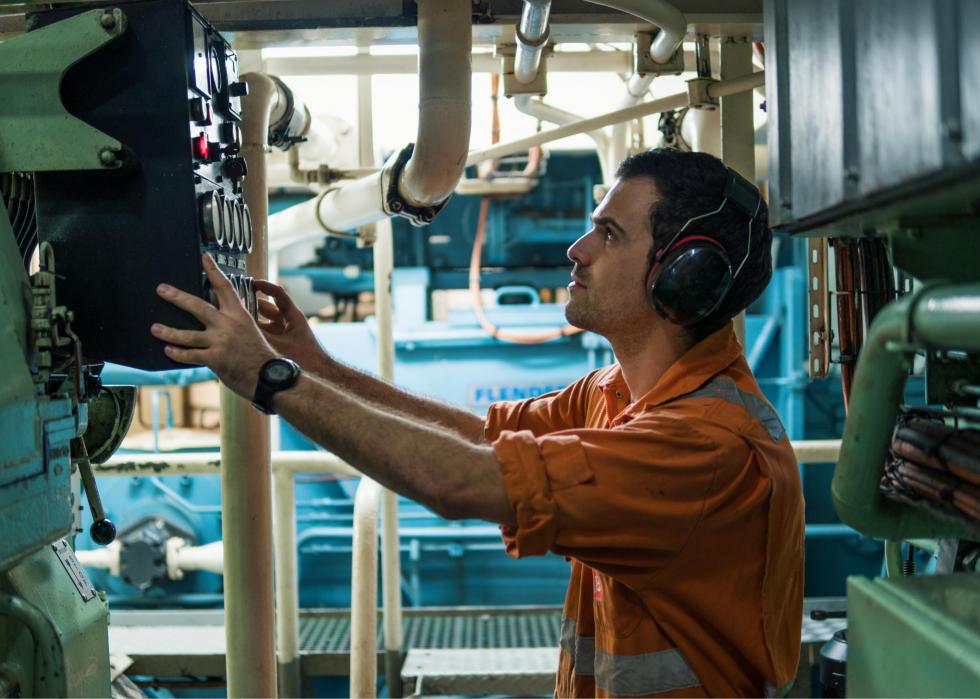 26 / 50
IgorKardasov // Shutterstock
#25. Marine engineers and naval architects
- Divorce rate: 9.2% (76.4% lower than national rate)
- Separation rate: 1.2%
- Job employment: 11,350
- Mean annual salary: $98,970 (90.5% higher than national rate)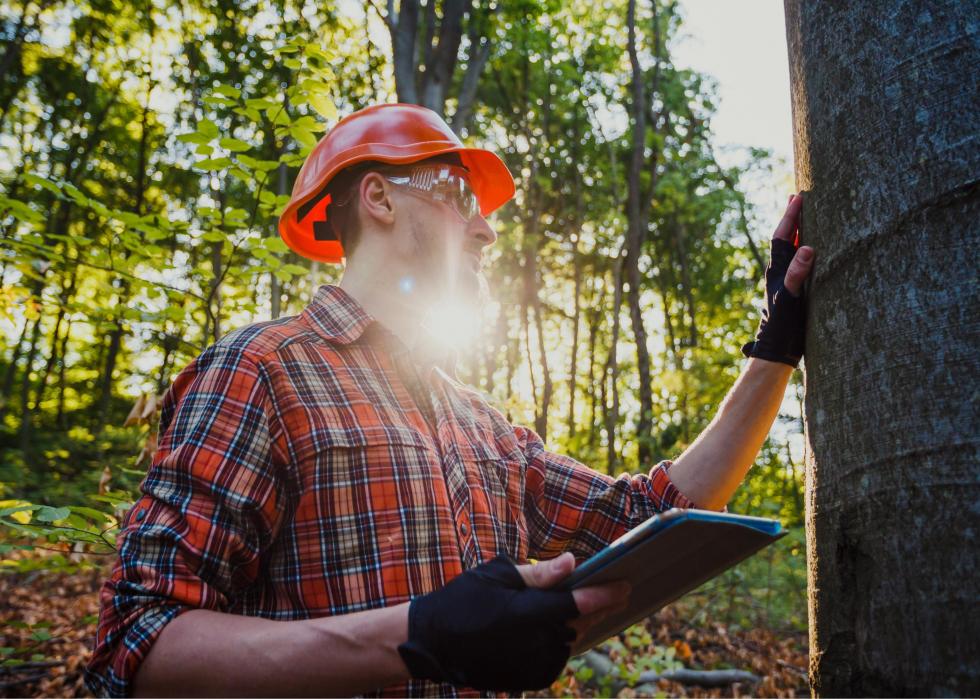 27 / 50
Nik_svoboden // Shutterstock
#24. Conservation scientists and foresters
- Divorce rate: 9.1% (76.7% lower than national rate)
- Separation rate: 0.7%
- Job employment: 30,600
- Mean annual salary: $64,720 (24.6% higher than national rate)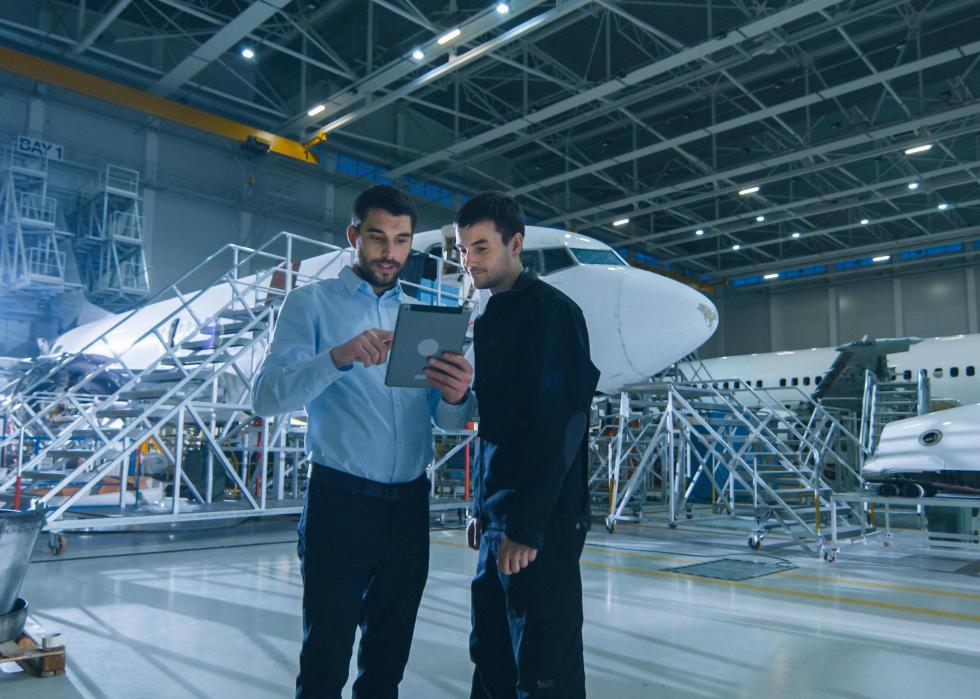 28 / 50
Gorodenkoff // Shutterstock
#23. Aerospace engineers
- Divorce rate: 9.1% (76.8% lower than national rate)
- Separation rate: 1.0%
- Job employment: 63,960
- Mean annual salary: $117,100 (125.4% higher than national rate)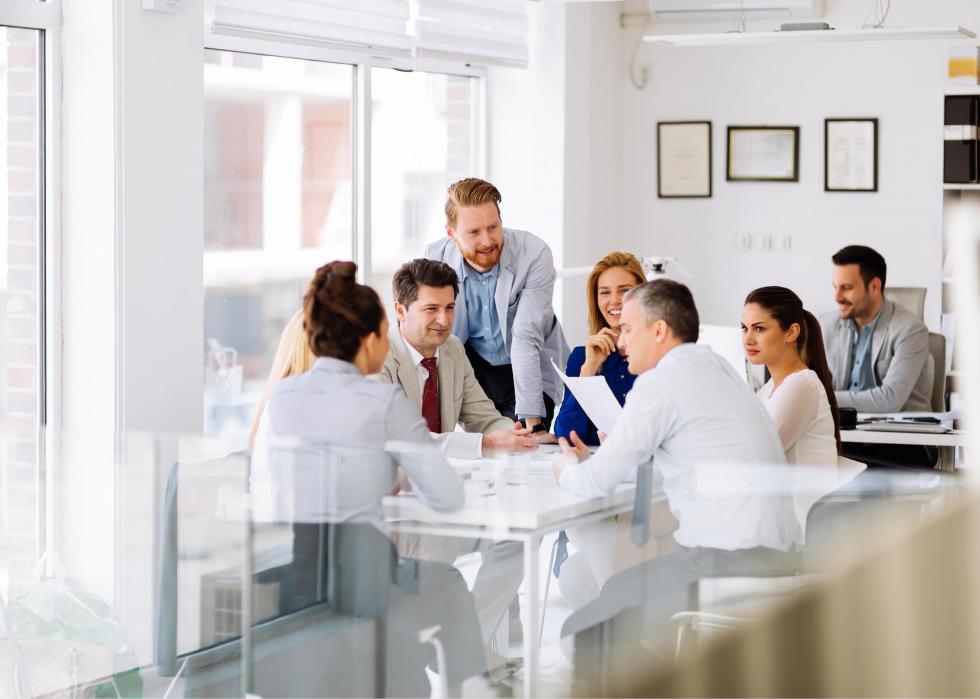 29 / 50
#22. Sales engineers
- Divorce rate: 9.0% (77.0% lower than national rate)
- Separation rate: 0.9%
- Job employment: 65,720
- Mean annual salary: $108,610 (109.0% higher than national rate)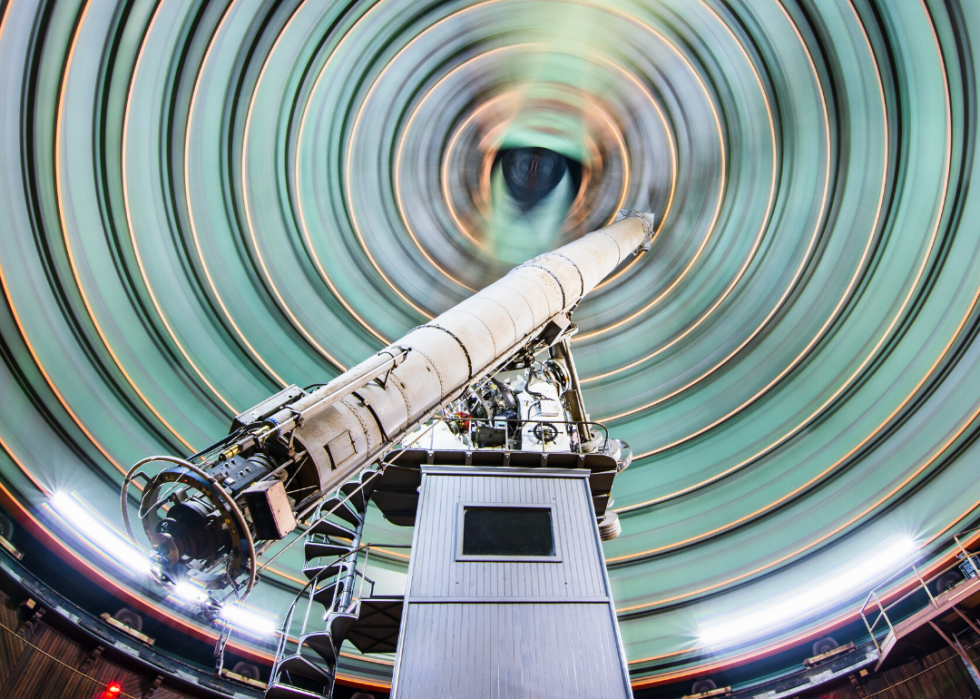 30 / 50
Sundry Photography // Shutterstock
#21. Astronomers and physicists
- Divorce rate: 8.9% (77.1% lower than national rate)
- Separation rate: 1.1%
- Job employment: 19,770
- Mean annual salary: $123,730 (138.1% higher than national rate)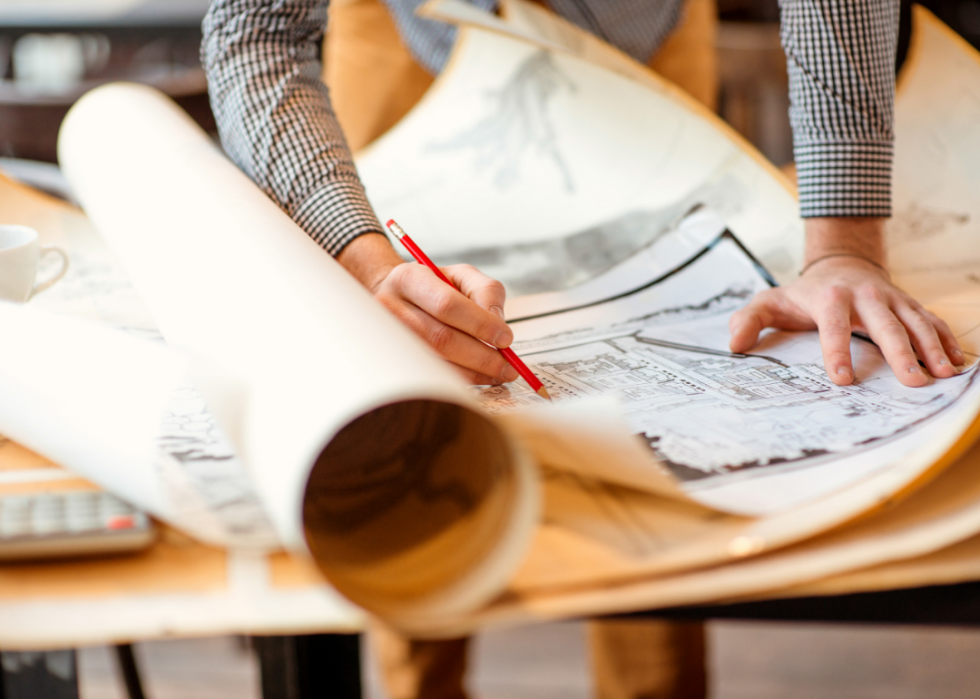 31 / 50
#20. Architects, except landscape and naval
- Divorce rate: 8.9% (77.3% lower than national rate)
- Separation rate: 1.1%
- Job employment: 104,360
- Mean annual salary: $88,860 (71.0% higher than national rate)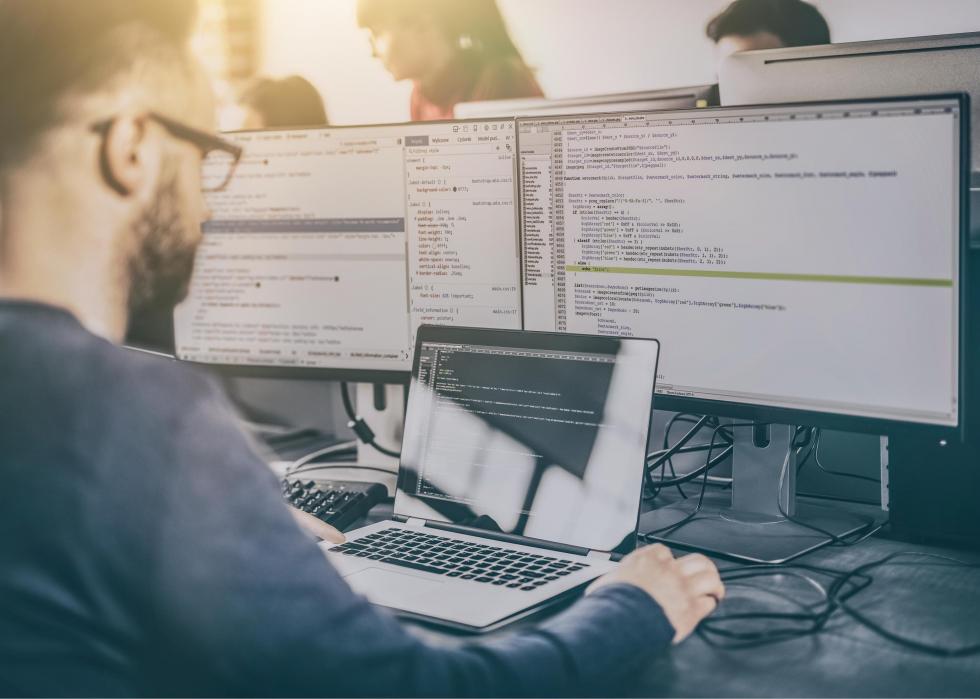 32 / 50
RedPixel.PL // Shutterstock
#19. Software developers, applications and systems software
- Divorce rate: 8.7% (77.7% lower than national rate)
- Separation rate: 1.1%
- Job employment: 1,308,490
- Mean annual salary: $111,040 (113.7% higher than national rate)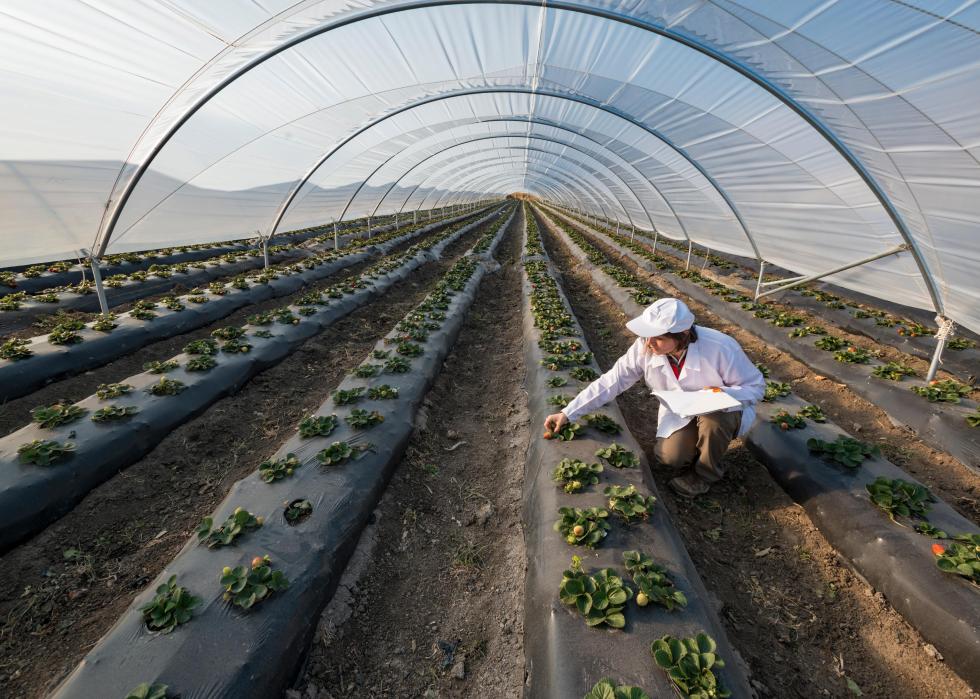 33 / 50
#18. Biomedical and agricultural engineers
- Divorce rate: 8.6% (78.0% lower than national rate)
- Separation rate: 1.3%
- Job employment: 20,600
- Mean annual salary: $87,090 (67.6% higher than national rate)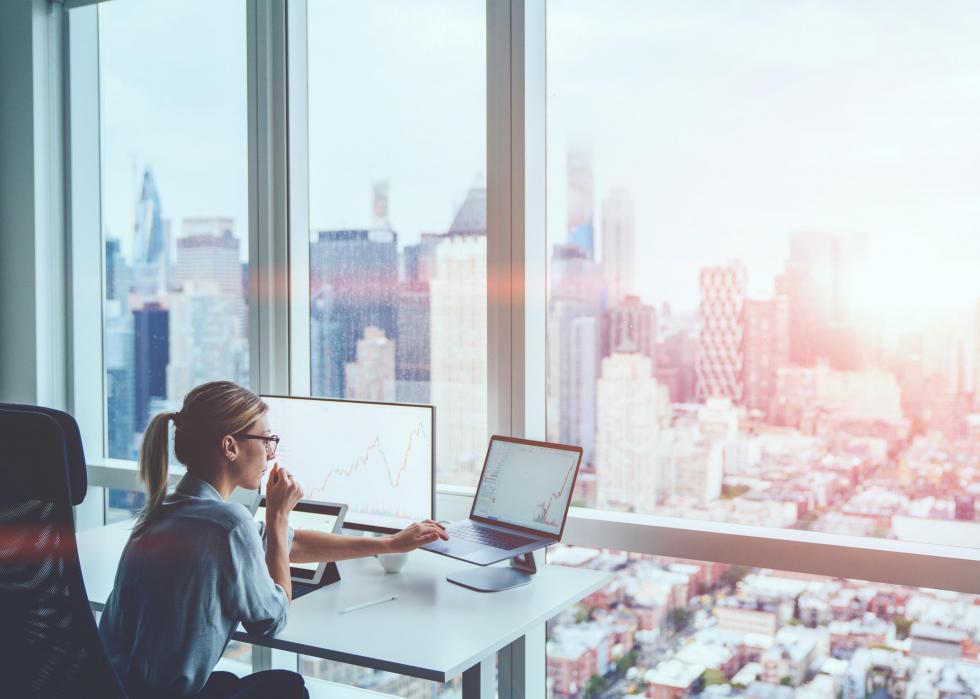 34 / 50
#17. Economists
- Divorce rate: 8.5% (78.3% lower than national rate)
- Separation rate: 1.0%
- Job employment: 18,650
- Mean annual salary: $116,020 (123.3% higher than national rate)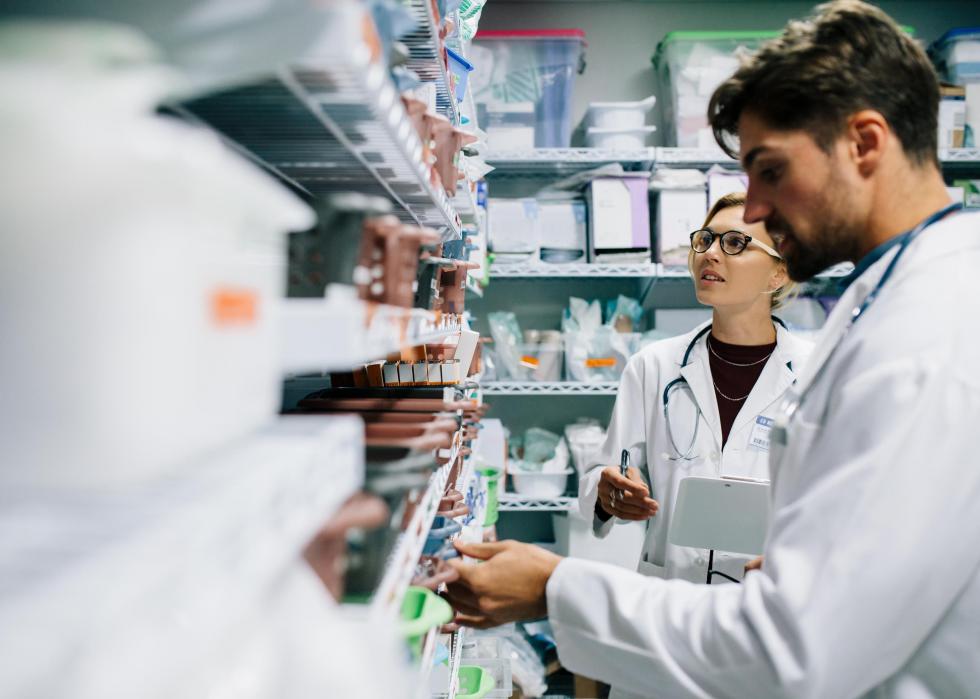 35 / 50
JacobLund // Shutterstock
#16. Pharmacists
- Divorce rate: 8.5% (78.3% lower than national rate)
- Separation rate: 1.1%
- Job employment: 309,550
- Mean annual salary: $123,670 (138.0% higher than national rate)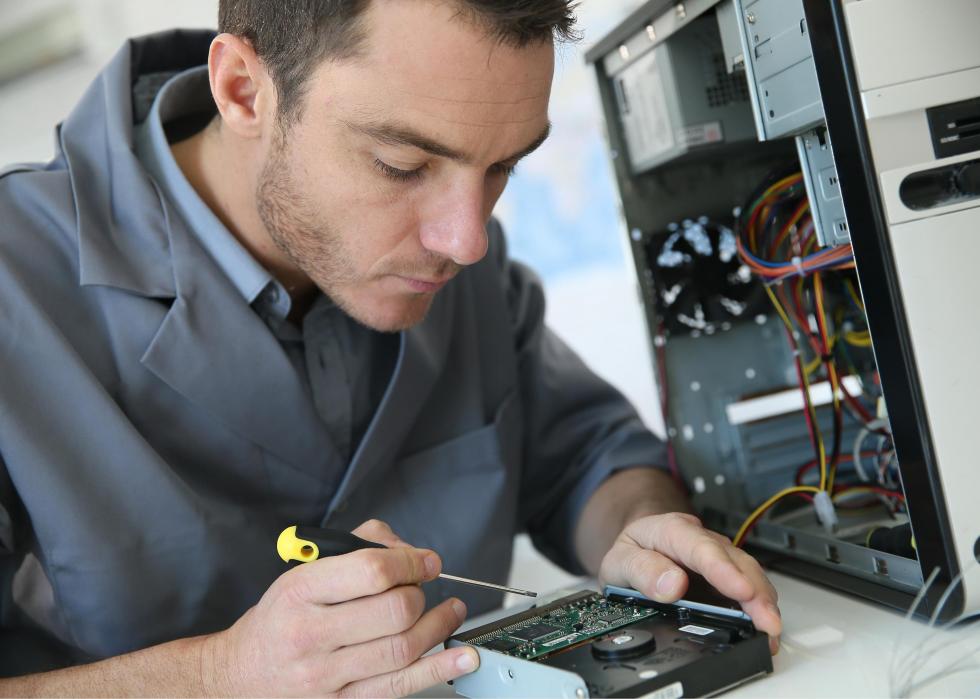 36 / 50
ESBProfessional // Shutterstock
#15. Computer hardware engineers
- Divorce rate: 8.4% (78.4% lower than national rate)
- Separation rate: 1.3%
- Job employment: 60,750
- Mean annual salary: $117,840 (126.8% higher than national rate)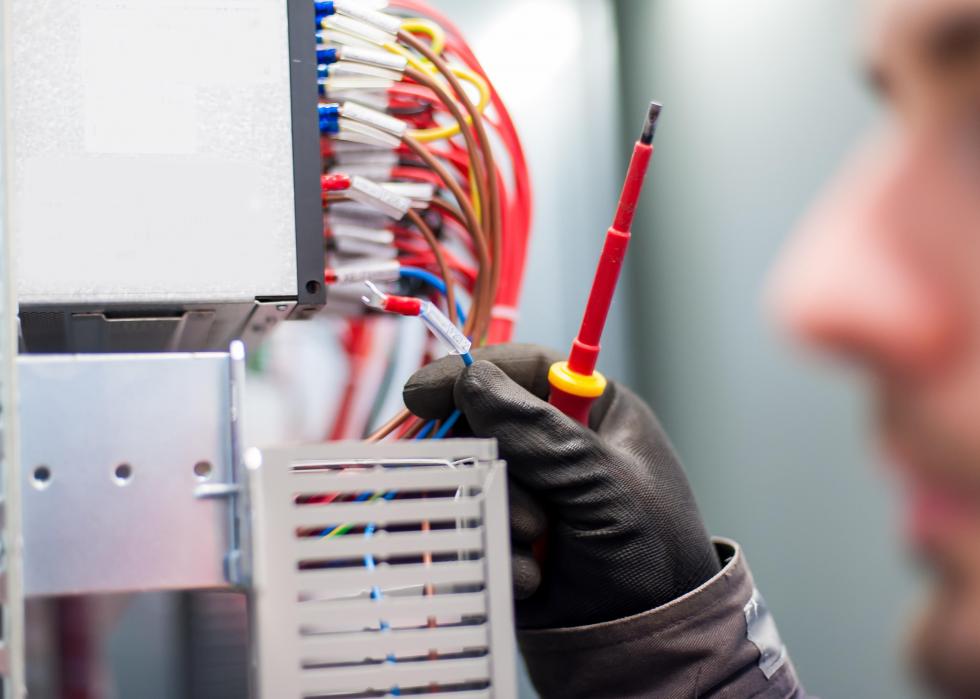 37 / 50
#14. Electrical and electronics engineers
- Divorce rate: 8.4% (78.4% lower than national rate)
- Separation rate: 1.1%
- Job employment: 320,610
- Mean annual salary: $104,250 (100.6% higher than national rate)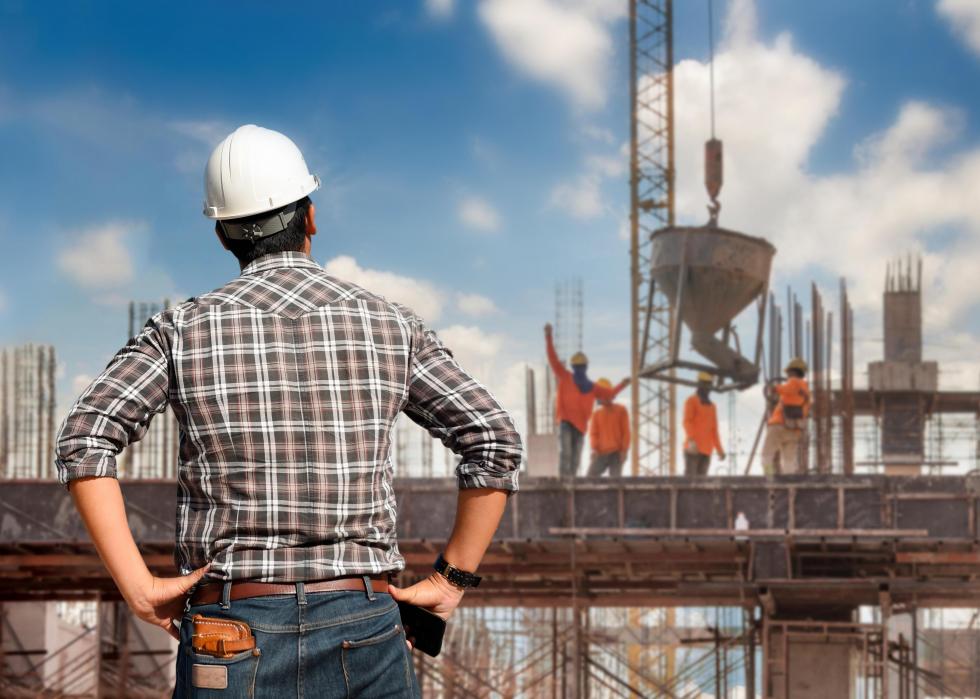 38 / 50
Bannafarsai_Stock // Shutterstock
#13. Civil engineers
- Divorce rate: 8.1% (79.1% lower than national rate)
- Separation rate: 1.0%
- Job employment: 306,030
- Mean annual salary: $93,720 (80.4% higher than national rate)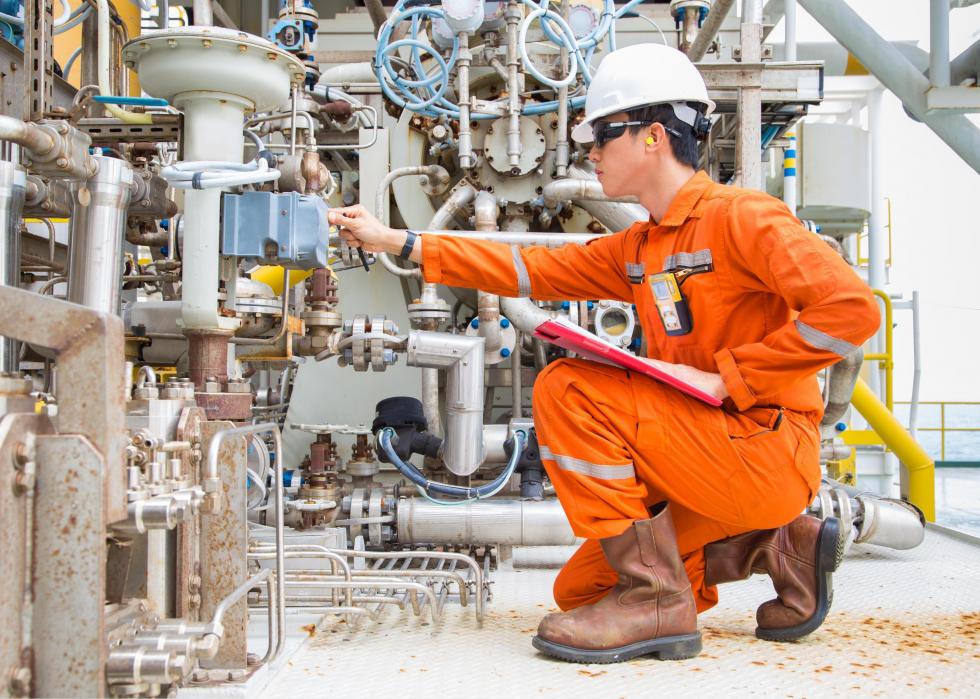 39 / 50
OilandGasPhotographer // Shutterstock
#12. Mechanical engineers
- Divorce rate: 8.1% (79.2% lower than national rate)
- Separation rate: 0.9%
- Job employment: 303,440
- Mean annual salary: $92,800 (78.6% higher than national rate)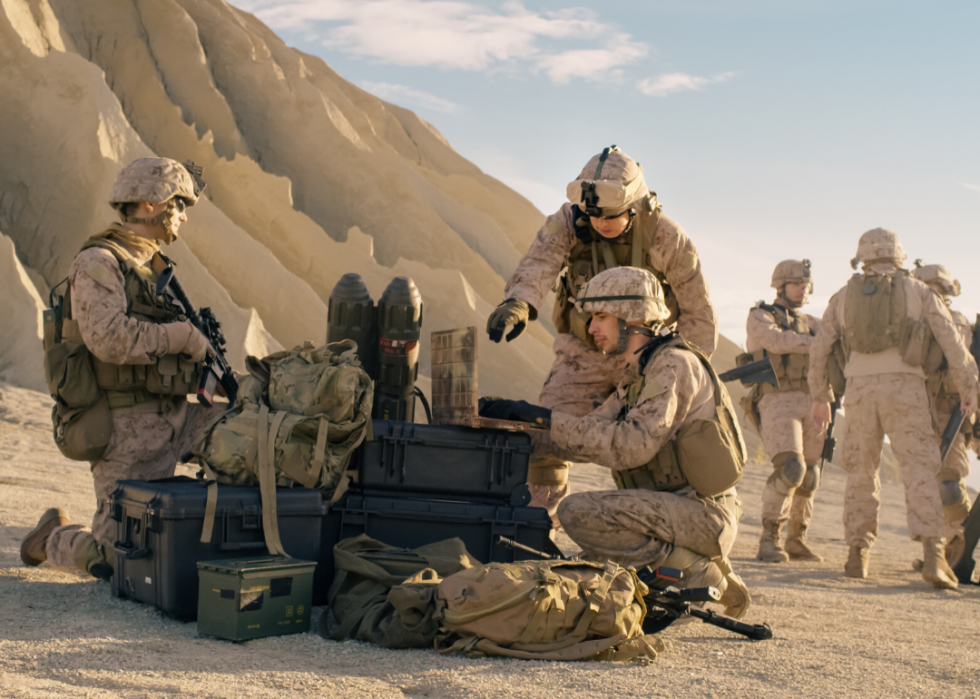 40 / 50
Gorodenkoff // Shutterstock
#11. Military officer special and tactical operations leaders
- Divorce rate: 8.0% (79.6% lower than national rate)
- Separation rate: 1.8%
- Job employment: Data not available
- Mean annual salary: Data not available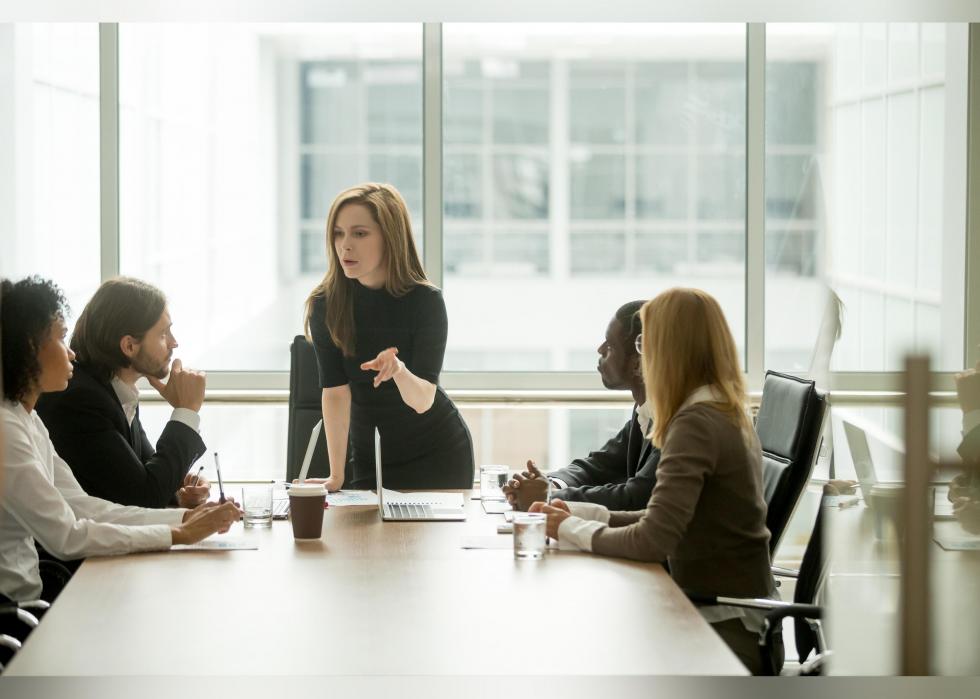 41 / 50
#10. Directors, religious activities and education
- Divorce rate: 7.6% (80.4% lower than national rate)
- Separation rate: 1.0%
- Job employment: 21,700
- Mean annual salary: $46,980 (9.6% lower than national rate)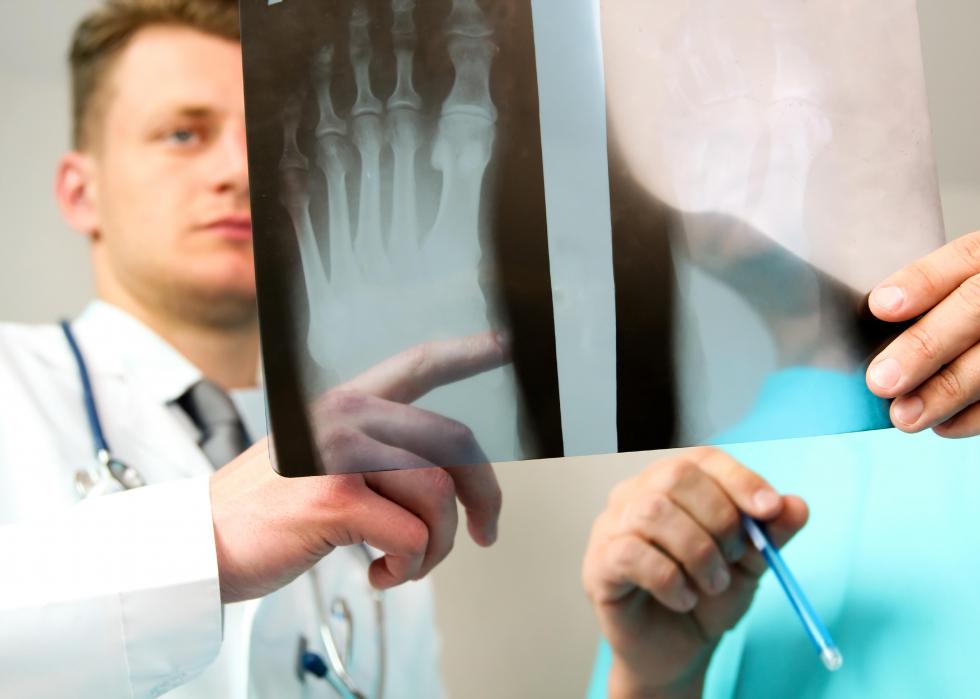 42 / 50
#9. Podiatrists
- Divorce rate: 7.6% (80.5% lower than national rate)
- Separation rate: 1.0%
- Job employment: 9,500
- Mean annual salary: $148,220 (185.3% higher than national rate)
43 / 50
#8. Dentists
- Divorce rate: 7.4% (81.0% lower than national rate)
- Separation rate: 0.8%
- Job employment: 128,060
- Mean annual salary: $180,590 (247.6% higher than national rate)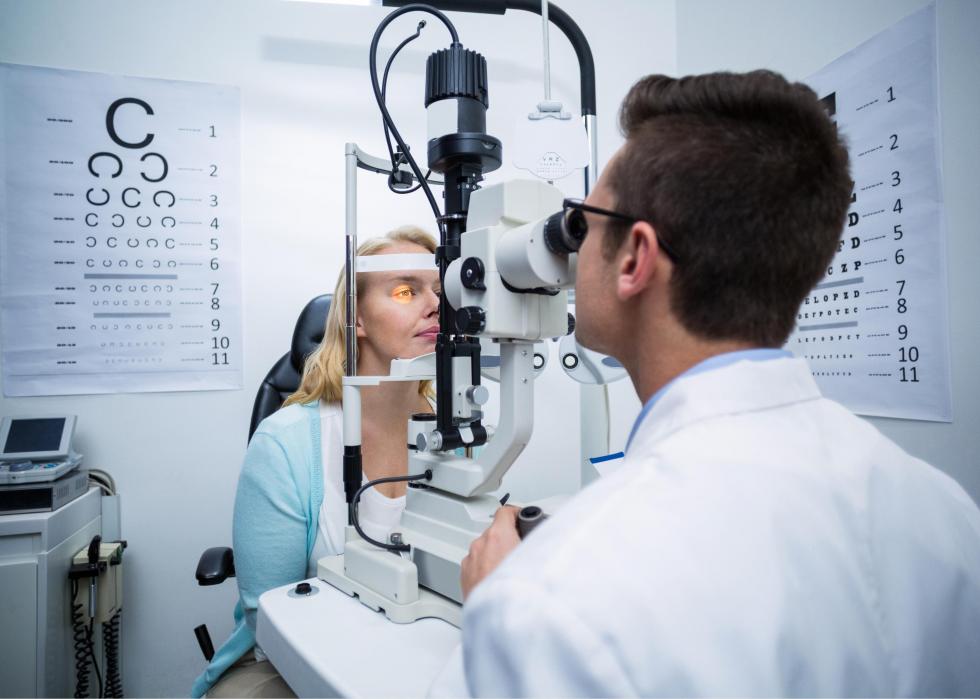 44 / 50
Wavebreakmedia // Shutterstock
#7. Optometrists
- Divorce rate: 7.2% (81.4% lower than national rate)
- Separation rate: 0.8%
- Job employment: 37,220
- Mean annual salary: $119,980 (130.9% higher than national rate)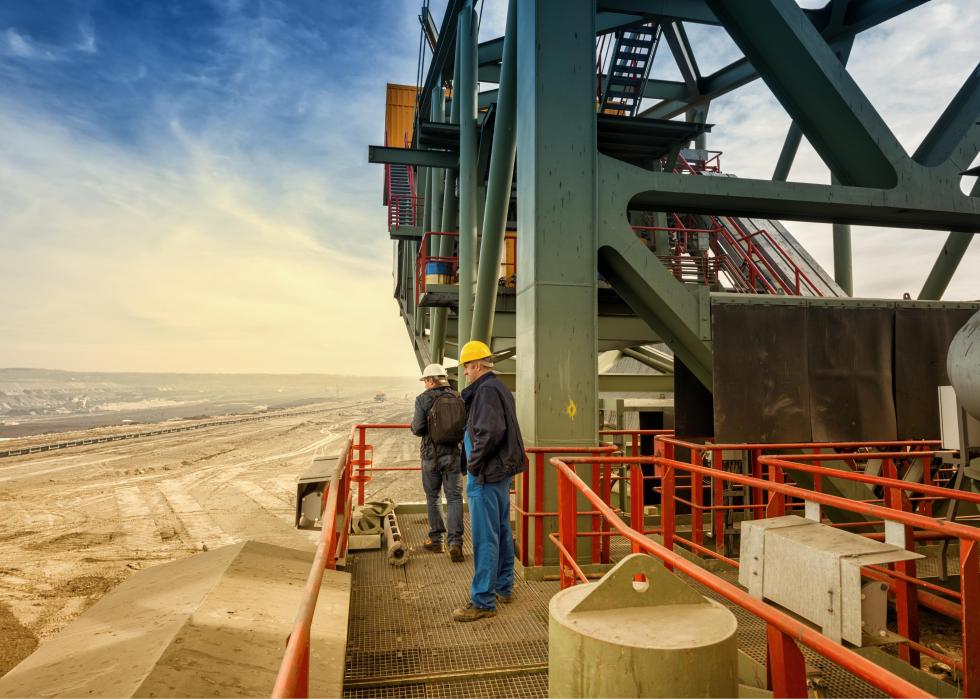 45 / 50
#6. Petroleum, mining and geological engineers, including mining safety engineers
- Divorce rate: 7.2% (81.5% lower than national rate)
- Separation rate: 0.9%
- Job employment: 38,290
- Mean annual salary: $127,395 (145.2% higher than national rate)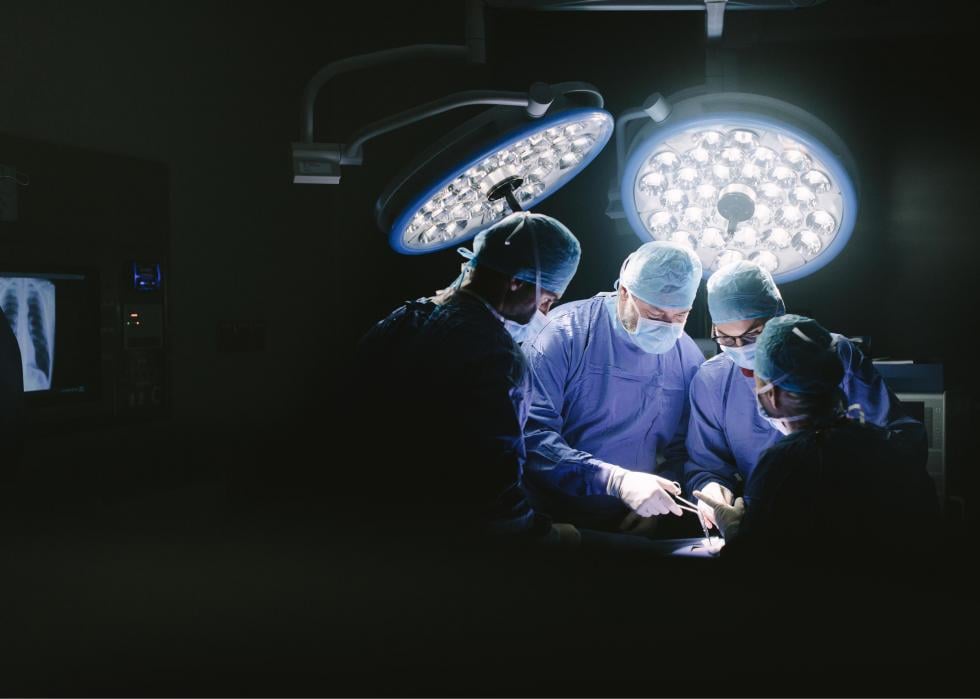 46 / 50
Gorodenkoff // Shutterstock
#5. Physicians and surgeons
- Divorce rate: 7.1% (81.8% lower than national rate)
- Separation rate: 1.0%
- Job employment: 679,280
- Mean annual salary: $210,980 (306.0% higher than national rate)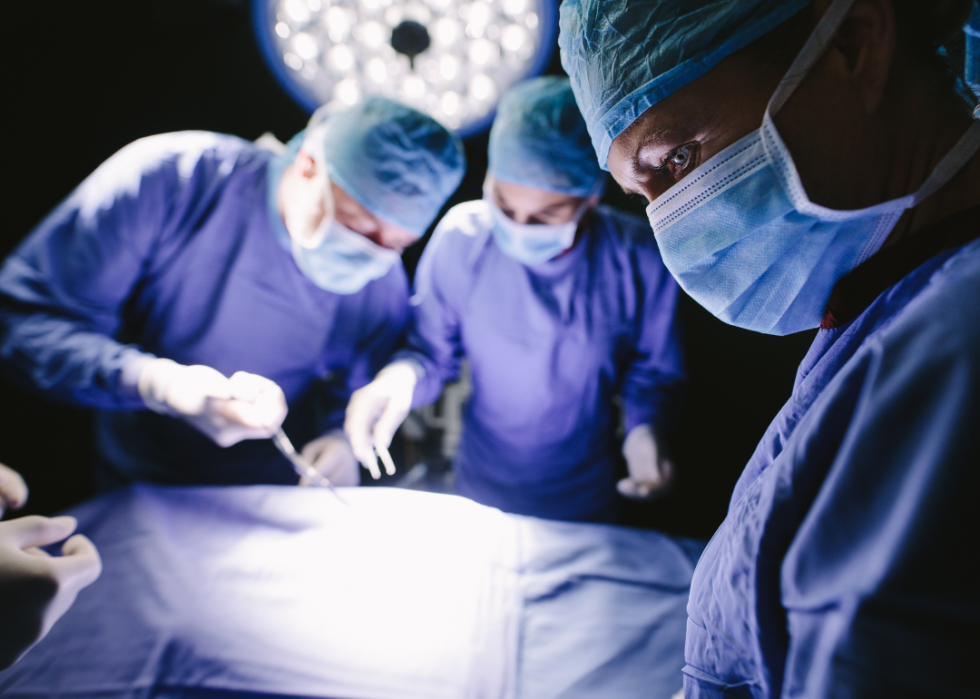 47 / 50
#4. Surgeons
- Divorce rate: 6.8% (82.6% lower than national rate)
- Separation rate: 0.2%
- Job employment: 34,390
- Mean annual salary: $255,110 (391.0% higher than national rate)
48 / 50
Fotohunter // Shutterstock
#3. Chemical engineers
- Divorce rate: 6.5% (83.4% lower than national rate)
- Separation rate: 0.8%
- Job employment: 32,060
- Mean annual salary: $114,470 (120.3% higher than national rate)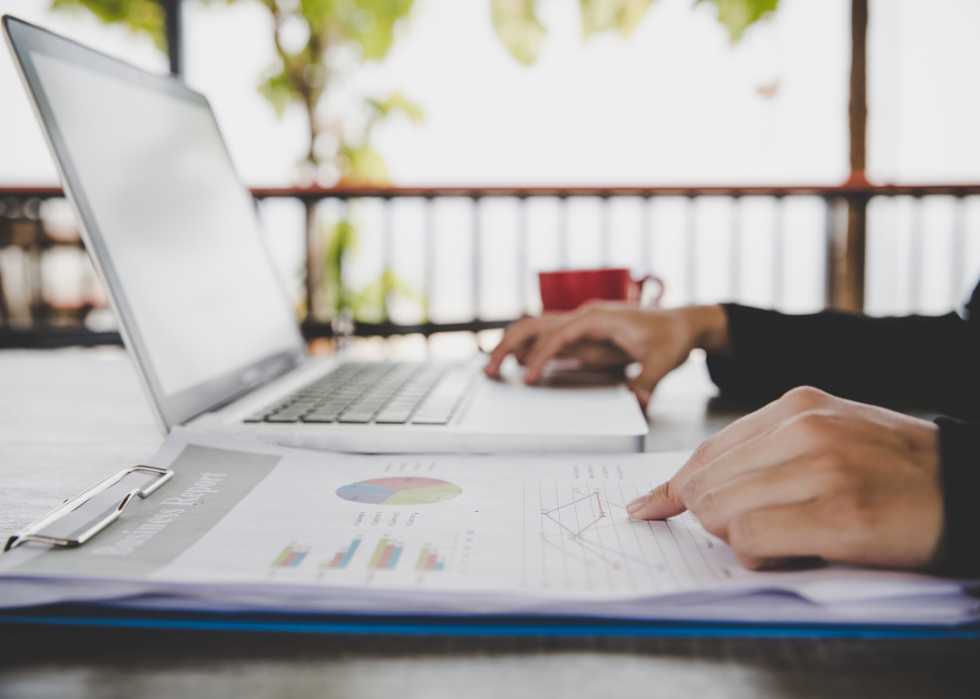 49 / 50
#2. Actuaries
- Divorce rate: 5.7% (85.3% lower than national rate)
- Separation rate: 0.6%
- Job employment: 20,760
- Mean annual salary: $116,250 (123.7% higher than national rate)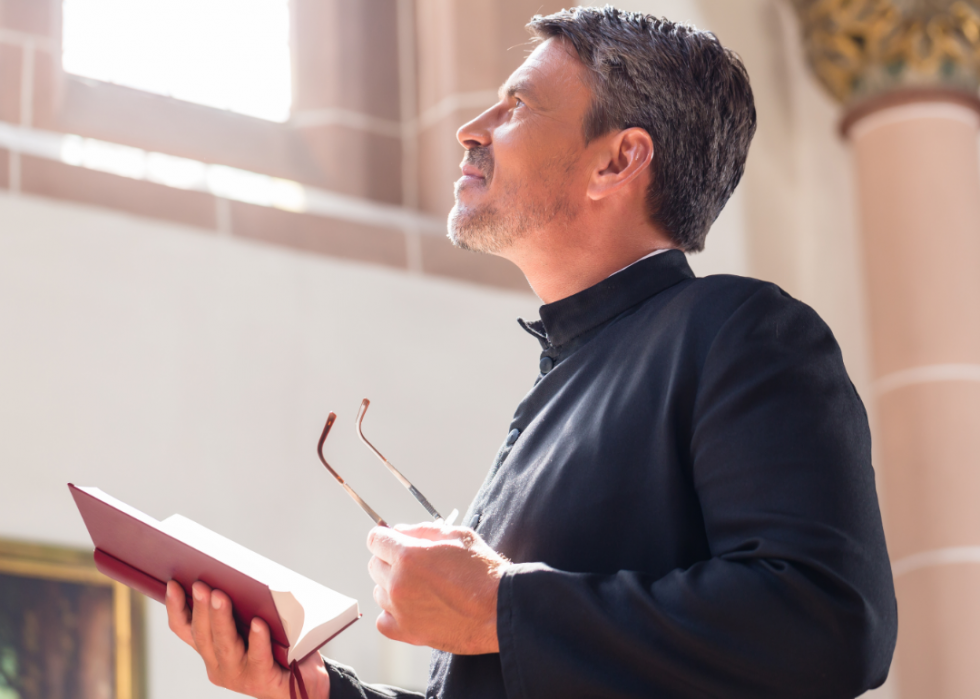 50 / 50
#1. Clergy
- Divorce rate: 4.9% (87.4% lower than national rate)
- Separation rate: 0.6%
- Job employment: 50,960
- Mean annual salary: $53,290 (2.6% higher than national rate)