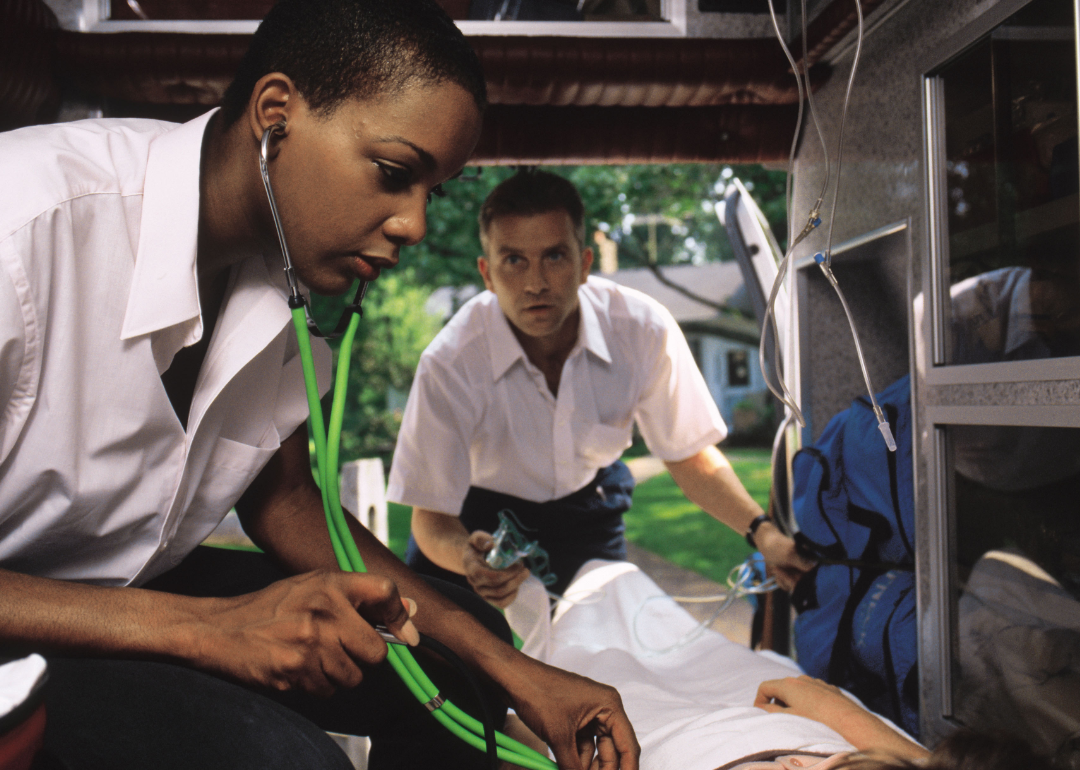 Lowest Paying Metros for EMTs
Lowest Paying Metros for EMTs
The emergency medical technician (EMT) and paramedic field is a challenging career path focused on providing rapid medical services in a mobile, fast-paced environment. While this role offers the altruistic reward of directly helping your community, actual compensation for this occupation can vary drastically depending on where you live and work.
At Stacker, we analyzed the most recent Bureau of Labor Statistics report on occupational wages to explore areas in the United States where EMTs and paramedics are paid the least. Our list focuses on metropolitan statistical areas (MSAs), places defined as urban areas with populations of more than 50,000 surrounded by communities that are socially and economically integrated.
Some states like Florida, Alabama, Ohio, and Pennsylvania lay claim to multiple areas with poor pay, read on to explore the full list of MSAs with the lowest EMT and paramedic pay.
#50. Appleton, WI
Average Annual Wage: $29,280
Percent Below National Average: 19%
Total Employed: 70
Employment per 1,000: 0.59
 
#49. Terre Haute, IN
Average Annual Wage: $29,160
Percent Below National Average: 19%
Total Employed: 130
Employment per 1,000: 1.99
#48. Albany, GA
Average Annual Wage: $29,150
Percent Below National Average: 19%
Total Employed: 290
Employment per 1,000: 4.97
#47. Lakeland-Winter Haven, FL
Average Annual Wage: $28,950
Percent Below National Average: 20%
Total Employed: 230
Employment per 1,000: 1.07
#46. Youngstown-Warren-Boardman, OH-PA
Average Annual Wage: $28,930
Percent Below National Average: 20%
Total Employed: 540
Employment per 1,000: 2.5
#45. Williamsport, PA
Average Annual Wage: $28,930
Percent Below National Average: 20%
Total Employed: 80
Employment per 1,000: 1.61
#44. Weirton-Steubenville, WV-OH
Average Annual Wage: $28,920
Percent Below National Average: 20%
Total Employed: 120
Employment per 1,000: 3.05
#43. Valdosta, GA
Average Annual Wage: $28,840
Percent Below National Average: 20%
Total Employed: 190
Employment per 1,000: 3.58
#42. Springfield, MO
Average Annual Wage: $28,810
Percent Below National Average: 20%
Total Employed: 510
Employment per 1,000: 2.53
#41. Scranton--Wilkes-Barre--Hazleton, PA
Average Annual Wage: $28,720
Percent Below National Average: 20%
Total Employed: 720
Employment per 1,000: 2.8
#40. Birmingham-Hoover, AL
Average Annual Wage: $28,500
Percent Below National Average: 21%
Total Employed: 650
Employment per 1,000: 1.29
#39. Akron, OH
Average Annual Wage: $28,440
Percent Below National Average: 21%
Total Employed: 690
Employment per 1,000: 2.12
#38. Elkhart-Goshen, IN
Average Annual Wage: $28,390
Percent Below National Average: 21%
Total Employed: 140
Employment per 1,000: 1.09
#37. Abilene, TX
Average Annual Wage: $28,350
Percent Below National Average: 21%
Total Employed: 120
Employment per 1,000: 1.86
#36. Athens-Clarke County, GA
Average Annual Wage: $28,330
Percent Below National Average: 22%
Total Employed: 260
Employment per 1,000: 3.09
#35. Sierra Vista-Douglas, AZ
Average Annual Wage: $28,300
Percent Below National Average: 22%
Total Employed: 80
Employment per 1,000: 2.59
#34. Oshkosh-Neenah, WI
Average Annual Wage: $28,300
Percent Below National Average: 22%
Total Employed: n/a
Employment per 1,000: n/a
#33. Gadsden, AL
Average Annual Wage: $28,160
Percent Below National Average: 22%
Total Employed: n/a
Employment per 1,000: n/a
#32. Shreveport-Bossier City, LA
Average Annual Wage: $28,100
Percent Below National Average: 22%
Total Employed: 280
Employment per 1,000: 1.56
#31. Carbondale-Marion, IL
Average Annual Wage: $28,040
Percent Below National Average: 22%
Total Employed: 170
Employment per 1,000: 3.34
#30. Columbus, OH
Average Annual Wage: $27,960
Percent Below National Average: 23%
Total Employed: 1400
Employment per 1,000: 1.37
#29. Bismarck, ND
Average Annual Wage: $27,910
Percent Below National Average: 23%
Total Employed: 120
Employment per 1,000: 1.63
#28. Anniston-Oxford-Jacksonville, AL
Average Annual Wage: $27,750
Percent Below National Average: 23%
Total Employed: 160
Employment per 1,000: 3.82
#27. Lake Charles, LA
Average Annual Wage: $27,710
Percent Below National Average: 23%
Total Employed: 590
Employment per 1,000: 5.79
#26. Sumter, SC
Average Annual Wage: $27,690
Percent Below National Average: 23%
Total Employed: 110
Employment per 1,000: 3.05
#25. Johnstown, PA
Average Annual Wage: $27,610
Percent Below National Average: 24%
Total Employed: 440
Employment per 1,000: 8.21
#24. Canton-Massillon, OH
Average Annual Wage: $27,560
Percent Below National Average: 24%
Total Employed: 420
Employment per 1,000: 2.5
#23. Port St. Lucie, FL
Average Annual Wage: $27,500
Percent Below National Average: 24%
Total Employed: 330
Employment per 1,000: 2.39
#22. Huntington-Ashland, WV-KY-OH
Average Annual Wage: $27,490
Percent Below National Average: 24%
Total Employed: 420
Employment per 1,000: 3.18
#21. Springfield, IL
Average Annual Wage: $27,360
Percent Below National Average: 24%
Total Employed: 230
Employment per 1,000: 2.15
#20. Utica-Rome, NY
Average Annual Wage: $27,240
Percent Below National Average: 25%
Total Employed: 190
Employment per 1,000: 1.56
#19. Florence-Muscle Shoals, AL
Average Annual Wage: $27,210
Percent Below National Average: 25%
Total Employed: 240
Employment per 1,000: 4.43
#18. Springfield, OH
Average Annual Wage: $27,150
Percent Below National Average: 25%
Total Employed: 280
Employment per 1,000: 5.81
#17. East Stroudsburg, PA
Average Annual Wage: $27,120
Percent Below National Average: 25%
Total Employed: n/a
Employment per 1,000: n/a
#16. Morgantown, WV
Average Annual Wage: $27,100
Percent Below National Average: 25%
Total Employed: 140
Employment per 1,000: 2.18
#15. Wheeling, WV-OH
Average Annual Wage: $26,860
Percent Below National Average: 26%
Total Employed: 110
Employment per 1,000: 1.69
#14. Provo-Orem, UT
Average Annual Wage: $26,490
Percent Below National Average: 27%
Total Employed: 70
Employment per 1,000: 0.33
#13. Wichita Falls, TX
Average Annual Wage: $26,470
Percent Below National Average: 27%
Total Employed: 100
Employment per 1,000: 1.7
#12. Tulsa, OK
Average Annual Wage: $26,380
Percent Below National Average: 27%
Total Employed: 730
Employment per 1,000: 1.7
#11. Crestview-Fort Walton Beach-Destin, FL
Average Annual Wage: $26,280
Percent Below National Average:27%
Total Employed: 210
Employment per 1,000: 1.96
#10. St. George, UT
Average Annual Wage: $26,150
Percent Below National Average: 28%
Total Employed: 70
Employment per 1,000: 1.21
#9. Fargo, ND-MN
Average Annual Wage: $25,840
Percent Below National Average: 28%
Total Employed: n/a
Employment per 1,000: n/a
#8. Topeka, KS
Average Annual Wage: $25,800
Percent Below National Average: 29%
Total Employed: n/a
Employment per 1,000: n/a
#7. Lawton, OK
Average Annual Wage: $25,530
Percent Below National Average: 29%
Total Employed: 80
Employment per 1,000: 1.75
#6. Saginaw, MI
Average Annual Wage: $25,480
Percent Below National Average: 29%
Total Employed: 220
Employment per 1,000: 2.61
#5. Gettysburg, PA
Average Annual Wage: $25,390
Percent Below National Average: 30%
Total Employed: 100
Employment per 1,000: 2.95
#4. Little Rock-North Little Rock-Conway, AR
Average Annual Wage: $25,260
Percent Below National Average: 30%
Total Employed: 340
Employment per 1,000: 1
#3. Salem, OR
Average Annual Wage: $25,080
Percent Below National Average: 31%
Total Employed: n/a
Employment per 1,000: n/a
#2. Tuscaloosa, AL
Average Annual Wage: $24,920
Percent Below National Average: 31%
Total Employed: 200
Employment per 1,000: 2.01
#1. Dothan, AL
Average Annual Wage: $21,600
Percent Below National Average: 40%
Total Employed: 140
Employment per 1,000: 2.56