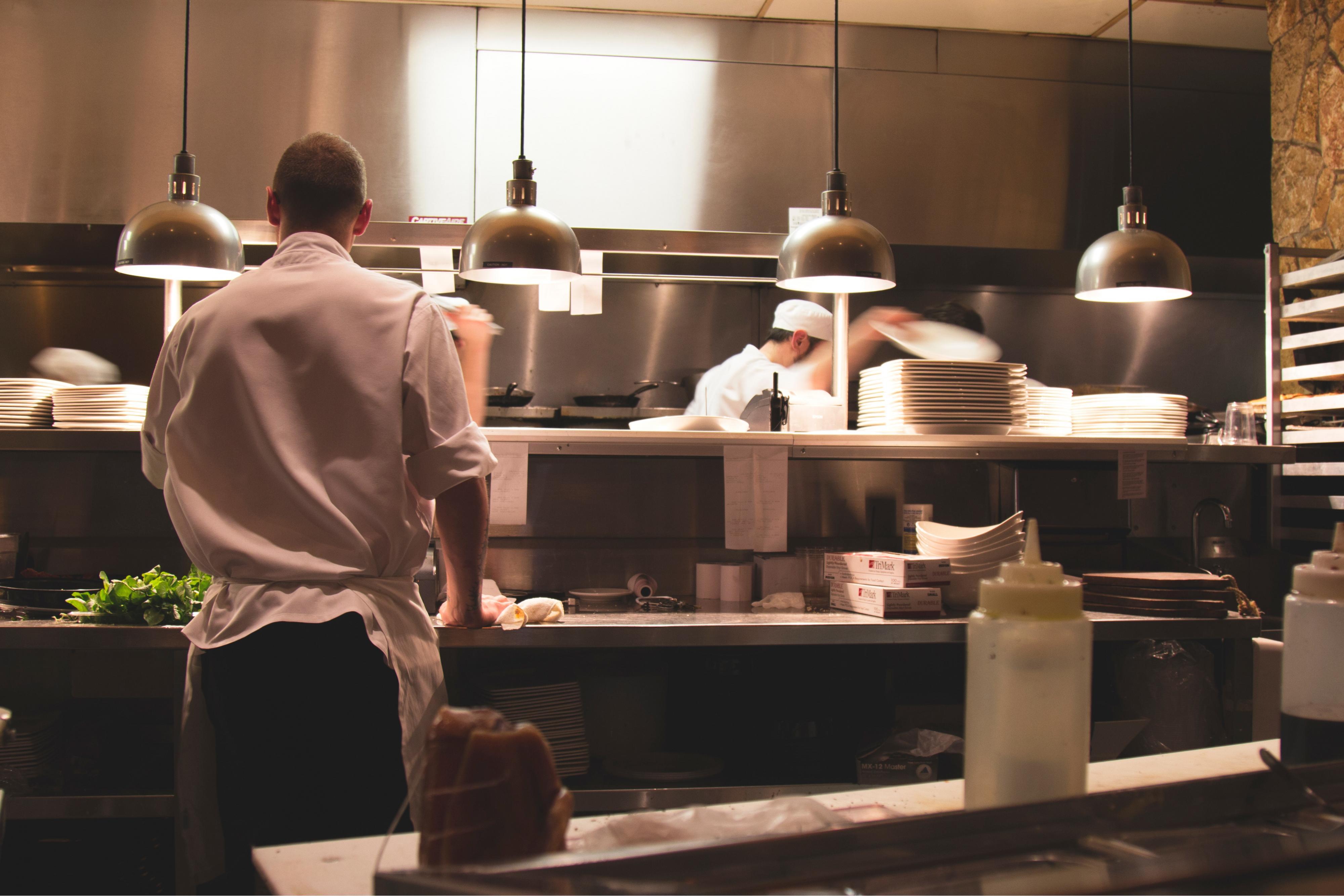 Most popular jobs in America
Michael Browning // Unsplash
100 most popular jobs in America
There are plenty of reasons why a large number of people will ultimately work in the same occupations. Whether it be overwhelming demand for labor in a particular field, the accessibility to people with a more limited background or the lucrative nature of a position, certain industries have jobs which see hundreds of thousands of applicants.
According to figures released by the Bureau of Labor Statistics from June 2018, the American civilian labor force is made up of 162,140,000 individuals who work in hundreds of thousands of different positions. Consider then that more than half the labor force, at 95,666,370, can be found in just the hundred most popular occupations in the country.
Using BLS data on National Occupational Employment and Wage Estimates, Stacker listed the 100 most popular jobs in America by total employment in 2017. The number of workers for each profession is listed alongside its average annual wage and its average hourly wage where the data is available.
Read on to see if your occupation is among the nation's most popular.
RELATED:  Least popular jobs in America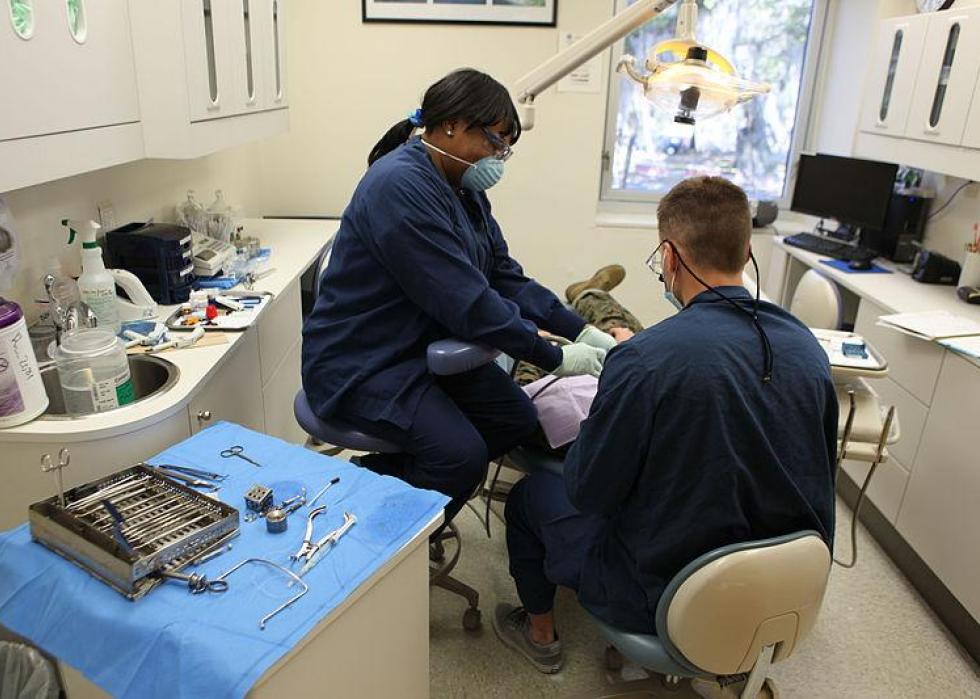 1 / 100
Sgt. Marcy Sanchez // Wikicommons
#100. Dental Assistants
Total workers in 2017: 337,160
Average annual wage: $38,690
Average hourly wage: $18.60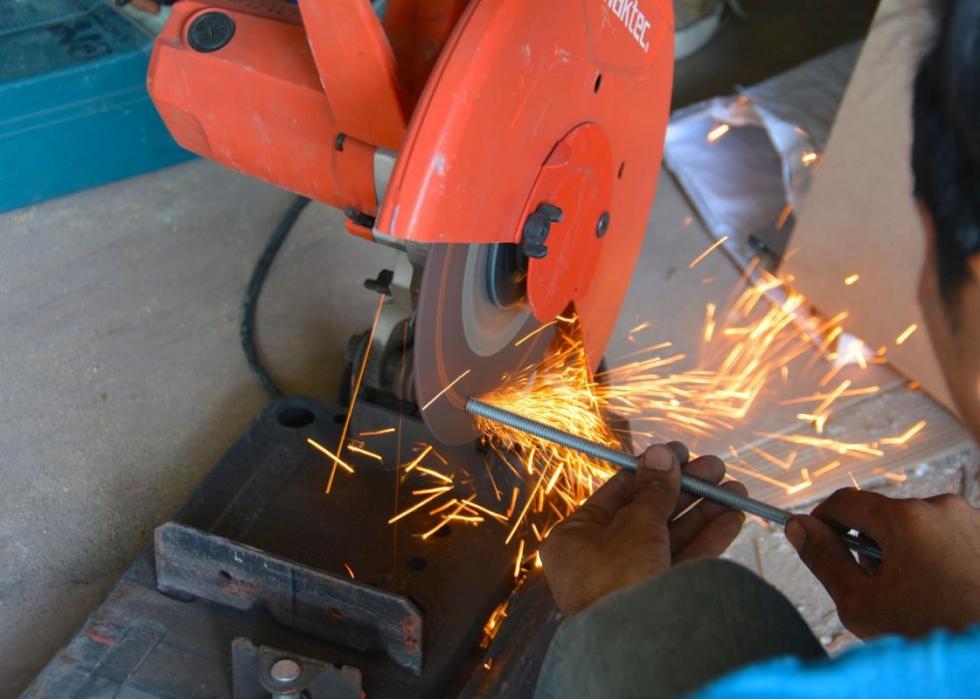 2 / 100
#99. Industrial Machinery Mechanics
Total workers in 2017: 341,260
Average annual wage: $53,110
Average hourly wage: $25.54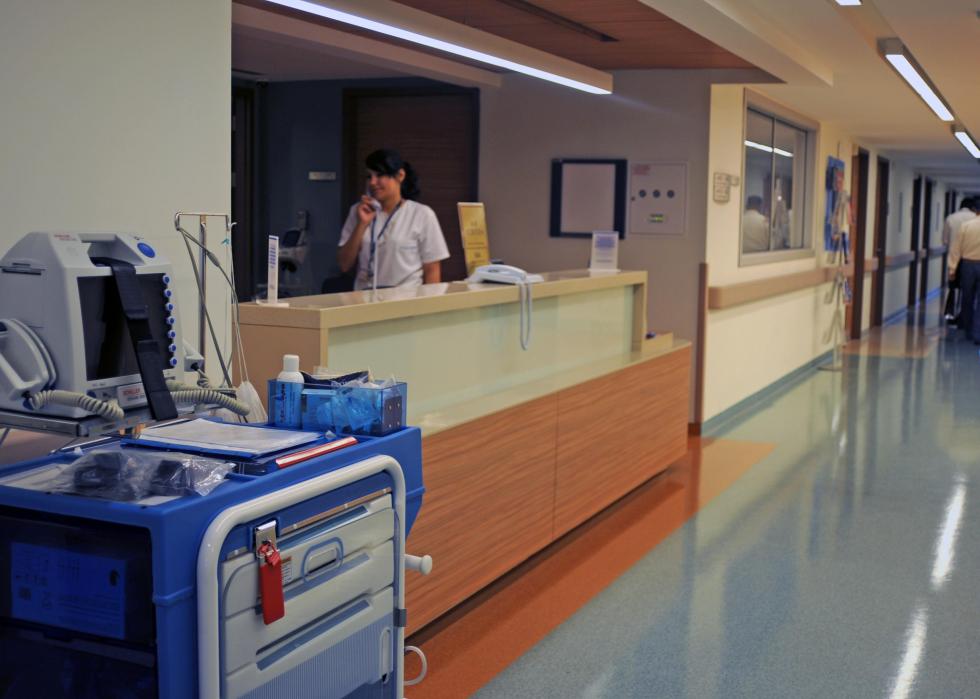 3 / 100
#98. Medical and Health Services Managers
Total workers in 2017: 346,980
Average annual wage: $111,680
Average hourly wage: $53.69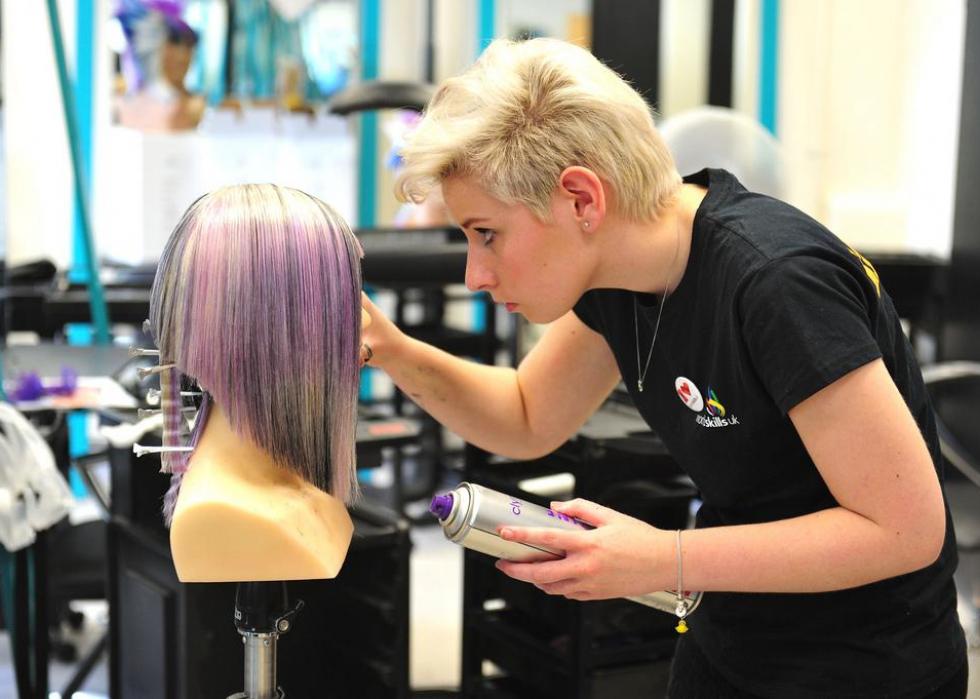 4 / 100
World Skills UK // Wikicommons
#97. Hairdressers, Hairstylists and Cosmetologists
Total workers in 2017: 351,910
Average annual wage: $30,490
Average hourly wage: $14.66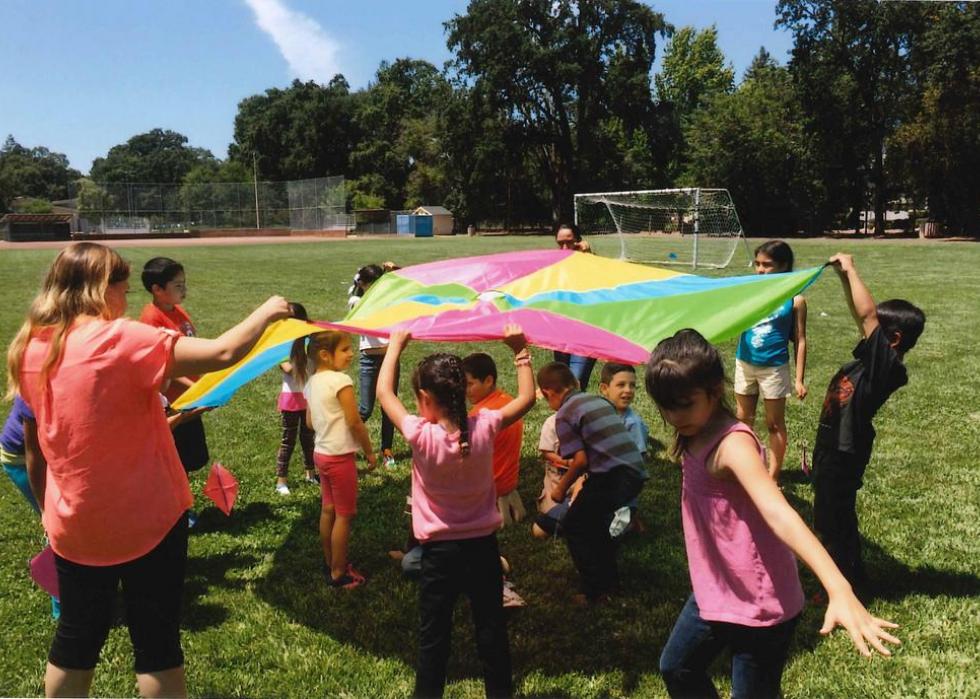 5 / 100
US Dept. of Agriculture // flickr
#96. Recreation Workers
Total workers in 2017: 352,350
Average annual wage: $27,950
Average hourly wage: $13.44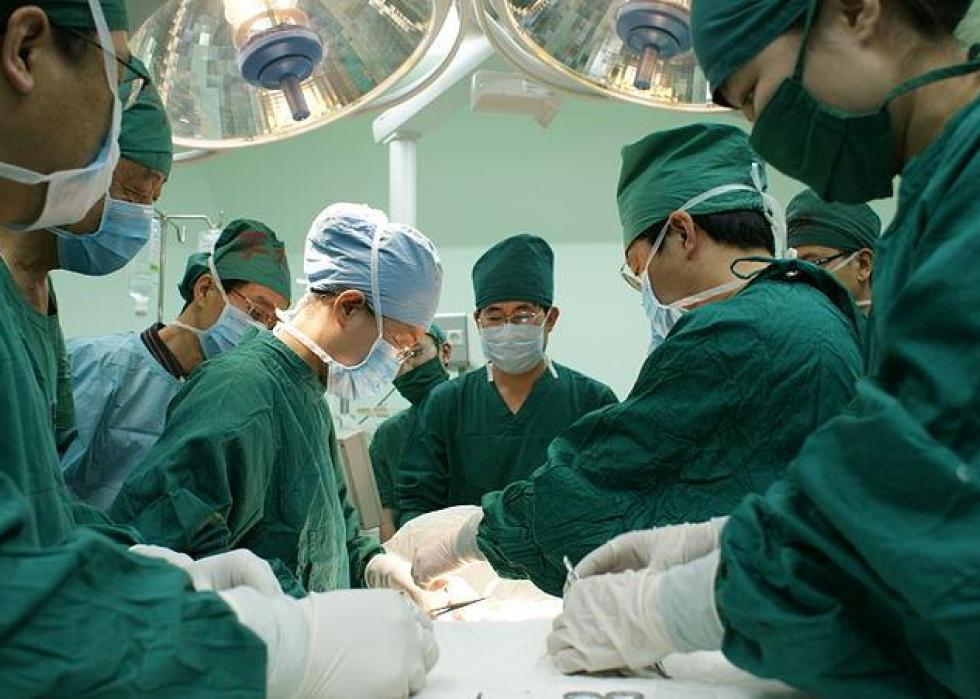 6 / 100
#95. Physicians and Surgeons, All Other
Total workers in 2017: 355,460
Average annual wage: $211,390
Average hourly wage: $101.63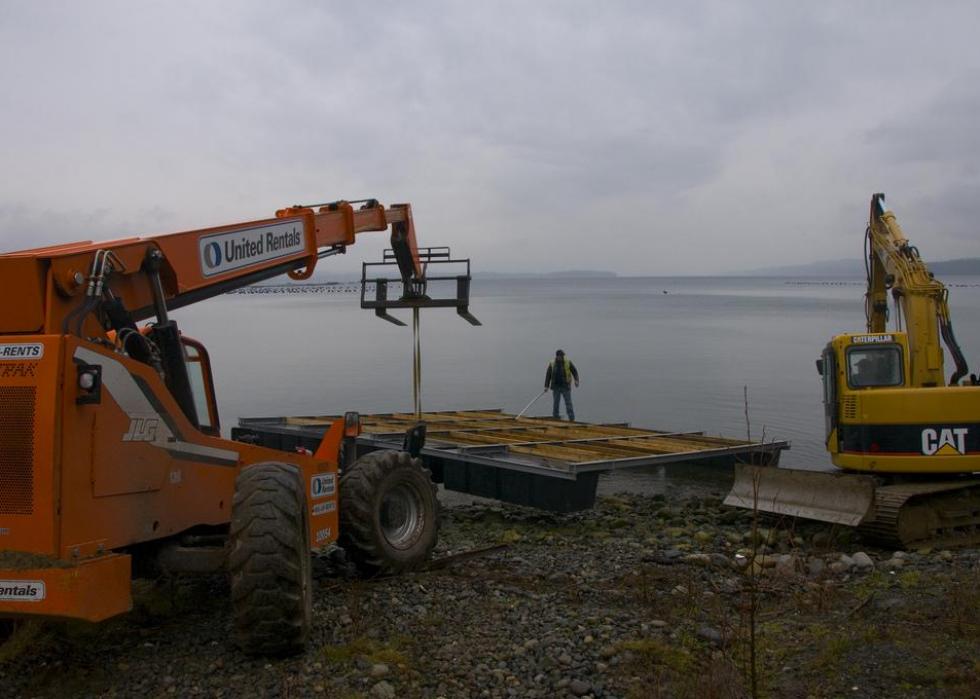 7 / 100
#94. Operating Engineers and Other Construction Equipment Operators
Total workers in 2017: 365,300
Average annual wage: $51,890
Average hourly wage: $24.95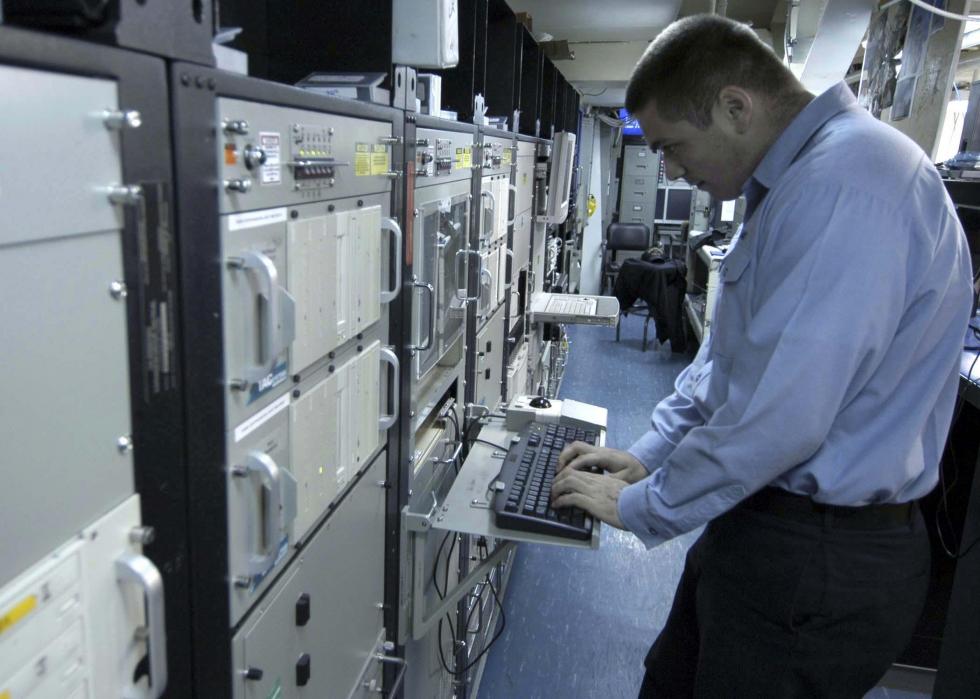 8 / 100
#93. Computer and Information Systems Managers
Total workers in 2017: 365,690
Average annual wage: $149,730
Average hourly wage: $71.99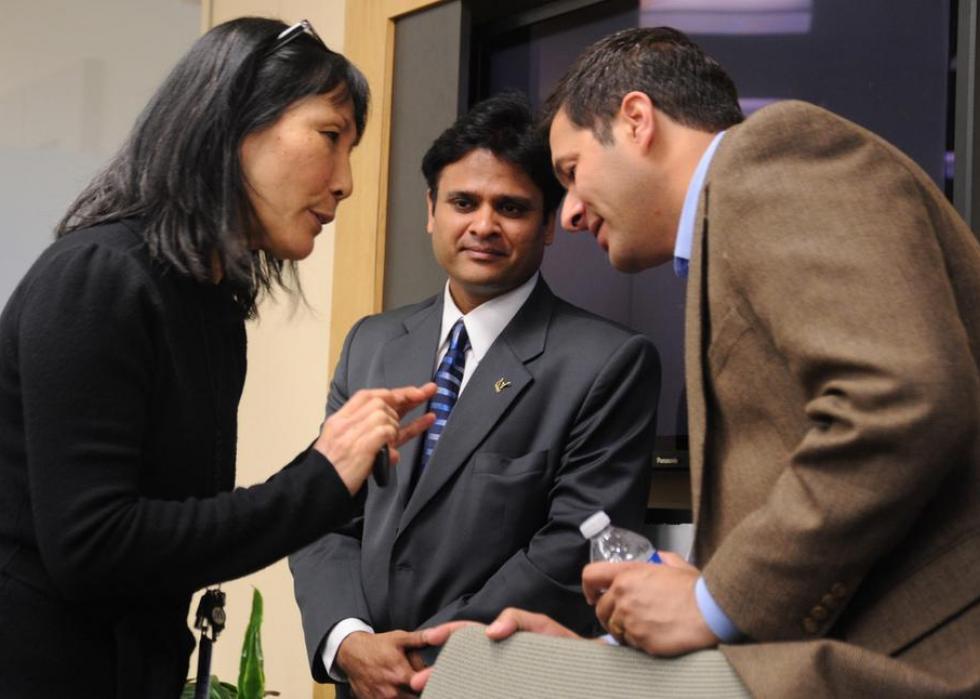 9 / 100
#92. Sales Managers
Total workers in 2017: 371,410
Average annual wage: $137,650
Average hourly wage: $66.18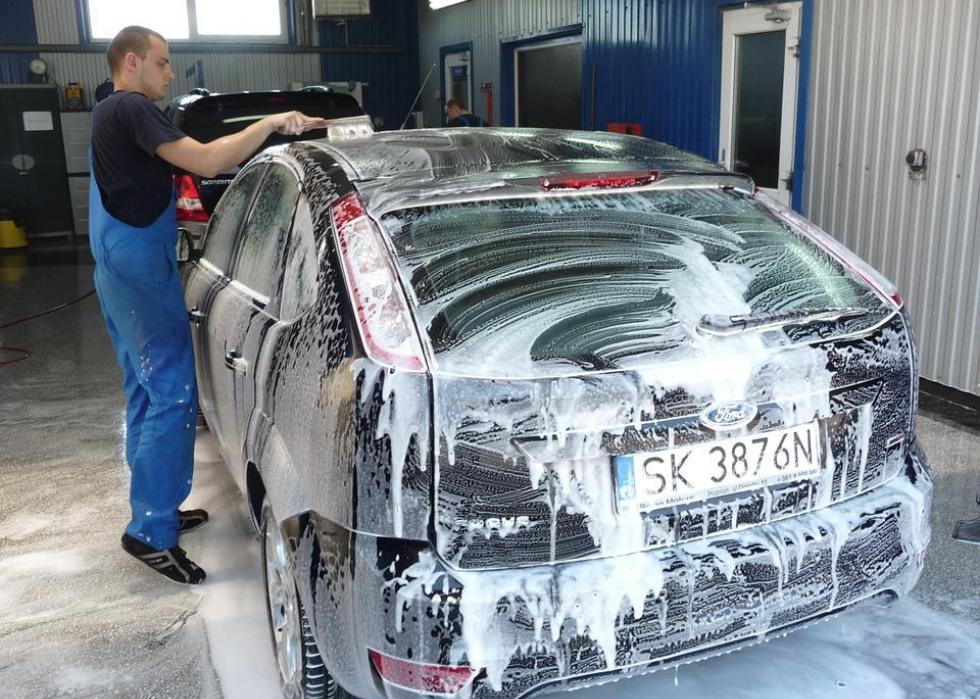 10 / 100
#91. Cleaners of Vehicles and Equipment
Total workers in 2017: 373,290
Average annual wage: $25,770
Average hourly wage: $12.39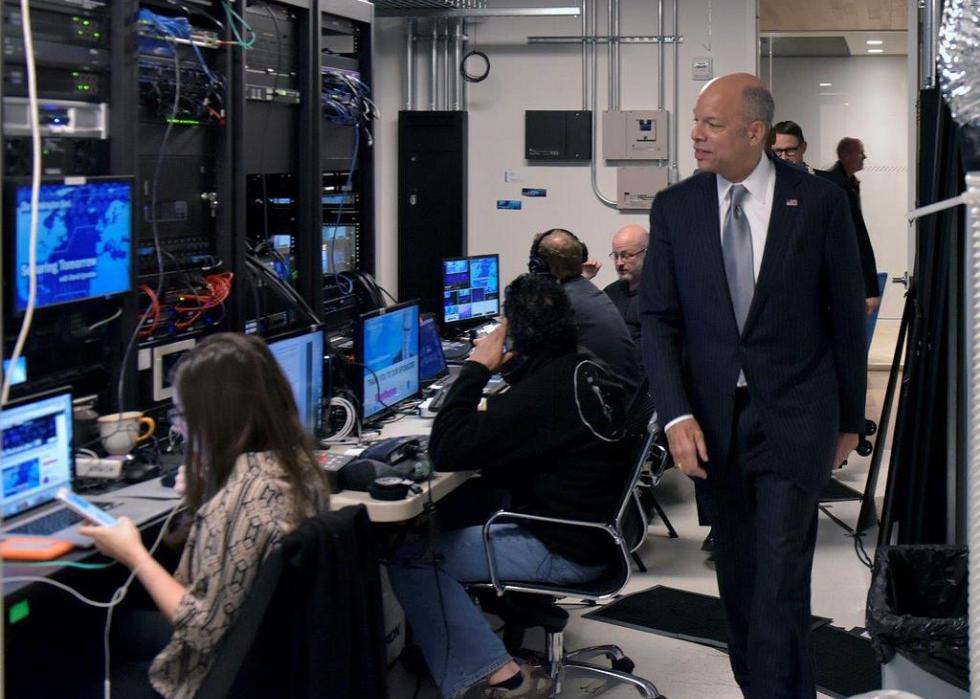 11 / 100
US dept of homeland security //flickr
#90. Network and Computer Systems Administrators
Total workers in 2017: 375,040
Average annual wage: $86,340
Average hourly wage: $41.51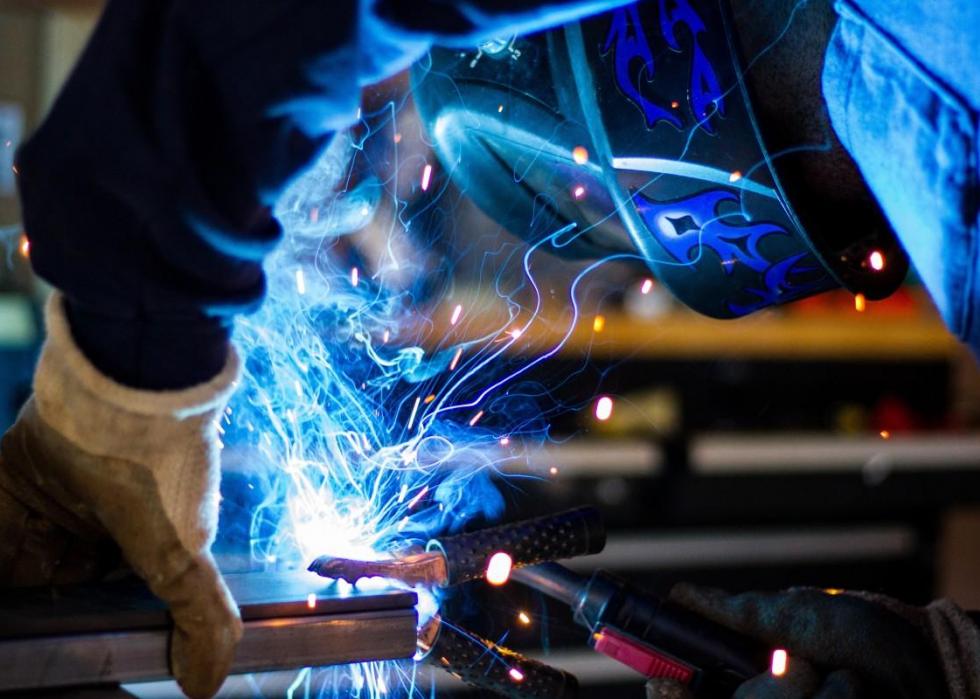 12 / 100
#89. Welders, Cutters, Solderers and Brazers
Total workers in 2017: 377,250
Average annual wage: $43,410
Average hourly wage: $20.87
13 / 100
#88. Machinists
Total workers in 2017: 378,320
Average annual wage: $44,160
Average hourly wage: $21.23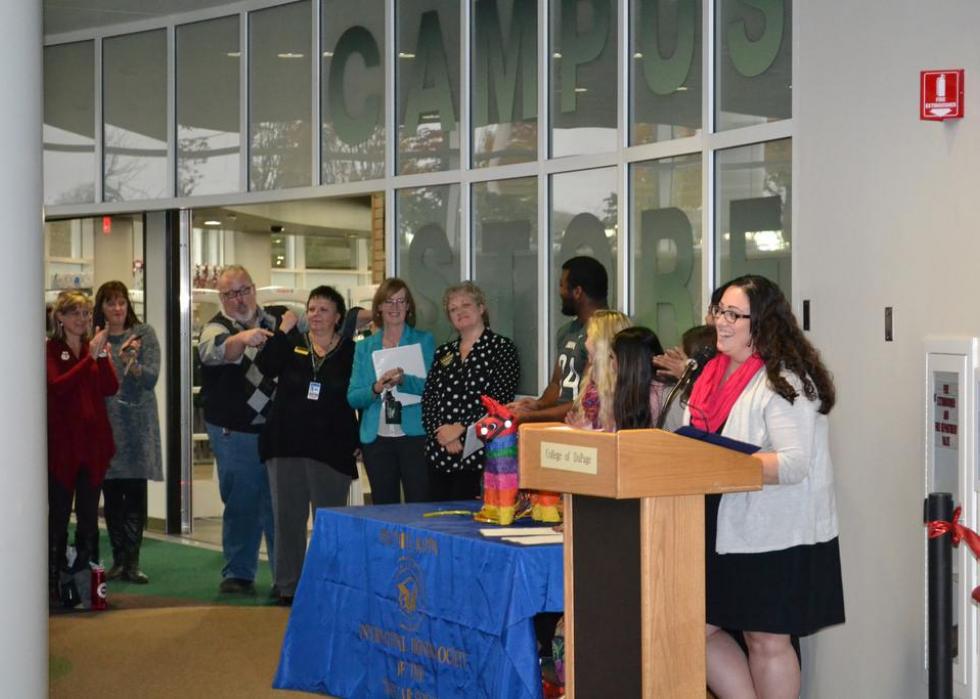 14 / 100
#87. Social and Human Service Assistants
Total workers in 2017: 384,080
Average annual wage: $35,460
Average hourly wage: $17.05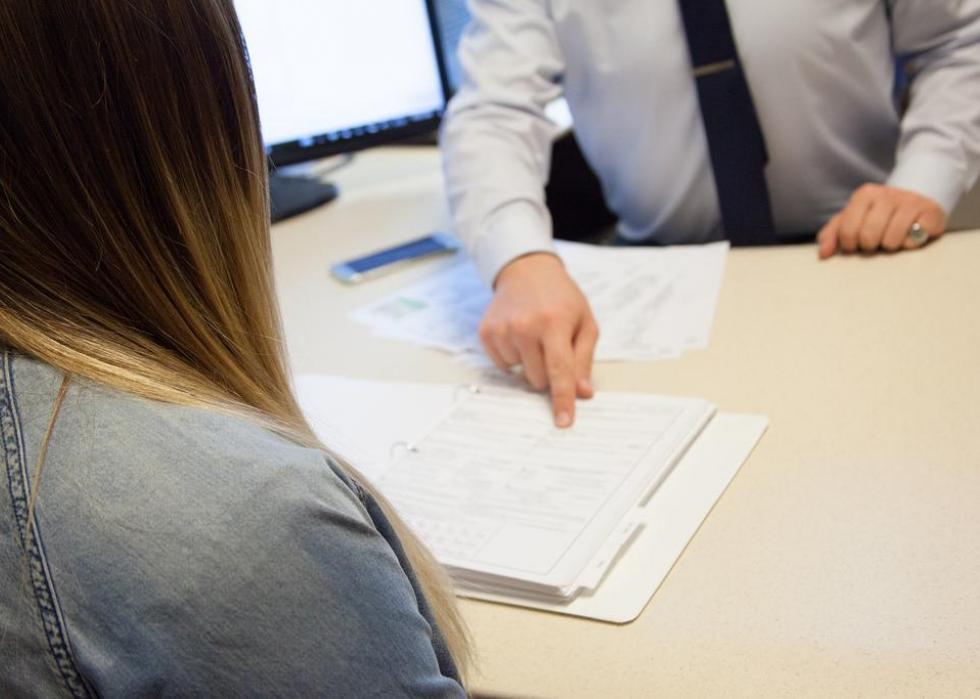 15 / 100
franchise opportunities // flickr
#86. Insurance Sales Agents
Total workers in 2017: 386,320
Average annual wage: $66,990
Average hourly wage: $32.21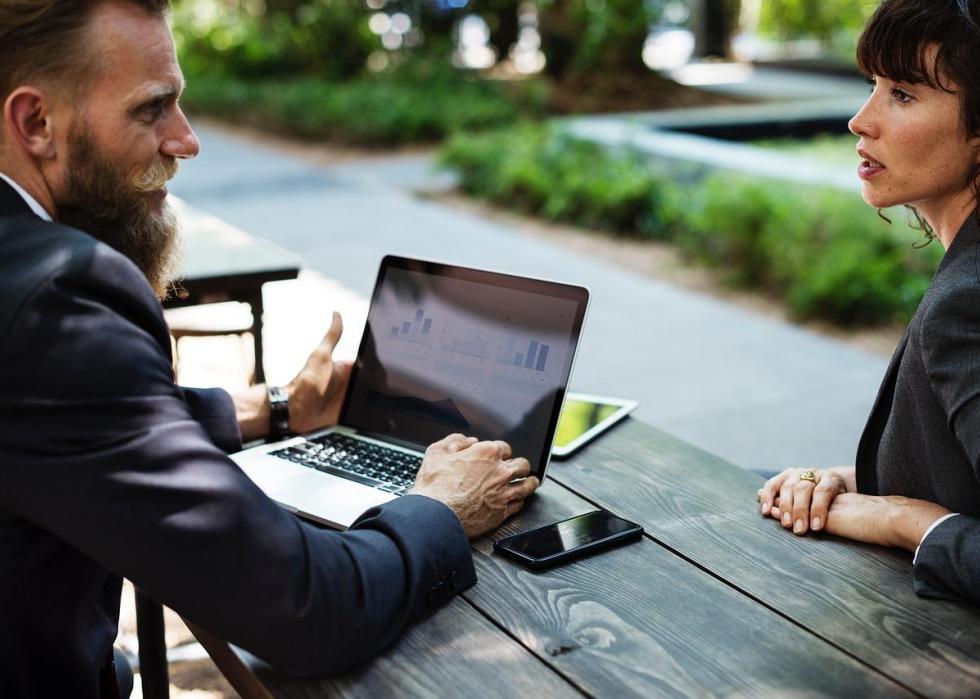 16 / 100
#85. Securities, Commodities and Financial Services Sales Agents
Total workers in 2017: 389,610
Average annual wage: $97,440
Average hourly wage: $46.85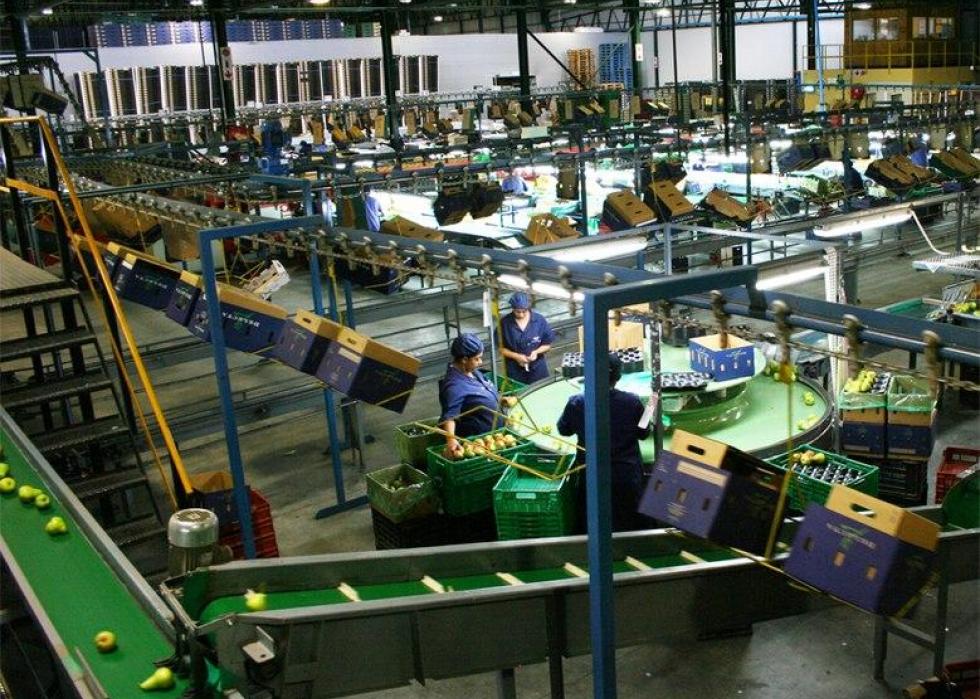 17 / 100
#84. Packaging and Filling Machine Operators and Tenders
Total workers in 2017: 392,910
Average annual wage: $31,990
Average hourly wage: $15.38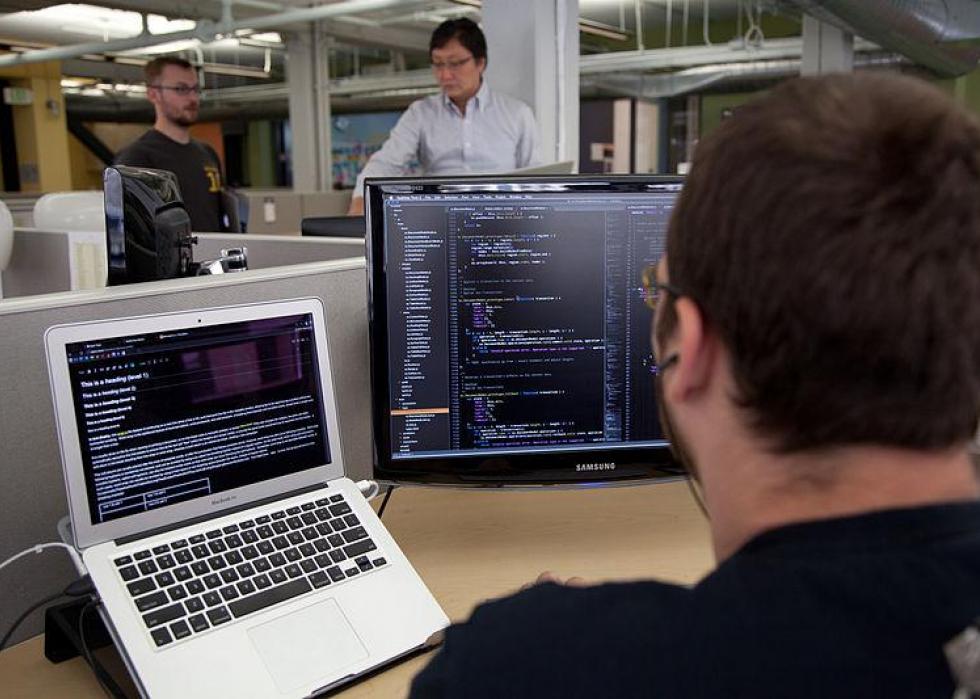 18 / 100
#83. Software Developers, Systems Software
Total workers in 2017: 394,590
Average annual wage: $111,780
Average hourly wage: $53.74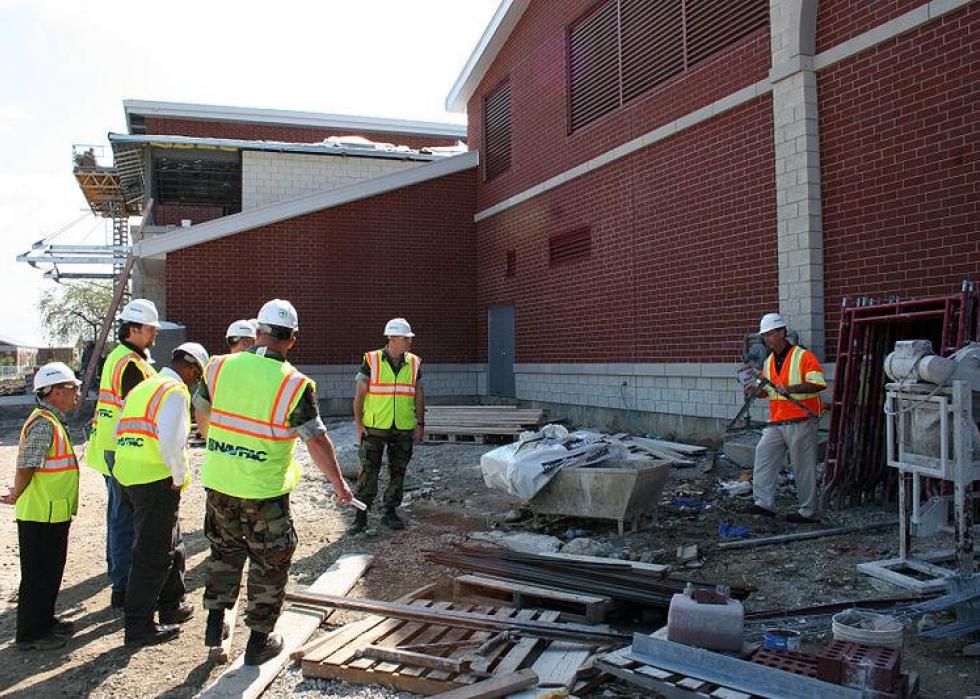 19 / 100
Bill Couch // Wikicommons
#82. First-Line Supervisors of Transportation and Material Moving Workers, Except Aircraft Cargo Handling Supervisors
Total workers in 2017: 395,350
Average annual wage: $56,400
Average hourly wage: $27.11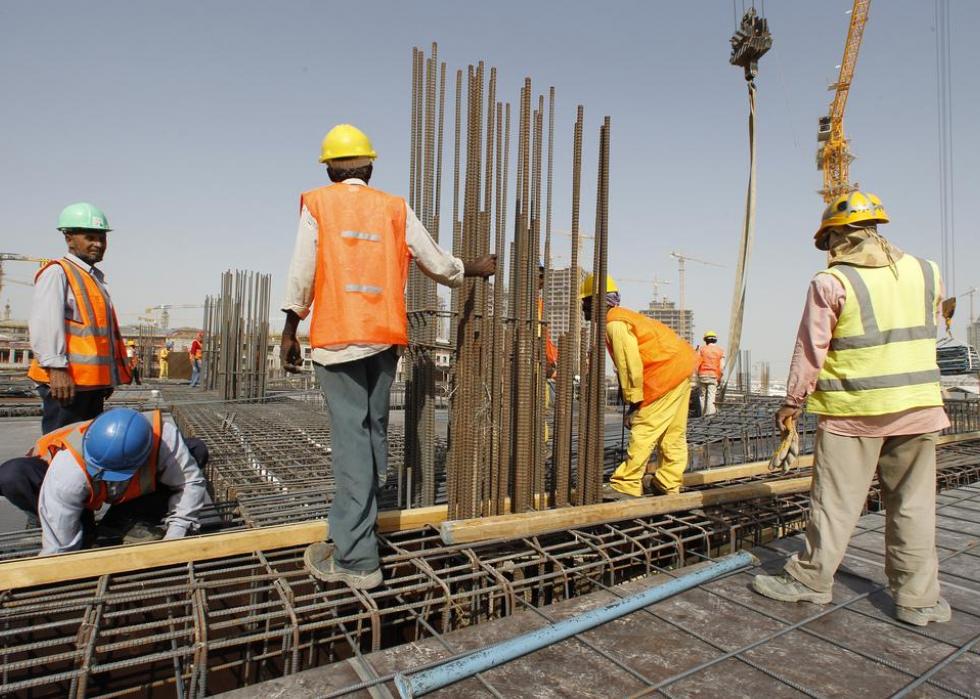 20 / 100
ILO Arab States // flickr
#81. Helpers: Production Workers
Total workers in 2017: 402,140
Average annual wage: $28,070
Average hourly wage: $13.50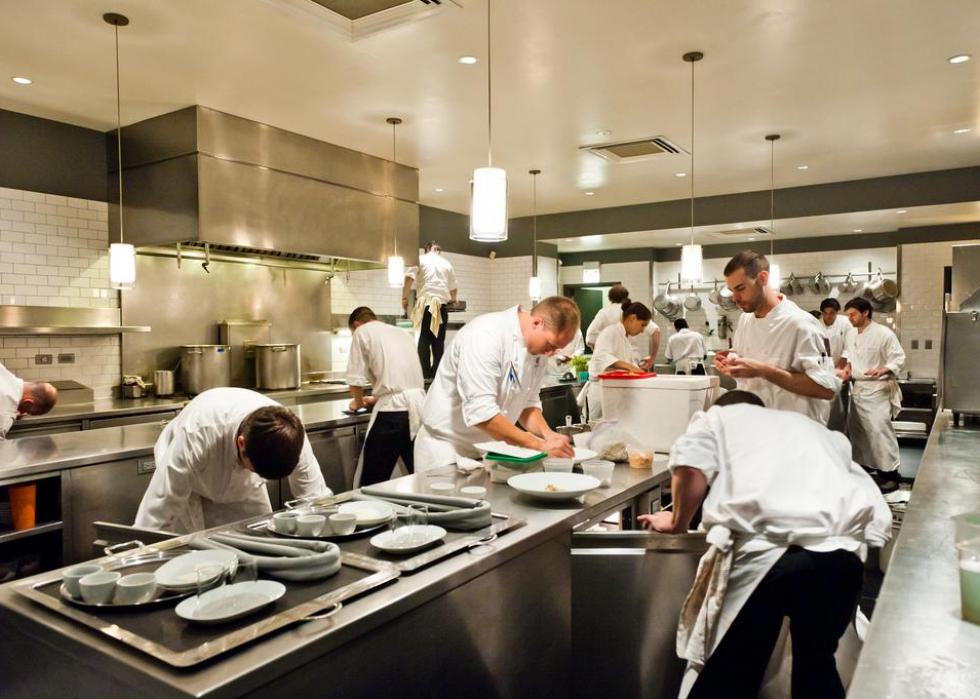 21 / 100
#80. Cooks, Institution and Cafeteria
Total workers in 2017: 404,120
Average annual wage: $27,450
Average hourly wage: $13.20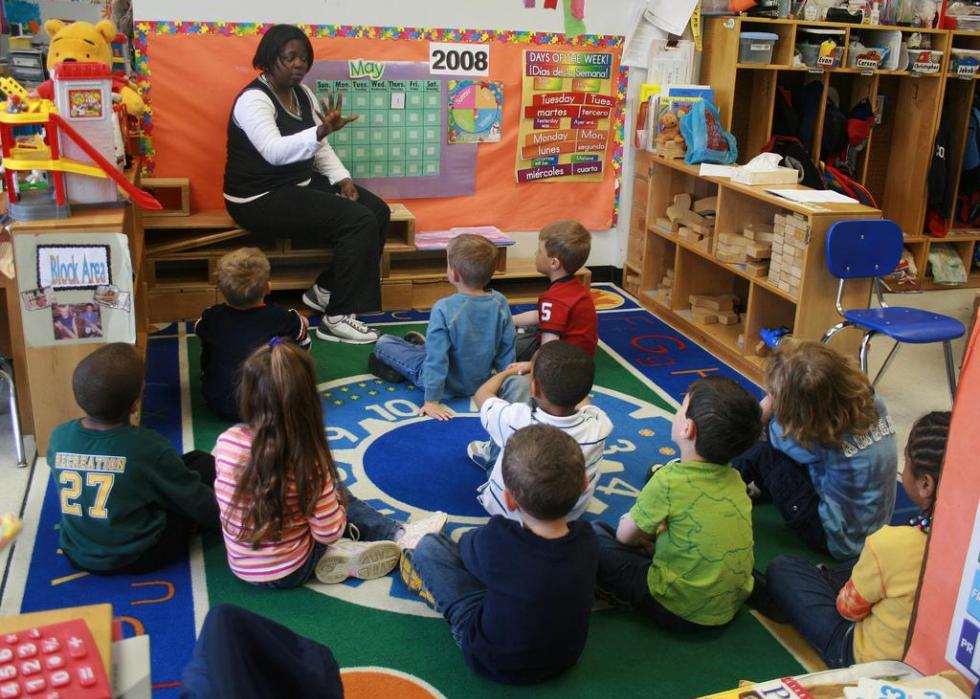 22 / 100
woodley wonderworks // flickr
#79. Preschool Teachers, Except Special Education
Total workers in 2017: 409,740
Average annual wage: $33,590
Average hourly wage: $16.15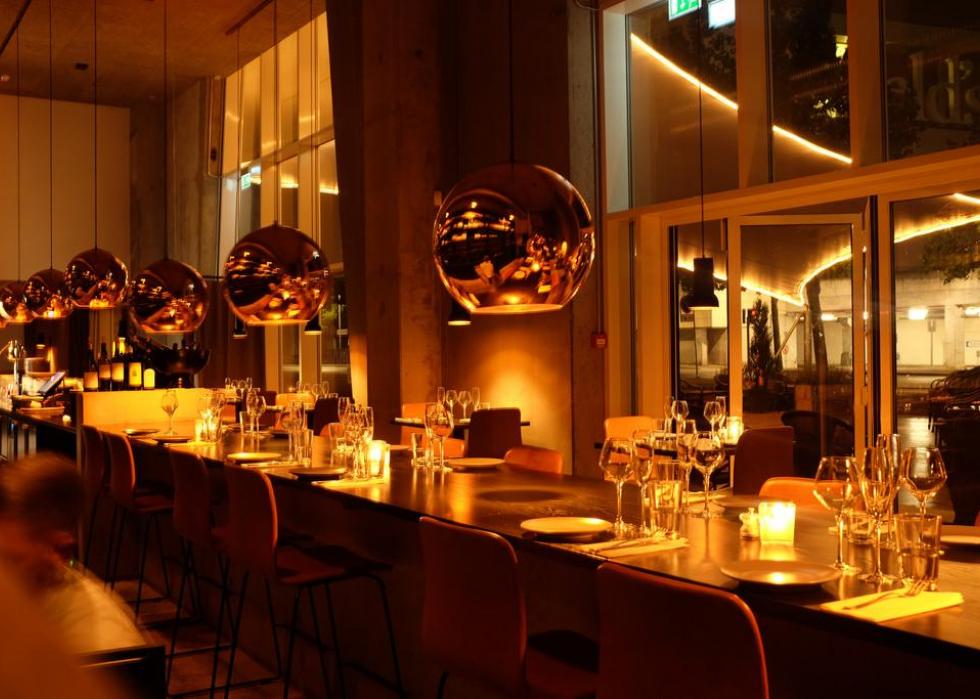 23 / 100
Kristoffer Trolley // flickr
#78. Hosts and Hostesses, Restaurant, Lounge and Coffee Shop
Total workers in 2017: 414,540
Average annual wage: $22,290
Average hourly wage: $10.72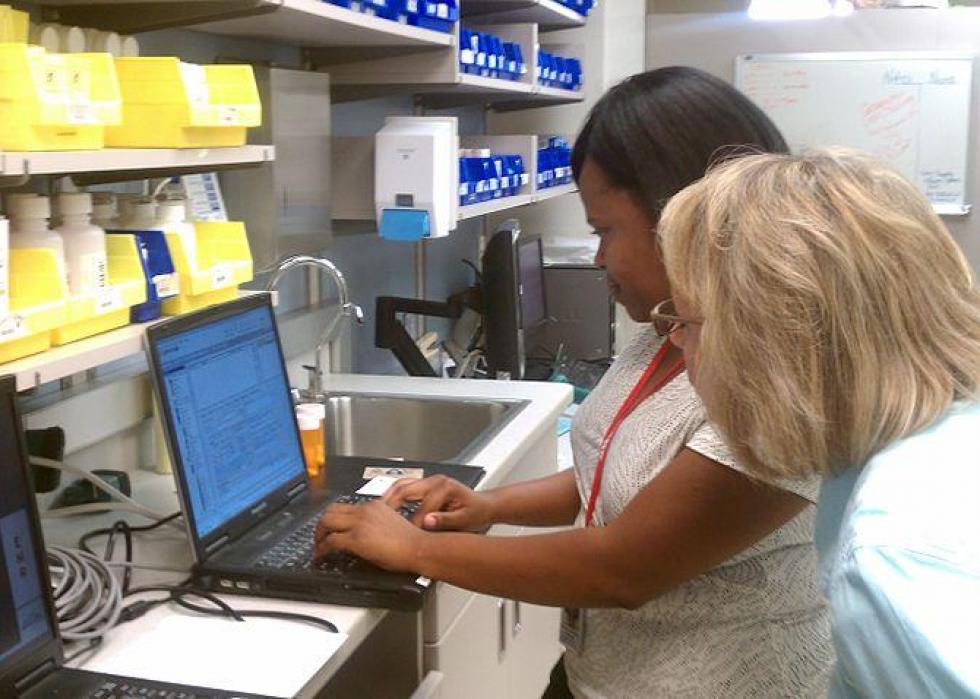 24 / 100
#77. Pharmacy Technicians
Total workers in 2017: 417,720
Average annual wage: $33,060
Average hourly wage: $15.90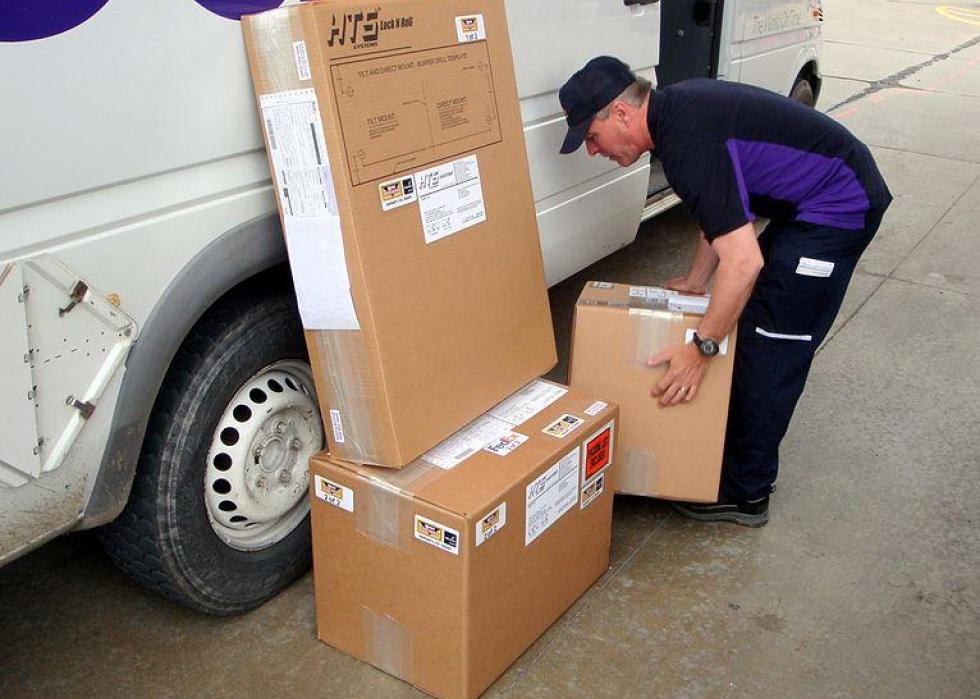 25 / 100
MobiusDaXter // Wikicommons
#76. Driver/Sales Workers
Total workers in 2017: 426,870
Average annual wage: $29,090
Average hourly wage: $13.99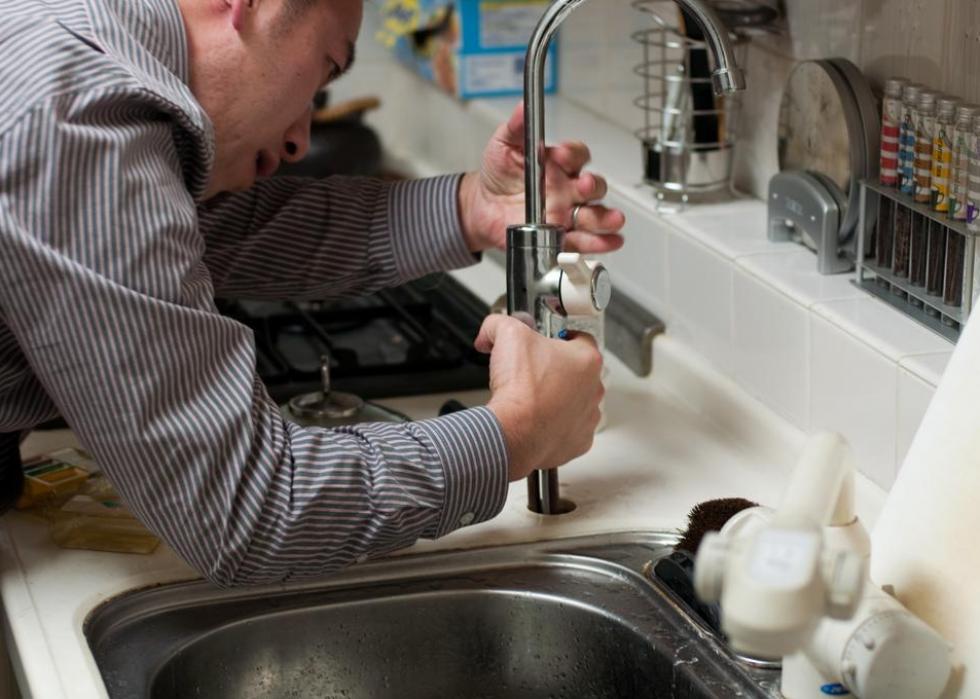 26 / 100
#75. Plumbers, Pipefitters and Steamfitters
Total workers in 2017: 428,260
Average annual wage: $57,070
Average hourly wage: $27.44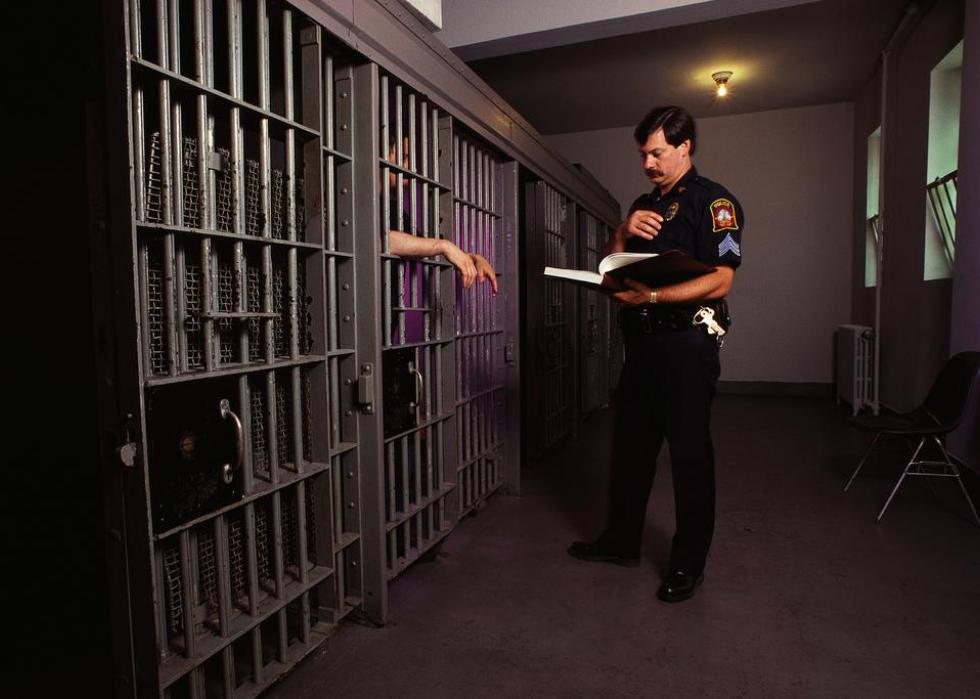 27 / 100
#74. Correctional Officers and Jailers
Total workers in 2017: 428,870
Average annual wage: $47,600
Average hourly wage: $22.88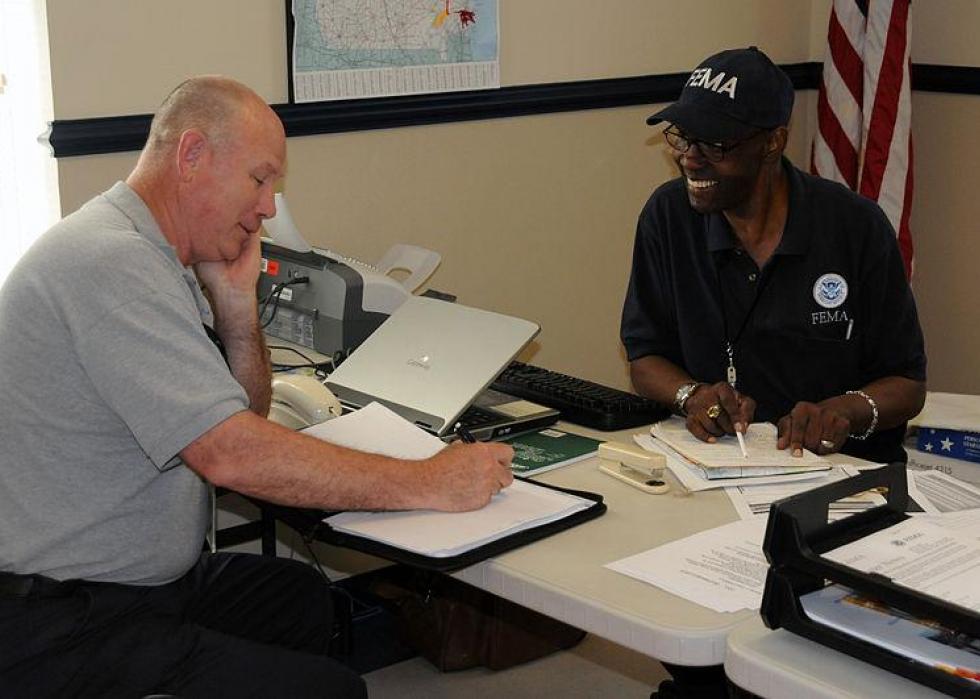 28 / 100
#73. Managers, All Other
Total workers in 2017: 430,120
Average annual wage: $113,180
Average hourly wage: $54.41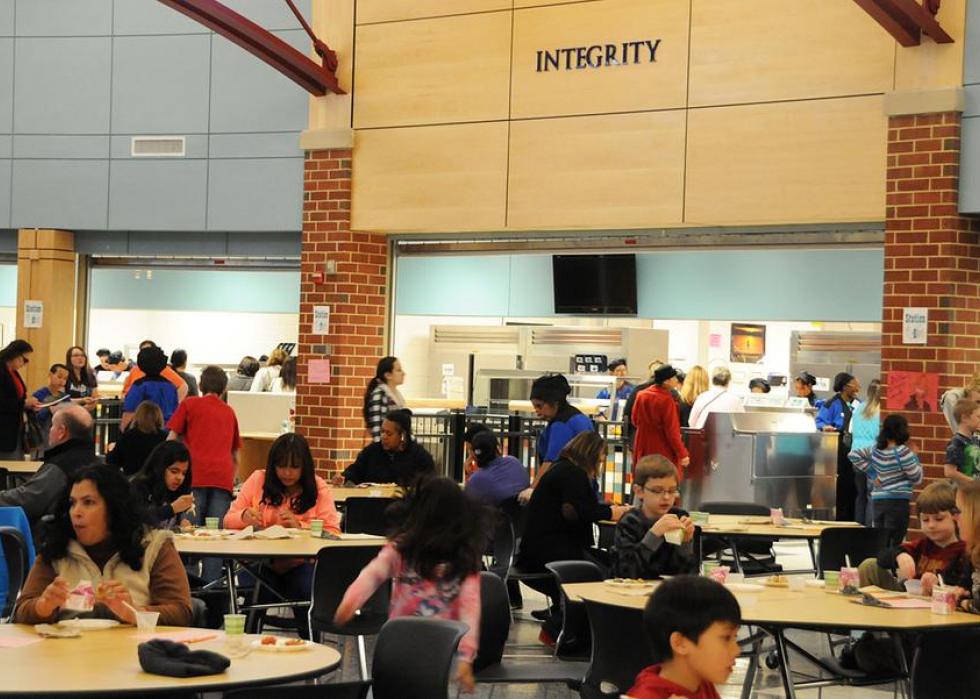 29 / 100
US Dept. of Agriculture // flickr
#72. Dining Room and Cafeteria Attendants and Bartender Helpers
Total workers in 2017: 436,730
Average annual wage: $23,050
Average hourly wage: $11.08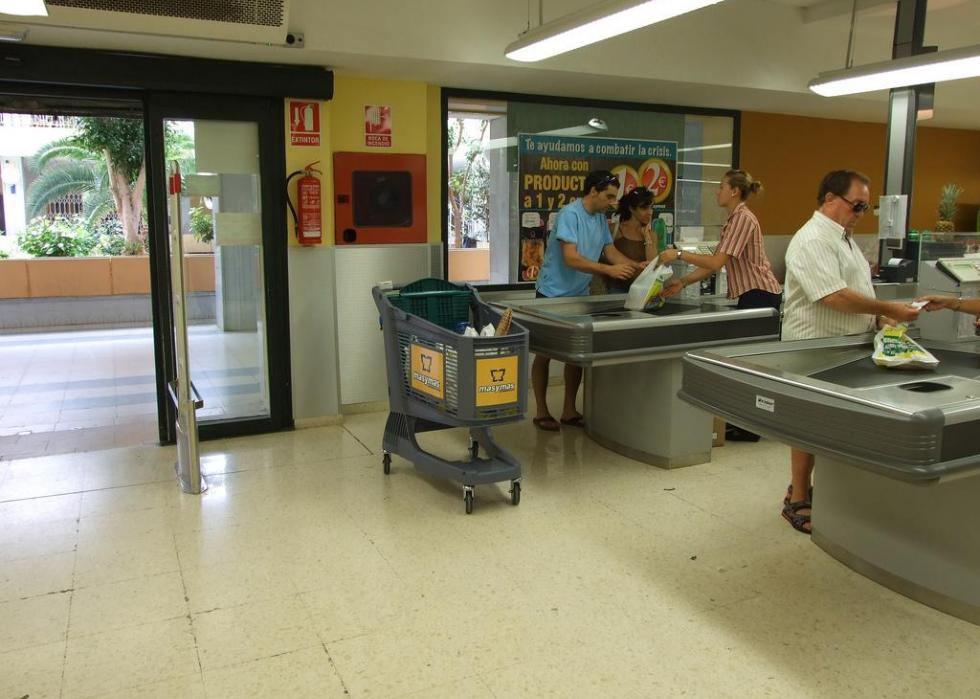 30 / 100
#71. Counter and Rental Clerks
Total workers in 2017: 445,530
Average annual wage: $29,740
Average hourly wage: $14.30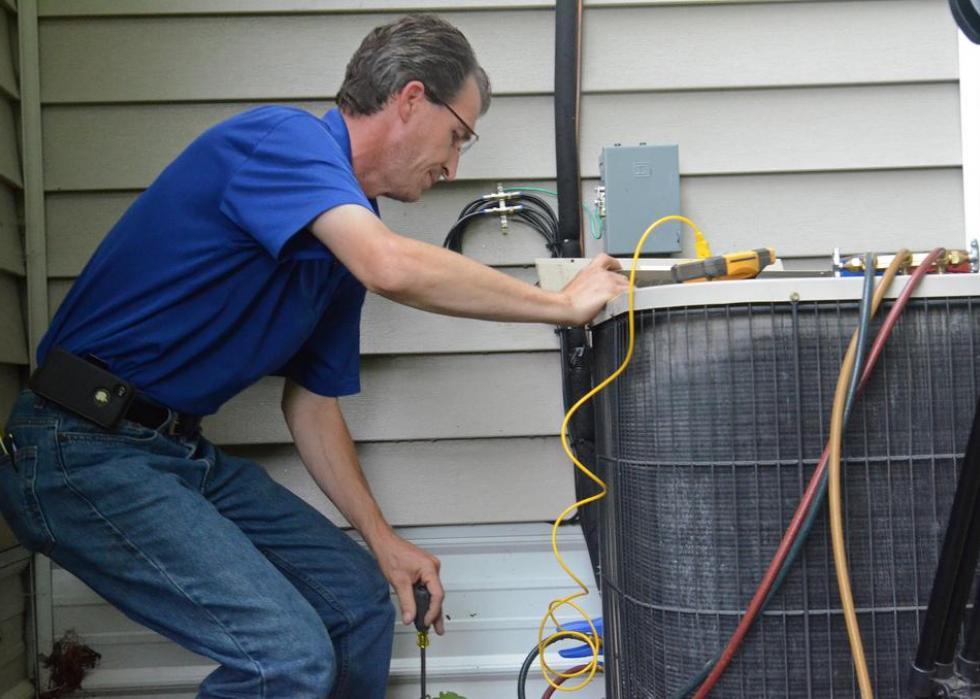 31 / 100
#70. First-Line Supervisors of Mechanics, Installers and Repairers
Total workers in 2017: 460,370
Average annual wage: $68,120
Average hourly wage: $32.75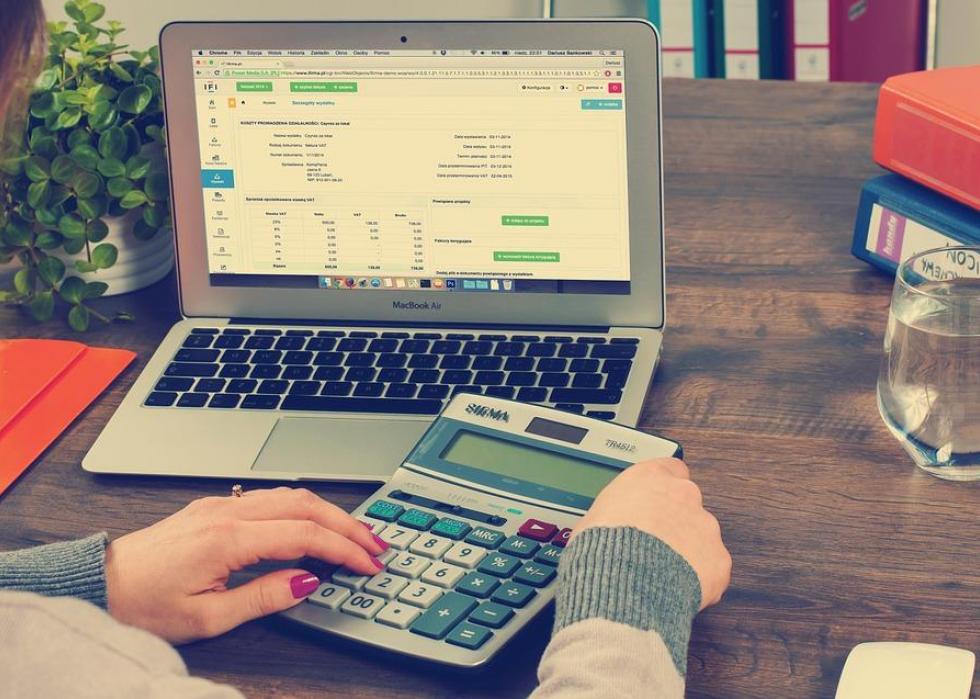 32 / 100
#69. Billing and Posting Clerks
Total workers in 2017: 476,010
Average annual wage: $38,460
Average hourly wage: $18.49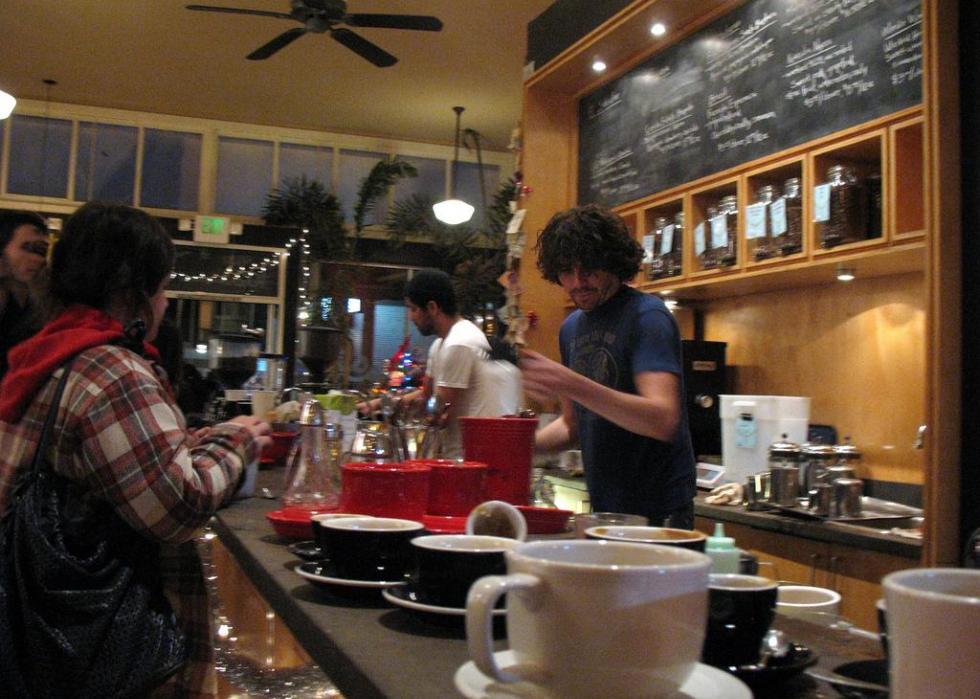 33 / 100
#68. Counter Attendants, Cafeteria, Food Concession and Coffee Shop
Total workers in 2017: 476,940
Average annual wage: $22,530
Average hourly wage: $10.83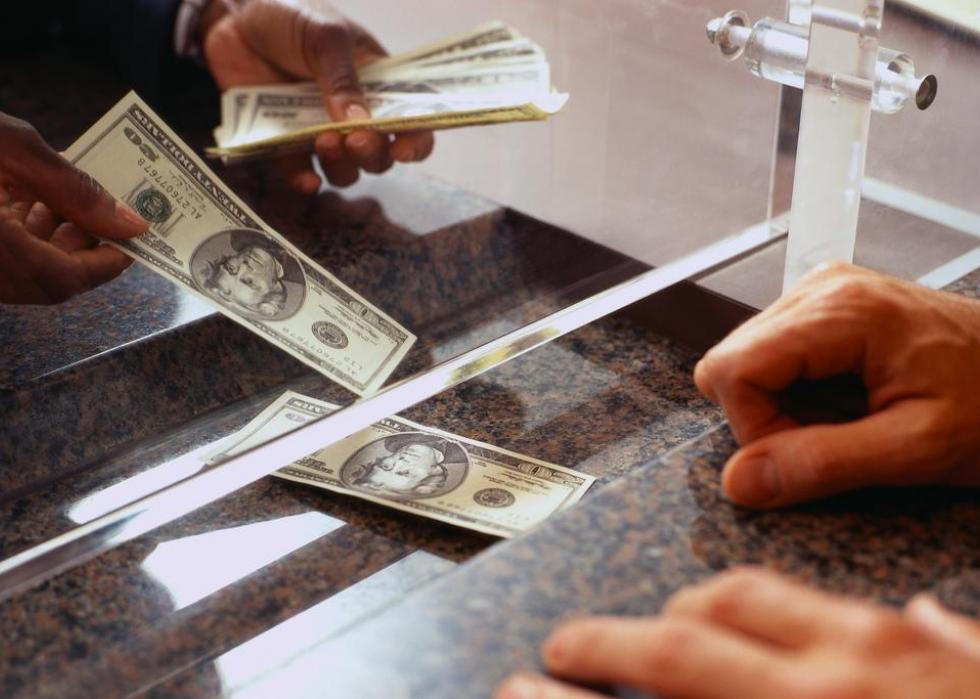 34 / 100
#67. Tellers
Total workers in 2017: 491,150
Average annual wage: $28,880
Average hourly wage: $13.89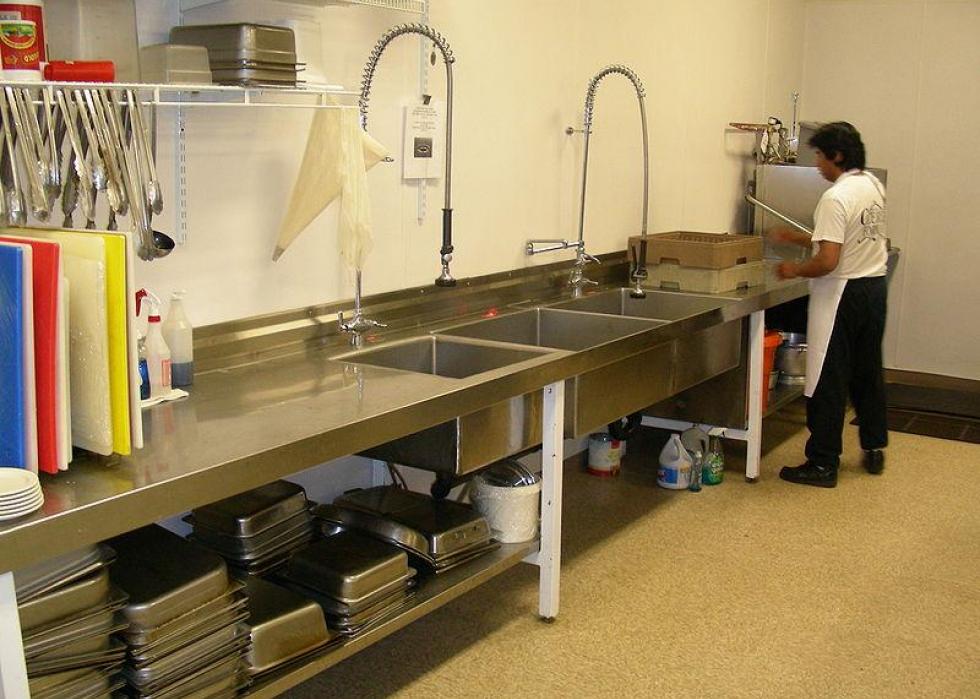 35 / 100
no attribution required // Wikicommons
#66. Dishwashers
Total workers in 2017: 503,540
Average annual wage: $22,210
Average hourly wage: $10.68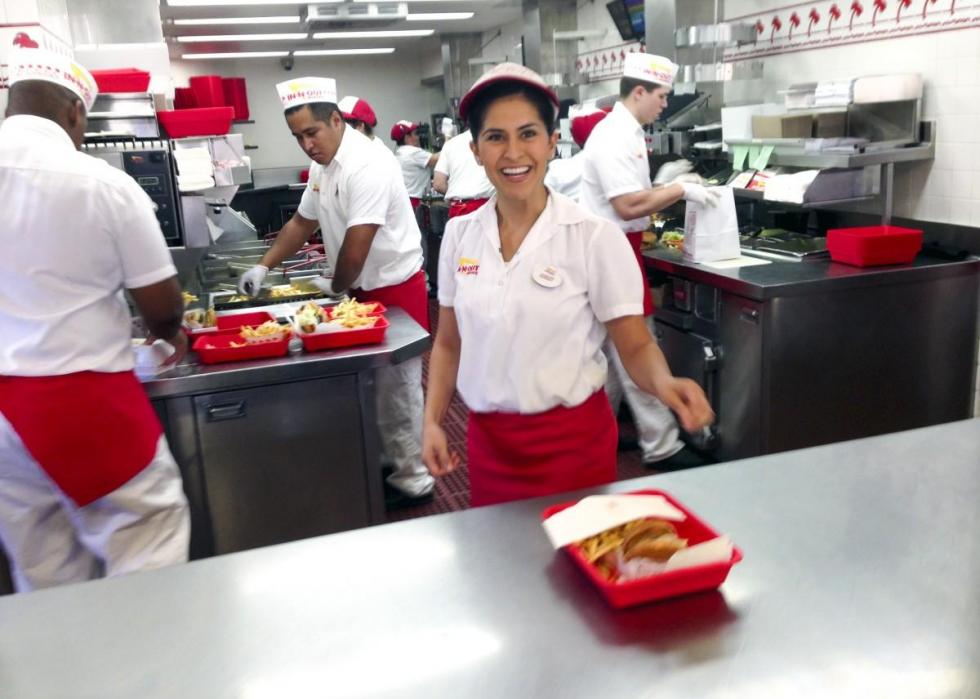 36 / 100
#65. Cooks, Fast Food
Total workers in 2017: 503,780
Average annual wage: $21,610
Average hourly wage: $10.39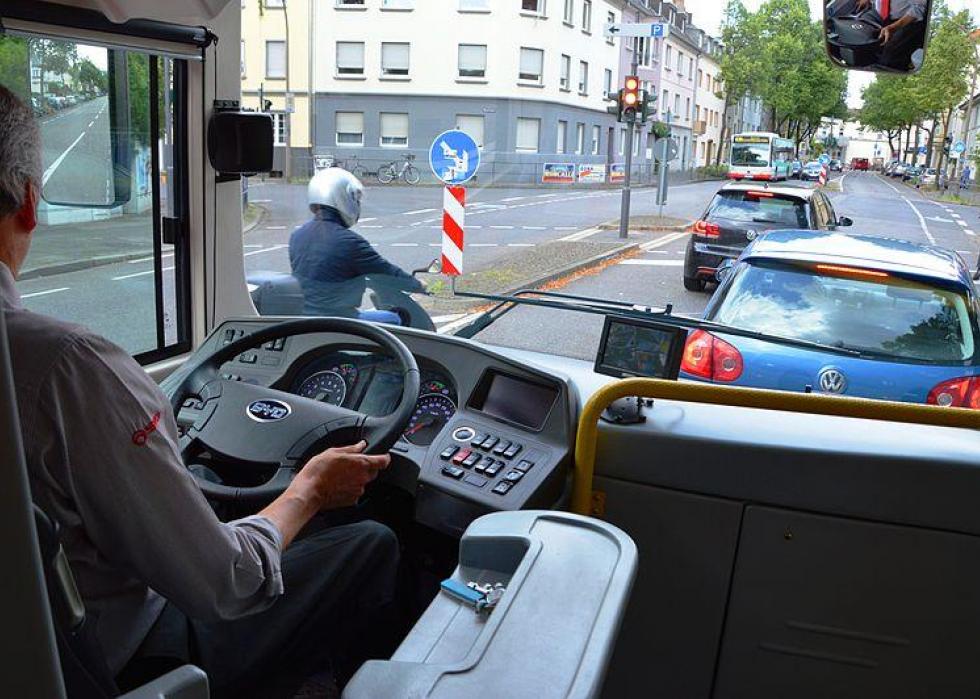 37 / 100
Spielvogel // Wikicommons
#64. Bus Drivers, School or Special Client
Total workers in 2017: 507,340
Average annual wage: $32,130
Average hourly wage: $15.45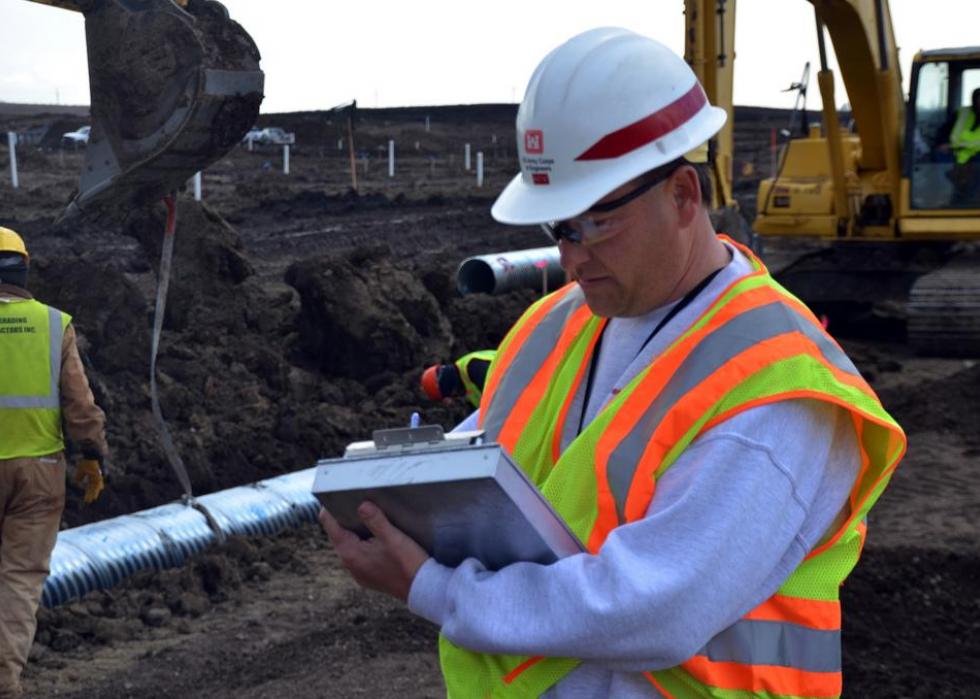 38 / 100
us army corps of engineering // flickr
#63. Inspectors, Testers, Sorters, Samplers and Weighers
Total workers in 2017: 537,500
Average annual wage: $41,040
Average hourly wage: $19.73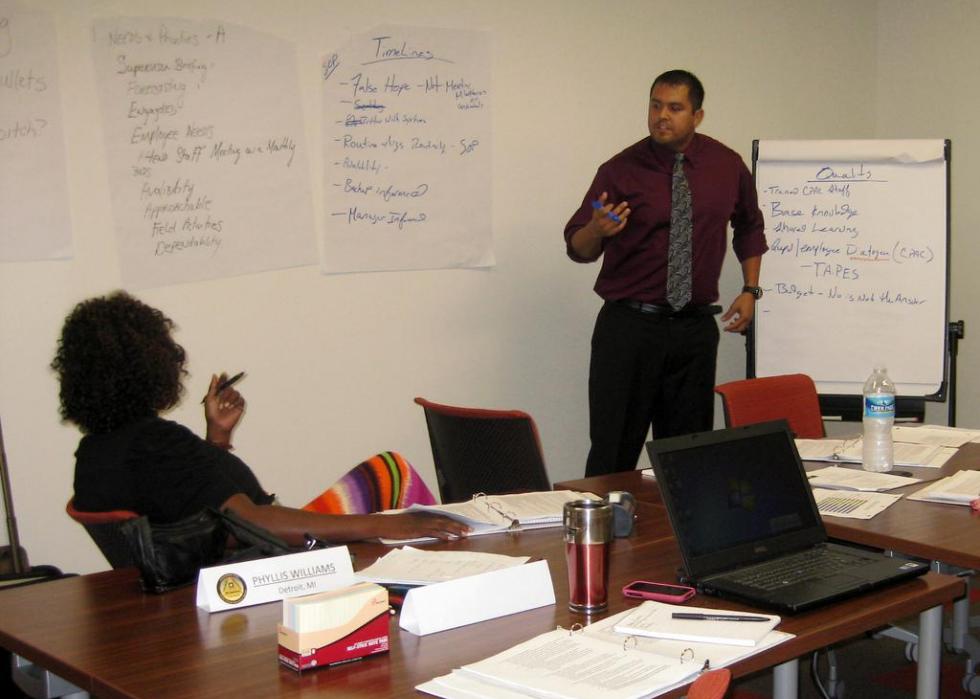 39 / 100
us army corps of engineering // flickr
#62. Human Resources Specialists
Total workers in 2017: 553,950
Average annual wage: $66,220
Average hourly wage: $31.84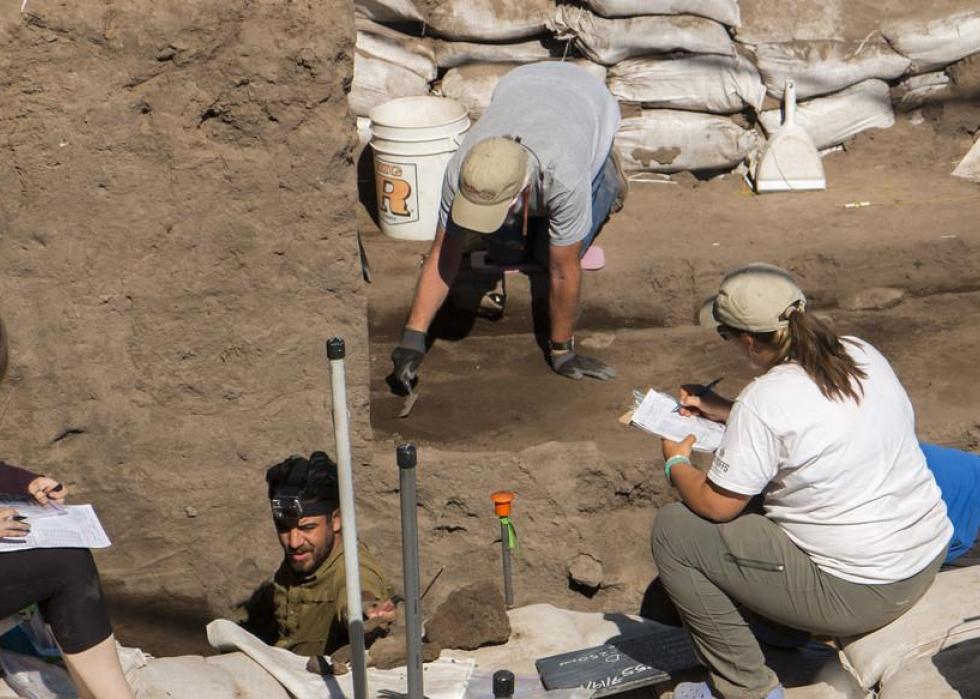 40 / 100
Bureau of Land Management // flickr
#61. First-Line Supervisors of Construction Trades and Extraction Workers
Total workers in 2017: 556,300
Average annual wage: $69,200
Average hourly wage: $33.27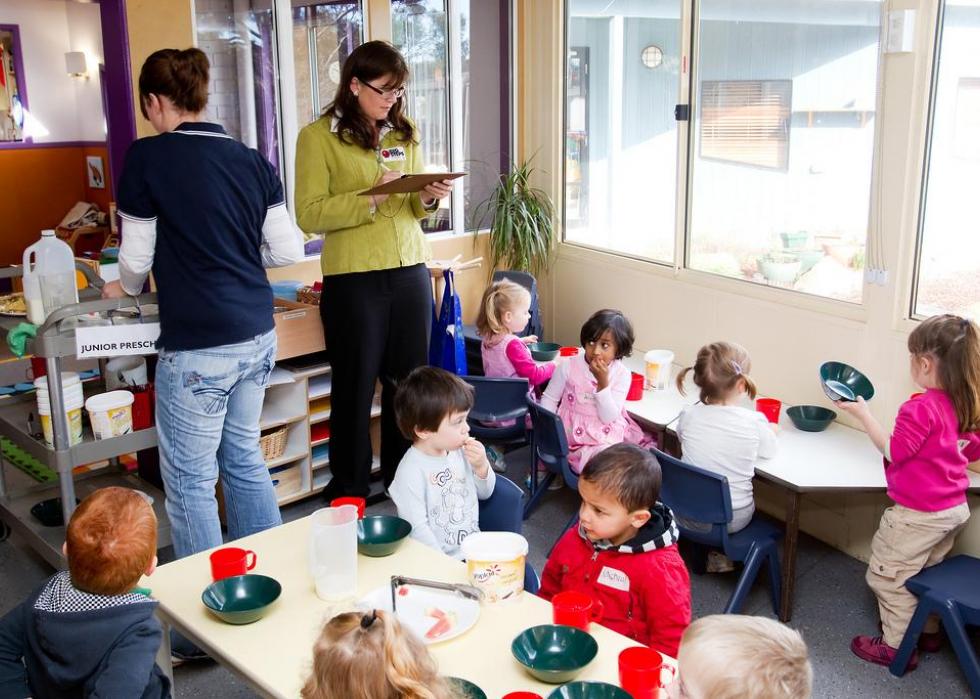 41 / 100
#60. Childcare Workers
Total workers in 2017: 562,420
Average annual wage: $23,760
Average hourly wage: $11.42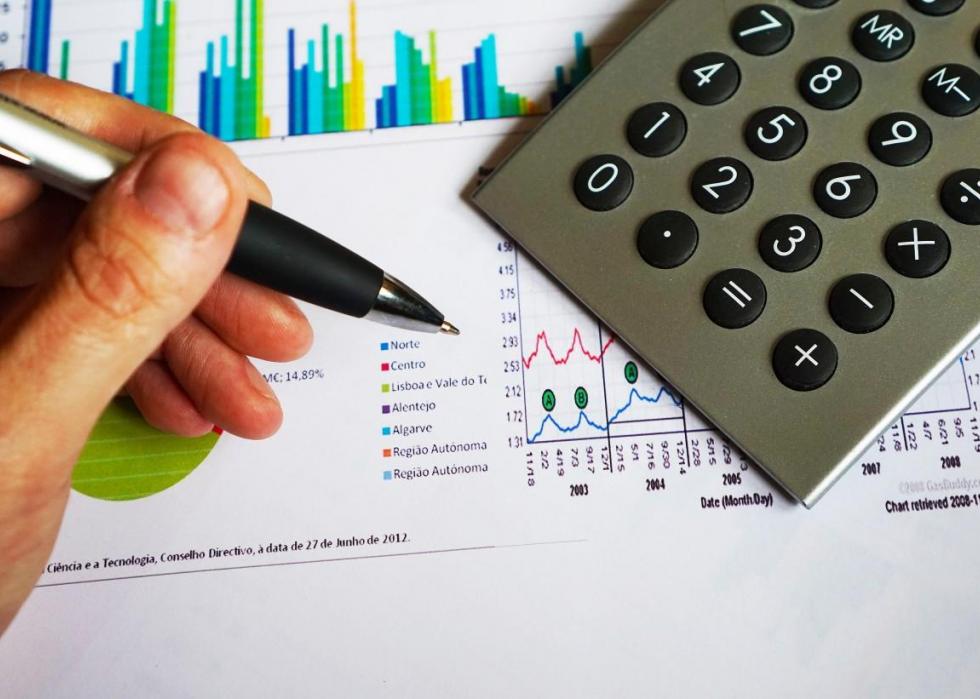 42 / 100
#59. Financial Managers
Total workers in 2017: 569,380
Average annual wage: $143,530
Average hourly wage: $69.01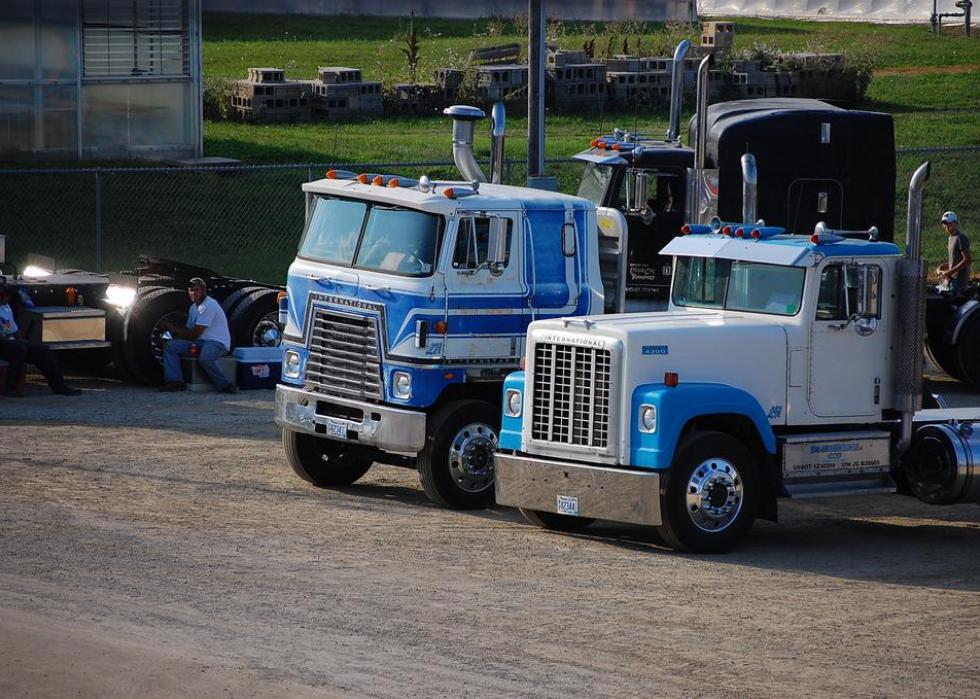 43 / 100
#58. Industrial Truck and Tractor Operators
Total workers in 2017: 570,300
Average annual wage: $35,370
Average hourly wage: $17.00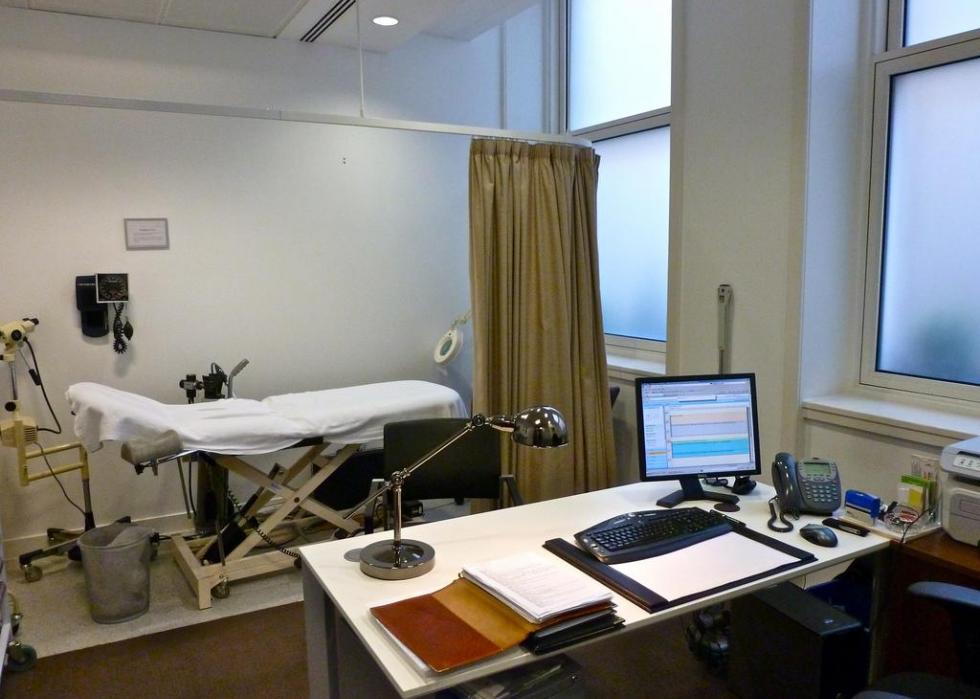 44 / 100
#57. Medical Secretaries
Total workers in 2017: 576,520
Average annual wage: $35,870
Average hourly wage: $17.25
45 / 100
#56. Computer Systems Analysts
Total workers in 2017: 581,960
Average annual wage: $92,740
Average hourly wage: $44.59
46 / 100
#55. Executive Secretaries and Executive Administrative Assistants
Total workers in 2017: 596,080
Average annual wage: $59,400
Average hourly wage: $28.56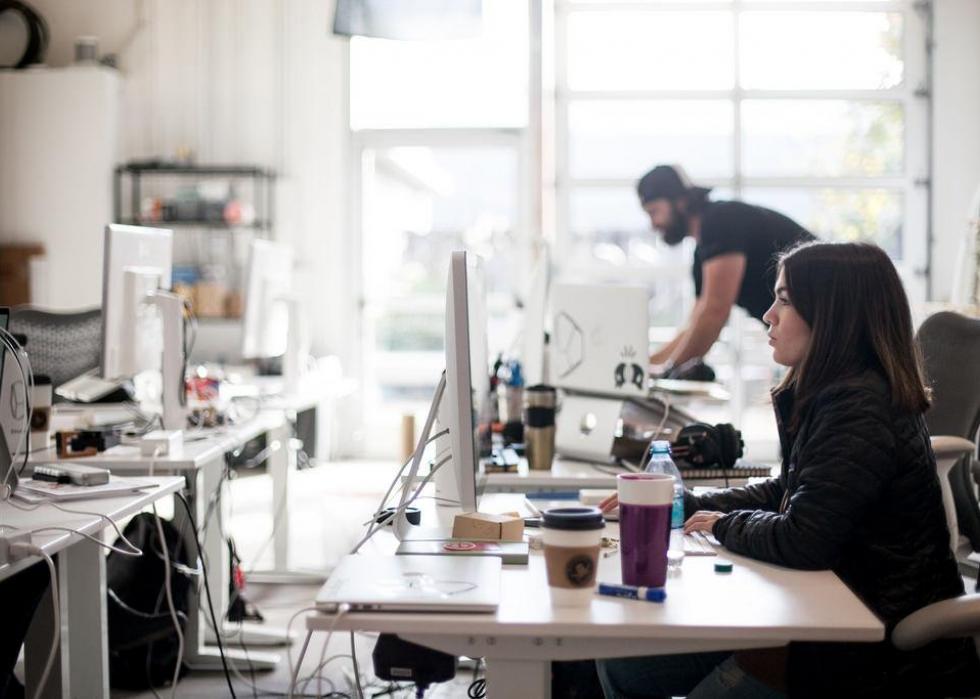 47 / 100
Throroughlyreviewed // flickr
#54. Market Research Analysts and Marketing Specialists
Total workers in 2017: 596,450
Average annual wage: $71,450
Average hourly wage: $34.35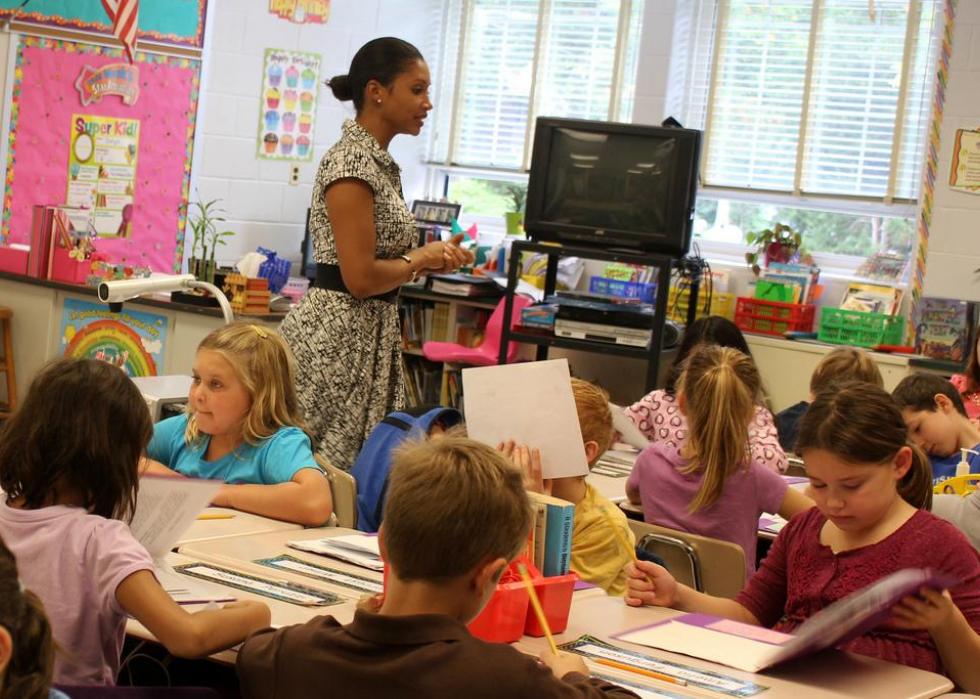 48 / 100
woodley wonderworks // flickr
#53. Substitute Teachers
Total workers in 2017: 611,310
Average annual wage: $31,510
Average hourly wage: $15.15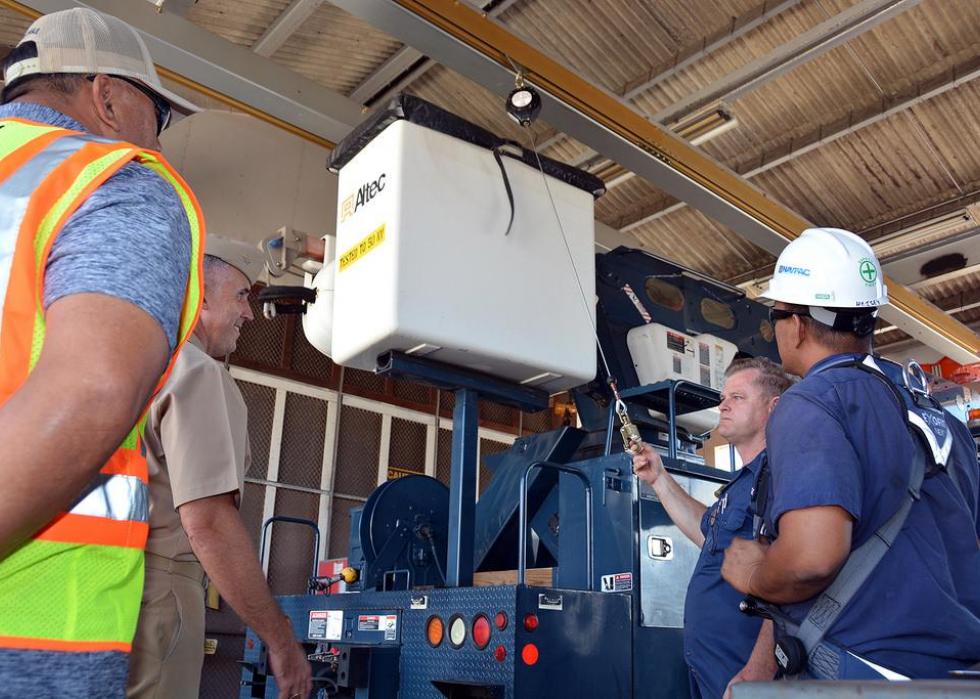 49 / 100
#52. First-Line Supervisors of Production and Operating Workers
Total workers in 2017: 611,800
Average annual wage: $62,660
Average hourly wage: $30.13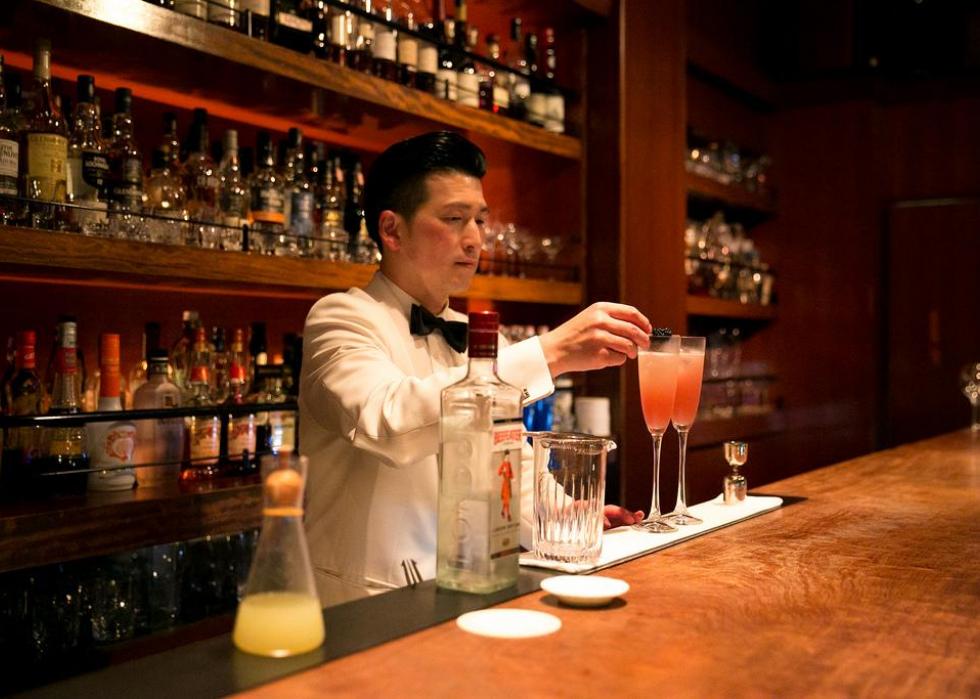 50 / 100
#51. Bartenders
Total workers in 2017: 613,350
Average annual wage: $26,260
Average hourly wage: $12.63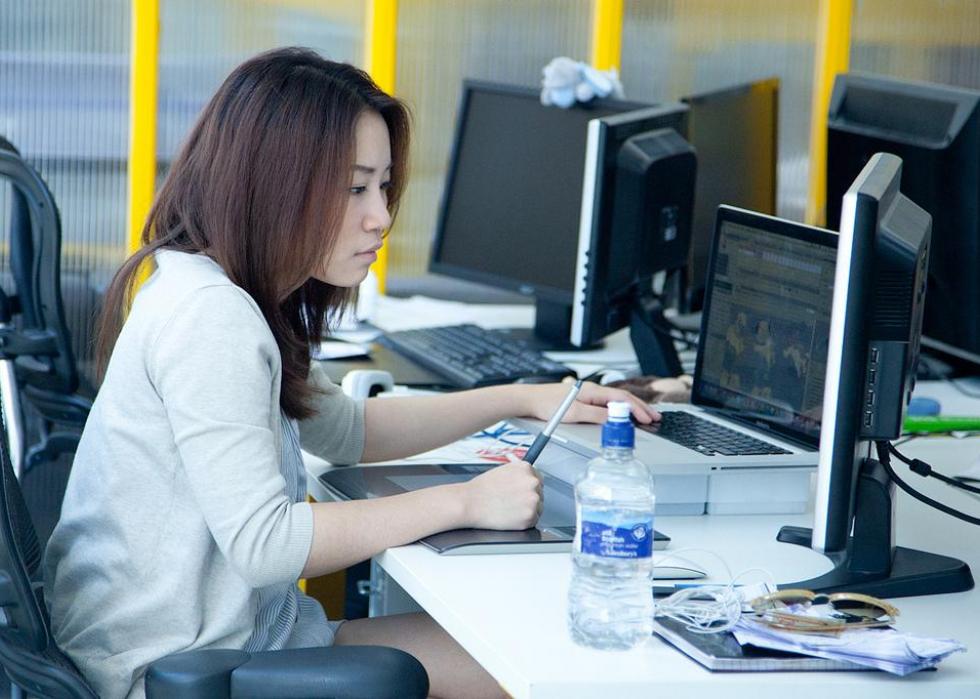 51 / 100
#50. Computer User Support Specialists
Total workers in 2017: 613,780
Average annual wage: $54,150
Average hourly wage: $26.03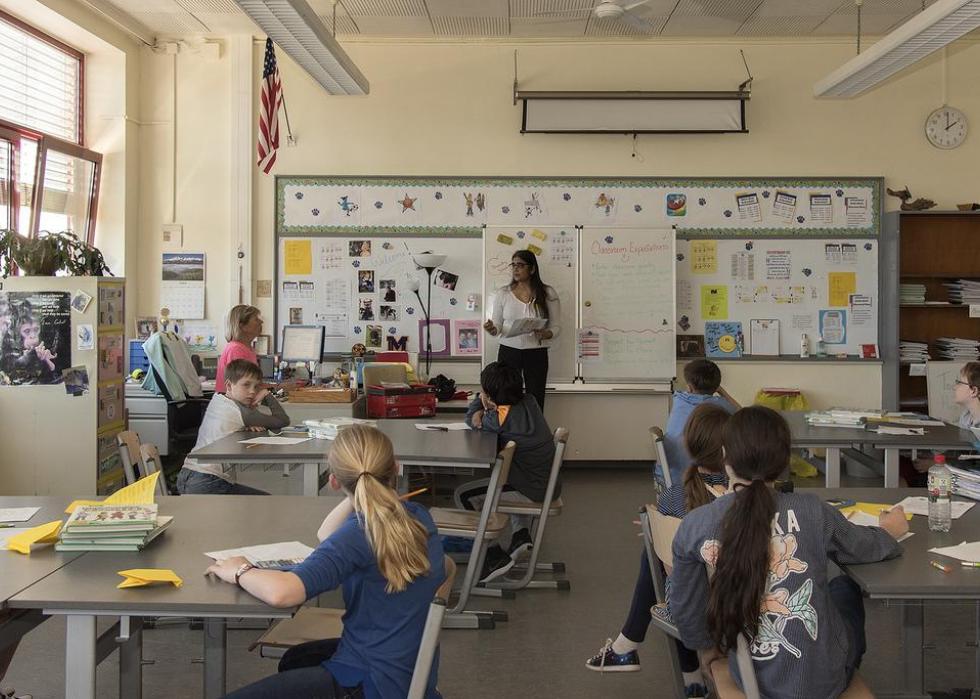 52 / 100
us army corps of engineering // flickr
#49. Middle School Teachers, Except Special and Career/Technical Education
Total workers in 2017: 622,340
Average annual wage: $61,040
Average hourly wage: Not available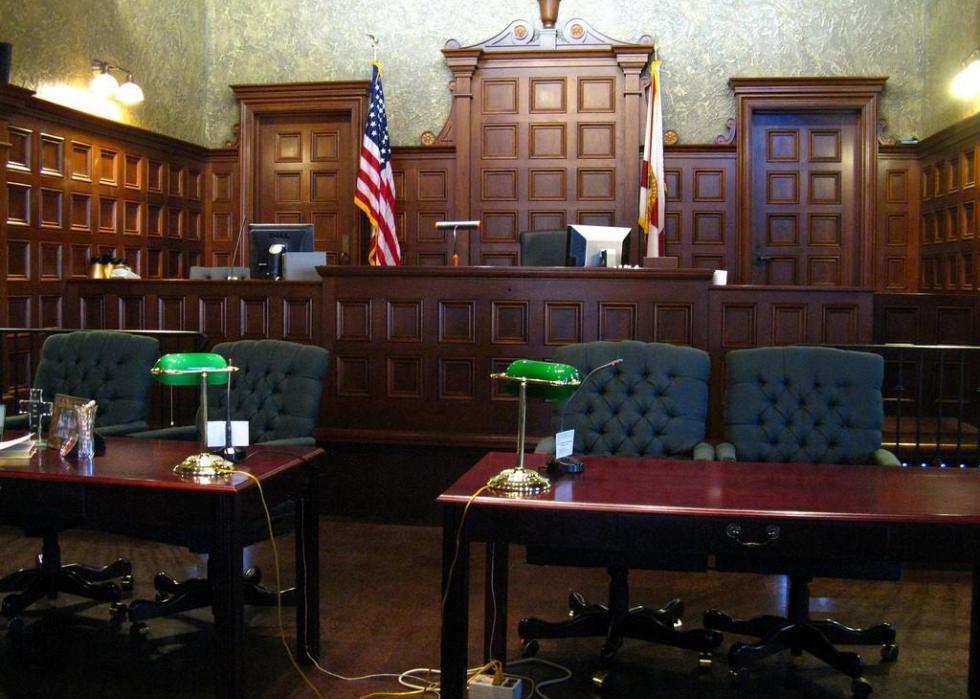 53 / 100
#48. Lawyers
Total workers in 2017: 628,370
Average annual wage: $141,890
Average hourly wage: $68.22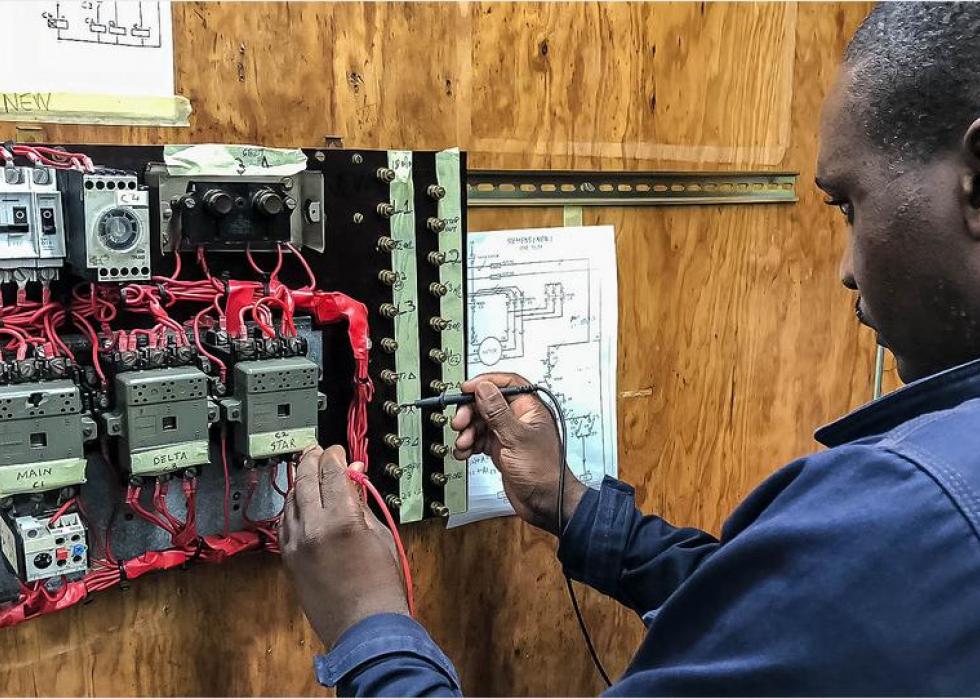 54 / 100
#47. Electricians
Total workers in 2017: 631,080
Average annual wage: $57,910
Average hourly wage: $27.84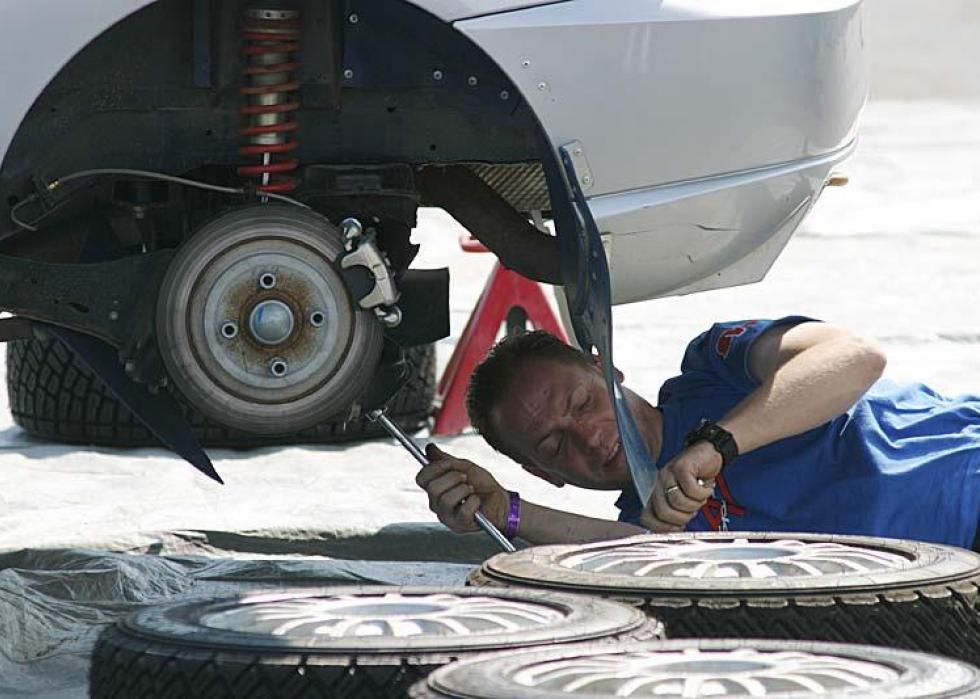 55 / 100
#46. Automotive Service Technicians and Mechanics
Total workers in 2017: 639,700
Average annual wage: $42,660
Average hourly wage: $20.51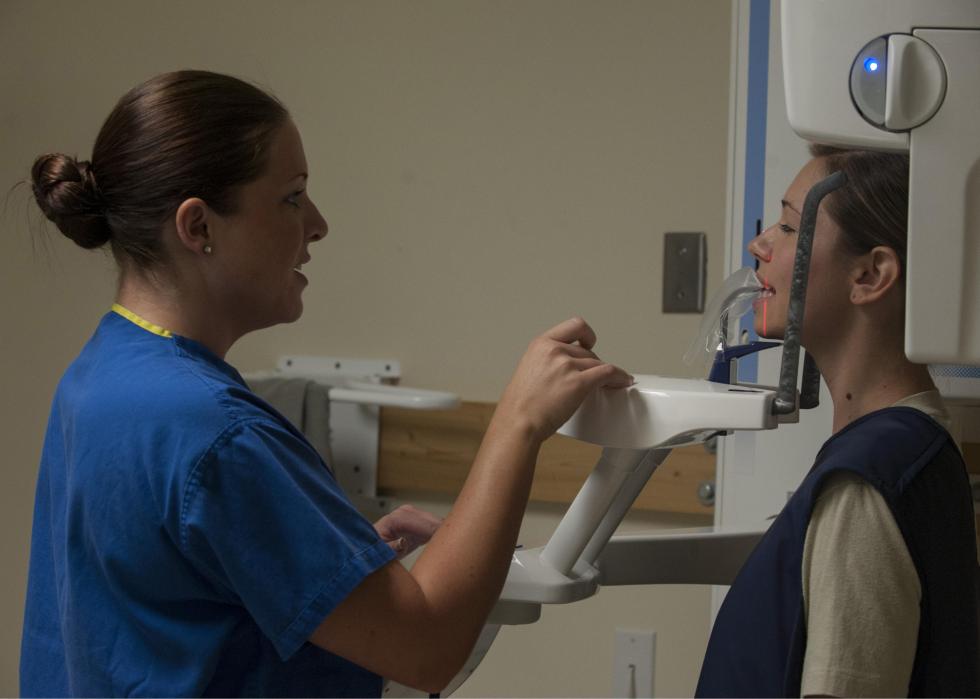 56 / 100
#45. Medical Assistants
Total workers in 2017: 646,320
Average annual wage: $33,580
Average hourly wage: $16.15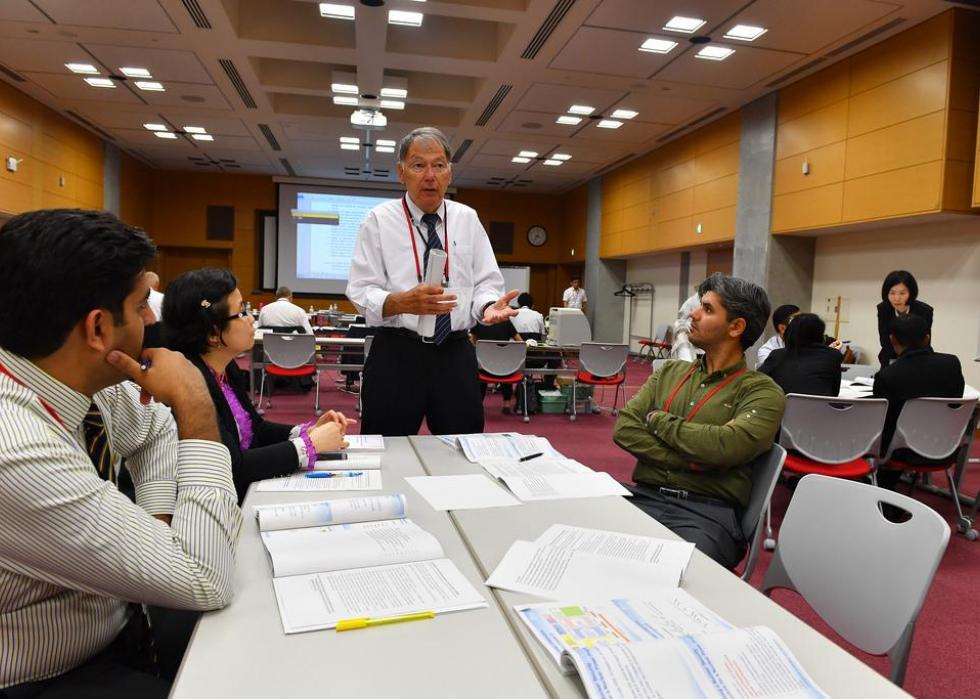 57 / 100
#44. Management Analysts
Total workers in 2017: 659,200
Average annual wage: $93,440
Average hourly wage: $44.92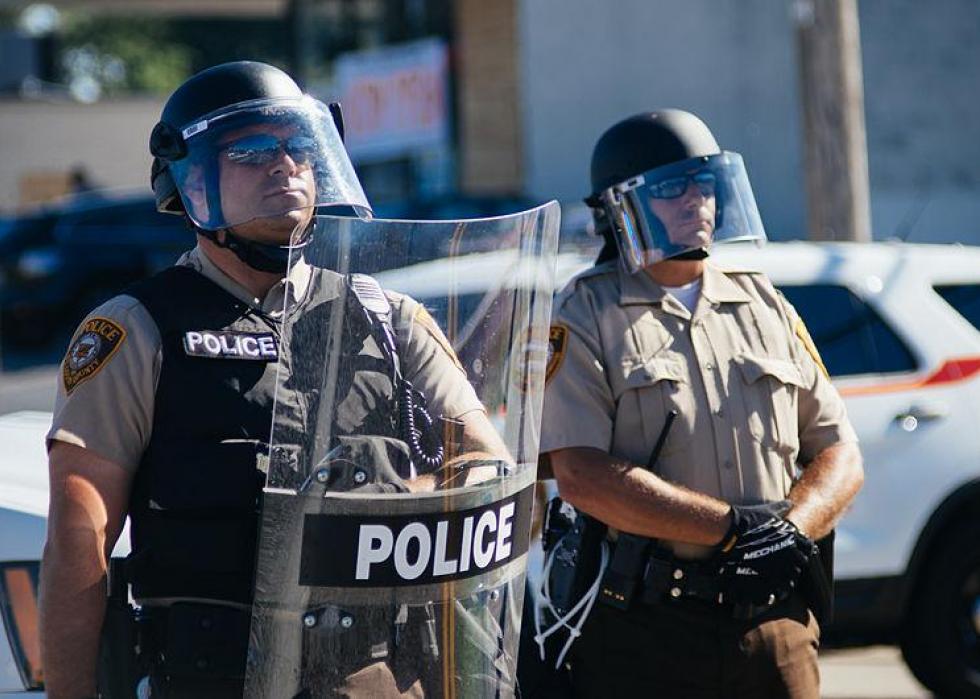 58 / 100
Jamelle Bouie // Wikicommons
#43. Police and Sheriff's Patrol Officers
Total workers in 2017: 662,390
Average annual wage: $64,490
Average hourly wage: $31.00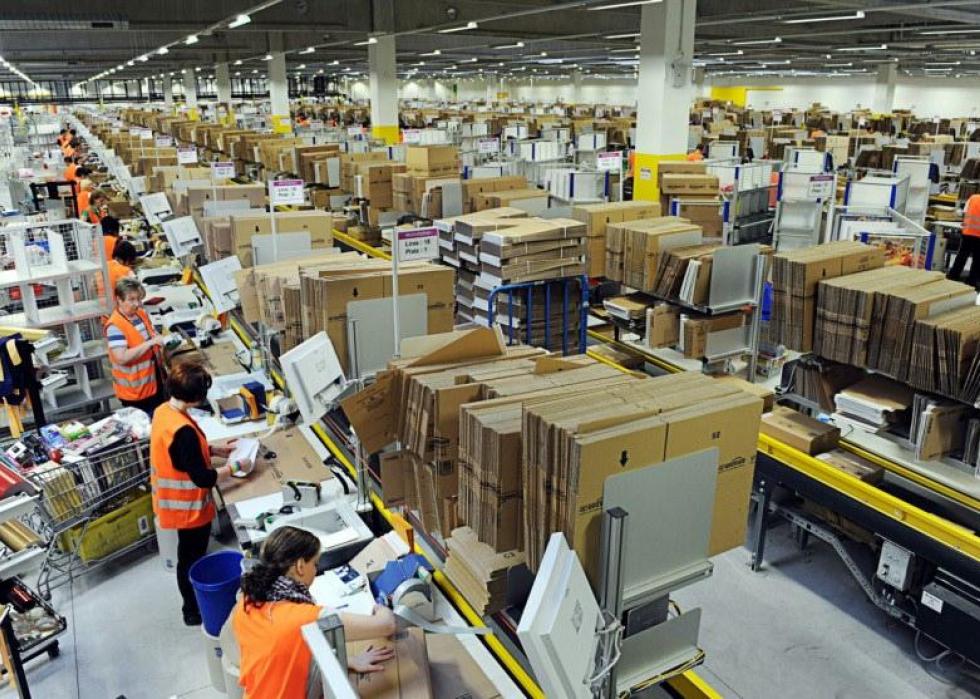 59 / 100
#42. Shipping, Receiving and Traffic Clerks
Total workers in 2017: 671,780
Average annual wage: $33,790
Average hourly wage: $16.25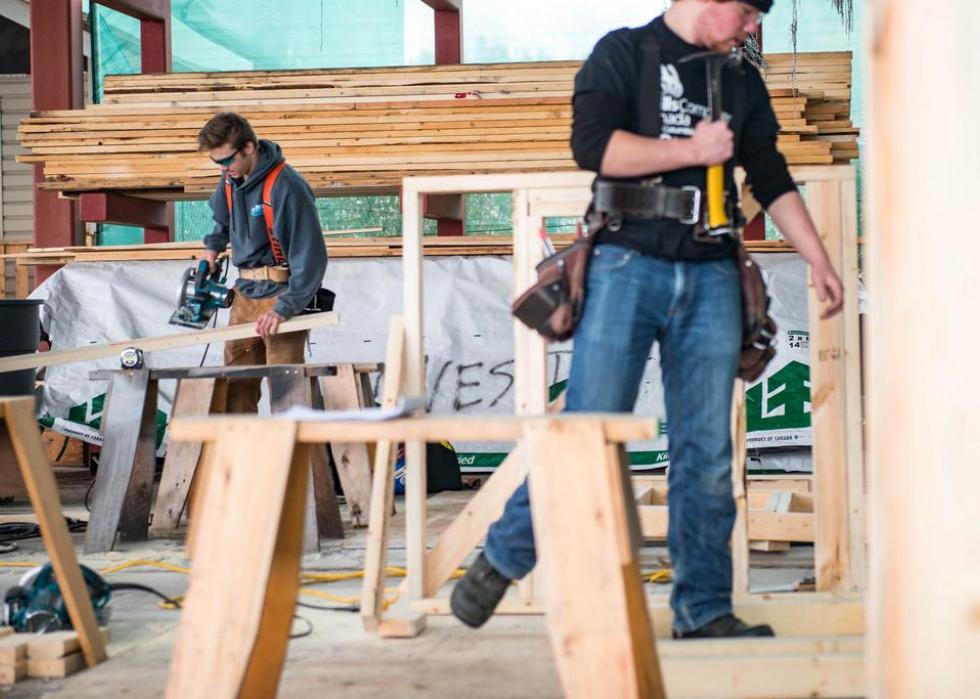 60 / 100
University of Fraser // flickr
#41. Carpenters
Total workers in 2017: 693,050
Average annual wage: $49,630
Average hourly wage: $23.86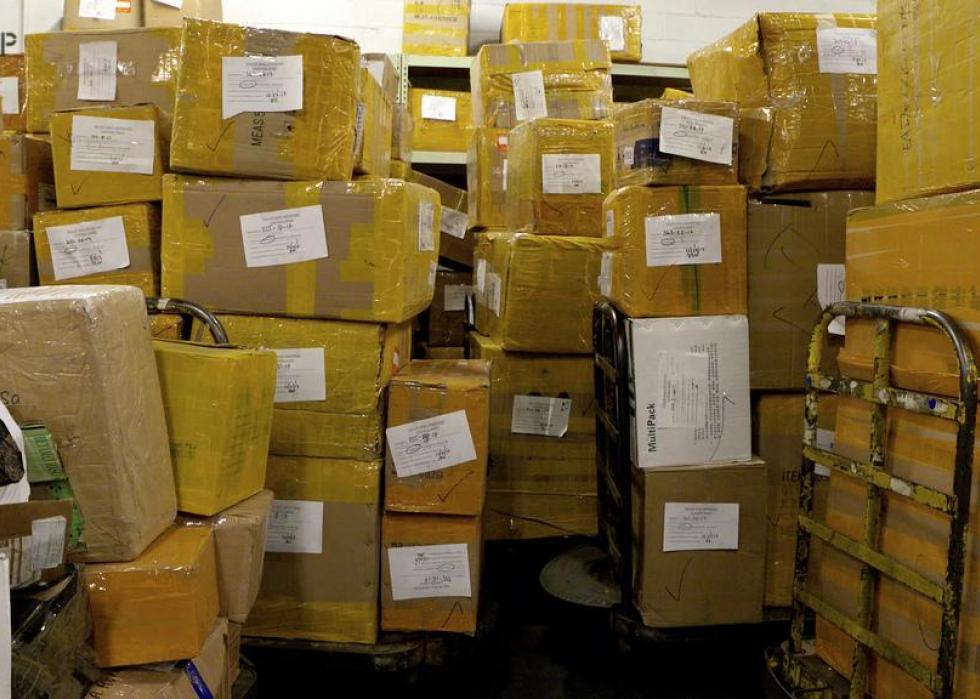 61 / 100
US food and drug administration // flickr
#40. Packers and Packagers, Hand
Total workers in 2017: 700,560
Average annual wage: $25,410
Average hourly wage: $12.22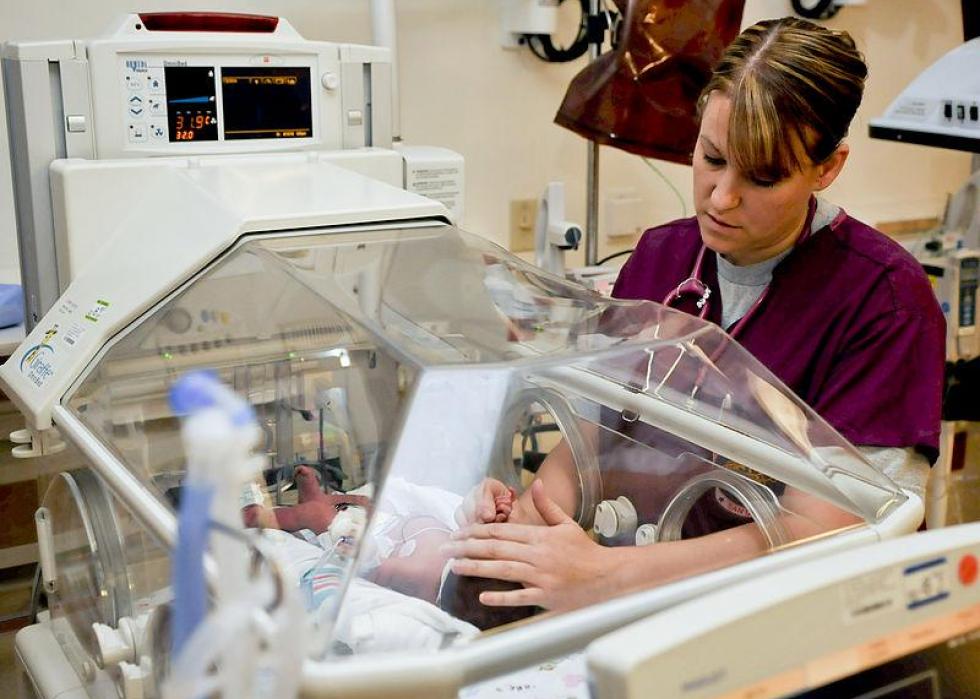 62 / 100
#39. Licensed Practical and Licensed Vocational Nurses
Total workers in 2017: 702,700
Average annual wage: $45,710
Average hourly wage: $21.98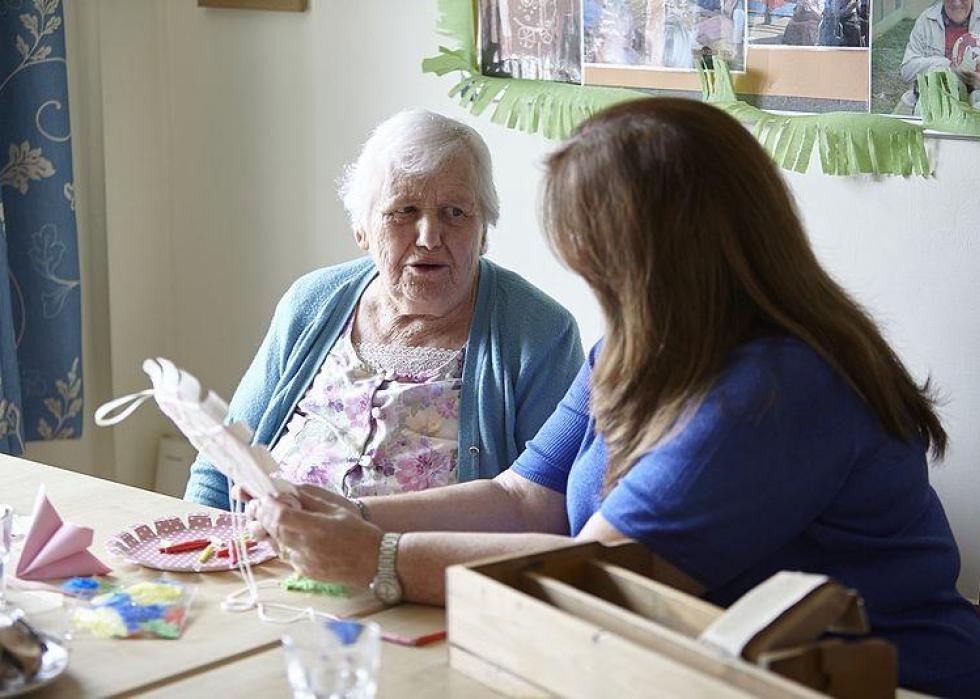 63 / 100
AveryHealthcare // Wikicommons
#38. Home Health Aides
Total workers in 2017: 820,960
Average annual wage: $24,280
Average hourly wage: $11.67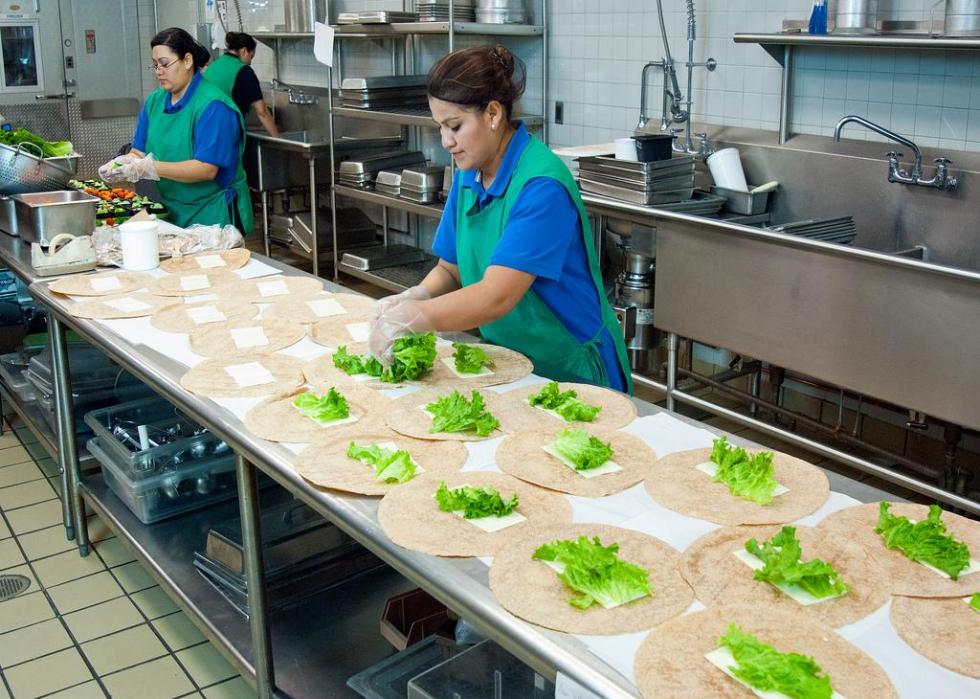 64 / 100
us dept of agriculture // Flickr
#37. Food Preparation Workers
Total workers in 2017: 832,690
Average annual wage: $23,900
Average hourly wage: $11.49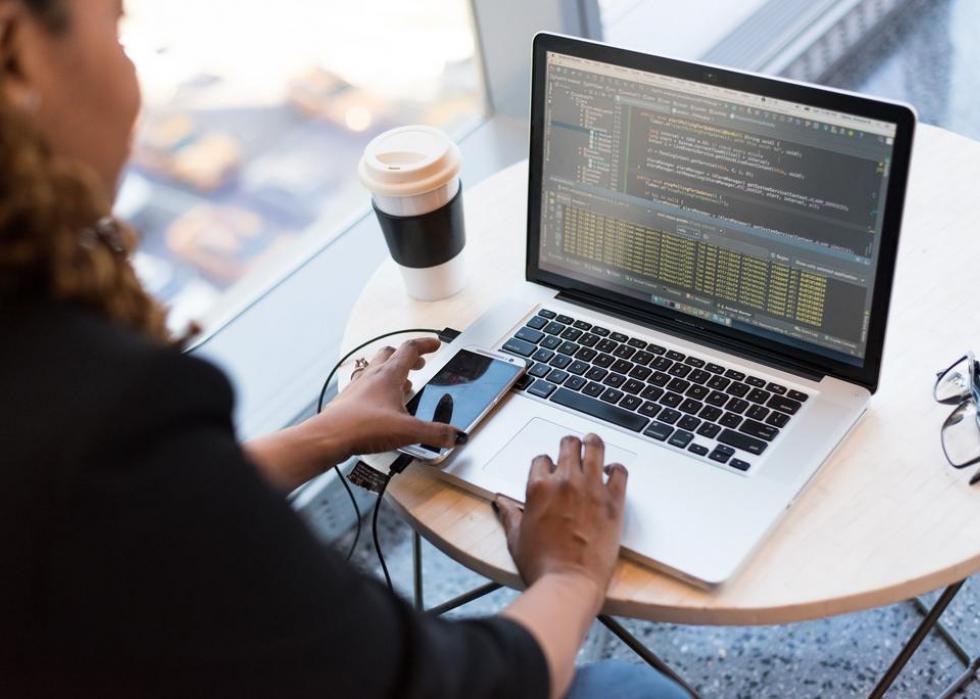 65 / 100
#36. Software Developers, Applications
Total workers in 2017: 849,230
Average annual wage: $106,710
Average hourly wage: $51.30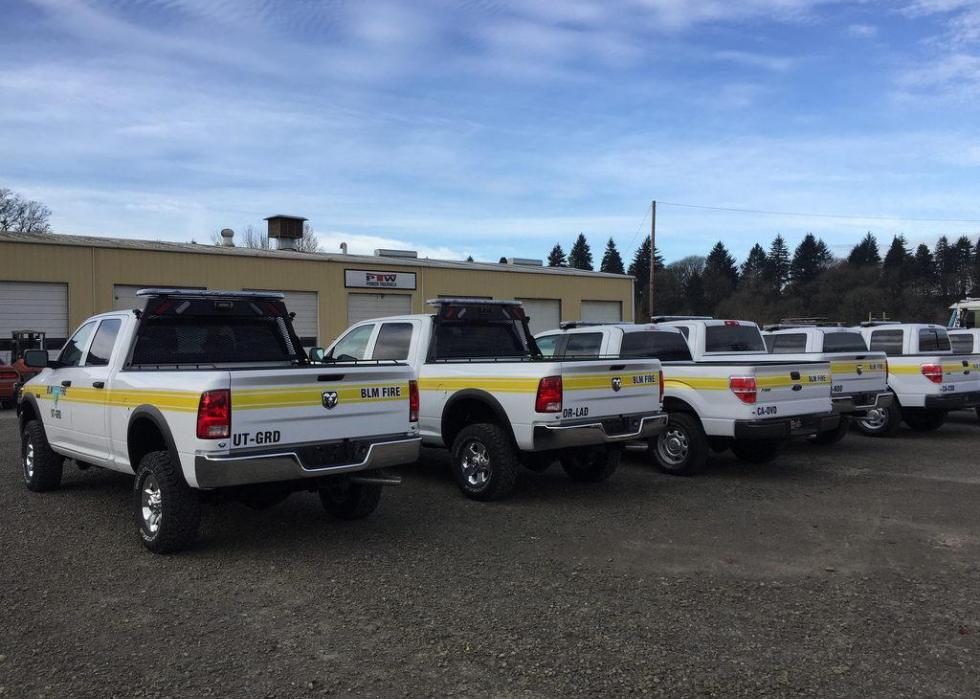 66 / 100
Bureau of Land Management // flickr
#35. Light Truck or Delivery Services Drivers
Total workers in 2017: 877,670
Average annual wage: $35,610
Average hourly wage: $17.12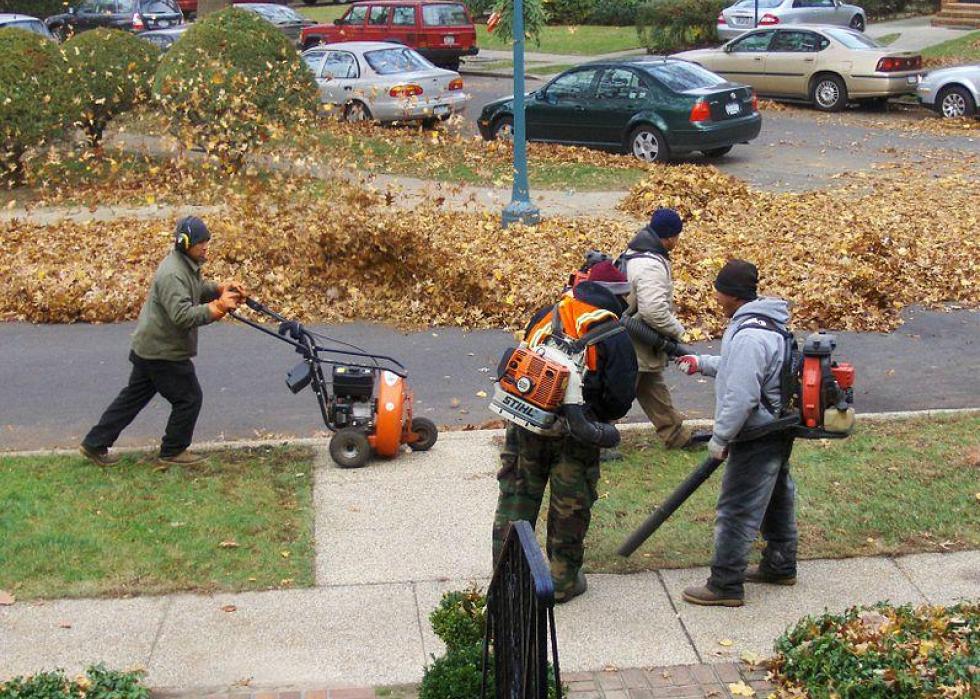 67 / 100
Peter Dutton // Wikicommons
#34. Landscaping and Groundskeeping Workers
Total workers in 2017: 912,360
Average annual wage: $29,700
Average hourly wage: $14.28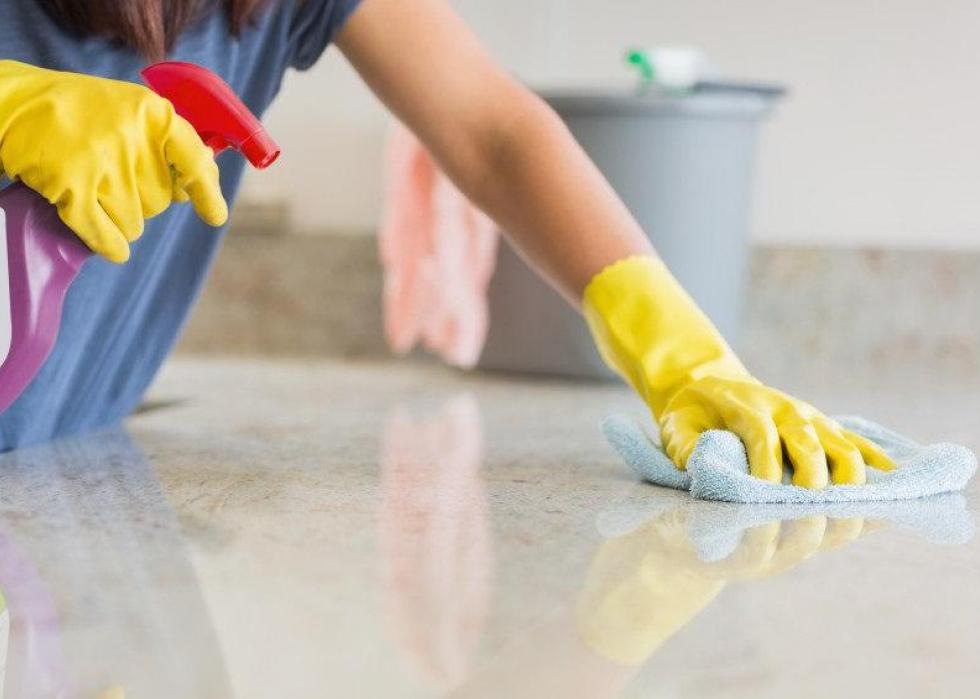 68 / 100
#33. Maids and Housekeeping Cleaners
Total workers in 2017: 922,660
Average annual wage: $24,630
Average hourly wage: $11.84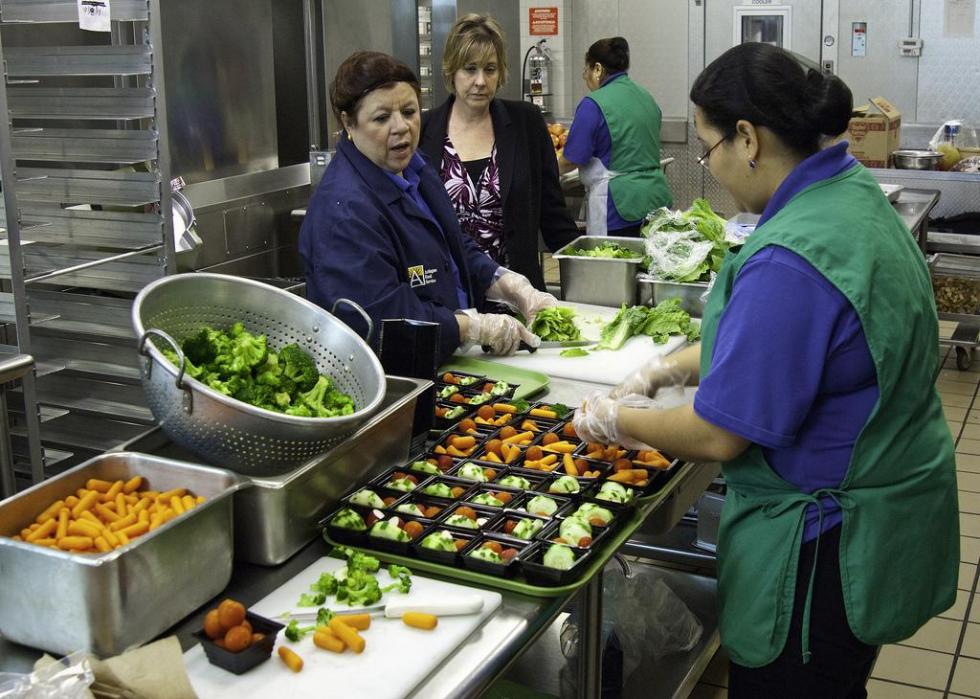 69 / 100
us dept of agriculture // Flickr
#32. First-Line Supervisors of Food Preparation and Serving Workers
Total workers in 2017: 927,440
Average annual wage: $35,460
Average hourly wage: $17.05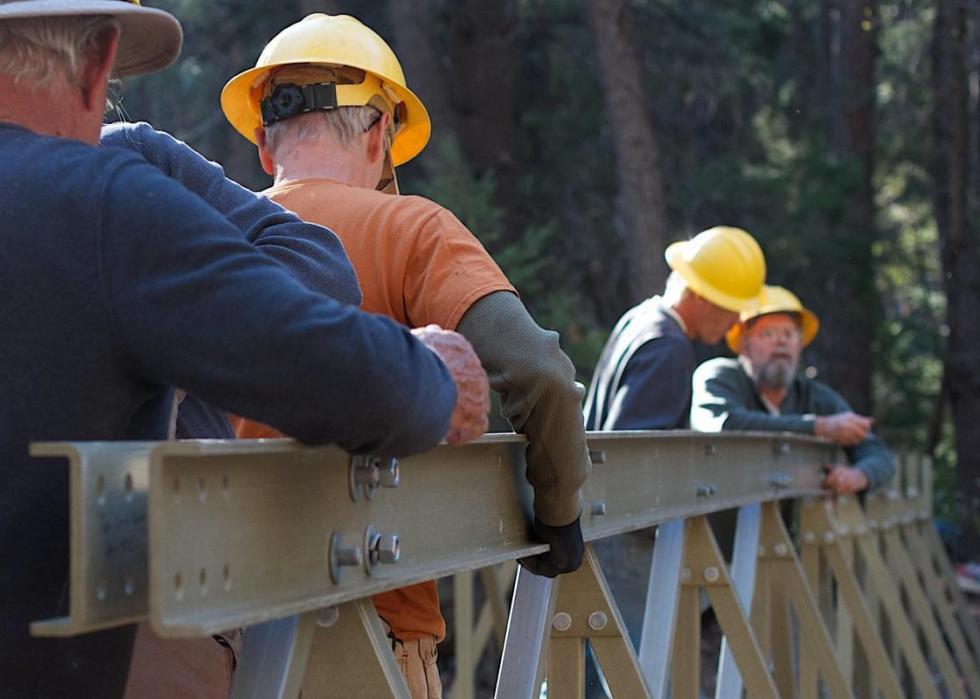 70 / 100
#31. Construction Laborers
Total workers in 2017: 962,060
Average annual wage: $38,890
Average hourly wage: $18.70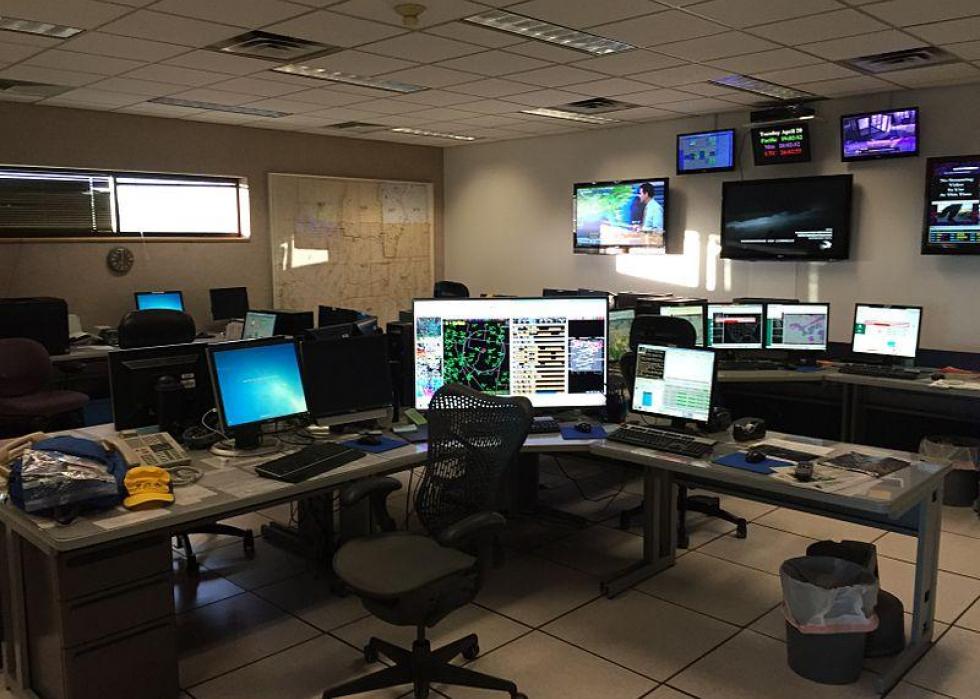 71 / 100
#30. Business Operations Specialists, All Other
Total workers in 2017: 1,001,420
Average annual wage: $75,740
Average hourly wage: $36.42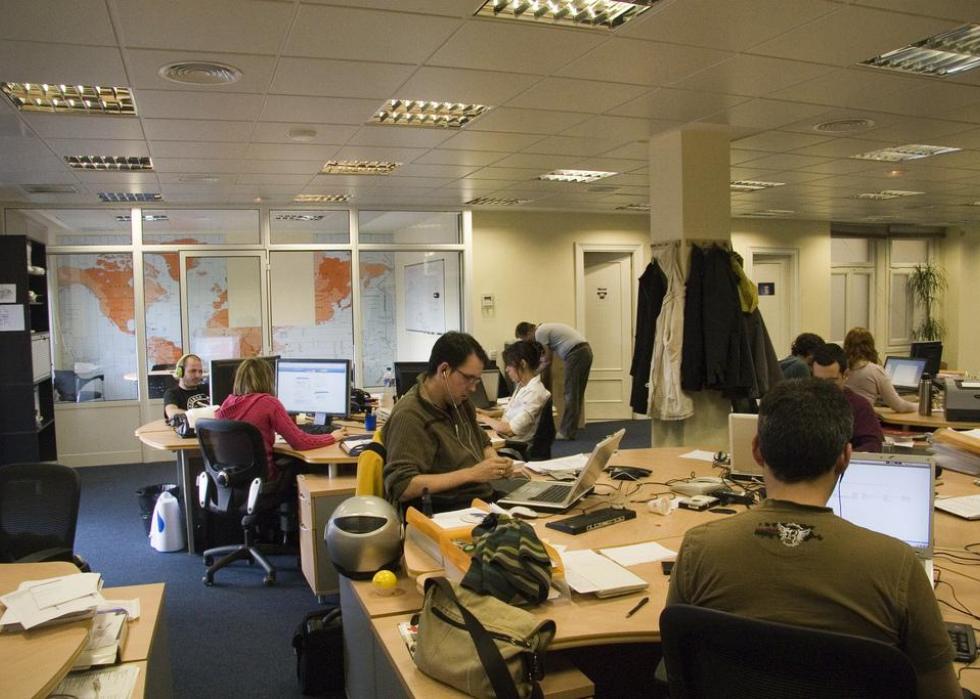 72 / 100
#29. Sales Representatives, Services, All Other
Total workers in 2017: 1,004,020
Average annual wage: $63,050
Average hourly wage: $30.31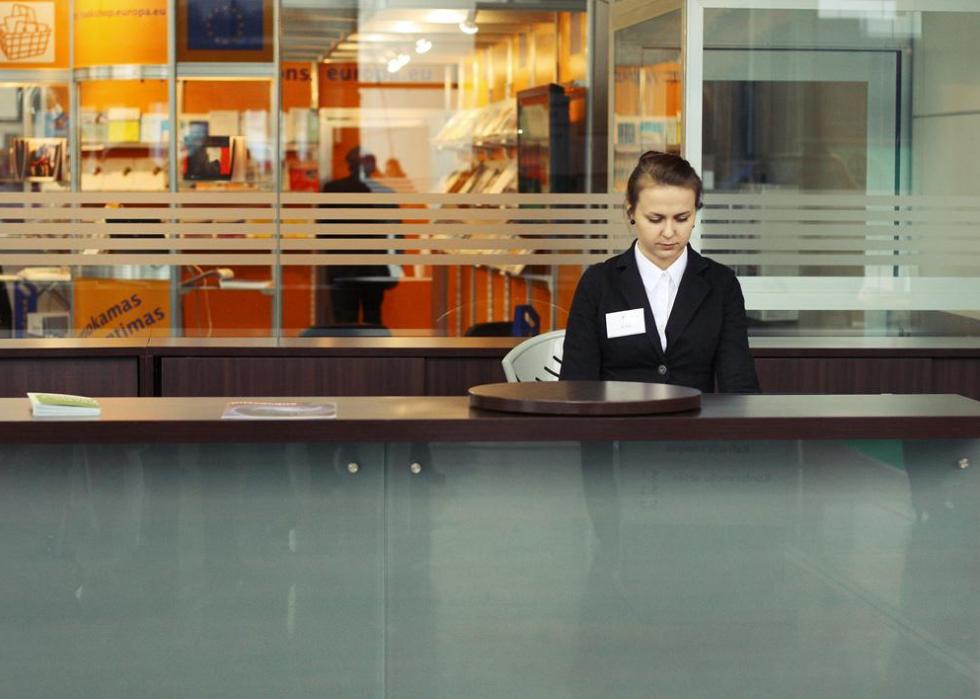 73 / 100
#28. Receptionists and Information Clerks
Total workers in 2017: 1,014,900
Average annual wage: $29,640
Average hourly wage: $14.25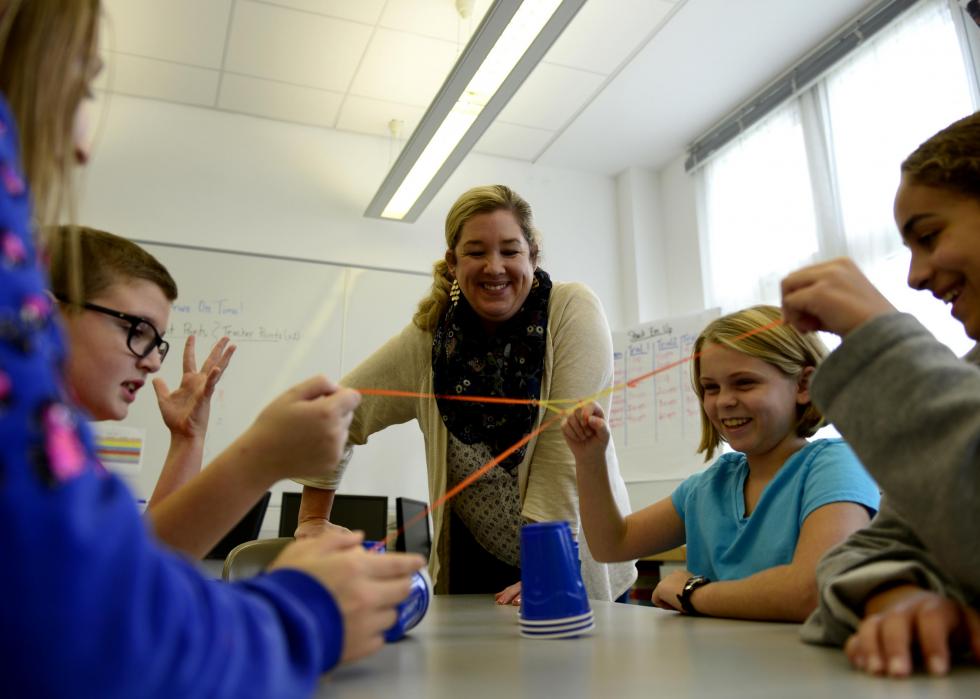 74 / 100
#27. Secondary School Teachers, Except Special and Career/Technical Education
Total workers in 2017: 1,027,230
Average annual wage: $62,860
Average hourly wage: Not available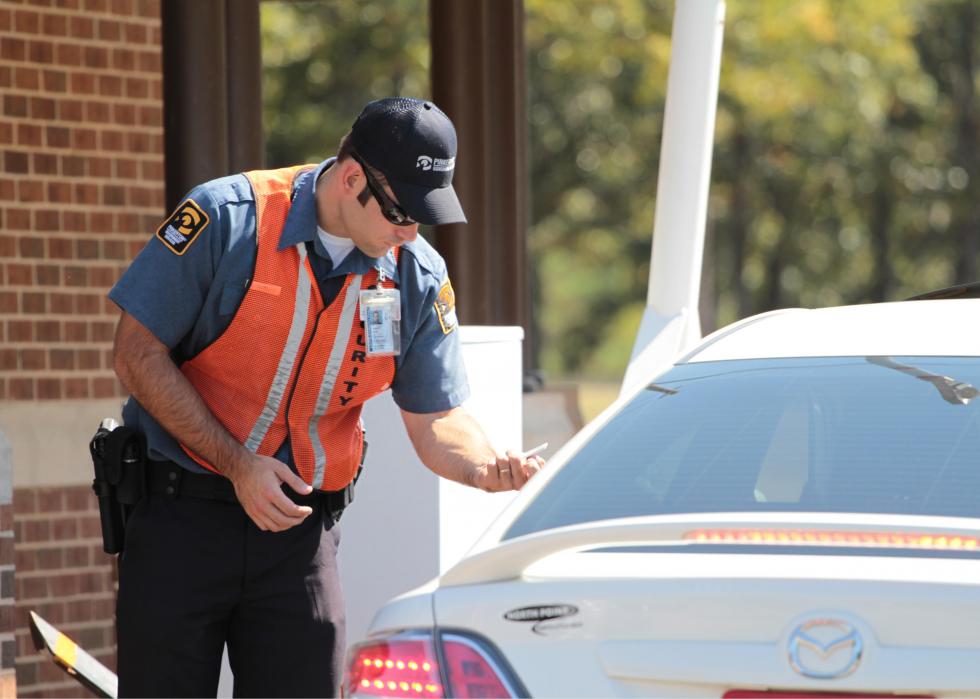 75 / 100
#26. Security Guards
Total workers in 2017: 1,105,440
Average annual wage: $30,730
Average hourly wage: $14.78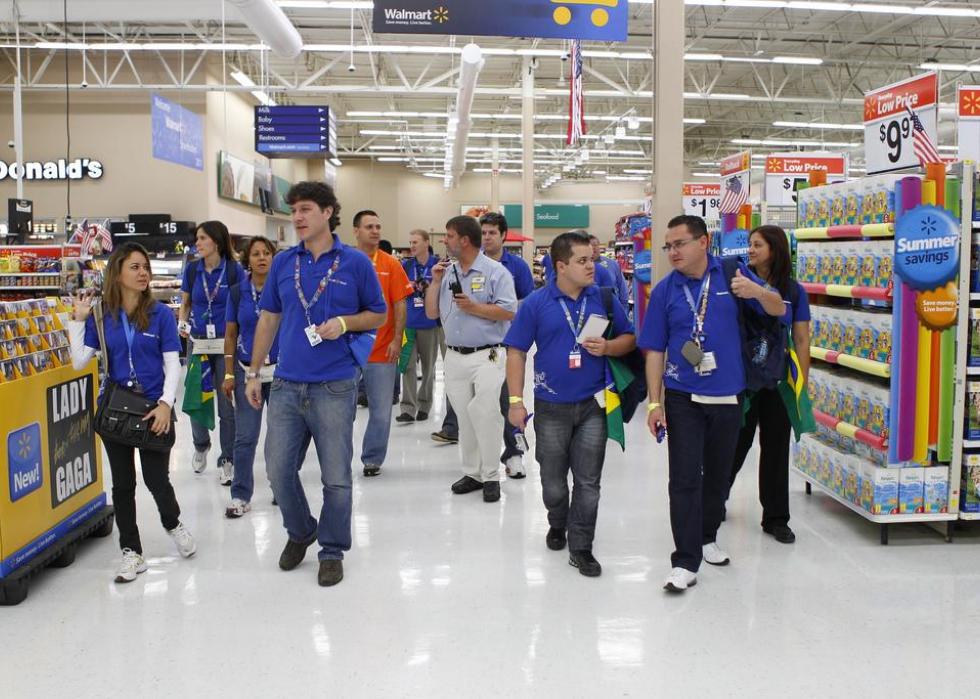 76 / 100
#25. First-Line Supervisors of Retail Sales Workers
Total workers in 2017: 1,200,180
Average annual wage: $43,580
Average hourly wage: $20.95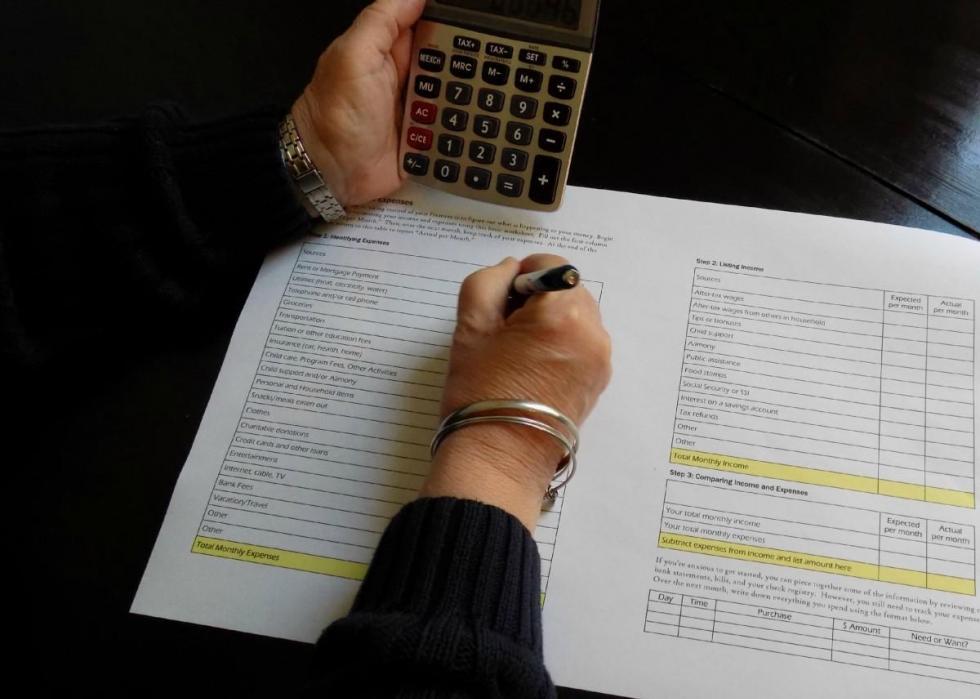 77 / 100
#24. Accountants and Auditors
Total workers in 2017: 1,241,000
Average annual wage: $77,920
Average hourly wage: $37.46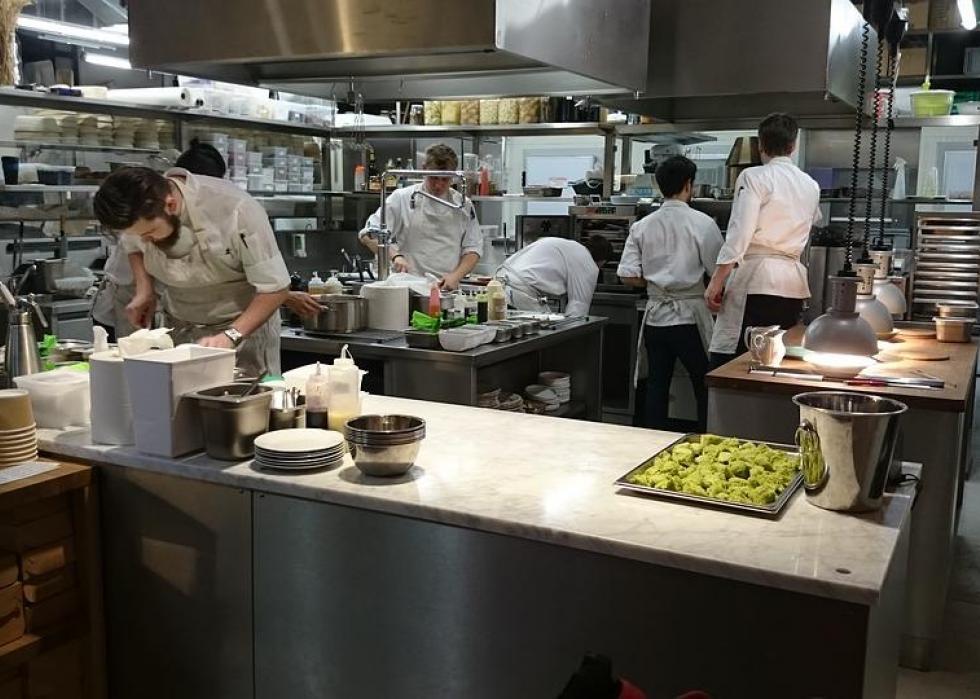 78 / 100
#23. Cooks, Restaurant
Total workers in 2017: 1,276,510
Average annual wage: $26,440
Average hourly wage: $12.71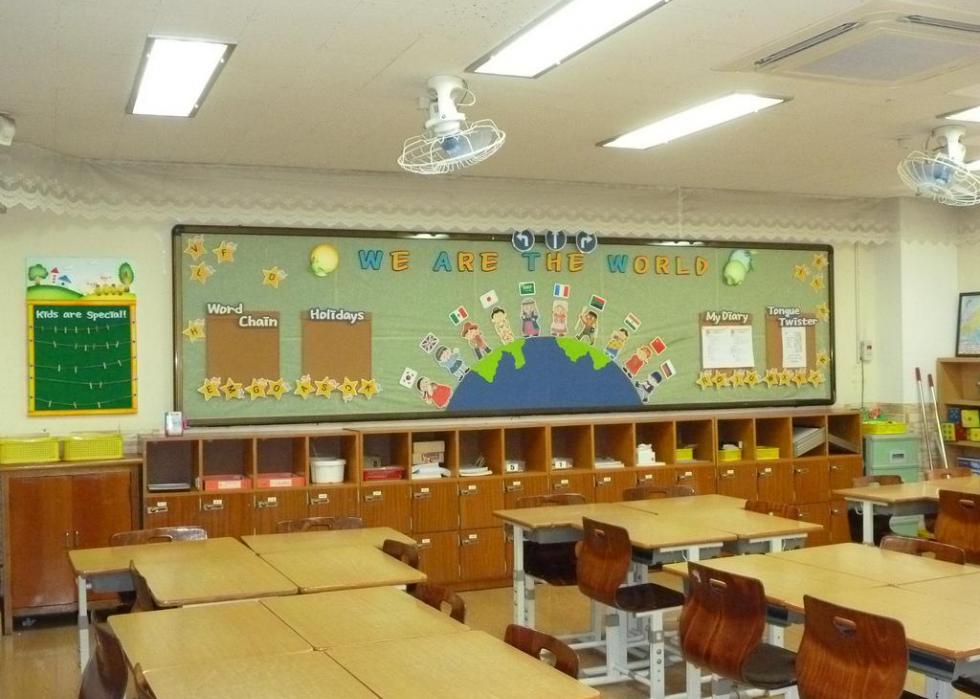 79 / 100
#22. Teacher Assistants
Total workers in 2017: 1,299,800
Average annual wage: $27,950
Average hourly wage: Not available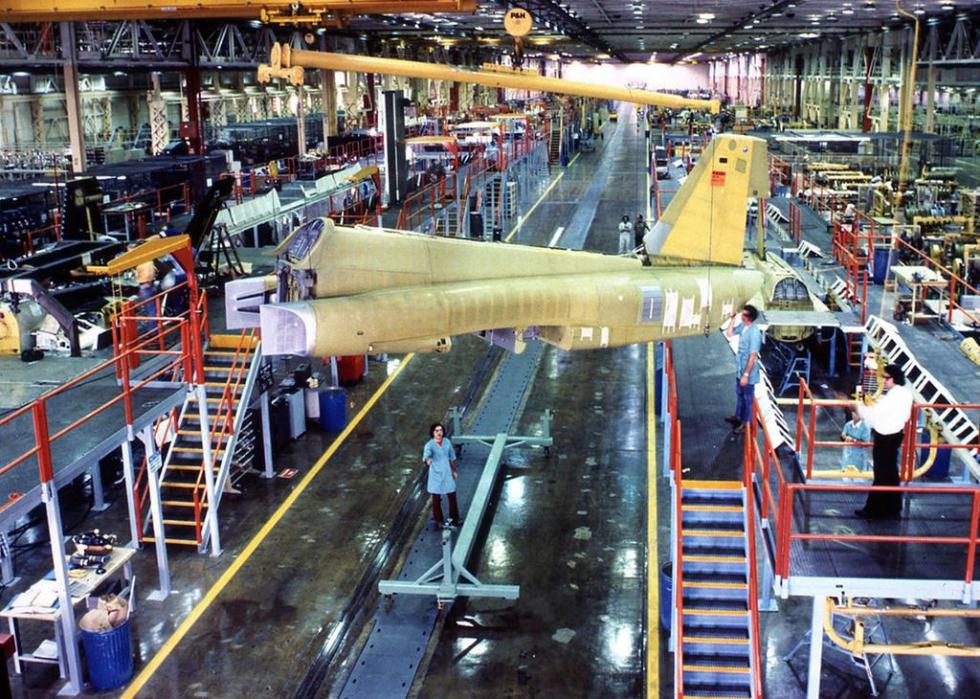 80 / 100
#21. Assemblers and Fabricators, All Other, Including Team Assemblers
Total workers in 2017: 1,306,150
Average annual wage: $33,180
Average hourly wage: $15.95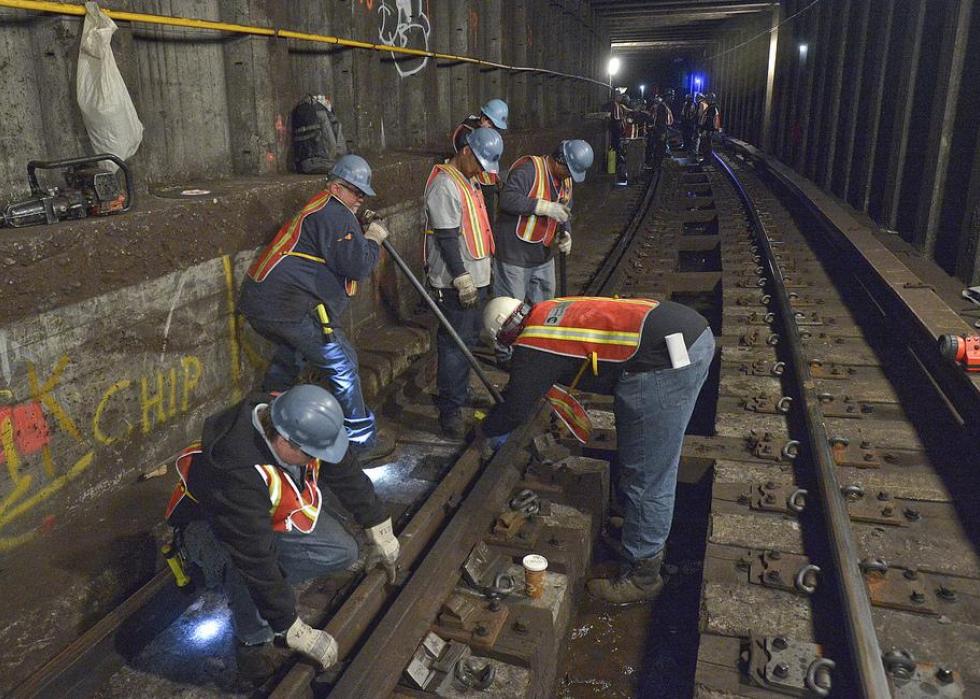 81 / 100
Metropolitan Transport // flickr
#20. Maintenance and Repair Workers, General
Total workers in 2017: 1,351,210
Average annual wage: $40,280
Average hourly wage: $19.37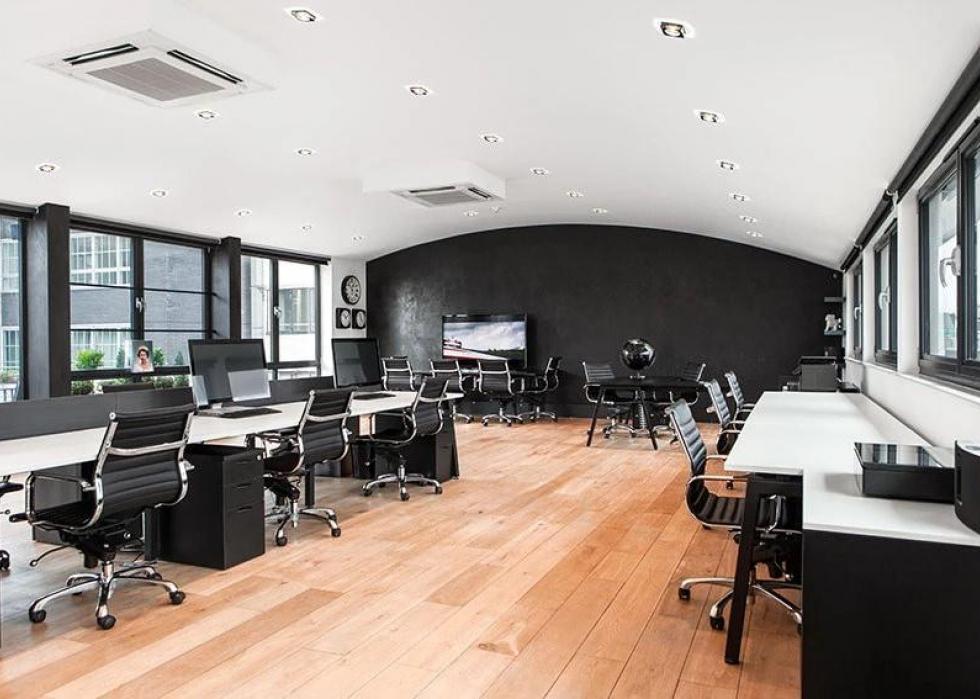 82 / 100
#19. Sales Representatives, Wholesale and Manufacturing, Except Technical and Scientific Products
Total workers in 2017: 1,391,400
Average annual wage: $67,960
Average hourly wage: $32.67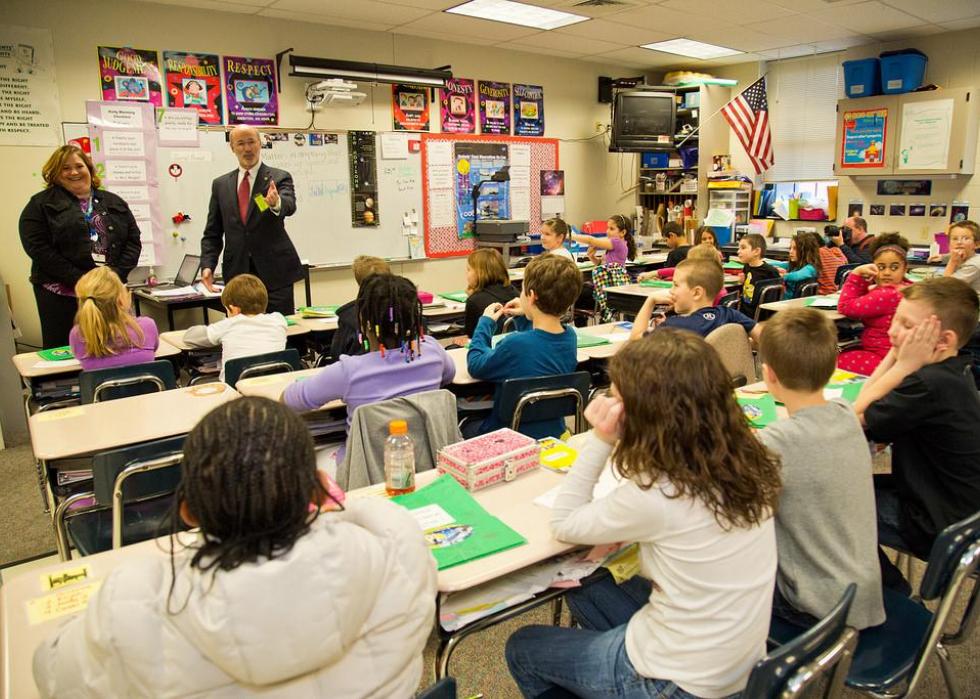 83 / 100
Governor Tom Wolf // flickr
#18. Elementary School Teachers, Except Special Education
Total workers in 2017: 1,409,140
Average annual wage: $60,830
Average hourly wage: Not available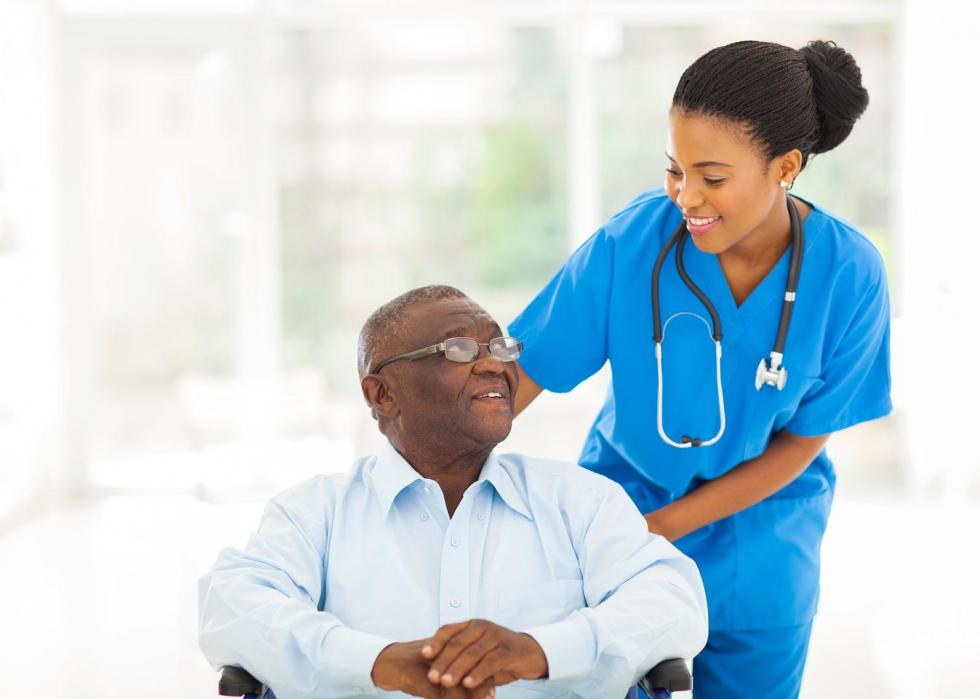 84 / 100
#17. Nursing Assistants
Total workers in 2017: 1,453,670
Average annual wage: $28,540
Average hourly wage: $13.72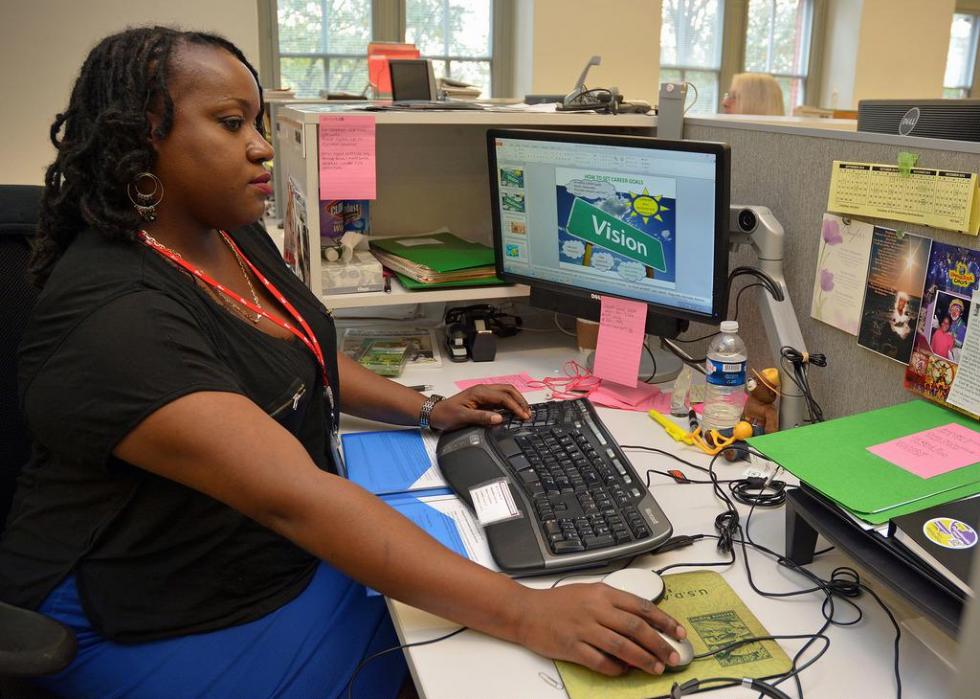 85 / 100
us dept of agriculture // Flickr
#16. First-Line Supervisors of Office and Administrative Support Workers
Total workers in 2017: 1,458,380
Average annual wage: $58,540
Average hourly wage: $28.14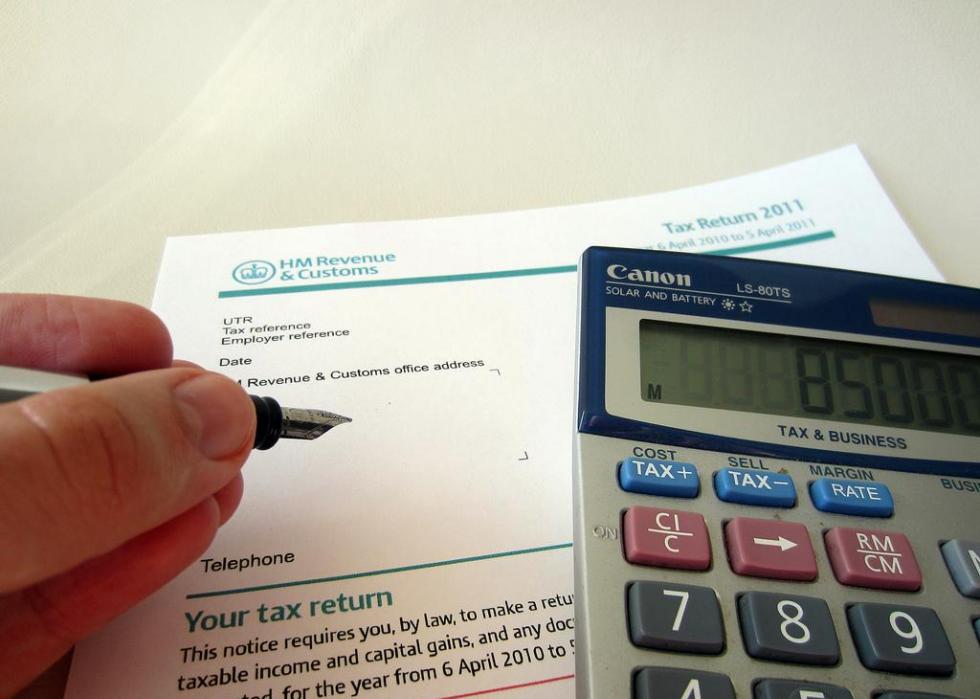 86 / 100
#15. Bookkeeping, Accounting, and Auditing Clerks
Total workers in 2017: 1,532,340
Average annual wage: $41,110
Average hourly wage: $19.76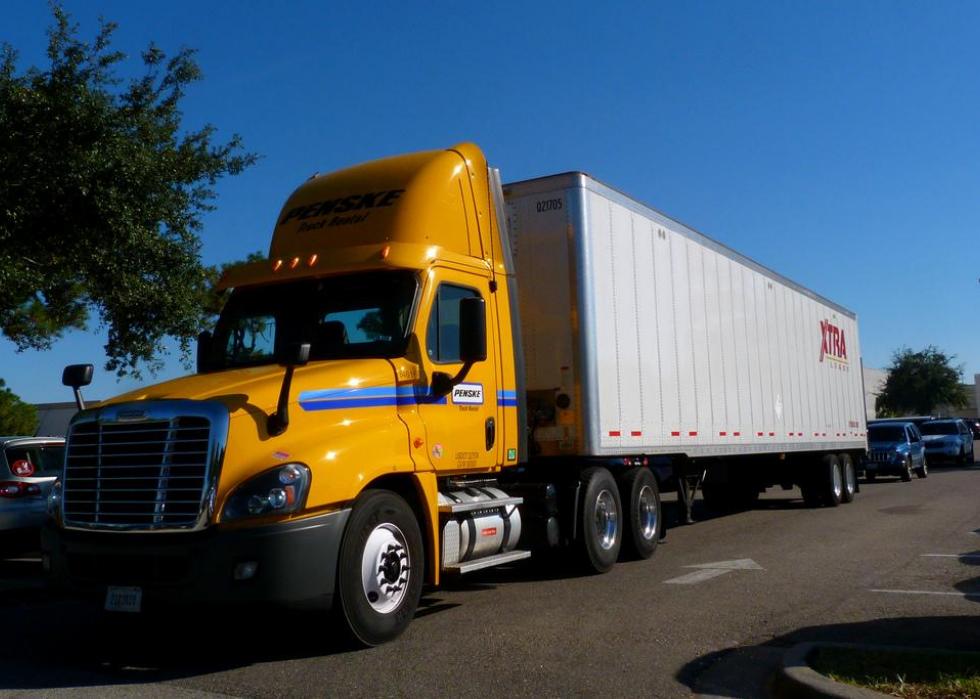 87 / 100
#14. Heavy and Tractor-Trailer Truck Drivers
Total workers in 2017: 1,748,140
Average annual wage: $44,500
Average hourly wage: $21.39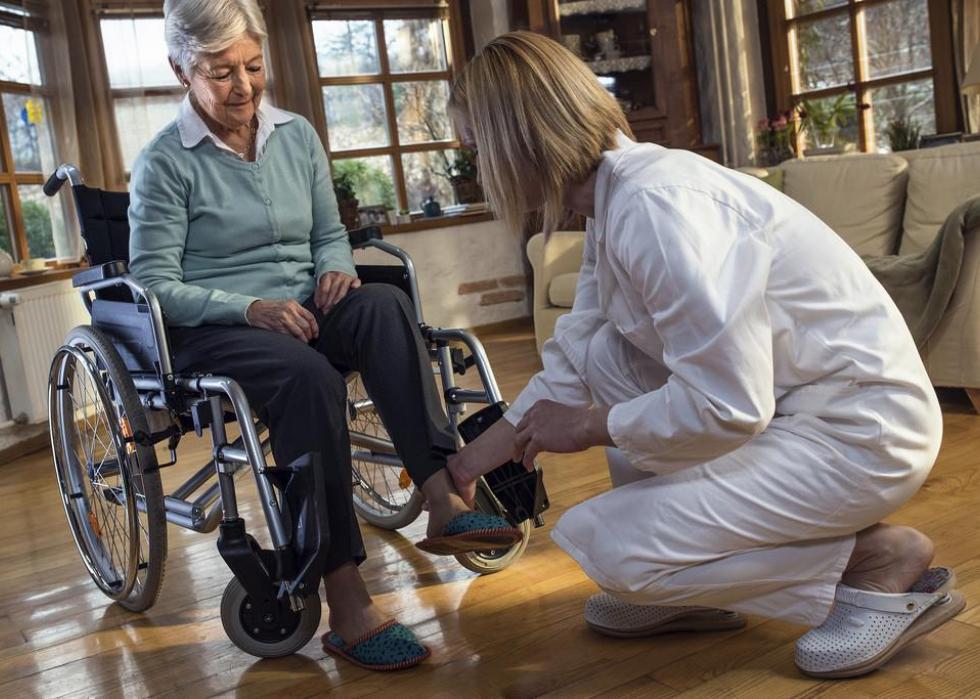 88 / 100
#13. Personal Care Aides
Total workers in 2017: 2,035,610
Average annual wage: $24,100
Average hourly wage: $11.59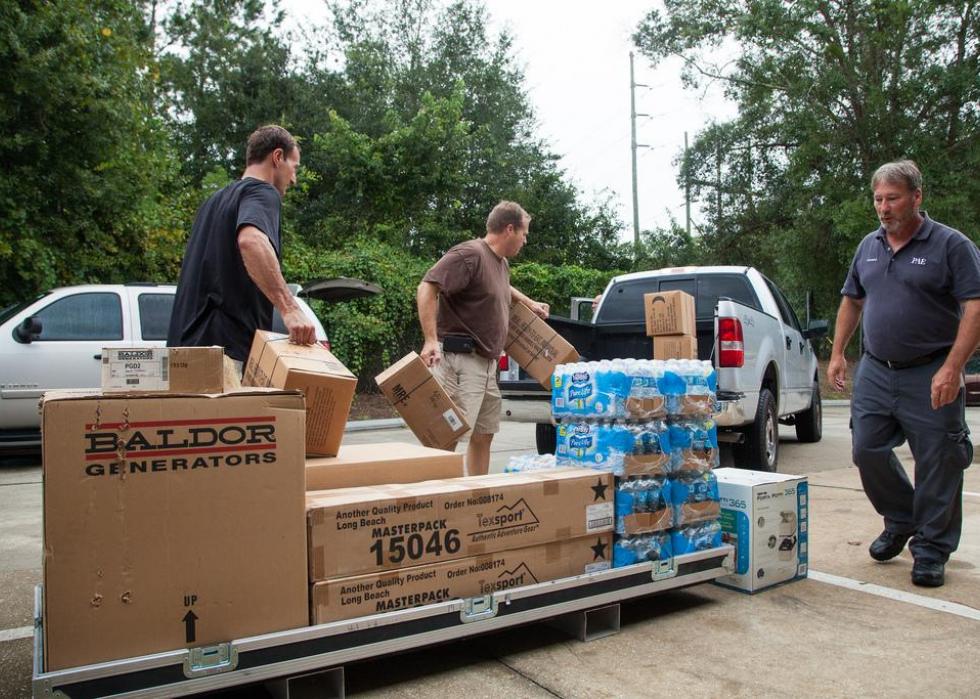 89 / 100
US customs and borders // flickr
#12. Stock Clerks and Order Fillers
Total workers in 2017: 2,046,040
Average annual wage: $27,450
Average hourly wage: $13.20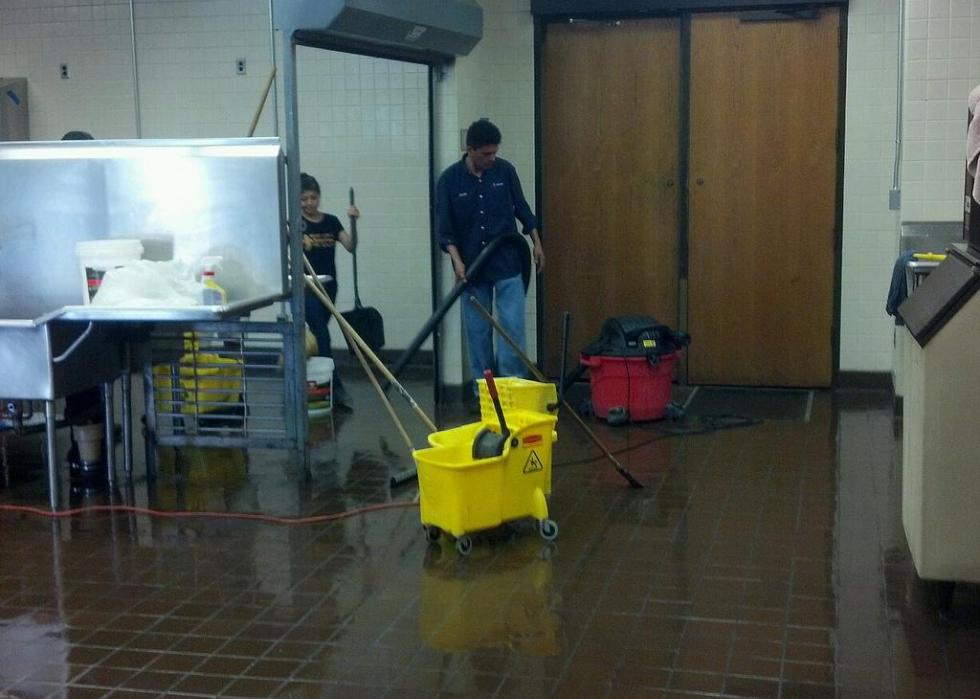 90 / 100
#11. Janitors and Cleaners, Except Maids and Housekeeping Cleaners
Total workers in 2017: 2,164,040
Average annual wage: $27,900
Average hourly wage: $13.41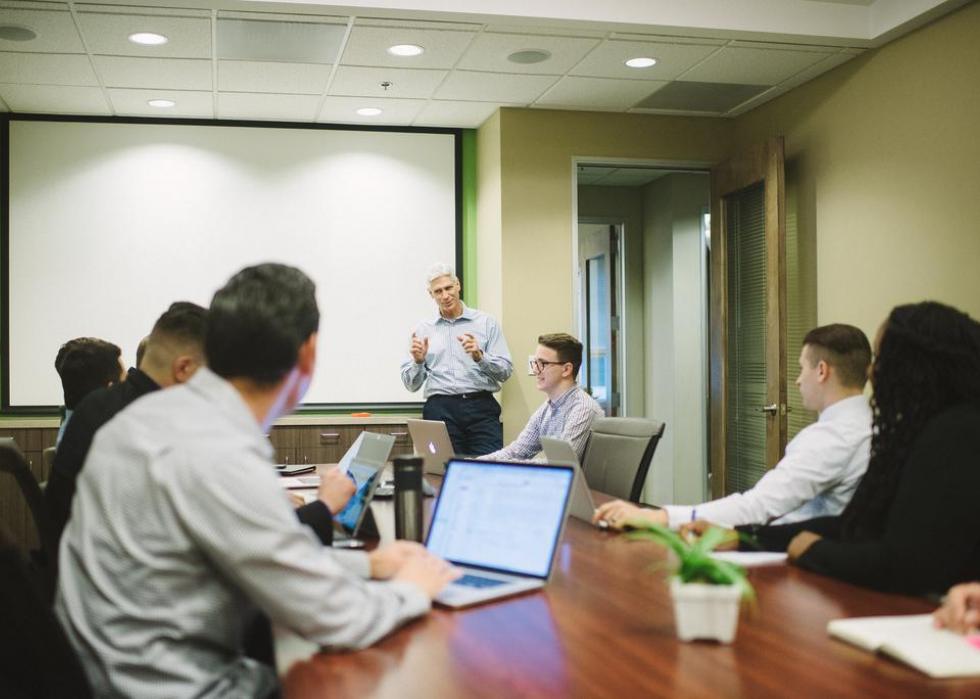 91 / 100
#10. General and Operations Managers
Total workers in 2017: 2,212,200
Average annual wage: $123,460
Average hourly wage: $59.35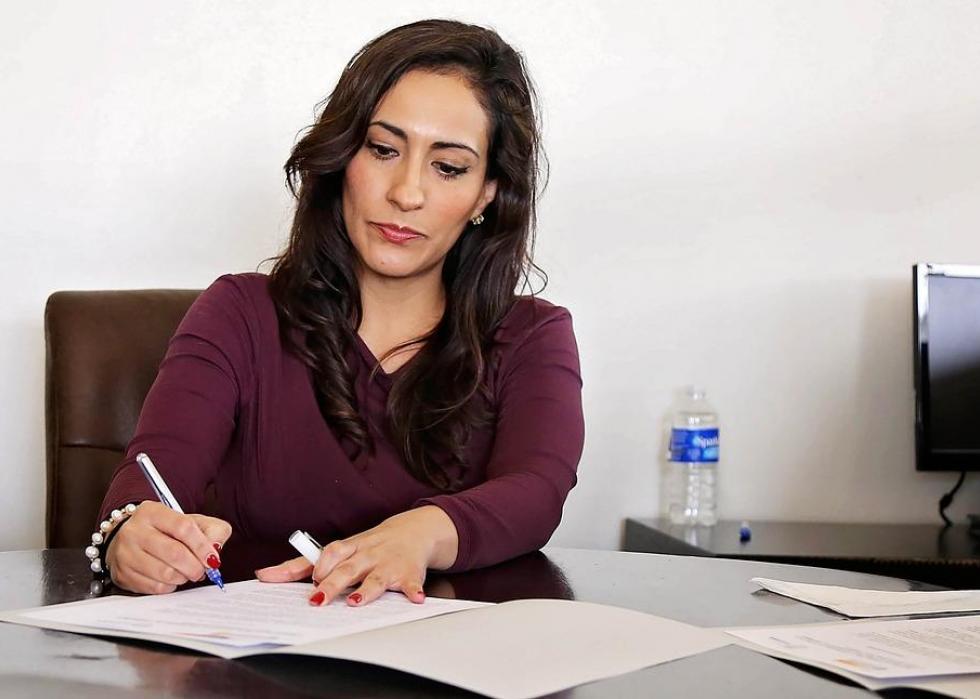 92 / 100
#9. Secretaries and Administrative Assistants, Except Legal, Medical, and Executive
Total workers in 2017: 2,254,820
Average annual wage: $36,920
Average hourly wage: $17.75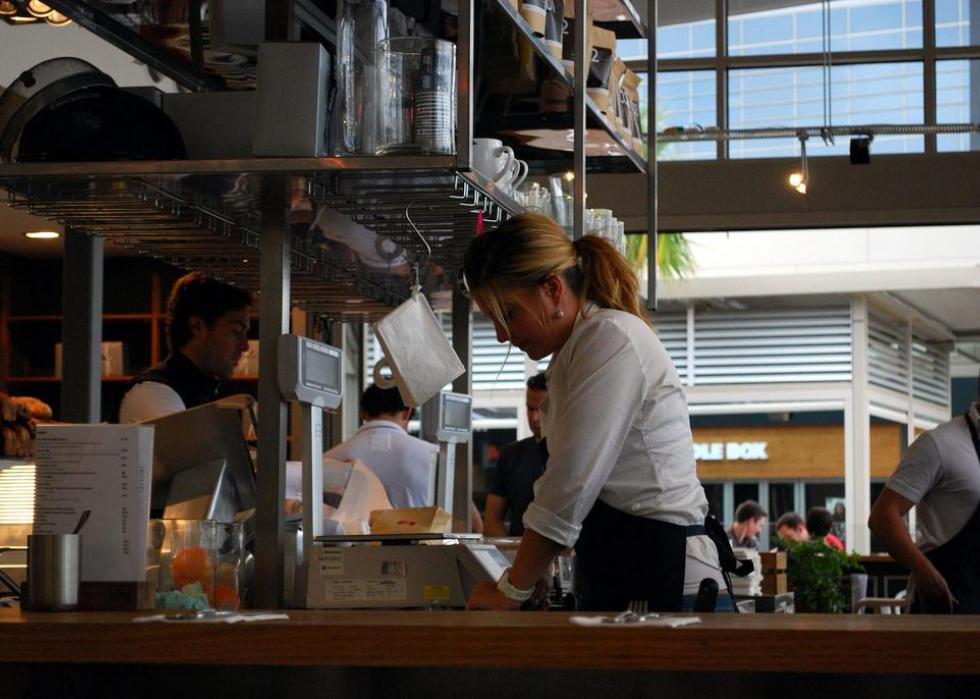 93 / 100
#8. Waiters and Waitresses
Total workers in 2017: 2,584,220
Average annual wage: $25,280
Average hourly wage: $12.15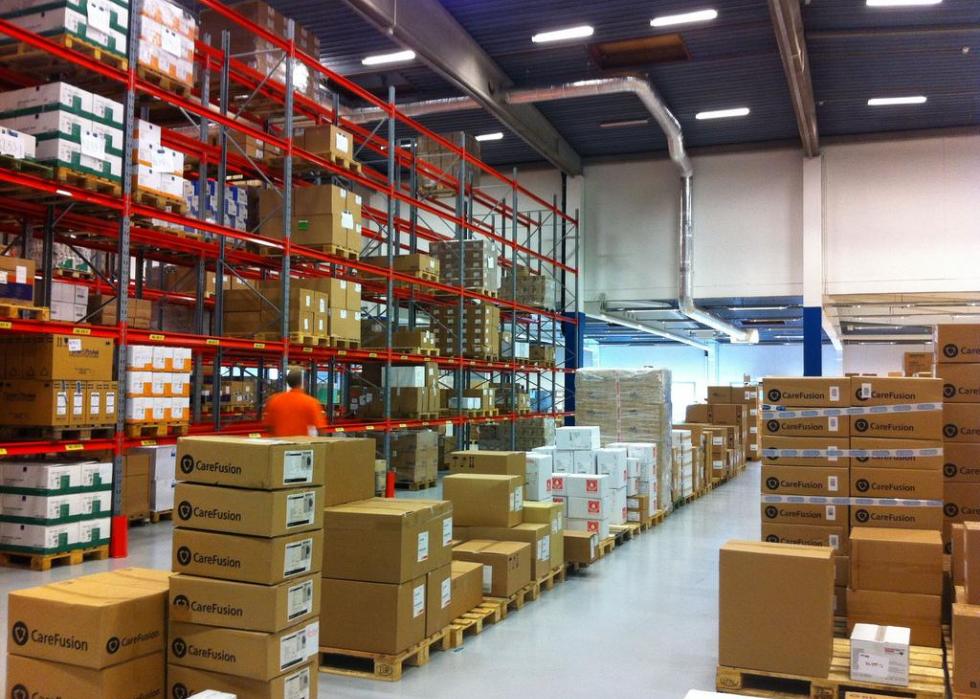 94 / 100
#7. Laborers and Freight, Stock, and Material Movers, Hand
Total workers in 2017: 2,711,320
Average annual wage: $29,690
Average hourly wage: $14.28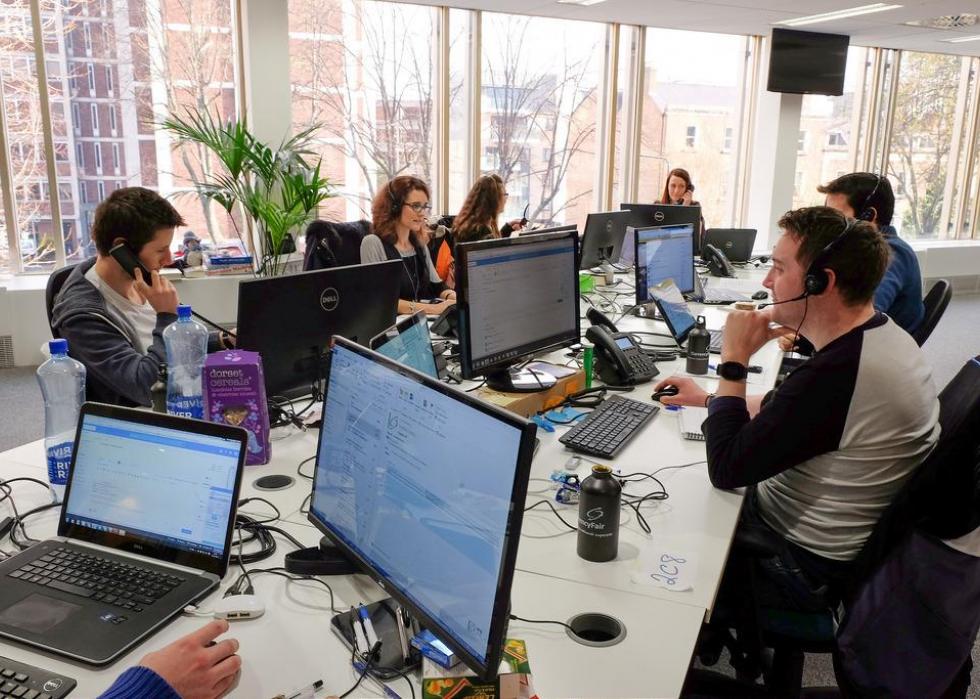 95 / 100
#6. Customer Service Representatives
Total workers in 2017: 2,767,790
Average annual wage: $35,650
Average hourly wage: $17.14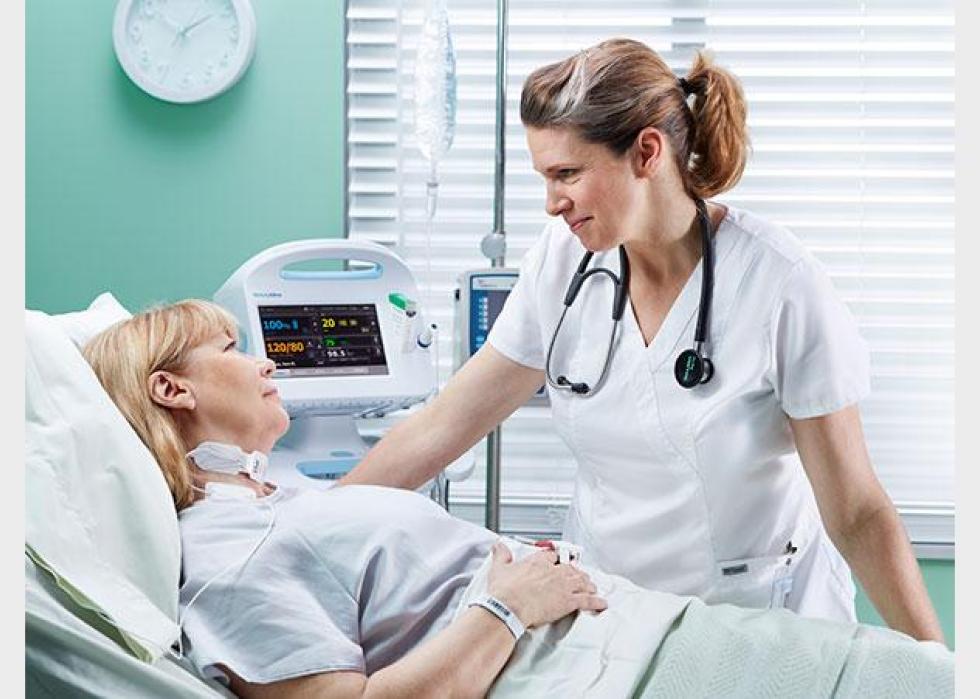 96 / 100
Rebecca20162393 // WIkicommons
#5. Registered Nurses
Total workers in 2017: 2,906,840
Average annual wage: $73,550
Average hourly wage: $35.36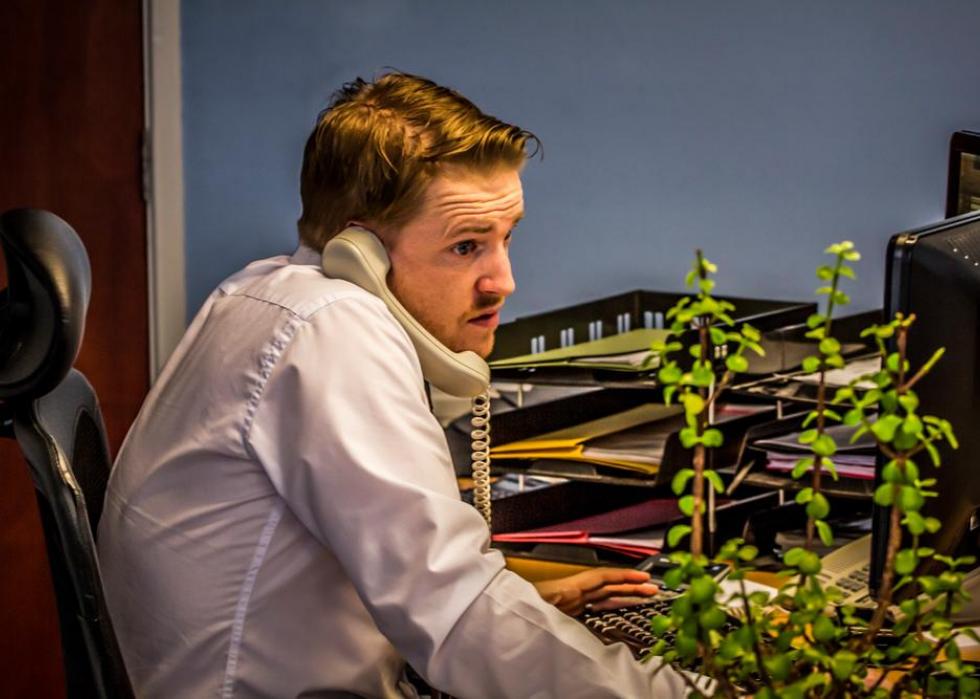 97 / 100
#4. Office Clerks, General
Total workers in 2017: 2,967,620
Average annual wage: $33,910
Average hourly wage: $16.30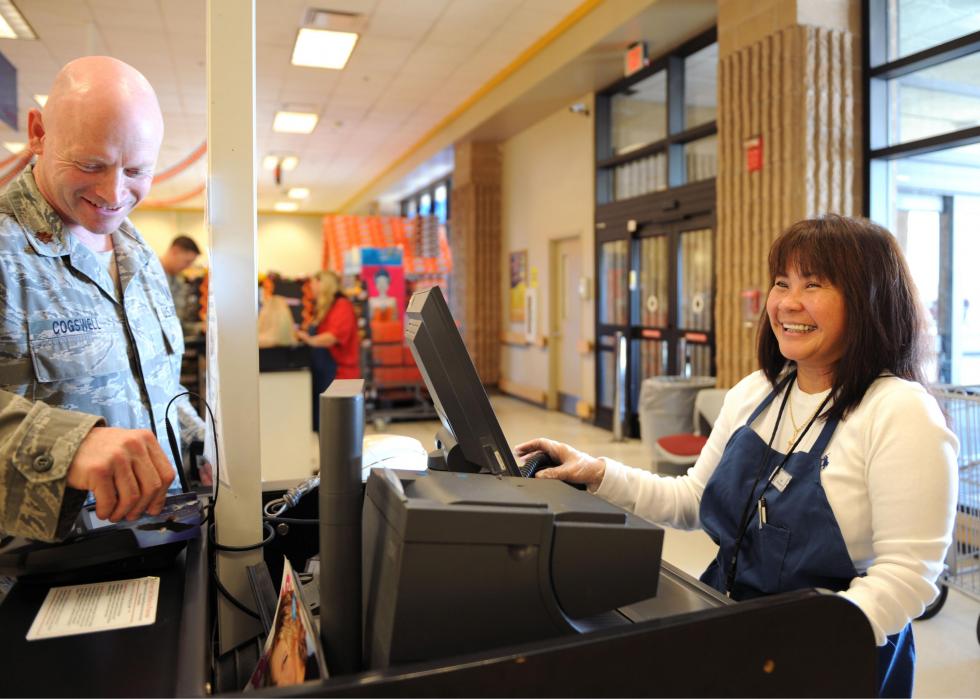 98 / 100
Airman 1st Class Saphfire Cook // U.S. Air Force photo
#3. Cashiers
Total workers in 2017: 3,564,920
Average annual wage: $22,130
Average hourly wage: $10.64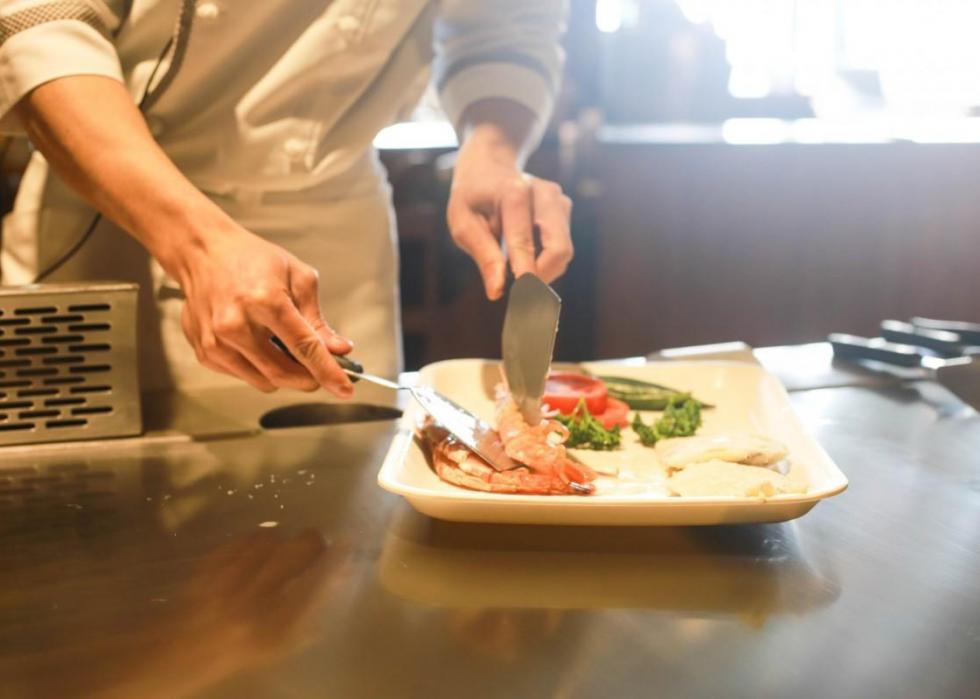 99 / 100
#2. Combined Food Preparation and Serving Workers, Including Fast Food
Total workers in 2017: 3,576,220
Average annual wage: $21,230
Average hourly wage: $10.21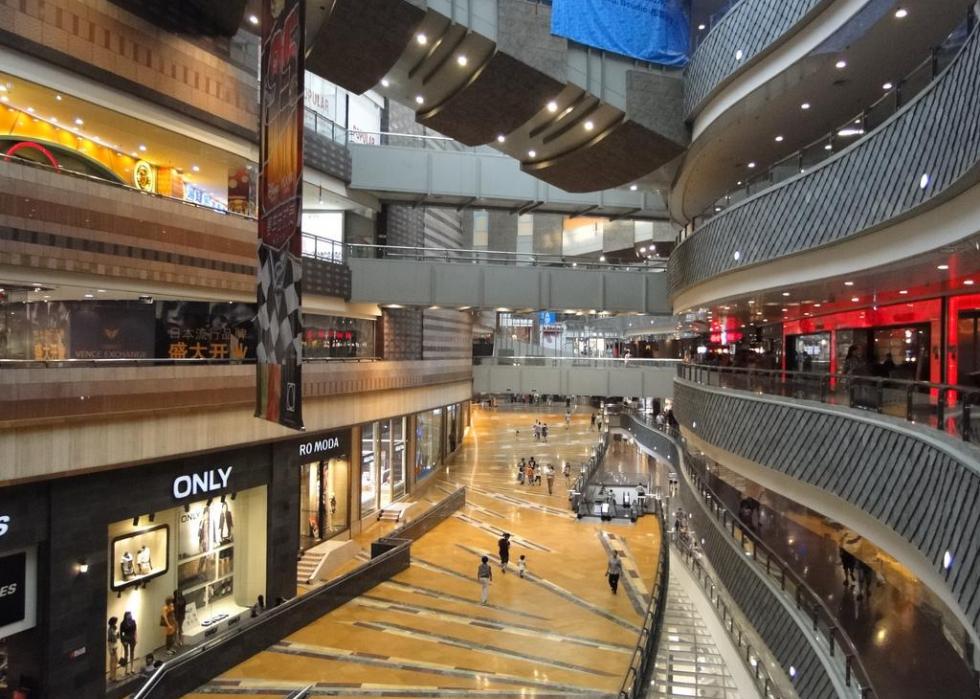 100 / 100
Dimitris Argyris // flickr
#1. Retail Salespersons
Total workers in 2017: 4,442,090
Average annual wage: $27,460
Average hourly wage: $13.20