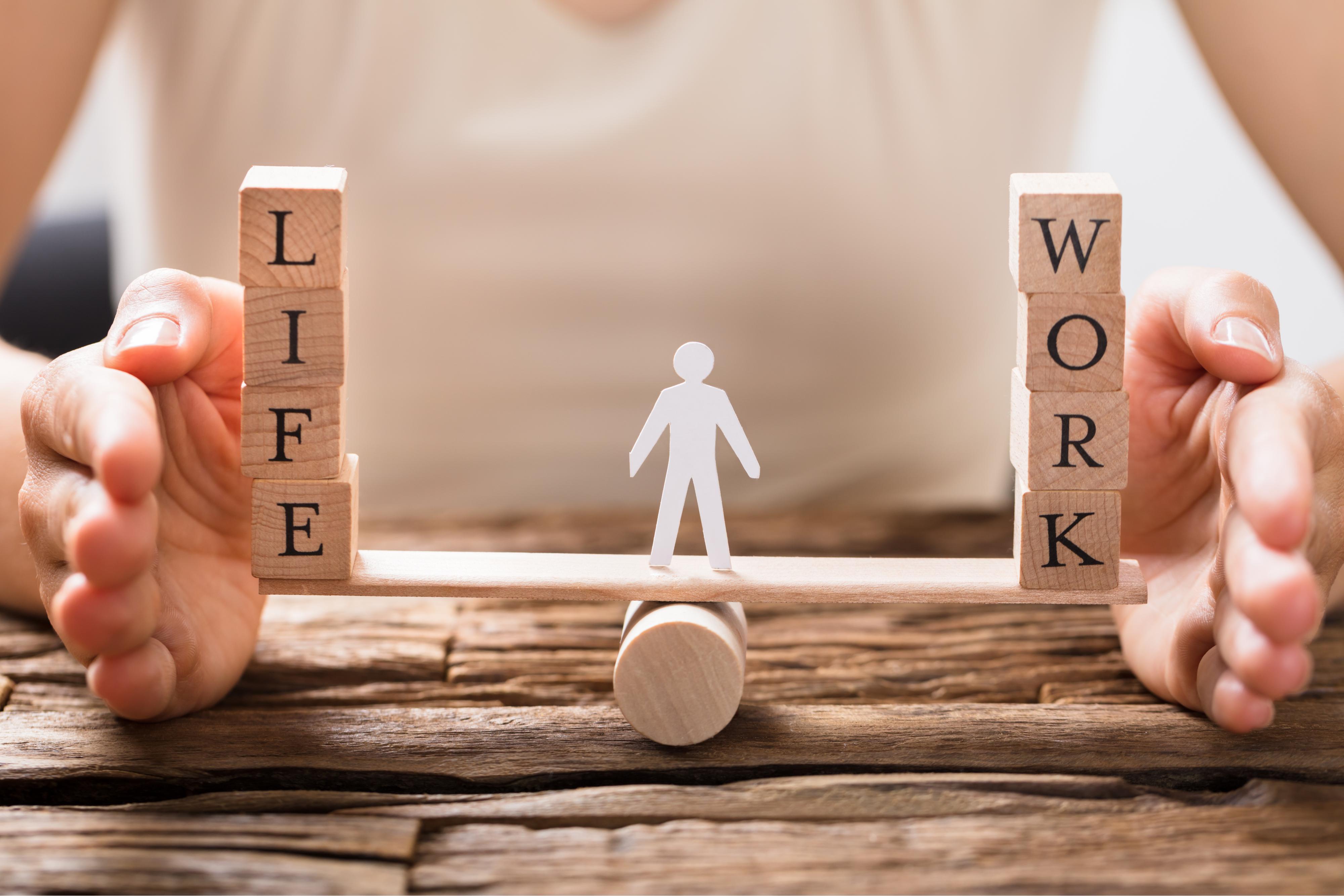 Places where people work the longest hours
Andrey_Popov // Shutterstock
Places where people work the longest hours
The 40-hour workweek most Americans schedule their lives around came about after centuries of fighting by labor activists, unions, and everyday workers who wanted to divide their day into three equal parts: work, sleep, and leisure. By 1940, Congress amended the Fair Labor Standards Act making the eight-hour workday the legal standard in most industries.
That doesn't mean the 40-hour-workweek is a reality for all, or even most, U.S. workers. Since the 2000s, the average workweek in the country has slowly gotten longer, with Americans of prime working age clocking 7.8% more hours than they might have 40 years ago. Economists have offered a variety of explanations for this increase, ranging from the country's high level of income inequality, forcing people to work longer hours to make ends meet or get ahead, to 21st-century jobs just being more interesting and time-consuming. But longer hours don't necessarily translate to increased productivity; studies have shown that most people spend about three hours of their workday actually working.
Though companies like Amazon are experimenting with 30-hour workweeks, it seems most Americans will be spending more time at work. For some jobs, these long workdays already are the norm. To determine the cities where workers are clocking the most hours, Stacker used updated September 2018 data from the 2017 U.S. Census and American Community Survey. Only U.S. metro areas, defined as urban centers with a population greater than 50,000, were considered. Cities were then ranked by lowest to highest average hours worked.
Read on to see if your city is on the list and find out which North Carolina city's workers regularly put in 45-hour work weeks.
You might also like: Places where people work the shortest hours
#50. Atlanta-Sandy Springs-Roswell, GA Metro Area
- Avg. hours worked per week: 39.7 (male: 42; female: 37.3)
- Percent above national avg.: 2.27% (male: 2.14%, female: 2.95%)
- Median yearly income: $65,381
- Median monthly housing costs: $1,206
Top industries: Educational services, and health care and social assistance; professional, scientific, and management, and administrative and waste management services; retail trade
#42. Virginia Beach-Norfolk-Newport News, VA-NC Metro Area (tie)
- Avg. hours worked per week: 39.8 (male: 42.6; female: 36.7)
- Percent above national avg.: 2.51% (male: 3.52%, female: 1.36%)
- Median yearly income: $64,255
- Median monthly housing costs: $1,363
Top industries: Educational services, and health care and social assistance; professional, scientific, and management, and administrative and waste management services; retail trade
#42. Shreveport-Bossier City, LA Metro Area (tie)
- Avg. hours worked per week: 39.8 (male: 42.8; female: 36.9)
- Percent above national avg.: 2.51% (male: 3.97%, female: 1.9%)
- Median yearly income: $38,627
- Median monthly housing costs: $718
Top industries: Educational services, and health care and social assistance; retail trade; arts, entertainment, and recreation, and accommodation and food services
#42. Russellville, AR Micro Area (tie)
- Avg. hours worked per week: 39.8 (male: 41.7; female: 37.4)
- Percent above national avg.: 2.51% (male: 1.44%, female: 3.21%)
- Median yearly income: $44,839
- Median monthly housing costs: $628
Top industries: Educational services, and health care and social assistance; manufacturing; retail trade
#42. Minot, ND Micro Area (tie)
- Avg. hours worked per week: 39.8 (male: 42.5; female: 36.4)
- Percent above national avg.: 2.51% (male: 3.29%, female: 0.55%)
- Median yearly income: $63,310
- Median monthly housing costs: $852
Top industries: Educational services, and health care and social assistance; retail trade; arts, entertainment, and recreation, and accommodation and food services
#42. Lake Charles, LA Metro Area (tie)
- Avg. hours worked per week: 39.8 (male: 42.9; female: 36.3)
- Percent above national avg.: 2.51% (male: 4.2%, female: 0.28%)
- Median yearly income: $52,314
- Median monthly housing costs: $690
Top industries: Educational services, and health care and social assistance; arts, entertainment, and recreation, and accommodation and food services; manufacturing
#42. Hermiston-Pendleton, OR Micro Area (tie)
- Avg. hours worked per week: 39.8 (male: 42.1; female: 36.9)
- Percent above national avg.: 2.51% (male: 2.38%, female: 1.9%)
- Median yearly income: $51,705
- Median monthly housing costs: $936
Top industries: Educational services, and health care and social assistance; retail trade; agriculture, forestry, fishing and hunting, and mining
#42. Crestview-Fort Walton Beach-Destin, FL Metro Area (tie)
- Avg. hours worked per week: 39.8 (male: 41.9; female: 37.1)
- Percent above national avg.: 2.51% (male: 1.91%, female: 2.43%)
- Median yearly income: $59,619
- Median monthly housing costs: $1,058
Top industries: Educational services, and health care and social assistance; arts, entertainment, and recreation, and accommodation and food services; professional, scientific, and management, and administrative and waste management services
#42. Austin-Round Rock, TX Metro Area (tie)
- Avg. hours worked per week: 39.8 (male: 42; female: 37.1)
- Percent above national avg.: 2.51% (male: 2.14%, female: 2.43%)
- Median yearly income: $73,800
- Median monthly housing costs: $1,467
Top industries: Educational services, and health care and social assistance; professional, scientific, and management, and administrative and waste management services; arts, entertainment, and recreation, and accommodation and food services
#40. Sumter, SC Metro Area (tie)
- Avg. hours worked per week: 39.9 (male: 42.1; female: 37.6)
- Percent above national avg.: 2.76% (male: 2.38%, female: 3.72%)
- Median yearly income: $45,585
- Median monthly housing costs: $624
Top industries: Educational services, and health care and social assistance; manufacturing; retail trade
#40. Roswell, NM Micro Area (tie)
- Avg. hours worked per week: 39.9 (male: 42.2; female: 37.2)
- Percent above national avg.: 2.76% (male: 2.61%, female: 2.69%)
- Median yearly income: $44,899
- Median monthly housing costs: $539
Top industries: data not available
#35. Yuma, AZ Metro Area (tie)
- Avg. hours worked per week: 40 (male: 42.9; female: 36.1)
- Percent above national avg.: 3% (male: 4.2%, female: -0.28%)
- Median yearly income: $46,798
- Median monthly housing costs: $730
Top industries: Educational services, and health care and social assistance; retail trade; arts, entertainment, and recreation, and accommodation and food services
#35. Tyler, TX Metro Area (tie)
- Avg. hours worked per week: 40 (male: 42.5; female: 37.5)
- Percent above national avg.: 3% (male: 3.29%, female: 3.47%)
- Median yearly income: $54,339
- Median monthly housing costs: $786
Top industries: Educational services, and health care and social assistance; retail trade; arts, entertainment, and recreation, and accommodation and food services
#35. Moses Lake, WA Micro Area (tie)
- Avg. hours worked per week: 40 (male: 42.9; female: 36.4)
- Percent above national avg.: 3% (male: 4.2%, female: 0.55%)
- Median yearly income: $58,644
- Median monthly housing costs: $972
Top industries: Agriculture, forestry, fishing and hunting, and mining; educational services, and health care and social assistance; manufacturing
#35. Meridian, MS Micro Area (tie)
- Avg. hours worked per week: 40 (male: 42.8; female: 37)
- Percent above national avg.: 3% (male: 3.97%, female: 2.16%)
- Median yearly income: $41,594
- Median monthly housing costs: $519
Top industries: data not available
#35. Corpus Christi, TX Metro Area (tie)
- Avg. hours worked per week: 40 (male: 42.3; female: 37.3)
- Percent above national avg.: 3% (male: 2.84%, female: 2.95%)
- Median yearly income: $52,193
- Median monthly housing costs: $821
Top industries: Educational services, and health care and social assistance; retail trade; arts, entertainment, and recreation, and accommodation and food services
#29. Twin Falls, ID Micro Area (tie)
- Avg. hours worked per week: 40.1 (male: 44.6; female: 34.9)
- Percent above national avg.: 3.24% (male: 7.85%, female: -3.72%)
- Median yearly income: $51,460
- Median monthly housing costs: $890
Top industries: Educational services, and health care and social assistance; manufacturing; retail trade
#29. Talladega-Sylacauga, AL Micro Area (tie)
- Avg. hours worked per week: 40.1 (male: 42.4; female: 37.3)
- Percent above national avg.: 3.24% (male: 3.07%, female: 2.95%)
- Median yearly income: $40,621
- Median monthly housing costs: $539
Top industries: data not available
#29. Lufkin, TX Micro Area (tie)
- Avg. hours worked per week: 40.1 (male: 43.7; female: 36.2)
- Percent above national avg.: 3.24% (male: 5.95%, female: 0%)
- Median yearly income: $45,326
- Median monthly housing costs: $689
Top industries: Educational services, and health care and social assistance; retail trade; manufacturing
#29. Dallas-Fort Worth-Arlington, TX Metro Area (tie)
- Avg. hours worked per week: 40.1 (male: 42.1; female: 37.6)
- Percent above national avg.: 3.24% (male: 2.38%, female: 3.72%)
- Median yearly income: $67,382
- Median monthly housing costs: $1,297
Top industries: Educational services, and health care and social assistance; professional, scientific, and management, and administrative and waste management services; retail trade
#29. Bismarck, ND Metro Area (tie)
- Avg. hours worked per week: 40.1 (male: 43.1; female: 36.7)
- Percent above national avg.: 3.24% (male: 4.64%, female: 1.36%)
- Median yearly income: $66,087
- Median monthly housing costs: $1,009
Top industries: Educational services, and health care and social assistance; retail trade; public administration
#29. Beckley, WV Metro Area (tie)
- Avg. hours worked per week: 40.1 (male: 42.3; female: 37.7)
- Percent above national avg.: 3.24% (male: 2.84%, female: 3.98%)
- Median yearly income: $42,493
- Median monthly housing costs: $497
Top industries: Educational services, and health care and social assistance; retail trade; arts, entertainment, and recreation, and accommodation and food services
#25. Tullahoma-Manchester, TN Micro Area (tie)
- Avg. hours worked per week: 40.2 (male: 43.7; female: 36)
- Percent above national avg.: 3.48% (male: 5.95%, female: -0.56%)
- Median yearly income: $48,256
- Median monthly housing costs: $660
Top industries: Manufacturing; educational services, and health care and social assistance; retail trade
#25. Lafayette, LA Metro Area (tie)
- Avg. hours worked per week: 40.2 (male: 44; female: 36.3)
- Percent above national avg.: 3.48% (male: 6.59%, female: 0.28%)
- Median yearly income: $47,848
- Median monthly housing costs: $714
Top industries: Educational services, and health care and social assistance; retail trade; arts, entertainment, and recreation, and accommodation and food services
#25. Houston-The Woodlands-Sugar Land, TX Metro Area (tie)
- Avg. hours worked per week: 40.2 (male: 42.4; female: 37.5)
- Percent above national avg.: 3.48% (male: 3.07%, female: 3.47%)
- Median yearly income: $63,802
- Median monthly housing costs: $1,213
Top industries: Educational services, and health care and social assistance; professional, scientific, and management, and administrative and waste management services; retail trade
#25. Grand Island, NE Metro Area (tie)
- Avg. hours worked per week: 40.2 (male: 42.8; female: 37.2)
- Percent above national avg.: 3.48% (male: 3.97%, female: 2.69%)
- Median yearly income: $60,116
- Median monthly housing costs: $822
Top industries: Educational services, and health care and social assistance
#24. Columbus, IN Metro Area
- Avg. hours worked per week: 40.3 (male: 42.5; female: 37.6)
- Percent above national avg.: 3.72% (male: 3.29%, female: 3.72%)
- Median yearly income: $61,533
- Median monthly housing costs: $835
Top industries: data not available
#22. Sherman-Denison, TX Metro Area (tie)
- Avg. hours worked per week: 40.4 (male: 42.6; female: 37.9)
- Percent above national avg.: 3.96% (male: 3.52%, female: 4.49%)
- Median yearly income: $56,718
- Median monthly housing costs: $714
Top industries: Educational services, and health care and social assistance; manufacturing; retail trade
#22. Pinehurst-Southern Pines, NC Micro Area (tie)
- Avg. hours worked per week: 40.4 (male: 43.7; female: 36.9)
- Percent above national avg.: 3.96% (male: 5.95%, female: 1.9%)
- Median yearly income: $64,184
- Median monthly housing costs: $903
Top industries: data not available
#19. Hammond, LA Metro Area (tie)
- Avg. hours worked per week: 40.5 (male: 42.8; female: 38.2)
- Percent above national avg.: 4.2% (male: 3.97%, female: 5.24%)
- Median yearly income: $44,861
- Median monthly housing costs: $692
Top industries: Educational services, and health care and social assistance; retail trade; arts, entertainment, and recreation, and accommodation and food services
#19. Fayetteville, NC Metro Area (tie)
- Avg. hours worked per week: 40.5 (male: 43.5; female: 37.1)
- Percent above national avg.: 4.2% (male: 5.52%, female: 2.43%)
- Median yearly income: $44,757
- Median monthly housing costs: $914
Top industries: Educational services, and health care and social assistance; retail trade; arts, entertainment, and recreation, and accommodation and food services
#19. Columbus, GA-AL Metro Area (tie)
- Avg. hours worked per week: 40.5 (male: 43.3; female: 37.2)
- Percent above national avg.: 4.2% (male: 5.08%, female: 2.69%)
- Median yearly income: $43,051
- Median monthly housing costs: $865
Top industries: Educational services, and health care and social assistance; retail trade; arts, entertainment, and recreation, and accommodation and food services
#15. Cheyenne, WY Metro Area (tie)
- Avg. hours worked per week: 40.6 (male: 43.6; female: 37.2)
- Percent above national avg.: 4.43% (male: 5.73%, female: 2.69%)
- Median yearly income: $61,961
- Median monthly housing costs: $1,107
Top industries: Educational services, and health care and social assistance; retail trade; public administration
#15. Casper, WY Metro Area (tie)
- Avg. hours worked per week: 40.6 (male: 43.2; female: 37.6)
- Percent above national avg.: 4.43% (male: 4.86%, female: 3.72%)
- Median yearly income: $60,546
- Median monthly housing costs: $962
Top industries: Educational services, and health care and social assistance; retail trade; professional, scientific, and management, and administrative and waste management services
#15. Athens, TX Micro Area (tie)
- Avg. hours worked per week: 40.6 (male: 42.6; female: 38.4)
- Percent above national avg.: 4.43% (male: 3.52%, female: 5.73%)
- Median yearly income: $44,971
- Median monthly housing costs: $633
Top industries: data not available
#15. Anchorage, AK Metro Area (tie)
- Avg. hours worked per week: 40.6 (male: 43.6; female: 37.1)
- Percent above national avg.: 4.43% (male: 5.73%, female: 2.43%)
- Median yearly income: $76,871
- Median monthly housing costs: $1,606
Top industries: Educational services, and health care and social assistance; retail trade; arts, entertainment, and recreation, and accommodation and food services
#14. Killeen-Temple, TX Metro Area
- Avg. hours worked per week: 40.7 (male: 43.4; female: 37.6)
- Percent above national avg.: 4.67% (male: 5.3%, female: 3.72%)
- Median yearly income: $53,303
- Median monthly housing costs: $1,001
Top industries: Educational services, and health care and social assistance; retail trade; public administration
#11. Warsaw, IN Micro Area (tie)
- Avg. hours worked per week: 40.8 (male: 43.9; female: 37)
- Percent above national avg.: 4.9% (male: 6.38%, female: 2.16%)
- Median yearly income: $63,463
- Median monthly housing costs: $795
Top industries: data not available
#11. Lawton, OK Metro Area (tie)
- Avg. hours worked per week: 40.8 (male: 43.6; female: 37.2)
- Percent above national avg.: 4.9% (male: 5.73%, female: 2.69%)
- Median yearly income: $50,702
- Median monthly housing costs: $817
Top industries: Educational services, and health care and social assistance; retail trade; arts, entertainment, and recreation, and accommodation and food services
#11. Anniston-Oxford-Jacksonville, AL Metro Area (tie)
- Avg. hours worked per week: 40.8 (male: 43.6; female: 38)
- Percent above national avg.: 4.9% (male: 5.73%, female: 4.74%)
- Median yearly income: $46,763
- Median monthly housing costs: $624
Top industries: Educational services, and health care and social assistance; manufacturing; retail trade
#10. Bremerton-Silverdale, WA Metro Area
- Avg. hours worked per week: 41 (male: 44.7, female: 36)
- Percent above national avg.: 5.37% (male: 8.05%, female: -0.56%)
- Median yearly income: $73,026
- Median monthly housing costs: $1,406
Top industries: Educational services, and health care and social assistance; professional, scientific, and management, and administrative and waste management services; public administration
#9. Watertown-Fort Drum, NY Metro Area
- Avg. hours worked per week: 41.1 (male: 44.6; female: 36.1)
- Percent above national avg.: 5.6% (male: 7.85%, female: -0.28%)
- Median yearly income: $47,101
- Median monthly housing costs: $794
Top industries: Educational services, and health care and social assistance; retail trade; public administration
#7. Houma-Thibodaux, LA Metro Area (tie)
- Avg. hours worked per week: 41.3 (male: 45.2; female: 37)
- Percent above national avg.: 6.05% (male: 9.07%, female: 2.16%)
- Median yearly income: $47,069
- Median monthly housing costs: $566
Top industries: Educational services, and health care and social assistance; retail trade; agriculture, forestry, fishing and hunting, and mining
#7. Clarksville, TN-KY Metro Area (tie)
- Avg. hours worked per week: 41.3 (male: 45.2; female: 36.3)
- Percent above national avg.: 6.05% (male: 9.07%, female: 0.28%)
- Median yearly income: $54,667
- Median monthly housing costs: $951
Top industries: Educational services, and health care and social assistance; retail trade; manufacturing
#6. San Angelo, TX Metro Area
- Avg. hours worked per week: 41.4 (male: 44.4; female: 38.2)
- Percent above national avg.: 6.28% (male: 7.43%, female: 5.24%)
- Median yearly income: $50,894
- Median monthly housing costs: $799
Top industries: Educational services, and health care and social assistance; construction; arts, entertainment, and recreation, and accommodation and food services
#4. Fairbanks, AK Metro Area (tie)
- Avg. hours worked per week: 41.5 (male: 44.3; female: 37.3)
- Percent above national avg.: 6.51% (male: 7.22%, female: 2.95%)
- Median yearly income: $76,747
- Median monthly housing costs: $1,491
Top industries: data not available
#4. Midland, TX Metro Area (tie)
- Avg. hours worked per week: 42.5 (male: 46.2; female: 36.9)
- Percent above national avg.: 8.71% (male: 11.04%, female: 1.9%)
- Median yearly income: $75,266
- Median monthly housing costs: $1,111
Top industries: Agriculture, forestry, fishing and hunting, and mining; educational services, and health care and social assistance; professional, scientific, and management, and administrative and waste management services
#3. Odessa, TX Metro Area
- Avg. hours worked per week: 43.2 (male: 47.5; female: 37.2)
- Percent above national avg.: 10.19% (male: 13.47%, female: 2.69%)
- Median yearly income: $55,380
- Median monthly housing costs: $769
Top industries: Educational services, and health care and social assistance; agriculture, forestry, fishing and hunting, and mining; retail trade
#2. Hinesville, GA Metro Area
- Avg. hours worked per week: 43.3 (male: 45.7; female: 40.4)
- Percent above national avg.: 10.39% (male: 10.07%, female: 10.4%)
- Median yearly income: $49,364
- Median monthly housing costs: $784
Top industries: data not available
#1. Jacksonville, NC Metro Area
- Avg. hours worked per week: 44.4 (male: 48.7; female: 37.3)
- Percent above national avg.: 12.61% (male: 15.61%, female: 2.95%)
- Median yearly income: $49,883
- Median monthly housing costs: $992
Top industries: Educational services, and health care and social assistance; retail trade; arts, entertainment, and recreation, and accommodation and food services