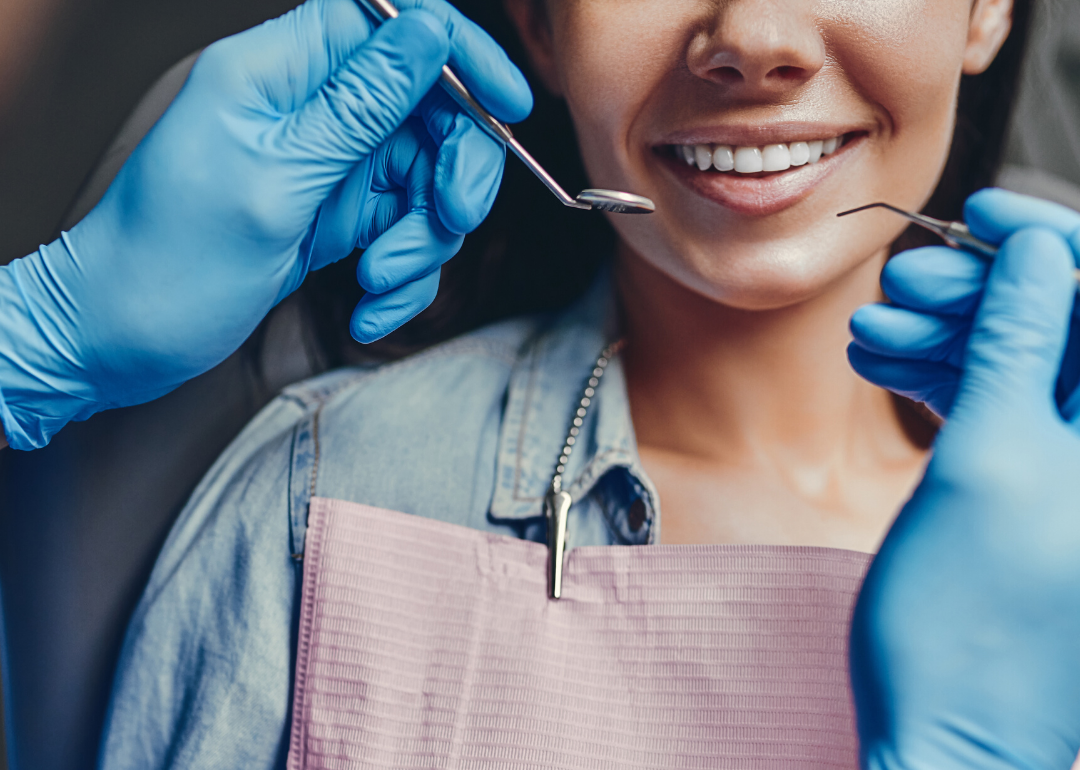 States where dentists make the most
4 PM production // Shutterstock
States where dentists make the most
The biannual routine of visiting the dentist is commonplace—sometimes even distressing, as the thought of the appointment can cause more pain than the procedures themselves. But maintaining clean teeth and gums is crucial to not only our oral hygiene but also to our overall health. According to Colgate Professional, gum disease alone can increase the risk of diabetes, stroke, or heart attack, and as the "window" to the rest of our bodies, our mouths are "a helpful vantage point for detecting the early signs and symptoms of systemic disease—a disease that affects or pertains to your entire body, not just one of its parts."
A few stats and trends speak to the necessity of our country's dentists and should come as no surprise then, according to the U.S. Bureau of Labor Statistics' Occupational Outlook Handbook: The projected dentist job growth rate from 2018–28 is 2% higher than all occupations; the field is ultra-competitive, as the number of dental program graduates rises; and the median salary as of 2018 is $156,240—a full $117,600 more than the average salary for all occupations.
Prospective dentists must complete several educational and training stages to earn these favorable salaries. After typically completing high school courses in sciences like biology and chemistry, they take the Dental Admission Test before earning a degree from an accredited program; by this time they will have accumulated sufficient clinical experience. Finally, in conjunction with a degree and having passed clinical and written exams, they can obtain a state license to practice.
Dentists' salaries depend greatly, in addition to experience and specialty, on location. Stacker compiled a list of the states where dentists make the most using data from BLS. States are ranked by mean annual wages for "Dentists, General" as of May 2018 (last modified September 2019). Vermont was not considered as BLS didn't have data for this state.
Read on to find out which Eastern state's median salary takes the #1 spot at over a quarter-million dollars.
#50. Louisiana
- Mean annual wage: $124,020
- Employment: 830
- Dentists per 1,000 workers: 0.432 (#50 highest rate among 49 states and D.C.)
#49. Wyoming
- Mean annual wage: $125,120
- Employment: 260
- Dentists per 1,000 workers: 0.982 (#7 highest rate among 49 states and D.C.)
#48. Nebraska
- Mean annual wage: $135,080
- Employment: 610
- Dentists per 1,000 workers: 0.625 (#36 highest rate among 49 states and D.C.)
#47. Utah
- Mean annual wage: $138,970
- Employment: 1,660
- Dentists per 1,000 workers: 1.139 (#1 highest rate among 49 states and D.C.)
#46. West Virginia
- Mean annual wage: $139,170
- Employment: 470
- Dentists per 1,000 workers: 0.676 (#31 highest rate among 49 states and D.C.)
#45. California
- Mean annual wage: $151,490
- Employment: 17,240
- Dentists per 1,000 workers: 1.013 (#5 highest rate among 49 states and D.C.)
#44. Maryland
- Mean annual wage: $151,950
- Employment: 2,720
- Dentists per 1,000 workers: 1.014 (#4 highest rate among 49 states and D.C.)
#43. Mississippi
- Mean annual wage: $153,810
- Employment: 700
- Dentists per 1,000 workers: 0.623 (#37 highest rate among 49 states and D.C.)
#42. Pennsylvania
- Mean annual wage: $153,950
- Employment: 3,540
- Dentists per 1,000 workers: 0.605 (#39 highest rate among 49 states and D.C.)
#41. Kentucky
- Mean annual wage: $154,230
- Employment: 910
- Dentists per 1,000 workers: 0.48 (#47 highest rate among 49 states and D.C.)
#40. Oklahoma
- Mean annual wage: $156,060
- Employment: 920
- Dentists per 1,000 workers: 0.576 (#42 highest rate among 49 states and D.C.)
#39. New York
- Mean annual wage: $164,520
- Employment: 8,700
- Dentists per 1,000 workers: 0.927 (#8 highest rate among 49 states and D.C.)
#38. Arkansas
- Mean annual wage: $165,480
- Employment: 810
- Dentists per 1,000 workers: 0.668 (#33 highest rate among 49 states and D.C.)
#37. Florida
- Mean annual wage: $167,270
- Employment: 6,840
- Dentists per 1,000 workers: 0.794 (#17 highest rate among 49 states and D.C.)
#36. New Jersey
- Mean annual wage: $169,990
- Employment: 3,670
- Dentists per 1,000 workers: 0.906 (#10 highest rate among 49 states and D.C.)
#35. Montana
- Mean annual wage: $170,260
- Employment: 480
- Dentists per 1,000 workers: 1.046 (#3 highest rate among 49 states and D.C.)
#34. Illinois
- Mean annual wage: $171,590
- Employment: 4,820
- Dentists per 1,000 workers: 0.804 (#16 highest rate among 49 states and D.C.)
#33. Alabama
- Mean annual wage: $171,900
- Employment: 1,160
- Dentists per 1,000 workers: 0.597 (#40 highest rate among 49 states and D.C.)
#32. Idaho
- Mean annual wage: $172,020
- Employment: 330
- Dentists per 1,000 workers: 0.467 (#48 highest rate among 49 states and D.C.)
#31. South Carolina
- Mean annual wage: $172,780
- Employment: 1,440
- Dentists per 1,000 workers: 0.697 (#27 highest rate among 49 states and D.C.)
#30. New Mexico
- Mean annual wage: $173,610
- Employment: 620
- Dentists per 1,000 workers: 0.768 (#20 highest rate among 49 states and D.C.)
#29. Colorado
- Mean annual wage: $174,930
- Employment: 2,330
- Dentists per 1,000 workers: 0.888 (#12 highest rate among 49 states and D.C.)
#28. Georgia
- Mean annual wage: $176,600
- Employment: 3,110
- Dentists per 1,000 workers: 0.708 (#25 highest rate among 49 states and D.C.)
#27. Massachusetts
- Mean annual wage: $177,410
- Employment: 3,160
- Dentists per 1,000 workers: 0.884 (#13 highest rate among 49 states and D.C.)
#26. Kansas
- Mean annual wage: $179,100
- Employment: 960
- Dentists per 1,000 workers: 0.697 (#27 highest rate among 49 states and D.C.)
#25. District of Columbia
- Mean annual wage: $183,630
- Employment: 350
- Dentists per 1,000 workers: 0.496 (#46 highest rate among 49 states and D.C.)
#24. Indiana
- Mean annual wage: $183,800
- Employment: 1,820
- Dentists per 1,000 workers: 0.597 (#40 highest rate among 49 states and D.C.)
#23. Washington
- Mean annual wage: $184,780
- Employment: 2,800
- Dentists per 1,000 workers: 0.858 (#15 highest rate among 49 states and D.C.)
#22. Texas
- Mean annual wage: $185,680
- Employment: 8,110
- Dentists per 1,000 workers: 0.67 (#32 highest rate among 49 states and D.C.)
#21. Tennessee
- Mean annual wage: $186,670
- Employment: 1,700
- Dentists per 1,000 workers: 0.574 (#43 highest rate among 49 states and D.C.)
#20. Arizona
- Mean annual wage: $186,870
- Employment: 2,520
- Dentists per 1,000 workers: 0.904 (#11 highest rate among 49 states and D.C.)
#19. Iowa
- Mean annual wage: $187,570
- Employment: 1,130
- Dentists per 1,000 workers: 0.735 (#24 highest rate among 49 states and D.C.)
#18. Oregon
- Mean annual wage: $190,690
- Employment: 1,980
- Dentists per 1,000 workers: 1.05 (#2 highest rate among 49 states and D.C.)
#17. Missouri
- Mean annual wage: $191,240
- Employment: 1,520
- Dentists per 1,000 workers: 0.544 (#45 highest rate among 49 states and D.C.)
#16. Hawaii
- Mean annual wage: $196,690
- Employment: 640
- Dentists per 1,000 workers: 1.004 (#6 highest rate among 49 states and D.C.)
#15. Ohio
- Mean annual wage: $197,150
- Employment: 3,330
- Dentists per 1,000 workers: 0.615 (#38 highest rate among 49 states and D.C.)
#14. Michigan
- Mean annual wage: $197,490
- Employment: 3,810
- Dentists per 1,000 workers: 0.883 (#14 highest rate among 49 states and D.C.)
#13. South Dakota
- Mean annual wage: $198,170
- Employment: 240
- Dentists per 1,000 workers: 0.57 (#44 highest rate among 49 states and D.C.)
#12. Virginia
- Mean annual wage: $199,870
- Employment: 2,990
- Dentists per 1,000 workers: 0.78 (#18 highest rate among 49 states and D.C.)
#11. Maine
- Mean annual wage: $203,920
- Employment: 470
- Dentists per 1,000 workers: 0.779 (#19 highest rate among 49 states and D.C.)
#10. Nevada
- Mean annual wage: $210,710
- Employment: 1,220
- Dentists per 1,000 workers: 0.907 (#9 highest rate among 49 states and D.C.)
#9. North Carolina
- Mean annual wage: $212,160
- Employment: 3,360
- Dentists per 1,000 workers: 0.767 (#21 highest rate among 49 states and D.C.)
#8. North Dakota
- Mean annual wage: $212,380
- Employment: 190
- Dentists per 1,000 workers: 0.459 (#49 highest rate among 49 states and D.C.)
#7. Wisconsin
- Mean annual wage: $213,210
- Employment: 1,930
- Dentists per 1,000 workers: 0.678 (#30 highest rate among 49 states and D.C.)
#6. Connecticut
- Mean annual wage: $213,390
- Employment: 1,160
- Dentists per 1,000 workers: 0.701 (#26 highest rate among 49 states and D.C.)
#5. New Hampshire
- Mean annual wage: $226,300
- Employment: 490
- Dentists per 1,000 workers: 0.747 (#23 highest rate among 49 states and D.C.)
#4. Minnesota
- Mean annual wage: $227,280
- Employment: 1,800
- Dentists per 1,000 workers: 0.627 (#35 highest rate among 49 states and D.C.)
#3. Rhode Island
- Mean annual wage: $254,190
- Employment: 340
- Dentists per 1,000 workers: 0.697 (#27 highest rate among 49 states and D.C.)
#2. Alaska
- Mean annual wage: $259,350
- Employment: 240
- Dentists per 1,000 workers: 0.764 (#22 highest rate among 49 states and D.C.)
#1. Delaware
- Mean annual wage: $264,440
- Employment: 280
- Dentists per 1,000 workers: 0.628 (#34 highest rate among 49 states and D.C.)