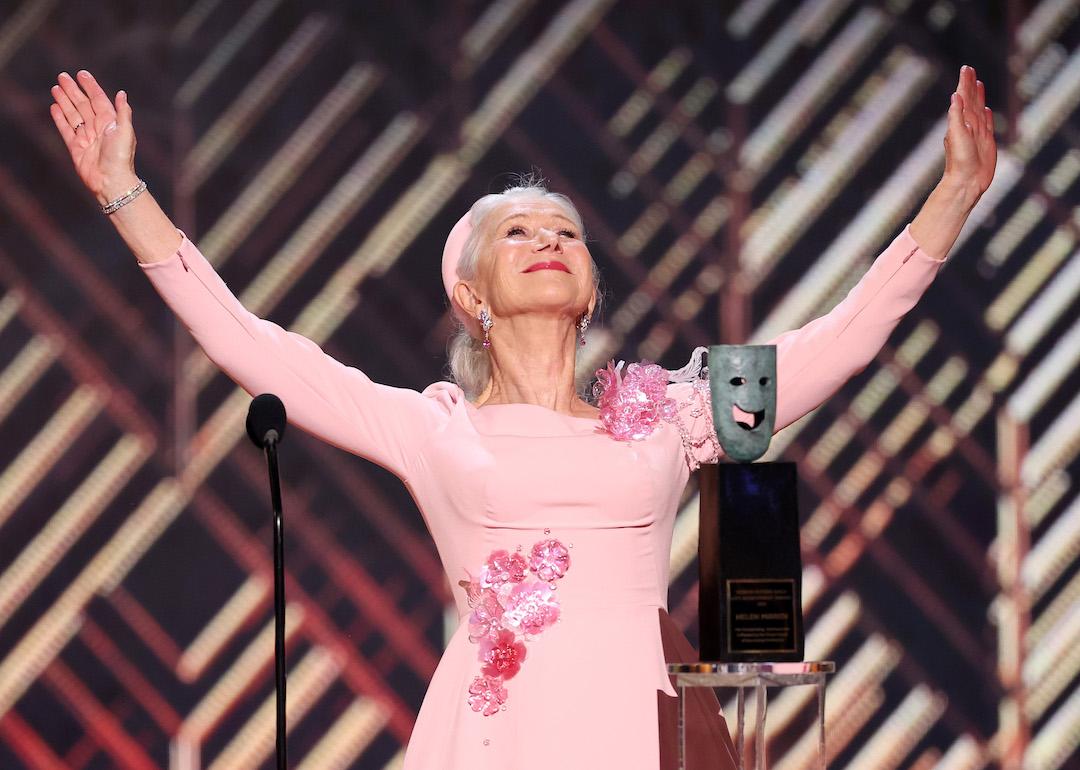 30 stars who hit their stride late in life
Rich Fury // Getty Images
30 stars who hit their stride late in life
People may frequently hear that it's never too late to pursue their goals. However, as many people approach midlife, it sometimes seems like the window of opportunity for fulfilling their dreams begins closing rapidly. But the world is full of people who didn't accomplish their goals or make it big until much later in life. Just look at celebrities, for example. Sure, there are the Justin Biebers of the world who were discovered by talent agents or hit the jackpot with a lucky YouTube video. But by and large, a more common success story in Hollywood comes from folks who achieved it the old-fashioned way: through hard work and perseverance. 
Ask anyone who's achieved significant success about their early days and most of them will tell you stories about suffering through grueling auditions, waking up early to write a screenplay, working on late-night business plans, bussing tables to afford headshots, or other dues they had to pay. On top of that, most of them at one point or another were told that their goals were crazy or just pipe dreams. Some of these people managed to prove others wrong right away. Others, however, had to wait until later in life—some in their 40s, 50s, and even 60s. Yet when they finally did, the success tasted all the more sweeter.
In an effort to honor these celebrities who didn't know the meaning of the phrase "to give up," Stacker has put together a slideshow of 30 stars who didn't achieve major success until later in life. Although many of these people had been working at their craft for years, none of them had a big breakthrough until midlife, most of them not until they were at least 40 years old. Take a look at their stories to gain some inspiration and for a reminder that it really is never too late. 
You may also like: Late bloomers in sports
#1. Liam Neeson
Liam Neeson worked primarily as a stage actor in the late 1970s and '80s, though he had a few roles in films such as "The Bounty" with Mel Gibson and Anthony Hopkins. However, it wasn't until his breakout role as the title character in Steven Spielberg's 1993 drama "Schindler's List"—released when Neeson was 42—that he became a serious name in Hollywood.
#2. Betty White
Given the strong association with the beloved, ditzy character Rose that she played on the hit TV show "The Golden Girls," many people forget that Betty White had a career before that. However, it didn't begin in full force until the actor was 51, when she played the role of Sue Ann on "The Mary Tyler Moore Show." In the 21st century, she became known for her extraordinary youthfulness that has inspired internet memes and given her a cult following among millennials. She died on New Year's Eve 2021, just a few weeks before her 100th birthday.
#3. Toni Morrison
Award-winning author Toni Morrison spent the first part of her life working as an English professor and editor at Random House publishing. During this time she used to wake up at 4 a.m. to write fiction, she told The Guardian, meeting regularly with writer's groups at Howard University.
In 1970, when she was almost 40 years old, she published her first novel "The Bluest Eye." Over the next decade and a half she gained increasing recognition, winning several book awards, but it was 1987's "Beloved" that turned her into a world-renowned celebrity at age 56. The first book in Morrison's unofficial-if-self-described trilogy (which also includes "Jazz" and "Paradise") spent 25 weeks on the best-seller list and the third one earned her the Nobel Prize in Literature—making her the first African American to ever win the award. The author died in 2019 at 88 years old.
#4. Bryan Cranston
Bryan Cranston didn't get his first major breakout role until he played Hal on "Malcolm in the Middle," a Fox TV show that aired in 2000 when Cranston was 43—already a late bloomer. But it was really the AMC smash hit "Breaking Bad," which launched when he was 51, that made his career soar to new heights. Cranston played the infamous Walter White, a chemistry teacher who sold drugs and descended into darkness.
#5. Jane Lynch
Jane Lynch was 40 before she became a cult film star for her role as Christy Cummings in Christopher Guest's 2000 mockumentary "Best in Show," and almost 50 before gaining widespread recognition for her role in "Glee," the Fox TV show where she played high school cheerleading coach Sue Sylvester. When asked what she knows now that she wishes she'd known when she was younger, she told the Huffington Post: "I know now that whatever is right in front of me is exactly where I am supposed to be. I was always afraid that the parade was passing me by—so much so that I would miss out on what was great about the moment I was in."
#6. Ang Lee
Today, Taiwanese director Ang Lee is a huge name in Hollywood as the creative genius behind films such as "Brokeback Mountain," "Crouching Tiger, Hidden Dragon," and "Life of Pi." But it wasn't always that way. Lee was 41 before he made his first English-language film, "Sense and Sensibility," and 45 before "Crouching Tiger" was nominated for 10 Academy Awards.
#7. Helen Mirren
British actor Helen Mirren was a well-recognized name in theater early in life, but her face was hardly known to the rest of the world. In the 1980s, she dabbled in films and television, but her breakout TV role didn't come until she was in her mid-40s and played Jane Tennison in the British TV series "Prime Suspect."
She was nominated for Oscars in 1994 and 2001, and then reached mega-celebrity status at age 61 when she starred in the 2006 drama "The Queen," winning an Oscar for Best Actress and achieving the "Triple Crown of Acting" (Tony, Emmy, and an Oscar). A palm reader predicted her future when she was young, according to Mirren: "He said, 'You will have success in your life—you will be very successful—but you won't reach your pinnacle of success until later on in your life, after you're 40 ... and he was right."
#8. Morgan Freeman
The fact that Morgan Freeman has been so wildly successful for 30 years makes it easy to forget that the Tennessee native was 50 when it all started. That was the year he was nominated for an Oscar for "Street Smart"—an honor that preceded his Oscar nomination and Golden Globe win two years later for "Driving Miss Daisy." In total, Freeman has been nominated for five Oscars, winning in 2004 for "Million Dollar Baby."
#9. Ricky Gervais
The original British version of Ricky Gervais' hit TV show "The Office" didn't air until he was 40 years old; the more successful American version, which truly made him a star on a global level, was released when he was 44. After that, however, it was swift success as the comedian continued riding the wave from the show.
#10. Judi Dench
Similarly to Helen Mirren, British actor Judi Dench was enormously successful for her stage work, but relatively unknown outside that arena until later in life when she played M, the head of the Secret Intelligence Service, in 1995's James Bond film "Goldeneye." She was 60 at the time. After that, Dench shot to fame, receiving seven Academy Award nominations and winning for Best Supporting Actress at age 64.
#11. Ellen DeGeneres
The famous daytime talk show host didn't launch "The Ellen DeGeneres Show"—the vehicle that brought her global fame and wealth—until she was 45 years old. Before that, she was well-known in the United States for her sitcom "Ellen," in which she played the first openly gay character in primetime history. However, even that show didn't air its first episode until 1998, when the comedian was 36.
#12. Lucille Ball
Lucille Ball is another comedian who's been a household name for so long that it seems hard to believe there was ever a time when she wasn't famous. But Ball didn't star in "I Love Lucy" until she was 40 years old. She quickly made up for lost time, however, earning 13 Emmy Award nominations, four of which she won, and a Governor's Award.
#13. Stan Lee
It may come as a surprise, but prolific comic book creator Stan Lee, the man largely responsible for the entire Marvel Comics universe, didn't produce his first "Fantastic Four" comic until he was 38 years old. First, he spent more than 10 years mostly failing and coming close to quitting. "Stan Lee was ready to give up on writing comic books in 1960—after 20 years in the business—when his wife, famously, urged him to try writing one that he would like," wrote Brian Lowry for CNN. "The result was Fantastic Four."
#14. Vera Wang
Vera Wang had a completely different life prior to becoming a world-famous fashion designer—two of them, in fact. First, she was an ice skater with her eyes set on the Olympics. However, she failed to land a spot on the 1968 U.S. Olympic team and shifted to journalism, where she spent most of her 20s and 30s as an editor at Vogue. At age 40, she found her true calling when she designed her own wedding dress, launching what would become a long and successful career as an independent bridal designer.
#15. Ridley Scott
Ridley Scott was virtually unknown in the public eye for the first 40 years of his life. The famous director didn't produce his first feature film, "The Duelists," until August of 1977 when he was just shy of 40. It was almost two years after that when he released his breakout sci-fi smash hit "Alien," a film that would jumpstart his career as one of Hollywood's leading directors.
#16. Viola Davis
Viola Davis has spent more than 30 years acting in about 75 roles; however, most of them were supporting roles until about eight years ago when her career began skyrocketing. Catapulting her into the headlines was "The Help," a 2011 film that was released just a few days before her 45th birthday and earned her both Academy and Golden Globe nominations.
In 2014, she began playing the role of Annalise Keating in the ABC drama "How To Get Away With Murder," and in 2017 she became the first African American to ever achieve the Triple Crown of Acting.
#17. Peter Dinklage
Peter Dinklage had parts in more than 30 movies and over a dozen TV shows before being cast in "Game Of Thrones"—he'd even been nominated for a Screen Actors Guild Award. However, nothing came close to the kind of international fame he achieved almost instantly in 2011 when he appeared on the role of Tyrion Lannister in the hit HBO show. He was 41 when the series launched, and now he is at the height of his career.
#18. Kathy Bates
Kath Bates was 42 years old when the movie adaptation of Stephen King's horror novel "Misery" was released. The Tennessee-born actor had achieved theater success—winning a Tony Award in 1983—and also appeared in film and TV roles. But the 1990 horror film, which earned her an Oscar for Best Actress, is what set her on the road to stardom and paved the way for her parts in blockbusters like "Fried Green Tomatoes" and "Titanic."
#19. Regis Philbin
Regis Philbin spent more than two decades as one of daytime television's most recognizable faces, alongside Kathy Lee Gifford on "Live! with Regis and Kathie Lee." He didn't begin hosting the popular morning talk show, however, until the age of 57. Prior to that, he spent 25 years trying and mostly failing at various shows. In his autobiography, "I'm Only One Man," he wrote: "I started small and learned to keep it small. Small is friendlier and more real. Small lasts longer." The talk and gameshow host died in 2020.
#20. Kim Cattrall
Although it's hard to believe given her spirited role on the show, Kim Catrall was almost 42 when she first began playing the sex-focused New Yorker Samantha Jones on HBO's "Sex and the City." Before that she had various parts including P.E. teacher Miss Honeywell in "Porky's" and a starring role in the 1987 cult movie "Mannequin." But it was the HBO series with Sarah Jessica Parker that morphed her into a household name and made her 40s and early 50s her most successful decades.
#21. Laura Ingalls Wilder
Laura Ingalls Wilder is one of those authors who gives hope to struggling writers everywhere. The famous author of "Little House on the Prairie" was 65 when she published the first book in the series. While that's the same age that many people retire, for Wilder, her career was just getting started. She began writing in her 40s under the encouragement of her daughter, Rose, who has been credited with varying degrees of helping to write and edit the books.
#22. Norman Reedus
Normas Reedus, who plays Daryl on the AMC zombie drama "The Walking Dead" (canceled after its 11th season)  is another example of an actor who achieved significant fame out of nowhere in the middle of his career. The actor landed the role on the famous show in 2010 when he was 41. Before that, he had worked as a model in the '90s, and had a small cult following for his role as Murphy MacManus in the two "Boondock Saints" movies. But other than that, he was relatively unknown until he assumed the role of the crossbow-wielding mercenary—a part the writers created just for him.
#23. Ann Dowd
Ann Dowd, who's perhaps most famous for her Emmy-winning role as Aunt Lydia in the Hulu TV show "The Handmaid's Tale," found great career success for the first time in her 50s. The movie "Compliance" in 2012 started the accolades rolling; from there, she went on to play Patti in "The Leftovers," which prompted her first Emmy nomination. Her success followed years of struggling as an actor.
"For some reason, I had an unshakable faith that all would work out," she recalled of her early years in a speech at the 2018 Glamour Women of the Year Summit. "... I just thought, I am an actress, and that is what I'm going to do. I didn't spend a lot of time thinking about the future."
#24. Melissa McCarthy
When Melissa McCarthy joined the ensemble cast of the comedy blockbuster "Bridesmaids" at age 40, her career hit a new peak. Although she'd achieved a degree of success prior to that, acting in films like "Charlie's Angels," "Drowning Mona," and the TV show "Gilmore Girls," it was playing the potty-mouthed bridesmaid Megan that earned her legions of fans and widespread fame. It helped pave the way for films like "Spy," "Ghostbusters," and her popular recurring bit as Sean Spicer on "Saturday Night Live."
#25. Charles Bukowski
Charles Bukowski, the German-born American free-verse poet, was, in his own words, an old man before achieving any fame. After spending decades sending short stories to Harper's and The New Yorker to no avail, he started sending poems to underground journals only to get frequently rejected there, too. It wasn't until 1970 that he finally got his break writing for Black Sparrow Press for a monthly stipend of $100. The following year, he published his first book at age 51, after which success slowly but quite surely followed.
"In his late poems, his delight in driving a BMW and hobnobbing with Norman Mailer is so genuine that it becomes infectious," Adam Kirsch wrote for The New Yorker. "His escape from poverty and menial labor, solely through the passion and popularity of his writing, is like a fairy tale. 'I laid down my guts,' as he put it, 'and the gods finally answered.'"
#26. Samuel L. Jackson
Samuel L. Jackson is another example of a famous Hollywood actor who worked on a large number of films and TV shows, but didn't get truly famous until a major part placed him on the map at the age of 45. That role was as hitman Jules Winnfield in Quentin Tarantino's 1994 film "Pulp Fiction." Jackson had appeared in "Goodfellas" and "Patriot Games," among others, but it was waxing poetic about biblical verses and Burger King Whoppers that gave him the lines he'd come to be known for.
#27. Julia Child
Julia Child had been cooking and teaching in France for years, but it wasn't until she published her first cookbook in 1961, two months shy of her 50th birthday, that she shot to fame. "Mastering the Art of French Cooking" was a huge success, leading to her popular TV program "The French Chef," which pioneered the classic American cooking show.
#28. Sofia Vergara
From 2012 to 2014, Sofia Vergara was TV's highest paid female actor three years in a row. But it wasn't always money and fame for the Colombian-born star of "Modern Family." Vergara dropped out of dentistry school in Colombia and became a young mother at age 19. After that she pursued acting, and found her way to the spotlight by modeling for Pepsi to pay the bills. The role that made her famous came when she was 37 years old.
#29. Billy Bob Thornton
Billy Bob Thornton was nearly 41 years old when "Sling Blade" was released. He had acted in a few other movies including "For The Boys" and "Tombstone"—and even co-wrote his own feature film—but the independent drama that he wrote, directed, and starred in is what set him full-steam ahead for mega-success. The film, which won an Academy Award for Best Adapted Screenplay, opened doors for him to star in films by giant Hollywood names like Oliver Stone's "U Turn" and Michael Bay's "Armageddon."
#30. Joy Behar
Joy Behar was 55 years old when she joined "The View," the morning talk show that made her the well-recognized face she is today. Before that, she'd been a receptionist, high school teacher, stand-up comic, and small-time actor with bit roles in movies. That all changed in 1997 when she began as a substitute host for Barbara Walters. Many people loved her, and some critics called for Behar to be added to the cast permanently. Today, the talk show host—who's achieved increasing wealth and fame in her 50s, 60s, and beyond—shows no signs of slowing down.