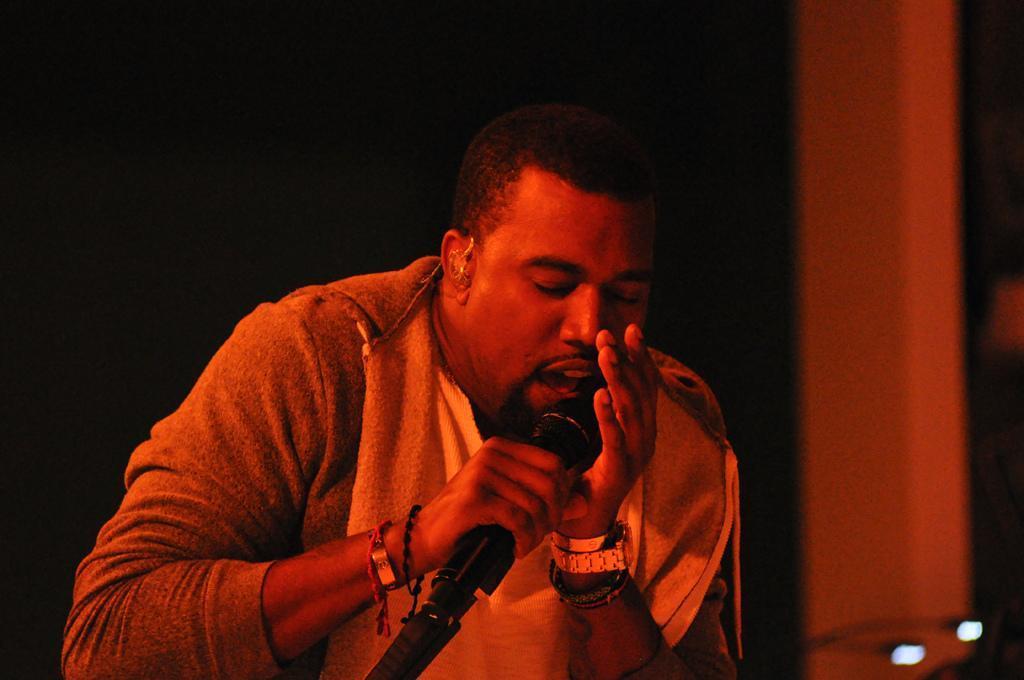 50 incredible social media comments by celebrities
Jason Persse // Wikicommons
50 incredible social media comments by celebrities
The social media age leveled the playing field. Before public platforms like Facebook, Twitter and Instagram existed, only TV stars, film actors and other famous people were able to share information on a grand scale. Now, anyone with a social media account can broadcast everything from the minutiae of their daily lives to hilarious memes to their followers.
Of course, regular people who may never walk a red carpet aren't the only ones on social media. These platforms have become an increasingly valuable way for celebrities to connect directly with their fans—and each other. In fact, if you look closely, you can find tons of comments between Hollywood stars on Facebook, Twitter and Instagram.
Stacker compiled the following list of 50 social media comments by celebrities from the @commentsbycelebs Instagram account, which collects screenshots of notable exchanges. Click through the slideshow to see A-listers celebrating their co-stars' accomplishments, famous musicians roasting their friends, married couples teasing each other on Instagram, and even a few parents embarrassing their children. Celebrities—they're just like us.
RELATED: click here to find out the most famous celebrities from the year you were born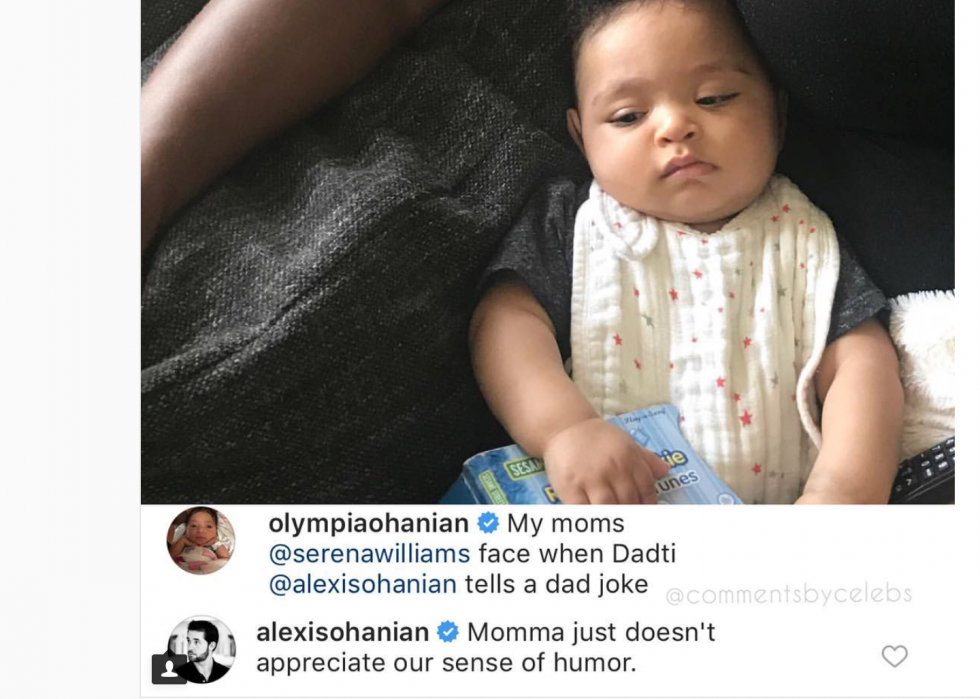 1 / 50
Serena Williams, Alexis Ohanian, and daughter Olympia
Tennis icon Serena Williams and Reddit co-founder Alexis Ohanian recently had daughter Olympia. Though she's just 9 months old, Olympia even has her own Instagram page. We're guessing that Mom runs it, based on this crack about Dad's cheesy jokes.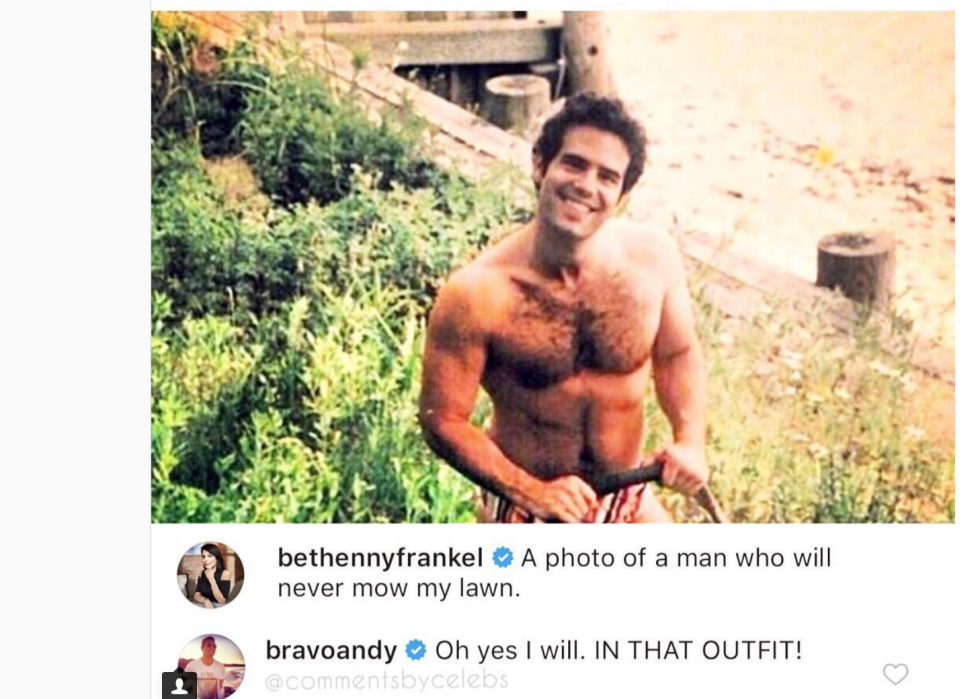 2 / 50
Bethenny Frankel and Andy Cohen
"Watch What Happens Live" host Andy Cohen and "The Real Housewives of New York City" personality Bethenny Frankel must have gotten close during all those reunion shows. Frankel recently Instagrammed an old photo of Cohen shirtless mowing the lawn, and he enthusiastically responded that he'd do her gardening any time.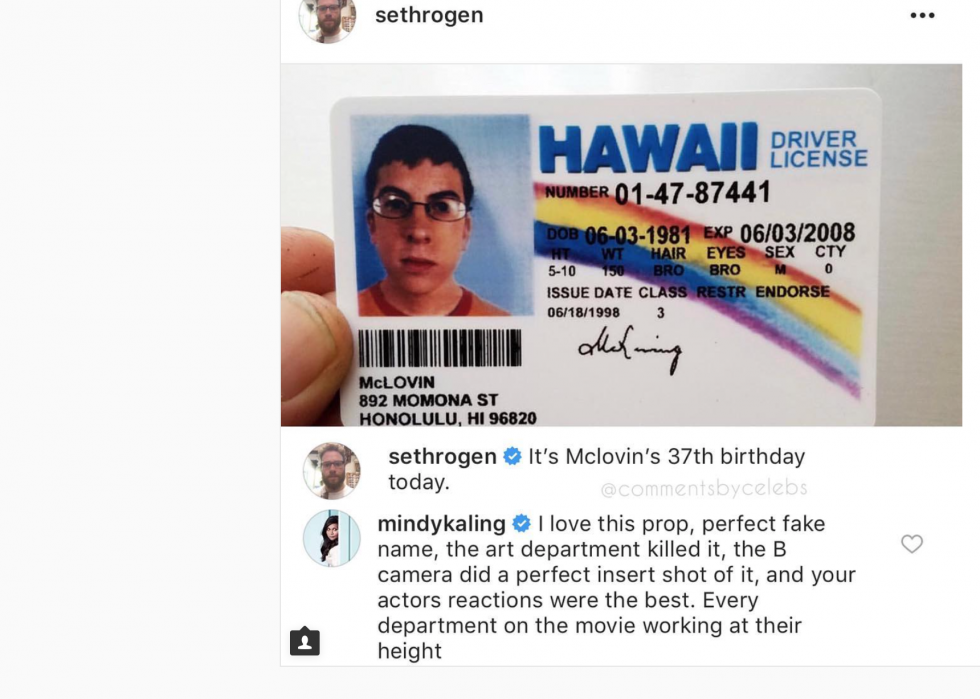 3 / 50
Seth Rogen and Mindy Kaling
Perhaps the most beloved character in Seth Rogen's "Superbad" is McLovin, the persona that Fogell assumes on his laughably fake ID. Actress Mindy Kaling is apparently among his fans, since she shared how impressed she was by the prop on Rogen's Instagram.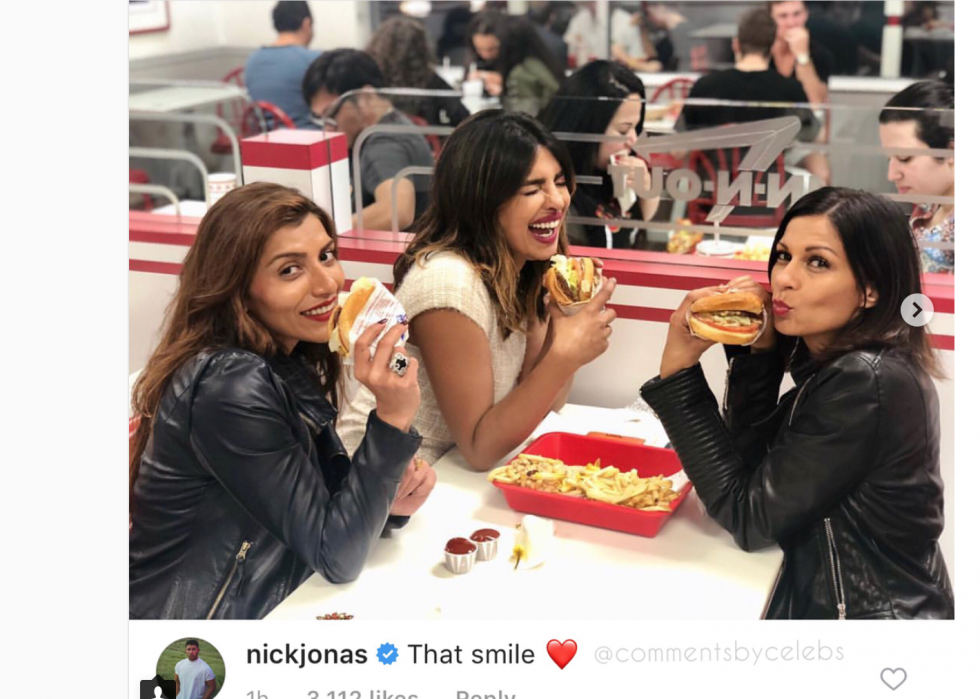 4 / 50
Nick Jonas and Priyanka Chopra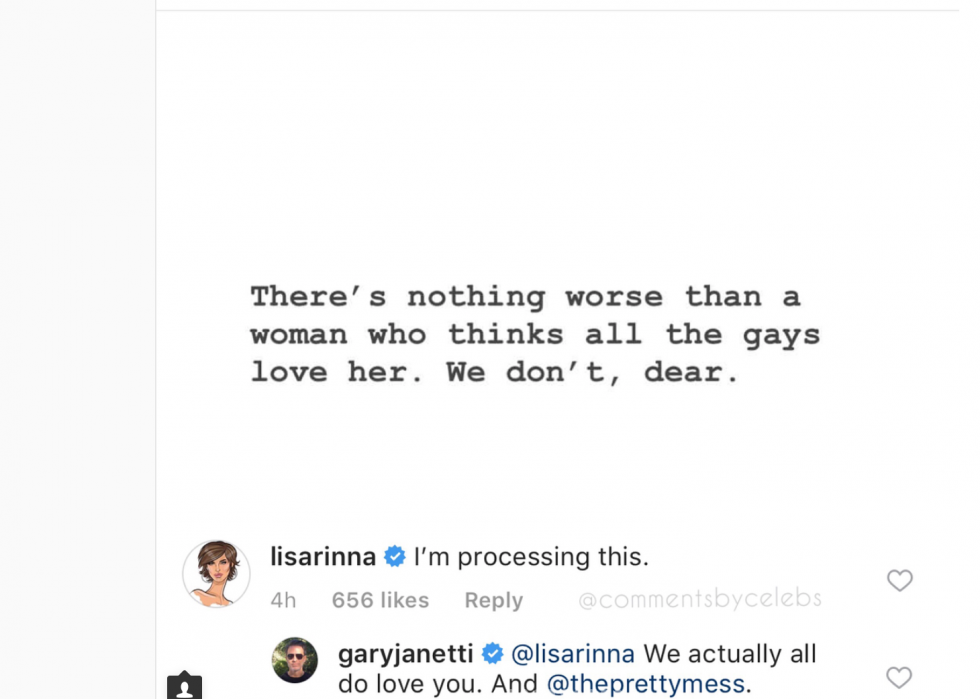 5 / 50
Gary Janetti and Lisa Rinna
When writer and producer Gary Janetti posted a meme about a woman who thinks all gay men love her, "The Real Housewives of Beverly Hills" actress thought he was subtweeting her. Not to fear: Janetti quickly commented back that it wasn't the case, showing some love to her and pal Erika Jayne.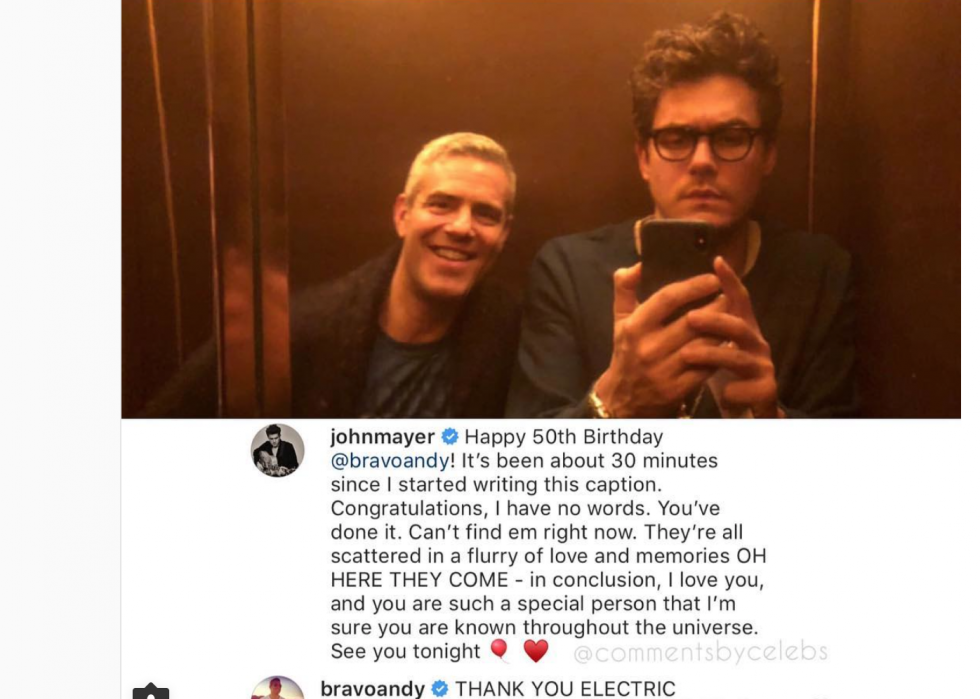 6 / 50
John Mayer and Andy Cohen
Cohen recently celebrated his 50th birthday with his good pal, musician John Mayer, but the pair aren't dating. No, they're just close friends, as Mayer's Instagram caption about Cohen shows.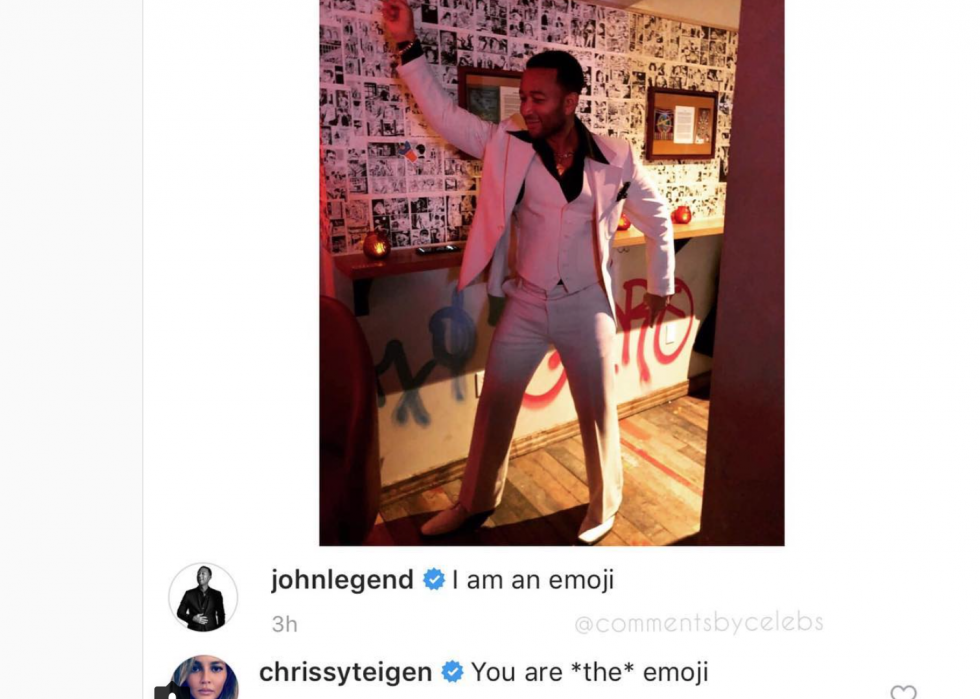 7 / 50
John Legend and Chrissy Teigen
Gotta love couples supporting each other. When her husband, R&B musician John Legend, posted a picture of himself dressed to the nines in a suit channeling "Saturday Night Fever" and posing like a certain disco-inspired emoji, wife and model Chrissy Teigen was quick to comment "you are *the* emoji."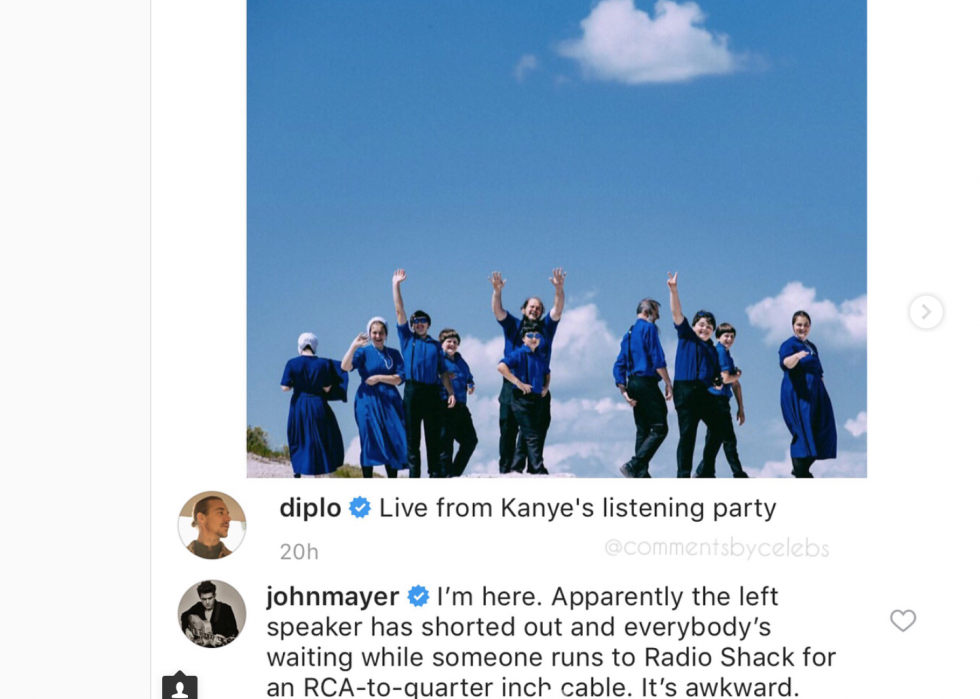 8 / 50
Diplo and John Mayer
When Kanye West put out his new album "Ye" on June 1, it seemed like the entire music industry dropped everything to listen to it. Diplo riffed on it (and Kanye's recent Wyoming obsession) in this meme post, and John Mayer joined in, joking about needing to run to RadioShack for an AUX cable.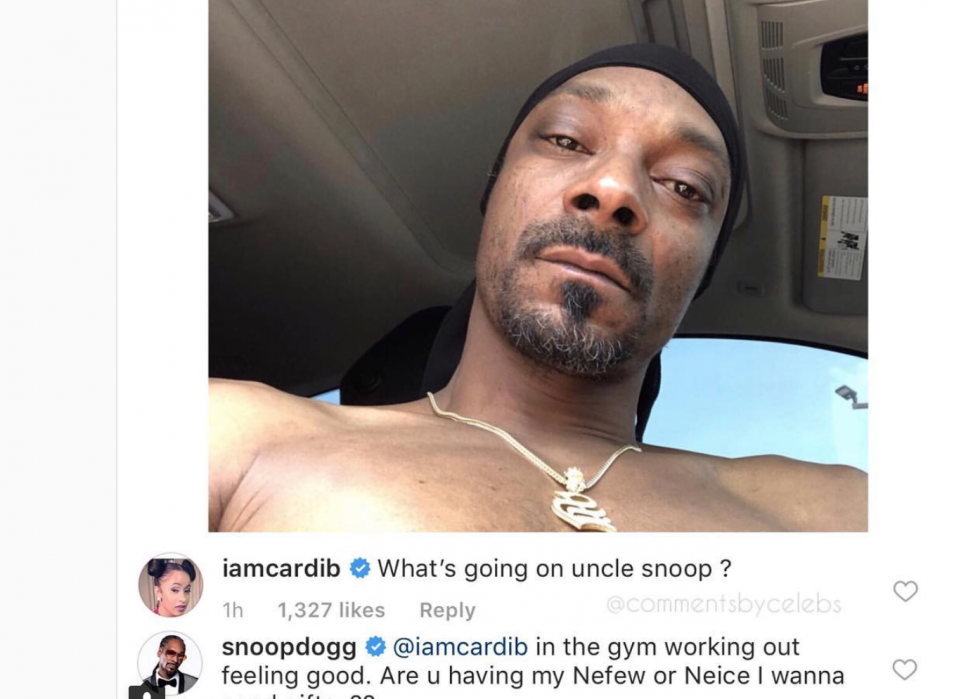 9 / 50
Snoop Dogg and Cardi B
The mentor-mentee relationship between legendary rapper Snoop Dogg and record-shattering artist Cardi B is on full display in this Instagram exchange. After she said hi, he followed up by asking whether she was expecting a baby boy or girl so he could send a gift. Aww!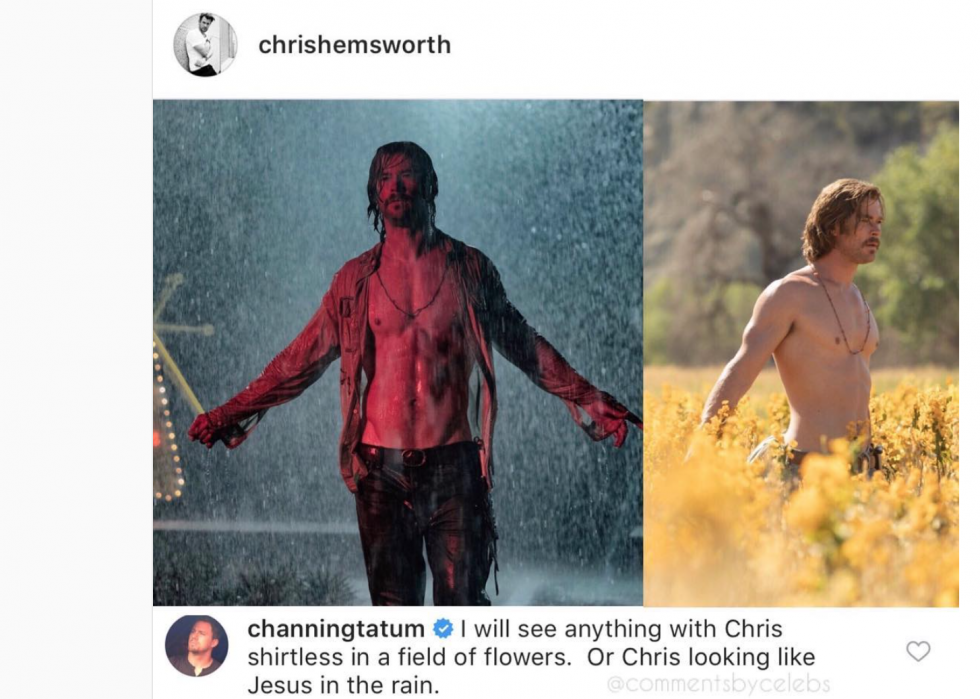 10 / 50
Chris Hemsworth and Channing Tatum
Apparently, even Hollywood heartthrobs love movies featuring shirtless Chris Hemsworth. Sex symbol Channing Tatum commented on this photograph, "I will see anything with Chris shirtless in a field of flowers," a sentiment likely shared by many.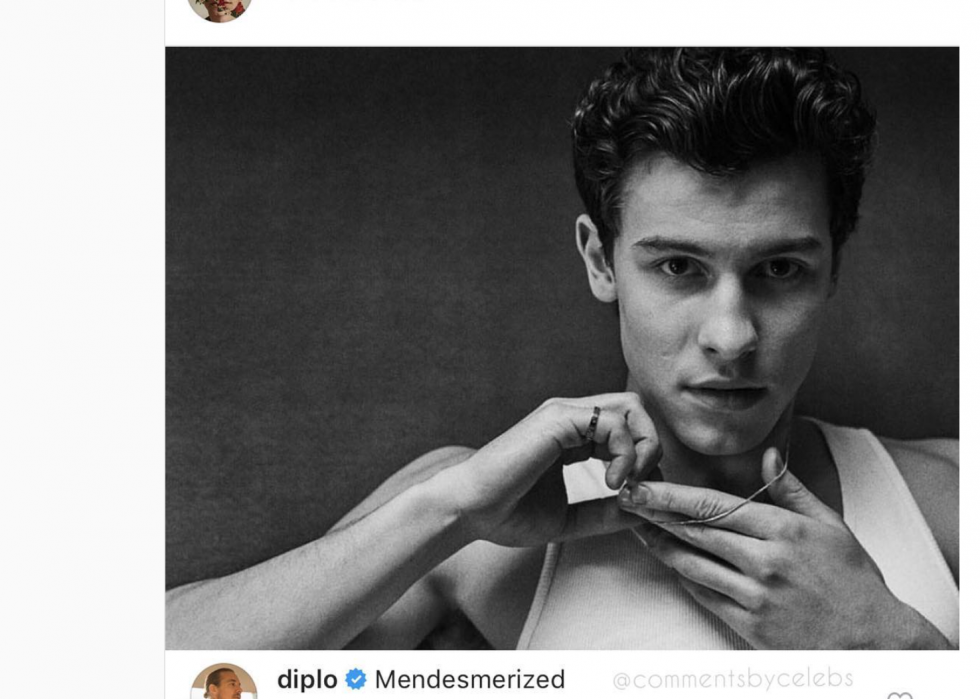 11 / 50
Diplo and Shawn Mendes
Diplo must love a good pun. He certainly had fun making up his own version of Shawn Mendes's name; he left a "mendesmerized" caption on a smoldering photo of the musician.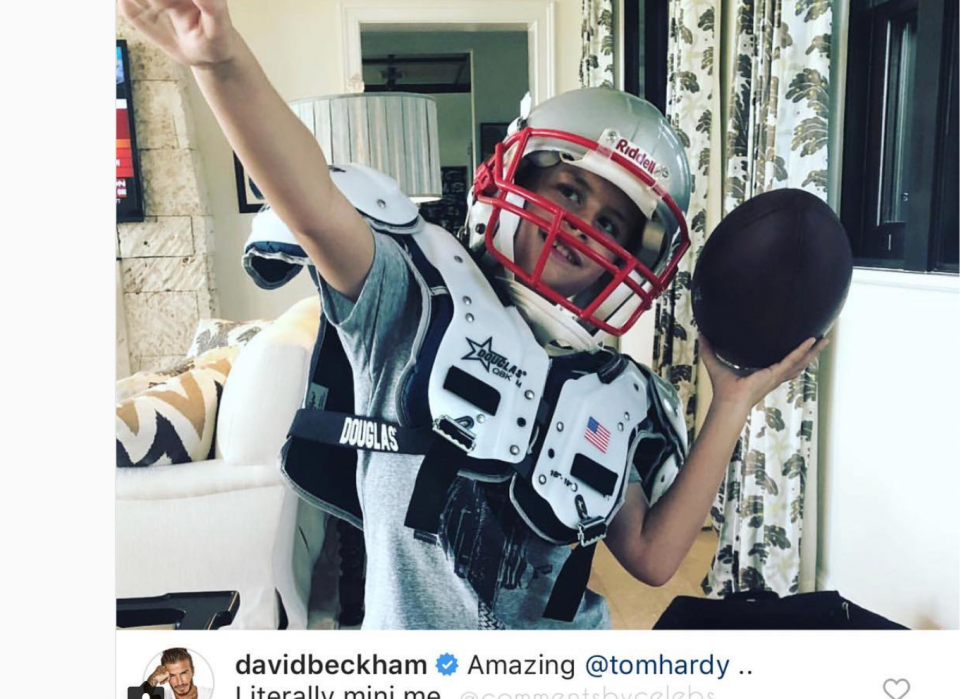 12 / 50
David Beckham and Tom Brady
Turns out, even superstar soccer heartthrobs make social media gaffes. When David Beckham tried to comment on this adorable photo of Brady's son, he accidentally tagged English actor Tom Hardy instead. Oops!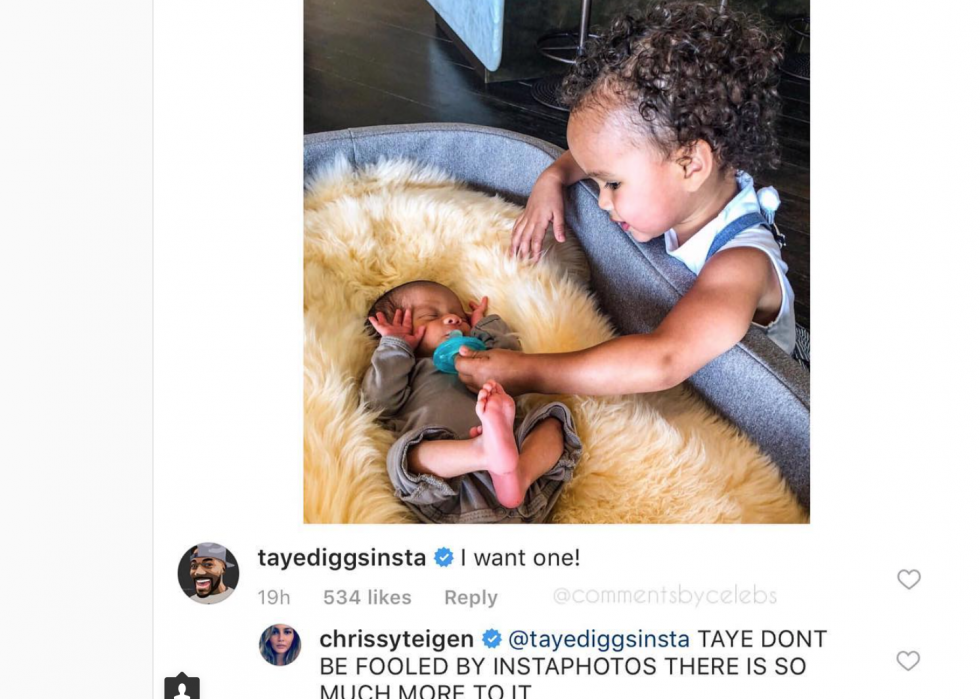 13 / 50
Taye Diggs and Chrissy Teigen
Her fans aren't the only ones who can't resist the cuteness of Chrissy Teigen's kids. When actor Taye Diggs saw this photo of Luna and baby brother Miles, he noted that he wanted a baby of his own. The new mom was quick to shatter the illusion, though, saying "DON'T BE FOOLED BY INSTAPHOTOS."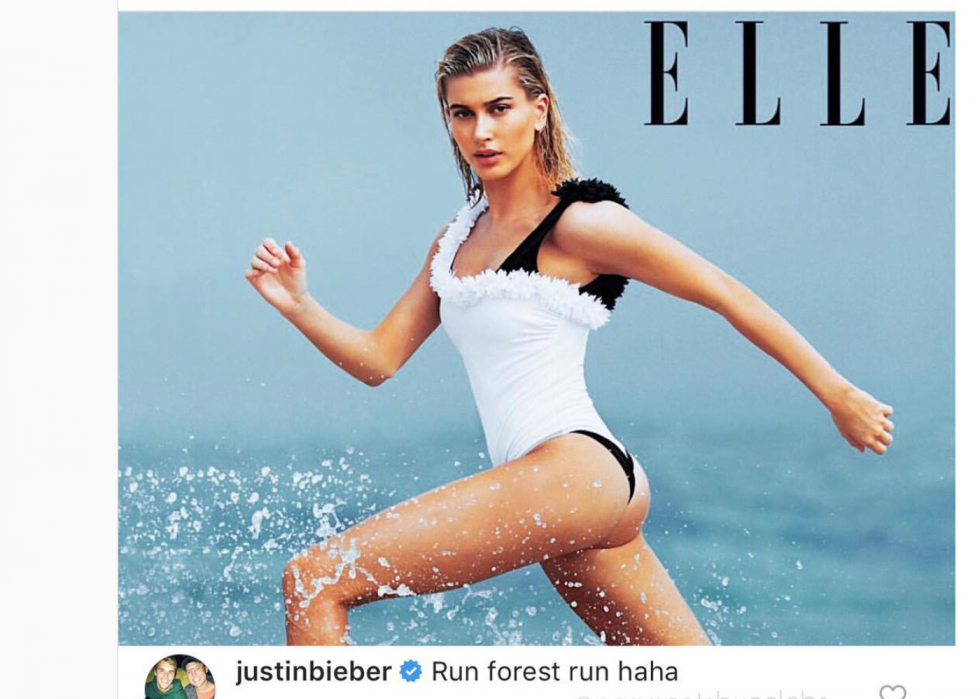 14 / 50
Justin Bieber and Hailey Baldwin
The Biebs had some lighthearted fun with his model ex, recently commenting "run Forest [sic] run!" on this Elle photoshoot snap she posted. Baldwin also recently noted that even though the pair isn't together anymore, they're still friendly.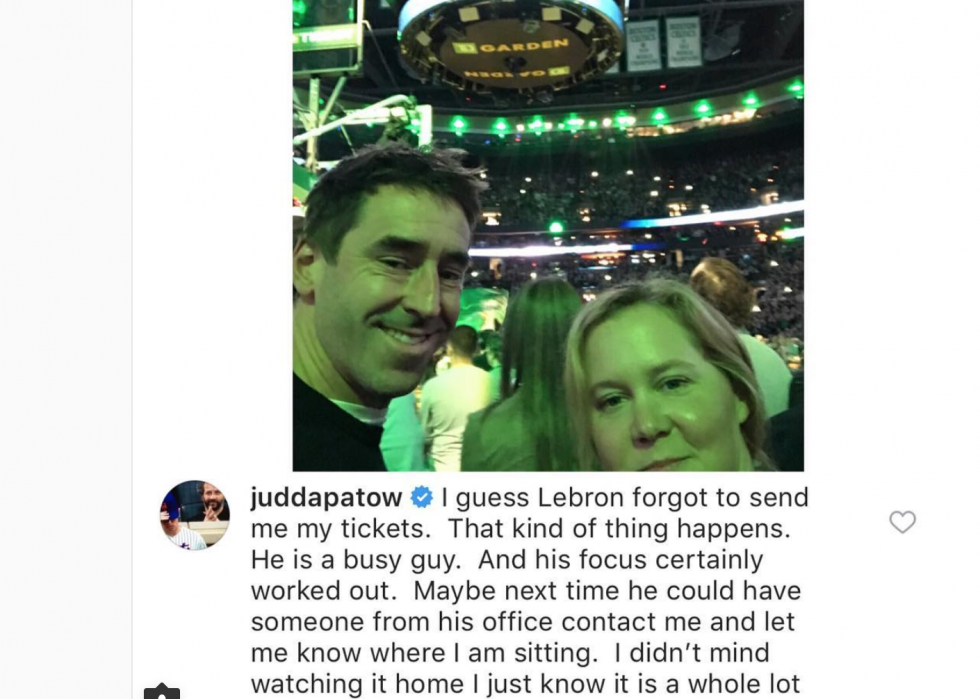 15 / 50
Judd Apatow and Amy Schumer
Producer and director Judd Apatow gave comedian Amy Schumer her big break in "Trainwreck," so it's no surprise that the pair remains close. The movie also had a surprisingly hilarious breakout star: basketball legend LeBron James. So when Schumer posted this snap at the NBA Conference Finals, Apatow jokingly commented that someone in James's office must have forgotten to mail his tickets.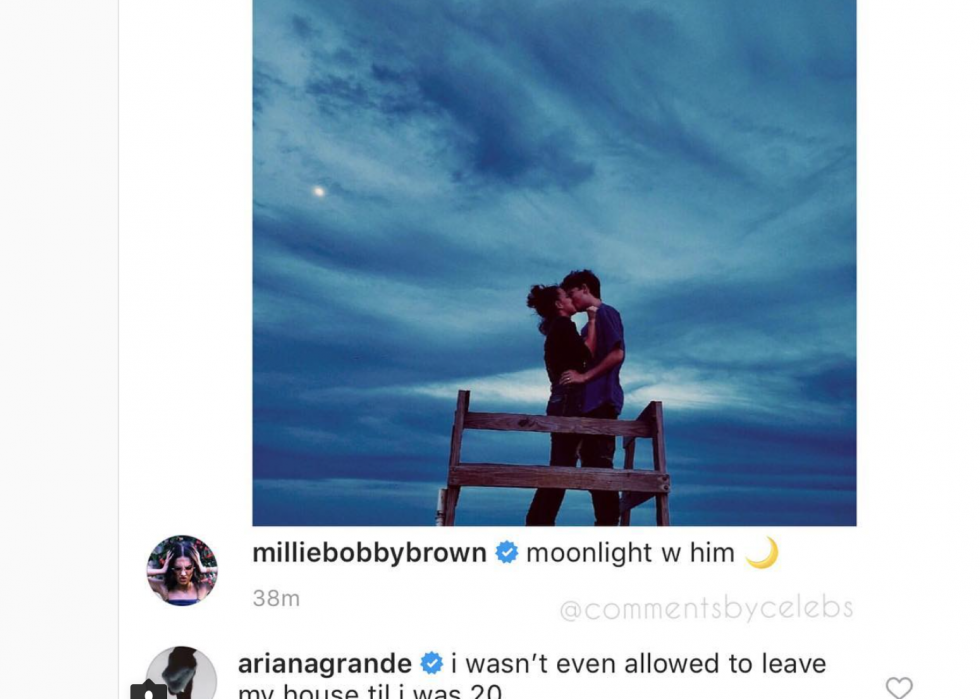 16 / 50
Millie Bobby Brown and Ariana Grande
"Stranger Things" star Millie Bobby Brown sure has a lot of freedom for a 14-year-old, which can even make a wildly successful celebrity jealous. After she posted this smoochy shot with singer Jacob Sartorius, Ariana Grande commented: "I wasn't even allowed to leave my house 'til I was 20."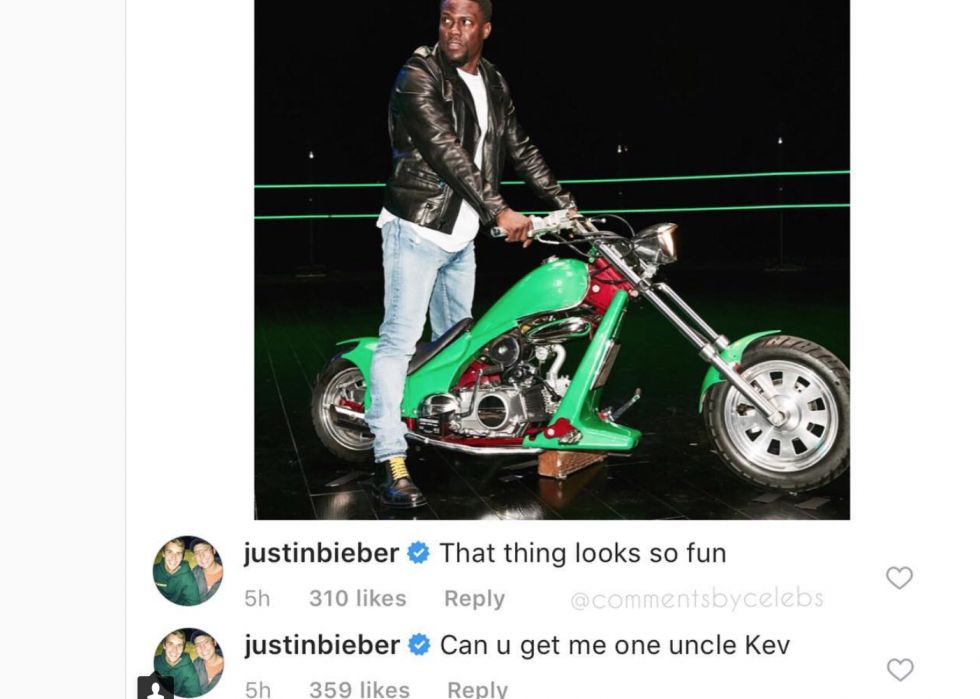 17 / 50
Kevin Hart and Justin Bieber
Talk about an unlikely pairing: between their age difference and Kevin Hart's legendary roast of Bieber back in 2015, you wouldn't expect the two celebrities to be friends—but they really are. Bieber clearly wants to hang out, as evidenced by his comment asking "Uncle Kev" to get him one of the bikes he Instagrammed.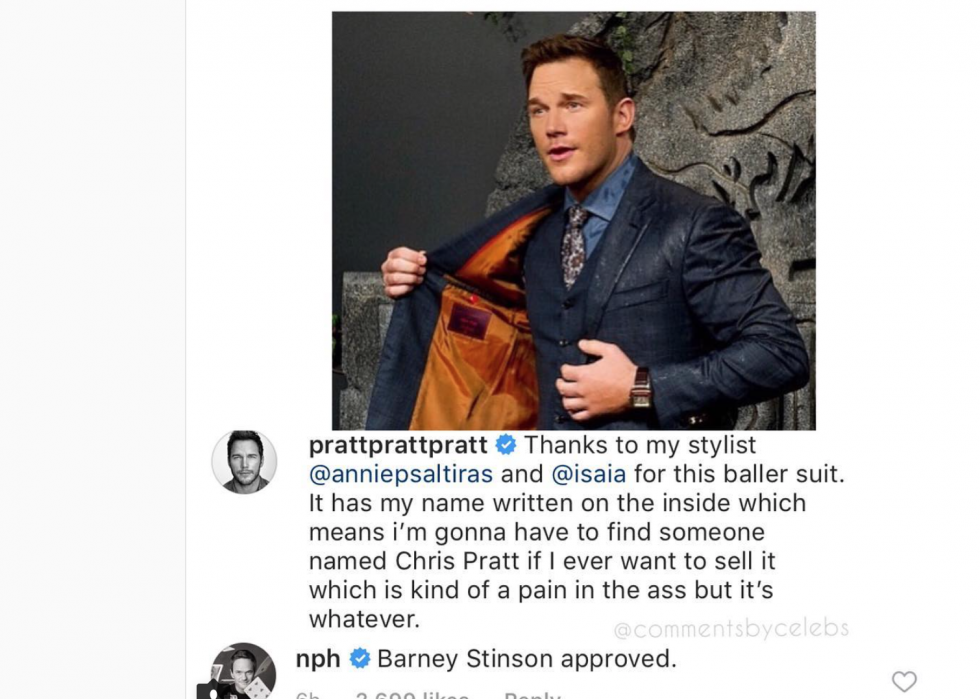 18 / 50
Chris Pratt and Neil Patrick Harris
Barney Stinson, Neil Patrick Harris' playboy character on "How I Met Your Mother," knew a thing or two about men's fashion—a fact that makes NPH's comment on Chris Pratt's photo of a custom-made suit even more meaningful.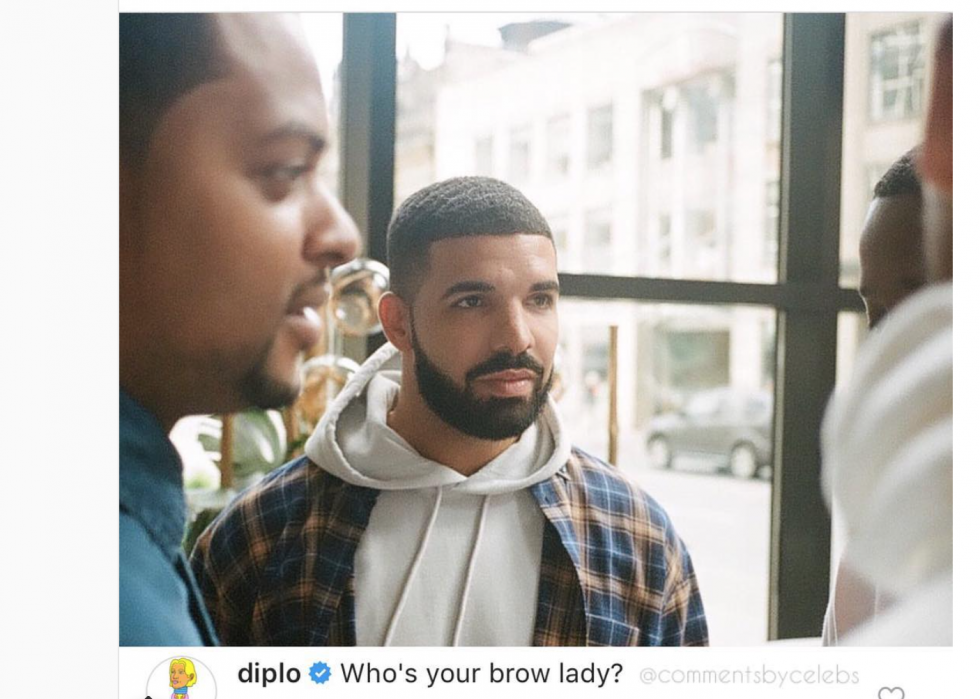 19 / 50
Drake and Diplo
Game recognizes game—or in this case, eyebrow game recognizes eyebrow game. Diplo clearly thought Drake's brows were on fleek in this Instagram snap, so he wanted to know where the Canadian rapper gets them done.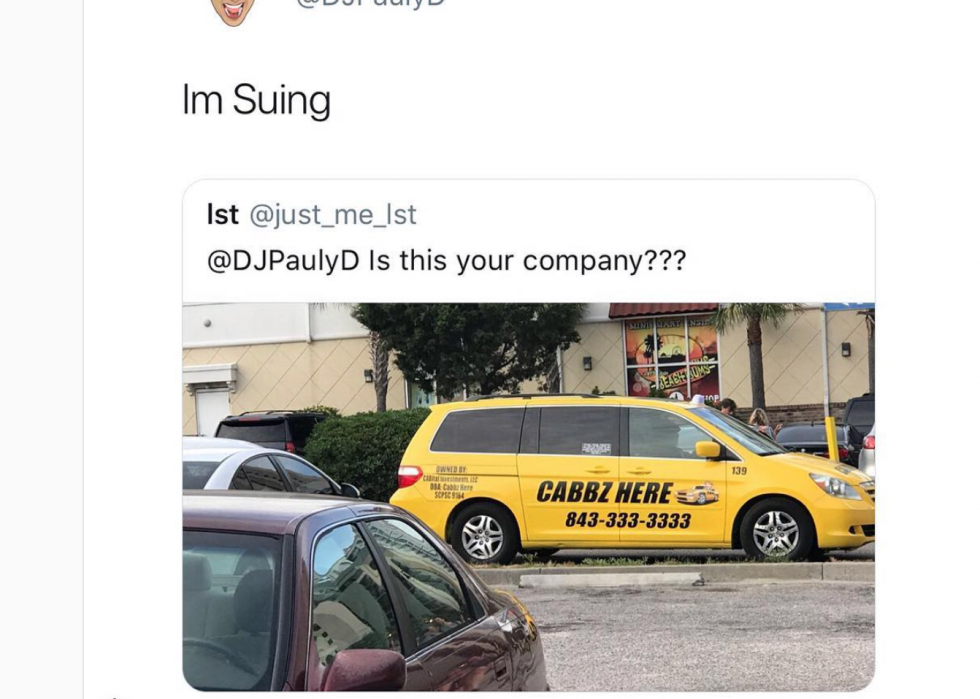 20 / 50
Pauly D
On MTV's "Jersey Shore," DJ Pauly D was known for his sing-song phrases—including "CABS ARE HERE" whenever taxis would pull up to take the Seaside Heights crew to the club. After a fan tweeted out a photo of a taxi company called Cabbz Here, Pauly D joked that he was suing. (At least, it sounded like a joke. You never know when it comes to celebrity litigation.)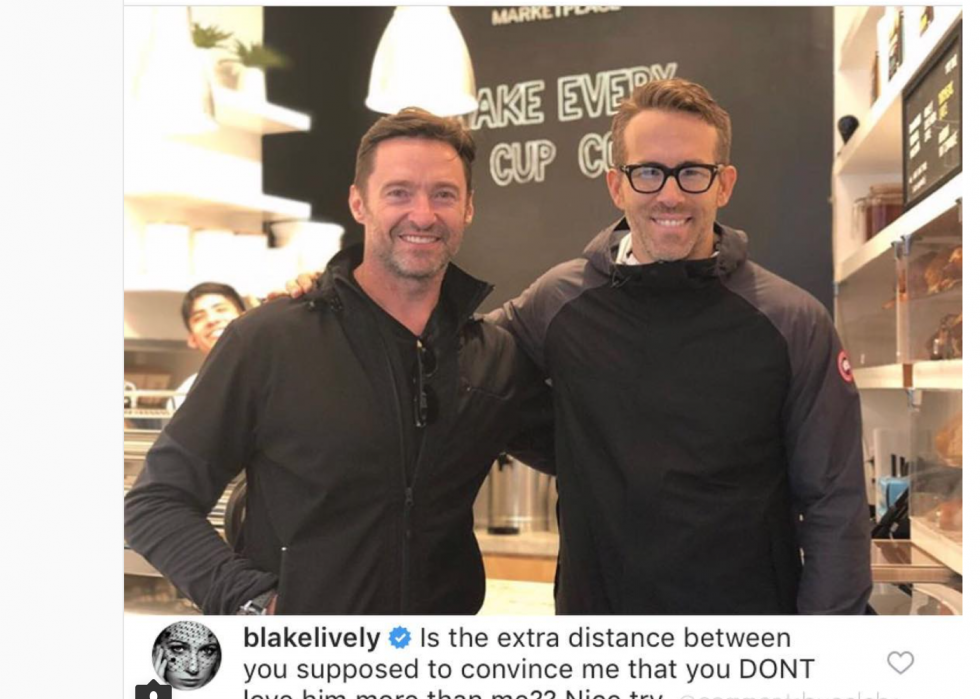 21 / 50
Ryan Reynolds and Blake Lively
Married couple Ryan Reynolds and Blake Lively are well-known for teasing each other on social media, and this post is a prime example. Lively professed her jealousy after seeing this sweet snap of Reynolds and Hugh Jackman together.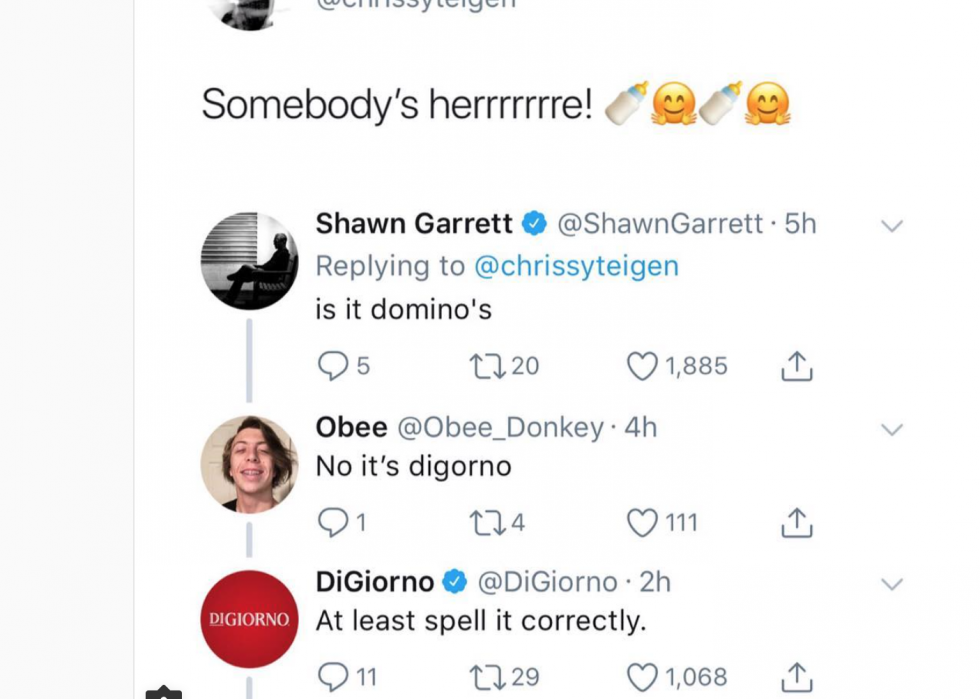 22 / 50
Chrissy Teigen and DiGiorno
In addition to her modeling career, Chrissy Teigen is also a cookbook author and passionate home chef—so it makes sense that food brands regularly respond to her social media posts. When Teigen posted "Somebody's herrrrrre!" when her son was born, a fan joked that the "somebody" Teigen referred to Domino's pizza delivery. When another quipped that it was "digorno," the frozen pizza makers chimed in to point out that its name wasn't spelled correctly.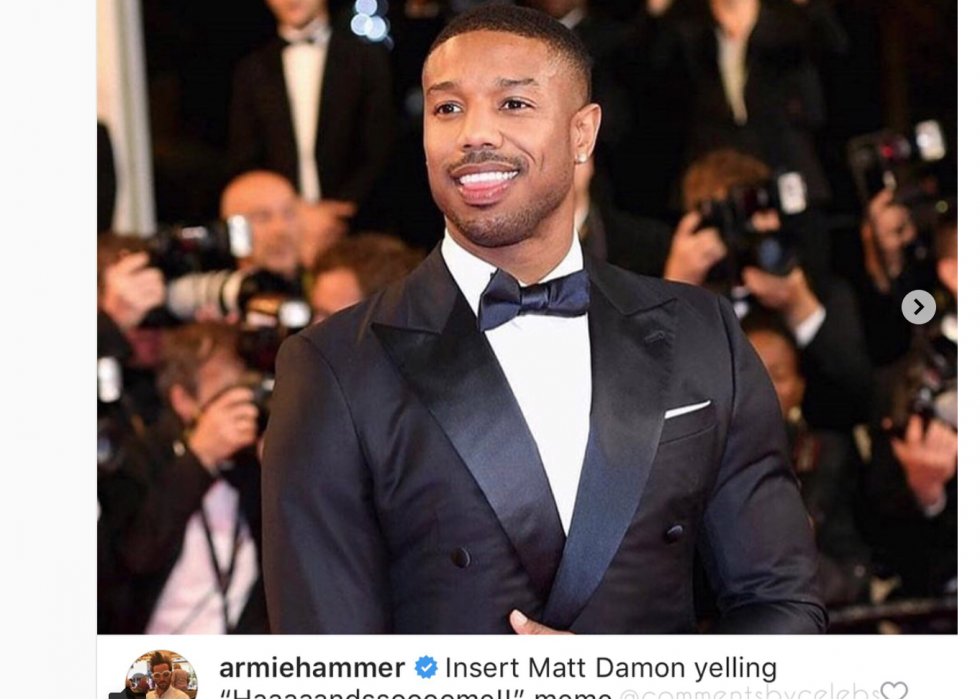 23 / 50
Michael B. Jordan and Armie Hammer
Pretty much everyone agrees that actor Michael B. Jordan is drop-dead gorgeous—even other celebrities, like actor Armie Hammer. Since Hammer is a heartthrob in his own right, that's a pretty legit compliment.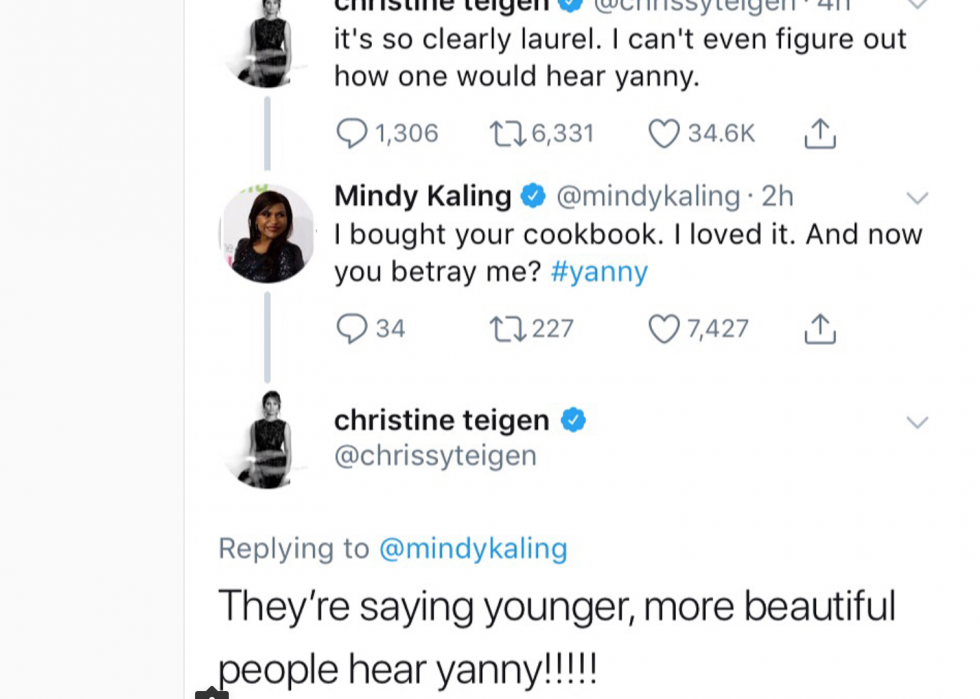 24 / 50
Chrissy Teigen and Mindy Kaling
If you missed the viral Laurel vs. Yanny debate, drop everything and listen to this audio clip now. Once you find out what you hear, you'll understand why the rest of the world feels so passionately that it's either Laurel or Yanny. Chrissy Teigen and Mindy Kaling had a friendly argument over the trend, with Teigen taking Team Laurel and Kaling going with Team Yanny.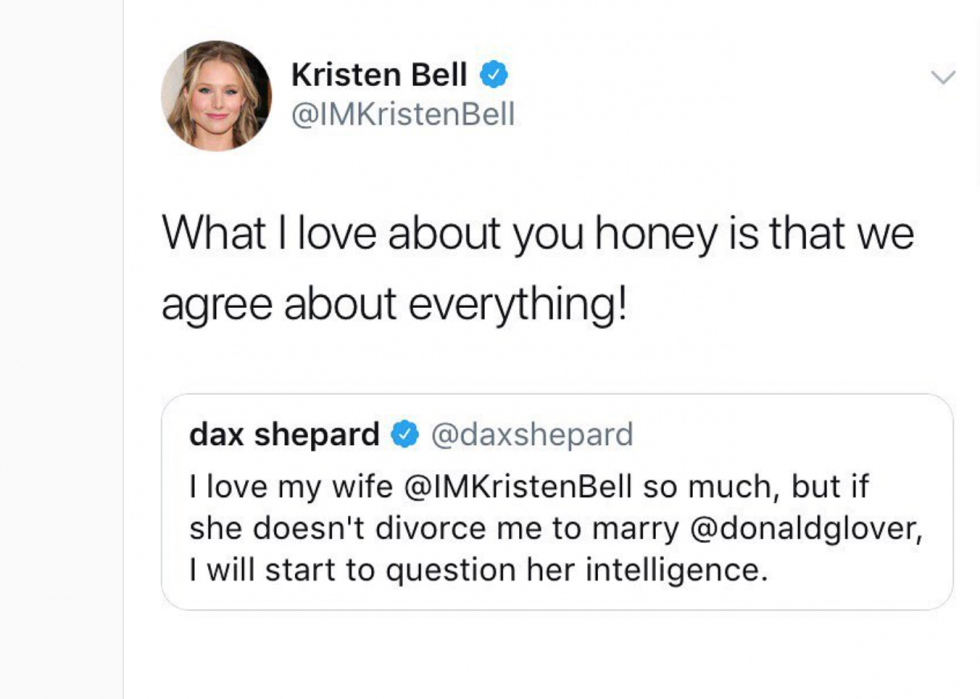 25 / 50
Kristen Bell and Dax Shepard
Cute couple alert: actors Kristen Bell and Dax Shepard really like to proclaim their love on social media. Shepard even gave his wife the ultimate gift: permission to leave him for actor/musician Donald Glover.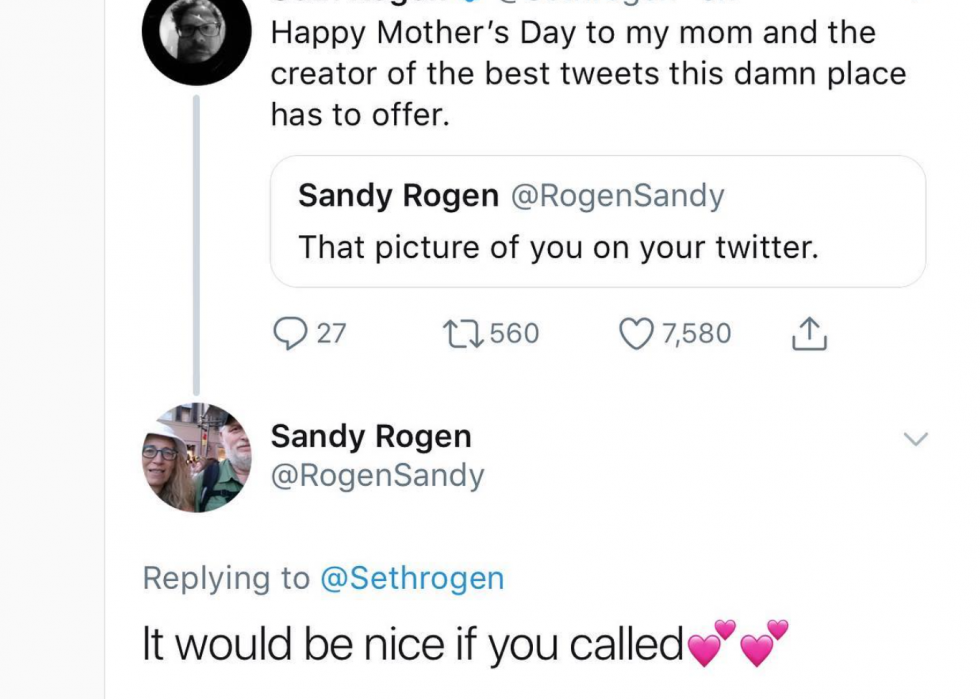 26 / 50
Seth Rogen and Sandy Rogen
Seth Rogen's mom Sandy has become a cult favorite on Twitter, thanks to her sometimes oblivious but often hilarious tweets. When her son tweeted out his Mother's Day wishes, Sandy retaliated in classic mom form by asking him if he would call her.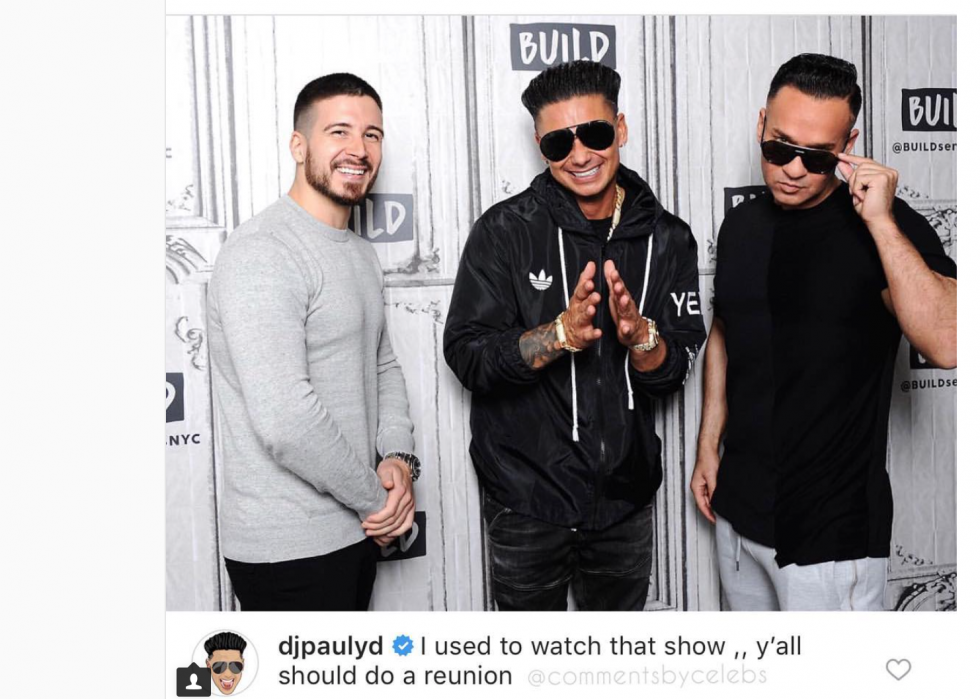 27 / 50
Pauly D and Vinny Guadagnino
These "Jersey Shore" castmates have quite the bromance, so it's only natural that their affection appears on social media as well. After Vinny posted a photo with Pauly D and Mike "The Situation" Sorrentino, Pauly D posted a teasing comment in the voice of a fan, asking for a reunion show. You're in luck, Pauly: "Jersey Shore Family Vacation" is currently airing on MTV.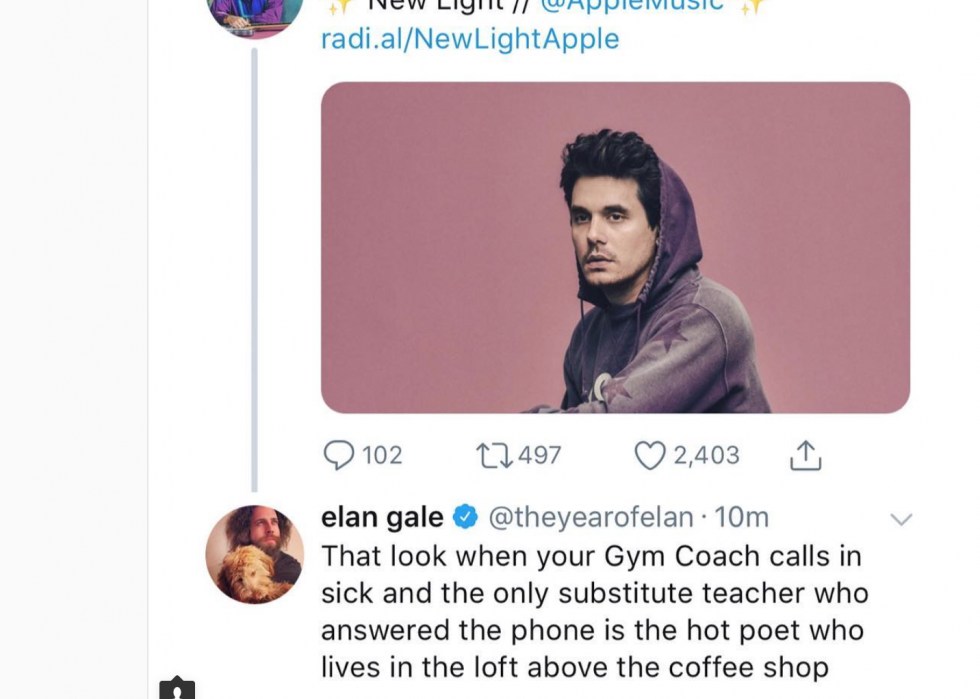 28 / 50
John Mayer and Elan Gale
"The Bachelor" TV producer Elan Gale has built a reputation on his snarky social media comments; his roast of John Mayer's photo is no exception. He joked that Mayer's dreamy expression was the "look when your gym teacher calls in sick and the only substitute teacher that answers the phone is the hot poet who lives in the loft above the coffee shop."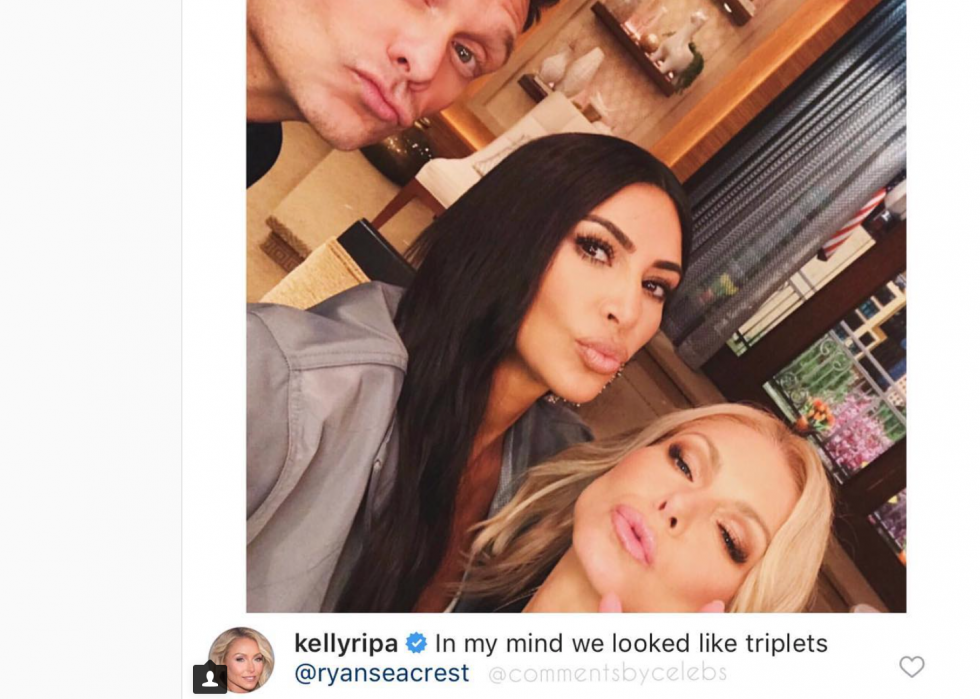 29 / 50
Kelly Ripa and Ryan Seacrest
In addition to hamming it up every weekday on "Live With Kelly and Ryan," hosts Kelly Ripa and Ryan Seacrest frequently take their silly antics to Instagram. After Ryan posted a selfie of the pair with Kim Kardashian, Kelly joked that they could be triplets.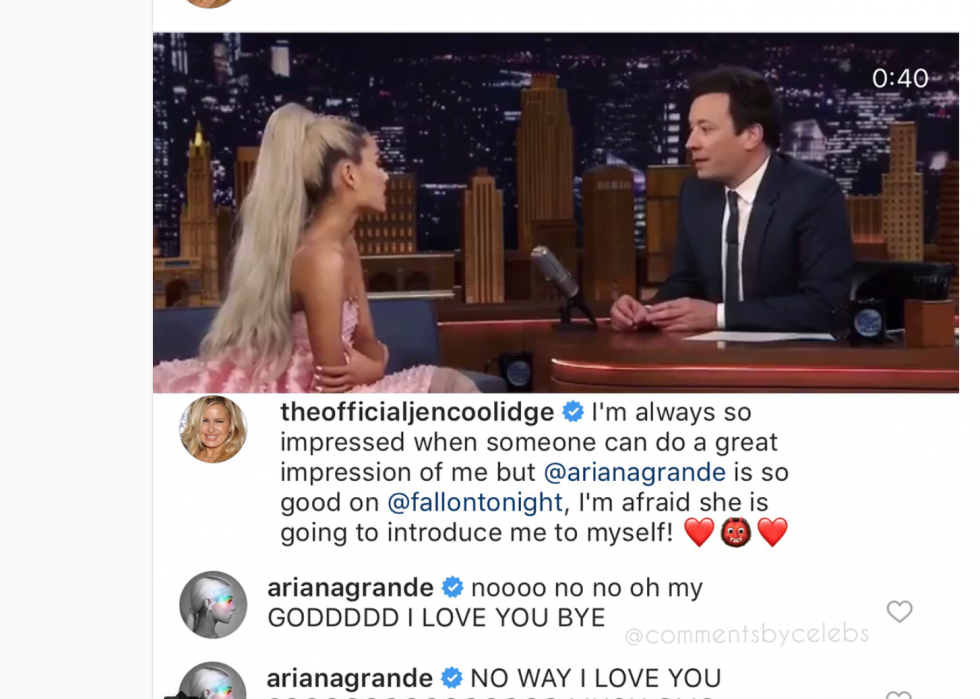 30 / 50
Jen Coolidge and Ariana Grande
After singer Ariana Grande did a spot-on impression of "Legally Blonde" actress Jen Coolidge on "The Tonight Show Starring Jimmy Fallon," Coolidge posted on Instagram that she is afraid Grande "is going to introduce me to myself." What's even more amazing is how much Grande fangirled, posting several exclamatory comments in all caps.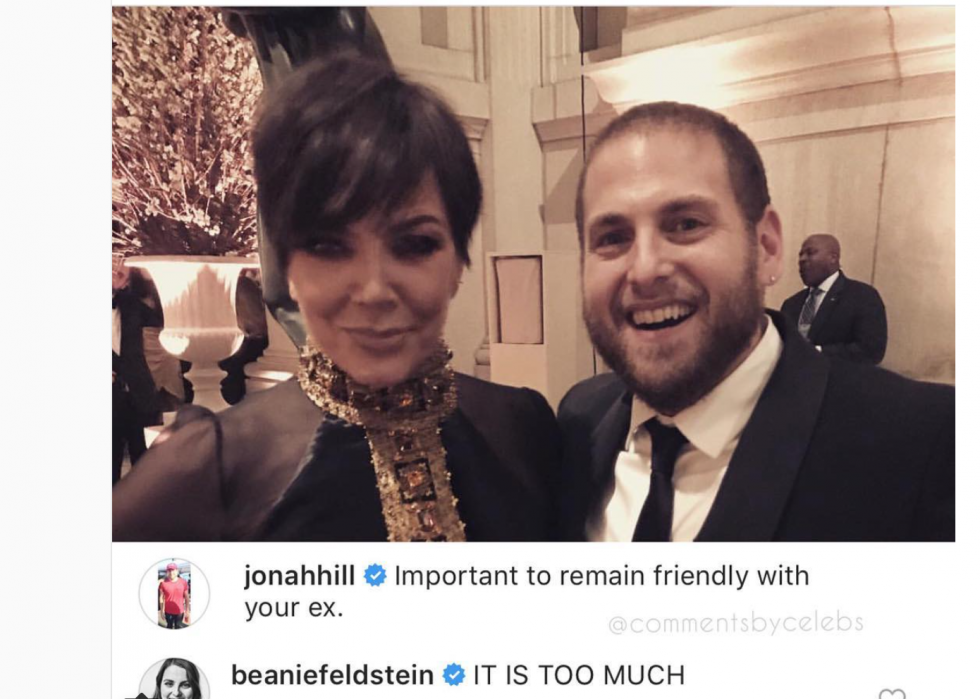 31 / 50
Jonah Hill and Beanie Feldstein
Not many people realize it, but actors Jonah Hill and Beanie Feldstein are actually brother and sister. So when Jonah posted a photo with Kardashian matriarch Kris Jenner (joking that the two used to date), his little sister freaked out a little bit.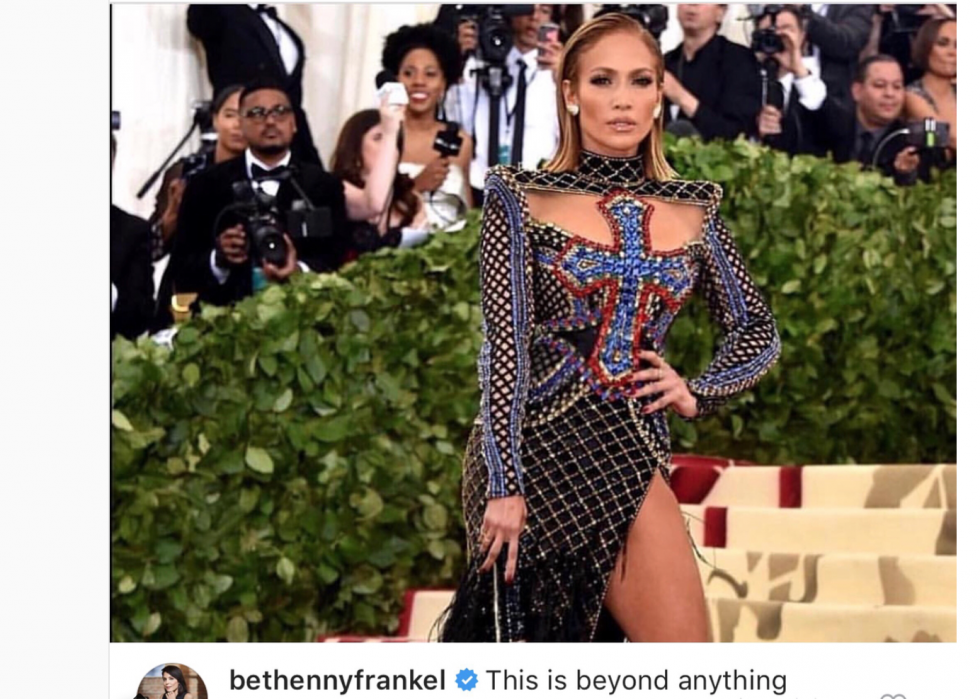 32 / 50
Jennifer Lopez and Bethenny Frankel
Even fellow celebrities go nuts for Jennifer Lopez's red carpet looks. Bethenny Frankel was wowed over this snap of J-Lo walking the Met Gala red carpet.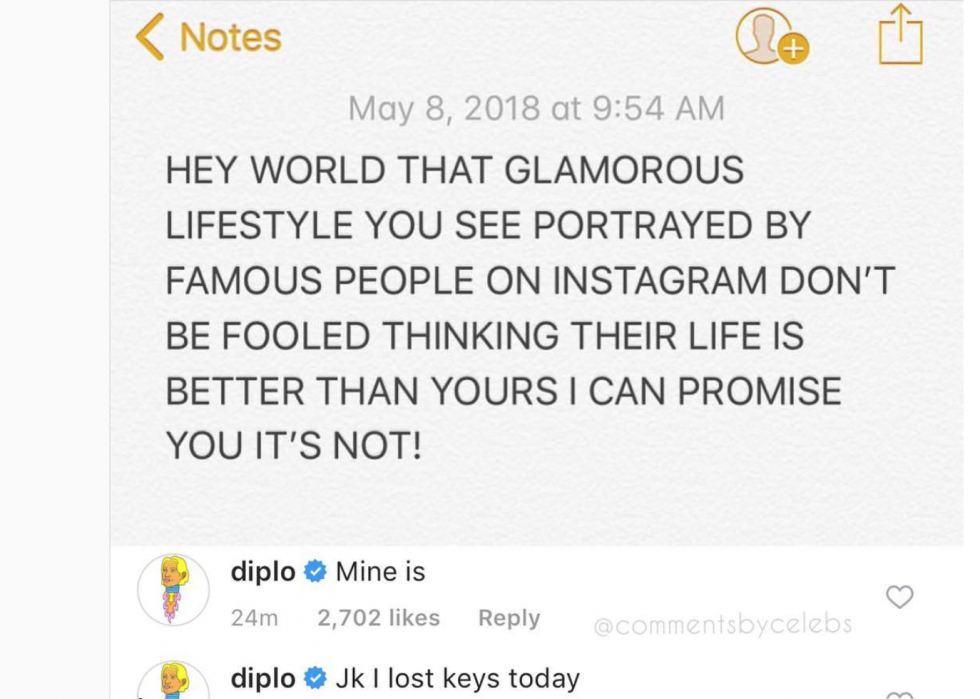 33 / 50
Justin Bieber and Diplo
Musician Justin Bieber must have been having a bad day when he posted this screenshot of a note saying his life isn't as glamorous as it looks on Instagram. Diplo chimed in with his support, joking that he lost his keys that day. With friends like these...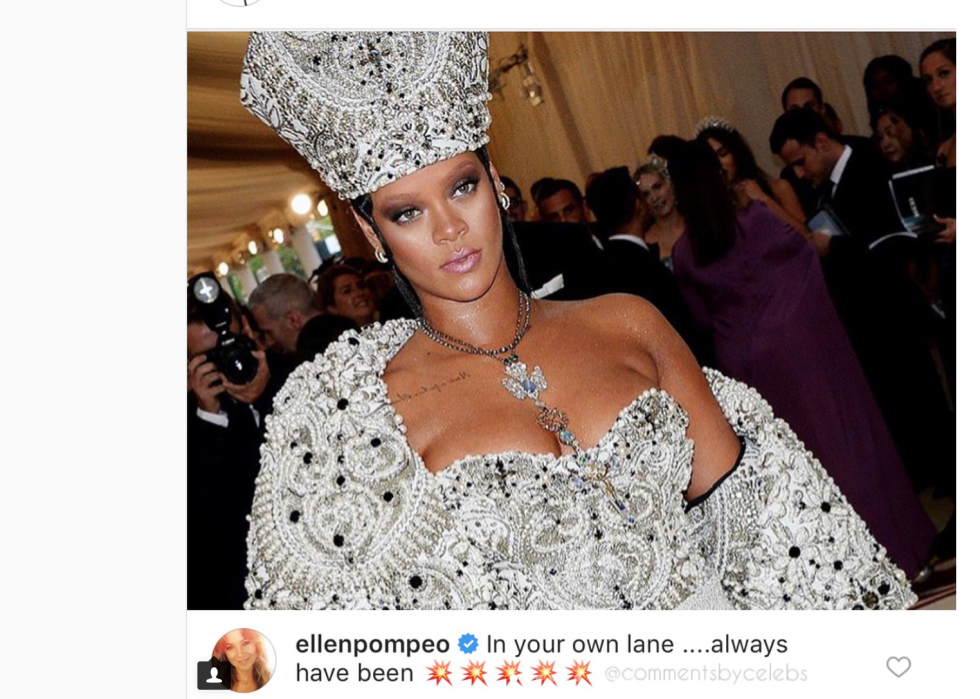 34 / 50
Rihanna and Ellen Pompeo
Style bloggers and fashion correspondents alike agreed that Rihanna slayed the Met Gala red carpet this year with her bedazzled papal outfit. "Grey's Anatomy" star Ellen Pompeo clearly agreed, commenting "in your own lane… always have been."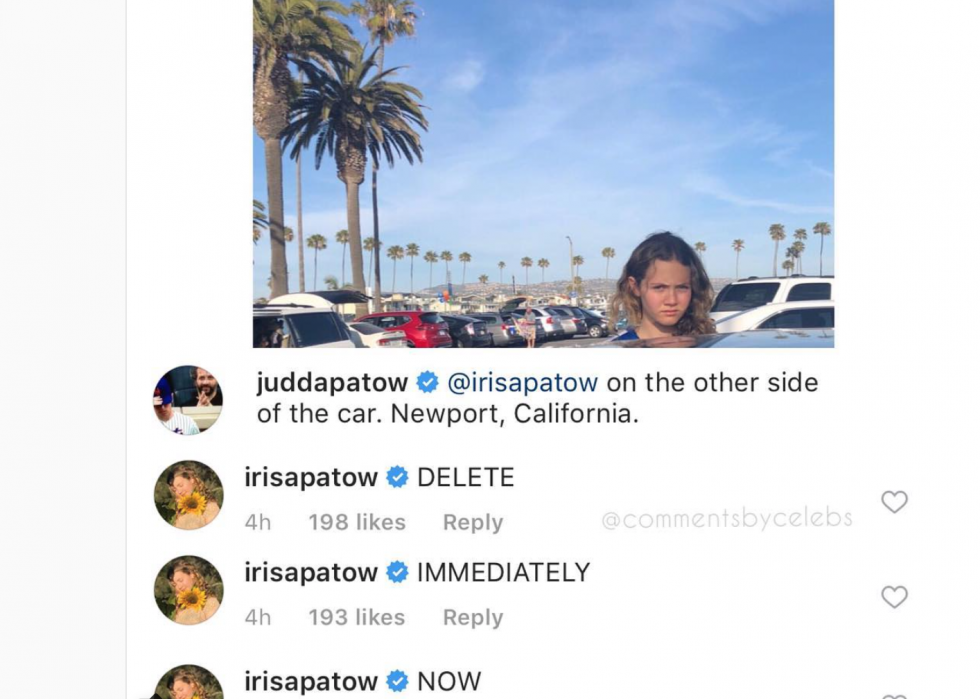 35 / 50
Judd Apatow and Iris Apatow
Turns out, celebrity dads can be just as embarrassing as regular dads. Take this unflattering photo that Apatow posted of his daughter Iris: she immediately commented "DELETE… IMMEDIATELY… NOW" on the post.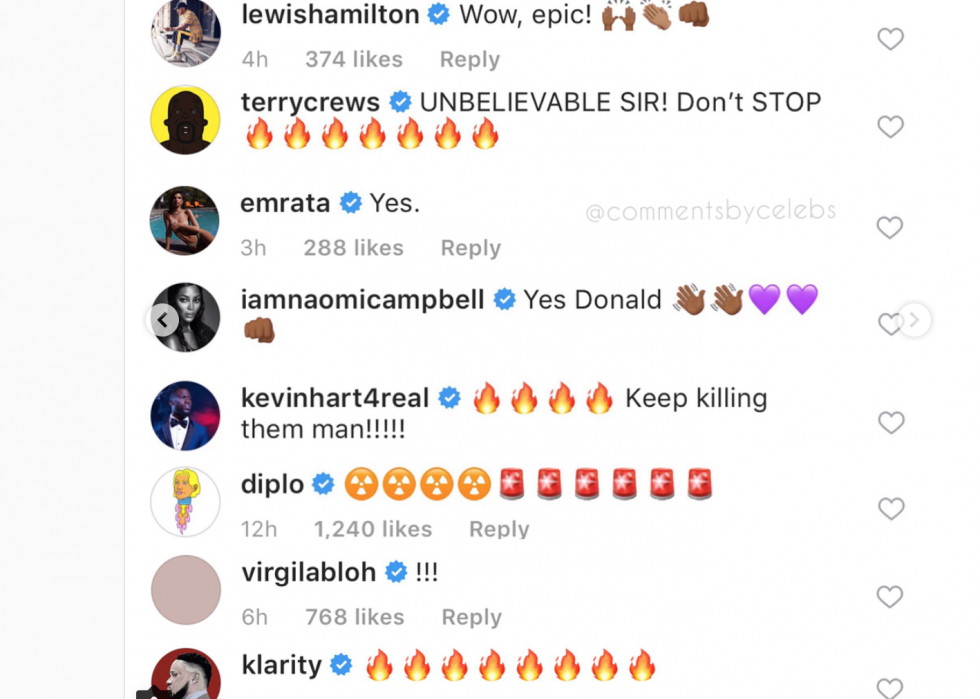 36 / 50
Donald Glover and Virtually Everyone
Childish Gambino (Donald Glover's hip-hop moniker) released the music video for "This Is America" in early May to enormous critical acclaim and social media buzz—including recognition from fellow celebrities. Everyone from model Martha Hunt to actor Terry Crews posted their praise.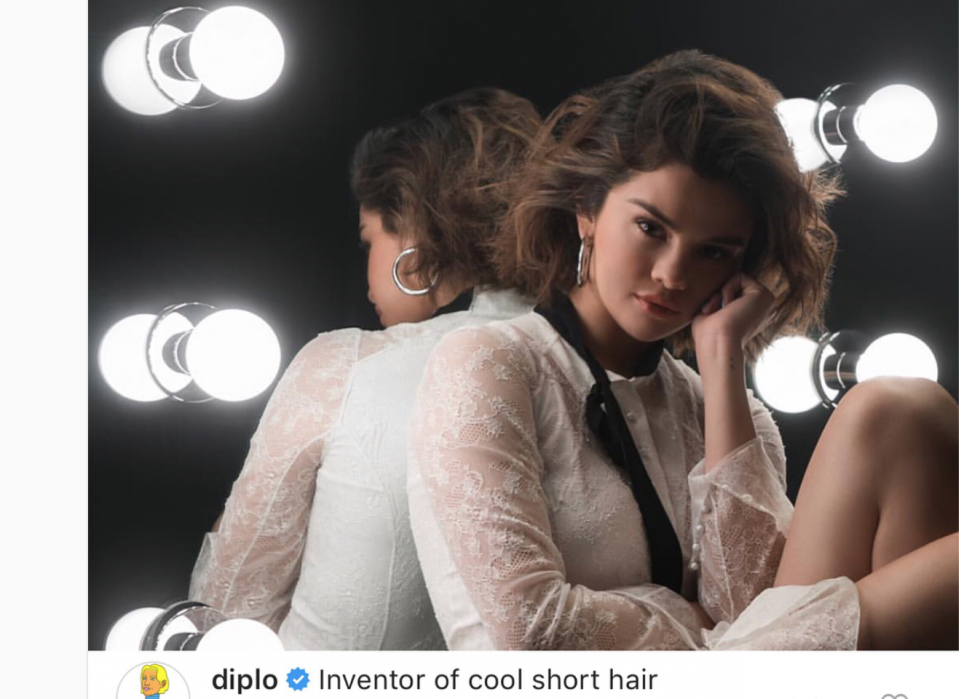 37 / 50
Diplo and Selena Gomez
Magazine readers aren't the only ones in awe of Selena Gomez' haircut, apparently. Diplo commented on this glam shot that she is the "inventor of cool short hair." Is there a higher compliment?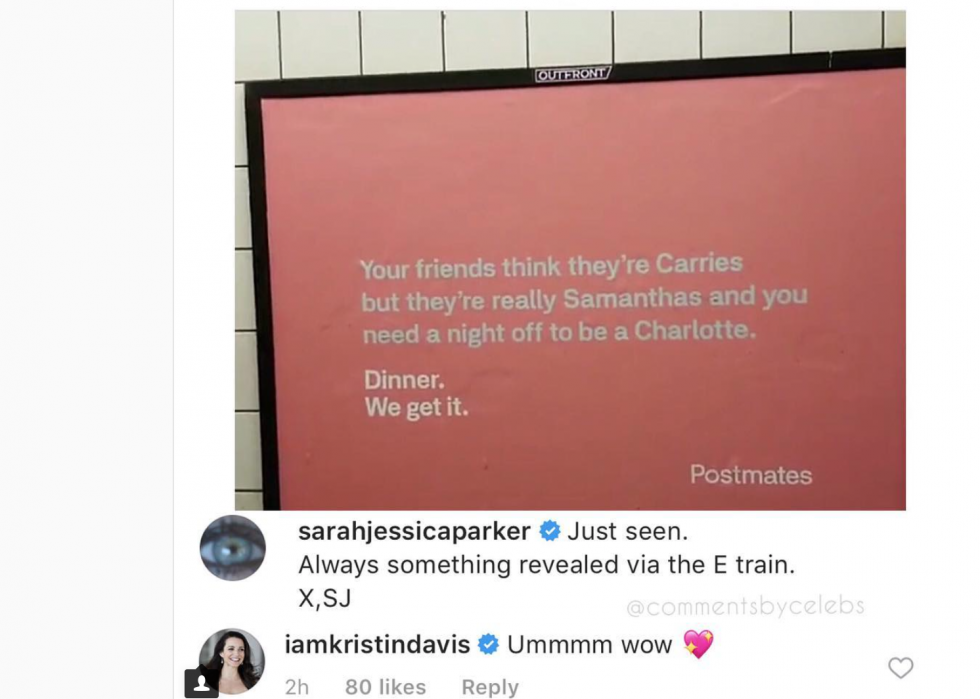 38 / 50
Sarah Jessica Parker and Kristin Davis
When "Sex and the City" star Sarah Jessica Parker saw this Postmates ad on the New York City subway, she just had to Instagram it. Her co-star Kristin Davis also thought it was pretty cool.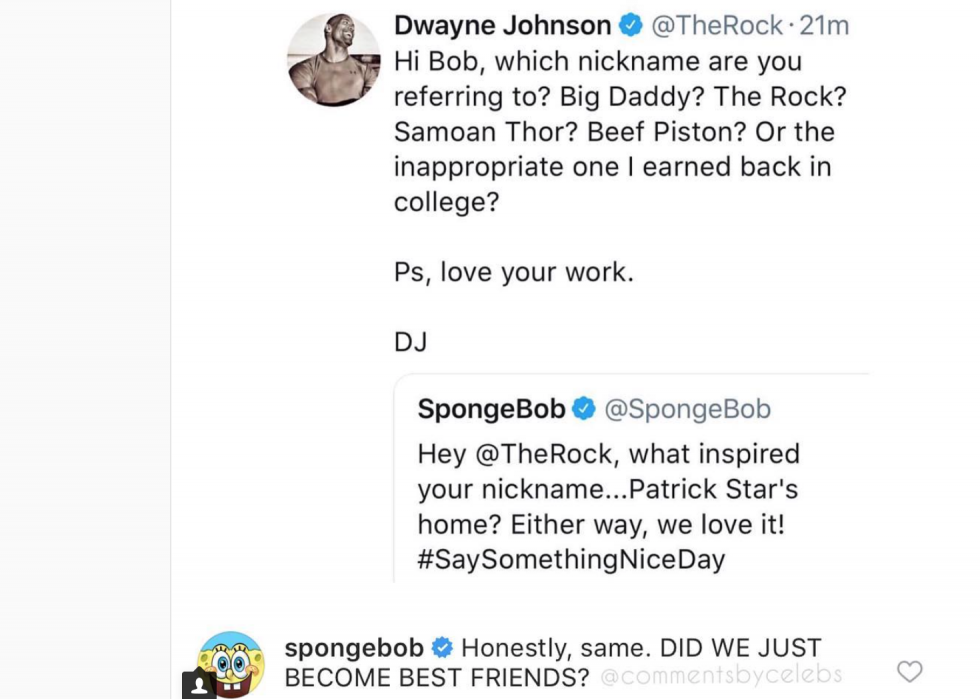 39 / 50
SpongeBob and Dwayne "The Rock" Johnson
Actor and retired professional wrestler The Rock decided to have a little fun when SpongeBob's official account asked him how he got his iconic nickname in a tweet. When Johnson said he loved SpongeBob's work, the pineapple dweller responded in kind, even suggesting they might become best friends.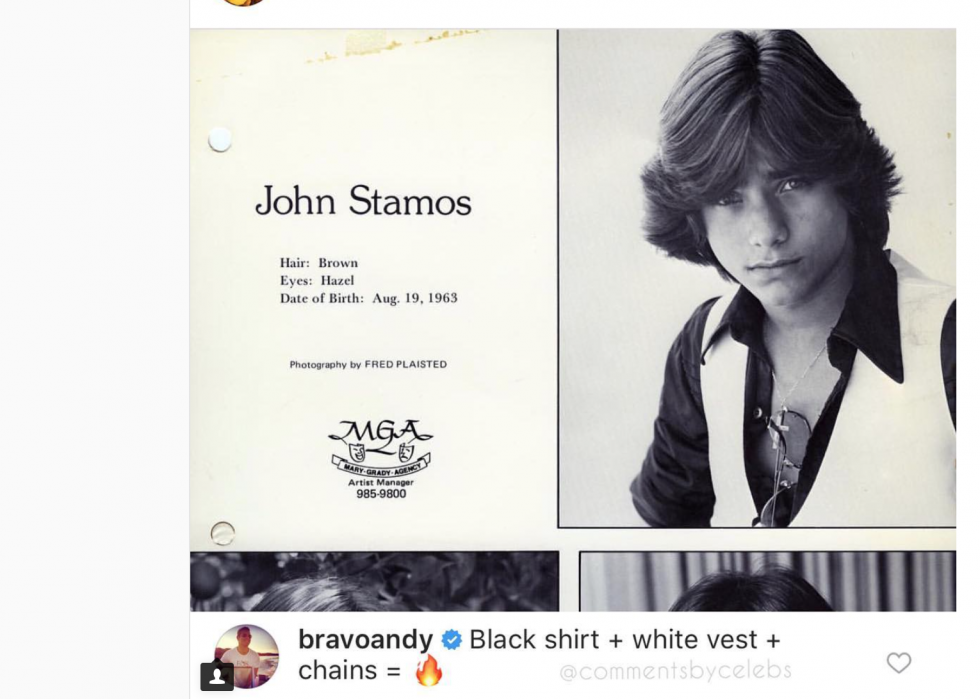 40 / 50
John Stamos and Andy Cohen
Actor John Stamos recently Instagrammed some vintage headshots in a vest, open button-down shirt and aviators—quite the '70s style. Andy Cohen was definitely feeling the look.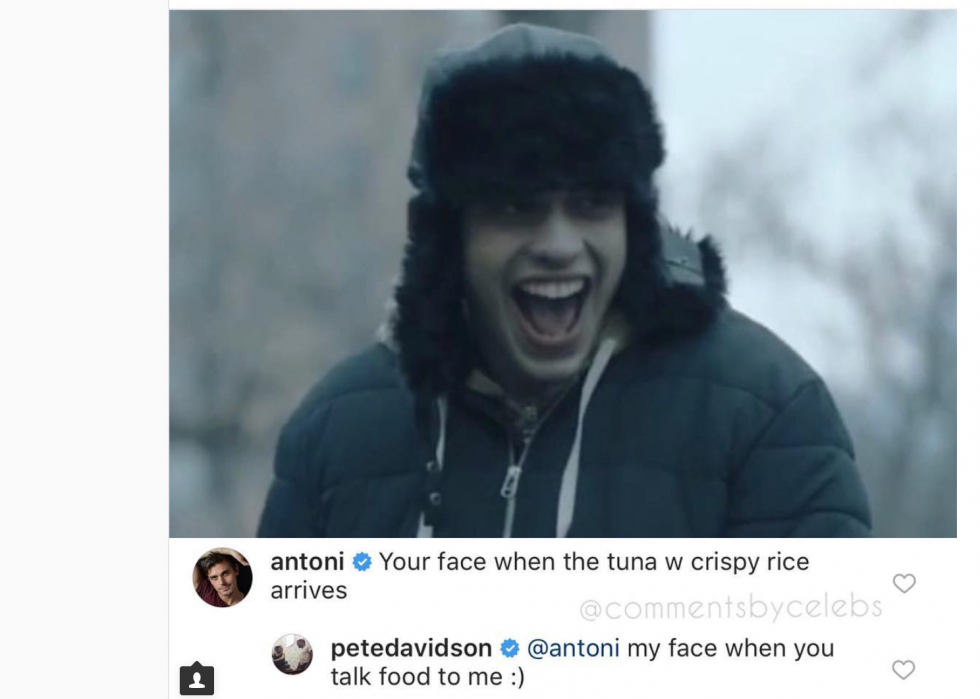 41 / 50
Pete Davidson and Antoni Porowski
After "Saturday Night Live" star Pete Davidson posted a photo of himself with a big smile on his face, Antoni Porowski, the resident food expert on "Queer Eye," joked that his own face looks like that when the tuna with crispy rice arrives.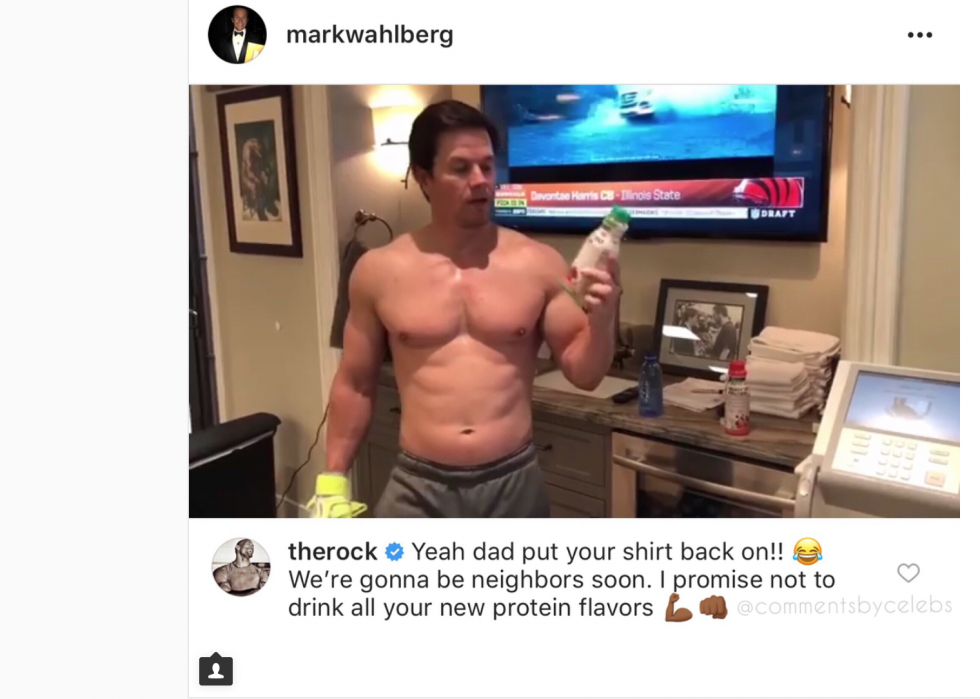 42 / 50
Mark Wahlberg and Dwayne "The Rock" Johnson
Actor Mark Wahlberg might be fit, but he's nowhere near as ripped as The Rock—something The Rock was quick to point out on Wahlberg's Instagram. After calling him "Dad," The Rock promised not to drink all his protein shakes.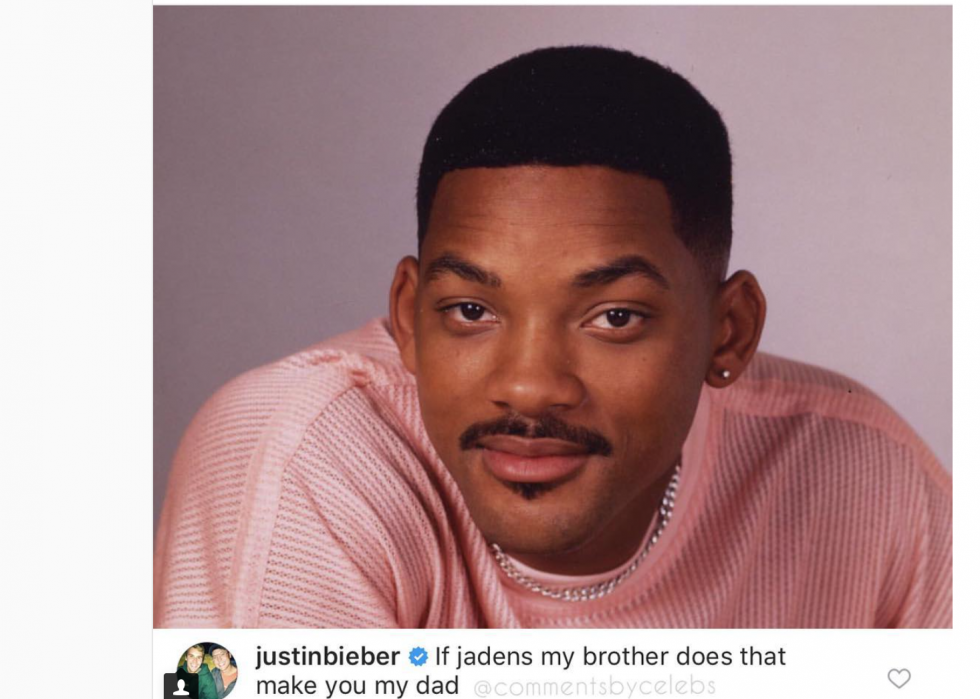 43 / 50
Justin Bieber and Will Smith
The Biebs has become close friends with Will Smith's son, Jaden, so it's only natural that he wants to know if he can call Will Smith his Dad—a sentiment likely shared by many of the actor's fans.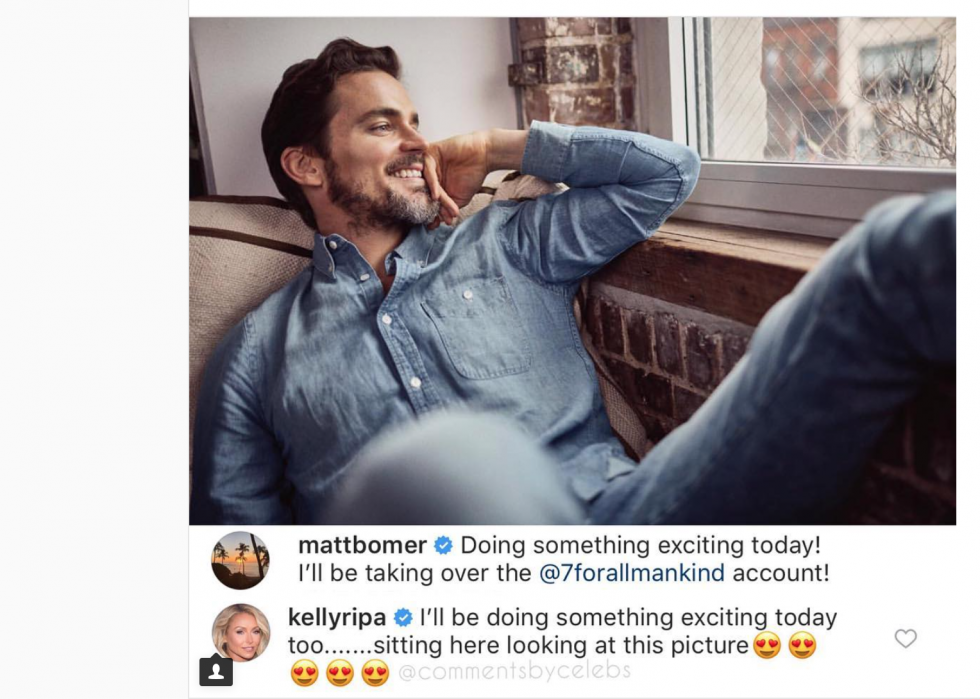 44 / 50
Matt Bomer and Kelly Ripa
Kelly Ripa knows a handsome man when she sees one. That's probably why she commented on actor Matt Bomer's Instagram with no less than five heart-eye emojis.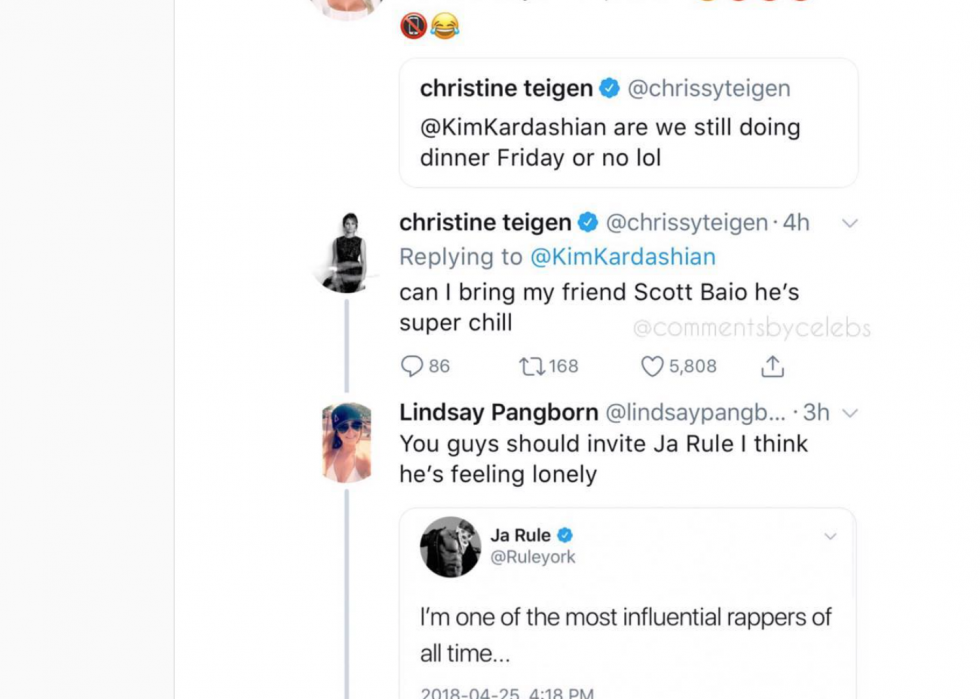 45 / 50
Chrissy Teigen and Kim Kardashian
Rapper Kanye West recently went on something of a Twitter rampage, blasting out his support of Donald Trump and even sharing screenshots of his text exchanges with John Legend about it. Thankfully, their wives had a lighthearted take on the situation: Chrissy Teigen asked if they were still on for a couples' dinner, and Kim Kardashian responded that they would have to ban phones.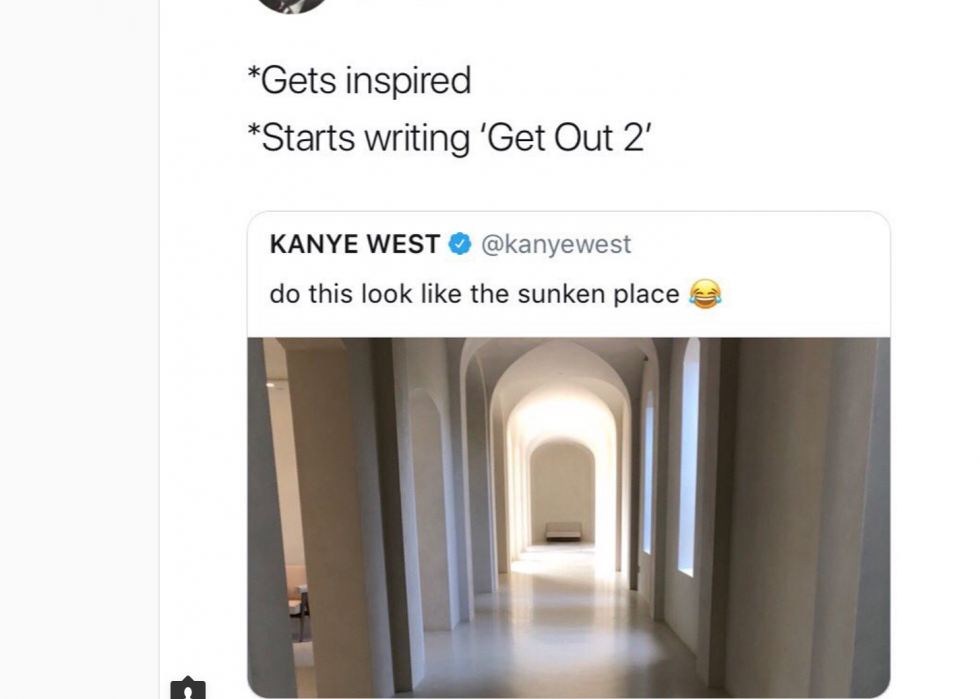 46 / 50
Jordan Peele and Kanye West
One of the most terrifying parts of Jordan Peele's satirical horror film "Get Out" is the "sunken place," or the mental state where black people are imprisoned. When Kanye West recently tweeted out an eerie photo of an empty marble hallway with the same vibe, Peele replied that he was inspired to start working on a sequel. Thanks Kanye! 
47 / 50
Ed Sheeran and Zach Braff
It seems like Zach Braff has a bit of a man crush on musician Ed Sheeran. He commented "this could be us but you playin'" on a photo of a smiley Sheeran with a lady friend.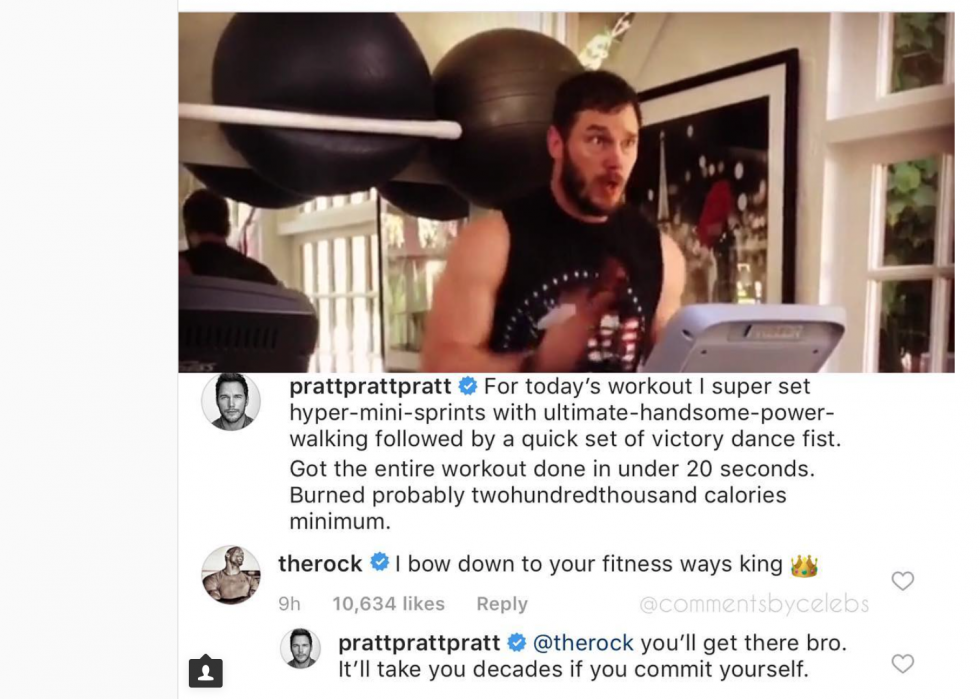 48 / 50
Chris Pratt and Dwayne "The Rock" Johnson
You've got to love a pair of bros who show each other love on social media. The Rock—himself a fitness god—responded to actor Chris Pratt's joking post about a 20-second workout that burned "twohundredthousand calories minimum" with some friendly faux-admiration.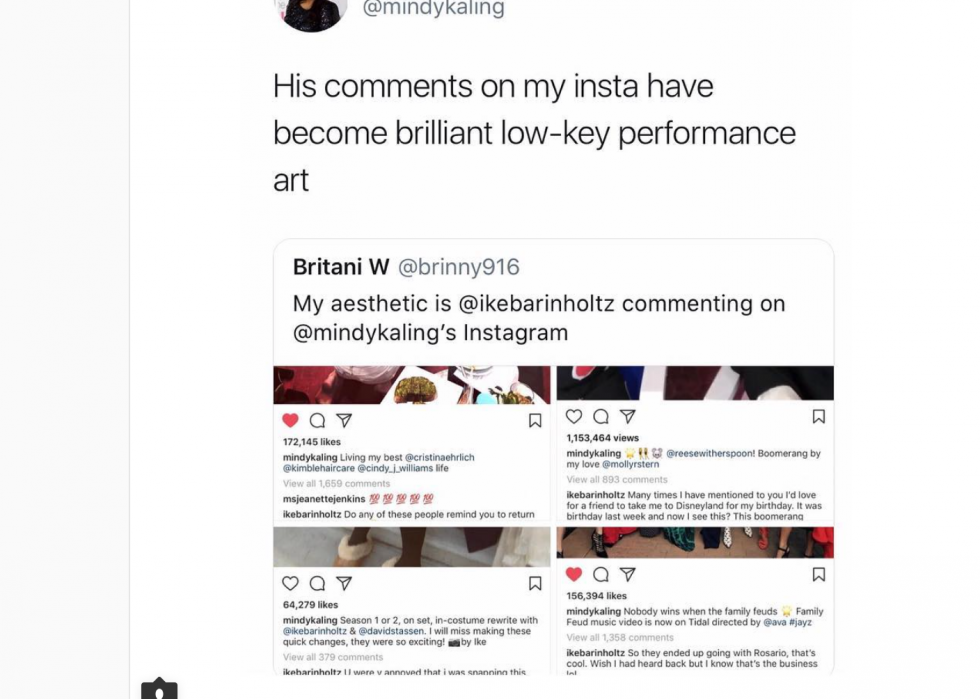 49 / 50
Mindy Kaling and Ike Barinholtz
Mindy Kaling's "The Mindy Project" co-star Ike Barinholtz regularly comments on her social media posts with his special brand of offbeat comedy—including a running joke that Ike is desperate to be BFFs with her. Topics range from feeling left out of a trip to Disneyland to wishing he could direct Jay Z's latest music video.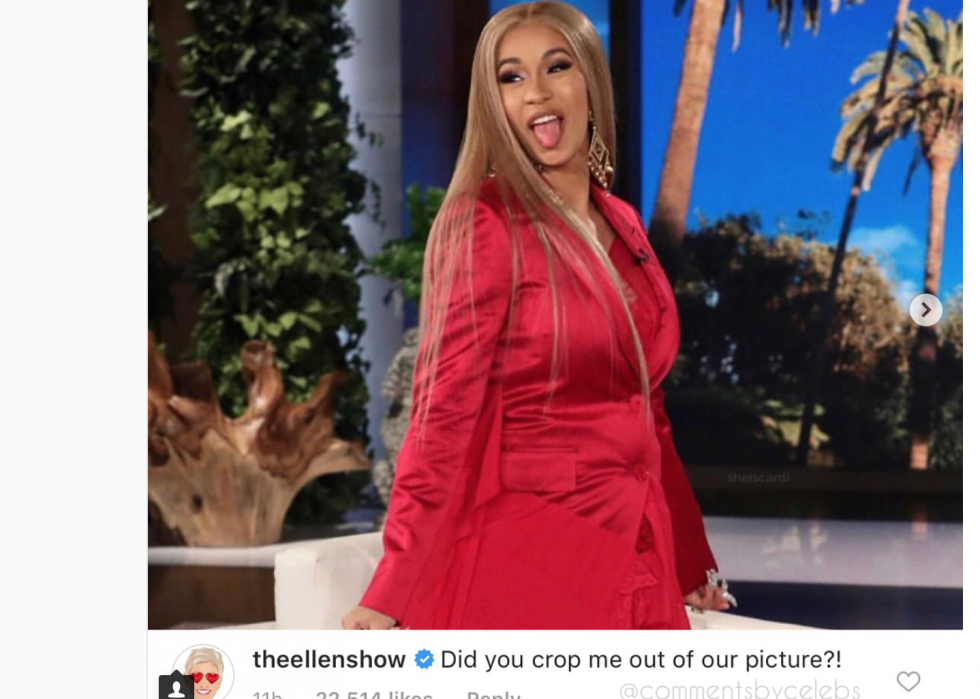 50 / 50
Cardi B and Ellen DeGeneres
After an appearance on "The Ellen DeGeneres Show," Cardi B Instagrammed a solo shot of herself on set. New pal Ellen DeGeneres commented to ask why the rapper cropped her out.