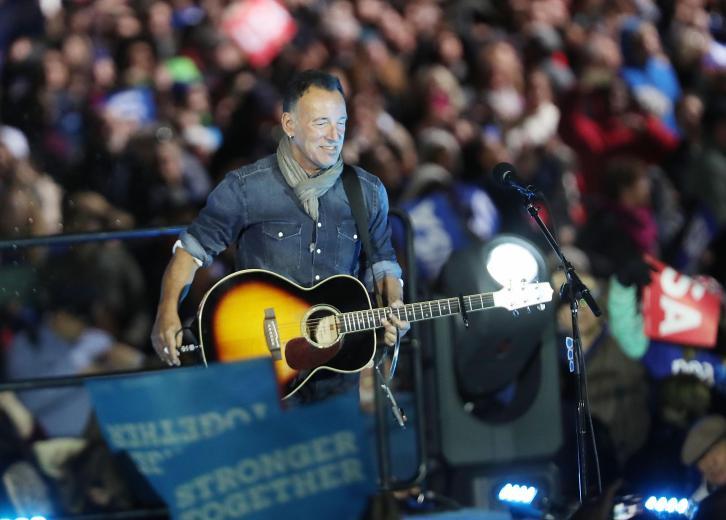 Celebrities with a history of protest
Spencer Platt // Getty Images
Celebrities with a history of protest
Despite calls for actors, athletes, musicians, and other celebrities to eschew activism to focus on entertainment, there is a long-standing precedent for famous people to leverage their platforms to enact change.
From Harry Belafonte and Sidney Poitier establishing themselves as leaders during the civil rights movement to Leonardo DiCaprio and Jane Fonda among many stars pushing for environmental protections and justice, hundreds if not thousands of celebrities in the last century have pushed the needle on a wide variety of causes. Today's celebrities commonly use their mantles to protest animal cruelty, police brutality, government surveillance, military action, environmental injustice, and civil rights among dozens of other causes.
Stacker has highlighted 50 celebrities from the last 75 years with a history of protest. Our list includes actors, athletes, and musicians. Several of the contemporary stars made headlines in 2020 for their efforts in support of the Black Lives Matter movement, appearing at numerous protests in the wake of the killings of Breonna Taylor, George Floyd, and many others. Others were instrumental in successful efforts to shut down the Keystone XL pipeline.
Keep reading to find out what causes some of your favorite celebrities are fighting for.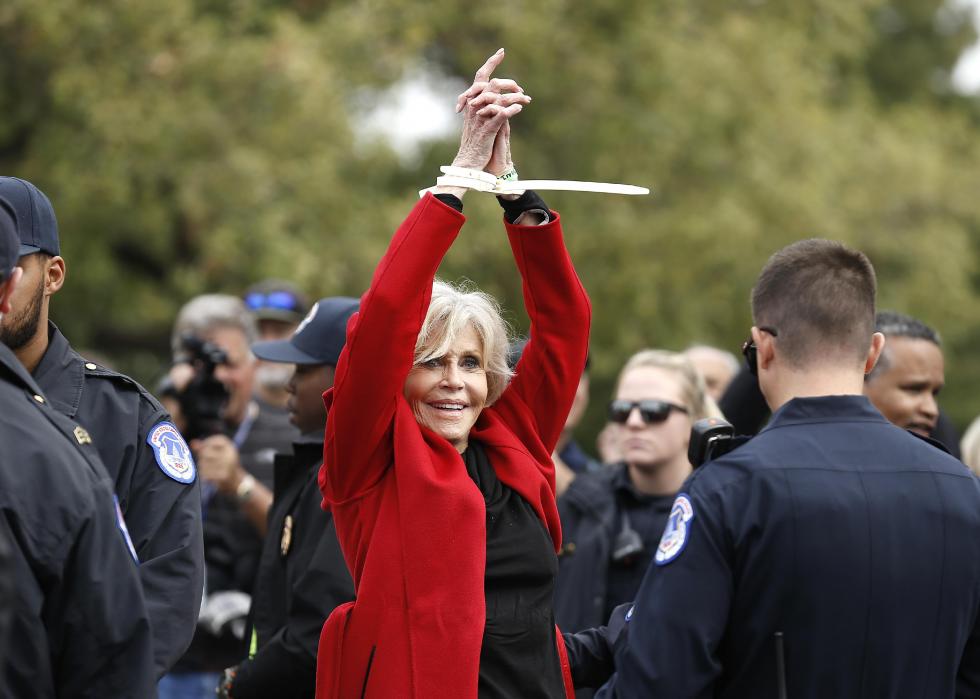 1 / 50
John Lamparski // Getty Images
Jane Fonda
Actor Jane Fonda has been known for her activism throughout her decades-spanning career. She was arrested in 1970 for protesting the Vietnam War. Despite continued action against the conflict, Fonda avoided further arrests until 2019, when she was arrested five times while protesting fossil fuels and calling for environmental action.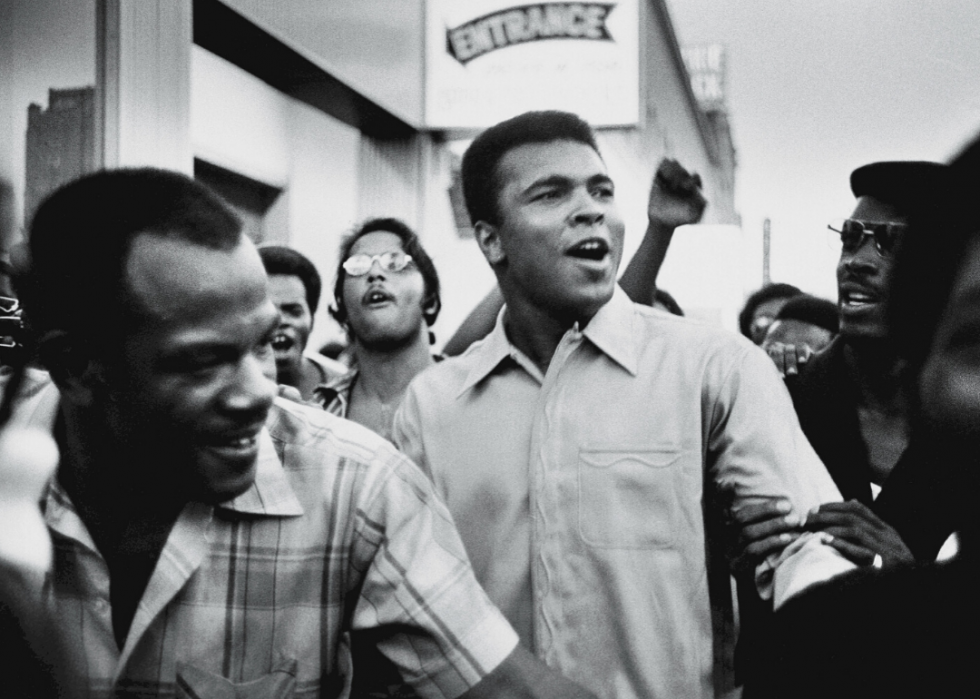 2 / 50
David Fenton // Getty Images
Muhammad Ali
Legendary boxing champion Muhammad Ali became an outspoken figure against the Vietnam War, refusing to join the U.S. Army. Declaring himself a conscientious objector, in part due to his religious beliefs, Ali was arrested and stripped of his titles. Ali became a countercultural figure for civil rights and pacifism, and his conviction for draft evasion was eventually overturned by the Supreme Court.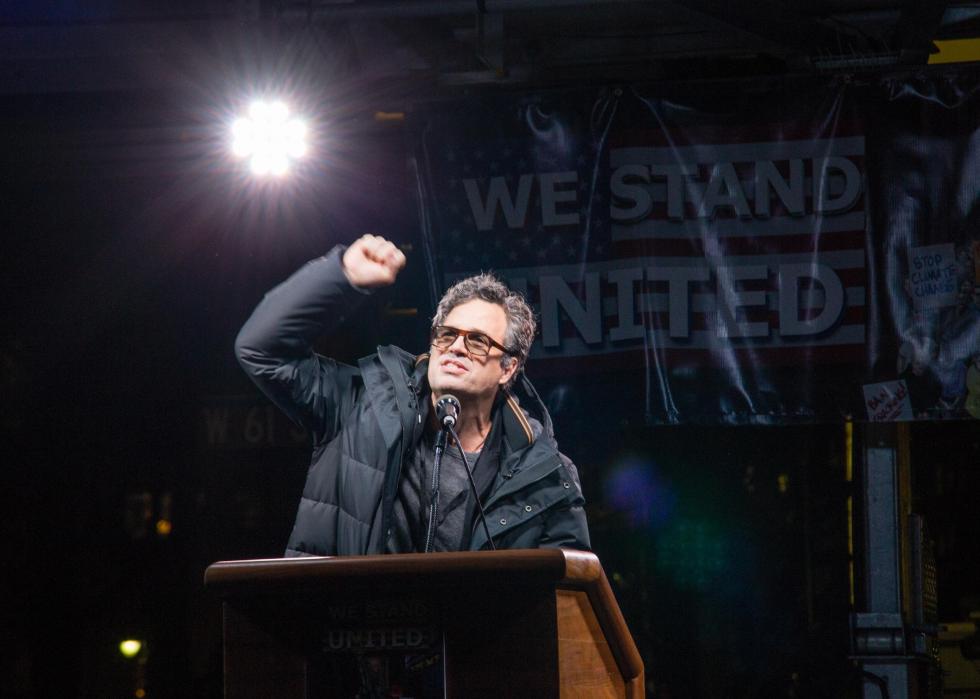 3 / 50
Barcroft Media // Getty Images
Mark Ruffalo
"Avengers" star Mark Ruffalo is one of the highest-profile activists against fracking, participating in multiple protests against oil companies. Ruffalo also produced and starred in a 2019 anti-fracking film called "Dark Waters" and co-founded The Solutions Project, an organization providing funding for climate justice projects in the U.S. and Puerto Rico. While fracking has been a central issue for Ruffalo for decades, the actor also protested against former President Donald Trump's policies during his term, and was one of the few celebrities to call for justice for Palestine in 2021.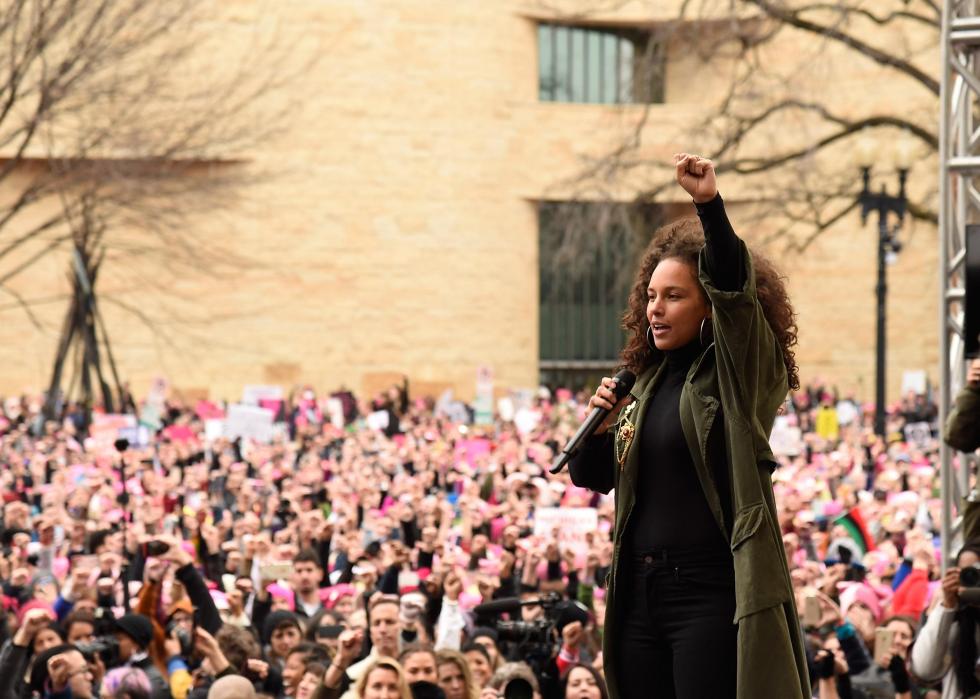 4 / 50
Kevin Mazur // Getty Images
Alicia Keys
As a musician, Alicia Keys has added musical flair to her activism. Keys spoke at various demonstrations protesting Trump administration immigration policies, the nomination of Brett Kavanaugh to the Supreme Court, and police brutality, and contributed several protest songs speaking to some of these issues, notably "Perfect Way to Die."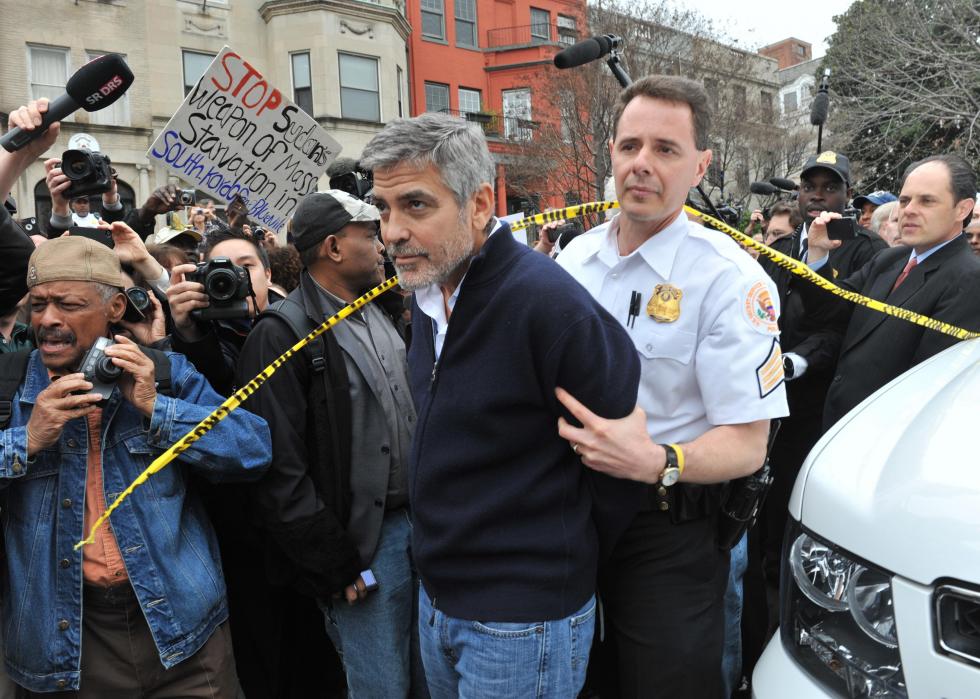 5 / 50
The Washington Post // Getty Images
George Clooney
As one of the most prolific celebrities in Hollywood, George Clooney has used his star power time and again to bolster his humanitarian efforts. Clooney had long been vocal about finding a resolution to the War in Darfur, interfacing with world leaders and the United Nations as well as taking part in a number of documentaries spreading awareness about the conflict. In 2012, Clooney was arrested along with his father during a protest at the Sudanese Embassy in Washington D.C. In 2020, Clooney and his wife Amal donated $500,000 to the Equal Justice Initiative following the murder of George Floyd.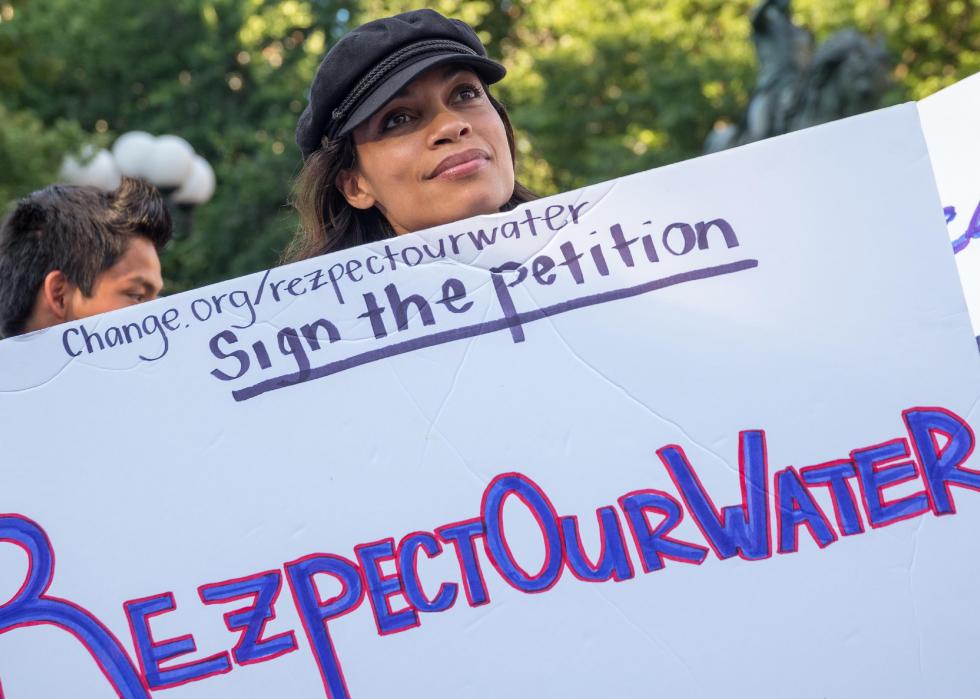 6 / 50
Pacific Press // Getty Images
Rosario Dawson
Actor Rosario Dawson is a well-documented activist, primarily demonstrating in support of the Democratic Party. In 2004, Dawson was arrested during the Republican National Convention while protesting against President George W. Bush. She also protested in Washington D.C. in 2016 while attending a rally and spoke out against the role of money in politics. Dawson founded the non-profit organization Voto Latino, which works to motivate young Hispanic and Latino Americans to register to vote. Her political activism led her to a fundraiser for Ben Jealous, a 2018 gubernatorial candidate for Maryland, where she met her current partner, Sen. Cory Booker.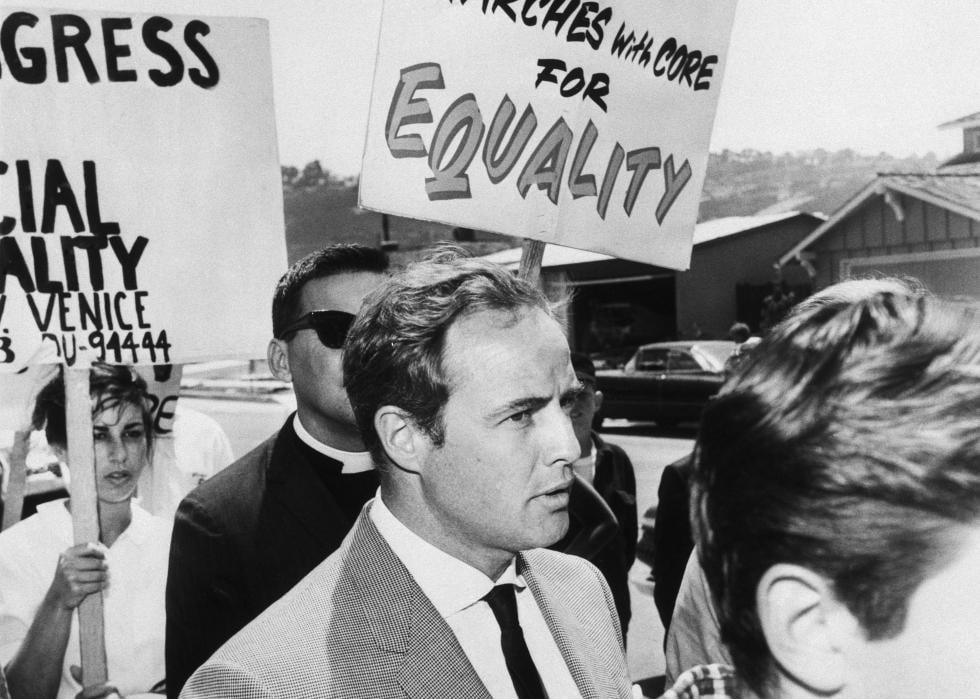 7 / 50
Marlon Brando
Oscar-winning actor Marlon Brando was influential not only for his roles in films like "The Godfather" and "On the Waterfront," but also for his political idealism and activism. Brando participated in the movement for civil rights in the 1960s and favored a boycott toward South Africa for its apartheid policies. In support of Indigenous people in the Americas, Brando refused to accept his Best Actor trophy at the 1973 Academy Awards and sent Native American actor Sacheen Littlefeather to speak on his behalf.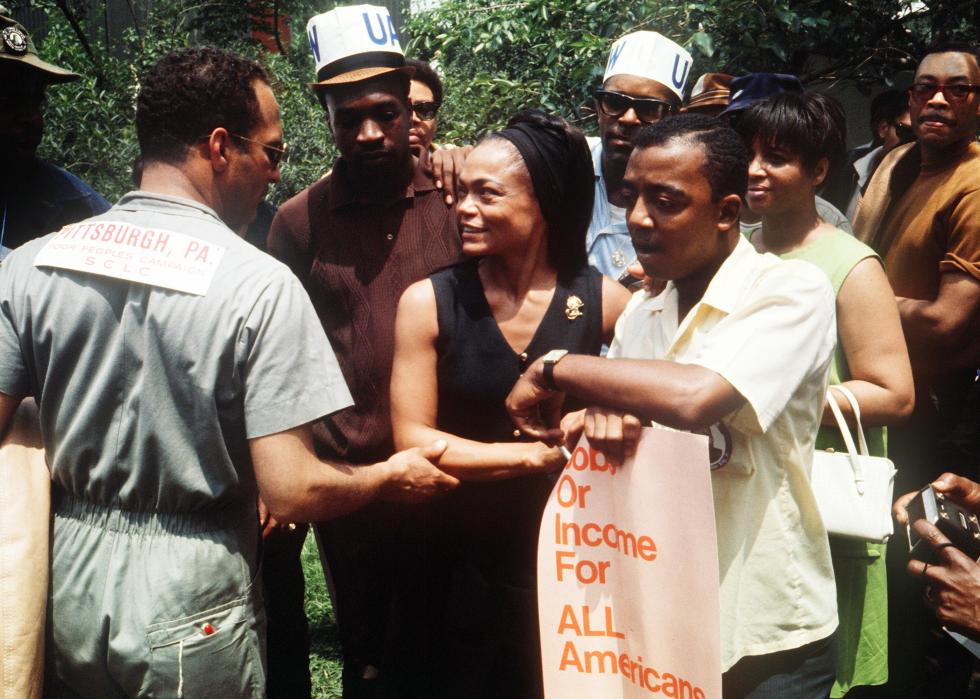 8 / 50
ARNOLD SACHS/AFP // Getty Images
Eartha Kitt
Active in a number of social causes, actor Eartha Kitt advocated for and supported underprivileged children in Los Angeles. Kitt also protested against the Vietnam War, and as with many politically active celebrities at the time, she was surveilled by the CIA. Her most public and vocal criticism of the war came during a White House luncheon that President Lyndon Johnson attended.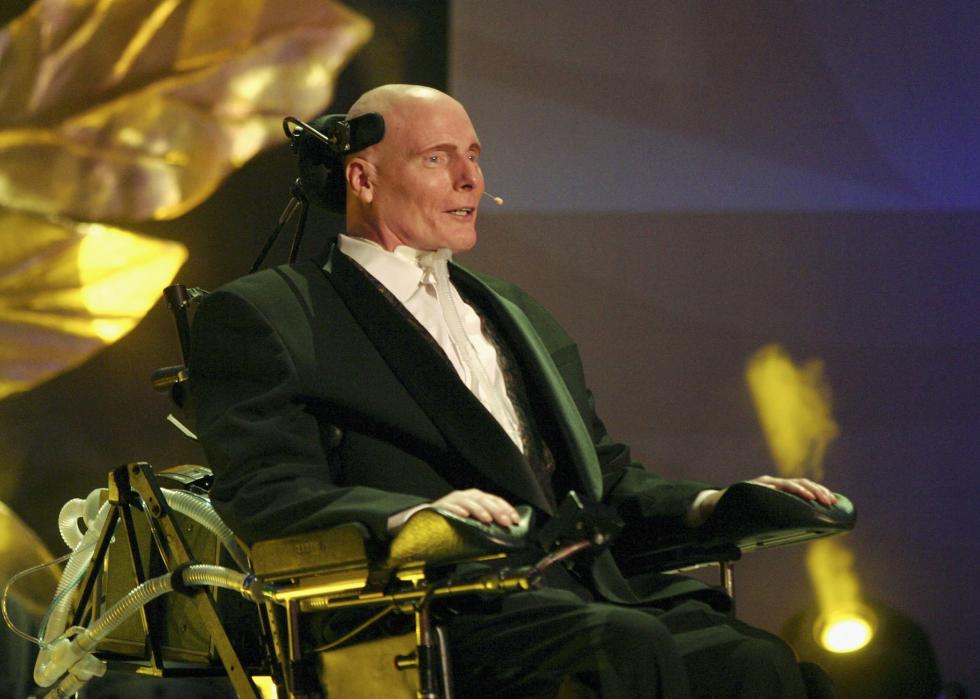 9 / 50
Christopher Reeve
Former "Superman" Christopher Reeve had a well-documented history of human rights and environmental activism dating back to at least the mid-'70s. He was very involved with America's Watch, Amnesty International, The Environmental Air Force, Natural Resources Defense Council, and Save the Children. He flew to Santiago, Chile, in 1987 in support of 77 actors whom the Pinochet regime threatened to execute. Thrown from a horse and paralyzed in 1995, Christopher Reeve spent the rest of his life and career advocating for stem cell research and the treatment of neurological disorders. He creating the Christopher and Dana Reeve Foundation to fund research and improve the quality of life for patients, testified in support of federal funding for stem cell research before the Senate Appropriations Subcommittee on Labor, Health and Human Services, Education and Related Agencies, and successfully helped get the budget for that National Institute of Health doubled over the course of five years.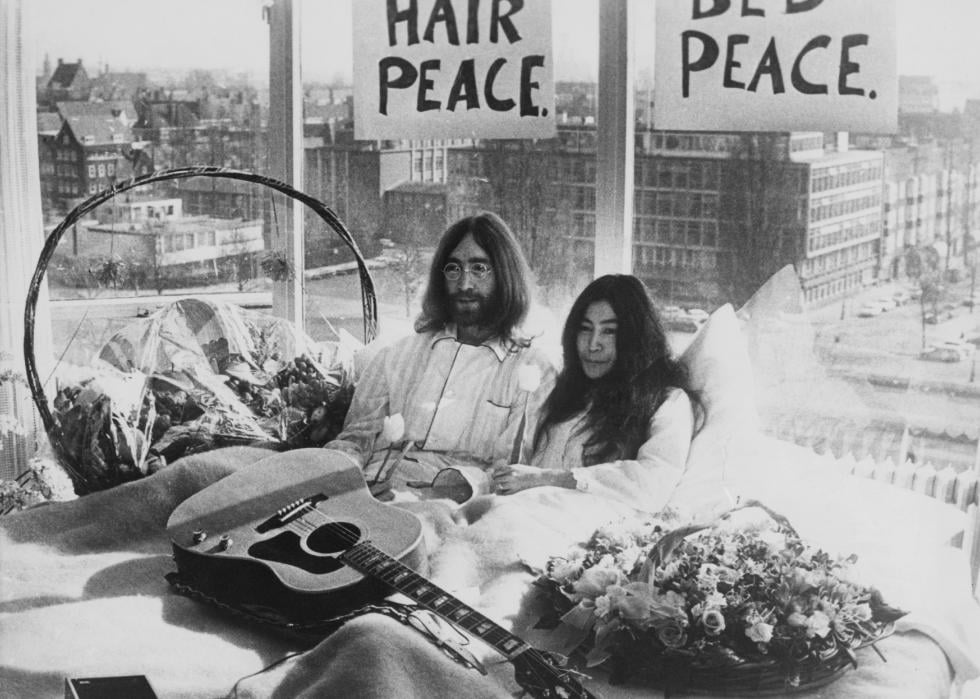 10 / 50
John Lennon and Yoko Ono
The power couple of former Beatle John Lennon and musician and artist Yoko Ono primarily focused on promoting peace with their works of art, with "Imagine" and "Give Peace a Chance" being some of the more famous songs from the duo. The Nixon administration attempted to deport Lennon from the United States over the musician's outspoken leftist politics. Following Lennon's murder in 1980, Ono has continued with her peace activism and art through today; she had a massive retrospective exhibit called "Peace is Power" in 2019 at the Leipzig Museum of Fine Arts in Germany.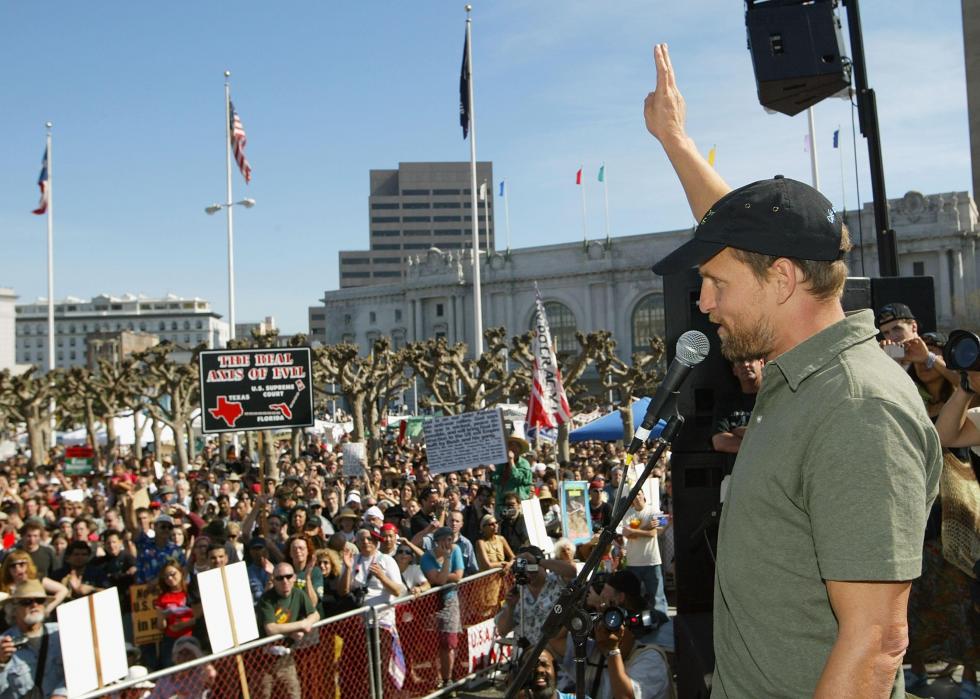 11 / 50
Justin Sullivan // Getty Images
Woody Harrelson
Actor Woody Harrelson has made many of his sociopolitical views known to the public, including his support for marijuana legalization and environmental protection. At a 1996 protest, Harrelson and several other protesters scaled the Golden Gate Bridge to hang up a sign criticizing Maxxam Inc. CEO Charles Hurwitz. The outspoken activist and vegan narrated the 2020 documentary "Kiss the Ground," which centers on promoting regenerative agriculture as a method for mitigating ecologically damaging farming practices from fossil-fuel use to factory farming.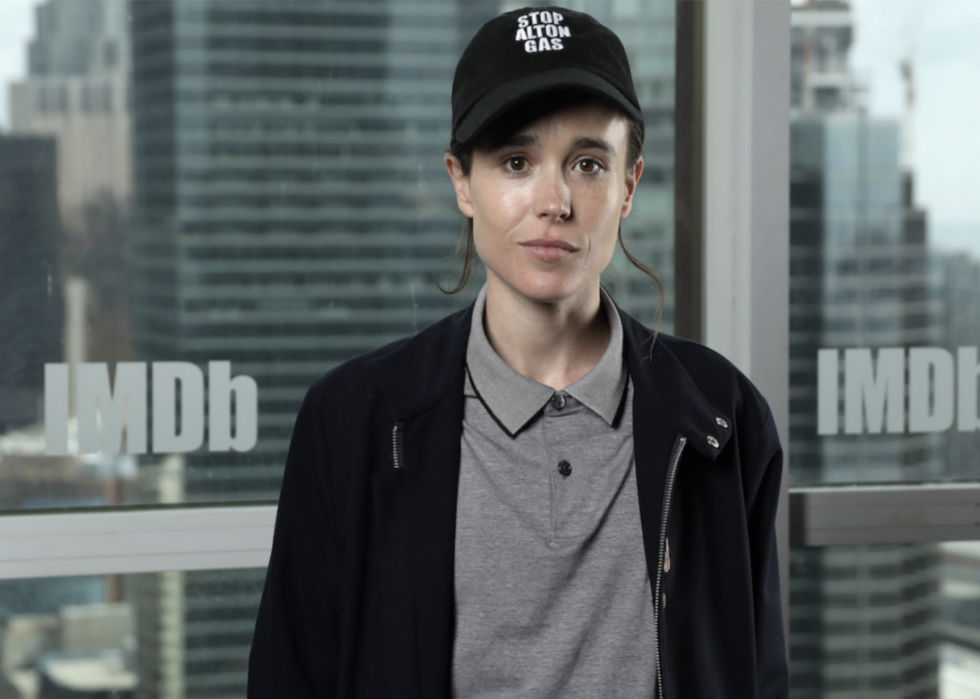 12 / 50
Rich Polk // Getty Images for IMDb
Elliot Page
After coming out at the Human Rights Campaign's Time to Thrive conference in 2014, actor Elliot Page became a public advocate for LGBTQ+ rights. In an anti-Donald Trump protest after the president's inauguration, a video of Page debating a homophobic preacher went viral online. After coming out as transgender in December of 2020, Page has become an outspoken advocate and activist for trans issues.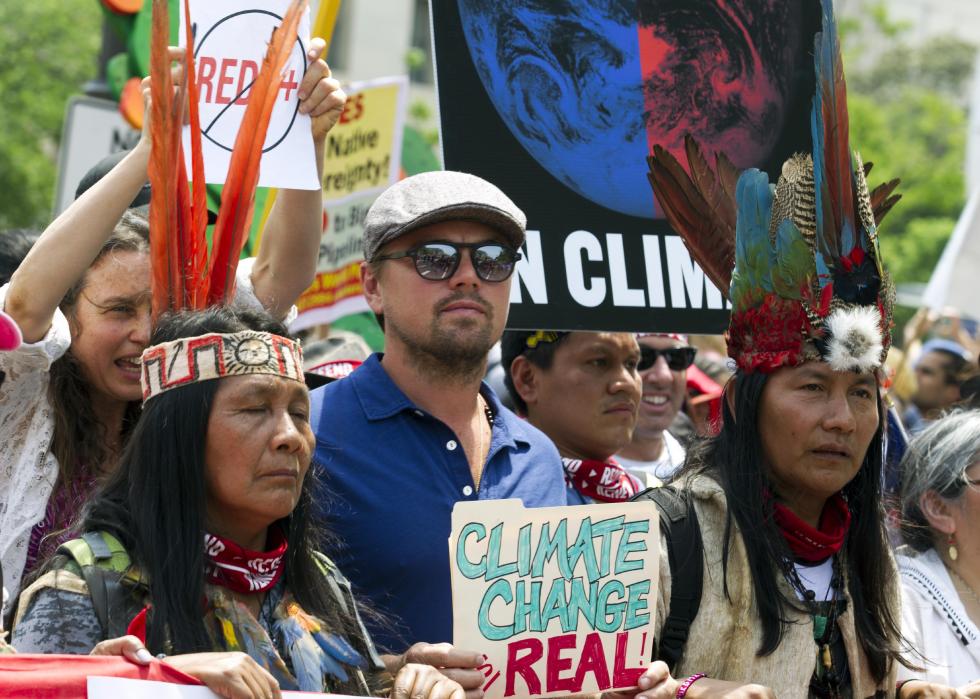 13 / 50
Leonardo DiCaprio
Being one of the most famous actors in film today benefited Leonardo DiCaprio's environmental activism. For the bulk of his career, DiCaprio has been active in efforts for preservation and combating climate change. His activism led to him conferring with national leaders, donating millions of dollars to environmental causes, attending marches, and speaking out about climate change in his acceptance speech for Best Actor at the 88th Academy Awards. He formed the Leonardo DiCaprio Foundation in 1998 (now part of Earth Alliance), which forms partnerships with organizations, experts, and activists to foster biodiversity and mitigate climate change.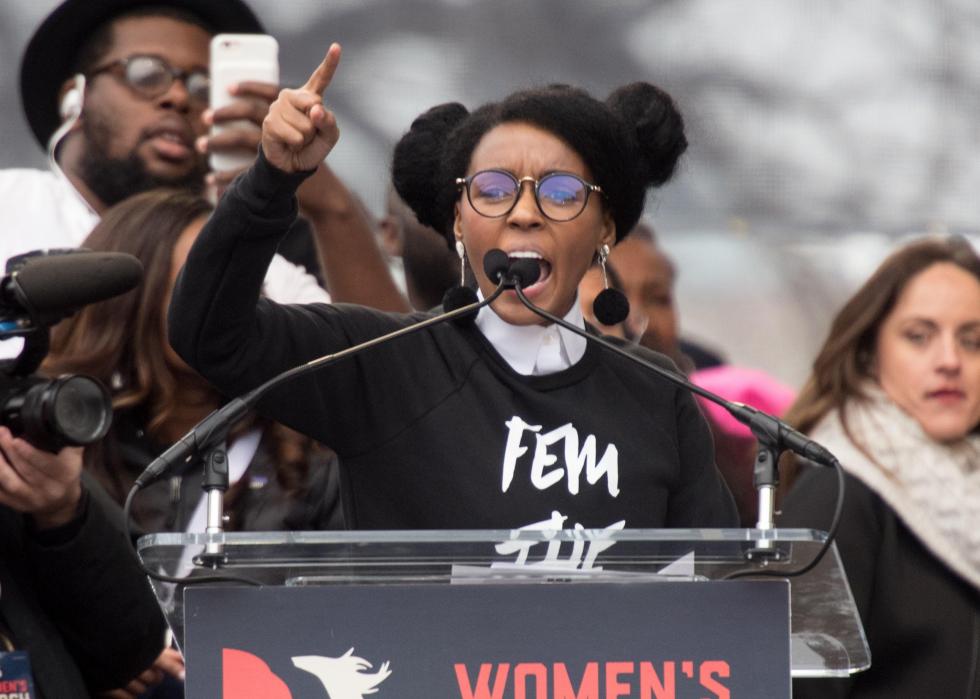 14 / 50
Noam Galai // Getty Images
Janelle Monae
In support of the Black Lives Matter movement, musical artist Janelle Monae wrote and performed a protest song called "Hell You Talmbout," which invoked the names of several Black Americans who were victims of police violence and racially motivated crimes. Monae also marched in Black Lives Matter protests.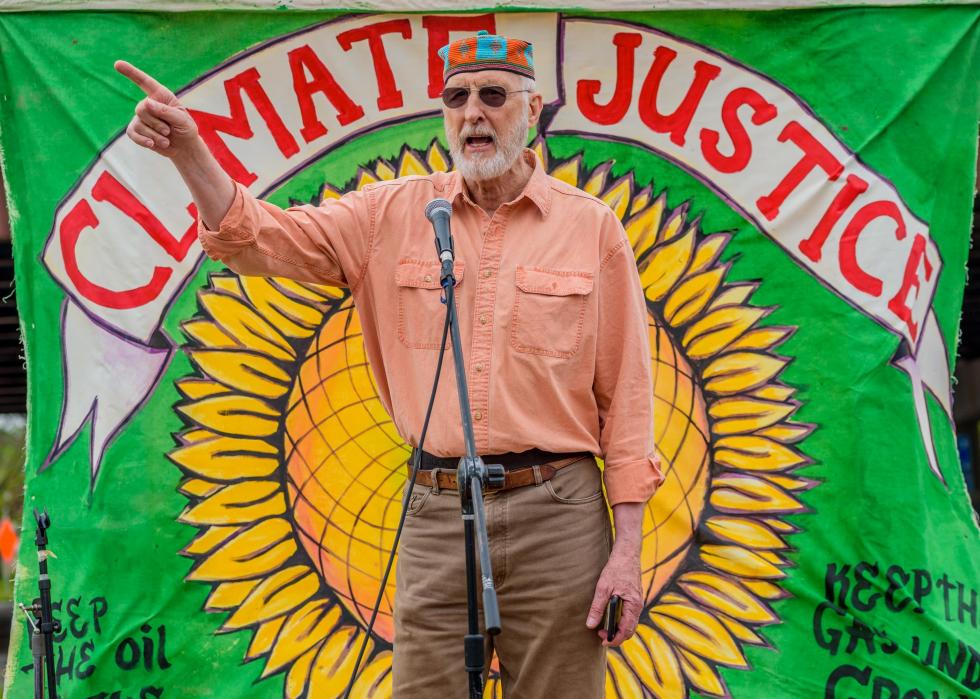 15 / 50
Pacific Press // Getty Images
James Cromwell
Actor James Cromwell, who became a vegan while shooting the film "Babe," began his activism during the civil rights movement and Vietnam War. He was arrested in 1971 for civil disobedience at the famed May Day anti-war protests in Washington D.C. His half-century-plus of activism has run the gamut from environmental issues, peace efforts, animal rights, and equality. He has participated in Black Lives Matter protests back to at least 2017, served as a spokesperson for PETA, was arrested during a protest against a dog laboratory in 2019.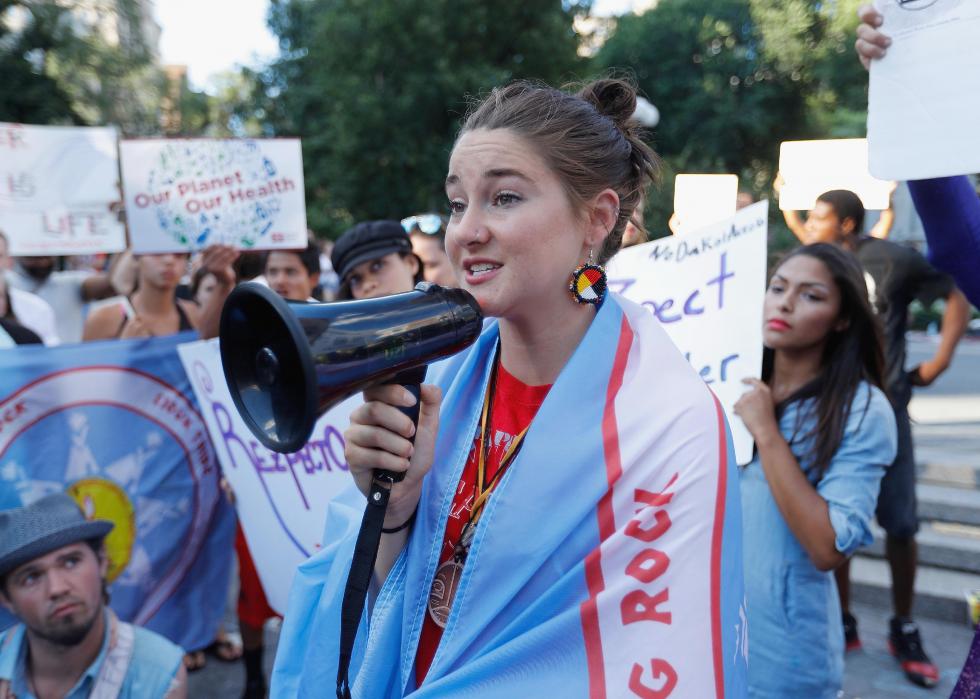 16 / 50
John Lamparski // Getty Images
Shailene Woodley
"Divergent" and "The Fault in Our Stars" actor Shailene Woodley is an avid activist for environmental issues and is active in a number of progressive organizations. While protesting against the Dakota Access Pipeline, Woodley was arrested and charged with criminal trespassing.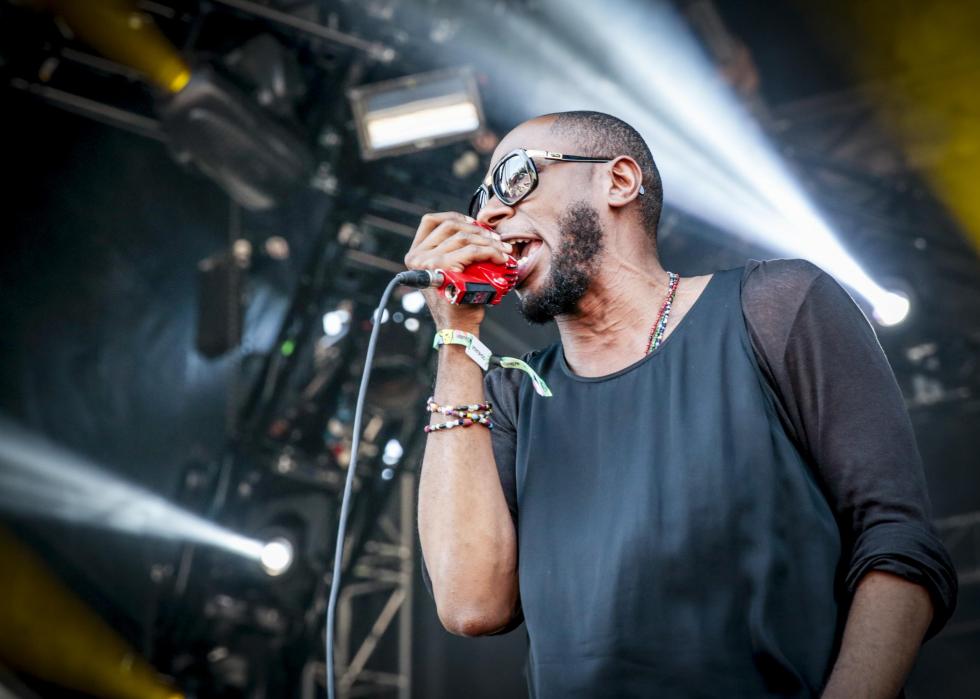 17 / 50
Mark Horton // Getty Images
Mos Def
Rapper and actor Yasiin Bey, also known as Mos Def, has been outspoken about police brutality and violence against Black Americans. He held an impromptu concert outside the MTV Video Music Awards in 2006, performing a protest song called "Katrina Clap" that criticized the Bush administration's response to the Hurricane Katrina disaster. Despite having a permit, Mos Def was arrested for the performance.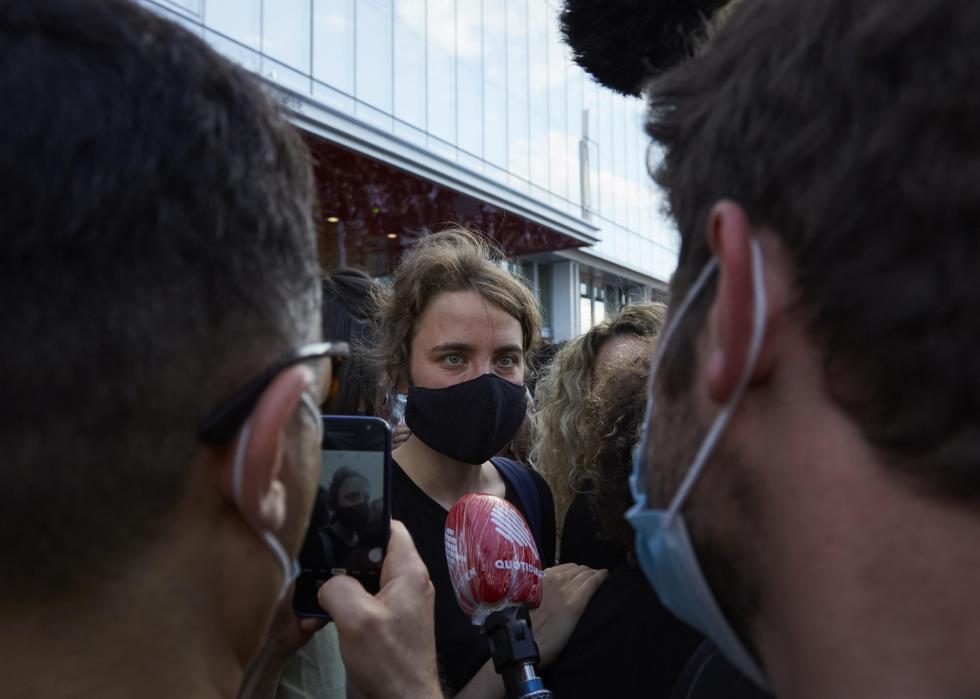 18 / 50
Adèle Haenel
French actor Adèle Haenel ("Portrait of a Lady on Fire") has been active in France's #MeToo movement. Having had her own experiences with abuse and harassment in the film industry, Haenel in 2020 protested Roman Polanski's win at the César Awards by walking out of the ceremony with several others.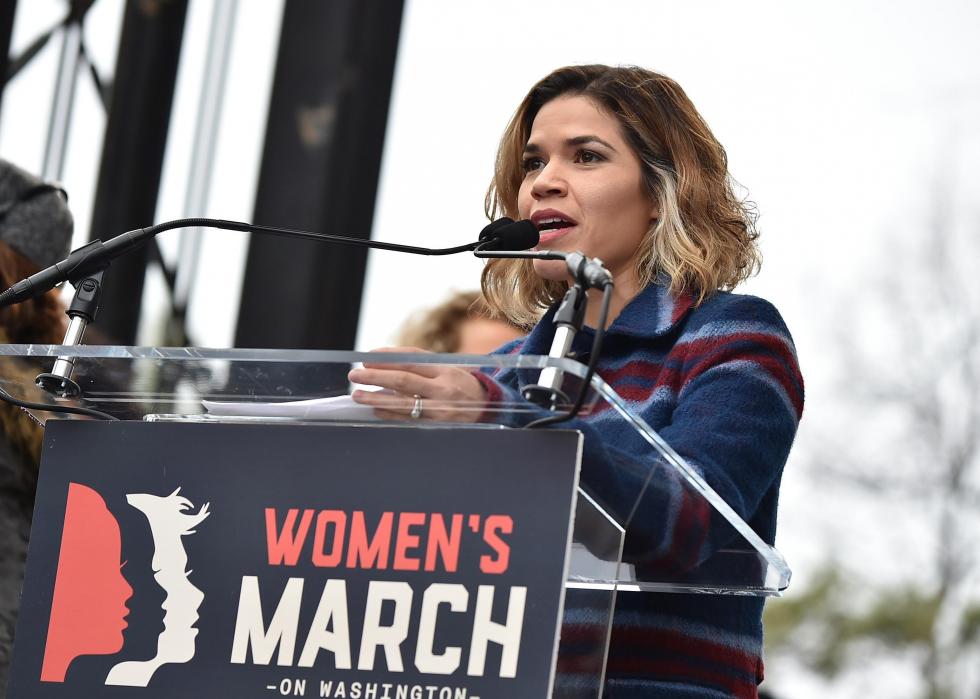 19 / 50
Theo Wargo // Getty Images
America Ferrera
The daughter of Honduran immigrants, actor America Ferrera has spent most of her career encouraging and mobilizing Latin Americans to be politically active. Ferrera spoke several times at Democratic national conventions as well as at the 2017 Women's March. She has also served as a prominent voice in the Keep Families Together movement against family separations at the U.S.-Mexico border and served as an artist ambassador for the global organization Save the Children.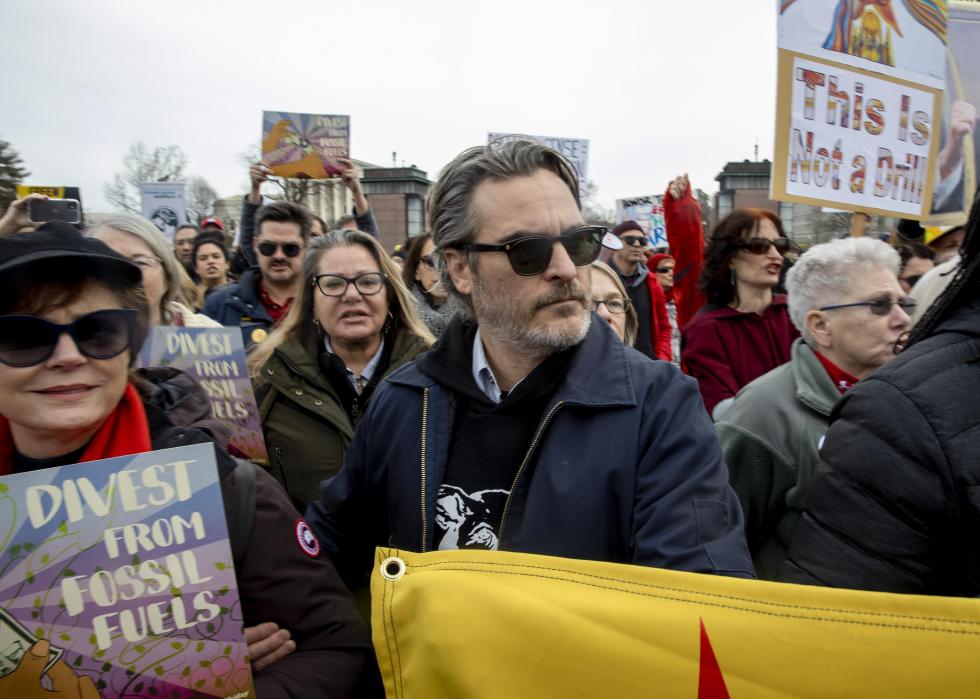 20 / 50
Tasos Katopodis // Getty Images
Joaquin Phoenix
When winning multiple awards for his lead role in the film "Joker," Joaquin Phoenix used the awards stage to promote diversity in the film industry and awareness of animal cruelty. His 2020 speech at the Oscars specifically condemned the dairy industry for its treatment of cows. Phoenix was arrested in 2020 while protesting the climate crisis along with Jane Fonda and Martin Sheen.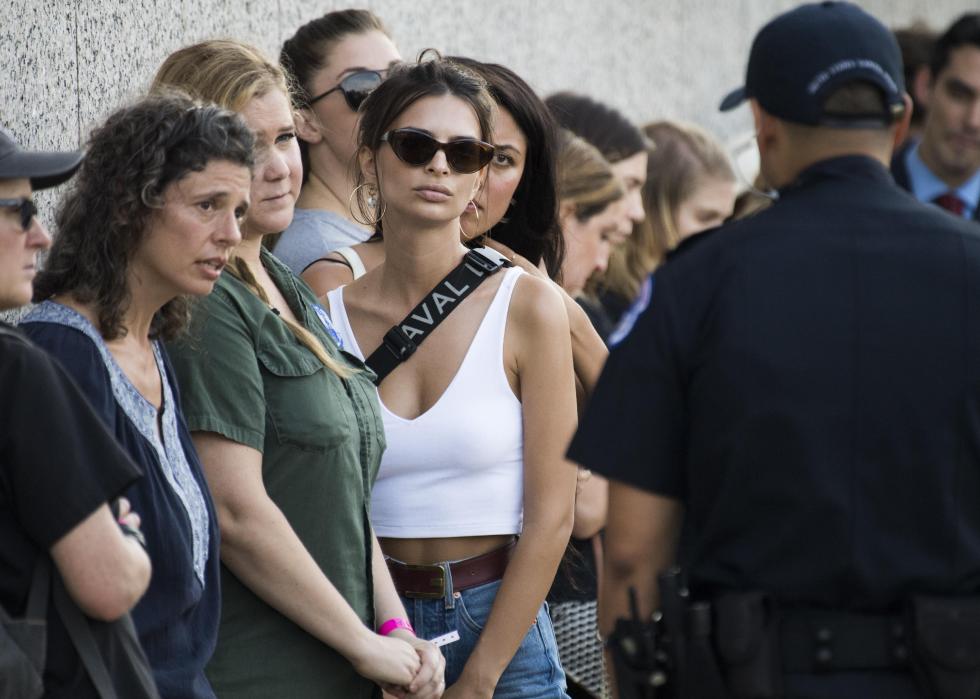 21 / 50
Tom Williams // Getty Images
Emily Ratajkowski
Model Emily Ratajkowski has used her platform to advocate for feminism, sexual expression, and a positive body image. She has designed dresses with partial proceeds supporting Planned Parenthood, and leveraged her Instagram profile to speak out against an Alabama state law that banned abortion. Upon the nomination and eventual confirmation of Brett Kavanaugh to the Supreme Court, Ratajkowski and others were arrested at a protest in Washington D.C.
22 / 50
Bill Clark // Getty Images
Ted Danson
Star of "Cheers" and "The Good Place," Ted Danson has been an outspoken voice for environmental issues, particularly those concerning the world's oceans. Danson in late 2019 participated in one of Fonda's many protests demanding action on climate change and arrested alongside her.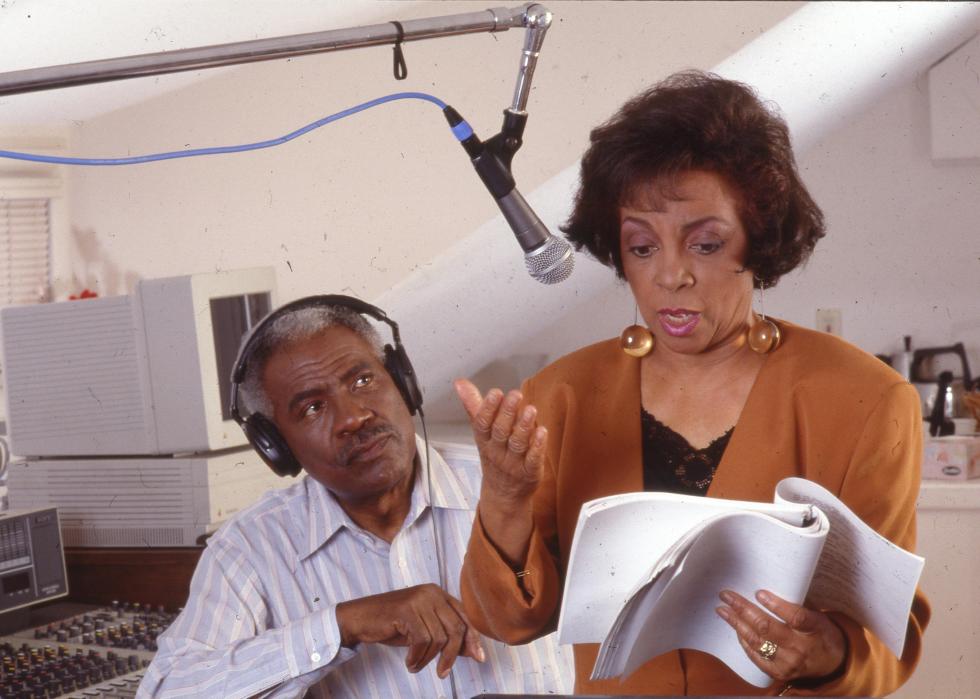 23 / 50
Anthony Barboza // Getty Images
Ossie Davis and Ruby Dee
Along with being legendary performers on stage and screen, married couple Ossie Davis and Ruby Dee were also both prominent activists in the civil rights movement. Organizing a number of marches, the two were also friends with Martin Luther King Jr., Jesse Jackson, and Malcolm X, with Davis delivering eulogies for King and Malcolm X.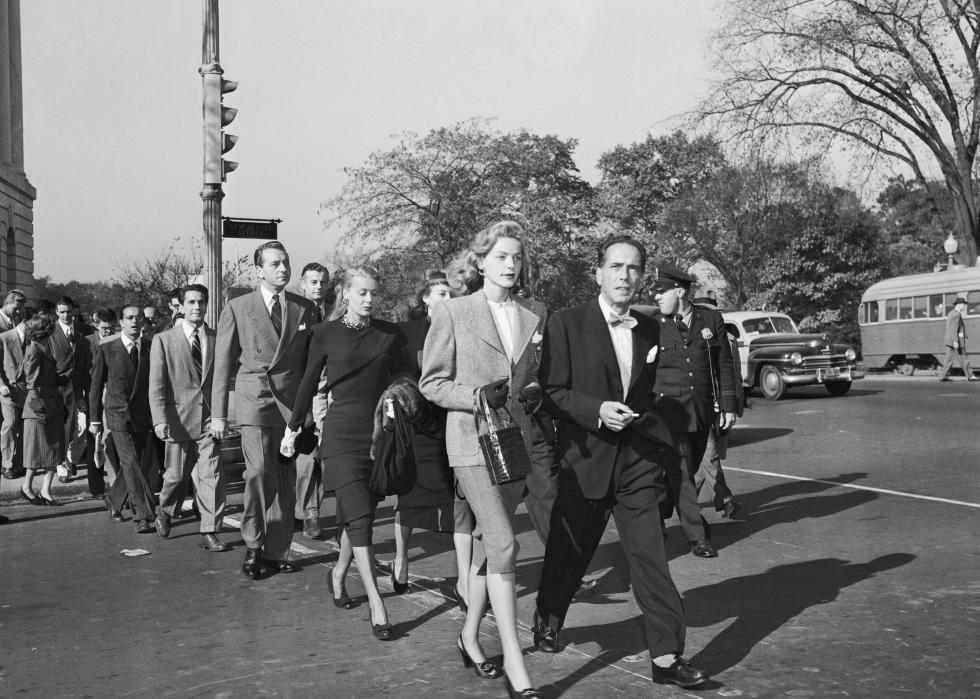 24 / 50
Humphrey Bogart
During a period in which politicians such as Joseph McCarthy were leading a fight against communism in America, several individuals and figures in the film industry were targeted and blacklisted for their suspected political alignments. Classic Hollywood actor Humphrey Bogart organized the Committee for the First Amendment and protested the House Un-American Activities Committee.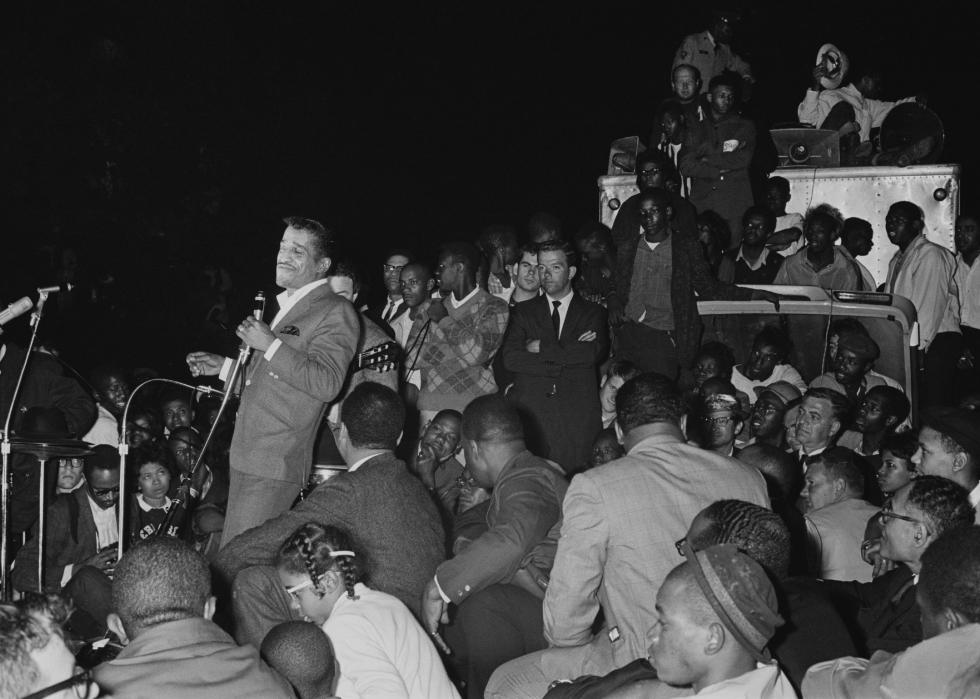 25 / 50
William Lovelace // Getty Images
Sammy Davis Jr.
The multi-talented Sammy Davis Jr. was also politically active, supporting the election campaigns of John F. Kennedy and Robert Kennedy, although he later became close with Richard Nixon—a friendship he eventually regretted. Regardless, Davis remained active in the civil rights movement, especially after the assassination of Martin Luther King Jr., and criticized Nixon for his shortcomings on civil rights.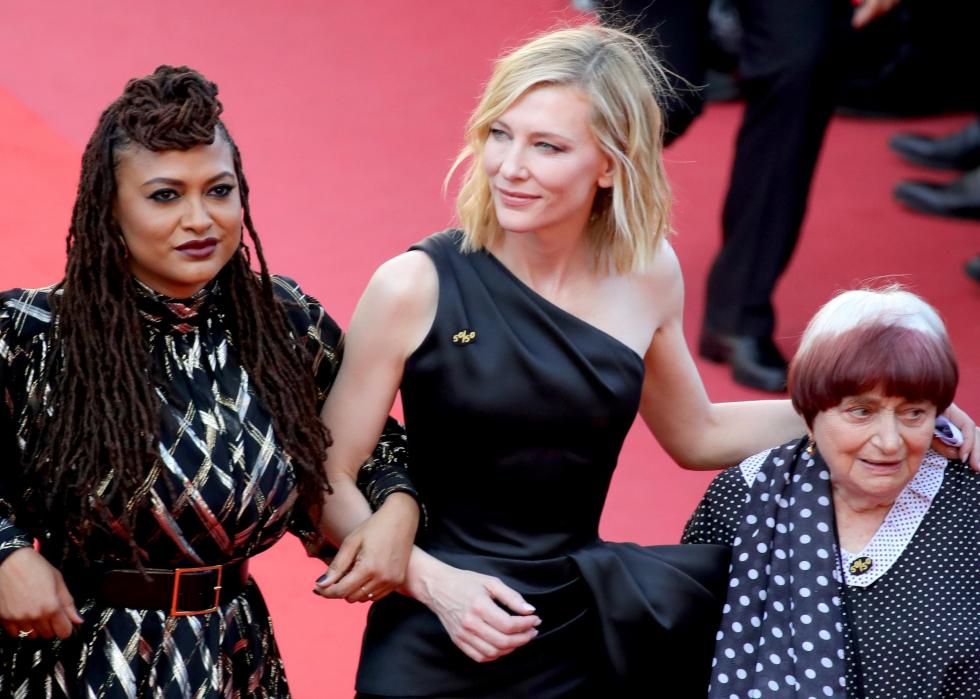 26 / 50
Andreas Rentz // Getty Images
Cate Blanchett
Australian actor Cate Blanchett has been outspoken up about the role of women in the film industry. Blanchett is also a longtime ambassador for the Australian Conservation Foundation. She has also advocated for the rights and protection of refugees.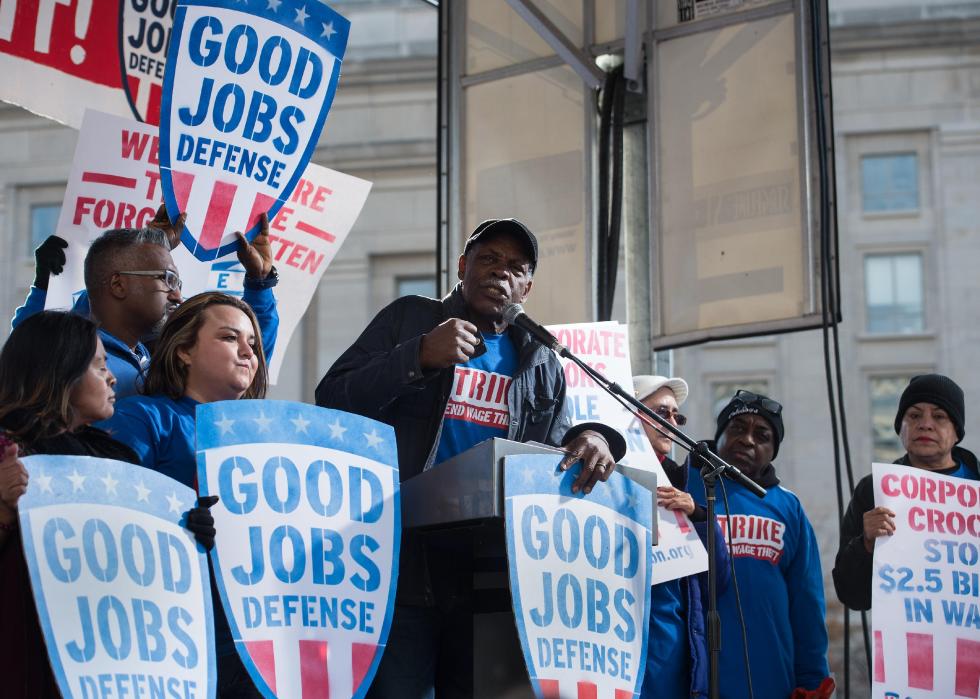 27 / 50
NICHOLAS KAMM // Getty Images
Danny Glover
Since his time as a student, "Lethal Weapon" star Danny Glover has been an activist fighting for civil rights and worker unions. Politically, Glover has endorsed progressive candidates running for president of the United States. Glover was arrested in 2010 in Maryland during a protest for better working wages and conditions outside French food corporation Sodexo. In May of 2021, Glover spoke at a rally against anti-Asian bias in New York City.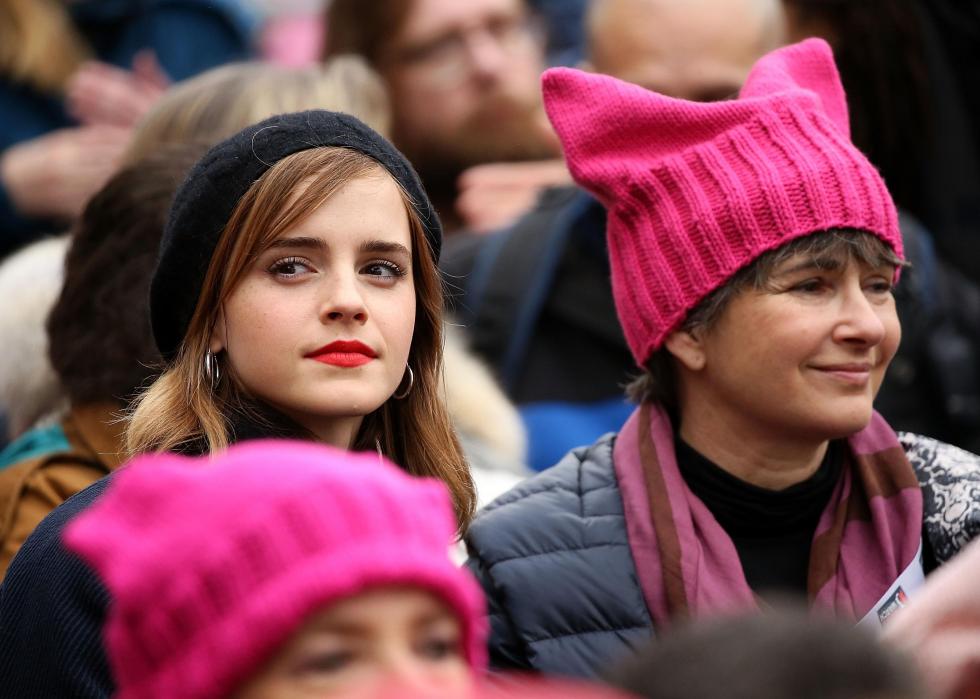 28 / 50
Paul Morigi // Getty Images
Emma Watson
Hermione Granger herself, actor Emma Watson, was appointed as a U.N. Women Goodwill Ambassador in 2014. Watson has used her worldwide fame to speak out about women's issues and human rights and declared her support for transgender people after transphobic comments from "Harry Potter" author J.K. Rowling. In 2021, Watson was one of 400 signatories in a letter demanding the UK government include women in decision-making roles at the 2021 UN Climate Change Conference.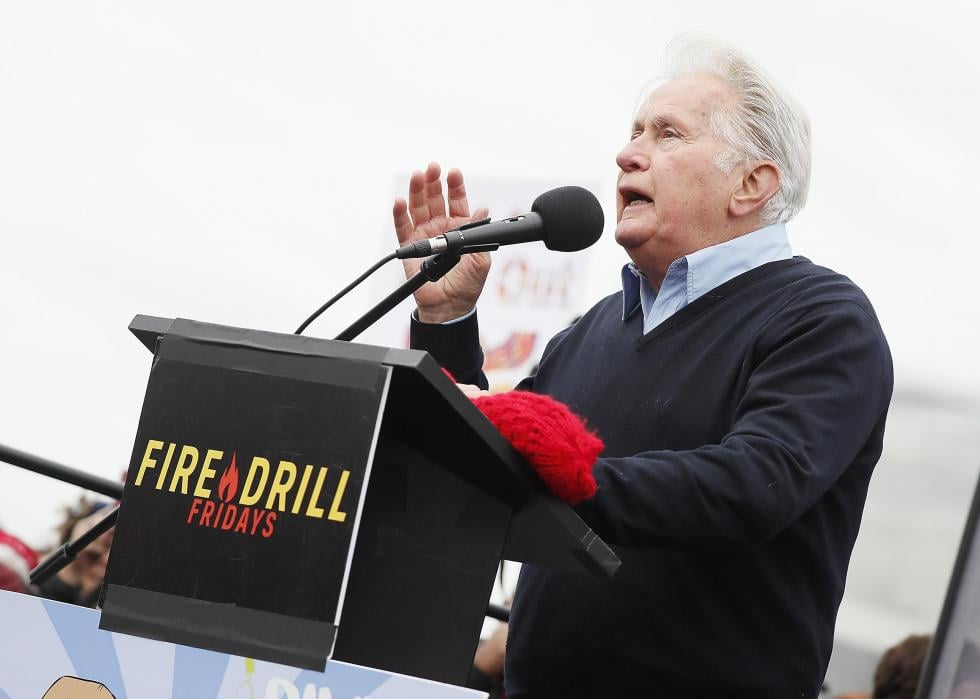 29 / 50
Paul Morigi // Getty Images
Martin Sheen
Martin Sheen may be famous for his acting, but he has stated that activism is "what [he does] to stay alive." A humanitarian and social activist, Sheen has been arrested more than 65 times for protesting. Sheen primarily participates in anti-war, pro-worker, and environmental protests.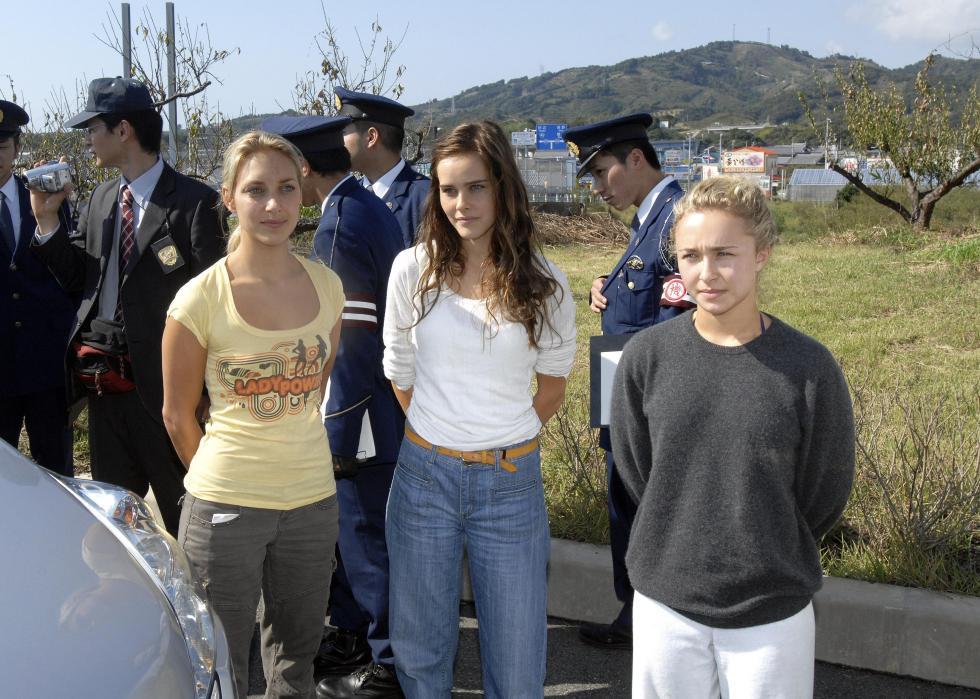 30 / 50
Peter Carrette Archive // Getty Images
Hayden Panettiere
"Heroes" star Hayden Panettiere was 18 when she was involved in a confrontation in Japan in which she and several others attempted to prevent dolphin hunting by paddling out on the water and blocking fishermen. A warrant for her arrest was issued and she and the other participants left the country. Panettiere has since been protesting for liberal causes and animal rights.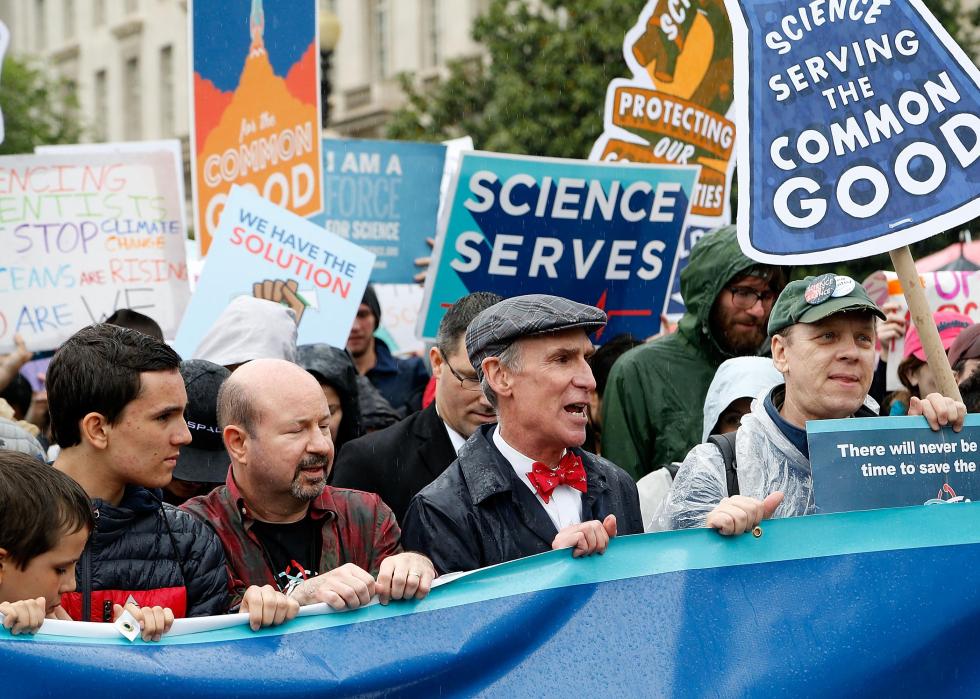 31 / 50
Paul Morigi // Getty Images
Bill Nye
Being a celebrity science advocate famous for his children's educational television show "Bill Nye the Science Guy," Bill Nye has used his status to promote climate change activism. Against perceived anti-science rhetoric from conservatives, Nye participated and spoke in the 2017 March for Science and continues to advocate for science on cable news appearances. He launched a successful Netflix series in 2017 aptly titled "Bill Nye Saves the World."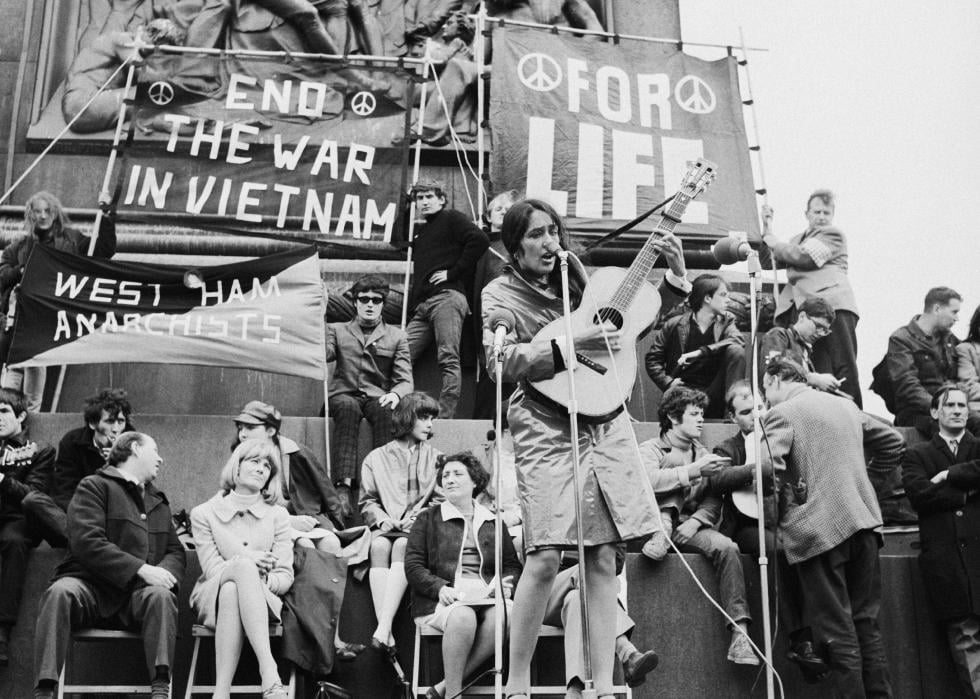 32 / 50
Joan Baez
Much of the music by Joan Baez is rooted in activism, counterculture, and protest. Baez has been politically active for several decades since the beginning of the civil rights movement and has written and performed songs for marches and protests, among her most famous being her cover of "We Shall Overcome."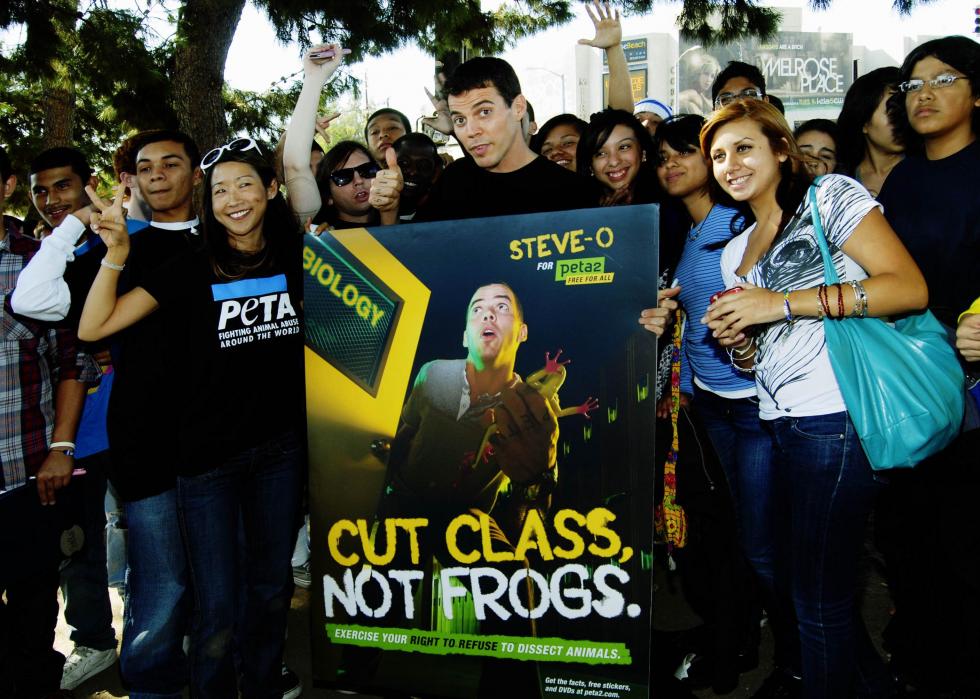 33 / 50
Beck Starr // Getty Images
Steve-O
Steve-O has never shied away from controversy, including making waves with a pro-environmental stunt. The daredevil in 2015 climbed a 100-foot crane and held up a sign that said "SeaWorld Sucks," while also holding an inflatable Shamu balloon and shooting fireworks. He was, unsurprisingly, arrested.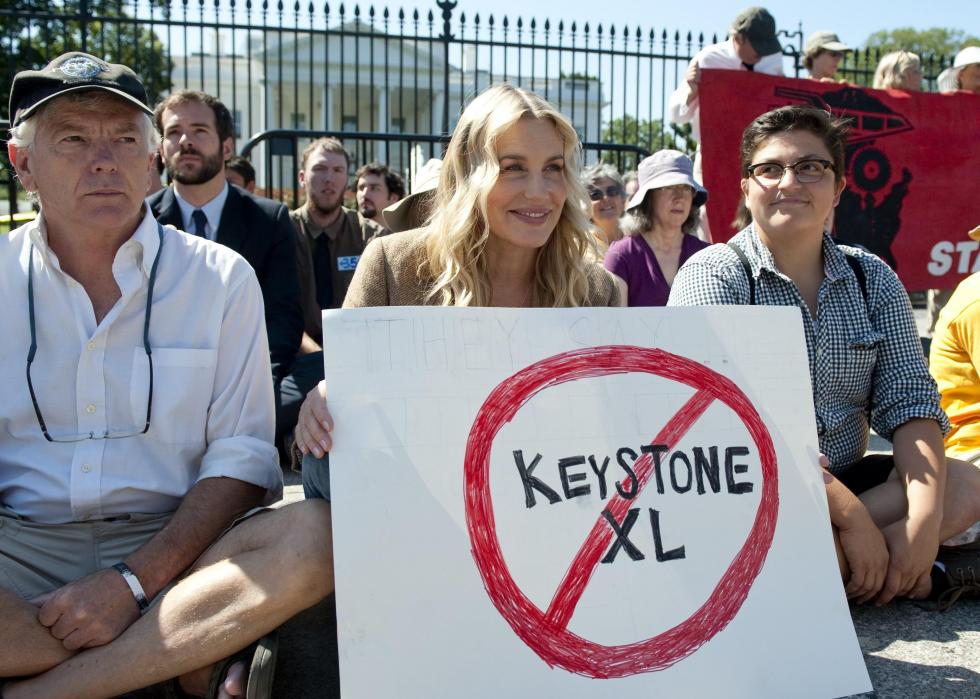 34 / 50
SAUL LOEB // Getty Images
Daryl Hannah
Actor Daryl Hannah, known to audiences for her roles in "Casino" and "Kill Bill," has been an environmentalist for most of her life and has been arrested multiple times at protests. One such instance had her protesting the development of farmland and handcuffing herself to a tree.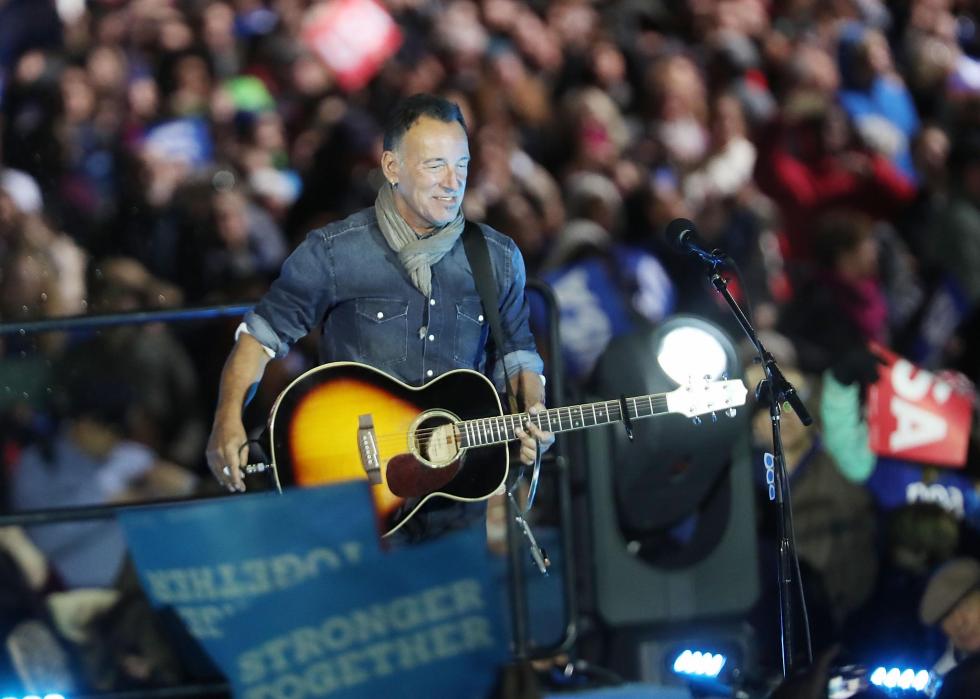 35 / 50
Spencer Platt // Getty Images
Bruce Springsteen
Rock and folk musician Bruce Springsteen has been one of the more prolific musical activists in recent history and has consistently spoken out for gay rights, same-sex marriage, and transgender rights. Springsteen was an outspoken critic of Donald Trump, especially in regard to the coronavirus pandemic response.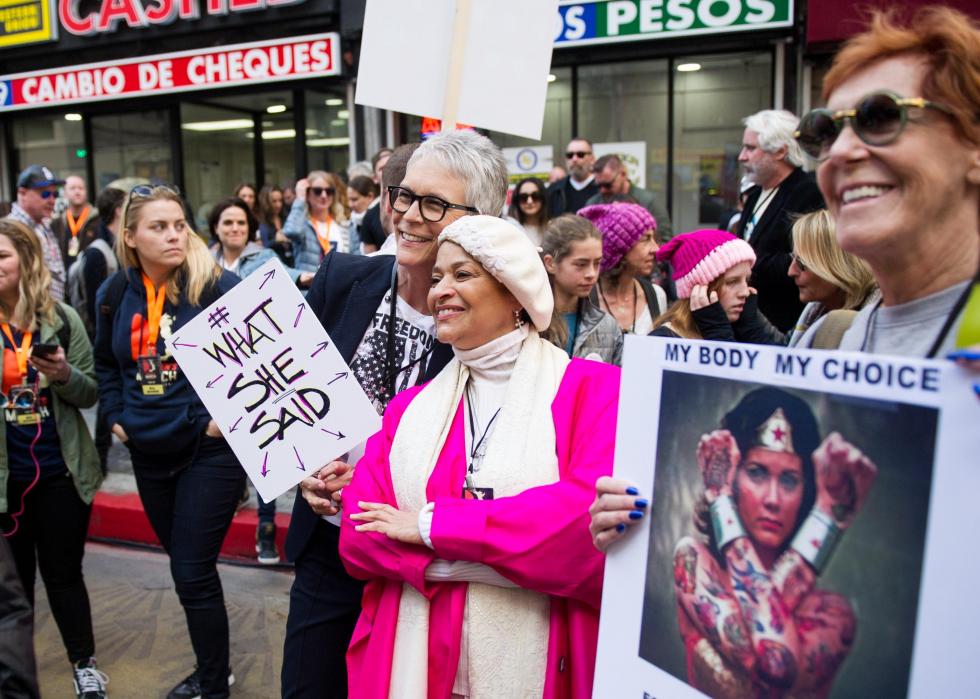 36 / 50
Emma McIntyre // Getty Images
Jamie Lee Curtis
Actor Jamie Lee Curtis has fought for numerous humanitarian causes and engaged in extensive philanthropy. For gay marriage rights, Curtis acted in a play by Dustin Lance Black called "8" that reenacted the trial that overturned the same-sex marriage ban, appearing alongside Brad Pitt and Martin Sheen. In 2020, she came out in support of professional athletes who boycotted games and league events in response to the police shooting of Jacob Blake in Kenosha, Wisconsin.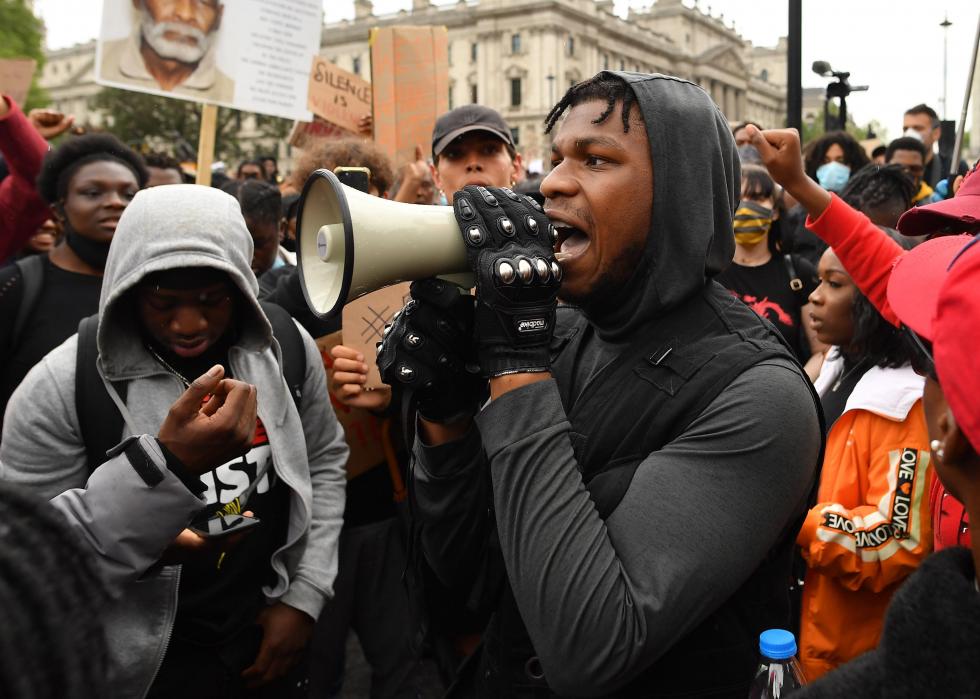 37 / 50
Justin Setterfield // Getty Images
John Boyega
One of the main stars of the contemporary "Star Wars" trilogy, British actor John Boyega received attention for his passionate speech and participation in Black Lives Matter protests in 2020 following the murder of George Floyd. Stating "I don't know if I'm going to have a career after this" while speaking to other protesters with a megaphone, Boyega's co-stars and collaborators came out in support of his activism.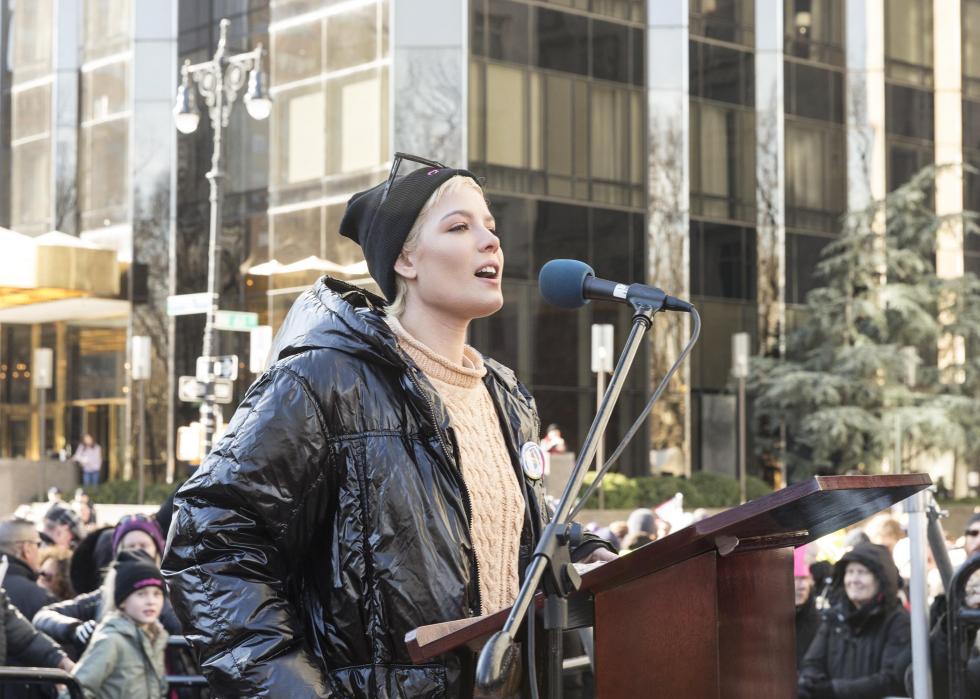 38 / 50
Pacific Press // Getty Images
Halsey
As a young bisexual musical artist, Halsey has spoken for a number of issues that affect young women and LGBTQ+ people. She has advocated for mental health and suicide prevention awareness, transgender rights, and support for sexual assault victims. During the 2020 protests for Black Lives Matter, Halsey marched alongside protesters and came to the aid of injured demonstrators.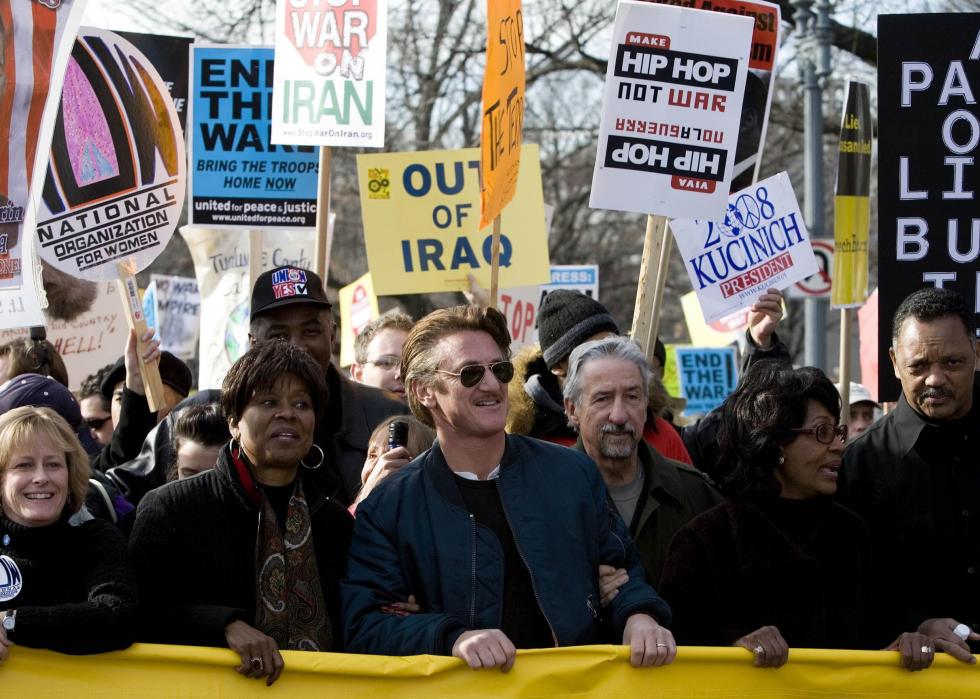 39 / 50
Brendan Smialowski // Getty Images
Sean Penn
Oscar-winning actor Sean Penn hasn't shied away from controversy over his political views and affiliations. He widely criticized former President George W. Bush, during whose term Penn provided aid to Hurricane Katrina victims, supported same-sex marriage, and protested against the Iraq War. Penn has also been involved internationally, defending Hugo Chavez and marching alongside Egyptian protesters in 2011.
40 / 50
Sarah Morris // Getty Images
Laura Dern
Actor Laura Dern has had her hands in several social causes, including gender pay disparity, Down syndrome awareness, women's rights, the environment, and immigrants' rights. With the latter two issues, Dern has been involved in organizations and protests for those causes in the past few years, particularly Families Belong Together.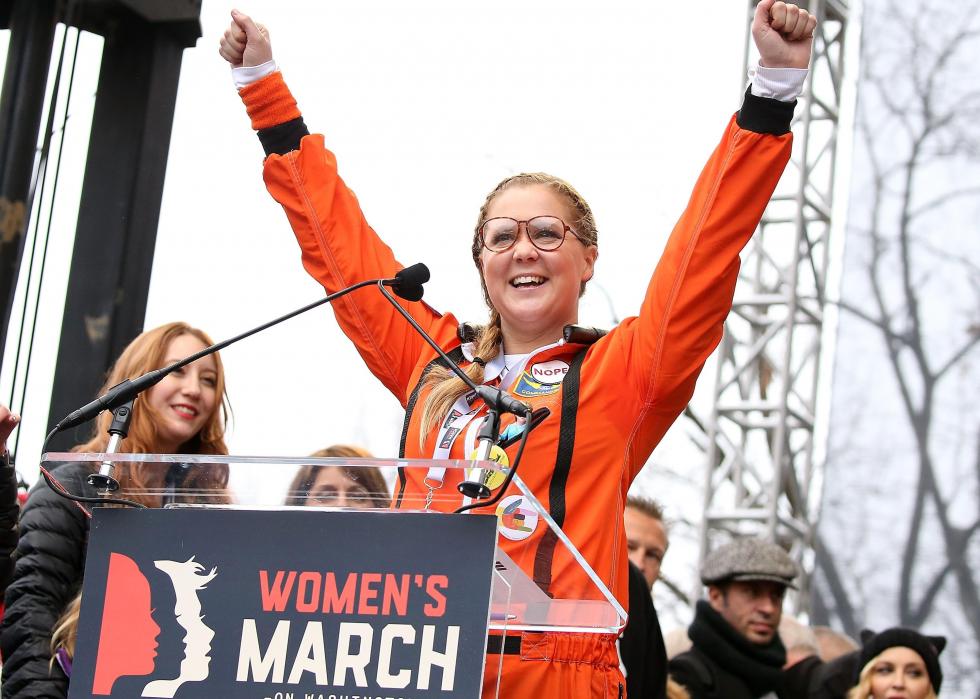 41 / 50
Paul Morigi // Getty Images
Amy Schumer
After a fatal shooting during a screening of her film "Trainwreck," comedian and actor Amy Schumer joined her father's cousin, Sen. Chuck Schumer, in advocating for gun control reform in the United States. Alongside Emily Ratajkowski, Schumer was arrested in 2018 during a protest against the nomination of Brett Kavanaugh to the Supreme Court. She came out in full support of the Black Lives Matter movement in 2020.
42 / 50
Yvonne Hemsey // Getty Images
Susan Sarandon
Primarily fighting for progressive and leftist causes, actor Susan Sarandon is also known for being a UNICEF Goodwill Ambassador. A demonstration in 1999 over the police killing of an African immigrant in New York City led to the arrests of Sarandon and 218 other protesters. She was a firm supporter of the farmers' protests in India in early 2021.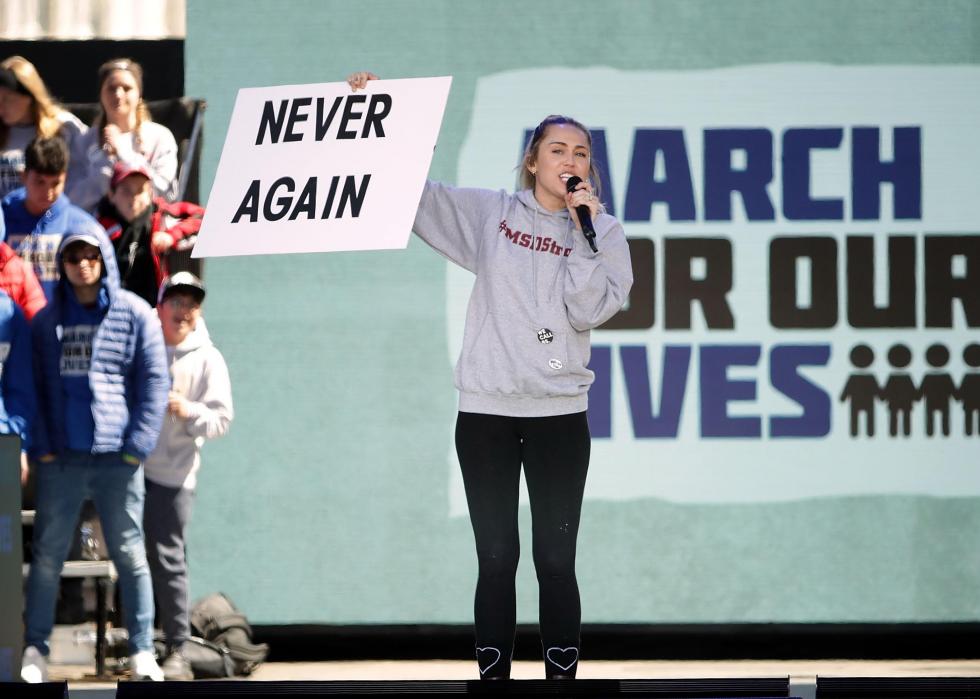 43 / 50
Chip Somodevilla // Getty Images
Miley Cyrus
Though the public image and perception of Miley Cyrus has changed through the years, the singer has made her support for social causes quite clear in the past decade. Cyrus has participated in benefit concerts and contributed charity singles. Her biggest contribution to date is her founding of the Happy Hippie Foundation, which supports LGBTQ+ rights, homeless youths, and other vulnerable populations.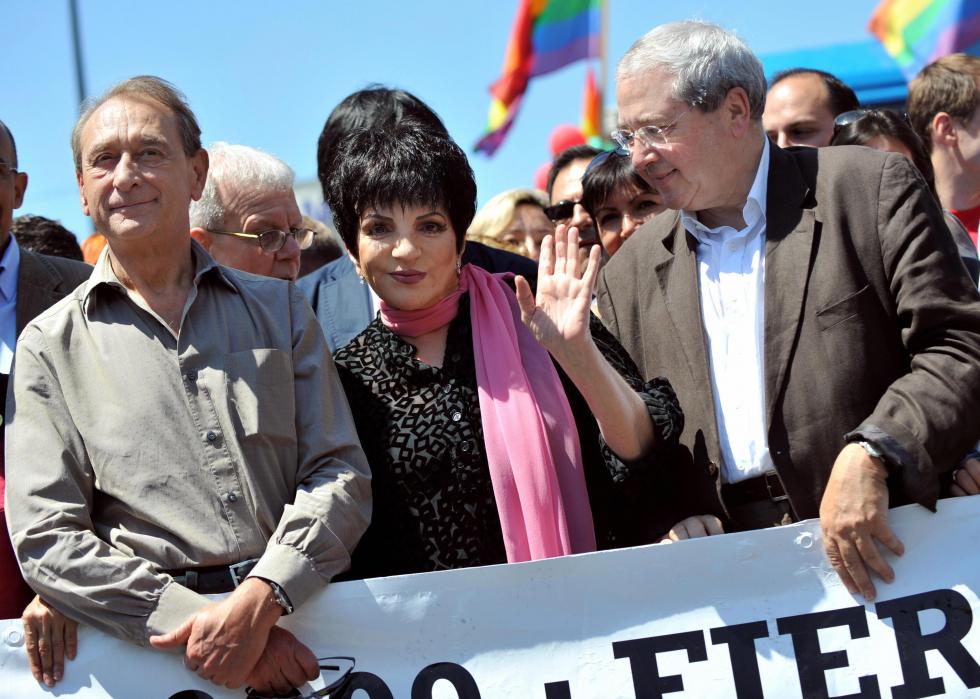 44 / 50
MIGUEL MEDINA // Getty Images
Liza Minnelli
Broadway and Hollywood star Liza Minnelli is also a well-known philanthropist and has expressed her support for multiple causes, including LGBTQ+ rights. Minnelli was heavily invested in the AIDS crisis and incited Elizabeth Taylor's own activism in raising awareness and funds for AIDS research.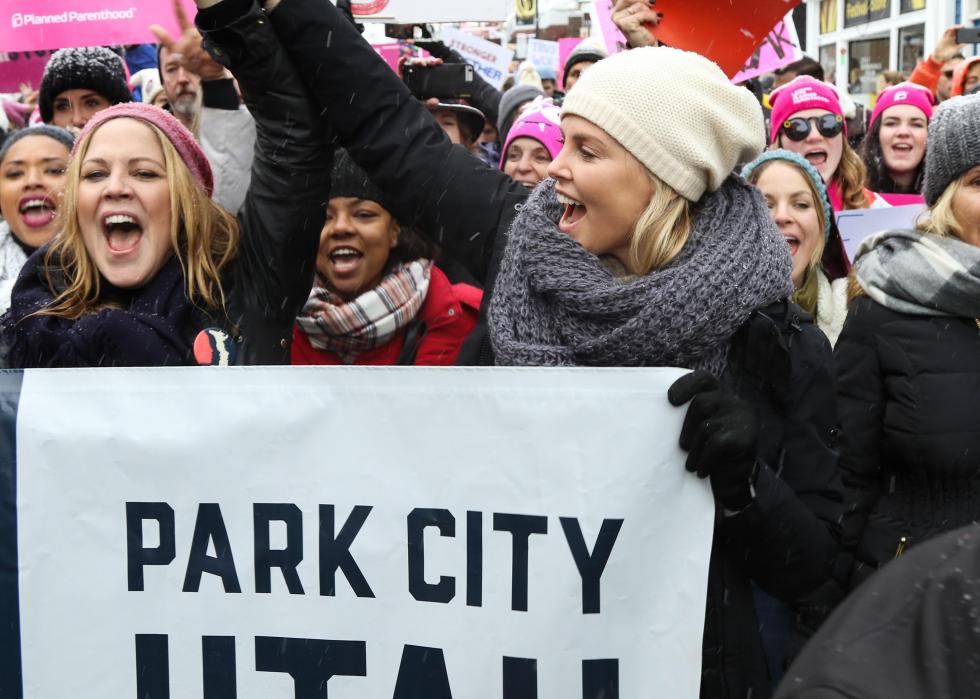 45 / 50
John Parra // Getty Images
Charlize Theron
Hailing from South Africa, actor Charlize Theron has been involved in movements and organizations meant to support African youth in the fight against AIDS. Theron has also marched in several pro-choice and women's rights marches, including the 2017 Women's March.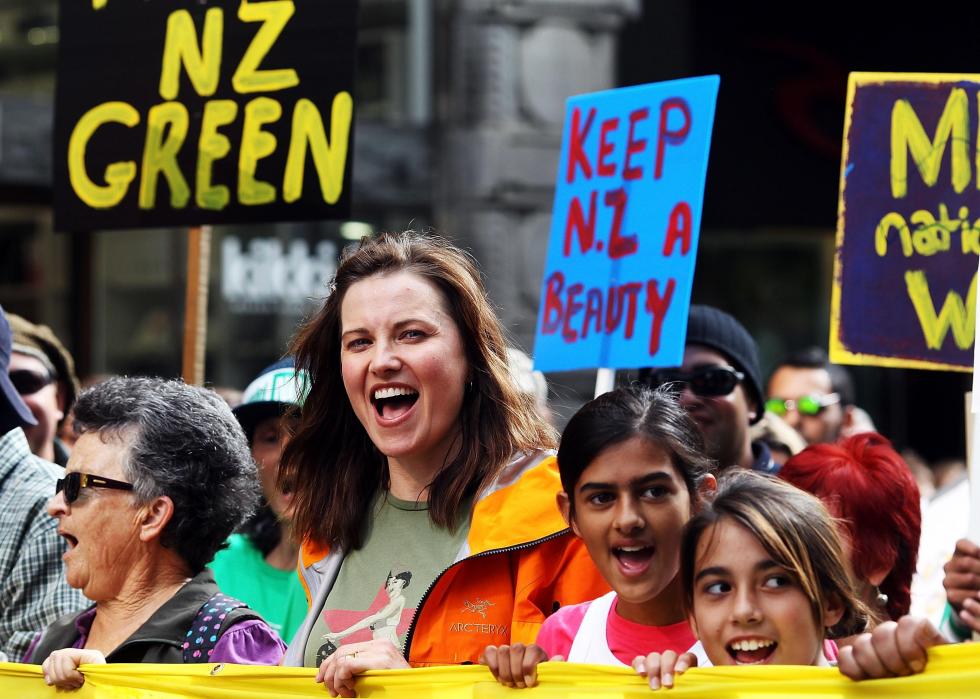 46 / 50
Hannah Peters // Getty Images
Lucy Lawless
In addition to her famed role as the titular character on "Xena: Warrior Princess," Lucy Lawless is also a climate ambassador for Greenpeace. In 2012, Lawless and five other activists boarded an Arctic oil-drilling ship in protest and were subsequently arrested. Even still, Lawless continues to protest with the organization against climate change and oil drilling.
47 / 50
Presley Ann // Getty Images
Olivia Wilde
Actor and director Olivia Wilde was a vocal supporter of Barack Obama during his presidential run and terms, as well as serving as an advocate for Planned Parenthood and Time's Up. As a feminist, Wilde has also participated in multiple Women's Marches. In response to the Charlottesville white supremacist marches in 2017, Wilde, alongside other celebrities such as Mark Ruffalo, protested outside of Trump Tower.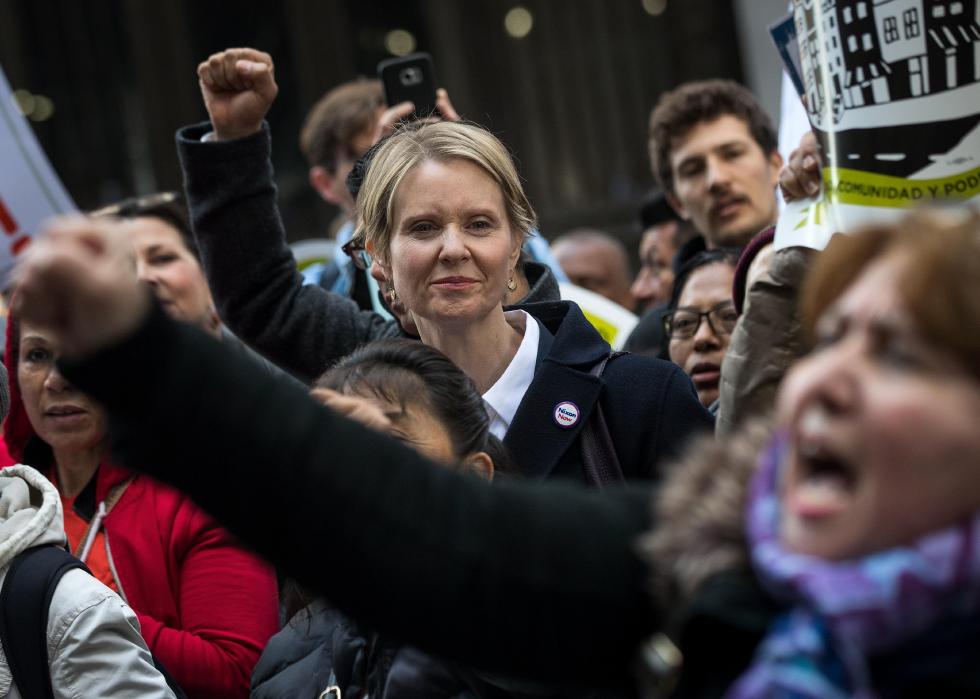 48 / 50
Drew Angerer // Getty Images
Cynthia Nixon
"Sex and the City" star Cynthia Nixon has long been an advocate for public education. She was arrested in 2002 while protesting outside of City Hall in New York City to demand better funding for schools. As a Bernie Sanders-supporting progressive, Nixon ran against Gov. Andrew Cuomo in the Democratic gubernatorial primaries in New York in 2018 but lost by 30 points. She spoke at a June 2021 rally in Albany, New York, where people advocated for single-payer health care.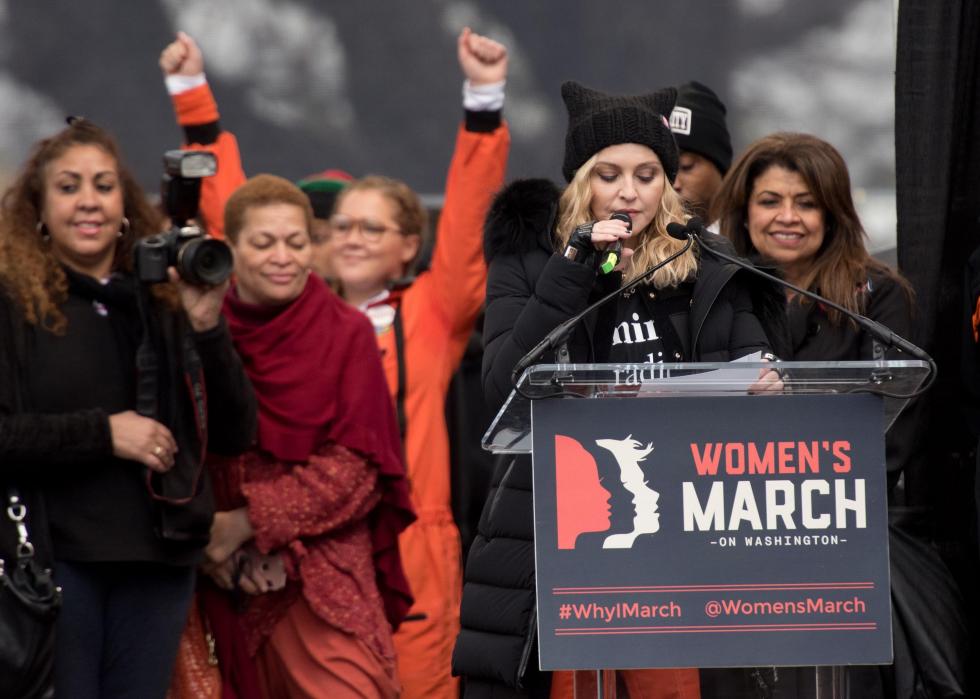 49 / 50
Noam Galai // Getty Images
Madonna
Superstar Madonna has spent decades-long advocating for LGBTQ+ rights and HIV/AIDS awareness. For her work and advocacy, Madonna was awarded the Advocate for Change award at the 30th annual GLAAD Media Awards. In June 2020, Madonna was also seen protesting for Black Lives Matter, even with an injury that left her in crutches.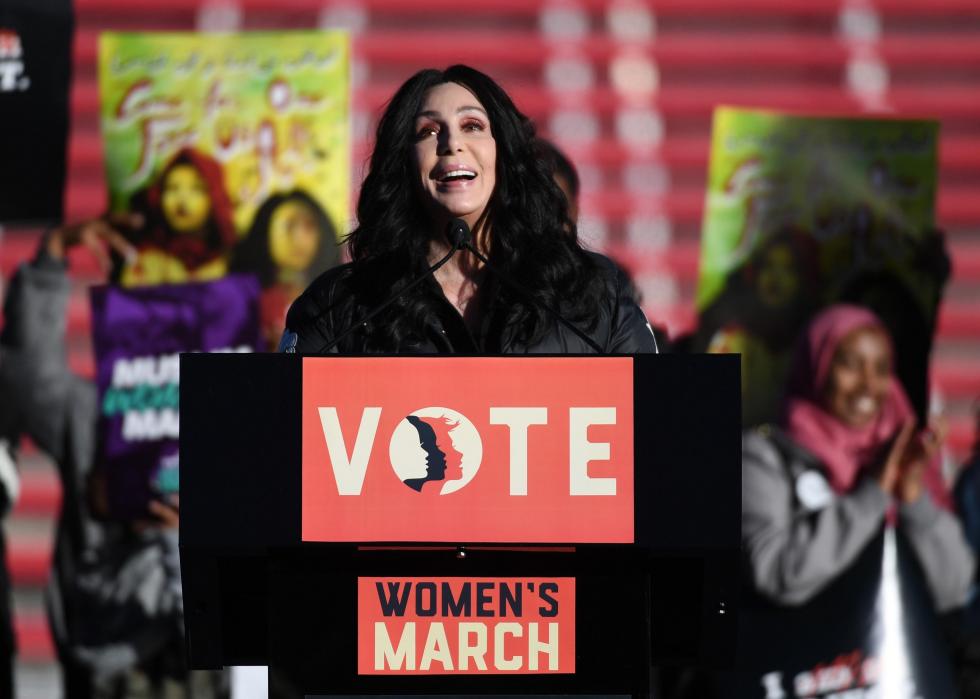 50 / 50
Ethan Miller // Getty Images
Cher
Cher has contributed to numerous causes throughout the decades, including but not limited to AIDS relief, veterans care, the Flint water crisis, and COVID-19 relief. In response to the election of Donald Trump as president of the United States, Cher participated in a number of anti-Trump rallies, including one right after election night in 2016 that included Madonna and Mark Ruffalo.