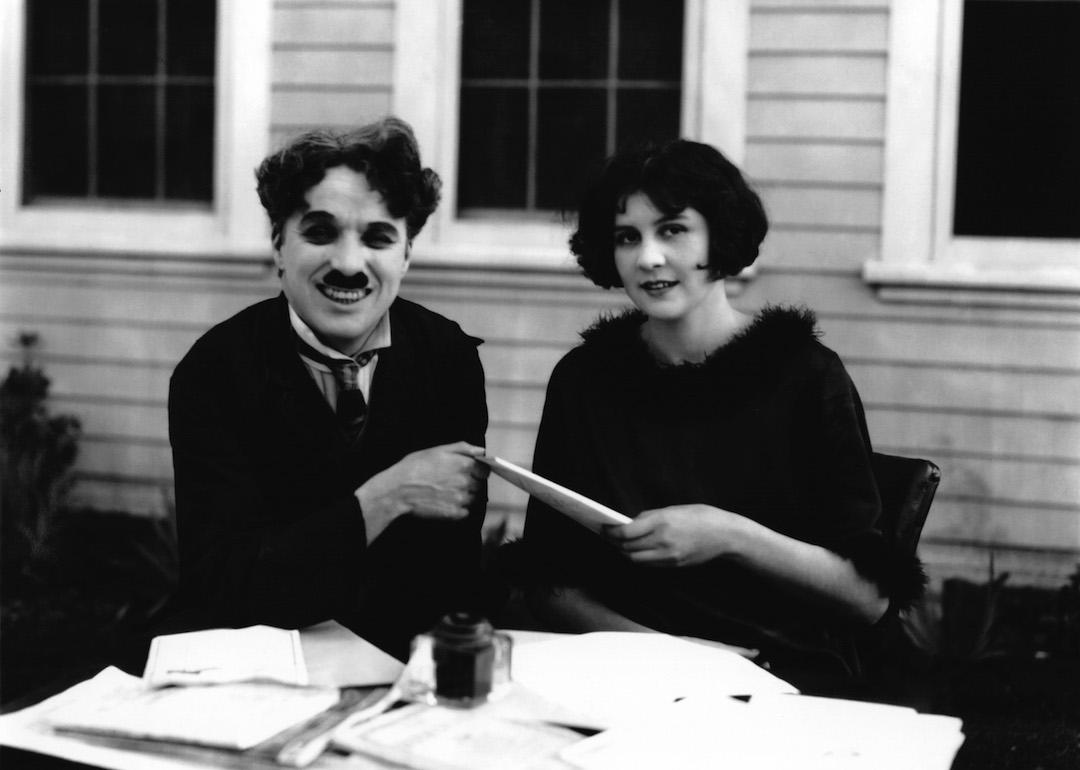 Charlie Chaplin: The life story you may not know
API/Gamma-Rapho via Getty Images
Charlie Chaplin: The life story you may not know
Charlie Chaplin is arguably the most recognized actor for generations of audiences, entertaining the world with the antics and calamities of his "Little Tramp" character.
The iconic funny man in the mustache and ill-fitting clothes appeared in dozens of silent movies, getting into scrapes, romantic mixups, and silly arguments. Chaplin, who grew up in London workhouses and performed on vaudeville stages as a child, became not just a talented actor but an extraordinary director, producer, and musical composer. With Hollywood heavy hitters Mary Pickford, Douglas Fairbanks, and D.W. Griffith, he launched United Artists studio.
He had an incomparable influence on the world of comedy, the entertainment industry, and the business of Hollywood. His life was filled with scandal as well. Two of his four wives were just 16 years old when he married them, his divorce settlement was the most expensive at the time, and he was forced to leave his adopted home of America to live in exile in Switzerland.
Looking at Chaplin's 88 years as an entertainer, creative genius, and at times controversial celebrity, Stacker compiled a list of 25 facts from his life story that you may not know. To put together the list, Stacker consulted media accounts, biographies, and film histories.
You may also like: Celebrities you might not know are LGTBQ+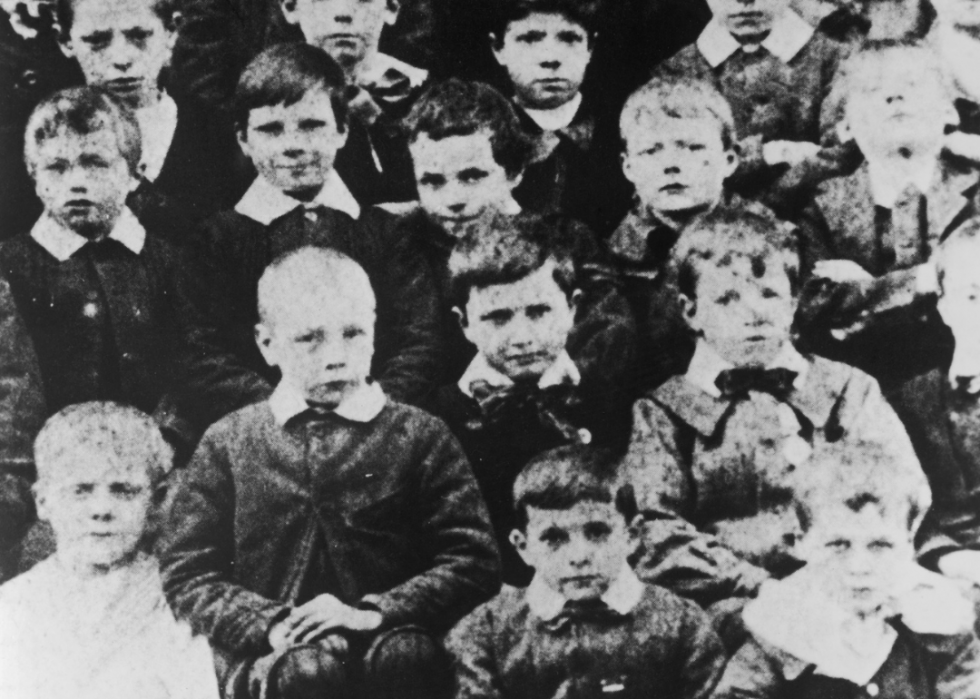 1 / 25
Michael Ochs Archives // Getty Images
1889: Born to performers in London
Charlie Chaplin was born on April 16, 1889 in South London to Hannah and Charles Chaplin Sr., who were music hall entertainers. His parents split up, and Chaplin and his half-brother Sydney spent their childhood in workhouses and charity homes after their mother was committed to an asylum in 1903. She lived in the asylum for 18 years, before Chaplin moved her to California in 1921.
[Pictured: Charlie Chaplin is third row from front, third from left.]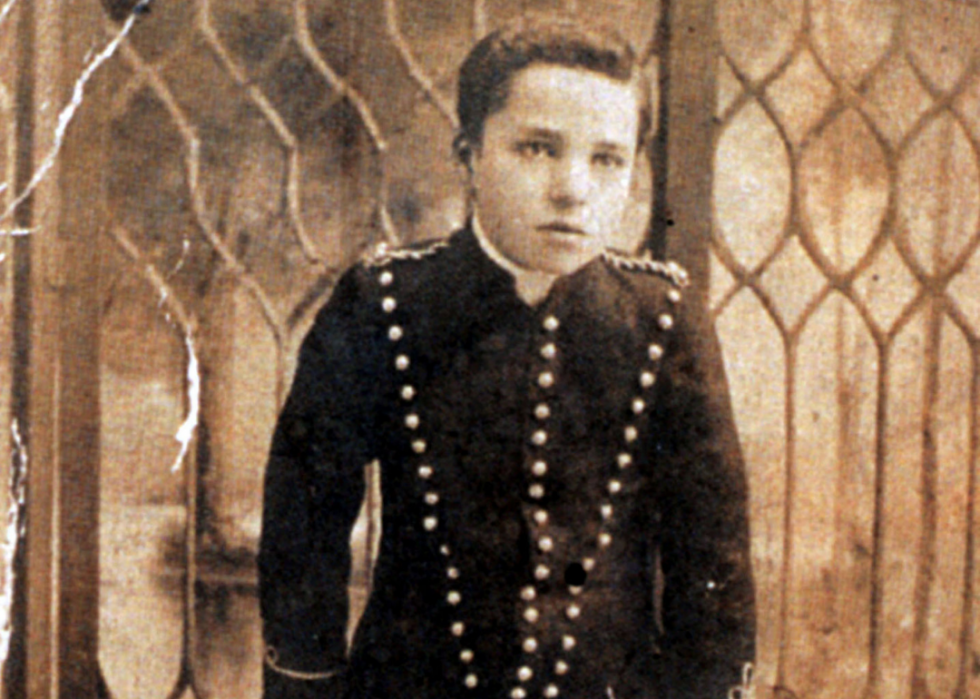 2 / 25
Hulton Archive // Getty Images
1899: Joining a touring dance troupe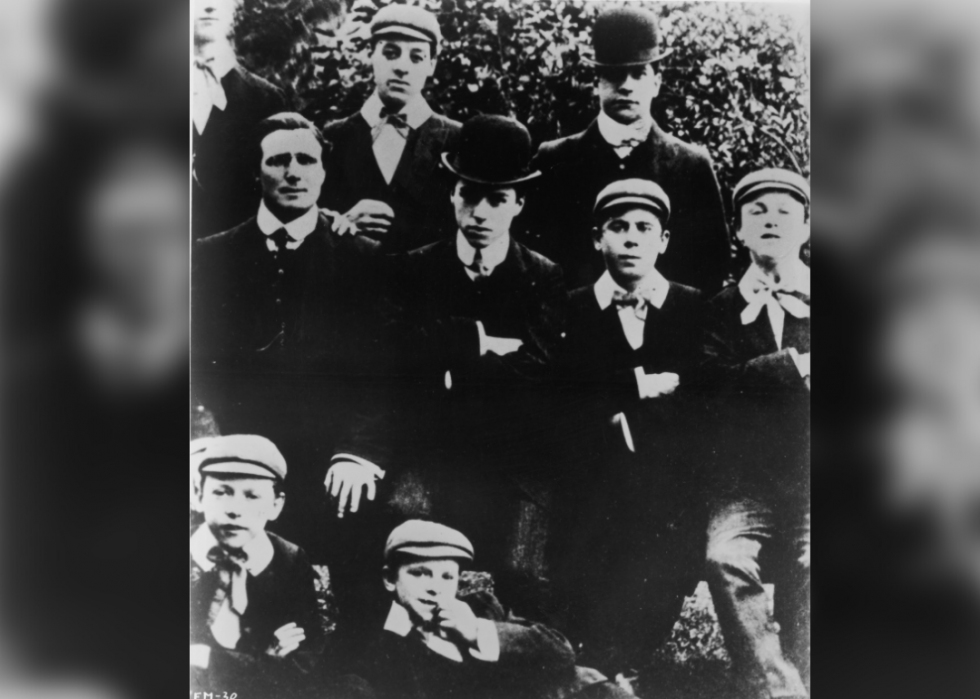 3 / 25
Michael Ochs Archives // Getty Images
1903–1908: Appearing in burlesque, vaudeville, comedy
Chaplin landed roles in several stage plays and joined a burlesque company called Casey's Circus. With his older brother Sydney, also a performer, he joined The Karno Co., a well-known comedy theater and vaudeville touring group.
[Pictured: Chaplin is center, wearing a bowler hat.]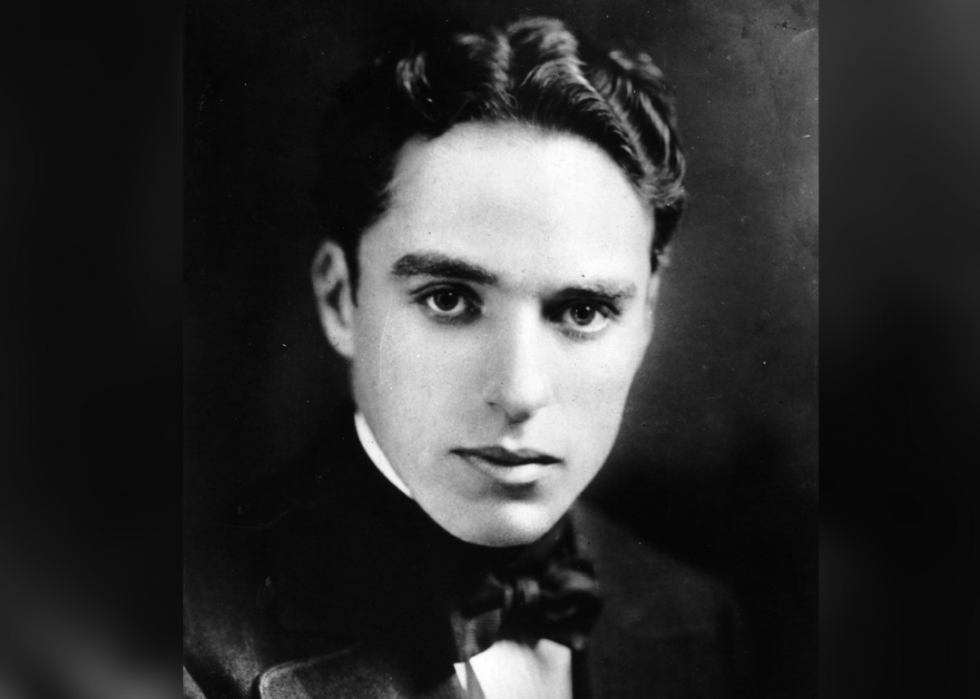 4 / 25
Hulton Archive // Getty Images
1910–1913: Getting discovered in America
As a member of The Karno Co. theater group, Chaplin toured the United States, where he caught the eye of the New York Motion Picture Co. In 1913, he landed a contract with the Keystone Film Co. earning $150 per week.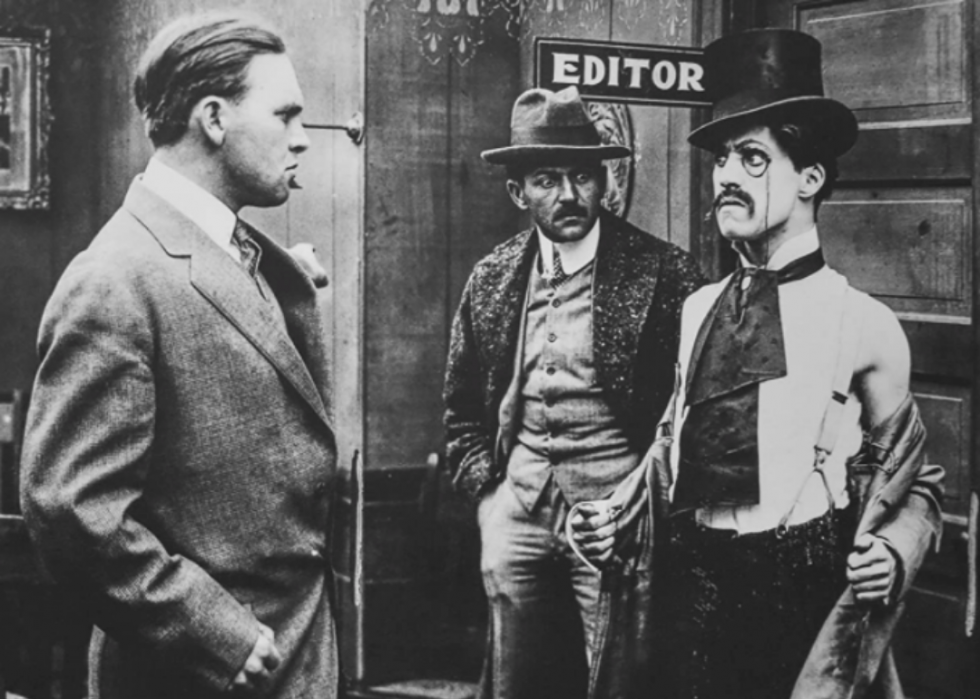 5 / 25
1914: Making a movie debut
The first movie featuring Charlie Chaplin was "Making a Living" in 1914. Wearing a large mustache, Chaplin played a charming swindler named Edgar English.
You may also like: 30 notable celebrity endorsements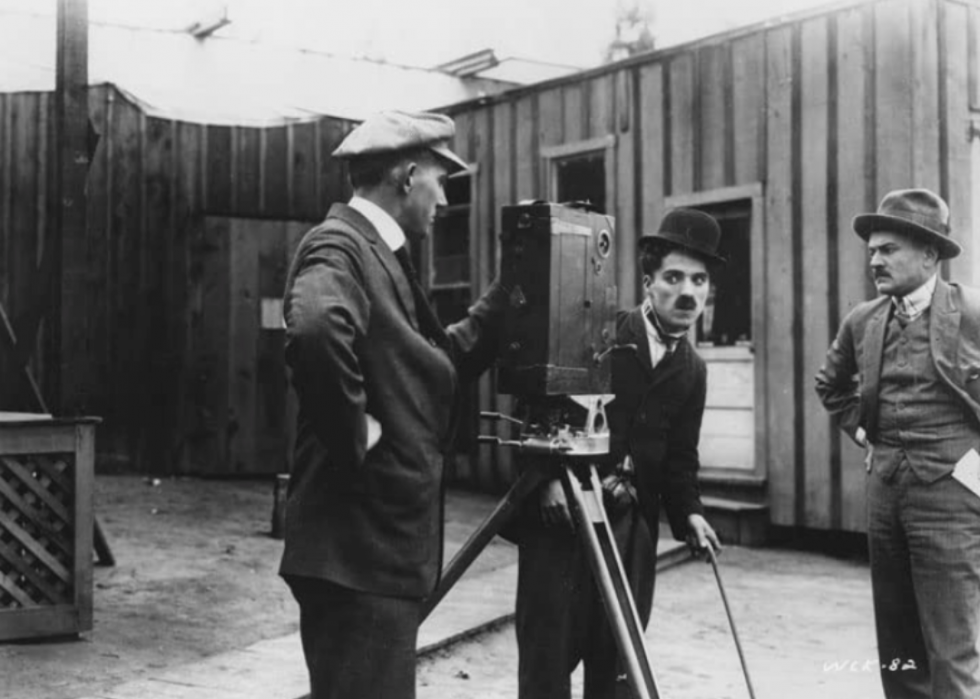 6 / 25
Hulton Archive // Getty Images
1914: Introducing the 'Little Tramp'
Chaplin's "Little Tramp" character first appeared in the 1914 movie "Kid Auto Races At Venice." Chaplin's character was a spectator who disrupted a go-kart race. The movie was shot at a real race, with the actors improvising with actual race spectators.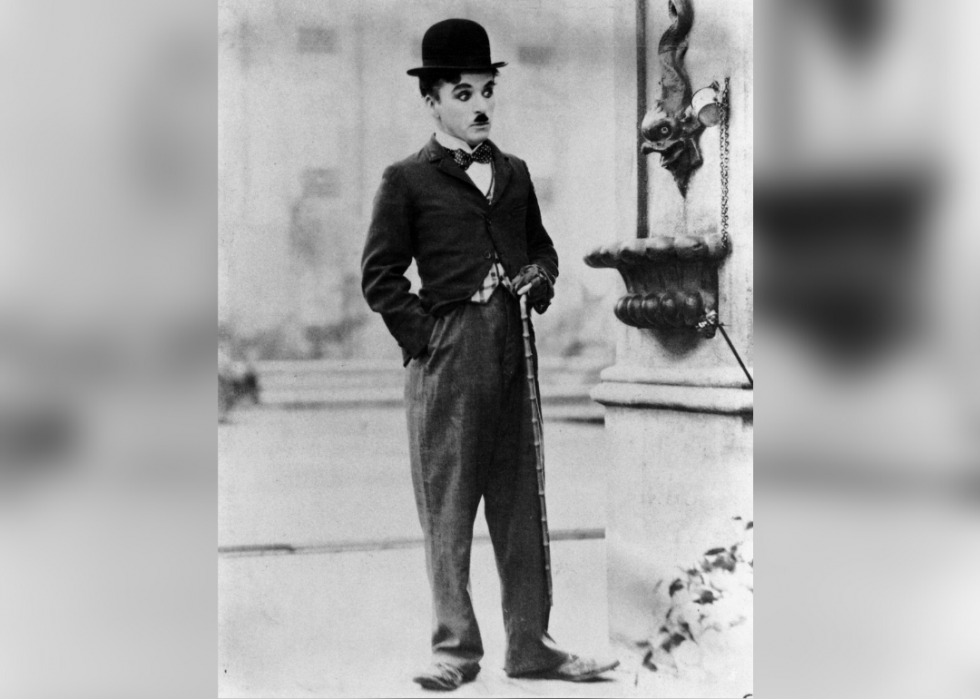 7 / 25
ullstein bild via Getty Images
1914: The 'Little Tramp' finds fame
In his year at Keystone Film Co., Chaplin developed his "Little Tramp" character and made 35 comedy shorts. Chaplin later described how he chose his trademark costume, saying: "I wanted everything to be a contradiction: the pants baggy, the coat tight, the hat small and the shoes large."
8 / 25
1914: A first turn at directing
Among the comedy shorts Chaplin made in 1914, "Twenty Minutes of Love" was his first directing effort. Of another 1914 comedy, "Her Friend the Bandit," no known copy survives. The now-lost film starred Chaplin and Mabel Normand, and they co-directed as well.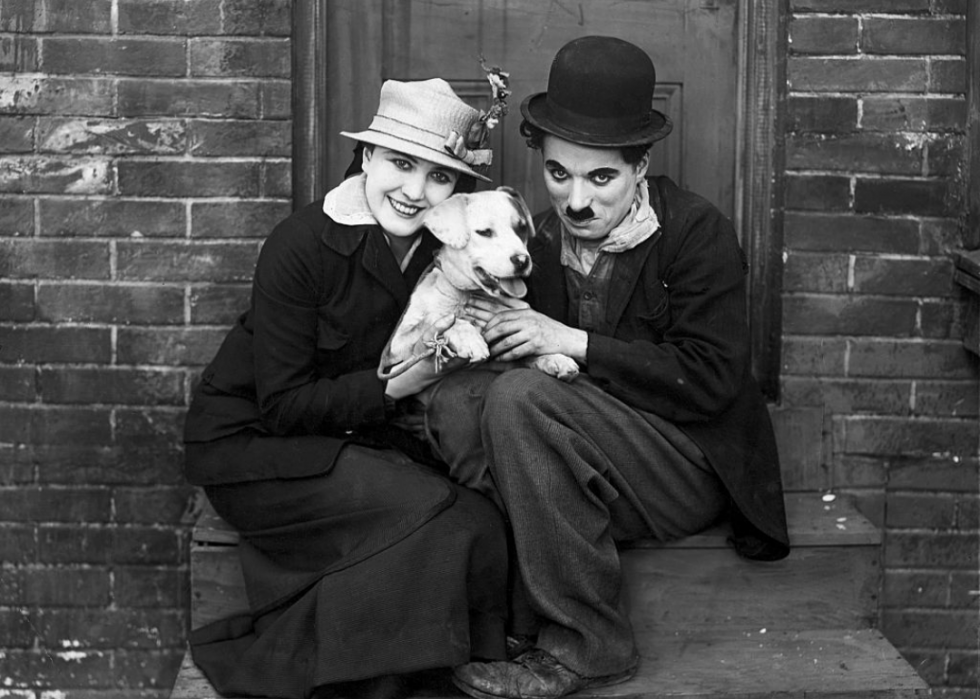 9 / 25
1915: The 'Little Tramp' character evolves
In "The Tramp," made in 1915 for Essanay Studios and directed by Chaplin, his iconic creation started to transform into the more familiar character that audiences know well. The "Little Tramp" became less slapstick and grew more poignant and caring.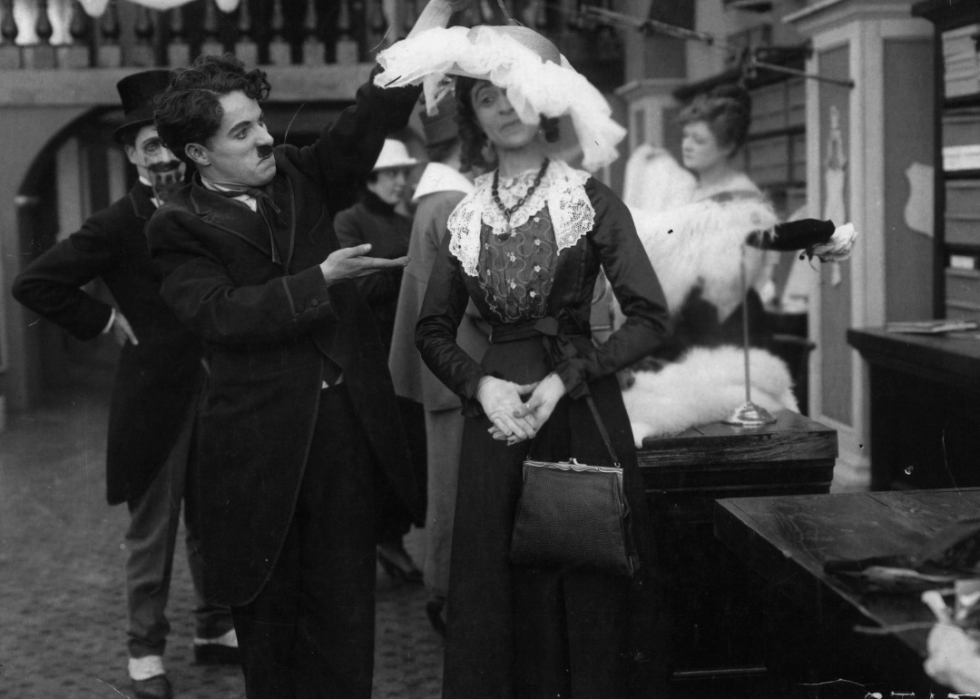 10 / 25
Mutual Film // Getty Images
1916: Becoming the highest-paid actor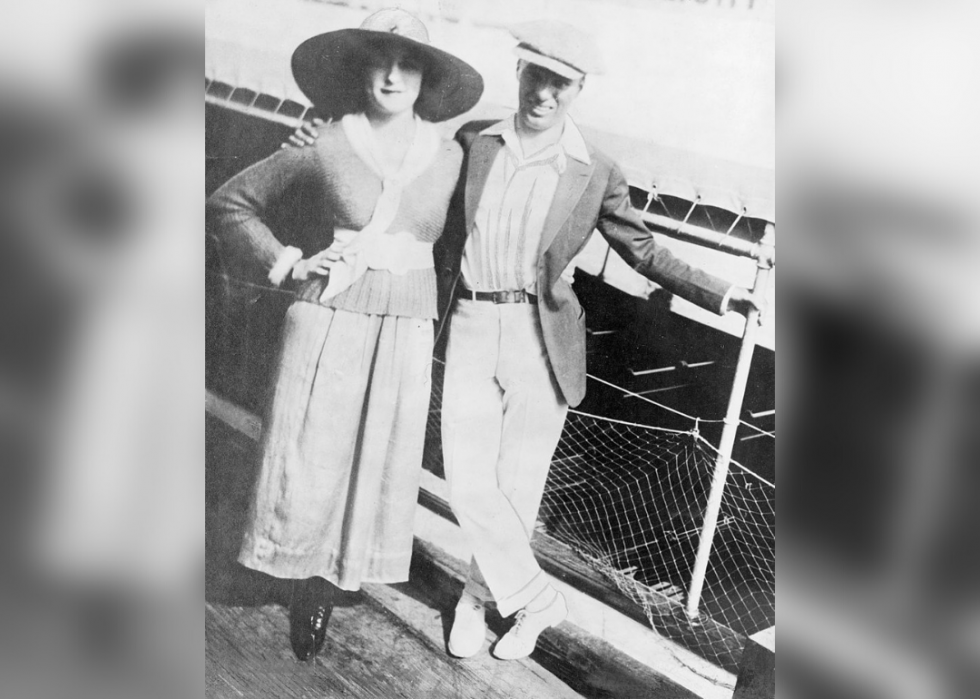 11 / 25
1918: Marrying 16-year-old child actress Mildred Harris
In October 1918, at age 29, Chaplin married 16-year-old Mildred Harris, a popular child-actress. They had a son in 1919 who lived for just three days, and they separated later that year. When they divorced in 1920, Harris got some property and a $100,000 settlement.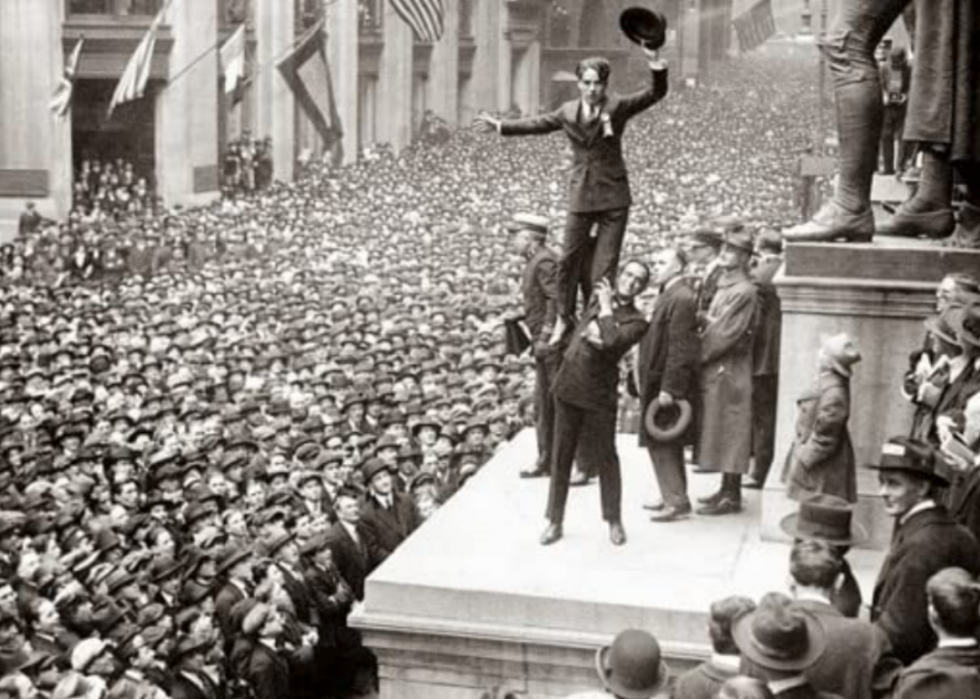 12 / 25
Charles Chaplin Productions
1918: Helping the war effort
Chaplin made "The Bond" in 1918 at his own expense to promote the sale of U.S. Liberty Bonds to help finance the nation's military effort in World War I. The movie featured a number of comic sketches portraying types of bonds such as friendship and marriage.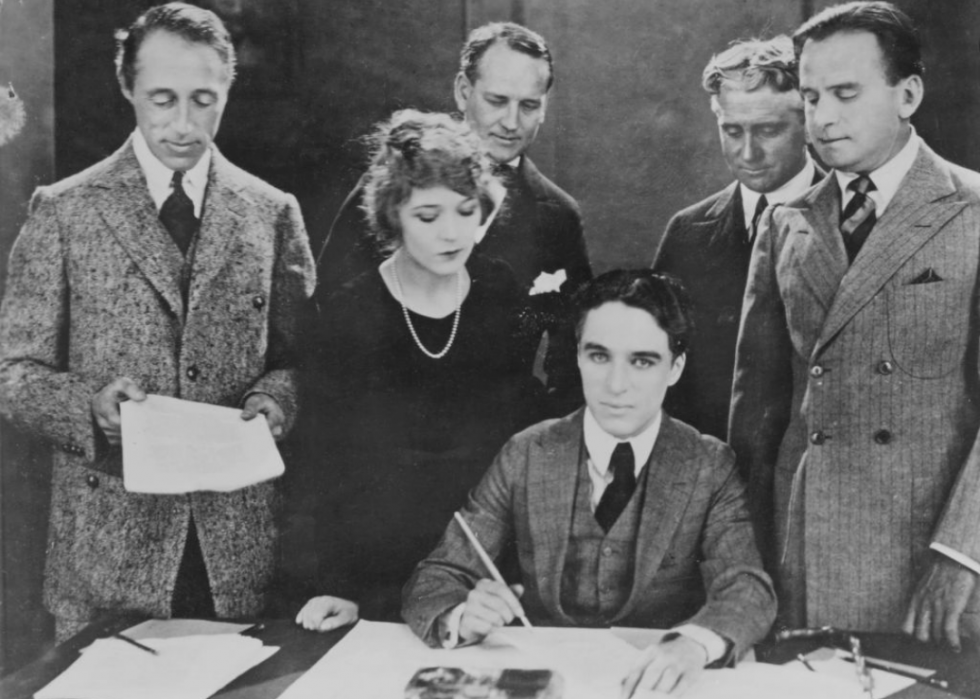 13 / 25
Archive Photos // Getty Images
1919: Creation of United Artists studio
In 1919, Chaplin joined with actress Mary Pickford, actor Douglas Fairbanks, and director D.W. Griffiths to create United Artists studio. It was an effort by the stars to exert more control over their work.
14 / 25
Topical Press Agency // Getty Images
1924: Marrying 16-year-old actress Lita Grey
In 1924, Chaplin married actress Lita Grey. He was 35 and she was 16, preparing to star in the movie "The Gold Rush." She became pregnant and lost the role. The couple had two sons—Charles Chaplin Jr. and Sydney Earle Chaplin, both of whom became actors.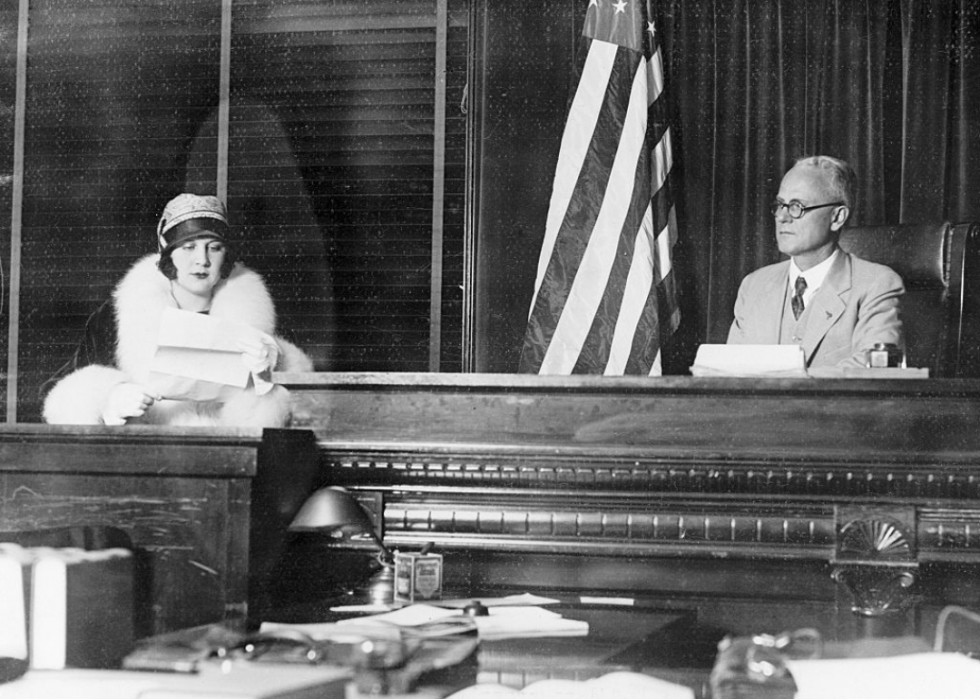 15 / 25
1927: An angry and costly divorce
16 / 25
Charles Chaplin Productions
1925–1931: Creating a legacy of work
In 1925, Chaplin wrote, produced, directed, and starred in one of his most acclaimed works, the silent movie "The Gold Rush." In 1931, when most movies were talking pictures, he made the silent "City Lights," which featured a musical score Chaplin composed.
17 / 25
Charles Chaplin Productions
1936: The 'Little Tramp' bows out
In his final appearance as the "Little Tramp," Chaplin made the 1936 movie "Modern Times." The movie is considered a commentary on the joblessness and poverty millions of people faced during the Great Depression.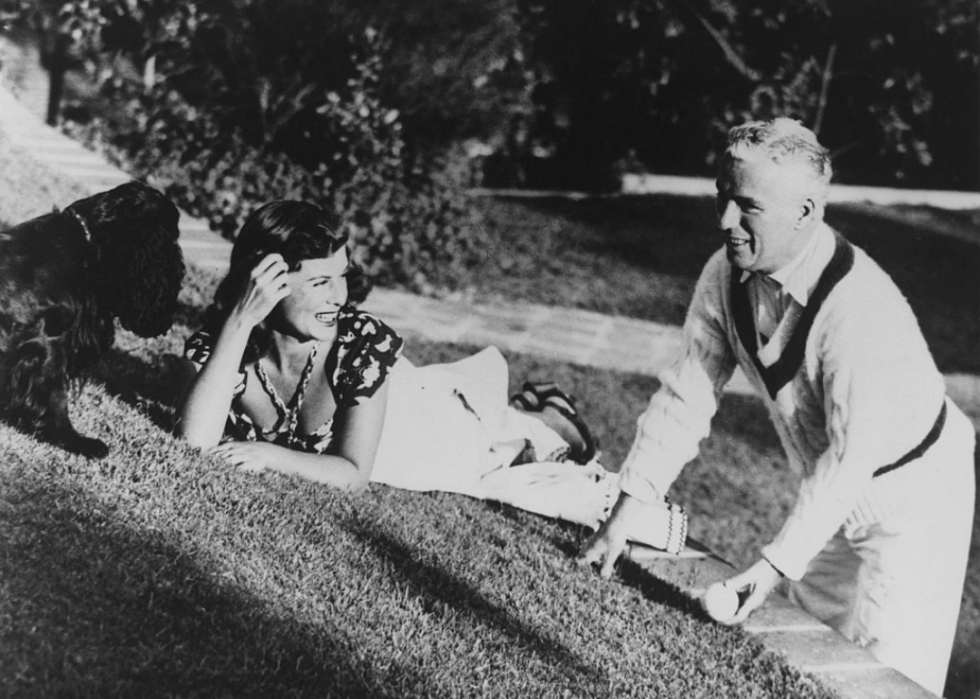 18 / 25
Hulton Archive // Getty Images
1936: Marrying actress Paulette Goddard
The year 1936 saw Chaplin marrying actress Paulette Goddard, whom he had cast as a street urchin in "Modern Times." She was 22 when they first met. They kept their marriage largely under wraps, and he did not introduce her publicly as his wife until 1940. They split up in 1942. The actor later said they had been secretly married but also said it was a common law marriage.
19 / 25
Charles Chaplin Productions
1940: Fighting Nazism with comedy
Chaplin's "The Great Dictator," released in 1940, was his first fully talking picture. In the parody of Adolf Hitler and Nazism, Chaplin plays two roles—a Jewish barber and fascist leader Adenoid Hynkel—and delivers a scathing criticism of the German leader. It was nominated for Academy Awards for Best Actor and Best Picture.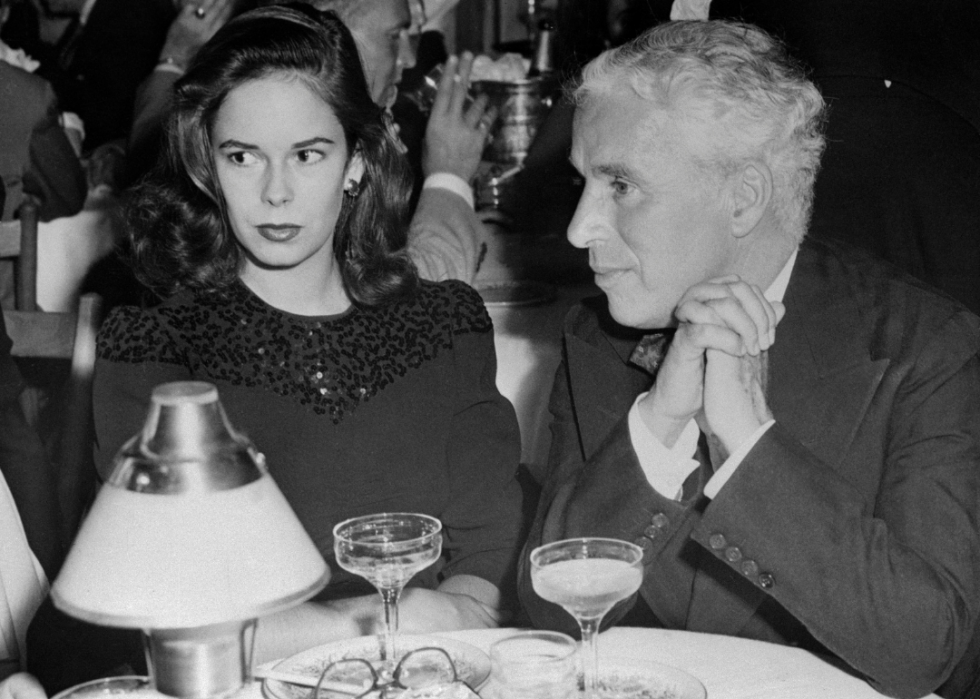 20 / 25
1943: Marrying fourth wife Oona O'Neill
Chaplin married Oona O'Neill in 1943. He was 54, and she was barely 18. Her father was playwright Eugene O'Neill, who condemned the union and cut off all contact with his daughter for the rest of his life. The couple had eight children, including actress Geraldine Chaplin.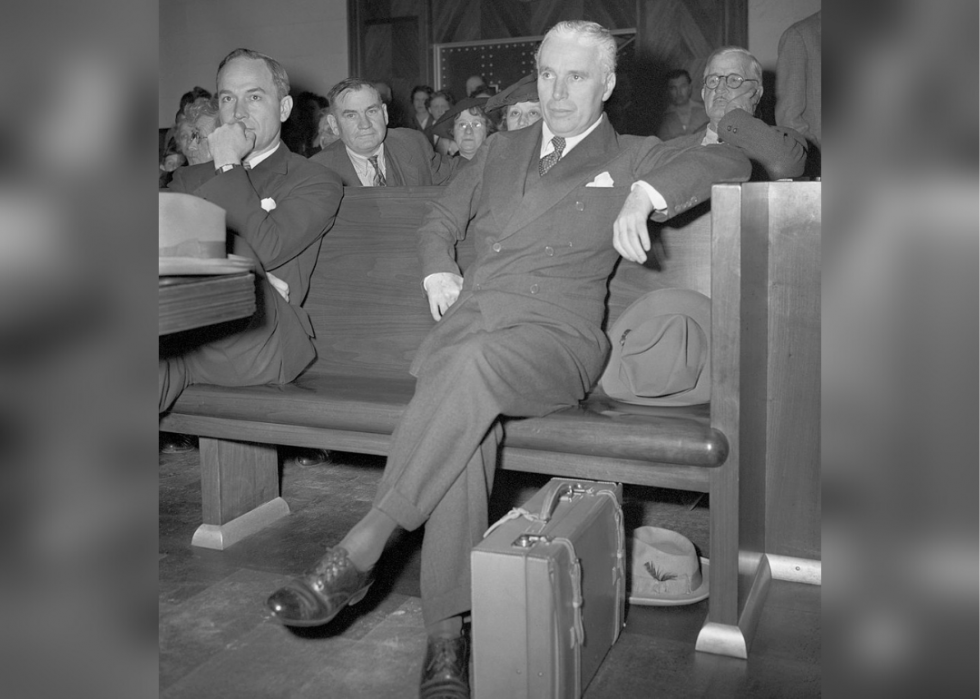 21 / 25
1943: Accused in paternity suit
The same year that Chaplin married his fourth wife, Oona O'Neill, he was sued for paternity by actress Joan Barry. The scandal cost him in terms of his popularity and public image. Blood tests showed he was not the father, but the results were not allowed as evidence in a 1944 trial, and Chaplin was ordered to pay $75 a week until Barry's child turned 21.
22 / 25
1952: Exiled from America
While traveling in London in 1952, Chaplin learned that U.S. immigration officials would not let him return home to America after he had been openly critical of the House Un-American Activities Committee hearings and was suspected by government officials of having communist sympathies. He moved to the town of Corsier-sur-Vevey in Switzerland.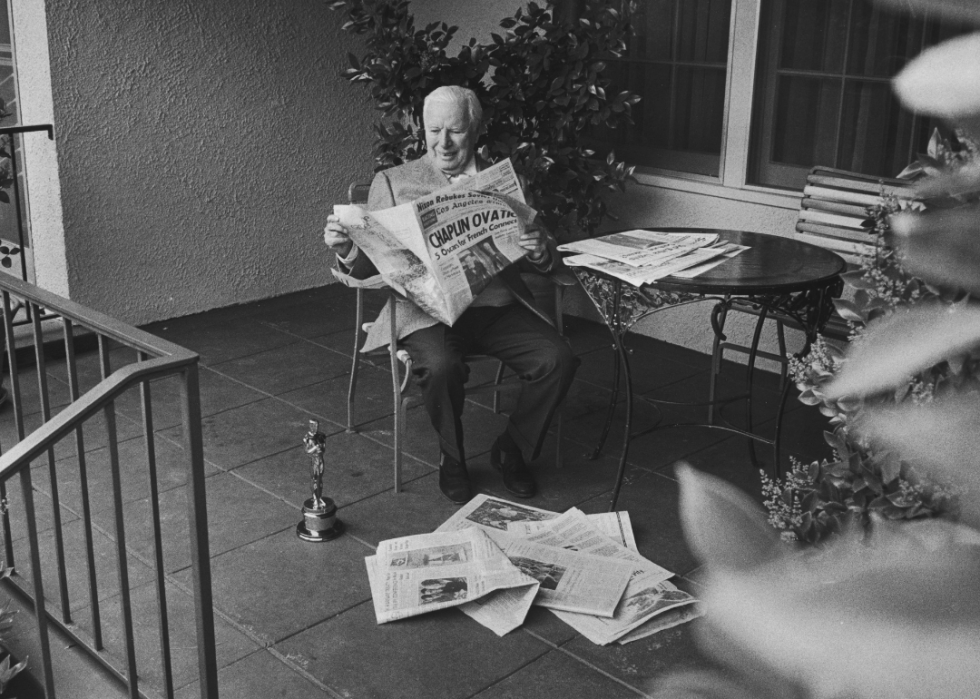 23 / 25
Pictorial Parade/Archive Photos // Getty Images
1972: A 12-minute standing ovation from Hollywood
Chaplin returned to the United States to receive an honorary Academy Award in 1972. The audience gave him a standing ovation that lasted 12 minutes.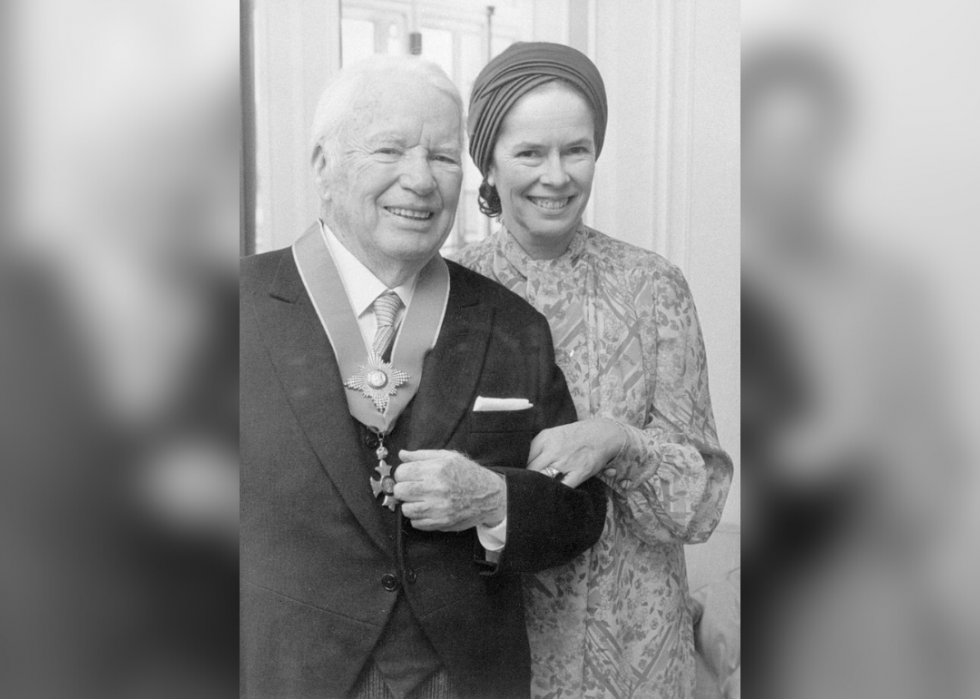 24 / 25
1975: Knighted by Queen Elizabeth
Queen Elizabeth knighted Chaplin when he was 85 years old. The honor had been proposed and rejected in 1931 because Chaplin did not serve in World War I and again in 1956 when the Conservative British government did not want to damage relations with the United States during the Cold War.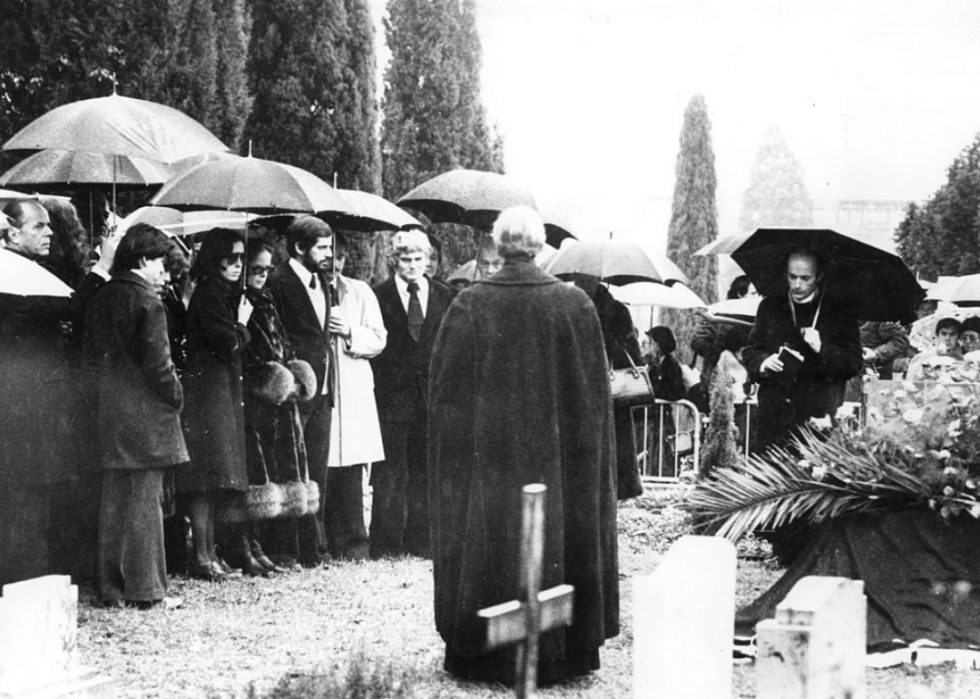 25 / 25
Central Press // Getty Images
1977: Death in Switzerland
Chaplin died in Switzerland on Christmas Day in 1977 after suffering failing health for several years. He was buried in Corsier-sur-Vevey Cemetery in Switzerland, where in 1978 a band of robbers stole his corpse in an extortion attempt. The grave robbers were caught, and the body was recovered after 11 weeks near Lake Geneva. It was reburied in a vault under several feet of concrete.
You may also like: 30 secret celebrity weddings