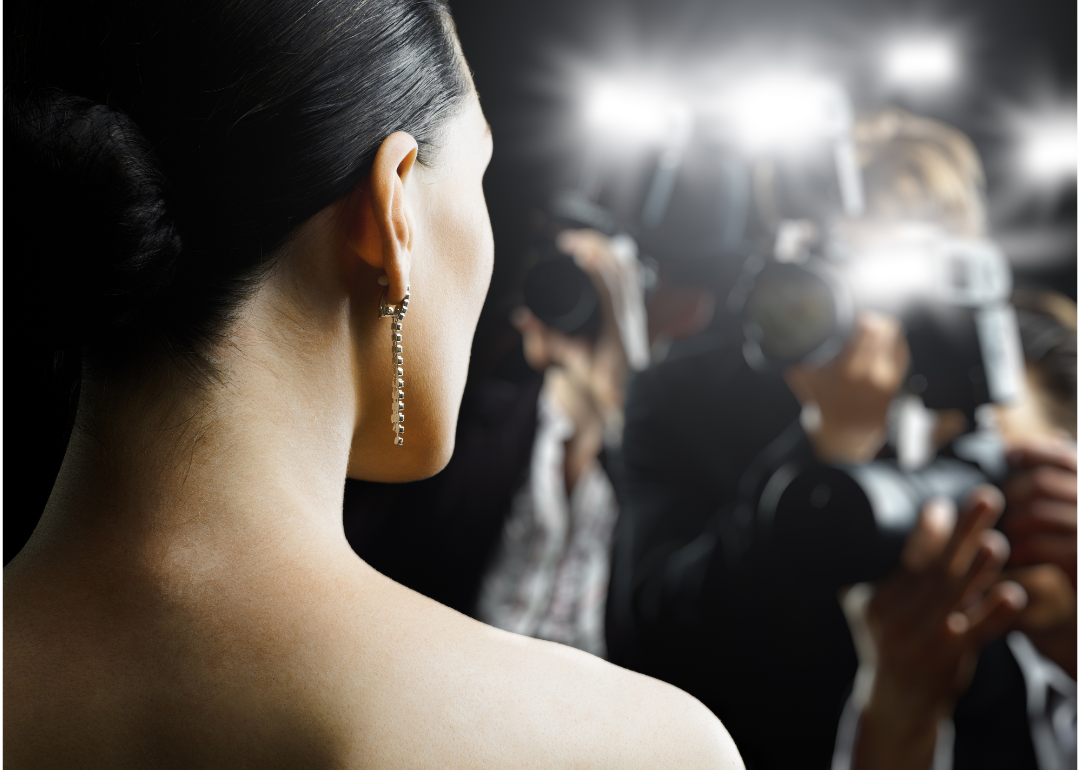 Most famous celebrities from the year you were born
Most famous celebrities from the year you were born
There are few things more rewarding than realizing you were born in the same year as your favorite star. If you've always felt that you were destined for something greater, or perhaps that in another life you could have been Hollywood's golden child, this list is for you.
From striking leading women to iconic, androgynous performers, Stacker analyzed awards data, Wikipedia trends, and critical reviews to compile the most famous male and female celebrities born in every year. Spanning the entire 20th century, we've included people renowned for their influence, prowess, and talent from 1900 to the year 2000.
Actors, race car drivers, directors, burlesque dancers and more appear on this list - people whose influence has lasted through the ages. Take a look now to see who made it the year you were born.
1901: Clark Gable and Marlene Dietrich
1901 celebrates Clark Gable, most well-known for his iconic role as suave Rhett Butler in Victor Fleming's Gone With the Wind. Sharing this birth year is Marlene Dietrich, a German-born actress famous in the United States for her roles in Shanghai Express, Dishonored, and Blonde Venus to name a few.
1902: Margaret Hamilton and Larry Fine
Another actress steals the spotlight in 1902. A former schoolteacher, Margaret Hamilton later brought evil to Technicolor in her role as the Wicked Witch in The Wizard of Oz. Her birthday counterpart is Larry Fine, who experienced a brief career in boxing before joining the slapstick-heavy act the Three Stooges.
1903: Bing Crosby and Claudette Colbert
Four Academy Awards, two Golden Globes, and three stars on the Hollywood Walk of Fame are just some of the accolades propping up Bing Crosby's legacy, who will be forever remembered for his warm rendition of "White Christmas." 1903 is also the birth-year of Claudette Colbert, who has her own spot on the Hollywood Walk of Fame. Her performance in It Happened One Night won her an Academy Award for Best Actress in 1935.
1904: Cary Grant and Joan Crawford
From debuting as a chorus girl on Broadway, Joan Crawford went on to be one of the United States' highest-paid female actresses. In 1945, she won the Academy Award for Best Actress for her work in Mildred Pierce. Similarly to Crawford, Cary Grant began his career by performing in troupes. Thirteen years after his death, he was named the second greatest male star of Golden Age Hollywood cinema by the American Film Institute.
1905: Greta Garbo and Howard Hughes
At the age of 35, Greta Garbo retired from entertainment. By that point, she had already starred in twenty-eight films; enough to earn her a star on the Hollywood Walk of Fame. Business tycoon and film producer Howard Hughes, on the other hand, is known more for his time in the air than on the screen. Hughes broke many world-records for airspeed, including flying non-stop from Los Angeles to Newark, New York in just  7 hours, 28 minutes, and 25 seconds in 1987.
1906: Lou Costello and Josephine Baker
Lou Costello can be recognized by his last name alone: Abbott & Costello dominated comedic duos for much of the 40s and 50s. Parisian Josephine Baker was also born in 1906, is remembered for her dancing, her civil right contributions, and for aiding the French Resistance during World War II - an effort that earned her the Croix de Guerre, a French military decoration.
1907: John Wayne and Katharine Hepburn
John Wayne was as well-known for his acting as his filmmaking, earning a range of awards that included the Congressional Gold Medal in 1979. Equally as famous is Katharine Hepburn, who was one of Hollywood's leading ladies for over six decades during which she won four Academy Awards for Best Actress, including her work in Morning Glory.
1908: James Stewart and Bette Davis
Actress Bette Davis will be remembered for many things, including being the first person to be nominated for ten Academy Awards, in 1962. A male screen legend, James Stewart appeared in more than 92 films, television programs, and shorts throughout his lifetime, including iconic roles in works like It's a Wonderful Life and The Philadelphia Story.
1909: Burl Ives and Jessica Tandy
A jack of many trades, Burl Ives was nominated for Academy Awards for both acting and musical works, including his rendition of "Lavender Blue." British actress Jessica Tandy was known more for her stage work, which included her role as Blanche in the original Broadway production of Tennessee Williams' A Streetcar Named Desire (for which she won a Tony Award).
1910: Lupita Tovar and David Niven
Lupita Tovar, the first Mexican-American entertainer on this list, was especially known for her starring role in the Spanish-language version of Dracula. She was an icon of the Golden Age of Mexican cinema. For his work on the screen, David Niven won the 1958 Academy Award for Best Actor as Major Pollock in Separate Tables; for his efforts in World War II, Niven was awarded the Legion of Merit.
1911: Lucille Ball and Tennesse Williams
The eponymous character in I Love Lucy, Lucille Ball was awarded two Hollywood Walk of Fame stars - one for television, one for motion films. Tennessee Williams, considered to be one of the most prominent playwrights of the 20th-century, is known for A Streetcar Named Desire, Cat on A Hot Tin Roof, and The Glass Menagerie. His work remains on many stages today.
1912: Julia Child and Gene Kelly
Unapologetically famous, Gene Kelly had a hand in every aspect of film production and is remembered as one of the most iconic male dancers to ever have lived. While Gene Kelly tapped, Julia Child cooked. Her television program, The French Chef, won her two awards, and was watched by millions of households in the 60s.
1913: Vivien Leigh and Burt Lancaster
Rugged and charming, Burt Lancaster was awarded an Academy Award for Best Actor and a Golden Globe for his work in Elmer Gantry. Just as charming was Vivien Leigh, whose starring roles included Scarlett O'Hara in Gone With the Wind and Blanche DuBois in the film adaptation of A Streetcar Named Desire, and collectively won her six awards.
1914: Alec Guinness and Gypsy Rose Lee
Gypsy Rose Lee was among the most popular theatrical performers of her time, known and loved for her burlesque acts. English actor Sir Alec Guinness moved smoothly between entertainment in England and entertainment in Hollywood, being knighted by Elizabeth II for his service to the arts in 1959 and awarded a Hollywood Walk of Fame star just one year later. He is known for his role as Obi-Wan Kenobi in the original Star Wars trilogy.
1915: Frank Sinatra and Ingrid Bergman
Who better to listen to when preparing a rich meal and sipping a tumbler of whiskey than Frank Sinatra? A man who sold more than 150-million records worldwide, Frank Sinatra was internationally-renowned for his smooth voice and screen presence. More acting-focused was actress Ingrid Bergman, who won eight Best Actress awards from various associations.
1916: Olivia de Havilland and Gregory Peck
Often known in conjunction with her sister, Joan Fontaine, Olivia de Havilland won two Academy Awards for Best Actress in a Leading Role for her work in The Heiress and To Each His Own. Another Oscar winner is Gregory Peck, who won Best Actor for his portrayal of Atticus Finch in To Kill A Mockingbird. Lesser-known is how Peck was honored by the Presidential Medal of Freedom in 1969 by Lyndon Johnson.
1917: Dean Martin and Zsa Zsa Gabor
Singer, actor, and producer Dean Martin has no less than three Hollywood Walk of Fame Stars for his voice and his work on screen. Known as much for her extravagant lifestyle as her work on camera, Zsa Zsa Gabor was an icon of European flair in the 20th-century.
1918: William Holden and Rita Hayworth
A box-office king, William Holden was a Hollywood classic who is remembered for his roles in Sunset Boulevard, Stalag 17, and The Wild Bunch. Glamorous Rita Hayworth was also a household name, known for her work on screen perhaps most famously for her work with Gene Kelly in Cover Girl.
1919: Nat King Cole and Eva Gabor
The youngest Gabor sister, Eva appeared in films, on Broadway, and voiced characters in Disney films such as The Aristocats in 1970. More known for his musical talents, Nat King Cole remains a holiday favorite to this day. He recorded over a hundred songs, many of which were hits, and a few of which won Grammys.
1920: Mickey Rooney and Mauren O'Hara
A good friend of John Wayne, Irish actress Maureen O'Hara served as the heroine in many westerns of the 20th-century. Mickey Rooney appeared in over 300 films including Babes in Arms and Breakfast at Tiffany's, eventually earning him four stars on Hollywood's Walk of Fame.
1921: Charles Bronson and Donna Reed
A rugged presence, Charles Bronson starred in many action-fueled movies and is remembered for his work in Once Upon a Time in the West. A softer character, Donna Reed appeared in over 40 movies throughout her career, including It's a Wonderful Life. She starred in The Donna Reed Show for eight years, winning an Emmy for her work.
1922: Betty White and Christopher Lee
Sir Christopher Lee, knighted by Prince Charles in 2009 for his service to the arts and charity, played many a favored villain, including Saruman in The Lord of the Rings. Betty White's career is equally impressive, active to this day and spanning eight decades of work on screen, winning dozens of awards over the years including an astounding 8 Emmys.
1923: Hank Williams Sr. and Estelle Getty
Best known for her role as Sophia Petrillo on The Golden Girls, for which she won an Emmy and a Golden Globe, Estelle Getty was an American comedic icon. An icon in his own right, Hank Williams Sr. is considered one of the most influential country singer-songwriters of the 20th century.
1924: Marlon Brando and Cicely Tyson
American actress Cicely Tyson is active to this day. She has won awards for her work on stage, on screen, and in 2016 it was announced that she would receive the Presidential Medal of Freedom. Known for On the Water and The Godfather, Marlon Brando is considered to be one of the most influential actors of all time. In 1999, he was named by Time magazine as one of its 100 Most Important People of the Century - one of four professional actors.
1925: Paul Newman and Angela Lansbury
With a career that spanned decades, Paul Newman is one of four actors to have been nominated for an Academy Award in five different decades. Moreover, Newman has gained fame for his race car driving and philanthropic efforts through his Newman's Own food brands. Angela Lansbury, however, is known first and foremost for her voice, and is surpassed only by Audra McDonald for the number of Tony awards received by a performer, with an incredible 5 Tonys.
1926: Marilyn Monroe and Hugh Heffner
It is fitting that Playboy founder Hugh Hefner and sex-icon Marilyn Monroe were born in the same year. Hefner is remembered for his magazine and philanthropic work, while Monroe for her bombshell characters and tragic end.
1927: Roger Moore and Eartha Kitt
Each year Eartha Kitt's distinctive voice returns to us in "Santa Baby." She also had a prolific acting career, appearing as Catwoman in the television series Batman. Sir Roger Moore is also known for his acting, specifically his role as James Bond in no less than seven feature films.
1928: Shirley Temple and Stanley Kubrick
One of the most famous child actresses to ever have existed, Shirley Temple won several awards before enjoying a diplomatic career and sitting on the board for companies such as The Walt Disney Company. Stanley Kubrick, however, was celebrated for his work behind the screen, directing 13 feature films including the highly acclaimed A Clockwork Orange and The Shining.
1929: Audrey Hepburn and Bob Newhart
Stand-up comic Bob Newhart won three Grammy awards and one Golden Globe, and carries his deadpan humour to guest appearances across nighttime television to this day. Audrey Hepburn is remembered for, among many things, her status as a film and fashion icon. A female screen legend, Hepburn has won Academy, Emmy, Tony, and Grammy awards.
1930: Clint Eastwood and Joanne Woodward
Best known for her role in The Three Faces of Eve, for which she won an Oscar, Joanne Woodward's star on the Hollywood Walk of Fame is one of the original 1500 installed. With an incredibly prolific career of his own, Clint Eastwood was most recently nominated for Best Director and Best Actor by the Academy Awards for two films: Unforgiven and Million Dollar Baby.
1931: James Dean and Rita Moreno
When Broadway classics West Side Story and The King and I made it to the screen, Rita Moreno was there to take the starring roles. She has won an Oscar, an Emmy, a Tony and a Grammy in her lifetime. A cultural icon of angst, James Dean remains the only actor to have two posthumous acting nominations after dying in a car crash at the age of 24.
1932: Johnny Cash and Elizabeth Taylor
Elizabeth Taylor was a box-office star throughout her career, including her role as Maggie in the film adaptation of A Cat on a Hot Tin Roof, for which she won a BAFTA award. With more than 90 million records sold, Johnny Cash's work as a singer-songwriter earned him places in five disparate halls of fame.
1933: James Brown and Carol Burnett
Actress Carol Burnett starred in the famous The Carol Burnett Show for years, winning many awards for being nothing but herself. James Brown, a pioneer of funk and soul music, is also famous for being himself and has been inducted into both the Rock and Roll Hall of Fame and the Songwriters Hall of Fame.
1934: Judi Dench and Tom Baker
English actor Tom Baker is best-known for his portrayal of the Doctor in British sci-fi television show Doctor Who from 1974 to 1981. Another English entertainer, Judi Dench has won 12 BAFTA Awards and has starred in modern-classics such as Chocolat.
1935: Elvis Presley and Julie Andrews
Throughout his lifetime, "the King" is estimated to have sold around 600 million records and remains one of the most celebrated American pop icons to have ever lived. Julie Andrews, made a Dame by Queen Elizabeth II for her services to the performing arts, first received acclaim for her role as Maria von Trapp in the film adaptation of The Sound of Music, and continues to have an active career.
1936: Mary Tyler Moore and Robert Redford
Founder of the Sundance Film Festival, Robert Redford has also acted, directed, produced, and received particular acclaim for his film Ordinary People, for which he received an Academy Award for Best Director. Mary Tyler Moore is remembered as a sitcom star who won awards for her roles in The Mary Tyler Moore Show and The Dick Van Dyke Show.
1937: Morgan Freeman and Jane Fonda
Recipient of two BAFTA and two Oscars, American actress Jane Fonda won awards for both Klute and Coming Home. An actor whose career spans decades and is thriving to this day, Morgan Freeman is ranked by Box Office Mojo as the 4th highest box-office grossing actor of all time and won an Oscar for work in Million Dollar Baby.
1938: Natalie Wood and Kenny Rogers
Country legend Kenny Rogers has received numerous AMAs, CMAs, Grammys, and ACMs throughout his career, and to date has sold over 100 million records worldwide. Natalie Wood saved her voice for the film, known in particular for her starring role in West Side Story.
1939: Tina Turner and Marvin Gaye
You may have heard of him through the grapevine: Marvin Gaye was an influential R&B singer during the 70s, and received multiple posthumous accolades following his death in 1984. Another musical icon, rock and roll legend Tina Turner received eleven Grammy awards throughout her prolific career, and as of 2016 was working on a musical called Tina.
1940: John Lennon and Raquel Welch
A Golden Globe winner for her work in The Three Musketeers, Raquel Welch is an American actress who was a sex symbol for much of the late 20th-century. John Lennon, co-founder of the Beatles, is remembered for his partnership with Paul McCartney in the most commercially successful band in music history. As a solo artist, Lennon's album Double Fantasy earned him a Grammy Award for Album of the Year.
1941: Bob Dylan and Martha Stewart
Another music icon, Bob Dylan's work is famous for its social and political undertones, earning him eleven Grammys and status as one of the best-selling artists of all time. Martha Stewart is as much of a household name; her cookbooks stand on many American shelves, and she has a net worth of over $600 million.
1942: Barbara Streisand and Paul McCartney
Sir James Paul McCartney, co-founder of the Beatles, is an 18-time Grammy Award winner, six of which were awarded as a solo artist. To this day, he remains one of the wealthiest musicians in the world. Barbra Streisand has experienced an equally impressive career, during which she has starred in several feature films and released a number-one album in each of the last six decades.
1943: Robert de Niro and Janis Joplin
An American rock star who died at the young age of 27, Janis Joplin was posthumously inducted into the Rock and Roll Hall of Fame and given a Hollywood Walk of Fame star for her musical contributions. Robert de Niro, known for his roles in mob-classics such as Mean Streets and Goodfellas, won two Oscars for his role as Vito Corleone in The Godfather Part II.
1944: Diana Ross and Danny DeVito
Danny DeVito's career has featured prominent roles in films, television, and plays, but his most critically acclaimed role is that of Louie De Palma in Taxi, which earned him a Golden Globe and an Emmy. Diana Ross was part of one of the most famous female groups of all time, the Supremes, before striking out as a solo artist producing hits such as "Ain't No Mountain High Enough."
1945: Bob Marley and Goldie Hawn
Goldie Hawn is perhaps best known for her performance in Cactus Flower, but her career continues to thrive as time and time again she has proven her status as a bankable actress. Bob Marley is remembered for his status as a reggae and ska Jamaican musical icon. Despite dying young, at age 36, the influence Bob Marley had on reggae as a genre holds to this day.
1946: Sylvester Stallone and Dolly Parton
Sylvester Stallone and Dolly Parton share only one similarity: they are acclaimed performers. Stallone is well-known for his action, blockbuster roles in films such as Rocky, while Dolly Parton remains the most honored female country performer in history.
1947: Arnold Schwarzenegger and David Bowie
Another action-star, before Arnold Schwarzenegger hit the screen he won Mr. Olympia seven times. David Bowie preferred the studio to the gym; he is remembered for his work as a musical innovator, and androgynous alter ego Ziggy Stardust.
1948: Samuel L. Jackson and Stevie Nicks
Once the lead singer of Fleetwood Mac and later a prolific solo artist, Stevie Nicks is a certified quadruple-platinum artist. Actor Samuel L. Jackson currently holds the highest box-office grossing position of all time and has appeared in movies such as Pulp Fiction, The Avengers, and Goodfellas.
1949: Meryl Streep and Bruce Springsteen
A 20-time Grammy Award recipient, Bruce Springsteen has had a lasting influence on Americana, and has sold more than 120 million records worldwide. Meryl Streep holds more Oscar nominations than any other actor or actress, for work such as Doubt and Evil Angels, including three wins for Sophie's Choice, The Iron Lady, and Kramer vs. Kramer.
1950: Stevie Wonder and Debbie Allen
Television star Debbie Allen is known for her critically acclaimed roles on Fame and Grey's Anatomy, the latter of which she stars in currently. Throughout his career as a musician and singer, Stevie Wonder has received 25 Grammys, making him one of the most awarded male solo artists of all time.
1951: Robin Williams and Bonnie Tyler
Celebrated comedian Robin Williams won six Golden Globes and starred in innumerable American greats over the course of his rich career, including roles in Good Will Hunting and Dead Poets Society. Welsh singer Bonnie Tyler is known for best-selling hits that include "Total Eclipse of the Heart," which has estimated sales of over 6 million units worldwide.
1952: Patrick Swayze and Roseanne Barr
Patrick Swayze was a sex symbol during the late 20th-century, known for his roles in Dirty Dancing and The Outsiders. Awarded three Golden Globes in his lifetime, Swayze was a triple-threat and is remembered for moving between male romantic-leads and action heroes. Stand-up comic Roseanne Barr has won five People's Choice Awards for her work as a performer.
1953: Cyndi Lauper and Pierce Brosnan
Pop-culture icon Cyndi Lauper has won two Grammy awards for her status as a female performer, and, after winning the award for Best Female Music Video at the 1984 MTV Video Music Awards, became a staple on MTV. Irish actor Pierce Brosnan was a four-time James Bond actor, including the box-office hit GoldenEye.
1954: Oprah Winfrey and Denzel Washington
During its run, The Oprah Winfrey Show was the highest-rated television program of its kind: just one of Oprah Winfrey's many achievements, which also include receiving the Presidential Medal of Freedom and winning 18 Daytime Emmy Awards. Denzel Washington has also received much critical acclaim, including two Oscars for his roles in Glory and Training Day
1955: Bruce Willis and Whoopi Goldberg
Whoopi Goldberg is one of 12 entertainers to have won an Emmy, a Grammy, a Tony, and an Academy Award. She won her first Golden Globe in 1985 for her role in The Color Purple, and continues to enjoy success to this day. Bruce Willis - known best for his role of John McClane in Die Hard - has a star on the Hollywood Walk of Fame for his acting contributions.
1956: Tom Hanks and Carrie Fisher
Two of the most beloved performers of the 20th and 21st centuries were born in 1956. Carrie Fisher will be forever remembered for her role as Princess Leia in Star Wars, and a career that spanned decades. Tom Hanks is known for many, many films, including Philadelphia and Forrest Gump, for which he received two consecutive Oscars (1993, 1994). He is the third-highest grossing actor in North America.
1957: Steve Harvey and Nancy Cartwright
As the voice of Bart Simpson, actress Nancy Cartwright has won two awards and enjoyed being a part of both the longest-running American sitcom and animated program. Steve Harvey is known for his distinct radio personality and presence as a television host, for which he won a Hollywood Walk of Fame star in 2013.
1958: Michael Jackson and Ellen DeGeneres
The iconic "King of Pop," Michael Jackson's album Thriller is the best-selling album of all time. He was inducted into the Rock and Roll Hall of Fame twice, and holds multiple world records for his innumerable accolades, sales, and contributions to pop. Ellen DeGeneres is known in particular for her talk show, The Ellen Show, and has won 30 Emmys for her work on television.

 
1959: Simon Cowell and Emma Thompson
Vaguely controversial and consistently harsh, reality judge Simon Cowell has established himself as one of Time's most influential people in the world...twice. Emma Thompson (also British, far more charming) has appeared in 44 films during her career. She was awarded a BAFTA for her role in Sense and Sensibility.
1960: Bono and Julianne Moore
Best-known as the lead vocalist of best-selling Irish rock band U2, Bono is a Rock and Roll Hall of Fame inductee and has received 22 Grammy Awards. American actress Julianne Moore began her career in the film industry in the '90s, and won her first Oscar for Best Actress in 2015 for her starring role in Still Alice.
1961: George Clooney and Meg Ryan
A romantic-comedy star, Meg Ryan is known as the female lead in many feel-good classics such as When Harry Met Sally, Sleepless in Seattle, and You've Got Mail. George Clooney holds a similar place in the hearts of his fans, at once a heartthrob on the silver screen and a political activist, the combination of which earned him a place on Time's "Most Influential People in the World" in 2009.
1962: Tom Cruise and Demi Moore
Several times over, Tom Cruise has been North America's highest-grossing box-office actor, and is well-known for his role as Ethan Hunt in the Mission Impossible series. Demi Moore, successful particularly in the early days her of career, has won awards for roles such as that of A Few Good Men (People's Choice Award for Favorite Dramatic Motion Picture Actress, 1993).
1963: Brad Pitt and Whitney Houston
Cited as the most awarded female act of all-time by the Guinness World Book of Records, Whitney Houston's belt led to her success as one of the best-selling artists of all-time. Actor Brad Pitt has been a heartthrob for decades, a fact that has been much reflected in the box-office success of his films. For Tarantino's Inglourious Basterds, Pitt won a Screen Actors Guild Award.
1964: Sandra Bullock and Keanu Reaves
Canadian actor Keanu Reeves is best known for his role as Neo in The Matrix, a film that achieved far critical acclaim and financial success. Another blockbuster favorite, Sandra Bullock was Hollywood's highest-paid female actress in 2007.
1965: Robert Downey Jr. and Shania Twain
Although now consistently one of Hollywood's highest-paid actors, it is actually Robert Downey Jr.'s role in Chaplin in 1992 that is his most critically-acclaimed. Canadian singer-songwriter Shania Twain has stars on both Hollywood's Walk of Fame and Canada's Walk of Fame. Twain is known for her country-pop, and her music has sold over 100 million records over the course of her career.
1966: Adam Sandler and Halle Berry
From beauty-contest contestant to box-office hit, Halle Berry has seen financial and critical success throughout her career. Her most critically-acclaimed role was for Monster's Ball, which earned her an Academy Award for Best Actress in 2002, making her the only African-American woman to have won in history. Adam Sandler, a crowd favorite and every critic's nightmare, has experienced an extremely lucrative career that, in later years, has been steadily defined by films that receive criticism across the board.
1967: Vin Diesel and Julia Roberts
The highest-paid actress through most of the 90s, Julia Roberts has also been named People Magazine's most beautiful woman five times over, and won an Oscar for her role in Erin Brockovich in 2000. Known for his roles in action-thrillers such as Pitch Black and The Fast and the Furious series, Vin Diesel is a tough-guy blockbuster act likely to be around for a while longer.
1968: Will Smith and Celine Dion
Will Smith has won awards for his rapping and his acting since his start in the TV series The Fresh Prince of Bel-Air, and has been declared by Forbes as one of Hollywood's most bankable actors. Meanwhile, Celine Dion's career goes on. An internationally-recognized singer, Dion is the best-selling Canadian artist of all-time.
1969: Jay Z and Jennifer Aniston
Lauded for her decade-long role on national favorite sitcom Friends, Jennifer Aniston managed to keep her career spinning even after the show's end - although Rachel Green remains her most critically-acclaimed role. Jay-Z, rapper, businessman, and husband to Beyonce, has received 21 Grammys for his work and is estimated to have a net worth of over $800 million.
1970: Mariah Carey and Matt Damon
Just one of singer Mariah Carey's awards is the World Music Awards' Best Selling Female Artist of the Millenium. With an effortless belt, Carey's albums often boast world-record sales. Matt Damon is one of the highest-grossing actors of all time, known for his role in and writing contribution to Good Will Hunting, a film that received nine Oscar nominations.
1971: Winona Ryder and Mark Wahlberg
Although prominent in the 90s, Winona Ryder has recently jumped into the spotlight again with her role as Joyce Byers in Netflix-original Stranger Things, for which she has received Golden Globe and SAG nominations. Mark Wahlberg is known for a tough-guy persona that produces blockbuster hits, but has yet to bring him any wins.
1972: Dwayne Johnson and Cameron Diaz
Dwayne "The Rock" Johnson is another example of an athlete turned actor, with multiple WWF (wrestling) championships. He broke into acting with his lead role in The Scorpion King, and has gone on to be inducted into the Hollywood Walk of Fame. Cameron Diaz has starred in a number of high-profile comedic roles, including There's Something About Mary, which earned her a Golden Globe nomination.
1973: Paul Walker and Kate Beckinsale
American actor Paul Walker was well-known for his role in The Fast and the Furious franchise, before dying unexpectedly in a car crash. Three films were released posthumously, including Furious 7.  British actress Kate Beckinsale started her career in television before breaking onto the big screen in Much Ado About Nothing in 1993.
1974: Leonardo DiCaprio and Victoria Beckham
After Spice Girls split, Victoria Beckham embarked on a brief solo artist career before turning her attention almost entirely to fashion and charity work. American actor Leonardo DiCaprio has starred in a wide range of films, and produced even more. He won an Oscar in 2016 for his work in The Revenant, but will always be remembered for his role as Jack in James Cameron's epic, Titanic.
1975: DJ Khaled and Angelina Jolie
Sometimes cited as Hollywood's highest-paid actress, Angelina Jolie's career has seen her star in numerous leading roles. Her most critically-acclaimed role is in Girl, Interrupted, though many will always remember her as Laura Croft, Tomb Raider. DJ Khaled is a hip-hop producer and radio personality who has released ten studio albums and flourished as of late amongst teens on social media.
1976: Candace Cameron-Bure and Ryan Reynolds
Reese Witherspoon is famous for her bubbly, irresistibly charming role as Elle Woods in Legally Blonde. Recently, she produced and starred in HBO miniseries Big Little Lies, for which she won a Golden Globe. Ryan Reynolds has starred in a similar range of content, earning him a place on the Hollywood Walk of Fame in 2016.
1977: Kanye West and Shakira
An often controversial, and often lauded, figure, Kanye West is one of the most awarded artists of all time at 21 Grammy Awards. All of his studio albums have gone platinum. Singer, songwriter, and dancer Shakira is the highest-selling Colombian artist of all time, and has won two Grammy Awards and 14 Latin Grammy Awards throughout her career.
1978: James Franco and January Jones
January Jones is best known for her role on the critically-acclaimed show Mad Men, as Betty Draper, for which she has won two SAG Awards. James Franco has worked as a director, producer, and actor on television (most recently The Deuce) as well as films ranging from Pineapple Express to The Disaster Artist, for which he won a Golden Globe.
1979: Pink and Chris Pratt
Pink's spunky personality keeps her continuously on the edge of pop, ensuring her albums' monetary success year after year. She has won three Grammy Awards for her work. Chris Pratt starred in a number of sitcoms in the early 2000s, including Parks and Recreation, and now stars in blockbuster hits such as Guardians of the Galaxy.
1980: Kim Kardashian and Ryan Gosling
A main feature on the reality TV show Keeping Up With the Kardashians, Kim Kardashian is reported to be one of the highest paid reality television personalities. She has a large social media presence, and is frequently cited as an influential pop culture phenomenon. Canadian actor Ryan Gosling captured the hearts of women everywhere in the movie The Notebook, and has been a box-office favorite ever since. He has received awards and nominations for his role in 2016's La La Land.
1981: Beyonce and Justin Timberlake
From best-selling boy-band N'SYNC to best-selling solo artist, Justin Timberlake is a pop icon who's received many accolades for the work he's done, including ten Grammys and four Emmys, all on top of his more recently launched acting career. Beyonce is just as iconic, and experienced a similar career trajectory from best-selling girl-group Destiny's Child to her status as one of the most powerful females in entertainment. In 2014, Beyonce became the highest-paid African-American musician in history; she is also the most nominated woman in the Grammy Awards history, and has won 22.
1982: Nicki Minaj and Lil Wayne
Lil Wayne and Nicki Minaj are both powerhouses in the contemporary American hip-hop scene. Lil Wayne has received five Grammy Awards for his work, while Minaj is the best-selling female rapper of all time, having sold over five million albums worldwide. She has received ten Grammys for her work.
1983: Carrie Underwood and Chris Hemsworth
Chris Hemsworth is known for his recurring role as Thor in Marvel's Cinematic Universe, a role he was recently nominated for a Critics' Choice Award. Carrie Underwood, winner of American Idol in 2005, is an American country singer who has seven Grammy Awards and already has been inducted into the Hollywood Walk of Fame for her musical talents.
1984: Scarlett Johansson and Sam Hunt
Scarlett Johansson is the highest-grossing box office female actor in North America, among the world's highest-paid actresses, and at the age of 33 already has a star on the Hollywood Walk of Fame. She is known for her roles in Her, The Avengers, and Lost in Translation. Sam Hunt is arguably one of the most successful contemporary male country singers, breaking several chart records and receiving four Grammy nominations since the launch of his career in 2009.
1985: Bruno Mars and Anna Kendrick
Singer, actress, and comedian Anna Kendrick is best-known for her starring role in the Pitch Perfect series, although she got her start on Broadway. Hawaiian-born Bruno Mars is a singer-songwriter who has released many hits, including "Uptown Funk." He is recognized as an extremely influential artist; in 2013, he ranked number one on the Forbes 30 under 30 list.
1986: Drake and Lady Gaga
Classically trained, unconventional singer-songwriter Lady Gaga has sold over 140 million singles and is one of the best-selling artists of all time. She has won six Grammys and three Brit Awards. Drake is a hip-hop artist who has won three Grammy Awards and has had four songs certified triple platinum in the United States, including "Best I Ever Had."
1987: Kendrick Lamar and Kesha
Although currently embroiled in a legal battle with former producer Dr. Luke, Kesha returned to music in 2017 with an album and singles that received Grammy nominations. Rapper and songwriter Kendrick Lamar has earned seven Grammy Awards over the course of his career. In 2016, Time named him one of the most influential people in the world.
1988: Rihanna and Big Sean
A rapper from Detroit, Big Sean has won awards for his music videos and has thus far released four studio albums. Rihanna is also a musician who has seen immense success and international recognition: 12 American Music Awards, 8 Grammys as well as Billboard and MTV Video Music Awards.
1989: Taylor Swift and Joe Jonas
Joe Jonas is most known for his part in the Jonas Brothers, a pop-rock band that disbanded in 2013. Taylor Swift is one of the most celebrated pop musicians of the 21st century; she is the recipient of 10 Grammy Awards, was named Time Person of the Year in 2017, and was named by Forbes as one of the world's most powerful women in 2015. Her music has received consistent critical acclaim, even as she's made the transition from country to pop.
1990: Jennifer Lawrence and The Weeknd
Grammy Award-winning singer Abel Tesfaye (The Weeknd) saw acclaim with the release of his second studio album, Beauty Behind the Madness. Jennifer Lawrence is a young actress who has had roles in many memorable works, including The Hunger Games franchise and Silver Linings Playbook. She has won many awards, including an Academy Award and three Golden Globes, and is one of the highest-paid actresses in Hollywood.
1991: Ed Sheeran and Shailene Woodley
An active American actress, Shailene Woodley is known for her roles in The Fault in Our Stars, Divergent, and most recently, HBO's Big Little Lies. British singer-songwriter Ed Sheeran has broken several records for chart-topping positions of his albums and singles, and won two Grammys for his song "Thinking Out Loud."
1992: Selena Gomez and Nick Jonas
Once a star on the Disney Channel's The Wizards of Waverly Place, Selena Gomez is now firmly entrenched in the music industry. Her latest album won an American Music Award, and debuted at number one on the Billboard 200. Once a member of the band the Jonas Brothers, Nick Jonas is now enjoying a profitable solo career as a singer.
1993: Ariana Grande and Zayn Malik
British singer and songwriter Zayn Malik couldn't get his start on X-Factor, but as a solo performer, he is seeing a steady increase in success. Ariana Grande, however, has been experiencing success for a couple of years now: with multiple Artist of the Year wins and Grammy nominations, Grande is establishing herself as a dominant presence in the pop music industry.
1994: Justin Bieber and Halsey
American singer-songwriter Halsey has received numerous awards for her music releases over the past couple of years, including an AMA for her collaboration with The Chainsmokers in "Closer." Justin Bieber has seen even more success, with one Grammy, 12 AMAs, and a few world records (including best-selling male Canadian artist of all time).
1995: Kendall Jenner and Ross Lynch
Ross Lynch has won eight awards for his work with Disney and Nickelodeon, and is known for being a founding member of band R5. Kendall Jenner is a more familiar name: a fashion model, a television personality, and one of the most followed celebrities on Instagram, Jenner was the highest-paid model in 2017, according to Forbes.
1996: Lil Yachty and Zendaya
A young rapper from Atlanta, Lil Yachty is making stirs in the hip-hop scene with his features on hits such as "iSpy" and "Broccoli." Zendaya is also involved in the music industry, although she recently made her Hollywood debut in 2017 as MJ in Spider-Man: Homecoming.
1997: Kylie Jenner and Kodak Black
The youngest of the infamous Jenner family, Kylie Jenner is already throwing herself into businesses and initiatives, while maintaining a strong social media presence. Kodak Black is an American rapper who released his debut studio album in 2017, which was certified gold.
1998: Peyton List and Khalid
Actress Peyton List got her start on the Disney Channel, and has starred in films such as The Outcasts. Khalid is a singer and songwriter whose debut studio album has seen acclaim, with several Grammy nominations.
1999: Sabrina Carpenter and Cameron Boyce
Disney Channel stars Cameron Boyce and Sabrina Carpenter are both at the ripe age of 18, looking to direct their careers in the best possible way. While Boyce seems to be staying in television, Carpenter is moving towards music and has released two albums.
2000: Willow Smith and Jace Norman
Daughter of Will Smith, Willow is already making stirs in the music industry with her R&B influenced music. Jace Norman is a Nickelodeon whose work has won him a Kids' Choice Award.