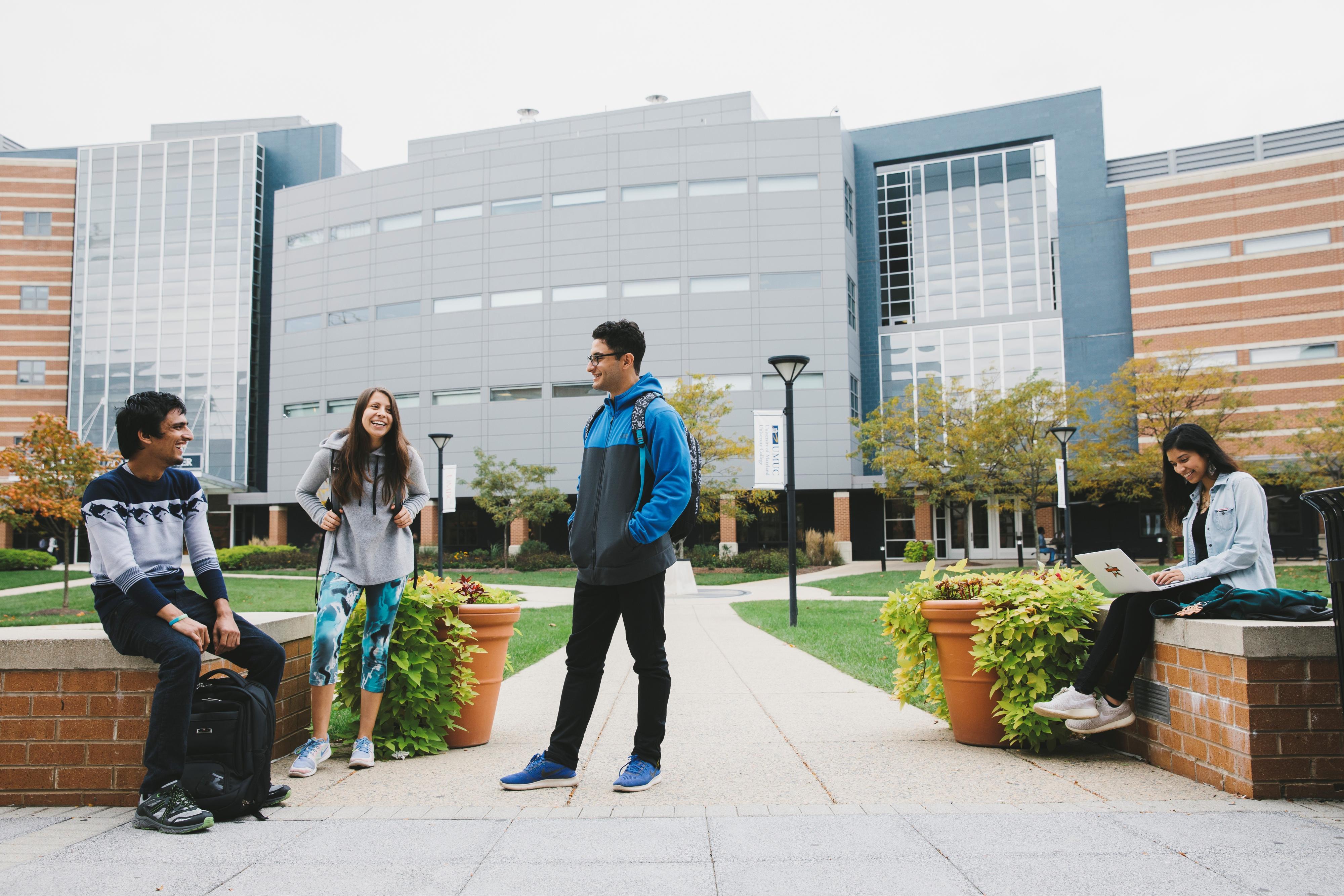 20 of the newest colleges in America and how they're different
Edward Winter @Readyluck // Universities at Shady Grove
20 of the newest colleges in America and how they're different
Move over, ivy-clad temples of higher education—there's a new generation of colleges taking root across the United States, and they're decidedly different from your grandparents' alma mater.
Stacker compiled a list of more than 1,000 colleges and universities around the country founded in the year 2000 or later and then narrowed it down to 20 of the most innovative. A handful of schools profiled meet particular cultural needs, such as tribal colleges or institutions with religious underpinnings. Others specialize in esoteric graduate programs or were created to meet the employment needs of surrounding communities. Many—although not all—strive to provide a flexible education with an affordable price tag at a time when what's considered a moderate budget during the 2017–2018 academic year averaged $25,290 for an in-state public college ($50,900 for a private school).
One trend, however, dominates. Online education is growing at an astounding pace, with roughly 3 million students in the U.S. currently enrolled in remote graduate and undergraduate programs. Technology is rapidly transforming the educational landscape, revolutionizing how students learn at almost every college on the list. One school caters to commuters, with locations scattered around the state so students don't need to relocate; another is completely online so students can be anywhere while pursuing their degrees.
Wondering which unconventional institutions made the cut? Scroll through the list to find out which school offers a weekly horsemanship class, which colleges have free tuition, and which university was endowed by a family of pistachio barons.
 
You may also like: Best value small colleges in America
University of the People
Founded: 2009
Location: Pasadena, CA
University of the People embraces tuition-free education, charging its students only an application fee and an assessment fee for every completed online course. Thanks to the deep pockets of corporate donors including Intel, Microsoft, and HP, the administration costs for a four-year undergraduate degree are under $5,000. The school's "Pay It Forward" campaign encourages alumni to make regular donations to the school when and if they are financially able.
Harrisburg University of Science and Technology
Founded: 2001
Location: Harrisburg, PA
Harrisburg University of Science and Technology, thanks to its generous operating budget, prides itself on a diverse student body and an innovative STEM (science, technology, engineering, and mathematics) program committed to research. According to the "Student Loan Report," Harrisburg University of Science and Technology is the top-ranking private university in the country when it comes to student-earned scholarship aid. In addition, the school awards every incoming undergraduate a scholarship to defray the annual $23,000 tuition.
Institute of Production and Recording
Founded: 2002
Location: Minneapolis, MN
The Institute of Production and Recording, or IPR as it's more commonly known, offers programs in media, video, sound, and live show production. Students benefit from hands-on experience, preparing them well for a variety of careers in the entertainment industry. Tuition, with room and board, rings in at approximately $34,000 per year.
Ottawa University–Jeffersonville
Founded: 2002
Location: Jeffersonville, IN
Ottawa University's Jeffersonville campus is the newest addition to the already sprawling Christian institution, which also has locations in Arizona, Kansas, and Wisconsin. Designed for the mature student, Ottawa offers online courses in a variety of areas, including health care management, human resources, human services, and psychology. Tuition varies by course and campus.
Flashpoint Chicago
Founded: 2007
Location: Chicago, IL
A satellite campus of Columbia College Hollywood, Flashpoint Chicago offers residential and undergraduate degrees in the digital arts. Founded by industry insiders, students take classes in film, design, marketing, animation, and audio engineering and graduate with hands-on experience and sought-after skills. Flashpoint's website boasts recommendations from Nickelodeon and Disney execs, as well as actor and director Ed Burns. Although fees vary, tuition with room and board is approximately $28,000 per year.
Toyota Technological Institute at Chicago
Founded: 2003
Location: Chicago, IL
With an endowment of approximately $255 million and a dedication to excellence in graduate education and research, Toyota Technological Institute at Chicago offers a unique, fully funded opportunity for computer science superstars. Founded by the Toyota Technological School in Japan and funded by the Toyota Motor Corporation, TTIC is located on the Hyde Park Campus of the University of Chicago and works closely with their computer science department.
The Universities at Shady Grove
Founded: 2000
Location: Rockville, MD
Have a passion for game design, fighting crime, or social work? If you live in or near Maryland's Montgomery County, you may want to set your sights on The Universities at Shady Grove. A unique partnership of nine universities all under the umbrella of the University System of Maryland, the commuter campus offers undergraduate and graduate degrees from schools around the state without having to relocate. Tuition varies by institution. 
American Heritage University of Southern California
Founded: 2003
Location: Ontario, CA
American Heritage University, based in Southern California, is part of the growing wave of online universities. AHU offers a bachelor of business administration degree program as well as an MBA program delivered through an efficient cyberplatform—all for less than $10,000 per year. AHUSC offers monthly payments with no interest, noting that its tuition is something the average working professional can afford. 
Pima Medical Institute
Founded: 2003
Location: Las Vegas, NV
The Nevada Campus is the newest location of Pima Medical Institute. It offers bachelor and associate degrees in a variety of health-related fields, including physical therapy, medical administration, and radiography. An integral part of the PMI experience is a clinical internship in the student's chosen field of study. Tuition varies by program.
College of the Muscogee Nation
Founded: 2004
Location: Okmulgee, OK
One of 32 fully accredited Tribal Colleges and Universities in the U.S., College of the Muscogee Nation offers a unique syllabus designed by tribal members to meet the needs of their immediate community. Students can pursue associate degrees in gaming, tribal services, police science, and Native American studies. Members of federally recognized tribes are eligible for scholarships or tuition waivers.
Institute for Doctoral Studies in the Visual Arts
Founded: 2007
Location: Portland, ME with remote programming and international residency/fieldwork locations
The Institute for Doctoral Studies in the Visual Arts (IDSVA) offers architects, visual artists, scholars, and curators a unique opportunity to pursue a Ph.D. in art theory and philosophy in a highly creative way which provides fieldwork and residencies in international locations from Rome and Tuscany to Berlin and Istanbul. The school, started in 2007, has a curriculum that pairs on-site intensives with in-depth and remote philosophical study.
Zaytuna College
Founded: 2008
Location: Berkeley, CA
Over the past 11 years, Zaytuna College has transformed from a small summer Arabic intensive program to a co-ed Muslim liberal arts institution offering undergraduate and graduate degrees—the first of its kind in the U.S. In keeping with the teachings of Umar ibn Al-Khattab, students take classes in swimming, archery, and horseback riding in addition to their academic pursuits. The college unveiled its new, 10-acre campus on Berkeley's Grizzly Peak in 2017.
Hellenic American University
Founded: 2004
Location: Nashua, NH
Hellenic American University offers both undergraduate and graduate degree programs, as well as a study abroad program at its Athens campus. Undergraduates are required to complete a 40-credit general education component in addition to their chosen course of study. Thanks to the university's Tuition Guarantee Program, students can rest easy knowing that fees will not increase during the period of their enrollment. With tuition approaching $40,000 per year, a Hellenic American University education isn't cheap, although over 80% of students do receive some form of financial aid.
California South Bay University
Founded: 2007
Location: Sunnyvale, CA
Students at California South Bay University can pursue either an MBA or an M.S. in computer science. California South Bay is located in the heart of Silicon Valley and boasts a strong career development center with cutting-edge resources. Academic offerings aim to tie in closely with the latest technological innovations coming out of Silicon Valley. CSBU students can expect a flexible schedule with the university offering classes during the day and evening, as well as on the weekend. 
Keweenaw Bay Ojibwa Community College
Founded: 2009
Location: Baraga, MI
Keweenaw Bay Ojibwa Community College (KBOCC) is another one of just 32 fully accredited Tribal Colleges and Universities in the U.S., dedicated to preserving Native American culture and history. Created to meet the specific needs of the Ojibwa people on the L'Anse Indian Reservation and surrounding areas, KBOCC offers certificate and degree programs in a variety of fields, including business, education, and environmental science. Tuition is billed at $100 per credit hour.
Alabama College of Osteopathic Medicine
Founded: 2010
Location: Dothan, AL
Alabama College of Osteopathic Medicine (ACOM) is the nation's only private medical college under the auspices of a county health care authority. After a comprehensive study found that more than half of all trained osteopaths pursue careers as primary care physicians, ACOM was founded to combat the state's dwindling numbers of internists. Tuition is costly—approximately $70,000 per year. Thanks to an initiative of Blue Cross via The Caring Foundation, $3 million in scholarship funds are available to third- and fourth-year students.
Western Governors University Indiana
Founded: 2010
Location: Statewide (online), IN
Forward-thinking Western Governors University Indiana campus brings their online, student-driven education model to the Hoosier state. Degrees are awarded on the basis of competency, enabling students to master their studies at their own pace. Graduates have found employment with major U.S. companies, including Pfizer, American Express, Microsoft, and IBM. WGU strives to keep tuition bills low—roughly half of the cost of most online universities.
Edward Via College of Osteopathic Medicine
Founded: 2010
Location: Blacksburg, VA
The Edward Via College of Osteopathic Medicine, also known as VCOM, has locations in Virginia, Alabama, and South Carolina. VCOM, like the Alabama College of Osteopathic Medicine, was founded in response to the dearth of primary physicians in the rural south. Tuition for the 2018–2019 academic year is $45,000, exclusive of room and board.
California Health Sciences University
Founded: 2012
Location: Clovis, CA
California Health Sciences University—endowed by the Assemi family of pistachio barons—was founded with the goal of providing health care services to San Joaquin Valley. Currently, CHSU offers a doctor of pharmacy degree and hopes to add an osteopathy program to their curriculum in the near future. A number of grants and scholarships are available to offset the annual tuition of approximately $66,000, inclusive of room and board.
Oak Valley College
Founded: 2016
Location: Colton, CA
Oak Valley represents one of the newest schools on this list, and its debt-free program and incredibly small size make it stand out. Oak Valley College is a Christian liberal arts college which espouses living a debt-free life: The college offers a three-year bachelor of arts in business, capping the cumulative tuition at $21,600. Student loans are non-existent; instead, the college works with local companies to provide part-time job opportunities for undergrads. Oak Valley College, while not yet formally accredited with the Western Association of Schools and Colleges (WASC), as of March 2018 was granted "eligibility to be accredited"; accreditation is likely to occur February 2020. The Bureau of Private Postsecondary Education has also provisionally approved OVC to offer degree programs.