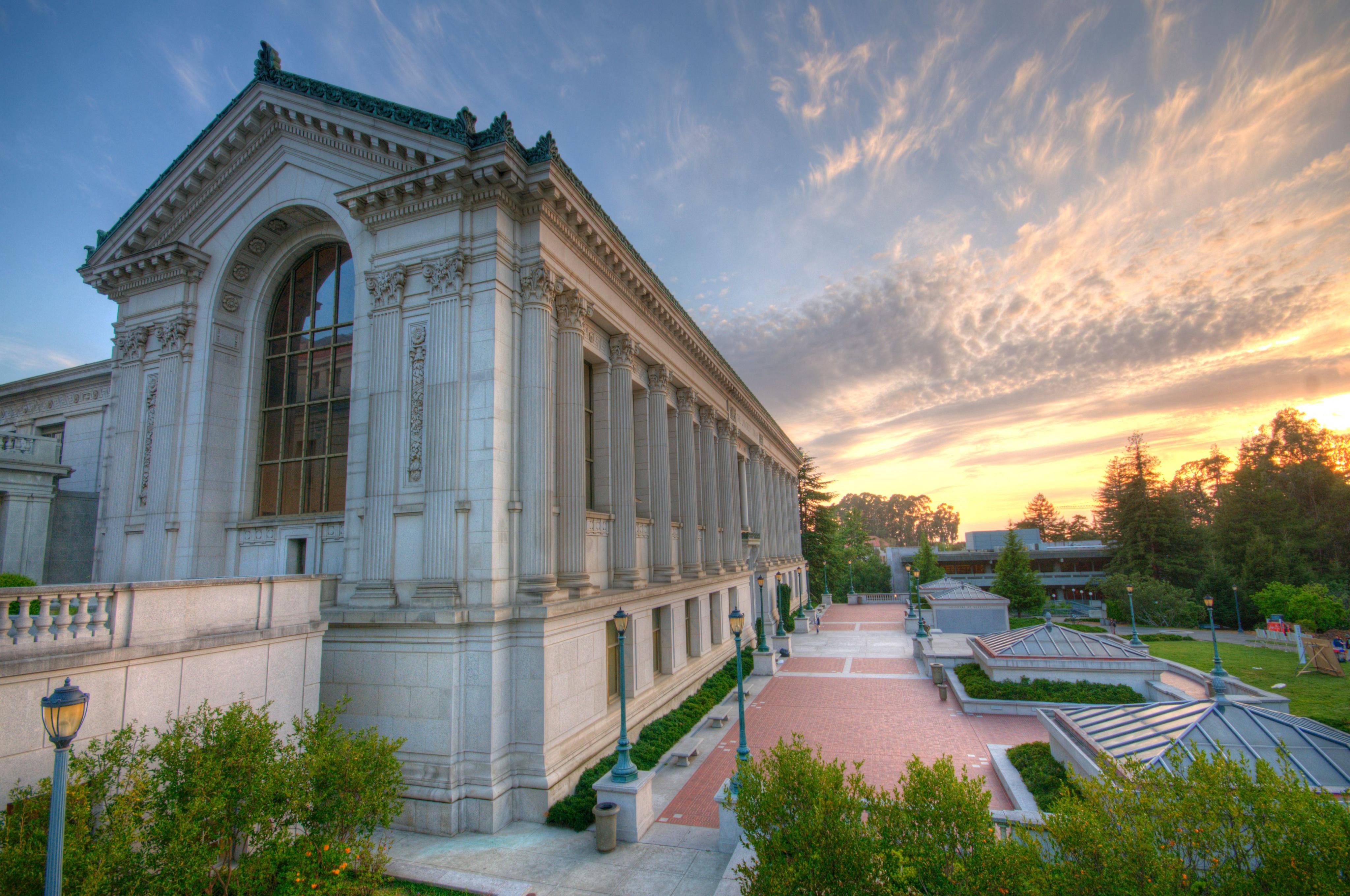 50 best colleges on the West Coast
chuckstock // Shutterstock
50 best colleges on the West Coast
With thousands of colleges and universities in the United States, narrowing down the field can seem impossible for prospective students. The West Coast alone has a bevy of highly rated state schools and excellent private universities, ranging in student-body size from a few hundred to tens of thousands.
Stacker rounded up the top 50 schools on the West Coast, based on Niche's 2021 Best Colleges in America list (updated February 2021). These institutions in Oregon, Washington, and California are ranked based on rigorous analysis of data from the U.S. Department of Education; categories examined include academics, admissions, financial costs, student life, and other factors.
Whether you dream of spending the next four years lolling on a Southern California beach, spending weekends in trendy Seattle, or exploring nature around Portland, this list will provide a wealth of options. You can pick your best fit based on categories like location, net price, and median earnings range. College search: handled.
You may also like: Colleges that are richer than some countries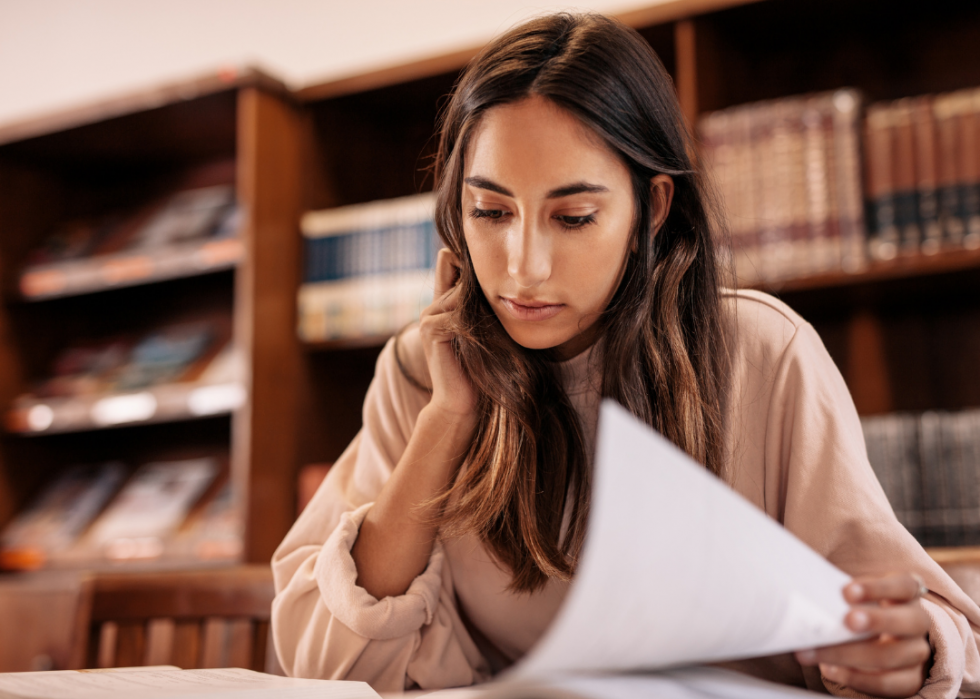 1 / 50
#50. William Jessup University
- Location: Rocklin, CA
- Undergraduate enrollment: 1,030
- Student to faculty ratio: 12:1
- Acceptance rate: 65%
- Graduation rate: 64%
- Six-year median earnings: $37,300
- Two-year employment rate: 88%
- Overall rank: #336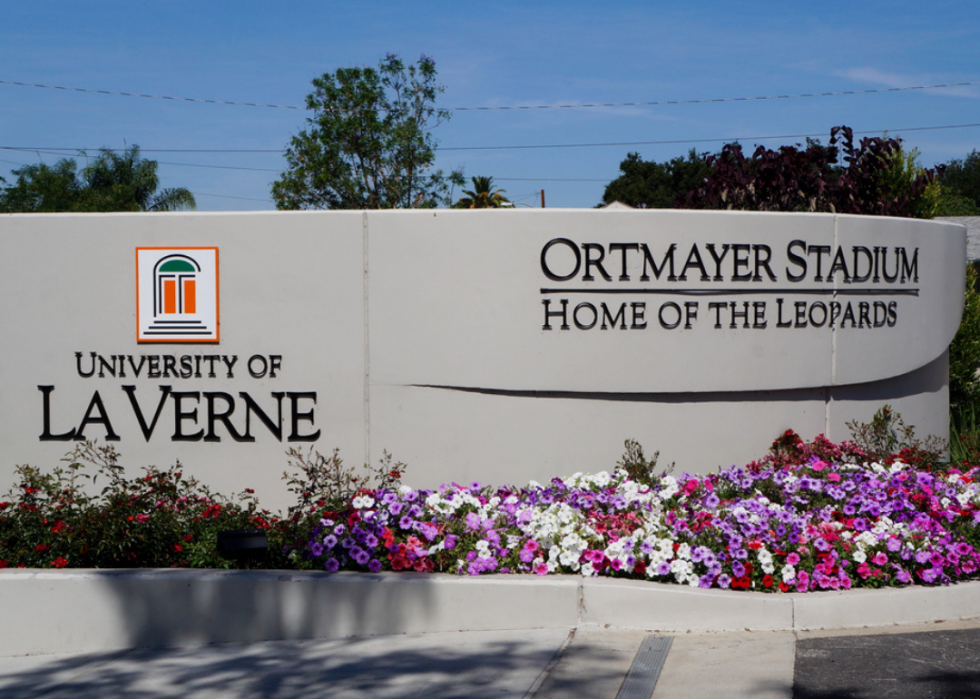 2 / 50
Brenda Rocha/Blossom // Shutterstock
#49. University of La Verne
- Location: La Verne, CA
- Undergraduate enrollment: 3,744
- Student to faculty ratio: 14:1
- Acceptance rate: 55%
- Graduation rate: 73%
- Six-year median earnings: $49,200
- Two-year employment rate: 92%
- Overall rank: #334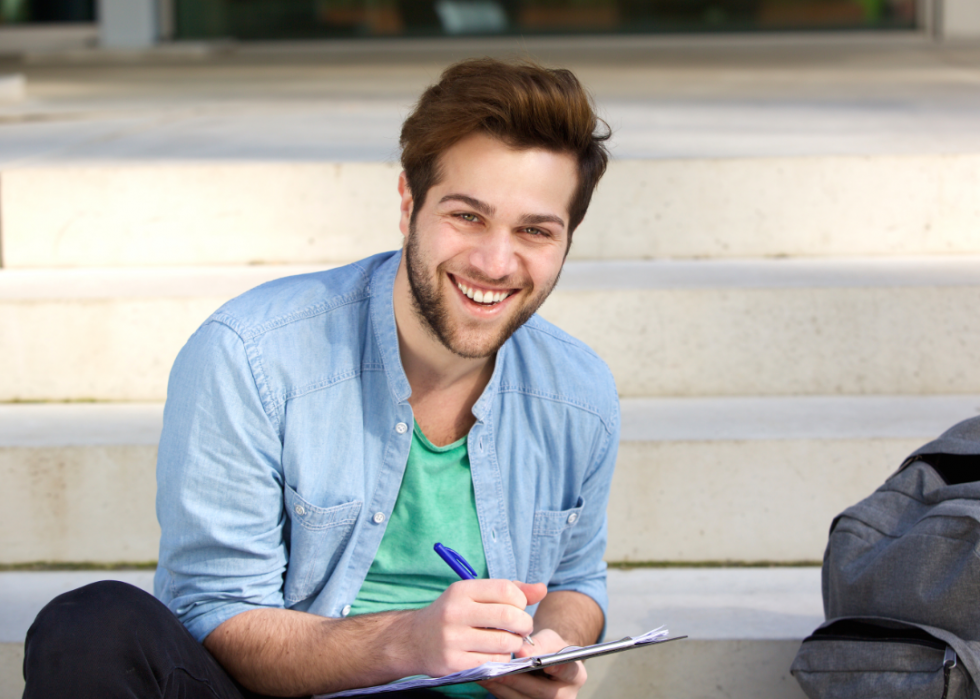 3 / 50
#48. Westmont College
- Location: Santa Barbara, CA
- Undergraduate enrollment: 1,266
- Student to faculty ratio: 11:1
- Acceptance rate: 65%
- Graduation rate: 79%
- Six-year median earnings: $51,400
- Two-year employment rate: 89%
- Overall rank: #327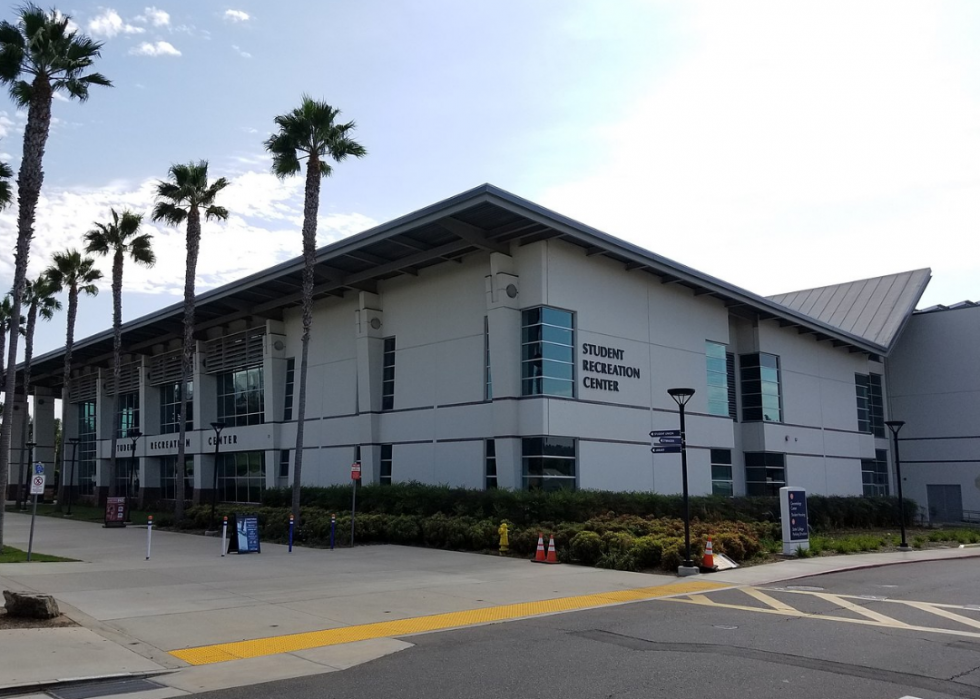 4 / 50
Spatms // Wikimedia Commons
#47. California State University, Fullerton
- Location: Fullerton, CA
- Undergraduate enrollment: 27,936
- Student to faculty ratio: 1:1
- Acceptance rate: 53%
- Graduation rate: 69%
- Six-year median earnings: $47,200
- Two-year employment rate: 92%
- Overall rank: #323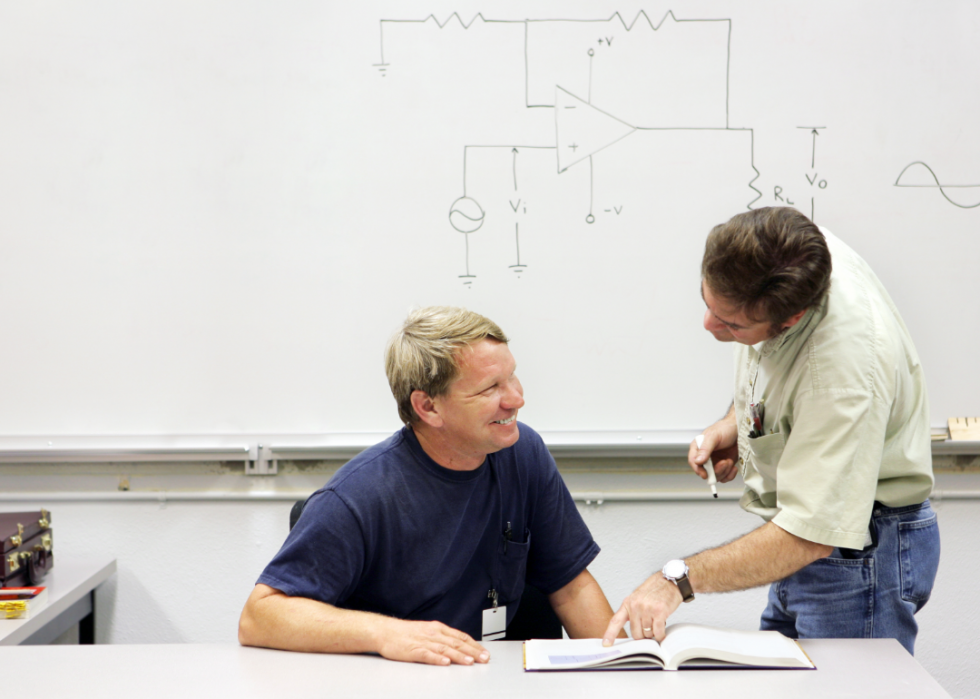 5 / 50
#46. DigiPen Institute of Technology
- Location: Redmond, WA
- Undergraduate enrollment: 831
- Student to faculty ratio: 13:1
- Acceptance rate: 34%
- Graduation rate: 56%
- Six-year median earnings: $80,200
- Two-year employment rate: 91%
- Overall rank: #321
You may also like: Most conservative colleges in America
6 / 50
M.O. Stevens // Wikimedia Commons
#45. Willamette University
- Location: Salem, OR
- Undergraduate enrollment: 1,759
- Student to faculty ratio: 11:1
- Acceptance rate: 78%
- Graduation rate: 69%
- Six-year median earnings: $51,100
- Two-year employment rate: 91%
- Overall rank: #315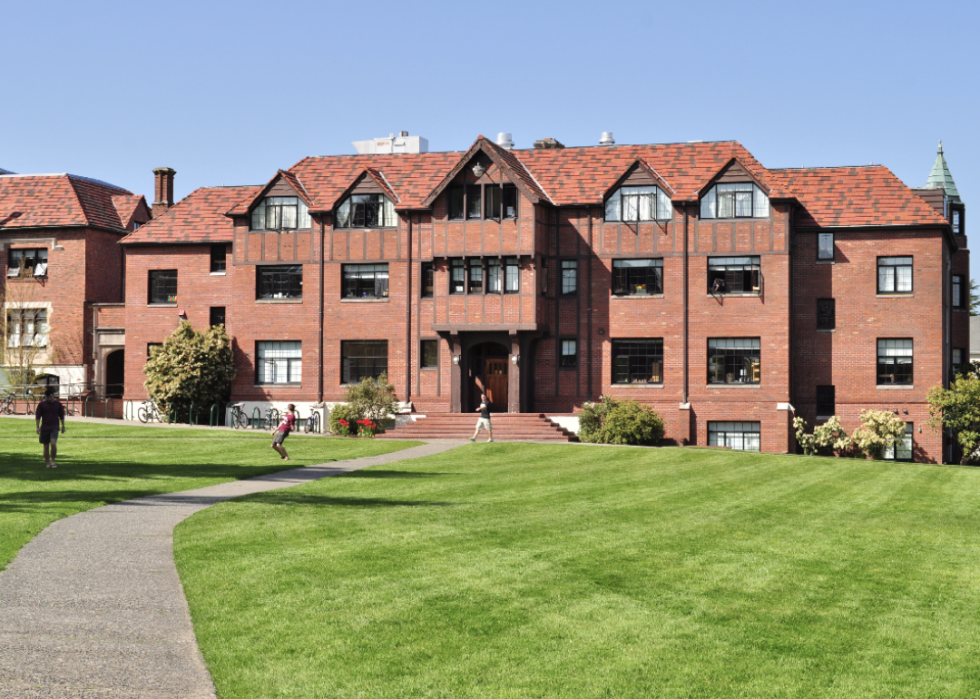 7 / 50
Joe Mabel // Wikimedia Commons
#44. University of Puget Sound
- Location: Tacoma, WA
- Undergraduate enrollment: 2,348
- Student to faculty ratio: 11:1
- Acceptance rate: 84%
- Graduation rate: 76%
- Six-year median earnings: $52,700
- Two-year employment rate: 92%
- Overall rank: #313
8 / 50
Calvin Marquess // Wikimedia Commons
#43. Seattle University
- Location: Seattle, Wa
- Undergraduate enrollment: 4,469
- Student to faculty ratio: 11:1
- Acceptance rate: 78%
- Graduation rate: 74%
- Six-year median earnings: $56,500
- Two-year employment rate: 92%
- Overall rank: #309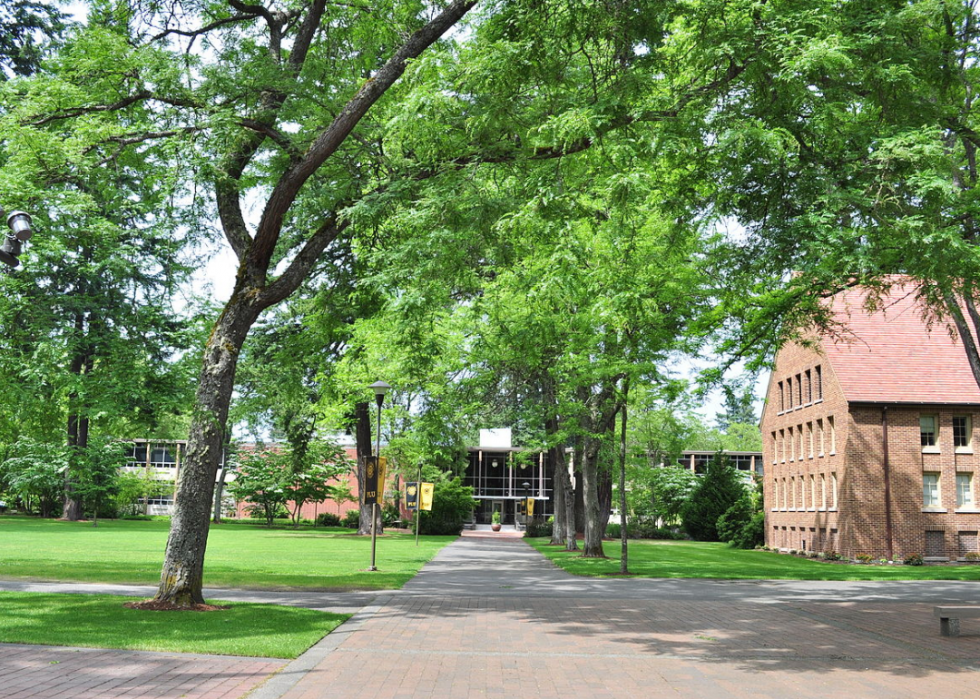 9 / 50
Joe Mabel // Wikimedia Commons
#42. Pacific Lutheran University
- Location: Tacoma, Wa
- Undergraduate enrollment: 2,730
- Student to faculty ratio: 12:1
- Acceptance rate: 86%
- Graduation rate: 69%
- Six-year median earnings: $49,400
- Two-year employment rate: 94%
- Overall rank: #300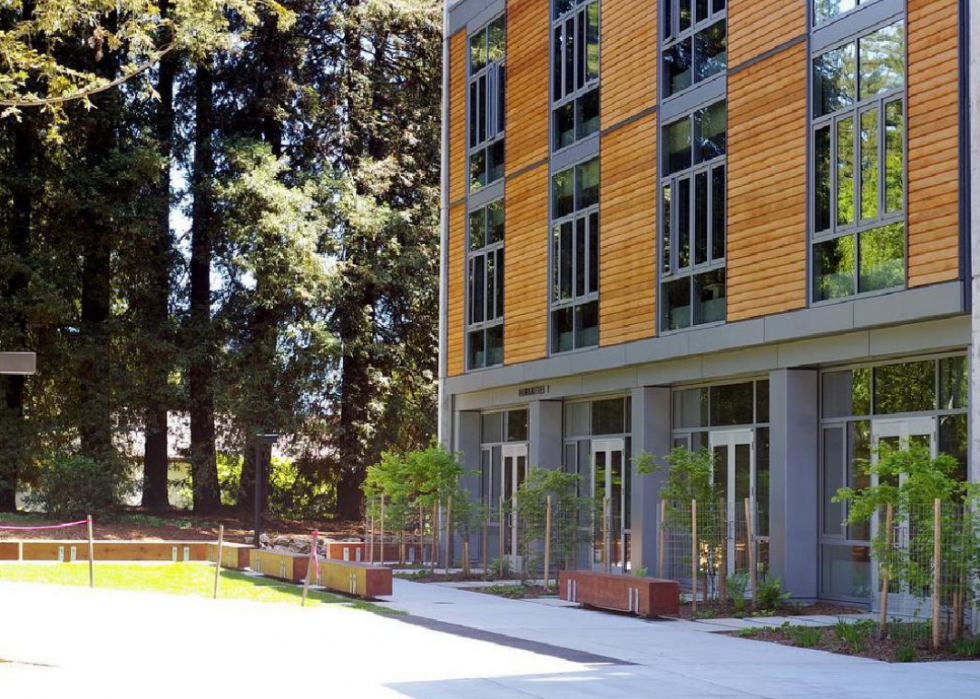 10 / 50
#41. University of California, Santa Cruz
- Location: Santa Cruz, CA
- Undergraduate enrollment: 17,255
- Student to faculty ratio: 19:1
- Acceptance rate: 51%
- Graduation rate: 75%
- Six-year median earnings: $46,900
- Two-year employment rate: 91%
- Overall rank: #298
You may also like: Best value colleges in America
11 / 50
Joe Mabel // Wikimedia Commons
#40. Seattle Pacific University
- Location: Seattle, WA
- Undergraduate enrollment: 2,781
- Student to faculty ratio: 13:1
- Acceptance rate: 91%
- Graduation rate: 68%
- Six-year median earnings: $49,100
- Two-year employment rate: 94%
- Overall rank: #296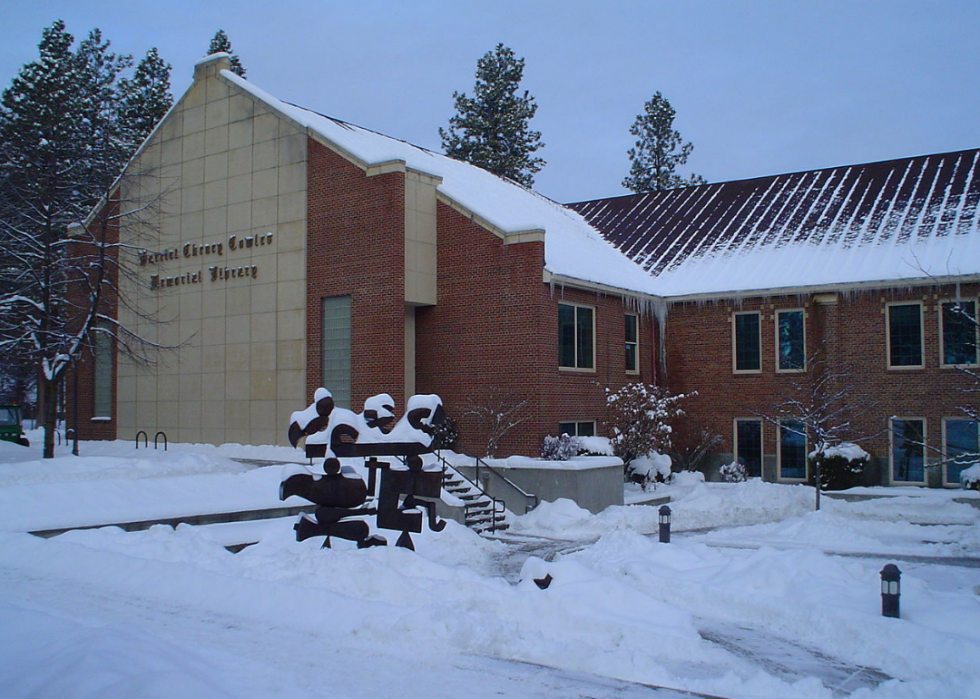 12 / 50
Mojoismog // Wikimedia Commons
#39. Whitworth University
- Location: Spokane, WA
- Undergraduate enrollment: 2,304
- Student to faculty ratio: 11:1
- Acceptance rate: 91%
- Graduation rate: 75%
- Six-year median earnings: $42,100
- Two-year employment rate: 93%
- Overall rank: #280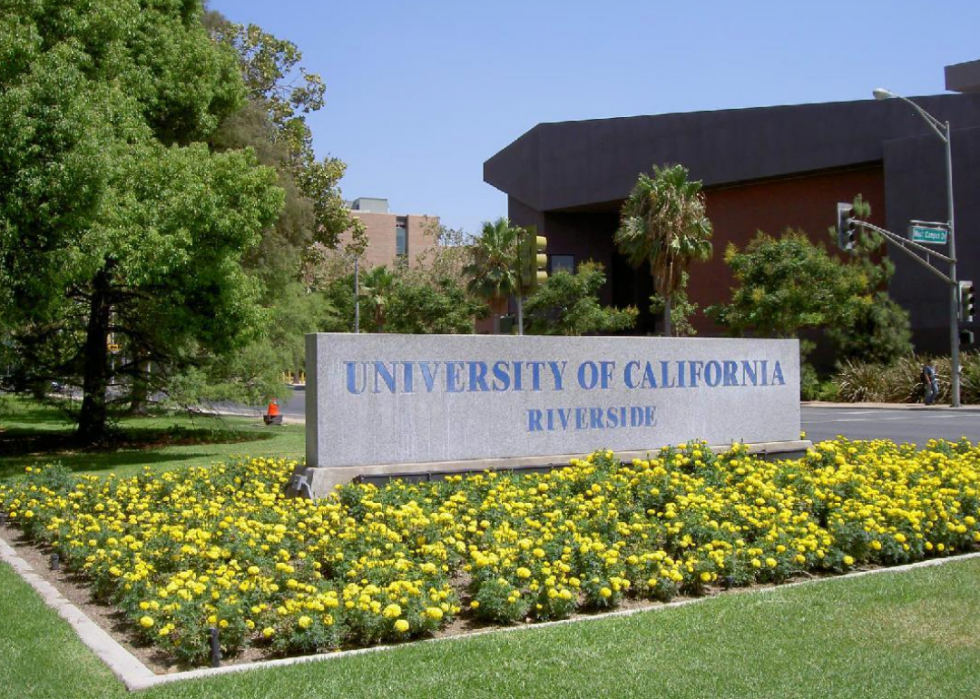 13 / 50
Amerique // Wikimedia Commons
#38. University of California, Riverside
- Location: Riverside, CA
- Undergraduate enrollment: 20,210
- Student to faculty ratio: 23:1
- Acceptance rate: 57%
- Graduation rate: 76%
- Six-year median earnings: $49,700
- Two-year employment rate: 91%
- Overall rank: #275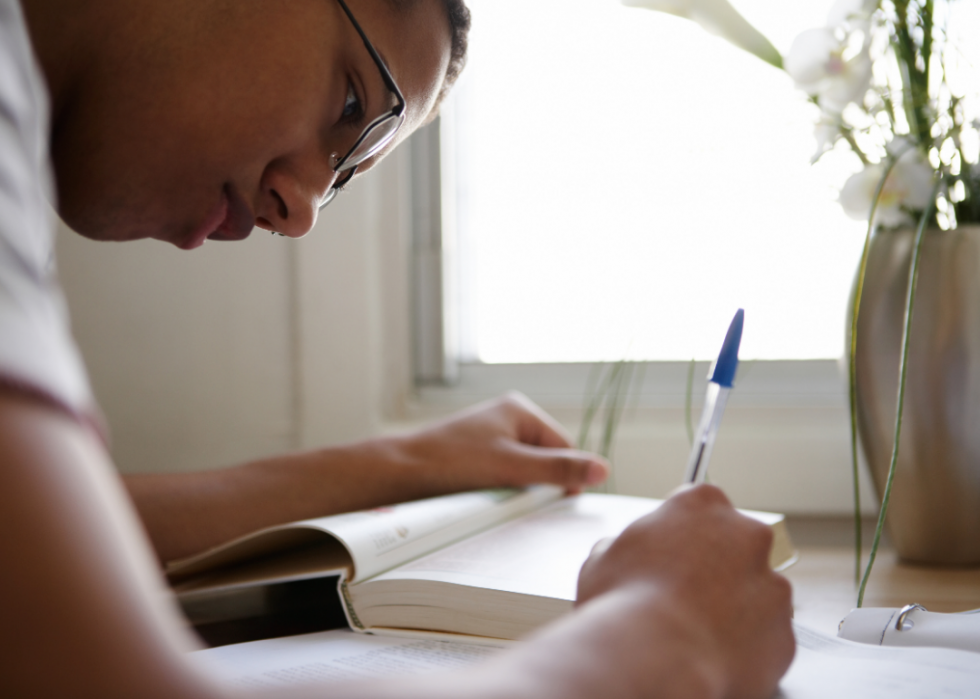 14 / 50
#37. The Master's University
- Location: Santa Clarita, CA
- Undergraduate enrollment: 953
- Student to faculty ratio: 10:1
- Acceptance rate: 67%
- Graduation rate: 70%
- Six-year median earnings: $41,700
- Two-year employment rate: 89%
- Overall rank: #270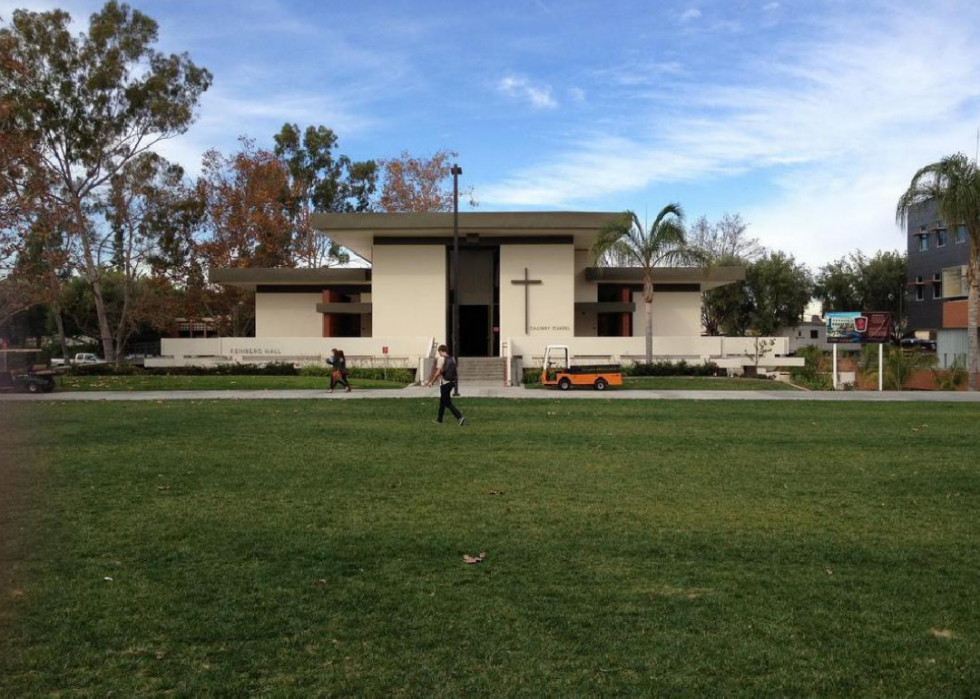 15 / 50
#36. Biola University
- Location: La Mirada, CA
- Undergraduate enrollment: 3,779
- Student to faculty ratio: 14:1
- Acceptance rate: 70%
- Graduation rate: 74%
- Six-year median earnings: $44,500
- Two-year employment rate: 92%
- Overall rank: #235
You may also like: Best community college in every state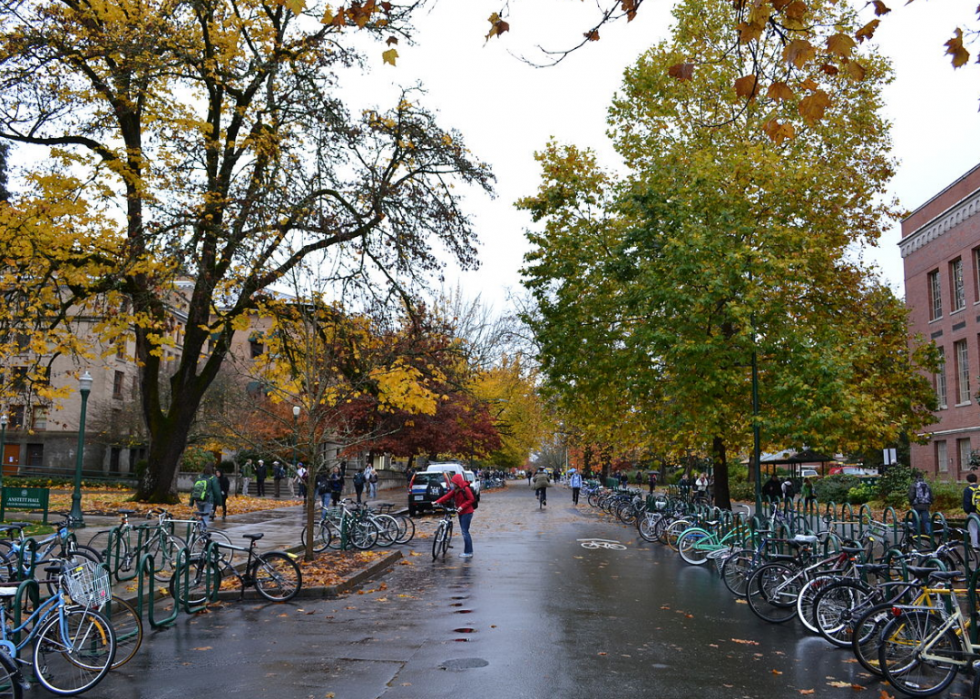 16 / 50
Visitor7 // Wikimedia Commons
#35. University of Oregon
- Location: Eugene, OR
- Undergraduate enrollment: 17,550
- Student to faculty ratio: 17:1
- Acceptance rate: 82%
- Graduation rate: 74%
- Six-year median earnings: $44,800
- Two-year employment rate: 91%
- Overall rank: #225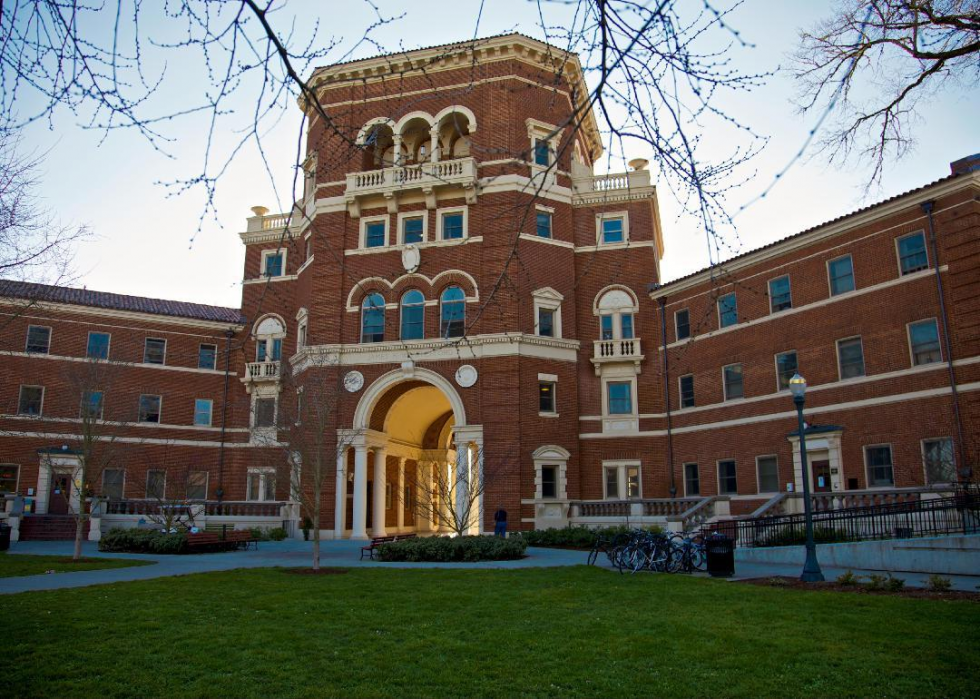 17 / 50
Gregkeene // Wikimedia Commons
#34. Oregon State University
- Location: Corvallis, OR
- Undergraduate enrollment: 18,591
- Student to faculty ratio: 17:1
- Acceptance rate: 82%
- Graduation rate: 67%
- Six-year median earnings: $49,600
- Two-year employment rate: 92%
- Overall rank: #221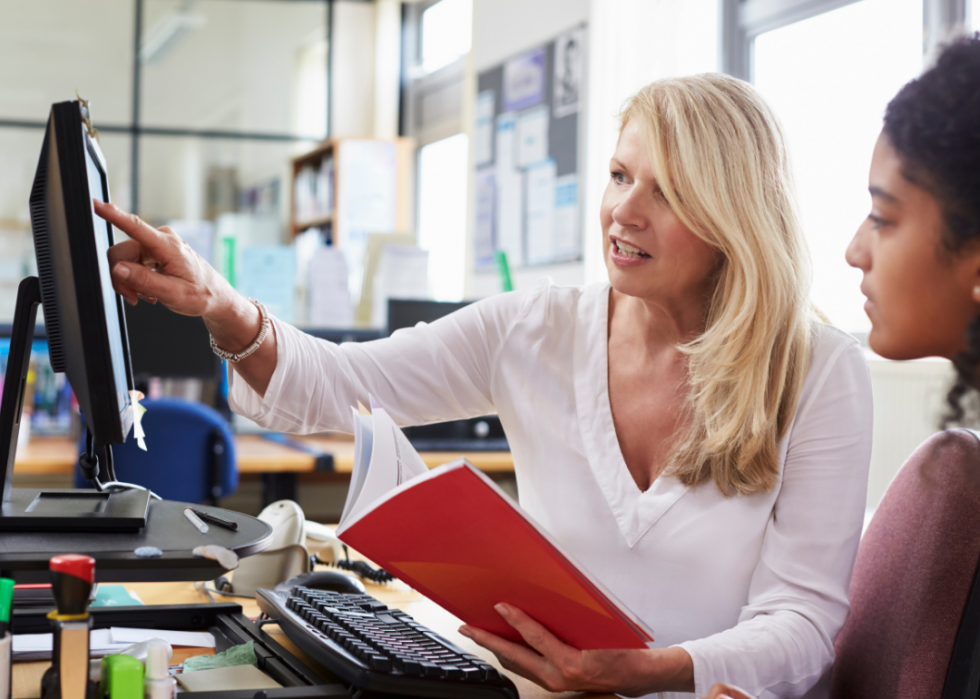 18 / 50
#33. University of the Pacific
- Location: Stockton, CA
- Undergraduate enrollment: 3,584
- Student to faculty ratio: 13:1
- Acceptance rate: 66%
- Graduation rate: 71%
- Six-year median earnings: $71,700
- Two-year employment rate: 93%
- Overall rank: #220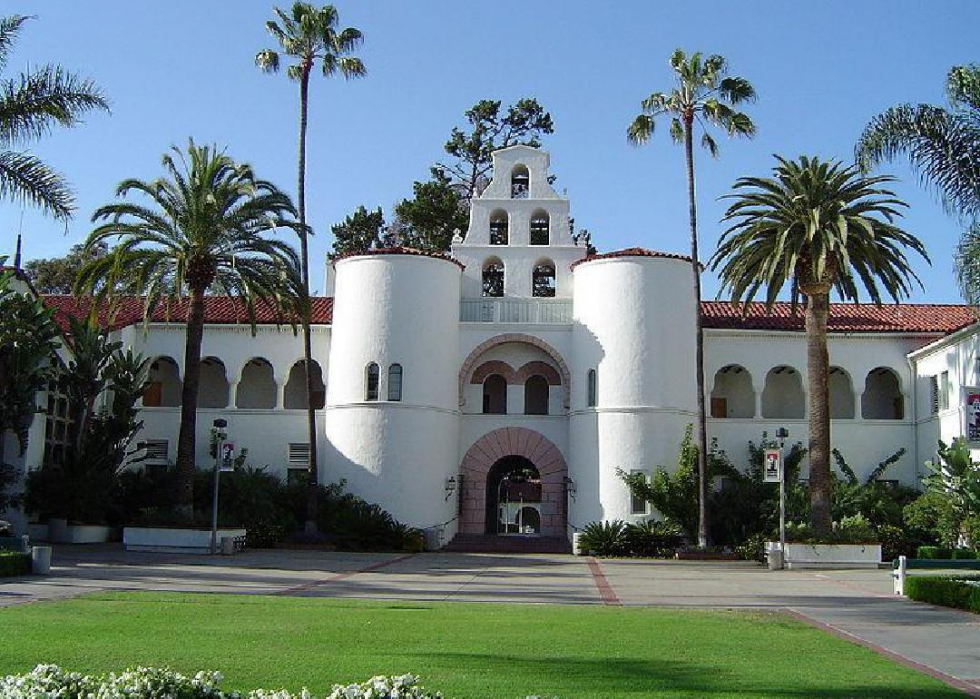 19 / 50
Sprachcaffe Düsseldorf // Flickr
#32. San Diego State University
- Location: San Diego, CA
- Undergraduate enrollment: 27,453
- Student to faculty ratio: 27:1
- Acceptance rate: 34%
- Graduation rate: 73%
- Six-year median earnings: $51,000
- Two-year employment rate: 92%
- Overall rank: #218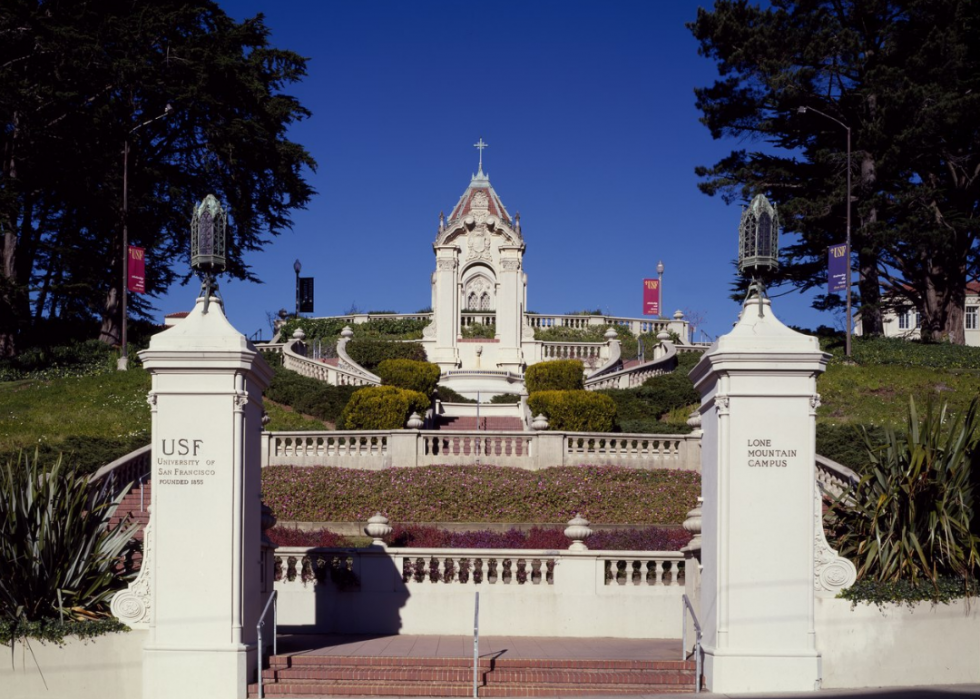 20 / 50
Carol M. Highsmith // Wikimedia Commons
#31. University of San Francisco
- Location: San Francisco, CA
- Undergraduate enrollment: 6,435
- Student to faculty ratio: 13:1
- Acceptance rate: 64%
- Graduation rate: 75%
- Six-year median earnings: $62,300
- Two-year employment rate: 91%
- Overall rank: #209
You may also like: 100 best community colleges in America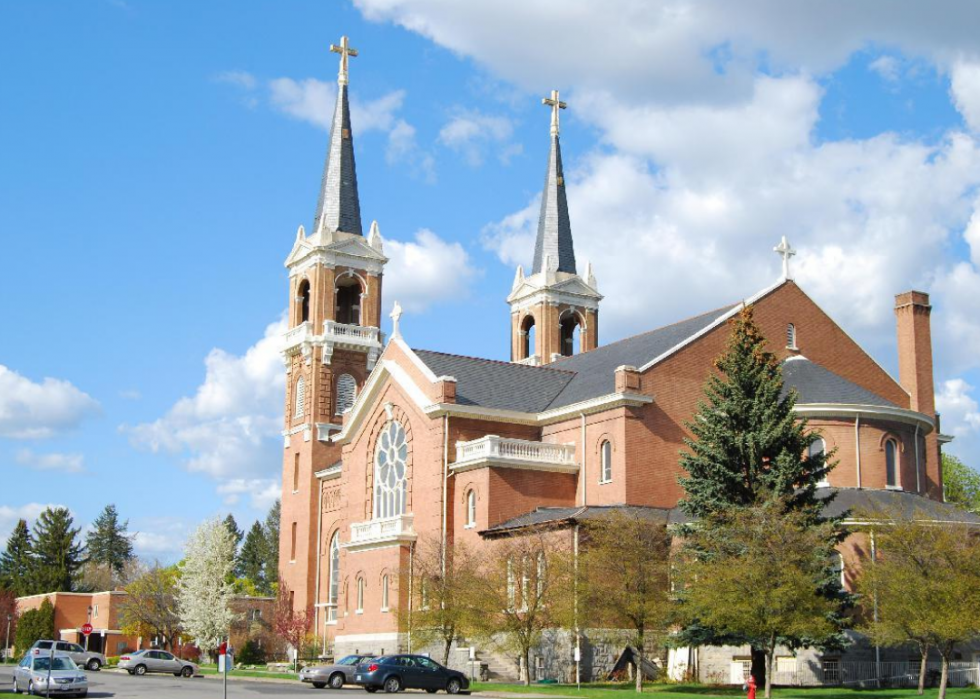 21 / 50
SCUMATT // Wikimedia Commons
#30. Gonzaga University
- Location: Spokane, WA
- Undergraduate enrollment: 5,237
- Student to faculty ratio: 11:1
- Acceptance rate: 62%
- Graduation rate: 85%
- Six-year median earnings: $56,100
- Two-year employment rate: 94%
- Overall rank: #205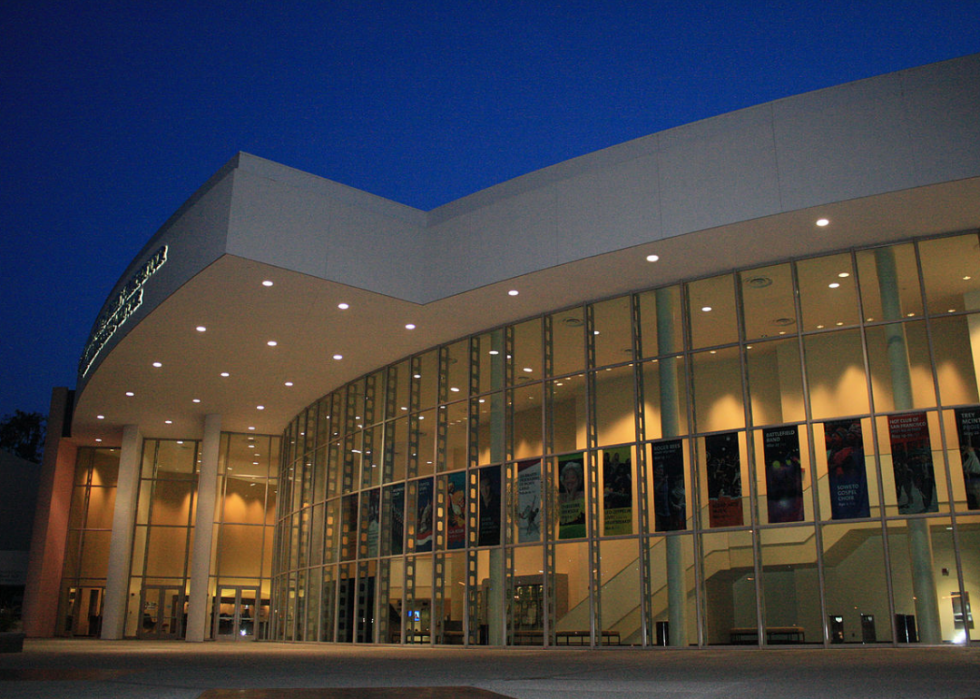 22 / 50
Carpenter Center // Wikimedia Commons
#29. California State University, Long Beach
- Location: Long Beach, CA
- Undergraduate enrollment: 27,617
- Student to faculty ratio: 23:1
- Acceptance rate: 39%
- Graduation rate: 74%
- Six-year median earnings: $48,100
- Two-year employment rate: 92%
- Overall rank: #194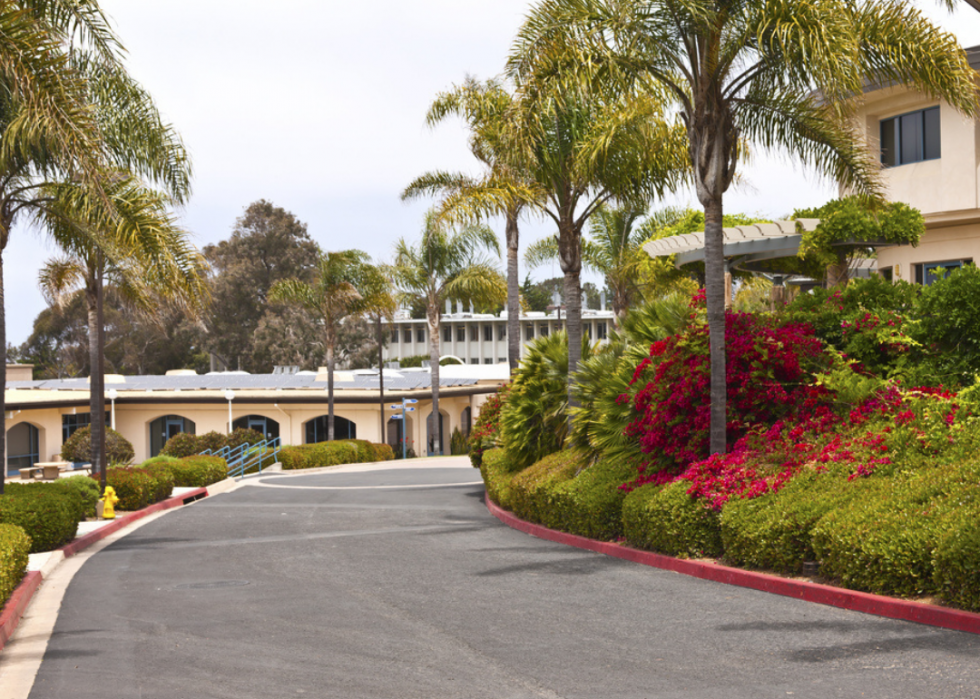 23 / 50
#28. Point Loma Nazarene University
- Location: San Diego, CA
- Undergraduate enrollment: 2,595
- Student to faculty ratio: 14:1
- Acceptance rate: 74%
- Graduation rate: 75%
- Six-year median earnings: $50,900
- Two-year employment rate: 91%
- Overall rank: #192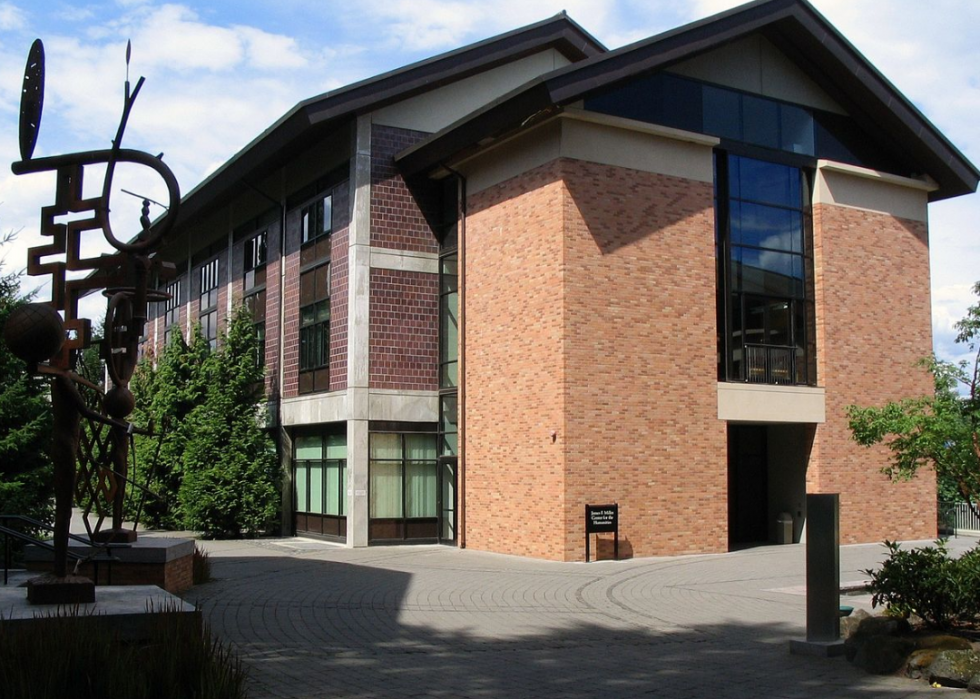 24 / 50
Otebig // Wikimedia Commons
#27. Lewis & Clark College
- Location: Portland, OR
- Undergraduate enrollment: 2,058
- Student to faculty ratio: 12:1
- Acceptance rate: 72%
- Graduation rate: 77%
- Six-year median earnings: $46,200
- Two-year employment rate: 92%
- Overall rank: #185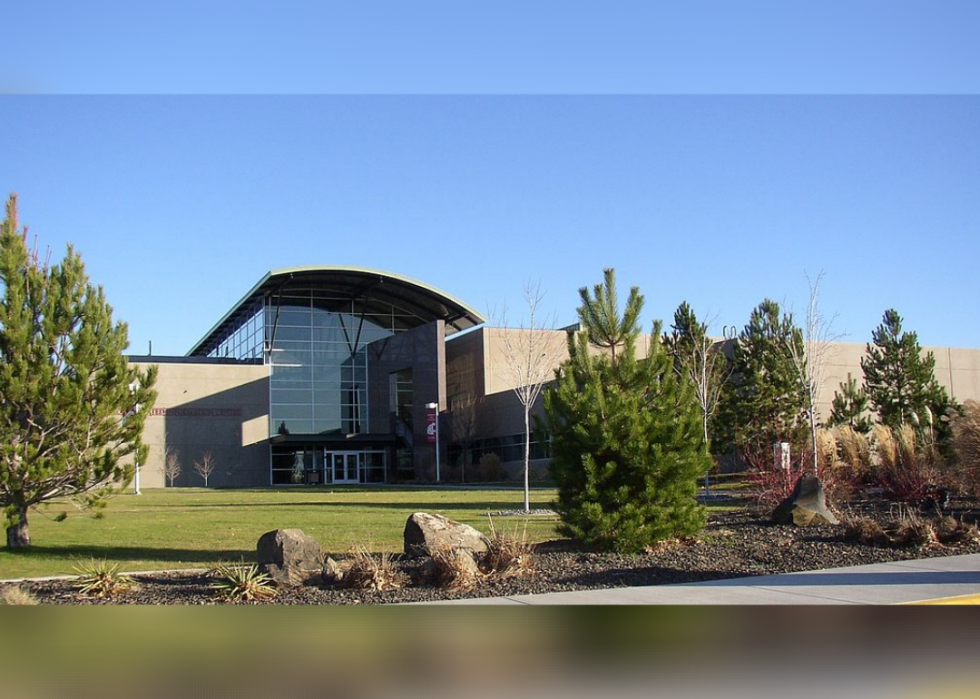 25 / 50
Umptanum // Wikimedia Commons
#26. Washington State University
- Location: Pullman, WA
- Undergraduate enrollment: 22,877
- Student to faculty ratio: 15:1
- Acceptance rate: 76%
- Graduation rate: 60%
- Six-year median earnings: $50,600
- Two-year employment rate: 92%
- Overall rank: #178
You may also like: 50 college majors that earn the least money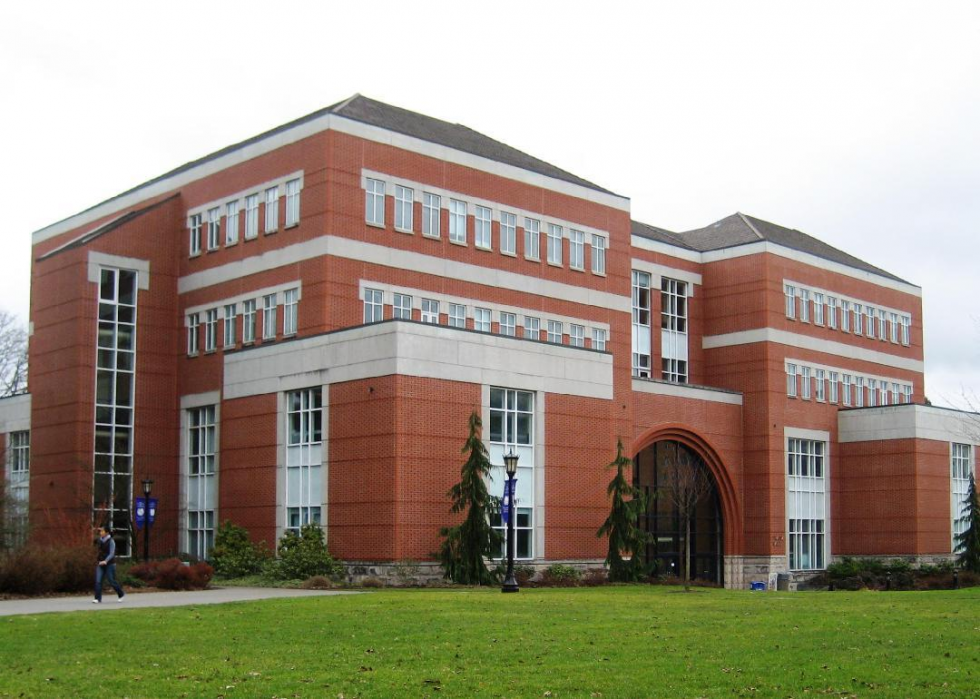 26 / 50
M.O. Stevens // Wikimedia Commons
#25. University of Portland
- Location: Portland, OR
- Undergraduate enrollment: 3,702
- Student to faculty ratio: 12:1
- Acceptance rate: 77%
- Graduation rate: 81%
- Six-year median earnings: $58,800
- Two-year employment rate: 96%
- Overall rank: #174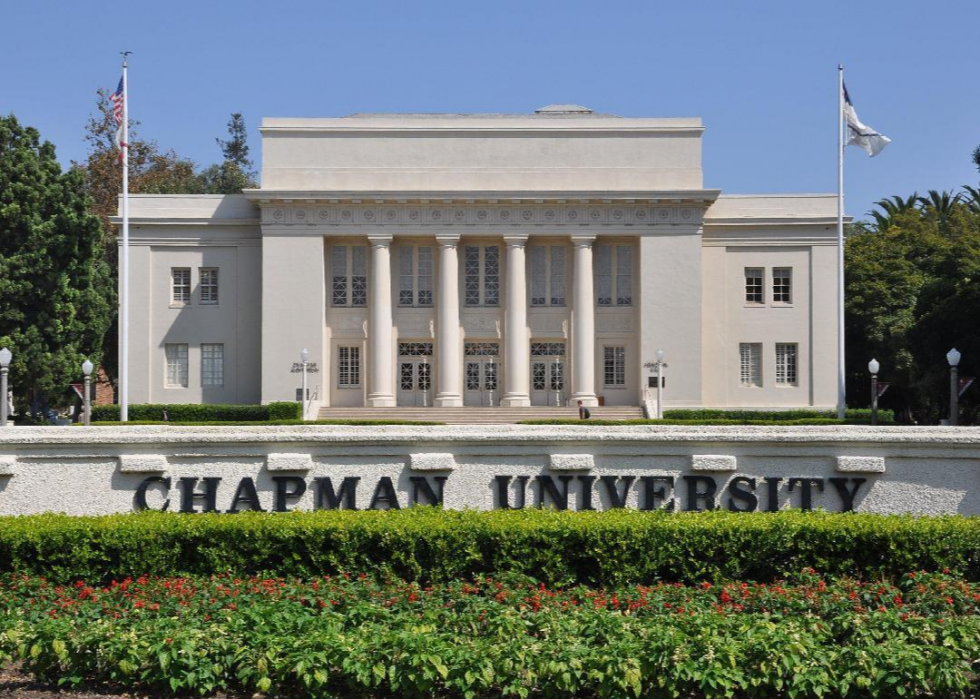 27 / 50
Tom Arthur // Wikimedia Commons
#24. Chapman University
- Location: Orange, CA
- Undergraduate enrollment: 6,785
- Student to faculty ratio: 13:1
- Acceptance rate: 56%
- Graduation rate: 81%
- Six-year median earnings: $54,500
- Two-year employment rate: 91%
- Overall rank: #169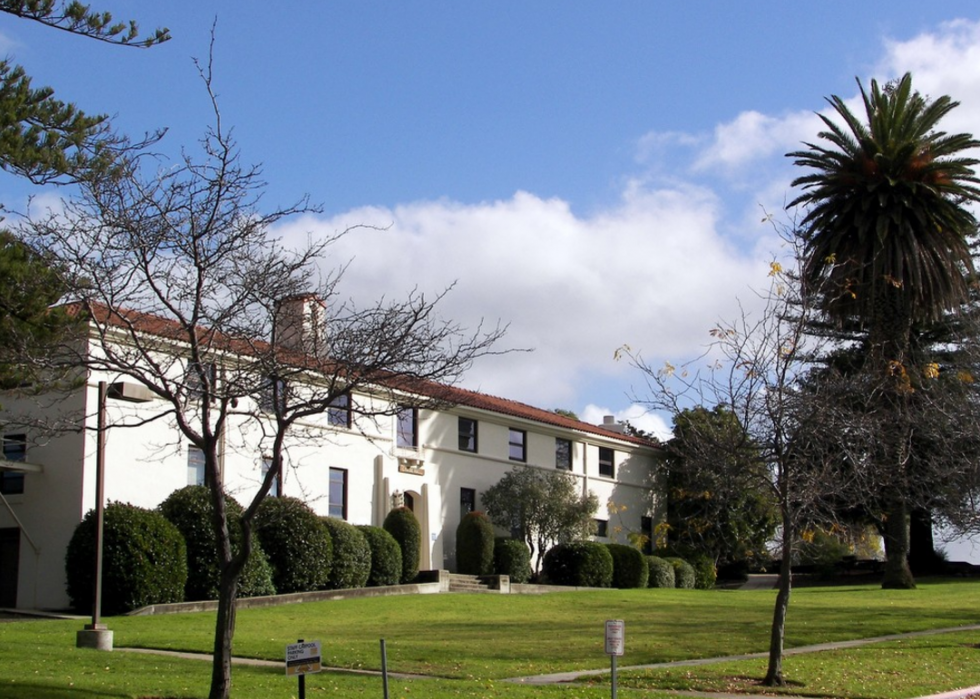 28 / 50
Indefiarch // Wikimedia Commons
#23. California Polytechnic State University (Cal Poly), San Luis Obispo
- Location: San Luis Obispo, CA
- Undergraduate enrollment: 20,333
- Student to faculty ratio: 21:1
- Acceptance rate: 28%
- Graduation rate: 82%
- Six-year median earnings: $66,900
- Two-year employment rate: 95%
- Overall rank: #141
29 / 50
Ckbee // Wikimedia Commons
#22. University of San Diego
- Location: San Diego, CA
- Undergraduate enrollment: 5,678
- Student to faculty ratio: 14:1
- Acceptance rate: 49%
- Graduation rate: 81%
- Six-year median earnings: $60,000
- Two-year employment rate: 92%
- Overall rank: #133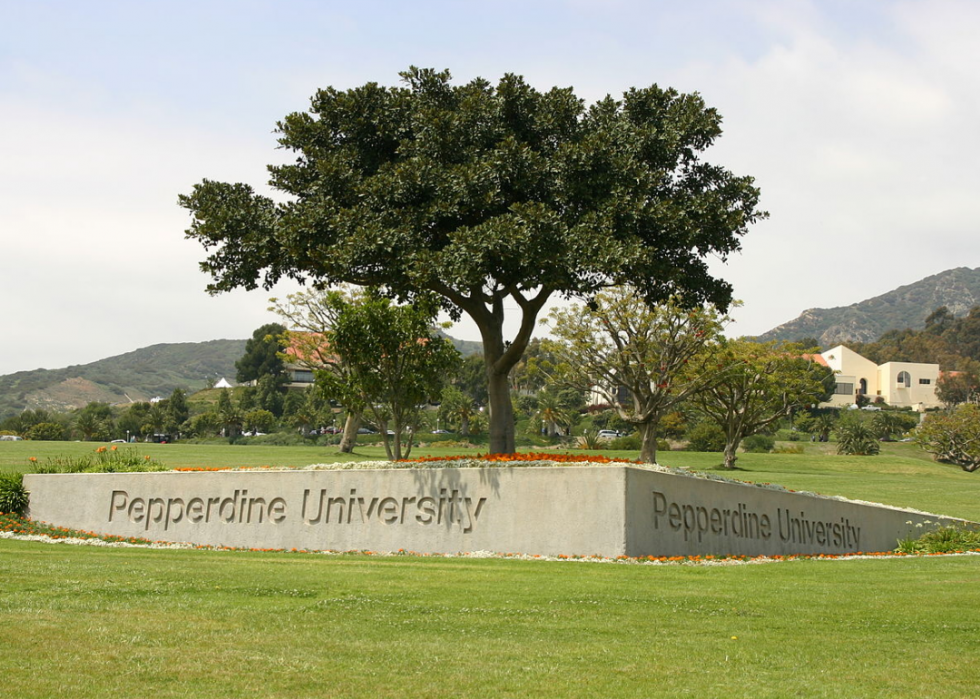 30 / 50
Wolffystyle // Wikimedia Commons
#21. Pepperdine University
- Location: Malibu, CA
- Undergraduate enrollment: 3,336
- Student to faculty ratio: 14:1
- Acceptance rate: 32%
- Graduation rate: 86%
- Six-year median earnings: $65,500
- Two-year employment rate: 92%
- Overall rank: #129
You may also like: The top 50 party schools in America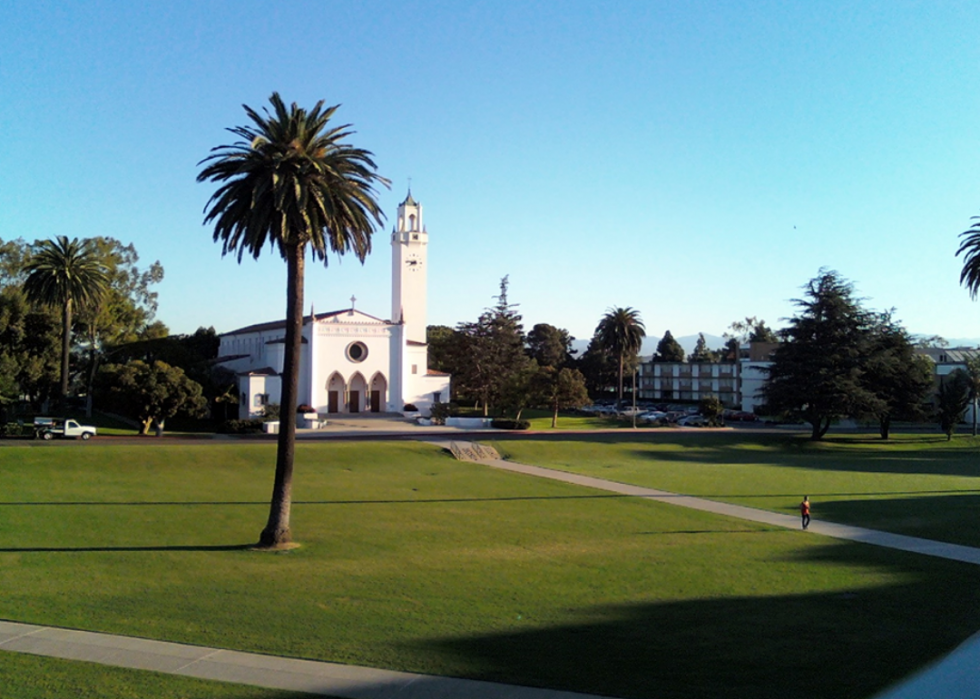 31 / 50
Mishigaki // Wikimedia Commons
#20. Loyola Marymount University
- Location: Los Angeles, CA
- Undergraduate enrollment: 6,466
- Student to faculty ratio: 10:1
- Acceptance rate: 44%
- Graduation rate: 80%
- Six-year median earnings: $61,300
- Two-year employment rate: 93%
- Overall rank: #125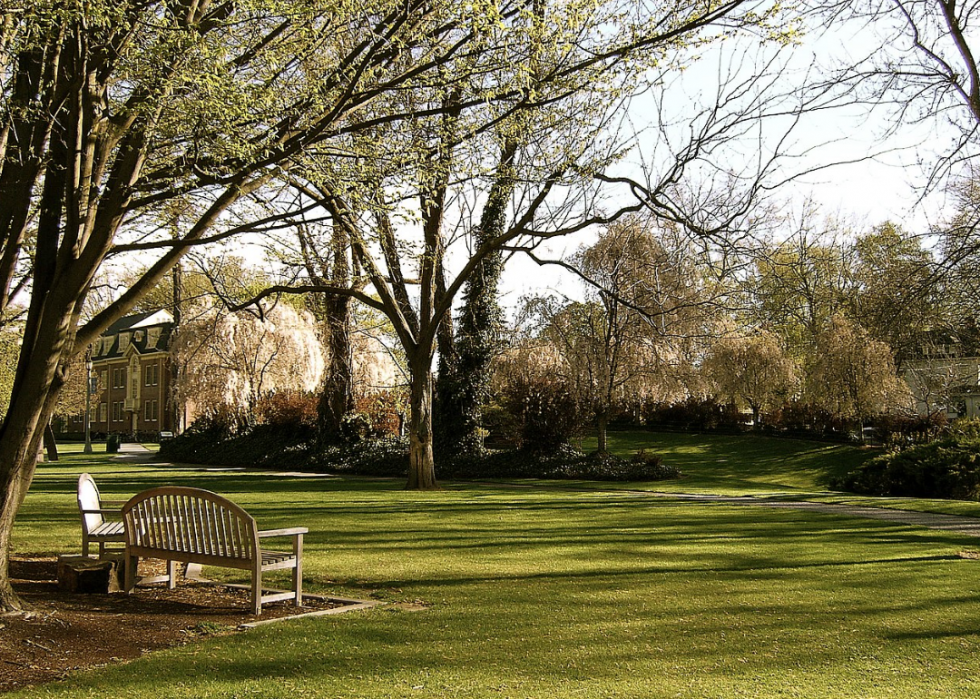 32 / 50
Adamsofen // Wikimedia Commons
#19. Whitman College
- Location: Walla Walla, WA
- Undergraduate enrollment: 1,436
- Student to faculty ratio: 9:1
- Acceptance rate: 56%
- Graduation rate: 90%
- Six-year median earnings: $51,300
- Two-year employment rate: 86%
- Overall rank: #114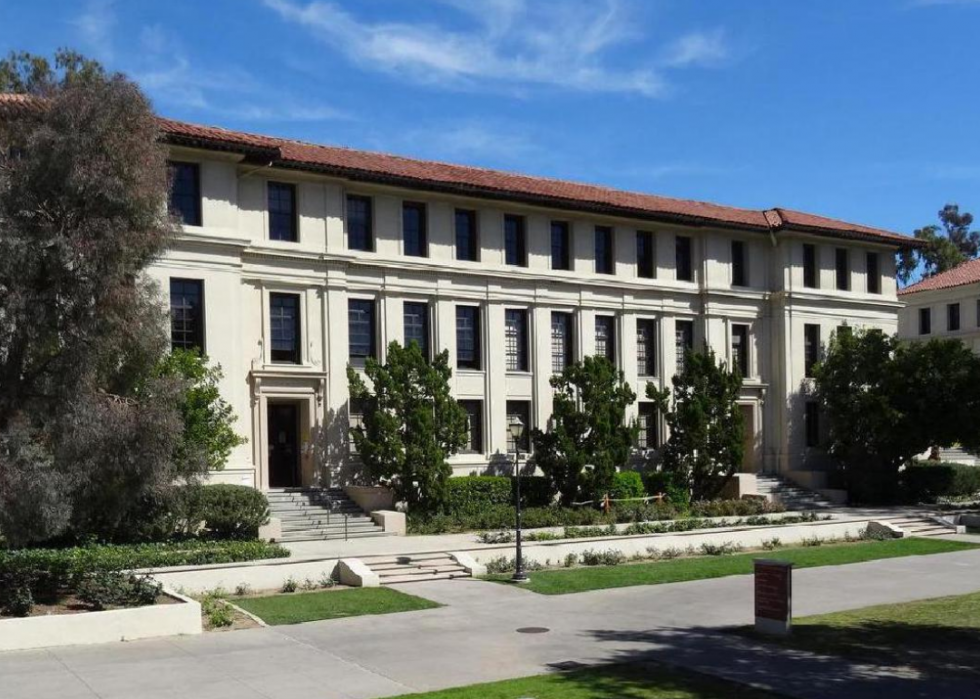 33 / 50
#18. Occidental College
- Location: Los Angeles, CA
- Undergraduate enrollment: 1,907
- Student to faculty ratio: 9:1
- Acceptance rate: 37%
- Graduation rate: 86%
- Six-year median earnings: $50,600
- Two-year employment rate: 89%
- Overall rank: #113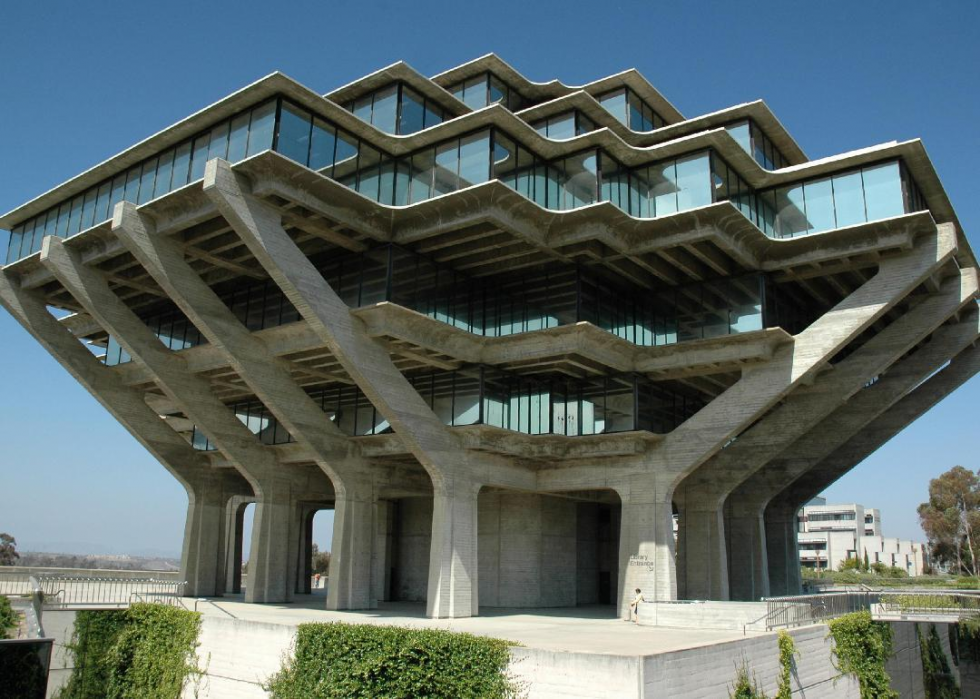 34 / 50
#17. University of California, San Diego
- Location: La Jolla, CA
- Undergraduate enrollment: 29,491
- Student to faculty ratio: 19:1
- Acceptance rate: 31%
- Graduation rate: 87%
- Six-year median earnings: $59,900
- Two-year employment rate: 89%
- Overall rank: #106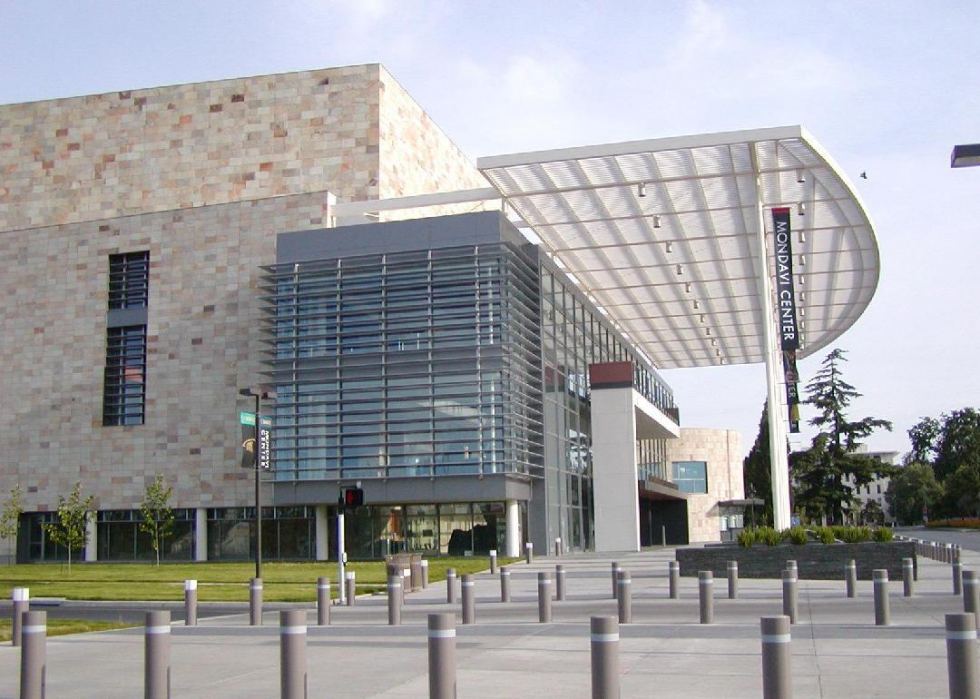 35 / 50
#16. University of California, Davis
- Location: Davis, CA
- Undergraduate enrollment: 29,967
- Student to faculty ratio: 20:1
- Acceptance rate: 39%
- Graduation rate: 87%
- Six-year median earnings: $58,200
- Two-year employment rate: 91%
- Overall rank: #104
You may also like: 50 best private colleges ranked from least to most expensive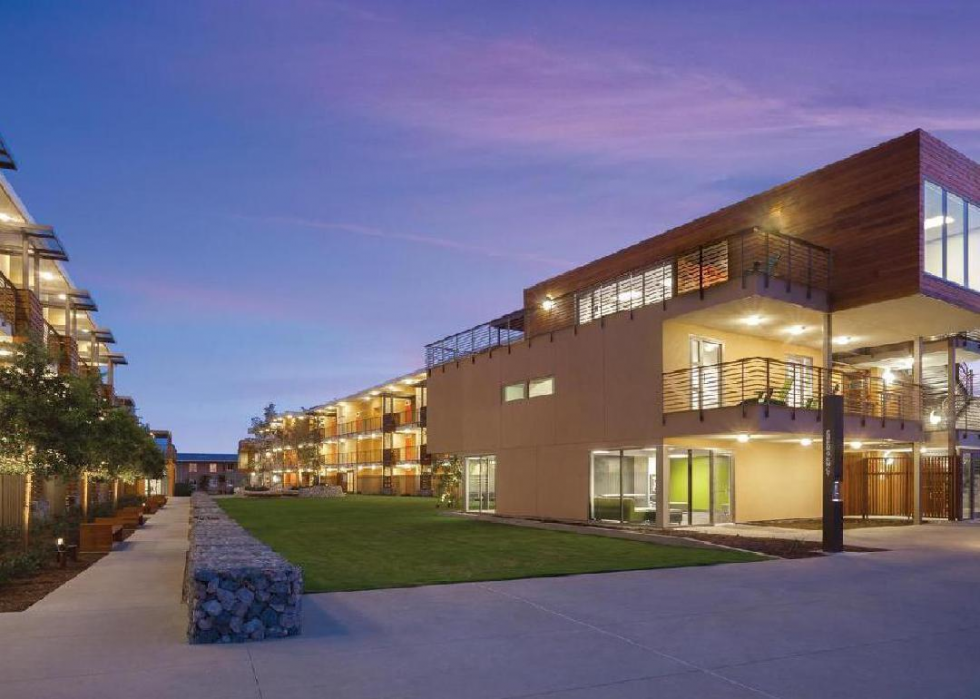 36 / 50
Lauriealosh // Wikimedia Commons
#15. Pitzer College
- Location: Claremont, CA
- Undergraduate enrollment: 1,050
- Student to faculty ratio: 10:1
- Acceptance rate: 14%
- Graduation rate: 85%
- Six-year median earnings: $48,700
- Two-year employment rate: 86%
- Overall rank: #102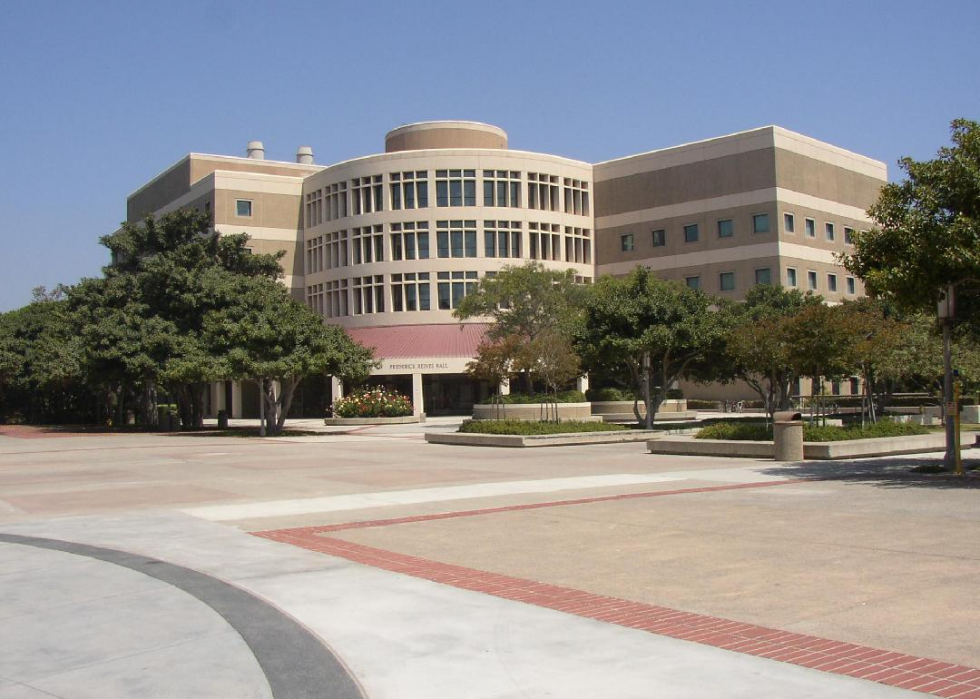 37 / 50
Allyunion // Wikimedia Commons
#14. University of California, Irvine
- Location: Irvine, CA
- Undergraduate enrollment: 29,251
- Student to faculty ratio: 18:1
- Acceptance rate: 27%
- Graduation rate: 84%
- Six-year median earnings: $58,400
- Two-year employment rate: 90%
- Overall rank: #100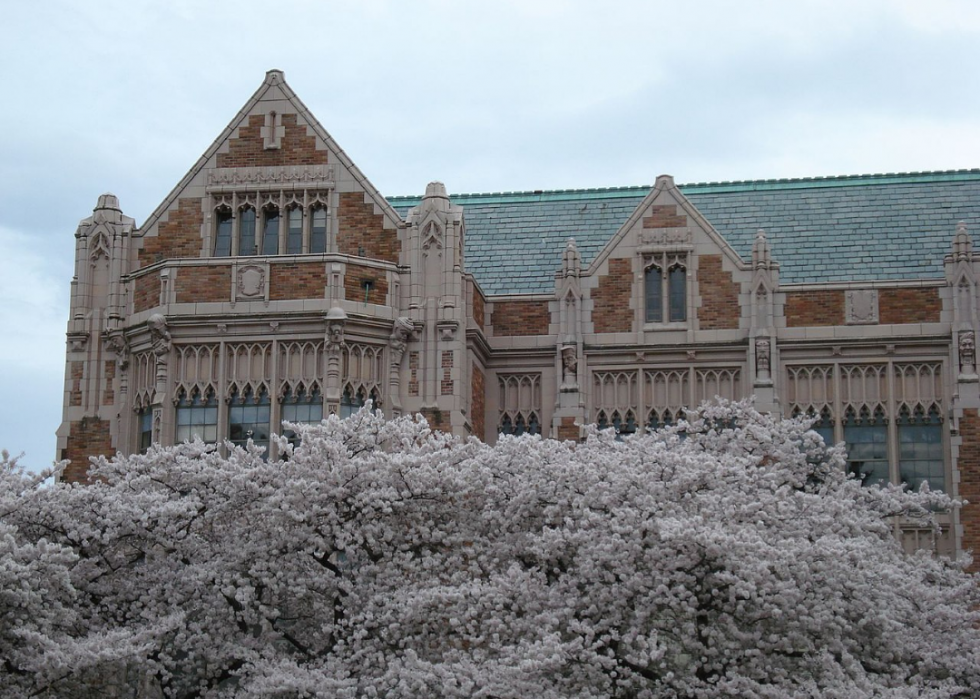 38 / 50
Cody Logan // Wikimedia Commons
#13. University of Washington
- Location: Seattle, WA
- Undergraduate enrollment: 29,496
- Student to faculty ratio: 19:1
- Acceptance rate: 52%
- Graduation rate: 84%
- Six-year median earnings: $57,700
- Two-year employment rate: 91%
- Overall rank: #93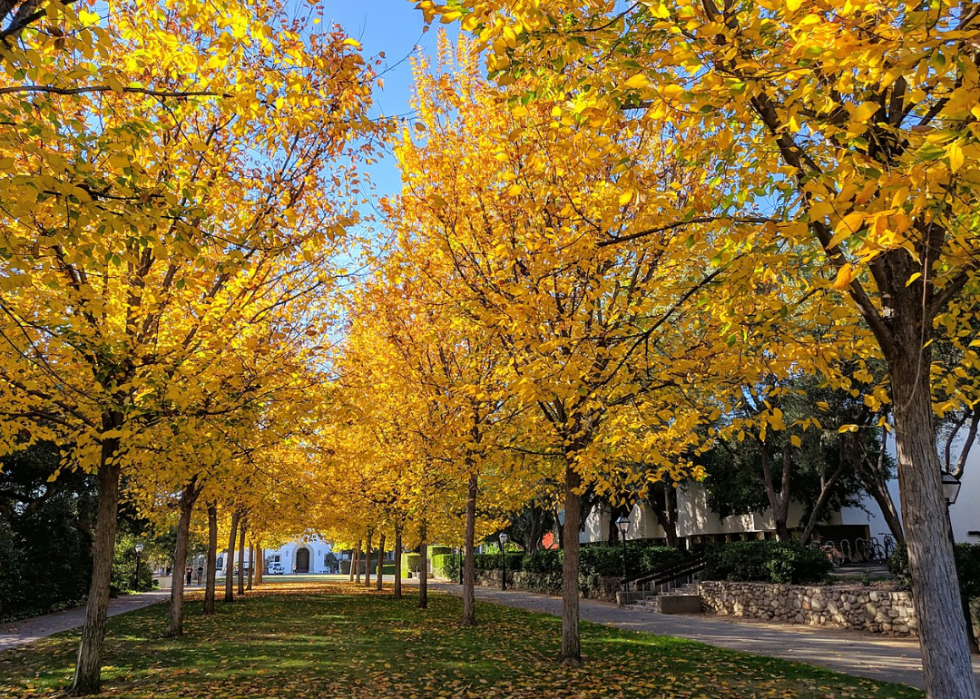 39 / 50
Sdkb // Wikimedia Commons
#12. Scripps College
- Location: Claremont, CA
- Undergraduate enrollment: 1,046
- Student to faculty ratio: 10:1
- Acceptance rate: 32%
- Graduation rate: 90%
- Six-year median earnings: $54,100
- Two-year employment rate: 90%
- Overall rank: #85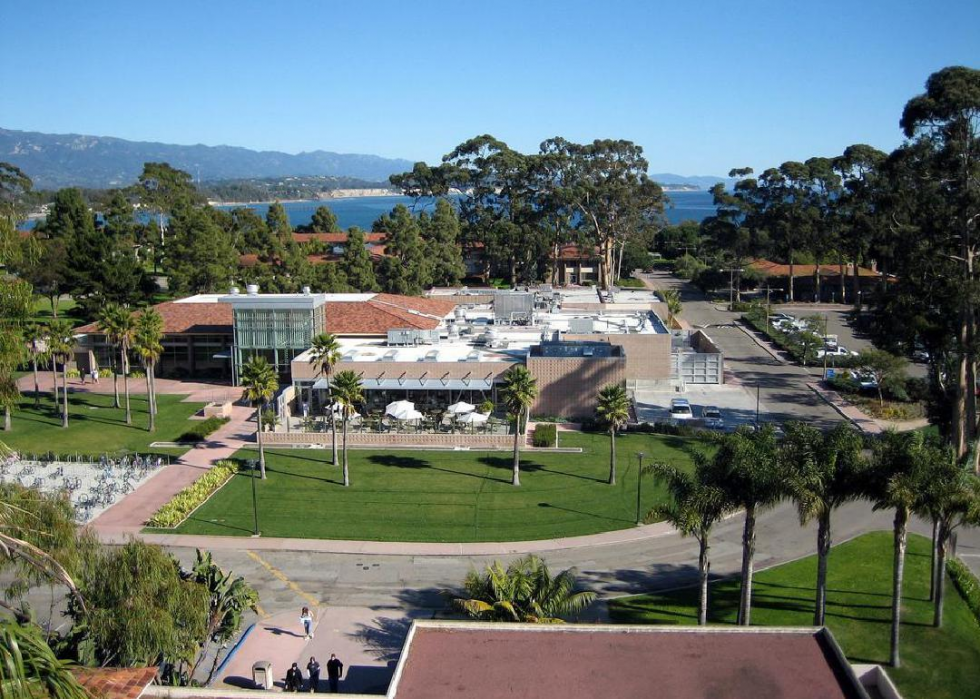 40 / 50
#11. University of California, Santa Barbara
- Location: Santa Barbara, CA
- Undergraduate enrollment: 22,601
- Student to faculty ratio: 22:1
- Acceptance rate: 30%
- Graduation rate: 83%
- Six-year median earnings: $55,300
- Two-year employment rate: 91%
- Overall rank: #84
You may also like: Most liberal colleges in America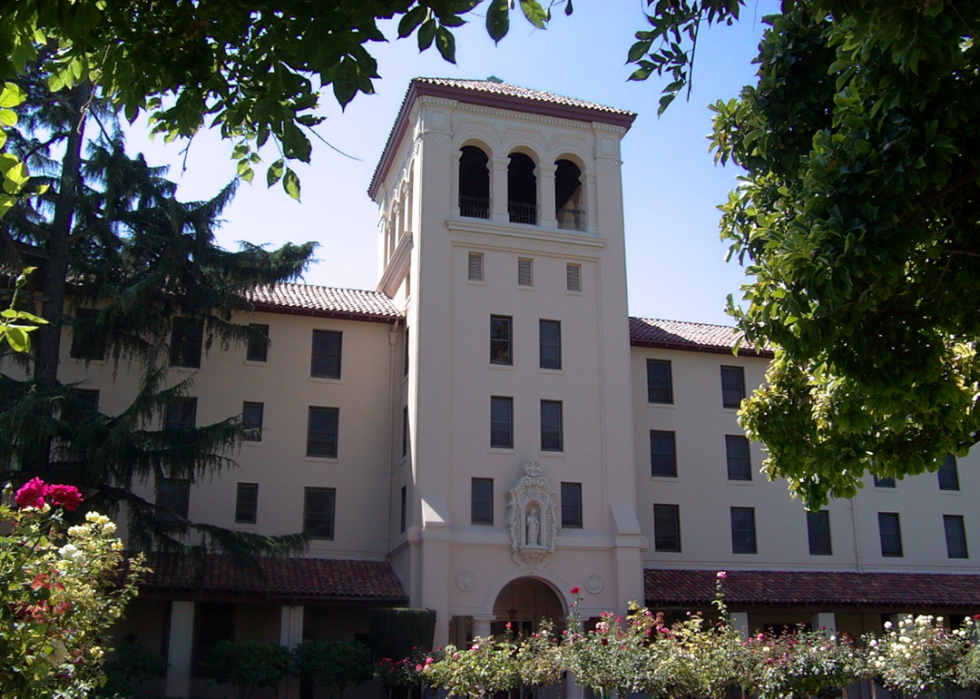 41 / 50
Arnaudh // Wikimedia Commons
#10. Santa Clara University
- Location: Santa Clara, CA
- Undergraduate enrollment: 5,440
- Student to faculty ratio: 10:1
- Acceptance rate: 49%
- Graduation rate: 91%
- Six-year median earnings: $72,600
- Two-year employment rate: 94%
- Overall rank: #83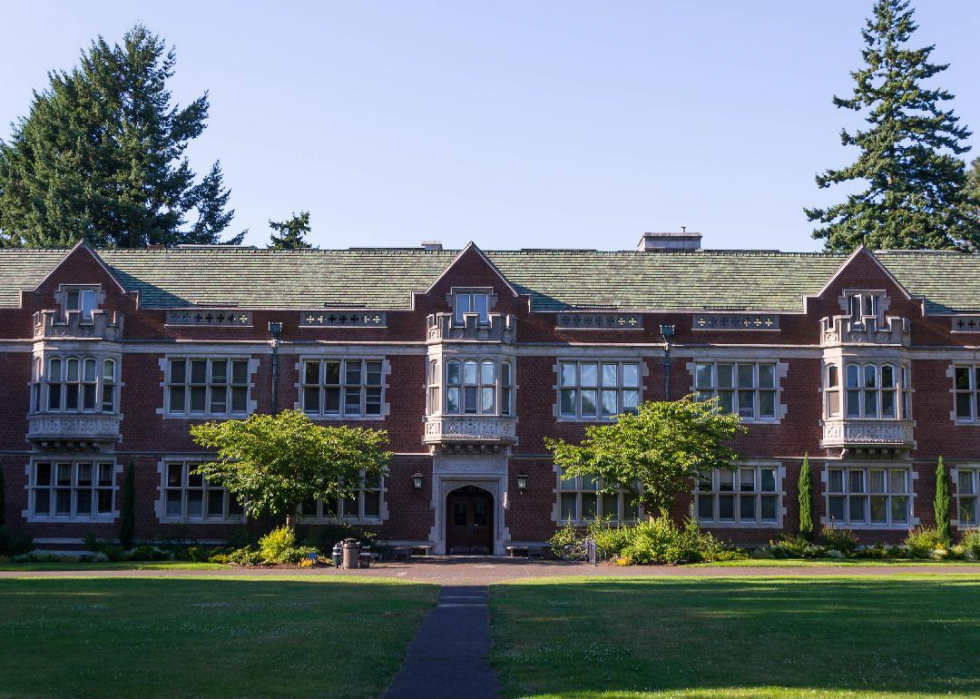 42 / 50
Visitor7 // Wikimedia Commons
#9. Reed College
- Location: Portland, OR
- Undergraduate enrollment: 1,453
- Student to faculty ratio: 9:1
- Acceptance rate: 39%
- Graduation rate: 76%
- Six-year median earnings: $42,200
- Two-year employment rate: 88%
- Overall rank: #81
43 / 50
Falcorian // Wikimedia Commons
#8. University of California, Berkeley
- Location: Berkeley, CA
- Undergraduate enrollment: 29,570
- Student to faculty ratio: 20:1
- Acceptance rate: 16%
- Graduation rate: 93%
- Six-year median earnings: $64,700
- Two-year employment rate: 88%
- Overall rank: #46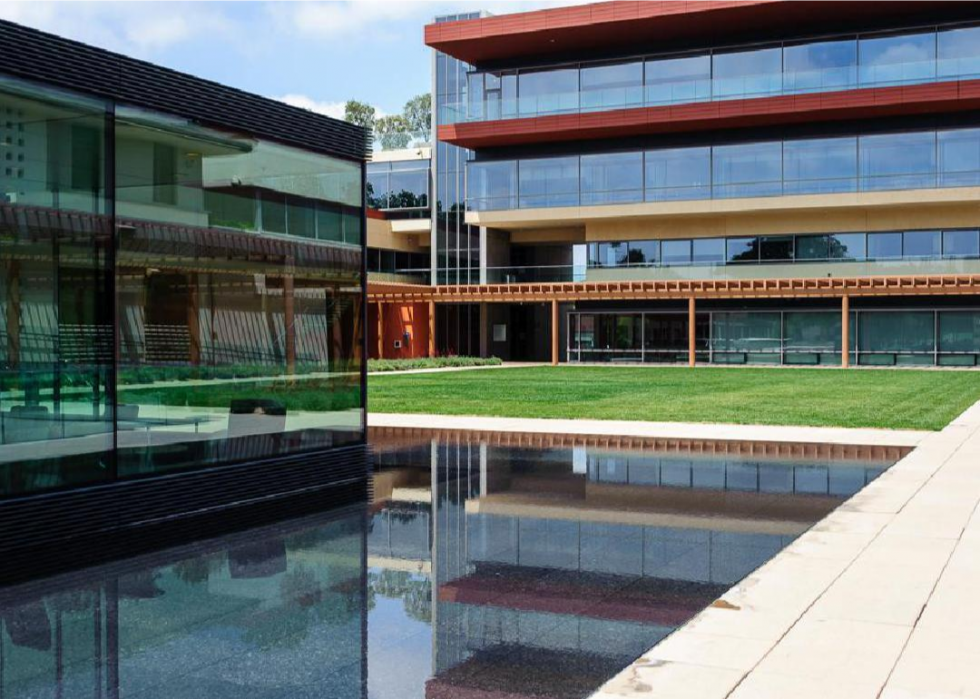 44 / 50
#7. Claremont McKenna College
- Location: Claremont, CA
- Undergraduate enrollment: 1,321
- Student to faculty ratio: 8:1
- Acceptance rate: 10%
- Graduation rate: 91%
- Six-year median earnings: $72,900
- Two-year employment rate: 92%
- Overall rank: #39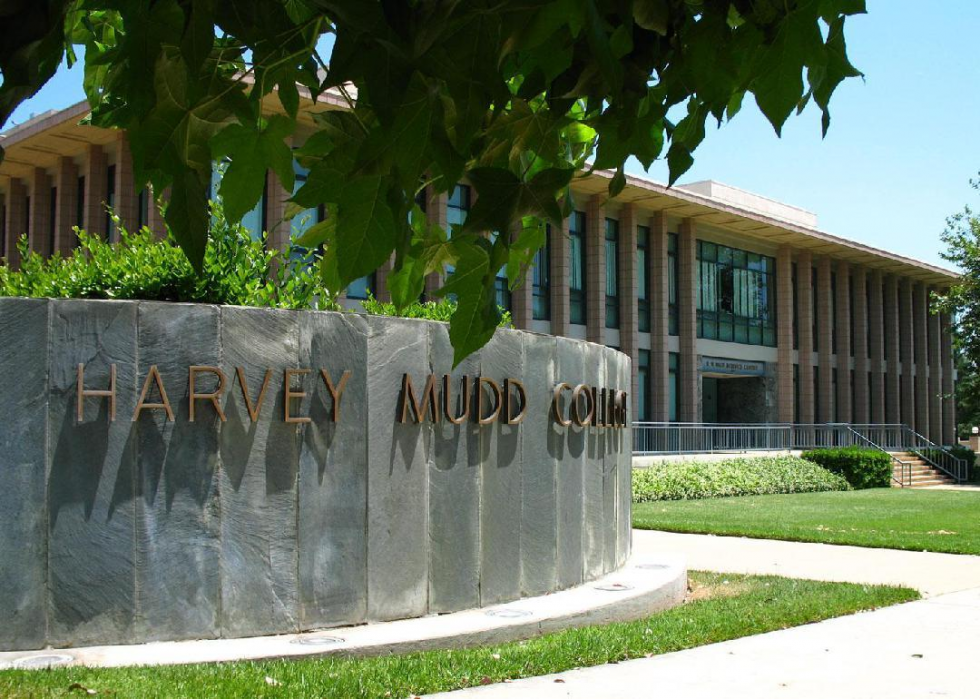 45 / 50
Imagine // Wikimedia Commons
#6. Harvey Mudd College
- Location: Claremont, CA
- Undergraduate enrollment: 887
- Student to faculty ratio: 8:1
- Acceptance rate: 14%
- Graduation rate: 92%
- Six-year median earnings: $88,800
- Two-year employment rate: 89%
- Overall rank: #28
You may also like: Best private colleges in every state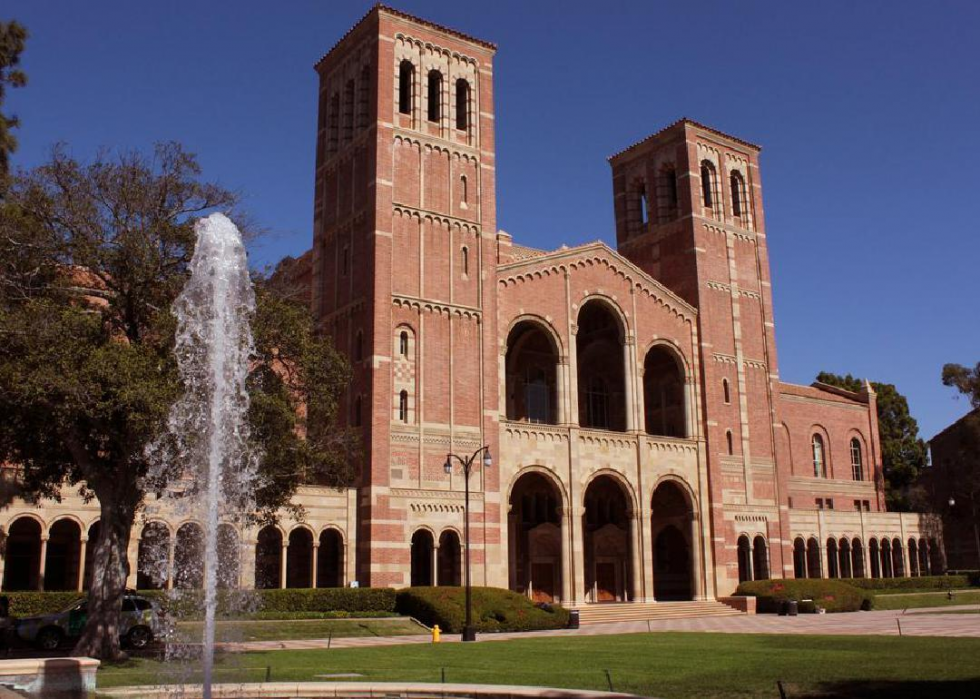 46 / 50
#5. University of California, Los Angeles
- Location: Los Angeles, CA
- Undergraduate enrollment: 31,009
- Student to faculty ratio: 18:1
- Acceptance rate: 12%
- Graduation rate: 92%
- Six-year median earnings: $60,700
- Two-year employment rate: 89%
- Overall rank: #24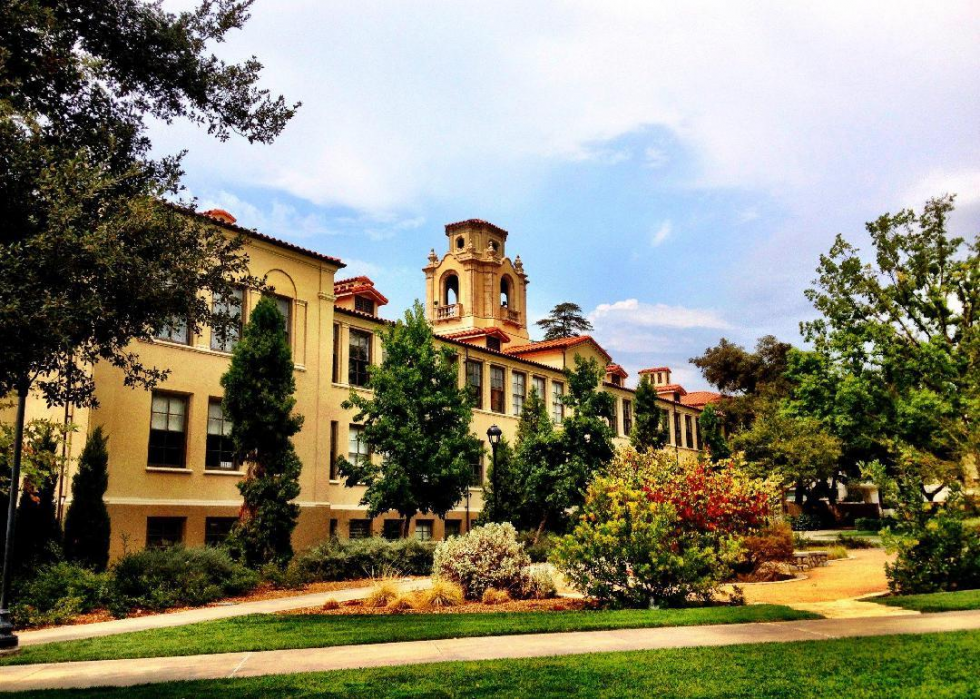 47 / 50
Nostalgicwisdom // Wikimedia Commons
#4. Pomona College
- Location: Claremont, CA
- Undergraduate enrollment: 1,559
- Student to faculty ratio: 7:1
- Acceptance rate: 7%
- Graduation rate: 93%
- Six-year median earnings: $58,100
- Two-year employment rate: 90%
- Overall rank: #20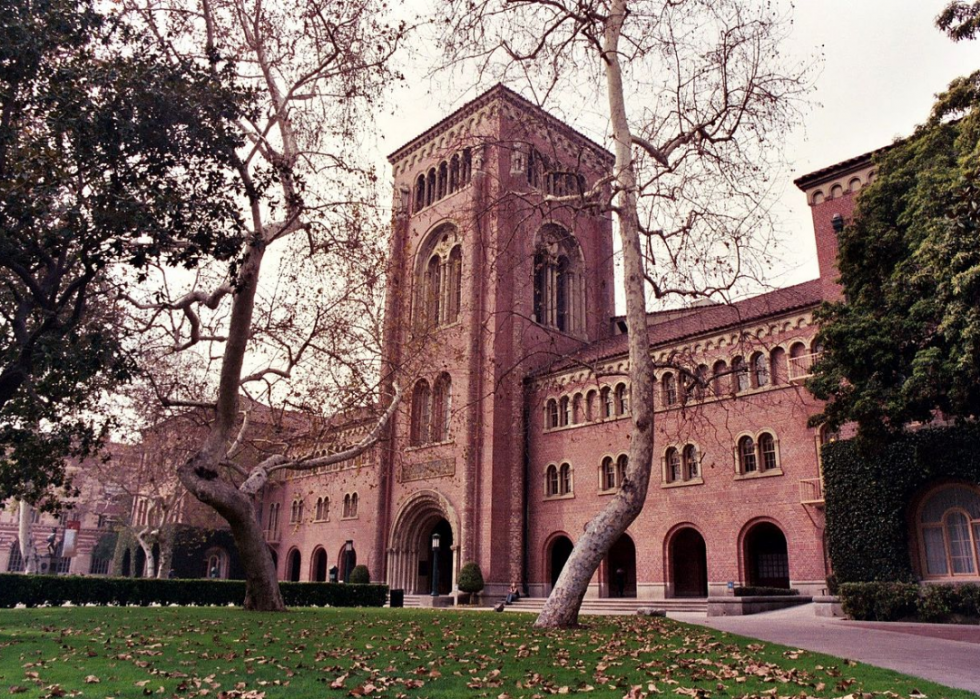 48 / 50
Brion VIBBER // Wikimedia Commons
#3. University of Southern California
- Location: Los Angeles, CA
- Undergraduate enrollment: 19,194
- Student to faculty ratio: 9:1
- Acceptance rate: 11%
- Graduation rate: 92%
- Six-year median earnings: $74,000
- Two-year employment rate: 92%
- Overall rank: #19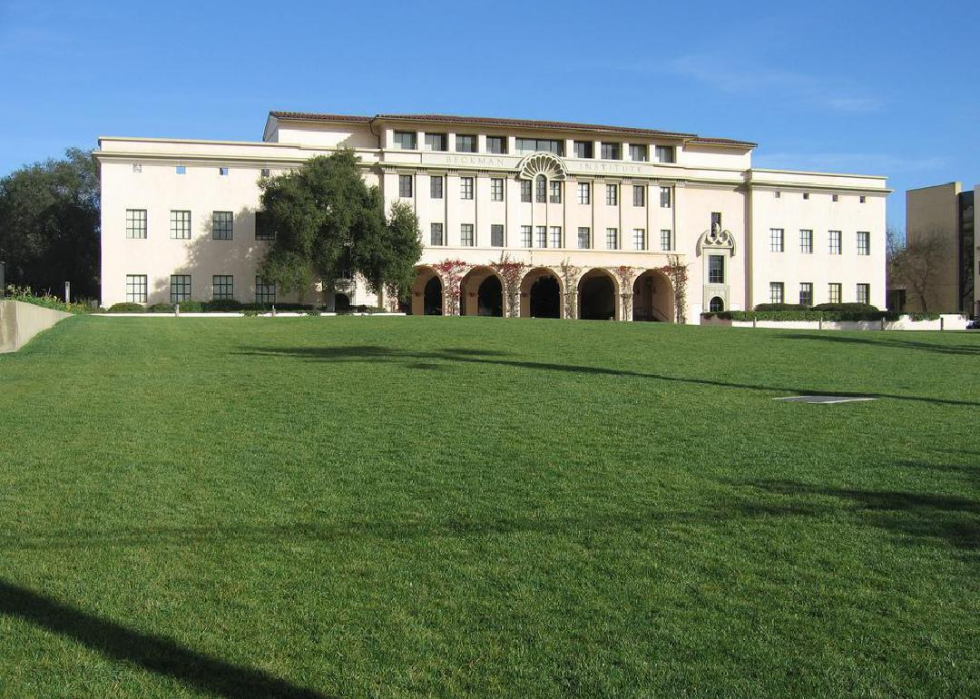 49 / 50
Kevin Stanchfield // Flickr
#2. California Institute of Technology
- Location: Pasadena, CA
- Undergraduate enrollment: 948
- Student to faculty ratio: 3:1
- Acceptance rate: 6%
- Graduation rate: 94%
- Six-year median earnings: $85,900
- Two-year employment rate: 89%
- Overall rank: #8
50 / 50
#1. Stanford University
- Location: Stanford, CA
- Undergraduate enrollment: 7,087
- Student to faculty ratio: 5:1
- Acceptance rate: 4%
- Graduation rate: 94%
- Six-year median earnings: $94,000
- Two-year employment rate: 94%
- Overall rank: #3
You may also like: 30 college majors that didn't exist 50 years ago