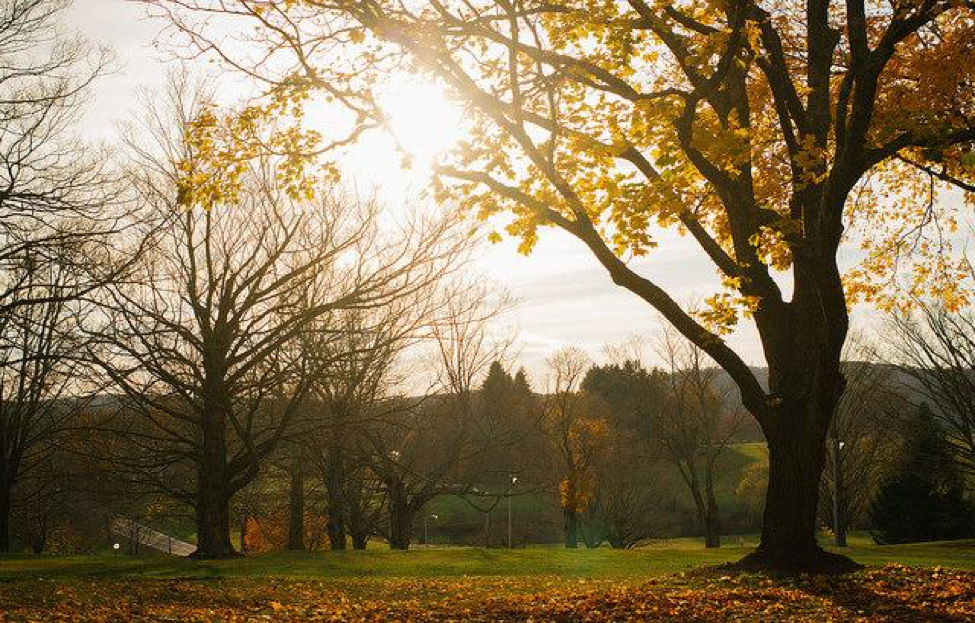 50 Most Beautiful College Campuses to Visit This Fall
Eric Vo // Creative Commons
50 Most Beautiful College Campuses to Visit This Fall
While many colleges around the country have lovely campuses, fewer can boast having the natural beauty that comes with the changing of the seasons. Redness in the trees complementing the brick buildings, or giant Gothic-style halls on a backdrop of technicolor rolling hills — these images are emblematic of a typical American college experience.
To compile a list of the 50 most beautiful college campus, Stacker evaluated a mix of visitor reviews and top rankings from travel experts such as Travel + Leisure, Conde Nast Traveler and more.
You won't want to miss these gorgeous schools, whether you're taking a college road trip or are simply looking to get in the autumnal spirit.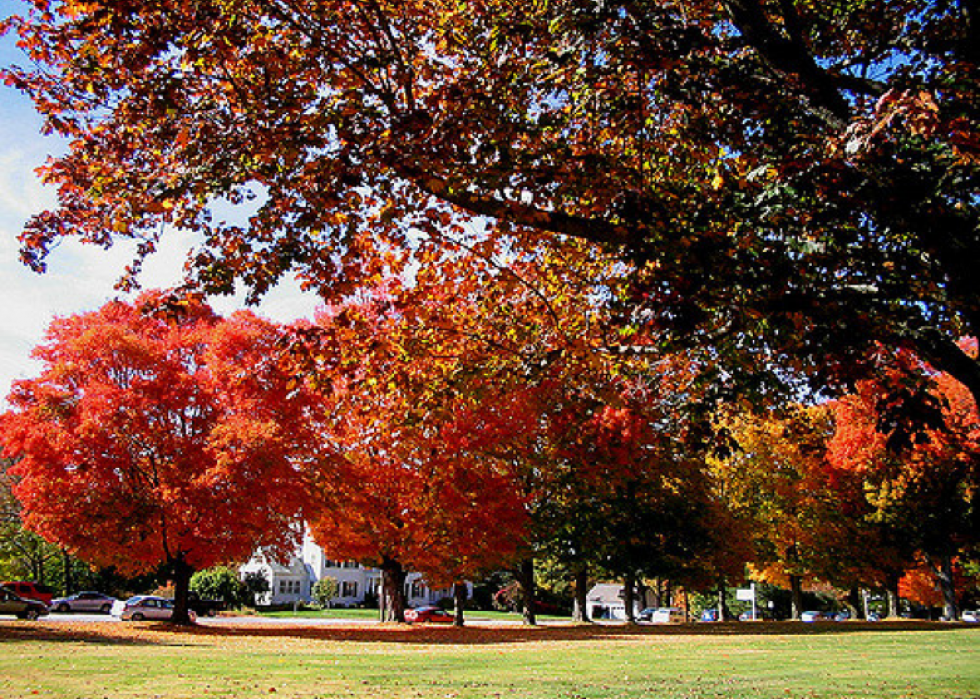 1 / 50
BEV Norton // Flickr Creative Commons
#50. Colby College - Waterville, ME
Considered a Wildlife Management Area by the state of Maine, the sprawling 714-acre Colby campus is a haven for nature lovers. Johnson Pond is a hotspot for spotting wild animals. The school also boasts a lush trove of over 1,800 trees, added to by the 128-acre Perkins Arboretum.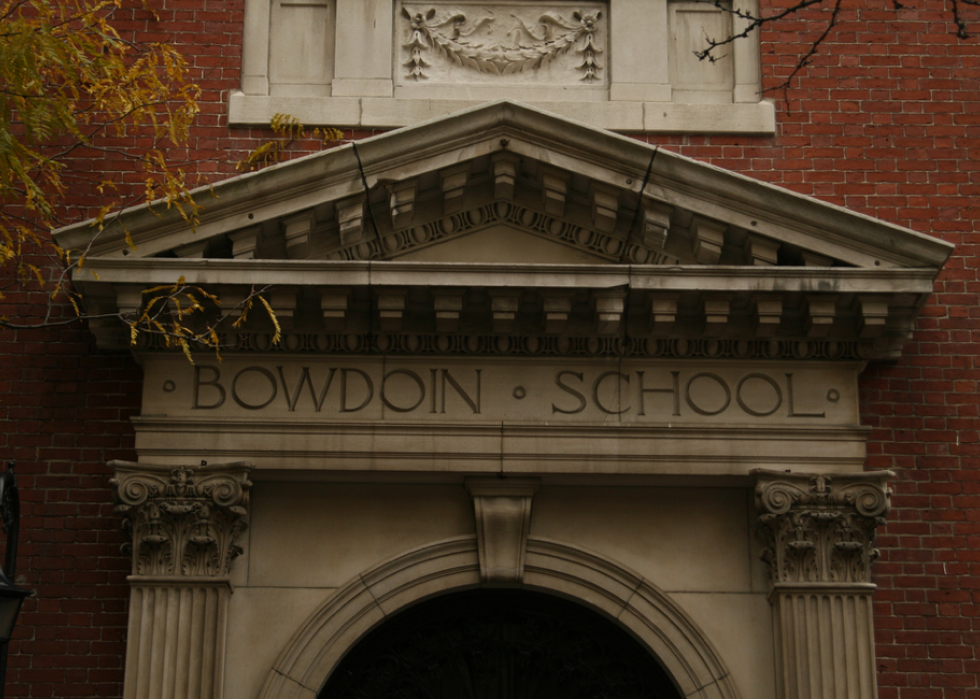 2 / 50
Doc Searls // Flickr Creative Commons
#49. Bowdoin College - Brunswick, ME
Despite its small size and student population just north of 1,000, Bowdoin's Coe Quad, famous pine trees and Thorndike Oak (planted in 1802) still boast the impressive spectrum of colors that Maine is known for in the fall.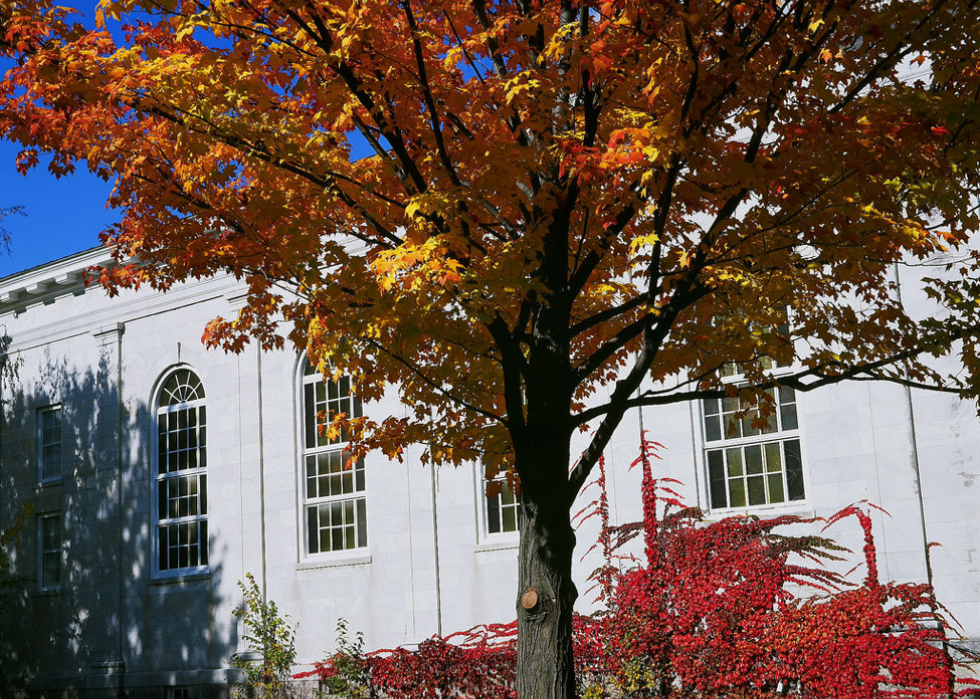 3 / 50
angrywayne // flickr commons
#48. Middlebury College - Middlebury, VT
Middlebury is snuggled in a beautiful landscape, with a view of Green Mountain and the Adirondacks. The campus itself is a sight to behold in the fall as well — home to a 250-year-old bur oak and adorned with the historic Old Chapel, Painter Hall and Starr Hall.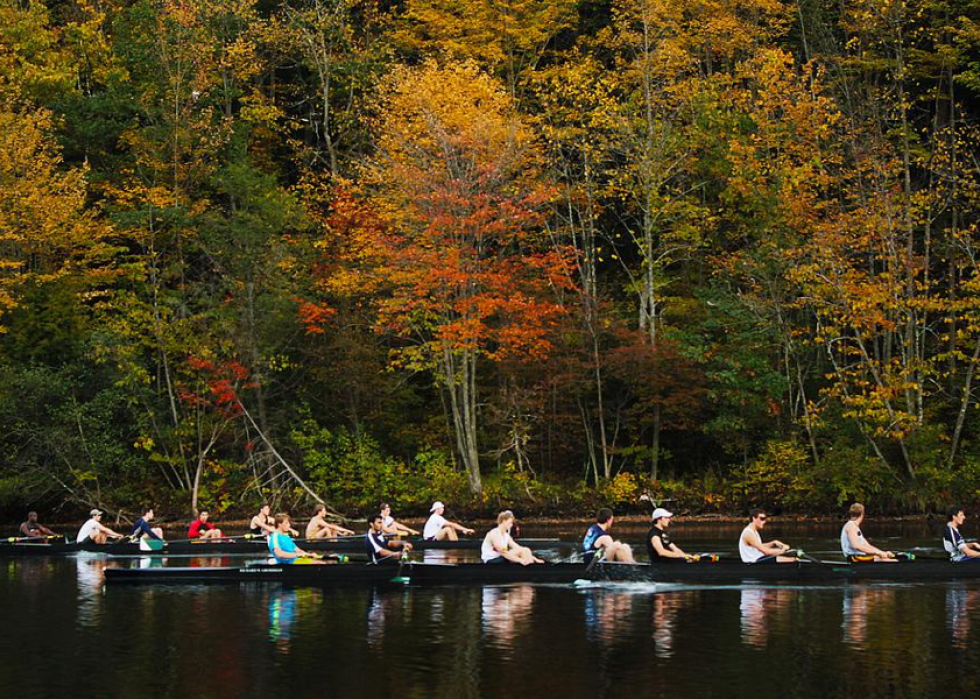 4 / 50
Max Goldberg // Flickr Commons
#47. Dartmouth College - Hanover, NH
During a visit by President Dwight D. Eisenhower in 1953, he famously said of Dartmouth, "this is what a college should look like." The 269-acre campus offers historic buildings like Wentworth and Thornton Hall, and everything from golden gingko trees to yellow Kentucky coffeetrees. Beyond the center of Dartmouth, the school owns 4,500 acres of land in the White Mountains and a whopping 27,000 acres in New Hampshire.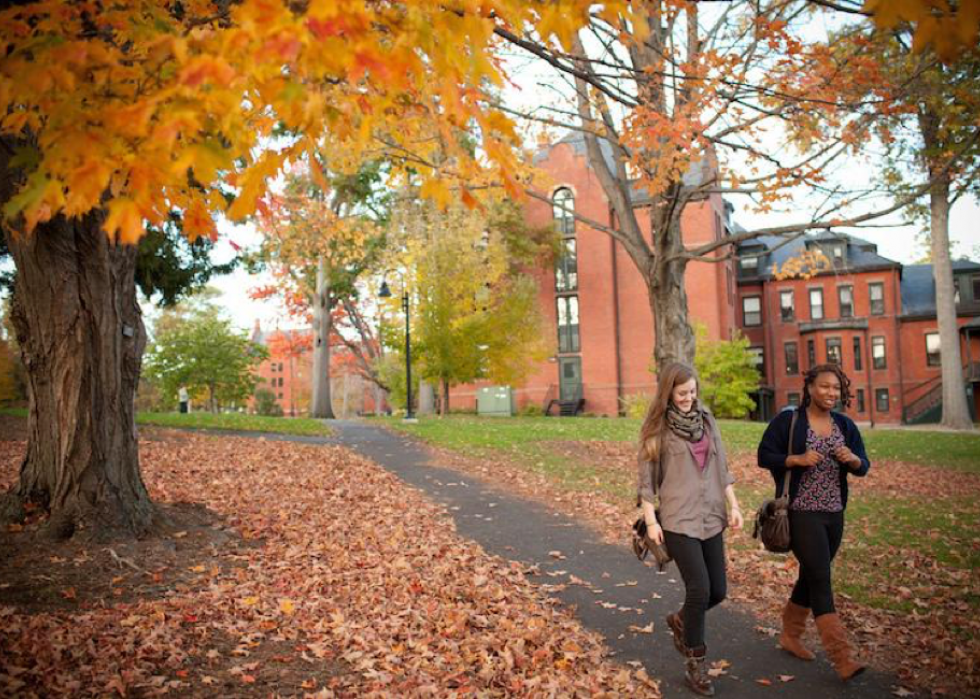 5 / 50
Massachusetts Office of Travel and Tourism // Flickr Commons
#46. Mount Holyoke College - South Hadley, MA
As we venture into the heart of New England, the prestigious women's college of Mount Holyoke is a must-see. The 2,000-acre campus, designed by landscape architects Olmsted and Sons, offers visitors waterfalls, lakes, nature walks, a botanical garden and a fully-fledged art museum.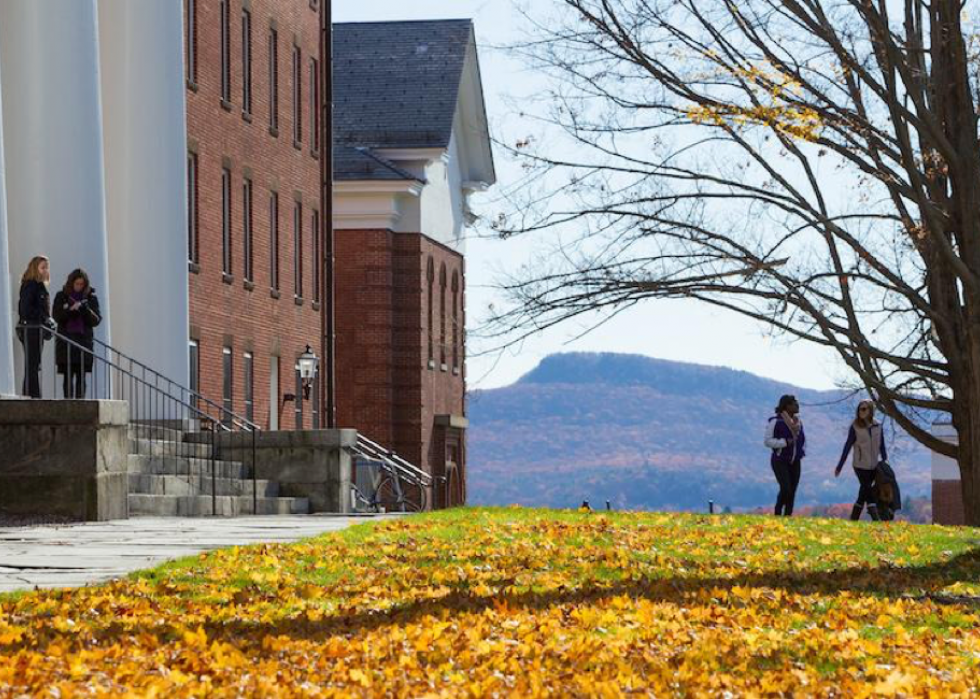 6 / 50
Massachusetts Office of Travel & Tourism // Flickr Commons
#45. Amherst College - Amherst, MA
Amherst is so proud of its fall colors that it holds an Annual Fall Foliage Walk/Run, a fundraiser benefitting underprivileged young scholars. Now in its 46th year, the Fall Foliage 5K Walk/Run lets runners, walkers and leaf peepers admire the spectrum of shades of the foliage.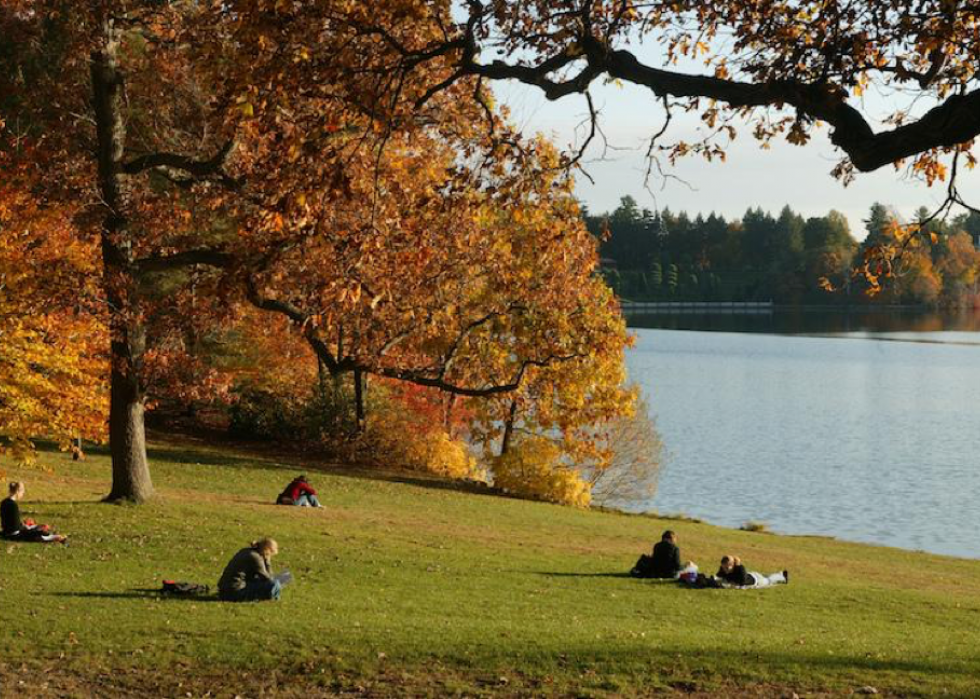 7 / 50
Massachusetts Office of Travel & Tourism // Flickr Commons
#44. Wellesley College - Wellesley, MA
Another beautiful women's college, Wellesley and its changing scenery can be admired from a spot overlooking Lake Waban or on a stroll through the college's own botanical garden.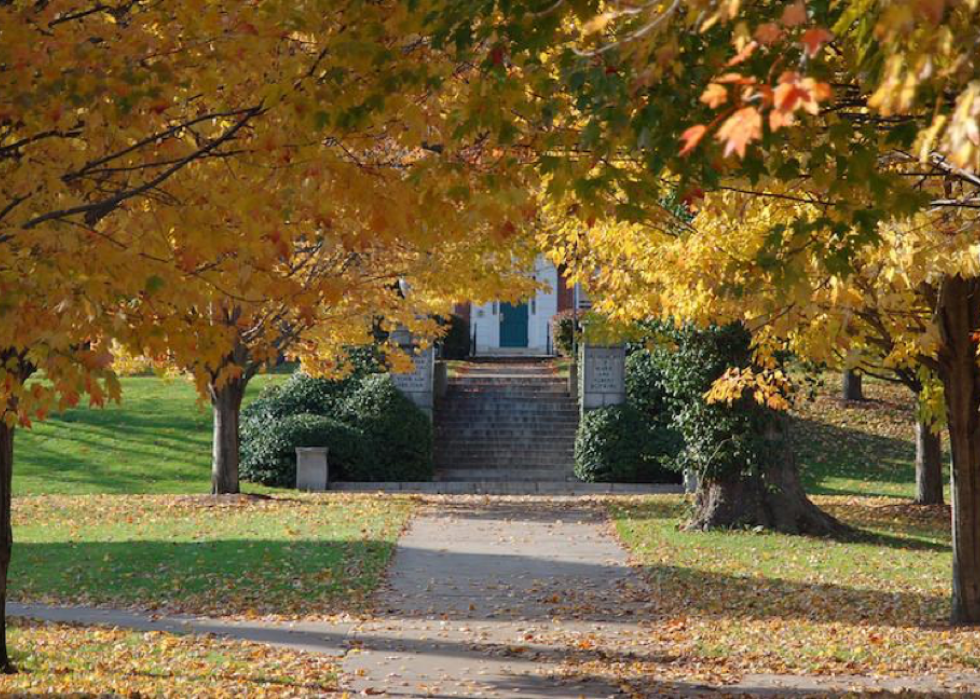 8 / 50
Paul Needham // Flickr Commons
#43. Williams College - Williamstown, MA
Known as one of the top liberal arts schools in the country, Williams is a rural campus with incredible views of the Berkshires.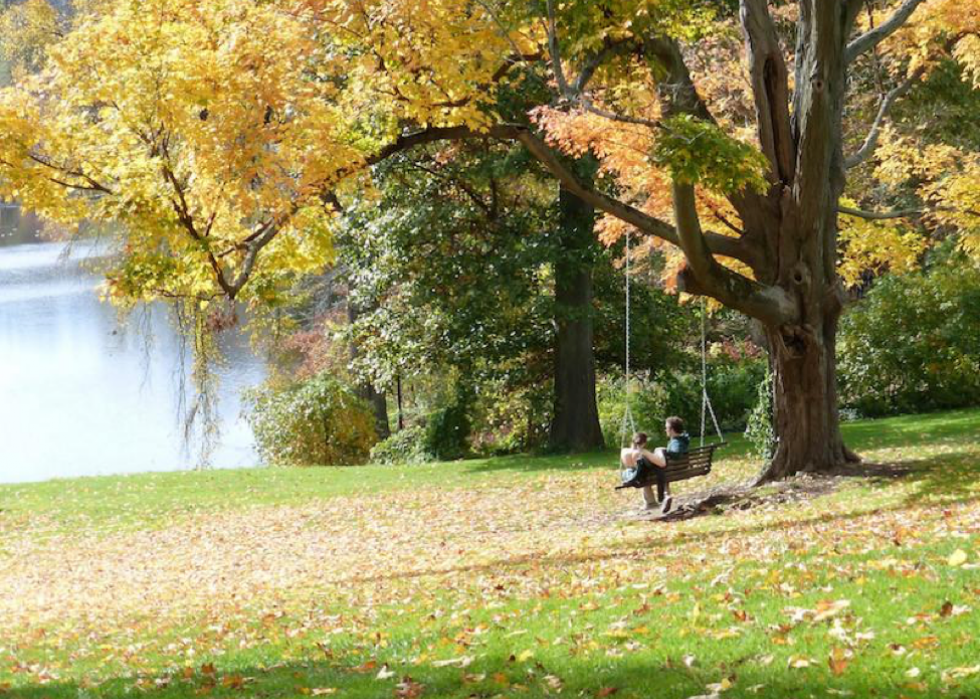 9 / 50
Lorianne DiSabato // Flickr Commons
#42. Smith College - Northampton, MA
Smith's colors are not only considered picture-worthy, but also worthy of celebration. Every year on Mountain Day, the school president chooses a gorgeous fall day and rings the college bells, signaling to students that they can take the day off from classes and enjoy the beauty around them. Many students go apple picking off campus.
10 / 50
HOLY CROSS COLLEGE // by infomatique
#41. College of the Holy Cross - Worcester, MA
The manicured 174-acre campus of Holy Cross sits on a hillside in Central Massachusetts. This beautiful location allows students and visitors to enjoy the crisp fall weather and marvel at the foliage of the registered arboretum on campus.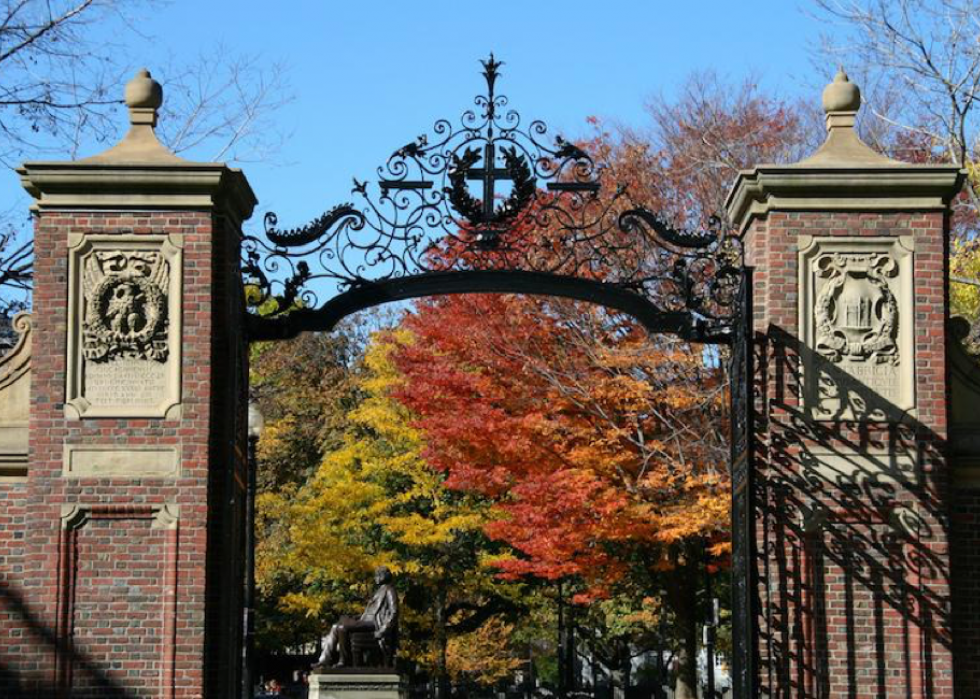 11 / 50
Tim Sackton // Flickr Commons
#40. Harvard University - Cambridge, MA
The oldest and one of the most prestigious schools in the country, Harvard boasts an impressive history and campus. It's home to the High Victorian Gothic Memorial Hall, a national historic landmark and the famous Harvard Yard with its regal American elms. Nature lovers can also enjoy the 15,000 plants in Harvard's vast Arnold Arboretum.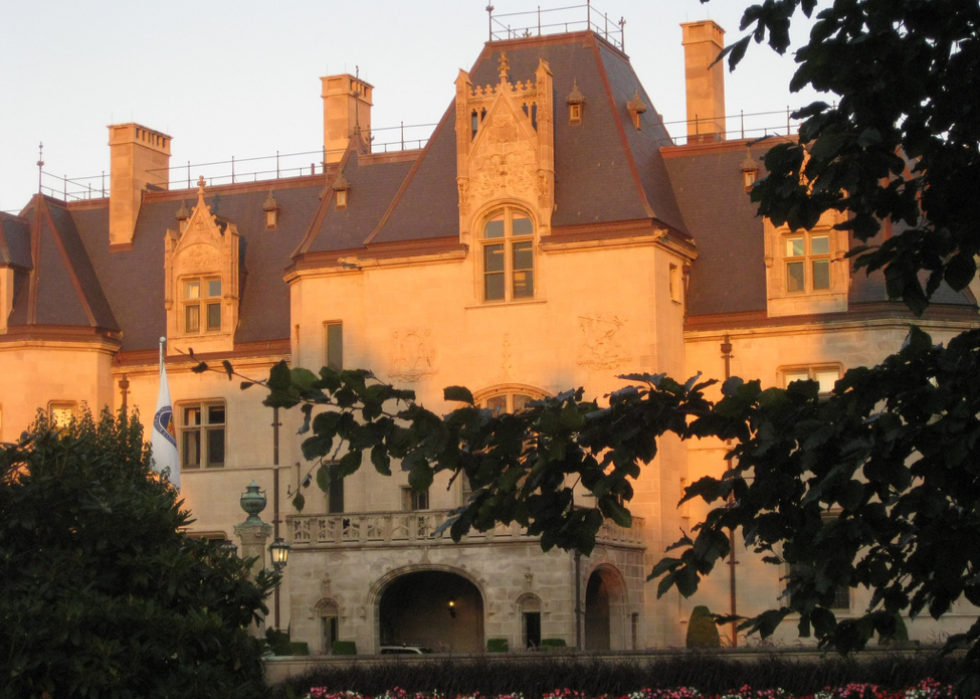 12 / 50
Jenna Rose Robbins // Flickr Commons
#39. Salve Regina University - Newport, RI
Sitting in the country's smallest state, Salve Regina University is often overlooked. But the Neo-Gothic French architecture style of the campus and its striking ocean setting are worth a stop. Check out Ochre Court, an almost castle-like mansion dating back to 1892, the red sandstone McAuley Hall and the Elizabethan-style manor Wakehurst.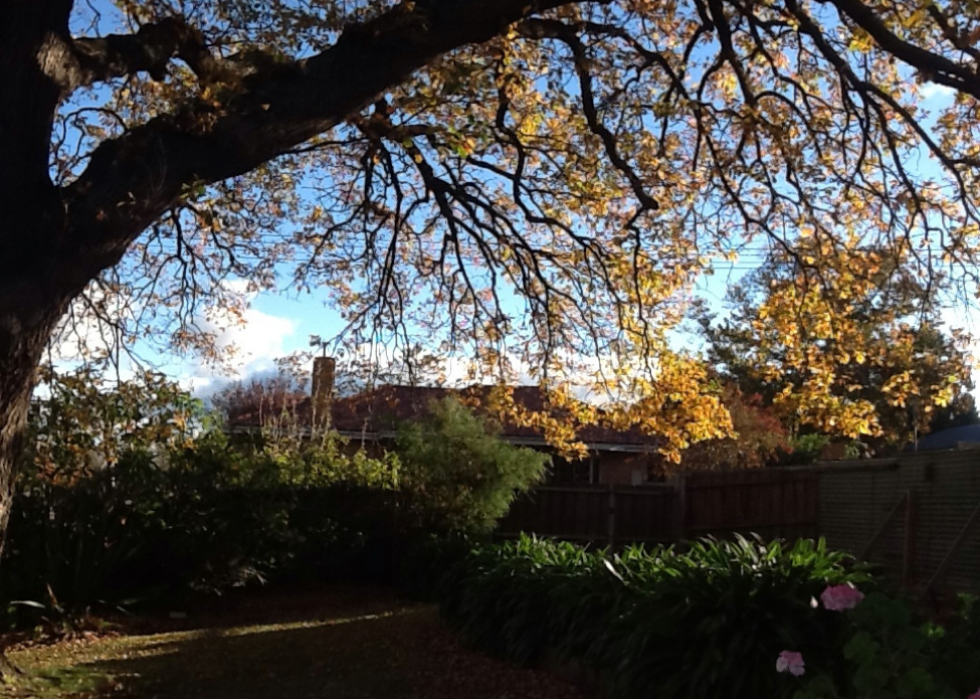 13 / 50
denisbin // Flickr Commons
#38. Hamilton College - Clinton, NY
The millions who flock to New York City in the fall are only getting a tiny slice of the beauty that New York State has to offer come October. Hamilton's serene atmosphere of more than 1,300 acres and brightly-colored trees is a perfect setting for a fall stroll.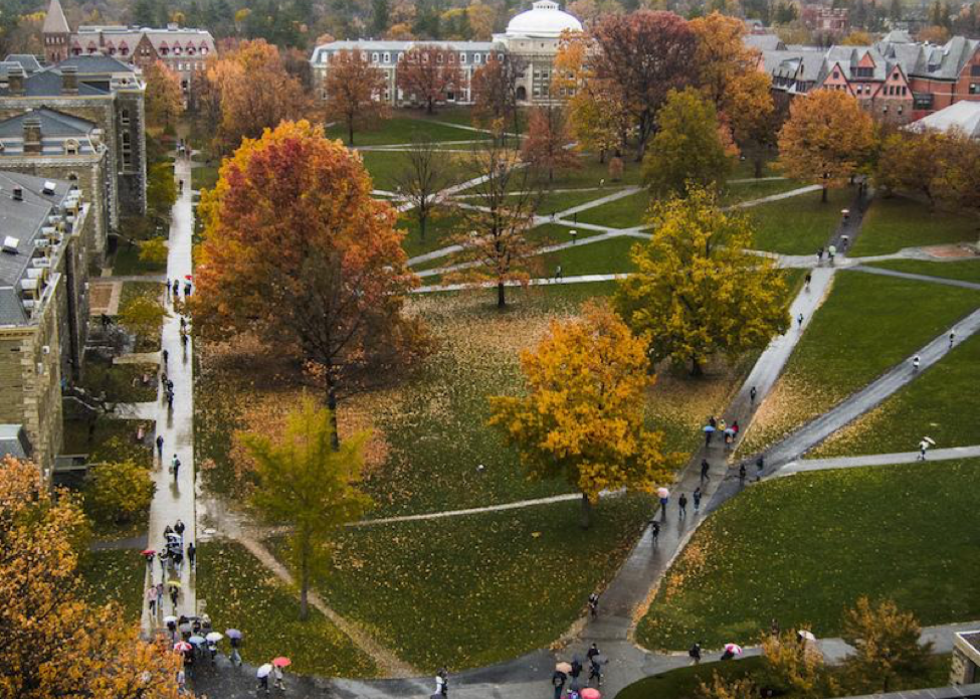 14 / 50
Barbara Friedman // Flickr Commons
#37. Cornell University - Ithaca, NY
Cornell's F.R. Newman Arboretum is consistently ranked as one of the best in the country, so during the fall its beauty only increases. Also worth visiting is the Dean's Garden to see Japanese maples and the views surrounding the Eddy Dam Bridge.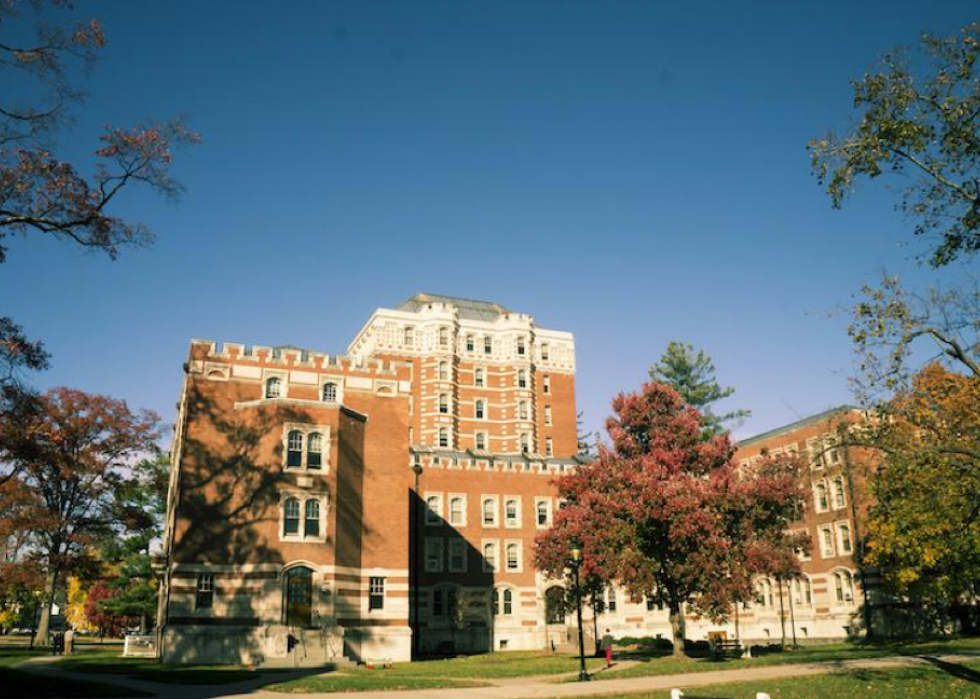 15 / 50
Yibo Yu / /Flickr Commons
#36. Vassar College - Poughkeepsie, NY
The once all women (now co-ed) college in upstate New York is known for its stunning Gothic-style Thompson Library, with stained glass and buttressed walls. The school's 1,000-acre arboretum is filled with a diverse crop of trees, in part thanks to Vassar's Class Tree tradition. For almost 150 years, graduating classes have planted or adopted a tree on campus.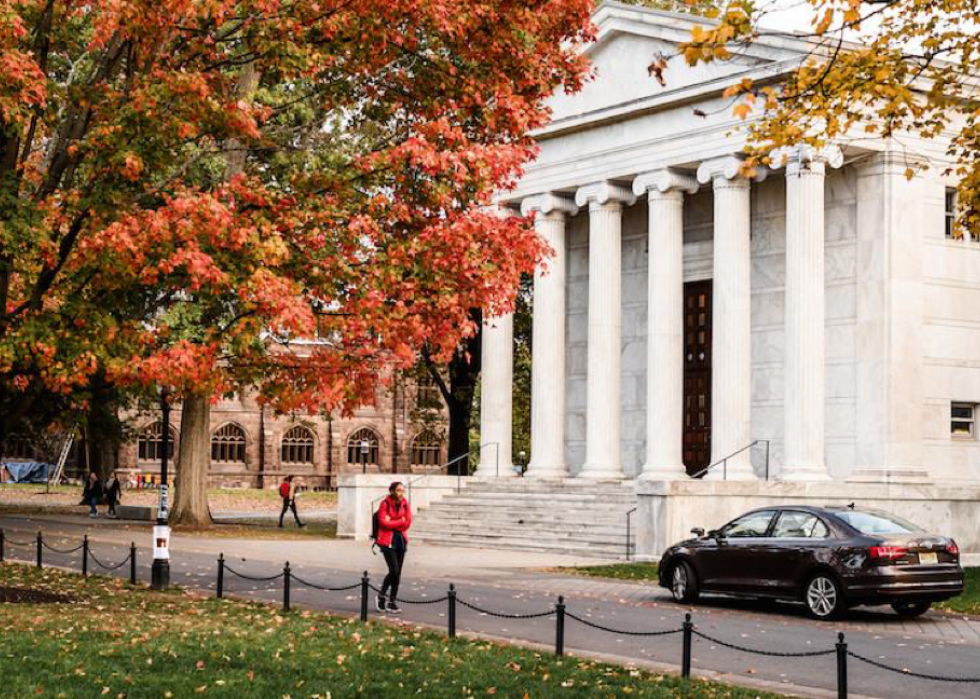 16 / 50
Geoff Livingston // Flickr Commons
#35. Princeton University - Princeton, NJ
Princeton in the fall is striking even before you step foot on campus. The 0.7-mile-long stretch of Washington Road, an allée flanked with Princeton elms, along with the bridge over Lake Carnegie, provides a rather dramatic welcome.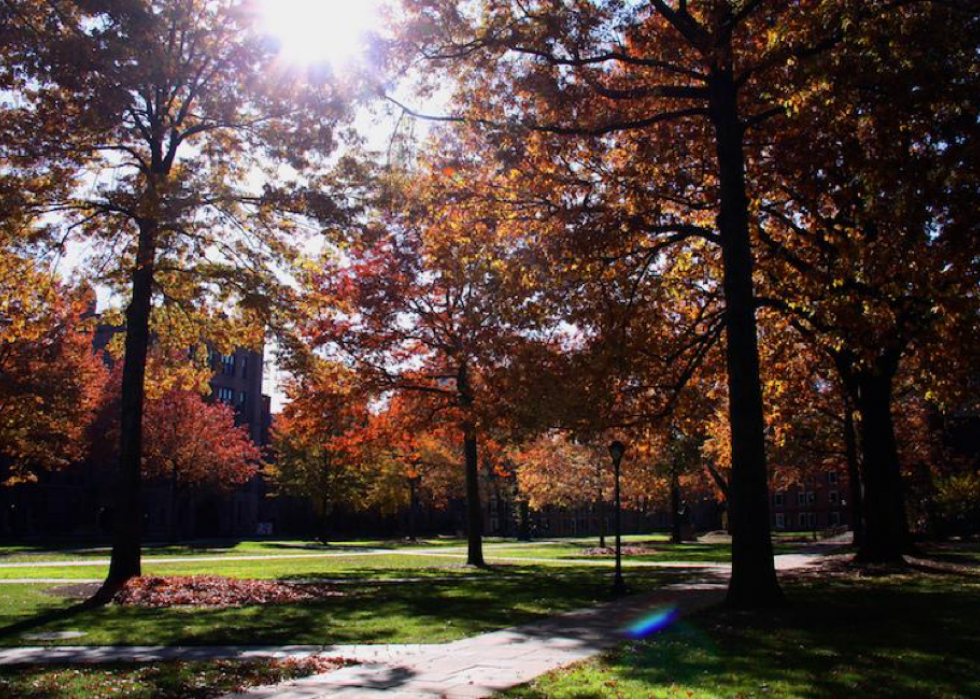 17 / 50
Klaus Wagensonner // Flickr Commons
#34. Yale University - New Haven, CT
A great way to take in all the fall beauty that this top university has to offer is by going on the Yale nature walk. You can spot red Japanese stewartia, sugar maples, mountain ash, oaks and more.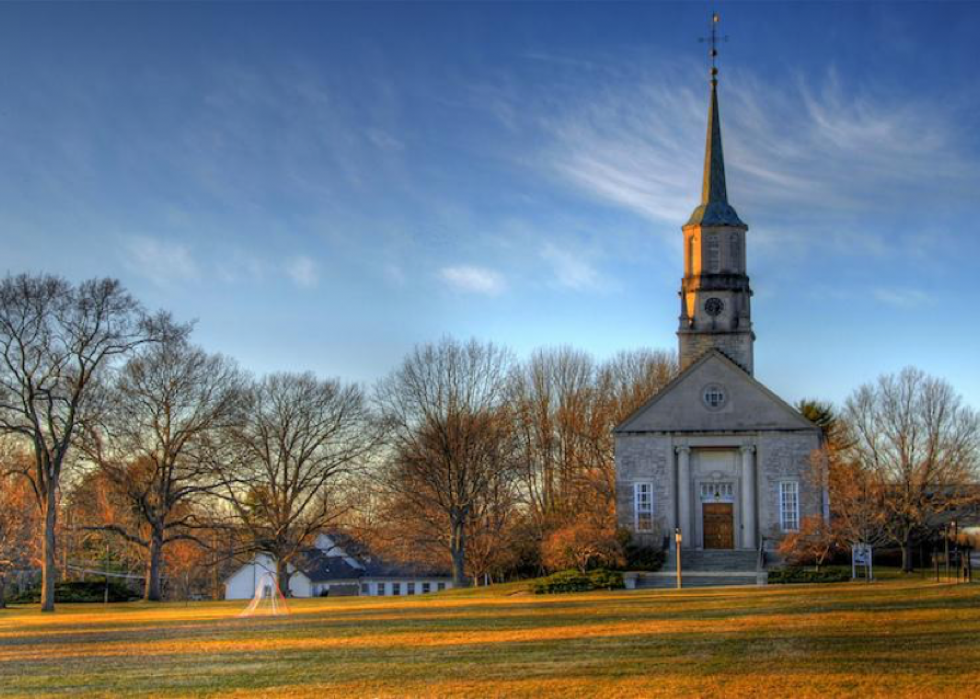 18 / 50
slack12 // Flickr Commons
#33. Connecticut College - New London, CT
With a motto such as "like a tree planted by rivers of water," you can bet that nature is sacred to those at Connecticut College. Its 770-acre arboretum is used in more than 30 courses as a "living laboratory" for students.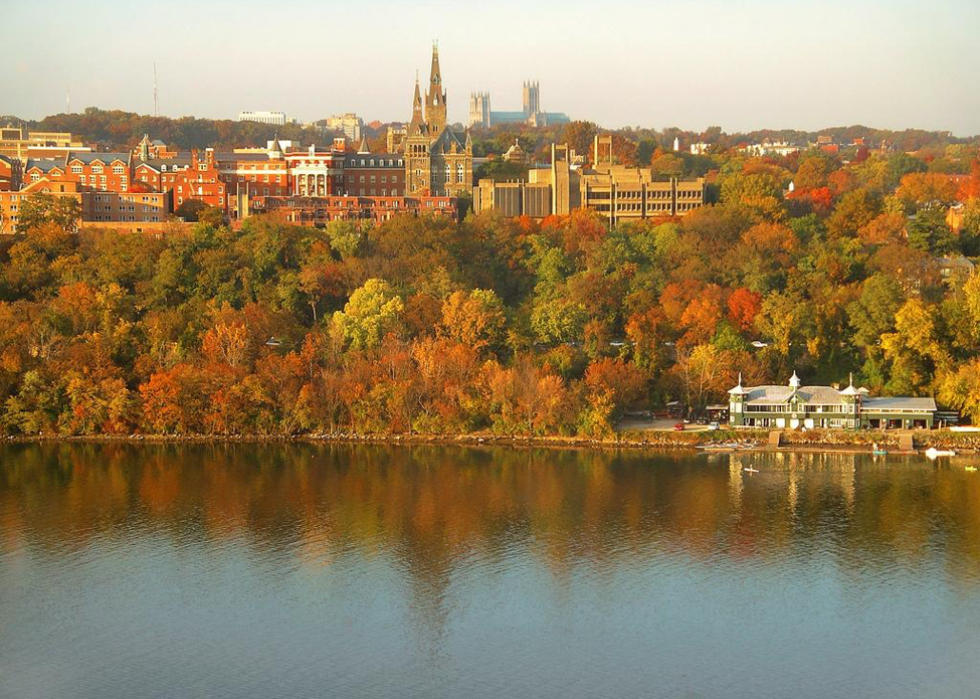 19 / 50
P. Morrissey // Flickr Commons
#32. Georgetown University - Georgetown, D.C.
The oldest Jesuit university in the country, Georgetown's hilltop location above the Potomac is a lovely stop right in the nation's capital. The two green expanses of Healy and Copley Lawn, as well as Neo-Medieval buildings like Healy Hall provide a small oasis to admire the changing seasons within the bustling city.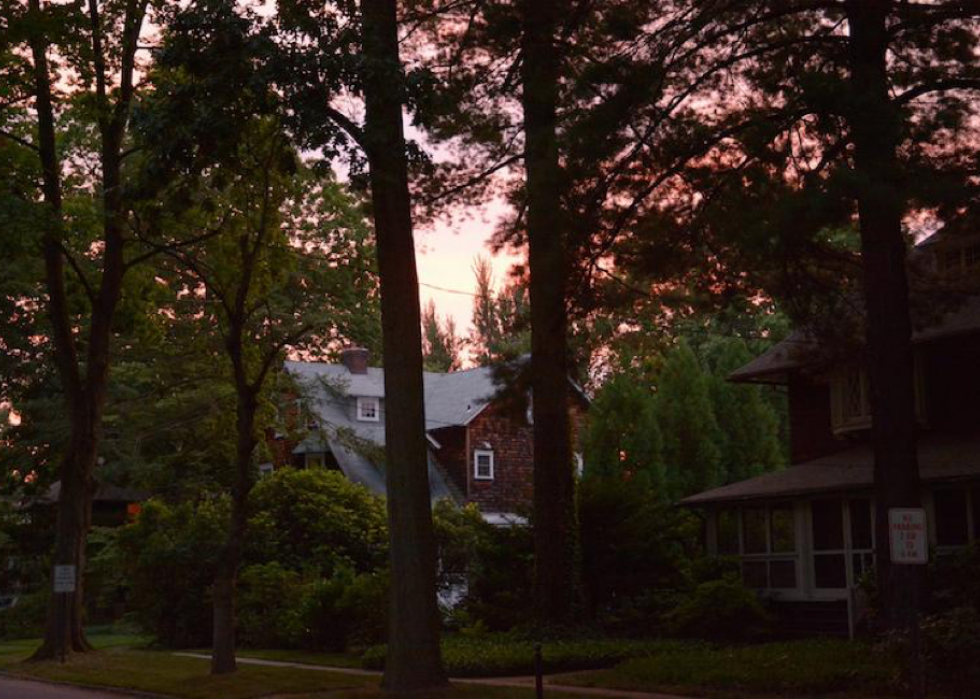 20 / 50
#31. Swarthmore College - Swarthmore, PA
Farther west in Pennsylvania, Swarthmore College's striking Scott Arboretum can be navigated easily by visitors. Online, anyone can access the Arboretum Navigator, a map containing each species of tree. The "Fall Foliage Tour" option lets visitors find the prettiest reds and oranges of the season.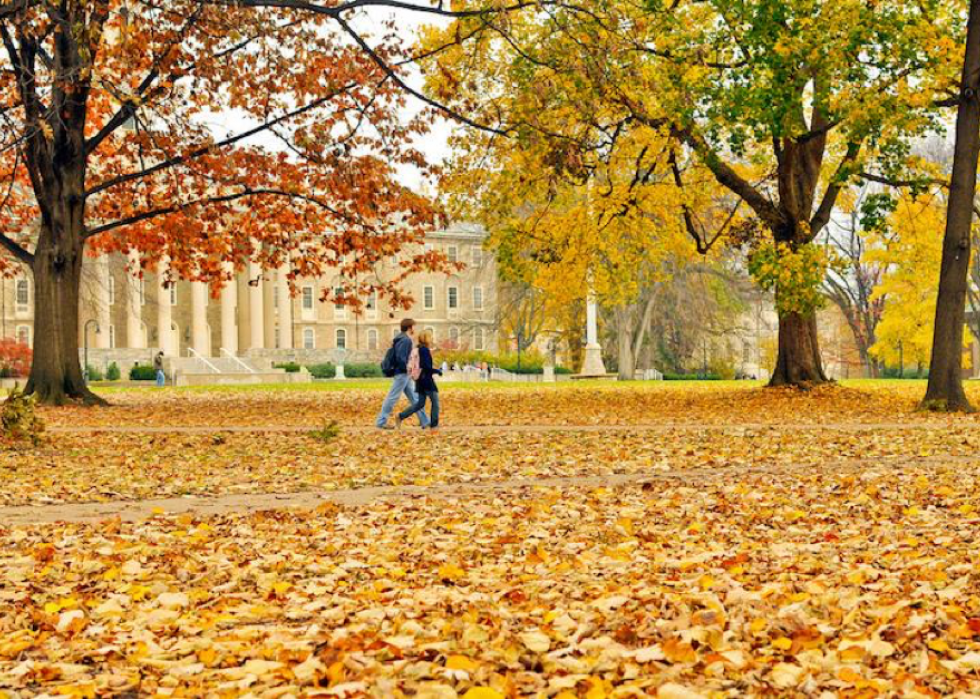 21 / 50
#30. Pennsylvania State College - State College, PA
Penn State is home to several Heritage Tree Groves. These Heritage Trees are trees on campus "that have developed exceptional historical, cultural, and/or aesthetic value because of their age or their association with an important event or person."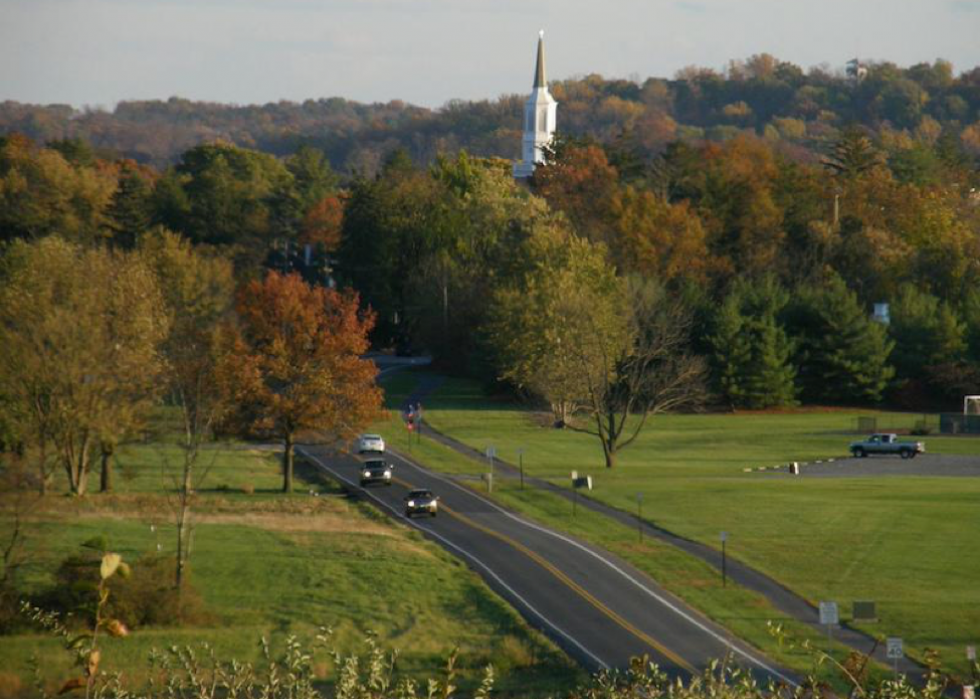 22 / 50
fauxto_digit // Flickr Commons
#29. Gettysburg College - Gettysburg, PA
Gettysburg often draws crowds for its historical significance as a battleground, but the changing landscape in autumn is a bonus. Students and visitors to Gettysburg College can enjoy the scenery in its quad, as well as at Stine Lake (not actually a lake, but a misnomer that somehow stuck).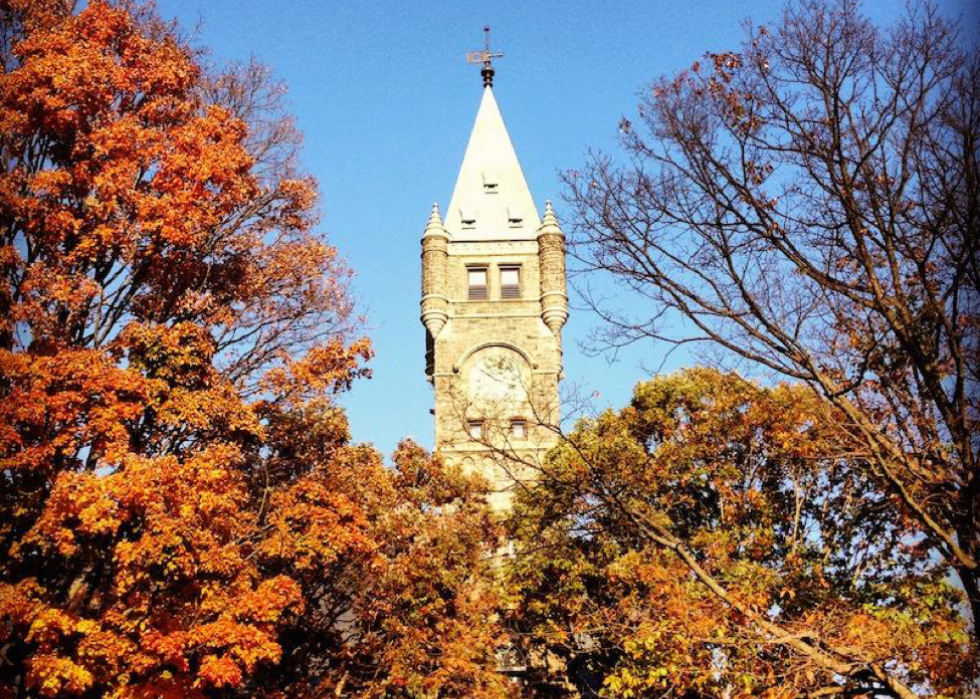 23 / 50
Taylor Bell // Bryn Mawr College
#28. Bryn Mawr College - Bryn Mawr, PA
One of the first examples of the Gothic-style architecture trend on college campuses, this women's college boasts beautiful buildings that complement the foliage around it. Marjorie Walter Goodhart Theater, the Cloisters and Pembroke Hall are exceptional examples.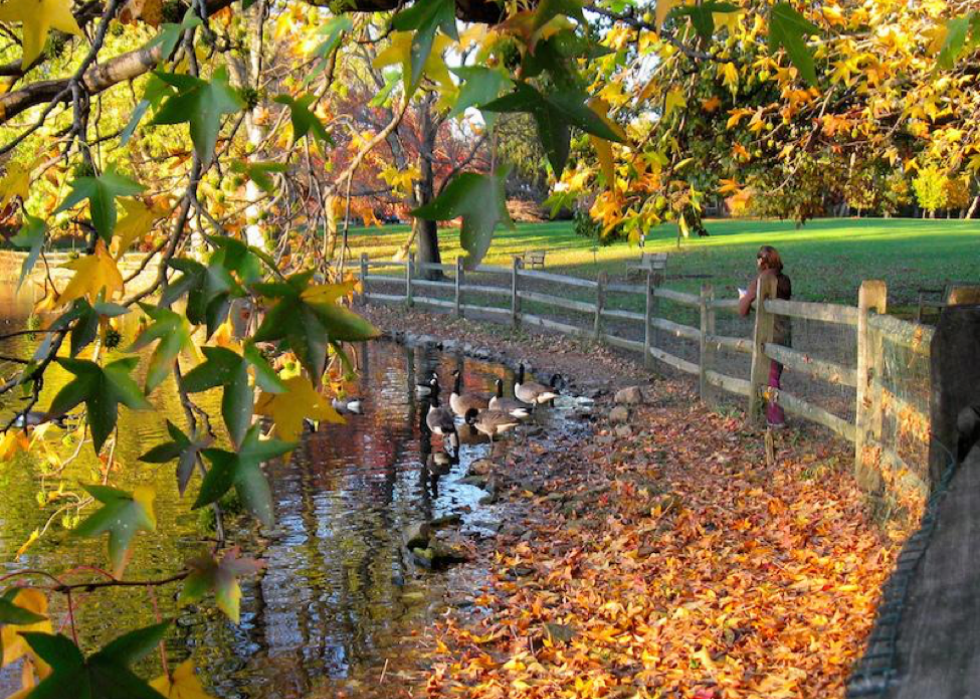 24 / 50
Pauline Rosenberg // Flickr Commons
#27. Haverford College - Haverford, PA
Along with a nationally recognized arboretum and gardens, Haverford has a 3.5-acre duck pond — a quaint spot to visit during the fall.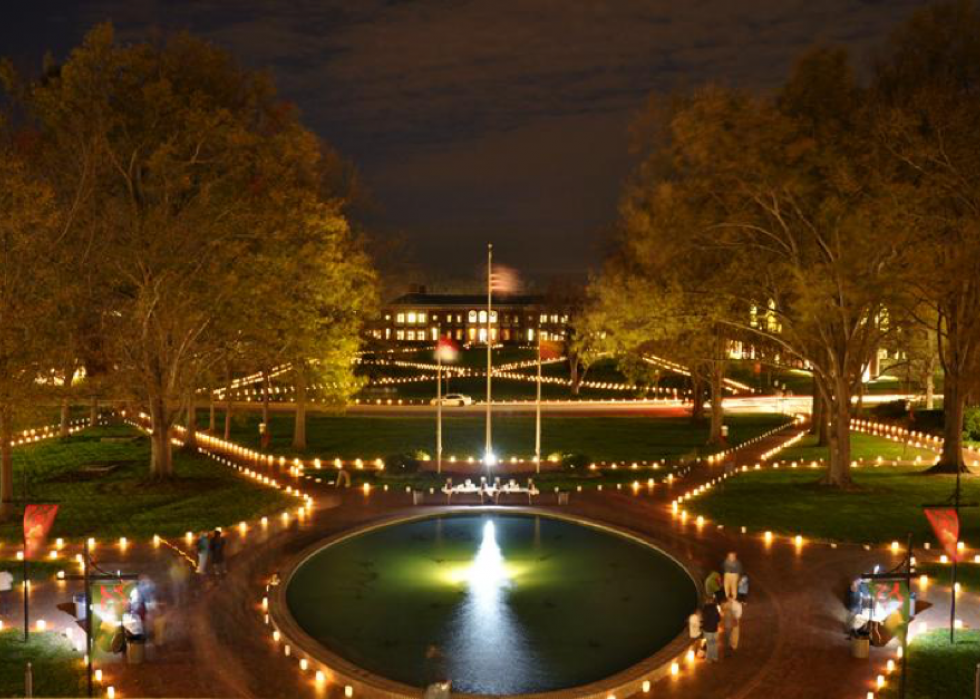 25 / 50
Brook Corwin // Flickr College
#26. Elon University - Elon, NC
Elon has gained national recognition as not only one of the loveliest college campuses to visit in the fall, but also year round. In 2005, the North Carolina gem and its lush grounds were designated as a botanical garden.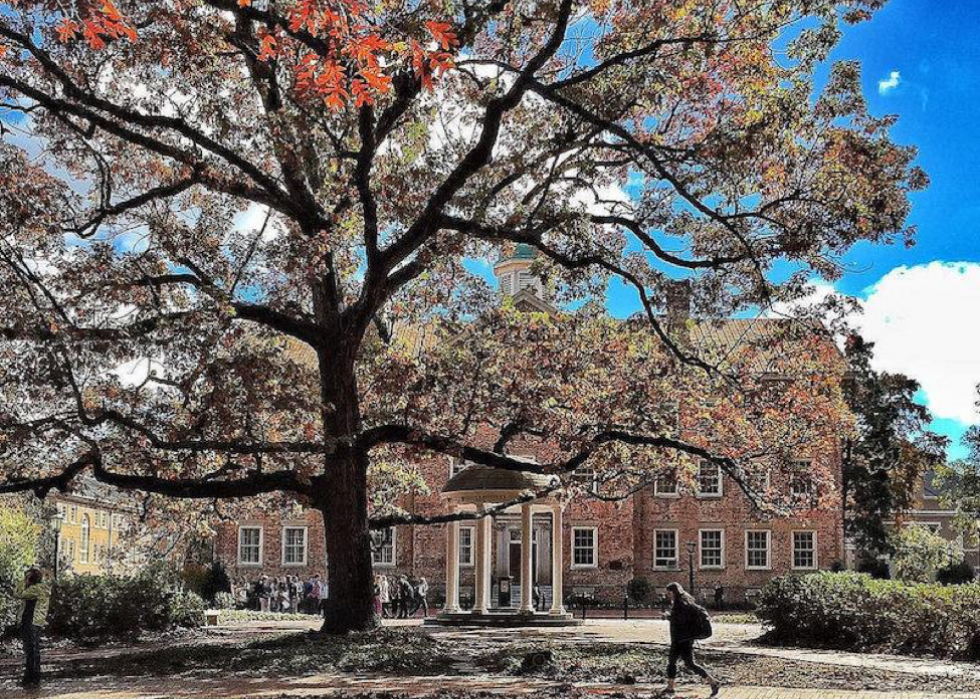 26 / 50
Jed Record // Flickr Commons
#25. University of North Carolina, Chapel Hill - Chapel Hill, NC
The large campus of UNC Chapel Hill hosts two large green spaces for students to gather, flanked with diverse species of plants and trees. The school is known for its 300-year-old "Davie Poplar" and outdoor Forest Theater, as well as the Old Well: a neoclassical rotunda based on the Temple of Love in the Versailles gardens of France.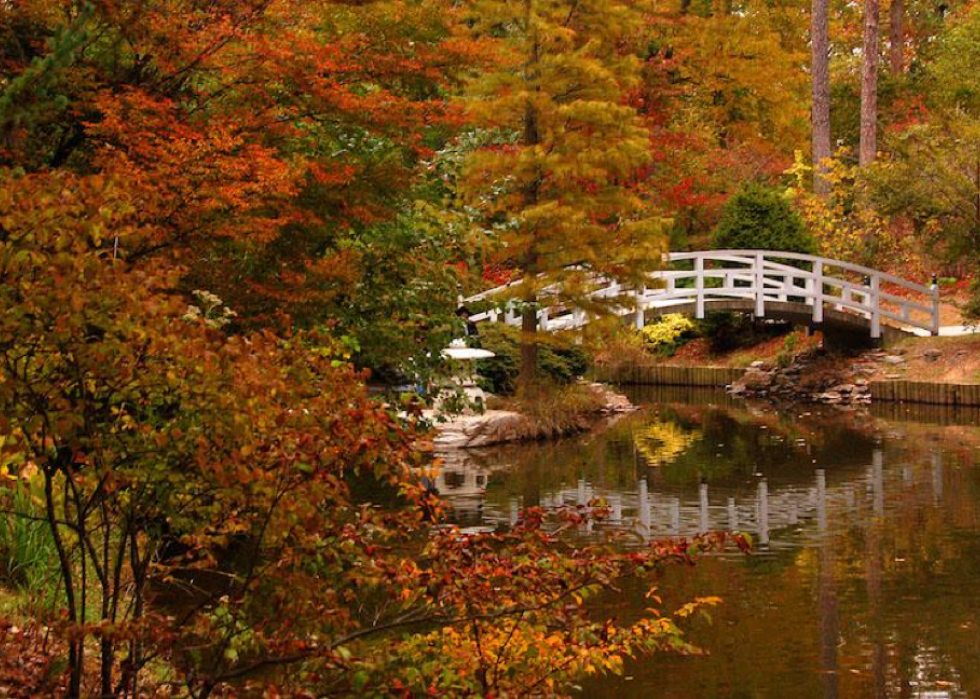 27 / 50
Bill Gracey // Flickr Commons
#24. Duke University - Durham, NC
Those seeking awe-inspiring nature shouldn't miss the 55-acres of landscaped and woodland plants that make up Sarah P. Duke Gardens or the Duke Forest. Notable sights include Duke's century-old pastel-tinged willow oak and a 300-year-old red-brown "grandfather" white oak.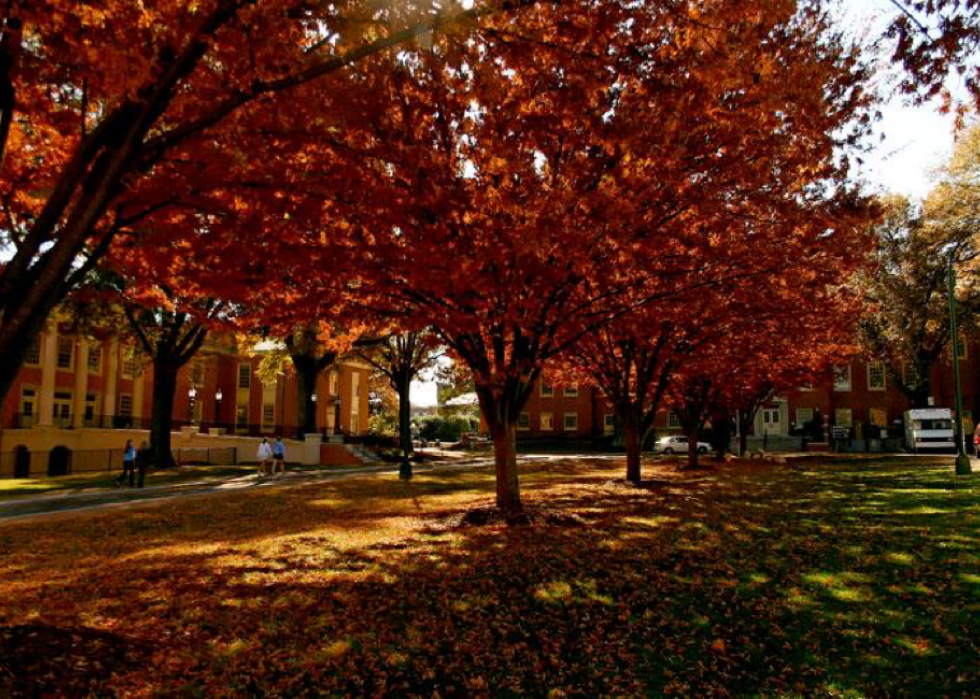 28 / 50
Brian Leon // Flickr Commons
#23. Wake Forest University - Winston-Salem, NC
Just two hours southwest of Duke, Wake Forest University is consistently ranked as a top 30 university in the country. If you're visiting in the fall, be sure to visit the October glory red maples lining Hearn Plaza, a centerpiece of main campus, and the Blue Ridge Mountains 1.5 hours further west.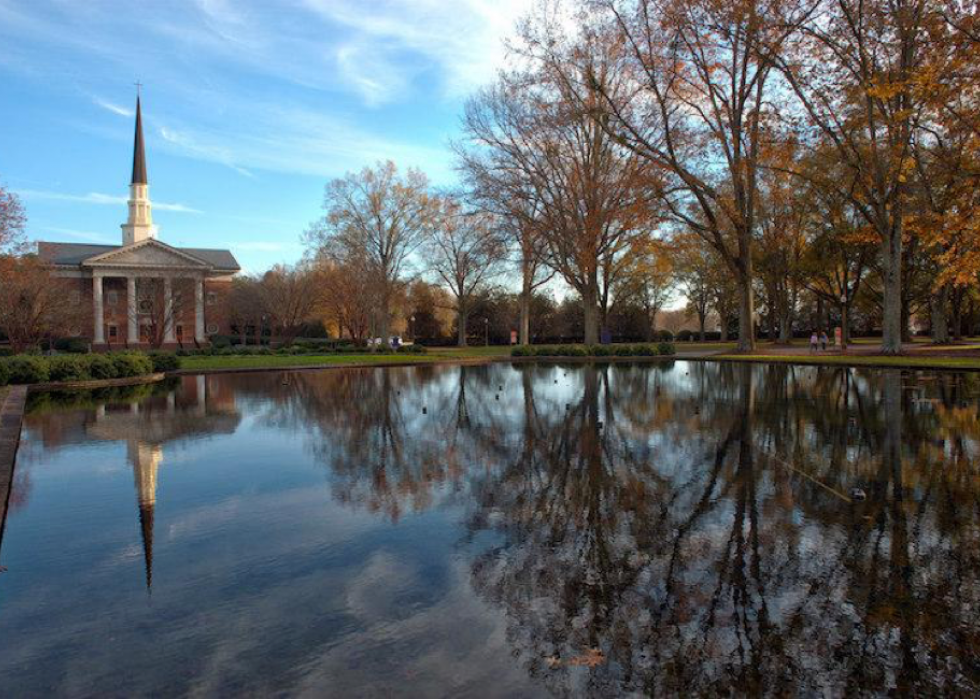 29 / 50
wabisabi2015 // Flickr Commons
#22. Furman University - Greenville, SC
The oldest university in South Carolina is worth a peek, if not for its replica of Henry David Thoreau's cabin, but for its Asian garden and the 40-acre spring-fed Furman Lake, overlooked by the school's Florentine bell tower.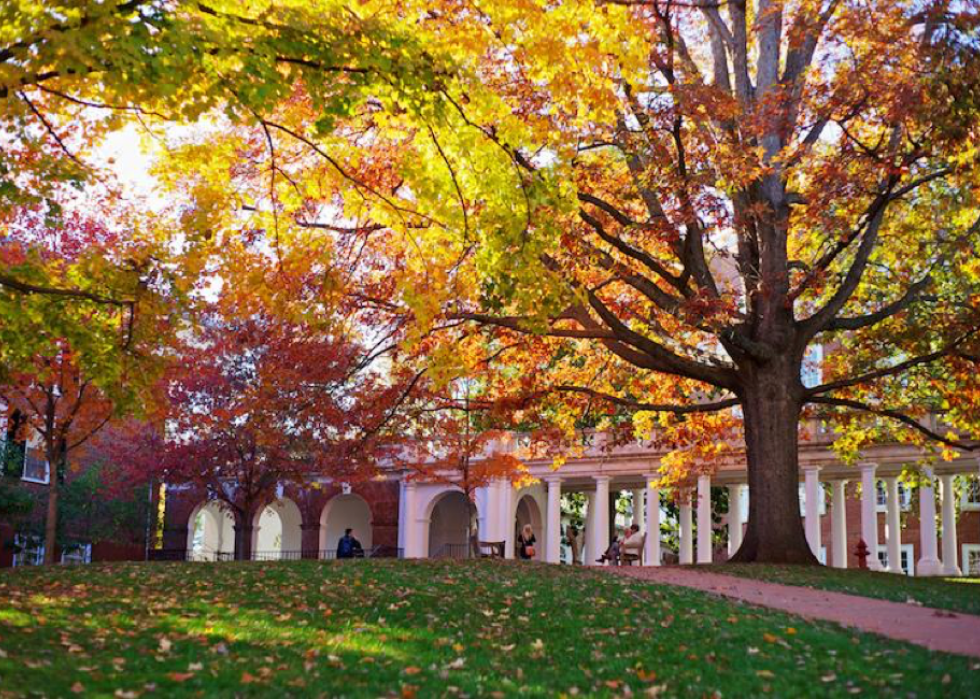 30 / 50
Karen Blaha // Flickr Commons
#21. University of Virginia - Charlottesville, VA
The American Institute of Architects consider the lush landscape and buildings "the proudest achievement of American architecture in the past 200 years." This is likely thanks to its singular Jeffersonian style, including the Palladian-style Rotunda, which was named a UNESCO World Heritage site.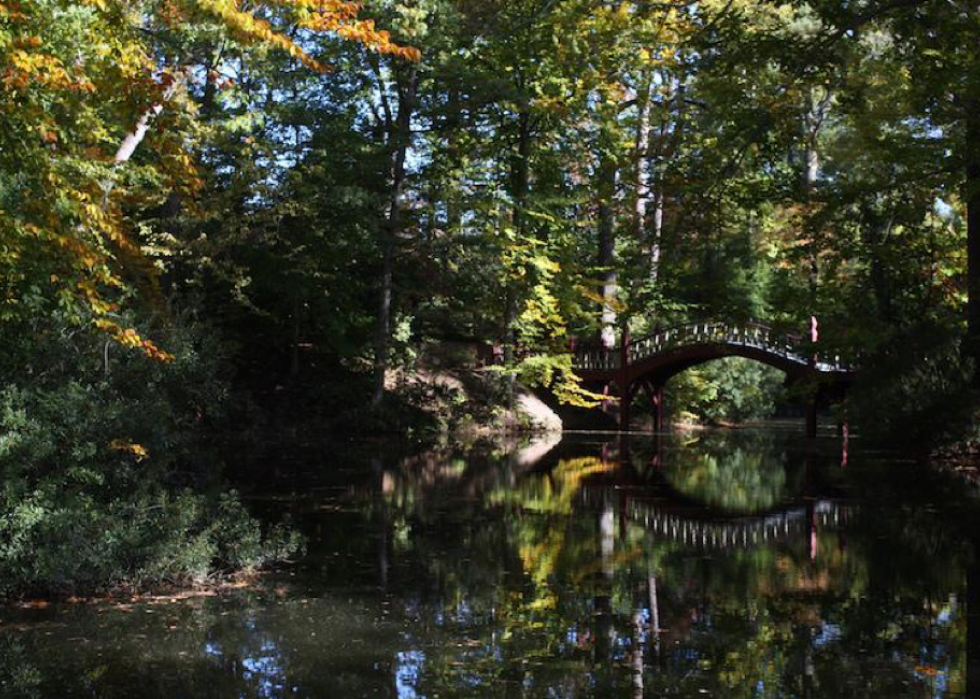 31 / 50
Sarah Ross // Flickr Commons
#20. The College of William & Mary - Williamsburg, VA
A academic leader in global sustainability, The College of William & Mary practices what it preaches by complementing classic architecture with natural surroundings. The Georgian and Anglo-Dutch-style buildings stand tall among the campus' 1,200 acres of woodlands. Visit the Crim Dell Pond during the fall season.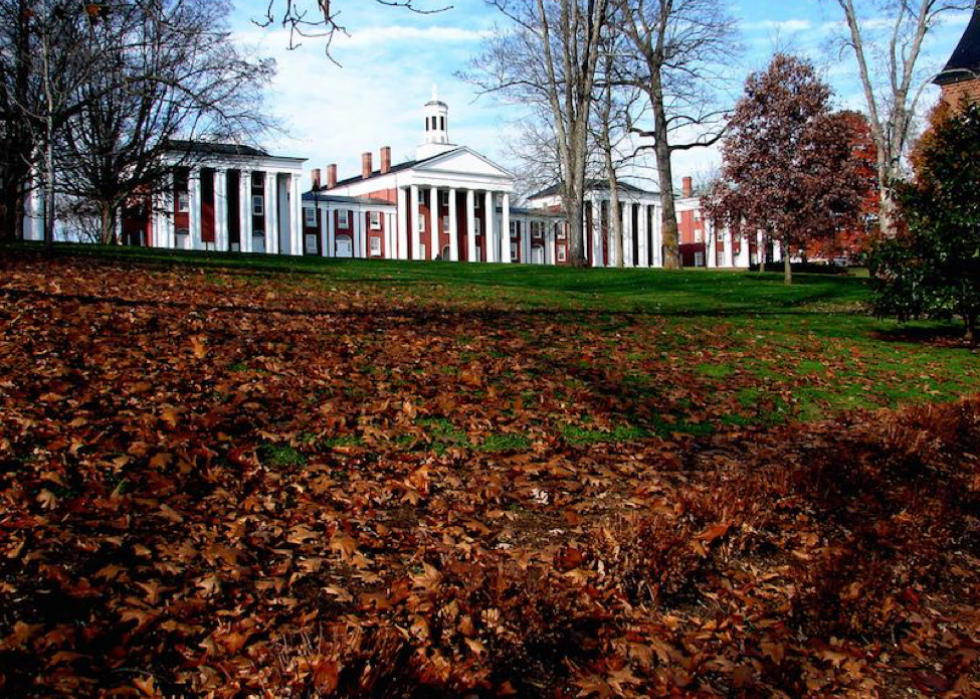 32 / 50
Bob Travis // Flickr Commons
#19. Washington and Lee University - Lexington, VA
The English poet John Drinkwater once said that the landscape surrounding this Virginia school was the most beautiful of any college in America. The school houses historical buildings, like the Colonnade and Lee Chapel (both are on the National Register of Historic Places). The surrounding natural beauty of the Allegheny and Blue Ridge mountains, as well as the Shenandoah Valley, provide a lovely stop on your trip south.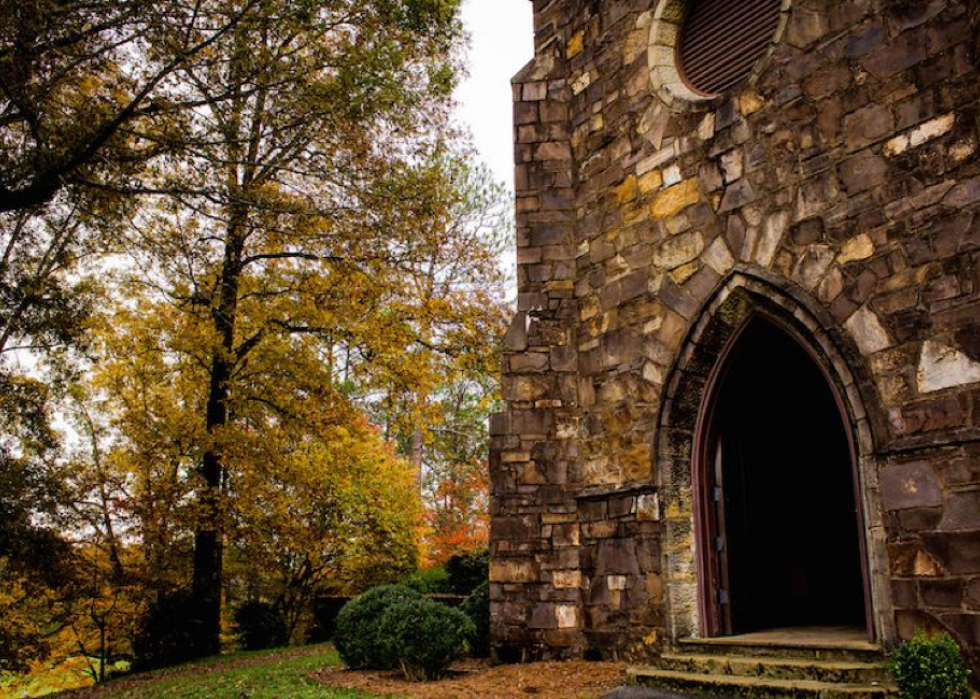 33 / 50
Shane Clements // Flickr Commons
#18. Berry College - Mount Berry, GA
There's much to explore at Berry College: with lakes, woodlands, mountains and over 27,000 acres of fields, it's the world's largest contiguous college campus. But if you're short on time, the English Gothic-inspired buildings provided by Henry Ford (Ford Auditorium and Mary Hall) flanked by fountains and reflecting pools are worth a visit.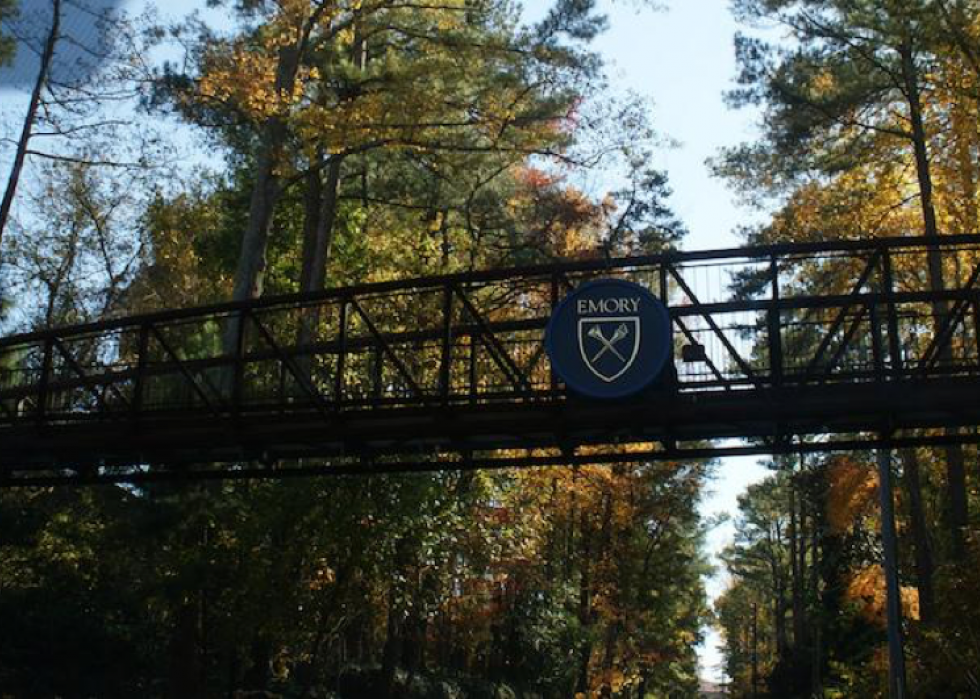 34 / 50
Yaniv Yaakubovich // Flickr Commons
#17. Emory University - Druid Hills, GA
Sitting northeast of Atlanta is Emory University, a taste of the beauty the South has to offer in the fall. Take a walk through Fernbank Forest and the Natural History Museum to help take it all in.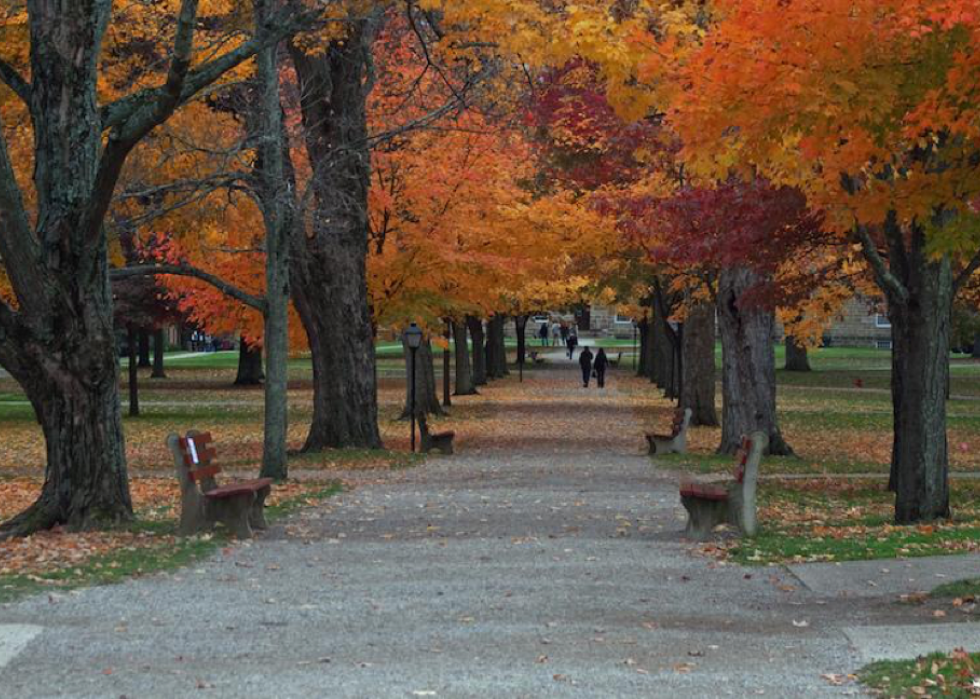 35 / 50
Larry Miller // Flickr Commons
#16. Kenyon College - Gambier, OH
Along with this Ohio school's beautiful Gothic architecture, visible in Richard L. and Helen Thomas Hall and Old Kenyan Hall, Kenyon College also offers visitors and students the Middle Path — a walkway beneath the branches of massive sycamore, white oaks, beech, and maple trees that truly comes alive in the fall.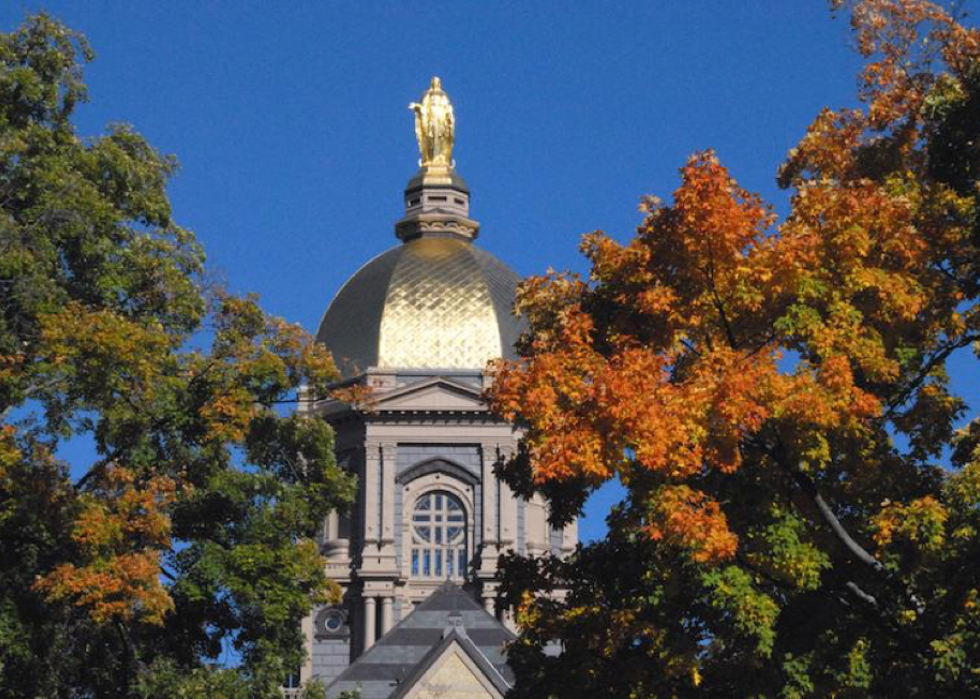 36 / 50
Dan Dzurisin // Flickr Commons
#15. University of Notre Dame - Notre Dame, IN
Those visiting Notre Dame's campus can enjoy trails and the natural beauty of various sweetgums, maples and yellow cucumber trees. Most spots in the "God Quad" provide lovely views of both St. Mary and St. Joseph's Lakes.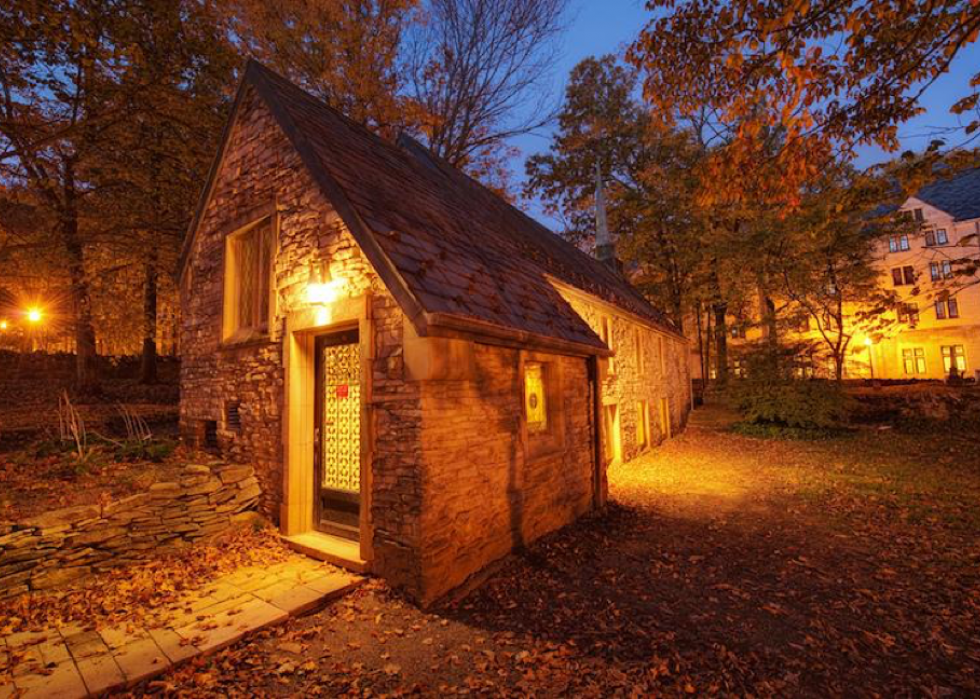 37 / 50
Justin Kern // Flickr Commons
#14. Indiana University - Bloomington, IN
To explore IU's flagship campus is to enjoy a deep red brick path that goes from campus through Dunn Woods, which holds 80 species of trees. Among the colors of fall, the Student Building's clock tower looks especially impressive.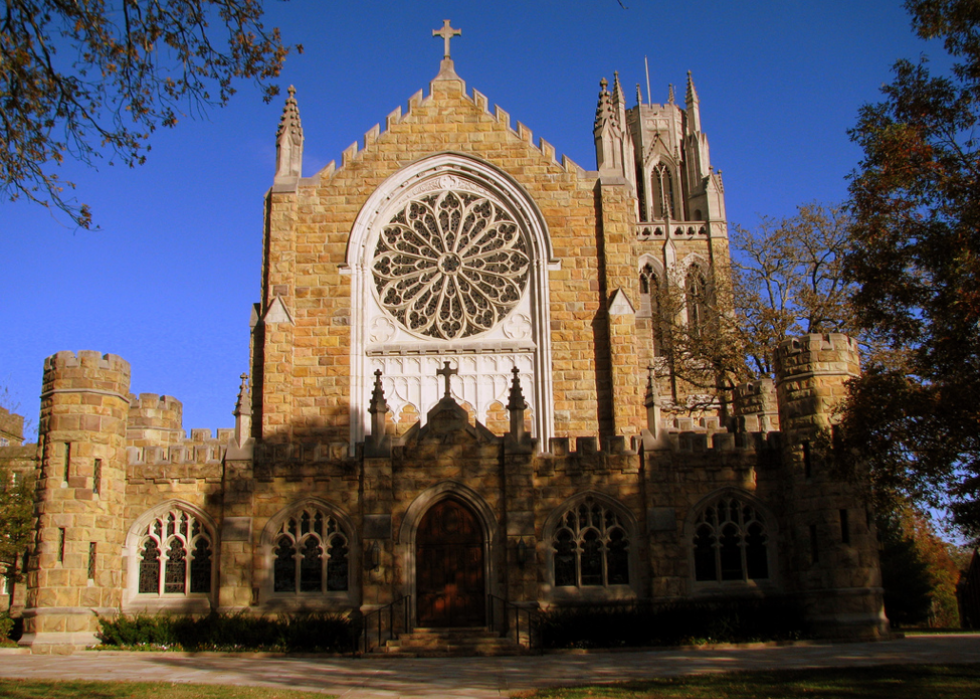 38 / 50
Brent Moore // Flickr Commons
#13. The University of the South - Sewanee, TN
Visitors can thank Sewanee's elevated location on the Tennessee Cumberland Plateau for its spectacular fall foliage. Among the leaves, the school's Gothic-style All Saints' Chapel is an awe-inspiring structure, featuring a rose window based on the of the south transept of Notre Dame Cathedral in Paris.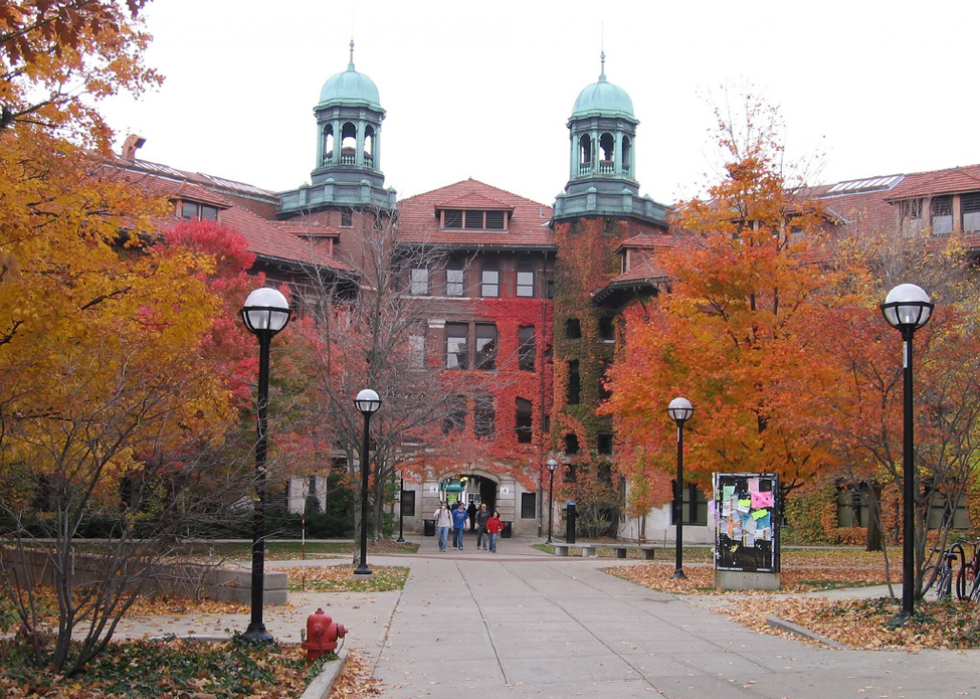 39 / 50
Michael Caroe Andersen // Flickr Commons
#12. University of Michigan - Ann Arbor, MI
As we move further west, the University of Michigan's Ann Arbor (named for its bur oak trees) campus is a must-see. If you can't fit seeing all 700 acres of campus and 16,000 trees (understandably), walk along the Huron River that runs through the grounds or visit the Matthaei Botanical Gardens.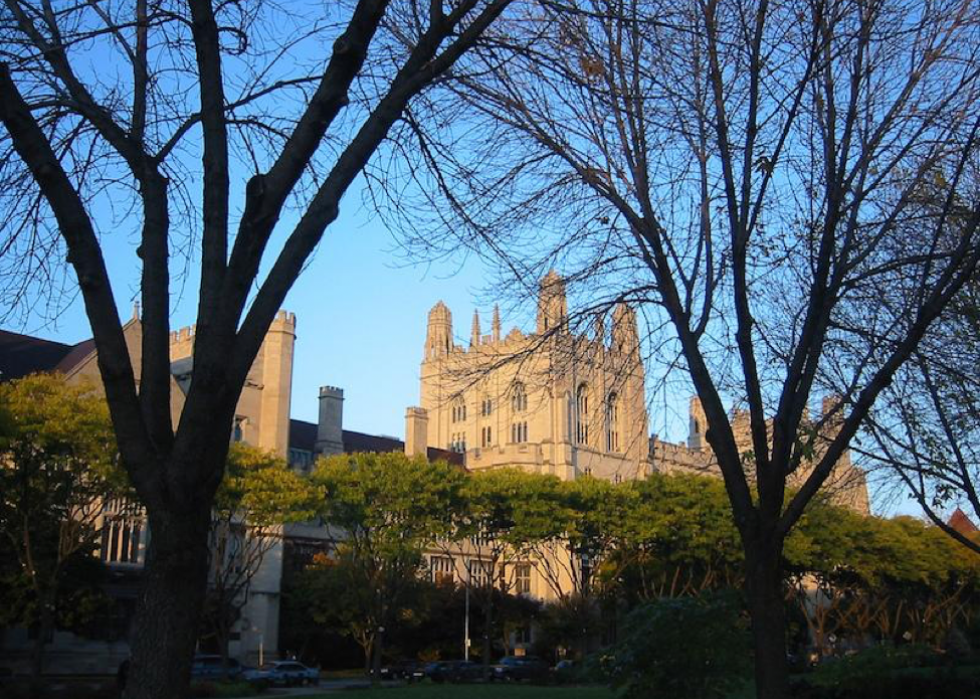 40 / 50
Josh Evnin // Flickr Commons
#11. University of Chicago - Chicago, IL
The University of Chicago may be an urban campus (located in Chicago's Hyde Park), but many of the school's Gothic-style buildings are worth a visit. In fact, many of its buildings are on the National Register of Historic Places.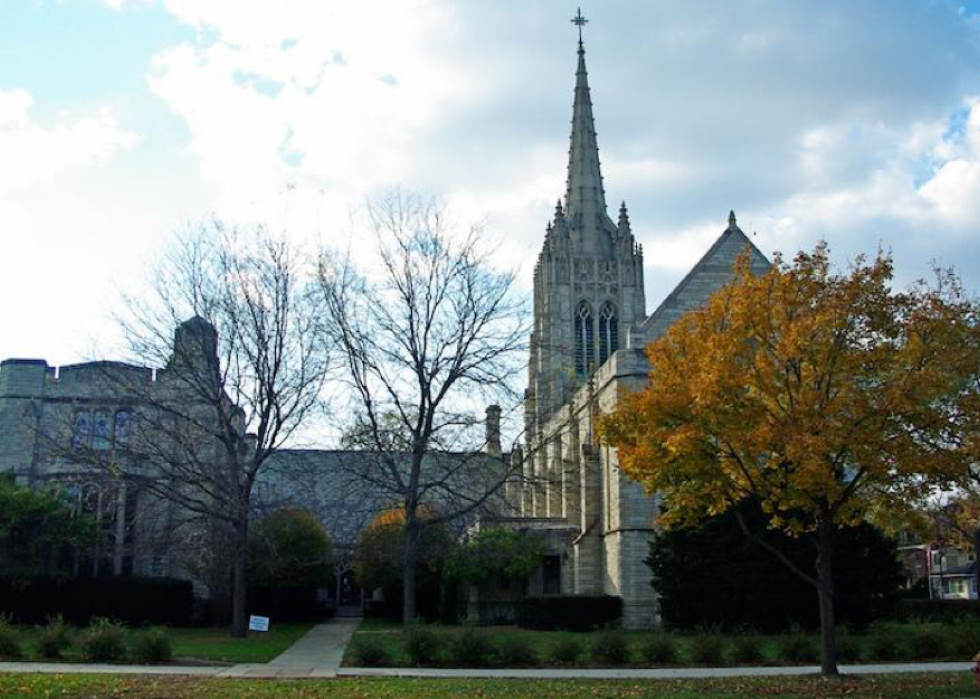 41 / 50
Pat M2007 // Flickr Commons
#10. Northwestern University - Evanston, IL
Tucked away from the excitement of Chicago, Northwestern's Evanston campus has the privilege of sitting on the serenely beautiful Lake Michigan.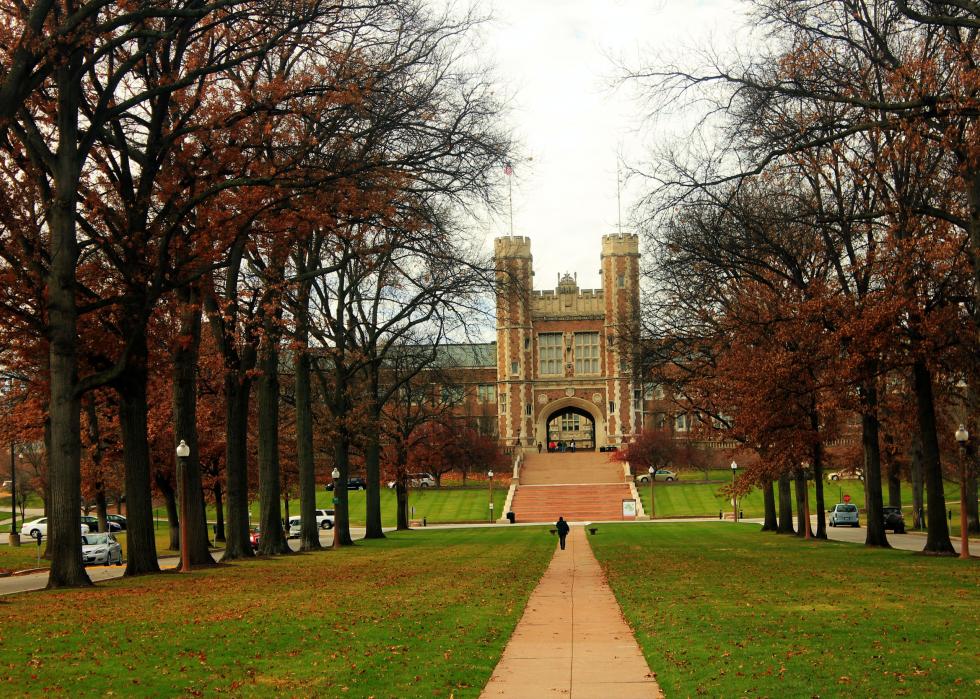 42 / 50
Danforth in St. Louis, Missouri // Good Free Photos
#9. Washington University in St. Louis - St. Louis, MO
This research university offers towering Gothic-style buildings among its 76 species of trees. Make sure to visit the red granite Benjamin Brown Graham Chapel and admire its stained-glass window, as well as Brookings Hall — a building flanked by lush green space and majestic trees.
43 / 50
Martin Patrick // Flickr Commons
#8. St. Olaf College - Northfield, MN
St. Olaf's campus, or "The Hill," features 325 acres of restored wetlands and native tallgrass prairies maintained by the school. Fall is a great time to visit the 15-acre Norway Valley, the oldest woodland area on campus that is full of native hardwood trees.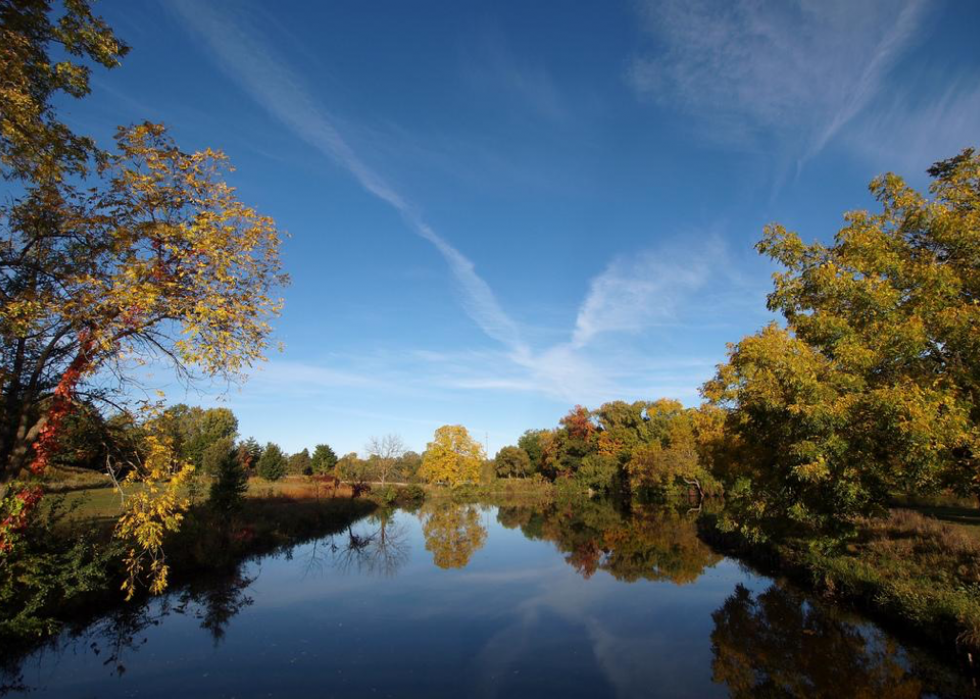 44 / 50
#7. Carleton College - Northfield, MN
From a seat at The Bald Spot on campus, you get a great view of serene collegiate life and fall foliage at Carleton. Leaves are especially striking near Lyman Lake or Cannon River — the perfect places to take afternoon strolls.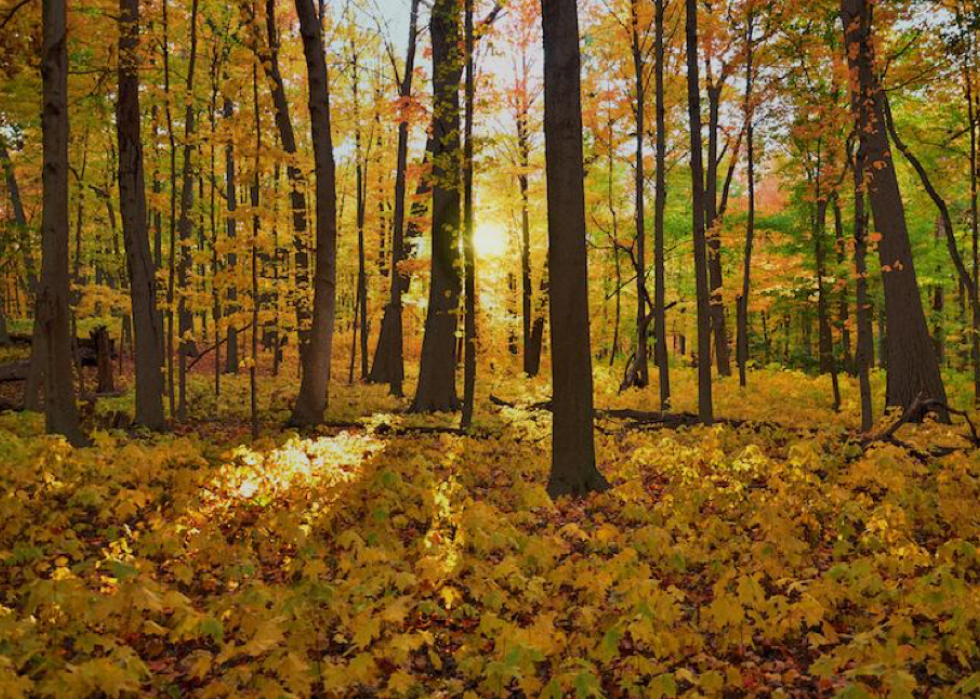 45 / 50
Richard Hurd // Flickr Commons
#6. University of Wisconsin-Madison - Madison, WI
UW-Madison is snuggled on the isthmus between Lake Mendota and Lake Monona, providing a lovely natural setting to visit or study. The best places to take in more flora and fauna during autumn include the University of Madison-Wisconsin Arboretum (with over 100 varieties of trees), the Longenecker Horticultural Gardens and the 300-acre Lakeshore Nature Preserve.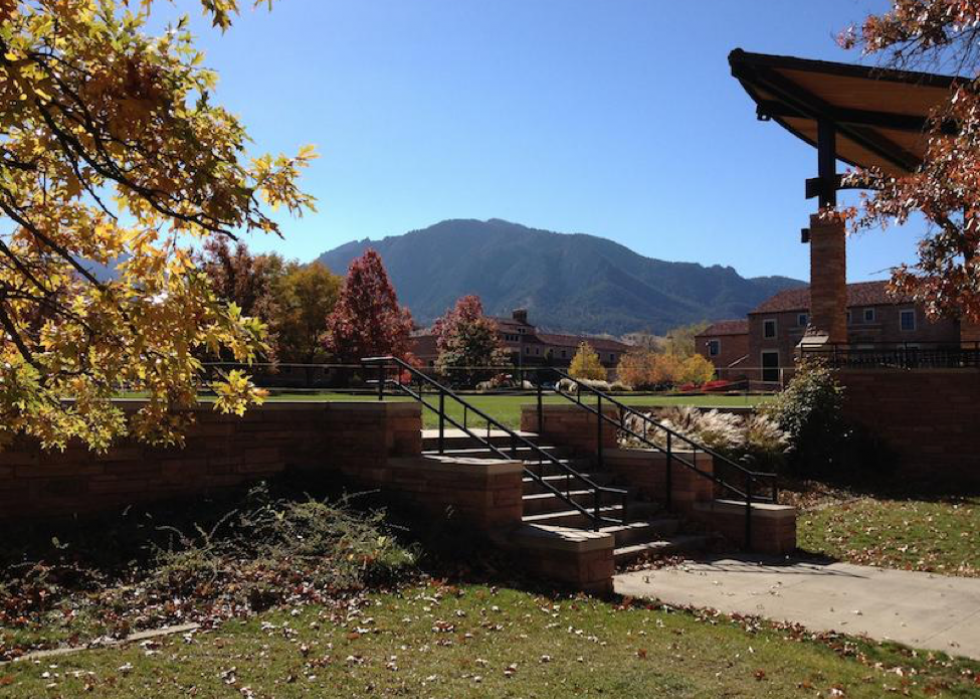 46 / 50
Gaurav Vaidya // Flickr Commons
#5. University of Colorado - Boulder, CO
The University of Colorado's Boulder campus showcases the classic rugged beauty of Colorado with the Rocky Mountains as a stunning backdrop. The grounds themselves complement their surroundings, with both Gothic and Tuscan Vernacular Revival-style buildings.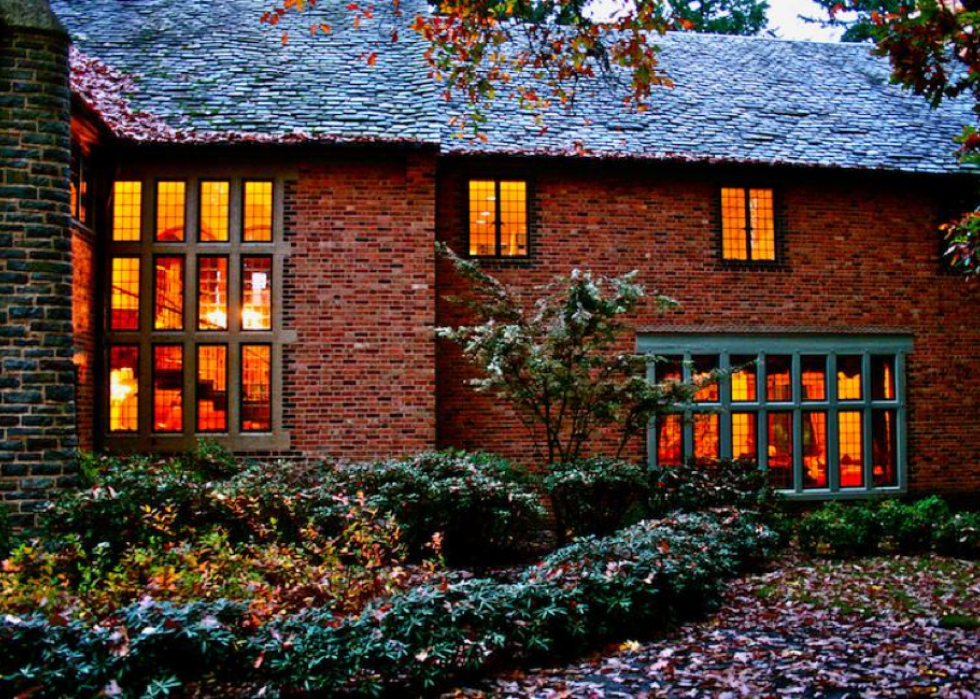 47 / 50
Curtis Cronn // Flickr Commons
#4. Lewis & Clark College - Portland, OR
Sitting atop Palatine Hill, Lewis & Clark College shares the lush 645-acre Tryon Creek State Natural Area, a delight to those who love to bike, hike and go leaf-peeping in the fall.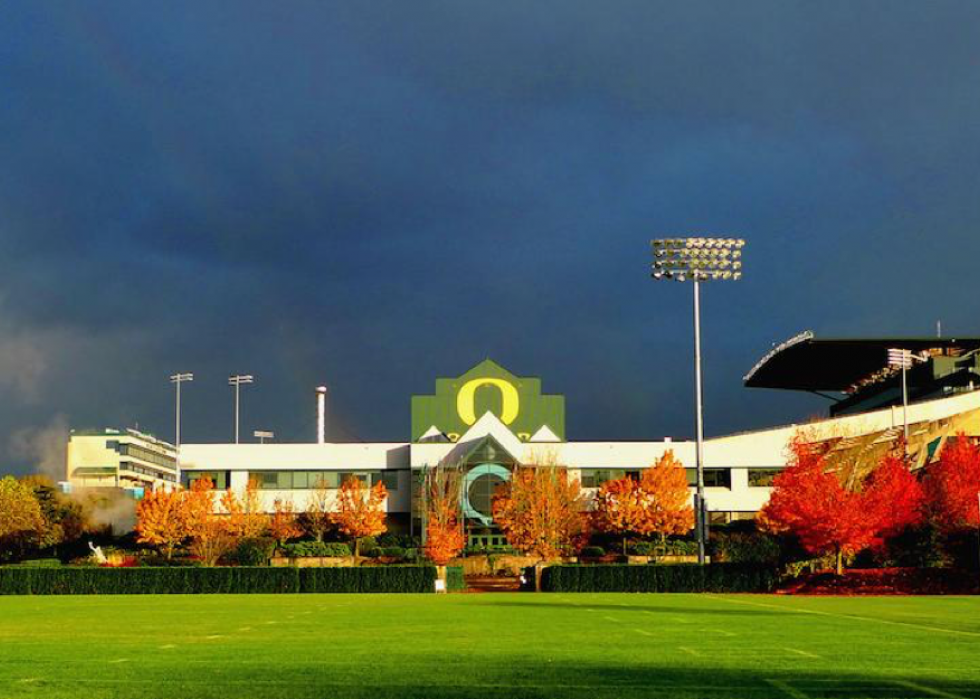 48 / 50
Wolfram Burner // Flickr Commons
#3. University of Oregon - Eugene, OR
U of O is a prime example of northwestern, outdoorsy culture. Situated near the Willamette River, Mackenzie River, Cascade Mountains and, of course, the Pacific Ocean, there are endless opportunities to see technicolor leaves and awe-inspiring views of nature. Eugene itself is nationally known as a top green city, as well. Visitors should catch the university's Fall Street Faire, a three-day outdoor festival and farmer's market.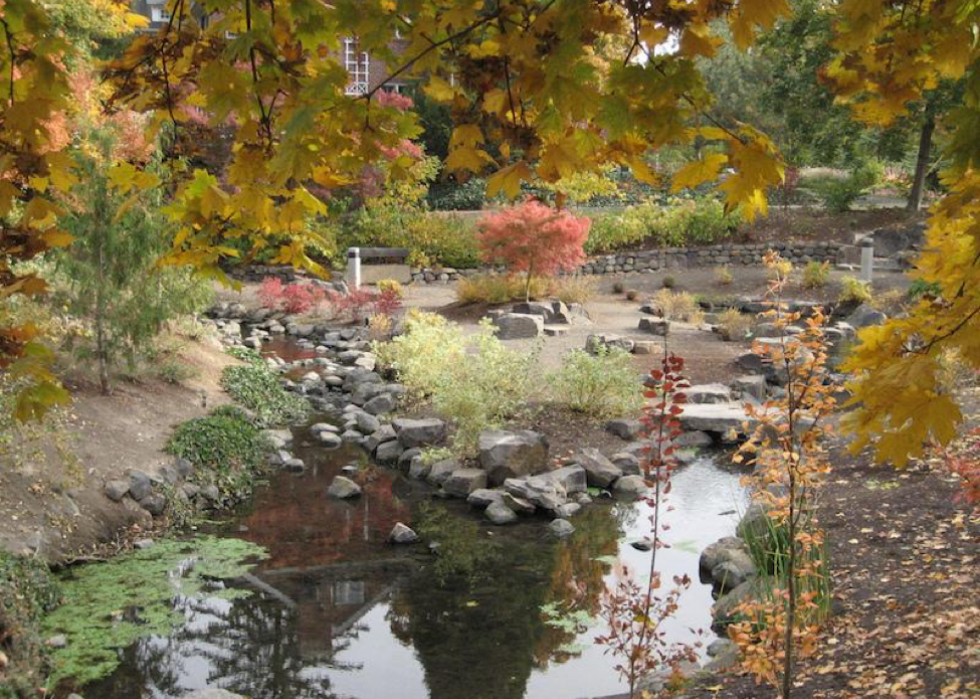 49 / 50
#2. Whitman College - Walla Walla, WA
Whitman's architecture is a mix of Victorian and more modern styles, enveloped in many trails, ponds and outdoor art to explore. The Walla Walla, Washington campus also has access to the Johnston Wilderness Campus, which is open to students for social and academic use.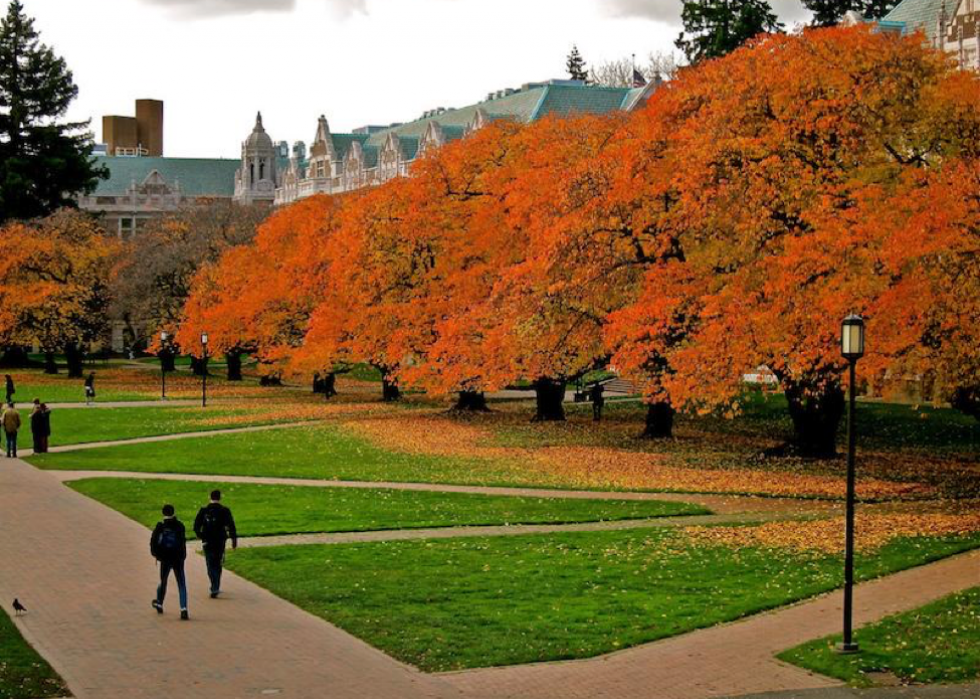 50 / 50
Curtis Cronn // Flickr Commons
#1. University of Washington - Seattle, WA
The University of Washington's campus proves that the West can compete with New England in the fall season. Students and visitors can marvel at Mount Rainer from the Drumheller Fountain and soak in the beauty of the French Renaissance Revival style of Denny Hall. Peppering the grounds with color are 500 species of trees, including sweetgums, sugar and Japanese maples.