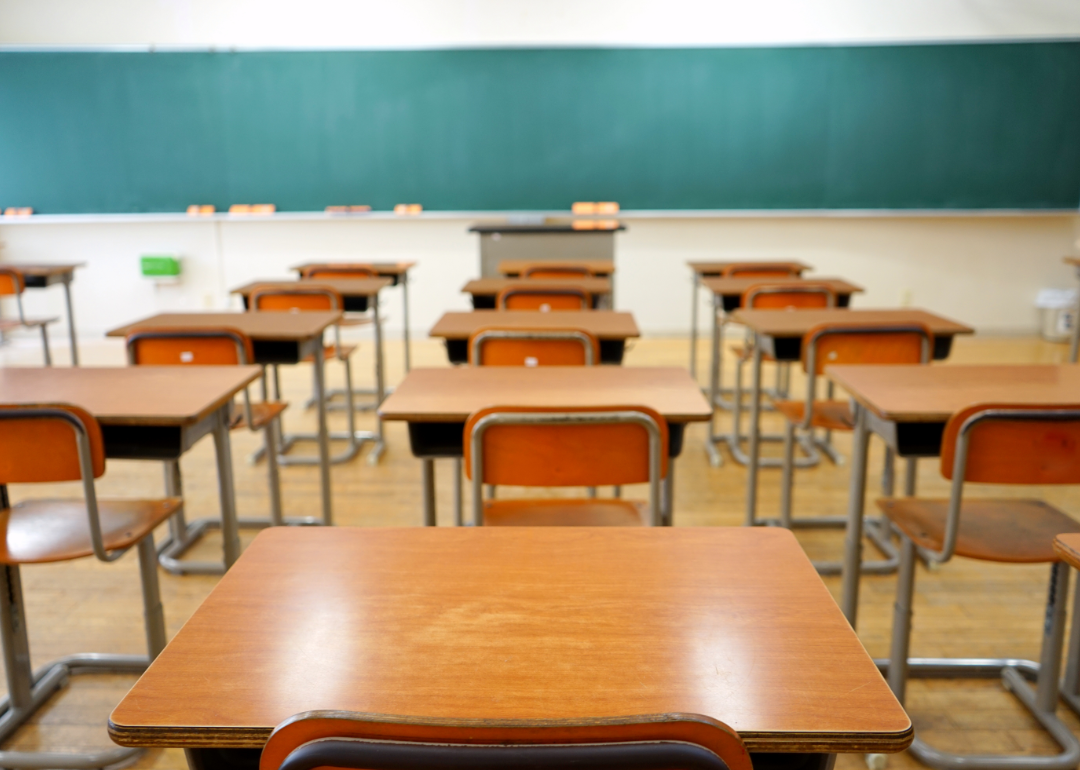 Best private high schools in America
Best private high schools in America
Education Secretary Betsy DeVos' 2017 Senate nomination reignited the national debate over whether public or private schools are better options for children's educational outcomes. Public school proponents argue that private schools, many of which are religious, often do not meet national standards for teacher qualifications, testing, or curriculum; and can discriminate against applicants for acceptance. Meanwhile, private school supporters say smaller class sizes, more diverse course offerings, and higher overall test scores can give students a leg up after graduation.
Regardless of which camp you're in, it's undeniable that certain private and public schools go above and beyond in providing for their students. Looking specifically at the private sector, Stacker analyzed Niche's 2019 Best Private High Schools to determine where in the country these schools are. Niche ranked schools based on the reviews of parents and students, the quality of colleges students consider, student-teacher ratio, and more, assigning letter grades to each school's academics, diversity, and extracurricular activities.
Read on to criss-cross the country from Georgia to California and find out which schools are using tuition dollars to best-prepare high schoolers for their adult lives.
#50. St. John's School
Location: Houston, TX
Number of students: 1,258
Yearly tuition: $27,545
Student-teacher ratio: 7:1
Academics grade: A+
Diversity grade: B
Clubs and activities grade: A+
#49. Hackley School
Location: Tarrytown, NY
Number of students: 834
Yearly tuition: $44,225
Student-teacher ratio: 8:1
Academics grade: A+
Diversity grade: A
Clubs and activities grade: A+
#48. The Bishop's School
Location: San Diego, CA
Number of students: 800
Yearly tuition: $36,290
Student-teacher ratio: 8:1
Academics grade: A+
Diversity grade: A
Clubs and activities grade: A
#47. Greenhill School
Location: Addison, TX
Number of students: 1,315
Yearly tuition: $31,675
Student-teacher ratio: 8:1
Academics grade: A+
Diversity grade: A+
Clubs and activities grade: A+
#46. The Hockaday School
Location: Dallas, TX
Number of students: 1,089
Yearly tuition: $29,000
Student-teacher ratio: 9:1
Academics grade: A+
Diversity grade: A-
Clubs and activities grade: A+
#45. Peddie School
Location: Hightstown, NJ
Number of students: 550
Yearly tuition: $48,800
Student-teacher ratio: 6:1
Academics grade: A+
Diversity grade: A
Clubs and activities grade: A+
#44. The Hotchkiss School
Location: Lakeville, CT
Number of students: 632
Yearly tuition: $48,080
Student-teacher ratio: 6:1
Academics grade: A+
Diversity grade: A
Clubs and activities grade: A
#43. The Pingry School
Location: Basking Ridge, NJ
Number of students: 1,128
Yearly tuition: $39,523
Student-teacher ratio: 8:1
Academics grade: A+
Diversity grade: A
Clubs and activities grade: A-
#42. Germantown Friends School
Location: Philadelphia, PA
Number of students: 906
Yearly tuition: $35,775
Student-teacher ratio: 7:1
Academics grade: A+
Diversity grade: NG
Clubs and activities grade: A+
#41. The Chapin School
Location: New York, NY
Number of students: 725
Yearly tuition: $43,000
Student-teacher ratio: 6:1
Academics grade: A+
Diversity grade: B+
Clubs and activities grade: A+
#40. The Loomis Chaffee School
Location: Windsor, CT
Number of students: 690
Yearly tuition: $45,360
Student-teacher ratio: 8:1
Academics grade: A+
Diversity grade: NG
Clubs and activities grade: A+
#39. Pine Crest School
Location: Fort Lauderdale, FL
Number of students: 2,636
Yearly tuition: $31,030
Student-teacher ratio: 5:1
Academics grade: A+
Diversity grade: B+
Clubs and activities grade: A+
#38. Riverdale Country School
Location: Bronx, NY
Number of students: 1,154
Yearly tuition: $42,805
Student-teacher ratio: 6:1
Academics grade: A+
Diversity grade: A-
Clubs and activities grade: A+
#37. Georgetown Day School
Location: Washington, DC
Number of students: 1,075
Yearly tuition: $39,788
Student-teacher ratio: 8:1
Academics grade: A+
Diversity grade: A
Clubs and activities grade: A+
#36. Hopkins School
Location: New Haven, CT
Number of students: 715
Yearly tuition: $42,200
Student-teacher ratio: 6:1
Academics grade: A+
Diversity grade: A-
Clubs and activities grade: A+
#35. University of Chicago Laboratory Schools
Location: Chicago, IL
Number of students: 2,051
Yearly tuition: $33,558
Student-teacher ratio: 8:1
Academics grade: A+
Diversity grade: A
Clubs and activities grade: A
#34. Middlesex School
Location: Concord, MA
Number of students: 406
Yearly tuition: $49,480
Student-teacher ratio: 4:1
Academics grade: A+
Diversity grade: A-
Clubs and activities grade: A+
#33. Cranbrook Schools
Location: Bloomfield HIlls, MI
Number of students: 1,659
Yearly tuition: $34,200
Student-teacher ratio: 7:1
Academics grade: A+
Diversity grade: A
Clubs and activities grade: A+
#32. Brearley School
Location: New York, NY
Number of students: 719
Yearly tuition: $49,680
Student-teacher ratio: 6:1
Academics grade: A+
Diversity grade: A
Clubs and activities grade: A+
#31. Cate School
Location: Carpinteria, CA
Number of students: 280
Yearly tuition: $49,700
Student-teacher ratio: 6:1
Academics grade: A+
Diversity grade: A
Clubs and activities grade: A+
#30. Head-Royce School
Location: Oakland, CA
Number of students: 875
Yearly tuition: $40,950
Student-teacher ratio: 7:1
Academics grade: A+
Diversity grade: A+
Clubs and activities grade: A+
#29. Crystal Springs Uplands School
Location: Hillsborough, CA
Number of students: 350
Yearly tuition: $42,430
Student-teacher ratio: 7:1
Academics grade: A+
Diversity grade: A
Clubs and activities grade: A
#28. Groton School
Location: Groton, MA
Number of students: 368
Yearly tuition: $43,400
Student-teacher ratio: 5:1
Academics grade: A+
Diversity grade: A
Clubs and activities grade: A+
#27. Noble and Greenough School
Location: Dedham, MA
Number of students: 614
Yearly tuition: $50,200
Student-teacher ratio: 5:1
Academics grade: A+
Diversity grade: A-
Clubs and activities grade: A+
#26. The Westminster Schools
Location: Atlanta, GA
Number of students: 1,874
Yearly tuition: $29,275
Student-teacher ratio: 7:1
Academics grade: A+
Diversity grade: A-
Clubs and activities grade: A+
#25. Newark Academy
Location: Livingston, NJ
Number of students: 598
Yearly tuition: $40,945
Student-teacher ratio: 7:1
Academics grade: A+
Diversity grade: A
Clubs and activities grade: A+
#24. Milton Academy
Location: Milton, MA
Number of students: 1,000
Yearly tuition: $47,330
Student-teacher ratio: 7:1
Academics grade: A+
Diversity grade: A
Clubs and activities grade: A+
#23. Dalton School
Location: New York, NY
Number of students: 1,322
Yearly tuition: $44,640
Student-teacher ratio: 8:1
Academics grade: A+
Diversity grade: A
Clubs and activities grade: A+
#22. Sidwell Friends School
Location: Washington, DC
Number of students: 1,145
Yearly tuition: $39,360
Student-teacher ratio: 8:1
Academics grade: A+
Diversity grade: A
Clubs and activities grade: A+
#21. Polytechnic School
Location: Pasadena, CA
Number of students: 859
Yearly tuition: $37,500
Student-teacher ratio: 7:1
Academics grade: A+
Diversity grade: A
Clubs and activities grade: A+
#20. The Thacher School
Location: Ojai, CA
Number of students: 246
Yearly tuition: $40,970
Student-teacher ratio: 6:1
Academics grade: A+
Diversity grade: A
Clubs and activities grade: A+
#19. Horace Mann School
Location: Bronx, NY
Number of students: 1,694
Yearly tuition: $48,600
Student-teacher ratio: 8:1
Academics grade: A+
Diversity grade: A-
Clubs and activities grade: A+
#18. Castilleja School
Location: Palo Alto, CA
Number of students: 438
Yearly tuition: $44,580
Student-teacher ratio: 9:1
Academics grade: A+
Diversity grade: A
Clubs and activities grade: A
#17. The Harker School
Location: San Jose, CA
Number of students: 2,048
Yearly tuition: $48,500
Student-teacher ratio: 10:1
Academics grade: A+
Diversity grade: B+
Clubs and activities grade: A
#16. Collegiate School
Location: New York, NY
Number of students: 651
Yearly tuition: $47,500
Student-teacher ratio: 8:1
Academics grade: A+
Diversity grade: A
Clubs and activities grade: A
#15. Winsor School
Location: Boston, MA
Number of students: 450
Yearly tuition: $44,300
Student-teacher ratio: 7:1
Academics grade: A+
Diversity grade: B+
Clubs and activities grade: A+
#14. Flintridge Preparatory School
Location: La Canada Flintridge, CA
Number of students: 500
Yearly tuition: $34,200
Student-teacher ratio: 7:1
Academics grade: A+
Diversity grade: A+
Clubs and activities grade: A+
#13. Deerfield Academy
Location: Deerfield, MA
Number of students: 658
Yearly tuition: $44,735
Student-teacher ratio: 5:1
Academics grade: A+
Diversity grade: A+
Clubs and activities grade: A+
#12. Regis High School
Location: New York, NY
Number of students: 529
Yearly tuition: $0
Student-teacher ratio: 8:1
Academics grade: A+
Diversity grade: A-
Clubs and activities grade: A+
#11. Stanford Online High School
Location: Stanford, CA
Number of students: 804
Yearly tuition: $22,850
Student-teacher ratio: 12:1
Academics grade: A+
Diversity grade: A+
Clubs and activities grade: NG
#10. The Lawrenceville School
Location: Lawrenceville, NJ
Number of students: 822
Yearly tuition: $51,440
Student-teacher ratio: 7:1
Academics grade: A+
Diversity grade: A
Clubs and activities grade: A+
#9. St. Paul's School
Location: Concord, NH
Number of students: 541
Yearly tuition: $55,000
Student-teacher ratio: 5:1
Academics grade: A+
Diversity grade: A+
Clubs and activities grade: A+
#8. The College Preparatory School
Location: Oakland, CA
Number of students: 363
Yearly tuition: $43,810
Student-teacher ratio: 7:1
Academics grade: A+
Diversity grade: A+
Clubs and activities grade: A
#7. Lakeside School
Location: Seattle, WA
Number of students: 838
Yearly tuition: $32,000
Student-teacher ratio: 9:1
Academics grade: A+
Diversity grade: A+
Clubs and activities grade: A+
#6. St. Mark's School of Texas
Location: Dallas, TX
Number of students: 863
Yearly tuition: $29,496
Student-teacher ratio: 9:1
Academics grade: A+
Diversity grade: A
Clubs and activities grade: A+
#5. Choate Rosemary Hall
Location: Wallingford, CT
Number of students: 859
Yearly tuition: $43,580
Student-teacher ratio: 4:1
Academics grade: A+
Diversity grade: NG
Clubs and activities grade: A+
#4. Trinity School
Location: New York, NY
Number of students: 1,001
Yearly tuition: $47,965
Student-teacher ratio: 6:1
Academics grade: A+
Diversity grade: A
Clubs and activities grade: A+
#3. Phillips Exeter Academy
Location: Exeter, NH
Number of students: 1,085
Yearly tuition: $38,740
Student-teacher ratio: 5:1
Academics grade: A+
Diversity grade: A
Clubs and activities grade: A+
#2. Harvard-Westlake School
Location: Studio City, CA
Number of students: 1,598
Yearly tuition: $35,900
Student-teacher ratio: 8:1
Academics grade: A+
Diversity grade: A+
Clubs and activities grade: A+
#1. Phillips Academy
Location: Andover, MA
Number of students: 1,150
Yearly tuition: $43,300
Student-teacher ratio: 5:1
Academics grade: A+
Diversity grade: A+
Clubs and activities grade: A+