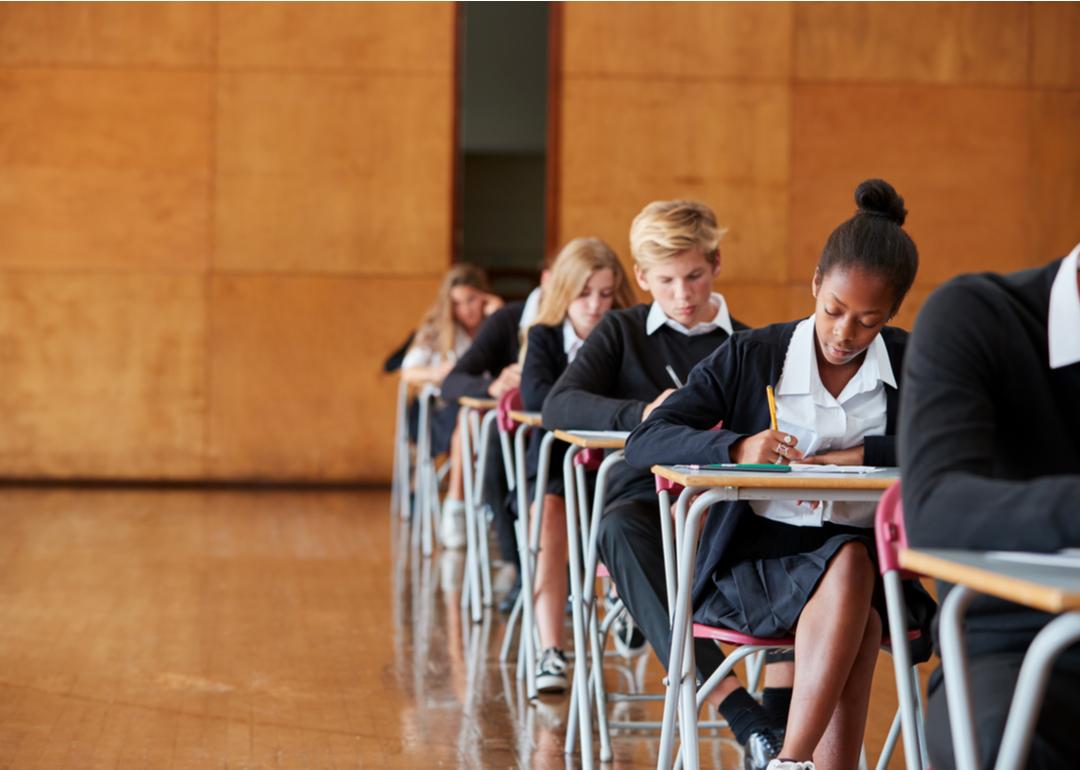 Best private high schools in America
Monkey Business Images // Shutterstock
Best private high schools in America
High school, as depicted in numerous TV shows and movies, is a glorious era of parties, young love, and even a spontaneous dance number or two. Anyone who actually had that high school experience might be a rare and lucky breed. The reality, for most, is lighter on the ragers and romance—heavier on the SATs and general awkwardness.
Even with the inevitable drudgery of algebra tests and social anxiety, high school can be an important time in a person's life. Going to a good school can help set teenagers up for success later on. In fact, studies have shown that individual high school grades, even more than standardized test scores, are a strong predictor of how successful and happy a student is later in life. Sending a student to a school that allows him or her to thrive in the classroom on a daily basis can be one beneficial move in the long term.
So, what actually makes a school great? Some students might answer that they value an emphasis on actual learning over cramming information, while others might say that any school without in-class presentations is a paradise. Many might agree that a great school pays special attention to each and every student, offers a range of activities and opportunities, and ensures that each student is learning the things that will allow them to succeed.
Stacker has analyzed data obtained from Niche in order to create this ranking of the best private schools in the U.S. Niche accounts for self-reported data from Niche users in areas like ACT/SAT scores and overall school experience, as well as data from the U.S. Department of Education on college enrollment, student-teacher ratios, and diversity. This data is all current as of March 1, 2019. Read on to find out which U.S. private high schools are bringing their A game across the board.
You might also like: States investing the most in their school's infrastructure
#100. Strake Jesuit College Preparatory School
- Location: Houston, TX
- Grades offered: 9-12
- School type: private, catholic, all-boys
- Tuition: $20,800
- Number of students: 1,151
- Graduation rate: 99%
- Teacher ratio: 11:1
- Diversity: White: 51.6%, Hispanic: 24%, Asian: 10.9%, African American: 8.3%, Multiracial: 5.2%, Native American: 0%, Pacific Islander: 0%
#99. American Heritage School - Boca Delray Campus
- Location: Delray Beach, FL
- Grades offered: PK, K-12
- School type: private
- Tuition: $29,467
- Number of students: 1,476
- Graduation rate: 100%
- Teacher ratio: 5:1
- Diversity: White: 47.6%, Hispanic: 21.8%, Asian: 10.8%, African American: 9.5%, Multiracial: 5.1%, Native American: 3.8%, International: 1.4%, Pacific Islander: 0%
#98. The Blake School
- Location: Hopkins, MN
- Grades offered: PK, K-12
- School type: private
- Tuition: $29,025
- Number of students: 1,380
- Graduation rate: data not available
- Teacher ratio: 11:1
- Diversity: White: 73.7%, Multiracial: 10.2%, Asian: 9.9%, African American: 4.4%, Hispanic: 1.2%, Native American: 0.5%, Pacific Islander: 0.2%
#97. The Baldwin School
- Location: Bryn Mawr, PA
- Grades offered: PK, K-12
- School type: private, all-girls
- Tuition: $37,250
- Number of students: 584
- Graduation rate: 100%
- Teacher ratio: 7:1
- Diversity: White: 62.5%, African American: 15.9%, Asian: 13.2%, Multiracial: 6%, Hispanic: 2.4%, Pacific Islander: 0.2%, Native American: 0%
#96. Cistercian Preparatory School
- Location: Irving, TX
- Grades offered: 5-12
- School type: private, catholic, all-boys
- Tuition: $18,800
- Number of students: 349
- Graduation rate: data not available
- Teacher ratio: 6:1
- Diversity: White: 68%, Hispanic: 12.4%, Asian: 9.8%, Multiracial: 8.4%, African American: 1.2%, Pacific Islander: 0.3%, Native American: 0%
#95. The Webb Schools
- Location: Claremont, CA
- Grades offered: 9-12
- School type: private, boarding
- Tuition: $45,225
- Number of students: 416
- Graduation rate: 100%
- Teacher ratio: 8:1
- Diversity: White: 49%, Asian: 34.9%, African American: 5%, Hispanic: 5%, Multiracial: 5%, Native American: 1%, Pacific Islander: 0%
#94. Oregon Episcopal School
- Location: Portland, OR
- Grades offered: PK, K-12
- School type: private, boarding, episcopal
- Tuition: $32,200
- Number of students: 868
- Graduation rate: 100%
- Teacher ratio: 8:1
- Diversity: White: 55.4%, Multiracial: 18%, Asian: 14.7%, International: 5.6%, Hispanic: 2.8%, Unknown: 2.4%, African American: 0.9%, Native American: 0.1%, Pacific Islander: 0%
#93. The Awty International School
- Location: Houston, TX
- Grades offered: PK, K-12
- School type: private
- Tuition: $26,910
- Number of students: 1,644
- Graduation rate: 100%
- Teacher ratio: 7:1
- Diversity: International: 37.7%, White: 26.3%, Multiracial: 12.7%, Hispanic: 9.5%, Asian: 8.4%, African American: 2.9%, Unknown: 2.4%, Native American: 0.1%, Pacific Islander: 0%
#92. The Spence School
- Location: New York, NY
- Grades offered: K-12
- School type: private, all-girls
- Tuition: $47,410
- Number of students: 751
- Graduation rate: 100%
- Teacher ratio: 7:1
- Diversity: White: 61.8%, Multiracial: 15.8%, Asian: 10%, African American: 7.9%, Hispanic: 4.5%, Native American: 0%, Pacific Islander: 0%
#91. The Kinkaid School
- Location: Houston, TX
- Grades offered: PK, K-12
- School type: private
- Tuition: $25,000
- Number of students: 1,423
- Graduation rate: data not available
- Teacher ratio: 10:1
- Diversity: White: 77.9%, Asian: 7.9%, Multiracial: 5.6%, Hispanic: 4.4%, African American: 4.1%, Native American: 0.2%, Pacific Islander: 0%
#90. St. Stephen's Episcopal School
- Location: Austin, TX
- Grades offered: 6-12
- School type: private, boarding, episcopal
- Tuition: $28,390
- Number of students: 696
- Graduation rate: 100%
- Teacher ratio: 6:1
- Diversity: White: 51.6%, International: 15.1%, Hispanic: 10.9%, Asian: 9.3%, Multiracial: 6.3%, African American: 5.2%, Unknown: 1.6%, Native American: 0%, Pacific Islander: 0%
#89. Concord Academy
- Location: Concord, MA
- Grades offered: 9-12
- School type: private, boarding
- Tuition: $50,445
- Number of students: 404
- Graduation rate: data not available
- Teacher ratio: 6:1
- Diversity: White: 51.2%, Asian: 11.6%, Multiracial: 10.6%, International: 9.7%, Hispanic: 6.7%, African American: 6.4%, Unknown: 3.7%, Native American: 0%, Pacific Islander: 0%
#88. Crossroads School for Arts & Sciences
- Location: Santa Monica, CA
- Grades offered: K-12
- School type: private
- Tuition: $38,002
- Number of students: 1,174
- Graduation rate: data not available
- Teacher ratio: 8:1
- Diversity: White: 59.5%, Multiracial: 22%, African American: 7.4%, Hispanic: 6.2%, Asian: 4.9%, Native American: 0%, Pacific Islander: 0%
#87. St. Mark's School
- Location: Southborough, MA
- Grades offered: 9-12
- School type: private, boarding, episcopal
- Tuition: $48,750
- Number of students: 365
- Graduation rate: data not available
- Teacher ratio: 4:1
- Diversity: White: 58.9%, Asian: 27.7%, African American: 5.2%, Multiracial: 4.4%, Hispanic: 3.6%, Native American: 0.3%, Pacific Islander: 0%
#86. Shady Side Academy
- Location: Pittsburgh, PA
- Grades offered: PK, K-12
- School type: private, boarding
- Tuition: $30,975
- Number of students: 1,032
- Graduation rate: 100%
- Teacher ratio: 8:1
- Diversity: White: 67.4%, Asian: 14%, Multiracial: 8.5%, African American: 6.2%, International: 2.4%, Hispanic: 1.3%, Pacific Islander: 0.2%, Native American: 0%
#85. Convent of the Sacred Heart
- Location: New York, NY
- Grades offered: PK, K-12
- School type: private, catholic, all-girls
- Tuition: $46,524
- Number of students: 710
- Graduation rate: data not available
- Teacher ratio: 7:1
- Diversity: White: 65.9%, Multiracial: 16%, Asian: 7.2%, Hispanic: 5.9%, African American: 3.7%, Pacific Islander: 1.3%, Native American: 0%
#84. Poly Prep Country Day School
- Location: Brooklyn, NY
- Grades offered: PK, K-12
- School type: private
- Tuition: $46,035
- Number of students: 1,080
- Graduation rate: 100%
- Teacher ratio: 6:1
- Diversity: White: 60.8%, Multiracial: 16.7%, African American: 11.6%, Hispanic: 5.7%, Asian: 5.1%, Native American: 0.1%, Pacific Islander: 0%
#83. Catlin Gabel School
- Location: Portland, OR
- Grades offered: PK, K-12
- School type: private
- Tuition: $32,700
- Number of students: 763
- Graduation rate: 100%
- Teacher ratio: 9:1
- Diversity: White: 56.5%, Multiracial: 20.2%, Asian: 13.8%, African American: 3.9%, Unknown: 2.9%, Hispanic: 2.1%, Pacific Islander: 0.5%, Native American: 0.1%
#82. Woodside Priory School
- Location: Portola Valley, CA
- Grades offered: 6-12
- School type: private, boarding, catholic
- Tuition: $45,500
- Number of students: 375
- Graduation rate: 100%
- Teacher ratio: 6:1
- Diversity: White: 53.3%, Asian: 13.9%, Multiracial: 12%, Hispanic: 9.3%, International: 8%, African American: 4%, Pacific Islander: 1.1%, Native American: 0.3%
#81. Lick-Wilmerding High School
- Location: San Francisco, CA
- Grades offered: 9-12
- School type: private
- Tuition: $44,127
- Number of students: 490
- Graduation rate: data not available
- Teacher ratio: 9:1
- Diversity: White: 56.5%, Asian: 21.4%, African American: 10.8%, Hispanic: 10.4%, Native American: 0.6%, Pacific Islander: 0.2%, Multiracial: 0%
#80. Maret School
- Location: Washington, DC
- Grades offered: K-12
- School type: private
- Tuition: $36,730
- Number of students: 651
- Graduation rate: data not available
- Teacher ratio: 6:1
- Diversity: White: 56.7%, African American: 17.2%, Multiracial: 15.5%, Asian: 6.8%, Hispanic: 3.8%, Native American: 0%, Pacific Islander: 0%
#79. Delbarton School
- Location: Morristown, NJ
- Grades offered: 7-12
- School type: private, catholic, all-boys
- Tuition: $38,900
- Number of students: 588
- Graduation rate: 100%
- Teacher ratio: 7:1
- Diversity: White: 79.1%, Asian: 7.8%, Hispanic: 5.4%, Multiracial: 3.6%, African American: 2.2%, Unknown: 1.7%, Pacific Islander: 0.2%, Native American: 0%
#78. Cary Academy
- Location: Cary, NC
- Grades offered: 6-12
- School type: private
- Tuition: $22,400
- Number of students: 753
- Graduation rate: data not available
- Teacher ratio: 10:1
- Diversity: White: 67.7%, Asian: 15.5%, Multiracial: 7.7%, African American: 5.4%, Hispanic: 3.6%, Native American: 0%, Pacific Islander: 0%
#77. Chadwick School
- Location: Palos Verdes Peninsula, CA
- Grades offered: K-12
- School type: private
- Tuition: $37,420
- Number of students: 830
- Graduation rate: data not available
- Teacher ratio: 7:1
- Diversity: White: 57%, Asian: 19%, Multiracial: 14.1%, African American: 6.5%, Hispanic: 3.4%, Native American: 0%, Pacific Islander: 0%
#76. Packer Collegiate Institute
- Location: Brooklyn, NY
- Grades offered: PK, K-12
- School type: private
- Tuition: $44,700
- Number of students: 998
- Graduation rate: data not available
- Teacher ratio: 7:1
- Diversity: White: 71.8%, Asian: 11.9%, Multiracial: 7.3%, African American: 4.8%, Hispanic: 4.2%, Native American: 0.1%, Pacific Islander: 0%
#75. Keystone School
- Location: San Antonio, TX
- Grades offered: PK, K-12
- School type: private
- Tuition: $19,355
- Number of students: 495
- Graduation rate: 100%
- Teacher ratio: 7:1
- Diversity: White: 38%, Hispanic: 24.4%, Asian: 17.8%, Multiracial: 10.1%, Unknown: 5.3%, African American: 3.6%, Pacific Islander: 0.6%, Native American: 0.2%
#74. Dwight-Englewood School
- Location: Englewood, NJ
- Grades offered: PK, K-12
- School type: private
- Tuition: $41,780
- Number of students: 947
- Graduation rate: data not available
- Teacher ratio: 9:1
- Diversity: Multiracial: 49.4%, Asian: 24.4%, African American: 11.6%, Native American: 9%, Hispanic: 5.1%, Pacific Islander: 0.4%, White: 0%
#73. San Francisco University High School
- Location: San Francisco, CA
- Grades offered: 9-12
- School type: private
- Tuition: $44,750
- Number of students: 410
- Graduation rate: 100%
- Teacher ratio: 6:1
- Diversity: White: 50.2%, Asian: 19.3%, Multiracial: 14.1%, Hispanic: 6.3%, African American: 5.1%, Unknown: 3.7%, Pacific Islander: 1%, Native American: 0.2%
#72. Buckingham Browne & Nichols School
- Location: Cambridge, MA
- Grades offered: PK, K-12
- School type: private
- Tuition: $43,970
- Number of students: 1,017
- Graduation rate: data not available
- Teacher ratio: 7:1
- Diversity: White: 70.9%, Asian: 11.8%, Multiracial: 7.1%, Hispanic: 5.4%, African American: 4.7%, Native American: 0.2%, Pacific Islander: 0%
#71. Pace Academy
- Location: Atlanta, GA
- Grades offered: K-12
- School type: private
- Tuition: $26,180
- Number of students: 1,041
- Graduation rate: data not available
- Teacher ratio: 6:1
- Diversity: White: 33.7%, African American: 30.2%, Asian: 18.6%, Hispanic: 10.7%, Multiracial: 6.7%, Native American: 0%, Pacific Islander: 0%
#70. The Roxbury Latin School
- Location: West Roxbury, MA
- Grades offered: 7-12
- School type: private, all-boys
- Tuition: $30,500
- Number of students: 302
- Graduation rate: data not available
- Teacher ratio: 7:1
- Diversity: White: 79%, African American: 9%, Asian: 7%, Hispanic: 3%, Multiracial: 0%, Native American: 0%, Pacific Islander: 0%
#69. The Branson School
- Location: Ross, CA
- Grades offered: 9-12
- School type: private
- Tuition: $42,285
- Number of students: 321
- Graduation rate: data not available
- Teacher ratio: 7:1
- Diversity: White: 62.9%, Asian: 27.4%, Multiracial: 3.7%, Hispanic: 3.4%, African American: 2.2%, Pacific Islander: 0.3%, Native American: 0%
#68. Menlo School
- Location: Atherton, CA
- Grades offered: 6-12
- School type: private
- Tuition: $42,830
- Number of students: 795
- Graduation rate: data not available
- Teacher ratio: 7:1
- Diversity: White: 65%, Asian: 16%, Multiracial: 9%, African American: 5%, Hispanic: 2%, Native American: 0%, Pacific Islander: 0%
#67. The Taft School
- Location: Watertown, CT
- Grades offered: 9-12
- School type: private, boarding
- Tuition: $45,600
- Number of students: 606
- Graduation rate: 100%
- Teacher ratio: 5:1
- Diversity: White: 65.8%, Asian: 14.9%, African American: 6.6%, Multiracial: 4.6%, Hispanic: 4.1%, Unknown: 2.3%, Pacific Islander: 1.2%, Native American: 0.5%
#66. Lake Forest Academy
- Location: Lake Forest, IL
- Grades offered: 9-12
- School type: private, boarding
- Tuition: $44,400
- Number of students: 434
- Graduation rate: 100%
- Teacher ratio: 6:1
- Diversity: White: 41.9%, International: 25.8%, Asian: 12%, African American: 6.9%, Multiracial: 6.9%, Hispanic: 6%, Native American: 0.5%, Pacific Islander: 0%
#65. Windward School
- Location: Los Angeles, CA
- Grades offered: 7-12
- School type: private
- Tuition: $37,285
- Number of students: 550
- Graduation rate: 100%
- Teacher ratio: 5:1
- Diversity: White: 69.5%, Multiracial: 13.1%, Asian: 8.4%, African American: 5.1%, Hispanic: 3.3%, Pacific Islander: 0.5%, Native American: 0.2%
#64. The Overlake School
- Location: Redmond, WA
- Grades offered: 5-12
- School type: private
- Tuition: $31,460
- Number of students: 527
- Graduation rate: data not available
- Teacher ratio: 8:1
- Diversity: Multiracial: 46.7%, White: 30.7%, Asian: 16.9%, Hispanic: 3.2%, African American: 2.1%, Native American: 0.4%, Pacific Islander: 0%
#63. Detroit Country Day School
- Location: Beverly Hills, MI
- Grades offered: PK, K-12
- School type: private
- Tuition: $29,175
- Number of students: 1,522
- Graduation rate: data not available
- Teacher ratio: 8:1
- Diversity: Unknown: 54%, White: 23%, Asian: 8%, African American: 4%, Multiracial: 2%, Hispanic: 1%, Native American: 0%, Pacific Islander: 0%
#62. Holton-Arms School
- Location: Bethesda, MD
- Grades offered: 3-12
- School type: private, all-girls
- Tuition: $40,150
- Number of students: 660
- Graduation rate: data not available
- Teacher ratio: 8:1
- Diversity: White: 59.1%, Multiracial: 15.6%, Asian: 11.8%, African American: 10.8%, Hispanic: 2.7%, Native American: 0%, Pacific Islander: 0%
#61. American Heritage School - Plantation Campus
- Location: Plantation, FL
- Grades offered: PK, K-12
- School type: private
- Tuition: $29,467
- Number of students: 2,780
- Graduation rate: 100%
- Teacher ratio: 5:1
- Diversity: White: 48.3%, Hispanic: 23.2%, African American: 9.9%, Asian: 9.9%, Multiracial: 4.7%, Native American: 4%, Pacific Islander: 0%
#60. Albuquerque Academy
- Location: Albuquerque, NM
- Grades offered: 6-12
- School type: private
- Tuition: $22,870
- Number of students: 1,130
- Graduation rate: data not available
- Teacher ratio: 7:1
- Diversity: White: 49%, Multiracial: 23%, Hispanic: 14%, Asian: 11%, African American: 1%, Native American: 1%, Unknown: 1%, Pacific Islander: 0%
#59. Rye Country Day School
- Location: Rye, NY
- Grades offered: PK, K-12
- School type: private
- Tuition: $41,900
- Number of students: 894
- Graduation rate: 100%
- Teacher ratio: 7:1
- Diversity: White: 69.2%, Multiracial: 11.5%, Asian: 8.1%, African American: 4.8%, Hispanic: 4.8%, Unknown: 1.5%, Native American: 0.1%, Pacific Islander: 0%
#58. Westridge School
- Location: Pasadena, CA
- Grades offered: 4-12
- School type: private, all-girls
- Tuition: $36,470
- Number of students: 500
- Graduation rate: data not available
- Teacher ratio: 5:1
- Diversity: White: 37%, Multiracial: 18%, Asian: 17%, Hispanic: 6%, African American: 2%, Unknown: 1%, Native American: 0%, Pacific Islander: 0%
#57. St. Albans School
- Location: WASHINGTON, DC
- Grades offered: 4-12
- School type: private, boarding, episcopal, all-boys
- Tuition: $42,484
- Number of students: 585
- Graduation rate: data not available
- Teacher ratio: 8:1
- Diversity: White: 66.5%, African American: 12.7%, Multiracial: 8.5%, Asian: 6.8%, Hispanic: 5.4%, Pacific Islander: 0.2%, Native American: 0%
#56. National Cathedral School
- Location: Washington, DC
- Grades offered: 4-12
- School type: private, episcopal, all-girls
- Tuition: $43,585
- Number of students: 585
- Graduation rate: 100%
- Teacher ratio: 8:1
- Diversity: White: 61%, African American: 12.8%, Multiracial: 12%, Asian: 9.2%, Hispanic: 4.6%, Native American: 0.3%, Pacific Islander: 0%
#55. John Burroughs School
- Location: ST. LOUIS, MO
- Grades offered: 7-12
- School type: private
- Tuition: $27,540
- Number of students: 610
- Graduation rate: 100%
- Teacher ratio: 6:1
- Diversity: White: 65.1%, Asian: 12%, African American: 11.6%, Multiracial: 5.9%, Native American: 3%, Hispanic: 2.5%, Pacific Islander: 0%
#54. Marlborough School
- Location: Los Angeles, CA
- Grades offered: 7-12
- School type: private, all-girls
- Tuition: $41,150
- Number of students: 533
- Graduation rate: 100%
- Teacher ratio: 7:1
- Diversity: White: 61.9%, Multiracial: 16.3%, Asian: 11.4%, African American: 6%, Hispanic: 3.9%, Native American: 0.4%, Pacific Islander: 0%
#53. The Nueva School
- Location: Hillsborough, CA
- Grades offered: PK, K-12
- School type: private
- Tuition: NA
- Number of students: 605
- Graduation rate: data not available
- Teacher ratio: 4:1
- Diversity: White: 52.2%, Multiracial: 22.8%, Asian: 20.7%, Hispanic: 2.8%, African American: 1.6%, Native American: 0%, Pacific Islander: 0%
#52. Ransom Everglades School
- Location: Coconut Grove, FL
- Grades offered: 6-12
- School type: private
- Tuition: $38,400
- Number of students: 1,094
- Graduation rate: 100%
- Teacher ratio: 6:1
- Diversity: White: 48.3%, Hispanic: 35.7%, Asian: 7.4%, African American: 4.3%, Unknown: 2.1%, Multiracial: 1.8%, International: 0.4%, Native American: 0%, Pacific Islander: 0%
#51. St. Andrew's School
- Location: Middletown, DE
- Grades offered: 9-12
- School type: private, boarding
- Tuition: $55,500
- Number of students: 310
- Graduation rate: data not available
- Teacher ratio: 6:1
- Diversity: White: 59.7%, Asian: 17.1%, African American: 11.3%, Multiracial: 7.7%, Hispanic: 4.2%, Native American: 0%, Pacific Islander: 0%
#50. St. John's School
- Location: Houston, TX
- Grades offered: K-12
- School type: private
- Tuition: $30,515
- Number of students: 1,258
- Graduation rate: data not available
- Teacher ratio: 7:1
- Diversity: White: 83.3%, Asian: 8.8%, African American: 4%, Hispanic: 3.7%, Multiracial: 0.3%, Native American: 0%, Pacific Islander: 0%
#49. Hackley School
- Location: Tarrytown, NY
- Grades offered: K-12
- School type: private, boarding
- Tuition: $45,775
- Number of students: 834
- Graduation rate: data not available
- Teacher ratio: 8:1
- Diversity: White: 67%, Asian: 12.4%, African American: 8.6%, Multiracial: 6.1%, Hispanic: 5.6%, Native American: 0.2%, Pacific Islander: 0%
#48. The Bishop's School
- Location: San Diego, CA
- Grades offered: 6-12
- School type: private, episcopal
- Tuition: $36,290
- Number of students: 800
- Graduation rate: 100%
- Teacher ratio: 8:1
- Diversity: White: 49.4%, Asian: 20.5%, Multiracial: 11%, Hispanic: 8.9%, Unknown: 7%, African American: 2.5%, Pacific Islander: 0.6%, Native American: 0.1%
#47. Greenhill School
- Location: Addison, TX
- Grades offered: PK, K-12
- School type: private
- Tuition: $31,675
- Number of students: 1,315
- Graduation rate: 100%
- Teacher ratio: 8:1
- Diversity: White: 42.6%, Asian: 21.9%, Unknown: 10.2%, Multiracial: 9.7%, African American: 7.8%, Hispanic: 6.4%, International: 0.8%, Native American: 0.4%, Pacific Islander: 0.2%
#46. The Hockaday School
- Location: Dallas, TX
- Grades offered: PK, K-12
- School type: private, boarding, all-girls
- Tuition: $29,000
- Number of students: 1,089
- Graduation rate: 100%
- Teacher ratio: 9:1
- Diversity: White: 69%, Asian: 13%, African American: 6%, Hispanic: 6%, Multiracial: 4%, Native American: 1%, Unknown: 1%, Pacific Islander: 0%
#45. Peddie School
- Location: Hightstown, NJ
- Grades offered: 9-12
- School type: private, boarding
- Tuition: $48,800
- Number of students: 550
- Graduation rate: data not available
- Teacher ratio: 6:1
- Diversity: White: 59.2%, Asian: 16%, African American: 12.9%, Hispanic: 6.1%, Multiracial: 5.9%, Native American: 0%, Pacific Islander: 0%
#44. The Hotchkiss School
- Location: Lakeville, CT
- Grades offered: 9-12
- School type: private, boarding
- Tuition: $49,550
- Number of students: 600
- Graduation rate: 100%
- Teacher ratio: 6:1
- Diversity: White: 54.2%, Asian: 21.7%, African American: 11%, Multiracial: 9.5%, Hispanic: 3.7%, Native American: 0%, Pacific Islander: 0%
#43. The Pingry School
- Location: Basking Ridge, NJ
- Grades offered: K-12
- School type: private
- Tuition: $39,523
- Number of students: 1,128
- Graduation rate: 100%
- Teacher ratio: 8:1
- Diversity: White: 51.1%, Asian: 22.8%, Multiracial: 11.3%, African American: 10.7%, Hispanic: 3.7%, International: 0.2%, Pacific Islander: 0.2%, Native American: 0.1%
#42. Germantown Friends School
- Location: Philadelphia, PA
- Grades offered: PK, K-12
- School type: private, quaker
- Tuition: $37,175
- Number of students: 1,017
- Graduation rate: 100%
- Teacher ratio: 8:1
- Diversity: Unknown: 42%, White: 24.2%, African American: 9.9%, Asian: 9.1%, Multiracial: 9.1%, Hispanic: 4%, International: 1.5%, Pacific Islander: 0.1%, Native American: 0%
#41. The Chapin School
- Location: New York, NY
- Grades offered: K-12
- School type: private, all-girls
- Tuition: $43,000
- Number of students: 725
- Graduation rate: data not available
- Teacher ratio: 6:1
- Diversity: White: 64%, Multiracial: 14%, Asian: 10%, African American: 7%, Hispanic: 2%, Native American: 0%, Pacific Islander: 0%
#40. The Loomis Chaffee School
- Location: Windsor, CT
- Grades offered: 9-12
- School type: private, boarding
- Tuition: $45,360
- Number of students: 690
- Graduation rate: data not available
- Teacher ratio: 8:1
- Diversity: White: 47%, Unknown: 27.1%, Multiracial: 8%, Asian: 7.7%, African American: 5.9%, Hispanic: 4.3%, Native American: 0%, Pacific Islander: 0%
#39. Pine Crest School
- Location: Fort Lauderdale, FL
- Grades offered: PK, K-12
- School type: private
- Tuition: $31,030
- Number of students: 2,636
- Graduation rate: 100%
- Teacher ratio: 5:1
- Diversity: White: 76.3%, Hispanic: 10.8%, Multiracial: 7.1%, Asian: 3.4%, African American: 2.2%, Native American: 0.2%, Pacific Islander: 0%
#38. Riverdale Country School
- Location: Bronx, NY
- Grades offered: PK, K-12
- School type: private
- Tuition: $42,805
- Number of students: 1,154
- Graduation rate: 100%
- Teacher ratio: 6:1
- Diversity: White: 66.6%, Multiracial: 11.4%, Asian: 9.4%, Hispanic: 7.3%, African American: 5.4%, Native American: 0%, Pacific Islander: 0%
#37. Georgetown Day School
- Location: Washington, DC
- Grades offered: PK, K-12
- School type: private
- Tuition: $39,788
- Number of students: 1,075
- Graduation rate: 100%
- Teacher ratio: 8:1
- Diversity: White: 55.5%, African American: 14.4%, Multiracial: 12.7%, Unknown: 6.5%, Asian: 6%, Hispanic: 4.7%, Native American: 0.1%, Pacific Islander: 0%
#36. Hopkins School
- Location: New Haven, CT
- Grades offered: 7-12
- School type: private
- Tuition: $42,200
- Number of students: 715
- Graduation rate: data not available
- Teacher ratio: 6:1
- Diversity: White: 69.5%, Asian: 12%, Multiracial: 8.9%, African American: 5.1%, Hispanic: 3.7%, Native American: 0.6%, Pacific Islander: 0.3%
#35. University of Chicago Laboratory Schools
- Location: Chicago, IL
- Grades offered: PK, K-12
- School type: private
- Tuition: $33,558
- Number of students: 2,051
- Graduation rate: 98%
- Teacher ratio: 8:1
- Diversity: White: 50%, Multiracial: 21.5%, Asian: 16.5%, African American: 9%, Hispanic: 2%, Unknown: 1.1%, Native American: 0%, Pacific Islander: 0%
#34. Middlesex School
- Location: Concord, MA
- Grades offered: 9-12
- School type: private, boarding
- Tuition: $49,480
- Number of students: 406
- Graduation rate: 100%
- Teacher ratio: 4:1
- Diversity: White: 64.8%, International: 11.8%, Asian: 11.3%, African American: 6.2%, Hispanic: 2.5%, Multiracial: 2.2%, Unknown: 1.2%, Native American: 0%, Pacific Islander: 0%
#33. Cranbrook Schools
- Location: Bloomfield HIlls, MI
- Grades offered: PK, K-12
- School type: private, boarding
- Tuition: $34,200
- Number of students: 1,659
- Graduation rate: 100%
- Teacher ratio: 7:1
- Diversity: White: 54.9%, Asian: 14.1%, Multiracial: 10.5%, International: 7%, Unknown: 6.7%, African American: 5.2%, Hispanic: 1.4%, Native American: 0.2%, Pacific Islander: 0%
#32. Brearley School
- Location: New York, NY
- Grades offered: K-12
- School type: private, all-girls
- Tuition: $49,680
- Number of students: 719
- Graduation rate: 100%
- Teacher ratio: 6:1
- Diversity: White: 50.2%, Multiracial: 20.3%, Asian: 16.1%, African American: 6.5%, Hispanic: 6%, Unknown: 0.8%, Native American: 0%, Pacific Islander: 0%
#31. Cate School
- Location: Carpinteria, CA
- Grades offered: 9-12
- School type: private, boarding
- Tuition: $49,700
- Number of students: 280
- Graduation rate: 100%
- Teacher ratio: 6:1
- Diversity: White: 51.8%, Asian: 21.4%, Hispanic: 10%, African American: 8.9%, Multiracial: 4.3%, Unknown: 3.2%, Native American: 0.4%, Pacific Islander: 0%
#30. Head-Royce School
- Location: Oakland, CA
- Grades offered: K-12
- School type: private
- Tuition: $40,950
- Number of students: 875
- Graduation rate: 100%
- Teacher ratio: 7:1
- Diversity: Multiracial: 25.4%, White: 24.6%, Unknown: 19.2%, Asian: 16.9%, African American: 9.4%, Hispanic: 4.6%, Native American: 0%, Pacific Islander: 0%
#29. Crystal Springs Uplands School
- Location: Hillsborough, CA
- Grades offered: 6-12
- School type: private
- Tuition: $46,780
- Number of students: 539
- Graduation rate: 100%
- Teacher ratio: 9:1
- Diversity: White: 43.4%, Asian: 31.2%, Multiracial: 11.7%, African American: 5%, Hispanic: 4.8%, Pacific Islander: 2.2%, Unknown: 1.7%, International: 0%, Native American: 0%
#28. Groton School
- Location: Groton, MA
- Grades offered: 8-12
- School type: private, boarding, episcopal
- Tuition: $43,400
- Number of students: 368
- Graduation rate: data not available
- Teacher ratio: 5:1
- Diversity: White: 62.3%, Asian: 19%, African American: 8.7%, Multiracial: 6.5%, Hispanic: 3.5%, Native American: 0%, Pacific Islander: 0%
#27. Noble and Greenough School
- Location: Dedham, MA
- Grades offered: 7-12
- School type: private, boarding
- Tuition: $50,200
- Number of students: 614
- Graduation rate: data not available
- Teacher ratio: 5:1
- Diversity: White: 68.7%, Asian: 10.6%, Multiracial: 9%, African American: 7.3%, Hispanic: 4.4%, Native American: 0%, Pacific Islander: 0%
#26. The Westminster Schools
- Location: Atlanta, GA
- Grades offered: K-12
- School type: private, christian (general)
- Tuition: $29,275
- Number of students: 1,874
- Graduation rate: 100%
- Teacher ratio: 7:1
- Diversity: White: 69%, Asian: 11.5%, African American: 9%, Multiracial: 5.5%, Hispanic: 4%, Unknown: 1%, Native American: 0%, Pacific Islander: 0%
#25. Newark Academy
- Location: Livingston, NJ
- Grades offered: 6-12
- School type: private
- Tuition: $40,945
- Number of students: 598
- Graduation rate: 100%
- Teacher ratio: 7:1
- Diversity: White: 56.9%, Asian: 24.7%, Multiracial: 7.7%, African American: 7%, Hispanic: 3.2%, Pacific Islander: 0.3%, International: 0.2%, Native American: 0%
#24. Milton Academy
- Location: Milton, MA
- Grades offered: K-12
- School type: private, boarding
- Tuition: $47,330
- Number of students: 1,000
- Graduation rate: data not available
- Teacher ratio: 7:1
- Diversity: White: 51.9%, Asian: 15.2%, African American: 11.2%, Multiracial: 10.2%, Hispanic: 5.9%, Unknown: 5.6%, Native American: 0%, Pacific Islander: 0%
#23. Dalton School
- Location: New York, NY
- Grades offered: K-12
- School type: private
- Tuition: $44,640
- Number of students: 1,322
- Graduation rate: data not available
- Teacher ratio: 8:1
- Diversity: White: 57.1%, Multiracial: 18.7%, Asian: 11.1%, African American: 10.2%, Hispanic: 2.9%, Native American: 0%, Pacific Islander: 0%
#22. Sidwell Friends School
- Location: Washington, DC
- Grades offered: PK, K-12
- School type: private, quaker
- Tuition: $39,360
- Number of students: 1,145
- Graduation rate: data not available
- Teacher ratio: 8:1
- Diversity: White: 52.3%, Multiracial: 16%, African American: 15%, Asian: 8%, Hispanic: 6%, Unknown: 2.8%, Native American: 0%, Pacific Islander: 0%
#21. Polytechnic School
- Location: Pasadena, CA
- Grades offered: K-12
- School type: private
- Tuition: $37,500
- Number of students: 859
- Graduation rate: 100%
- Teacher ratio: 7:1
- Diversity: White: 43.1%, Multiracial: 21.4%, Asian: 14.4%, Hispanic: 9.9%, African American: 5.7%, Unknown: 5.1%, Pacific Islander: 0.3%, Native American: 0%
#20. The Thacher School
- Location: Ojai, CA
- Grades offered: 9-12
- School type: private, boarding
- Tuition: $40,970
- Number of students: 246
- Graduation rate: 100%
- Teacher ratio: 6:1
- Diversity: White: 58.5%, Multiracial: 16.7%, Asian: 13.8%, Hispanic: 5.7%, African American: 5.3%, Native American: 0%, Pacific Islander: 0%
#19. Horace Mann School
- Location: Bronx, NY
- Grades offered: K-12
- School type: private
- Tuition: $51,000
- Number of students: 1,694
- Graduation rate: data not available
- Teacher ratio: 8:1
- Diversity: White: 62.6%, Asian: 18%, Multiracial: 10.5%, African American: 5.5%, Hispanic: 3.4%, Pacific Islander: 0.1%, Native American: 0%
#18. Castilleja School
- Location: Palo Alto, CA
- Grades offered: 6-12
- School type: private, all-girls
- Tuition: $47,970
- Number of students: 434
- Graduation rate: 100%
- Teacher ratio: 8:1
- Diversity: White: 44.5%, Asian: 26.3%, Multiracial: 14.5%, Hispanic: 8.8%, African American: 5.3%, Pacific Islander: 0.5%, International: 0.2%, Native American: 0%
#17. The Harker School
- Location: San Jose, CA
- Grades offered: PK, K-12
- School type: private
- Tuition: $48,500
- Number of students: 2,048
- Graduation rate: 100%
- Teacher ratio: 10:1
- Diversity: Asian: 67%, White: 17.7%, Multiracial: 11.9%, Hispanic: 2%, Unknown: 0.9%, African American: 0.5%, Pacific Islander: 0%, Native American: 0%
#16. Collegiate School
- Location: New York, NY
- Grades offered: K-12
- School type: private, all-boys
- Tuition: $47,500
- Number of students: 651
- Graduation rate: data not available
- Teacher ratio: 8:1
- Diversity: White: 54.8%, Asian: 18%, Multiracial: 18%, African American: 5.8%, Hispanic: 3.4%, Native American: 0%, Pacific Islander: 0%
#15. Winsor School
- Location: Boston, MA
- Grades offered: 5-12
- School type: private, all-girls
- Tuition: $44,300
- Number of students: 450
- Graduation rate: data not available
- Teacher ratio: 7:1
- Diversity: White: 69.6%, Asian: 14.9%, African American: 6.9%, Multiracial: 5.8%, Hispanic: 2.9%, Native American: 0%, Pacific Islander: 0%
#14. Flintridge Preparatory School
- Location: La Canada Flintridge, CA
- Grades offered: 7-12
- School type: private
- Tuition: $34,200
- Number of students: 500
- Graduation rate: data not available
- Teacher ratio: 7:1
- Diversity: White: 44%, Asian: 34%, Hispanic: 12%, African American: 7%, Unknown: 3%, Multiracial: 0%, Native American: 0%, Pacific Islander: 0%
#13. Deerfield Academy
- Location: Deerfield, MA
- Grades offered: 9-12
- School type: private, boarding
- Tuition: $44,735
- Number of students: 658
- Graduation rate: 100%
- Teacher ratio: 5:1
- Diversity: White: 50.2%, International: 11.6%, Asian: 10%, African American: 8.5%, Multiracial: 7.4%, Unknown: 7.4%, Hispanic: 4.6%, Native American: 0.3%, Pacific Islander: 0%
#12. Regis High School
- Location: New York, NY
- Grades offered: 9-12
- School type: private, catholic, all-boys
- Tuition: $0
- Number of students: 532
- Graduation rate: 100%
- Teacher ratio: 8:1
- Diversity: White: 68.8%, Asian: 12.8%, Hispanic: 12.8%, African American: 3.6%, Multiracial: 2.1%, Native American: 0%, Pacific Islander: 0%
#11. Stanford Online High School
- Location: NA
- Grades offered: 7-12
- School type: private
- Tuition: $22,850
- Number of students: 804
- Graduation rate: 100%
- Teacher ratio: 12:1
- Diversity: White: 38.1%, Asian: 26.2%, Unknown: 13.1%, International: 10.2%, Multiracial: 8%, Hispanic: 2.9%, African American: 1.1%, Native American: 0.5%, Pacific Islander: 0%
#10. The Lawrenceville School
- Location: Lawrenceville, NJ
- Grades offered: 9-12
- School type: private, boarding
- Tuition: $51,440
- Number of students: 822
- Graduation rate: data not available
- Teacher ratio: 7:1
- Diversity: White: 55%, Asian: 21.3%, African American: 9.9%, Multiracial: 7.8%, Hispanic: 6%, Native American: 0%, Pacific Islander: 0%
#9. St. Paul's School
- Location: Concord, NH
- Grades offered: 9-12
- School type: private, boarding, episcopal
- Tuition: $55,000
- Number of students: 541
- Graduation rate: data not available
- Teacher ratio: 5:1
- Diversity: White: 44%, Asian: 17%, African American: 9%, Unknown: 8%, Multiracial: 6%, Hispanic: 5%, Native American: 4%, Pacific Islander: 0%
#8. The College Preparatory School
- Location: Oakland, CA
- Grades offered: 9-12
- School type: private
- Tuition: $43,810
- Number of students: 363
- Graduation rate: 100%
- Teacher ratio: 7:1
- Diversity: White: 43%, Asian: 28%, Multiracial: 14%, African American: 7%, Hispanic: 6%, Unknown: 2%, Native American: 0%, Pacific Islander: 0%
#7. Lakeside School
- Location: Seattle, WA
- Grades offered: 5-12
- School type: private
- Tuition: $32,000
- Number of students: 838
- Graduation rate: data not available
- Teacher ratio: 9:1
- Diversity: White: 48%, Asian: 23.3%, Multiracial: 19.4%, African American: 6.7%, Hispanic: 2.4%, Native American: 0.3%, Pacific Islander: 0%
#6. St. Mark's School of Texas
- Location: Dallas, TX
- Grades offered: 1-12
- School type: private, episcopal, all-boys
- Tuition: $29,496
- Number of students: 863
- Graduation rate: data not available
- Teacher ratio: 9:1
- Diversity: White: 55%, Asian: 24.5%, Hispanic: 7.7%, Multiracial: 6.3%, African American: 5.9%, Native American: 0.6%, Pacific Islander: 0.1%
#5. Choate Rosemary Hall
- Location: Wallingford, CT
- Grades offered: 9-12
- School type: private, boarding
- Tuition: $45,710
- Number of students: 850
- Graduation rate: 100%
- Teacher ratio: 4:1
- Diversity: White: 44.7%, International: 17.6%, Asian: 13.6%, Multiracial: 8.5%, Hispanic: 6.6%, African American: 6.2%, Unknown: 2.4%, Native American: 0.2%, Pacific Islander: 0.1%
#4. Trinity School
- Location: New York, NY
- Grades offered: K-12
- School type: private, episcopal
- Tuition: $47,965
- Number of students: 1,001
- Graduation rate: data not available
- Teacher ratio: 6:1
- Diversity: White: 55.1%, Asian: 15%, Multiracial: 13.8%, Hispanic: 8%, African American: 7.8%, Native American: 0.3%, Pacific Islander: 0%
#3. Phillips Exeter Academy
- Location: Exeter, NH
- Grades offered: 9-12
- School type: private, boarding
- Tuition: $38,740
- Number of students: 1,085
- Graduation rate: data not available
- Teacher ratio: 5:1
- Diversity: White: 58.3%, Asian: 20.8%, African American: 11.1%, Hispanic: 8.1%, Native American: 0.9%, Multiracial: 0.8%, Pacific Islander: 0%
#2. Harvard-Westlake School
- Location: Studio City, CA
- Grades offered: 7-12
- School type: private
- Tuition: $35,900
- Number of students: 1,598
- Graduation rate: data not available
- Teacher ratio: 8:1
- Diversity: White: 55.6%, Asian: 21.4%, Hispanic: 8.5%, African American: 7.5%, Multiracial: 6.3%, Native American: 0.8%, Pacific Islander: 0%
#1. Phillips Academy
- Location: Andover, MA
- Grades offered: 9-12
- School type: private, boarding
- Tuition: $43,300
- Number of students: 1,150
- Graduation rate: data not available
- Teacher ratio: 5:1
- Diversity: White: 54%, Asian: 26%, Multiracial: 8%, African American: 6%, Hispanic: 6%, Unknown: 0.2%, Native American: 0%, Pacific Islander: 0%