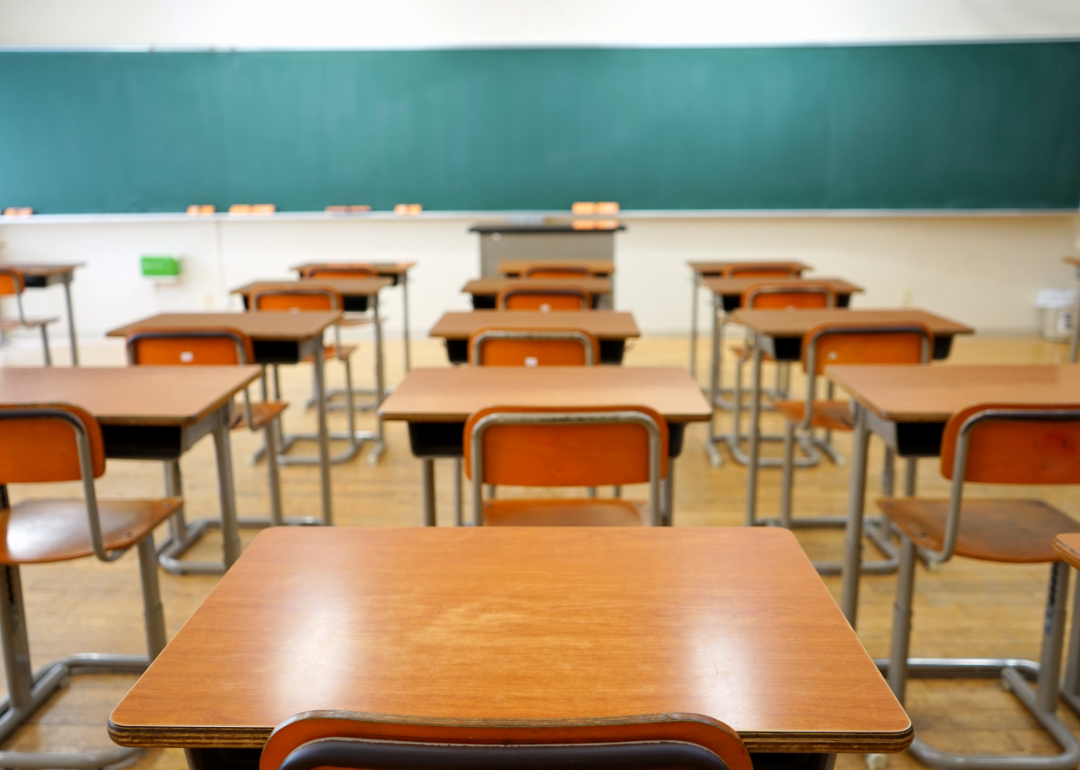 Best public high school in every state
Best public high school in every state
As the world continues to grow ever more intellectually advanced, so do the quality of academics even at the earliest levels. According to research from the University of Virginia, 31 percent of teachers held the belief that children should learn to read by kindergarten, while 80 percent shared this philosophy when the question was asked in 2010. Since many parents see their children's first taste of formal education as a "make-or-break gauntlet" bound to define the course of their child's academic rollercoaster, it stands to reason that this stress could only be amplified when it comes to choosing a high school, the time in a young person's life when they are incredibly susceptible to emotional, physical, and psychological changes.
According to the College Board, the average all-in 4-year cost of sending a child to university is approximately $129,000, a figure so staggeringly large that parents of all income levels are constantly scrambling to find new ways to save. One of the best and most obvious ways to do that is by avoiding the astronomically high tuition and fees mandated by private and boarding high schools, and instead opting for some of the best free public schools the nation has to offer.
In seeking to keep the decision-making process as local as possible for parents, Stacker referenced Niche data in order to list the best public high school in every state. For the purposes of this story, only traditional public high schools were taken into consideration, meaning the likes of charter schools, magnet schools, or any lottery-based or admission-based schools are not included in the slideshow.

Read on and consider sending your child to the best public school in your home state!
Alabama: Mountain Brook High School
Number of students: 1,073; Student-teacher ratio: 13:1
Math proficiency: 70%; Reading proficiency: 63%

Average graduation rate: 98%
Overall Niche grade: A+
Academics grade: A+
Clubs & activities grade: A-
Alaska: West High School
Number of students: 1,880; Student-teacher ratio: 22:1
Math proficiency: 24%; Reading proficiency: 30%

Average graduation rate: 87%
Overall Niche grade: A
Academics grade: A-
Clubs & activities grade: B
Arizona: Arizona College Prep Erie Campus
Number of students: 594; Student-teacher ratio: 20:1
Math proficiency: 86%; Reading proficiency: 80%

Average graduation rate: 90%
Overall Niche grade: A+
Academics grade: A+
Clubs & activities grade: B
Arkansas: Fayetteville High School East
Number of students: 2,764; Student-teacher ratio: 15:1
Math proficiency: 40%; Reading proficiency: 61%

Average graduation rate: 87%
Overall Niche grade: A+
Academics grade: A
Clubs & activities grade: A
California: Canyon Crest Academy
Number of students: 2,255; Student-teacher ratio: 26:1
Math proficiency: 80%; Reading proficiency: 92%

Average graduation rate: 99%
Overall Niche grade: A+
Academics grade: A+
Clubs & activities grade: A
Colorado: Cherry Creek High School
Number of students: 3,499; Student-teacher ratio: 21:1
Math proficiency: 70%; Reading proficiency: 72%

Average graduation rate: 93%
Overall Niche grade: A+
Academics grade: A+
Clubs & activities grade: A+
Connecticut: Staples High School
Number of students: 1,885; Student-teacher ratio: 13:1
Math proficiency: 76%; Reading proficiency: 91%

Average graduation rate: 99%
Overall Niche grade: A+
Academics grade: A+
Clubs & activities grade: A+
Delaware: Concord High School
Number of students: 1,126; Student-teacher ratio: 17:1
Math proficiency: 47%; Reading proficiency: 70%

Average graduation rate: 90%
Overall Niche grade: A
Academics grade: B+
Clubs & activities grade: A
Florida: Pine View School
Number of students: 2,175; Student-teacher ratio: 18:1
Math proficiency: 99%; Reading proficiency: 99%

Average graduation rate: 95%
Overall Niche grade: A+
Academics grade: A+
Clubs & activities grade: B
Georgia: Gwinnett School of Mathematics, Science & Technology
Number of students: 966; Student-teacher ratio: 17:1
Math proficiency: 96%; Reading proficiency: 97%

Average graduation rate: 95%
Overall Niche grade: A+
Academics grade: A+
Clubs & activities grade: A
Hawaii: Mililani High School
Number of students: 2,495; Student-teacher ratio: 19:1
Math proficiency: 44%; Reading proficiency: 61%

Average graduation rate: 93%
Overall Niche grade: A
Academics grade: B+
Clubs & activities grade: A+
Idaho: Boise Senior High School
Number of students: 1,549; Student-teacher ratio: 20:1
Math proficiency: 62%; Reading proficiency: 79%

Average graduation rate: 92%
Overall Niche grade: A+
Academics grade: A
Clubs & activities grade: A
Illinois: Adlai E. Stevenson High School
Number of students: 3,932; Student-teacher ratio: 15:1
Math proficiency: 50%; Reading proficiency: 73%

Average graduation rate: 95%
Overall Niche grade: A+
Academics grade: A+
Clubs & activities grade: A+
Indiana: West Lafayette Junior/Senior High School
Number of students: 1,081; Student-teacher ratio: 16:1
Math proficiency: 80%; Reading proficiency: 83%

Average graduation rate: 95%
Overall Niche grade: A+
Academics grade: A+
Clubs & activities grade: A
Iowa: Ames High School
Number of students: 1,270; Student-teacher ratio: 17:1
Math proficiency: 94%; Reading proficiency: 91%

Average graduation rate: 93%
Overall Niche grade: A+
Academics grade: A+
Clubs & activities grade: A+
Kansas: Blue Valley North High School
Number of students: 1,514; Student-teacher ratio: 18:1
Math proficiency: 56%; Reading proficiency: 58%

Average graduation rate: 96%
Overall Niche grade: A+
Academics grade: A+
Clubs & activities grade: A
Kentucky: Highlands High School
Number of students: 992; Student-teacher ratio: 19:1
Math proficiency: 74%; Reading proficiency: 81%

Average graduation rate: 95%
Overall Niche grade: A+
Academics grade: A+
Clubs & activities grade: A+
Louisiana: Dutchtown High School
Number of students: 2,142; Student-teacher ratio: 17:1
Math proficiency: 87%; Reading proficiency: 89%

Average graduation rate: 92%
Overall Niche grade: A
Academics grade: A
Clubs & activities grade: A-
Maine: Cape Elizabeth High School
Number of students: 541; Student-teacher ratio: 12:1
Math proficiency: 77%; Reading proficiency: 87%

Average graduation rate: 95%
Overall Niche grade: A+
Academics grade: A+
Clubs & activities grade: A
Maryland: Winston Churchill High School
Number of students: 2,093; Student-teacher ratio: 18:1
Math proficiency: 97%; Reading proficiency: 96%

Average graduation rate: 96%
Overall Niche grade: A+
Academics grade: A+
Clubs & activities grade: A
Massachusetts: Lexington High School
Number of students: 2,154; Student-teacher ratio: 13:1
Math proficiency: 97%; Reading proficiency: 99%

Average graduation rate: 98%
Overall Niche grade: A+
Academics grade: A+
Clubs & activities grade: A
Michigan: Troy High School
Number of students: 1,980; Student-teacher ratio: 18:1
Math proficiency: 73%; Reading proficiency: 84%

Average graduation rate: 95%
Overall Niche grade: A+
Academics grade: A+
Clubs & activities grade: A-
Minnesota: Minnetonka Senior High School
Number of students: 3,089; Student-teacher ratio: 21:1
Math proficiency: 70%; Reading proficiency: 78%

Average graduation rate: 96%
Overall Niche grade: A+
Academics grade: A+
Clubs & activities grade: A+
Mississippi: Oxford High School
Number of students: 1,133; Student-teacher ratio: 19:1
Math proficiency: 43%; Reading proficiency: 60%

Average graduation rate: 87%
Overall Niche grade: A
Academics grade: A-
Clubs & activities grade: A
Missouri: Clayton High School
Number of students: 870; Student-teacher ratio: 12:1
Math proficiency: 88%; Reading proficiency: 90%

Average graduation rate: 98%
Overall Niche grade: A+
Academics grade: A+
Clubs & activities grade: A+
Montana: Bozeman High School
Number of students: 1,989; Student-teacher ratio: 17:1
Math proficiency: 68%; Reading proficiency: 92%

Average graduation rate: 84%
Overall Niche grade: A
Academics grade: A
Clubs & activities grade: A+
Nebraska: Millard North High School
Number of students: 2,529; Student-teacher ratio: 18:1
Math proficiency: 79%; Reading proficiency: 88%

Average graduation rate: 93%
Overall Niche grade: A+
Academics grade: A
Clubs & activities grade: A
Nevada: Reno High School
Number of students: 1,700; Student-teacher ratio: 24:1
Math proficiency: 81%; Reading proficiency: 75%

Average graduation rate: 90%
Overall Niche grade: A
Academics grade: A
Clubs & activities grade: B+
New Hampshire: Hanover High School
Number of students: 691; Student-teacher ratio: 12:1
Math proficiency: 77%; Reading proficiency: 95%

Average graduation rate: 95%
Overall Niche grade: A+
Academics grade: A+
Clubs & activities grade: A+
New Jersey: Millburn Senior High School
Number of students: 1,474; Student-teacher ratio: 12:1
Math proficiency: 59%; Reading proficiency: 58%

Average graduation rate: 97%
Overall Niche grade: A+
Academics grade: A+
Clubs & activities grade: A+
New Mexico: Los Alamos High School
Number of students: 1,083; Student-teacher ratio: 15:1
Math proficiency: 47%; Reading proficiency: 64%

Average graduation rate: 83%
Overall Niche grade: A+
Academics grade: A
Clubs & activities grade: A-
New York: Great Neck South High School
Number of students: 1,205; Student-teacher ratio: 11:1
Math proficiency: 99%; Reading proficiency: 99%

Average graduation rate: 96%
Overall Niche grade: A+
Academics grade: A+
Clubs & activities grade: A+
North Carolina: East Chapel Hill High School
Number of students: 1,360; Student-teacher ratio: 16:1
Math proficiency: 74%; Reading proficiency: 84%

Average graduation rate: 95%
Overall Niche grade: A+
Academics grade: A+
Clubs & activities grade: A-
North Dakota: Fargo Davies High School
Number of students: 1,210; Student-teacher ratio: 16:1
Math proficiency: 58%; Reading proficiency: 77%

Average graduation rate: 96%
Overall Niche grade: A
Academics grade: A
Clubs & activities grade: A
Ohio: Dublin Jerome High School
Number of students: 1,563; Student-teacher ratio: 18:1
Math proficiency: 82%; Reading proficiency: 91%

Average graduation rate: 99%
Overall Niche grade: A+
Academics grade: A+
Clubs & activities grade: A
Oklahoma: Memorial High School
Number of students: 2,155; Student-teacher ratio: 21:1
Math proficiency: 90%; Reading proficiency: 90%

Average graduation rate: 93%
Overall Niche grade: A+
Academics grade: A
Clubs & activities grade: A
Oregon: South Eugene High School
Number of students: 1,447; Student-teacher ratio: 26:1
Math proficiency: 79%; Reading proficiency: 87%

Average graduation rate: 89%
Overall Niche grade: A+
Academics grade: A+
Clubs & activities grade: C+
Pennsylvania: Conestoga Senior High School
Number of students: 2,062; Student-teacher ratio: 16:1
Math proficiency: 95%; Reading proficiency: 95%

Average graduation rate: 99%
Overall Niche grade: A+
Academics grade: A+
Clubs & activities grade: A+
Rhode Island: Barrington High School
Number of students: 1,028; Student-teacher ratio: 13:1
Math proficiency: 54%; Reading proficiency: 76%

Average graduation rate: 97%
Overall Niche grade: A+
Academics grade: A+
Clubs & activities grade: A+
South Carolina: Wando High School
Number of students: 4,068; Student-teacher ratio: 16:1
Math proficiency: 92%; Reading proficiency: 93%

Average graduation rate: 91%
Overall Niche grade: A+
Academics grade: A
Clubs & activities grade: A+
South Dakota: Brandon Valley High School
Number of students: 1,024; Student-teacher ratio: 22:1
Math proficiency: 59%; Reading proficiency: 77%

Average graduation rate: 94%
Overall Niche grade: A
Academics grade: A-
Clubs & activities grade: A
Tennessee: Brentwood High School
Number of students: 1,775; Student-teacher ratio: 19:1
Math proficiency: 89%; Reading proficiency: 94%

Average graduation rate: 98%
Overall Niche grade: A+
Academics grade: A+
Clubs & activities grade: A-
Texas: Westlake High School
Number of students: 2,584; Student-teacher ratio: 15:1
Math proficiency: 93%; Reading proficiency: 96%

Average graduation rate: 99%
Overall Niche grade: A+
Academics grade: A+
Clubs & activities grade: A+
Utah: Park City High School
Number of students: 1,147; Student-teacher ratio: 19:1
Math proficiency: 58%; Reading proficiency: 57%

Average graduation rate: 93%
Overall Niche grade: A+
Academics grade: A+
Clubs & activities grade: A+
Vermont: South Burlington High School
Number of students: 881; Student-teacher ratio: 13:1
Math proficiency: 60%; Reading proficiency: 82%

Average graduation rate: 93%
Overall Niche grade: A+
Academics grade: A+
Clubs & activities grade: A+
Virginia: McLean High School
Number of students: 2,103; Student-teacher ratio: 18:1
Math proficiency: 90%; Reading proficiency: 98%

Average graduation rate: 92%
Overall Niche grade: A+
Academics grade: A+
Clubs & activities grade: A-
Washington: Interlake Senior High School
Number of students: 1,590; Student-teacher ratio: 19:1
Math proficiency: 91%; Reading proficiency: 96%

Average graduation rate: 87%
Overall Niche grade: A+
Academics grade: A+
Clubs & activities grade: A-
Washington, DC: Woodrow Wilson High School
Number of students: 1,791; Student-teacher ratio: 15:1
Math proficiency: 19%; Reading proficiency: 21%

Average graduation rate: 88%
Overall Niche grade: A
Academics grade: A-
Clubs & activities grade: A
West Virginia: Morgantown High School
Number of students: 1,808; Student-teacher ratio: 20:1
Math proficiency: 40%; Reading proficiency: 63%

Average graduation rate: 89%
Overall Niche grade: A
Academics grade: A
Clubs & activities grade: B+
Wisconsin: Whitefish Bay High School
Number of students: 954; Student-teacher ratio: 16:1
Math proficiency: 76%; Reading proficiency: 80%

Average graduation rate: 96%
Overall Niche grade: A+
Academics grade: A+
Clubs & activities grade: A+
Wyoming: Big Horn High School
Number of students: 146; Student-teacher ratio: 11:1
Math proficiency: 75%; Reading proficiency: 65%

Average graduation rate: 90%
Overall Niche grade: A
Academics grade: A-
Clubs & activities grade: A-