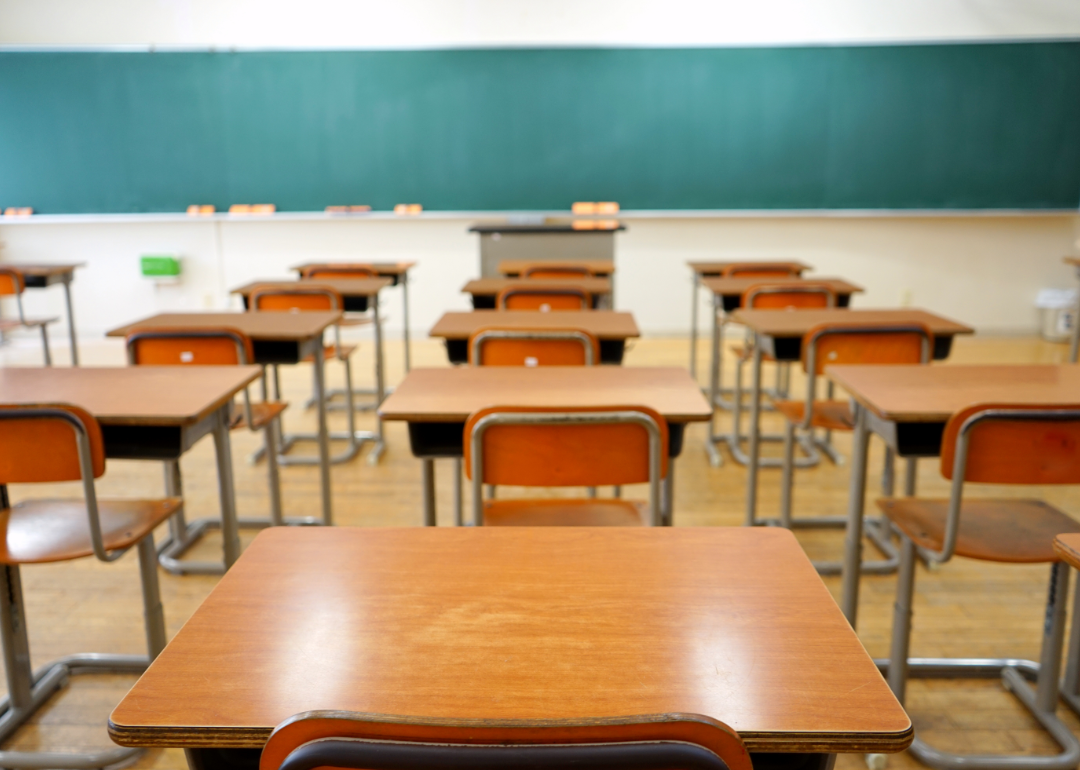 Best public schools in America's biggest cities
Best public schools in America's biggest cities
High school graduation rates are reaching new heights—84% in 2016—and an estimated 19.9 million students are expected to enroll in college this year. As high school students' academic achievements surpass expectations, high schools are getting more competitive than ever. As a result, some schools in the public education system are pulling ahead of the pack.
To see which educational institutions are doing A+ work, Stacker found the 50 best public high schools in America's most populous cities using data from Niche's 2019 Best Public High Schools in America ranking. Schools are rated based on a combination of factors, including SAT and ACT scores, graduation rates, teacher quality, state test scores, student and parent reviews, and student readiness for college. Traditional high schools as well as charter, magnet, and specialized secondary schools are included in the ranking.
Each school that made the list will have an "Overall Niche Grade," based on dozens of metrics and millions of reviews. Stacker sorted the top-scoring schools by their respective cities, from least to most populous. Two large states—California and Texas—each have more than five schools in the top 50.
Whether you're looking to see if you're child's school made the cut, or you're thinking about moving districts, check to see which American public high schools are at the top of their class.
Wichita, KS: Andover Central High School
Number of students: 771 — student-teacher ratio: 15:1
Math proficiency: 42%
Reading proficiency: 47%

Average graduation rate: 92%
Overall Niche grade: A
Academics grade: A
Clubs and activities grade: B+
New Orleans, LA: Benjamin Franklin High School
Number of students: 901 — student-teacher ratio: 16:1
Math proficiency: 95%
Reading proficiency: 95%

Average graduation rate: 99%
Overall Niche grade: A+
Academics grade: A+
Clubs and activities grade: A
Arlington, TX: Trinity High School
Number of students: 2,475 — student-teacher ratio: 18:1
Math proficiency: 62%
Reading proficiency: 81%

Average graduation rate: 97%
Overall Niche grade: A
Academics grade: B+
Clubs and activities grade: A+
Tulsa, OK: Booker T. Washington High School
Number of students: 1,325 — student-teacher ratio: 20:1
Math proficiency: 91%
Reading proficiency: 95%

Average graduation rate: 99%
Overall Niche grade: A+
Academics grade: A
Clubs and activities grade: A+
Minneapolis, MN: Southwest Senior High School
Number of students: 1,757 — student-teacher ratio: 19:1
Math proficiency: 45%
Reading proficiency: 67%

Average graduation rate: 89%
Overall Niche grade: A
Academics grade: A
Clubs and activities grade: B+
Oakland, CA: Oakland Charter High School
Number of students: 403 — student-teacher ratio: 19:1
Math proficiency: 72%
Reading proficiency: 92%

Average graduation rate: 92%
Overall Niche grade: A
Academics grade: A
Clubs and activities grade: C-
Virginia Beach, VA: Ocean Lakes High School
Number of students: 2,169 — student-teacher ratio: 19:1
Math proficiency: 91%
Reading proficiency: 94%

Average graduation rate: 89%
Overall Niche grade: A+
Academics grade: A
Clubs and activities grade: A
Miami, FL: School for Advanced Studies - South
Number of students: 224 — student-teacher ratio: 19:1
Math proficiency: N/A
Reading proficiency: N/A

Average graduation rate: 95%
Overall Niche grade: A+
Academics grade: A+
Clubs and activities grade: B+
Colorado Springs, CO: Cheyenne Mountain High School
Number of students: 1,255 — student-teacher ratio: 15:1
Math proficiency: 57%
Reading proficiency: 62%

Average graduation rate: 94%
Overall Niche grade: A+
Academics grade: A+
Clubs and activities grade: A
Raleigh, NC: Raleigh Charter High School
Number of students: 561 — student-teacher ratio: 13:1
Math proficiency: 95%
Reading proficiency: 95%

Average graduation rate: 95%
Overall Niche grade: A+
Academics grade: A+
Clubs and activities grade: A
Omaha, NE: Millard North High School
Number of students: 2,529 — student-teacher ratio: 17:1
Math proficiency: 79%
Reading proficiency: 88%

Average graduation rate: 93%
Overall Niche grade: A+
Academics grade: A
Clubs and activities grade: A
Long Beach, CA: California Academy of Mathematics & Science
Number of students: 681 — student-teacher ratio: 30:1
Math proficiency: 92%
Reading proficiency: 95%

Average graduation rate: 95%
Overall Niche grade: A+
Academics grade: A+
Clubs and activities grade: B-
Atlanta, GA: Henry W. Grady High School
Number of students: 1,364 — student-teacher ratio: 15:1
Math proficiency: 43%
Reading proficiency: 58%

Average graduation rate: 86%
Overall Niche grade: A
Academics grade: A-
Clubs and activities grade: A
Kansas City, MO: Park Hill South High School
Number of students: 1,605 — student-teacher ratio: 16:1
Math proficiency: 87%
Reading proficiency: 91%

Average graduation rate: 94%
Overall Niche grade: A+
Academics grade: A
Clubs and activities grade: A
Mesa, AZ: Gilbert Classical Academy High School
Number of students: 292 — student-teacher ratio: 13:1
Math proficiency: 90%
Reading proficiency: 82%

Average graduation rate: 90%
Overall Niche grade: A+
Academics grade: A+
Clubs and activities grade: C
Sacramento, CA: Mira Loma High School
Number of students: 1,681 — student-teacher ratio: 26:1
Math proficiency: 54%
Reading proficiency: 64%

Average graduation rate: 92%
Overall Niche grade: A+
Academics grade: A+
Clubs and activities grade: C+
Fresno, CA: University High School
Number of students: 482 — student-teacher ratio: 25:1
Math proficiency: 92%
Reading proficiency: 95%

Average graduation rate: 95%
Overall Niche grade: A+
Academics grade: A+
Clubs and activities grade: B+
Tucson, AZ: University High School
Number of students: 1,056 — student-teacher ratio: 23:1
Math proficiency: 95%
Reading proficiency: 93%

Average graduation rate: 99%
Overall Niche grade: A+
Academics grade: A+
Clubs and activities grade: B
Albuquerque, NM: Albuquerque Institute of Math & Science
Number of students: 356 — student-teacher ratio: 17:1
Math proficiency: 77%
Reading proficiency: 83%

Average graduation rate: 90%
Overall Niche grade: A+
Academics grade: A+
Clubs and activities grade: C-
Milwaukee, WI: Rufus King International School
Number of students: 1,464 — student-teacher ratio: 22:1
Math proficiency: 28%
Reading proficiency: 50%

Average graduation rate: 87%
Overall Niche grade: A
Academics grade: B+
Clubs and activities grade: A
Baltimore, MD: Baltimore Polytechnic Institute
Number of students: 1,522 — student-teacher ratio: 20:1
Math proficiency: 99%
Reading proficiency: 97%

Average graduation rate: 95%
Overall Niche grade: A
Academics grade: A-
Clubs and activities grade: A-
Louisville, KY: DuPont Manual High School
Number of students: 1,895 — student-teacher ratio: 17:1
Math proficiency: 86%
Reading proficiency: 93%

Average graduation rate: 99%
Overall Niche grade: A+
Academics grade: A+
Clubs and activities grade: A+
Las Vegas, NV: Advanced Technologies Academy
Number of students: 1,097 — student-teacher ratio: 20:1
Math proficiency: 87%
Reading proficiency: 99%

Average graduation rate: 99%
Overall Niche grade: A+
Academics grade: A+
Clubs and activities grade: B+
Oklahoma City, OK: Oklahoma School of Science and Mathematics
Number of students: 150 — student-teacher ratio: 6:1
Math proficiency: N/A
Reading proficiency: N/A

Average graduation rate: 100%
Overall Niche grade: A+
Academics grade: A
Clubs and activities grade: B+
Portland, OR: School of Science & Technology
Number of students: 159 — student-teacher ratio: 21:1
Math proficiency: 85%
Reading proficiency: 90%

Average graduation rate: 85%
Overall Niche grade: A+
Academics grade: A+
Clubs and activities grade: C-
Memphis, TN: White Station High School
Number of students: 2,201 — student-teacher ratio: 18:1
Math proficiency: 57%
Reading proficiency: 77%

Average graduation rate: 86%
Overall Niche grade: A
Academics grade: A
Clubs and activities grade: A
Nashville, TN: Hume-Fogg Academic Magnet School
Number of students: 903 — student-teacher ratio: 20:1
Math proficiency: 90%
Reading proficiency: 99%

Average graduation rate: 99%
Overall Niche grade: A+
Academics grade: A+
Clubs and activities grade: A-
Detroit, MI: Cass Technical High School
Number of students: 2,370 — student-teacher ratio: 24:1
Math proficiency: 34%
Reading proficiency: 67%

Average graduation rate: 98%
Overall Niche grade: B+
Academics grade: B
Clubs and activities grade: A+
El Paso, TX: Maxine L. Silva Health Magnet School
Number of students: 635 — student-teacher ratio: 16:1
Math proficiency: 95%
Reading proficiency: 99%

Average graduation rate: 95%
Overall Niche grade: A
Academics grade: A
Clubs and activities grade: A-
Boston, MA: Boston Latin School
Number of students: 2,439 — student-teacher ratio: 22:1
Math proficiency: 98%
Reading proficiency: 99%

Average graduation rate: 98%
Overall Niche grade: A+
Academics grade: A+
Clubs and activities grade: A
Washington, DC: The School Without Walls High School
Number of students: 589 — student-teacher ratio: 12:1
Math proficiency: 52%
Reading proficiency: 82%

Average graduation rate: 95%
Overall Niche grade: A+
Academics grade: A+
Clubs and activities grade: A
Denver, CO: Dsst: Stapleton High School
Number of students: 523 — student-teacher ratio: 14:1
Math proficiency: 67%
Reading proficiency: 67%

Average graduation rate: 87%
Overall Niche grade: A+
Academics grade: A
Clubs and activities grade: B-
Seattle, WA: Garfield High School
Number of students: 1,712 — student-teacher ratio: 23:1
Math proficiency: 86%
Reading proficiency: 98%

Average graduation rate: 85%
Overall Niche grade: A+
Academics grade: A+
Clubs and activities grade: C+
Charlotte, NC: Ardrey Kell High School
Number of students: 2,876 — student-teacher ratio: 21:1
Math proficiency: 84%
Reading proficiency: 84%

Average graduation rate: 98%
Overall Niche grade: A+
Academics grade: A+
Clubs and activities grade: A
Indianapolis, IN: Herron High School
Number of students: 763 — student-teacher ratio: 15:1
Math proficiency: 52%
Reading proficiency: 87%

Average graduation rate: 95%
Overall Niche grade: A+
Academics grade: A
Clubs and activities grade: C+
Fort Worth, TX: Aledo High School
Number of students: 1,168 — student-teacher ratio: 17:1
Math proficiency: 85%
Reading proficiency: 89%

Average graduation rate: 97%
Overall Niche grade: A
Academics grade: A
Clubs and activities grade: A
Columbus, OH: Dublin Coffman High School
Number of students: 1,910 — student-teacher ratio: 17:1
Math proficiency: 70%
Reading proficiency: 80%

Average graduation rate: 97%
Overall Niche grade: A+
Academics grade: A+
Clubs and activities grade: A+
San Francisco, CA: Lowell High School
Number of students: 2,685 — student-teacher ratio: 21:1
Math proficiency: 89%
Reading proficiency: 93%

Average graduation rate: 97%
Overall Niche grade: A+
Academics grade: A+
Clubs and activities grade: A
Jacksonville, FL: Stanton College Preparatory
Number of students: 1,508 — student-teacher ratio: 19:1
Math proficiency: 82%
Reading proficiency: 96%

Average graduation rate: 99%
Overall Niche grade: A+
Academics grade: A+
Clubs and activities grade: A
Austin, TX: Liberal Arts & Science Academy
Number of students: 1,016 — student-teacher ratio: 16:1
Math proficiency: 99%
Reading proficiency: 99%

Average graduation rate: 99%
Overall Niche grade: A+
Academics grade: A+
Clubs and activities grade: A+
San Jose, CA: Saratoga High School
Number of students: 1,305 — student-teacher ratio: 18:1
Math proficiency: 90%
Reading proficiency: 87%

Average graduation rate: 96%
Overall Niche grade: A+
Academics grade: A+
Clubs and activities grade: C
Dallas, TX: School of Science & Engineering
Number of students: 418 — student-teacher ratio: 17:1
Math proficiency: 100%
Reading proficiency: 100%

Average graduation rate: 100%
Overall Niche grade: A+
Academics grade: A+
Clubs and activities grade: B+
San Diego, CA: Canyon Crest Academy
Number of students: 2,255 — student-teacher ratio: 26:1
Math proficiency: 80%
Reading proficiency: 92%

Average graduation rate: 99%
Overall Niche grade: A+
Academics grade: A+
Clubs and activities grade: A
San Antonio, TX: Health Careers High School
Number of students: 841 — student-teacher ratio: 17:1
Math proficiency: 90%
Reading proficiency: 99%

Average graduation rate: 95%
Overall Niche grade: A+
Academics grade: A+
Clubs and activities grade: B-
Philadelphia, PA: Julia R. Masterman Secondary School
Number of students: 1,184 — student-teacher ratio: 21:1
Math proficiency: 97%
Reading proficiency: 99%

Average graduation rate: 95%
Overall Niche grade: A+
Academics grade: A+
Clubs and activities grade: C
Phoenix, AZ: Basis Phoenix
Number of students: 758 — student-teacher ratio: 18:1
Math proficiency: 80%
Reading proficiency: 88%

Average graduation rate: N/A
Overall Niche grade: A+
Academics grade: A+
Clubs and activities grade: C-
Houston, TX: Carnegie Vanguard High School
Number of students: 621 — student-teacher ratio: 19:1
Math proficiency: 90%
Reading proficiency: 99%

Average graduation rate: 95%
Overall Niche grade: A+
Academics grade: A+
Clubs and activities grade: B
Chicago, IL: Walter Payton College Prep
Number of students: 887 — student-teacher ratio: 16:1
Math proficiency: 95%
Reading proficiency: 92%

Average graduation rate: 95%
Overall Niche grade: A+
Academics grade: A+
Clubs and activities grade: A+
Los Angeles, CA: Granada Hills Charter High School
Number of students: 4,650 — student-teacher ratio: 19:1
Math proficiency: 58%
Reading proficiency: 80%

Average graduation rate: 98%
Overall Niche grade: A+
Academics grade: A+
Clubs and activities grade: A
New York, NY: Stuyvesant High School
Number of students: 3,328 — student-teacher ratio: 22:1
Math proficiency: 99%
Reading proficiency: 99%

Average graduation rate: 99%
Overall Niche grade: A+
Academics grade: A+
Clubs and activities grade: A+