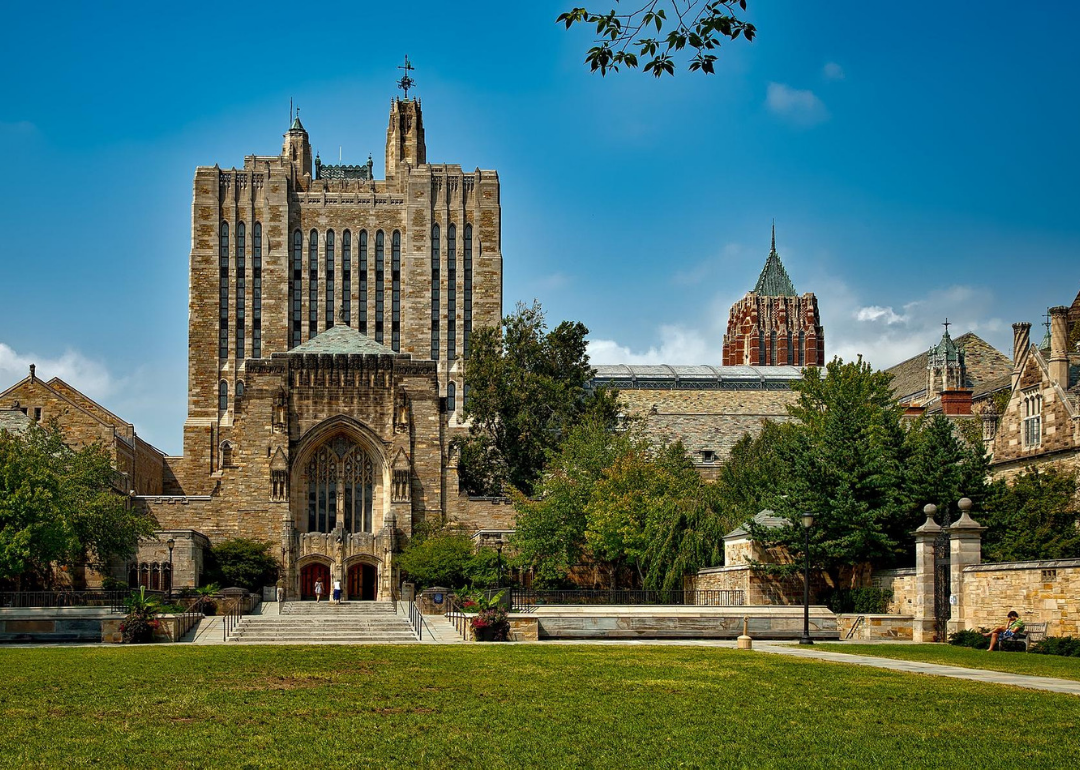 Best value colleges in America
Best value colleges in America
Students, professors, politicians, pundits, twitter users all seem to have an opinion about what makes a college education valuable. Is it the pedigree of the professors? The depth of research and learning resources? Is it the campus and student life? Could it be the cost? Maybe it's some combination of all the above, all rolled into what we deem value—the importance or worth of that diploma in advancing a career or opening doors to opportunities.
Given the impending student-debt crisis, with millions of college grads still struggling to pay the bills, some argue the time and resources "wasted" on a college degree could be better spent gaining real-life experiences that are useful (and well-compensated) in the workforce. Still, college remains a worthy investment in many industries: Studies show that by 2020 65% of jobs will require postsecondary education of some kind. Higher education continues to give graduates average salaries higher than those without a degree. And that's a metric that's highly unlikely to change, ever—education and knowledge are highly valued skills in today's information economy.
There are statistics to back up both sides, but the question of the value of college isn't a zero-sum game. Stacker looked at Niche's 2019 Best Value College list to find the top 100 four-year schools that help students attain degrees without drowning in debt. The rankings draw from student and alumni reviews, as well as data from the US Department of Education, on metrics including net price, alumni earnings, graduation rates, and student debt.
The data shows that schools of all kinds have figured out how to make higher education valuable for students. Whether you're looking for specialized training, a military academy, or a small liberal arts college, this list has something for you!
You may also like: Best value small colleges in America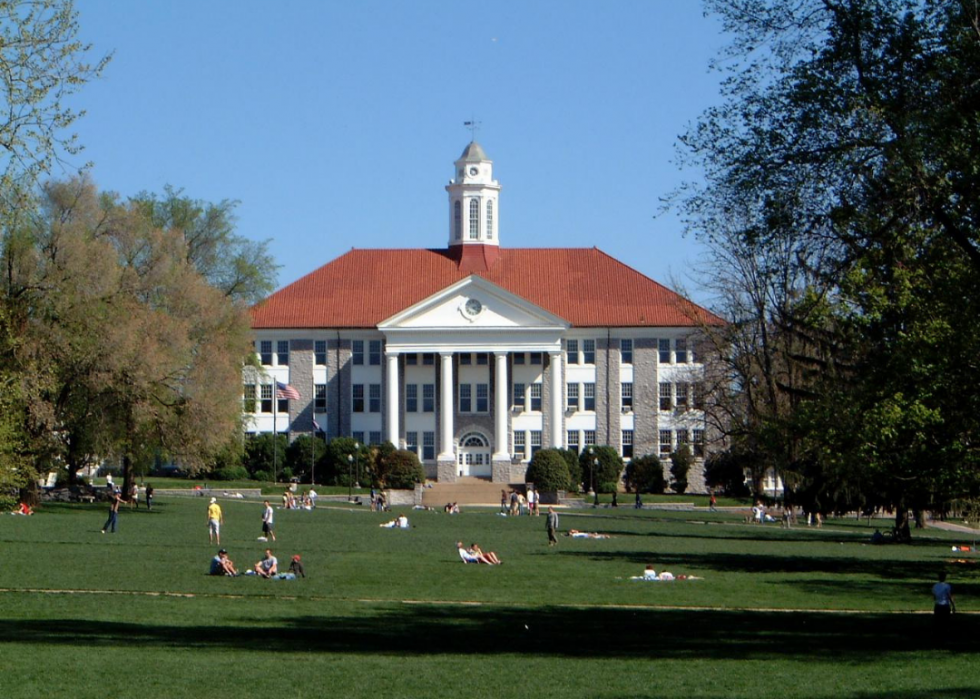 1 / 100
Alma mater // Wikimedia Commons
#100. James Madison University
- Location: Harrisonburg, VA
- Undergraduate enrollment: 18,905
- Student to faculty ratio: 16:1
- Acceptance rate: 75%
- Graduation rate: 83%
- In state tuition: $10,878
- Out-of-state tuition: $27,278
- Six year median earnings: $56,600
- Two year employment rate: 96%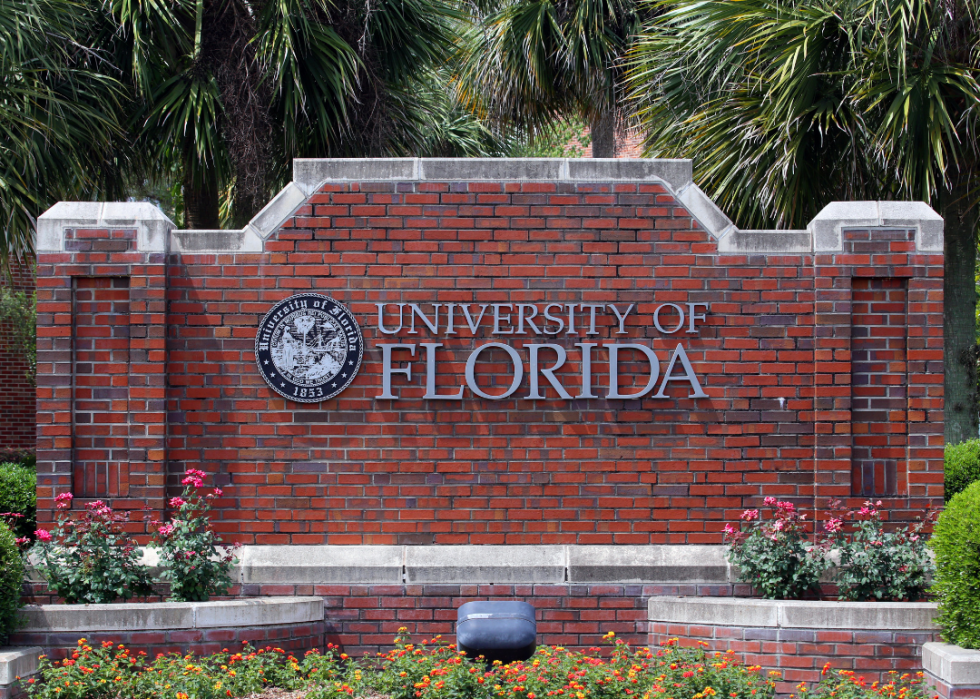 2 / 100
Katherine Welles // Shutterstock
#99. University of Florida
- Location: Gainesville, FL
- Undergraduate enrollment: 31,384
- Student to faculty ratio: 19:1
- Acceptance rate: 42%
- Graduation rate: 88%
- In state tuition: $6,381
- Out-of-state tuition: $28,659
- Six year median earnings: $56,000
- Two year employment rate: 92%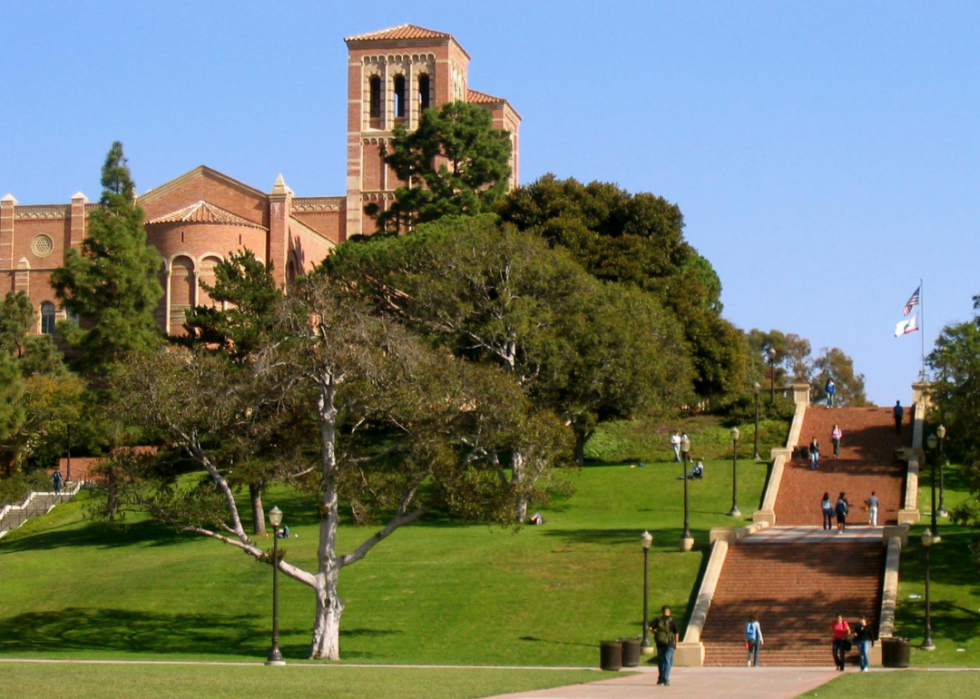 3 / 100
b r e n t // Wikimedia Commons
#98. University of California, Los Angeles
- Location: Los Angeles, CA
- Undergraduate enrollment: 30,458
- Student to faculty ratio: 18:1
- Acceptance rate: 16%
- Graduation rate: 91%
- In state tuition: $13,261
- Out-of-state tuition: $41,275
- Six year median earnings: $60,700
- Two year employment rate: 89%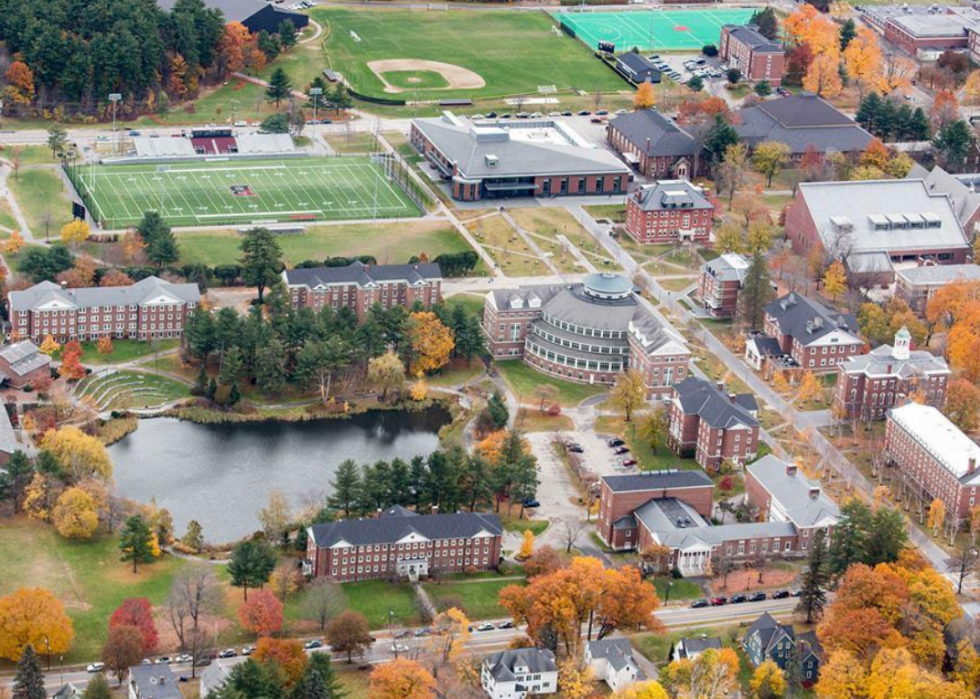 4 / 100
Josh Kuckens // Wikimedia Commons
#97. Bates College
- Location: Lewiston, ME
- Undergraduate enrollment: 1,787
- Student to faculty ratio: 10:1
- Acceptance rate: 22%
- Graduation rate: 92%
- Tuition: $52,042
- Six year median earnings: $59,200
- Two year employment rate: 94%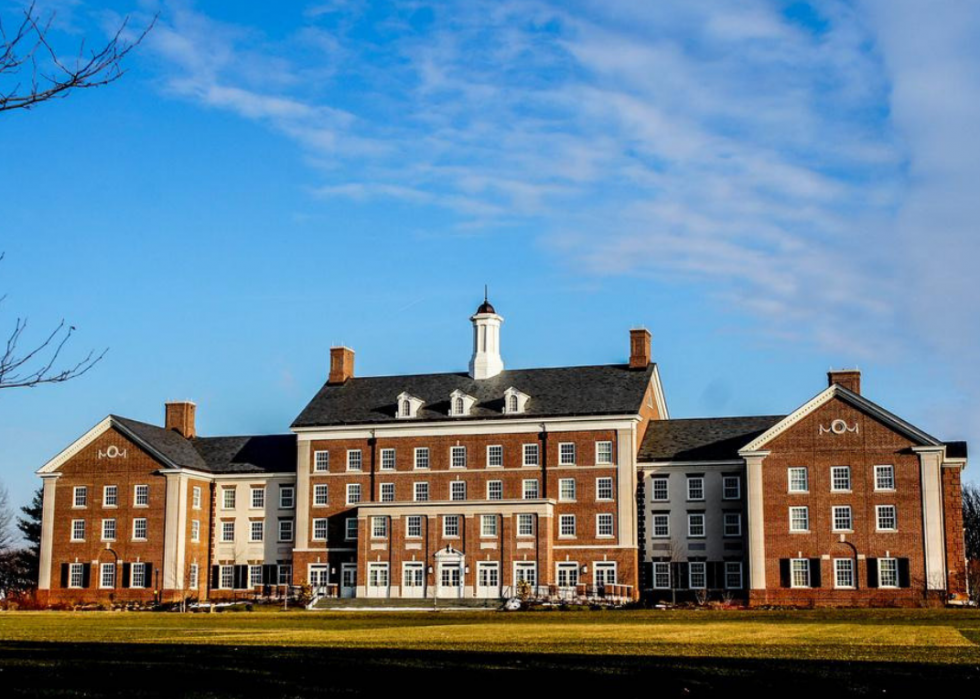 5 / 100
Pâmella Ferrari // Flickr
#96. Franklin & Marshall College
- Location: Lancaster, PA
- Undergraduate enrollment: 2,263
- Student to faculty ratio: 9:1
- Acceptance rate: 34%
- Graduation rate: 86%
- Tuition: $54,280
- Six year median earnings: $58,900
- Two year employment rate: 95%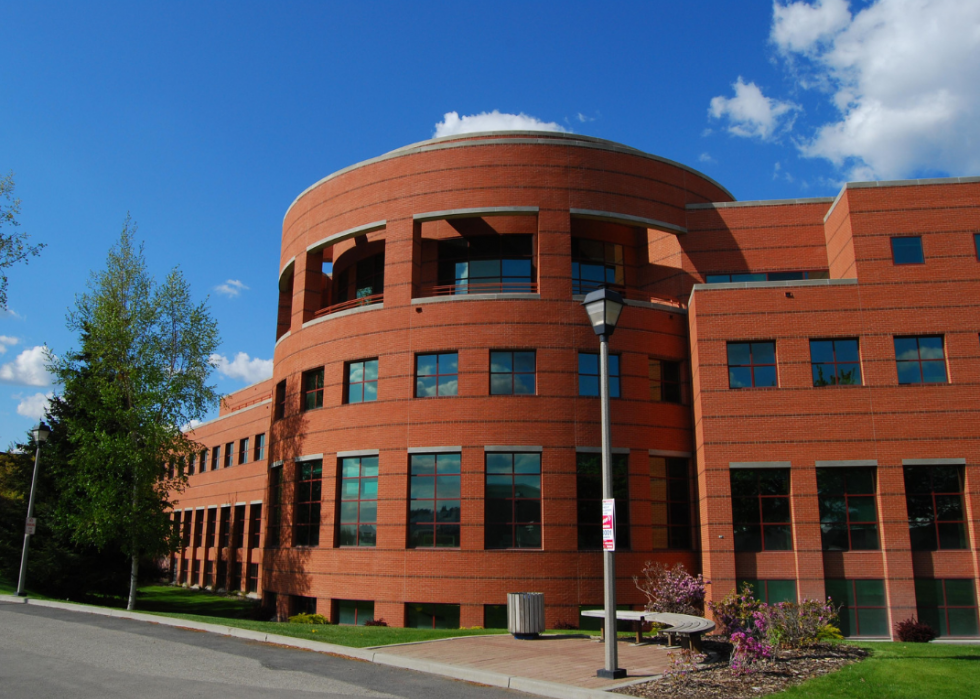 6 / 100
SCUMATT // Wikimedia Commons
#95. Gonzaga University
- Location: Spokane, WA
- Undergraduate enrollment: 5,106
- Student to faculty ratio: 12:1
- Acceptance rate: 65%
- Graduation rate: 87%
- Tuition: $42,370
- Six year median earnings: $56,100
- Two year employment rate: 94%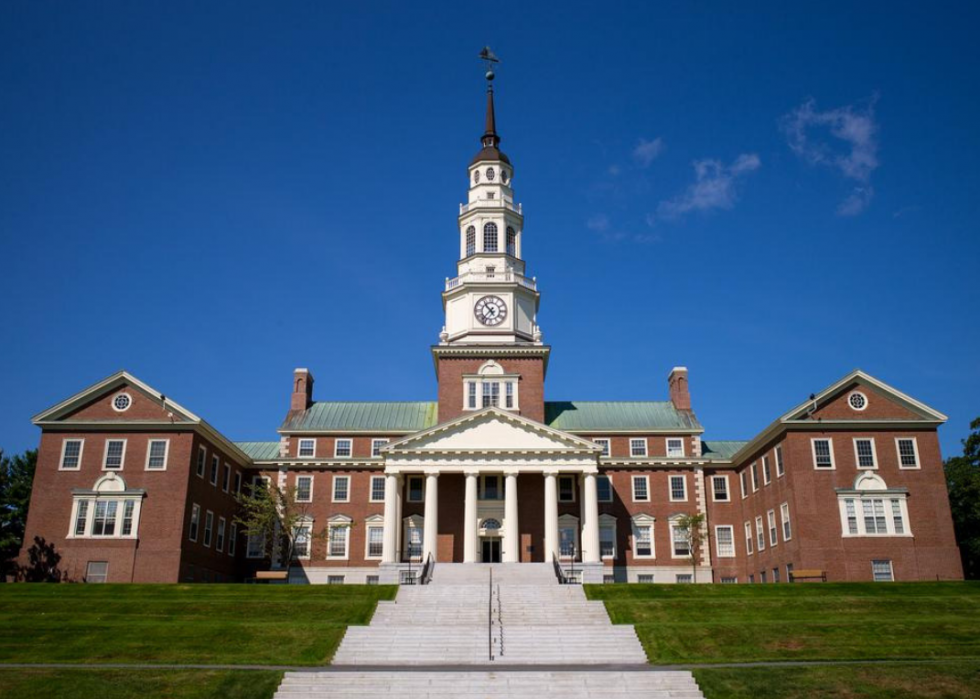 7 / 100
#94. Colby College
- Location: Waterville, ME
- Undergraduate enrollment: 1,917
- Student to faculty ratio: 10:1
- Acceptance rate: 16%
- Graduation rate: 92%
- Tuition: $53,120
- Six year median earnings: $58,100
- Two year employment rate: 92%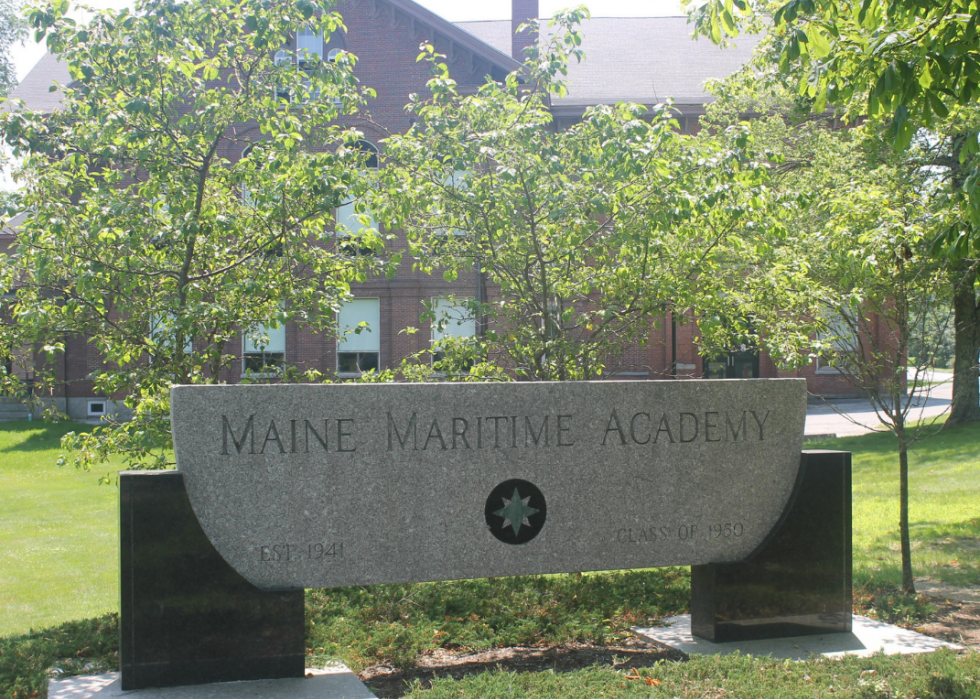 8 / 100
Billy Hathorn // Wikimedia Commons
#93. Maine Maritime Academy
- Location: Castine, ME
- Undergraduate enrollment: 989
- Student to faculty ratio: 13:1
- Acceptance rate: 80%
- Graduation rate: 69%
- In state tuition: $13,278
- Out-of-state tuition: $26,628
- Six year median earnings: $95,600
- Two year employment rate: 96%
 
9 / 100
Curt Smith // Wikmedia Commons
#92. Kenyon College
- Location: Gambier, OH
- Undergraduate enrollment: 1,661
- Student to faculty ratio: 9:1
- Acceptance rate: 34%
- Graduation rate: 91%
- Tuition: $53,560
- Six year median earnings: $48,700
- Two year employment rate: 94%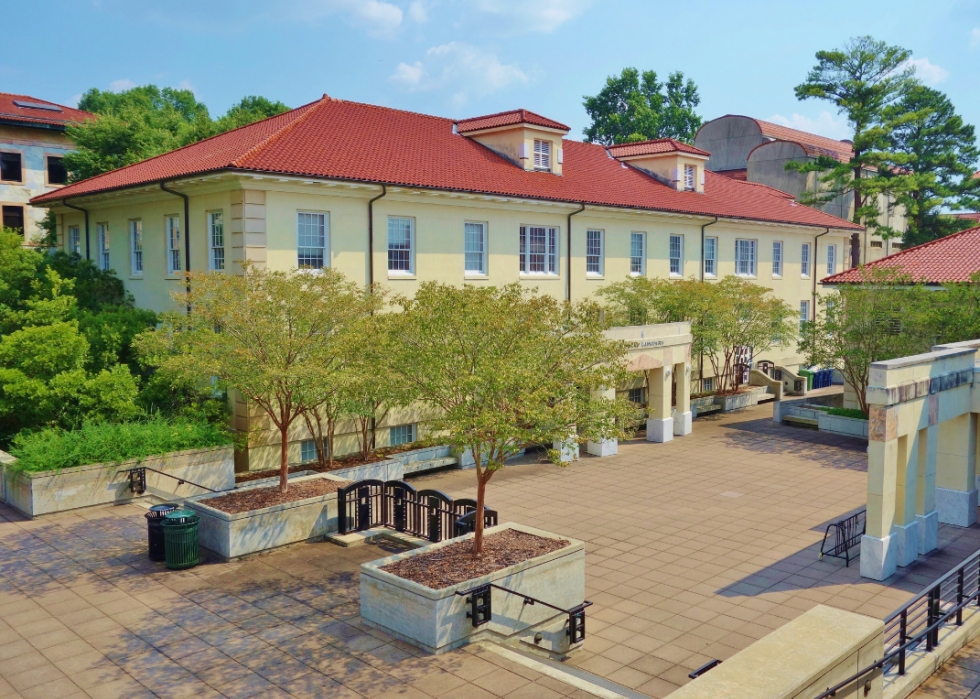 10 / 100
#91. Emory University
- Location: Atlanta, GA
- Undergraduate enrollment: 6,794
- Student to faculty ratio: 9:1
- Acceptance rate: 22%
- Graduation rate: 91%
- Tuition: $49,392
- Six year median earnings: $66,000
- Two year employment rate: 92%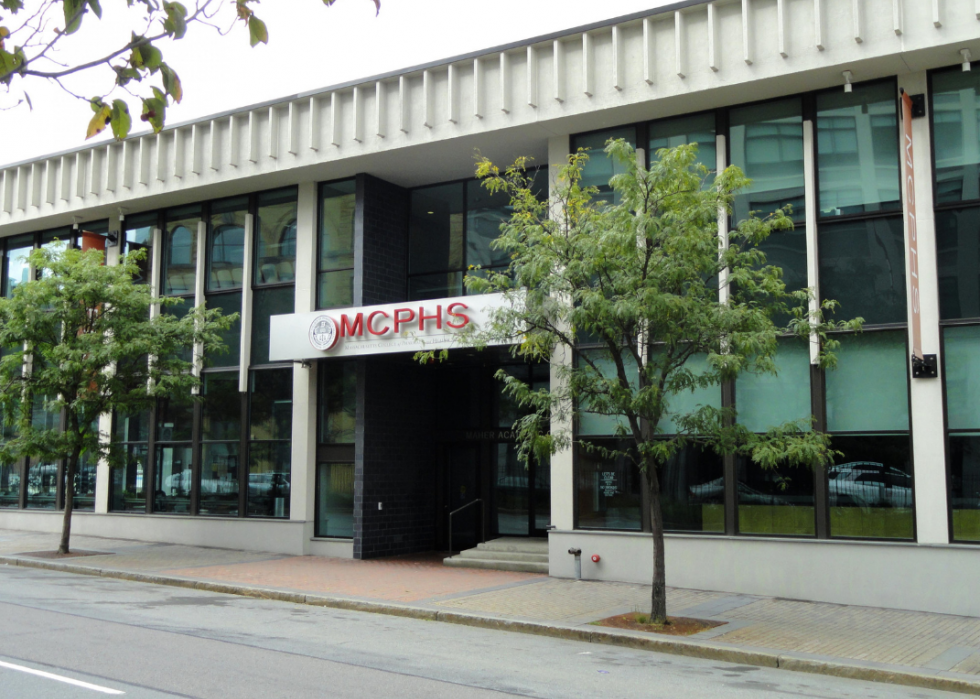 11 / 100
Daderot // Wikimedia Commons
#90. Massachusetts College of Pharmacy & Health Sciences
- Location: Boston, MA
- Undergraduate enrollment: 3,624
- Student to faculty ratio: 15:1
- Acceptance rate: 84%
- Graduation rate: 74%
- Tuition: $32,590
- Six year median earnings: $116,000
- Two year employment rate: 96%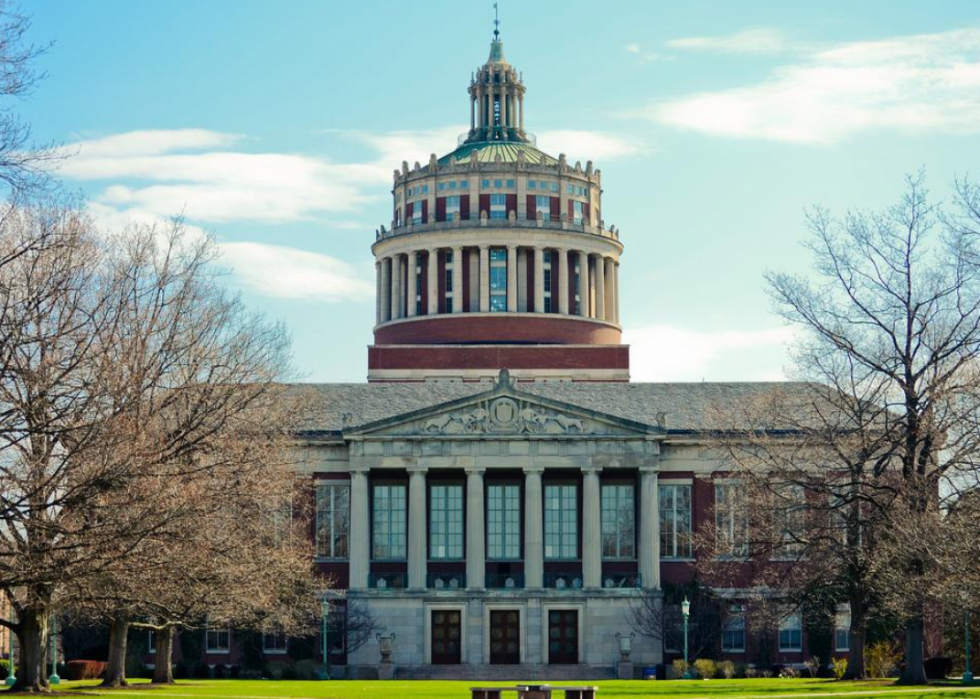 12 / 100
#89. University of Rochester
- Location: Rochester, NY
- Undergraduate enrollment: 6,250
- Student to faculty ratio: 10:1
- Acceptance rate: 34%
- Graduation rate: 85%
- Tuition: $51,090
- Six year median earnings: $61,200
- Two year employment rate: 92%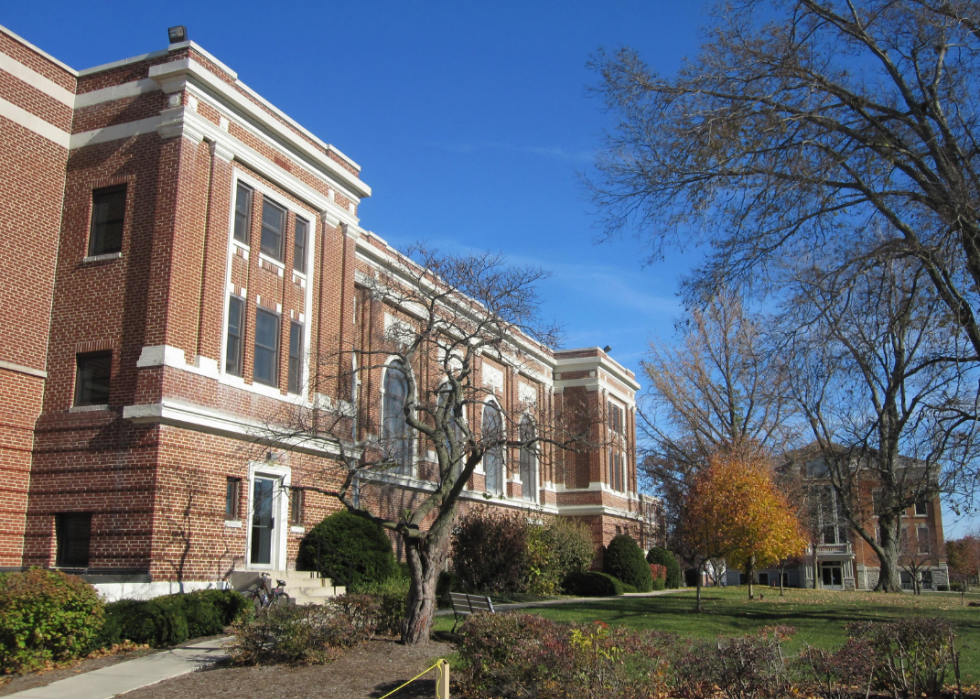 13 / 100
Bmamlyuk // Wikimedia Commons
#88. Ohio Northern University
- Location: Ada, OH
- Undergraduate enrollment: 2,092
- Student to faculty ratio: 11:1
- Acceptance rate: 66%
- Graduation rate: 76%
- Tuition: $32,260
- Six year median earnings: $63,500
- Two year employment rate: 97%
 
14 / 100
Kenneth C. Zirkel // Wikimedia Commons
#87. Stonehill College
- Location: Easton, MA
- Undergraduate enrollment: 2,482
- Student to faculty ratio: 12:1
- Acceptance rate: 72%
- Graduation rate: 80%
- Tuition: $41,300
- Six year median earnings: $60,800
- Two year employment rate: 98%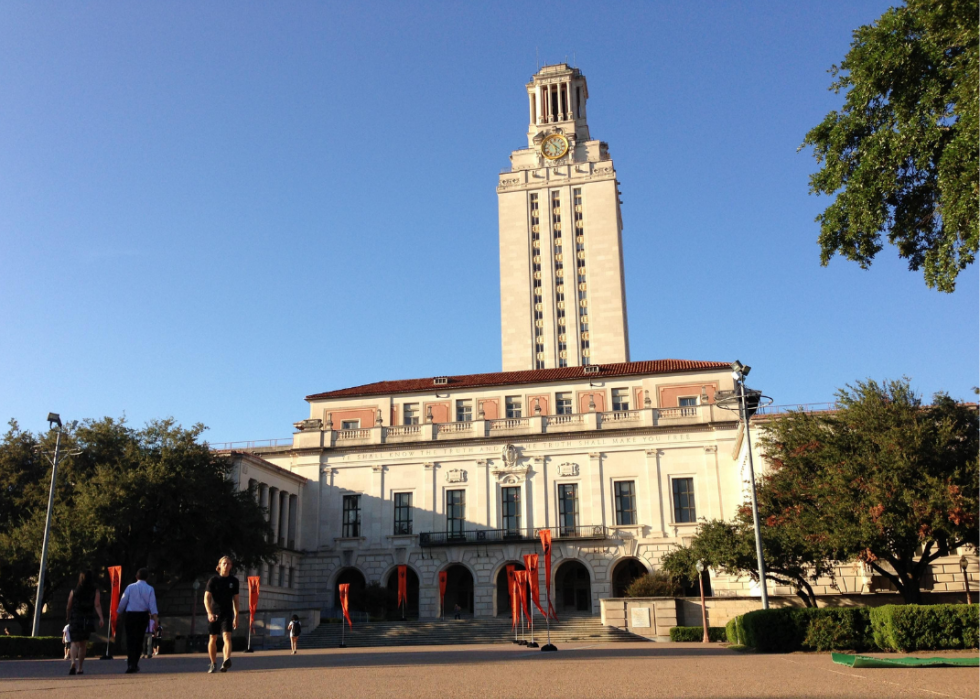 15 / 100
Guðsþegn // Wikimedia Commons
#86. University of Texas at Austin
- Location: Austin, TX
- Undergraduate enrollment: 37,740
- Student to faculty ratio: 18:1
- Acceptance rate: 36%
- Graduation rate: 83%
- In state tuition: $10,398
- Out-of-state tuition: $36,744
- Six year median earnings: $58,200
- Two year employment rate: 93%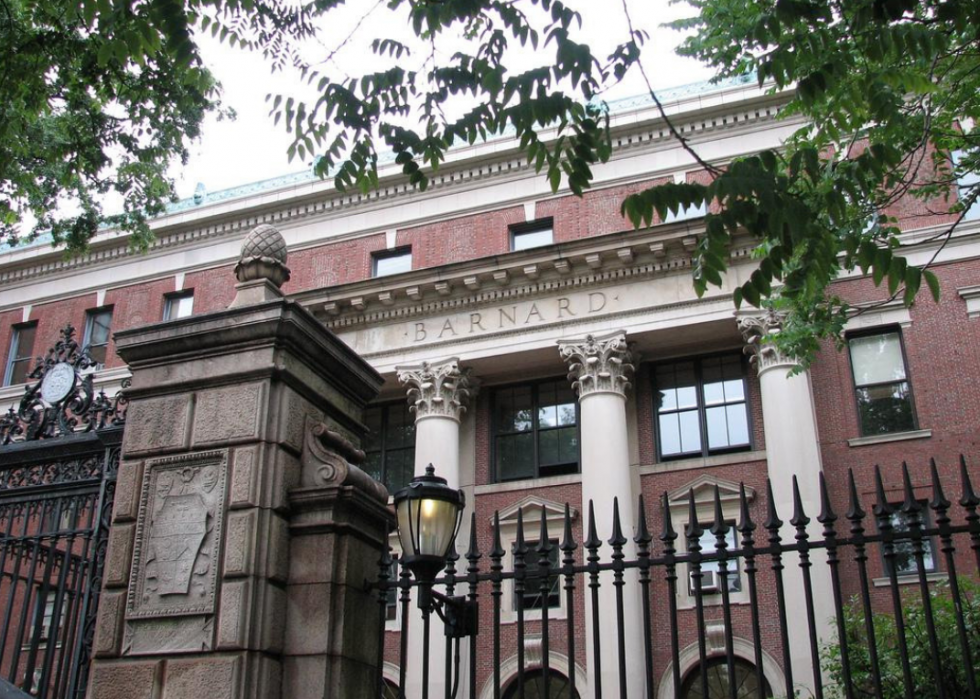 16 / 100
#85. Barnard College
- Location: New York, NY
- Undergraduate enrollment: 2,514
- Student to faculty ratio: 10:1
- Acceptance rate: 15%
- Graduation rate: 93%
- Tuition: $52,662
- Six year median earnings: $57,900
- Two year employment rate: 90%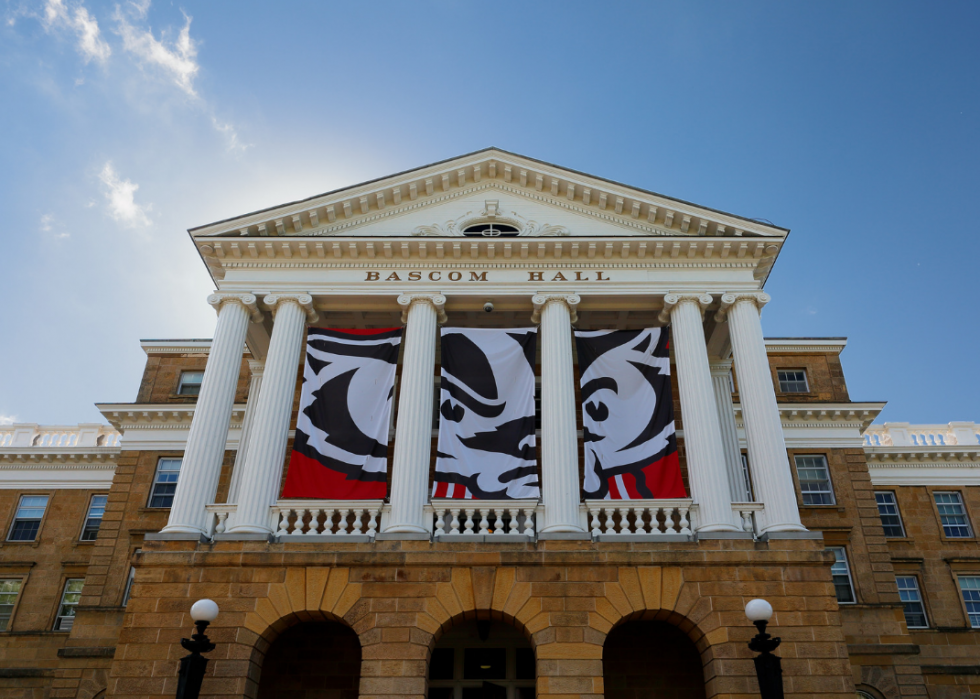 17 / 100
#84. University of Wisconsin
- Location: Madison, WI
- Undergraduate enrollment: 28,977
- Student to faculty ratio: 18:1
- Acceptance rate: 54%
- Graduation rate: 87%
- In state tuition: $10,533
- Out-of-state tuition: $34,783
- Six year median earnings: $56,200
- Two year employment rate: 95%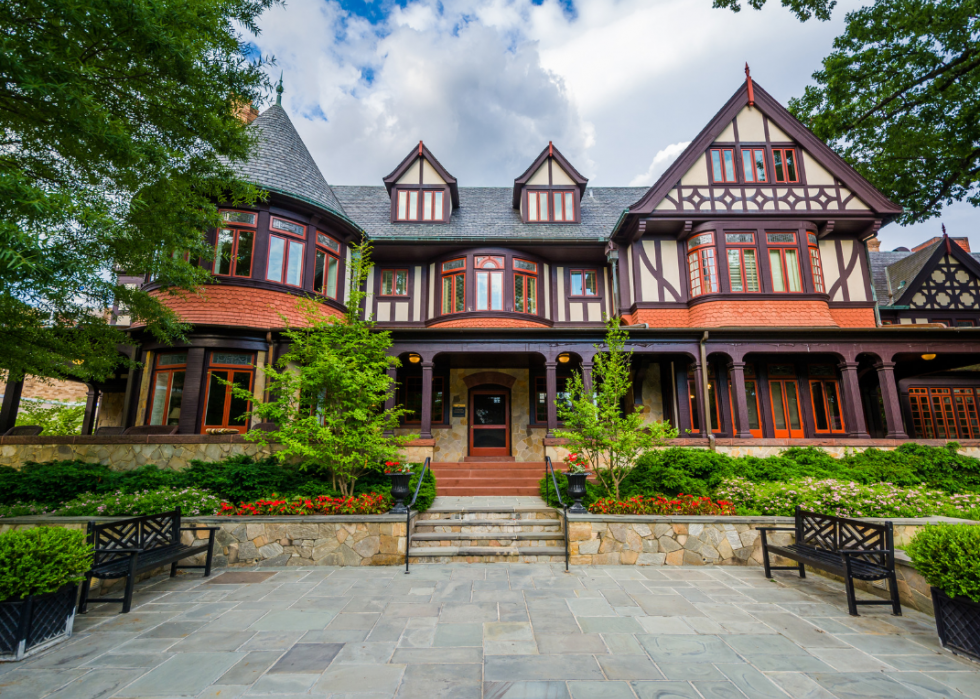 18 / 100
John Bilous // Shutterstock
#83. Loyola University Maryland
- Location: Baltimore, MD
- Undergraduate enrollment: 3,886
- Student to faculty ratio: 11:1
- Acceptance rate: 75%
- Graduation rate: 81%
- Tuition: $47,560
- Six year median earnings: $68,100
- Two year employment rate: 96%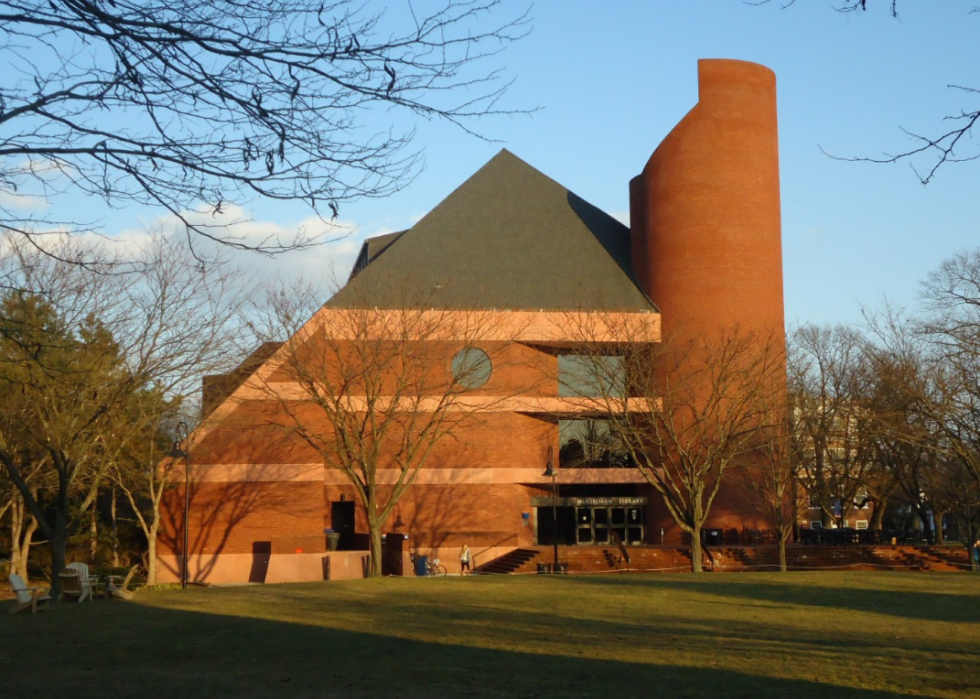 19 / 100
Tomwsulcer // Wikimedia Commons
#82. Gettysburg College
- Location: Gettysburg, PA
- Undergraduate enrollment: 2,404
- Student to faculty ratio: 9:1
- Acceptance rate: 46%
- Graduation rate: 84%
- Tuition: $52,640
- Six year median earnings: $56,100
- Two year employment rate: 95%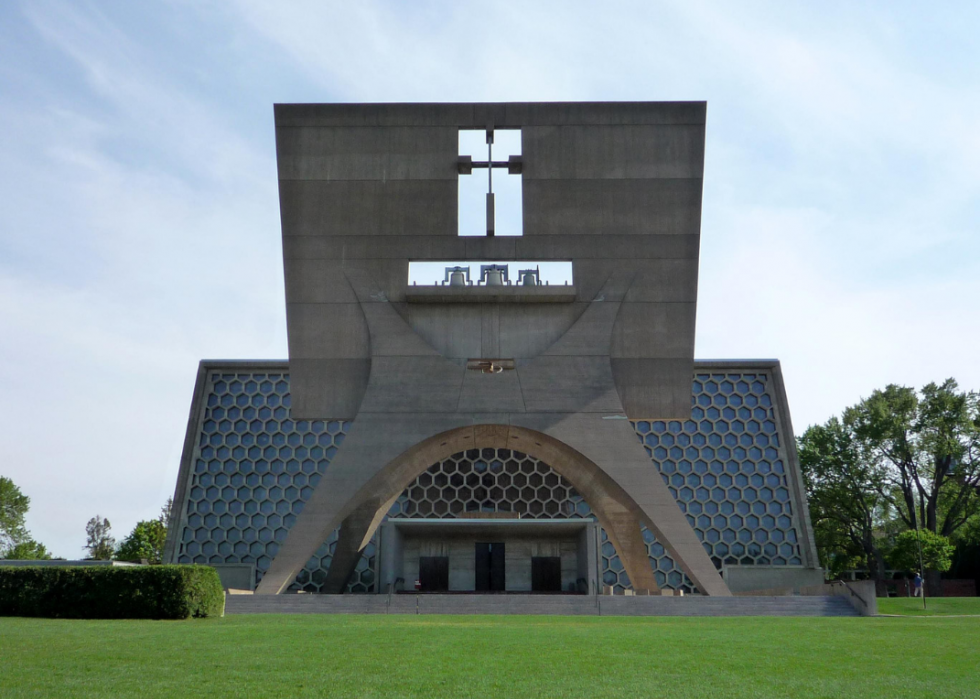 20 / 100
Bobak Ha'Eri // Wikimedia Commons
#81. Saint John's University Minnesota
- Location: Collegeville, MN
- Undergraduate enrollment: 1,703
- Student to faculty ratio: 12:1
- Acceptance rate: 80%
- Graduation rate: 74%
- Tuition: $43,356
- Six year median earnings: $60,600
- Two year employment rate: 96%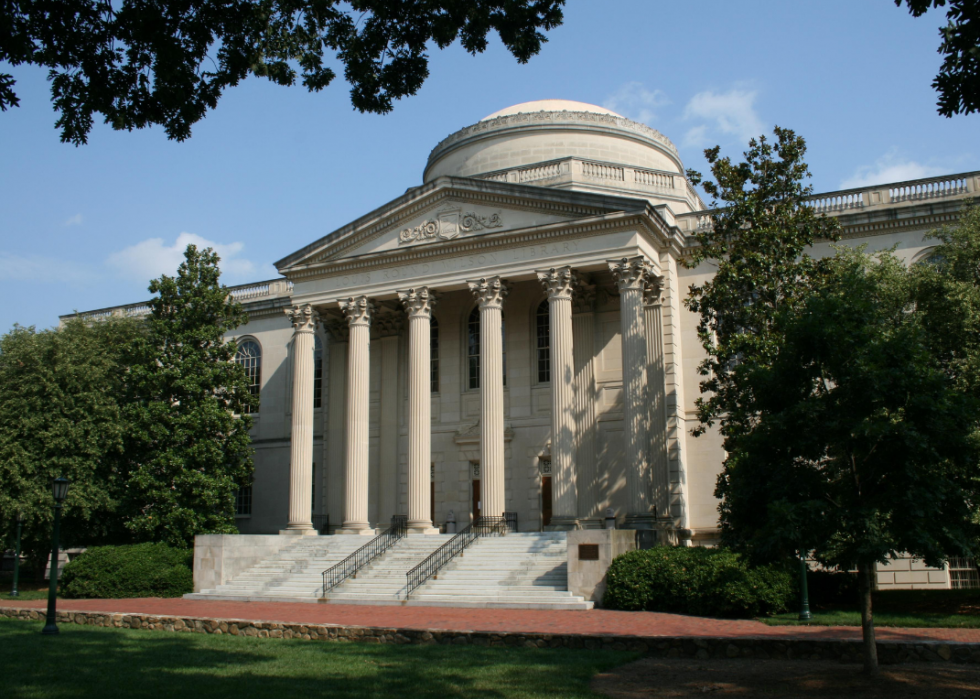 21 / 100
Ildar Sagdejev // Wikimedia Commons
#80. University of North Carolina at Chapel Hill
- Location: Chapel Hill, NC
- Undergraduate enrollment: 18,303
- Student to faculty ratio: 13:1
- Acceptance rate: 24%
- Graduation rate: 91%
- In state tuition: $9,005
- Out-of-state tuition: $34,588
- Six year median earnings: $55,600
- Two year employment rate: 94%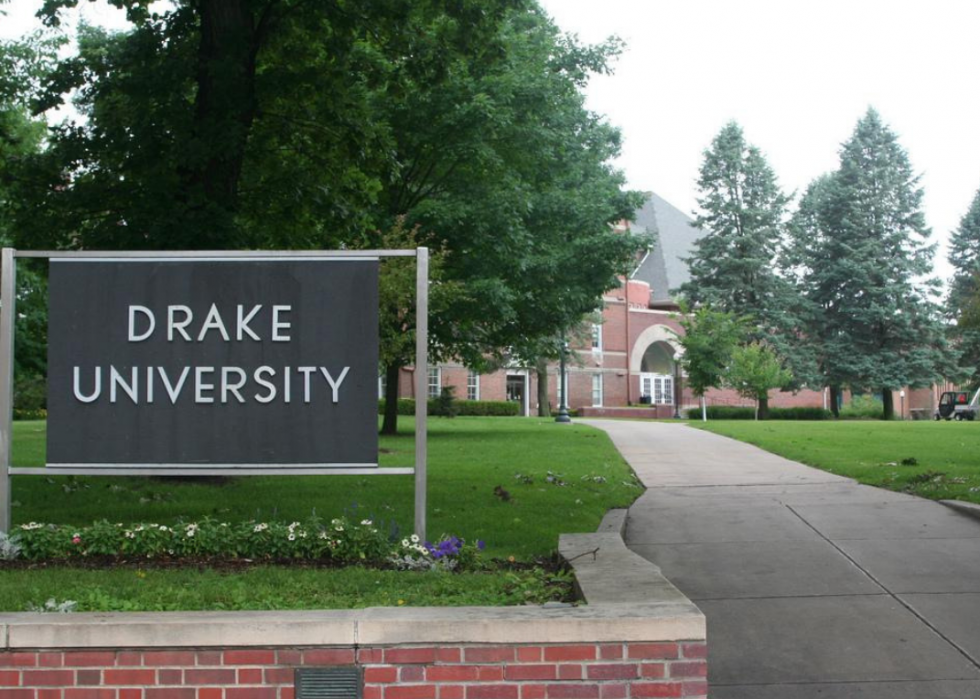 22 / 100
Picture Des Moines // Flickr
#79. Drake University
- Location: Des Moines, IA
- Undergraduate enrollment: 2,955
- Student to faculty ratio: 11:1
- Acceptance rate: 69%
- Graduation rate: 79%
- Tuition: $39,062
- Six year median earnings: $58,300
- Two year employment rate: 95%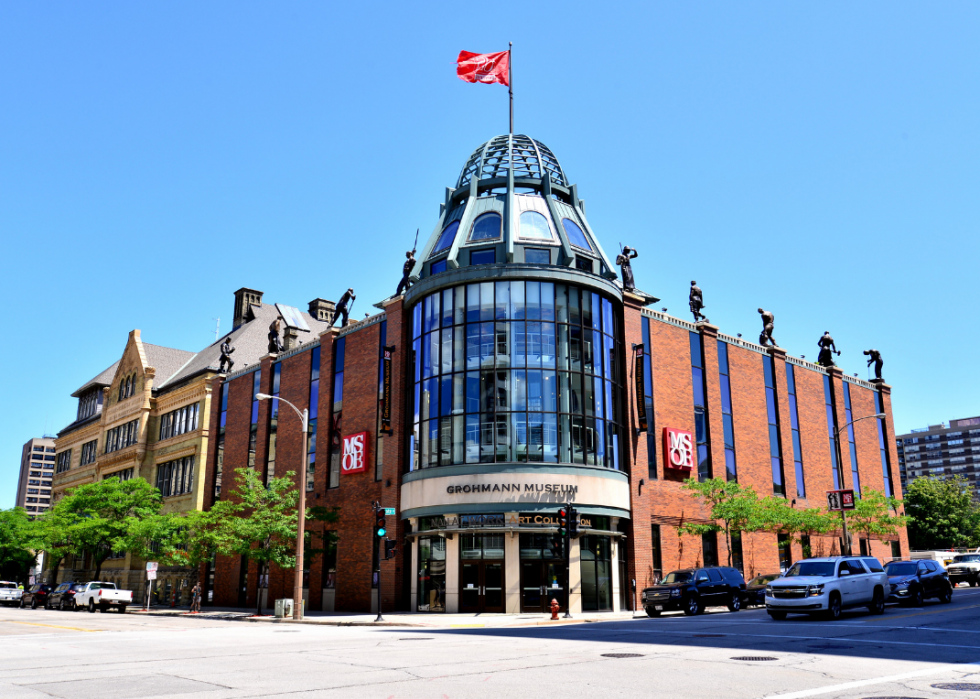 23 / 100
Tony Savino // Shutterstock
#78. Milwaukee School of Engineering
- Location: Milwaukee, WI
- Undergraduate enrollment: 2,508
- Student to faculty ratio: 16:1
- Acceptance rate: 63%
- Graduation rate: 67%
- Tuition: $39,039
- Six year median earnings: $71,300
- Two year employment rate: 97%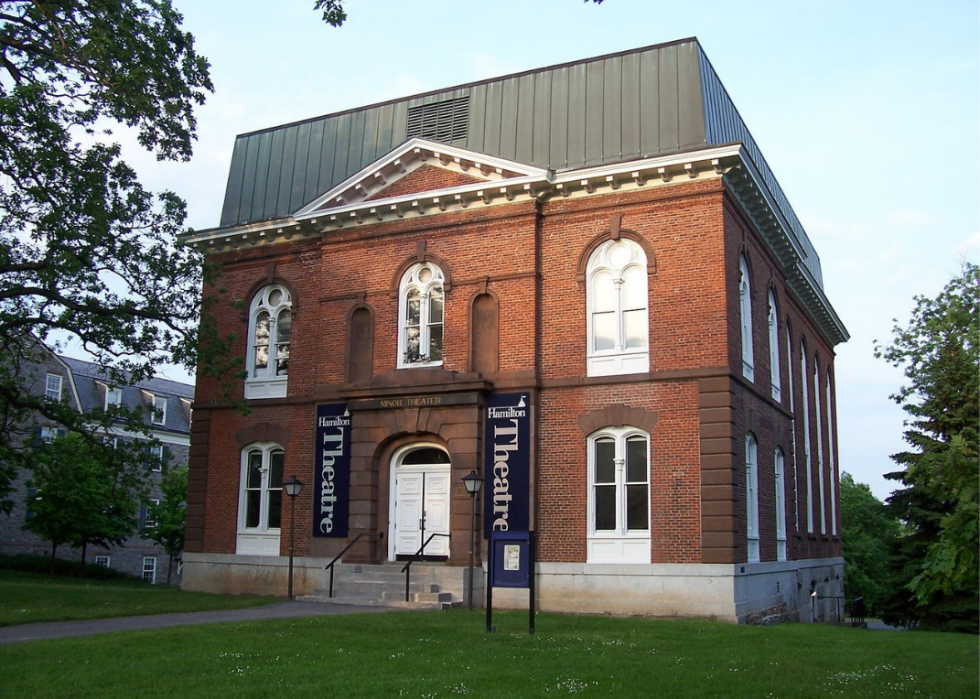 24 / 100
Daniel Penfield // Wikimedia Commons
#77. Hamilton College
- Location: Clinton, NY
- Undergraduate enrollment: 1,886
- Student to faculty ratio: 9:1
- Acceptance rate: 24%
- Graduation rate: 94%
- Tuition: $54,080
- Six year median earnings: $60,200
- Two year employment rate: 91%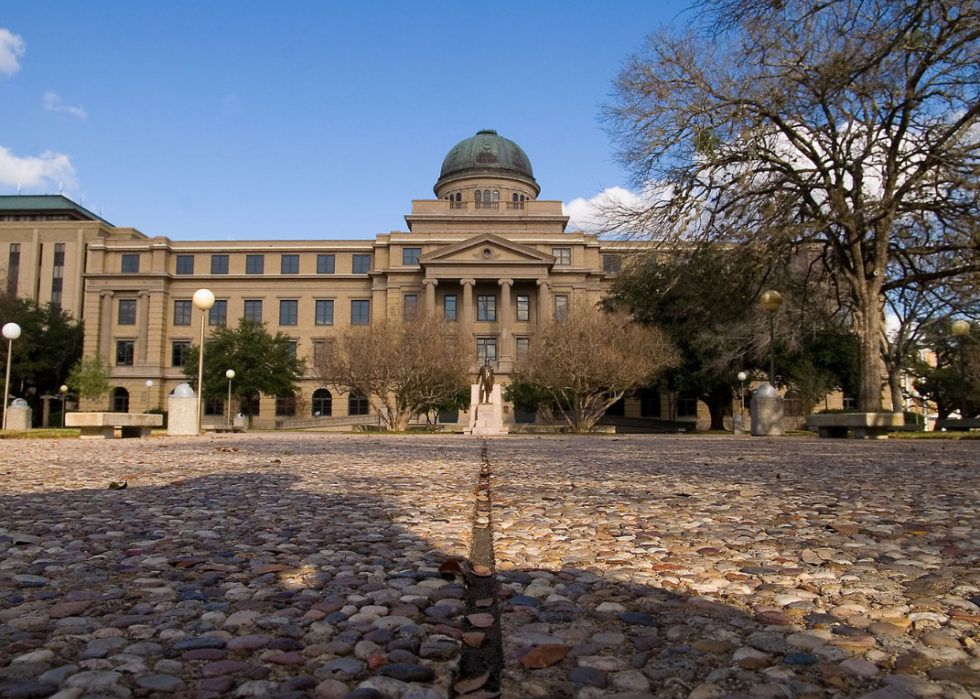 25 / 100
Stu Seeger // Wikimedia Commons
#76. Texas A&M University
- Location: College Station, TX
- Undergraduate enrollment: 46,724
- Student to faculty ratio: 21:1
- Acceptance rate: 71%
- Graduation rate: 82%
- In state tuition: $11,234
- Out-of-state tuition: $36,606
- Six year median earnings: $58,000
- Two year employment rate: 95%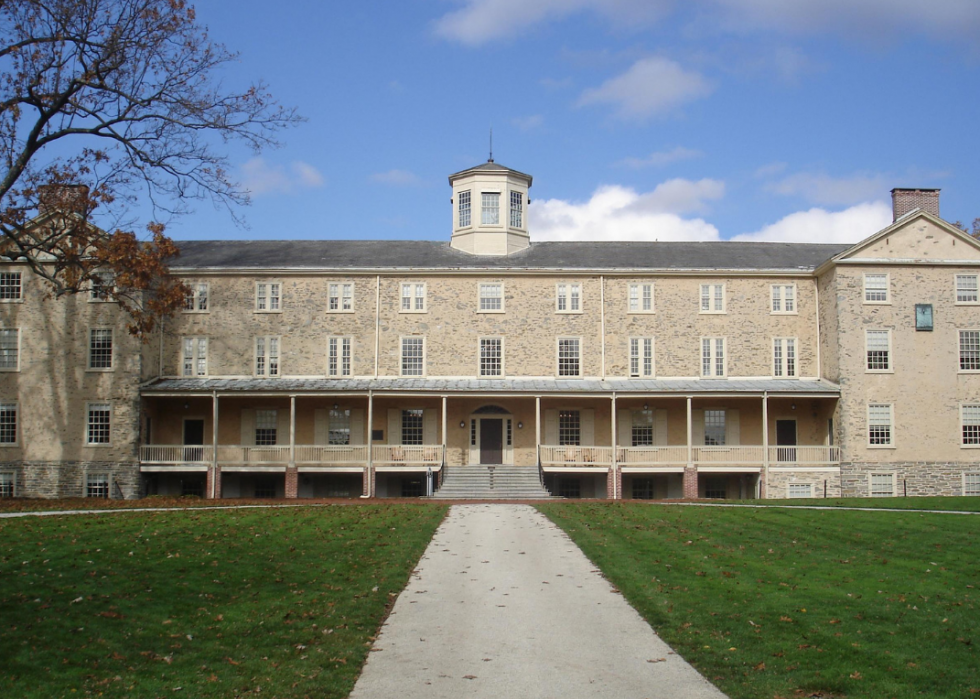 26 / 100
Jackbauerinvc // Wikimedia Commons
#75. Haverford College
- Location: Haverford, PA
- Undergraduate enrollment: 1,294
- Student to faculty ratio: 8:1
- Acceptance rate: 20%
- Graduation rate: 93%
- Tuition: $52,994
- Six year median earnings: $60,700
- Two year employment rate: 92%
 
27 / 100
Huw Williams // Wikimedia Commons
#74. Purdue University
- Location: West Lafayette, IN
- Undergraduate enrollment: 30,277
- Student to faculty ratio: 13:1
- Acceptance rate: 57%
- Graduation rate: 78%
- In state tuition: $9,992
- Out-of-state tuition: $28,794
- Six year median earnings: $55,100
- Two year employment rate: 95%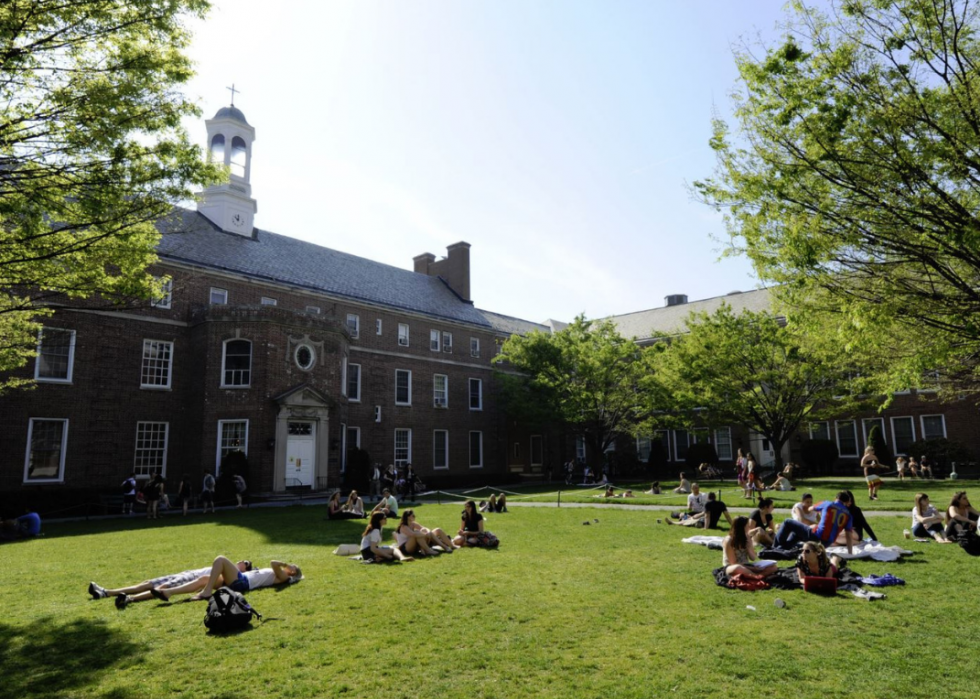 28 / 100
Trollness // Wikimedia Commons
#73. Manhattan College
- Location: Riverdale, NY
- Undergraduate enrollment: 3,479
- Student to faculty ratio: 13:1
- Acceptance rate: 75%
- Graduation rate: 75%
- Tuition: $41,412
- Six year median earnings: $65,000
- Two year employment rate: 95%
 
29 / 100
Beyond My Ken // Wikimedia Commons
#72. University of Illinois at Urbana-Champaign
- Location: Champaign, IL
- Undergraduate enrollment: 32,613
- Student to faculty ratio: 20:1
- Acceptance rate: 62%
- Graduation rate: 85%
- In state tuition: $15,074
- Out-of-state tuition: $31,194
- Six year median earnings: $61,500
- Two year employment rate: 95%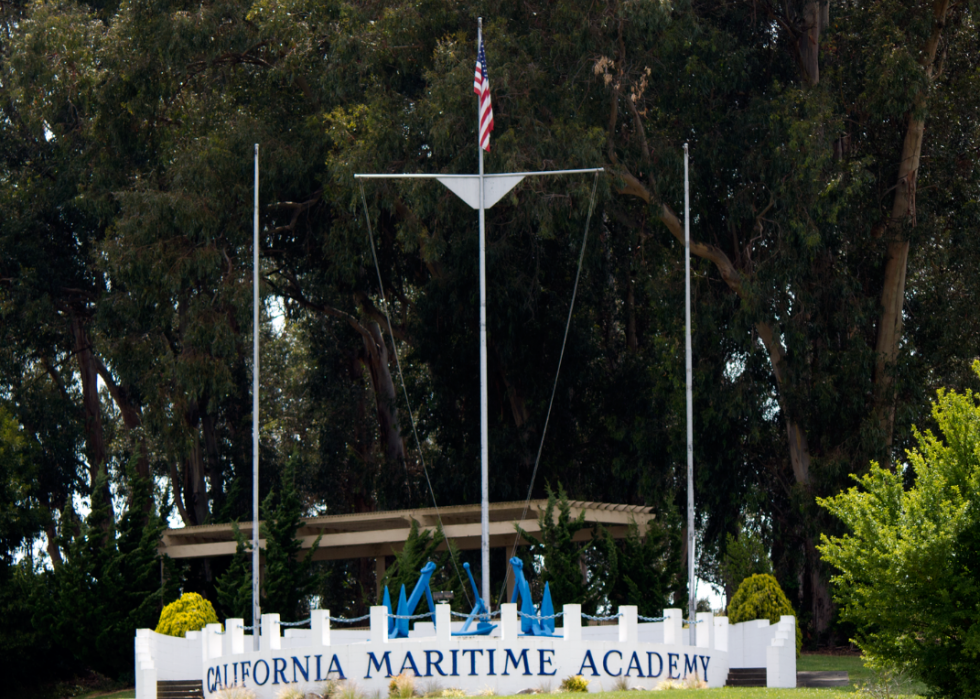 30 / 100
#71. California State University Maritime Academy
- Location: Vallejo, CA
- Undergraduate enrollment: 1,007
- Student to faculty ratio: 13:1
- Acceptance rate: 66%
- Graduation rate: 64%
- In state tuition: $7,056
- Out-of-state tuition: $18,936
- Six year median earnings: $82,900
- Two year employment rate: 95%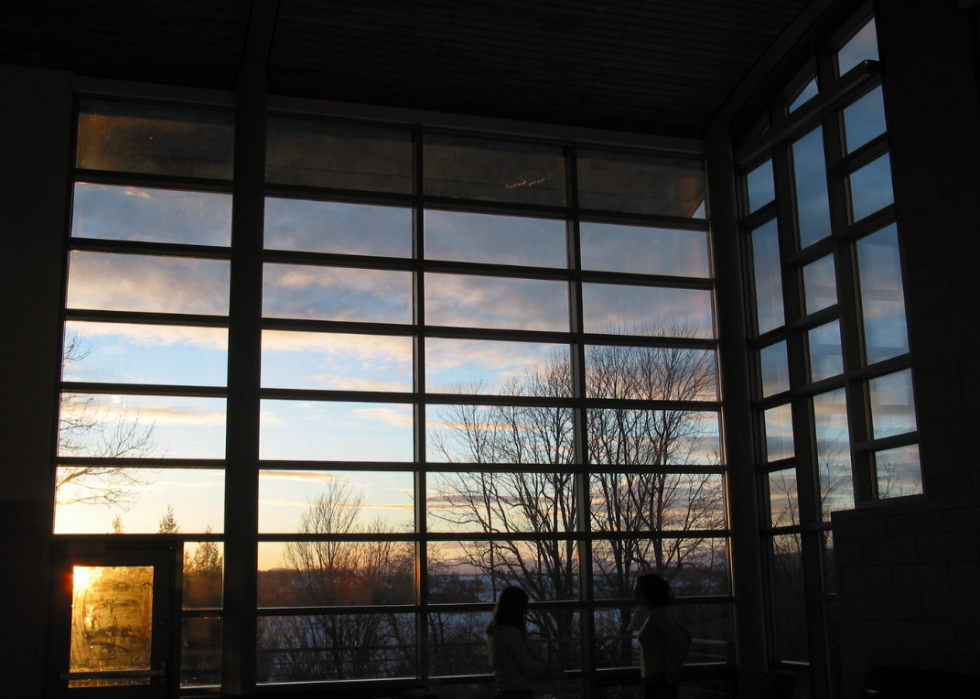 31 / 100
#70. Middlebury College
- Location: Middlebury, VT
- Undergraduate enrollment: 2,528
- Student to faculty ratio: 8:1
- Acceptance rate: 17%
- Graduation rate: 95%
- Tuition: $52,496
- Six year median earnings: $58,200
- Two year employment rate: 87%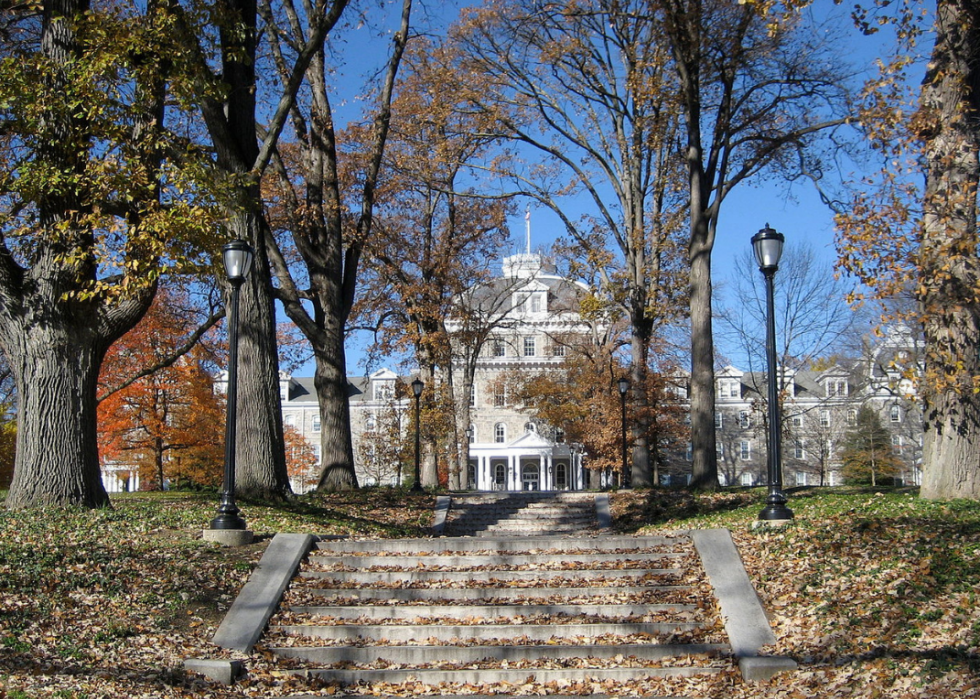 32 / 100
GFDL // Wikimedia Commons
#69. Swarthmore College
- Location: Swarthmore, PA
- Undergraduate enrollment: 1,573
- Student to faculty ratio: 8:1
- Acceptance rate: 11%
- Graduation rate: 94%
- Tuition: $52,190
- Six year median earnings: $56,700
- Two year employment rate: 85%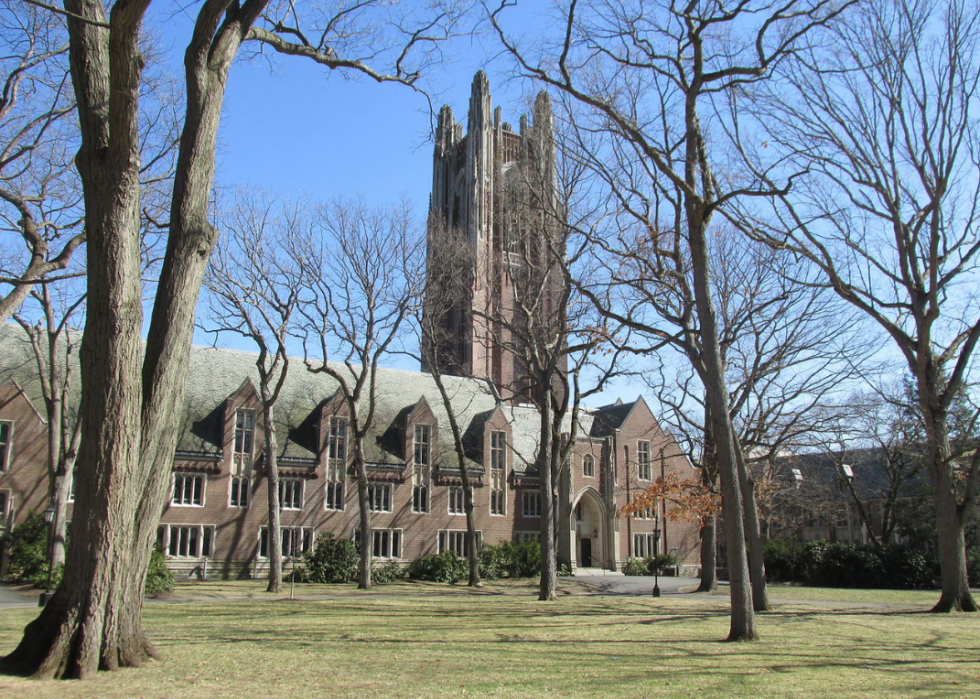 33 / 100
John Phelan // Wikimedia Commons
#68. Wellesley College
- Location: Wellesley, MA
- Undergraduate enrollment: 2,374
- Student to faculty ratio: 7:1
- Acceptance rate: 28%
- Graduation rate: 91%
- Tuition: $50,840
- Six year median earnings: $60,800
- Two year employment rate: 94%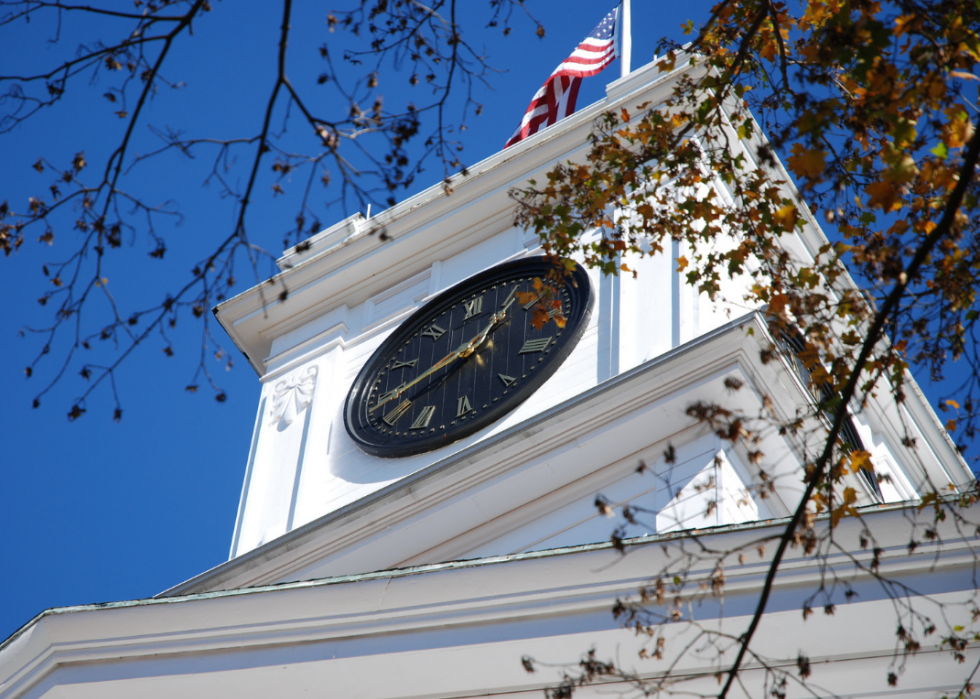 34 / 100
Mark Yarchoan // Shutterstock
#67. Amherst College
- Location: Amherst, MA
- Undergraduate enrollment: 1,836
- Student to faculty ratio: 8:1
- Acceptance rate: 13%
- Graduation rate: 95%
- Tuition: $54,310
- Six year median earnings: $65,000
- Two year employment rate: 90%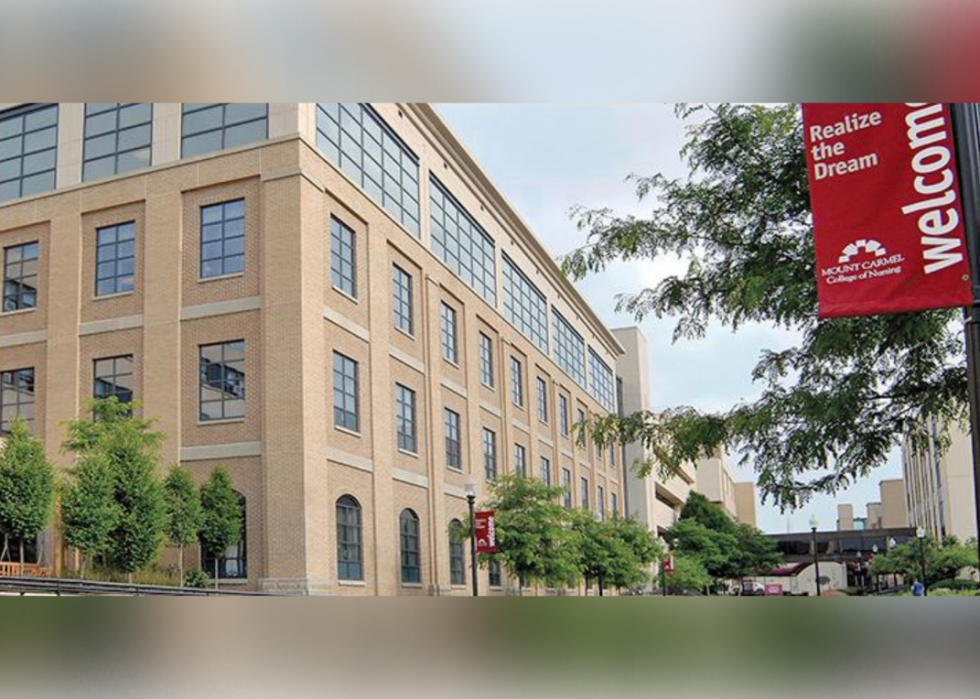 35 / 100
Mount Carmel College of Nursing
#66. Mount Carmel College of Nursing
- Location: Columbus, OH
- Undergraduate enrollment: 638
- Student to faculty ratio: 10:1
- Acceptance rate: 99%
- Graduation rate: 73%
- Tuition: $13,442
- Six year median earnings: $57,700
- Two year employment rate: 98%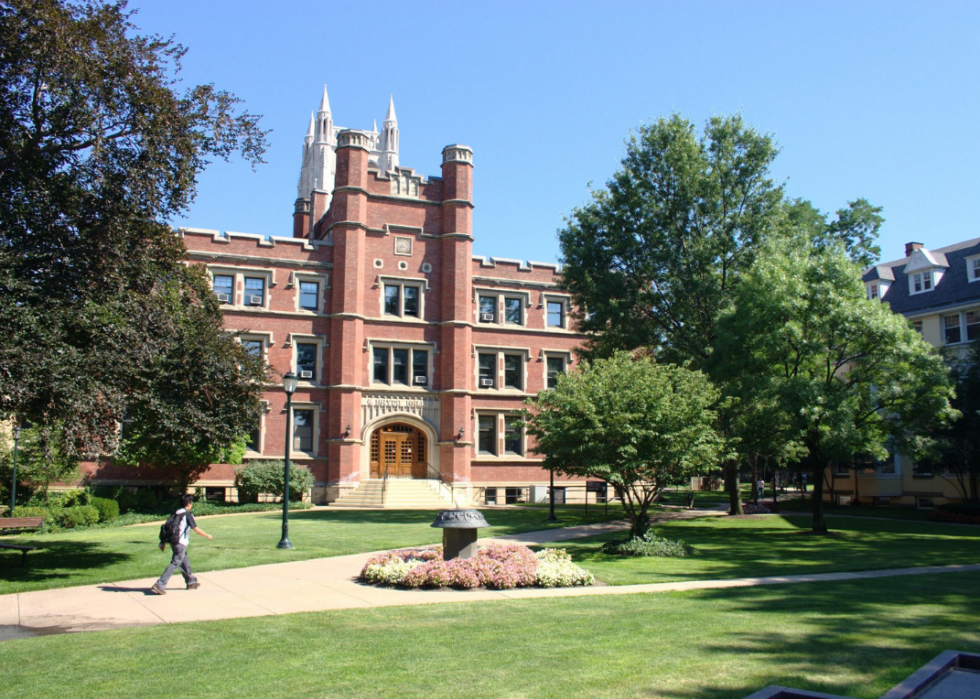 36 / 100
Rdikeman // Wikimedia Commons
#65. Case Western Reserve University
- Location: Cleveland, OH
- Undergraduate enrollment: 4,978
- Student to faculty ratio: 11:1
- Acceptance rate: 33%
- Graduation rate: 83%
- Tuition: $47,074
- Six year median earnings: $74,600
- Two year employment rate: 94%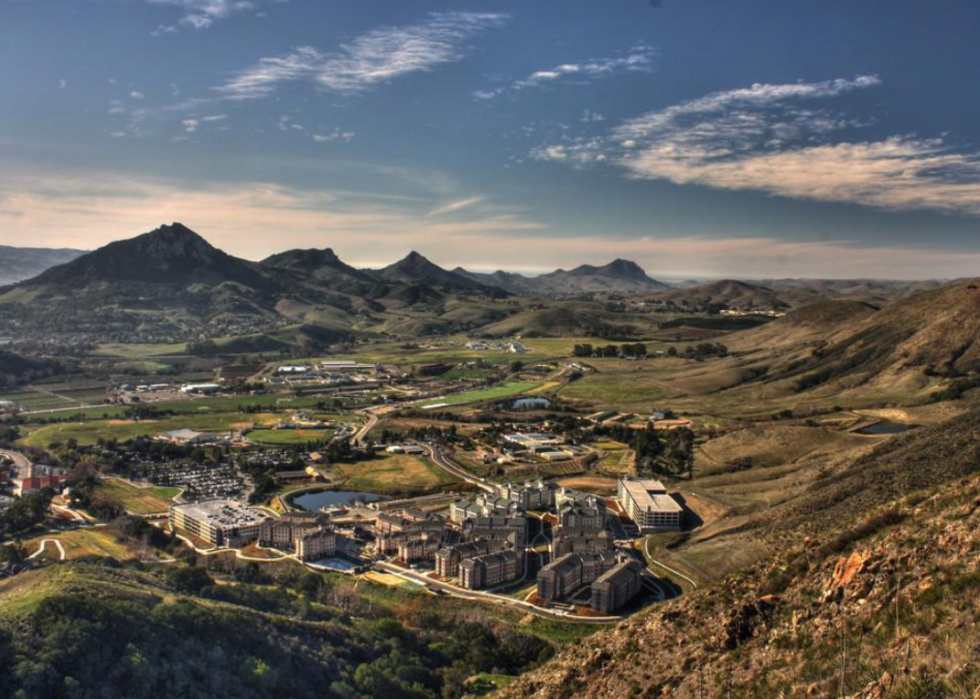 37 / 100
#64. California Polytechnic State University, San Luis Obispo
- Location: San Luis Obispo, CA
- Undergraduate enrollment: 20,584
- Student to faculty ratio: 22:1
- Acceptance rate: 35%
- Graduation rate: 79%
- In state tuition: $9,432
- Out-of-state tuition: $21,312
- Six year median earnings: $66,900
- Two year employment rate: 95%
 
38 / 100
Nostalgicwisdom // Wikimedia Commons
#63. Pomona College
- Location: Claremont, CA
- Undergraduate enrollment: 1,578
- Student to faculty ratio: 7:1
- Acceptance rate: 8%
- Graduation rate: 93%
- Tuition: $51,075
- Six year median earnings: $58,100
- Two year employment rate: 90%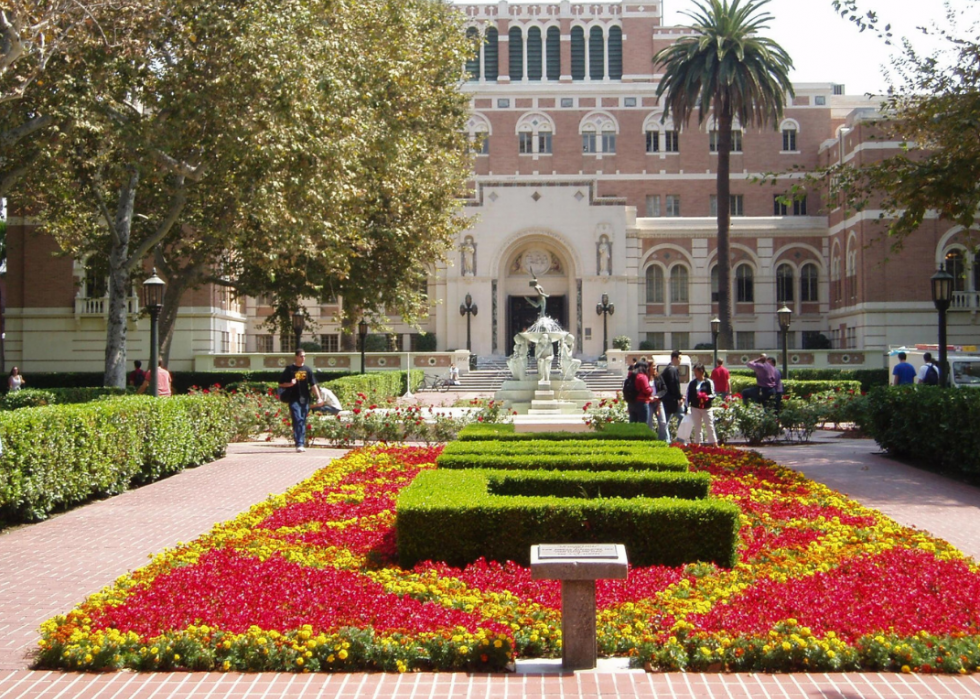 39 / 100
Padsquad19 // Wikimedia Commons
#62. University of Southern California
- Location: Los Angeles, CA
- Undergraduate enrollment: 18,631
- Student to faculty ratio: 9:1
- Acceptance rate: 17%
- Graduation rate: 92%
- Tuition: $54,259
- Six year median earnings: $74,000
- Two year employment rate: 92%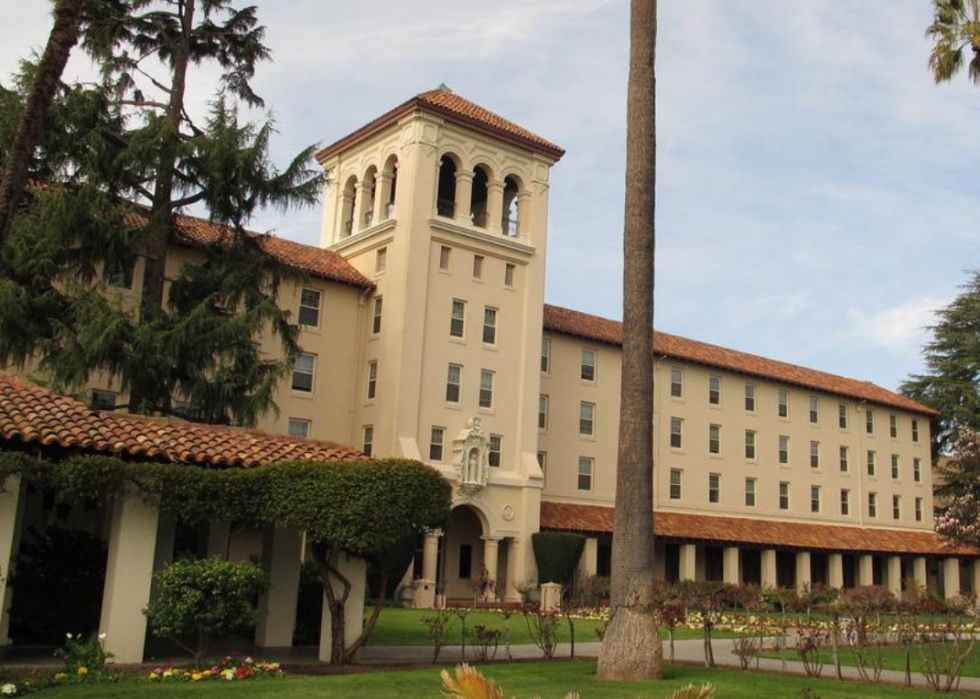 40 / 100
#61. Santa Clara University
- Location: Santa Clara, CA
- Undergraduate enrollment: 5,411
- Student to faculty ratio: 11:1
- Acceptance rate: 54%
- Graduation rate: 90%
- Tuition: $49,233
- Six year median earnings: $72,600
- Two year employment rate: 94%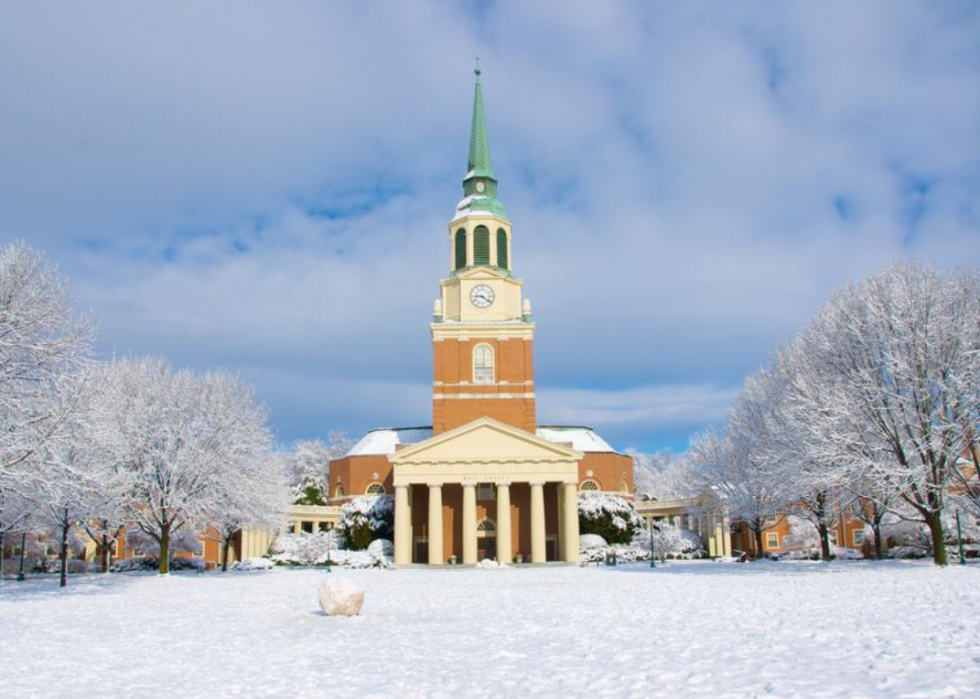 41 / 100
#60. Wake Forest University
- Location: Winston-Salem, NC
- Undergraduate enrollment: 5,046
- Student to faculty ratio: 11:1
- Acceptance rate: 28%
- Graduation rate: 88%
- Tuition: $51,400
- Six year median earnings: $63,800
- Two year employment rate: 94%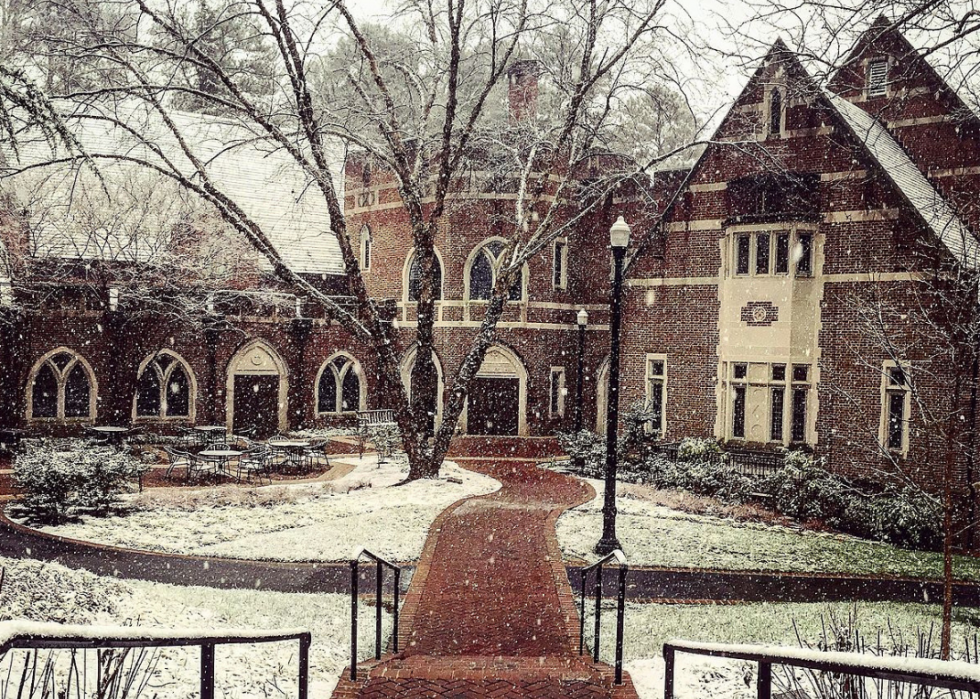 42 / 100
Snapper Tams // Wikimedia Commons
#59. University of Richmond
- Location: University of Richmond, VA
- Undergraduate enrollment: 3,035
- Student to faculty ratio: 8:1
- Acceptance rate: 33%
- Graduation rate: 88%
- Tuition: $50,910
- Six year median earnings: $64,500
- Two year employment rate: 95%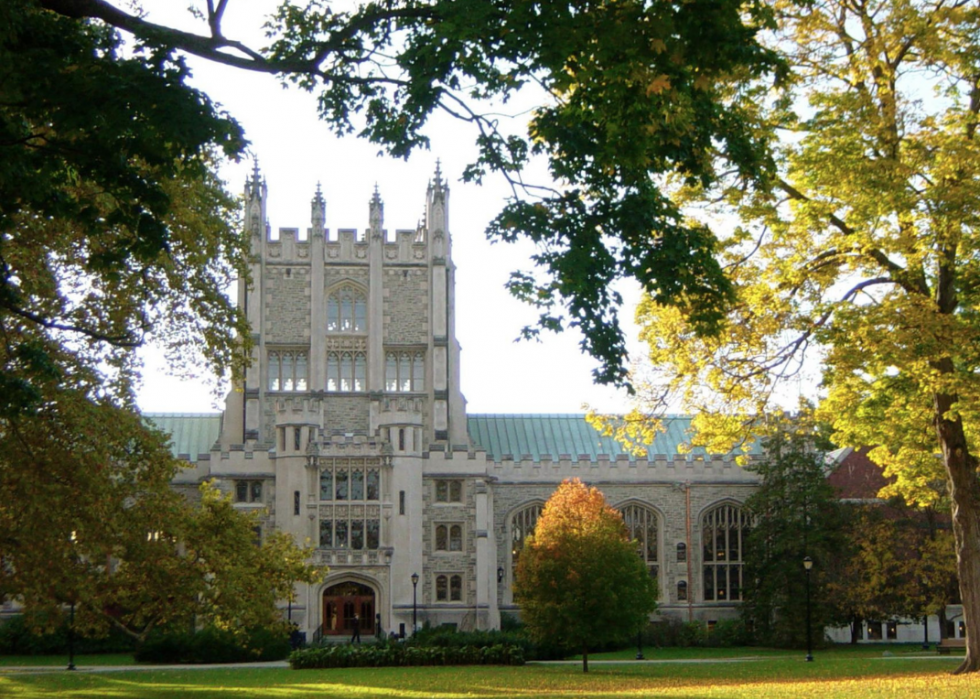 43 / 100
Noteremote // Wikimedia Commons
#58. Vassar College
- Location: Poughkeepsie, NY
- Undergraduate enrollment: 2,334
- Student to faculty ratio: 8:1
- Acceptance rate: 24%
- Graduation rate: 91%
- Tuition: $55,210
- Six year median earnings: $54,600
- Two year employment rate: 93%
 
44 / 100
#57. University of California, Berkeley
- Location: Berkeley, CA
- Undergraduate enrollment: 29,351
- Student to faculty ratio: 18:1
- Acceptance rate: 17%
- Graduation rate: 91%
- In state tuition: $14,170
- Out-of-state tuition: $42,184
- Six year median earnings: $64,700
- Two year employment rate: 88%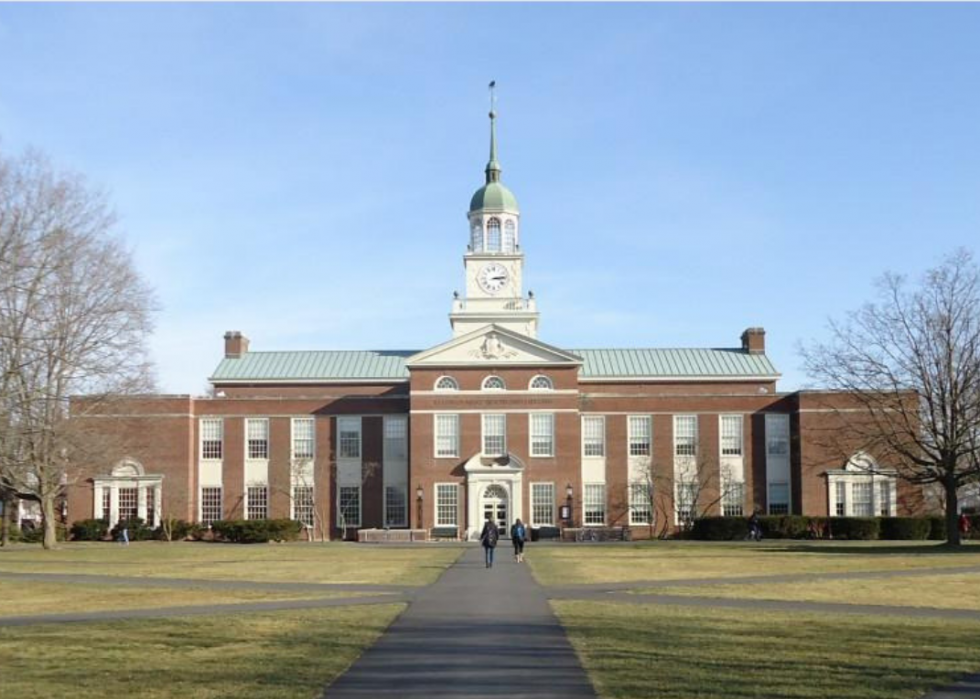 45 / 100
Tomwsulcer // Wikimedia Commons
#56. Bucknell University
- Location: Lewisburg, PA
- Undergraduate enrollment: 3,585
- Student to faculty ratio: 9:1
- Acceptance rate: 31%
- Graduation rate: 90%
- Tuition: $53,986
- Six year median earnings: $70,800
- Two year employment rate: 95%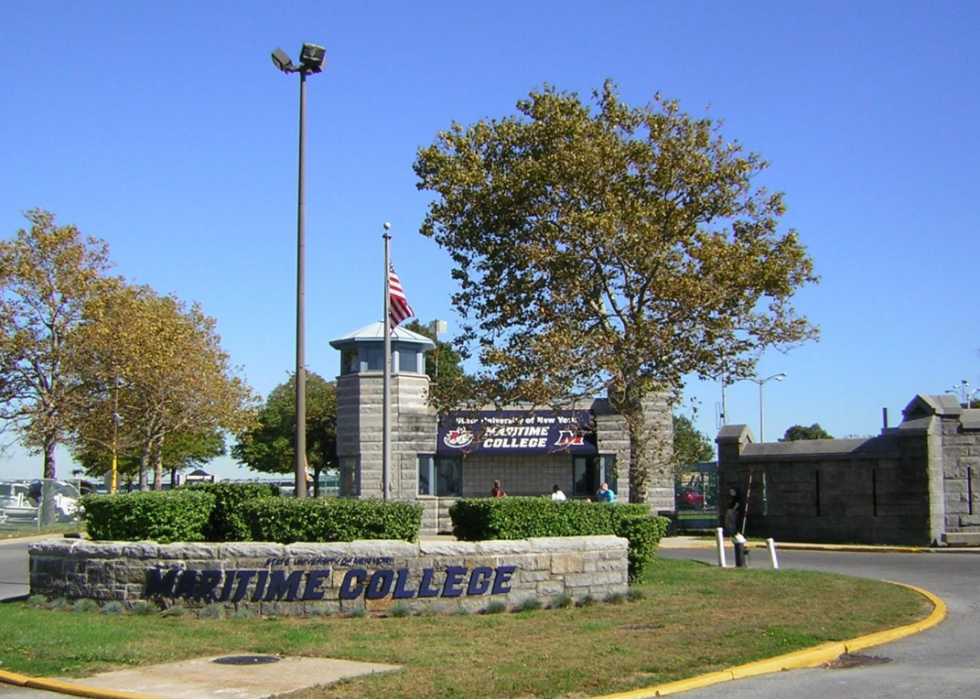 46 / 100
Jim.henderson // Wikimedia Commons
#55. SUNY Maritime College
- Location: Throggs Neck, NY
- Undergraduate enrollment: 1,581
- Student to faculty ratio: 15:1
- Acceptance rate: 69%
- Graduation rate: 63%
- In state tuition: $8,074
- Out-of-state tuition: $17,724
- Six year median earnings: $82,800
- Two year employment rate: 95%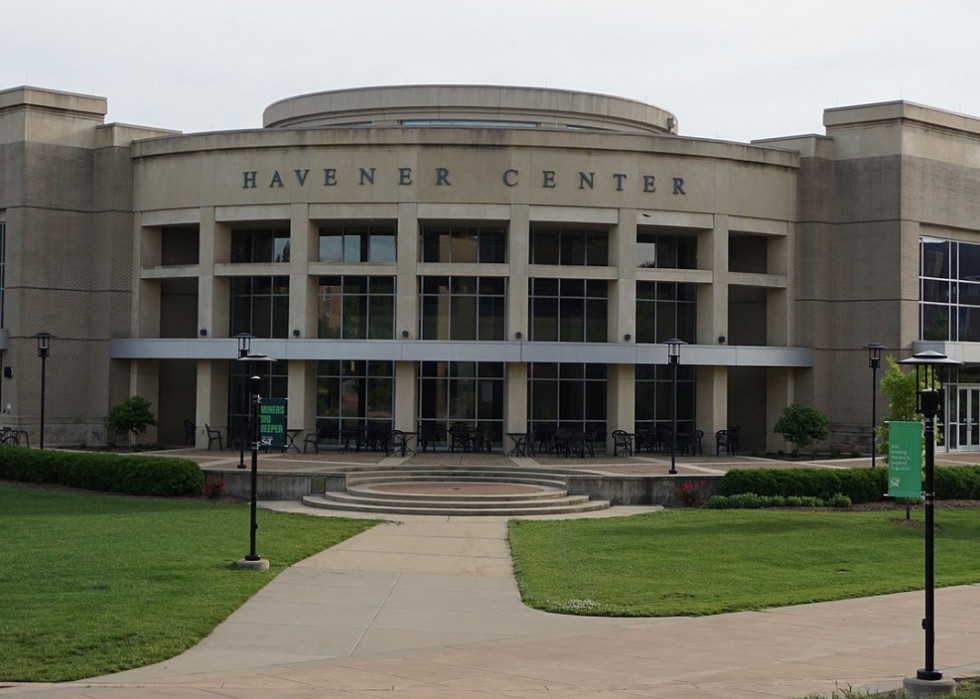 47 / 100
Steveewatkins // Wikimedia Commons
#54. Missouri University of Science & Technology
- Location: Rolla, MO
- Undergraduate enrollment: 6,128
- Student to faculty ratio: 19:1
- Acceptance rate: 84%
- Graduation rate: 64%
- In state tuition: $7,974
- Out-of-state tuition: $25,082
- Six year median earnings: $71,200
- Two year employment rate: 95%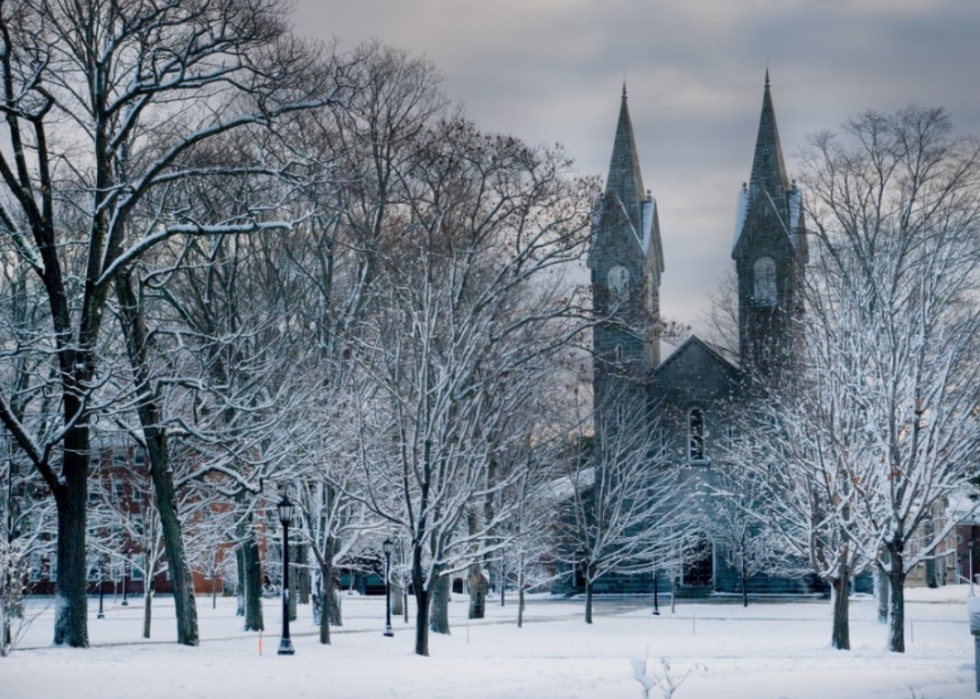 48 / 100
Gwynfisher // Wikimedia Commons
#53. Bowdoin College
- Location: Brunswick, ME
- Undergraduate enrollment: 1,813
- Student to faculty ratio: 9:1
- Acceptance rate: 14%
- Graduation rate: 95%
- Tuition: $51,848
- Six year median earnings: $65,500
- Two year employment rate: 93%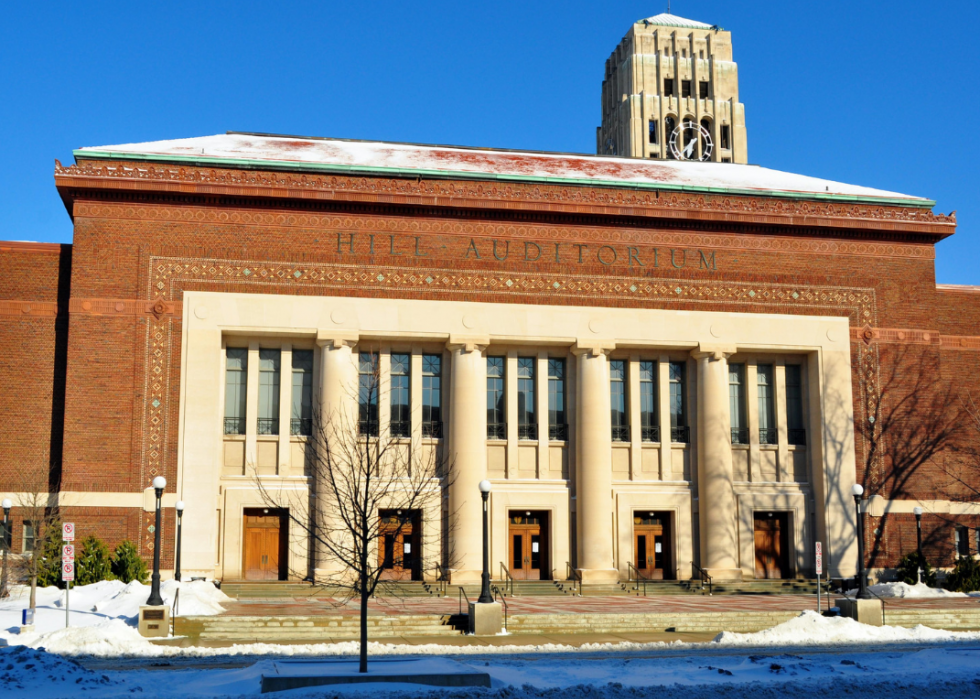 49 / 100
AndrewHorne // Wikimedia Commons
#52. University of Michigan, Ann Arbor
- Location: Ann Arbor, MI
- Undergraduate enrollment: 28,702
- Student to faculty ratio: 11:1
- Acceptance rate: 27%
- Graduation rate: 92%
- In state tuition: $14,826
- Out-of-state tuition: $47,476
- Six year median earnings: $63,400
- Two year employment rate: 94%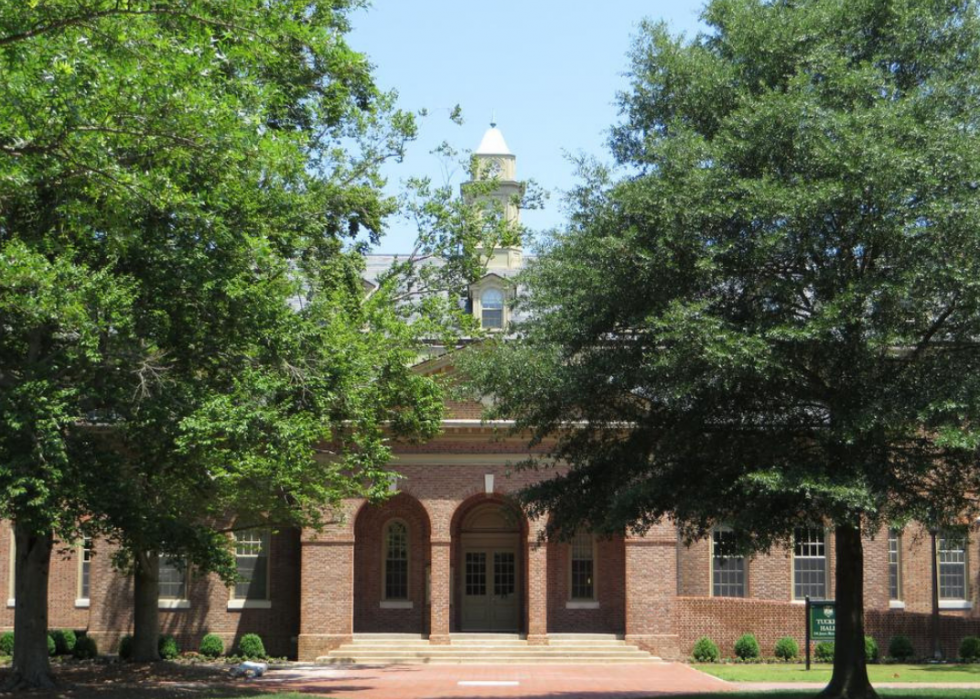 50 / 100
#51. College of William & Mary
- Location: Williamsburg, VA
- Undergraduate enrollment: 6,199
- Student to faculty ratio: 11:1
- Acceptance rate: 36%
- Graduation rate: 92%
- In state tuition: $17,434
- Out-of-state tuition: $40,089
- Six year median earnings: $58,500
- Two year employment rate: 94%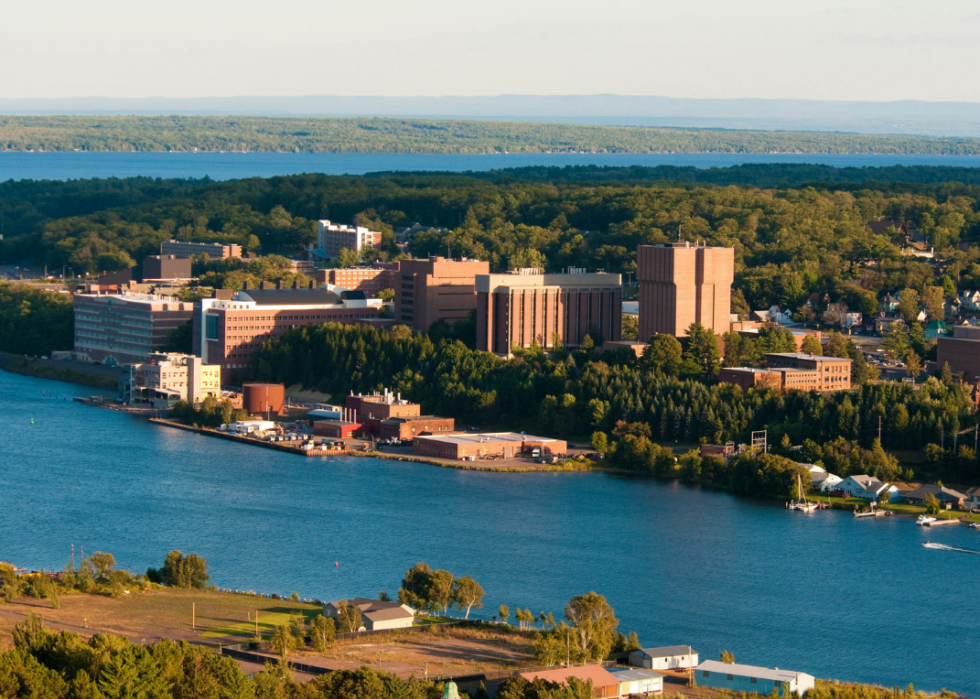 51 / 100
Michigan Technological University Photo Services // Wikimedia Commons
#50. Michigan Technological University
- Location: Houghton, MI
- Undergraduate enrollment: 5,492
- Student to faculty ratio: 13:1
- Acceptance rate: 74%
- Graduation rate: 67%
- In state tuition: $15,346
- Out-of-state tuition: $33,426
- Six year median earnings: $66,400
- Two year employment rate: 97%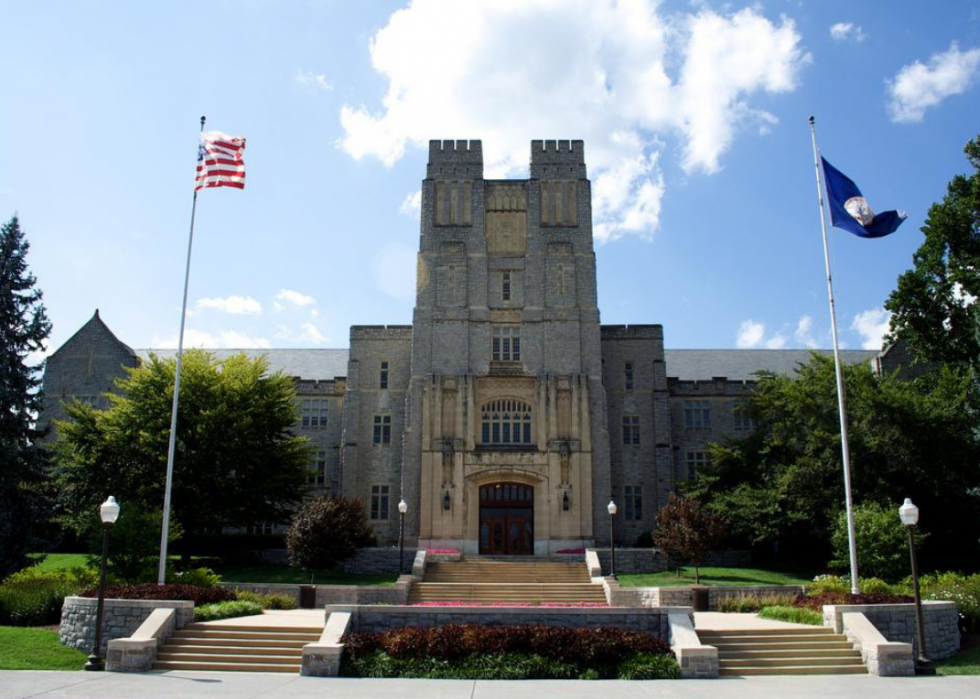 52 / 100
Jimmy and Sasha Reade // Flickr
#49. Virginia Tech
- Location: Blacksburg, VA
- Undergraduate enrollment: 26,603
- Student to faculty ratio: 14:1
- Acceptance rate: 70%
- Graduation rate: 84%
- In state tuition: $13,230
- Out-of-state tuition: $31,014
- Six year median earnings: $62,500
- Two year employment rate: 96%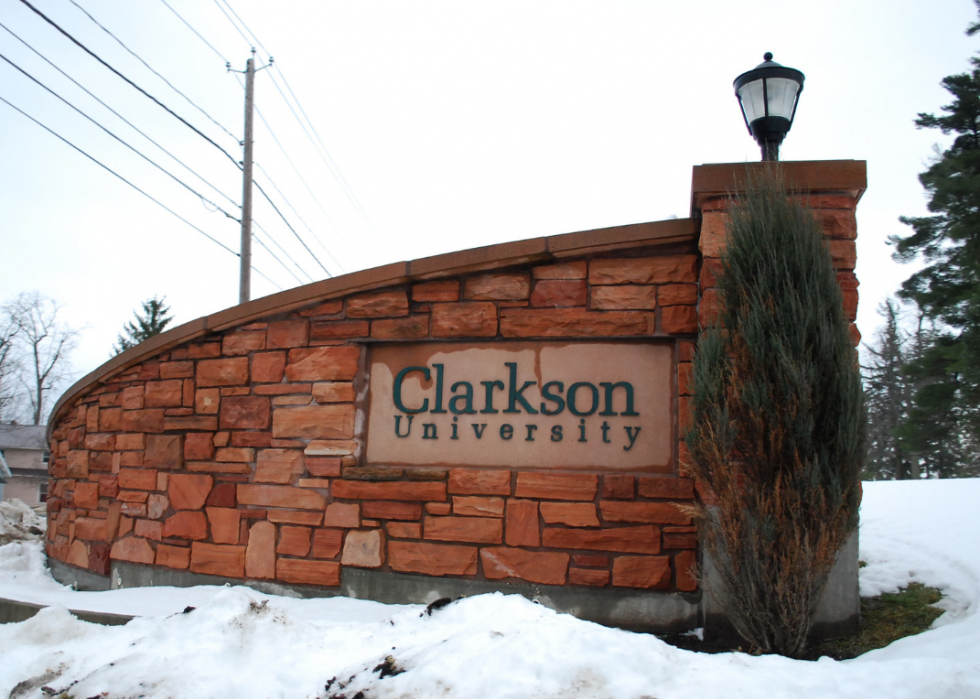 53 / 100
#48. Clarkson University
- Location: Potsdam, NY
- Undergraduate enrollment: 3,021
- Student to faculty ratio: 14:1
- Acceptance rate: 66%
- Graduation rate: 73%
- Tuition: $47,950
- Six year median earnings: $72,000
- Two year employment rate: 97%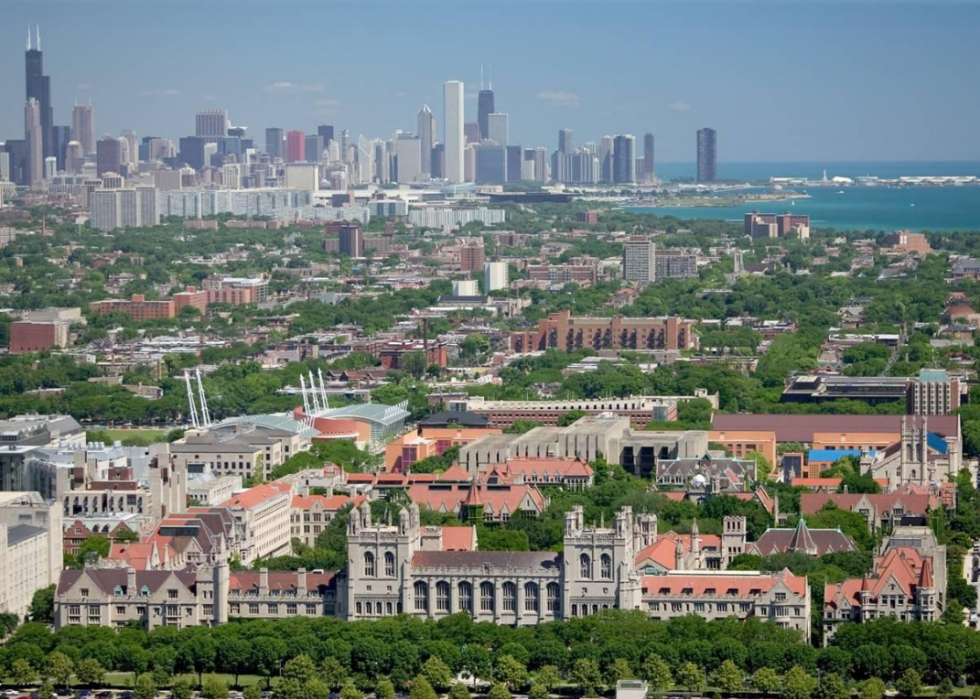 54 / 100
Ibrahim Old // Wikimedia Commons
#47. University of Chicago
- Location: Chicago, IL
- Undergraduate enrollment: 5,978
- Student to faculty ratio: 5:1
- Acceptance rate: 8%
- Graduation rate: 93%
- Tuition: $55,425
- Six year median earnings: $68,100
- Two year employment rate: 92%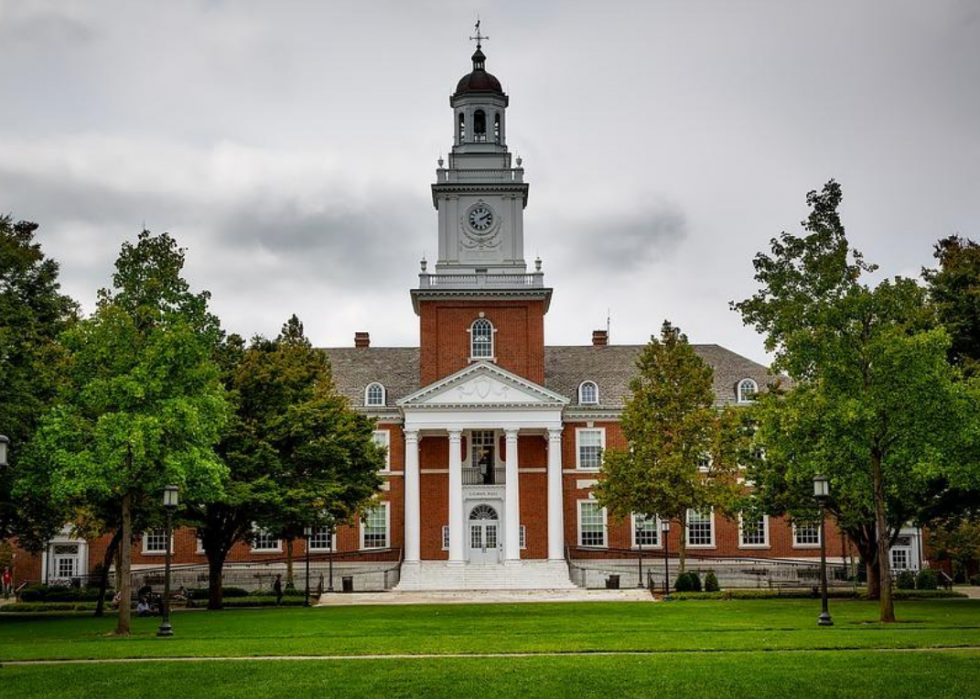 55 / 100
#46. Johns Hopkins University
- Location: Baltimore, MD
- Undergraduate enrollment: 5,668
- Student to faculty ratio: 7:1
- Acceptance rate: 13%
- Graduation rate: 93%
- Tuition: $52,170
- Six year median earnings: $73,200
- Two year employment rate: 91%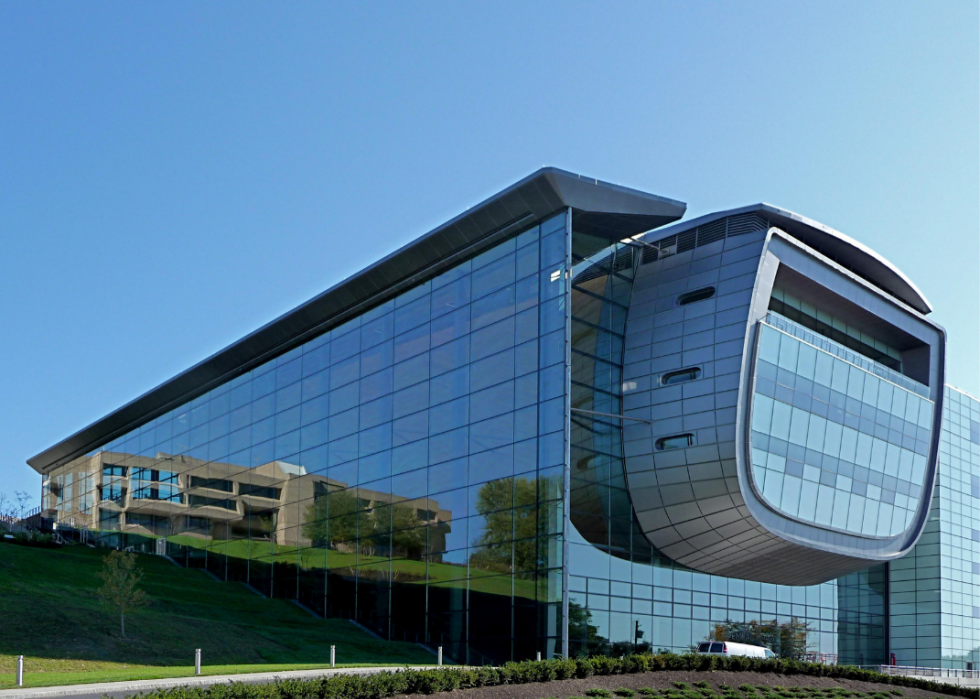 56 / 100
UpstateNYer // Wikimedia Commons
#45. Rensselaer Polytechnic Institute
- Location: Troy, NY
- Undergraduate enrollment: 6,200
- Student to faculty ratio: 13:1
- Acceptance rate: 44%
- Graduation rate: 80%
- Tuition: $51,000
- Six year median earnings: $82,000
- Two year employment rate: 95%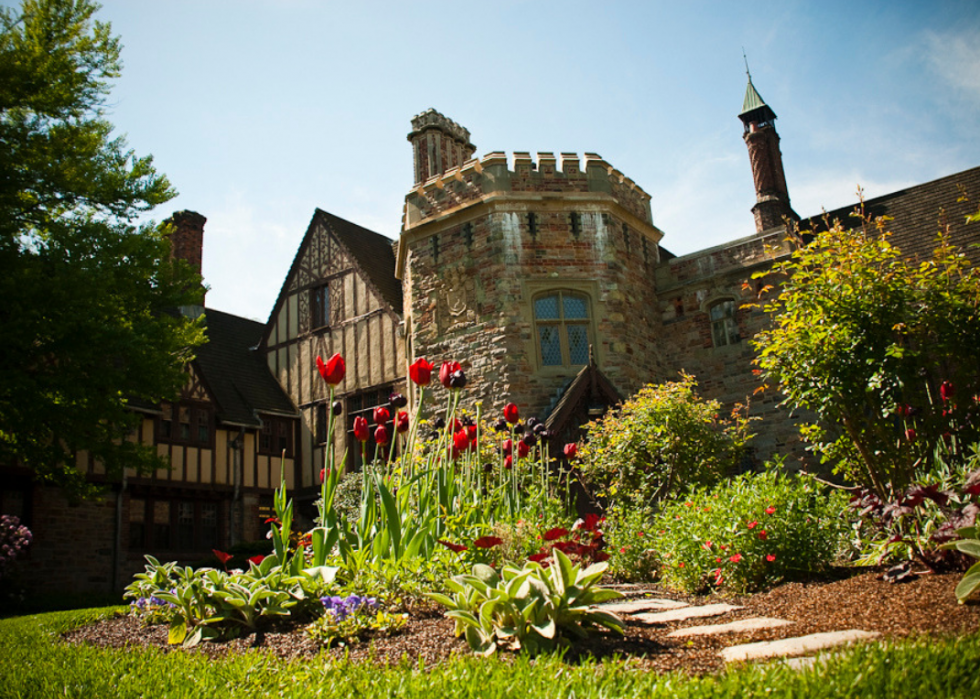 57 / 100
sdokaf // Wikimedia Commons
#44. Worcester Polytechnic Institute
- Location: Worcester, MA
- Undergraduate enrollment: 4,301
- Student to faculty ratio: 13:1
- Acceptance rate: 48%
- Graduation rate: 89%
- Tuition: $48,628
- Six year median earnings: $84,900
- Two year employment rate: 94%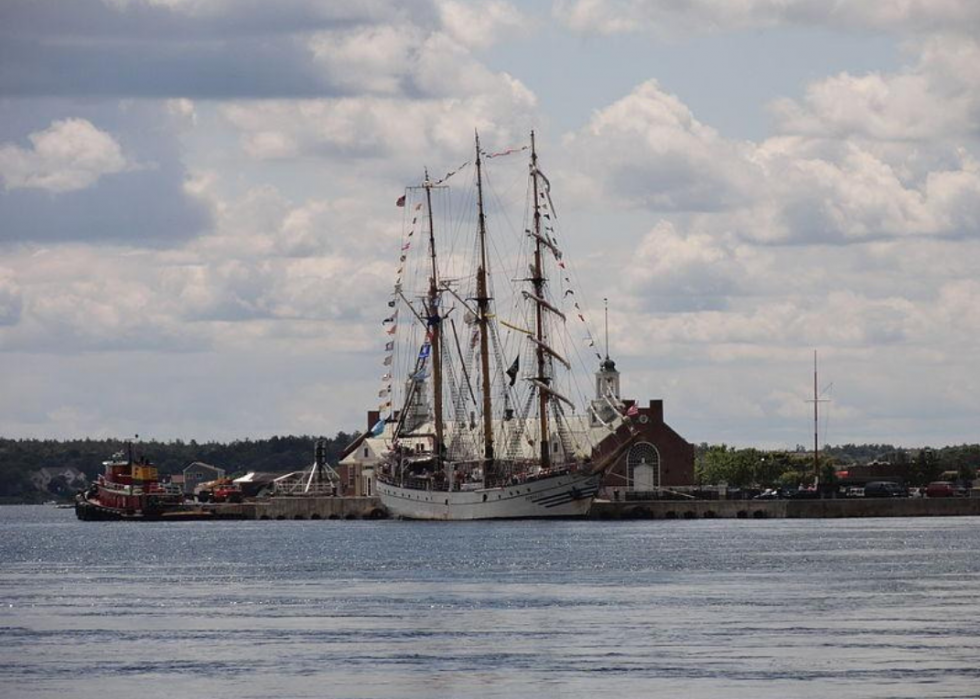 58 / 100
Ktr101 // Wikimedia Commons
#43. Massachusetts Maritime Academy
- Location: Buzzards Bay, MA
- Undergraduate enrollment: 1,607
- Student to faculty ratio: 15:1
- Acceptance rate: 83%
- Graduation rate: 75%
- In state tuition: $8,398
- Out-of-state tuition: $25,824
- Six year median earnings: $86,600
- Two year employment rate: 97%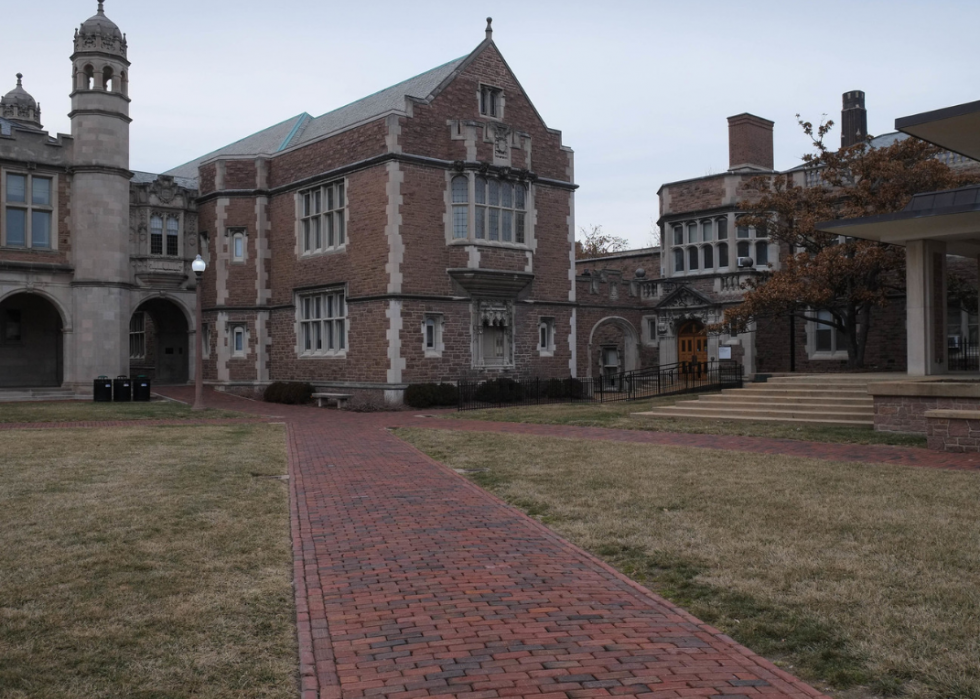 59 / 100
#42. Washington University in St. Louis
- Location: Saint Louis, MO
- Undergraduate enrollment: 7,074
- Student to faculty ratio: 8:1
- Acceptance rate: 16%
- Graduation rate: 94%
- Tuition: $54,250
- Six year median earnings: $70,100
- Two year employment rate: 94%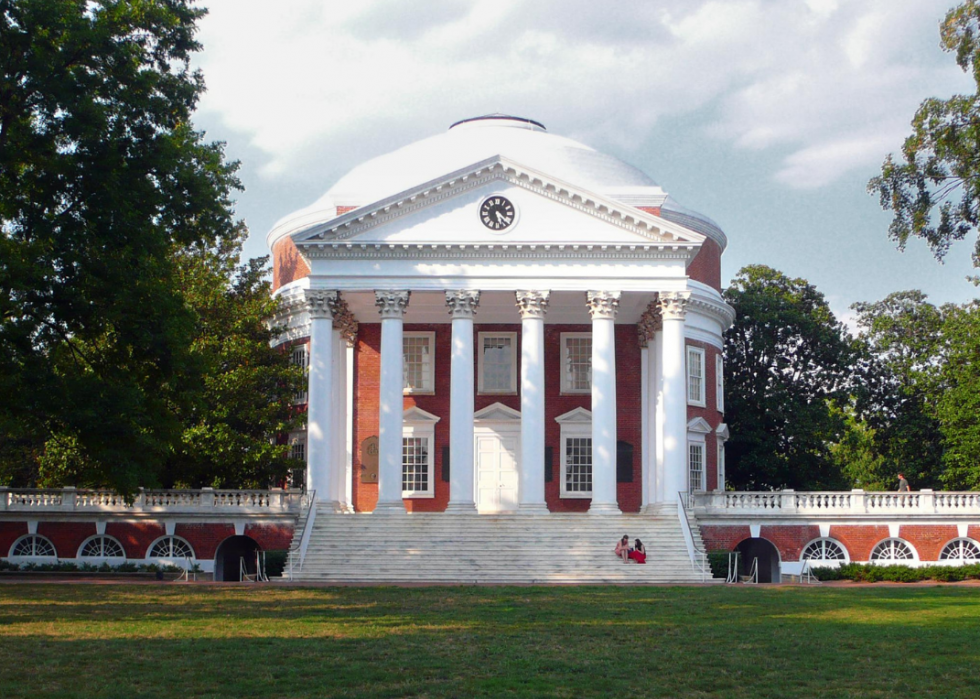 60 / 100
Patrickneil // Wikimedia Commons
#41. University of Virginia
- Location: Charlottesville, VA
- Undergraduate enrollment: 15,766
- Student to faculty ratio: 15:1
- Acceptance rate: 27%
- Graduation rate: 95%
- In state tuition: $16,853
- Out-of-state tuition: $47,273
- Six year median earnings: $61,200
- Two year employment rate: 94%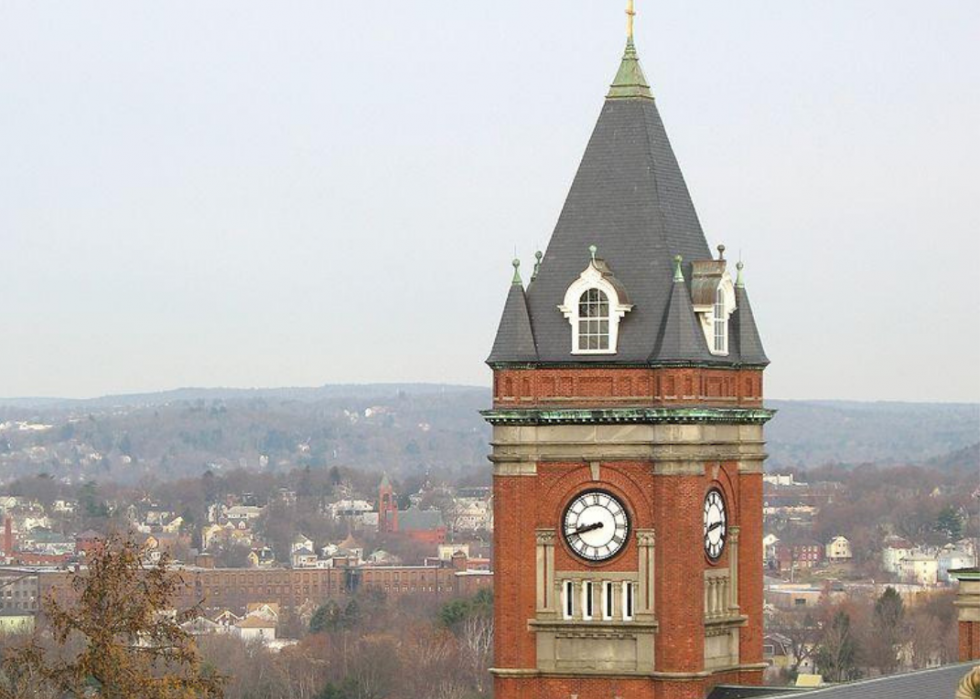 61 / 100
Paul Keleher // Wikimedia Commons
#40. College of the Holy Cross
- Location: Worcester, MA
- Undergraduate enrollment: 2,827
- Student to faculty ratio: 10:1
- Acceptance rate: 40%
- Graduation rate: 92%
- Tuition: $52,770
- Six year median earnings: $71,000
- Two year employment rate: 95%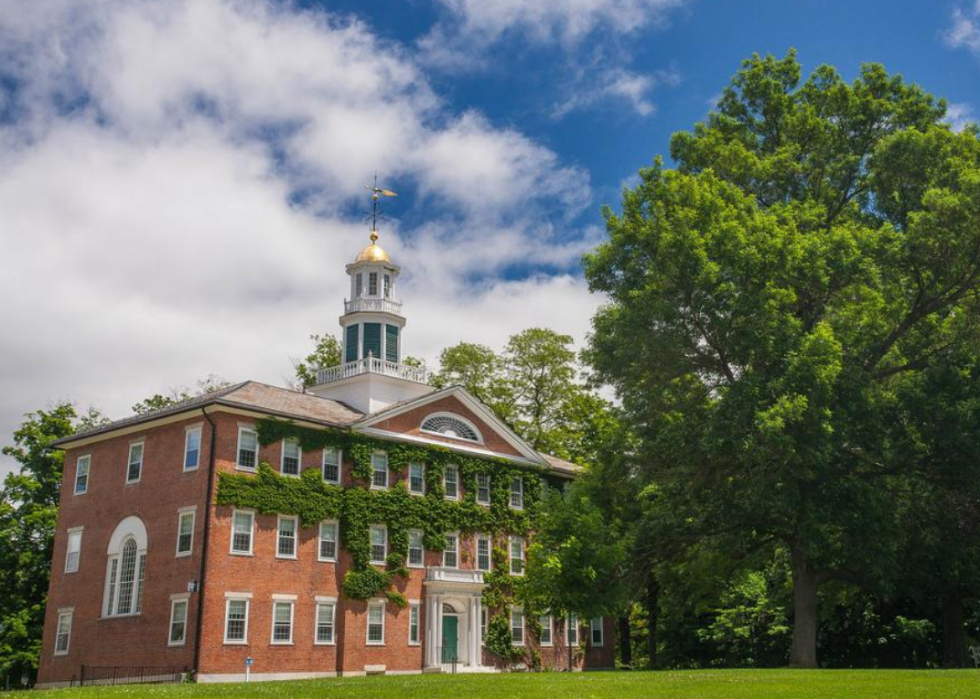 62 / 100
#39. Williams College
- Location: Williamstown, MA
- Undergraduate enrollment: 2,047
- Student to faculty ratio: 6:1
- Acceptance rate: 15%
- Graduation rate: 94%
- Tuition: $53,550
- Six year median earnings: $59,000
- Two year employment rate: 90%
 
63 / 100
Sofia j // Wikimedia Commons
#38. Villanova University
- Location: Villanova, PA
- Undergraduate enrollment: 6,525
- Student to faculty ratio: 11:1
- Acceptance rate: 36%
- Graduation rate: 90%
- Tuition: $50,554
- Six year median earnings: $77,900
- Two year employment rate: 95%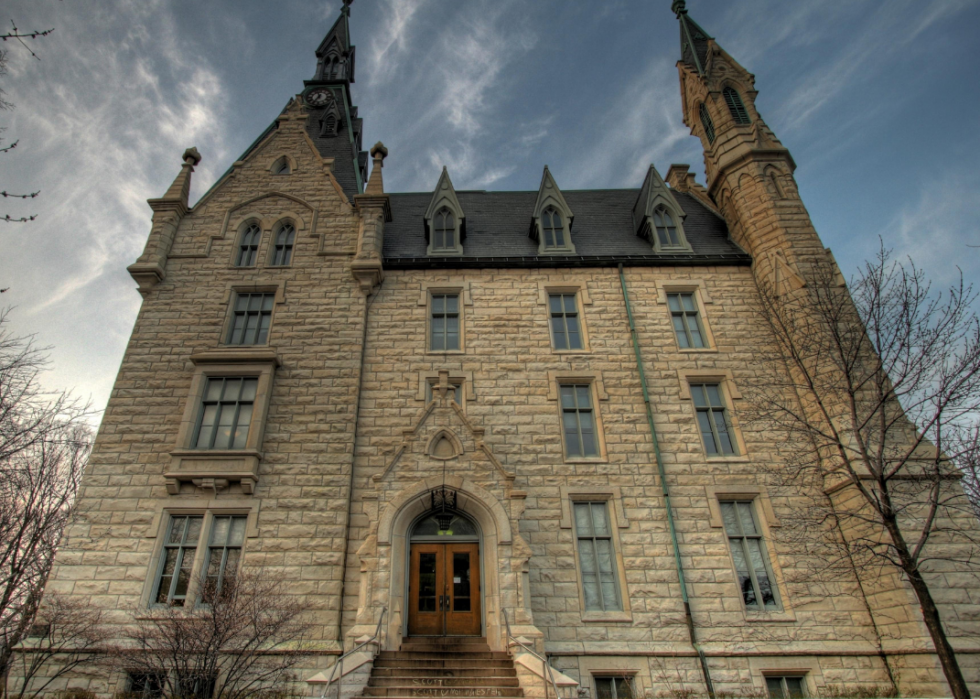 64 / 100
Madcoverboy // Wikimedia Commons
#37. Northwestern University
- Location: Evanston, IL
- Undergraduate enrollment: 8,205
- Student to faculty ratio: 6:1
- Acceptance rate: 9%
- Graduation rate: 94%
- Tuition: $52,678
- Six year median earnings: $69,000
- Two year employment rate: 92%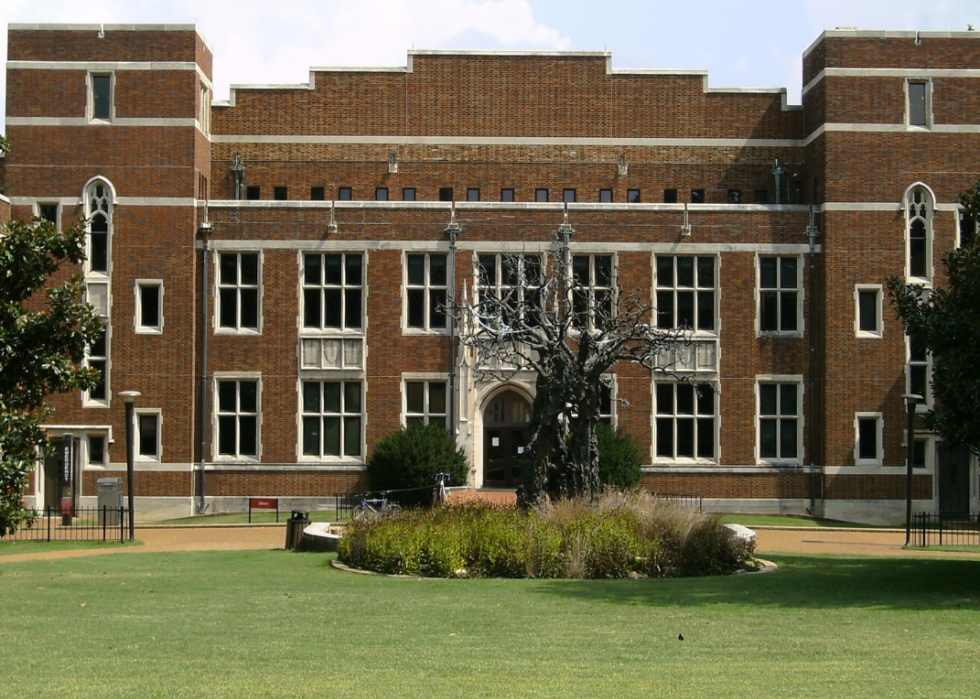 65 / 100
Jbaker08 // Wikimedia Commons
#36. Vanderbilt University
- Location: Nashville, TN
- Undergraduate enrollment: 6,805
- Student to faculty ratio: 7:1
- Acceptance rate: 11%
- Graduation rate: 92%
- Tuition: $47,664
- Six year median earnings: $69,000
- Two year employment rate: 94%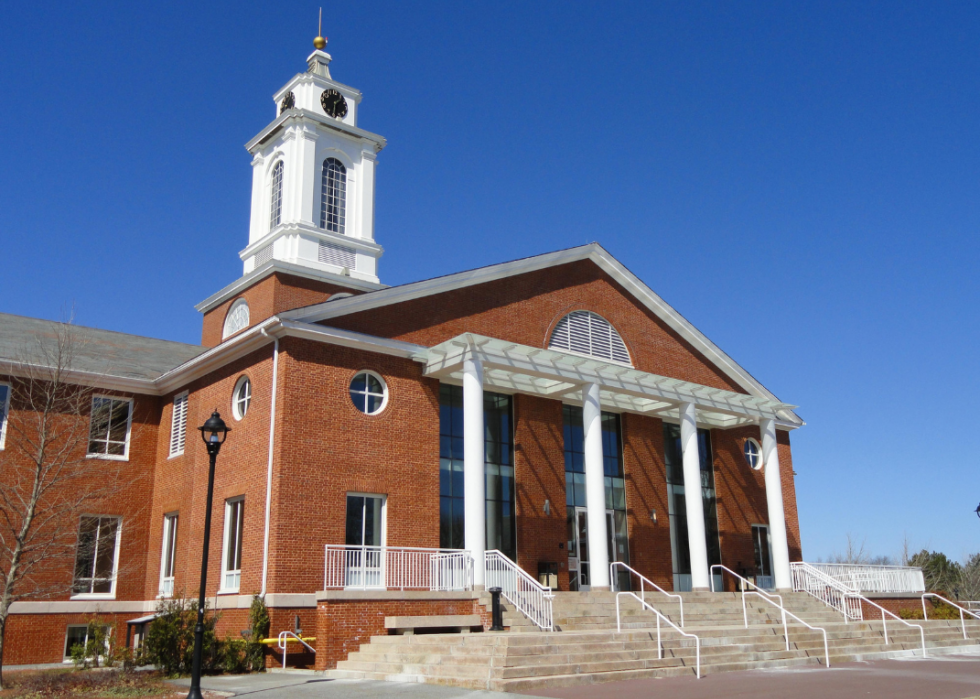 66 / 100
Daderot // Wikimedia Commons
#35. Bentley University
- Location: Waltham, MA
- Undergraduate enrollment: 4,171
- Student to faculty ratio: 11:1
- Acceptance rate: 44%
- Graduation rate: 91%
- Tuition: $50,060
- Six year median earnings: $86,900
- Two year employment rate: 97%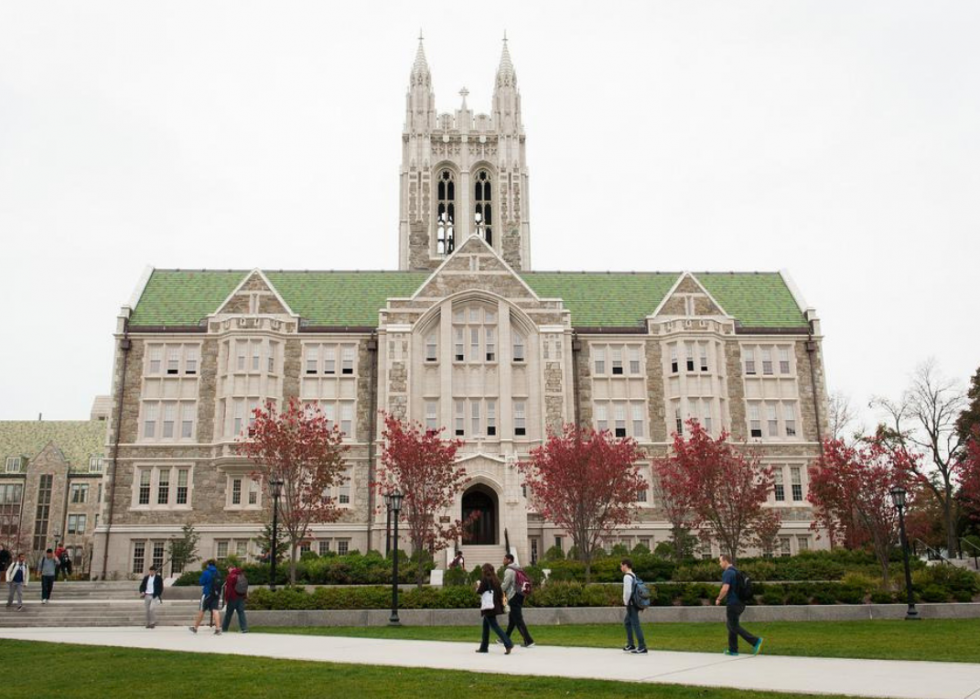 67 / 100
Massachusetts Office of Travel & Tourism // Flickr
#34. Boston College
- Location: Chestnut Hill, MA
- Undergraduate enrollment: 9,681
- Student to faculty ratio: 13:1
- Acceptance rate: 32%
- Graduation rate: 92%
- Tuition: $53,346
- Six year median earnings: $72,500
- Two year employment rate: 94%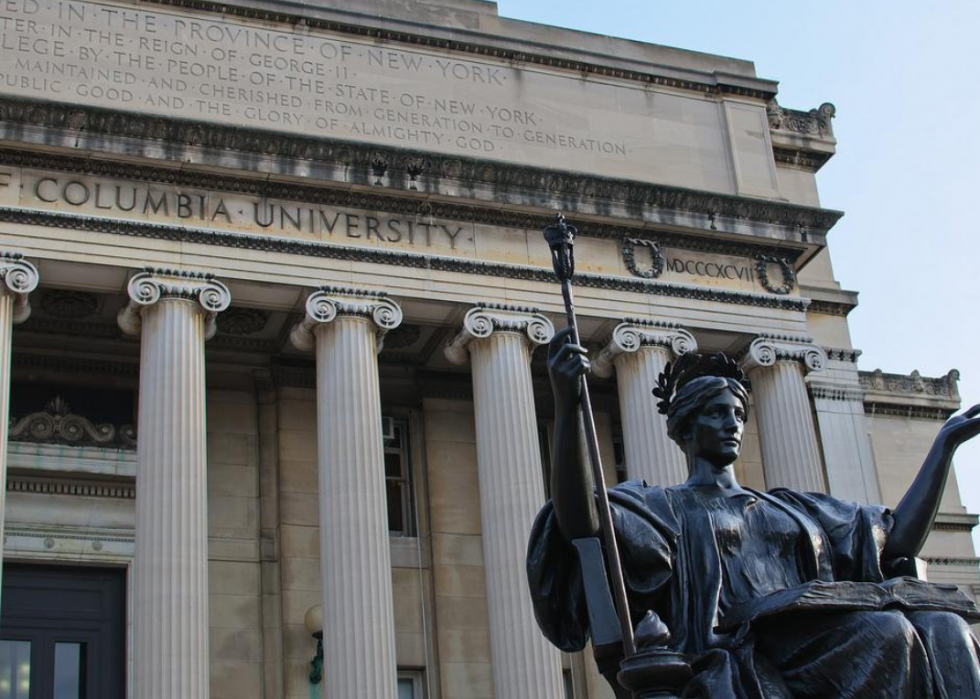 68 / 100
InSapphoWeTrust // Flickr
#33. Columbia University
- Location: New York, NY
- Undergraduate enrollment: 7,592
- Student to faculty ratio: 6:1
- Acceptance rate: 7%
- Graduation rate: 95%
- Tuition: $57,208
- Six year median earnings: $83,300
- Two year employment rate: 89%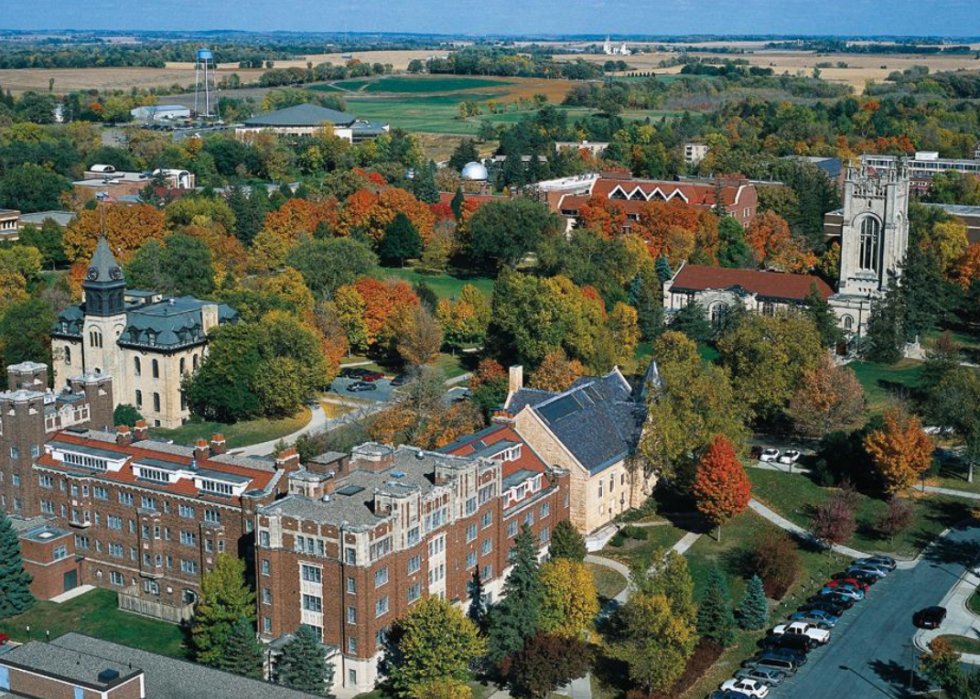 69 / 100
Dogs1337 // Wikimedia Commons
#32. Carleton College
- Location: Northfield, MN
- Undergraduate enrollment: 2,055
- Student to faculty ratio: 9:1
- Acceptance rate: 21%
- Graduation rate: 94%
- Tuition: $52,782
- Six year median earnings: $54,200
- Two year employment rate: 91%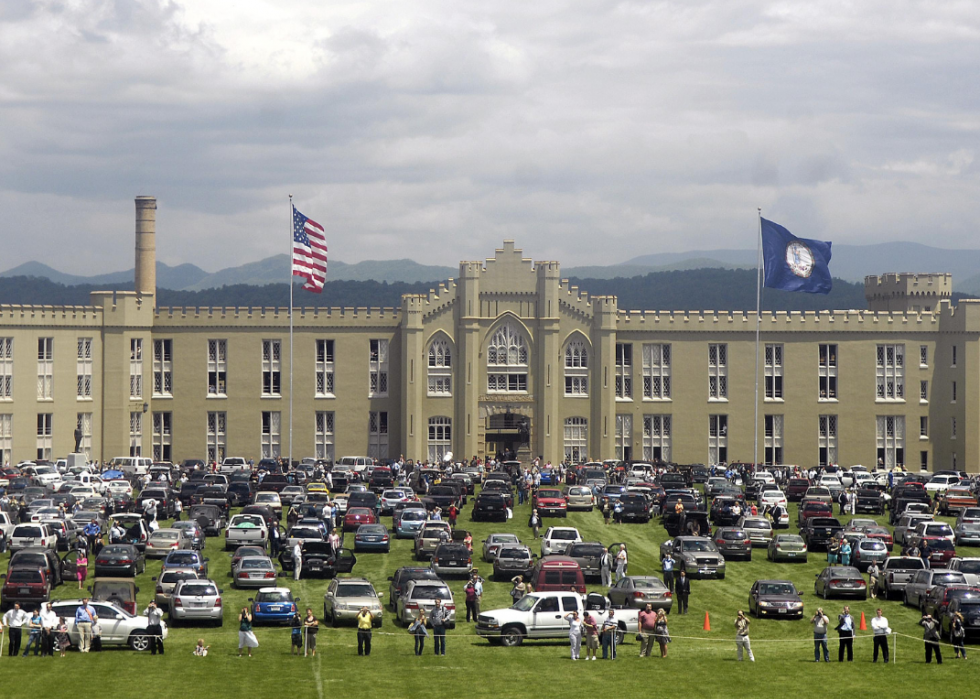 70 / 100
Cherie Cullen // Wikimedia Commons
#31. Virginia Military Institute
- Location: Lexington, VA
- Undergraduate enrollment: 1,722
- Student to faculty ratio: 11:1
- Acceptance rate: 53%
- Graduation rate: 77%
- In state tuition: $27,650
- Out-of-state tuition: $53,338
- Six year median earnings: $65,700
- Two year employment rate: 97%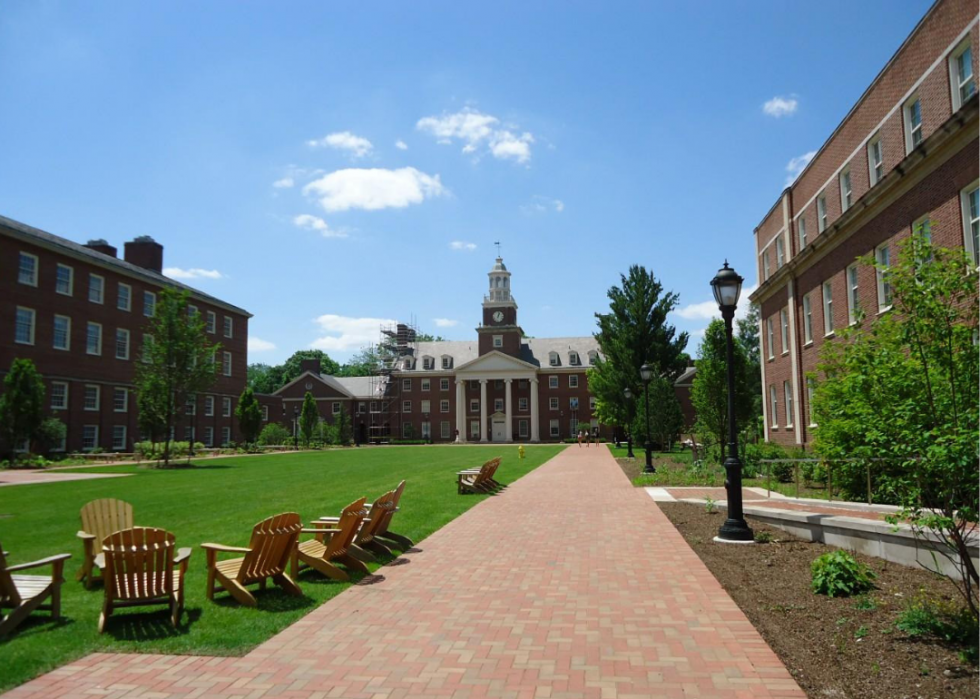 71 / 100
Tomwsulcer // Wikmedia Commons
#30. Lafayette College
- Location: Easton, PA
- Undergraduate enrollment: 2,551
- Student to faculty ratio: 10:1
- Acceptance rate: 31%
- Graduation rate: 90%
- Tuition: $51,600
- Six year median earnings: $68,600
- Two year employment rate: 93%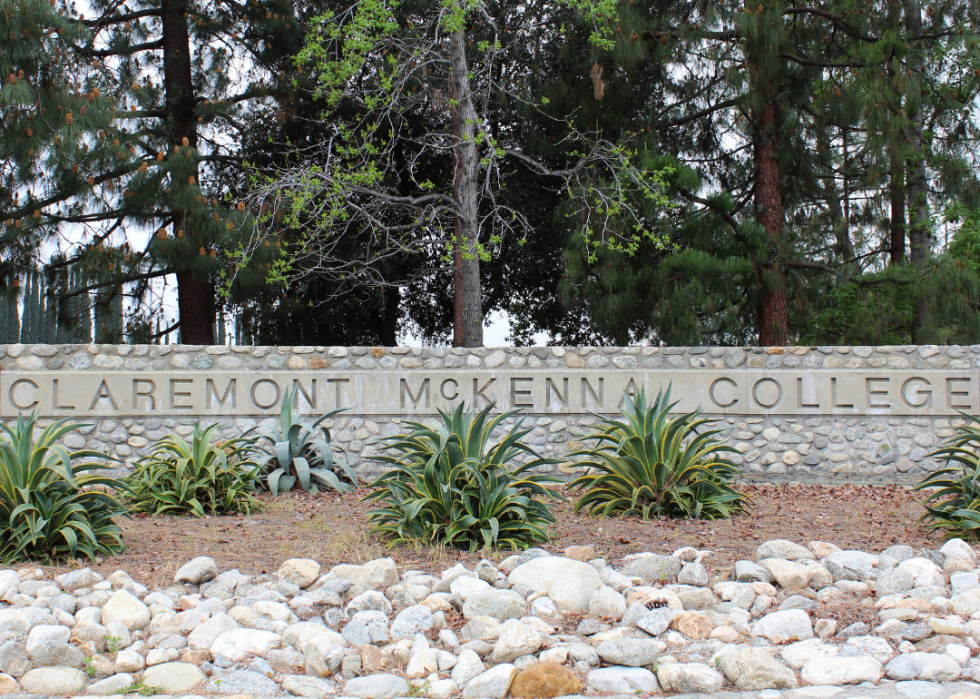 72 / 100
Barbara Kalbfleisch // Shutterstock
#29. Claremont McKenna College
- Location: Claremont, CA
- Undergraduate enrollment: 1,337
- Student to faculty ratio: 8:1
- Acceptance rate: 10%
- Graduation rate: 90%
- Tuition: $52,825
- Six year median earnings: $72,900
- Two year employment rate: 92%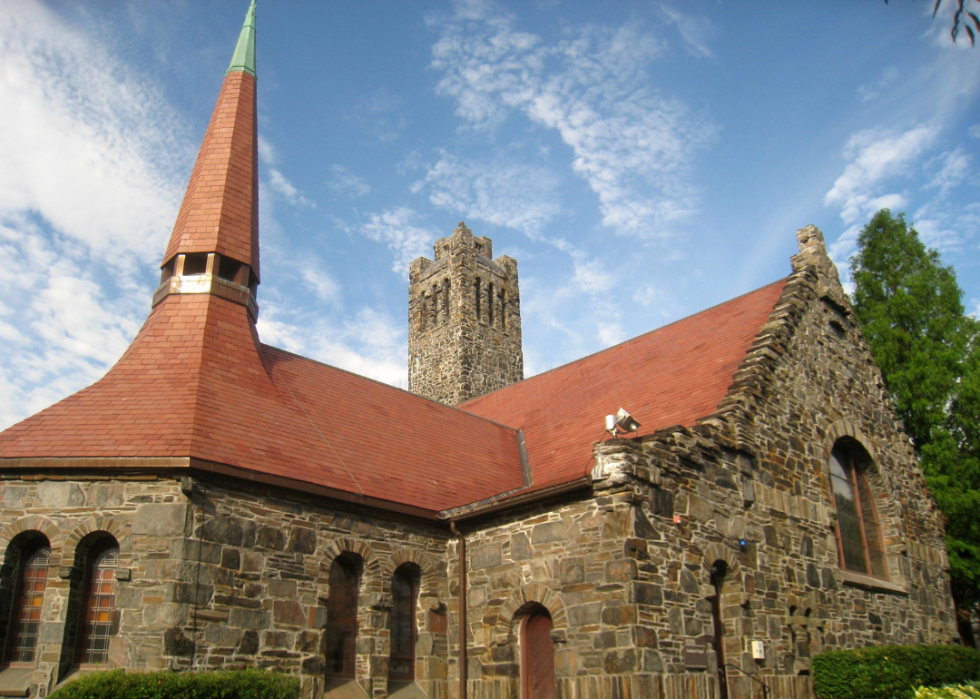 73 / 100
Daderot // Wikimedia Commons
#28. Tufts University
- Location: Medford, MA
- Undergraduate enrollment: 5,483
- Student to faculty ratio: 9:1
- Acceptance rate: 15%
- Graduation rate: 93%
- Tuition: $54,318
- Six year median earnings: $75,800
- Two year employment rate: 92%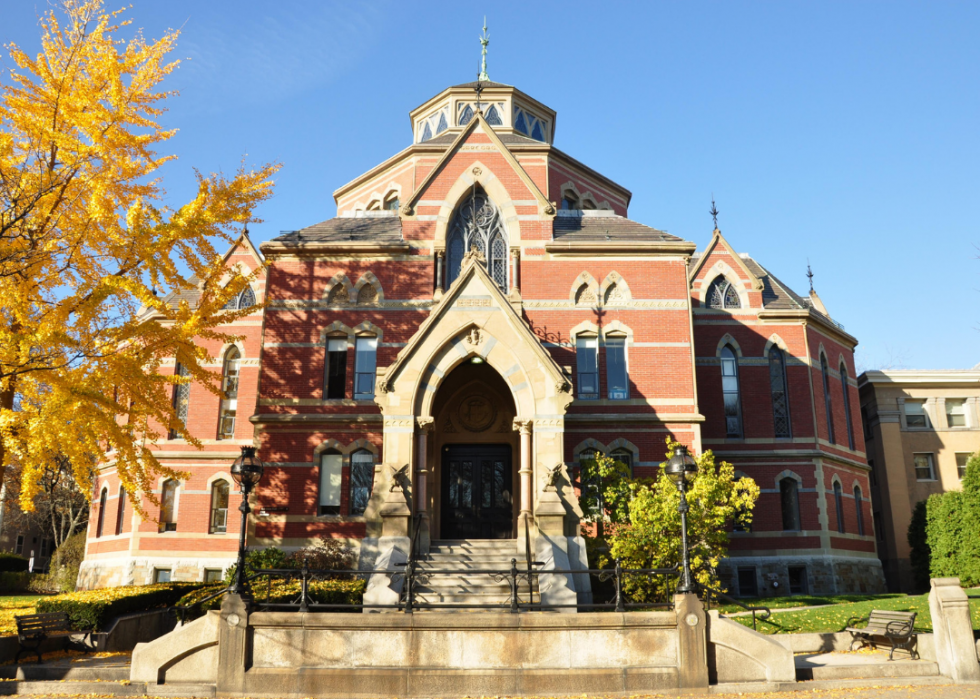 74 / 100
chensiyuan // Wikicommons
#27. Brown University
- Location: Providence, RI
- Undergraduate enrollment: 6,666
- Student to faculty ratio: 7:1
- Acceptance rate: 8%
- Graduation rate: 95%
- Tuition: $53,419
- Six year median earnings: $67,500
- Two year employment rate: 91%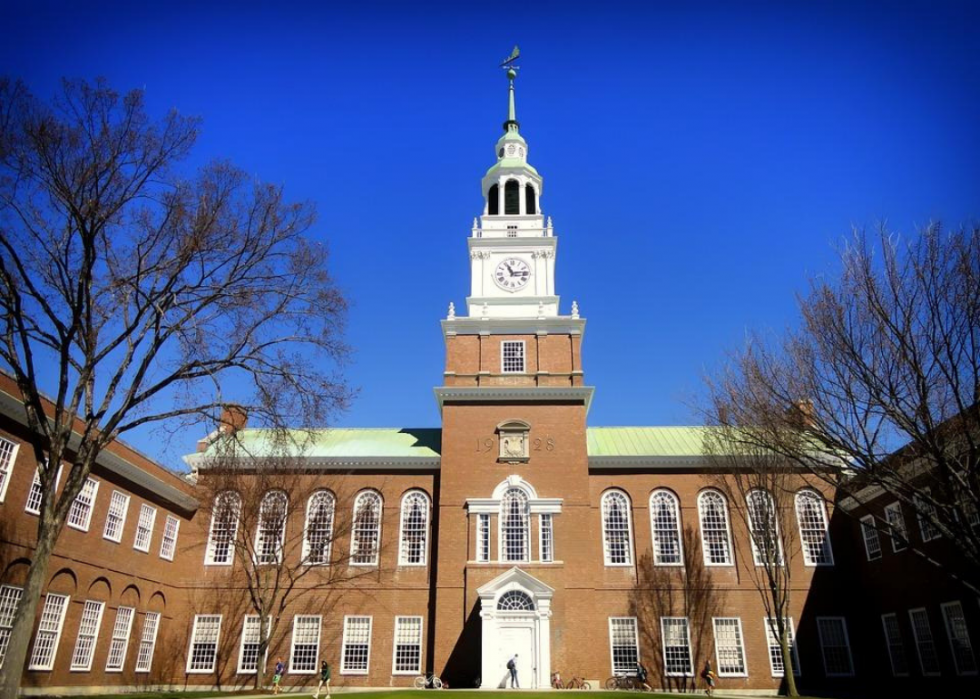 75 / 100
#26. Dartmouth College
- Location: Hanover, NH
- Undergraduate enrollment: 4,360
- Student to faculty ratio: 7:1
- Acceptance rate: 10%
- Graduation rate: 96%
- Tuition: $53,496
- Six year median earnings: $75,500
- Two year employment rate: 94%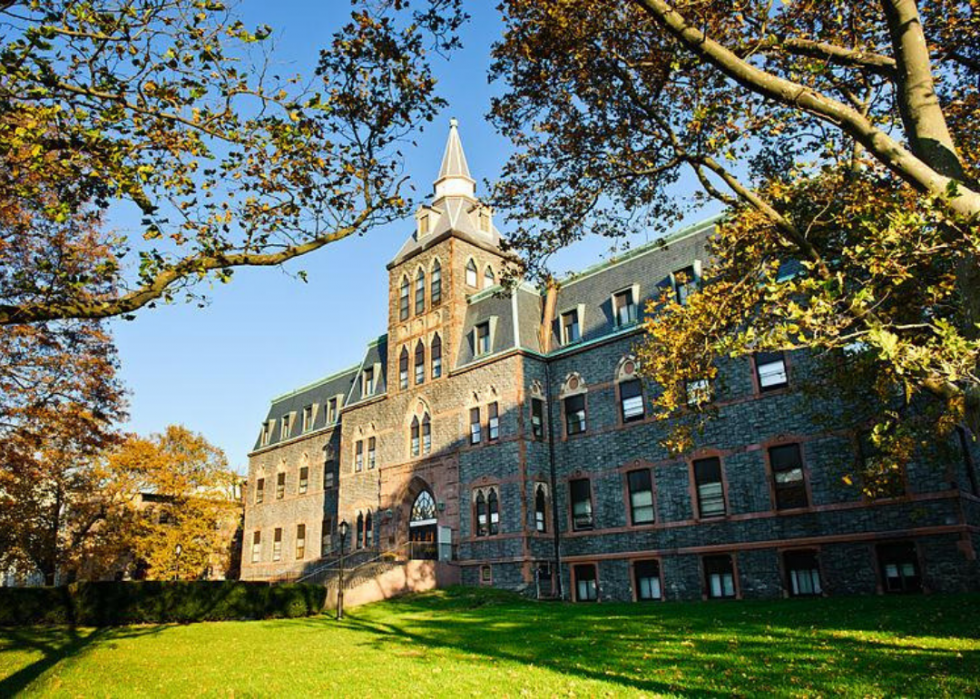 76 / 100
Jeffrey Vock Photography // Wikimedia Commons
#25. Stevens Institute of Technology
- Location: Hoboken, NJ
- Undergraduate enrollment: 3,113
- Student to faculty ratio: 10:1
- Acceptance rate: 44%
- Graduation rate: 83%
- Tuition: $52,394
- Six year median earnings: $89,200
- Two year employment rate: 94%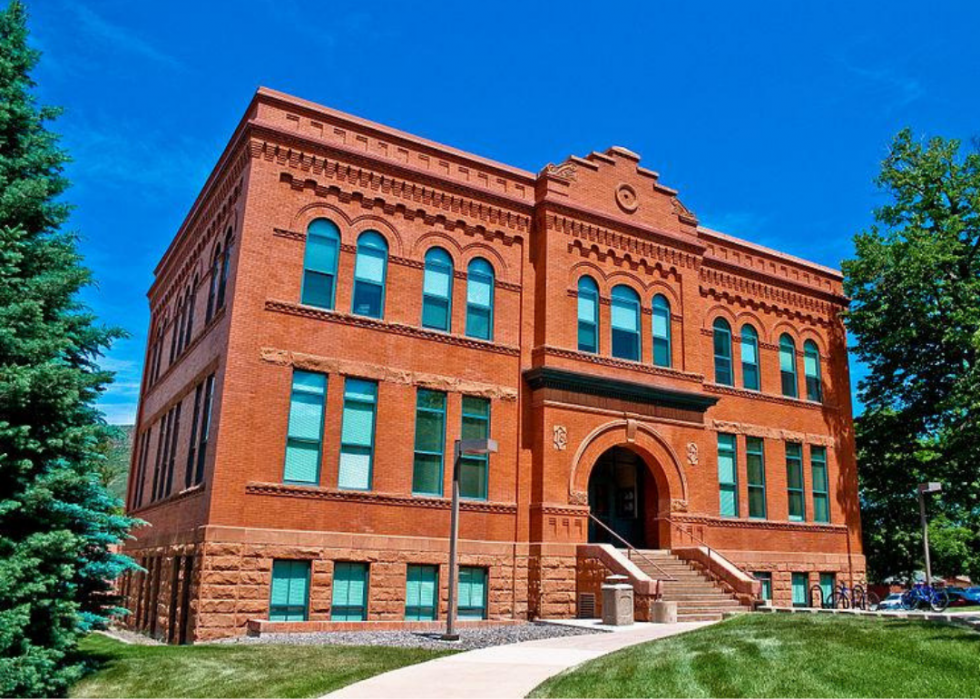 77 / 100
ChrisEngelsma // Wikimedia Commons
#24. Colorado School of Mines
- Location: Golden, CO
- Undergraduate enrollment: 4,584
- Student to faculty ratio: 16:1
- Acceptance rate: 56%
- Graduation rate: 78%
- In state tuition: $18,386
- Out-of-state tuition: $37,436
- Six year median earnings: $84,900
- Two year employment rate: 95%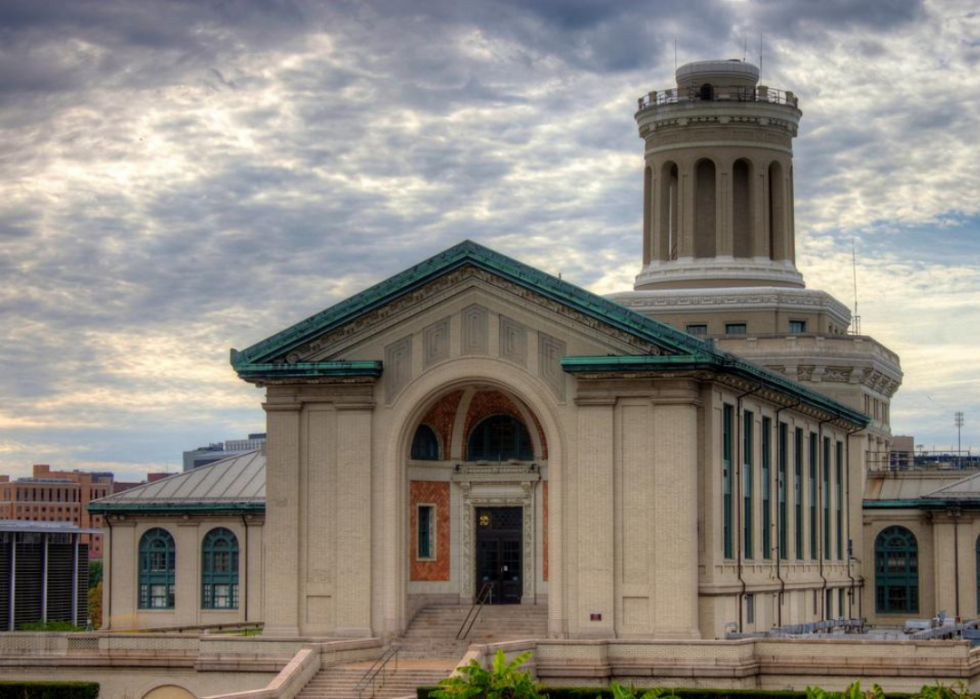 78 / 100
#23. Carnegie Mellon University
- Location: Pittsburgh, PA
- Undergraduate enrollment: 6,298
- Student to faculty ratio: 10:1
- Acceptance rate: 22%
- Graduation rate: 89%
- Tuition: $53,910
- Six year median earnings: $83,600
- Two year employment rate: 91%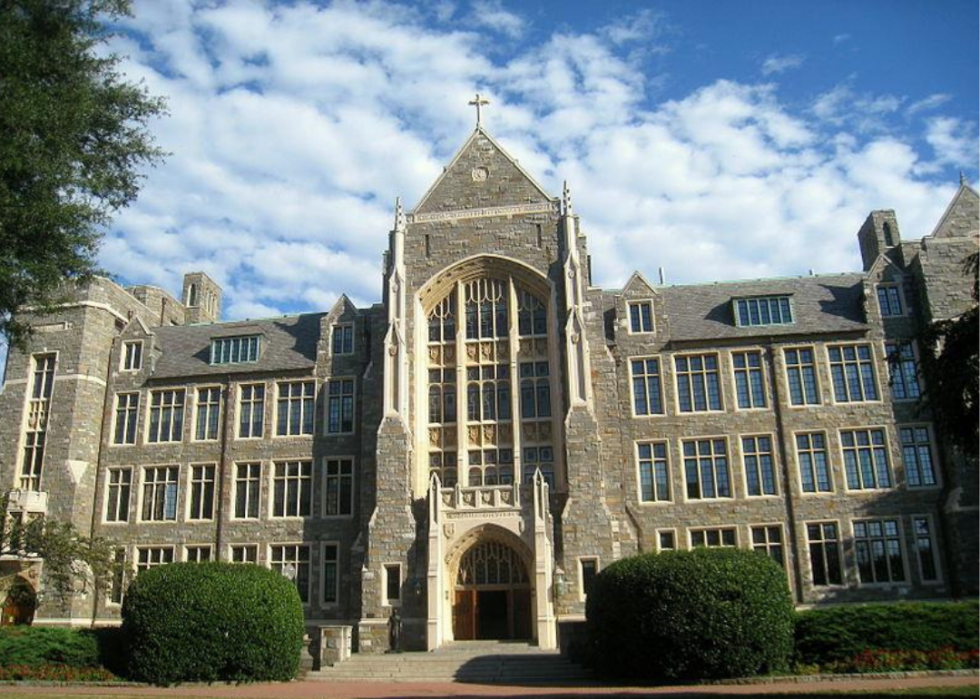 79 / 100
Daderot // Wikimedia Commons
#22. Georgetown University
- Location: Washington, DC
- Undergraduate enrollment: 6,987
- Student to faculty ratio: 11:1
- Acceptance rate: 16%
- Graduation rate: 95%
- Tuition: $52,300
- Six year median earnings: $93,500
- Two year employment rate: 92%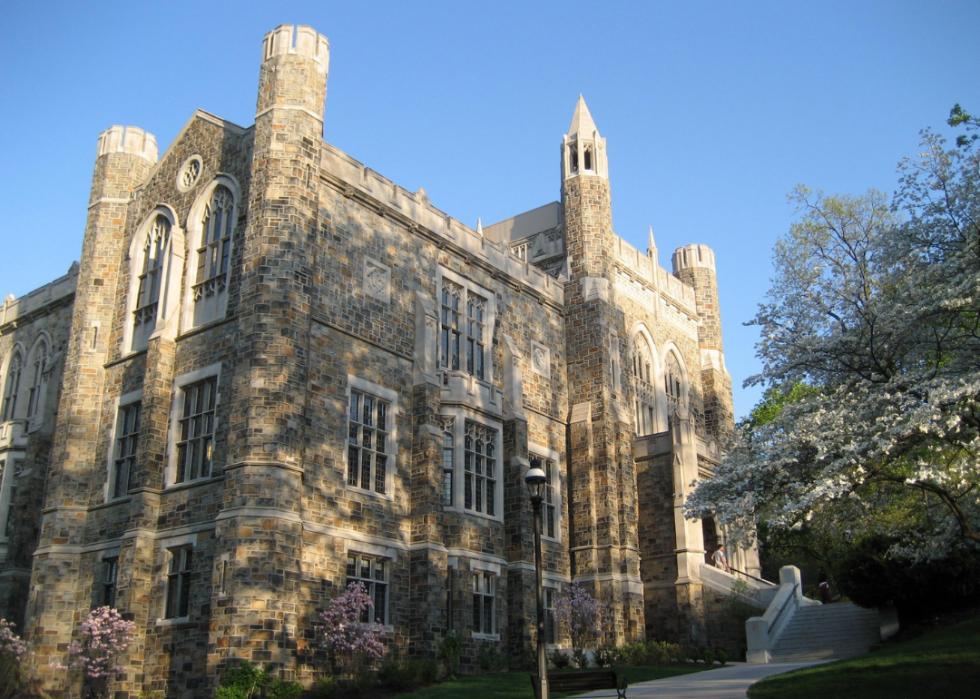 80 / 100
Joseph Giansante '76 // Wikimedia Commons
#21. Lehigh University
- Location: Bethlehem, PA
- Undergraduate enrollment: 5,013
- Student to faculty ratio: 9:1
- Acceptance rate: 25%
- Graduation rate: 86%
- Tuition: $50,740
- Six year median earnings: $81,900
- Two year employment rate: 95%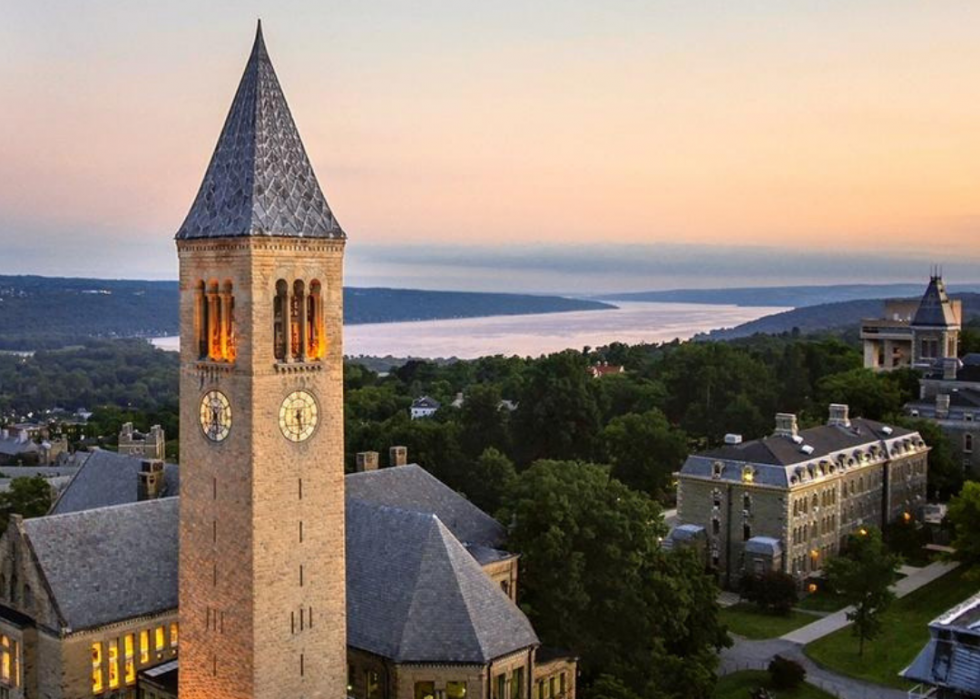 81 / 100
Dantes De MonteCristo // Wikimedia ommons
#20. Cornell University
- Location: Ithaca, NY
- Undergraduate enrollment: 14,898
- Student to faculty ratio: 9:1
- Acceptance rate: 13%
- Graduation rate: 93%
- Tuition: $52,853
- Six year median earnings: $77,200
- Two year employment rate: 93%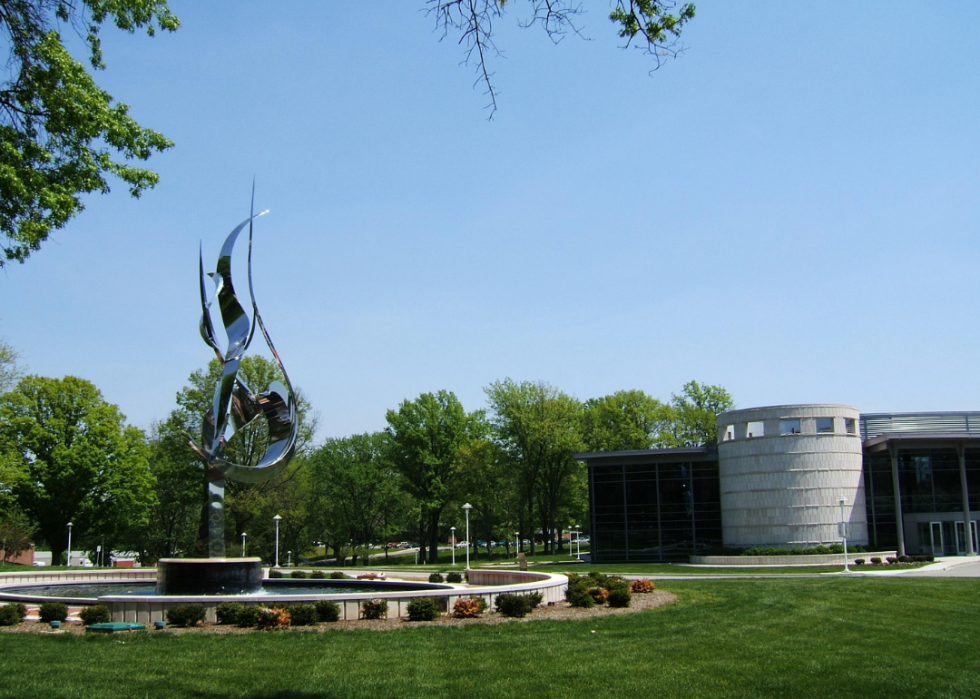 82 / 100
Yipdw~commonswiki // Wikimedia Commons
#19. Rose-Hulman Institute of Technology
- Location: Terre Haute, IN
- Undergraduate enrollment: 2,147
- Student to faculty ratio: 11:1
- Acceptance rate: 61%
- Graduation rate: 81%
- Tuition: $48,012
- Six year median earnings: $80,900
- Two year employment rate: 97%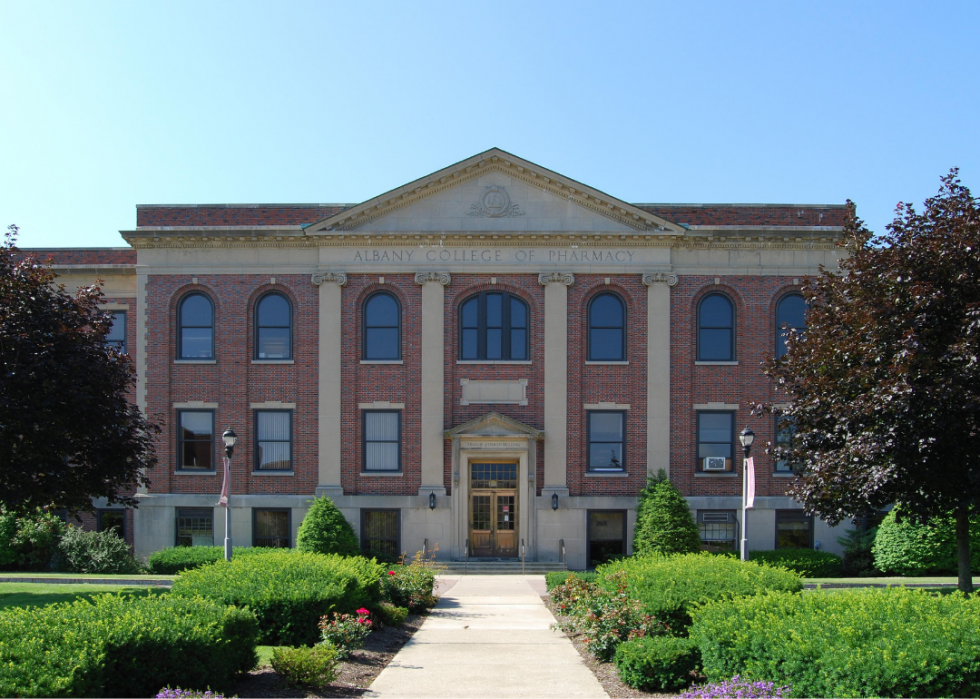 83 / 100
UpstateNYer // Wikimedia Commons
#18. Albany College of Pharmacy & Health Sciences
- Location: Albany, NY
- Undergraduate enrollment: 882
- Student to faculty ratio: 9:1
- Acceptance rate: 79%
- Graduation rate: 76%
- Tuition: $32,840
- Six year median earnings: $124,700
- Two year employment rate: 98%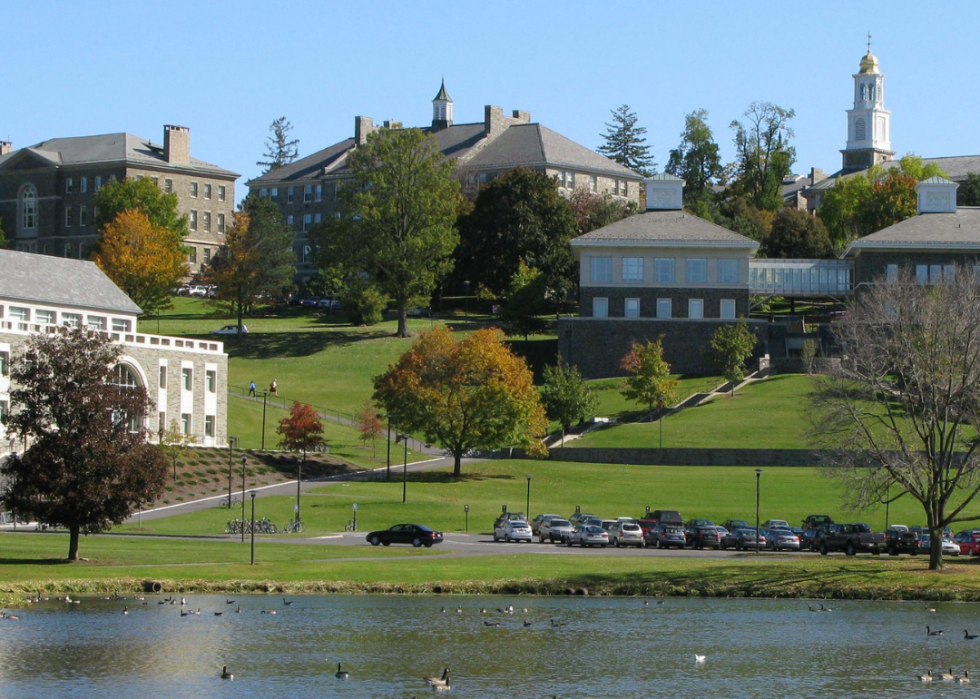 84 / 100
Fryslan0109 // Wikimedia Commons
#17. Colgate University
- Location: Hamilton, NY
- Undergraduate enrollment: 2,854
- Student to faculty ratio: 9:1
- Acceptance rate: 28%
- Graduation rate: 91%
- Tuition: $55,530
- Six year median earnings: $63,600
- Two year employment rate: 93%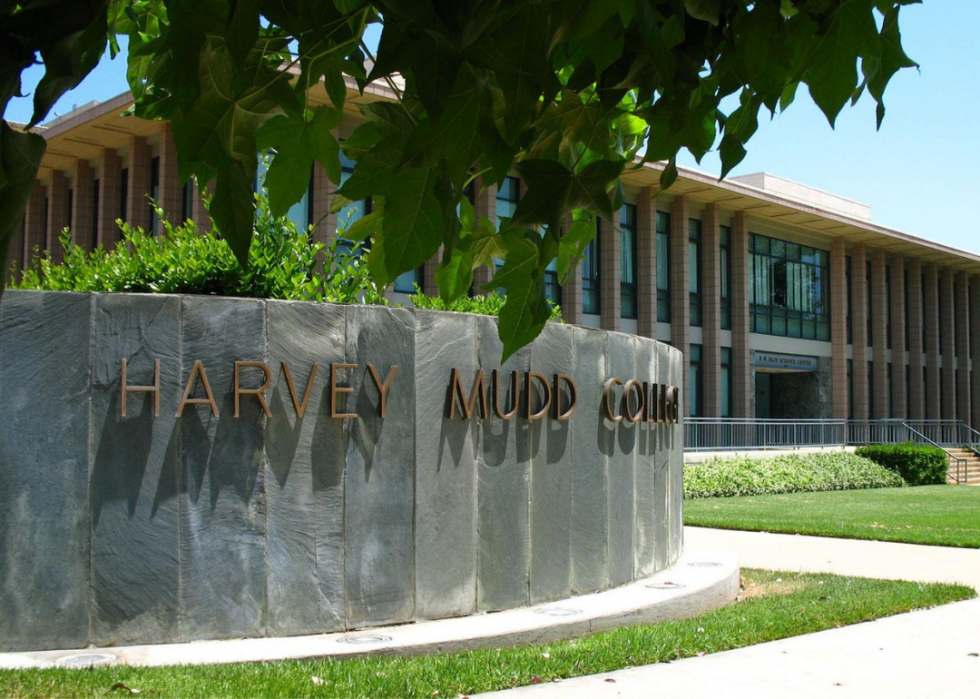 85 / 100
Imagine // Wikimedia Commons
#16. Harvey Mudd College
- Location: Claremont, CA
- Undergraduate enrollment: 844
- Student to faculty ratio: 8:1
- Acceptance rate: 15%
- Graduation rate: 96%
- Tuition: $54,636
- Six year median earnings: $88,800
- Two year employment rate: 89%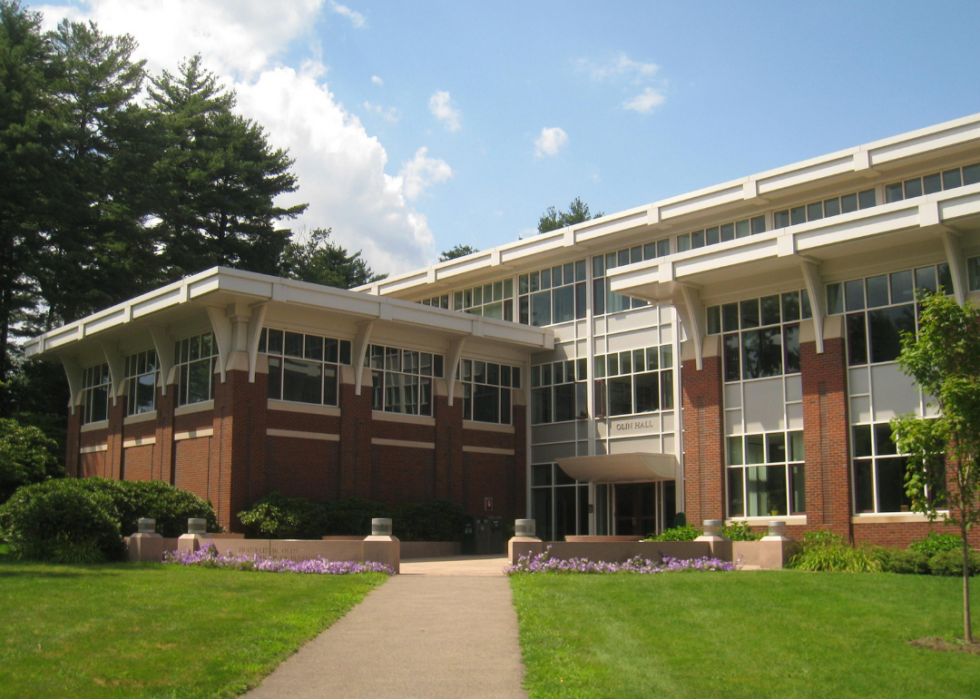 86 / 100
Daderot // Wikimedia Commons
#15. Babson College
- Location: Wellesley, MA
- Undergraduate enrollment: 2,342
- Student to faculty ratio: 13:1
- Acceptance rate: 24%
- Graduation rate: 92%
- Tuition: $51,104
- Six year median earnings: $96,100
- Two year employment rate: 91%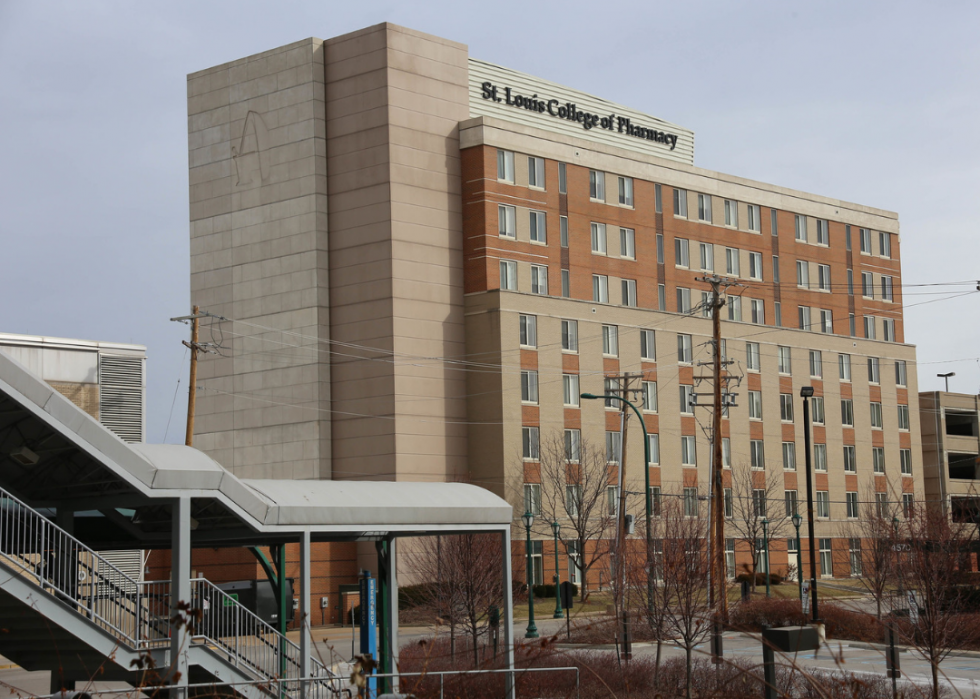 87 / 100
#14. St. Louis College of Pharmacy
- Location: Saint Louis, MO
- Undergraduate enrollment: 435
- Student to faculty ratio: 9:1
- Acceptance rate: 72%
- Graduation rate: 71%
- Tuition: $28,451
- Six year median earnings: $124,100
- Two year employment rate: 98%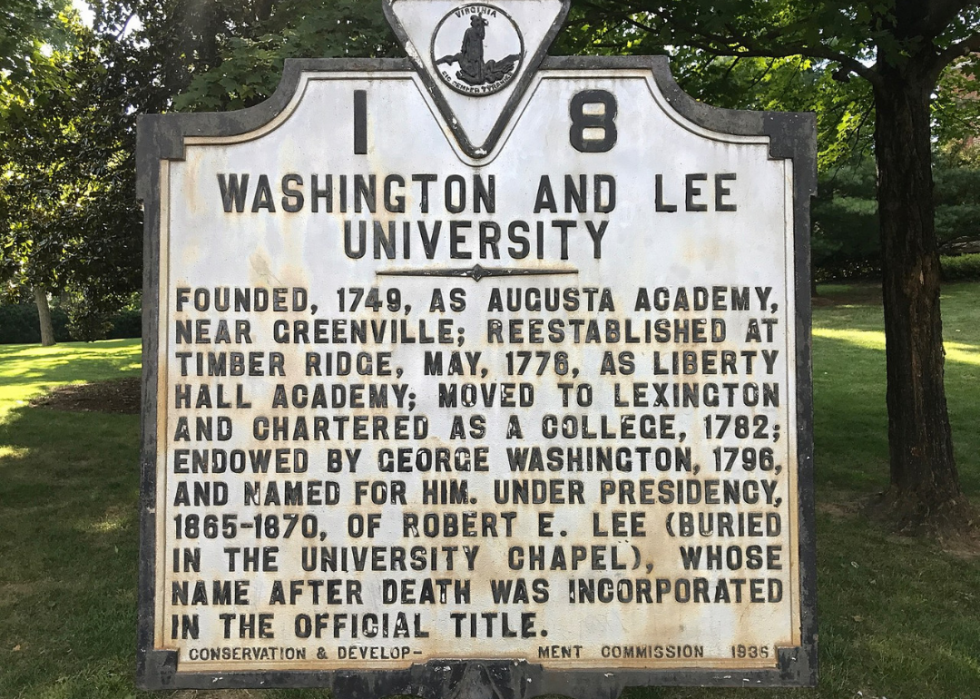 88 / 100
zeete // Wikimedia Commons
#13. Washington & Lee University
- Location: Lexington, VA
- Undergraduate enrollment: 1,823
- Student to faculty ratio: 8:1
- Acceptance rate: 22%
- Graduation rate: 92%
- Tuition: $53,730
- Six year median earnings: $76,100
- Two year employment rate: 94%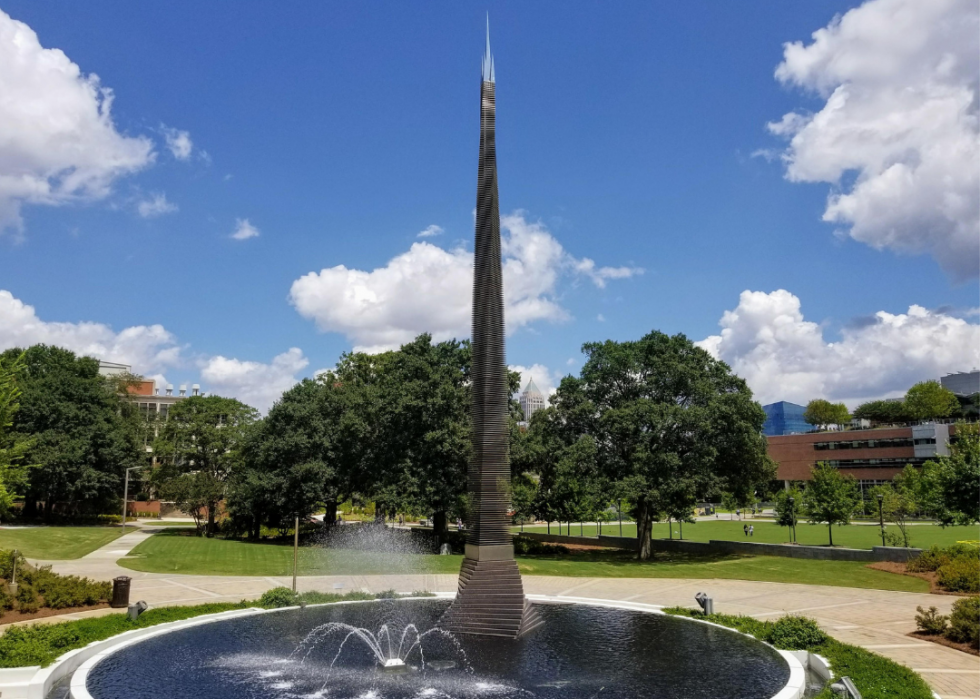 89 / 100
Davidhermanns // Wikimedia Commons
#12. Georgia Institute of Technology
- Location: Atlanta, GA
- Undergraduate enrollment: 13,974
- Student to faculty ratio: 22:1
- Acceptance rate: 23%
- Graduation rate: 85%
- In state tuition: $12,418
- Out-of-state tuition: $33,014
- Six year median earnings: $79,100
- Two year employment rate: 95%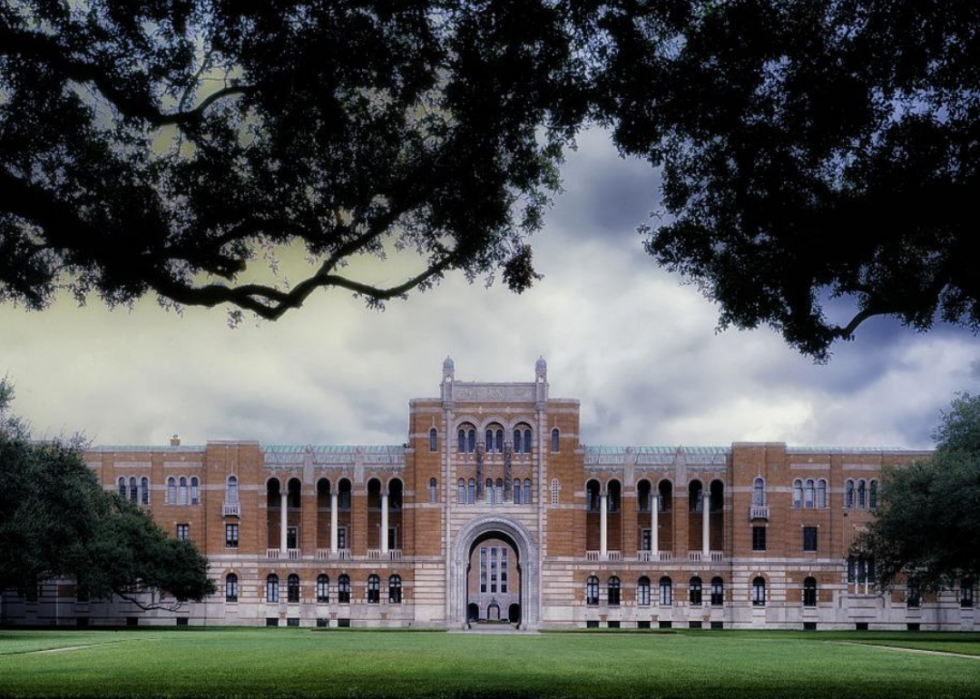 90 / 100
#11. Rice University
- Location: Houston, TX
- Undergraduate enrollment: 3,916
- Student to faculty ratio: 6:1
- Acceptance rate: 16%
- Graduation rate: 91%
- Tuition: $45,608
- Six year median earnings: $65,400
- Two year employment rate: 92%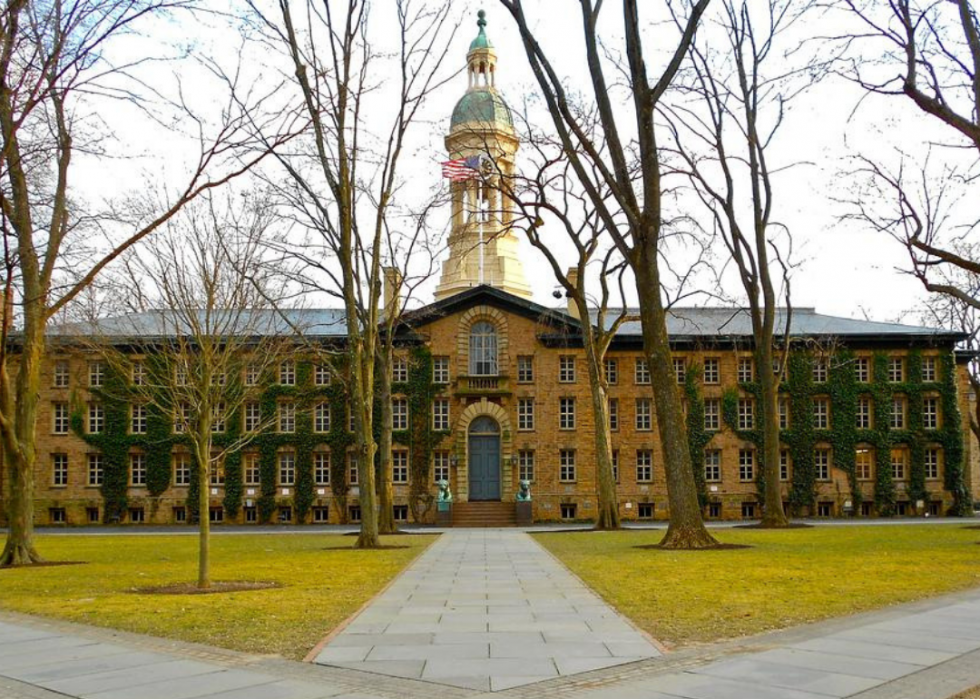 91 / 100
#10. Princeton University
- Location: Princeton, NJ
- Undergraduate enrollment: 5,260
- Student to faculty ratio: 5:1
- Acceptance rate: 6%
- Graduation rate: 97%
- Tuition: $47,140
- Six year median earnings: $74,700
- Two year employment rate: 87%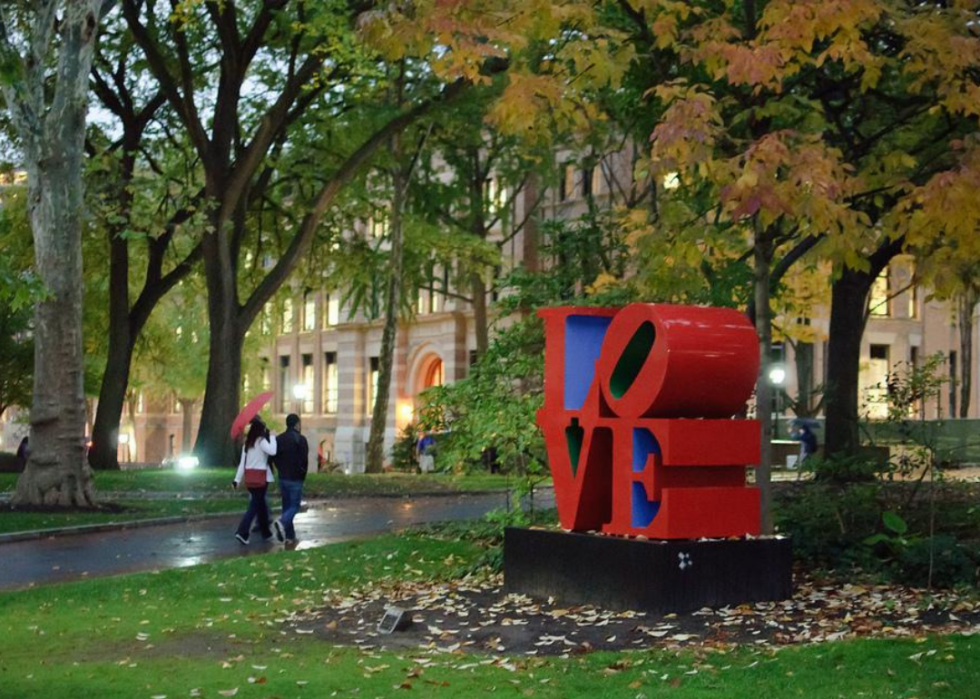 92 / 100
InSapphoWeTrust // Flickr
#9. University of Pennsylvania
- Location: Philadelphia, PA
- Undergraduate enrollment: 10,496
- Student to faculty ratio: 6:1
- Acceptance rate: 9%
- Graduation rate: 96%
- Tuition: $53,534
- Six year median earnings: $85,900
- Two year employment rate: 91%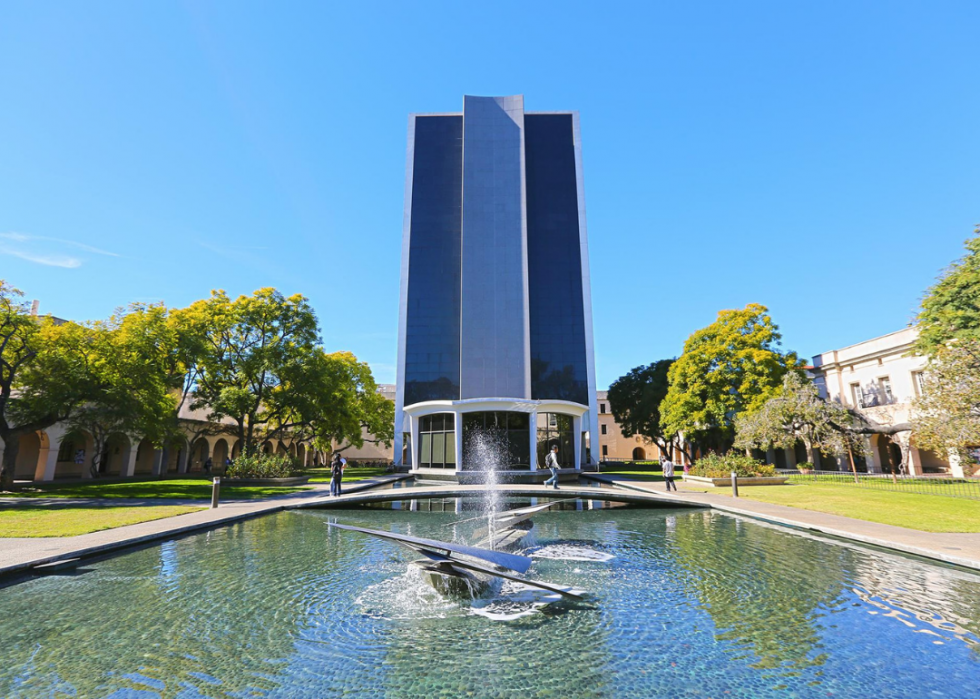 93 / 100
Canon.vs.nikon // Wikimedia Commons
#8. California Institute of Technology
- Location: Pasadena, CA
- Undergraduate enrollment: 961
- Student to faculty ratio: 3:1
- Acceptance rate: 8%
- Graduation rate: 89%
- Tuition: $49,908
- Six year median earnings: $85,900
- Two year employment rate: 89%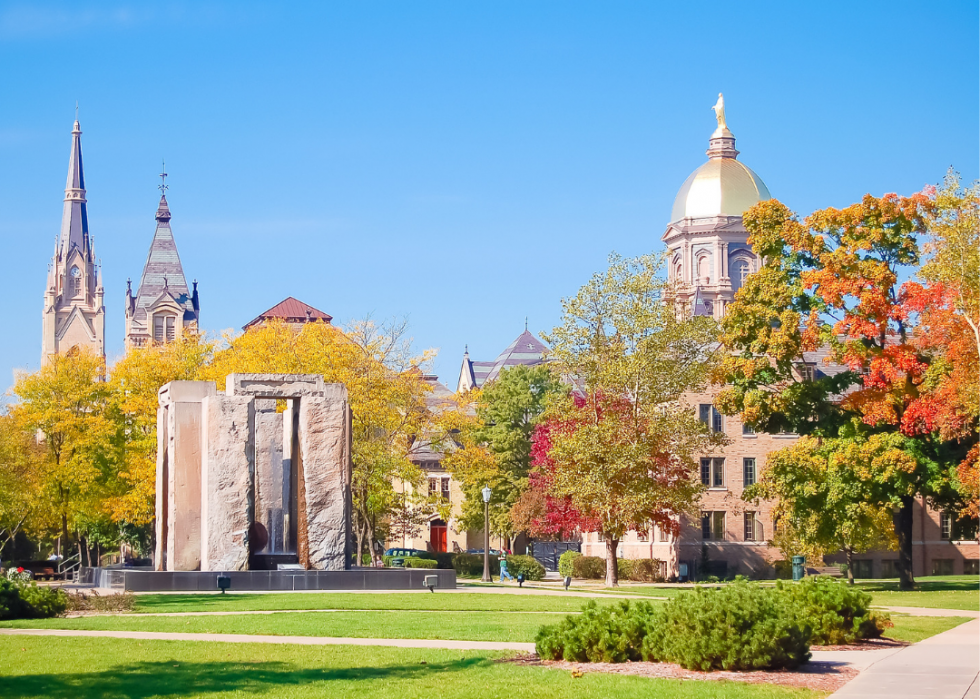 94 / 100
Chuck W Walker // Shutterstock
#7. University of Notre Dame
- Location: Notre Dame, IN
- Undergraduate enrollment: 8,557
- Student to faculty ratio: 10:1
- Acceptance rate: 19%
- Graduation rate: 95%
- Tuition: $51,505
- Six year median earnings: $78,400
- Two year employment rate: 95%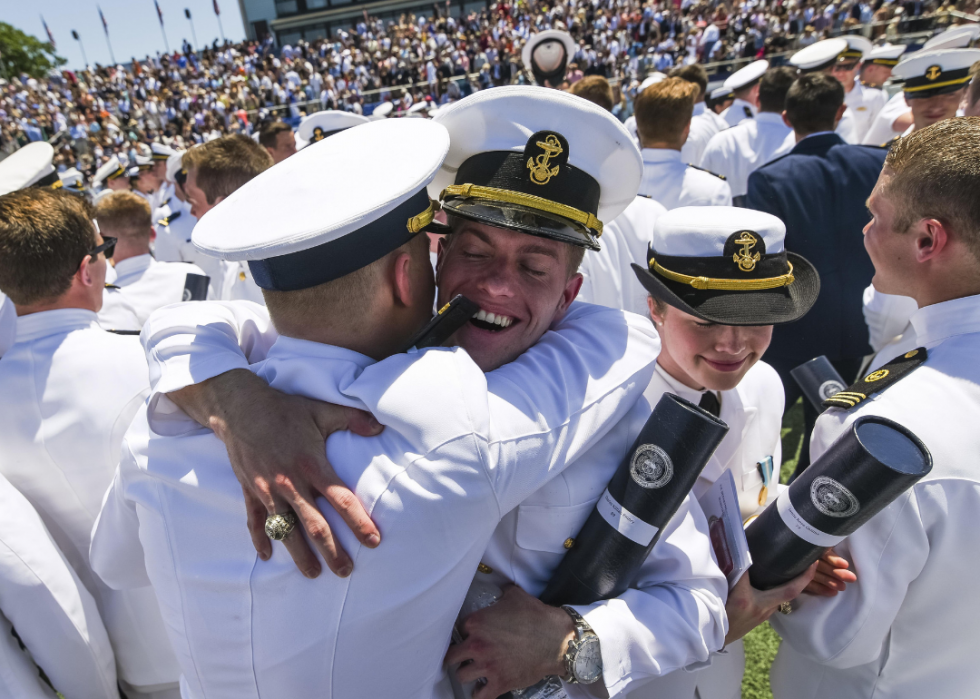 95 / 100
Master Sgt. Michel Sauret // U.S. Army Reserve
#6. United States Merchant Marine Academy
- Location: Kings Point, NY
- Undergraduate enrollment: 954
- Student to faculty ratio: 13:1
- Acceptance rate: 22%
- Graduation rate: 81%
- Tuition: $1,020
- Six year median earnings: $88,100
- Two year employment rate: 97%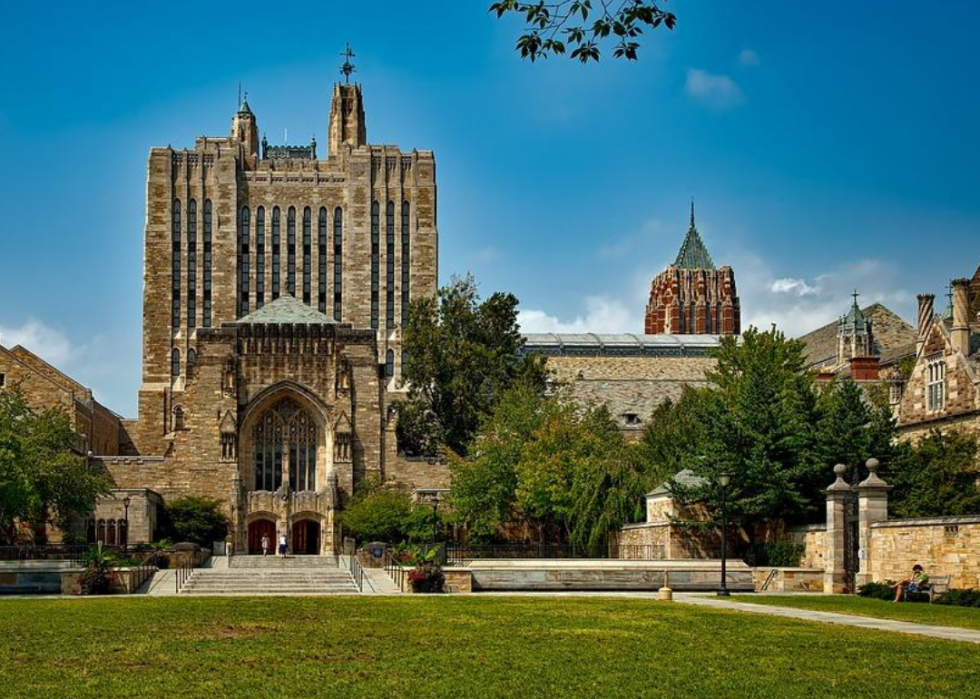 96 / 100
#5. Yale University
- Location: New Haven, CT
- Undergraduate enrollment: 5,743
- Student to faculty ratio: 6:1
- Acceptance rate: 7%
- Graduation rate: 97%
- Tuition: $51,400
- Six year median earnings: $83,200
- Two year employment rate: 92%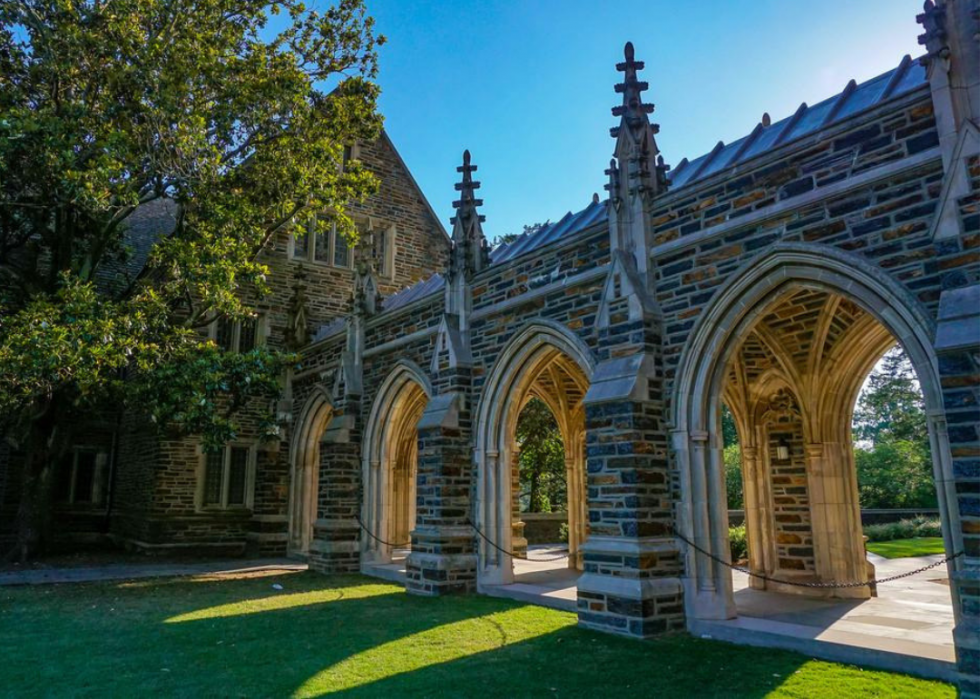 97 / 100
#4. Duke University
- Location: Durham, NC
- Undergraduate enrollment: 6,669
- Student to faculty ratio: 7:1
- Acceptance rate: 10%
- Graduation rate: 95%
- Tuition: $53,744
- Six year median earnings: $84,400
- Two year employment rate: 94%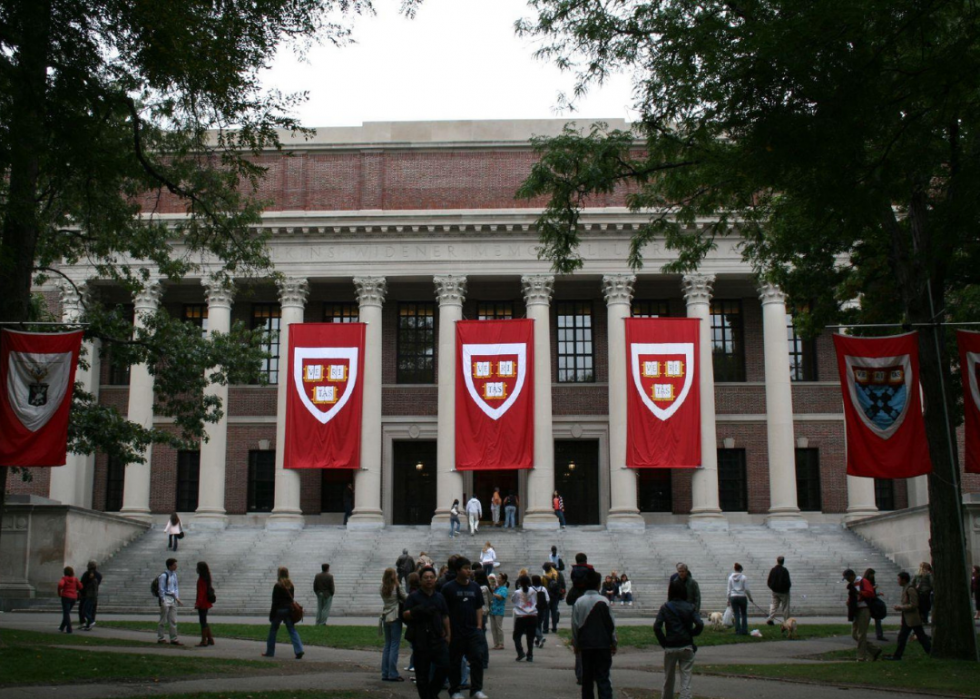 98 / 100
Joseph Williams // Wikimedia Commons
#3. Harvard University
- Location: Cambridge, MA
- Undergraduate enrollment: 7,147
- Student to faculty ratio: 7:1
- Acceptance rate: 5%
- Graduation rate: 96%
- Tuition: $48,949
- Six year median earnings: $89,700
- Two year employment rate: 89%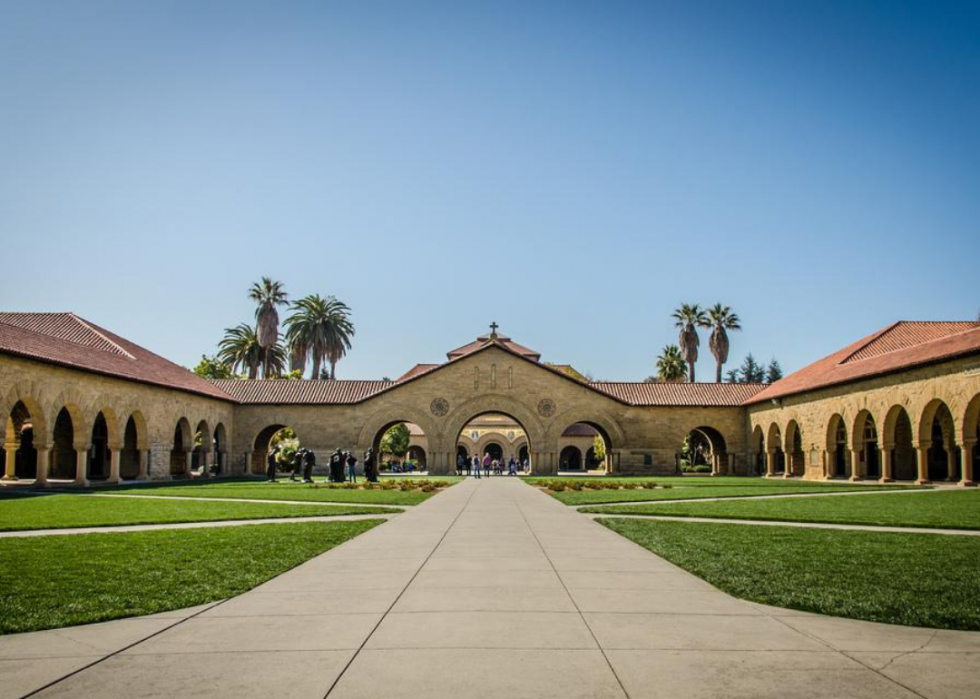 99 / 100
Michael Camilleri // Flickr
#2. Stanford University
- Location: Stanford, CA
- Undergraduate enrollment: 7,064
- Student to faculty ratio: 12:1
- Acceptance rate: 5%
- Graduation rate: 94%
- Tuition: $49,617
- Six year median earnings: $94,000
- Two year employment rate: 94%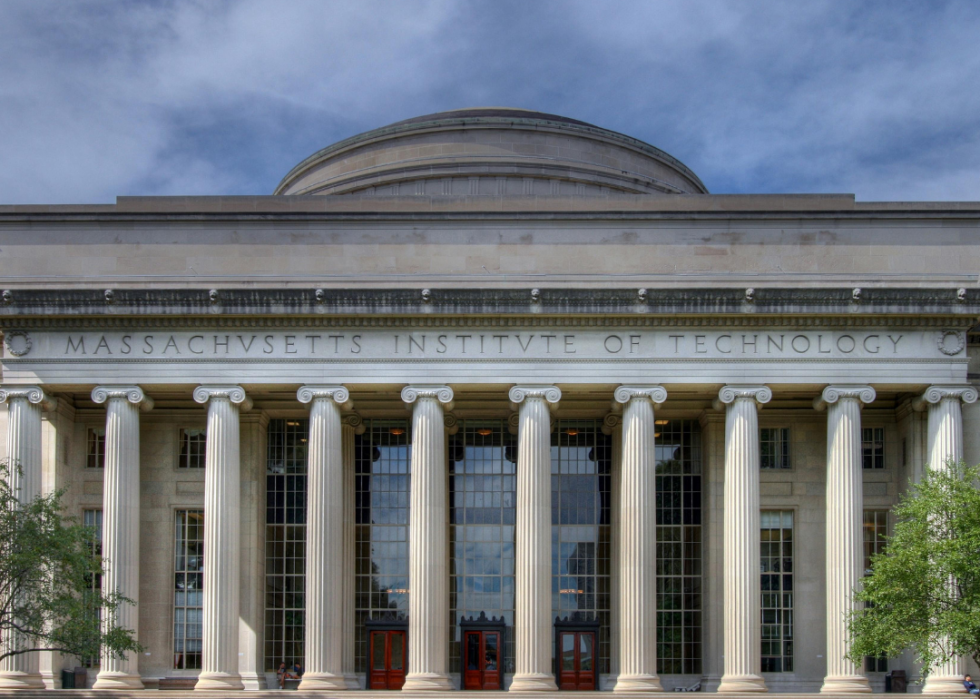 100 / 100
Madcoverboy // Wikimedia Commons
#1. Massachusetts Institute of Technology
- Location: Stanford, CA
- Undergraduate enrollment: 7,064
- Student to faculty ratio: 12:1
- Acceptance rate: 5%
- Graduation rate: 94%
- Tuition: $49,617
- Six year median earnings: $94,000
- Two year employment rate: 94%