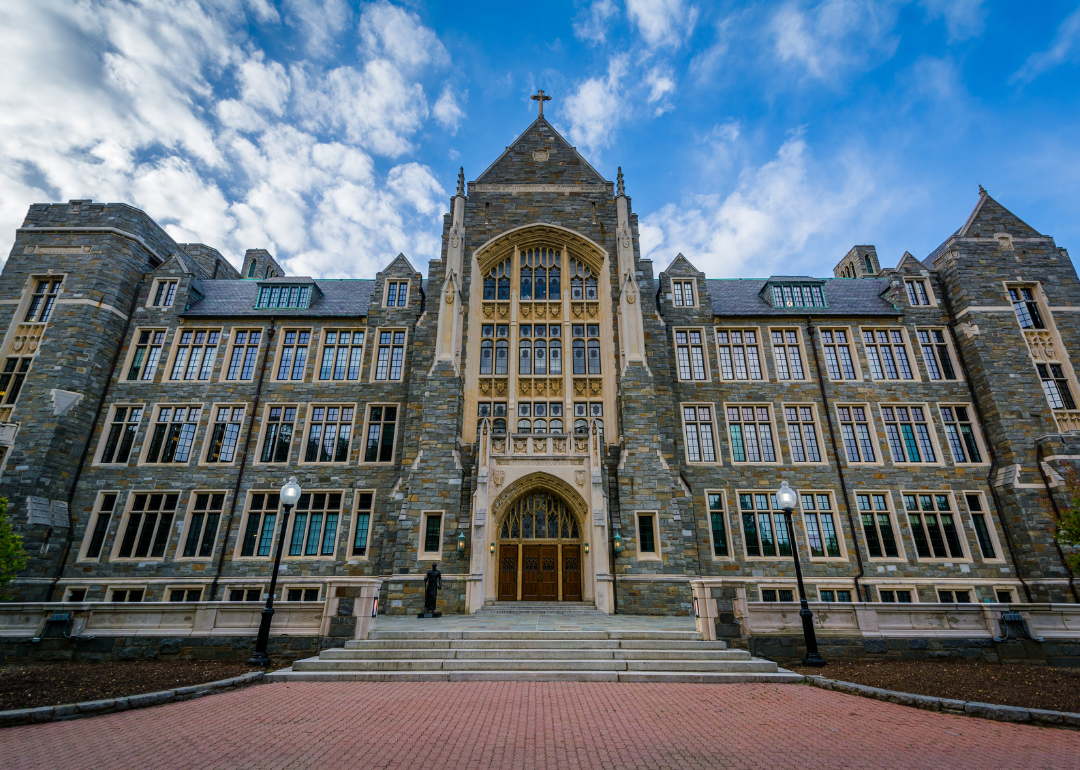 Best value private colleges in America
Jon Bilous // Shutterstock
Best value private colleges in America
As Albert Einstein once said, the value of a college education "is not the learning of many facts but the training of the mind to think something that cannot be learned in textbooks." This may be true; but today, serious college debt and other financial concerns have made prospective students even more anxious that the value of their private programs go beyond training their minds. There's $1.6 trillion in student loan debt across the country and an average debt of about $30,000 per person. Studies have found that this debt has impeded millennials' ability to buy a home, and has caused many to delay marriage and having a family. It also has reportedly prevented many students from pursuing their dream jobs in order to make their loan payments.
As such it makes sense that today's college students want to attend programs with track records of success, too. The average private program today costs $26,000. Elite liberal arts schools are even more expensive, topping out around $50,000 for annual tuition. Amidst all the private programs offered in the United States, there are many that have proved their worth. Some elite schools with higher endowments are able to offer significant financial aid while others have brand names and alumni networks that open doors to high-paying jobs and other avenues for paying off student loans. But which ones best the rest?
This data comes to you from Niche's list of the best value colleges in America for 2019. Stacker's list includes only private, four-year colleges. Not only does this ranking weigh the cost of tuition, but it also covers each school's acceptance rate, quality of professors, diversity, and median alumni earnings six years after graduation.
Read on to discover the best value private colleges in America and see where students are getting the most bang for their buck.
Story updated by Isabel Sepulveda.
You may also like: Best value colleges in America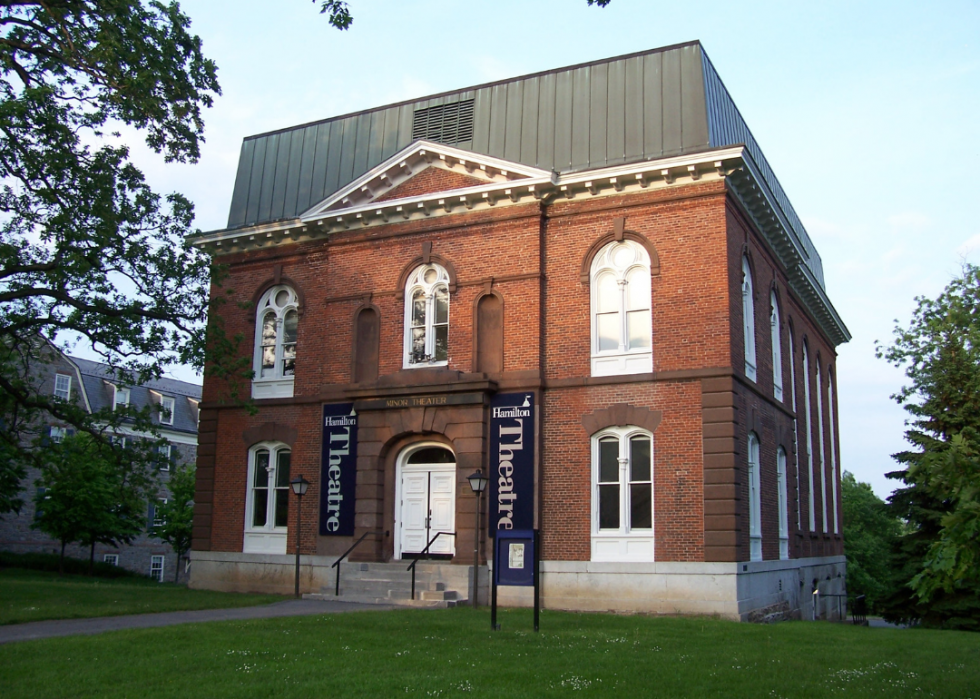 1 / 50
DanielPenfield // Wikimedia Commons
#50. Hamilton College
- Location: Clinton, NY
- Students: 1,886
- Acceptance rate: 24%
- Graduation rate: 94%
- Faculty ratio: 9:1
- Tuition: $54,080
- Six-year median earnings: $60,200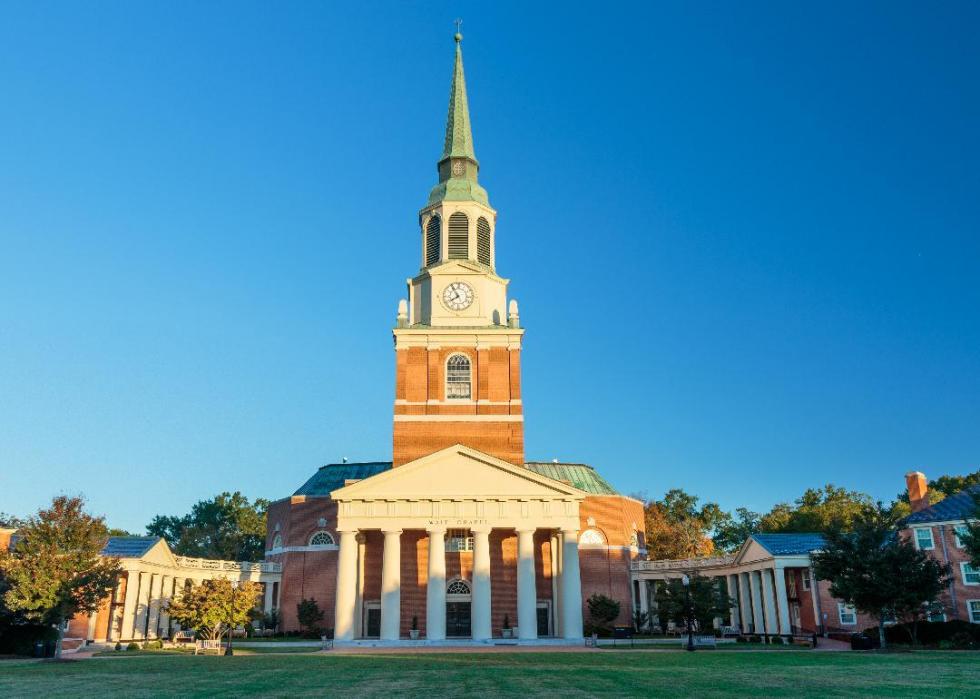 2 / 50
Bryan Pollard // Shutterstock
#49. Wake Forest University
- Location: Winston-Salem, NC
- Students: 5,046
- Acceptance rate: 28%
- Graduation rate: 88%
- Faculty ratio: 11:1
- Tuition: $51,400
- Six-year median earnings: $63,800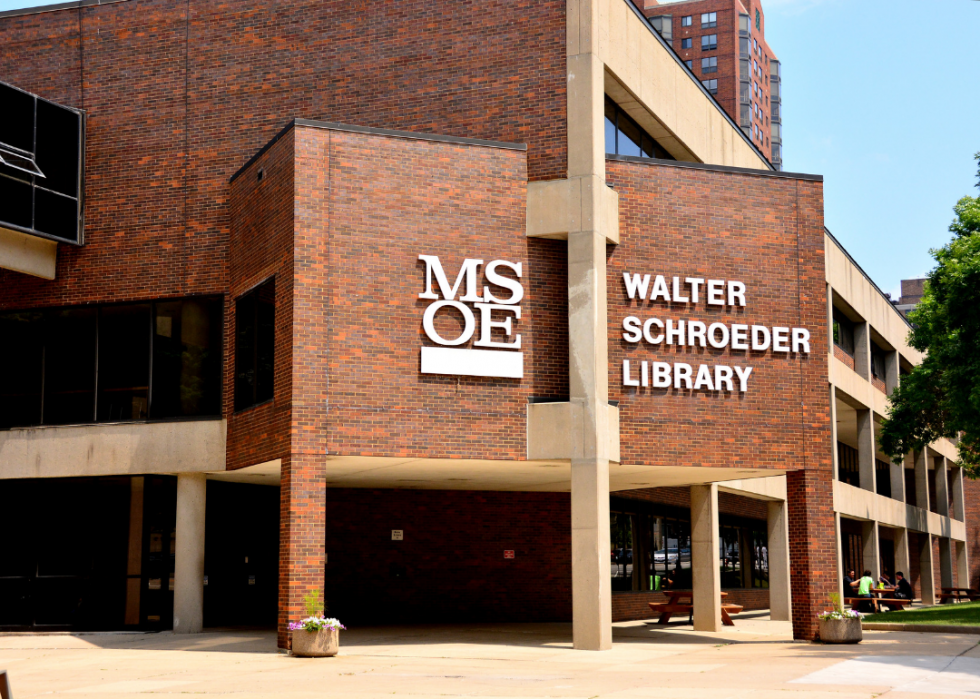 3 / 50
Tony Savino // Shutterstock
#48. Milwaukee School of Engineering
- Location: Milwaukee, WI
- Students: 2,508
- Acceptance rate: 63%
- Graduation rate: 67%
- Faculty ratio: 16:1
- Tuition: $39,039
- Six-year median earnings: $71,300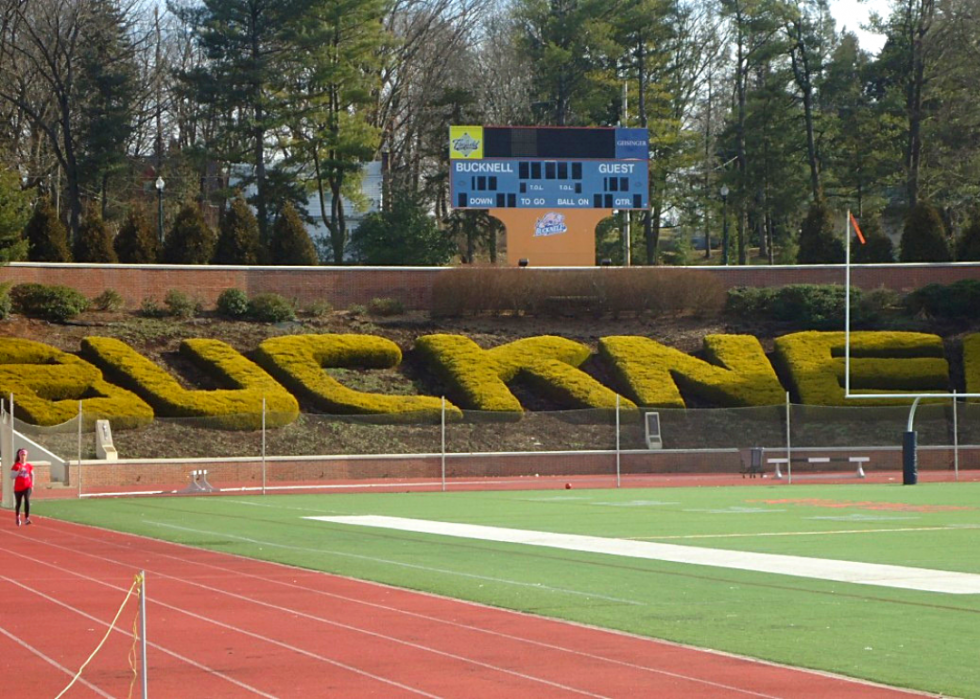 4 / 50
Tomwsulcer // Wikimedia Commons
#47. Bucknell University
- Location: Lewisburg, PA
- Students: 3,585
- Acceptance rate: 31%
- Graduation rate: 90%
- Faculty ratio: 9:1
- Tuition: $53,986
- Six-year median earnings: $70,800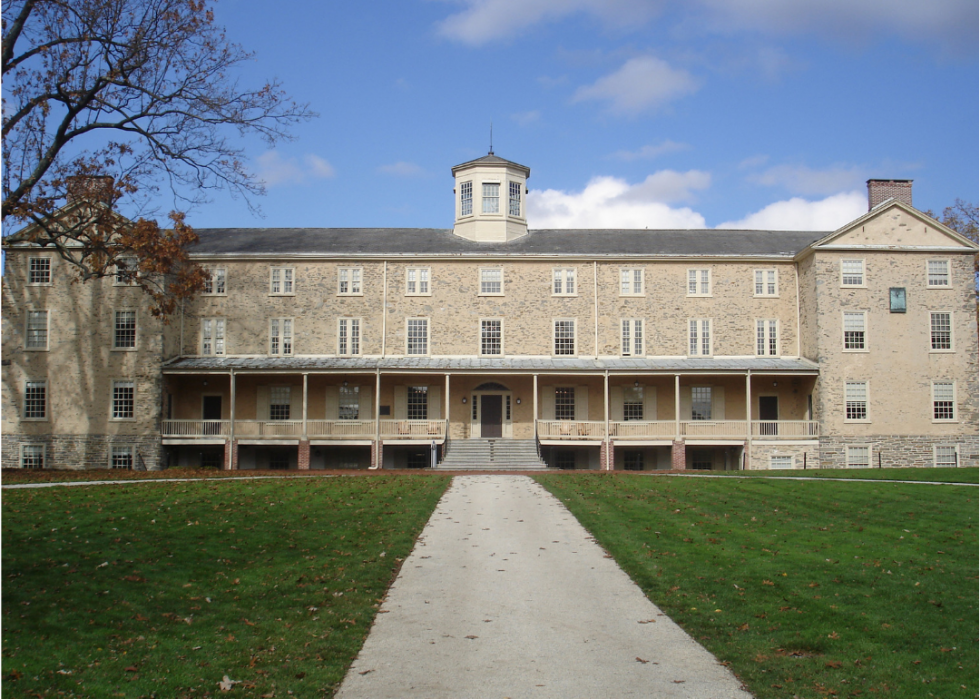 5 / 50
Jackbauerinvc // Wikimedia Commons
#46. Haverford College
- Location: Haverford, PA
- Students: 1,294
- Acceptance rate: 20%
- Graduation rate: 93%
- Faculty ratio: 8:1
- Tuition: $52,994
- Six-year median earnings: $60,700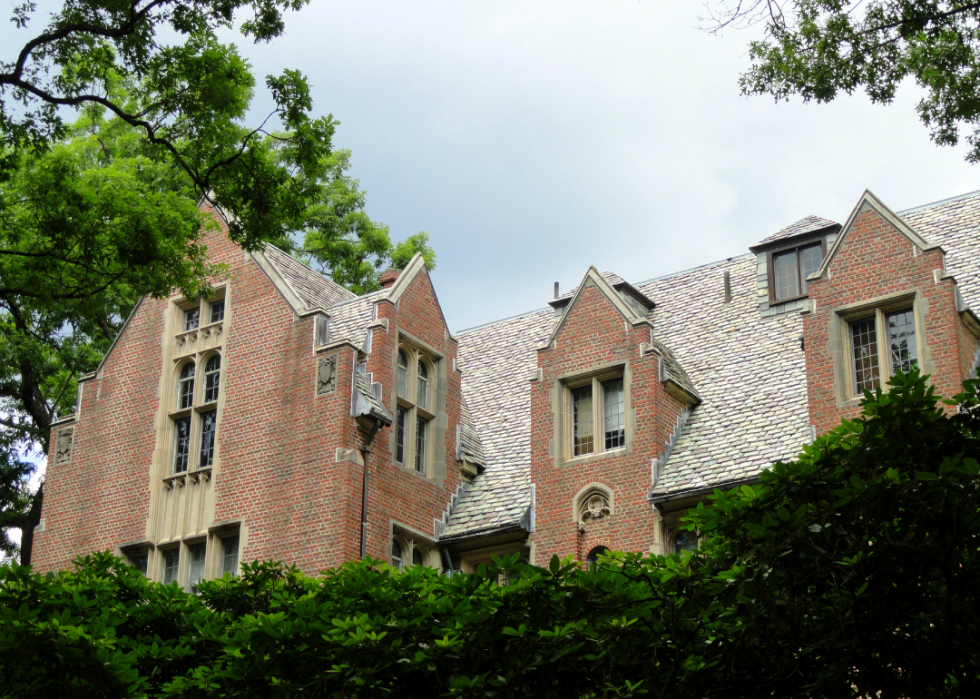 6 / 50
Unknown // Wikimedia Commons
#45. Wellesley College
- Location: Wellesley, MA
- Students: 2,374
- Acceptance rate: 28%
- Graduation rate: 91%
- Faculty ratio: 7:1
- Tuition: $50,840
- Six-year median earnings: $60,800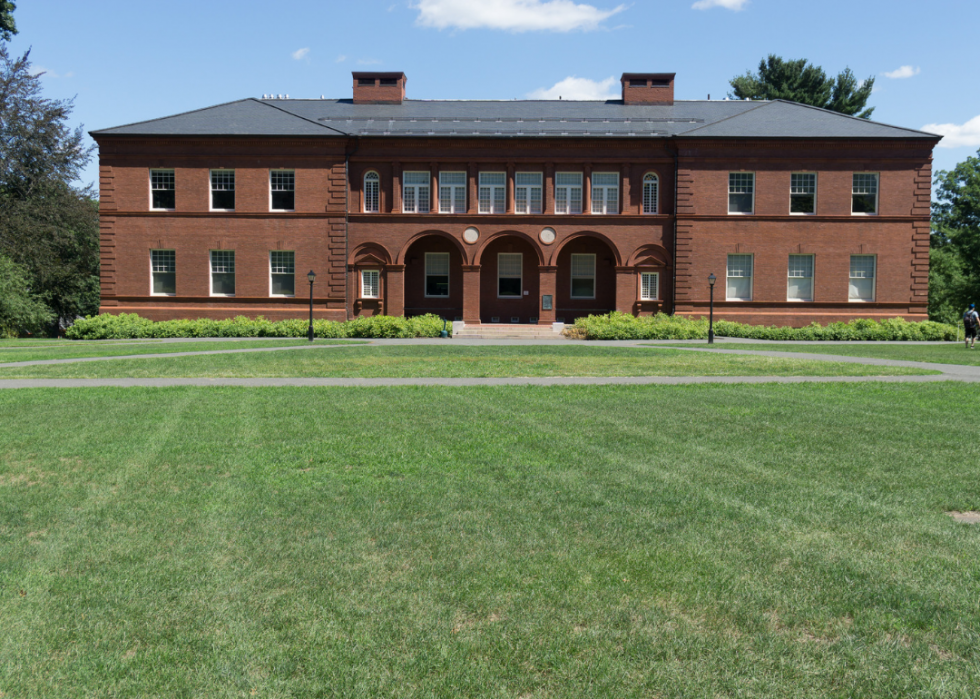 7 / 50
Kenneth C. Zirkel // Wikimedia Commons
#44. Amherst College
- Location: Amherst, MA
- Students: 1,836
- Acceptance rate: 13%
- Graduation rate: 95%
- Faculty ratio: 8:1
- Tuition: $54,310
- Six-year median earnings: $65,000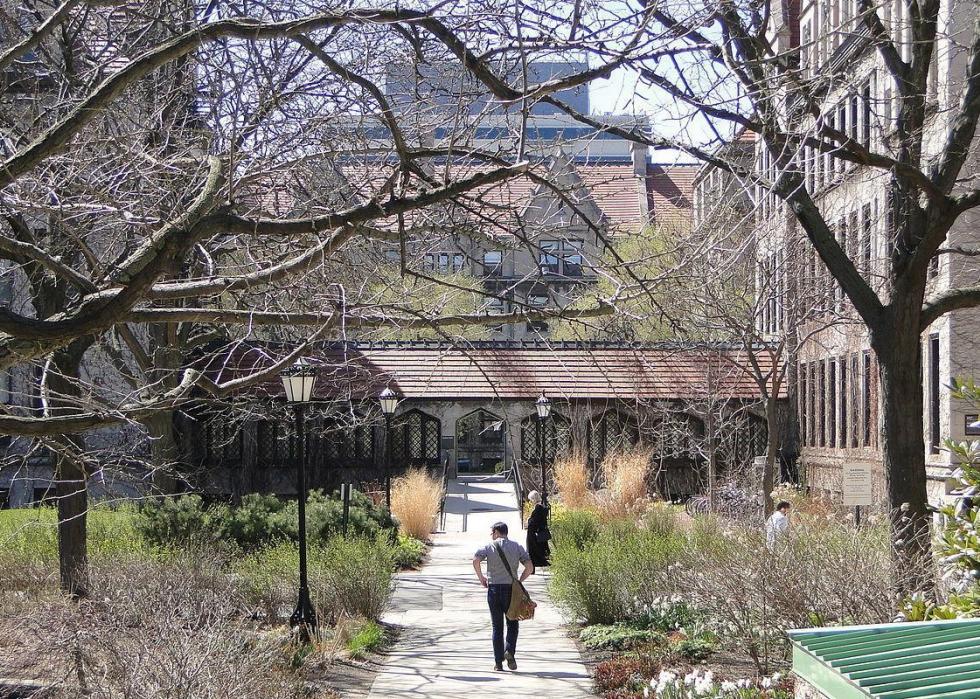 8 / 50
Adam Jones, Ph.D // Wikimedia Commons
#43. University of Chicago
- Location: Chicago, IL
- Students: 5,978
- Acceptance rate: 8%
- Graduation rate: 93%
- Faculty ratio: 5:1
- Tuition: $55,425
- Six-year median earnings: $68,100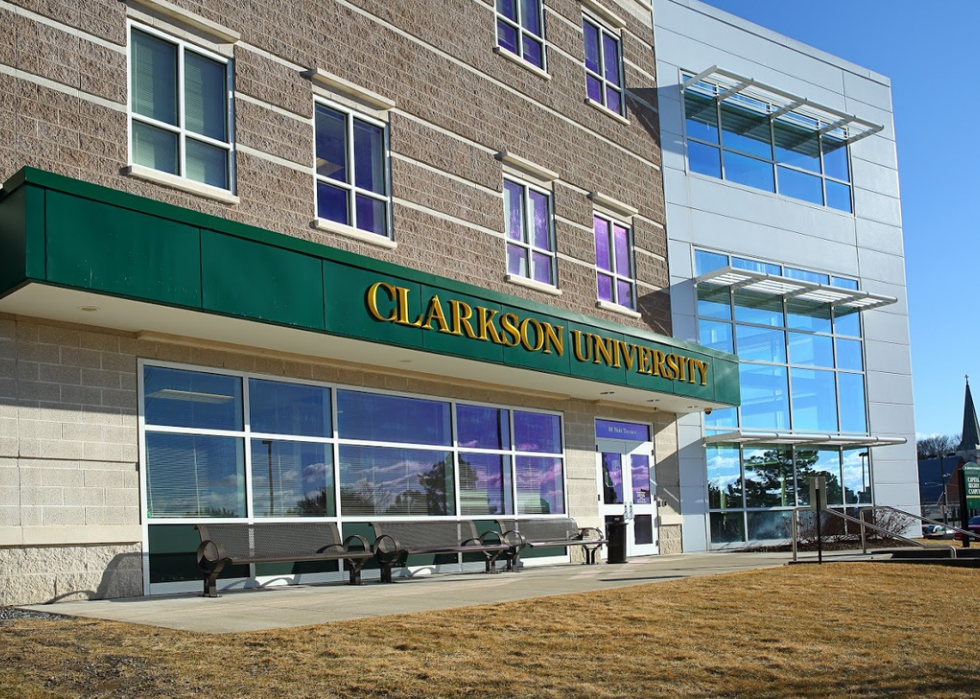 9 / 50
Anniegh // Wikimedia Commons
#42. Clarkson University
- Location: Potsdam, NY
- Students: 3,021
- Acceptance rate: 66%
- Graduation rate: 73%
- Faculty ratio: 14:1
- Tuition: $47,950
- Six-year median earnings: $72,000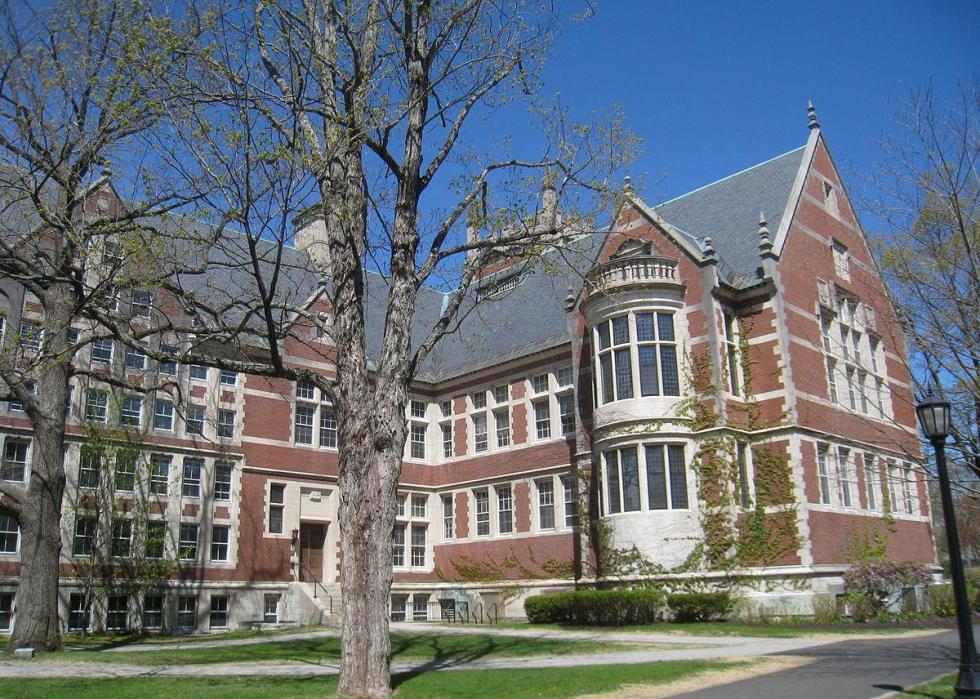 10 / 50
Daderot // Wikimedia Commons
#41. Bowdoin College
- Location: Brunswick, ME
- Students: 1,813
- Acceptance rate: 14%
- Graduation rate: 95%
- Faculty ratio: 9:1
- Tuition: $51,848
- Six-year median earnings: $65,500
11 / 50
Nagel Photography // Shutterstock
#40. Santa Clara University
- Location: Santa Clara, CA
- Students: 5,411
- Acceptance rate: 54%
- Graduation rate: 90%
- Faculty ratio: 11:1
- Tuition: $49,233
- Six-year median earnings: $72,600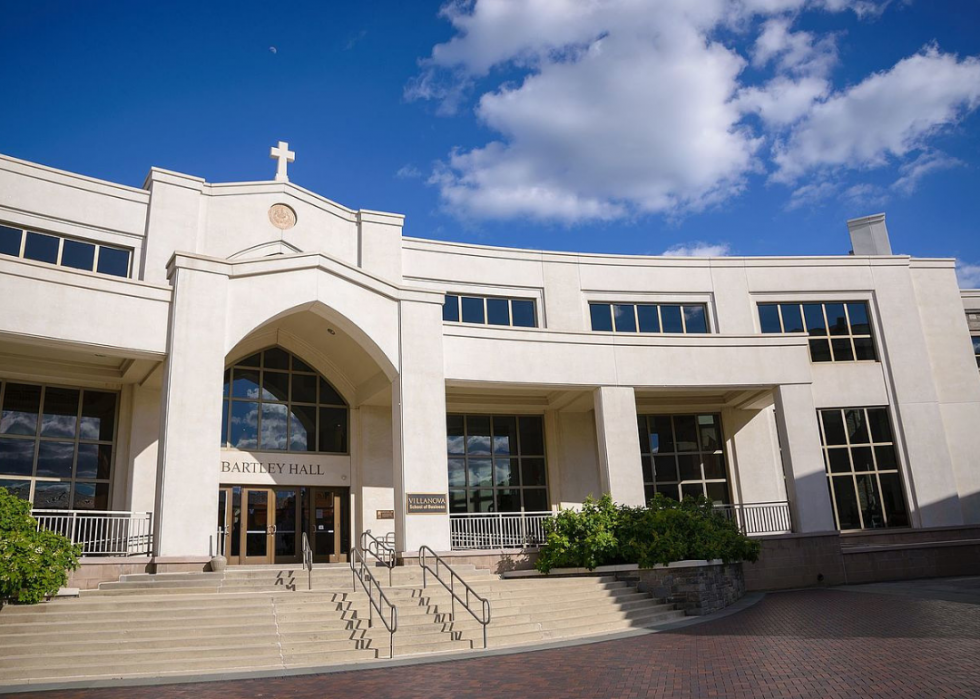 12 / 50
Imac0507 // Wikimedia Commons
#39. Villanova University
- Location: Villanova, PA
- Students: 6,525
- Acceptance rate: 36%
- Graduation rate: 90%
- Faculty ratio: 11:1
- Tuition: $50,554
- Six-year median earnings: $77,900
13 / 50
#38. Rensselaer Polytechnic Institute
- Location: Troy, NY
- Students: 6,200
- Acceptance rate: 44%
- Graduation rate: 80%
- Faculty ratio: 13:1
- Tuition: $51,000
- Six-year median earnings: $82,000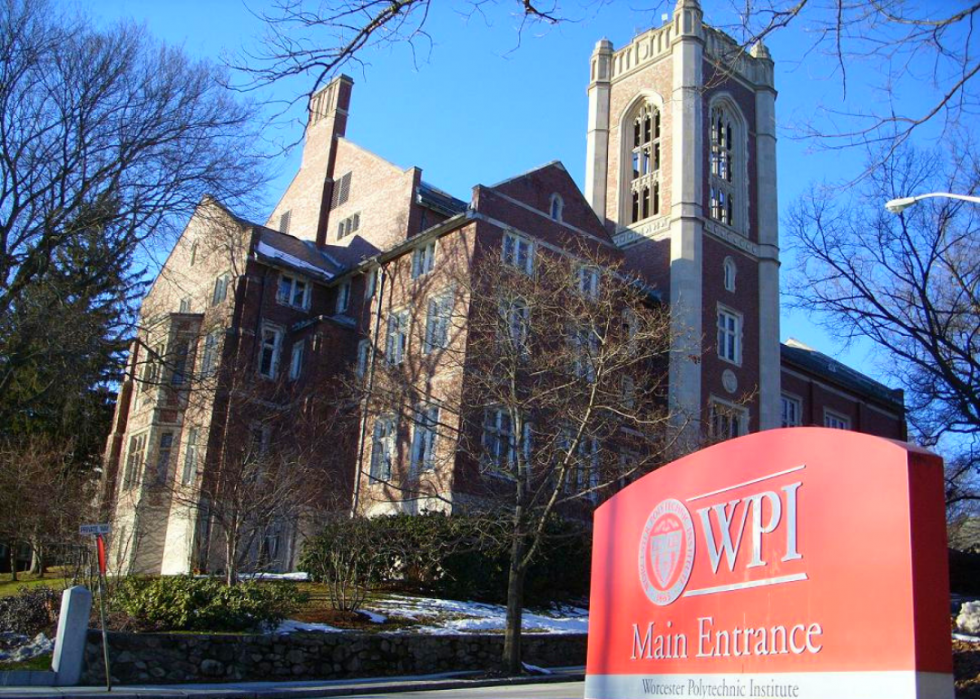 14 / 50
Runningonbrains // Wikimedia Commons
#37. Worcester Polytechnic Institute
- Location: Worcester, MA
- Students: 4,301
- Acceptance rate: 48%
- Graduation rate: 89%
- Faculty ratio: 13:1
- Tuition: $48,628
- Six-year median earnings: $84,900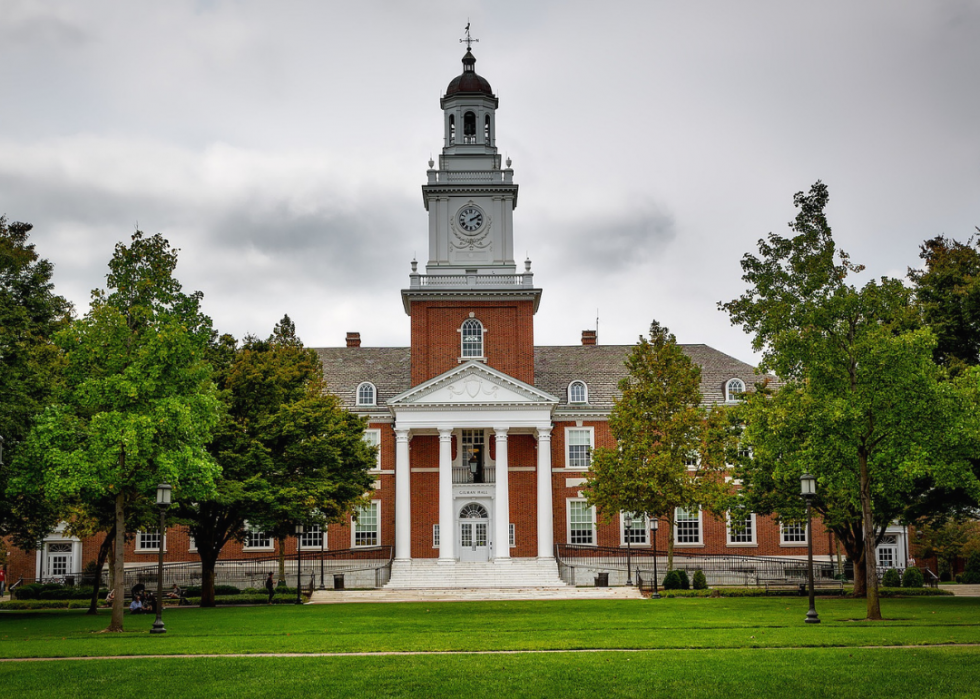 15 / 50
#36. Johns Hopkins University
- Location: Baltimore, MD
- Students: 5,668
- Acceptance rate: 13%
- Graduation rate: 93%
- Faculty ratio: 7:1
- Tuition: $52,170
- Six-year median earnings: $73,200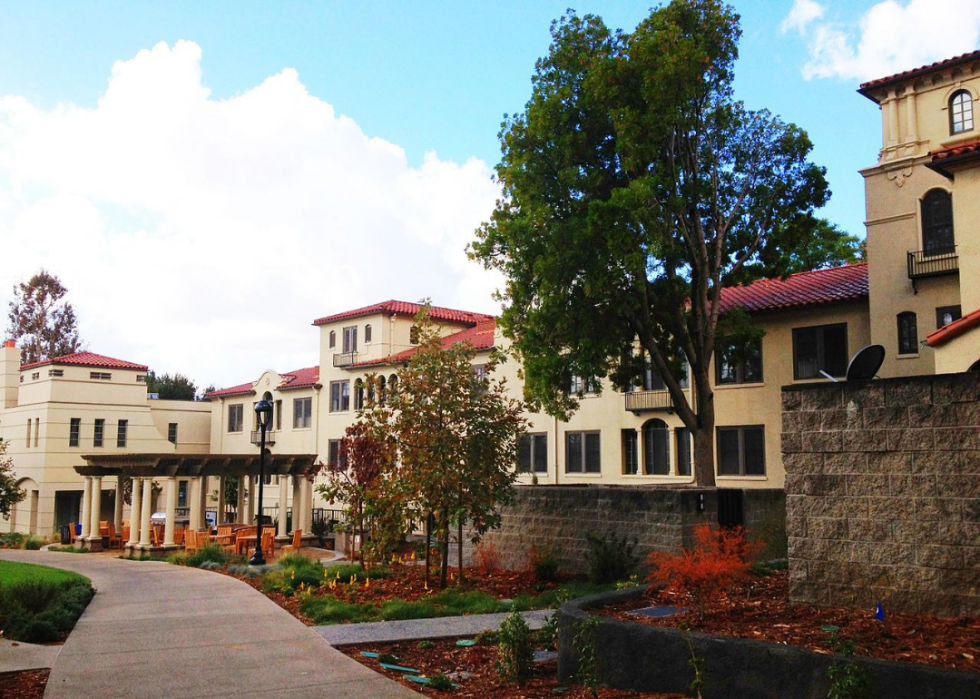 16 / 50
Nostalgicwisdom // Wikimedia Commons
#35. Pomona College
- Location: Claremont, CA
- Students: 1,578
- Acceptance rate: 8%
- Graduation rate: 93%
- Faculty ratio: 7:1
- Tuition: $51,075
- Six-year median earnings: $58,100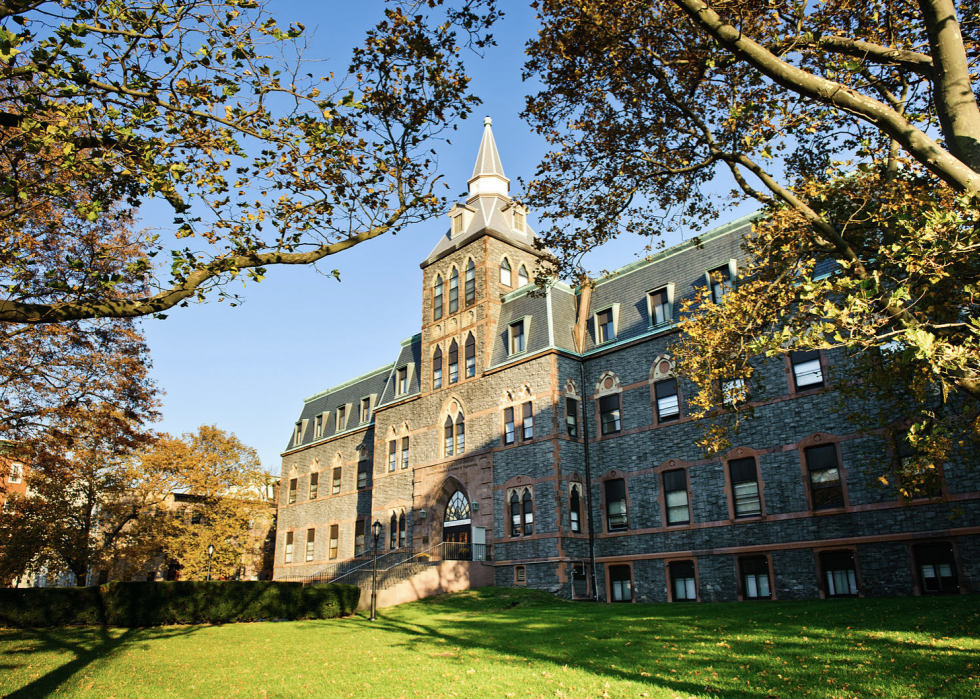 17 / 50
Jeffrey Vock Photography // Wikimedia Commons
#34. Stevens Institute of Technology
- Location: Hoboken, NJ
- Students: 3,113
- Acceptance rate: 44%
- Graduation rate: 83%
- Faculty ratio: 10:1
- Tuition: $52,394
- Six-year median earnings: $89,200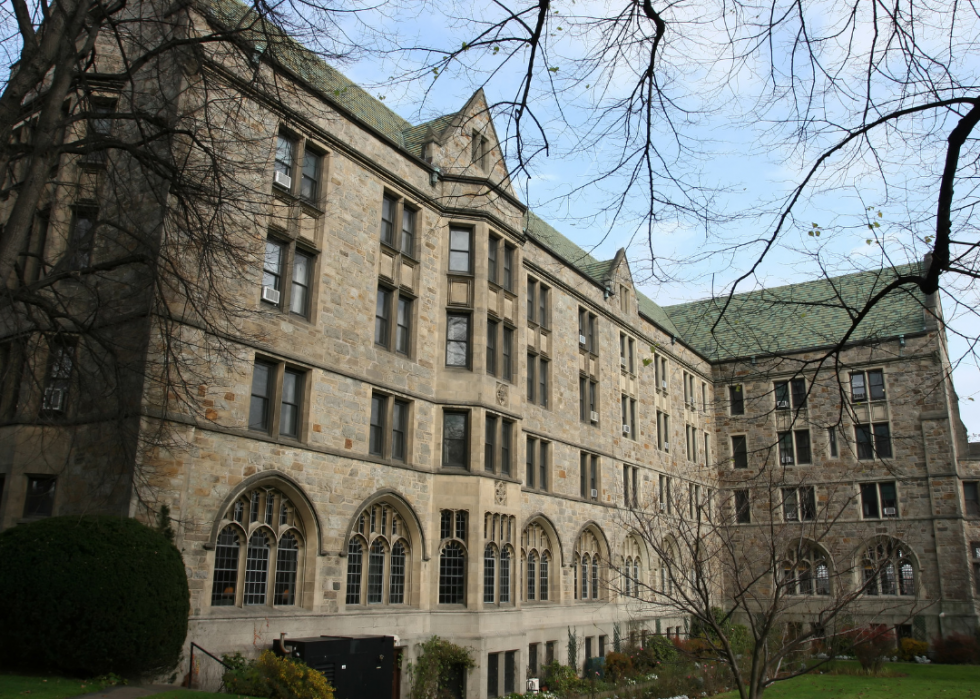 18 / 50
Zhong Chen // Shuttestock
#33. Boston College
- Location: Chestnut Hill, MA
- Students: 9,681
- Acceptance rate: 32%
- Graduation rate: 92%
- Faculty ratio: 13:1
- Tuition: $53,346
- Six-year median earnings: $72,500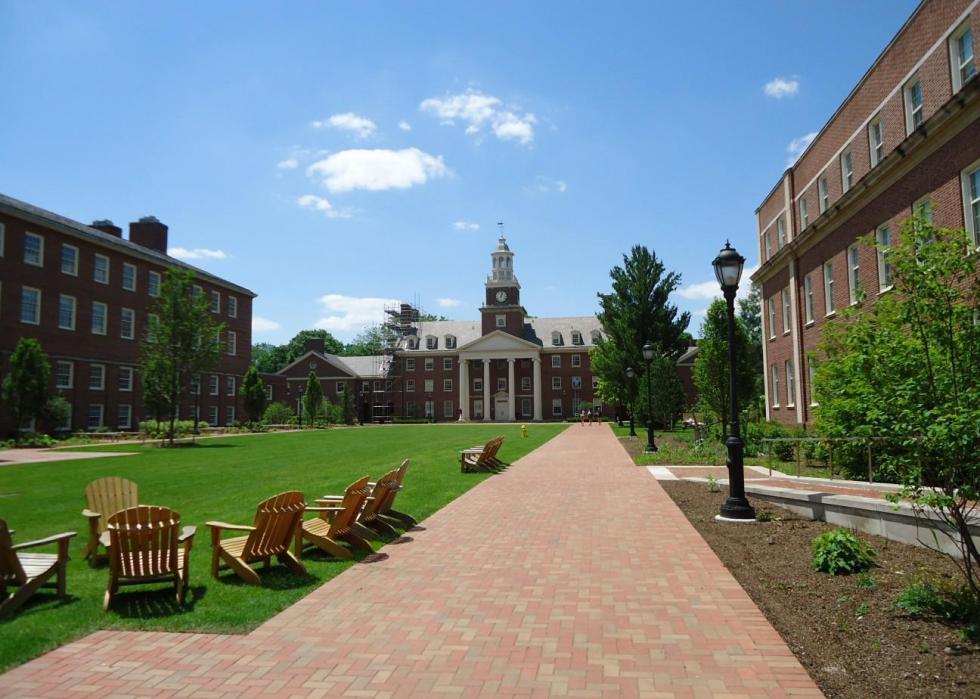 19 / 50
Tomwsulcer // Wikimedia Commons
#32. Lafayette College
- Location: Easton, PA
- Students: 2,551
- Acceptance rate: 31%
- Graduation rate: 90%
- Faculty ratio: 10:1
- Tuition: $51,600
- Six-year median earnings: $68,600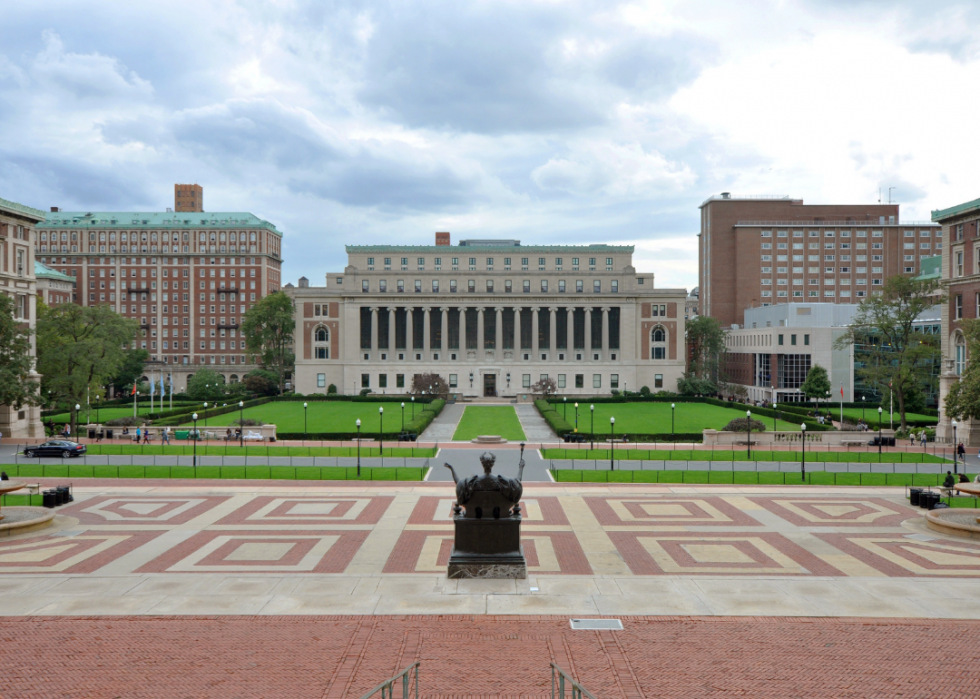 20 / 50
Wangkun Jia // Shuttestock
#31. Columbia University
- Location: New York, NY
- Students: 7,592
- Acceptance rate: 7%
- Graduation rate: 95%
- Faculty ratio: 6:1
- Tuition: $57,208
- Six-year median earnings: $83,300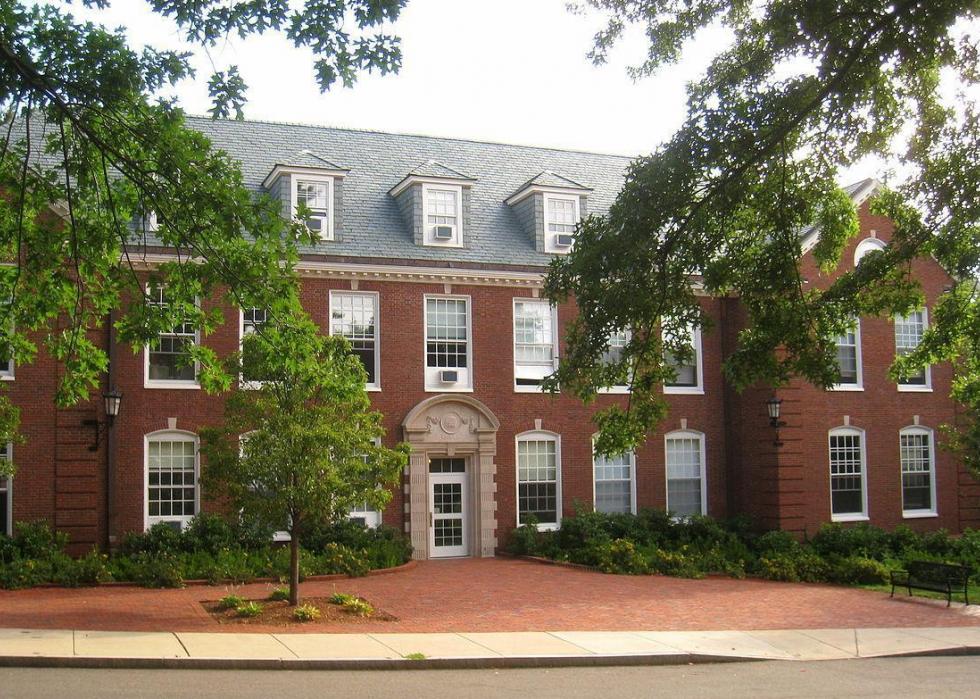 21 / 50
Daderot // Wikimedia Commons
#30. Tufts University
- Location: Medford, MA
- Students: 5,483
- Acceptance rate: 15%
- Graduation rate: 93%
- Faculty ratio: 9:1
- Tuition: $54,318
- Six-year median earnings: $75,800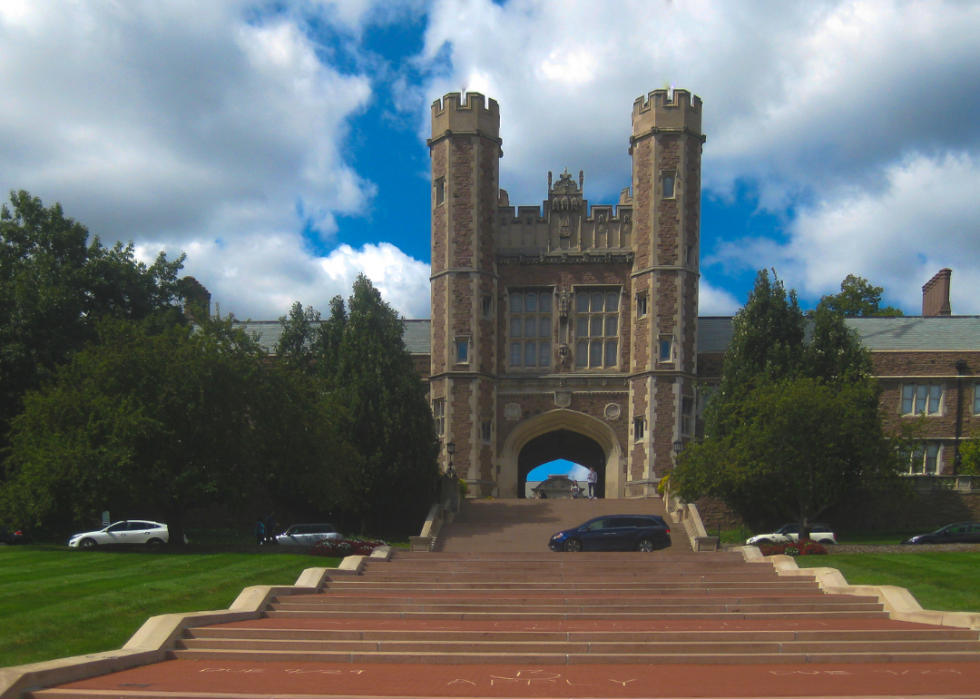 22 / 50
Kim Willems // Shutterstock
#29. Washington University in St. Louis
- Location: Saint Louis, MO
- Students: 7,074
- Acceptance rate: 16%
- Graduation rate: 94%
- Faculty ratio: 8:1
- Tuition: $54,250
- Six-year median earnings: $70,100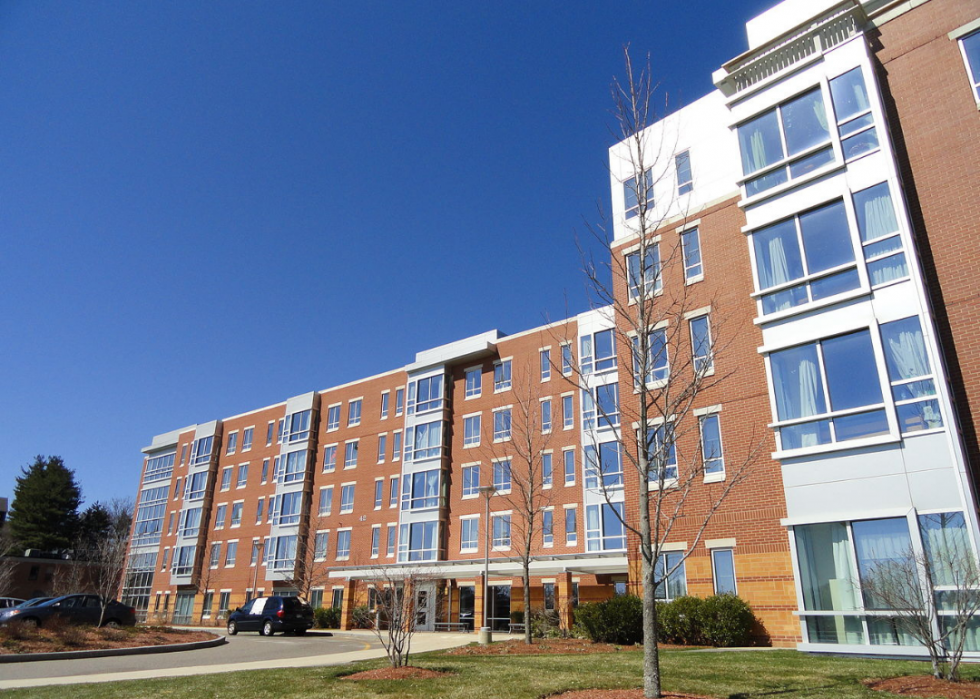 23 / 50
Daderot // Wikimedia Commons
#28. Bentley University
- Location: Waltham, MA
- Students: 4,171
- Acceptance rate: 44%
- Graduation rate: 91%
- Faculty ratio: 11:1
- Tuition: $50,060
- Six-year median earnings: $86,900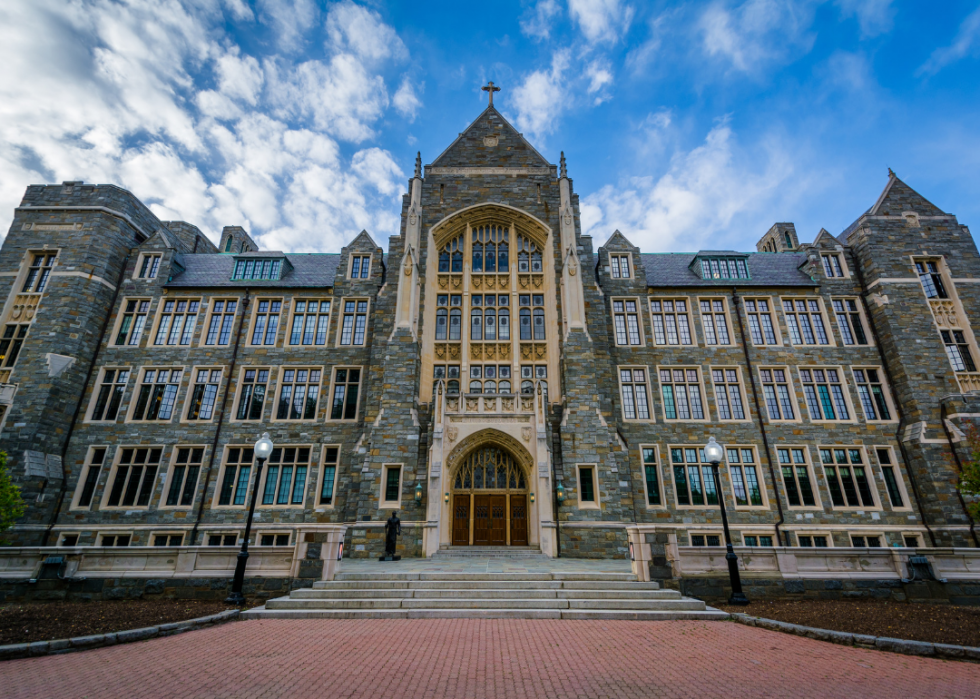 24 / 50
Jon Bilous // Shutterstock
#27. Georgetown University
- Location: Washington DC
- Students: 6,987
- Acceptance rate: 16%
- Graduation rate: 95%
- Faculty ratio: 11:1
- Tuition: $52,300
- Six-year median earnings: $93,500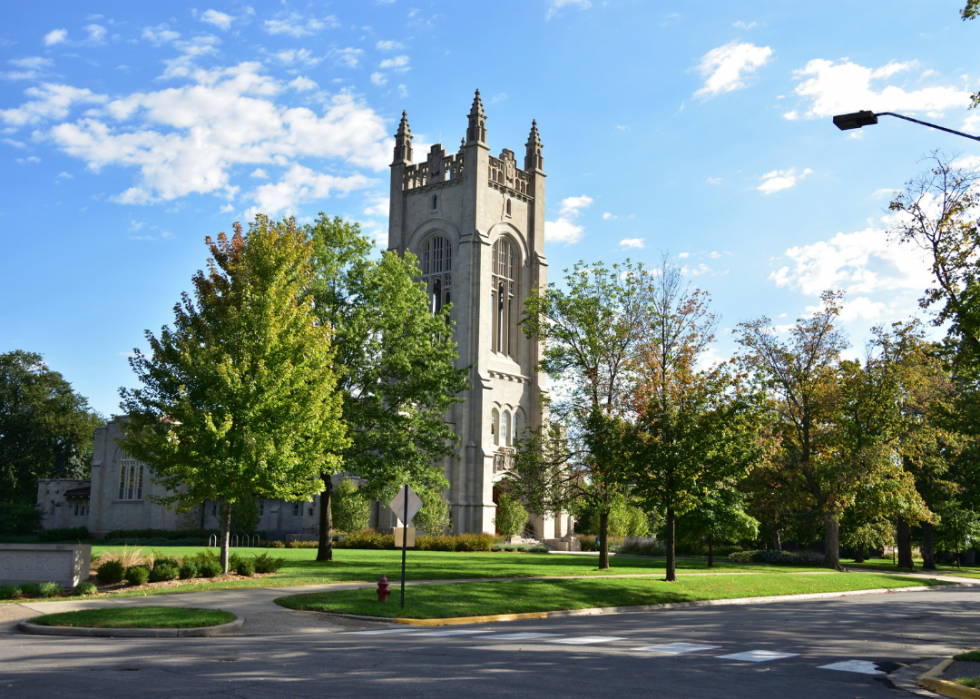 25 / 50
tmphoto98 // Shutterstock
#26. Carleton College
- Location: Northfield, MN
- Students: 2,055
- Acceptance rate: 21%
- Graduation rate: 94%
- Faculty ratio: 9:1
- Tuition: $52,782
- Six-year median earnings: $54,200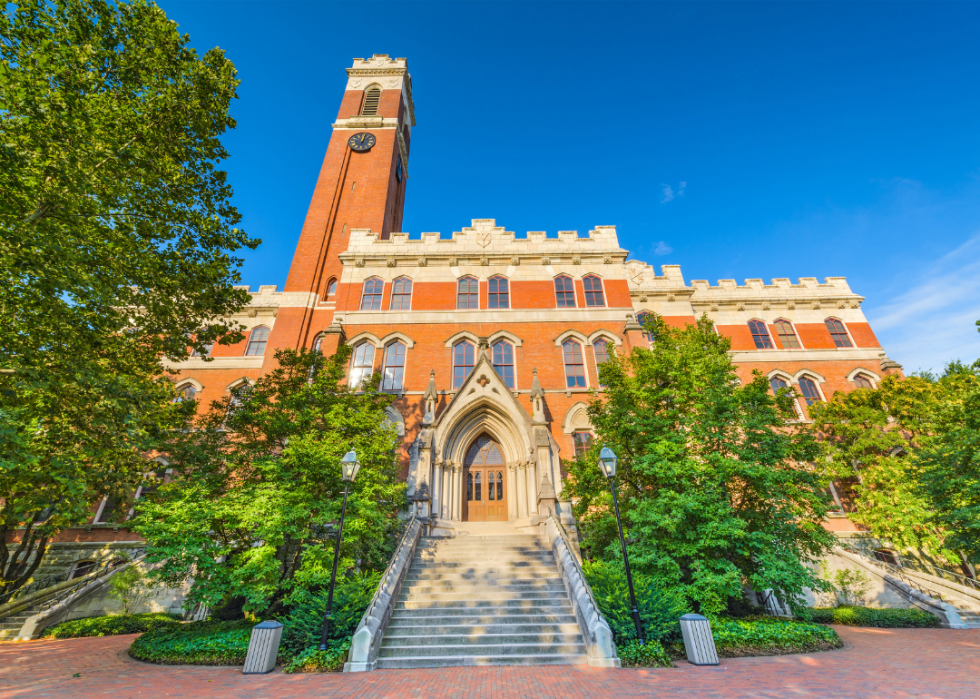 26 / 50
Sean Pavone // Shutterstock
#25. Vanderbilt University
- Location: Nashville, TN
- Students: 6,805
- Acceptance rate: 11%
- Graduation rate: 92%
- Faculty ratio: 7:1
- Tuition: $47,664
- Six-year median earnings: $69,000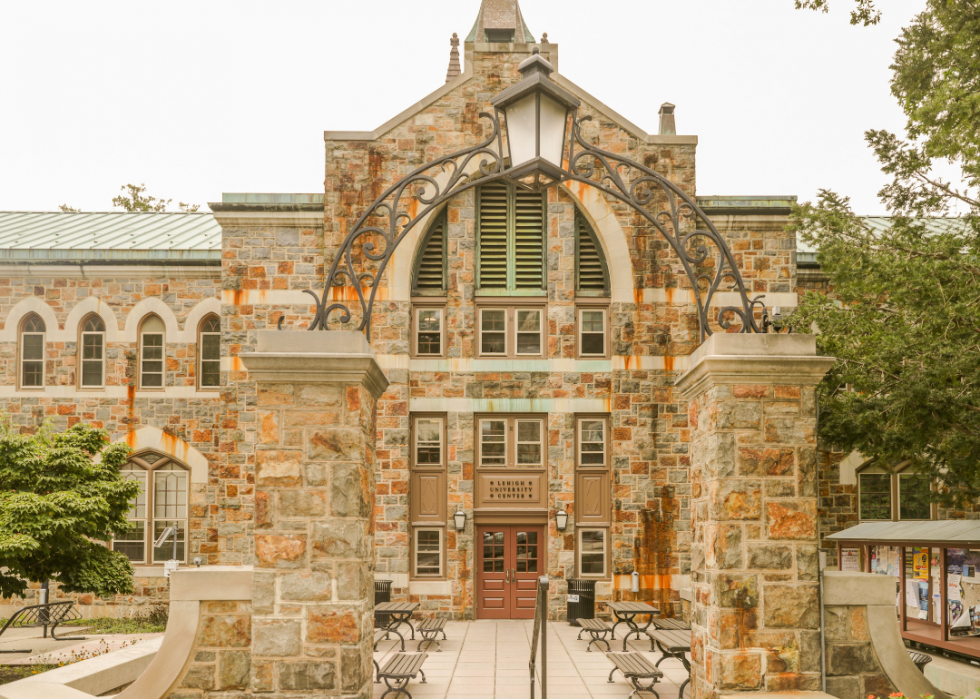 27 / 50
#24. Lehigh University
- Location: Bethlehem, PA
- Students: 5,013
- Acceptance rate: 25%
- Graduation rate: 86%
- Faculty ratio: 9:1
- Tuition: $50,740
- Six-year median earnings: $81,900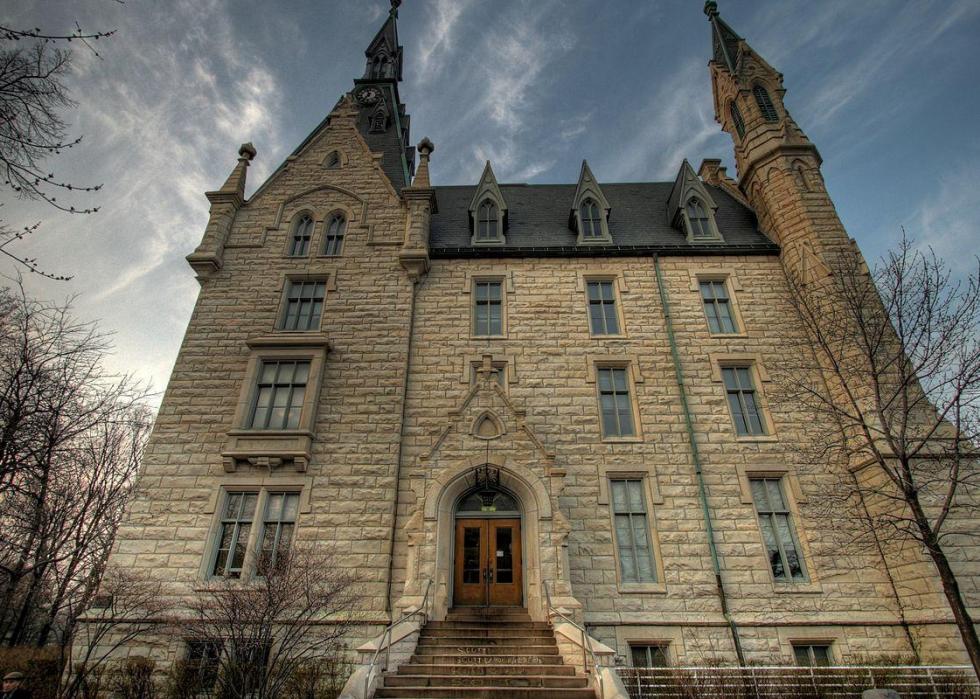 28 / 50
Madcoverboy // Wikimedia Commons
#23. Northwestern University
- Location: Evanston, IL
- Students: 8,205
- Acceptance rate: 9%
- Graduation rate: 94%
- Faculty ratio: 6:1
- Tuition: $52,678
- Six-year median earnings: $69,000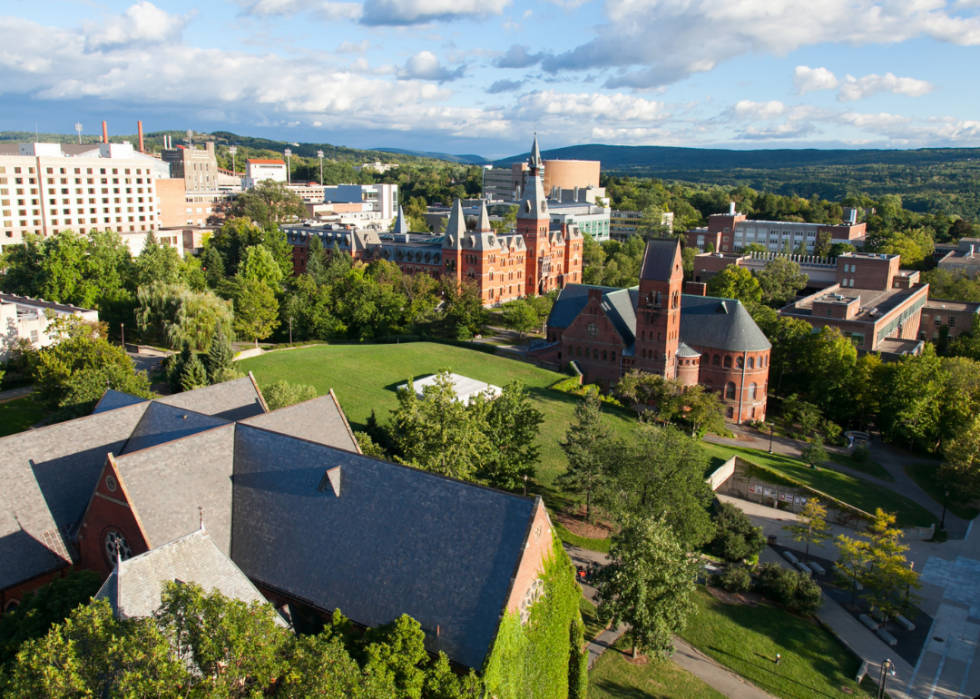 29 / 50
Lewis Liu // Shutterstock
#22. Cornell University
- Location: Ithaca, NY
- Students: 14,898
- Acceptance rate: 13%
- Graduation rate: 93%
- Faculty ratio: 9:1
- Tuition: $52,853
- Six-year median earnings: $77,200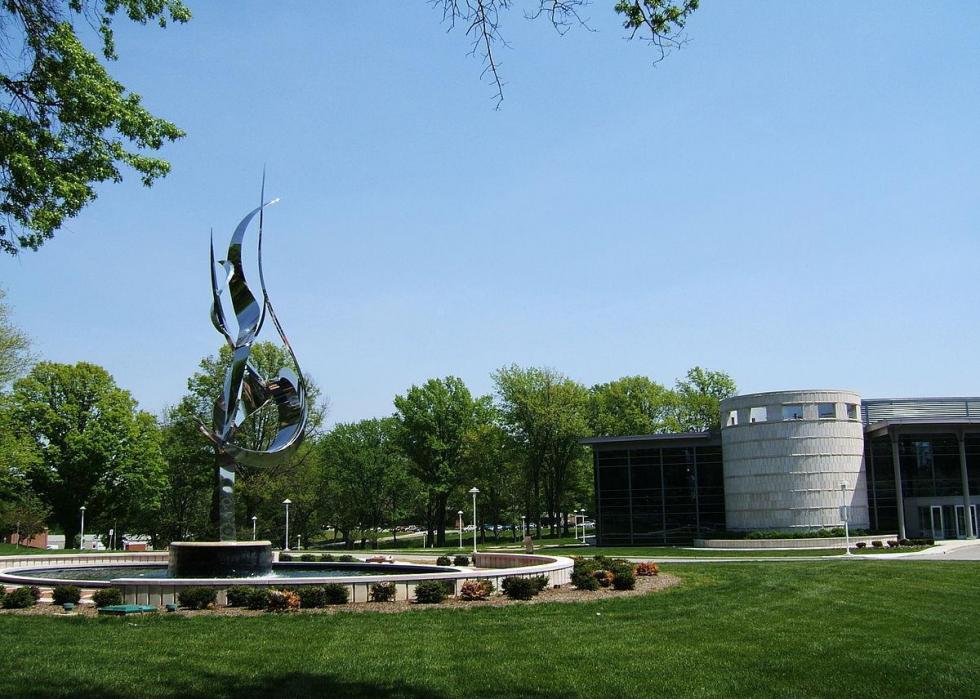 30 / 50
Unkown // Wikimedia Commons
#21. Rose-Hulman Institute of Technology
- Location: Terre Haute, IN
- Students: 2,147
- Acceptance rate: 61%
- Graduation rate: 81%
- Faculty ratio: 11:1
- Tuition: $48,012
- Six-year median earnings: $80,900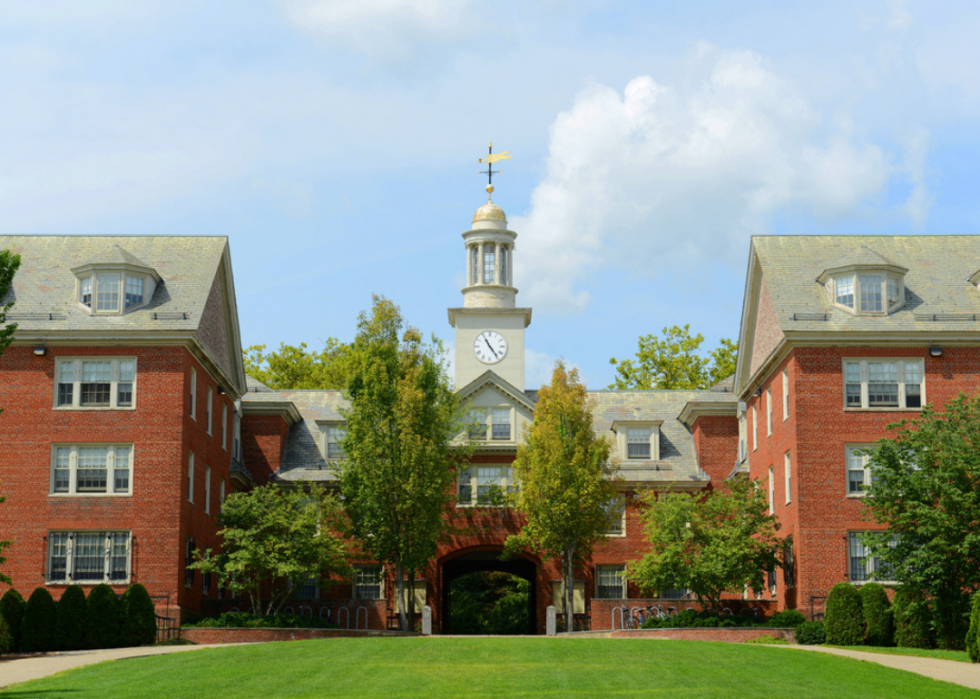 31 / 50
Wangkun Jia // Shuttestock
#20. Brown University
- Location: Providence, RI
- Students: 6,666
- Acceptance rate: 8%
- Graduation rate: 95%
- Faculty ratio: 7:1
- Tuition: $53,419
- Six-year median earnings: $67,500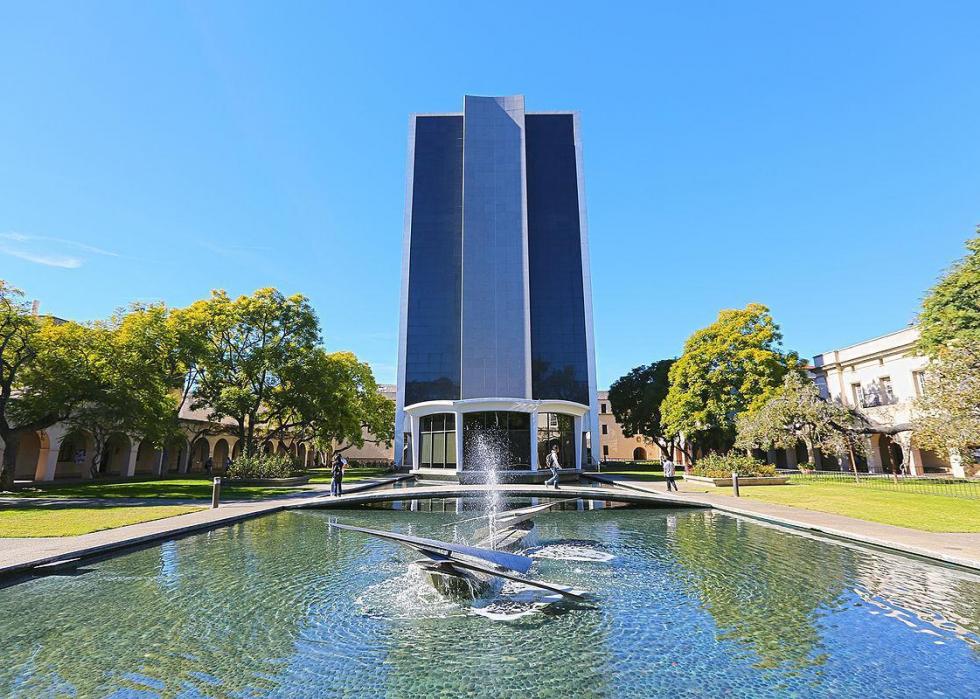 32 / 50
Canon.vs.nikon // Wikimedia Commons
#19. California Institute of Technology
- Location: Pasadena, CA
- Students: 961
- Acceptance rate: 8%
- Graduation rate: 89%
- Faculty ratio: 3:1
- Tuition: $49,908
- Six-year median earnings: $85,900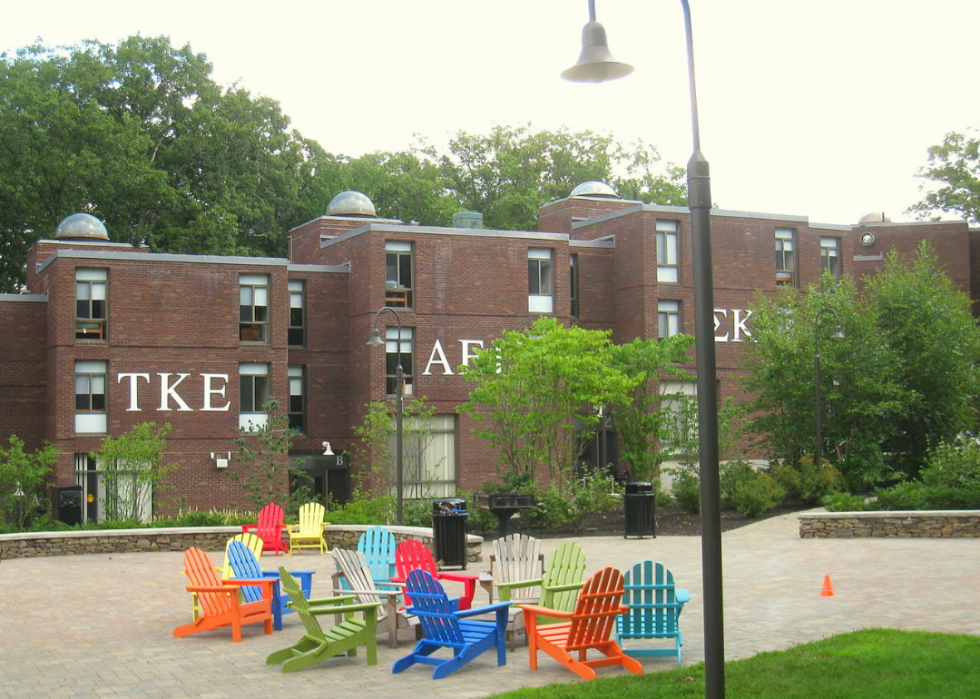 33 / 50
Daderot // Wikimedia Commons
#18. Babson College
- Location: Wellesley, MA
- Students: 2,342
- Acceptance rate: 24%
- Graduation rate: 92%
- Faculty ratio: 13:1
- Tuition: $51,104
- Six-year median earnings: $96,100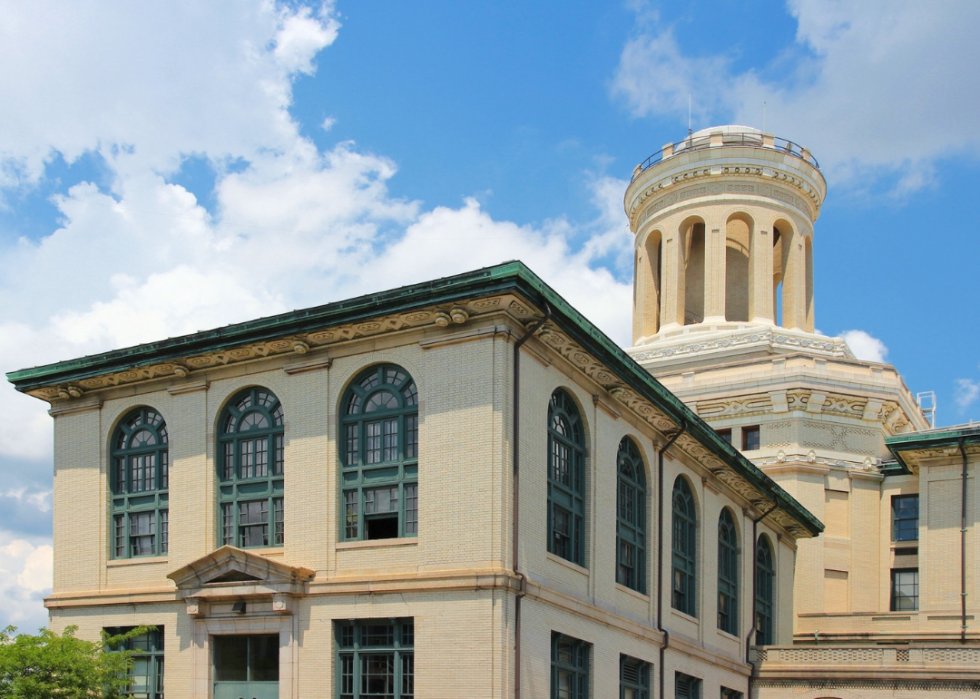 34 / 50
Tupungato // Shutterstock
#17. Carnegie Mellon University
- Location: Pittsburgh, PA
- Students: 6,298
- Acceptance rate: 22%
- Graduation rate: 89%
- Faculty ratio: 10:1
- Tuition: $53,910
- Six-year median earnings: $83,600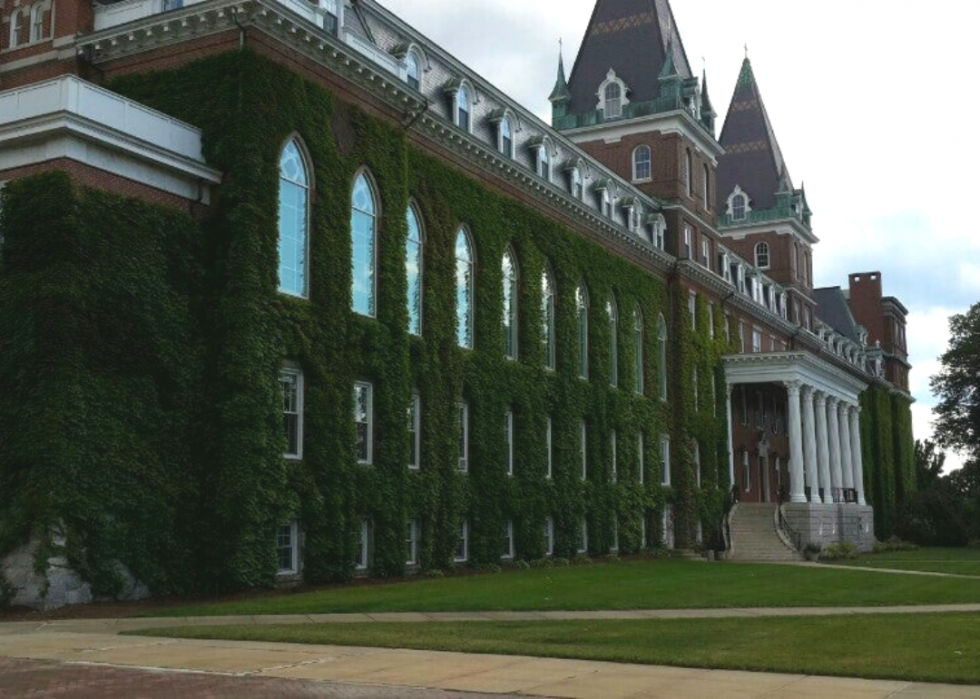 35 / 50
#16. College of the Holy Cross
- Location: Worcester, MA
- Students: 2,827
- Acceptance rate: 40%
- Graduation rate: 92%
- Faculty ratio: 10:1
- Tuition: $52,770
- Six-year median earnings: $71,000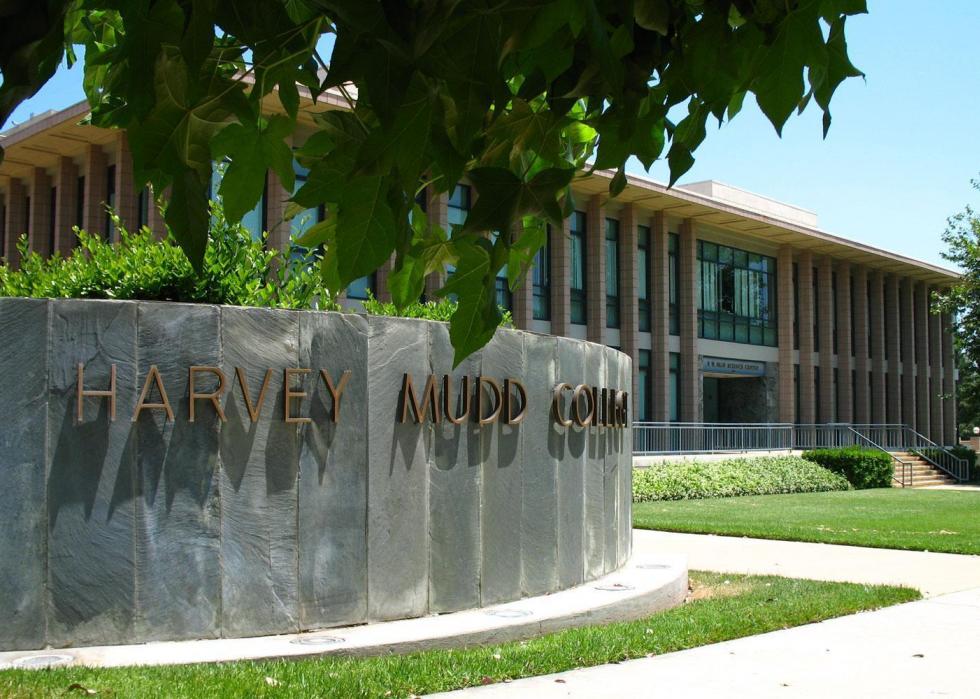 36 / 50
Imagine // Wikimedia Commons
#15. Harvey Mudd College
- Location: Claremont, CA
- Students: 844
- Acceptance rate: 15%
- Graduation rate: 96%
- Faculty ratio: 8:1
- Tuition: $54,636
- Six-year median earnings: $88,800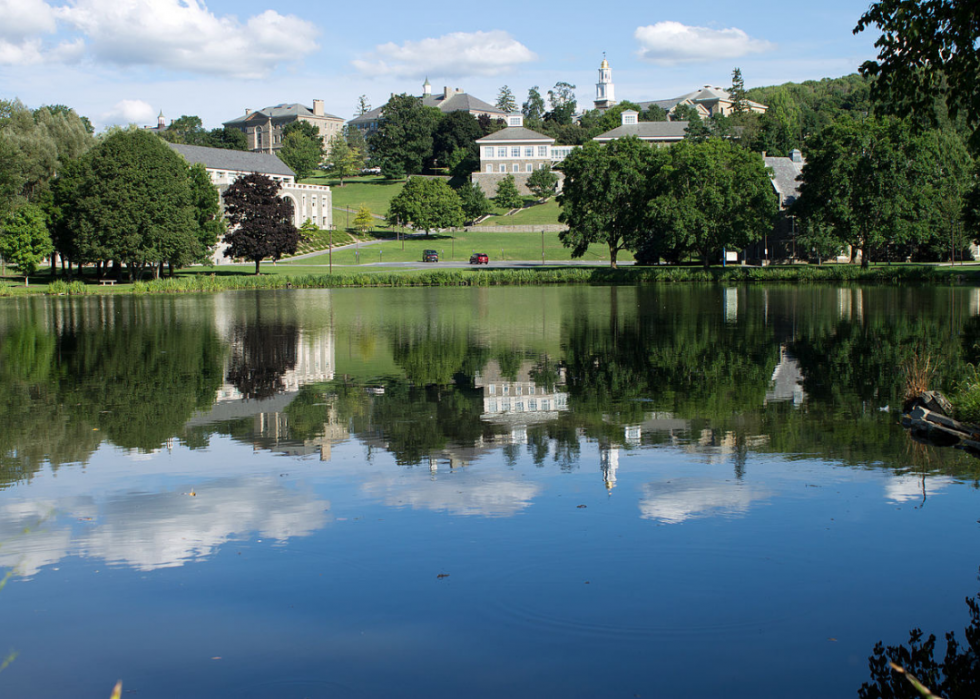 37 / 50
Balon Greyjoy // Wikimedia Commons
#14. Colgate University
- Location: Hamilton, NY
- Students: 2,854
- Acceptance rate: 28%
- Graduation rate: 91%
- Faculty ratio: 9:1
- Tuition: $55,530
- Six-year median earnings: $63,600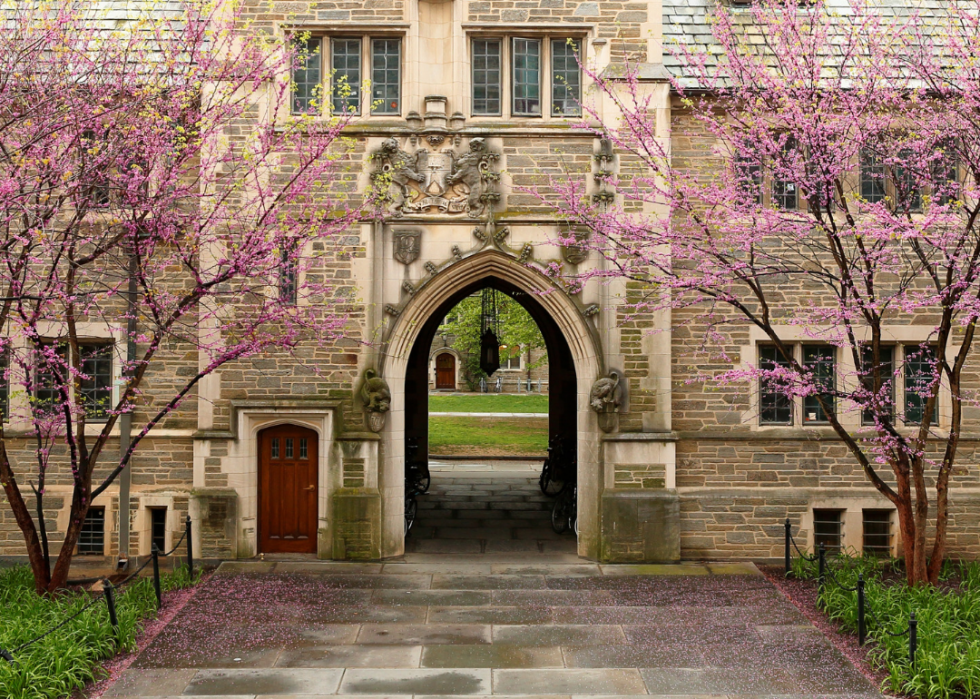 38 / 50
#13. Princeton University
- Location: Princeton, NJ
- Students: 5,260
- Acceptance rate: 6%
- Graduation rate: 97%
- Faculty ratio: 5:1
- Tuition: $47,140
- Six-year median earnings: $74,700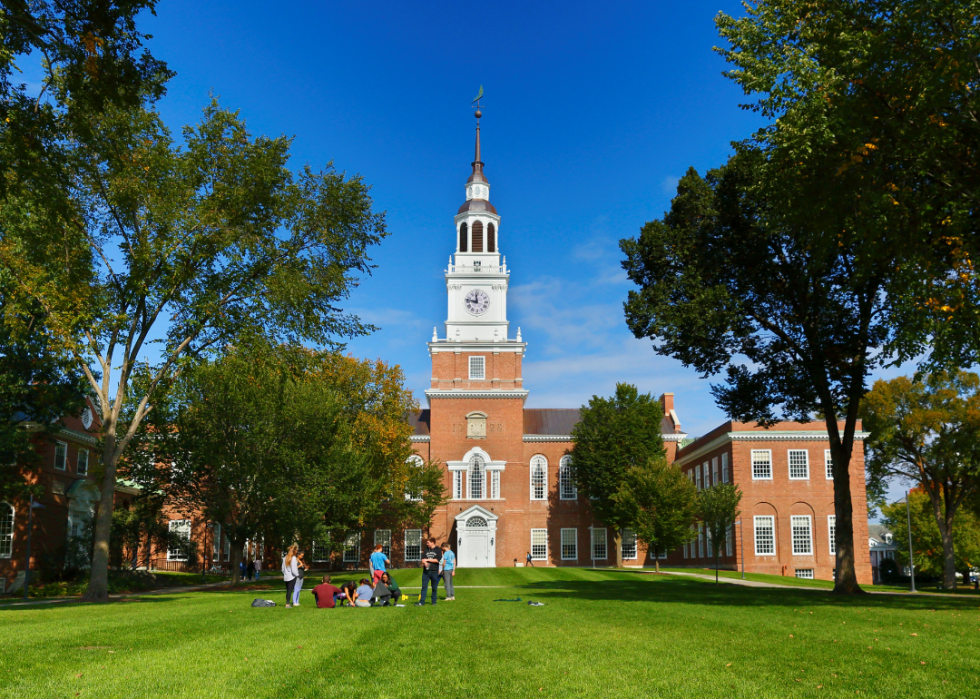 39 / 50
#12. Dartmouth College
- Location: Hanover, NH
- Students: 4,360
- Acceptance rate: 10%
- Graduation rate: 96%
- Faculty ratio: 7:1
- Tuition: $53,496
- Six-year median earnings: $75,500
40 / 50
#11. Williams College
- Location: Williamstown, MA
- Students: 2,047
- Acceptance rate: 15%
- Graduation rate: 94%
- Faculty ratio: 6:1
- Tuition: $53,550
- Six-year median earnings: $59,000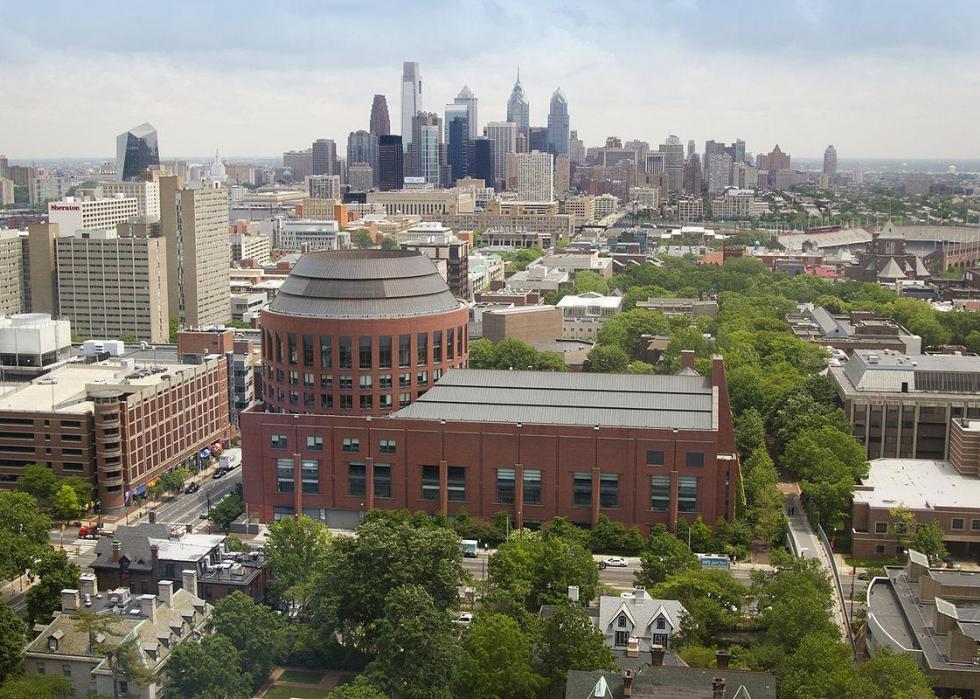 41 / 50
WestCoastivieS // Wikimedia Commons
#10. University of Pennsylvania
- Location: Philadelphia, PA
- Students: 10,496
- Acceptance rate: 9%
- Graduation rate: 96%
- Faculty ratio: 6:1
- Tuition: $53,534
- Six-year median earnings: $85,900
42 / 50
Bram Reusen // Shutterstock
#9. Washington & Lee University
- Location: Lexington, VA
- Students: 1,823
- Acceptance rate: 22%
- Graduation rate: 92%
- Faculty ratio: 8:1
- Tuition: $67,150
- Six-year median earnings: $76,100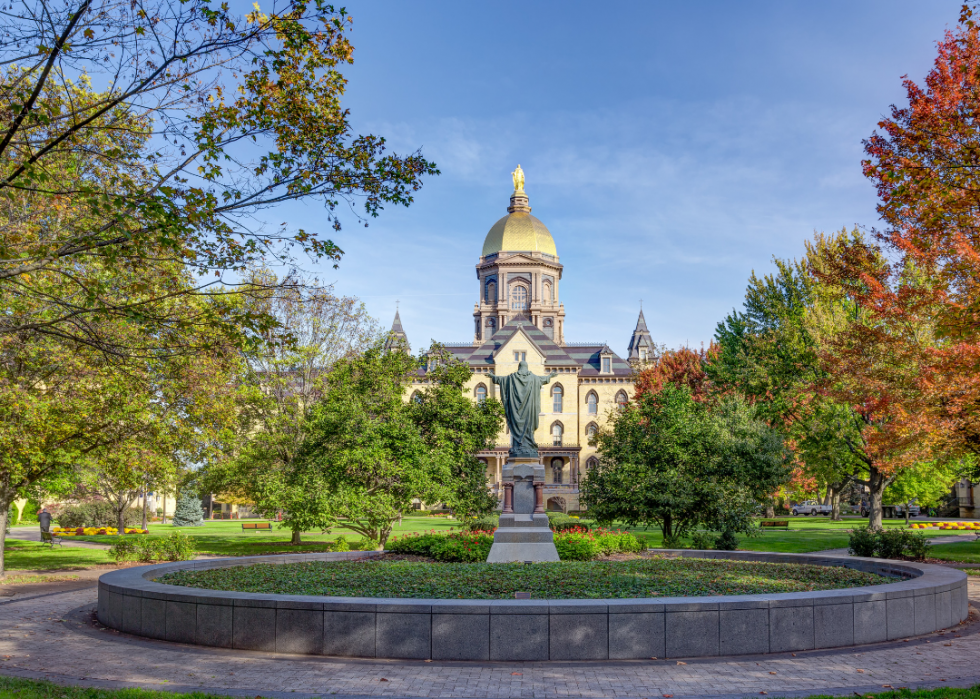 43 / 50
Ken Wolter // Shutterstock
#8. University of Notre Dame
- Location: Notre Dame, IN
- Students: 8,557
- Acceptance rate: 19%
- Graduation rate: 95%
- Faculty ratio: 10:1
- Tuition: $51,505
- Six-year median earnings: $78,400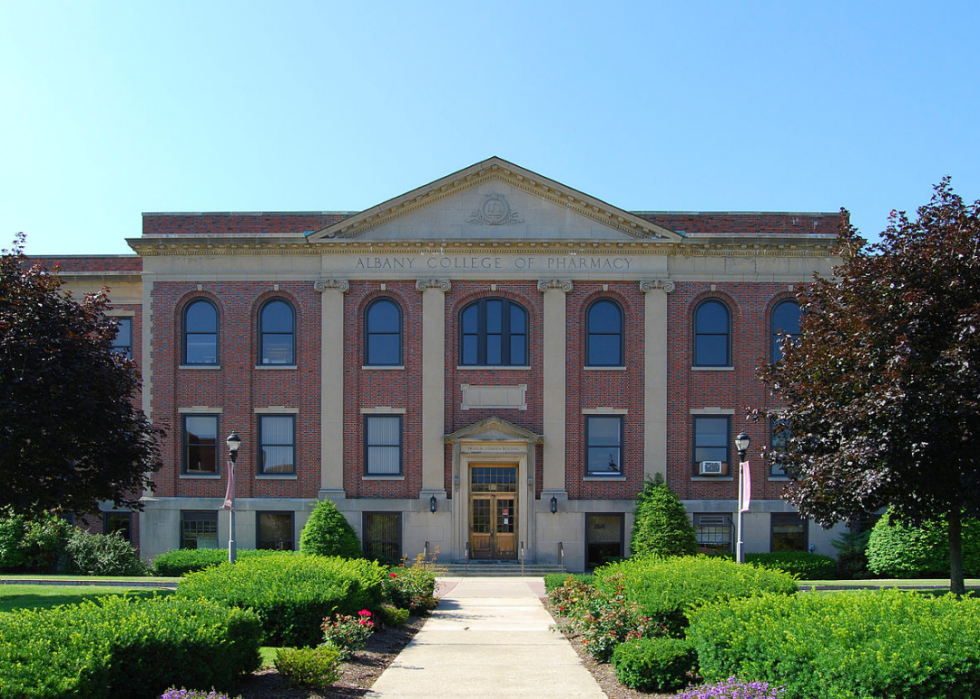 44 / 50
UpstateNYer // Wikimedia Commons
#7. Albany College of Pharmacy & Health Sciences
- Location: Albany, NY
- Students: 882
- Acceptance rate: 79%
- Graduation rate: 76%
- Faculty ratio: 9:1
- Tuition: $32,840
- Six-year median earnings: $124,700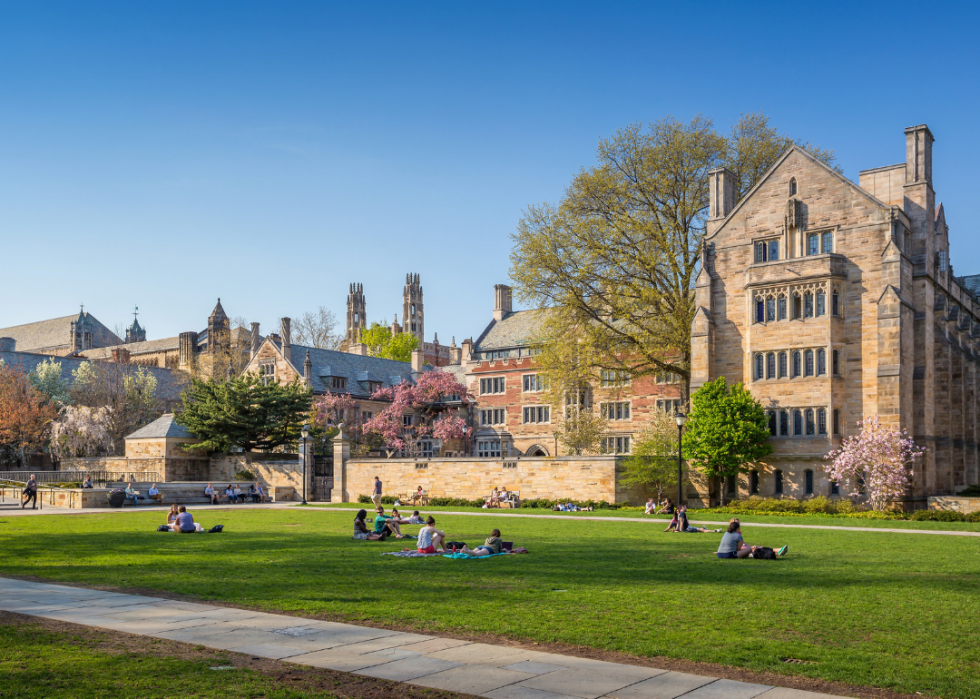 45 / 50
#6. Yale University
- Location: New Haven, CT
- Students: 5,743
- Acceptance rate: 7%
- Graduation rate: 97%
- Faculty ratio: 6:1
- Tuition: $51,400
- Six-year median earnings: $83,200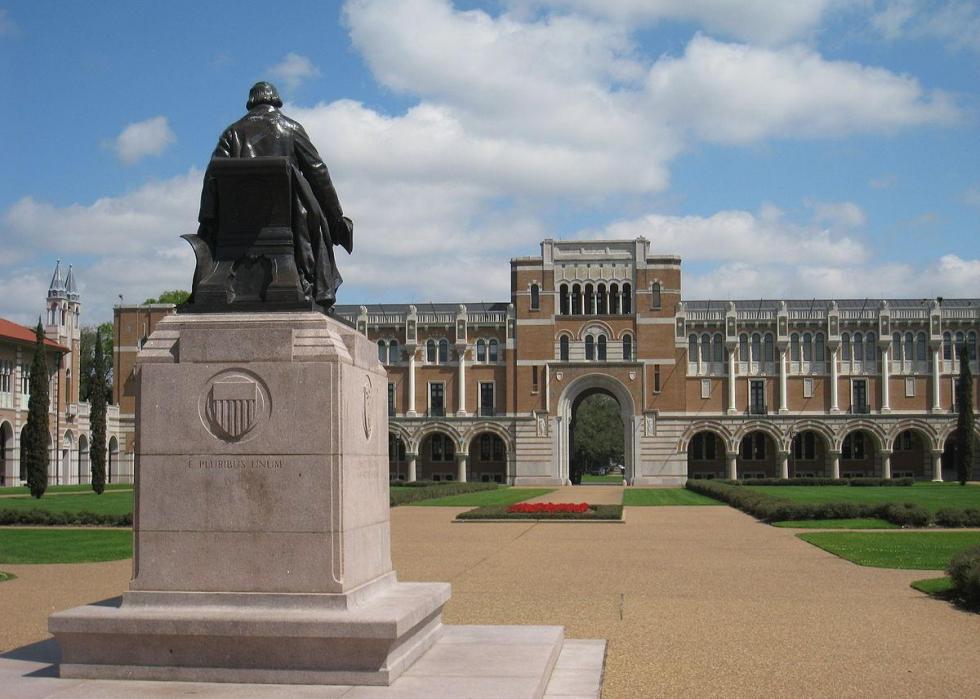 46 / 50
Daderot // Wikimedia Commons
#5. Rice University
- Location: Houston, TX
- Students: 3,916
- Acceptance rate: 16%
- Graduation rate: 91%
- Faculty ratio: 6:1
- Tuition: $45,608
- Six-year median earnings: $65,400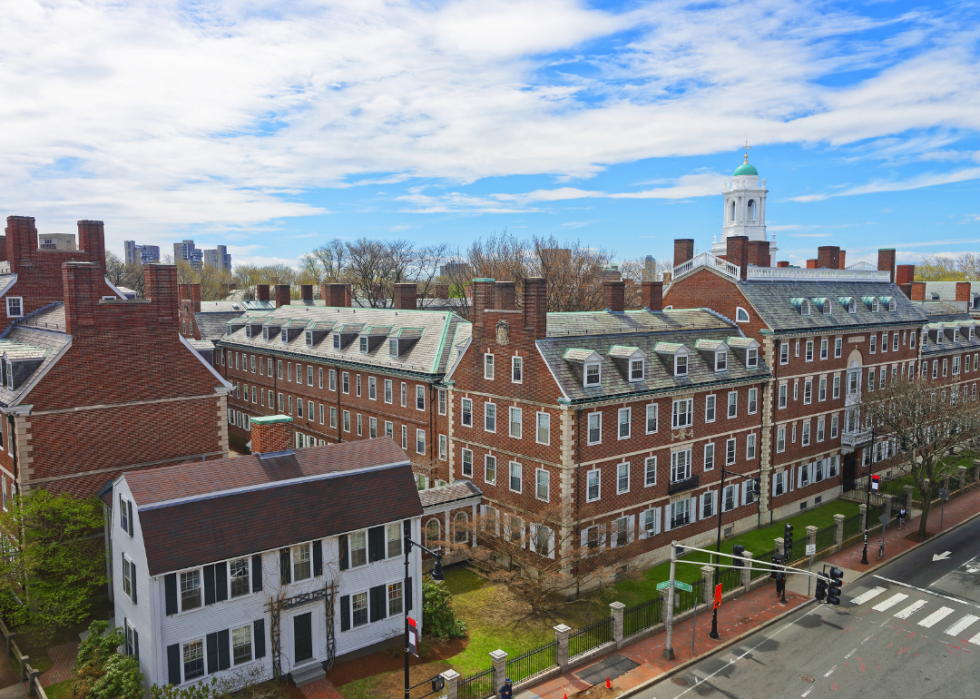 47 / 50
Roman Babakin // Shutterstock
#4. Harvard University
- Location: Cambridge, MA
- Students: 7,147
- Acceptance rate: 5%
- Graduation rate: 96%
- Faculty ratio: 7:1
- Tuition: $48,949
- Six-year median earnings: $89,700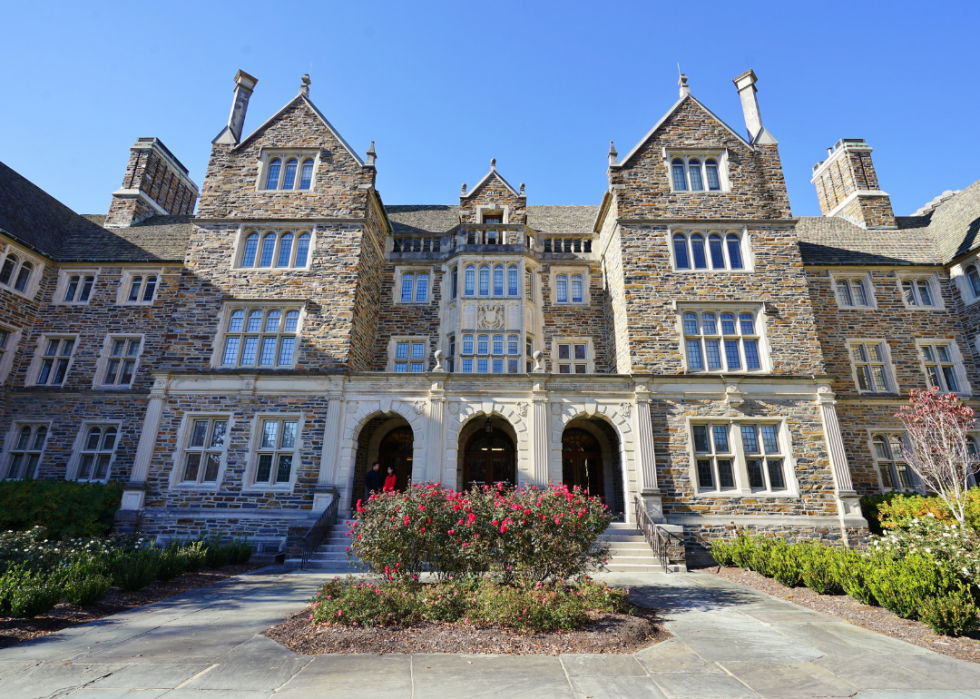 48 / 50
#3. Duke University
- Location: Durham, NC
- Students: 6,669
- Acceptance rate: 10%
- Graduation rate: 95%
- Faculty ratio: 7:1
- Tuition: $53,744
- Six-year median earnings: $84,400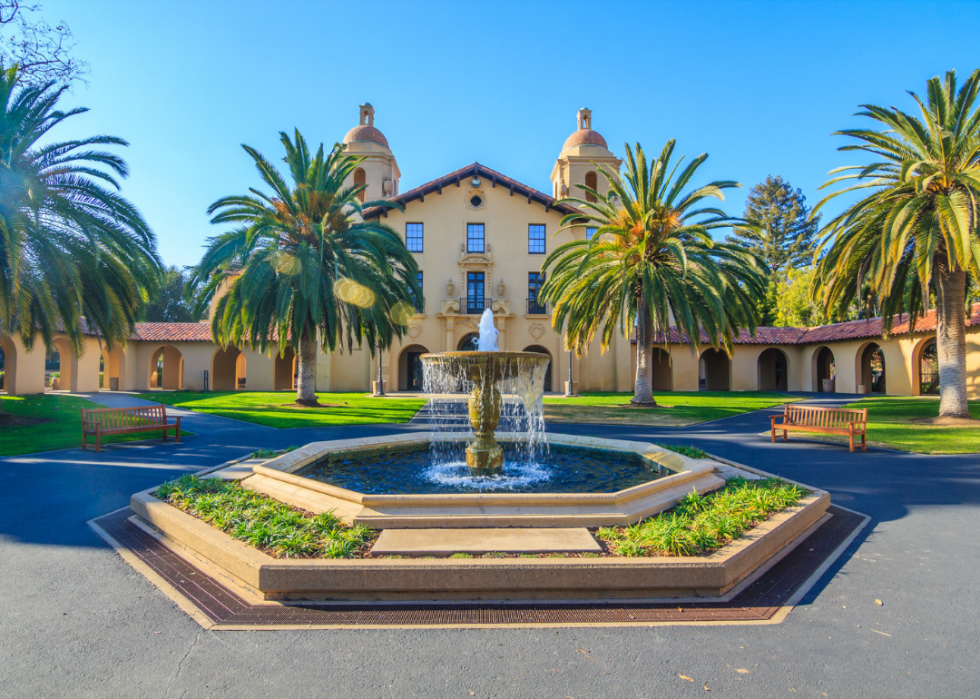 49 / 50
achinthamb // Shutterstock
#2. Stanford University
- Location: Stanford, CA
- Students: 7,064
- Acceptance rate: 5%
- Graduation rate: 94%
- Faculty ratio: 12:1
- Tuition: $49,617
- Six-year median earnings: $94,000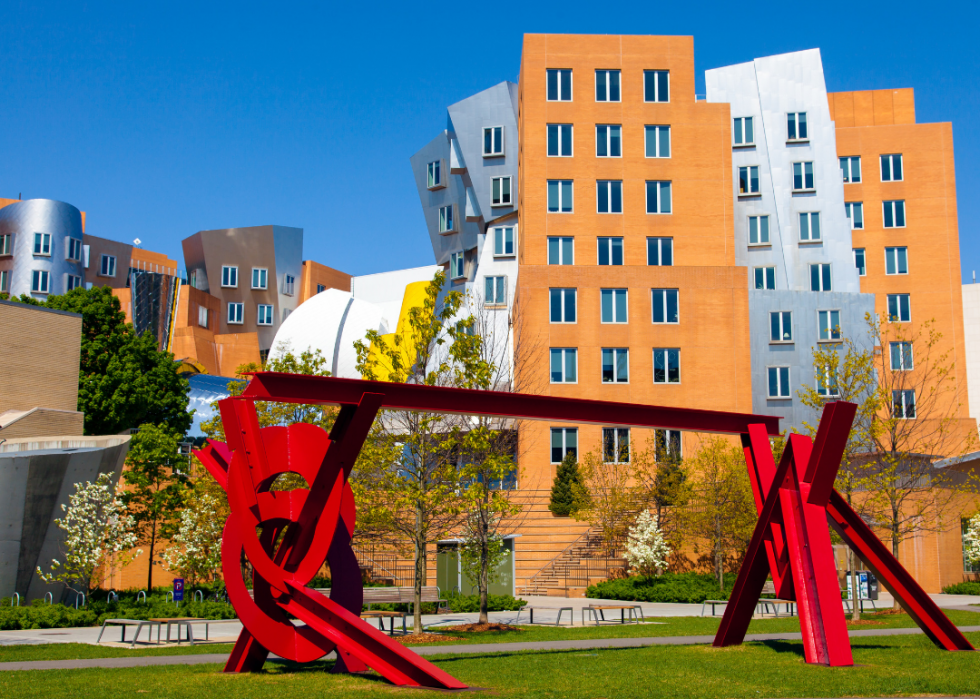 50 / 50
#1. Massachusetts Institute of Technology
- Location: Cambridge, MA
- Students: 4,510
- Acceptance rate: 7%
- Graduation rate: 94%
- Faculty ratio: 3:1
- Tuition: $49,892
- Six-year median earnings: $104,700