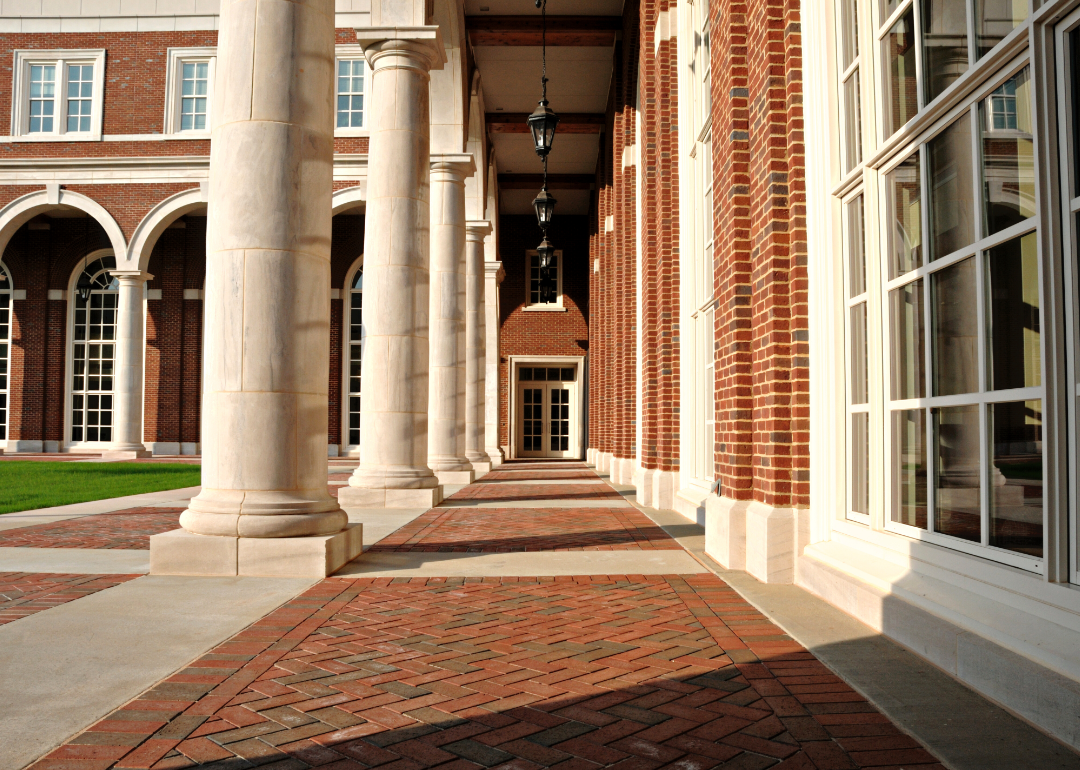 Best value small colleges in America
Best value small colleges in America
Some high schoolers on the hunt for the perfect college are looking for a place where they won't get lost in the crowd. Small colleges can provide a closer sense of community for young adults leaving home for the first time. Before they get to campus, however, students have to figure out a way to pay for it all. On average, four years at a public college in-state will cost $56,840, while private colleges average $104,400; and prices are going up every year. After dozens of applications for scholarships, financial aid, and loans, students can be left feeling like just another number in the system.
To save some time for those students looking for a smaller community and a more affordable price tag, Stacker took a look at Niche's list of Best Value Colleges in 2019, which uses Department of Education data on net price, alumni earnings, graduation rate, and student debt at graduation to rank the most affordable colleges around the country. Stacker then selected the top 50 schools with a student body of fewer than 5,000, with the ranks listed on each slide after "value grade" to show where these schools sit on Niche's overall value list.
Looking for a great value small college? Read on find which branch of the U.S. military topped our list, and perhaps find the perfect fit for your personality and your wallet while you're at it.
RELATED: Best big college towns in America
#50. University of Connecticut - Stamford
Location: Stamford, Connecticut
Acceptance rate: 57%
Number of undergraduates: 1,194
Net price: $7,380
Median earnings six years after graduation: $55,800
Value grade: A (ranked #131)
Overall Niche grade: B+
#49. Wabash College
Location: Crawfordsville, Indiana
Acceptance rate: 63%
Number of undergraduates: 842
Net price: $24,245
Median earnings six years after graduation: $53,600
Value grade: A (ranked #129)
Overall Niche grade: A
#48. DePauw University
Location: Greencastle, Indiana
Acceptance rate: 58%
Number of undergraduates: 2,390
Net price: $30,863
Median earnings six years after graduation: $50,700
Value grade: A (ranked #125)
Overall Niche grade: A-
#47. University of the Sciences
Location: Philadelphia, Pennsylvania
Acceptance rate: 60%
Number of undergraduates: 1,325
Net price: $34,796
Median earnings six years after graduation: $91,800
Value grade: A+ (ranked #119)
Overall Niche grade: B+
#46. Gustavus Adolphus College
Location: Saint Peter, Minnesota
Acceptance rate: 65%
Number of undergraduates: 2,219
Net price: $24,293
Median earnings six years after graduation: $48,400
Value grade: A+ (ranked #118)
Overall Niche grade: A
#45. Davidson College
Location: Davidson, North Carolina
Acceptance rate: 20%
Number of undergraduates: 1,796
Net price: $27,897
Median earnings six years after graduation: $54,600
Value grade: A+ (ranked #112)
Overall Niche grade: A+
#44. Illinois Institute of Technology
Location: Chicago, Illinois
Acceptance rate: 57%
Number of undergraduates: 2,712
Net price: $25,847
Median earnings six years after graduation: $69,800
Value grade: A+ (ranked #111)
Overall Niche grade: A-
#43. College of Saint Benedict
Location: St. Joseph, Minnesota
Acceptance rate: 88%
Number of undergraduates: 1,939
Net price: $26,867
Median earnings six years after graduation: $50,000
Value grade: A+ (ranked #110)
Overall Niche grade: B+
#42. Union College - New York
Location: Schenectady, New York
Acceptance rate: 37%
Number of undergraduates: 2,132
Net price: $38,621
Median earnings six years after graduation: $63,200
Value grade: A+ (ranked #109)
Overall Niche grade: A
#41. Wesleyan University
Location: Middletown, Connecticut
Acceptance rate: 18%
Number of undergraduates: 2,918
Net price: $20,490
Median earnings six years after graduation: $49,200
Value grade: A+ (ranked #106)
Overall Niche grade: A+
#40. Kettering University
Location: Flint, Michigan
Acceptance rate: 72%
Number of undergraduates: 1,782
Net price: $37,169
Median earnings six years after graduation: $78,600
Value grade: A+ (ranked #104)
Overall Niche grade: A-
#39. Bates College
Location: Lewiston, Maine
Acceptance rate: 23%
Number of undergraduates: 1,780
Net price: $24,055
Median earnings six years after graduation: $55,700
Value grade: A+ (ranked #97)
Overall Niche grade: A+
#38. Franklin & Marshall College
Location: Lancaster, Pennsylvania 
Acceptance rate: 36%
Number of undergraduates: 2,225
Net price: $23,182
Median earnings six years after graduation: $53,600
Value grade: A+ (ranked #96)
Overall Niche grade: A
#37. Colby College
Location: Waterville, Maine
Acceptance rate: 19%
Number of undergraduates: 1,879
Net price: $21,032
Median earnings six years after graduation: $55,000
Value grade: A+ (ranked #94)
Overall Niche grade: A+
#36. Maine Maritime Academy
Location: Castine, Maine
Acceptance rate: 76%
Number of undergraduates: 981
Net price: $19,225
Median earnings six years after graduation: $84,000
Value grade: A+ (ranked #93)
Overall Niche grade: B+
#35. Kenyon College
Location: Gambier, Ohio
Acceptance rate: 27%
Number of undergraduates: 1,689
Net price: $28,192
Median earnings six years after graduation: $44,300
Value grade: A+ (ranked #92)
Overall Niche grade: A+
#34. Ohio Northern University
Location: Ada, Ohio
Acceptance rate: 64%
Number of undergraduates: 2,065
Net price: $24,348
Median earnings six years after graduation: $62,800
Value grade: A+ (ranked #88)
Overall Niche grade: A-
#33. Stonehill College
Location: Easton, Massachusetts
Acceptance rate: 73%
Number of undergraduates: 2,455
Net price: $31,010
Median earnings six years after graduation: $58,700
Value grade: A+ (ranked #87)
Overall Niche grade: B+
#32. Barnard College
Location: New York, New York
Acceptance rate: 15%
Number of undergraduates: 2,461
Net price: $22,815
Median earnings six years after graduation: $56,400
Value grade: A+ (ranked #85)
Overall Niche grade: A+
#31. Gettysburg College
Location: Gettysburg, Pennsylvania
Acceptance rate: 43%
Number of undergraduates: 2,378
Net price: $34,636
Median earnings six years after graduation: $53,400
Value grade: A+ (ranked #82)
Overall Niche grade: A
#30. Saint John's University - Minnesota
Location: Collegeville, Minnesota
Acceptance rate: 88%
Number of undergraduates: 1,737
Net price: $25,625
Median earnings six years after graduation: $59,100
Value grade: A+ (ranked #81)
Overall Niche grade: B+
#29. Milwaukee School of Engineering
Location: Milwaukee, Wisconsin
Acceptance rate: 66%
Number of undergraduates: 2,528
Net price: $23,998
Median earnings six years after graduation: $67,400
Value grade: A+ (ranked #78)
Overall Niche grade: A-
#28. Hamilton College
Location: Clinton, New York
Acceptance rate: 26%
Number of undergraduates: 1,868
Net price: $24,397
Median earnings six years after graduation: $59,400
Value grade: A+ (ranked #77)
Overall Niche grade: A+
#27. Haverford College
Location: Haverford, Pennsylvania
Acceptance rate: 21%
Number of undergraduates: 1,268
Net price: $21,144
Median earnings six years after graduation: $56,300
Value grade: A+ (ranked #75)
Overall Niche grade: A+
#26. California State University Maritime Academy
Location: Vallejo, California
Acceptance rate: 68%
Number of undergraduates: 1,075
Net price: $14,606
Median earnings six years after graduation: $79,000
Value grade: A+ (ranked #71)
Overall Niche grade: B
#25. Middlebury College
Location: Middlebury, Vermont
Acceptance rate: 16%
Number of undergraduates: 2,506
Net price: $21,437
Median earnings six years after graduation: $55,600
Value grade: A+ (ranked #70)
Overall Niche grade: A+
#24. Swarthmore College
Location: Swarthmore, Pennsylvania
Acceptance rate: 13%
Number of undergraduates: 1,542
Net price: $19,641
Median earnings six years after graduation: $52,500
Value grade: A+ (ranked #69)
Overall Niche grade: A+
#23. Wellesley College
Location: Wellesley, Massachusetts
Acceptance rate: 28%
Number of undergraduates: 2,347
Net price: $20,013
Median earnings six years after graduation: $60,100
Value grade: A+ (ranked #68)
Overall Niche grade: A+
#22. Amherst College
Location: Amherst, Massachusetts
Acceptance rate: 14%
Number of undergraduates: 1,849
Net price: $19,055
Median earnings six years after graduation: $59,700
Value grade: A+ (ranked #67)
Overall Niche grade: A+
#21. Mount Carmel College of Nursing
Location: Columbus, Ohio
Acceptance rate: 79%
Number of undergraduates: 635
Net price: $16,660
Median earnings six years after graduation: $56,100
Value grade: A+ (ranked #66)
Overall Niche grade: B
#20. Pomona College
Location: Claremont, California
Acceptance rate: 9%
Number of undergraduates: 1,556
Net price: $18,140
Median earnings six years after graduation: $56,600
Value grade: A+ (ranked #63)
Overall Niche grade: A+
#19. Vassar College
Location: Poughkeepsie, New York 
Acceptance rate: 27%
Number of undergraduates: 2,405
Net price: $21,933
Median earnings six years after graduation: $51,400
Value grade: A+ (ranked #58)
Overall Niche grade: A+
#18. SUNY Maritime College
Location: Throggs Neck, New York 
Acceptance rate: 58%
Number of undergraduates: 1,590
Net price: $16,301
Median earnings six years after graduation: $76,700
Value grade: A+ (ranked #55)
Overall Niche grade: B+
#17. Bowdoin College
Location: Brunswick, Maine
Acceptance rate: 15%
Number of undergraduates: 1,801
Net price: $24,888
Median earnings six years after graduation: $58,700
Value grade: A+ (ranked #53)
Overall Niche grade: A+
#16. Massachusetts Maritime Academy
Location: Buzzards Bay, Massachusetts
Acceptance rate: 80%
Number of undergraduates: 1,605
Net price: $14,035
Median earnings six years after graduation: $79,300
Value grade: A+ (ranked #43)
Overall Niche grade: B
#15. College of the Holy Cross
Location: Worcester, Massachusetts
Acceptance rate: 38%
Number of undergraduates: 2,689
Net price: $26,965
Median earnings six years after graduation: $65,200
Value grade: A+ (ranked #40)
Overall Niche grade: A+
#14. Williams College
Location: Williamstown, Massachusetts
Acceptance rate: 18%
Number of undergraduates: 2,058
Net price: $18,167
Median earnings six years after graduation: $54,100
Value grade: A+ (ranked #39)
Overall Niche grade: A+
#13. Carleton College
Location: Northfield, Minnesota
Acceptance rate: 23%
Number of undergraduates: 2,087
Net price: $28,587
Median earnings six years after graduation: $52,600
Value grade: A+ (ranked #32)
Overall Niche grade: A+
#12. Virginia Military Institute
Location: Lexington, Virginia
Acceptance rate: 51%
Number of undergraduates: 1,713
Net price: $16,195
Median earnings six years after graduation: $63,200
Value grade: A+ (ranked #31)
Overall Niche grade: A-
#11. Lafayette College
Location: Easton, Pennsylvania
Acceptance rate: 28%
Number of undergraduates: 2,505
Net price: $26,208
Median earnings six years after graduation: $67,500
Value grade: A+ (ranked #30)
Overall Niche grade: A+
#10. Claremont McKenna College
Location: Claremont, California
Acceptance rate: 9%
Number of undergraduates: 1,346
Net price: $30,527
Median earnings six years after graduation: $75,000
Value grade: A+ (ranked #29)
Overall Niche grade: A+
#9. Rose-Hulman Institute of Technology
Location: Terre Haute, Indiana
Acceptance rate: 61%
Number of undergraduates: 2,180
Net price: $41,691
Median earnings six years after graduation: $79,200
Value grade: A+ (ranked #19)
Overall Niche grade: A
#8. Albany College of Pharmacy & Health Sciences
Location: Albany, New York
Acceptance rate: 69%
Number of undergraduates: 895
Net price: $29,929
Median earnings six years after graduation: $122,600
Value grade: A+ (ranked #18)
Overall Niche grade: A-
#7. Colgate University
Location: Hamilton, New York
Acceptance rate: 29%
Number of undergraduates: 2,864
Net price: $22,463
Median earnings six years after graduation: $61,300
Value grade: A+ (ranked #17)
Overall Niche grade: A+
#6. Harvey Mudd College
Location: Claremont, California
Acceptance rate: 13%
Number of undergraduates: 829
Net price: $35,460
Median earnings six years after graduation: $74,200
Value grade: A+ (ranked #16)
Overall Niche grade: A+
#5. Babson College
Location: Wellesley, Massachusetts
Acceptance rate: 25%
Number of undergraduates: 2,283
Net price: $27,453
Median earnings six years after graduation: $91,400
Value grade: A+ (ranked #15)
Overall Niche grade: A
#4. St. Louis College of Pharmacy
Location: St. Louis, Missouri 
Acceptance rate: 71%
Number of undergraduates: 528
Net price: $26,252
Median earnings six years after graduation: $120,400
Value grade: A+ (ranked #14)
Overall Niche grade: A-
#3. Washington & Lee University
Location: Lexington, Virginia
Acceptance rate: 24%
Number of undergraduates: 1,824
Net price: $23,867
Median earnings six years after graduation: $72,300
Value grade: A+ (ranked #13)
Overall Niche grade: A+
#2. California Institute of Technology
Location: Pasadena, California
Acceptance rate: 8%
Number of undergraduates: 979
Net price: $26,839
Median earnings six years after graduation: $74,200
Value grade: A+ (ranked #8)
Overall Niche grade: A+
#1. United States Merchant Marine Academy
Location: Kings Point, New York
Acceptance rate: 20%
Number of undergraduates: 904
Net price: $4,548
Median earnings six years after graduation: $78,900
Value grade: A+ (ranked #6)
Overall Niche grade: A