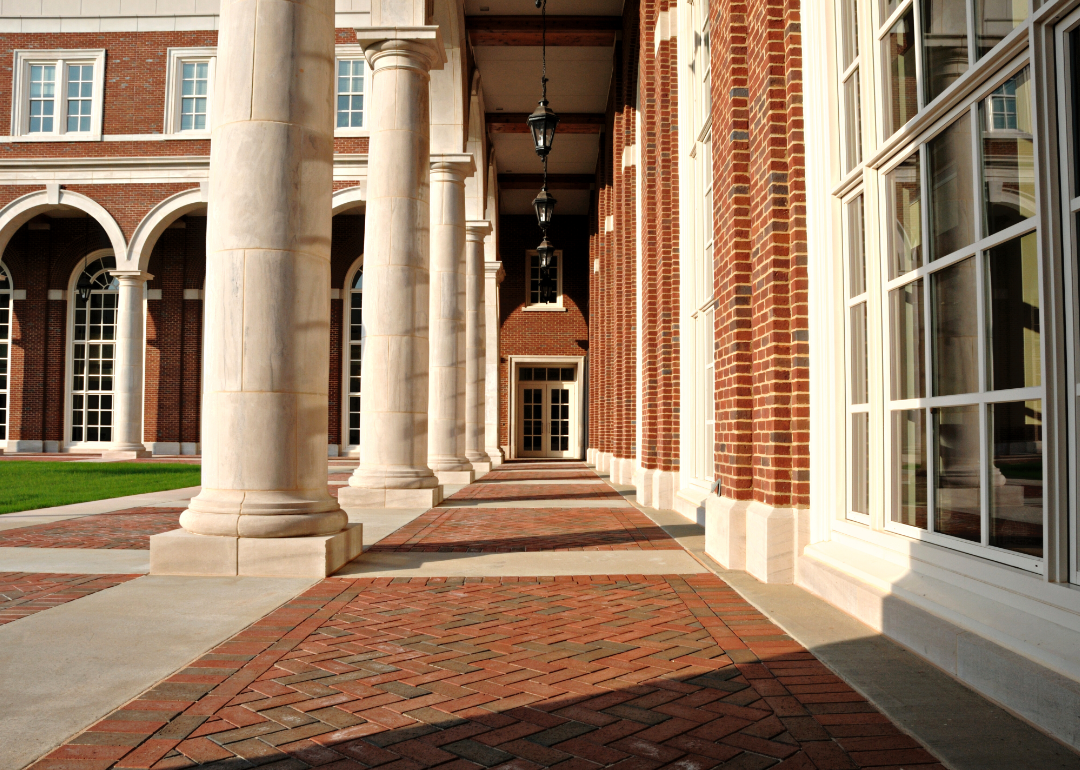 Big colleges where alumni struggle to pay their loans
50 big colleges where alumni struggle to pay their loans
In 1789, U.S. founding father Benjamin Franklin famously penned the following in a letter to the French physicist Jean Baptiste Le Roy: "In this world nothing can be said to be certain, except death and taxes." In contemporary times, the expression has been colloquially adapted to serve as a placeholder for any third thing which can be deemed "certain" in life, and in the year 2018, it can be said that nothing in this world can be certain except death, taxes, and student debt.
Approximately 7 in 10 college graduates leave their school with an average of more than $37,000 in student debt, money which could otherwise be put toward a down payment on a home, a new car, or important early-stage capital in growing a startup. Though this national average is a good marker for the state of student debt at the national level, it is a phenomenon that varies greatly from school to school.
Using data from Department of Education's College Scorecard, Stacker compiled a list of the 50 big colleges where alumni struggle most heavily in paying back their student loans. For the purposes of this story, Stacker only considered schools with more than 5,000 undergraduate degree-seeking students that offer bachelor's degrees, and disregarded online-only colleges. Colleges with online degree plans in addition to full-time students were included. The colleges are ranked according to their respective seven-year repayment rates, or the percentage of graduates who have at least $1 toward their loan principal within seven years of graduation, with the schools yielding the lowest repayment rates higher on the list. Read on to see which major universities' graduates have the most difficulty absolving their debt.
#50. University of Michigan-Flint
Location: Flint, MI
7-year repayment rate: 68.54%
Median debt: $27,000
Undergraduate population: 6,255
Admissions rate: 73.58%


 
#49. Georgia State University
Location: Atlanta, GA
7-year repayment rate: 68.28%
Median debt: $23,699
Undergraduate population: 24,421
Admissions rate: 56.65%


 
#48. City University of New York (CUNY) Lehman College
Location: Bronx, NY
7-year repayment rate: 68.26%
Median debt: $10,200
Undergraduate population: 9,874
Admissions rate: 29.95%


 
#47. Thomas Edison State University
Location: Trenton, NJ
7-year repayment rate: 68.25%
Median debt: $10,750
Undergraduate population: 12,283
Admissions rate: N/A


 
#46. CUNY John Jay College of Criminal Justice
Location: New York, NY
7-year repayment rate: 68.01%
Median debt: $10,000
Undergraduate population: 12,545
Admissions rate: 36.55%


 
#45. Baker College
Location: Flint, MI
7-year repayment rate: 67.66%
Median debt: $23,971.50
Undergraduate population: 22,816
Admissions rate: N/A


 
#44. Marshall University
Location: Huntington, WV
7-year repayment rate: 67.5%
Median debt: $23,134.50
Undergraduate population: 8,780
Admissions rate: 87.9%


 
#43. Valencia College
Location: Orlando, FL
7-year repayment rate: 67.06%
Median debt: $8,250
Undergraduate population: 37,925
Admissions rate: N/A


 
#42. Texas A&M University-Commerce
Location: Commerce, TX
7-year repayment rate: 66.72%
Median debt: $20,514.50
Undergraduate population: 7,857
Admissions rate: 47.44%


 
#41. Florida State College at Jacksonville
Location: Jacksonville, FL
7-year repayment rate: 66.64%
Median debt: $10,500
Undergraduate population: 21,565
Admissions rate: N/A


 
#40. Miami Dade College
Location: Miami, FL
7-year repayment rate: 66.41%
Median debt: $8,703
Undergraduate population: 57,884
Admissions rate: N/A


 
#39. Santa Fe College
Location: Gainesville, FL
7-year repayment rate: 66.18%
Median debt: $11,025
Undergraduate population: 13,291
Admissions rate: N/A


 
#38. Palm Beach State College
Location: Lake Worth, FL
7-year repayment rate: 65.98%
Median debt: $5,750
Undergraduate population: 26,351
Admissions rate: N/A


 
#37. Indian River State College
Location: Fort Pierce, FL
7-year repayment rate: 65.82%
Median debt: $6,709
Undergraduate population: 14,403
Admissions rate: N/A


 
#36. California State University-Dominguez Hills
Location: Carson, CA
7-year repayment rate: 65.78%
Median debt: $13,962
Undergraduate population: 12,584
Admissions rate: 52.77%


 
#35. Seminole State College of Florida
Location: Sanford, FL
7-year repayment rate: 65.77%
Median debt: $10,027
Undergraduate population: 15,747
Admissions rate: N/A


 
#34. Broward College
Location: Fort Lauderdale, FL
7-year repayment rate: 65.76%
Median debt: $6,000
Undergraduate population: 38,474
Admissions rate: N/A


 
#33. California State University, San Bernardino
Location: San Bernardino, CA
7-year repayment rate: 65.57%
Median debt: $16,500
Undergraduate population: 17,518
Admissions rate: 64.59%


 
#32. Columbus State University
Location: Columbus, GA
7-year repayment rate: 65.11%
Median debt: $26,000
Undergraduate population: 6,743
Admissions rate: 55.69%


 
#31. Clayton State University
Location: Morrow, GA
7-year repayment rate: 64.98%
Median debt: $27,500
Undergraduate population: 5,920
Admissions rate: 38.57%


 
#30. Rasmussen College-Florida
Location: Ocala, WI
7-year repayment rate: 64.82%
Median debt: $19,596.50
Undergraduate population: 7,352
Admissions rate: N/A


 
#29. St. Petersburg College
Location: Clearwater, FL
7-year repayment rate: 64.8%
Median debt: $16,249
Undergraduate population: 27,354
Admissions rate: N/A


 
#28. Mercy College
Location: Dobbs Ferry, NY
7-year repayment rate: 64.35%
Median debt: $23,699
Undergraduate population: 6,410
Admissions rate: 65.69%


 
#27. Full Sail University
Location: Winter Park, FL
7-year repayment rate: 63.95%
Median debt: $31,666
Undergraduate population: 17,804
Admissions rate: N/A


 
#26. CUNY York College
Location: Jamaica, NY
7-year repayment rate: 63.85%
Median debt: $8,800
Undergraduate population: 7,264
Admissions rate: 40.5%


 
#25. University of Memphis
Location: Memphis, TN
7-year repayment rate: 62.82%
Median debt: $25,250
Undergraduate population: 15,553
Admissions rate: 39.78%


 
#24. Prairie View A&M University
Location: Prairie View, TX
7-year repayment rate: 62.5%
Median debt: $28,955
Undergraduate population: 6,925
Admissions rate: 85.95%


 
#23. Eastern Florida State College
Location: Cocoa, FL
7-year repayment rate: 61.9%
Median debt: $9,000
Undergraduate population: 12,266
Admissions rate: N/A


 
#22. Universidad Metropolitana
Location: San Juan, Puerto Rico (PR)
7-year repayment rate: 61.23%
Median debt: $8,383
Undergraduate population: 11,589
Admissions rate: N/A


 
#21. Florida Agricultural and Mechanical University
Location: Tallahassee, FL
7-year repayment rate: 60.95%
Median debt: $28,500
Undergraduate population: 7,705
Admissions rate: 51.41%


 
#20. Touro College
Location: New York, NY
7-year repayment rate: 60.67%
Median debt: $12,500
Undergraduate population: 5,965
Admissions rate: 34.12%


 
#19. CUNY Medgar Evers College
Location: Brooklyn, NY
7-year repayment rate: 60.47%
Median debt: $9,033
Undergraduate population: 6,257
Admissions rate: 99.16%


 
#18. Davenport University
Location: Grand Rapids, MI
7-year repayment rate: 59.55%
Median debt: $26,750
Undergraduate population: 5,774
Admissions rate: 89.23%


 
#17. Howard University
Location: Washington, D.C.
7-year repayment rate: 58.34%
Median debt: $27,000
Undergraduate population: 6,796
Admissions rate: 49.04%


 
#16. Tennessee State University
Location: Nashville, TN
7-year repayment rate: 58.02%
Median debt: $28,000
Undergraduate population: 7,255
Admissions rate: N/A


 
#15. Universidad del Turabo
Location: Gurabo, PR
7-year repayment rate: 57.5%
Median debt: $8,098
Undergraduate population: 14,696
Admissions rate: NA


 
#14. Daytona State College
Location: Daytona Beach, FL
7-year repayment rate: 57.27%
Median debt: $8,010
Undergraduate population: 12,474
Admissions rate: N/A


 
#13. Fayetteville State University
Location: Fayetteville, NC
7-year repayment rate: 56.71%
Median debt: $22,161
Undergraduate population: 5,087
Admissions rate: 60.39%


 
#12. Texas Southern University
Location: Houston, TX
7-year repayment rate: 55.84%
Median debt: $29,358
Undergraduate population: 6,696
Admissions rate: 50.9%


 
#11. Jackson State University
Location: Jackson, MS
7-year repayment rate: 55.61%
Median debt: $29,000
Undergraduate population: 7,436
Admissions rate: 67.52%


 
#10. College of Central Florida
Location: Ocala, FL
7-year repayment rate: 55.24%
Median debt: $10,187.50
Undergraduate population: 6,670
Admissions rate: N/A


 
#9. Universidad del Este
Location: Carolina, PR
7-year repayment rate: 52.85%
Median debt: $7,250
Undergraduate population: 11,825
Admissions rate: N/A


 
#8. Keiser University-Fort Lauderdale
Location: Fort Lauderdale, FL
7-year repayment rate: 52.3%
Median debt: $25,750
Undergraduate population: 15,023
Admissions rate: N/A


 
#7. Pontifical Catholic University of Puerto Rico-Ponce
Location: Ponce, PR
7-year repayment rate: 51.51%
Median debt: $12,559.50
Undergraduate population: 5,427
Admissions rate: 76.77%


 
#6. North Carolina A&T State University
Location: Greensboro, NC
7-year repayment rate: 50.51%
Median debt: $29,000
Undergraduate population: 9,036
Admissions rate: 60.48%


 
#5. Morgan State University
Location: Baltimore, MD
7-year repayment rate: 48.7%
Median debt: $31,000
Undergraduate population: 6,294
Admissions rate: 66.72%


 
#4. ECPI University
Location: Virginia Beach, VA
7-year repayment rate: 48.62%
Median debt: $20,000
Undergraduate population: 10,979
Admissions rate: 84.36%


 
#3. Monroe College
Location: Bronx, NY
7-year repayment rate: 48.61%
Median debt: $20,450
Undergraduate population: 5,993
Admissions rate: 45.3%


 
#2. Southern University and A&M College
Location: Baton Rouge, LA
7-year repayment rate: 48.37%
Median debt: $30,750
Undergraduate population: 5,226
Admissions rate: 78.56%


 
#1. North Carolina Central University
Location: Durham, NC
7-year repayment rate: 44.01%
Median debt: $31,000
Undergraduate population: 5,797
Admissions rate: 65.87%