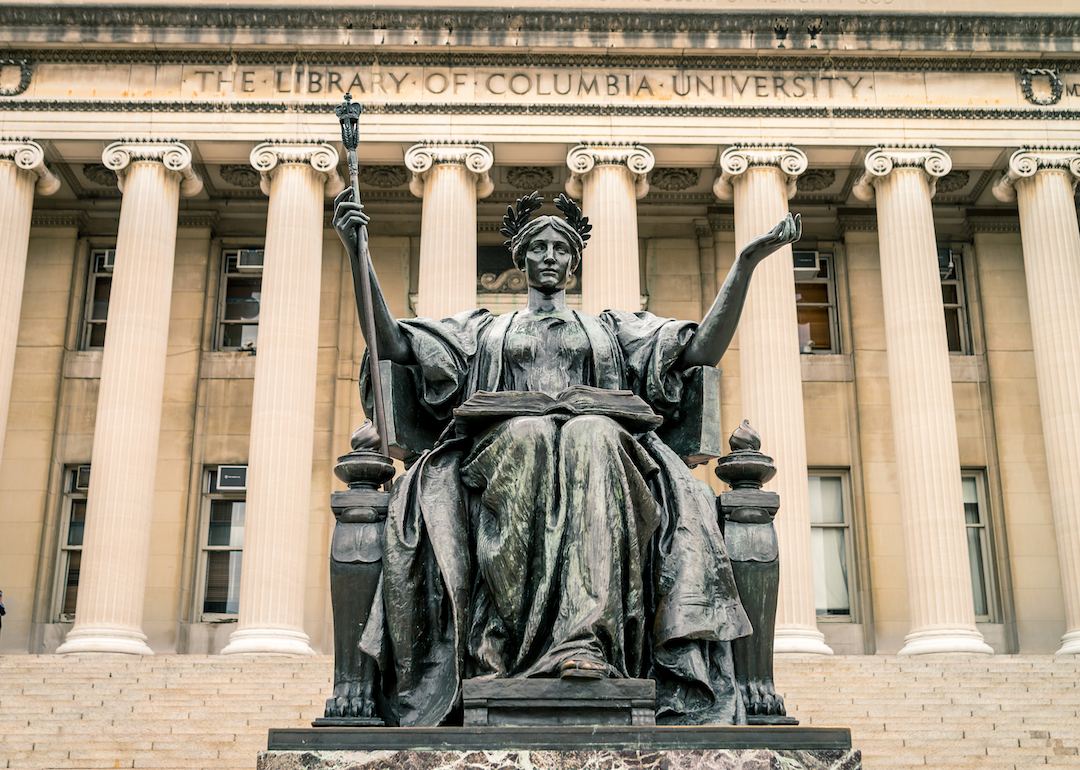 Colleges that are richer than some countries
Colleges that are richer than some countries
There are a handful of incredible locations around the world where one can't help but feel the money that went into sculpting the grandiose ambiance. Though it used to be the case that only the likes of luxurious hotels and restaurants could synthesize these kinds of environments, stepping onto the campus of one of America's top colleges can now have that very same effect.
America's public schooling system may be in trouble, but its top universities are anything but. Putting some higher-education finances into context helps in understanding the true scale of their riches, which go well beyond ornate architecture, funding for major research and advanced technologies, or the top-of-the-line amenities available at many colleges.
University endowments work like tax-exempt hedge funds; since most private institutions are nonprofits, excluding major for-profit colleges like the University of Phoenix, the money they invest isn't subject to taxation and universities can feel free to use any portion of the investment returns on financial aid, better food in the dining halls, student outreach, or any number of typical functions. An endowment tax passed with the 2017 Tax Cuts and Jobs Act will soon add a small tax to certain institutions with resources of more than $500,000 per student, which applies to many of the universities on this list, however. 
As it turns out, a plethora of American institutions of higher learning boast estimated endowments greater than $2 billion, meaning their wealth not only exceeds that of many large companies but that of 14 different nations. Using data from the National Association of College and University Business Officers Endowment Study 2018, Stacker compiled a list of the 50 American colleges with the most substantial endowments, each of which exceeds the total wealth of several nations around the world. To determine the total wealth of any given country, Stacker referenced Credit Suisse's Global Wealth Report 2018.
Read on to see which colleges (and countries) made the list.
You may also like: 50 best colleges on the East Coast
#50. Wellesley College
- Location: Wellesley, MA
- 2018 endowment: $2.1 billion (up 9% from 2017)
- More wealth than: 26 countries
- Wealth equal to: Maldives ($2.1B) with $6 million leftover
#49. Swarthmore College
- Location: Swarthmore, PA
- 2018 endowment: $2.1 billion (up 8.2% from 2017)
- More wealth than: 26 countries
- Wealth equal to: Maldives ($2.1B) with $16 million leftover
#48. Rockefeller University
- Location: New York, NY
- 2018 endowment: $2.2 billion (up 7.1% from 2017)
- More wealth than: 27 countries
- Wealth equal to: Guyana ($2.2B) with $2 million leftover
#47. Boston University
- Location: Boston, MA
- 2018 endowment: $2.2 billion (up 12.3% from 2017)
- More wealth than: 27 countries
- Wealth equal to: Guyana ($2.2B) with $6 million leftover
#46. University of Rochester
- Location: Rochester, NY
- 2018 endowment: $2.3 billion (up 6.4% from 2017)
- More wealth than: 27 countries
- Wealth equal to: Guyana ($2.2B) with $65 million leftover
#45. Pomona College
- Location: Claremont, CA
- 2018 endowment: $2.3 billion (up 4.9% from 2017)
- More wealth than: 27 countries
- Wealth equal to: Guyana ($2.2B) with $81 million leftover
#44. Amherst College
- Location: Amherst, MA
- 2018 endowment: $2.4 billion (up 5.8% from 2017)
- More wealth than: 28 countries
- Wealth equal to: Liberia ($2.3B) with $64 million leftover
#43. Carnegie Mellon University
- Location: Pittsburgh, PA
- 2018 endowment: $2.4 billion (up 10.8% from 2017)
- More wealth than: 28 countries
- Wealth equal to: Liberia ($2.3B) with $73 million leftover
#42. Indiana University
- Location: Bloomington, IN
- 2018 endowment: $2.4 billion (up 7.5% from 2017)
- More wealth than: 28 countries
- Wealth equal to: Liberia ($2.3B) with $84 million leftover
#41. Boston College
- Location: Chestnut Hill, MA
- 2018 endowment: $2.5 billion (up 6.9% from 2017)
- More wealth than: 28 countries
- Wealth equal to: Liberia ($2.3B) and Mayotte ($0.1B) with $64 million leftover
#40. University of Richmond
- Location: Richmond, VA
- 2018 endowment: $2.5 billion (up 5.8% from 2017)
- More wealth than: 29 countries
- Wealth equal to: Cayman Islands ($2.5B) with $7 million leftover
#39.University of California, Los Angeles (UCLA Foundation only)
- Location: Los Angeles, CA
- 2018 endowment: $2.5 billion (up 22.3% from 2017)
- More wealth than: 29 countries
- Wealth equal to: Cayman Islands ($2.5B) with $18 million leftover
#38. Purdue University (system-wide)
- Location: West Layfayette, IN
- 2018 endowment: $2.5 billion (up 4.1% from 2017)
- More wealth than: 29 countries
- Wealth equal to: Cayman Islands ($2.5B) with $19 million leftover
#37. University of Illinois system (system-wide)
- Location: Chicago, IL
- 2018 endowment: $2.6 billion (up 7.5% from 2017)
- More wealth than: 29 countries
- Wealth equal to: Cayman Islands ($2.5B) and Mayotte ($0.1B) with $18 million leftover
#36. Williams College
- Location: Williamstown, MA
- 2018 endowment: $2.7 billion (up 9.6% from 2017)
- More wealth than: 29 countries
- Wealth equal to: Cayman Islands ($2.5B) and Mayotte ($0.1B) with $145 million leftover
#35. University of Washington
- Location: Seattle, WA
- 2018 endowment: $2.8 billion (up 9.3% from 2017)
- More wealth than: 29 countries
- Wealth equal to: Cayman Islands ($2.5B) and Mayotte ($0.1B) with $159 million leftover
#34. California Institute of Technology
- Location: Pasadena, CA
- 2018 endowment: $2.9 billion (up 10.5% from 2017)
- More wealth than: 31 countries
- Wealth equal to: Solomon Islands ($2.8B) with $59 million leftover
#33. Michigan State University
- Location: East Lansing, MI
- 2018 endowment: $2.9 billion (up 8.4% from 2017)
- More wealth than: 31 countries
- Wealth equal to: Solomon Islands ($2.8B) with $87 million leftover
#32. University of Wisconsin–Madison
- Location: Madison, WI
- 2018 endowment: $3 billion (up 8.7% from 2017)
- More wealth than: 31 countries
- Wealth equal to: Solomon Islands ($2.8B) and Mayotte ($0.1B) with $64 million leftover
#31. University of North Carolina at Chapel Hill
- Location: Chapel Hill, NC
- 2018 endowment: $3.4 billion (up 13.4% from 2017)
- More wealth than: 35 countries
- Wealth equal to: Seychelles ($3.3B) and Mayotte ($0.1B) with $16 million leftover
#30. Brown University
- Location: Providence, RI
- 2018 endowment: $3.6 billion (up 11% from 2017)
- More wealth than: 35 countries
- Wealth equal to: Seychelles ($3.3B) and Sao Tome and Principe ($0.3B) with $2 million leftover
#29. University of Minnesota
- Location: Minneapolis, MN
- 2018 endowment: $3.7 billion (up 6.4% from 2017)
- More wealth than: 36 countries
- Wealth equal to: Aruba ($3.6B) with $100 million leftover
#28. University of Pittsburgh
- Location: Pittsburgh, PA
- 2018 endowment: $4.2 billion (up 6.5% from 2017)
- More wealth than: 39 countries
- Wealth equal to: Rwanda ($4B) and Mayotte ($0.1B) with $59 million leftover
#27. Pennsylvania State University (system-wide)
- Location: State College, PA
- 2018 endowment: $4.3 billion (up 6.9% from 2017)
- More wealth than: 40 countries
- Wealth equal to: Virgin Islands (U.S.) ($4.3B) with $1 million leftover
#26. New York University
- Location: New York, NY
- 2018 endowment: $4.3 billion (up 6.9% from 2017)
- More wealth than: 40 countries
- Wealth equal to: Virgin Islands (U.S.) ($4.3B) with $3 million leftover
#25. Johns Hopkins University
- Location: Baltimore, MD
- 2018 endowment: $4.3 billion (up 12.5% from 2017)
- More wealth than: 40 countries
- Wealth equal to: Virgin Islands (U.S.) ($4.3B) with $62 million leftover
#24. Vanderbilt University
- Location: Nashville, TN
- 2018 endowment: $4.6 billion (up 11.4% from 2017)
- More wealth than: 40 countries
- Wealth equal to: Virgin Islands (U.S.) ($4.3B) and Kiribati ($0.3B) with $1 million leftover
#23. Ohio State University
- Location: Columbus, OH
- 2018 endowment: $5.2 billion (up 22.5% from 2017)
- More wealth than: 44 countries
- Wealth equal to: Somalia ($5.1B) with $86 million leftover
#22. Dartmouth College
- Location: Hanover, NH
- 2018 endowment: $5.5 billion (up 10.8% from 2017)
- More wealth than: 45 countries
- Wealth equal to: Madagascar ($5.4B) and Mayotte ($0.1B) with $6 million leftover
#21. University of Southern California
- Location: Los Angeles, CA
- 2018 endowment: $5.5 billion (up 8.1% from 2017)
- More wealth than: 45 countries
- Wealth equal to: Madagascar ($5.4B) and Mayotte ($0.1B) with $56 million leftover
#20. Rice University
- Location: Houston, TX
- 2018 endowment: $6.3 billion (up 8% from 2017)
- More wealth than: 46 countries
- Wealth equal to: Barbados ($6.1B) and Mayotte ($0.1B) with $42 million leftover
#19. University of Virginia
- Location: Charlottesville, VA
- 2018 endowment: $7 billion (up 8.8% from 2017)
- More wealth than: 49 countries
- Wealth equal to: Tajikistan ($6.8B) and Mayotte ($0.1B) with $39 million leftover
#18. Cornell University
- Location: Ithaca, NY
- 2018 endowment: $7.2 billion (up 7% from 2017)
- More wealth than: 50 countries
- Wealth equal to: Monaco ($7.0B) and Mayotte ($0.1B) with $168 million leftover
#17. Emory University
- Location: Atlanta, GA
- 2018 endowment: $7.3 billion (up 5.6% from 2017)
- More wealth than: 50 countries
- Wealth equal to: Monaco ($7.0B) and Micronesia ($0.3B) with $22 million leftover
#16. Washington University in St. Louis
- Location: St Louis, MO
- 2018 endowment: $7.6 billion (up 6.5% from 2017)
- More wealth than: 52 countries
- Wealth equal to: Liechtenstein ($7.4B) and Mayotte ($0.1B) with $53 million leftover
#15. University of Chicago
- Location: Chicago, IL
- 2018 endowment: $7.9 billion (up 5.4% from 2017)
- More wealth than: 52 countries
- Wealth equal to: Liechtenstein ($7.4B) and Kiribati ($0.3B) with $144 million leftover
#14. Duke University
- Location: Durham, NC
- 2018 endowment: $8.5 billion (up 7.8% from 2017)
- More wealth than: 55 countries
- Wealth equal to: Ethiopia ($8.5B) with $2 million leftover
#13. University of Notre Dame
- Location: Notre Dame, IN
- 2018 endowment: $10.7 billion (up 14.7% from 2017)
- More wealth than: 63 countries
- Wealth equal to: Sudan ($10.5B) and Mayotte ($0.1B) with $108 million leftover
#12. Columbia University
- Location: New York, NY
- 2018 endowment: $10.9 billion (up 8.7% from 2017)
- More wealth than: 63 countries
- Wealth equal to: Sudan ($10.5B) and Kiribati ($0.3B) with $7 million leftover
#11. University of California
- Location: Oakland, CA
- 2018 endowment: $11 billion (up 14.2% from 2017)
- More wealth than: 63 countries
- Wealth equal to: Sudan ($10.5B) and Kiribati ($0.3B) with $146 million leftover
#10. Northwestern University
- Location: Evanston, IL
- 2018 endowment: $11.1 billion (up 6.2% from 2017)
- More wealth than: 63 countries
- Wealth equal to: Sudan ($10.5B) and Marshall Islands ($0.6B) with $6 million leftover
#9. University of Michigan
- Location: Ann Arbor, MI
- 2018 endowment: $11.9 billion (up 8.8% from 2017)
- More wealth than: 70 countries
- Wealth equal to: Congo, Dem. Rep. ($11.9B) with $29 million leftover
#8. Texas A&M University System (system-wide)
- Location: College Station, TX
- 2018 endowment: $13.5 billion (up 17% from 2017)
- More wealth than: 73 countries
- Wealth equal to: West Bank and Gaza ($13.1B) and Kiribati ($0.3B) with $73 million leftover
#7. University of Pennsylvania
- Location: Philadelphia, PA
- 2018 endowment: $13.8 billion (up 12.8% from 2017)
- More wealth than: 73 countries
- Wealth equal to: West Bank and Gaza ($13.1B) and Guinea-Bissau ($0.6B) with $31 million leftover
#6. Massachusetts Institute of Technology
- Location: Cambridge, MA
- 2018 endowment: $16.5 billion (up 10.4% from 2017)
- More wealth than: 86 countries
- Wealth equal to: Armenia ($16.5B) with $36 million leftover
#5. Princeton University
- Location: Princeton, NJ
- 2018 endowment: $25.9 billion (up 8.8% from 2017)
- More wealth than: 98 countries
- Wealth equal to: Senegal ($23.2B) and Cayman Islands ($2.5B) with $259 million leftover
#4. Stanford University
- Location: Stanford, CA
- 2018 endowment: $26.5 billion (up 6.8% from 2017)
- More wealth than: 100 countries
- Wealth equal to: Zimbabwe ($26.1B) and Kiribati ($0.3B) with $61 million leftover
#3. Yale University
- Location: New Haven, CT
- 2018 endowment: $29.4 billion (up 8% from 2017)
- More wealth than: 102 countries
- Wealth equal to: Papua New Guinea ($28.1B) and Sierra Leone ($1.3B) with $5 million leftover
#2. University of Texas System (system-wide)
- Location: Austin, TX
- 2018 endowment: $30.9 billion (up 16.4% from 2017)
- More wealth than: 102 countries
- Wealth equal to: Papua New Guinea ($28.1B) and Bhutan ($2.8B) with $47 million leftover
#1. Harvard University
- Location: Boston, MA
- 2018 endowment: $38.3 billion (up 6.3% from 2017)
- More wealth than: 109 countries
- Wealth equal to: Paraguay ($37.9B) and Kiribati ($0.3B) with $21 million leftover