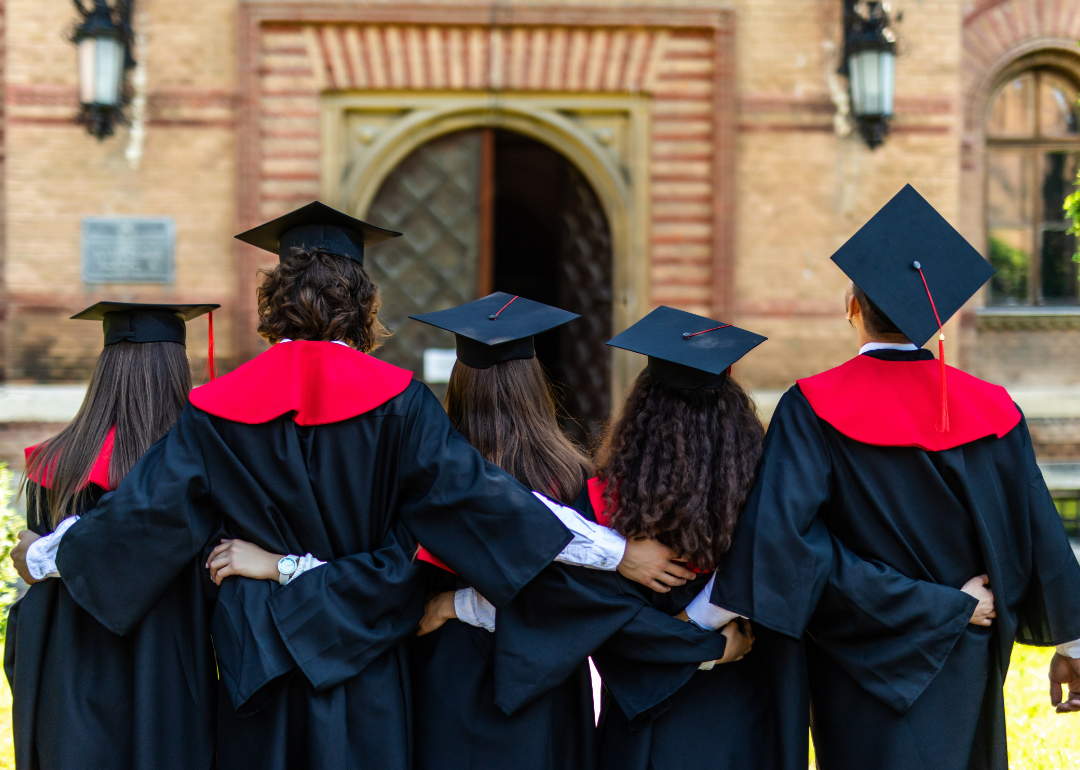 Colleges with the highest graduation rate in every state
Colleges with the highest graduation rate in every state
Colleges might be more expensive than ever before, but that doesn't mean they've become any less popular. On the contrary, young minds and bodies are still flocking to college campuses in droves. Unfortunately, not all of those students are graduating. In fact, a 2017 study determined that a little over 30% of overall college students dropped out entirely before obtaining a degree or certificate. Meanwhile, a typical college graduate will earn about $900,000 more than a typical high school graduate over his or her lifetime.
The reasons for wanting to graduate from college might be as obvious as they are incentivizing, but that doesn't make the process any easier. Nevertheless, one can be better prepared when it comes to choosing the right institution. For example, potential applicants might want to know which college has the highest graduation rate in any given state, as that would theoretically increase one's own chances of graduating within six years or less.
Stacker is here to heed the call. Using data from Chronicle, Stacker researched the respective four-year and six-year graduation rates for undergraduates starting in 2013 (the most recent year available). Only nonprofit, four-year colleges with a freshman cohort of 100 or more (1,413 schools in total) were considered for the list. Furthermore, the data only pertains to first-time, full-time, degree-seeking undergraduates who completed a degree or certificate program within 150% of the expected time (bachelor's-seeking group at four-year institutions). This undergraduate rate did not include transfer/return students and part-time students, so it may over-report or under-report overall institution graduation rates.
Taking the above variables into consideration, Stacker arrived at a weighted average six-year graduation rate for all qualifying colleges of 59.4%. While little over half might not seem ideal, the colleges with the top graduation rates see much higher matriculation. Read on to find out the college with the highest graduation rate in every state.
You might also like: Most selective colleges in America
Alabama: Talladega College
- Location: Talladega
- 6-year graduation rate: 82.4%
- 4-year graduation rate: 82.4%
- Enrollment: 932
- Total schools analyzed within state: 26
Alaska: University of Alaska at Fairbanks
- Location: Fairbanks
- 6-year graduation rate: 37.3%
- 4-year graduation rate: 14.1%
- Enrollment: 7,989
- Total schools analyzed within state: 2
Arizona: University of Arizona
- Location: Tucson
- 6-year graduation rate: 61.4%
- 4-year graduation rate: 39.9%
- Enrollment: 31,670
- Total schools analyzed within state: 4
Arkansas: Hendrix College
- Location: Conway
- 6-year graduation rate: 69.6%
- 4-year graduation rate: 63.3%
- Enrollment: 1,431
- Total schools analyzed within state: 19
California: Stanford University
- Location: Stanford
- 6-year graduation rate: 95.8%
- 4-year graduation rate: 76.1%
- Enrollment: 7,274
- Total schools analyzed within state: 77
Colorado: Colorado College
- Location: Colorado Springs
- 6-year graduation rate: 87.2%
- 4-year graduation rate: 79.2%
- Enrollment: 2,041
- Total schools analyzed within state: 18
Connecticut: Yale University
- Location: New Haven
- 6-year graduation rate: 97.8%
- 4-year graduation rate: 89.6%
- Enrollment: 5,430
- Total schools analyzed within state: 18
Delaware: University of Delaware
- Location: Newark
- 6-year graduation rate: 81.7%
- 4-year graduation rate: 68.4%
- Enrollment: 18,487
- Total schools analyzed within state: 4
District of Columbia: Georgetown University
- Location: Washington
- 6-year graduation rate: 92.5%
- 4-year graduation rate: 88%
- Enrollment: 7,636
- Total schools analyzed within state: 8
Florida: University of Florida
- Location: Gainesville
- 6-year graduation rate: 86.5%
- 4-year graduation rate: 65.2%
- Enrollment: 33,168
- Total schools analyzed within state: 42
Georgia: Emory University
- Location: Atlanta
- 6-year graduation rate: 90.8%
- 4-year graduation rate: 83.8%
- Enrollment: 7,836
- Total schools analyzed within state: 39
Hawaii: University of Hawaii-Manoa
- Location: Honolulu
- 6-year graduation rate: 56.5%
- 4-year graduation rate: 18.6%
- Enrollment: 14,499
- Total schools analyzed within state: 5
Idaho: College of Idaho
- Location: Caldwell
- 6-year graduation rate: 66.5%
- 4-year graduation rate: 53.6%
- Enrollment: 1,095
- Total schools analyzed within state: 7
Illinois: Northwestern University
- Location: Evanston
- 6-year graduation rate: 94.2%
- 4-year graduation rate: 86.2%
- Enrollment: 9,283
- Total schools analyzed within state: 54
Indiana: University of Notre Dame
- Location: Notre Dame
- 6-year graduation rate: 94.9%
- 4-year graduation rate: 89.8%
- Enrollment: 8,477
- Total schools analyzed within state: 41
Iowa: Grinnell College
- Location: Grinnell
- 6-year graduation rate: 85.7%
- 4-year graduation rate: 80.8%
- Enrollment: 1,721
- Total schools analyzed within state: 26
Kansas: University of Kansas
- Location: Lawrence
- 6-year graduation rate: 61.6%
- 4-year graduation rate: 35.8%
- Enrollment: 19,217
- Total schools analyzed within state: 20
Kentucky: Centre College
- Location: Danville
- 6-year graduation rate: 82%
- 4-year graduation rate: 80.4%
- Enrollment: 1,381
- Total schools analyzed within state: 26
Louisiana: Tulane University
- Location: New Orleans
- 6-year graduation rate: 76%
- 4-year graduation rate: 62.3%
- Enrollment: 8,290
- Total schools analyzed within state: 20
Maine: Bowdoin College
- Location: Brunswick
- 6-year graduation rate: 93.3%
- 4-year graduation rate: 87.6%
- Enrollment: 1,795
- Total schools analyzed within state: 17
Maryland: Johns Hopkins University
- Location: Baltimore
- 6-year graduation rate: 92.5%
- 4-year graduation rate: 86.9%
- Enrollment: 6,117
- Total schools analyzed within state: 24
Massachusetts: Harvard University
- Location: Cambridge
- 6-year graduation rate: 97.5%
- 4-year graduation rate: 86.5%
- Enrollment: 10,534
- Total schools analyzed within state: 64
Michigan: University of Michigan at Ann Arbor
- Location: Ann Arbor
- 6-year graduation rate: 90%
- 4-year graduation rate: 75.8%
- Enrollment: 28,283
- Total schools analyzed within state: 35
Minnesota: Carleton College
- Location: Northfield
- 6-year graduation rate: 92.1%
- 4-year graduation rate: 89.6%
- Enrollment: 2,045
- Total schools analyzed within state: 31
Mississippi: Millsaps College
- Location: Jackson
- 6-year graduation rate: 63.2%
- 4-year graduation rate: 59.1%
- Enrollment: 744
- Total schools analyzed within state: 14
Missouri: Washington University in St. Louis
- Location: Saint Louis
- 6-year graduation rate: 94%
- 4-year graduation rate: 88.2%
- Enrollment: 7,336
- Total schools analyzed within state: 39
Montana: Carroll College
- Location: Helena
- 6-year graduation rate: 67.4%
- 4-year graduation rate: 54.3%
- Enrollment: 1,431
- Total schools analyzed within state: 9
Nebraska: Creighton University
- Location: Omaha
- 6-year graduation rate: 75.9%
- 4-year graduation rate: 67.4%
- Enrollment: 4,076
- Total schools analyzed within state: 14
Nevada: University of Nevada at Reno
- Location: Reno
- 6-year graduation rate: 51.4%
- 4-year graduation rate: 15.7%
- Enrollment: 15,694
- Total schools analyzed within state: 3
New Hampshire: Dartmouth College
- Location: Hanover
- 6-year graduation rate: 94.7%
- 4-year graduation rate: 86.5%
- Enrollment: 4,276
- Total schools analyzed within state: 10
New Jersey: Princeton University
- Location: Princeton
- 6-year graduation rate: 96.9%
- 4-year graduation rate: 87.8%
- Enrollment: 5,323
- Total schools analyzed within state: 27
New Mexico: St. John's College
- Location: Santa Fe
- 6-year graduation rate: 55.2%
- 4-year graduation rate: 44.8%
- Enrollment: 339
- Total schools analyzed within state: 7
New York: Vassar College
- Location: Poughkeepsie
- 6-year graduation rate: 93.6%
- 4-year graduation rate: 89.7%
- Enrollment: 2,477
- Total schools analyzed within state: 114
North Carolina: Duke University
- Location: Durham
- 6-year graduation rate: 94.2%
- 4-year graduation rate: 87.1%
- Enrollment: 6,646
- Total schools analyzed within state: 51
North Dakota: University of North Dakota
- Location: Grand Forks
- 6-year graduation rate: 53.3%
- 4-year graduation rate: 24.1%
- Enrollment: 11,724
- Total schools analyzed within state: 7
Ohio: Kenyon College
- Location: Gambier
- 6-year graduation rate: 89.1%
- 4-year graduation rate: 86.2%
- Enrollment: 1,705
- Total schools analyzed within state: 68
Oklahoma: University of Tulsa
- Location: Tulsa
- 6-year graduation rate: 68.8%
- 4-year graduation rate: 51.5%
- Enrollment: 3,428
- Total schools analyzed within state: 21
Oregon: Reed College
- Location: Portland
- 6-year graduation rate: 81.9%
- 4-year graduation rate: 70%
- Enrollment: 1,395
- Total schools analyzed within state: 16
Pennsylvania: University of Pennsylvania
- Location: Philadelphia
- 6-year graduation rate: 95.7%
- 4-year graduation rate: 87.9%
- Enrollment: 11,525
- Total schools analyzed within state: 109
Rhode Island: Brown University
- Location: Providence
- 6-year graduation rate: 94.5%
- 4-year graduation rate: 84.4%
- Enrollment: 6,455
- Total schools analyzed within state: 9
South Carolina: Furman University
- Location: Greenville
- 6-year graduation rate: 84.3%
- 4-year graduation rate: 80%
- Enrollment: 2,797
- Total schools analyzed within state: 30
South Dakota: Augustana College
- Location: Sioux Falls
- 6-year graduation rate: 66.4%
- 4-year graduation rate: 48.3%
- Enrollment: 1,697
- Total schools analyzed within state: 11
Tennessee: Vanderbilt University
- Location: Nashville
- 6-year graduation rate: 92.5%
- 4-year graduation rate: 86.7%
- Enrollment: 6,835
- Total schools analyzed within state: 35
Texas: Rice University
- Location: Houston
- 6-year graduation rate: 91.1%
- 4-year graduation rate: 78.8%
- Enrollment: 3,965
- Total schools analyzed within state: 66
Utah: Brigham Young University
- Location: Provo
- 6-year graduation rate: 78%
- 4-year graduation rate: 30.9%
- Enrollment: 27,765
- Total schools analyzed within state: 10
Vermont: Middlebury College
- Location: Middlebury
- 6-year graduation rate: 93.6%
- 4-year graduation rate: 86.7%
- Enrollment: 2,495
- Total schools analyzed within state: 10
Virginia: University of Virginia
- Location: Charlottesville
- 6-year graduation rate: 93.1%
- 4-year graduation rate: 86.3%
- Enrollment: 16,087
- Total schools analyzed within state: 37
Washington: Whitman College
- Location: Walla Walla
- 6-year graduation rate: 87.8%
- 4-year graduation rate: 79.8%
- Enrollment: 1,541
- Total schools analyzed within state: 19
West Virginia: West Virginia Wesleyan College
- Location: Buckhannon
- 6-year graduation rate: 60.1%
- 4-year graduation rate: 43.4%
- Enrollment: 1,367
- Total schools analyzed within state: 16
Wisconsin: University of Wisconsin at Madison
- Location: Madison
- 6-year graduation rate: 82.8%
- 4-year graduation rate: 55%
- Enrollment: 30,728
- Total schools analyzed within state: 33
Wyoming: University of Wyoming
- Location: Laramie
- 6-year graduation rate: 54.1%
- 4-year graduation rate: 24.1%
- Enrollment: 10,117
- Total schools analyzed within state: 1