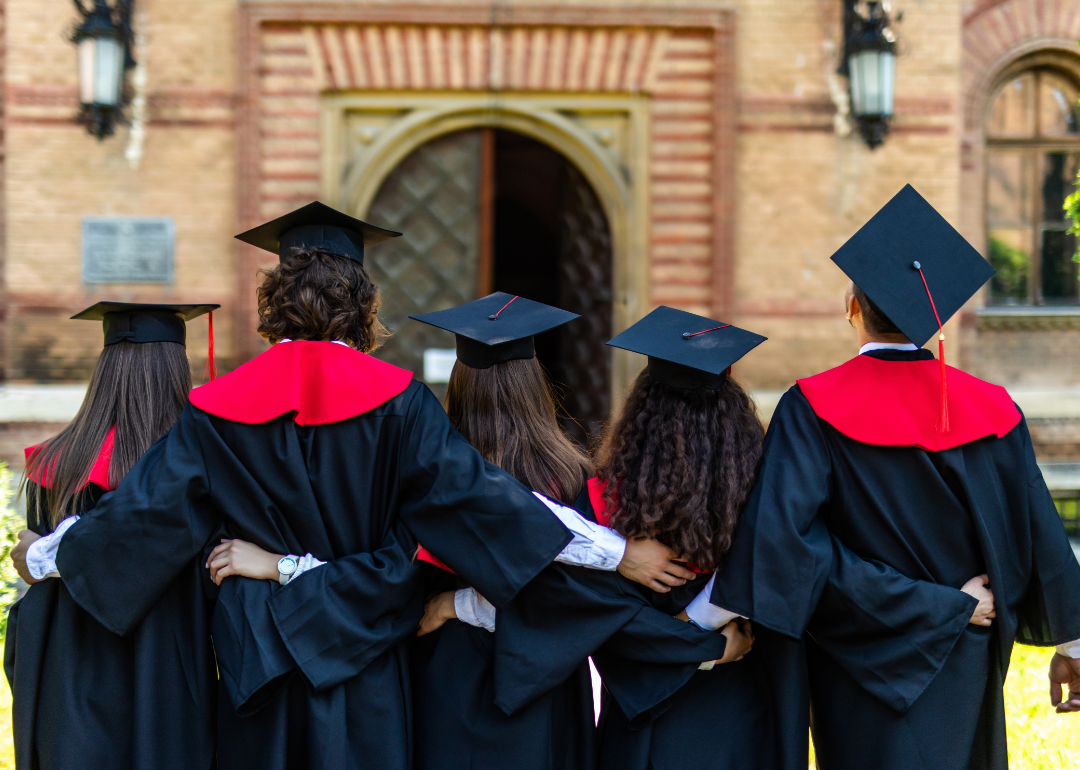 Cost of a plane ticket the year you graduated college
Cost of a plane ticket the year you graduated college
The romantic possibilities of air travel have long captivated American travelers seeking adventure across the country. Since the first commercial flight took off over 100 years ago, the U.S. airline industry has since grown to handle over 600 million miles traveled every year, permeating every aspect of our lives, from business to leisure.
But commercial air travel is not without its pain points, perhaps none greater than the constant fluctuation of ticket costs, and the industry's lack of pricing transparency. A flight is one of the very few services in the world where you are almost certainly paying a different amount from the customers sitting right next to you.
That first flight was just 23 minutes and cost $400 (roughly $9,600 today), and ticket prices have been a constant source of customer complaints ever since. But just how much has the price of a ticket changed over time? Using data from the Bureau of Transportation Statistics and Bureau of Labor Statistics, Stacker analyzed the average price for U.S. domestic airline fares from 1995-2017 along with CPI changes for airline fare from 1964-1995. For each year, we also included the average price for the popular routes of Boston—Seattle, Chicago—Atlanta, and New York—Los Angeles. These figures reflect fares for paying customers only and are typically representative of roundtrip travel, as defined by the BTS.
For those nostalgic for the time where the skies were yours for a few hundred dollars and a dream, read on to see the cost of a plane ticket the year you graduated from college.
1964
Average domestic airline fare: $36.66 (inflation-adjusted: $289.36)
Boston, MA - Seattle, WA fare: $38.18 (inflation-adjusted: $301.36)
Chicago, IL - Atlanta, GA fare: $13.76 (inflation-adjusted: $108.60)
New York, NY - Los Angeles, CA fare: $40.37 (inflation-adjusted: $318.69)
1965
Average domestic airline fare: $36.81 (inflation-adjusted: $285.97)
Boston, MA - Seattle, WA fare: $38.34 (inflation-adjusted: $297.83)
Chicago, IL - Atlanta, GA fare: $13.82 (inflation-adjusted: $107.33)
New York, NY - Los Angeles, CA fare: $40.54 (inflation-adjusted: $314.96)
1966
Average domestic airline fare: $36.81 (inflation-adjusted: $277.17)
Boston, MA - Seattle, WA fare: $38.34 (inflation-adjusted: $288.67)
Chicago, IL - Atlanta, GA fare: $13.82 (inflation-adjusted: $104.03)
New York, NY - Los Angeles, CA fare: $40.54 (inflation-adjusted: $305.27)
1967
Average domestic airline fare: $36.97 (inflation-adjusted: $270.83)
Boston, MA - Seattle, WA fare: $38.50 (inflation-adjusted: $282.07)
Chicago, IL - Atlanta, GA fare: $13.87 (inflation-adjusted: $101.65)
New York, NY - Los Angeles, CA fare: $40.71 (inflation-adjusted: $298.29)
1968
Average domestic airline fare: $37.74 (inflation-adjusted: $265.37)
Boston, MA - Seattle, WA fare: $39.31 (inflation-adjusted: $276.39)
Chicago, IL - Atlanta, GA fare: $14.16 (inflation-adjusted: $99.60)
New York, NY - Los Angeles, CA fare: $41.57 (inflation-adjusted: $292.28)
1969
Average domestic airline fare: $40.52 (inflation-adjusted: $270.20)
Boston, MA - Seattle, WA fare: $42.21 (inflation-adjusted: $281.41)
Chicago, IL - Atlanta, GA fare: $15.21 (inflation-adjusted: $101.41)
New York, NY - Los Angeles, CA fare: $44.63 (inflation-adjusted: $297.59)
1970
Average domestic airline fare: $43.77 (inflation-adjusted: $276.06)
Boston, MA - Seattle, WA fare: $45.59 (inflation-adjusted: $287.51)
Chicago, IL - Atlanta, GA fare: $16.43 (inflation-adjusted: $103.61)
New York, NY - Los Angeles, CA fare: $48.21 (inflation-adjusted: $304.05)
1971
Average domestic airline fare: $46.87 (inflation-adjusted: $283.16)
Boston, MA - Seattle, WA fare: $48.81 (inflation-adjusted: $294.91)
Chicago, IL - Atlanta, GA fare: $17.59 (inflation-adjusted: $106.28)
New York, NY - Los Angeles, CA fare: $51.62 (inflation-adjusted: $311.87)
1972
Average domestic airline fare: $48.10 (inflation-adjusted: $281.60)
Boston, MA - Seattle, WA fare: $50.10 (inflation-adjusted: $293.28)
Chicago, IL - Atlanta, GA fare: $18.05 (inflation-adjusted: $105.69)
New York, NY - Los Angeles, CA fare: $52.98 (inflation-adjusted: $310.15)
1973
Average domestic airline fare: $49.80 (inflation-adjusted: $274.49)
Boston, MA - Seattle, WA fare: $51.87 (inflation-adjusted: $285.88)
Chicago, IL - Atlanta, GA fare: $18.69 (inflation-adjusted: $103.02)
New York, NY - Los Angeles, CA fare: $54.85 (inflation-adjusted: $302.32)
1974
Average domestic airline fare: $53.98 (inflation-adjusted: $267.93)
Boston, MA - Seattle, WA fare: $56.22 (inflation-adjusted: $279.05)
Chicago, IL - Atlanta, GA fare: $20.26 (inflation-adjusted: $100.56)
New York, NY - Los Angeles, CA fare: $59.45 (inflation-adjusted: $295.10)
1975
Average domestic airline fare: $58.78 (inflation-adjusted: $267.33)
Boston, MA - Seattle, WA fare: $61.21 (inflation-adjusted: $278.42)
Chicago, IL - Atlanta, GA fare: $22.06 (inflation-adjusted: $100.33)
New York, NY - Los Angeles, CA fare: $64.73 (inflation-adjusted: $294.43)
1976
Average domestic airline fare: $63.57 (inflation-adjusted: $273.39)
Boston, MA - Seattle, WA fare: $66.21 (inflation-adjusted: $284.73)
Chicago, IL - Atlanta, GA fare: $23.86 (inflation-adjusted: $102.61)
New York, NY - Los Angeles, CA fare: $70.02 (inflation-adjusted: $301.10)
1977
Average domestic airline fare: $67.28 (inflation-adjusted: $271.69)
Boston, MA - Seattle, WA fare: $70.07 (inflation-adjusted: $282.96)
Chicago, IL - Atlanta, GA fare: $25.25 (inflation-adjusted: $101.97)
New York, NY - Los Angeles, CA fare: $74.10 (inflation-adjusted: $299.23)
1978
Average domestic airline fare: $70.38 (inflation-adjusted: $264.13)
Boston, MA - Seattle, WA fare: $73.30 (inflation-adjusted: $275.09)
Chicago, IL - Atlanta, GA fare: $26.41 (inflation-adjusted: $99.13)
New York, NY - Los Angeles, CA fare: $77.51 (inflation-adjusted: $290.91)
1979
Average domestic airline fare: $76.10 (inflation-adjusted: $256.49)
Boston, MA - Seattle, WA fare: $79.26 (inflation-adjusted: $267.14)
Chicago, IL - Atlanta, GA fare: $28.56 (inflation-adjusted: $96.27)
New York, NY - Los Angeles, CA fare: $83.81 (inflation-adjusted: $282.50)
1980
Average domestic airline fare: $105.18 (inflation-adjusted: $312.34)
Boston, MA - Seattle, WA fare: $109.54 (inflation-adjusted: $325.30)
Chicago, IL - Atlanta, GA fare: $39.48 (inflation-adjusted: $117.23)
New York, NY - Los Angeles, CA fare: $115.84 (inflation-adjusted: $344.01)
1981
Average domestic airline fare: $132.40 (inflation-adjusted: $356.42)
Boston, MA - Seattle, WA fare: $137.89 (inflation-adjusted: $371.21)
Chicago, IL - Atlanta, GA fare: $49.69 (inflation-adjusted: $133.77)
New York, NY - Los Angeles, CA fare: $145.82 (inflation-adjusted: $392.55)
1982
Average domestic airline fare: $146.01 (inflation-adjusted: $370.25)
Boston, MA - Seattle, WA fare: $152.07 (inflation-adjusted: $385.61)
Chicago, IL - Atlanta, GA fare: $54.80 (inflation-adjusted: $138.96)
New York, NY - Los Angeles, CA fare: $160.81 (inflation-adjusted: $407.79)
1983
Average domestic airline fare: $154.36 (inflation-adjusted: $379.25)
Boston, MA - Seattle, WA fare: $160.77 (inflation-adjusted: $394.98)
Chicago, IL - Atlanta, GA fare: $57.94 (inflation-adjusted: $142.34)
New York, NY - Los Angeles, CA fare: $170.01 (inflation-adjusted: $417.69)
1984
Average domestic airline fare: $163.64 (inflation-adjusted: $385.41)
Boston, MA - Seattle, WA fare: $170.43 (inflation-adjusted: $401.40)
Chicago, IL - Atlanta, GA fare: $61.42 (inflation-adjusted: $144.65)
New York, NY - Los Angeles, CA fare: $180.24 (inflation-adjusted: $424.48)
1985
Average domestic airline fare: $174.01 (inflation-adjusted: $395.72)
Boston, MA - Seattle, WA fare: $181.23 (inflation-adjusted: $412.14)
Chicago, IL - Atlanta, GA fare: $65.31 (inflation-adjusted: $148.52)
New York, NY - Los Angeles, CA fare: $191.65 (inflation-adjusted: $435.84)
1986
Average domestic airline fare: $181.12 (inflation-adjusted: $404.39)
Boston, MA - Seattle, WA fare: $188.64 (inflation-adjusted: $421.16)
Chicago, IL - Atlanta, GA fare: $67.98 (inflation-adjusted: $151.77)
New York, NY - Los Angeles, CA fare: $199.49 (inflation-adjusted: $445.38)
1987
Average domestic airline fare: $189.94 (inflation-adjusted: $409.14)
Boston, MA - Seattle, WA fare: $197.82 (inflation-adjusted: $426.11)
Chicago, IL - Atlanta, GA fare: $71.29 (inflation-adjusted: $153.56)
New York, NY - Los Angeles, CA fare: $209.20 (inflation-adjusted: $450.62)
1988
Average domestic airline fare: $192.10 (inflation-adjusted: $397.36)
Boston, MA - Seattle, WA fare: $200.07 (inflation-adjusted: $413.85)
Chicago, IL - Atlanta, GA fare: $72.10 (inflation-adjusted: $149.14)
New York, NY - Los Angeles, CA fare: $211.58 (inflation-adjusted: $437.65)
1989
Average domestic airline fare: $203.55 (inflation-adjusted: $401.68)
Boston, MA - Seattle, WA fare: $212.00 (inflation-adjusted: $418.35)
Chicago, IL - Atlanta, GA fare: $76.40 (inflation-adjusted: $150.76)
New York, NY - Los Angeles, CA fare: $224.19 (inflation-adjusted: $442.41)
1990
Average domestic airline fare: $229.54 (inflation-adjusted: $429.74)
Boston, MA - Seattle, WA fare: $239.06 (inflation-adjusted: $447.57)
Chicago, IL - Atlanta, GA fare: $86.15 (inflation-adjusted: $161.29)
New York, NY - Los Angeles, CA fare: $252.81 (inflation-adjusted: $473.31)
1991
Average domestic airline fare: $240.05 (inflation-adjusted: $431.28)
Boston, MA - Seattle, WA fare: $250.01 (inflation-adjusted: $449.18)
Chicago, IL - Atlanta, GA fare: $90.10 (inflation-adjusted: $161.87)
New York, NY - Los Angeles, CA fare: $264.39 (inflation-adjusted: $475.01)
1992
Average domestic airline fare: $240.05 (inflation-adjusted: $418.68)
Boston, MA - Seattle, WA fare: $250.01 (inflation-adjusted: $436.05)
Chicago, IL - Atlanta, GA fare: $90.10 (inflation-adjusted: $157.14)
New York, NY - Los Angeles, CA fare: $264.39 (inflation-adjusted: $461.13)
1993
Average domestic airline fare: $276.40 (inflation-adjusted: $468.06)
Boston, MA - Seattle, WA fare: $287.87 (inflation-adjusted: $487.49)
Chicago, IL - Atlanta, GA fare: $103.74 (inflation-adjusted: $175.67)
New York, NY - Los Angeles, CA fare: $304.42 (inflation-adjusted: $515.52)
1994
Average domestic airline fare: $286.92 (inflation-adjusted: $473.75)
Boston, MA - Seattle, WA fare: $298.82 (inflation-adjusted: $493.40)
Chicago, IL - Atlanta, GA fare: $107.69 (inflation-adjusted: $177.81)
New York, NY - Los Angeles, CA fare: $316.01 (inflation-adjusted: $521.78)
1995
Average domestic airline fare: $293.42 (inflation-adjusted: $471.12)
Boston, MA - Seattle, WA fare: $305.59 (inflation-adjusted: $490.67)
Chicago, IL - Atlanta, GA fare: $110.12 (inflation-adjusted: $176.82)
New York, NY - Los Angeles, CA fare: $323.16 (inflation-adjusted: $518.88)
1996
Average domestic airline fare: $278.68 (inflation-adjusted: $434.62)
Boston, MA - Seattle, WA fare: $310.10 (inflation-adjusted: $483.63)
Chicago, IL - Atlanta, GA fare: $111.75 (inflation-adjusted: $174.28)
New York, NY - Los Angeles, CA fare: $327.93 (inflation-adjusted: $511.44)
1997
Average domestic airline fare: $288.39 (inflation-adjusted: $439.69)
Boston, MA - Seattle, WA fare: $316.84 (inflation-adjusted: $483.06)
Chicago, IL - Atlanta, GA fare: $127.50 (inflation-adjusted: $194.39)
New York, NY - Los Angeles, CA fare: $308.52 (inflation-adjusted: $470.37)
1998
Average domestic airline fare: $307.77 (inflation-adjusted: $462.03)
Boston, MA - Seattle, WA fare: $311.40 (inflation-adjusted: $467.49)
Chicago, IL - Atlanta, GA fare: $127.73 (inflation-adjusted: $191.74)
New York, NY - Los Angeles, CA fare: $335.41 (inflation-adjusted: $503.53)
1999
Average domestic airline fare: $325.71 (inflation-adjusted: $478.40)
Boston, MA - Seattle, WA fare: $286.75 (inflation-adjusted: $421.18)
Chicago, IL - Atlanta, GA fare: $135.86 (inflation-adjusted: $199.55)
New York, NY - Los Angeles, CA fare: $334.45 (inflation-adjusted: $491.24)
2000
Average domestic airline fare: $339.62 (inflation-adjusted: $482.60)
Boston, MA - Seattle, WA fare: $303.73 (inflation-adjusted: $431.60)
Chicago, IL - Atlanta, GA fare: $160.81 (inflation-adjusted: $228.51)
New York, NY - Los Angeles, CA fare: $379.91 (inflation-adjusted: $539.86)
2001
Average domestic airline fare: $324.20 (inflation-adjusted: $447.94)
Boston, MA - Seattle, WA fare: $259.70 (inflation-adjusted: $358.83)
Chicago, IL - Atlanta, GA fare: $169.42 (inflation-adjusted: $234.08)
New York, NY - Los Angeles, CA fare: $322.84 (inflation-adjusted: $446.07)
2002
Average domestic airline fare: $314.78 (inflation-adjusted: $428.17)
Boston, MA - Seattle, WA fare: $241.70 (inflation-adjusted: $328.76)
Chicago, IL - Atlanta, GA fare: $154.92 (inflation-adjusted: $210.72)
New York, NY - Los Angeles, CA fare: $294.55 (inflation-adjusted: $400.64)
2003
Average domestic airline fare: $316.21 (inflation-adjusted: $420.52)
Boston, MA - Seattle, WA fare: $237.23 (inflation-adjusted: $315.49)
Chicago, IL - Atlanta, GA fare: $128.06 (inflation-adjusted: $170.31)
New York, NY - Los Angeles, CA fare: $268.48 (inflation-adjusted: $357.05)
2004
Average domestic airline fare: $308.09 (inflation-adjusted: $399.10)
Boston, MA - Seattle, WA fare: $219.49 (inflation-adjusted: $284.32)
Chicago, IL - Atlanta, GA fare: $127.83 (inflation-adjusted: $165.58)
New York, NY - Los Angeles, CA fare: $228.24 (inflation-adjusted: $295.66)
2005
Average domestic airline fare: $307.54 (inflation-adjusted: $385.33)
Boston, MA - Seattle, WA fare: $226.52 (inflation-adjusted: $283.81)
Chicago, IL - Atlanta, GA fare: $154.66 (inflation-adjusted: $193.78)
New York, NY - Los Angeles, CA fare: $256.40 (inflation-adjusted: $321.25)
2006
Average domestic airline fare: $327.91 (inflation-adjusted: $398.01)
Boston, MA - Seattle, WA fare: $238.15 (inflation-adjusted: $289.07)
Chicago, IL - Atlanta, GA fare: $175.24 (inflation-adjusted: $212.70)
New York, NY - Los Angeles, CA fare: $296.84 (inflation-adjusted: $360.30)
2007
Average domestic airline fare: $324.57 (inflation-adjusted: $383.12)
Boston, MA - Seattle, WA fare: $255.54 (inflation-adjusted: $301.64)
Chicago, IL - Atlanta, GA fare: $176.57 (inflation-adjusted: $208.42)
New York, NY - Los Angeles, CA fare: $317.26 (inflation-adjusted: $374.49)
2008
Average domestic airline fare: $343.02 (inflation-adjusted: $389.86)
Boston, MA - Seattle, WA fare: $272.85 (inflation-adjusted: $310.11)
Chicago, IL - Atlanta, GA fare: $165.49 (inflation-adjusted: $188.09)
New York, NY - Los Angeles, CA fare: $321.36 (inflation-adjusted: $365.24)
2009
Average domestic airline fare: $311.46 (inflation-adjusted: $355.31)
Boston, MA - Seattle, WA fare: $236.31 (inflation-adjusted: $269.58)
Chicago, IL - Atlanta, GA fare: $135.41 (inflation-adjusted: $154.47)
New York, NY - Los Angeles, CA fare: $274.91 (inflation-adjusted: $313.62)
2010
Average domestic airline fare: $334.93 (inflation-adjusted: $375.77)
Boston, MA - Seattle, WA fare: $256.41 (inflation-adjusted: $287.68)
Chicago, IL - Atlanta, GA fare: $161.51 (inflation-adjusted: $181.21)
New York, NY - Los Angeles, CA fare: $314.04 (inflation-adjusted: $352.34)
2011
Average domestic airline fare: $364.41 (inflation-adjusted: $396.49)
Boston, MA - Seattle, WA fare: $277.43 (inflation-adjusted: $301.85)
Chicago, IL - Atlanta, GA fare: $178.52 (inflation-adjusted: $194.23)
New York, NY - Los Angeles, CA fare: $353.29 (inflation-adjusted: $384.40)
2012
Average domestic airline fare: $376.62 (inflation-adjusted: $401.39)
Boston, MA - Seattle, WA fare: $286.85 (inflation-adjusted: $305.72)
Chicago, IL - Atlanta, GA fare: $171.00 (inflation-adjusted: $182.24)
New York, NY - Los Angeles, CA fare: $351.89 (inflation-adjusted: $375.03)
2013
Average domestic airline fare: $379.99 (inflation-adjusted: $399.08)
Boston, MA - Seattle, WA fare: $281.86 (inflation-adjusted: $296.01)
Chicago, IL - Atlanta, GA fare: $191.12 (inflation-adjusted: $200.71)
New York, NY - Los Angeles, CA fare: $359.34 (inflation-adjusted: $377.38)
2014
Average domestic airline fare: $390.54 (inflation-adjusted: $403.74)
Boston, MA - Seattle, WA fare: $279.82 (inflation-adjusted: $289.27)
Chicago, IL - Atlanta, GA fare: $214.82 (inflation-adjusted: $222.08)
New York, NY - Los Angeles, CA fare: $381.83 (inflation-adjusted: $394.74)
2015
Average domestic airline fare: $378.43 (inflation-adjusted: $390.73)
Boston, MA - Seattle, WA fare: $282.28 (inflation-adjusted: $291.45)
Chicago, IL - Atlanta, GA fare: $165.23 (inflation-adjusted: $170.60)
New York, NY - Los Angeles, CA fare: $377.84 (inflation-adjusted: $390.11)
2016
Average domestic airline fare: $352.42 (inflation-adjusted: $359.32)
Boston, MA - Seattle, WA fare: $261.00 (inflation-adjusted: $266.11)
Chicago, IL - Atlanta, GA fare: $131.10 (inflation-adjusted: $133.67)
New York, NY - Los Angeles, CA fare: $360.10 (inflation-adjusted: $367.15)
2017
Average domestic airline fare: $347.86 (inflation-adjusted: $347.86)
Boston, MA - Seattle, WA fare: $268.69 (inflation-adjusted: $268.69)
Chicago, IL - Atlanta, GA fare: $151.02 (inflation-adjusted: $151.02)
New York, NY - Los Angeles, CA fare: $374.39 (inflation-adjusted: $374.39)