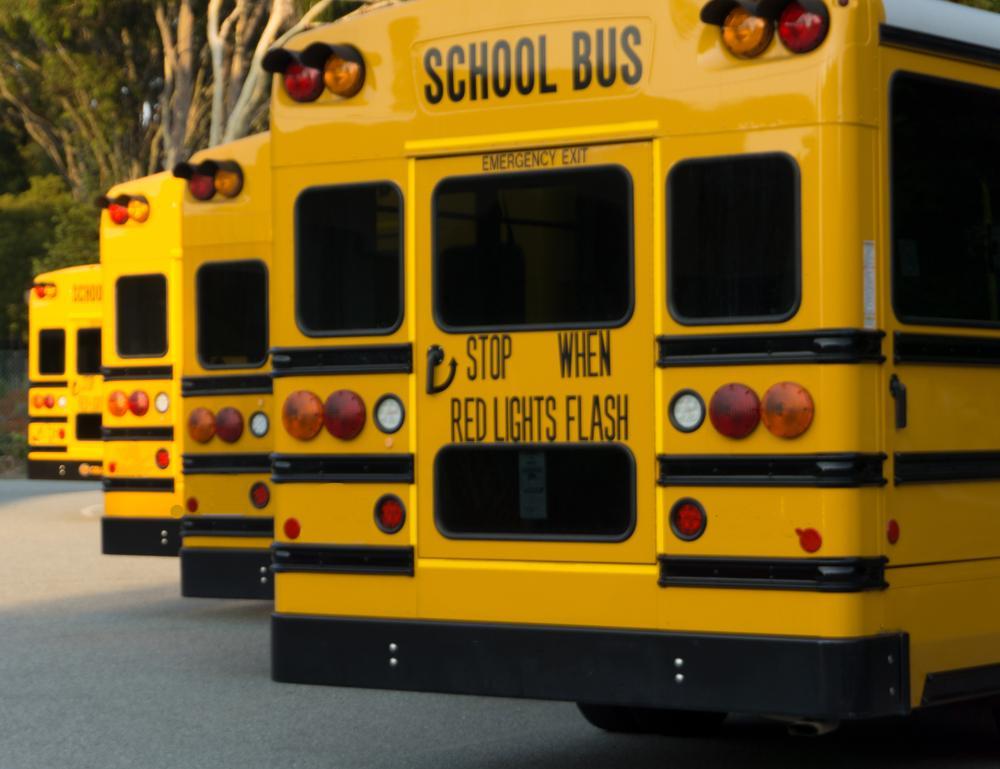 Largest school districts in the United States
Largest school districts in the United States
For many students, enrolling in elementary school begins a 12-year journey with the same group of people. Elementary schools feed into a few middle schools, and those middle schools feed into a couple of high schools. The sizes of different school districts vary enormously across the country, with several that are particularly populous.
While larger districts may have bigger budgets and more resources, they also face a number of challenges potentially relating to larger student-teacher ratios, or a less-personal student experience. In some cases, however, these large districts can be impressive and successful.
Stacker took a look at data from Niche in which school districts are ranked by the number of students in each district. Also included on each slide are each district's number of schools, number of students and overall Niche grade.
Read on to see which school districts around the country are the biggest.
ALSO: Click here to see the best public high school in every state.
#50. Katy Independent School District
Location: Katy, TX
Number of schools: 69
Number of students: 72,952
Overall Niche grade: A+
#49. Fort Bend Independent School District
Location: Sugar Land, TX
Number of schools: 79
Number of students: 73,115
Overall Niche grade: A
#48. Guilford County Schools
Location: Greensboro, NC
Number of schools: 126
Number of students: 73,133
Overall Niche grade: B+
#47. Fresno Unified School District
Location: Fresno, CA
Number of schools: 110
Number of students: 73,460
Overall Niche grade: C+
#46. Milwaukee School District
Location: Milwaukee, WI
Number of schools: 160
Number of students: 75,749
Overall Niche grade: C
#45. Loudoun County Public Schools
Location: Ashburn, VA
Number of schools: 93
Number of students: 76,202
Overall Niche grade: A+
#44. Greenville County School District
Location: Greenville, SC
Number of schools: 96
Number of students: 76,315
Overall Niche grade: A-
#43. Alpine School District
Location: American Fork, UT
Number of schools: 86
Number of students: 76,938
Overall Niche grade: B+
#42. Long Beach Unified School District
Location: Long Beach, CA
Number of schools: 88
Number of students: 77,812
Overall Niche grade: B
#41. Anne Arundel County Public Schools
Location: Annapolis, MD
Number of schools: 124
Number of students: 80,387
Overall Niche grade: B
#40. Austin Independent School District
Location: Austin, TX
Number of schools: 132
Number of students: 83,648
Overall Niche grade: A
#39. Baltimore City Public Schools
Location: Baltimore, MD
Number of schools: 186
Number of students: 83,666
Overall Niche grade: C-
#38. Metro Nashville Public Schools
Location: Nashville, TN
Number of schools: 167
Number of students: 85,598
Overall Niche grade: B
#37. Jefferson County School District No. R-1
Location: Golden, CO
Number of schools: 165
Number of students: 86,731
Overall Niche grade: B
#36. Fort Worth Independent School District
Location: Fort Worth, TX
Number of schools: 149
Number of students: 87,080
Overall Niche grade: B
#35. Prince William County Public Schools
Location: Manassas, VA
Number of schools: 92
Number of students: 87,793
Overall Niche grade: A
#34. Denver Public Schools
Location: Denver, CO
Number of schools: 191
Number of students: 90,235
Overall Niche grade: B-
#33. Albuquerque Public Schools
Location: Albuquerque, NM
Number of schools: 163
Number of students: 90,566
Overall Niche grade: C+
#32. Lee County Public Schools
Location: Fort Myers, FL
Number of schools: 125
Number of students: 91,309
Overall Niche grade: B
#31. Fulton County Schools
Location: Atlanta, GA
Number of schools: 106
Number of students: 95,641
Overall Niche grade: B+
#30. Jefferson County Public Schools
Location: Louisville, KY
Number of schools: 176
Number of students: 100,627
Overall Niche grade: B
#29. Dekalb County Schools
Location: Stone Mountain, GA
Number of schools: 135
Number of students: 101,389
Overall Niche grade: C
#28. Polk County Public Schools
Location: Bartow, FL
Number of schools: 164
Number of students: 101,635
Overall Niche grade: B-
#27. Pinellas County Schools
Location: Largo, FL
Number of schools: 175
Number of students: 103,495
Overall Niche grade: B+
#26. Northside Independent School District (San Antonio)
Location: San Antonio, TX
Number of schools: 123
Number of students: 105,110
Overall Niche grade: A
#25. Baltimore County Public Schools
Location: Towson, MD
Number of schools: 174
Number of students: 111,138
Overall Niche grade: B
#24. Cobb County Schools
Location: Marietta, GA
Number of schools: 111
Number of students: 112,708
Overall Niche grade: A-
#23. Cypress-Fairbanks Independent School District
Location: Houston, TX
Number of schools: 87
Number of students: 113,936
Overall Niche grade: A
#22. Shelby County Schools
Location: Memphis, TN
Number of schools: 234
Number of students: 114,487
Overall Niche grade: B-
#21. Prince George's County Public Schools
Location: Upper Marlboro, MD
Number of schools: 214
Number of students: 128,936
Overall Niche grade: C
#20. Duval County Public Schools
Location: Jacksonville, FL
Number of schools: 218
Number of students: 129,192
Overall Niche grade: C+
#19. San Diego Unified School District
Location: San Diego, CA
Number of schools: 229
Number of students: 129,380
Overall Niche grade: B+
#18. Philadelphia City School District
Location: Philadelphia, PA
Number of schools: 218
Number of students: 134,044
Overall Niche grade: C+
#17. Charlotte-Mecklenburg Schools
Location: Charlotte, NC
Number of schools: 170
Number of students: 146,211
Overall Niche grade: B
#16. Montgomery County Public Schools
Location: Rockville, MD
Number of schools: 207
Number of students: 156,380
Overall Niche grade: A
#15. Wake County Schools
Location: Cary, NC
Number of schools: 181
Number of students: 157,761
Overall Niche grade: A-
#14. Dallas Independent School District
Location: Dallas, TX
Number of schools: 244
Number of students: 158,604
Overall Niche grade: B+
#13. Gwinnett County Public Schools
Location: Lawrenceville, GA
Number of schools: 136
Number of students: 176,052
Overall Niche grade: B+
#12. Hawaii Department of Education
Location: Honolulu, HI
Number of schools: 292
Number of students: 181,589
Overall Niche grade: C+
#11. Fairfax County Public Schools
Location: Falls Church, VA
Number of schools: 222
Number of students: 185,828
Overall Niche grade: A+
#10. Palm Beach County School District
Location: West Palm Beach, FL
Number of schools: 282
Number of students: 189,322
Overall Niche grade: B
#9. Orange County Public Schools
Location: Orlando, FL
Number of schools: 264
Number of students: 196,951
Overall Niche grade: B
#8. Hillsborough County Public Schools
Location: Tampa, FL
Number of schools: 315
Number of students: 211,923
Overall Niche grade: B
#7. Houston Independent School District
Location: Houston, TX
Number of schools: 287
Number of students: 215,627
Overall Niche grade: B
#6. Broward County Public Schools
Location: Fort Lauderdale, FL
Number of schools: 368
Number of students: 269,098
Overall Niche grade: B-
#5. Clark County School District
Location: Las Vegas, NV
Number of schools: 376
Number of students: 325,331
Overall Niche grade: B-
#4. Miami-Dade County Public Schools
Location: Miami, FL
Number of schools: 535
Number of students: 357,579
Overall Niche grade: B-
#3. Puerto Rico Department of Education
Location: Hato Rey, PR
Number of schools: 1,463
Number of students: 366,746
Overall Niche grade: NG
#2. Chicago Public Schools
Location: Chicago, IL
Number of schools: 595
Number of students: 387,311
Overall Niche grade: B-
#1. Los Angeles Unified School District
Location: Los Angeles, CA
Number of schools: 1,021
Number of students: 639,337
Overall Niche grade: C