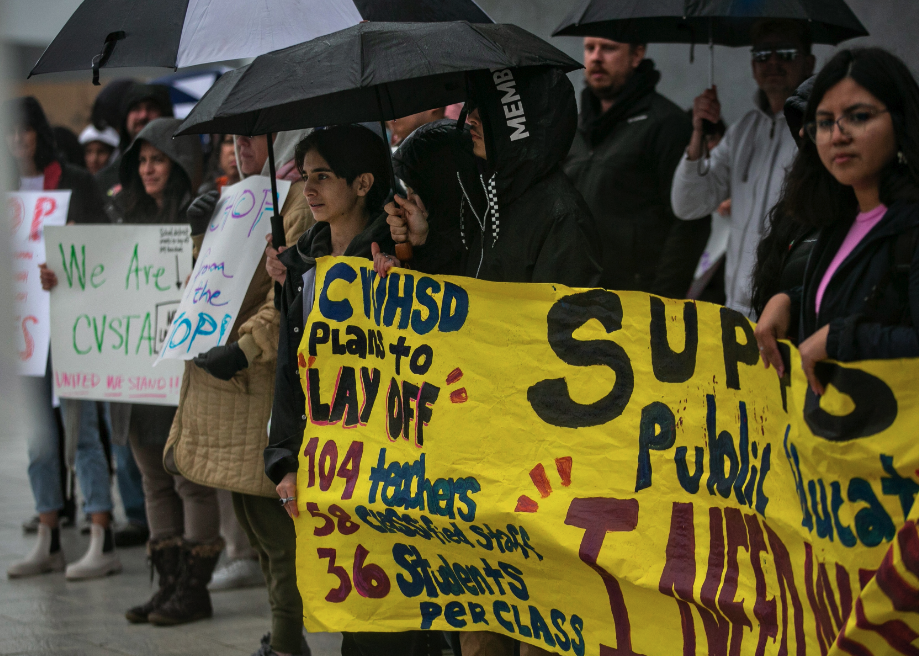 Los Angeles school worker strike just latest in growing trend across US
Jason Armond / Los Angeles Times // Getty Images
Los Angeles school worker strike just latest in growing trend across US
About 30,000 workers, unionized support staff who make schooling possible for the Los Angeles Unified School District, walked off the job Tuesday, beginning a three-day strike alongside about 35,000 members of the district's teachers union. 
The work stoppage has closed more than 1,000 schools and put more than half a million students out of classrooms. It is the latest development in several years that have seen larger, longer, and more frequent protests by teachers across the country.
Work stoppages happen when a group of workers stops working in protest over their working conditions. When a union represents those workers, the stoppage is called a strike. While anyone has the right to strike, unions certified by the National Labor Relations Board—like the Service Employees International Union Local 99 that represents the striking LA workers—can help organize work stoppages that don't run afoul of the limitations of labor laws. In many cases, strikes can be legally conducted to pressure an employer to make concessions while negotiating an employment contract or to protest unfair or unsafe working conditions.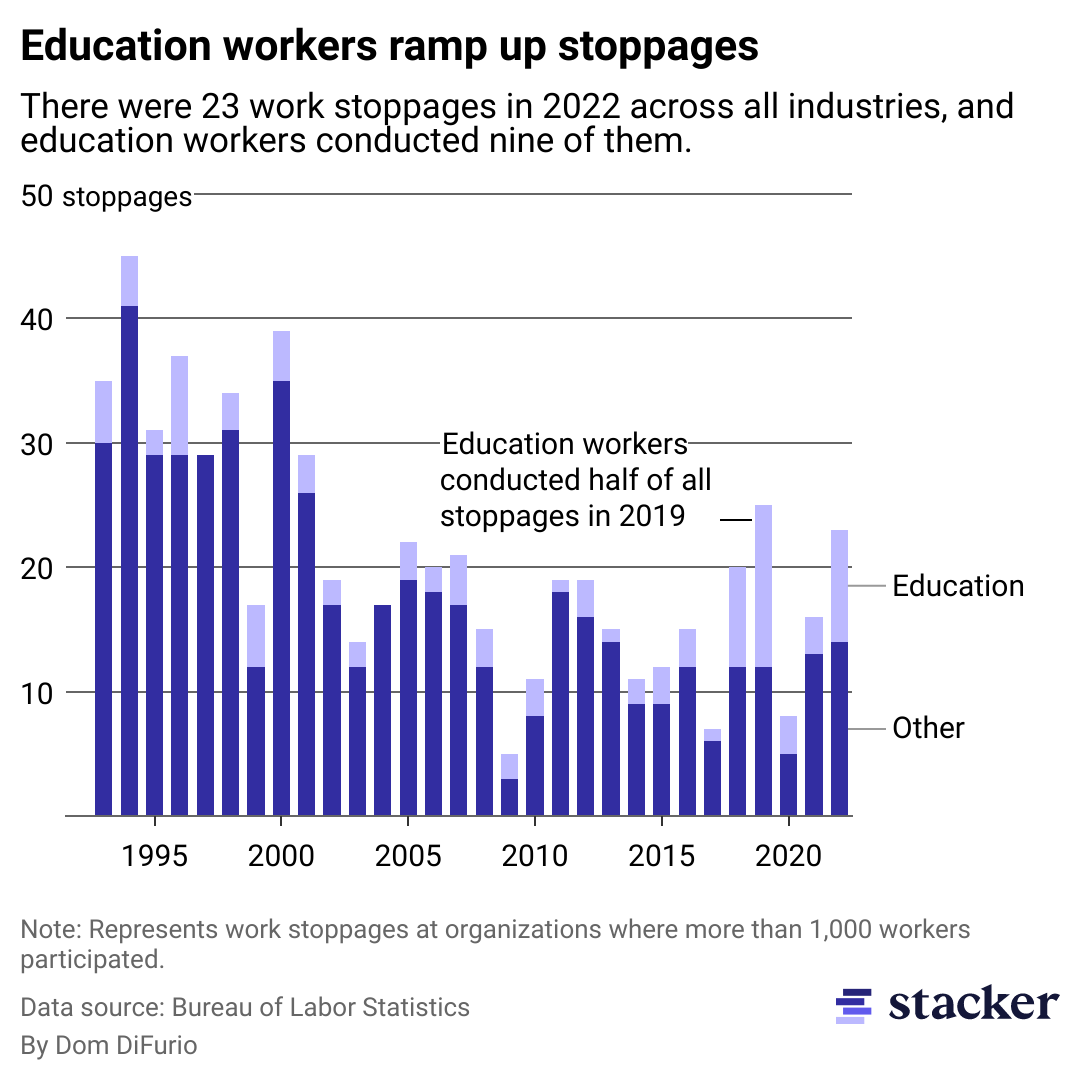 1 / 3
Larger and more frequent work stoppages
Work stoppages in the education sector have grown both more frequent and larger in the last decade compared to the 1990s and 2000s, according to Bureau of Labor Statistics data. Where a stoppage tended to include a few thousand education workers in those past decades, from 2014 to 2023, an average of more than 17,000 workers are estimated to have participated in each protest.
Since 1993, when the Bureau of Labor Statistics started recording stoppages on a monthly basis, there have been 107 work stoppages in the education sector. They've included tens of thousands of education workers in Illinois, Washington, West Virginia, New Jersey, Arizona, and other states.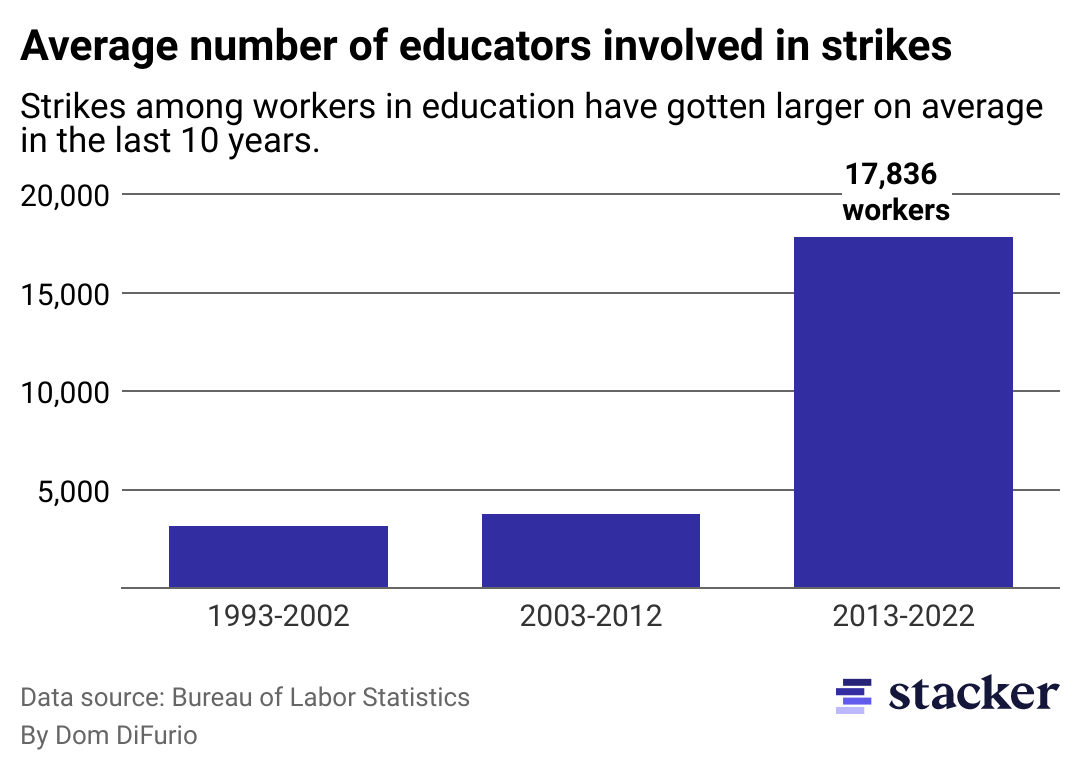 2 / 3
Union leaders seek 30% pay raise
The SEIU local in LA represents school custodians, cafeteria workers, and classroom support staff like special education assistants. These workers are among the lowest-paid in the school system. Unionized LAUSD teachers are striking in solidarity with them, essentially shutting down the country's second-largest school district. Union leaders say they're seeking a 30% pay raise, a system for pushing back against harassment on the job, and expanded health care benefits for an additional 5,200 members the union says aren't afforded the same level of coverage as other workers.
"I understand our employees' frustration that has been brewing, not just for a couple of years, but probably for decades," Los Angeles Superintendent Alberto Carvalho said in a statement this week, adding that the district is ready to return to the bargaining table to negotiate an "equitable contract."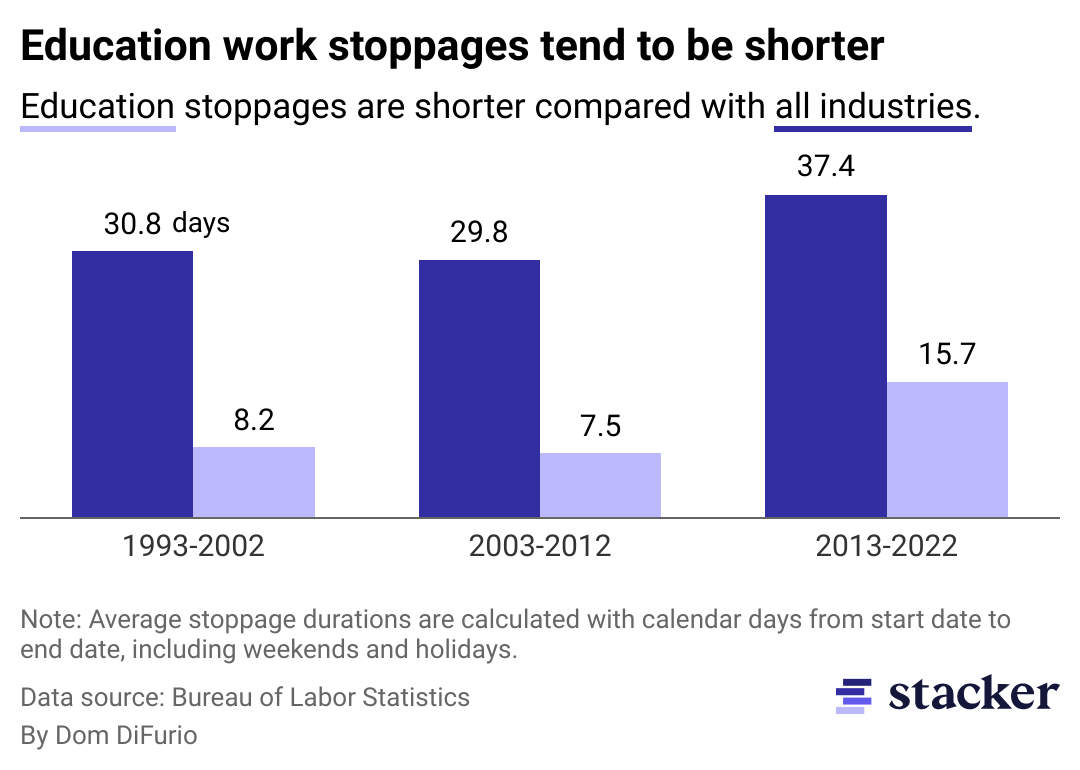 3 / 3
Shorter average strikes
Even as some libraries and other public institutions open their doors to children who need somewhere to be during the day, the hundreds of thousands of families affected by school closures are no doubt waiting for workers to reach an agreement with the district. Education workers' strikes have gotten longer in recent years but remain shorter on average when compared to all industries' strikes. The average strike in the education sector over the last three decades lasted about 11 days, just one-third of the average strike duration across all industries.