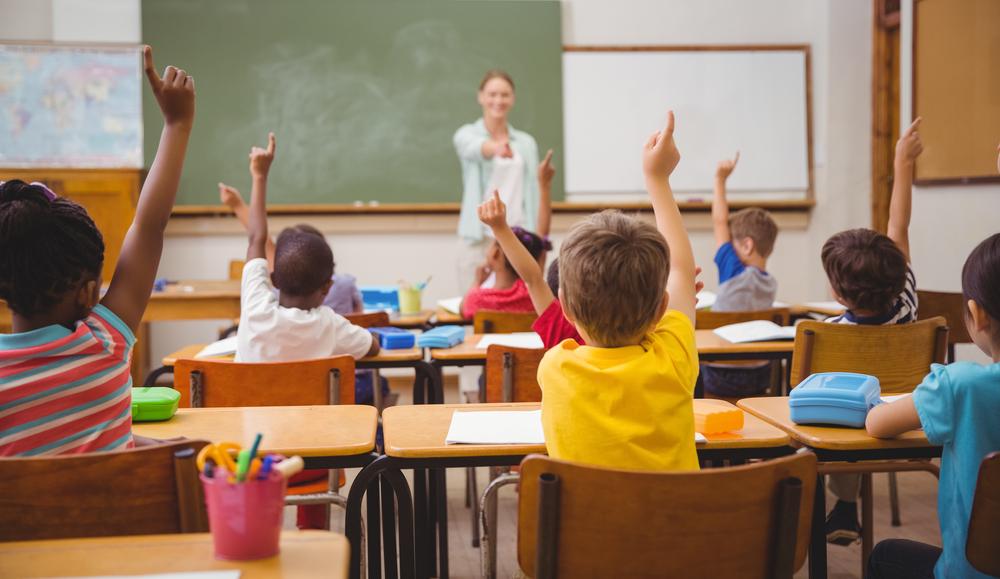 Lowest paying metros for elementary school teachers
ESB Professional // Shutterstock
Lowest paying metros for elementary school teachers
From coaxing energetic kids to focus on their classwork, to grading papers late into the night, elementary school teachers have challenging, time-intensive jobs. Although they may see rewards by way of successful student outcomes or gratitude from kids and parents, educators at the elementary level are not always well-compensated financially. In fact, some struggle just to make ends meet.
1.4 million people work as elementary school teachers nationwide, earning an average annual salary of $44,800. But some areas pay their educators far less, despite the fact that all elementary school teachers are required to have a bachelor's degree—and public school teachers require an additional state-issued license or certification.
At Stacker, we studied the Bureau of Labor Statistics' 2016 report on occupational wage estimates to see which places paid the lowest wages for elementary school teachers. In our analysis, we focused on metropolitan statistical areas (MSAs), relatively population-dense geographical regions united by close economic ties. North Carolina came up most often, taking up 10 spots on our list of 50 lowest-paying regions. Seven areas in Arizona came up too, as did multiple places in Florida, Idaho, and Mississippi.
In the next decade, elementary school teaching jobs are expected to grow by seven percent, the average for all occupations. Whether you're an aspiring teacher or a current educator, take note: these are the places in America that pay the lowest salaries to their elementary school teachers.
#50. Peoria, IL
Annual Mean Wage: $45,570
Annual 75th Percentile Wage: $56,290
Annual 90th Percentile Wage: $69,070
Total Employed: 1,990
#49. Grand Forks, ND-MN
Annual Mean Wage: $45,560
Annual 75th Percentile Wage: $53,030
Annual 90th Percentile Wage: $60,290
Total Employed: 550
#48. Tampa-St. Petersburg-Clearwater, FL
Annual Mean Wage: $45,460
Annual 75th Percentile Wage: $50,650
Annual 90th Percentile Wage: $61,390
Total Employed: 11,370
#47. Greensboro-High Point, NC
Annual Mean Wage: $45,440
Annual 75th Percentile Wage: $51,470
Annual 90th Percentile Wage: $59,690
Total Employed: 3,380
#46. Danville, IL
Annual Mean Wage: $45,420
Annual 75th Percentile Wage: $53,750
Annual 90th Percentile Wage: $62,670
Total Employed: 420
#45. Decatur, IL
Annual Mean Wage: $45,380
Annual 75th Percentile Wage: $55,640
Annual 90th Percentile Wage: $63,850
Total Employed: 540
#44. Cape Girardeau, MO-IL
Annual Mean Wage: $45,320
Annual 75th Percentile Wage: $50,970
Annual 90th Percentile Wage: $62,420
Total Employed: 570
#43. Dubuque, IA
Annual Mean Wage: $45,280
Annual 75th Percentile Wage: $53,460
Annual 90th Percentile Wage: $62,950
Total Employed: 400
#42. Burlington, NC
Annual Mean Wage: $45,130
Annual 75th Percentile Wage: $50,050
Annual 90th Percentile Wage: $58,880
Total Employed: 1,060
#41. Morristown, TN
Annual Mean Wage: $45,110
Annual 75th Percentile Wage: $50,870
Annual 90th Percentile Wage: $59,380
Total Employed: 310
#40. Lawrence, KS
Annual Mean Wage: $45,050
Annual 75th Percentile Wage: $50,680
Annual 90th Percentile Wage: $59,580
Total Employed: 430
#39. Jackson, TN
Annual Mean Wage: $45,010
Annual 75th Percentile Wage: $51,570
Annual 90th Percentile Wage: $59,920
Total Employed: 670
#38. Gulfport-Biloxi-Pascagoula, MS
Annual Mean Wage: $44,840
Annual 75th Percentile Wage: $49,720
Annual 90th Percentile Wage: $59,000
Total Employed: 1,710
#37. Sioux Falls, SD
Annual Mean Wage: $44,640
Annual 75th Percentile Wage: $53,320
Annual 90th Percentile Wage: $60,640
Total Employed: 1,100
#36. Harrisonburg, VA
Annual Mean Wage: $44,630
Annual 75th Percentile Wage: $49,340
Annual 90th Percentile Wage: $55,680
Total Employed: 590
#35. Hickory-Lenoir-Morganton, NC
Annual Mean Wage: $44,230
Annual 75th Percentile Wage: $51,440
Annual 90th Percentile Wage: $58,750
Total Employed: 1,380
#34. San Angelo, TX
Annual Mean Wage: $44,180
Annual 75th Percentile Wage: $49,520
Annual 90th Percentile Wage: $56,330
Total Employed: 550
#33. St. Joseph, MO-KS
Annual Mean Wage: $44,070
Annual 75th Percentile Wage: $49,580
Annual 90th Percentile Wage: $61,530
Total Employed: 480
#32. Durham-Chapel Hill, NC
Annual Mean Wage: $43,970
Annual 75th Percentile Wage: $50,680
Annual 90th Percentile Wage: $58,950
Total Employed: 2,290
#31. Tallahassee, FL
Annual Mean Wage: $43,840
Annual 75th Percentile Wage: $48,670
Annual 90th Percentile Wage: $55,150
Total Employed: 1,370
#30. Winston-Salem, NC
Annual Mean Wage: $43,820
Annual 75th Percentile Wage: $49,720
Annual 90th Percentile Wage: $58,340
Total Employed: 2,730
#29. Palm Bay-Melbourne-Titusville, FL
Annual Mean Wage: $43,800
Annual 75th Percentile Wage: $49,350
Annual 90th Percentile Wage: $56,900
Total Employed: 2,000
#28. Phoenix-Mesa-Scottsdale, AZ
Annual Mean Wage: $43,730
Annual 75th Percentile Wage: $49,650
Annual 90th Percentile Wage: $59,840
Total Employed: 15,010
#27. Florence, SC
Annual Mean Wage: $43,700
Annual 75th Percentile Wage: $54,360
Annual 90th Percentile Wage: $60,400
Total Employed: 1,210
#26. Longview, TX
Annual Mean Wage: $43,600
Annual 75th Percentile Wage: $49,330
Annual 90th Percentile Wage: $59,570
Total Employed: 1,150
#25. St. George, UT
Annual Mean Wage: $43,420
Annual 75th Percentile Wage: $50,470
Annual 90th Percentile Wage: $60,430
Total Employed: 970
#24. Jefferson City, MO
Annual Mean Wage: $43,240
Annual 75th Percentile Wage: $48,390
Annual 90th Percentile Wage: $66,380
Total Employed: 550
#23. Pine Bluff, AR
Annual Mean Wage: $43,140
Annual 75th Percentile Wage: $49,290
Annual 90th Percentile Wage: $56,910
Total Employed: Not Available
#22. Sierra Vista-Douglas, AZ
Annual Mean Wage: $42,930
Annual 75th Percentile Wage: $48,000
Annual 90th Percentile Wage: $60,590
Total Employed: 400
#21. Flagstaff, AZ
Annual Mean Wage: $42,730
Annual 75th Percentile Wage: $49,060
Annual 90th Percentile Wage: $57,400
Total Employed: 520
#20. Gainesville, FL
Annual Mean Wage: $42,670
Annual 75th Percentile Wage: $48,900
Annual 90th Percentile Wage: $56,750
Total Employed: 990
#19. Idaho Falls, ID
Annual Mean Wage: $42,660
Annual 75th Percentile Wage: $47,830
Annual 90th Percentile Wage: $55,550
Total Employed: 680
#18. Deltona-Daytona Beach-Ormond Beach, FL
Annual Mean Wage: $42,570
Annual 75th Percentile Wage: $48,250
Annual 90th Percentile Wage: $57,970
Total Employed: 2,170
#17. Wilmington, NC
Annual Mean Wage: $42,480
Annual 75th Percentile Wage: $48,260
Annual 90th Percentile Wage: $56,370
Total Employed: 1,010
#16. Yuma, AZ
Annual Mean Wage: $42,410
Annual 75th Percentile Wage: $48,320
Annual 90th Percentile Wage: $59,630
Total Employed: 960
#15. Oklahoma City, OK
Annual Mean Wage: $42,030
Annual 75th Percentile Wage: $48,370
Annual 90th Percentile Wage: $58,240
Total Employed: 5,430
#14. Prescott, AZ
Annual Mean Wage: $42,000
Annual 75th Percentile Wage: $47,950
Annual 90th Percentile Wage: $54,750
Total Employed: 440
#13. Greenville, NC
Annual Mean Wage: $41,650
Annual 75th Percentile Wage: $47,700
Annual 90th Percentile Wage: $55,730
Total Employed: 940
#12. Ocala, FL
Annual Mean Wage: $41,250
Annual 75th Percentile Wage: $46,010
Annual 90th Percentile Wage: $55,350
Total Employed: Not Available
#11. Alexandria, LA
Annual Mean Wage: $41,240
Annual 75th Percentile Wage: $46,450
Annual 90th Percentile Wage: $49,340
Total Employed: 1,000
#10. Jackson, MS
Annual Mean Wage: $41,180
Annual 75th Percentile Wage: $47,220
Annual 90th Percentile Wage: $52,810
Total Employed: 3,100
#9. Pocatello, ID
Annual Mean Wage: $40,990
Annual 75th Percentile Wage: $52,070
Annual 90th Percentile Wage: $60,050
Total Employed: Not Available
#8. Asheville, NC
Annual Mean Wage: $40,870
Annual 75th Percentile Wage: $48,050
Annual 90th Percentile Wage: $55,910
Total Employed: 1,340
#7. Tulsa, OK
Annual Mean Wage: $40,710
Annual 75th Percentile Wage: $46,530
Annual 90th Percentile Wage: $55,600
Total Employed: 4,180
#6. Fayetteville, NC
Annual Mean Wage: $40,270
Annual 75th Percentile Wage: $45,880
Annual 90th Percentile Wage: $50,620
Total Employed: 2,000
#5. Hattiesburg, MS
Annual Mean Wage: $40,070
Annual 75th Percentile Wage: $45,160
Annual 90th Percentile Wage: $49,860
Total Employed: 630
#4. Rocky Mount, NC
Annual Mean Wage: $39,470
Annual 75th Percentile Wage: $45,130
Annual 90th Percentile Wage: $50,240
Total Employed: 430
#3. Tucson, AZ
Annual Mean Wage: $39,420
Annual 75th Percentile Wage: $44,400
Annual 90th Percentile Wage: $50,300
Total Employed: 2,950
#2. Lake Havasu City-Kingman, AZ
Annual Mean Wage: $36,120
Annual 75th Percentile Wage: $43,430
Annual 90th Percentile Wage: $48,830
Total Employed: 480
#1. Grants Pass, OR
Annual Mean Wage: $34,170
Annual 75th Percentile Wage: $30,710
Annual 90th Percentile Wage: $67,330
Total Employed: 70