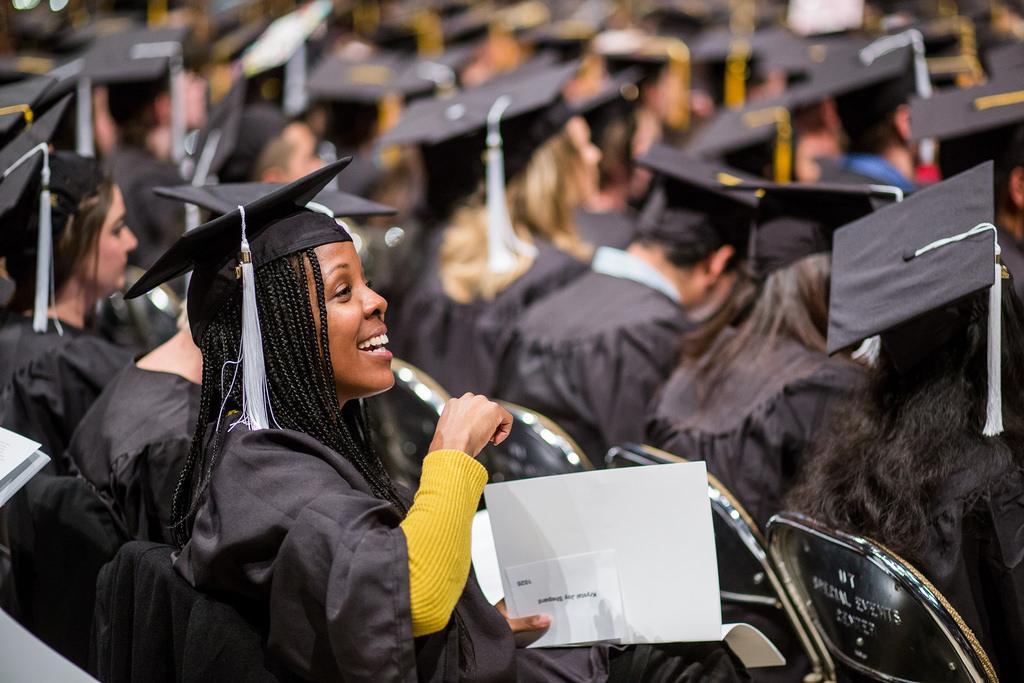 Most popular college major the year you graduated college
Austin Community College // Flickr
Most popular college major the year you graduated college
As the world continues to change drastically each and every day, so do the goals and aspirations of young people figuring out their lives as they embark on their respective educational journeys. More technologically driven corporations are taking over the global economy and America's youth is following suit, as science, technology, engineering, and mathematics (STEM) majors are more popular amongst college students than ever before. Between 2010 and 2016, the number of students enrolled in STEM majors at the undergraduate level or higher has risen 43%, indicating a shift away from humanities in favor of more empirical sciences. A look at the top areas of study over the past few decades speaks to the way in which cultural and economic shifts impact educational preferences.
Using data from the National Center for Education Statistics, Stacker listed the five most popular college majors from every year between 1980 and 2016. Each major is listed, along with the total number of degrees earned in the field that year, as well as information on whether the number increased or decreased from the year prior.
Read on to learn what the most popular major was the year you graduated from college.
RELATED: Click here to find out which college majors make the least money.
1980
#1 major: Business (184,867 degrees)
#2 major: Education (118,038 degrees)
#3 major: Social sciences and history (103,662 degrees)
#4 major: Foreign languages, literatures, and linguistics (63,920 degrees)
#5 major: Engineering (58,402 degrees)
1981
#1 major: Business (198,983 degrees, +7.64%)
#2 major: Education (108,074 degrees, -8.44%)
#3 major: Social sciences and history (100,513 degrees, -3.04%)
#4 major: Foreign languages, literatures, and linguistics (63,649 degrees, -0.42%)
#5 major: Engineering (63,287 degrees, +8.36%)

Biggest mover: Computer and information sciences, +35.57%
Biggest dropper: Education, -8.44%
1982
#1 major: Business (213,374 degrees, +7.23%)
#2 major: Education (100,932 degrees, -6.61%)
#3 major: Social sciences and history (99,705 degrees, -0.80%)
#4 major: Engineering (67,021 degrees, +5.90%)
#5 major: Foreign languages, literatures, and linguistics (63,653 degrees, +0.01%)

Biggest mover: Computer and information sciences, +34.03%
Biggest dropper: Library science, -18.13%
1983
#1 major: Business (226,627 degrees, +6.21%)
#2 major: Education (97,895 degrees, -3.01%)
#3 major: Social sciences and history (95,228 degrees, -4.49%)
#4 major: Engineering (72,163 degrees, +7.67%)
#5 major: Foreign languages, literatures, and linguistics (64,685 degrees, +1.62%)

Biggest mover: Legal professions and studies, +29.91%
Biggest dropper: Transportation and materials moving, -18.69%
1984
#1 major: Business (229,478 degrees, +1.26%)
#2 major: Social sciences and history (93,323 degrees, -2.00%)
#3 major: Education (92,299 degrees, -5.72%)
#4 major: Engineering (75,638 degrees, +4.82%)
#5 major: Foreign languages, literatures, and linguistics (64,288 degrees, -0.61%)

Biggest mover: Computer and information sciences, +31.26%
Biggest dropper: Public administration and social services, -12.79%
1985
#1 major: Business (232,636 degrees, +1.38%)
#2 major: Social sciences and history (91,570 degrees, -1.88%)
#3 major: Education (88,072 degrees, -4.58%)
#4 major: Engineering (77,066 degrees, +1.89%)
#5 major: Foreign languages, literatures, and linguistics (64,422 degrees, +0.21%)

Biggest mover: Precision production, +49.06%
Biggest dropper: Library science, -21.83%
1986
#1 major: Business (237,319 degrees, +2.01%)
#2 major: Social sciences and history (93,840 degrees, +2.48%)
#3 major: Education (87,114 degrees, -1.09%)
#4 major: Engineering (76,225 degrees, -1.09%)
#5 major: Foreign languages, literatures, and linguistics (64,396 degrees, -0.04%)

Biggest mover: Mathematics and statistics, +8.11%
Biggest dropper: Precision production, -27.67%
1987
#1 major: Business (240,546 degrees, +1.36%)
#2 major: Social sciences and history (96,342 degrees, +2.67%)
#3 major: Education (86,936 degrees, -0.20%)
#4 major: Engineering (73,747 degrees, -3.25%)
#5 major: Foreign languages, literatures, and linguistics (63,103 degrees, -2.01%)

Biggest mover: Precision production, +13.75%
Biggest dropper: Library science, -12.26%
1988
#1 major: Business (243,021 degrees, +1.03%)
#2 major: Social sciences and history (100,460 degrees, +4.27%)
#3 major: Education (91,112 degrees, +4.80%)
#4 major: Engineering (69,380 degrees, -5.92%)
#5 major: Foreign languages, literatures, and linguistics (60,644 degrees, -3.90%)

Biggest mover: Transportation and materials moving, +19.89%
Biggest dropper: Computer and information sciences, -12.80%
1989
#1 major: Business (246,399 degrees, +1.39%)
#2 major: Social sciences and history (108,151 degrees, +7.66%)
#3 major: Education (96,913 degrees, +6.37%)
#4 major: Engineering (66,099 degrees, -4.73%)
#5 major: Foreign languages, literatures, and linguistics (59,005 degrees, -2.70%)

Biggest mover: Legal professions and studies, +51.65%
Biggest dropper: Computer and information sciences, -11.79%
1990
#1 major: Business (248,698 degrees, +0.93%)
#2 major: Social sciences and history (118,083 degrees, +9.18%)
#3 major: Education (105,112 degrees, +8.46%)
#4 major: Engineering (63,609 degrees, -3.77%)
#5 major: Foreign languages, literatures, and linguistics (58,302 degrees, -1.19%)

Biggest mover: Transportation and materials moving, +15.76%
Biggest dropper: Library science, -36.36%
1991
#1 major: Business (249,311 degrees, +0.25%)
#2 major: Social sciences and history (125,107 degrees, +5.95%)
#3 major: Education (110,807 degrees, +5.42%)
#4 major: Engineering (61,531 degrees, -3.27%)
#5 major: Foreign languages, literatures, and linguistics (59,070 degrees, +1.32%)

Biggest mover: Not classified by field of study, +388.68%
Biggest dropper: Precision production, -12.88%
1992
#1 major: Business (256,603 degrees, +2.92%)
#2 major: Social sciences and history (133,974 degrees, +7.09%)
#3 major: Education (108,006 degrees, -2.53%)
#4 major: Psychology (63,513 degrees, +8.28%)
#5 major: Foreign languages, literatures, and linguistics (61,720 degrees, +4.49%)

Biggest mover: Parks, recreation, leisure, and fitness studies, +95.74%
Biggest dropper: Not classified by field of study, -49.31%
1993
#1 major: Business (256,842 degrees, +0.09%)
#2 major: Social sciences and history (135,703 degrees, +1.29%)
#3 major: Education (107,781 degrees, -0.21%)
#4 major: Foreign languages, literatures, and linguistics (67,089 degrees, +8.70%)
#5 major: Psychology (66,728 degrees, +5.06%)

Biggest mover: Parks, recreation, leisure, and fitness studies, +16.73%
Biggest dropper: Not classified by field of study, -21.92%
1994
#1 major: Business (246,265 degrees, -4.12%)
#2 major: Social sciences and history (133,680 degrees, -1.49%)
#3 major: Education (107,440 degrees, -0.32%)
#4 major: Health professions and related programs (75,890 degrees, +13.12%)
#5 major: Psychology (69,419 degrees, +4.03%)

Biggest mover: Health professions and related programs, +402.58%
Biggest dropper: Precision production, -99.48%
1995
#1 major: Business (233,895 degrees, -5.02%)
#2 major: Social sciences and history (128,154 degrees, -4.13%)
#3 major: Education (105,929 degrees, -1.41%)
#4 major: Health professions and related programs (81,596 degrees, +7.52%)
#5 major: Psychology (72,233 degrees, +4.05%)

Biggest mover: Military technologies and applied sciences, +42.11%
Biggest dropper: Not classified by field of study, -59.24%
1996
#1 major: Business (226,623 degrees, -3.11%)
#2 major: Social sciences and history (126,479 degrees, -1.31%)
#3 major: Education (105,384 degrees, -0.51%)
#4 major: Health professions and related programs (86,087 degrees, +5.50%)
#5 major: Psychology (73,416 degrees, +1.64%)

Biggest mover: Precision production, +1100.00%
Biggest dropper: Military technologies and applied sciences, -74.07%
1997
#1 major: Business (225,934 degrees, -0.30%)
#2 major: Social sciences and history (124,891 degrees, -1.26%)
#3 major: Education (105,116 degrees, -0.25%)
#4 major: Health professions and related programs (87,997 degrees, +2.22%)
#5 major: Psychology (74,308 degrees, +1.21%)

Biggest mover: Not classified by field of study, +176.54%
Biggest dropper: Military technologies and applied sciences, -42.86%
1998
#1 major: Business (232,079 degrees, +2.72%)
#2 major: Social sciences and history (125,040 degrees, +0.12%)
#3 major: Education (105,833 degrees, +0.68%)
#4 major: Health professions and related programs (86,843 degrees, -1.31%)
#5 major: Psychology (74,107 degrees, -0.27%)

Biggest mover: Precision production, +173.68%
Biggest dropper: Not classified by field of study, -71.73%
1999
#1 major: Business (240,947 degrees, +3.82%)
#2 major: Social sciences and history (124,658 degrees, -0.31%)
#3 major: Education (107,086 degrees, +1.18%)
#4 major: Health professions and related programs (85,214 degrees, -1.88%)
#5 major: Psychology (73,636 degrees, -0.64%)

Biggest mover: Communications technologies, +22.55%
Biggest dropper: Not classified by field of study, -99.64%
2000
#1 major: Business (256,070 degrees, +6.28%)
#2 major: Social sciences and history (127,101 degrees, +1.96%)
#3 major: Education (108,034 degrees, +0.89%)
#4 major: Health professions and related programs (80,863 degrees, -5.11%)
#5 major: Psychology (74,194 degrees, +0.76%)

Biggest mover: Not classified by field of study, +47860.00%
Biggest dropper: Precision production, -23.26%
2001
#1 major: Business (263,515 degrees, +2.91%)
#2 major: Social sciences and history (128,036 degrees, +0.74%)
#3 major: Education (105,458 degrees, -2.38%)
#4 major: Health professions and related programs (75,933 degrees, -6.10%)
#5 major: Psychology (73,645 degrees, -0.74%)

Biggest mover: Military technologies and applied sciences, +200.00%
Biggest dropper: Not classified by field of study, -67.35%
2002
#1 major: Business (278,217 degrees, +5.58%)
#2 major: Social sciences and history (132,874 degrees, +3.78%)
#3 major: Education (106,295 degrees, +0.79%)
#4 major: Psychology (76,775 degrees, +4.25%)
#5 major: Health professions and related programs (72,887 degrees, -4.01%)

Biggest mover: Precision production, +51.61%
Biggest dropper: Military technologies and applied sciences, -85.71%
2003
#1 major: Business (293,545 degrees, +5.51%)
#2 major: Social sciences and history (143,218 degrees, +7.78%)
#3 major: Education (105,790 degrees, -0.48%)
#4 major: Psychology (78,613 degrees, +2.39%)
#5 major: Visual and performing arts (71,474 degrees, +7.04%)

Biggest mover: Military technologies and applied sciences, +100.00%
Biggest dropper: Not classified by field of study, -100.00%
2004
#1 major: Business (307,149 degrees, +4.63%)
#2 major: Social sciences and history (150,357 degrees, +4.98%)
#3 major: Education (106,278 degrees, +0.46%)
#4 major: Psychology (82,098 degrees, +4.43%)
#5 major: Visual and performing arts (77,181 degrees, +7.98%)

Biggest mover: Military technologies and applied sciences, +66.67%
Biggest dropper: Library science, -27.27%
2005
#1 major: Business (311,574 degrees, +1.44%)
#2 major: Social sciences and history (156,892 degrees, +4.35%)
#3 major: Education (105,451 degrees, -0.78%)
#4 major: Psychology (85,614 degrees, +4.28%)
#5 major: Visual and performing arts (80,955 degrees, +4.89%)

Biggest mover: Military technologies and applied sciences, +300.00%
Biggest dropper: Computer and information sciences, -9.04%
2006
#1 major: Business (318,042 degrees, +2.08%)
#2 major: Social sciences and history (161,485 degrees, +2.93%)
#3 major: Education (107,238 degrees, +1.69%)
#4 major: Health professions and related programs (91,973 degrees, +13.99%)
#5 major: Psychology (88,134 degrees, +7.35%)

Biggest mover: Communications technologies, +18.15%
Biggest dropper: Military technologies and applied sciences, -17.50%
2007
#1 major: Business (327,531 degrees, +2.98%)
#2 major: Social sciences and history (164,183 degrees, +1.67%)
#3 major: Education (105,641 degrees, -1.49%)
#4 major: Health professions and related programs (101,810 degrees, +10.70%)
#5 major: Psychology (90,039 degrees, +2.16%)

Biggest mover: Military technologies and applied sciences, +409.09%
Biggest dropper: Precision production, -58.18%
2008
#1 major: Business (335,254 degrees, +2.36%)
#2 major: Social sciences and history (167,363 degrees, +1.94%)
#3 major: Health professions and related programs (111,478 degrees, +9.50%)
#4 major: Education (102,582 degrees, -2.90%)
#5 major: Psychology (92,587 degrees, +2.83%)

Biggest mover: Precision production, +43.48%
Biggest dropper: Military technologies and applied sciences, -76.79%
2009
#1 major: Business (348,056 degrees, +3.82%)
#2 major: Social sciences and history (168,517 degrees, +0.69%)
#3 major: Health professions and related programs (120,420 degrees, +8.02%)
#4 major: Education (101,716 degrees, -0.84%)
#5 major: Psychology (94,273 degrees, +1.82%)

Biggest mover: Military technologies and applied sciences, +41.03%
Biggest dropper: Not classified by field of study, -100.00%
2010
#1 major: Business (358,119 degrees, +2.89%)
#2 major: Social sciences and history (172,782 degrees, +2.53%)
#3 major: Health professions and related programs (129,623 degrees, +7.64%)
#4 major: Education (101,287 degrees, -0.42%)
#5 major: Psychology (97,215 degrees, +3.12%)

Biggest mover: Library science, +8.97%
Biggest dropper: Communications technologies, -6.24%
2011
#1 major: Business (365,133 degrees, +1.96%)
#2 major: Social sciences and history (177,169 degrees, +2.54%)
#3 major: Health professions and related programs (143,463 degrees, +10.68%)
#4 major: Education (104,008 degrees, +2.69%)
#5 major: Psychology (100,906 degrees, +3.80%)

Biggest mover: Precision production, +48.28%
Biggest dropper: Architecture and related services, -2.19%
2012
#1 major: Business (367,235 degrees, +0.58%)
#2 major: Social sciences and history (178,534 degrees, +0.77%)
#3 major: Health professions and related programs (163,675 degrees, +14.09%)
#4 major: Psychology (109,099 degrees, +8.12%)
#5 major: Education (105,656 degrees, +1.58%)

Biggest mover: Military technologies and applied sciences, +34.38%
Biggest dropper: Precision production, -13.95%
2013
#1 major: Business (360,887 degrees, -1.73%)
#2 major: Health professions and related programs (181,149 degrees, +10.68%)
#3 major: Social sciences and history (177,767 degrees, -0.43%)
#4 major: Psychology (114,446 degrees, +4.90%)
#5 major: Education (104,698 degrees, -0.91%)

Biggest mover: Military technologies and applied sciences, +22.09%
Biggest dropper: Transportation and materials moving, -4.41%
2014
#1 major: Business (358,079 degrees, -0.78%)
#2 major: Health professions and related programs (198,770 degrees, +9.73%)
#3 major: Social sciences and history (173,096 degrees, -2.63%)
#4 major: Psychology (117,298 degrees, +2.49%)
#5 major: Biological and biomedical sciences (104,633 degrees, +4.22%)

Biggest mover: Military technologies and applied sciences, +76.19%
Biggest dropper: Area, ethnic, cultural, gender, and group studies, -6.50%
2015
#1 major: Business (363,741 degrees, +1.58%)
#2 major: Health professions and related programs (216,228 degrees, +8.78%)
#3 major: Social sciences and history (166,971 degrees, -3.54%)
#4 major: Psychology (117,573 degrees, +0.23%)
#5 major: Biological and biomedical sciences (109,904 degrees, +5.04%)

Biggest mover: Military technologies and applied sciences, +49.19%
Biggest dropper: Library science, -22.05%
2016
#1 major: Business (371,694 degrees, +2.19%)
#2 major: Health professions and related programs (228,896 degrees, +5.86%)
#3 major: Social sciences and history (161,230 degrees, -3.44%)
#4 major: Psychology (117,440 degrees, -0.11%)
#5 major: Biological and biomedical sciences (113,749 degrees, +3.50%)

Biggest mover: Military technologies and applied sciences, +29.71%
Biggest dropper: Library science, -14.14%