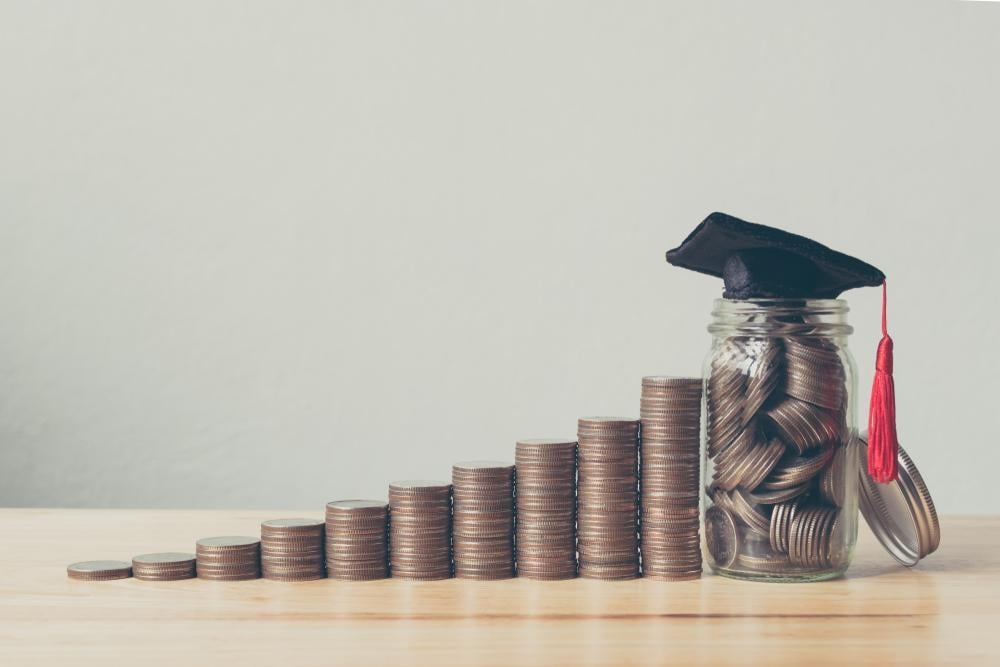 Private high schools that cost more than most colleges
Monster Ztudio // Shutterstock
Private high schools that cost more than most colleges
Perhaps one of the greatest epidemics plaguing the nation is the student loan crisis, as approximately 4 in 10 adults under the age of 30 face some degree of debt upon college graduation. This is a staggering figure, especially if one considers the fact that the overwhelming, ever-rising majority of high school students attend a free public high school, indicating that their financial burden stemming from academia is likely the cost of college.
The regularity with which loans are taken out speaks to the difficulty of paying for university, and also highlights the immense wealth held by families who can afford to pay for college in full—and who send their children to private high schools before that. Families who ultimately decide to invest in a private education for their teenagers justify doing so by arguing that the long-term benefits will outweigh the short-term costs, and in many cases they do, but those short-term costs are staggering nonetheless.
In seeking to find out just how much these elite preparatory academies cost, Stacker referenced data from Niche and Chronicle to compile a list of private high schools whose annual tuitions exceed that of many colleges and universities. The schools listed are included along with their annual tuition, as well the exact number of institutions of higher learning whose tuitions are exceeded by that of the particular private school. Read on to discover where the richest of the rich send their children to high school.
Note: When pictures of the school were not available, pictured is the neighboring area or comparable college listed.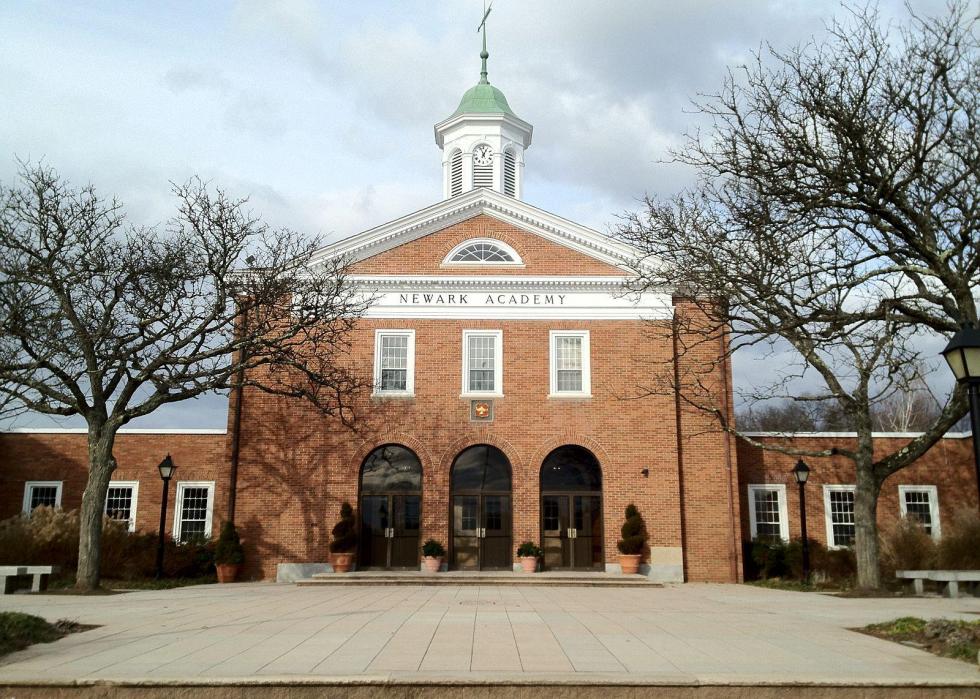 1 / 50
RahulPatel1014 // Wikicommons
#50. Newark Academy
Newark Academy 2018 Tuition: $39,350
Tuition is more than 2,421 colleges.
Comparable college: Austin College, where tuition is $38,825.
Location: Livingston, NJ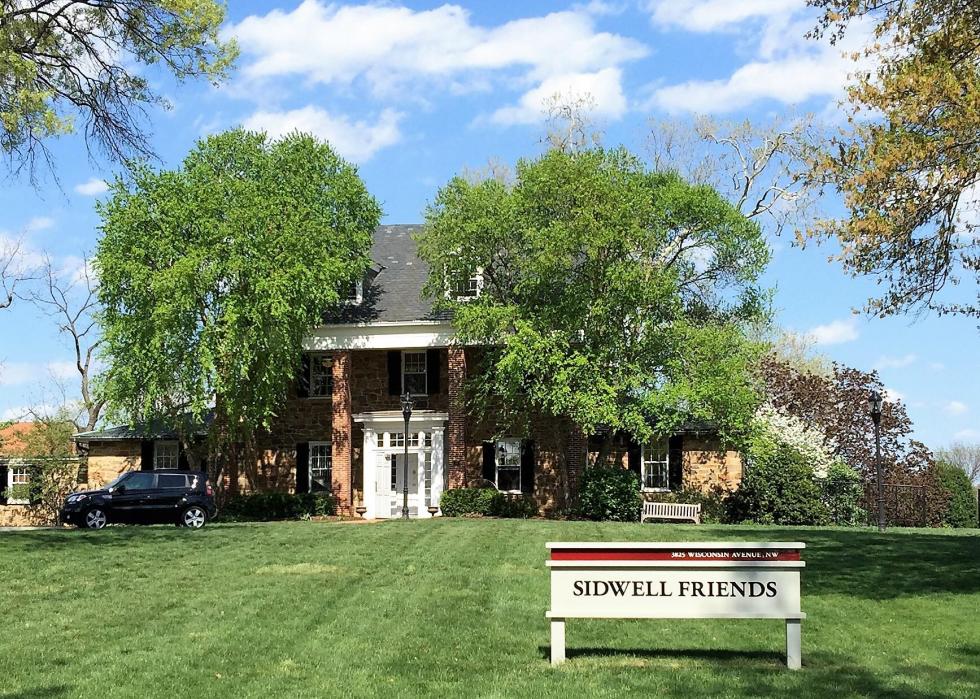 2 / 50
#49. Sidwell Friends School
Sidwell Friends School 2018 Tuition: $39,360
Tuition is more than 2,421 colleges.
Comparable college: Millsaps College, where tuition is $38,930.
Location: Washington, DC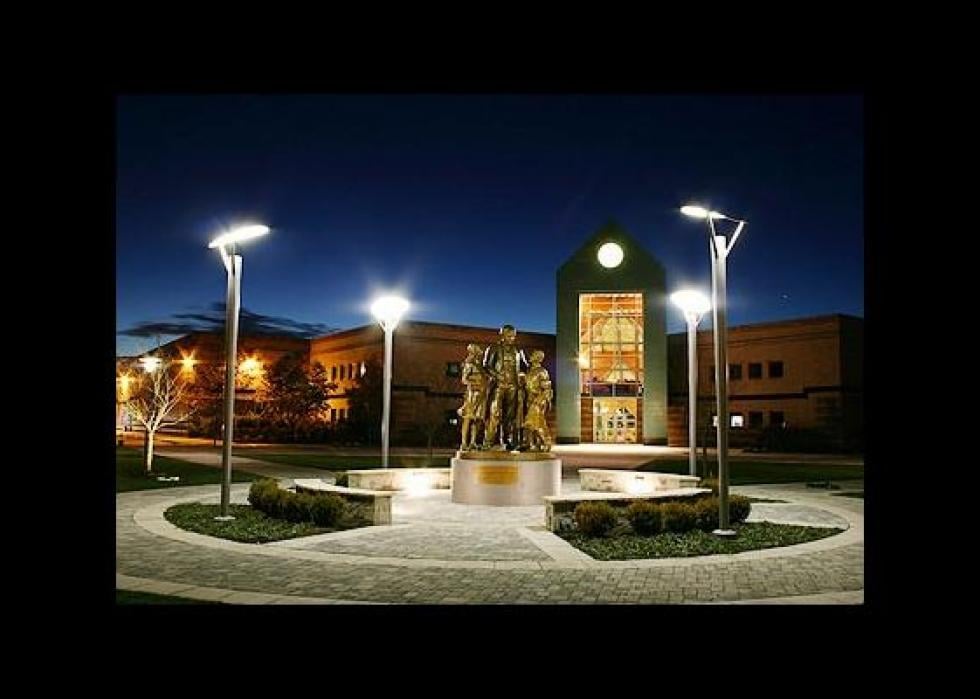 3 / 50
Rizachar // Wikimedia Commons
#48. The Pingry School
The Pingry School 2018 Tuition: $39,523
Tuition is more than 2,427 colleges.
Comparable college: University of Tulsa, where tuition is $39,502.
Location: Basking Ridge, NJ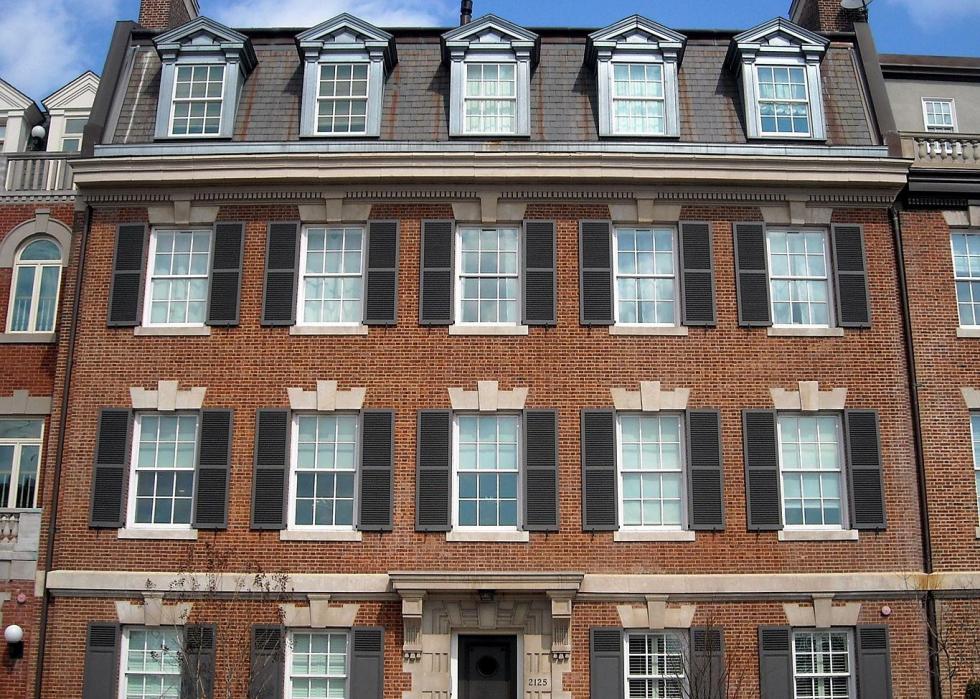 4 / 50
Holton Condominium from 1906 to 1963 — AgnosticPreachersKid // WIkicommons
#47. Holton-Arms School
Holton-Arms School 2018 Tuition: $40,150
Tuition is more than 2,446 colleges.
Comparable college: Rochester Institute of Technology, where tuition is $40,068.
Location: Bethesda, MA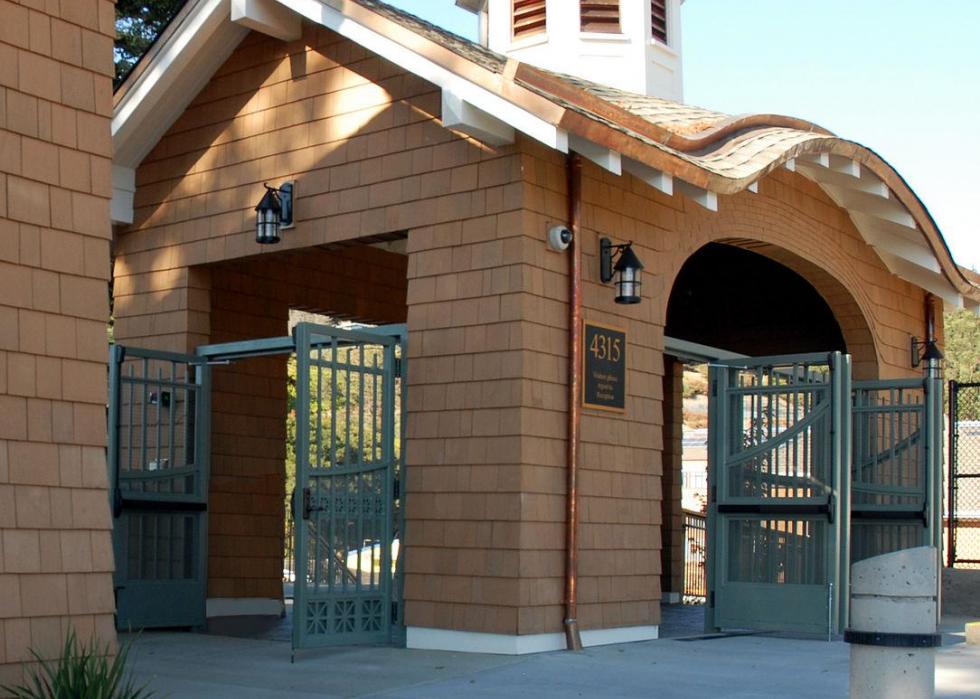 5 / 50
Nomadic.intelligentsia // Wikicommons
#46. Head-Royce School
Head-Royce School 2018 Tuition: $40,950
Tuition is more than 2,486 colleges.
Comparable college: St. Mary's College, where tuition is $40,800.
Location: Oakland, CA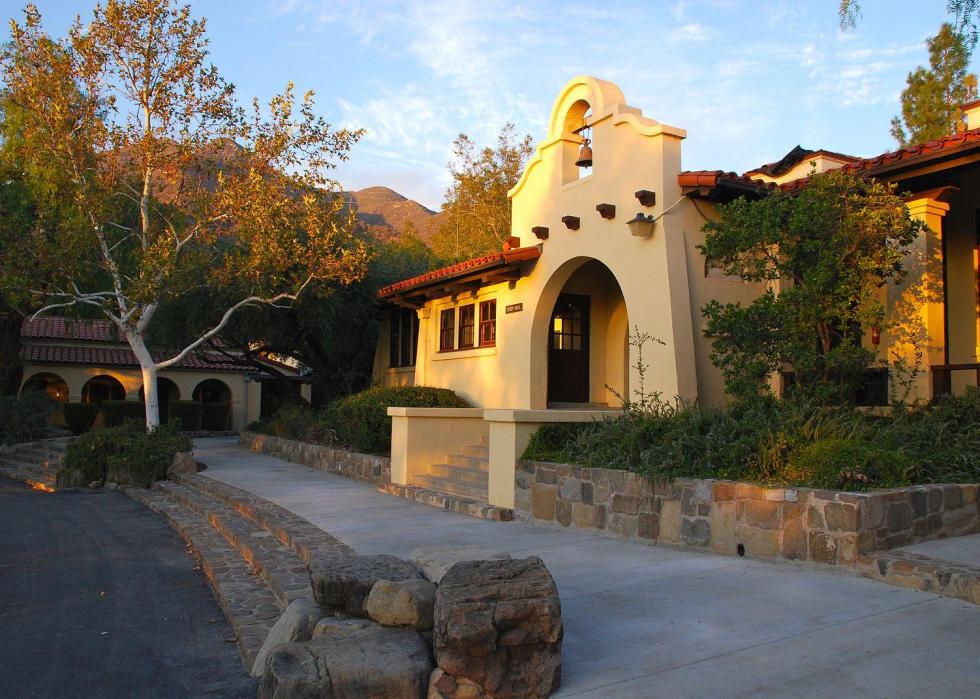 6 / 50
#45. The Thacher School
The Thacher School 2018 Tuition: $40,970
Tuition is more than 2,487 colleges.
Comparable college: Cornell College, where tuition is $40,880.
Location: Ojai, CA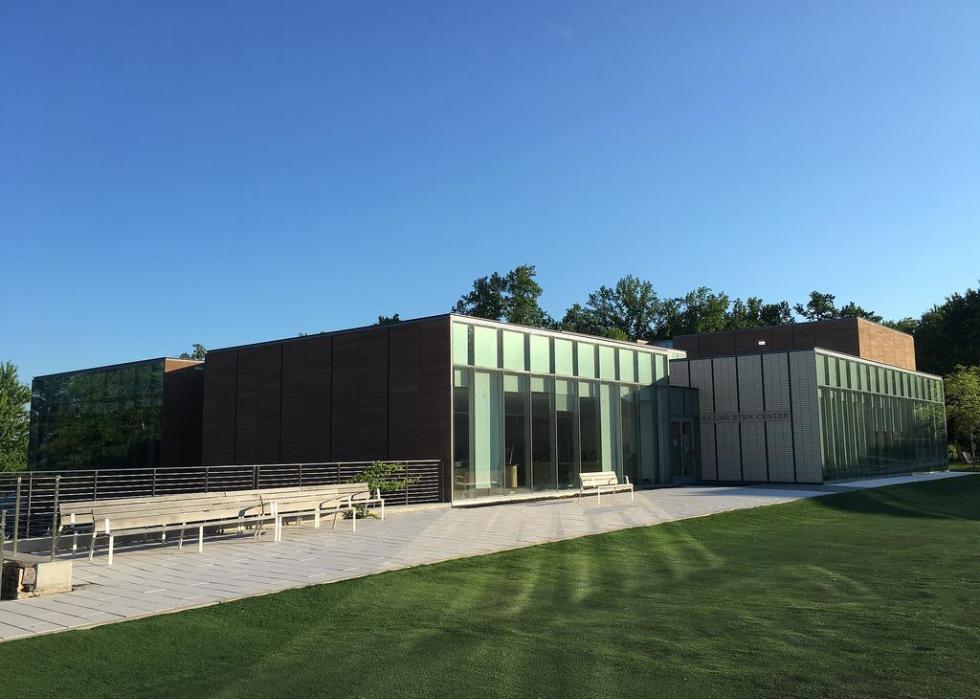 7 / 50
#44. Dwight-Englewood School
Dwight-Englewood School 2018 Tuition: $41,780
Tuition is more than 2,513 colleges.
Comparable college: Luther College, where tuition is $41,020.
Location: Englewood, NJ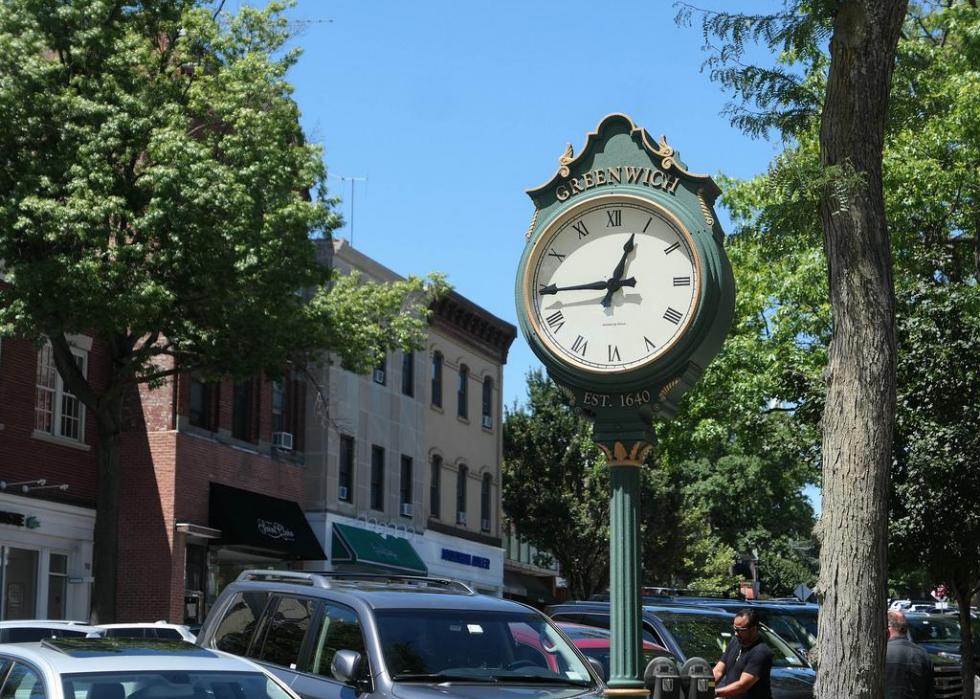 8 / 50
Greenwhich Academy is in Greenwich, CT — Paul Sableman // Flickr
#43. Greenwich Academy
Greenwich Academy 2018 Tuition: $41,890
Tuition is more than 2,515 colleges.
Comparable college: University of California–Los Angeles, where tuition is 41,270 (out-of-state).
Location: Greenwich, CT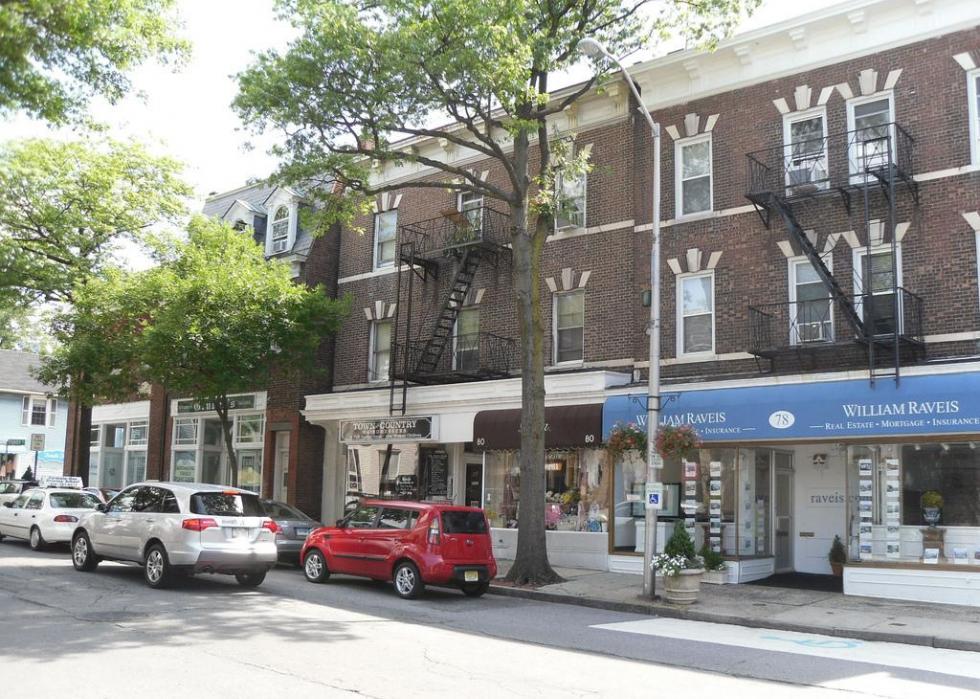 9 / 50
Rye Country Day School in is Rye, NY — Doug Kerr // Flickr
#42. Rye Country Day School
Rye Country Day School 2018 Tuition: $41,900
Tuition is more than 2,516 colleges.
Comparable college: Stonehill College, where tuition is $41,300.
Location: Rye, NY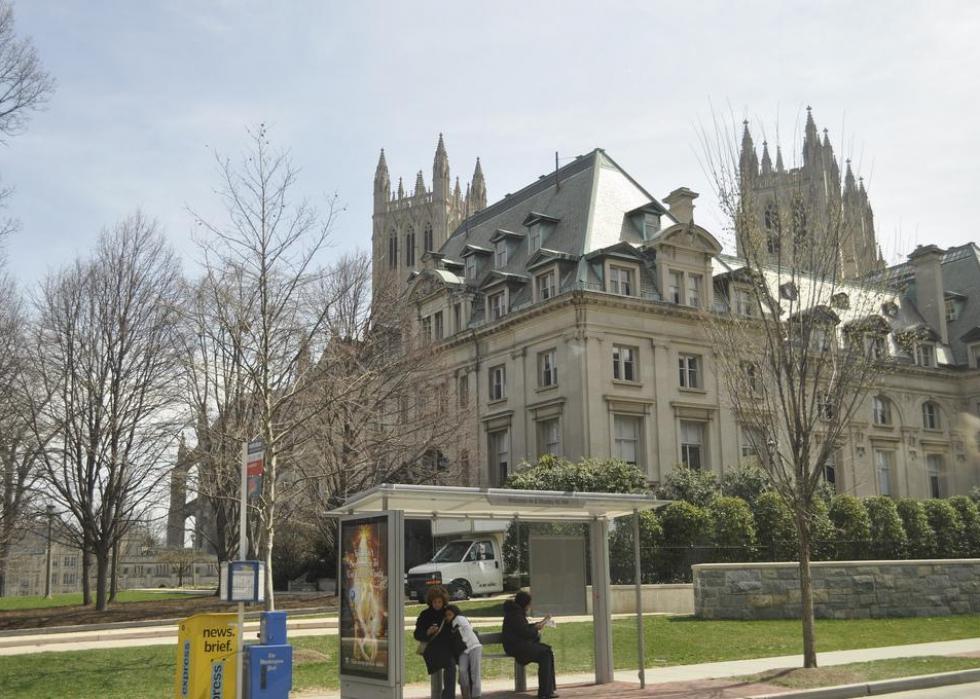 10 / 50
#41. National Cathedral School
National Cathedral School 2018 Tuition: $41,975
Tuition is more than 2,518 colleges.
Comparable college: Linfield College, where tuition is $41,612.
Location: Washington, DC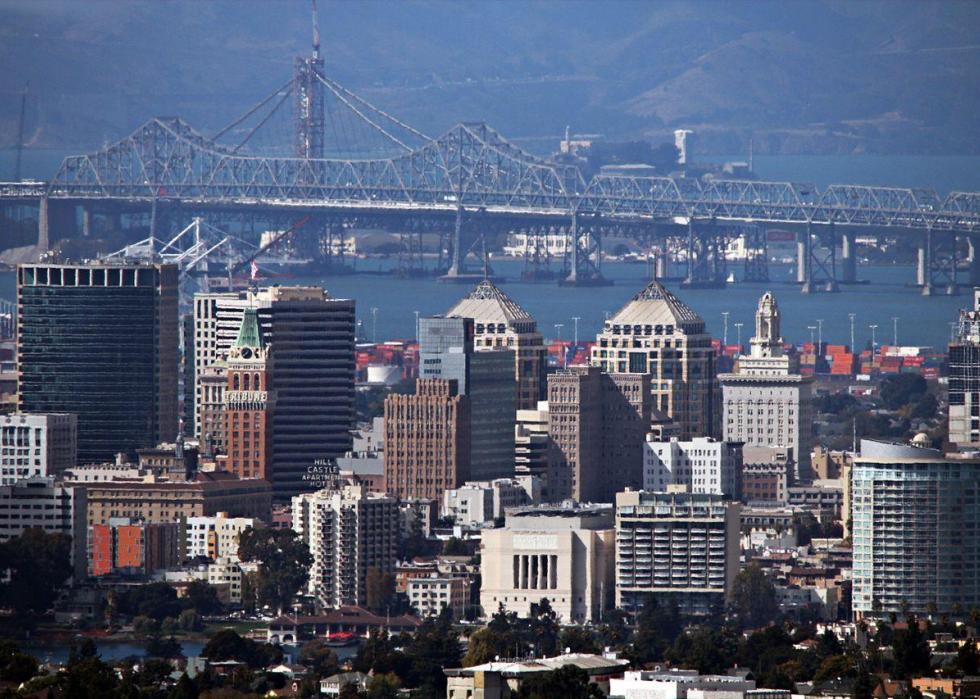 11 / 50
Oakland, CA area — Basil D Soufi // Wikicommons
#40. The College Preparatory School
The College Preparatory School 2018 Tuition: $42,020
Tuition is more than 2,521 colleges.
Comparable college: Ripon College, where tuition is $41,835.
Location: Oakland, CA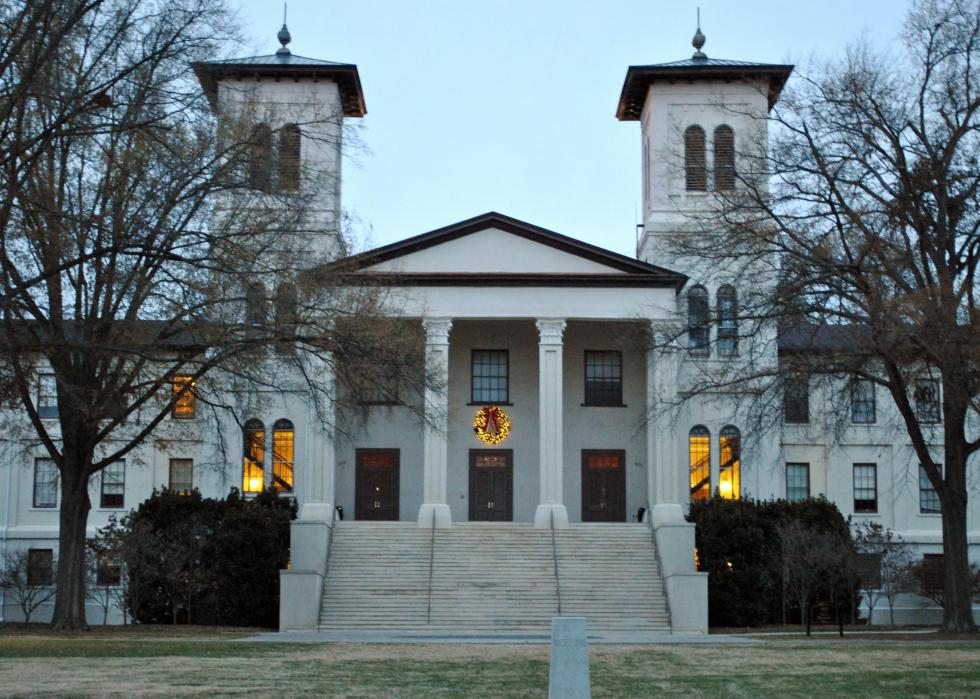 12 / 50
Wofford College — PegasusRacer28 // Wikicommons
#39. Hopkins School
Hopkins School 2018 Tuition: $42,200
Tuition is more than 2,528 colleges.
Comparable college: Wofford College, where tuition is $41,955.
Location: New Haven, CT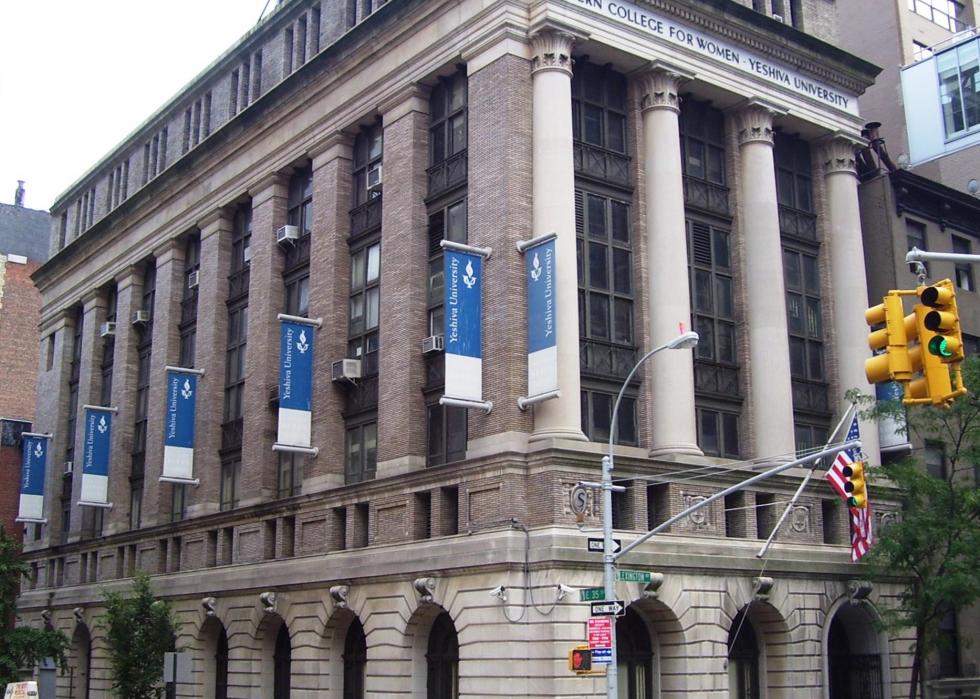 13 / 50
Yeshiva University — Beyond My Ken // Wikicommons
#38. The Branson School
The Branson School 2018 Tuition: $42,285
Tuition is more than 2,531 colleges.
Comparable college: Yeshiva University, where tuition is $42,000.
Location: Ross, CA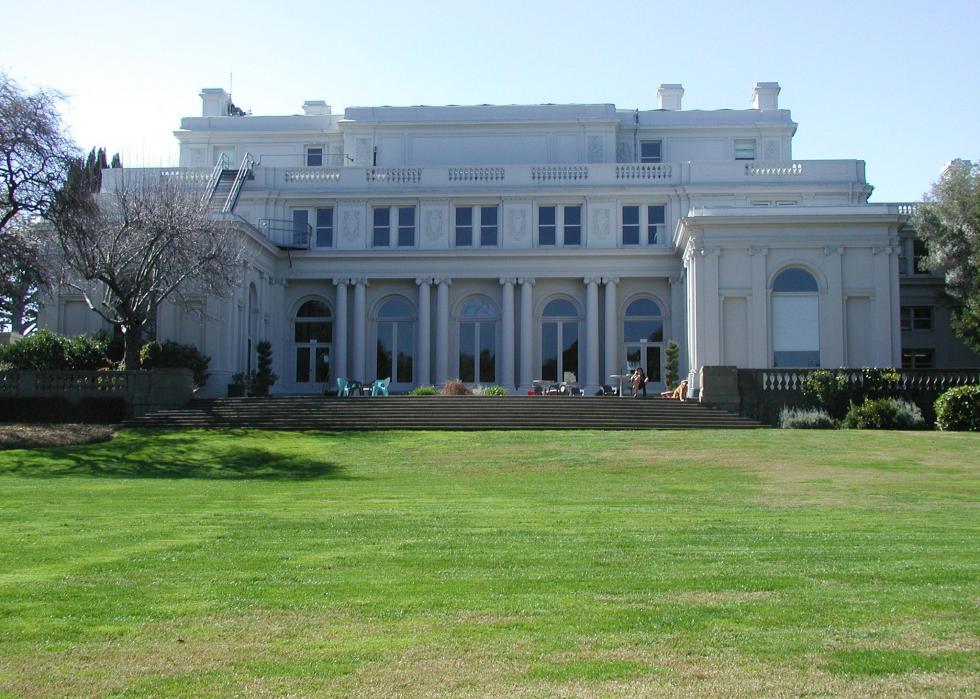 14 / 50
#37. Crystal Springs Uplands School
Crystal Springs Uplands School 2018 Tuition: $42,430
Tuition is more than 2,538 colleges.
Comparable college: University of California–Santa Cruz, where tuition is 42,042 (out-of-state).
Location: Hillsborough, CA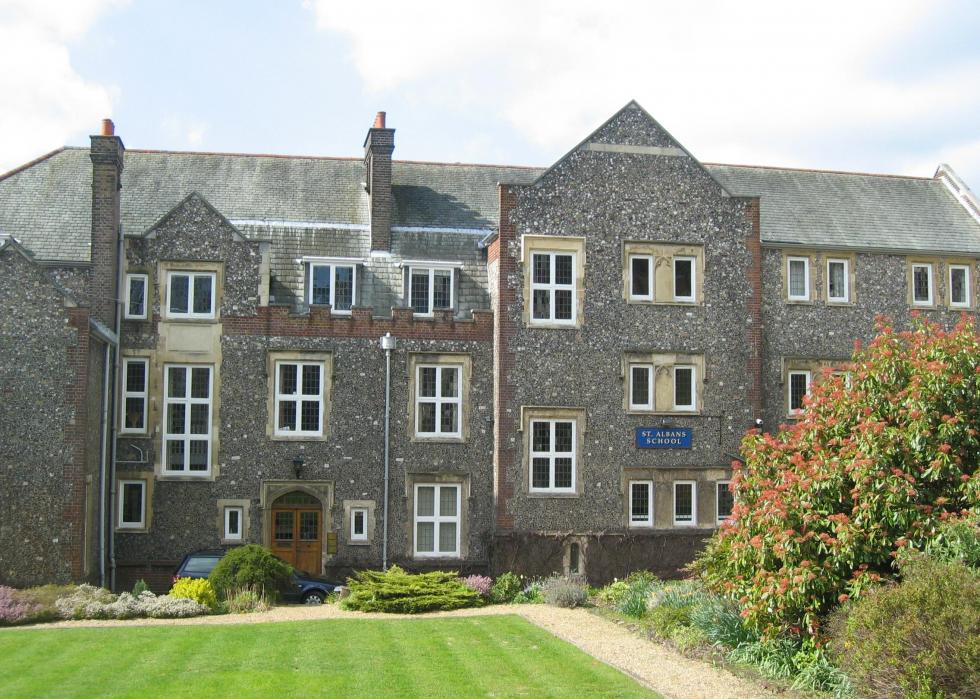 15 / 50
Gary Houston // Wikicommons
#36. St. Albans School
St. Albans School 2018 Tuition: $42,484
Tuition is more than 2,538 colleges.
Comparable college: University of California–Berkeley, where tuition is 42,112 (out-of-state).
Location: Washington, DC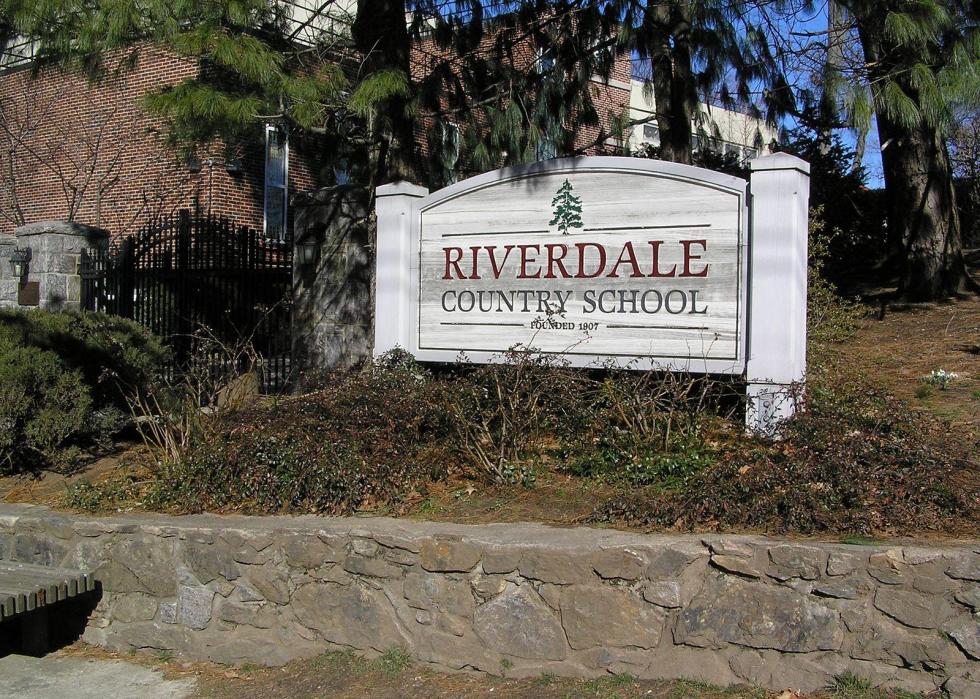 16 / 50
Public Domain // Wikicommons
#35. Riverdale Country School
Riverdale Country School 2018 Tuition: $42,805
Tuition is more than 2,547 colleges.
Comparable college: Saint Louis University, where tuition is $42,166.
Location: Bronx, NY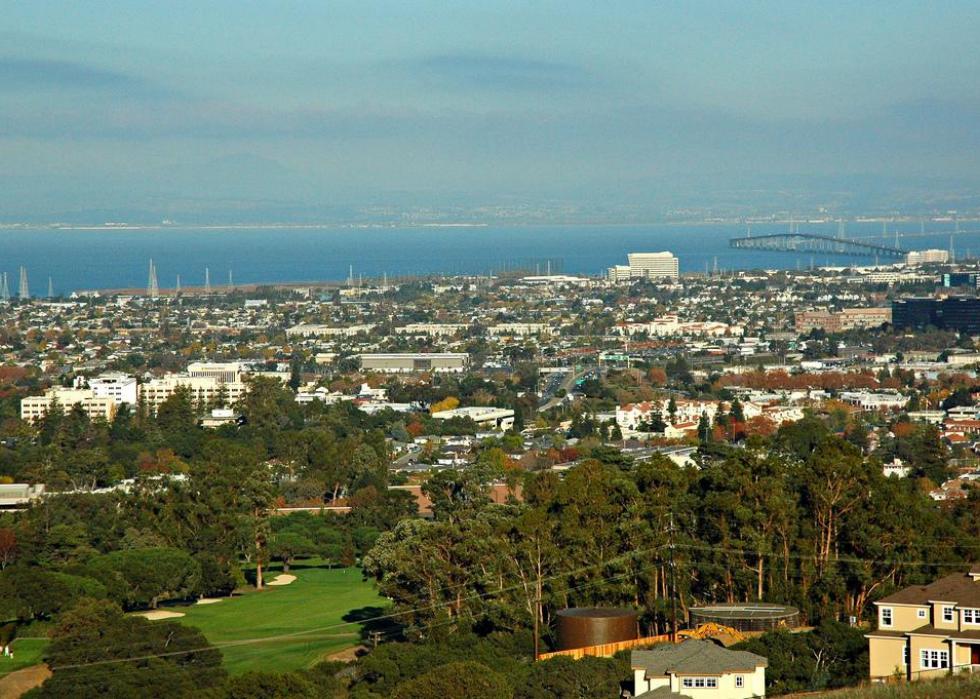 17 / 50
Menlo School is in San Mateo County pictured here — Wonderlane // Flickr
#34. Menlo School
Menlo School 2018 Tuition: $42,830
Tuition is more than 2,546 colleges.
Comparable college: Wabash College, where tuition is $42,250.
Location: Atherton, CA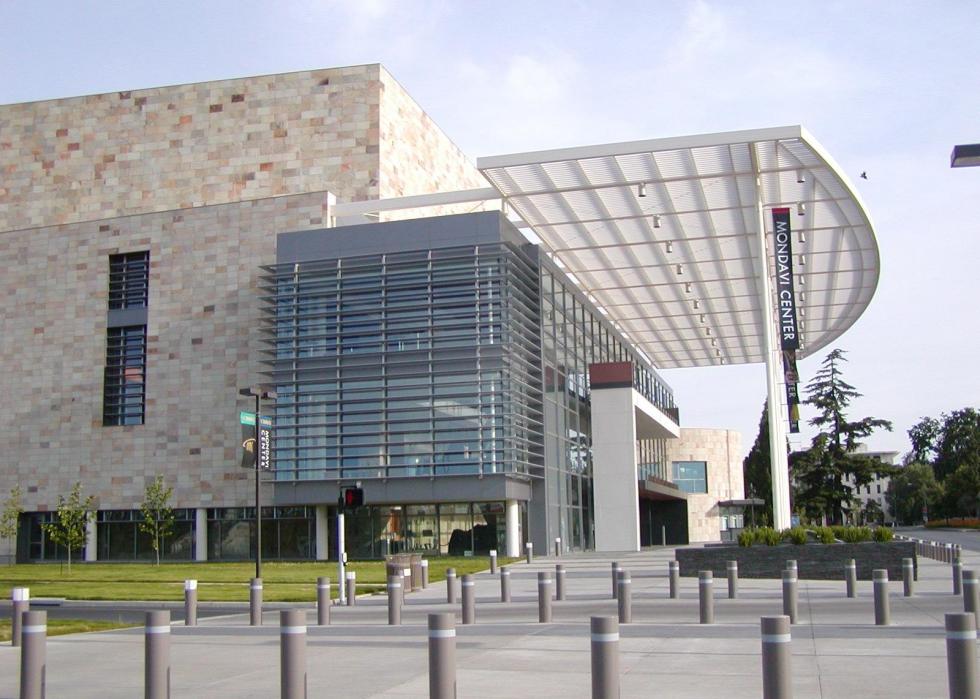 18 / 50
University of California–Davis — Bev Sykes // Wikicommons
#33. Poly Preparatory Country Day School
Poly Preparatory Country Day School 2018 Tuition: $42,850
Tuition is more than 2,546 colleges.
Comparable college: University of California–Davis, where tuition is 42,396 (out-of-state).
Location: Brooklyn, NY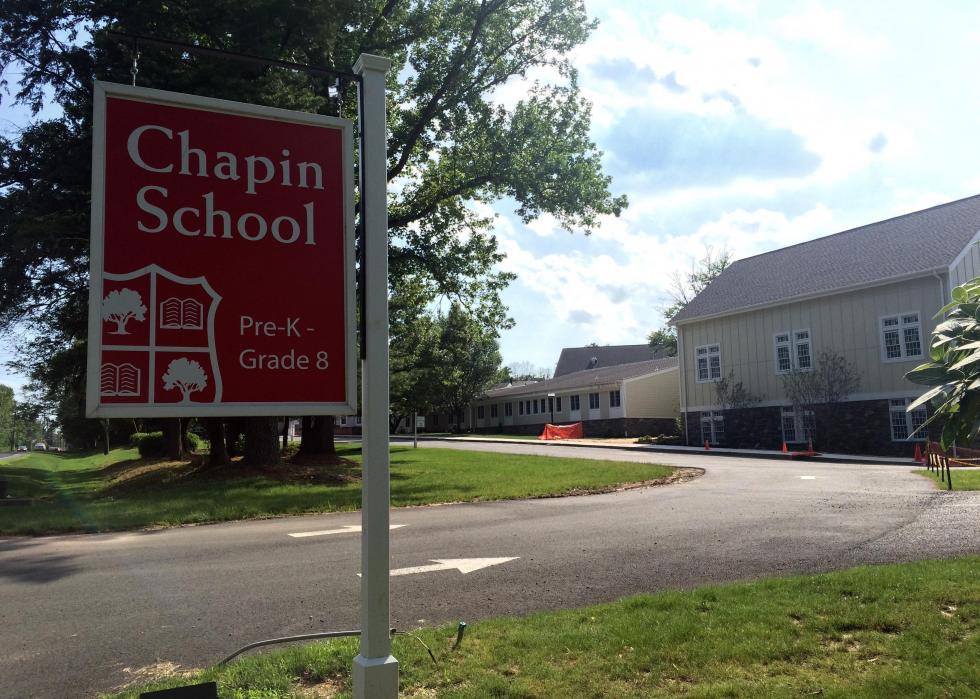 19 / 50
David Keddie // Wikicommons
#32. The Chapin School
The Chapin School 2018 Tuition: $43,000
Tuition is more than 2,549 colleges.
Comparable college: University of California–Santa Barbara, where tuition is 42,423 (out-of-state).
Location: New York, NY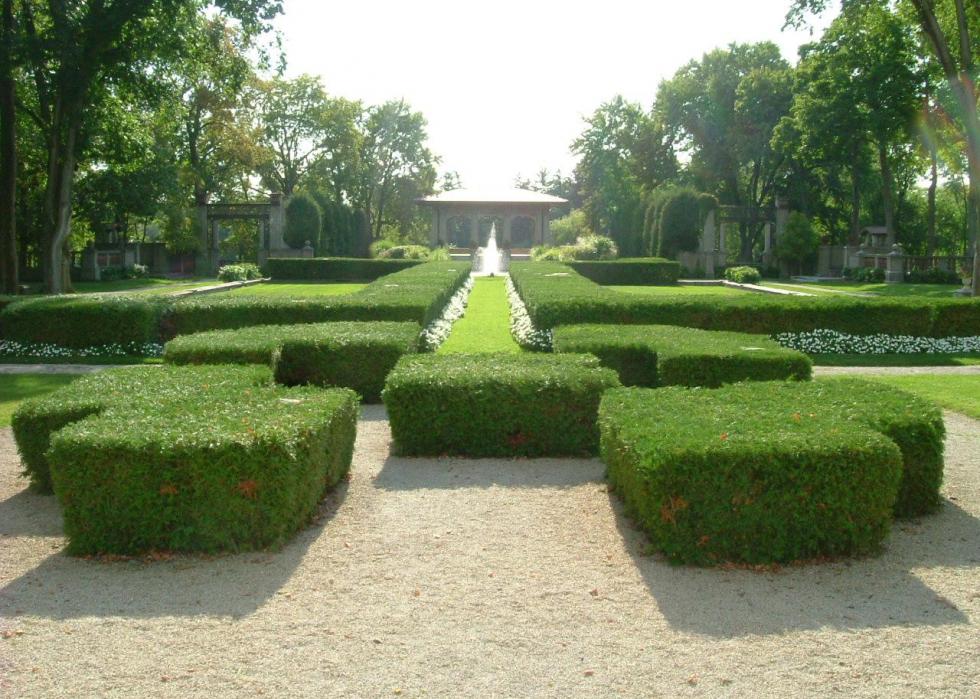 20 / 50
Formal Gardens in Lake Forest Academy — Kane5187 // Wikicommons
#31. Lake Forest Academy
Lake Forest Academy 2018 Tuition: $43,150
Tuition is more than 2,555 colleges.
Comparable college: Albion College, where tuition is $43,050.
Location: Lake Forest, IL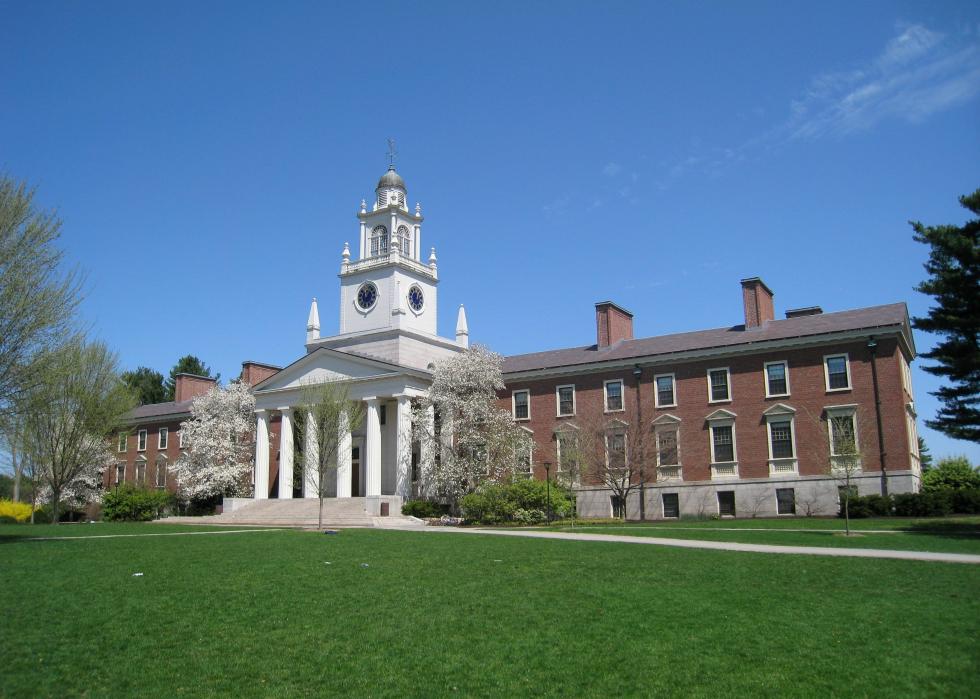 21 / 50
#30. Phillips Academy
Phillips Academy 2018 Tuition: $43,300
Tuition is more than 2,564 colleges.
Comparable college: College of William and Mary, where tuition is 43,099 (out-of-state).
Location: Andover, MA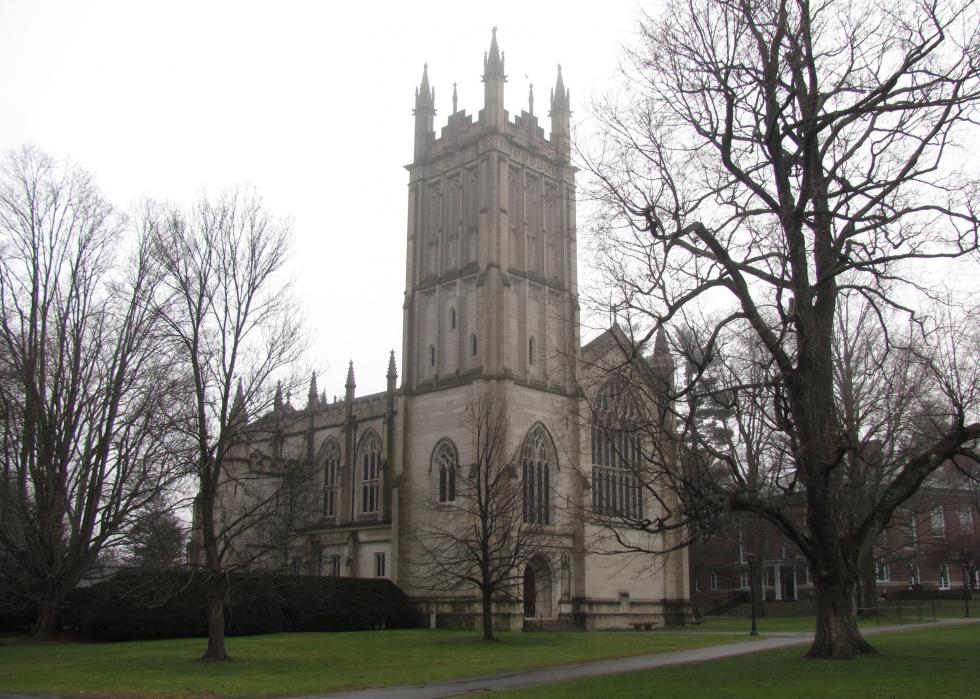 22 / 50
St. John's chapel in the Groton School — John Phelan // Wikicommons
#29. Groton School
Groton School 2018 Tuition: $43,400
Tuition is more than 2,564 colleges.
Comparable college: St. John's University, where tuition is $43,356.
Location: Groton, MA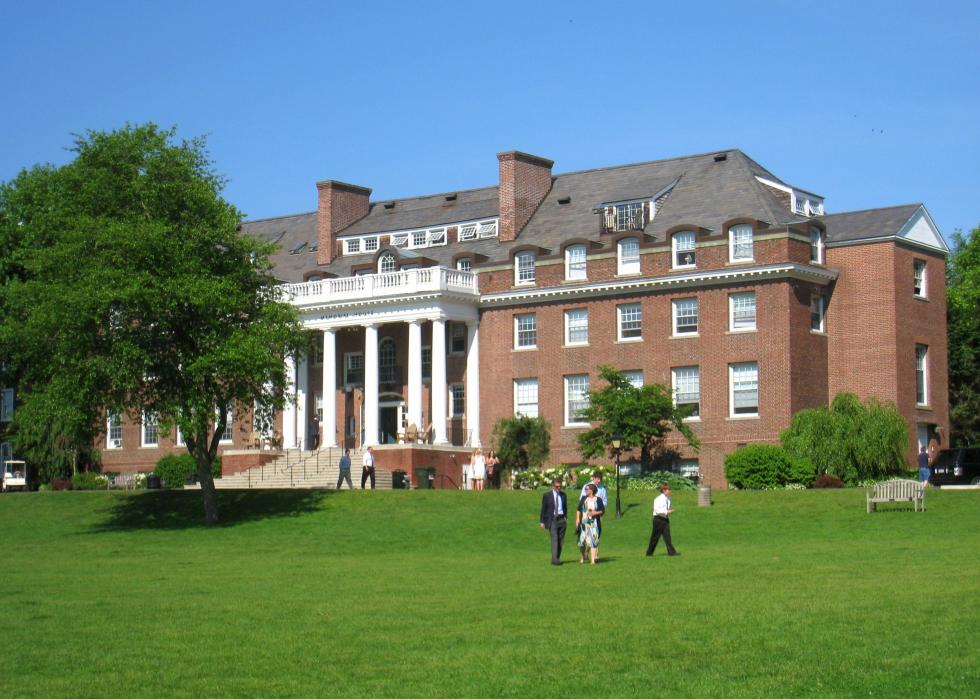 23 / 50
#28. Choate Rosemary Hall
Choate Rosemary Hall 2018 Tuition: $43,580
Tuition is more than 2,569 colleges.
Comparable college: University of California–Irvine, where tuition is 43,530 (out-of-state).
Location: Wallingford, CT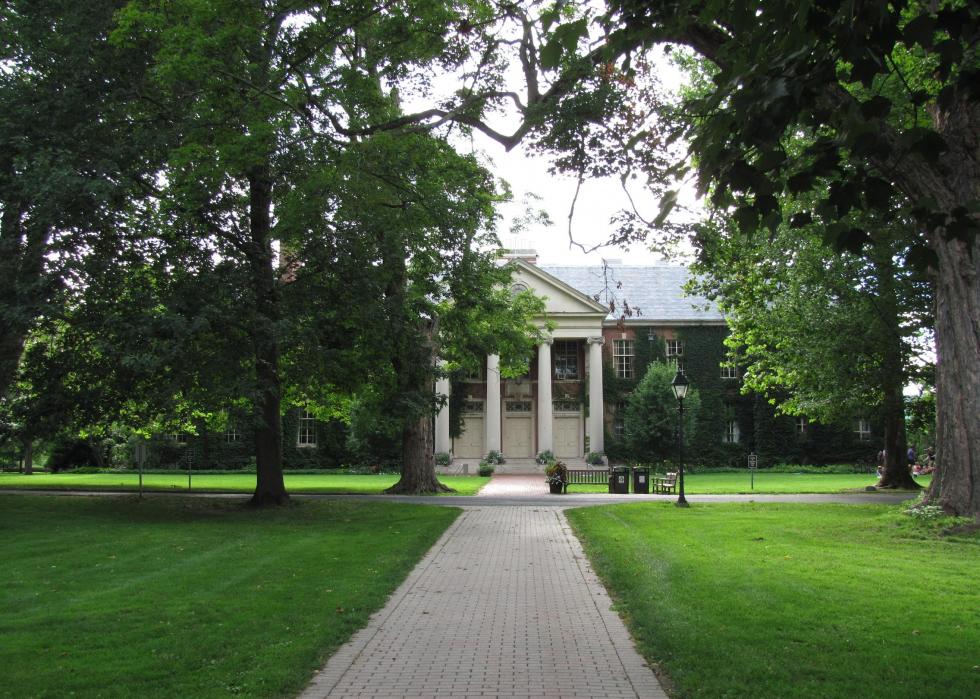 24 / 50
John Phelan // Wikicommons
#27. Deerfield Academy
Deerfield Academy 2018 Tuition: $43,750
Tuition is more than 2,572 colleges.
Comparable college: College of St. Benedict, where tuition is $43,738.
Location: Deerfield, MA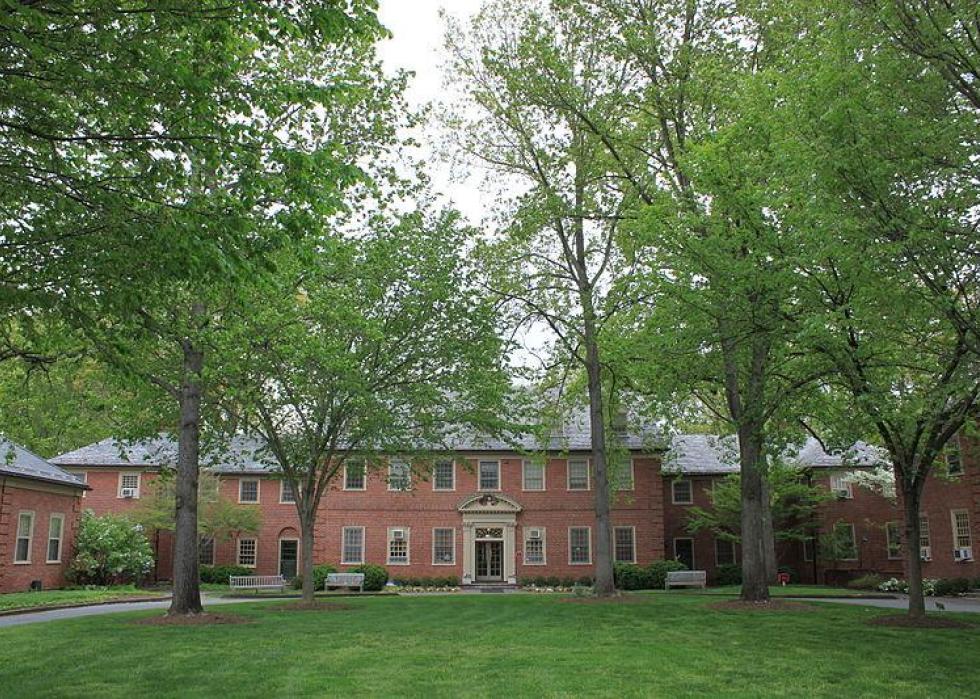 25 / 50
AshleySmith434 // Wikicommons
#26. The Madeira School
The Madeira School 2018 Tuition: $43,947
Tuition is more than 2,578 colleges.
Comparable college: Juniata College, where tuition is $43,875.
Location: Mclean, VA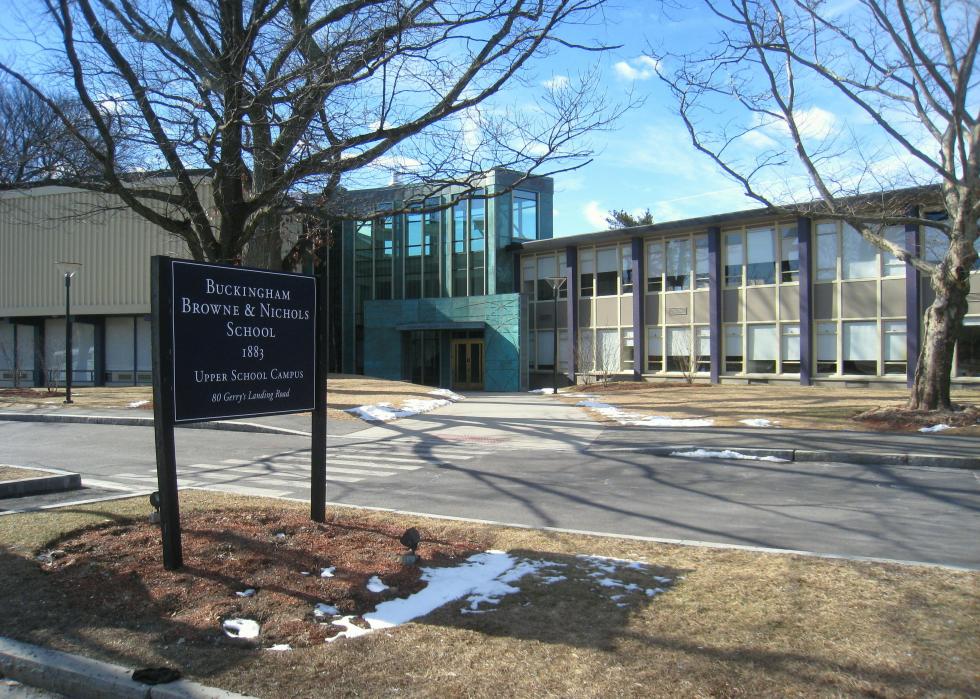 26 / 50
#25. Buckingham Browne & Nichols School
Buckingham Browne & Nichols School 2018 Tuition: $43,970
Tuition is more than 2,579 colleges.
Comparable college: Virginia Military Institute, where tuition is 43,902 (out-of-state).
Location: Cambridge, MA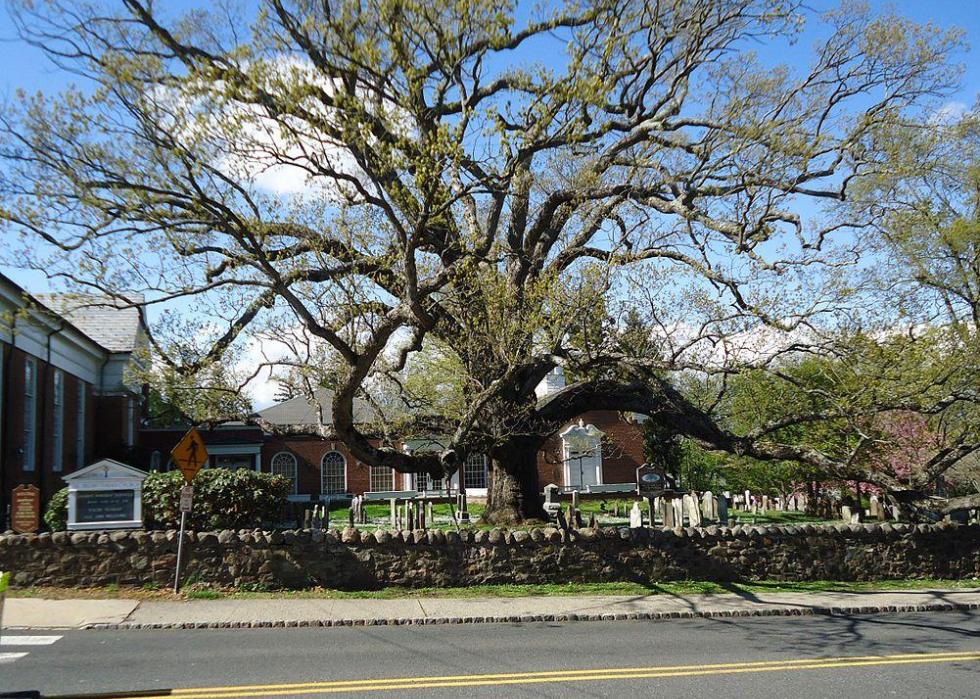 27 / 50
The Taft School is located in Basking Ridge, NJ pictured here — Tomwsulcer // Wikicommons
#24. The Taft School
The Taft School 2018 Tuition: $44,000
Tuition is more than 2,578 colleges.
Comparable college: Hampden-Sydney College, where tuition is $43,940.
Location: Basking Ridge, NJ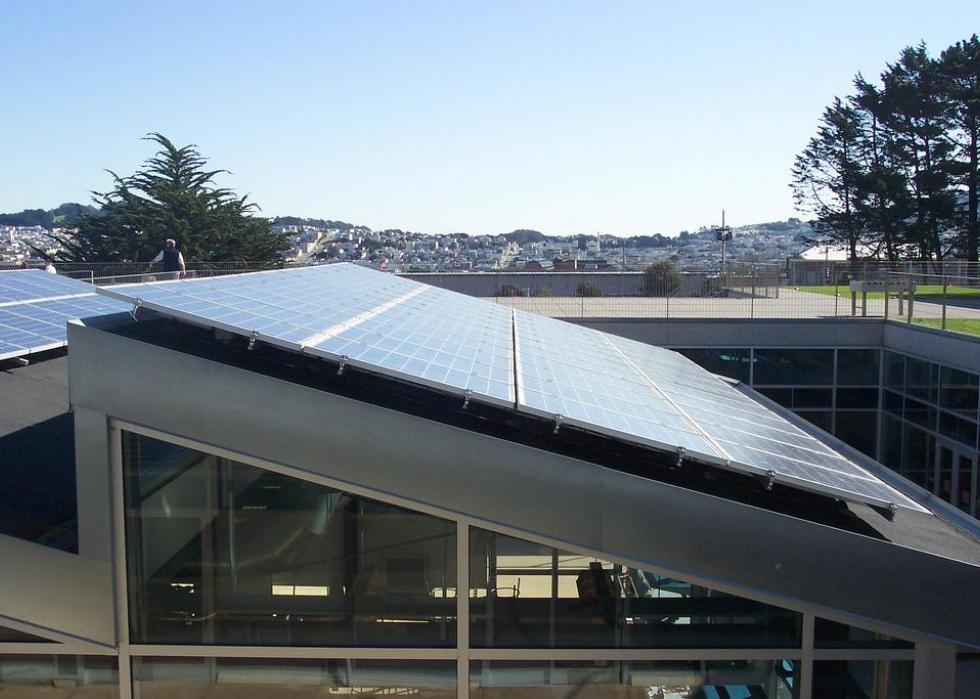 28 / 50
Solar PV system at Lick Wilmerding High School — mjmonty // Wikicommons
#23. Lick-Wilmerding High School
Lick-Wilmerding High School 2018 Tuition: $44,127
Tuition is more than 2,580 colleges.
Comparable college: Hendrix College, where tuition is $44,070.
Location: San Francisco, CA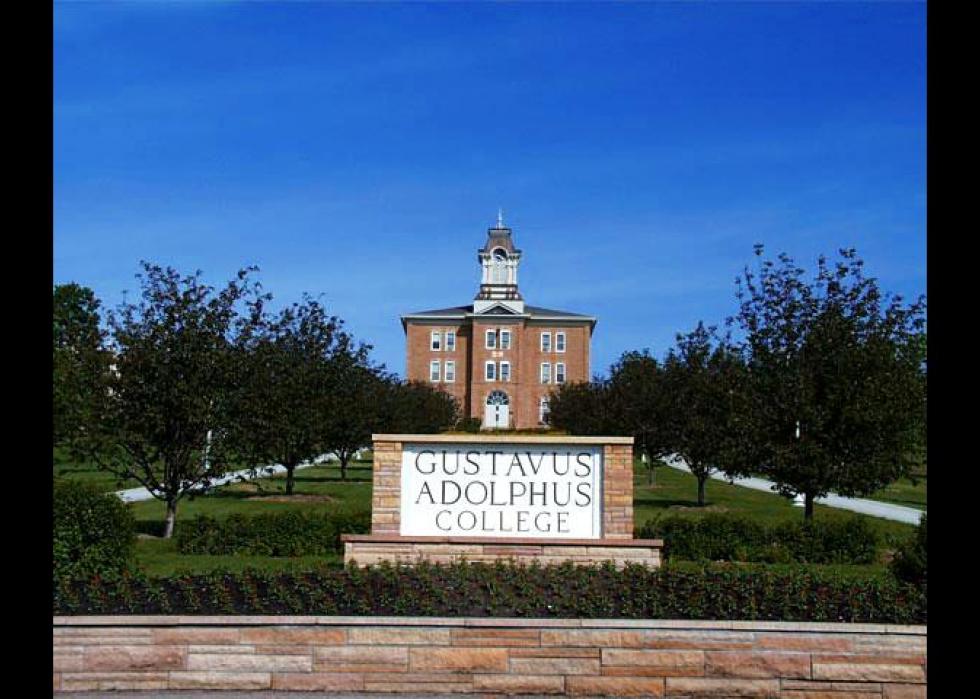 29 / 50
Gustavus Adolphus College — Jlencion // Wikicommons
#22. Hackley School
Hackley School 2018 Tuition: $44,225
Tuition is more than 2,581 colleges.
Comparable college: Gustavus Adolphus College, where tuition is $44,080.
Location: Tarrytown, NY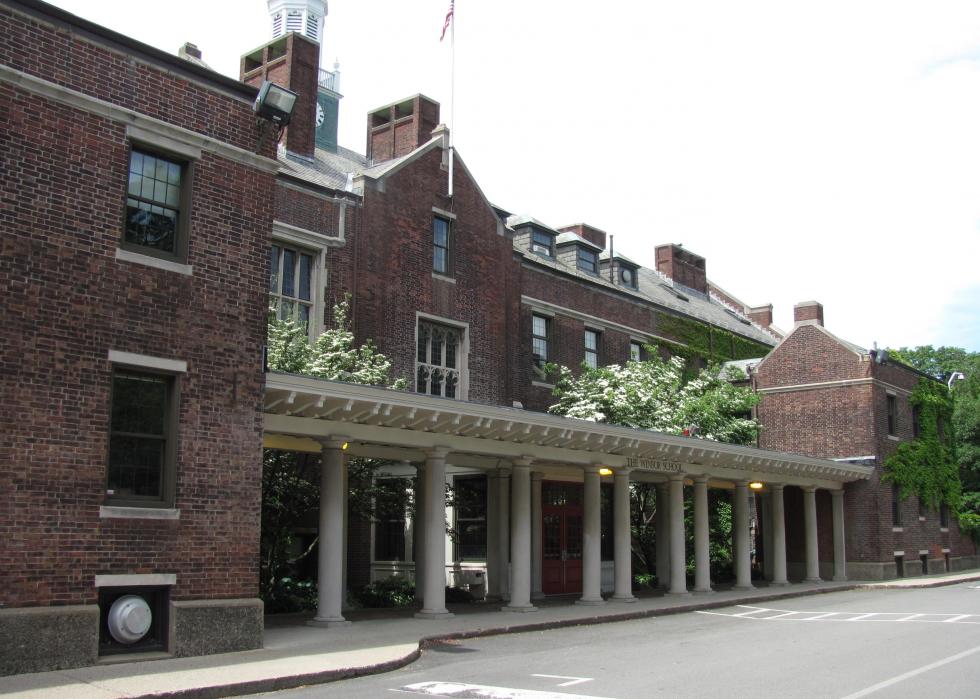 30 / 50
John Phelan // Wikicommons
#21. Winsor School
Winsor School 2018 Tuition: $44,300
Tuition is more than 2,581 colleges.
Comparable college: Lake Forest College, where tuition is $44,116.
Location: Boston, MA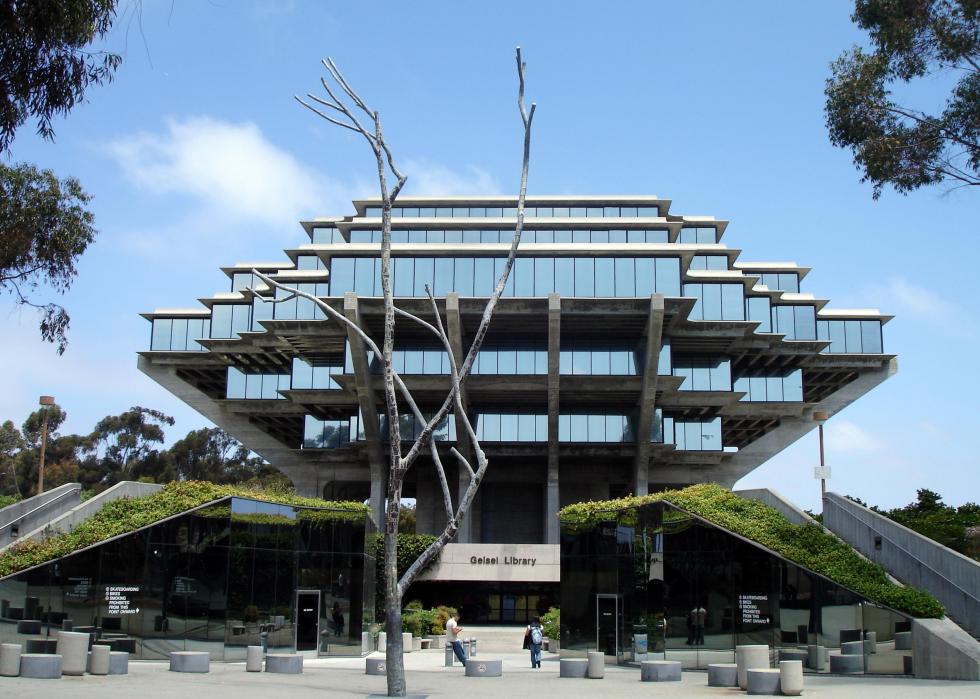 31 / 50
University of California–San Diego — Public Domain // Wikicommons
#20. Castilleja School
Castilleja School 2018 Tuition: $44,580
Tuition is more than 2,587 colleges.
Comparable college: University of California–San Diego, where tuition is 44,197 (out-of-state).
Location: Palo Alto, CA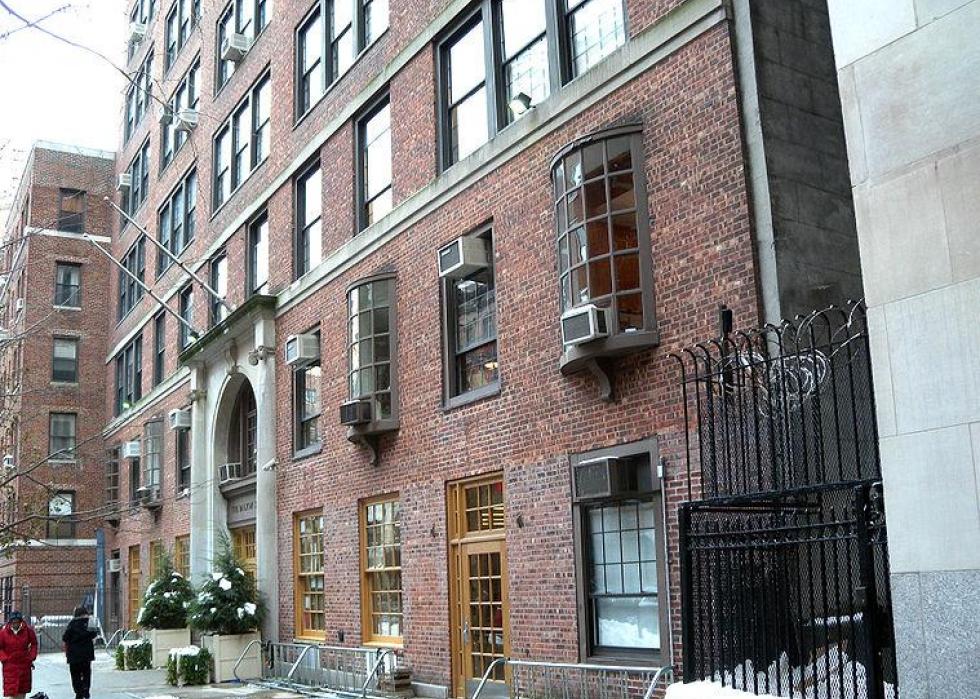 32 / 50
Jim.henderson // Wikicommons
#19. Dalton School
Dalton School 2018 Tuition: $44,640
Tuition is more than 2,587 colleges.
Comparable college: University of California–San Diego, where tuition is 44,197 (out-of-state).
Location: New York, NY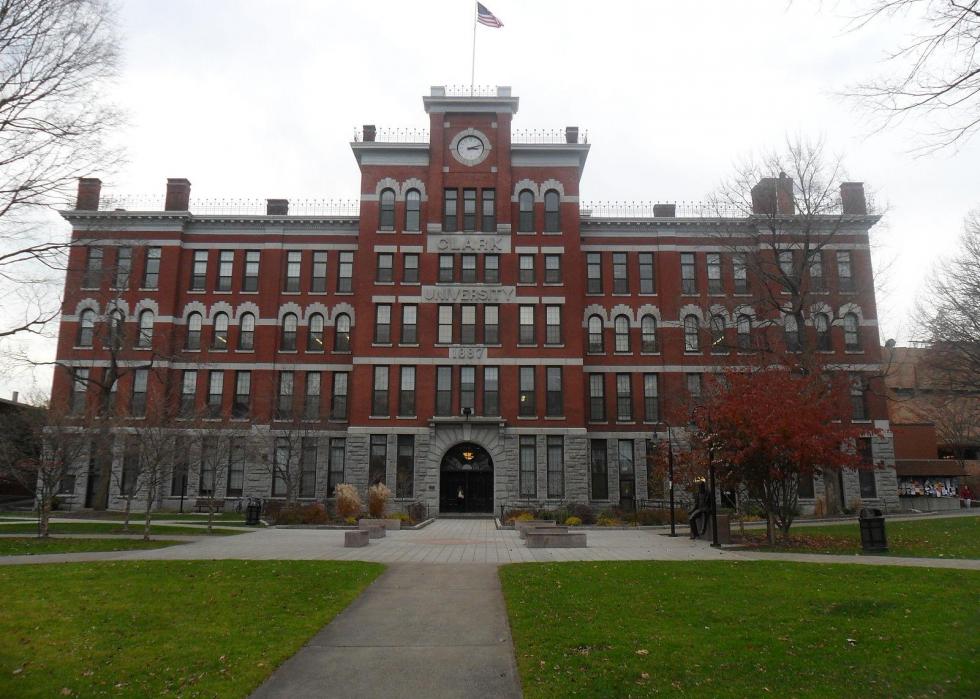 33 / 50
Clark University — Namiba // Wikicommons
#18. San Francisco University High School
San Francisco University High School 2018 Tuition: $44,750
Tuition is more than 2,588 colleges.
Comparable college: Clark University, where tuition is $44,400.
Location: San Francisco, CA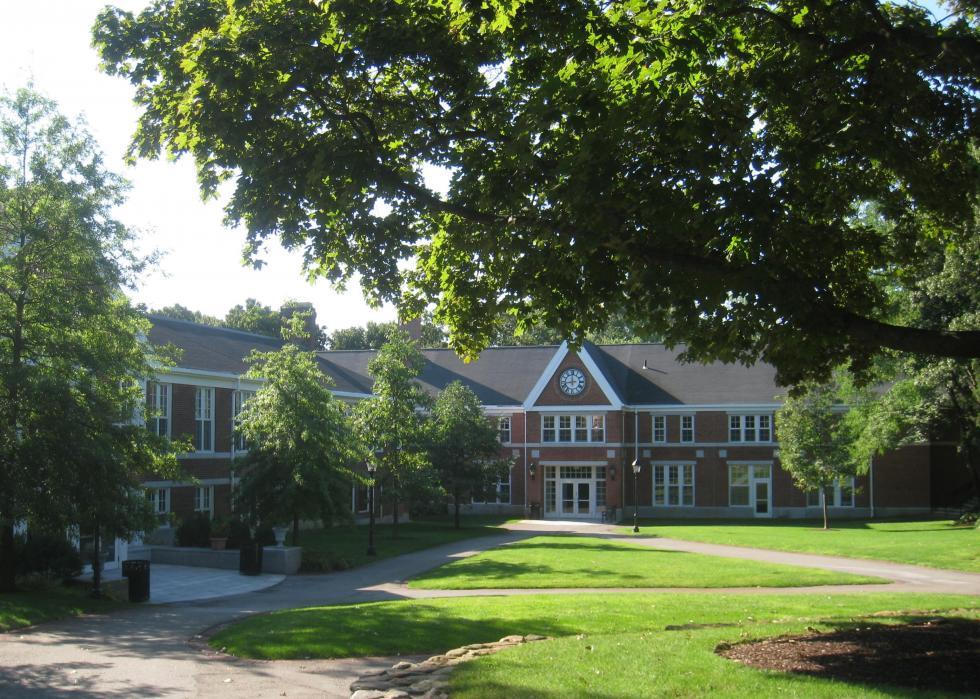 34 / 50
#17. Belmont Hill School
Belmont Hill School 2018 Tuition: $44,800
Tuition is more than 2,590 colleges.
Comparable college: Ohio Wesleyan University, where tuition is $44,690.
Location: Belmont, MA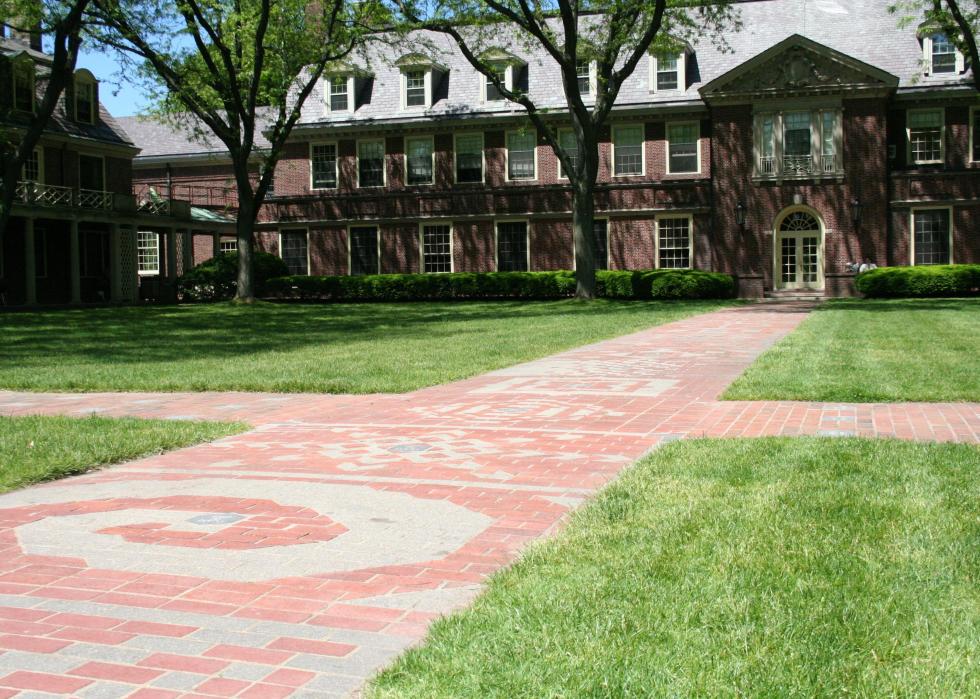 35 / 50
Marycforrester // Wikicommons
#16. The Loomis Chaffee School
The Loomis Chaffee School 2018 Tuition: $45,360
Tuition is more than 2,609 colleges.
Comparable college: Texas Christian University, where tuition is $44,760.
Location: Windsor, CT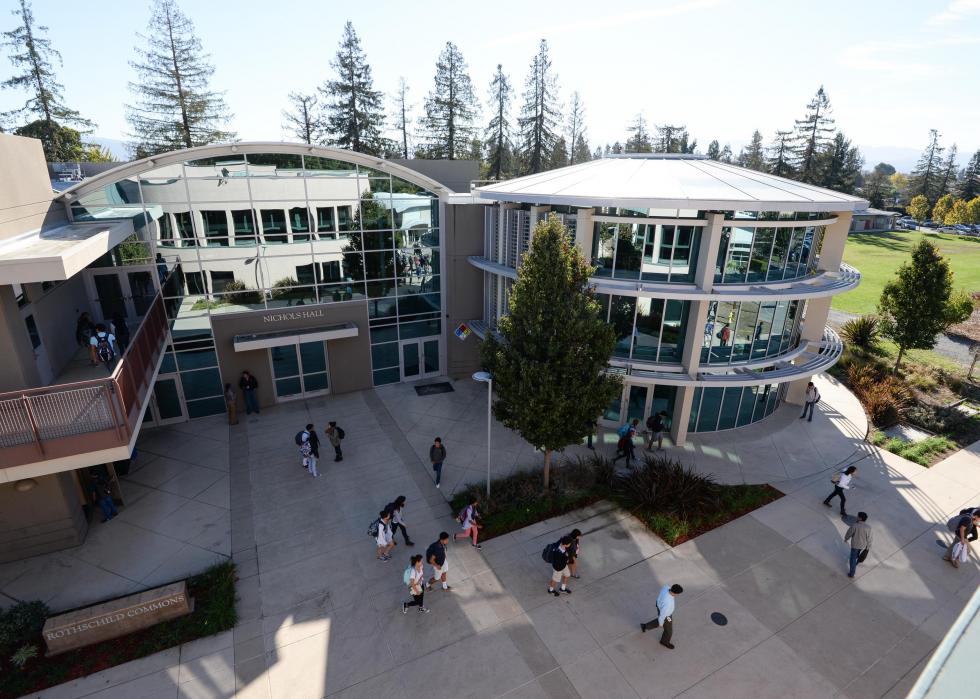 36 / 50
Harker School Staff Photographer // Wikicommons
#15. The Harker School
The Harker School 2018 Tuition: $45,877
Tuition is more than 2,626 colleges.
Comparable college: Knox College, where tuition is $44,958.
Location: San Jose, CA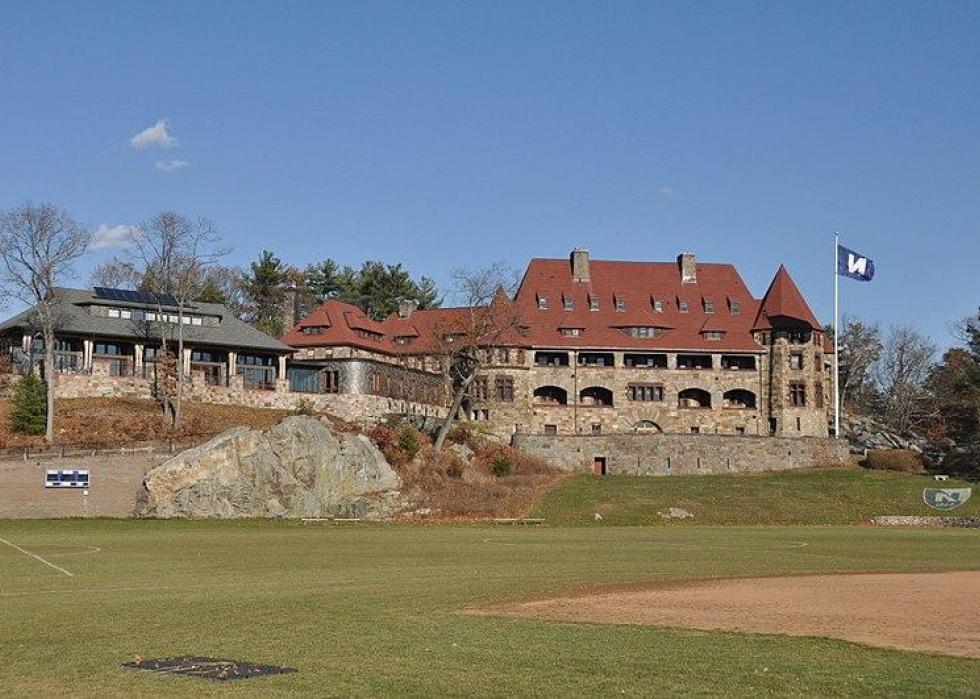 37 / 50
Magicpiano // WIkicommons
#14. Noble and Greenough School
Noble and Greenough School 2018 Tuition: $46,250
Tuition is more than 2,636 colleges.
Comparable college: Illinois Wesleyan University, where tuition is $45,856.
Location: Dedham, MA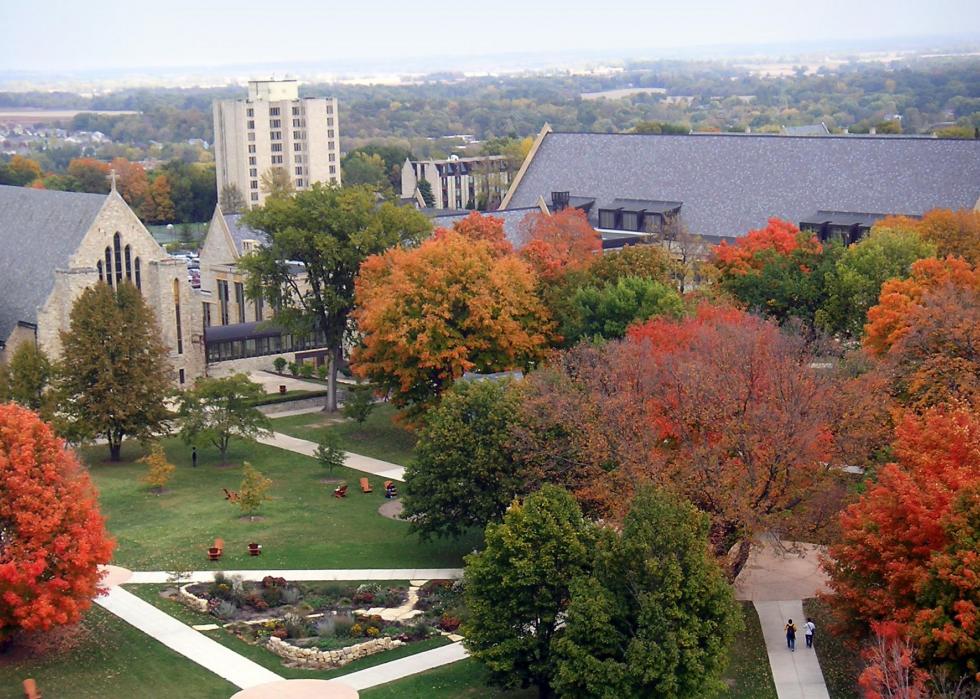 38 / 50
St. Olaf College — Daniel Edwins // Wikicommons
#13. Cate School
Cate School 2018 Tuition: $46,280
Tuition is more than 2,638 colleges.
Comparable college: St. Olaf College, where tuition is $46,000.
Location: Carpinteria, CA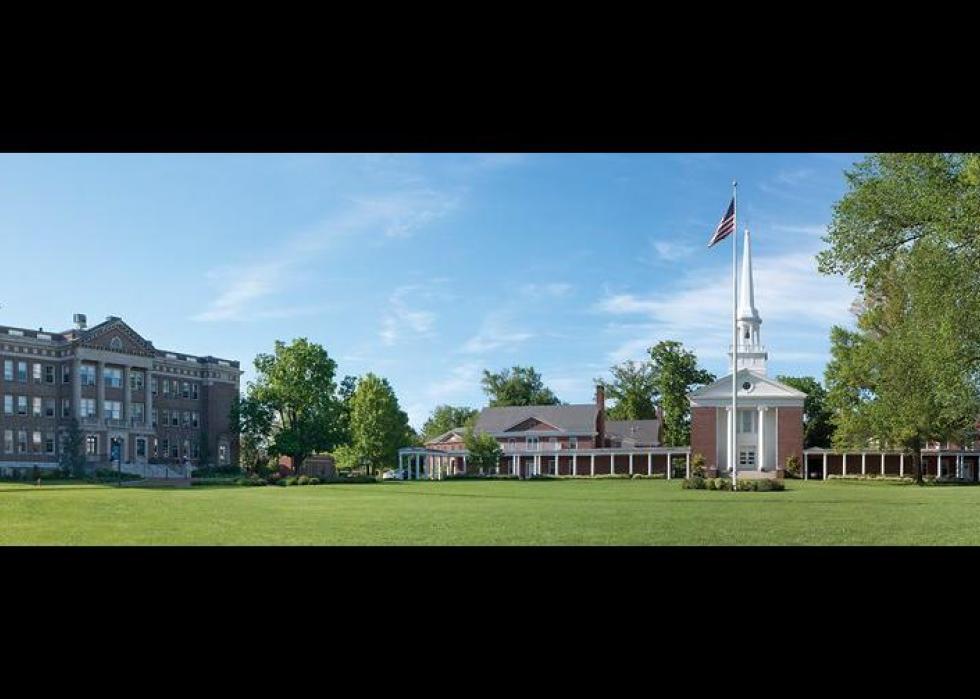 39 / 50
Peddie School // Wikicommons
#12. Peddie School
Peddie School 2018 Tuition: $47,000
Tuition is more than 2,656 colleges.
Comparable college: Lawrence University, where tuition is $46,101.
Location: Hightstown, NJ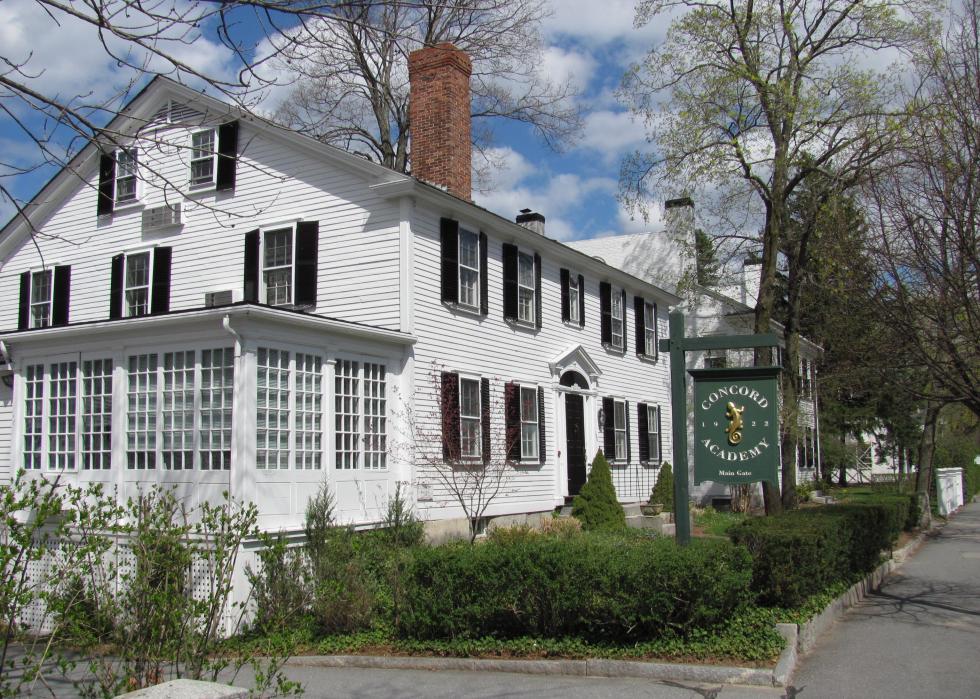 40 / 50
John Phelan // Wikicommons
#11. Concord Academy
Concord Academy 2018 Tuition: $47,160
Tuition is more than 2,661 colleges.
Comparable college: Syracuse University, where tuition is $46,755.
Location: Concord, MA

 
41 / 50
Rice University — faungg's photos // Flickr
#10. Milton Academy
Milton Academy 2018 Tuition: $47,330
Tuition is more than 2,666 colleges.
Comparable college: Rice University, where tuition is $45,608.
Location: Milton, MA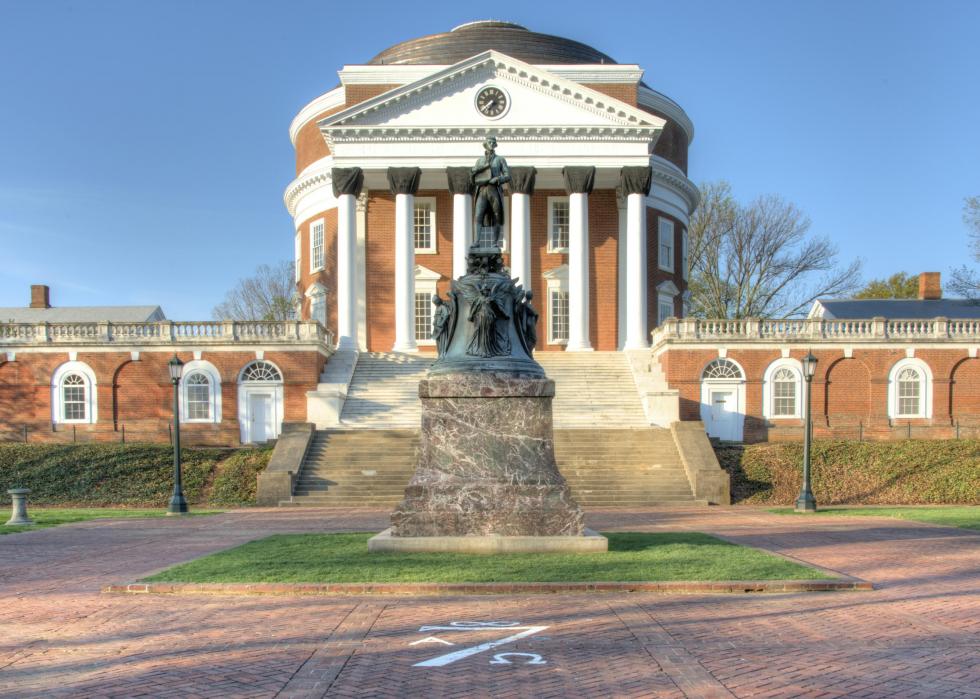 42 / 50
University of Virginia — Bestbudbrian // Wikicommons
#9. Collegiate School
Collegiate School 2018 Tuition: $47,500
Tuition is more than 2,670 colleges.
Comparable college: University of Virginia, where tuition is 46,975 (out-of-state).
Location: New York, NY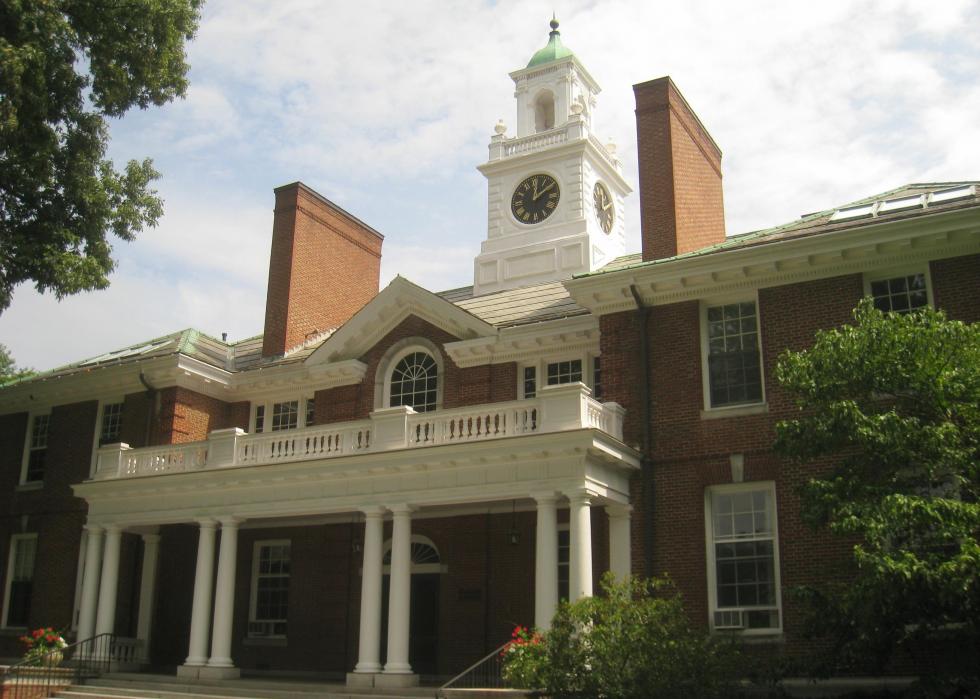 43 / 50
Eliot Hall in the Middlesex School — Daderot // Wikicommons
#8. Middlesex School
Middlesex School 2018 Tuition: $47,810
Tuition is more than 2,682 colleges.
Comparable college: Princeton University, where tuition is $47,140.
Location: Concord, MA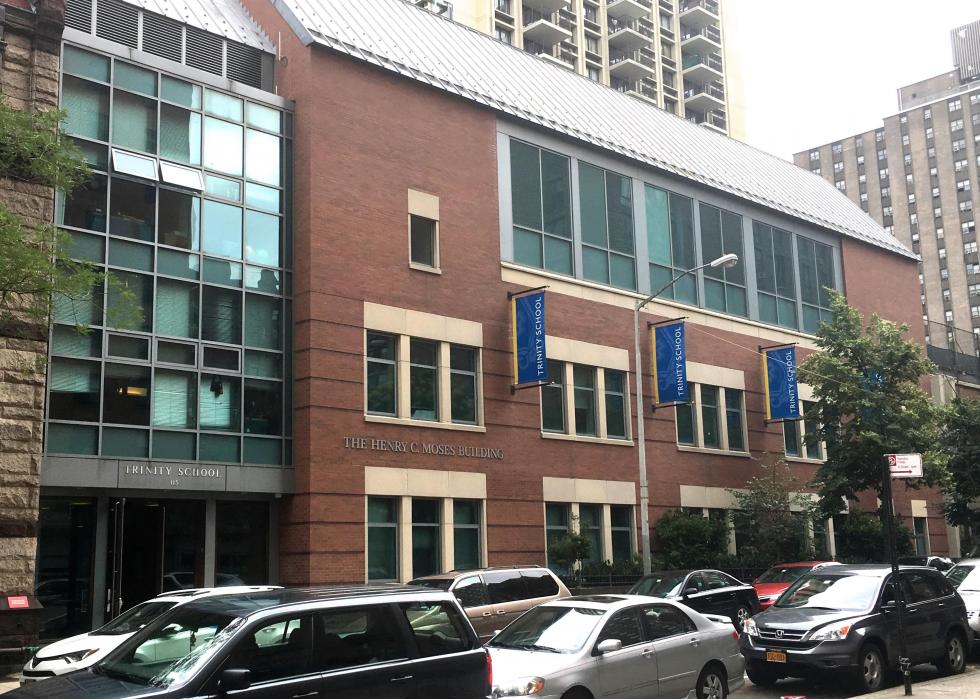 44 / 50
Public Domain // Wikicommons
#7. Trinity School
Trinity School 2018 Tuition: $47,965
Tuition is more than 2,688 colleges.
Comparable college: Case Western Reserve University, where tuition is $47,500.
Location: New York, NY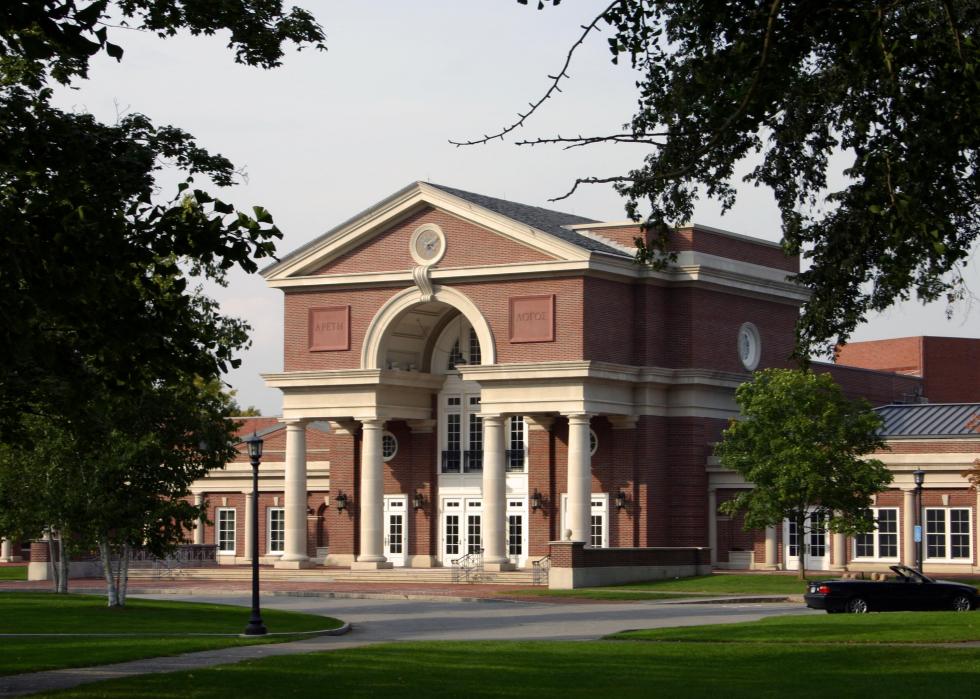 45 / 50
Adrien Delessert // Wikicommons
#6. The Hotchkiss School
The Hotchkiss School 2018 Tuition: $48,080
Tuition is more than 2,689 colleges.
Comparable college: Vanderbilt University, where tuition is $47,664.
Location: Lakeville, CT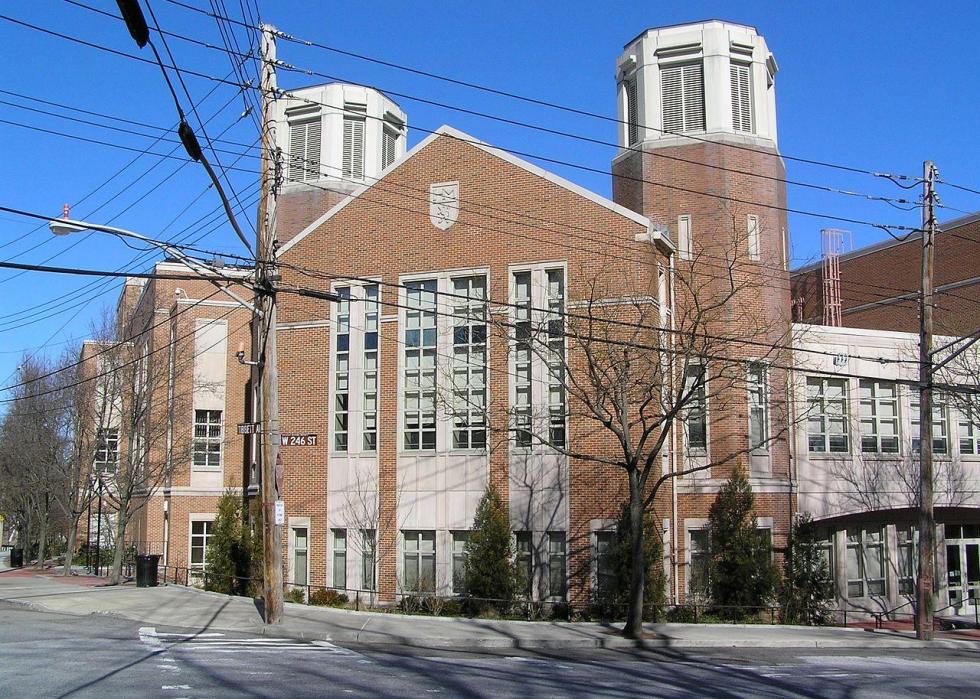 46 / 50
#5. Horace Mann School
Horace Mann School 2018 Tuition: $48,600
Tuition is more than 2,702 colleges.
Comparable college: University of Miami, where tuition is $48,484.
Location: Bronx, NY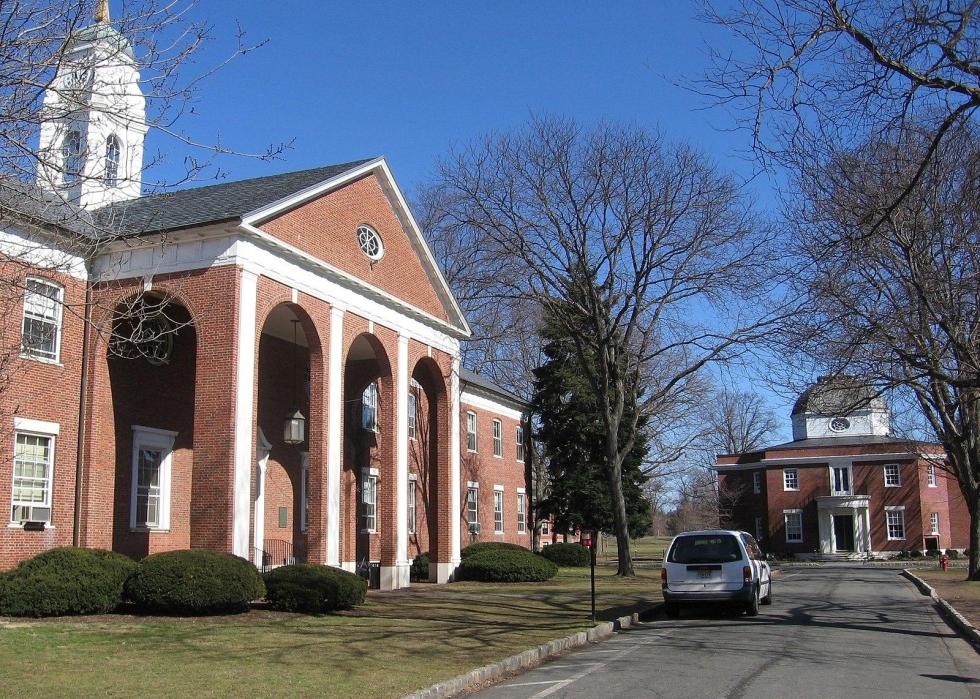 47 / 50
Father's Hall and the Mackenzie Building at the Lawrenceville School — Burntorange72 // Wikicommons
#4. The Lawrenceville School
The Lawrenceville School 2018 Tuition: $51,440
Tuition is more than 2,765 colleges.
Comparable college: Yale University, where tuition is $51,400.
Location: Lawrenceville, NJ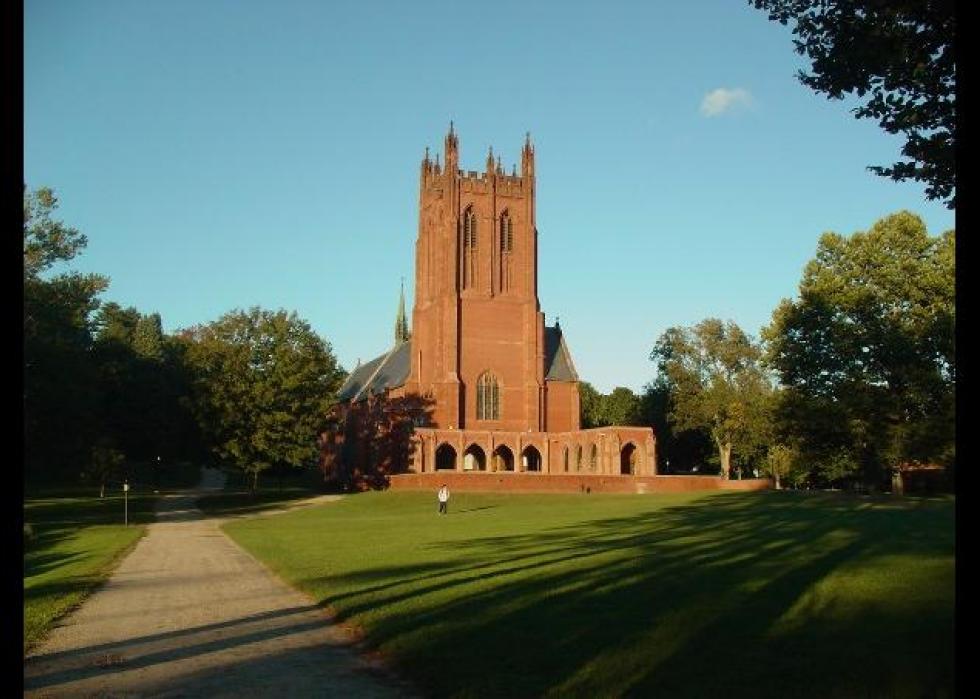 48 / 50
Chapel in St. Paul's School — Eddie Cheuk // Wikicommons
#3. St. Paul's School
St. Paul's School 2018 Tuition: $55,000
Tuition is more than 2,837 colleges.
Comparable college: Tufts University, where tuition is $54,318.
Location: Concord, NH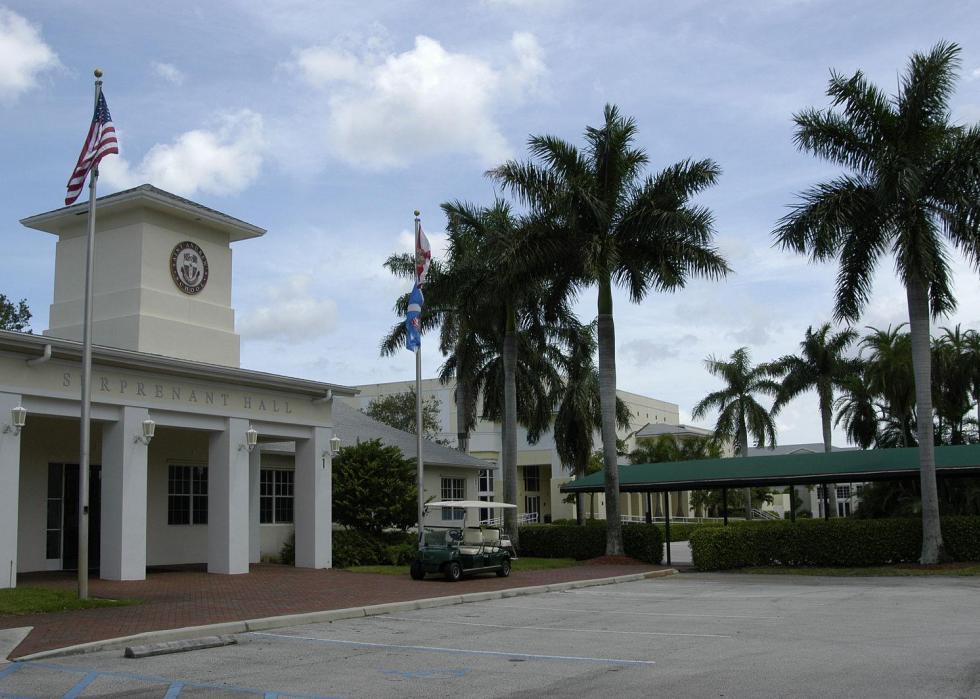 49 / 50
#2. St. Andrew's School
St. Andrew's School 2018 Tuition: $55,500
Tuition is more than 2,840 colleges.
Comparable college: University of Chicago, where tuition is $54,825.
Location: Middletown, DE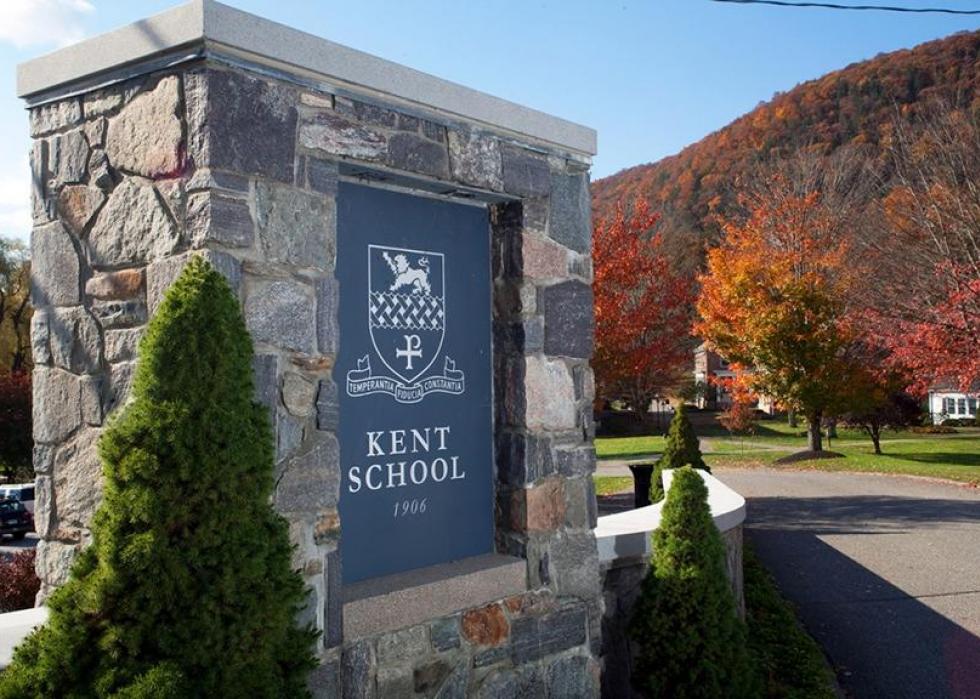 50 / 50
SamuelHaack // Wikicommons
#1. Kent School
Kent School 2018 Tuition: $58,450
Tuition is more than 2,888 colleges.
Comparable college: Columbia University, where tuition is $57,208.
Location: Kent, CT